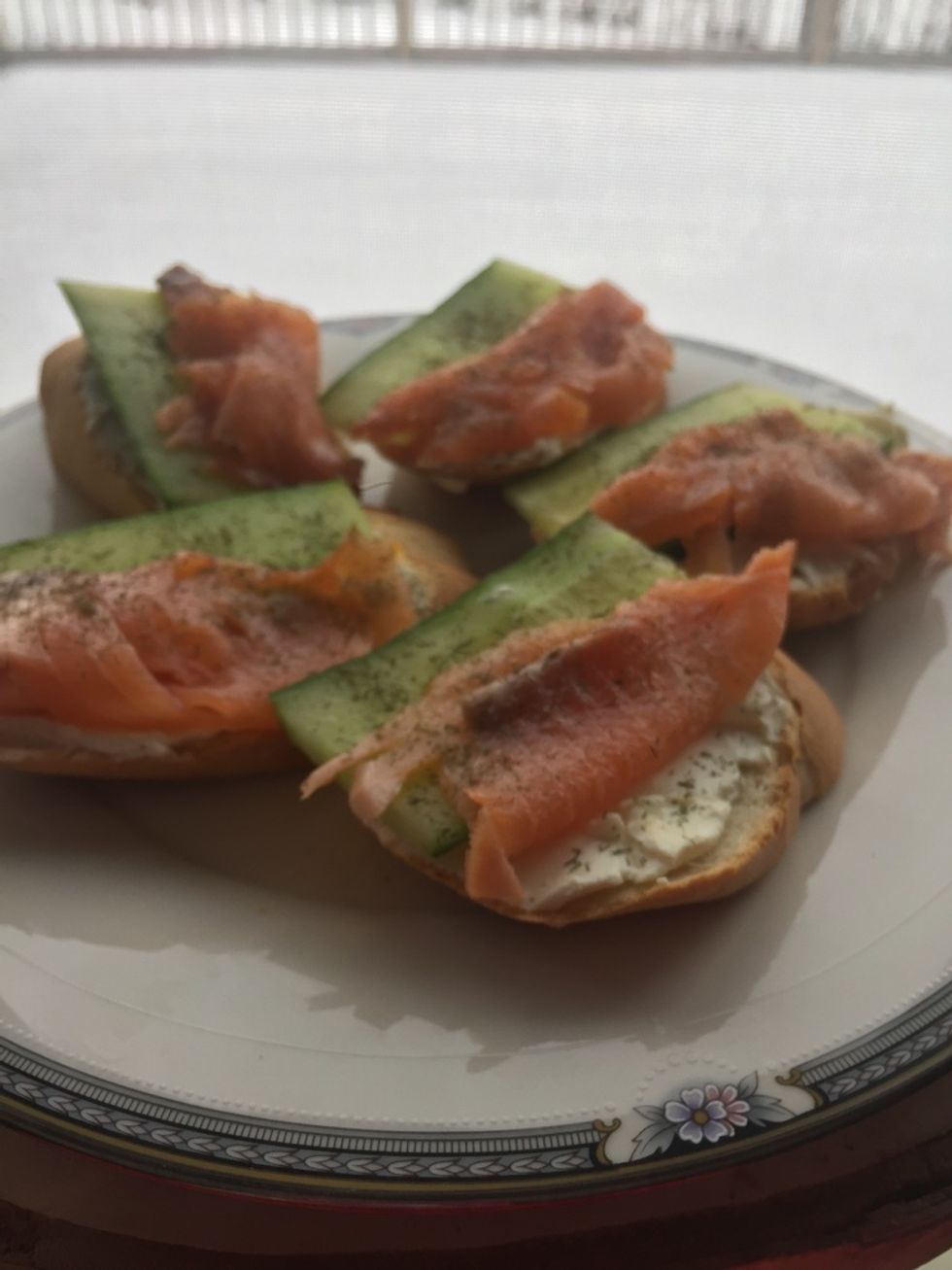 Appetizer: toasted baguette topped with cream cheese, sliced cucumber, and smoked salmon with a light sprinkle of fresh ground dill.
Fresh vegetables required for the Main Course omelette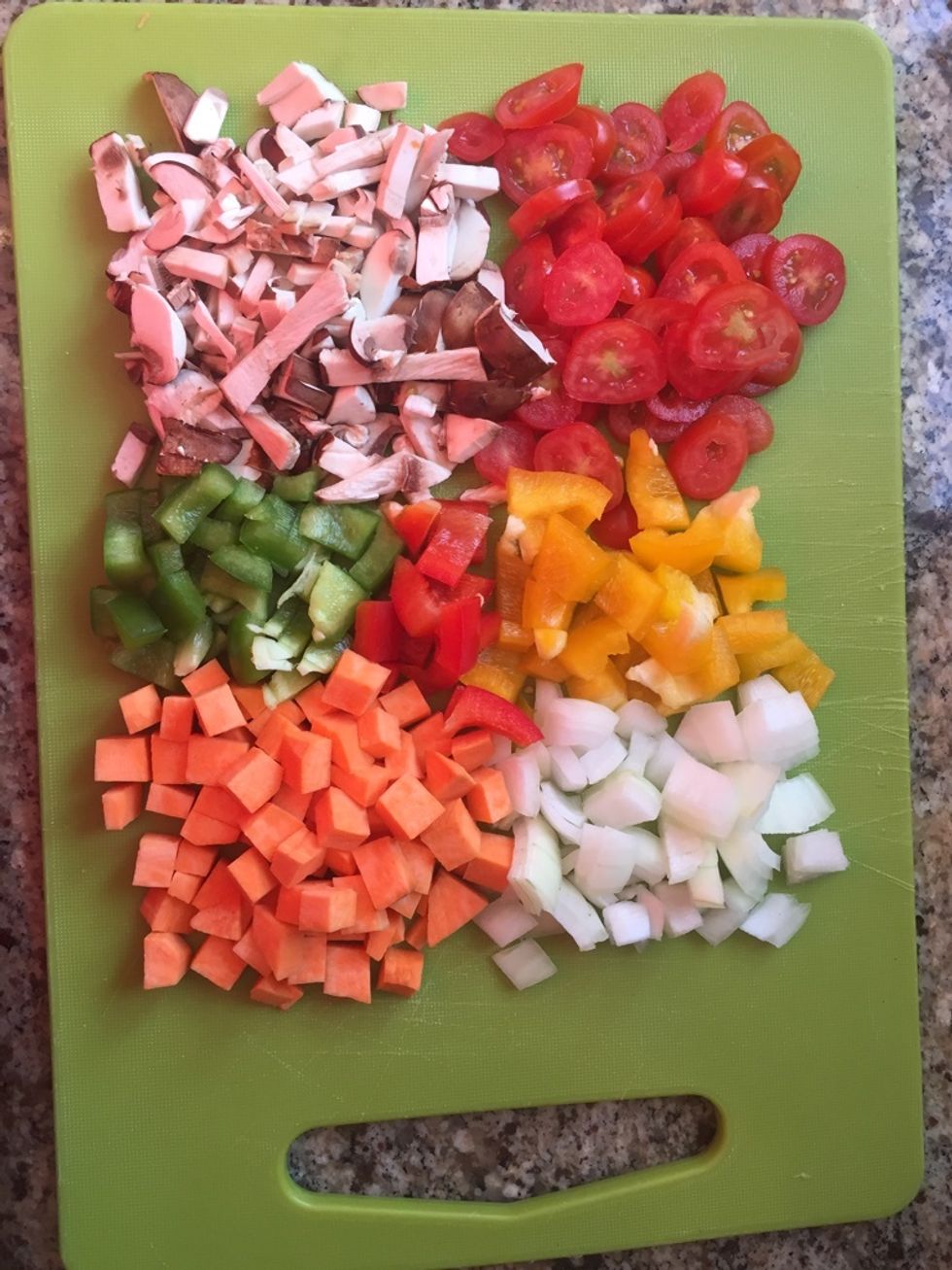 Dice all the fresh vegetables into small bite size pieces (note: this was enough vegetables to make two omelette's)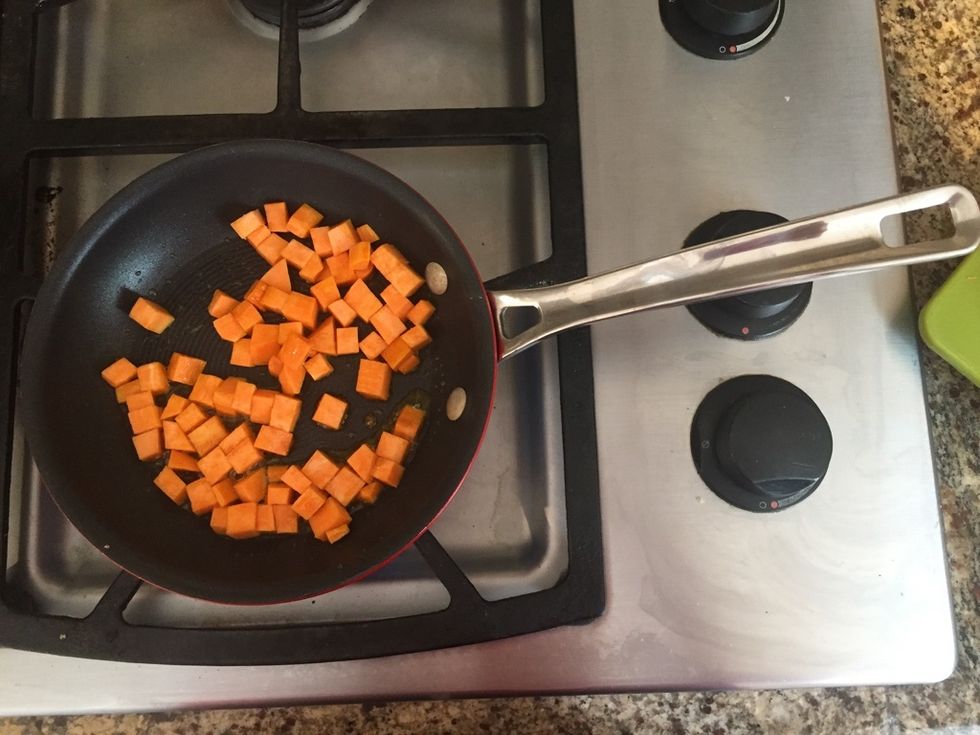 Put sweet potato into the frying pan first with half of a tea spoon of olive oil and two pinches of brown sugar. Leave in for approximately 4 min or until they have caramelized and are soft to touch.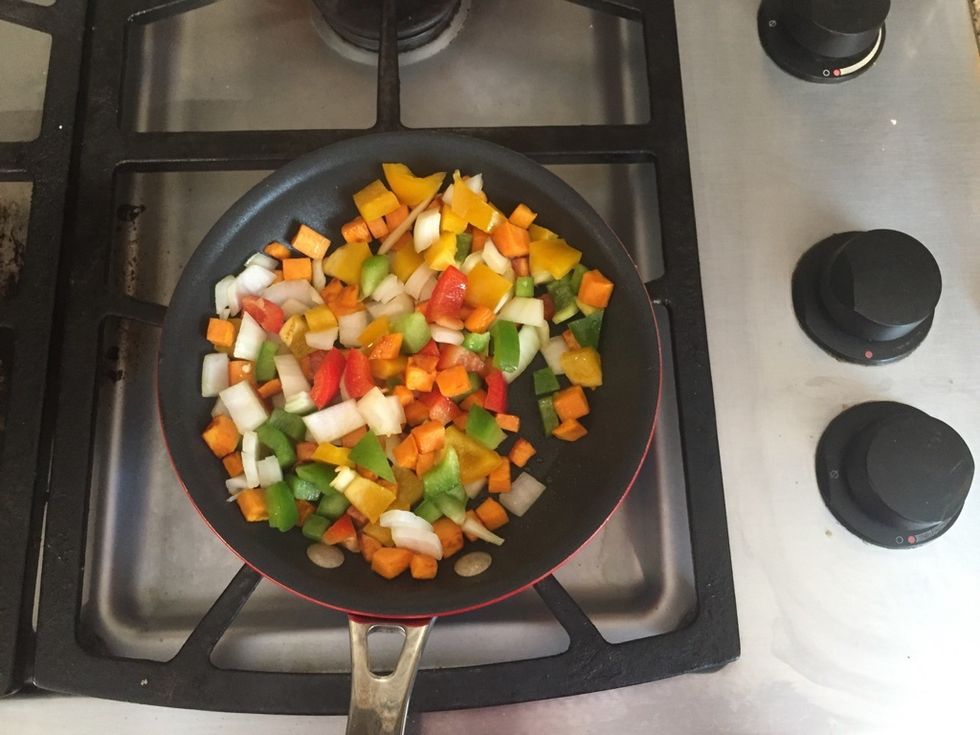 Add the onions red, yellow and green peppers to the pan and mix with sweet potato for about 3 minutes. Then once they soften proceed in putting the mushrooms in the pan and stir for 1 minute.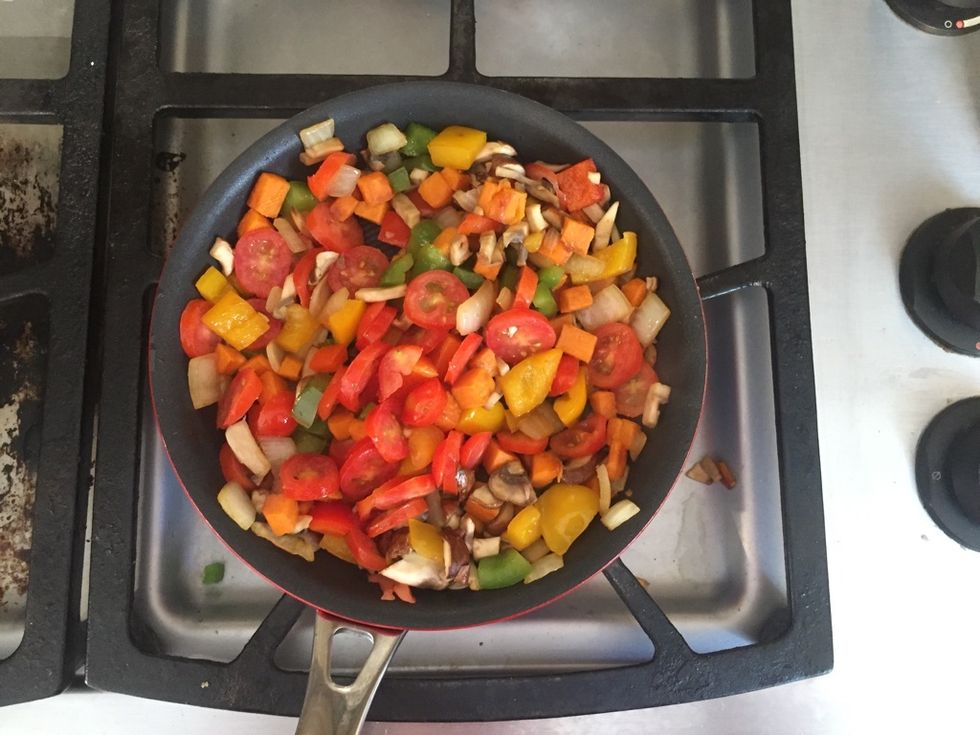 The last vegetable to place in the frying pan is the tomatoes. They only need to be in the pan for about 30 seconds. Remove vegetables from the heat and place aside.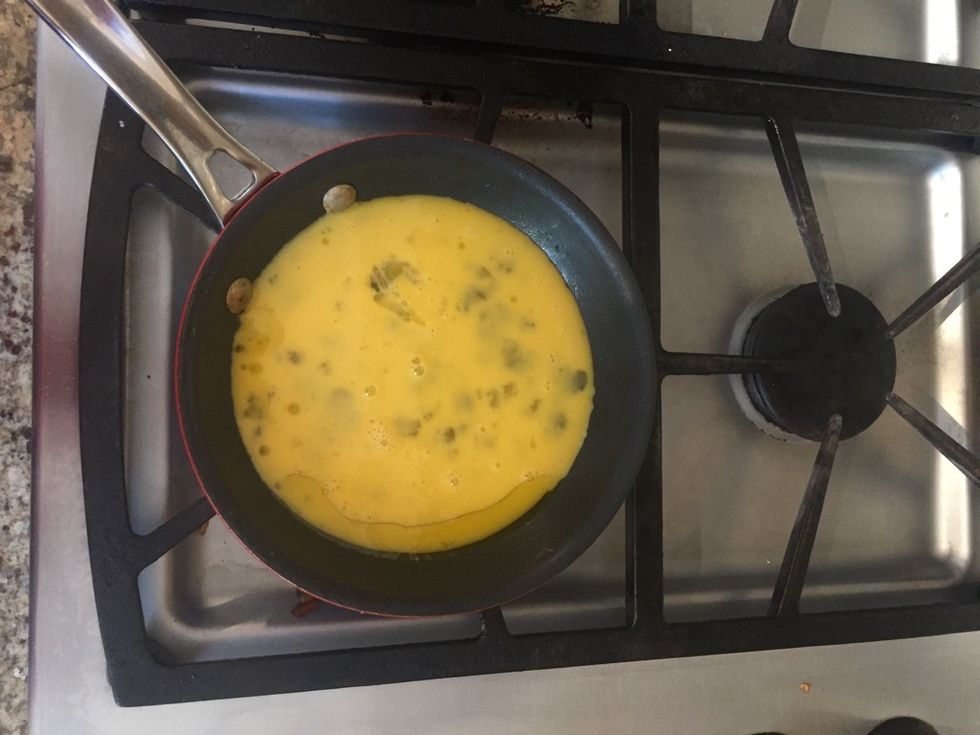 Beat three eggs with a fork, then fold them into a frying pan that has been brought to temperature (medium heat) with 1/2 teaspoon of oil. Watch eggs until they starts turning a light yellow.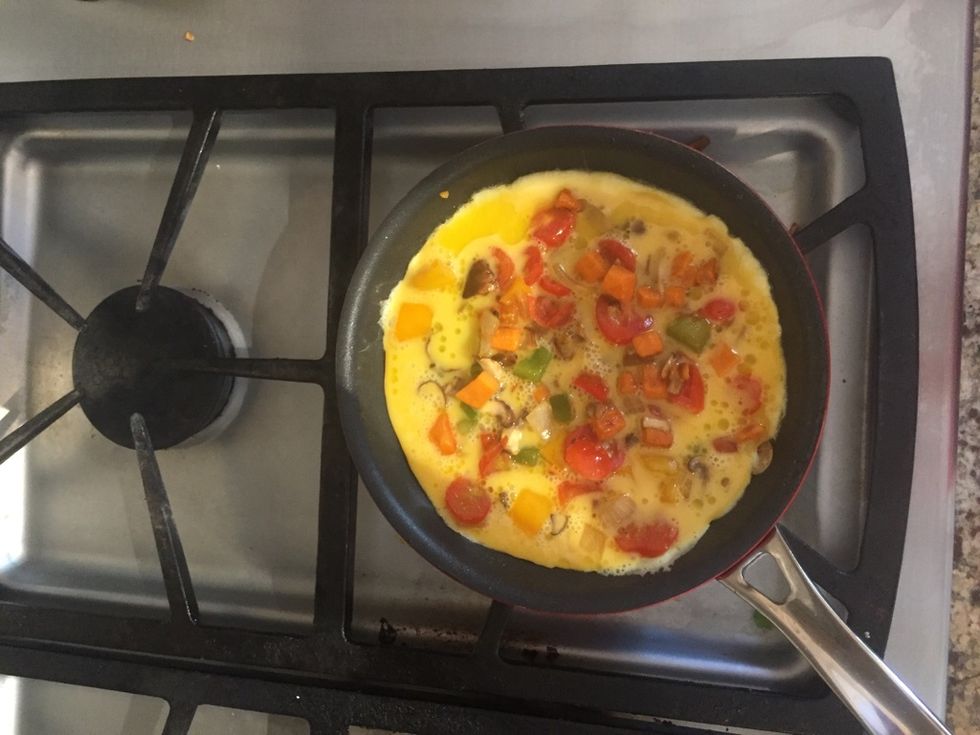 Then dispersed the pre-cooked toppings onto the egg, wait for about 3 minutes to allow egg to jell with the toppings.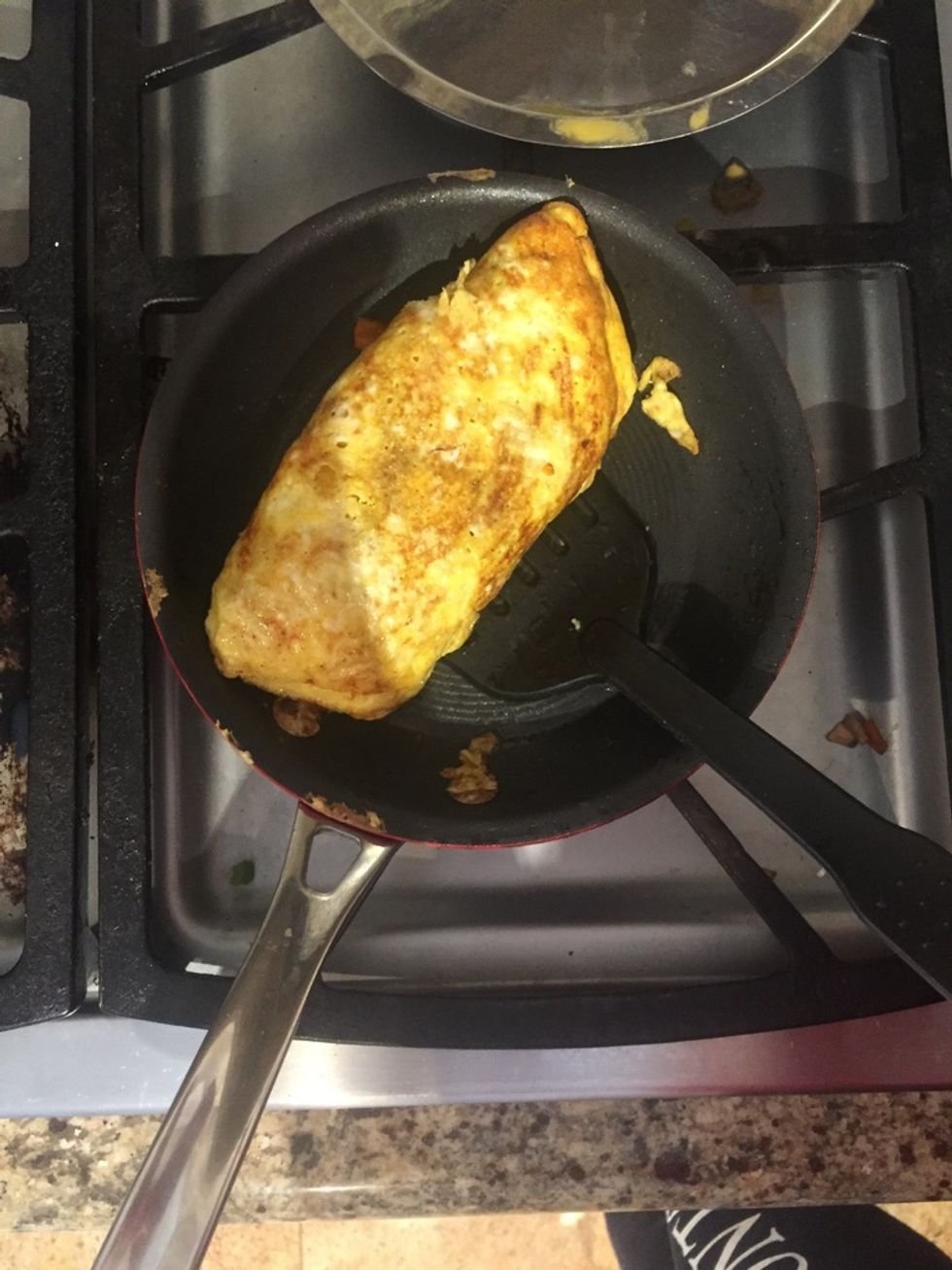 Then using a spatula flip the egg on top of itself making a semicircle, wait 4 minutes. Then it will be ready to be plated.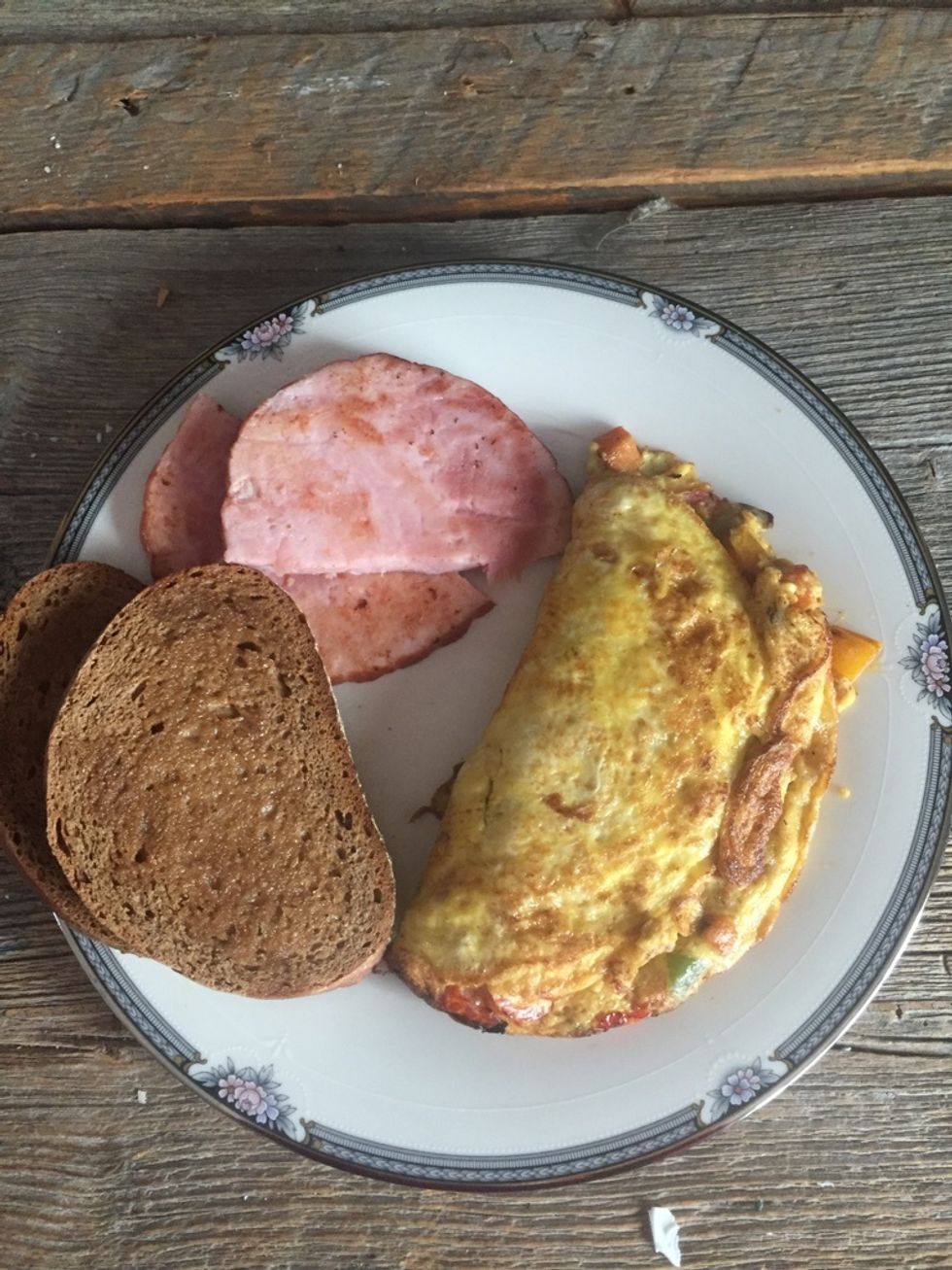 Toast the two pieces of brown rye in the toaster. Add butter and plate. Cook a slice of ham in a frying pan until it browns on both sides. Cut the slice in half and plate.
Follow the steps for bread on the preceding page. Place 4 pieces of bacon in a frying pan. Flip bacon every 20 seconds until it has cooked to the requested crispness. Pat with paper towel and plate.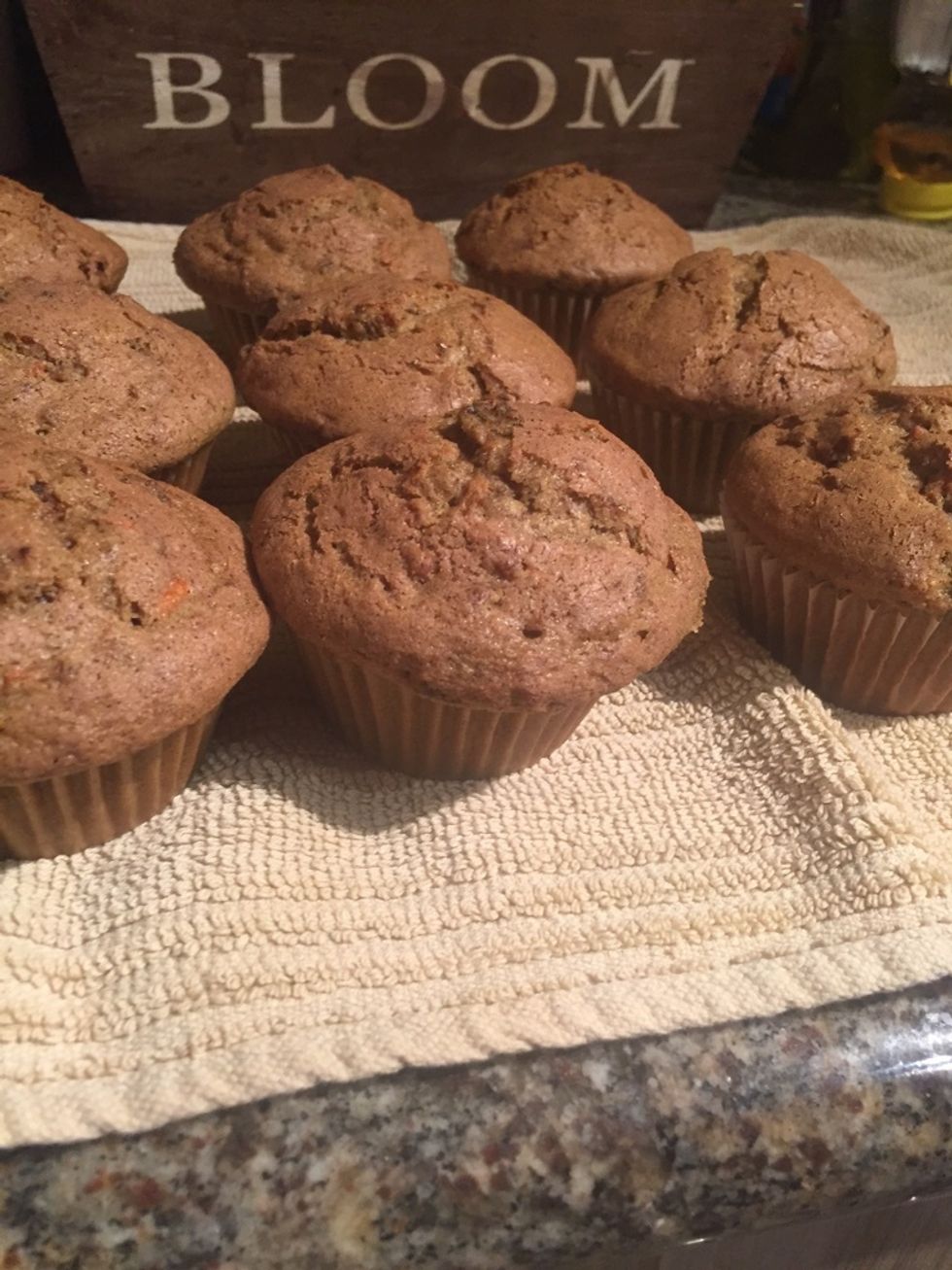 Dessert: carrot and beet cupcakes. The recipe is based on a carrot cupcake. Instead of adding 3 cups of shredded carrot put 1 1/2 cups of shredded beets and 2 cups of shredded carrots.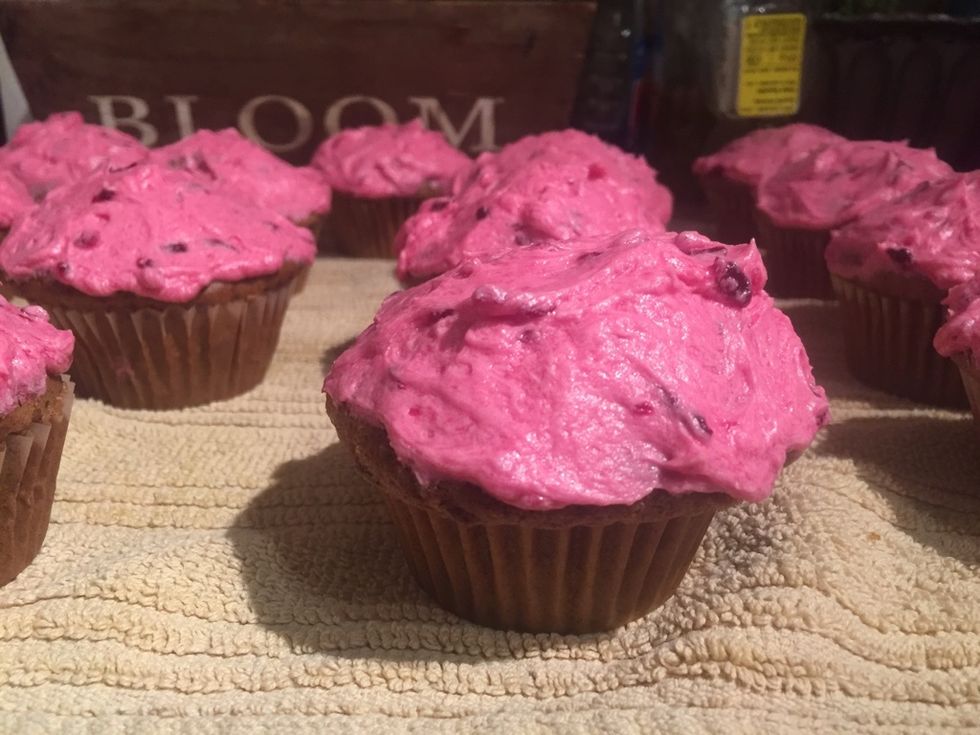 Spread the beetroot buttered icing onto the carrot and beet cupcakes using a knife. Do this after they have cooled which can be determined by touching them lightly on the base.
1.0Tbsp Cream cheese - Appetizer
5.0cm Sliced cucumber - Appetizer
15.0g Smoked salmon - Appetizer
5.0 Toasted slices of baguette - Appetizer
1/2Tbsp Onion - Main meal
2.0 Cremini mushrooms - Main meal
3.0tsp Peeled diced sweet potato - Main meal
4.0 Cherry tomatoes diced - Main meal
1.0Tbsp Green pepper diced - Main meal
2.0 Toasted dark rye - Main meal
1.0c All purpose flour - Dessert (cupcake)
1.0tsp Baking soda - Dessert (cupcake)
1/2tsp Baking powder - Dessert (cupcake)
1.0tsp Cinnamon - Dessert (cupcake)
3/4c Sugar - Dessert (cupcake)
1/4tsp Salt - Dessert (cupcake)
1/2c Grated carrots -Dessert (cupcake)
2/3c Oil - Dessert (cupcake)
3.0 Eggs - Main course omelet
1.0c Butter (room temperature) - Dessert (icing)
3.0c Sifted icing sugar - Dessert (icing)
2.0Tbsp Milk - Dessert (icing)
2.0Tbsp Grated beets - Dessert (icing)
1.0Tbsp Yellow pepper diced - Main meal
1.0tsp Red pepper diced - main meal
4.0lb Bacon piece's - Main meal
1/2c Grated beets -Dessert