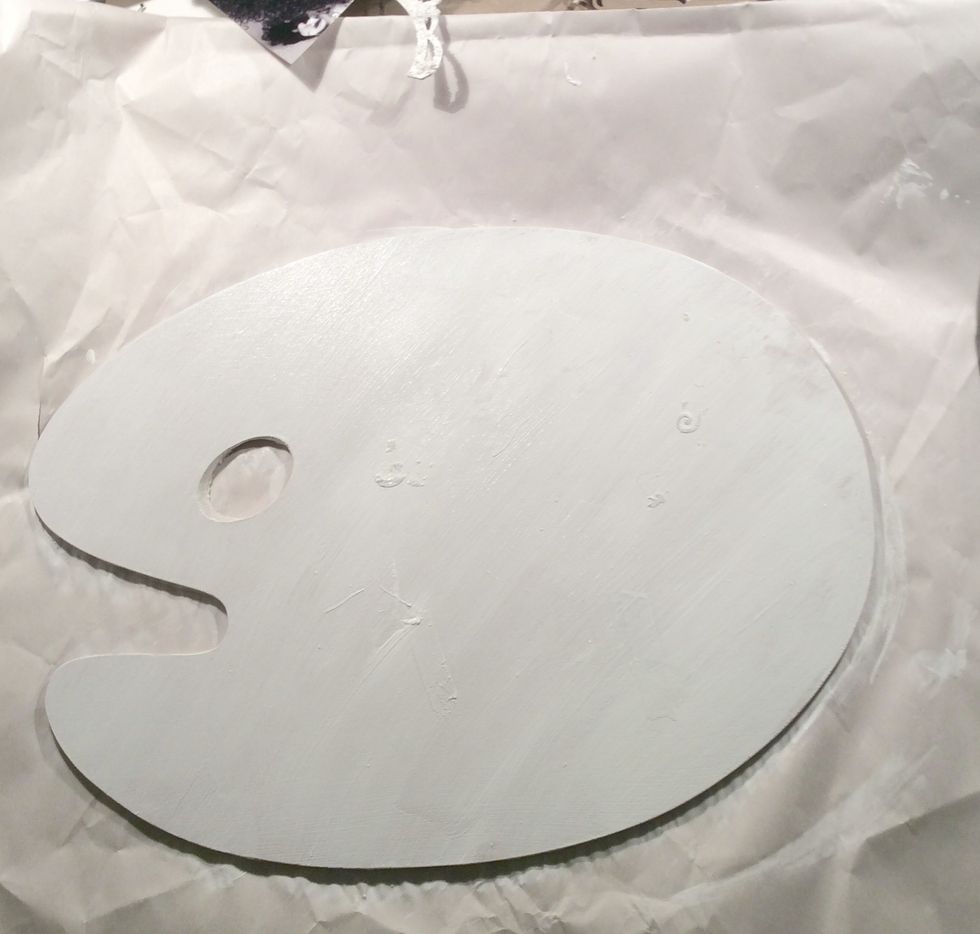 I decided to use a wooden artist palette but you can use canvas, paper, chipboard whatever you want your project to be created on. Prime the surface with a coat of gesso. Allow to dry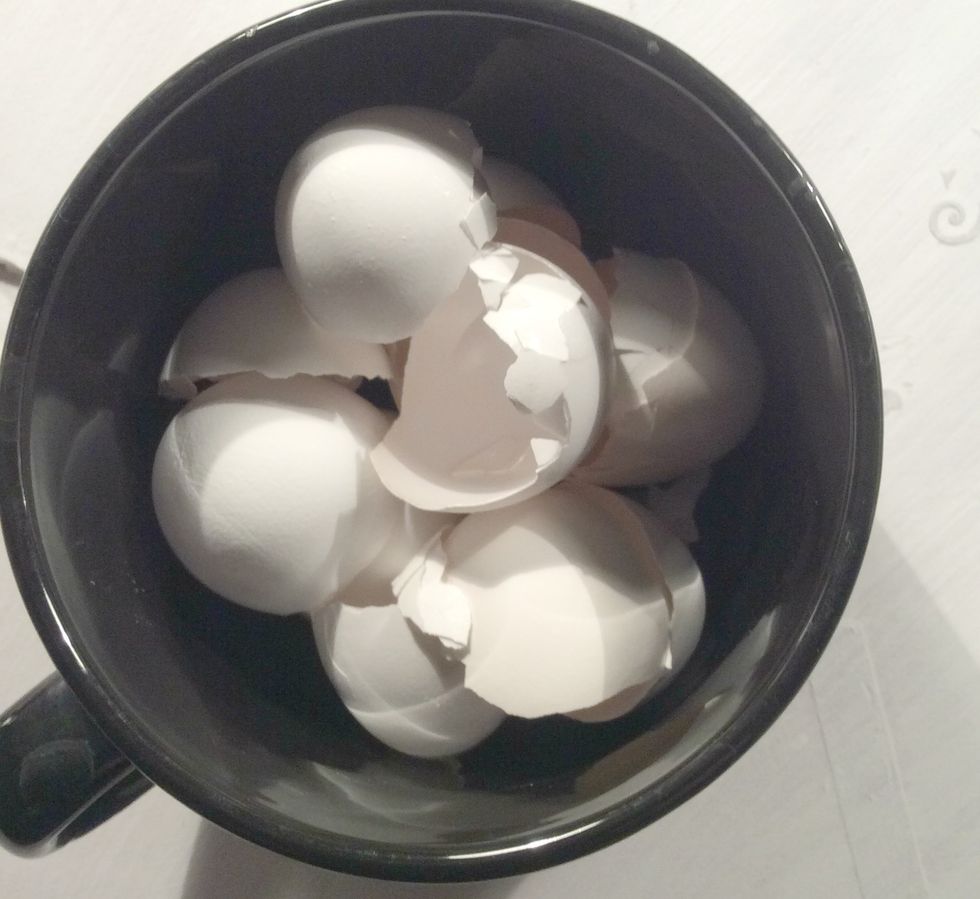 Take washed and dried egg shells and crush them.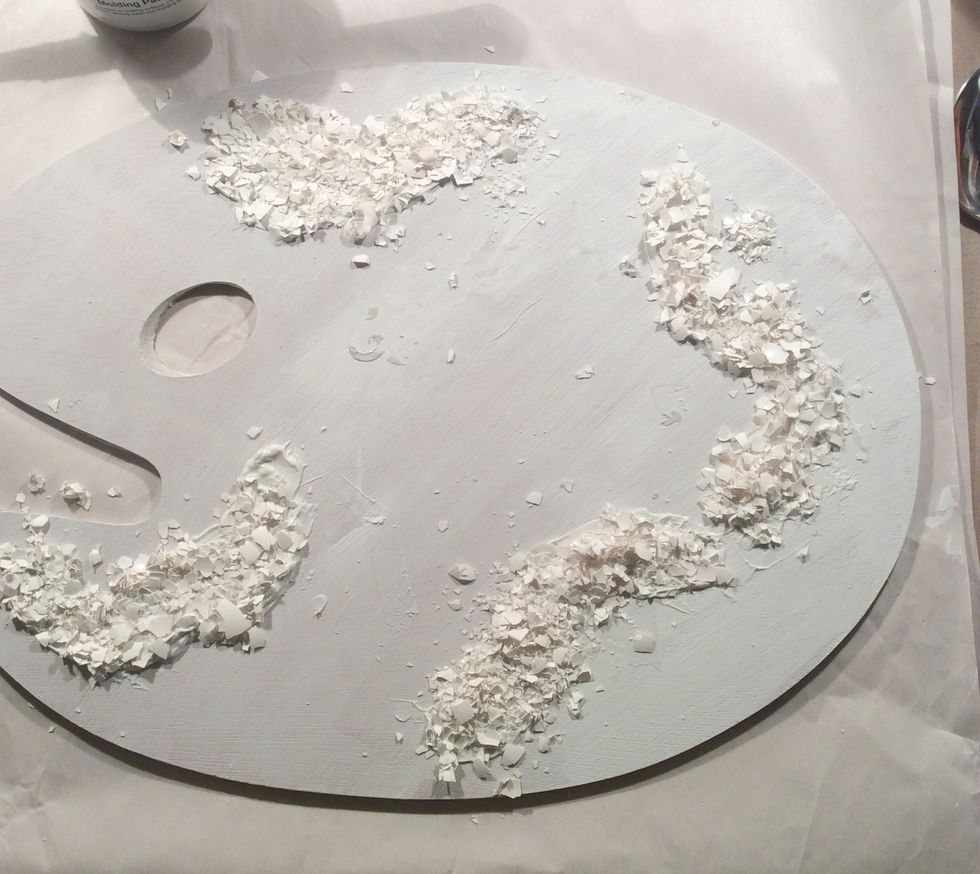 Adhere your shells with a strong adhesive... I used Glue and Seal. Allow to dry completely.
Using different stencils and molding paste or in this case I used Glass Bead Gel, apply to your canvas.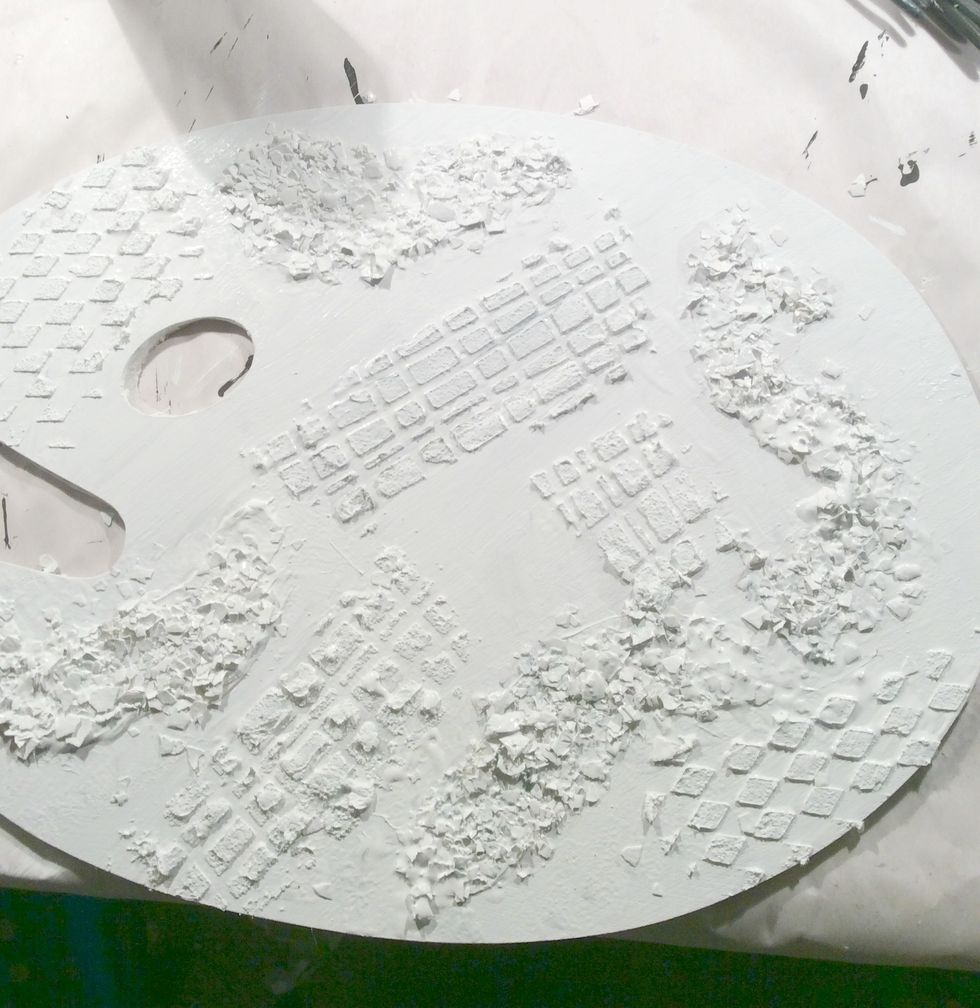 Once completely dried apply a coat of white acrylic paint and allow the paint to dry completely.
In sections, apply a coat of black acrylic to the top and allow to dry a bit, but not completely.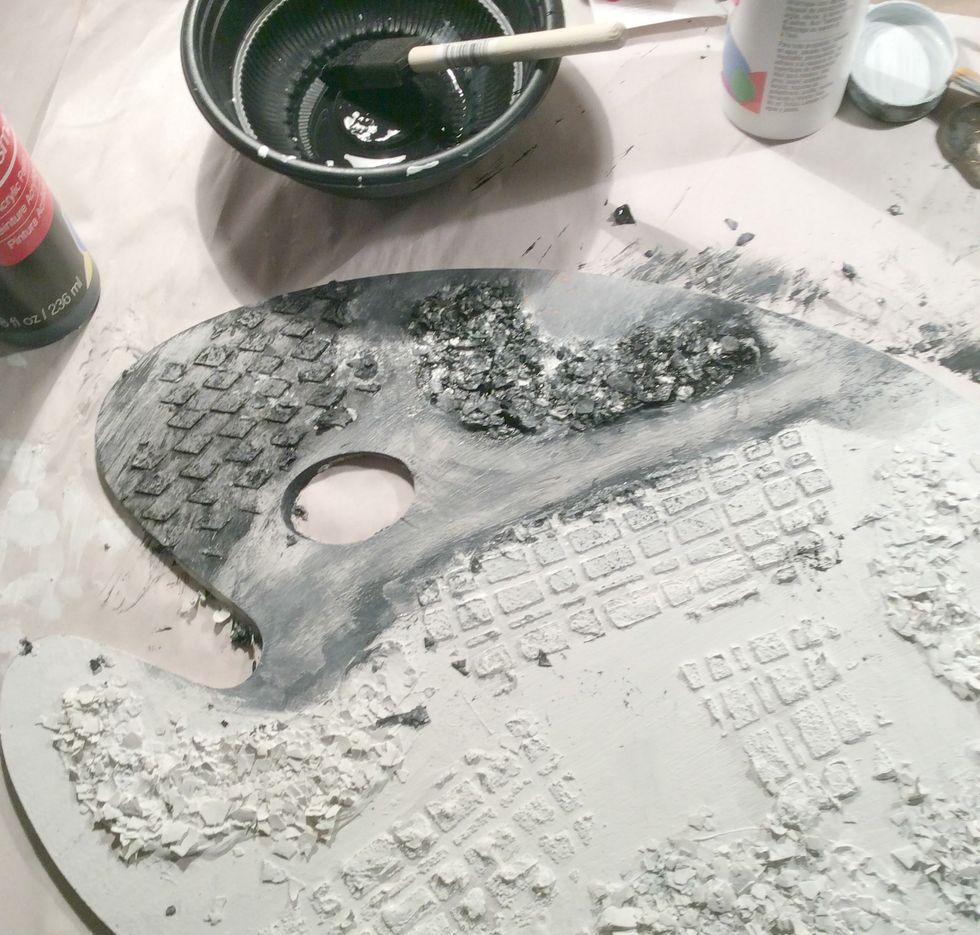 Using a paper towel carefully wipe off the black paint being careful not to remove your egg shells. They are delicate and can fall off easily if too much pressure is applied.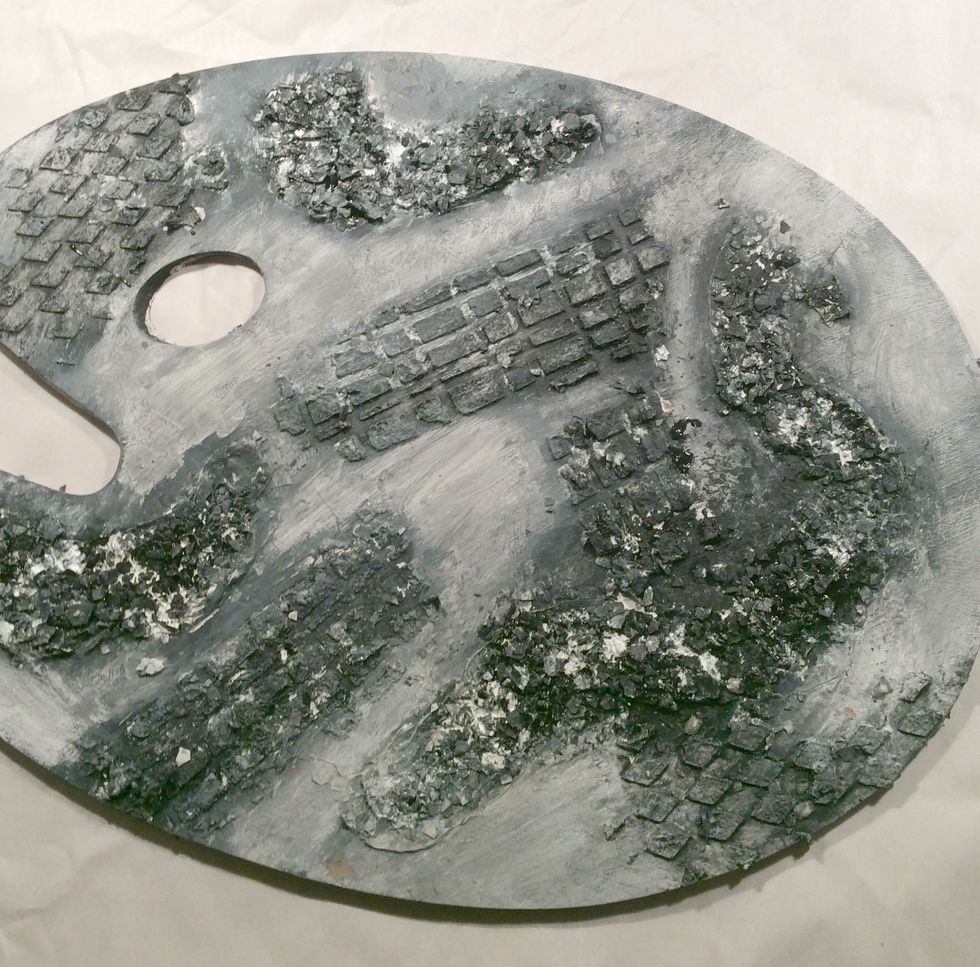 Continue section by section. I do this because you don't want the black paint to dry too much or its difficult to get off. You can also use a baby wipe to remove some of the paint if dried too much.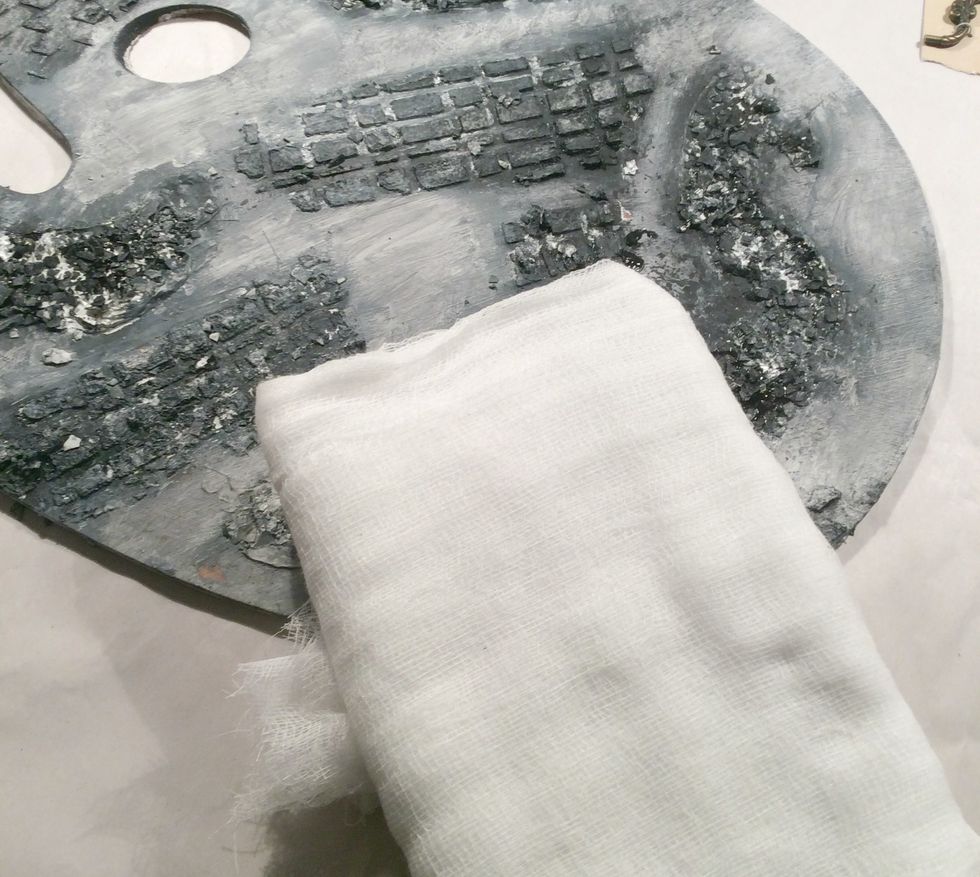 Cut pieces of cheese cloth and randomly adhere to your canvas for more texture using Mod Podge or your glue of choice.
Take your embellishments including paint brushes and flowers and glue them to your canvas. Start spraying your different colors of Lindys Stamp Gang sprays randomly over your canvas.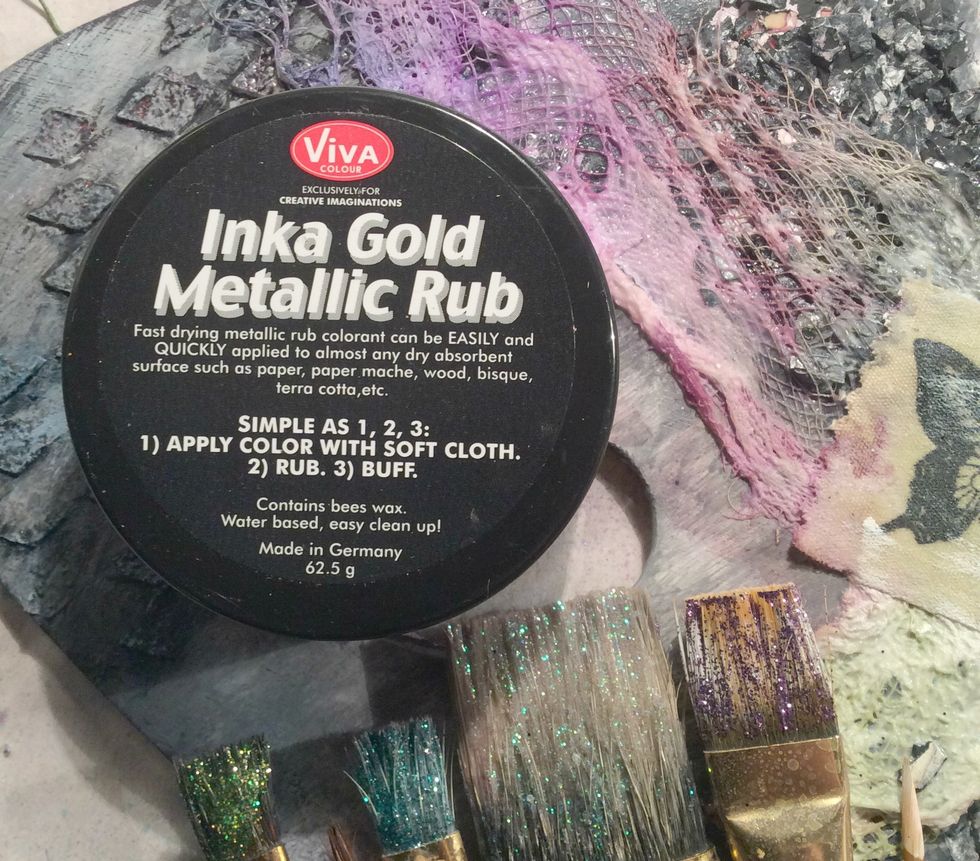 Using Inka Gold, apply randomly to high point of your items on your canvas for pretty gold touches.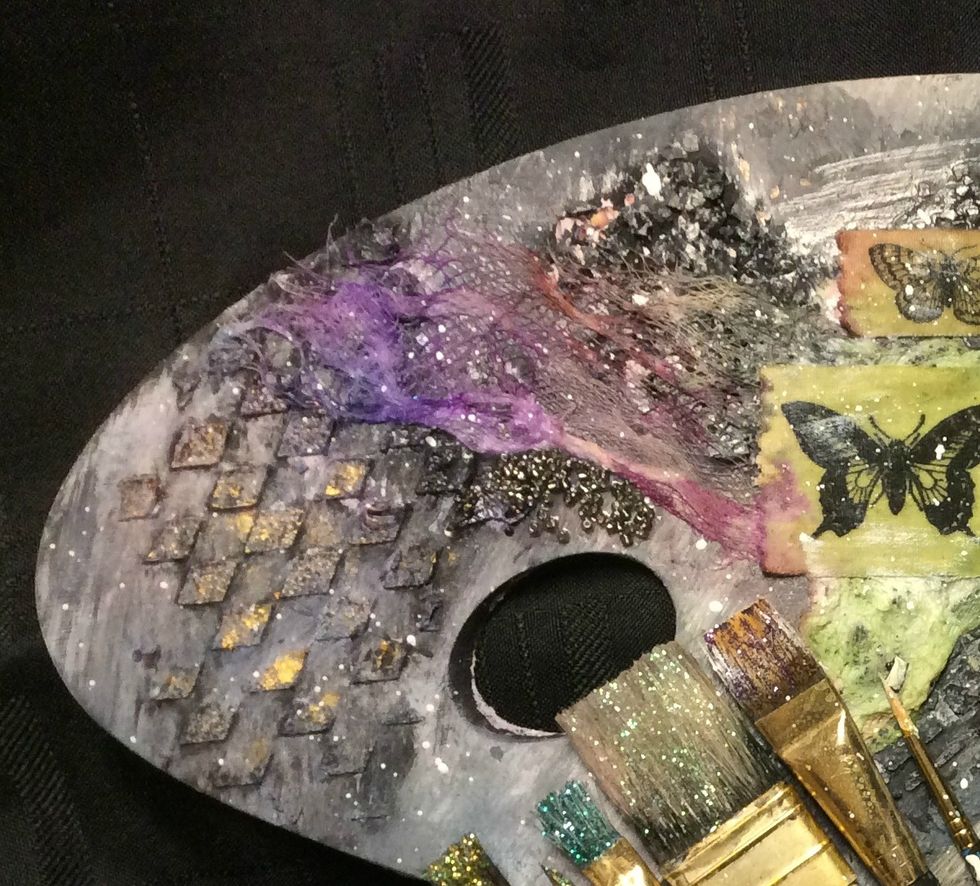 The Inka Gold just adds that extra little bit of glimmer. You can add this to the paint brush handles, the frame anything.
Smokey gray seed beads were glued in puddles here and there for more texture.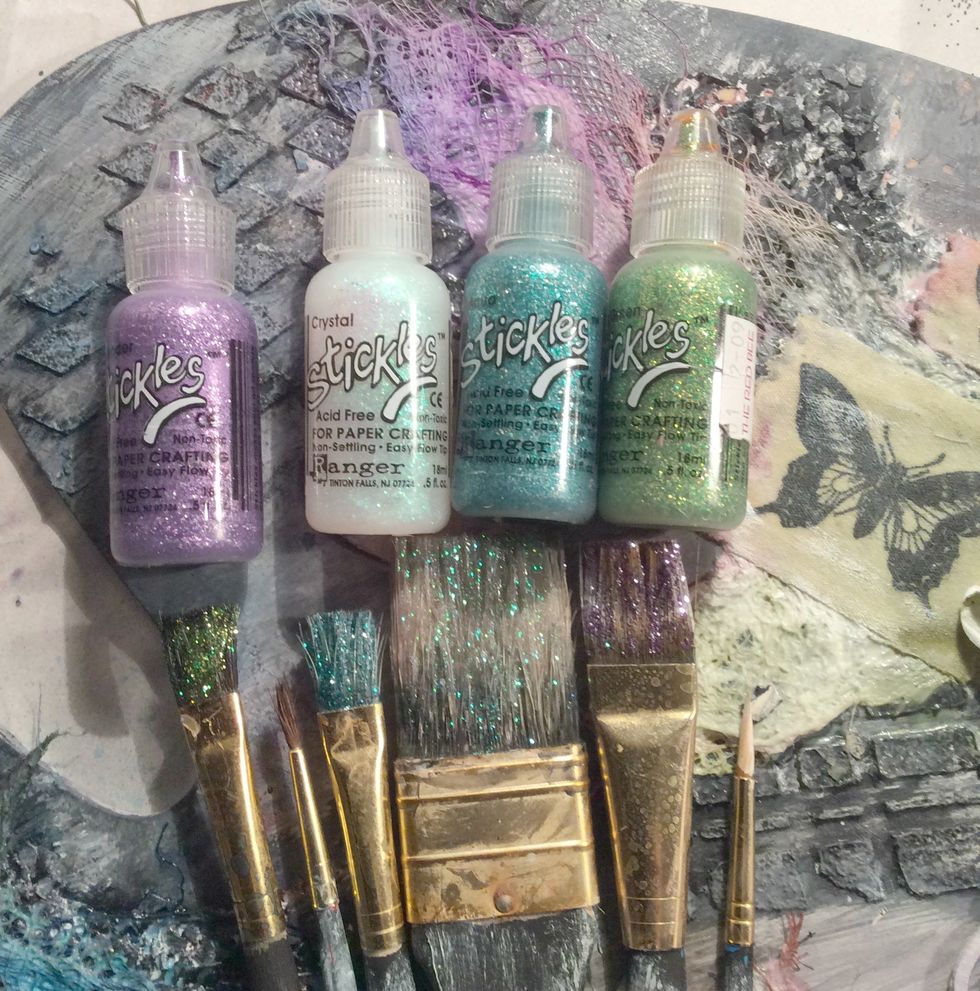 Apply different color stickles to the paint brush bristles for a bit of bling.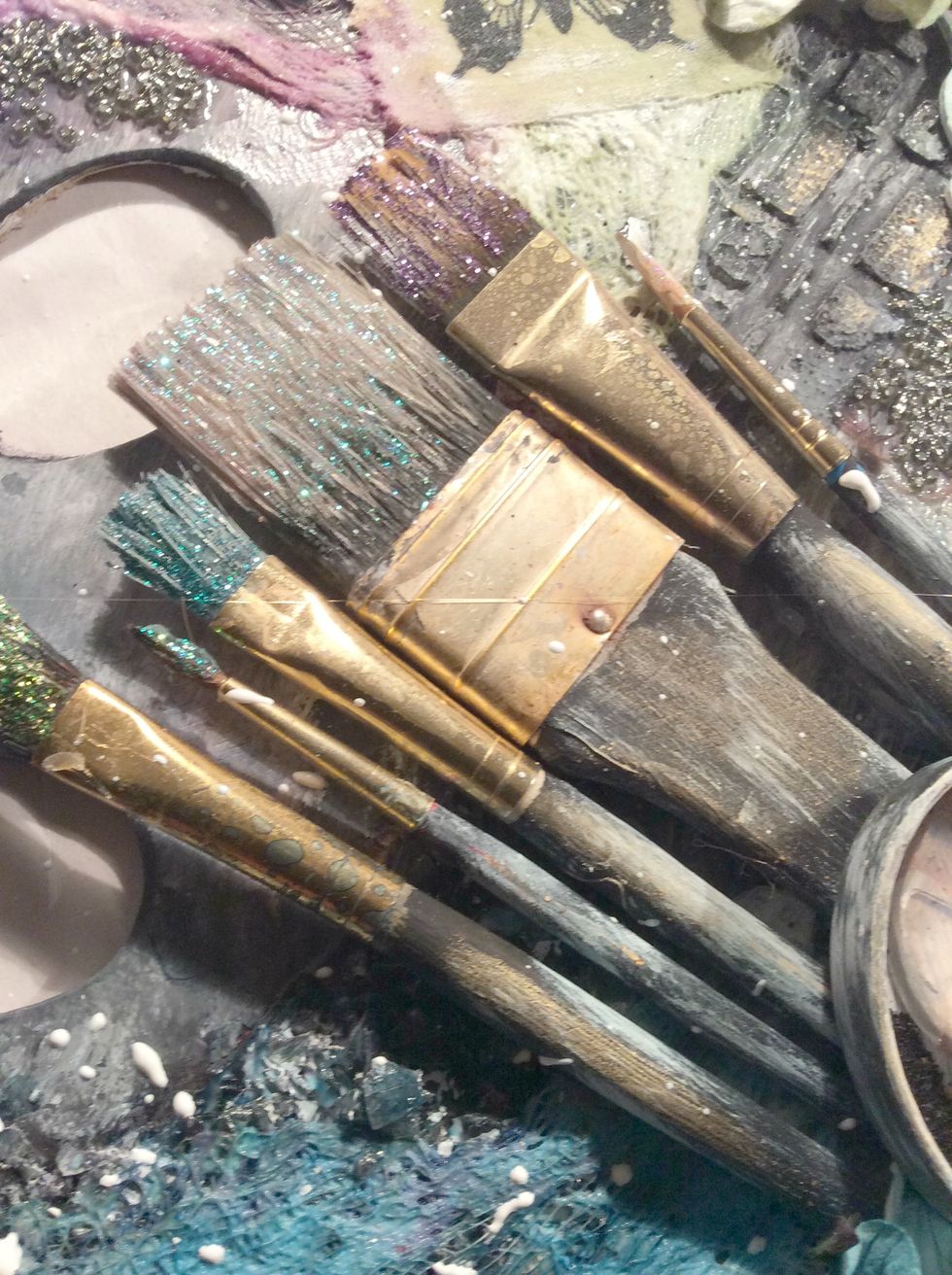 I painted all the handles of the brushes black and then sanded a bit and dry brushed white acrylic paint over the top for an aged look.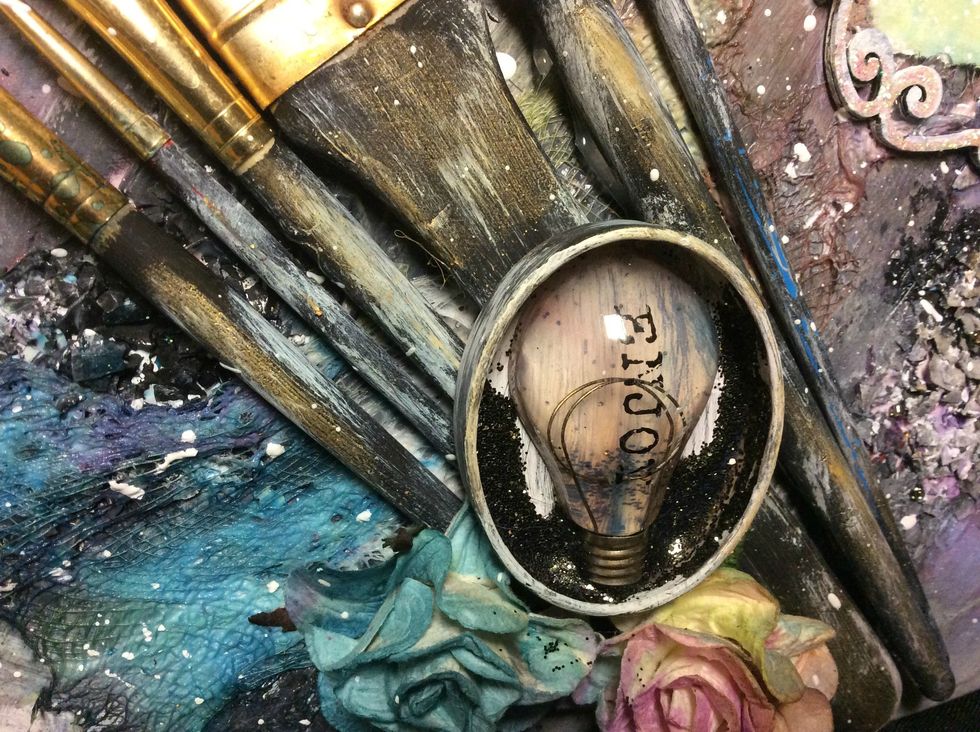 This metal cup was painted with gesso. Black glitter was sprinkled inside and Prima Junkyard Finding lightbulb was glued down.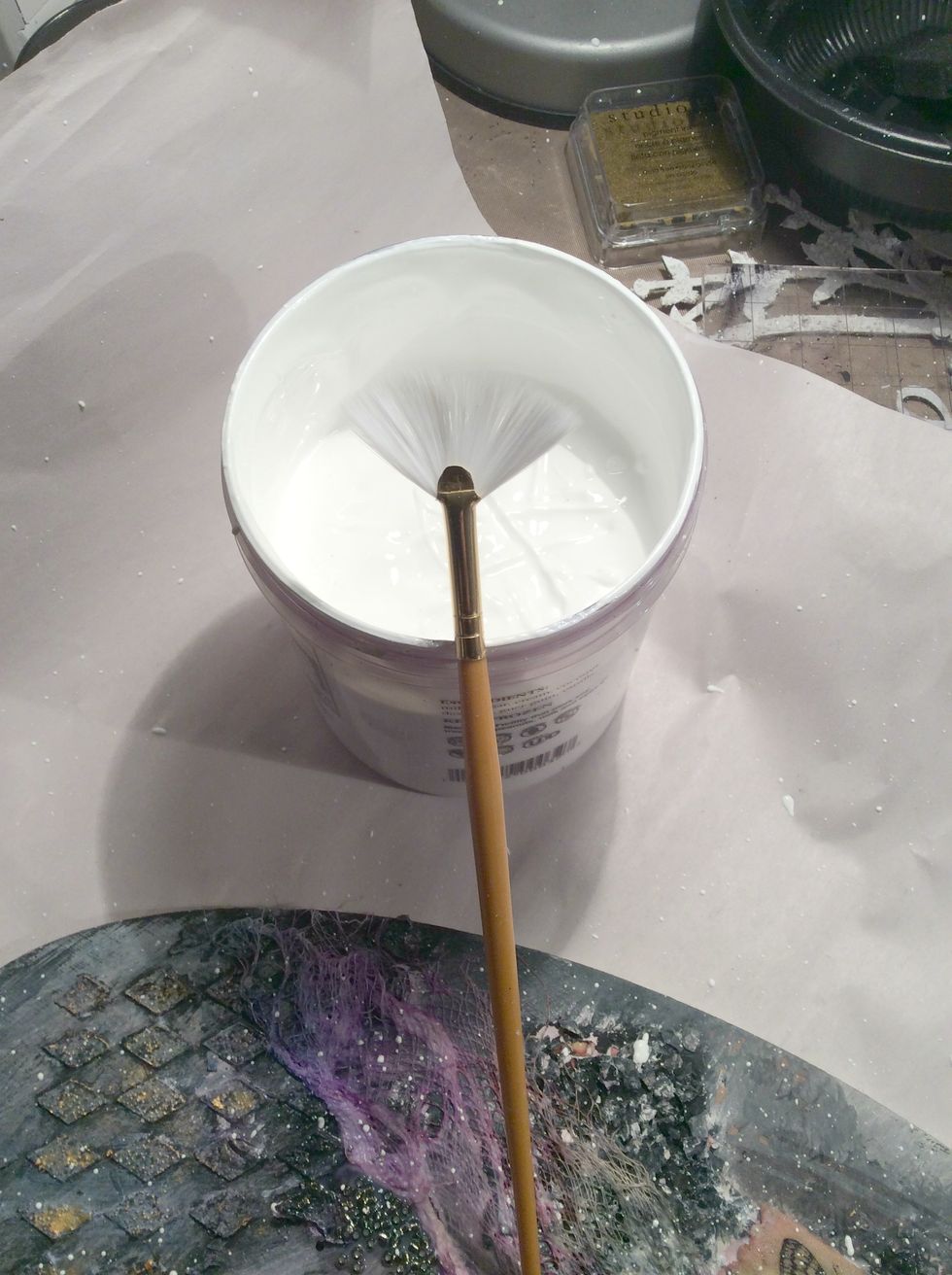 For the finishing touch, using a fan brush, flick white gesso over the top of your canvas. You can also use a small paint brush, tap it on your hand to cause splatters to your project.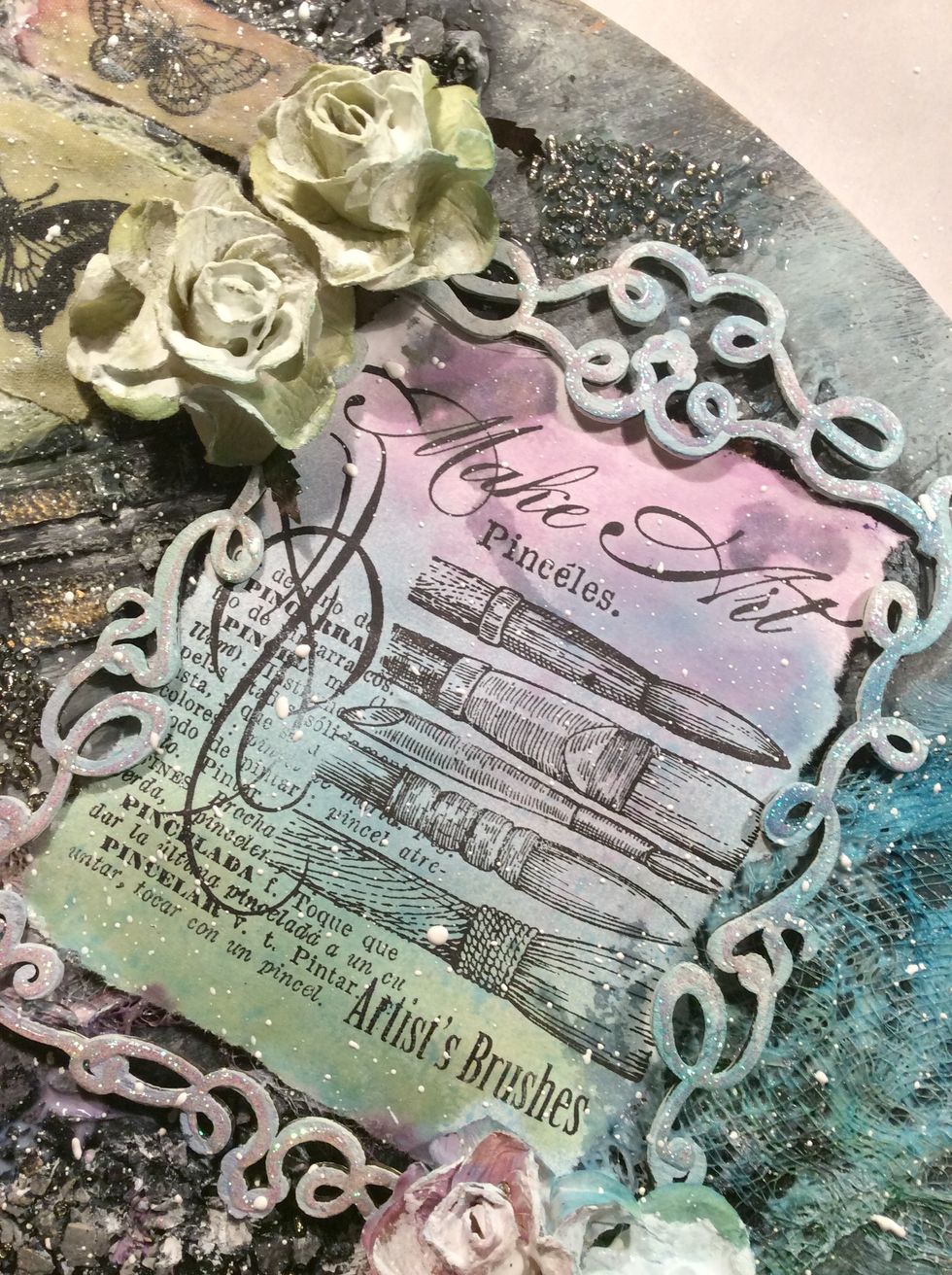 Stamp your image and spray it with my Lindys Stamp Gang sprays adhere behind the frame.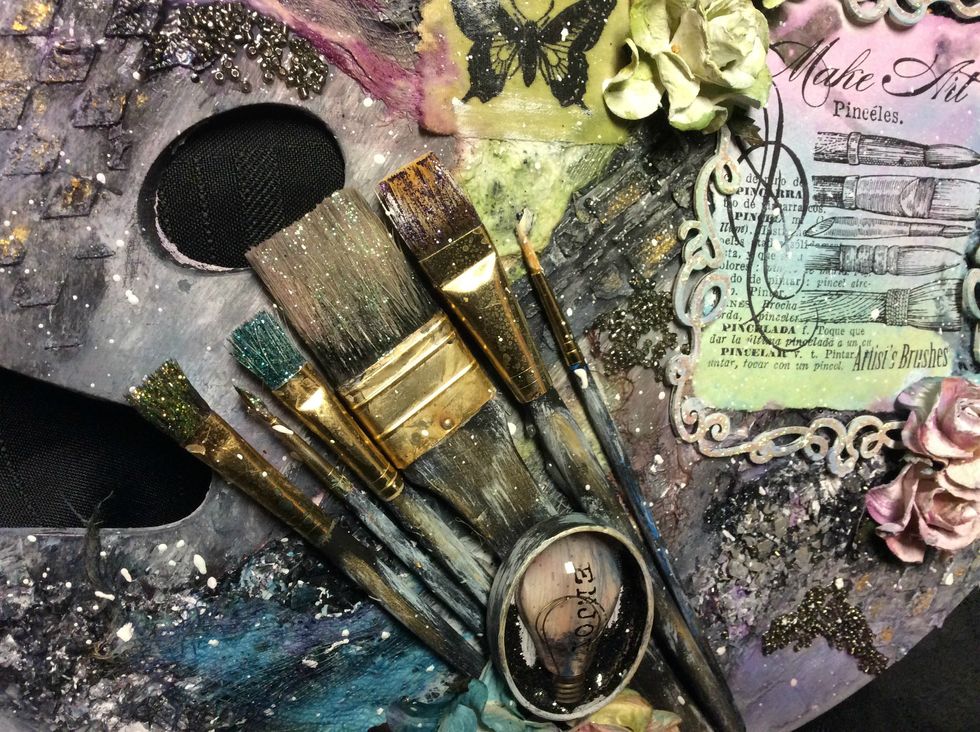 The Stickles really add a pretty sparkle to the paint brushes.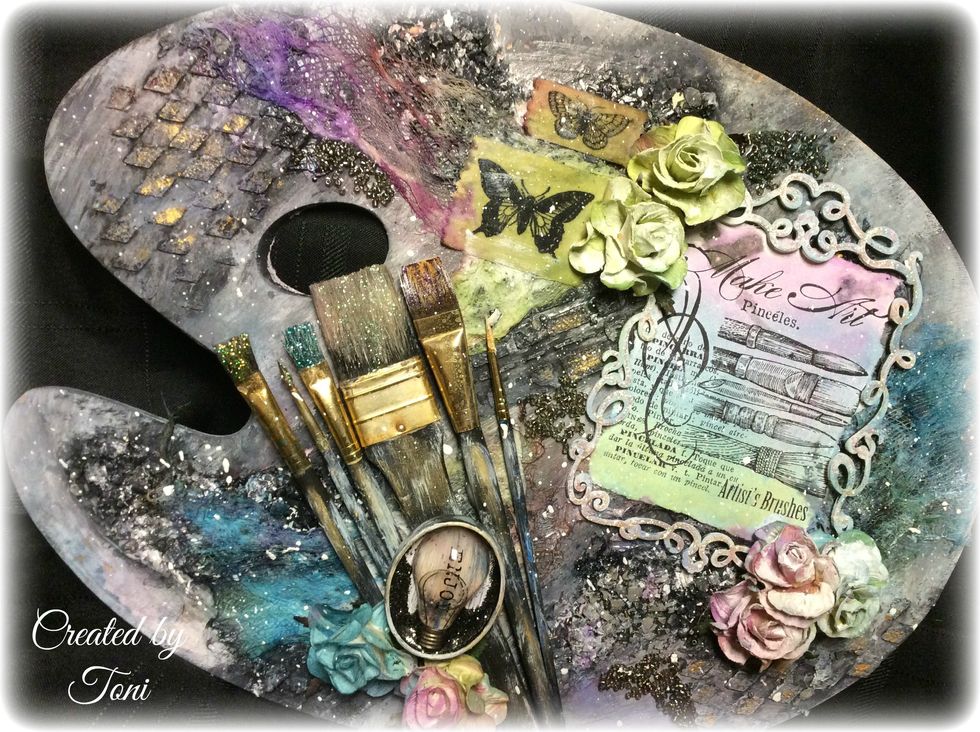 Textures and layers are the key in mixed media... so have fun thinking of different things around the house that you can use in your projects.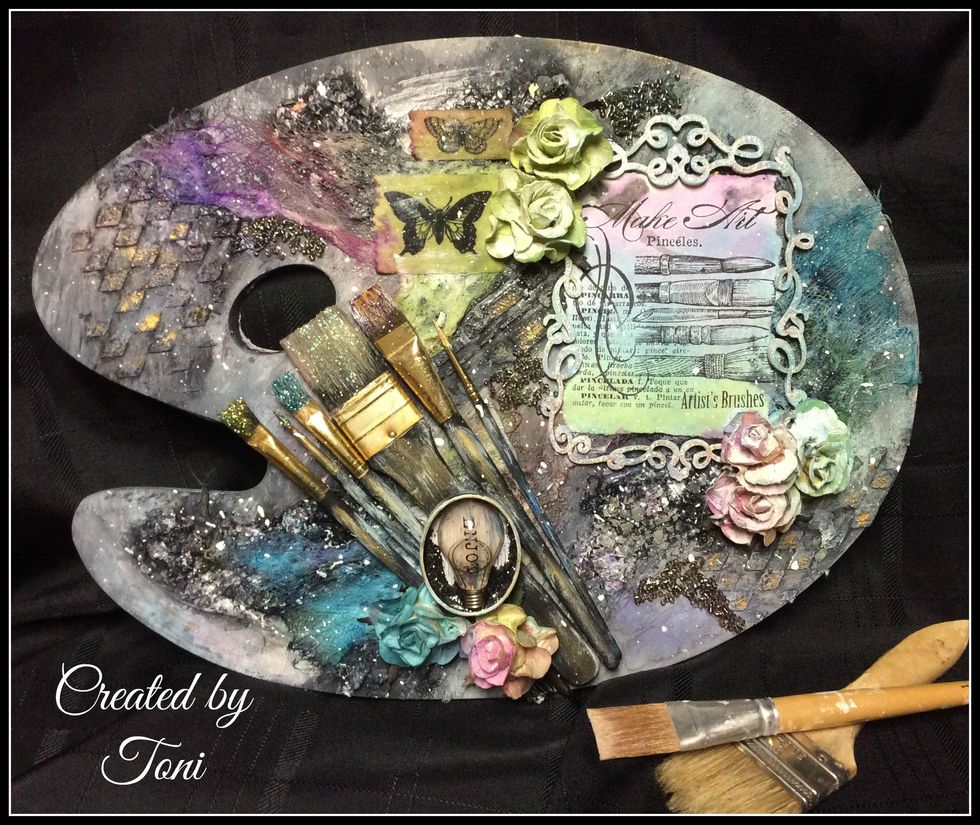 Hope you enjoyed this tutorial. For more inspiration please stop by my blog at http://www.toni-burks.blogspot.com/
Artist Painting Palette
Seed Beads
Texture Paste
Inks & Stains
Cheese Cloth
Egg Shells
Adhesive
Asst. Paint Brushes
Flowers
Glitter
Gesso
Acrylic Paint
Inka Gold
Toni Burks-Grijalva
♥ getting messy with my inks & paints. I hope I can provide some fun tutorials for your creative journey. Visit my blog @http://www.toni-burks.blogspot.com/
Rancho Cucamonga, California