How to use tcw stencils to create a fall decor piece
Use TCW Stencils to Create a Fall Decor Piece
106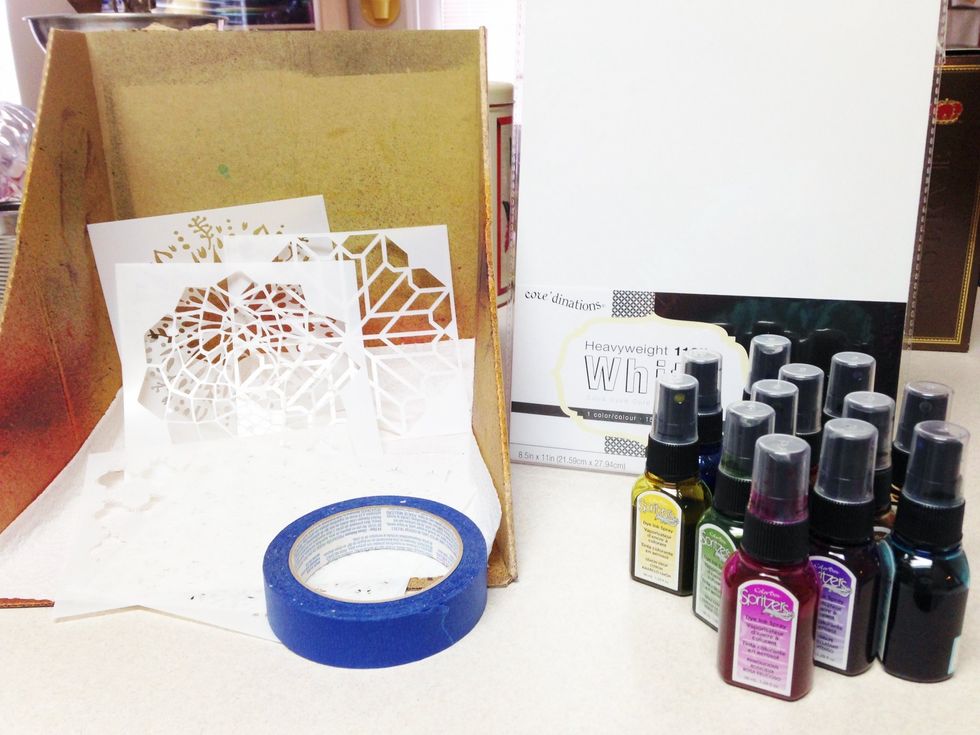 supplies #1...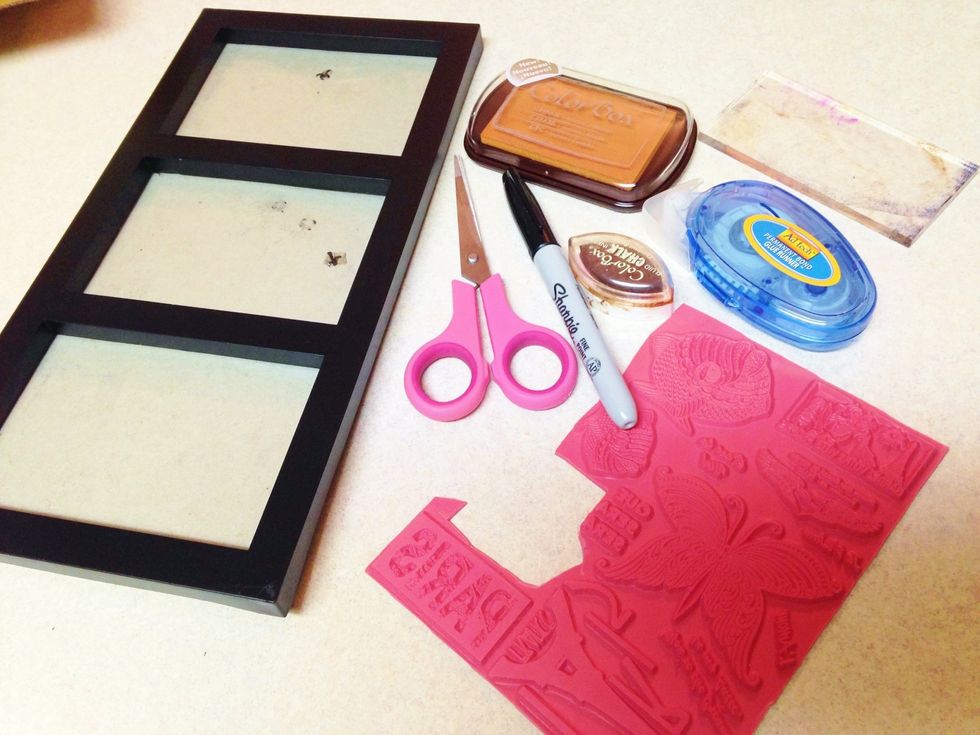 supplies #2...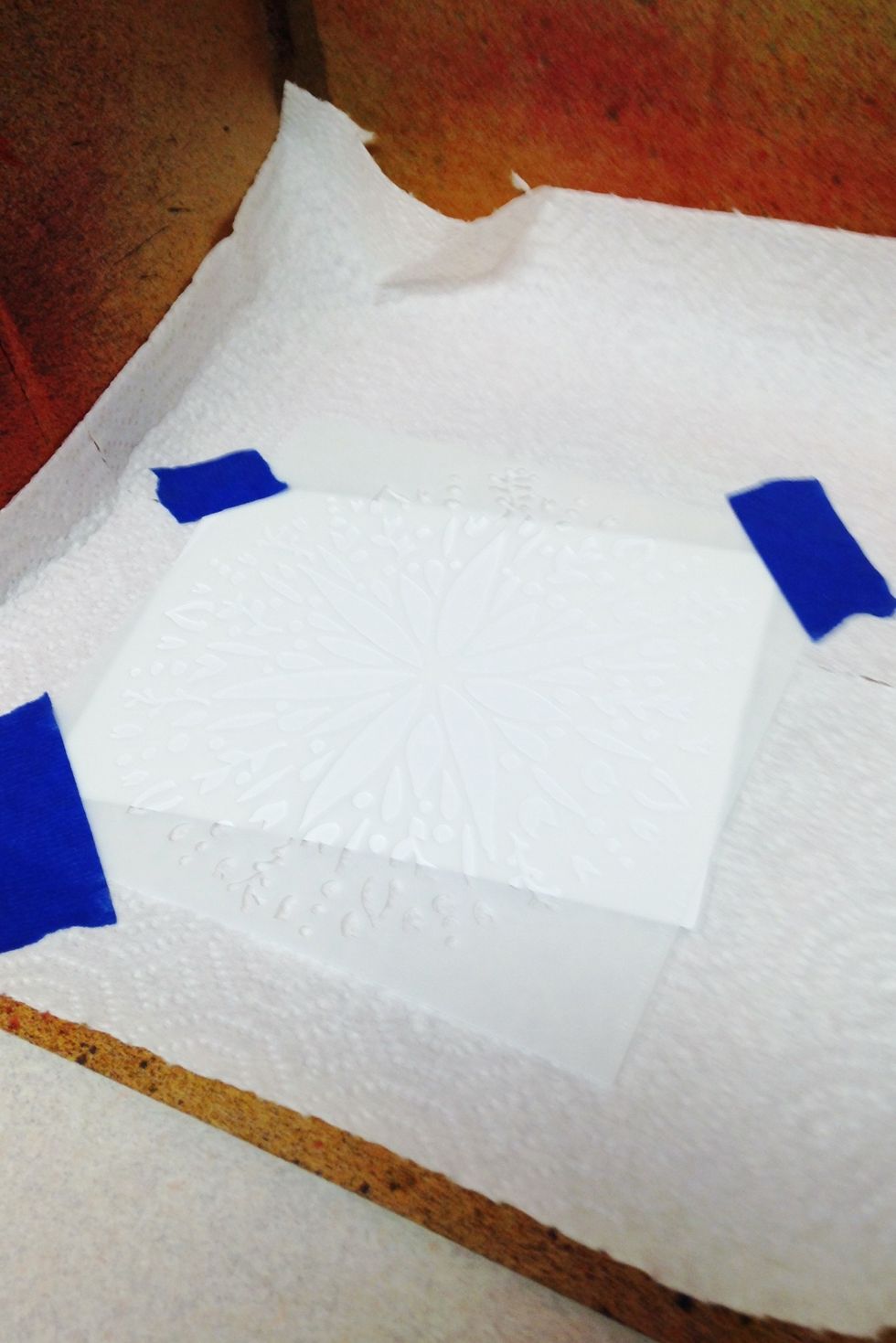 line Color Catcher with paper towels, cut cardstock into 6 - 4 X 6 pieces. lay 1 - 4 X 6 cardstock in Color Catcher, then tape Folk Art Flower Template down over it.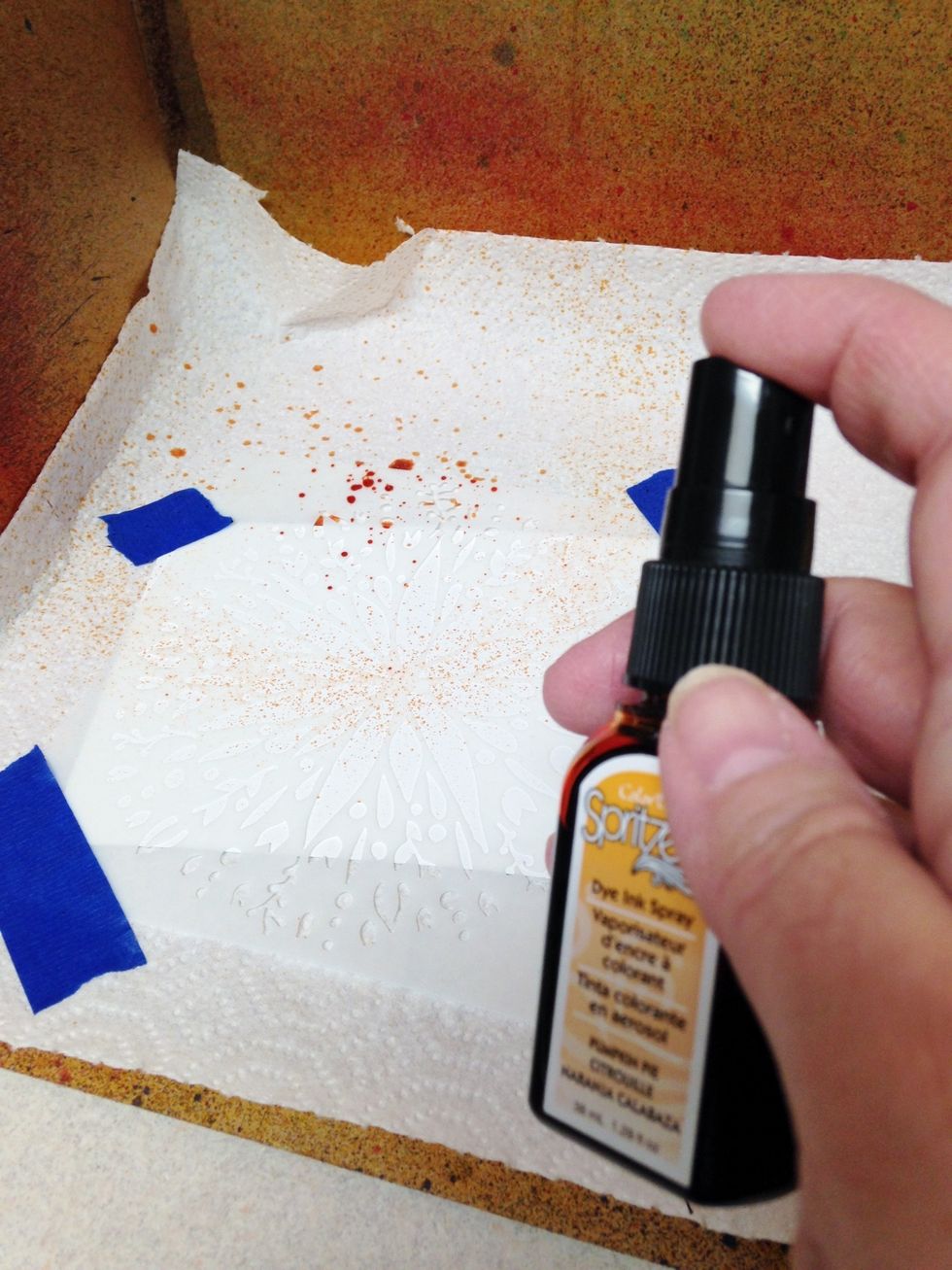 spritz using your choice of ColorBox Spritzers, working from lightest color to darkest, varying concentration and placement.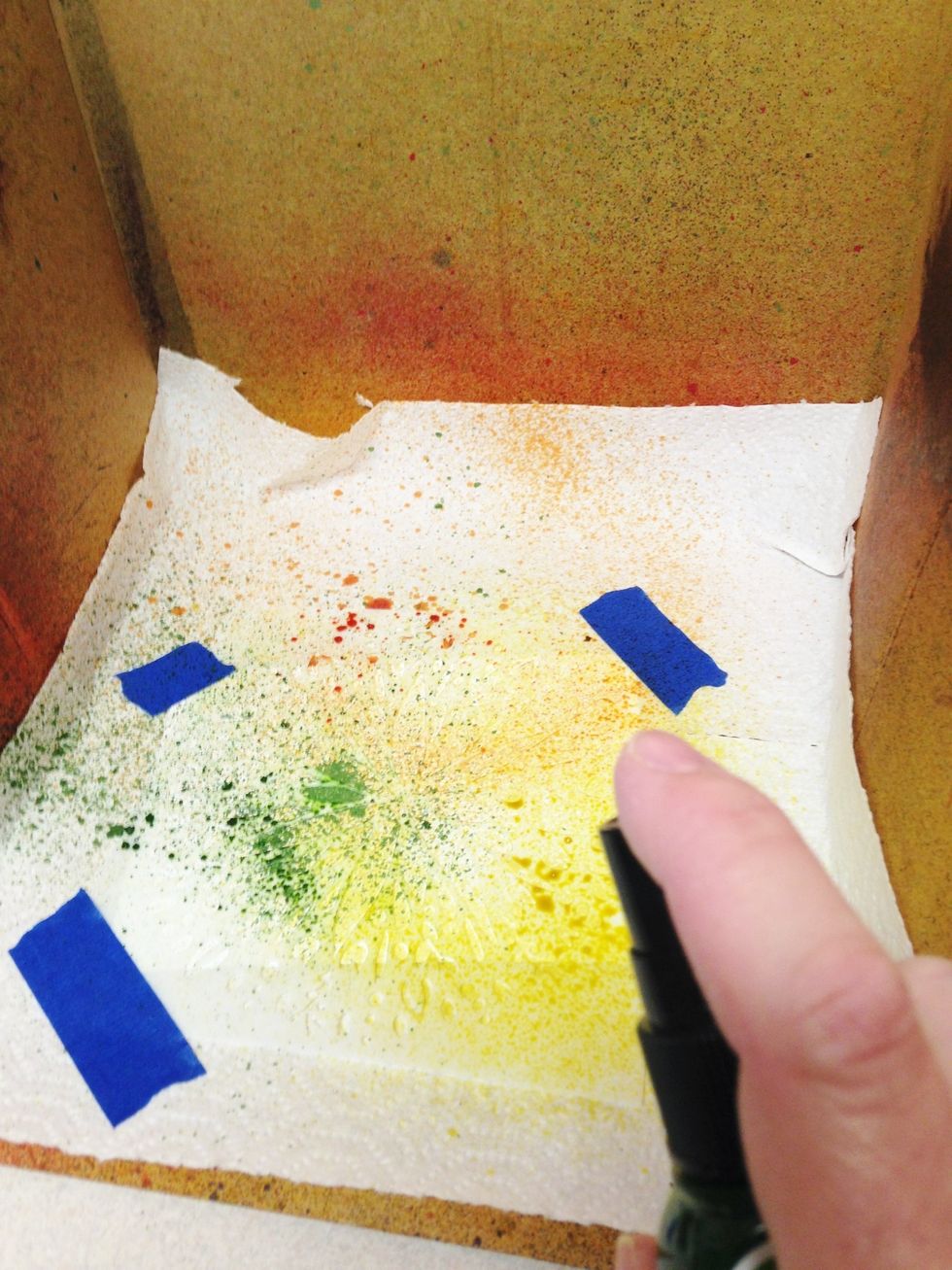 continue layering on Spritzer colors until you are happy with the colors and intensity.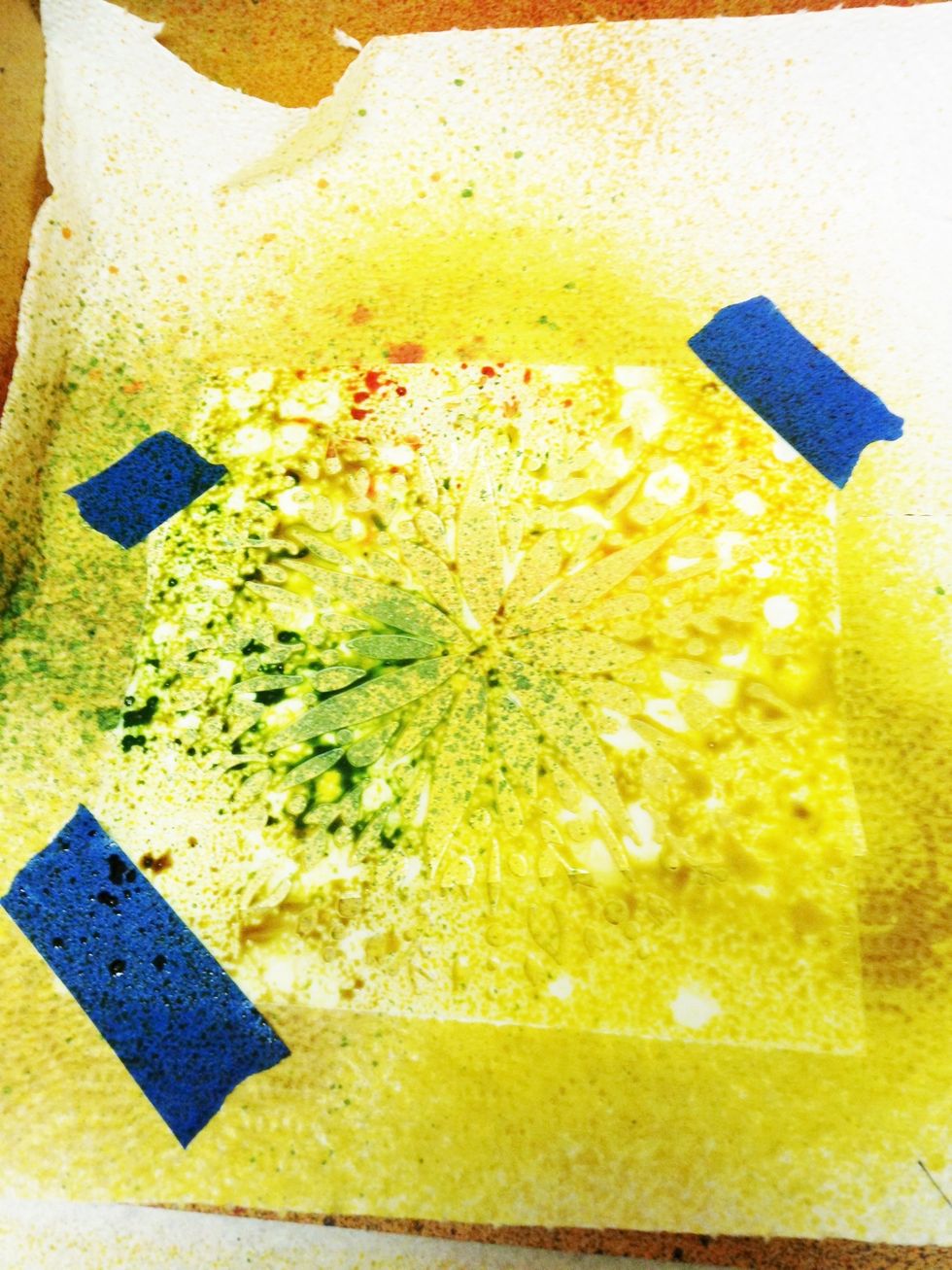 sample with finished spritzing.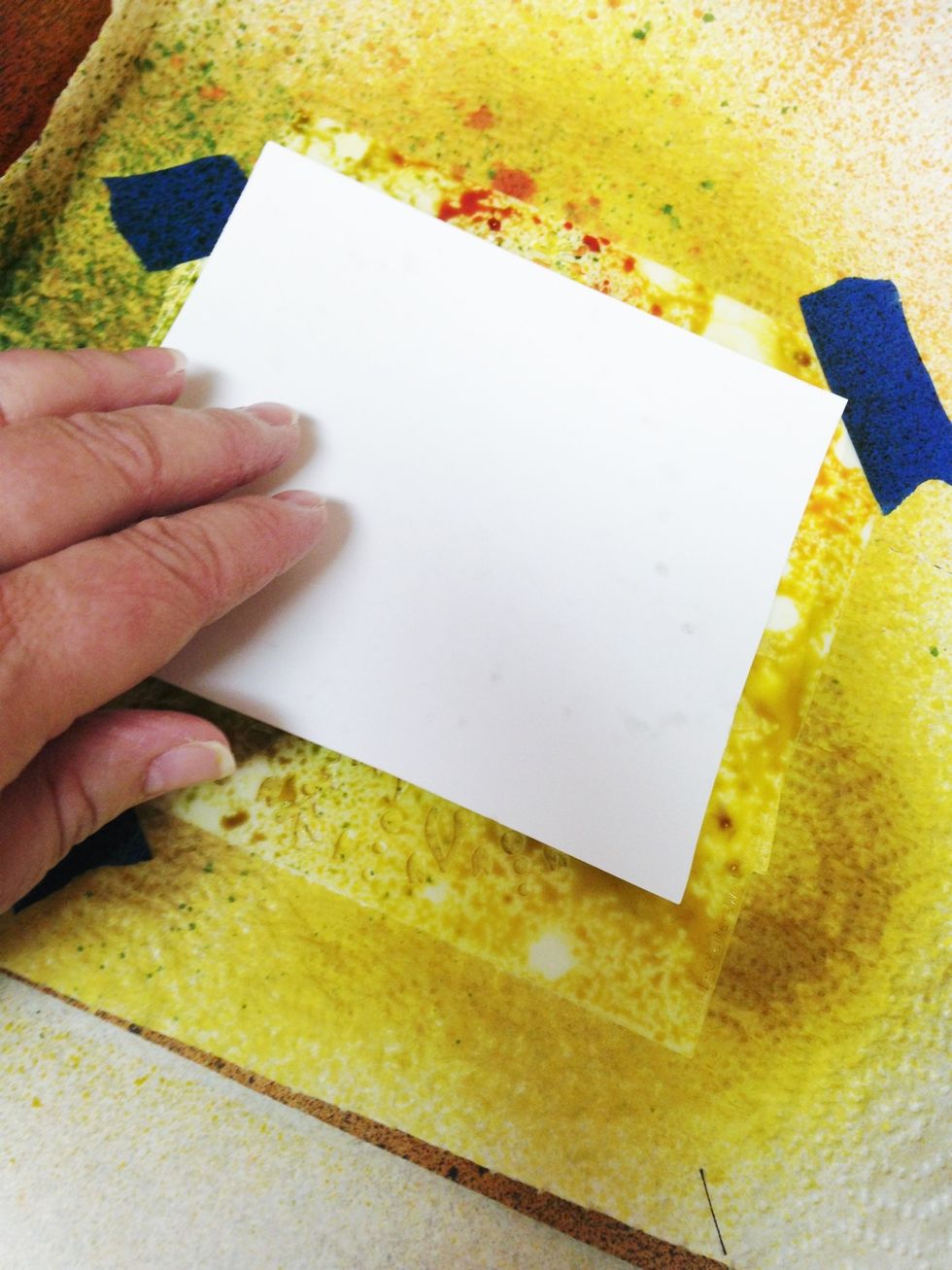 to make use of excess ink on top of template, press a 4 X 6 paper on top of template. gently smooth with fingers or brayer to transfer ink.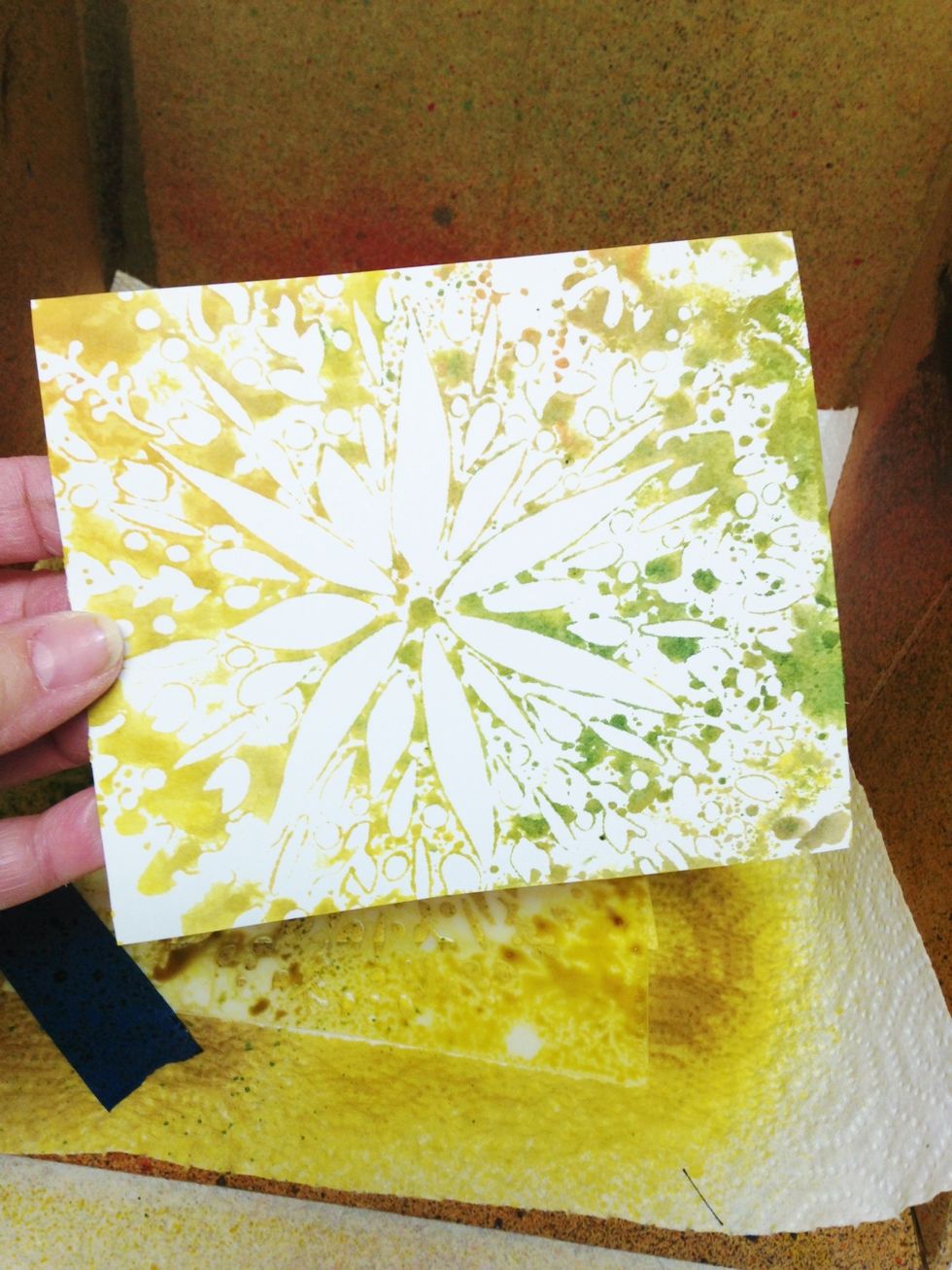 ghost image created. reserve to make a card or other project.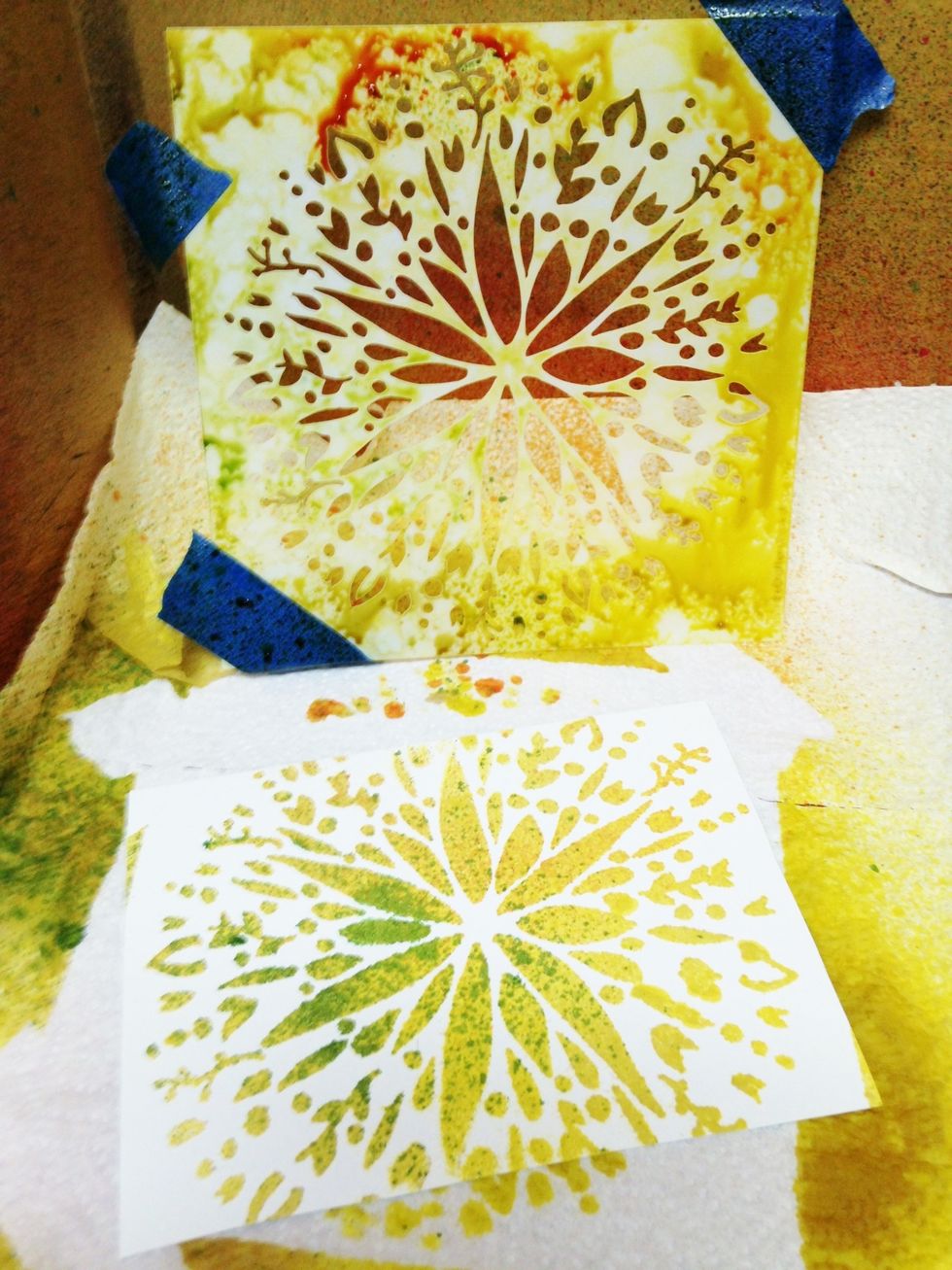 stenciled image created. remove tape, and cardstock. rinse stencil and set aside to dry.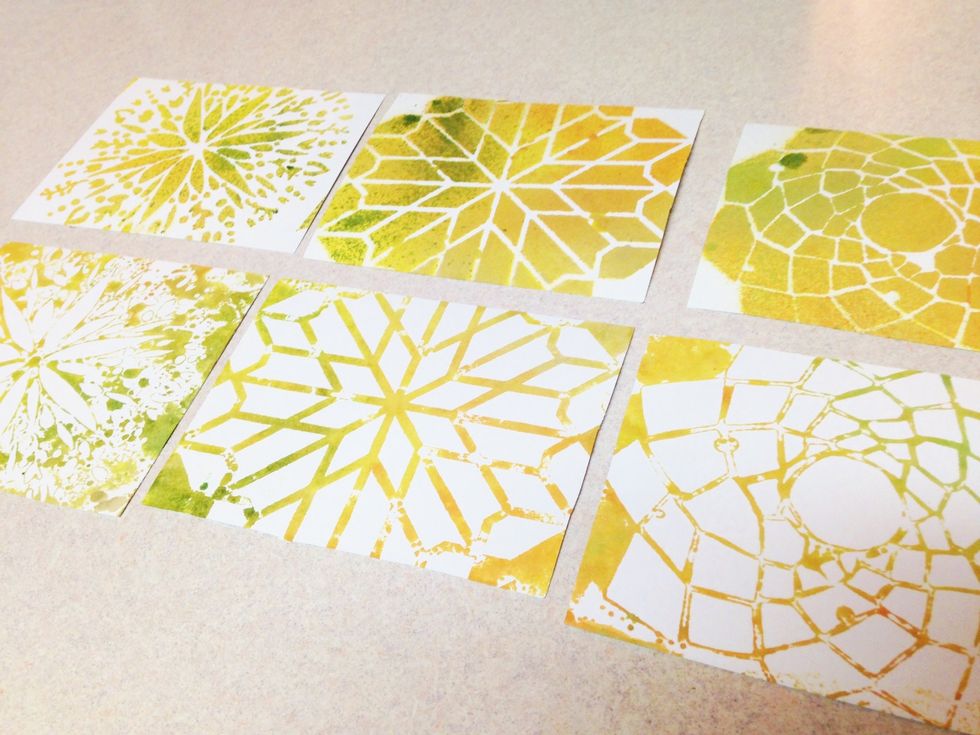 repeat steps 3 thru 9 using Chrysanthemum and Trapezoid Templates. reserve ghost images for future projects. sample images show - spritzed template papers top row, ghost images bottom row.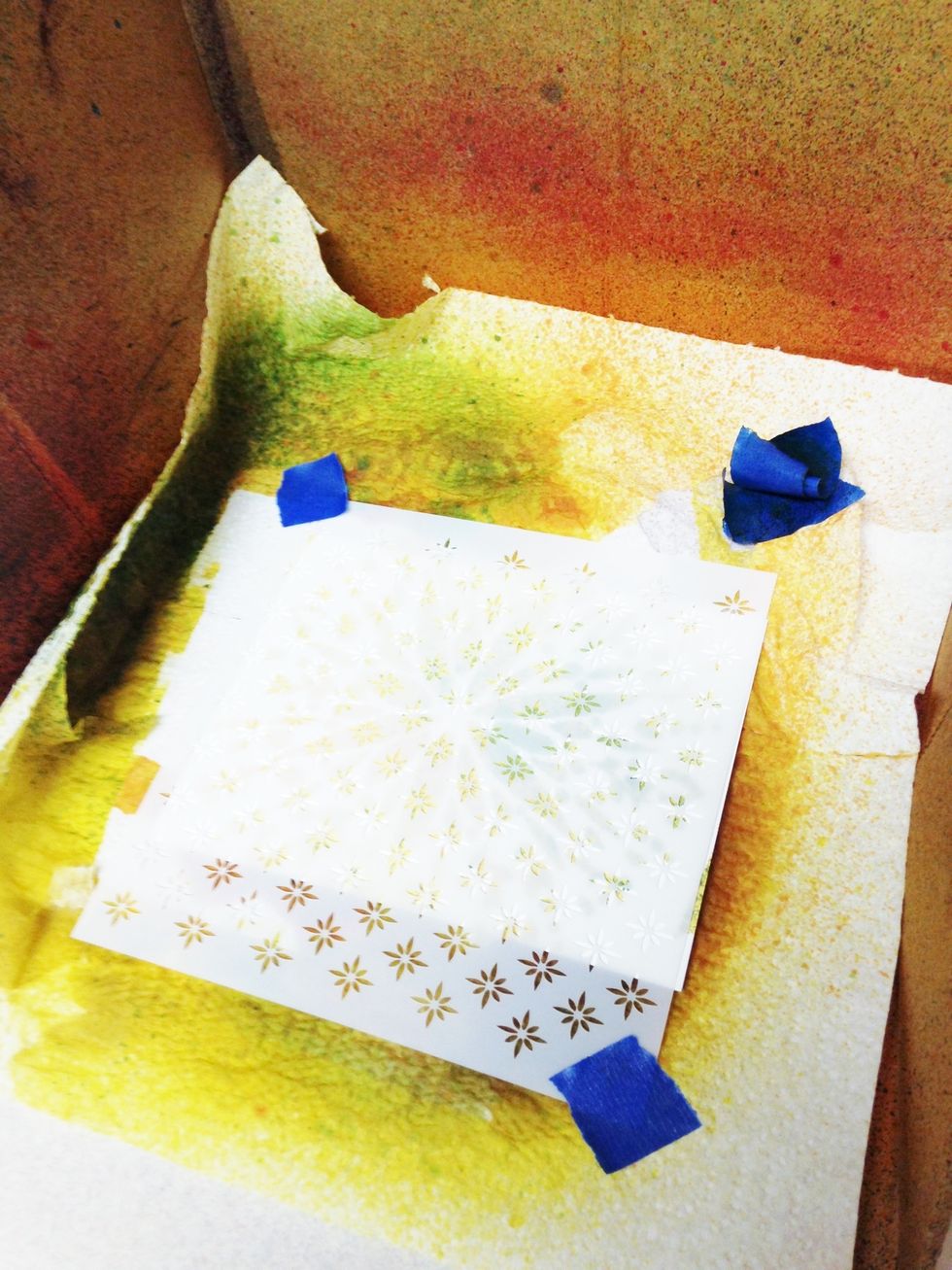 to add more texture to papers, layer another stencil over previously stenciled designs. use North Star, Alhambra and Fireworks Templates and a darker shade of ColorBox Spriter.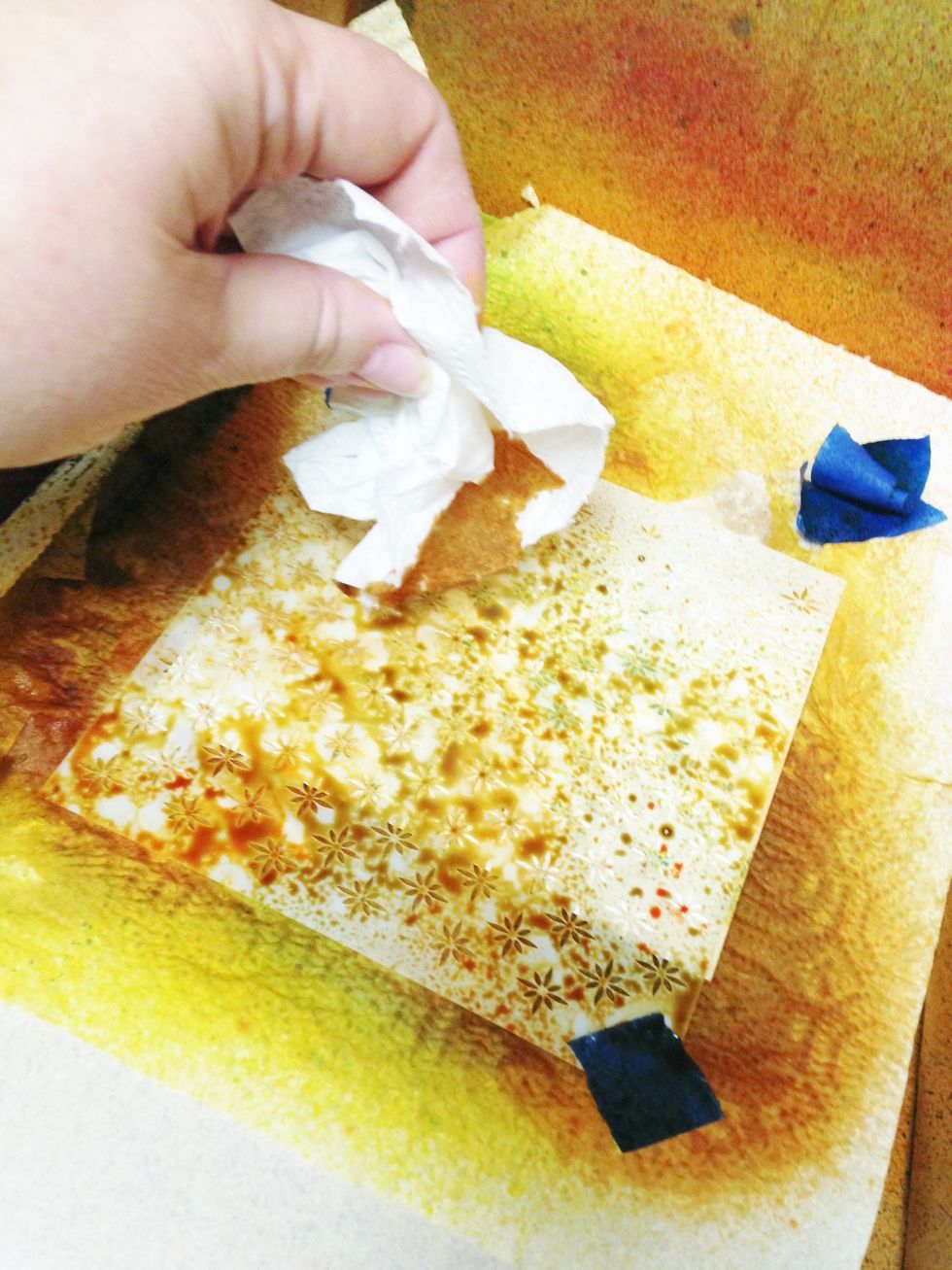 in order to get the ink in all the TINY spaces of these templates with more petite designs, tap ink in after spritzing using a wadded up paper towel.
second layer added to cardstock. repeat for other 2 stenciled cardstocks.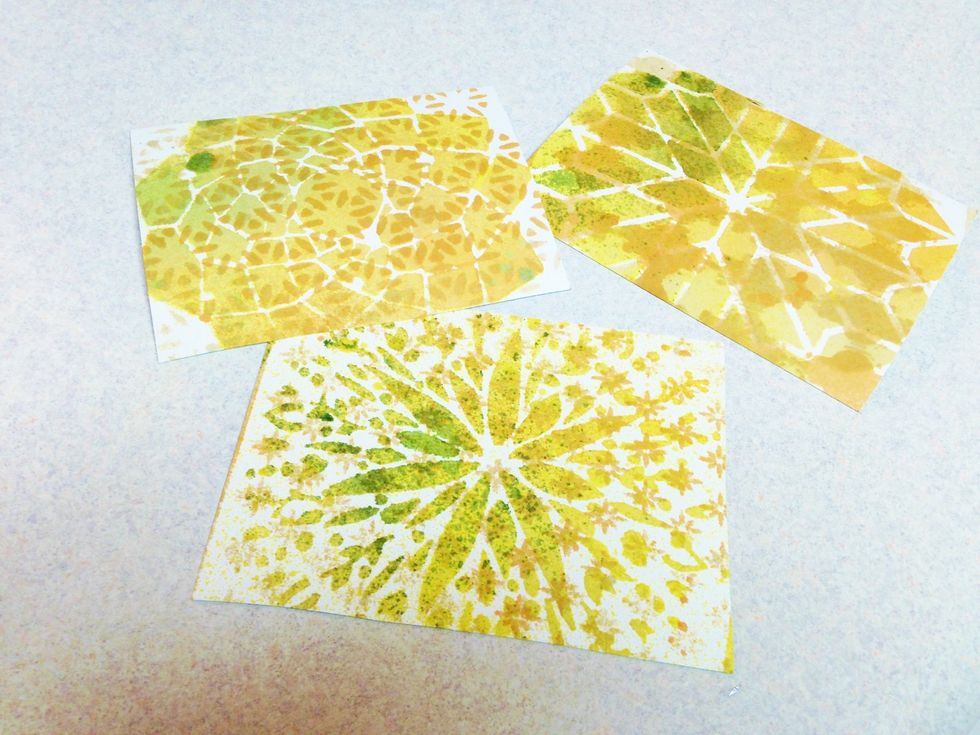 cardstocks with second layer added.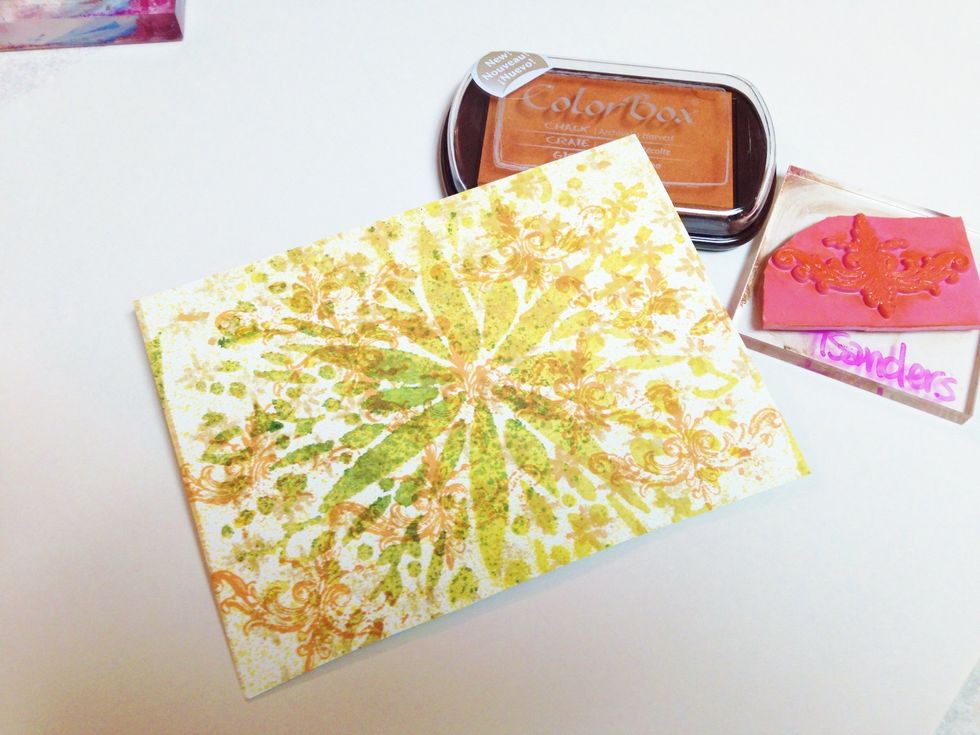 for even more texture, add a stamped layer using stamps from Viva Las Vegas' Pound O' Rubber stamps and ColorBox Harvest Chalk Ink. temporarily adhere rubber stamps to block with double sided tape.
cardstock pieces after stamping layer has been added.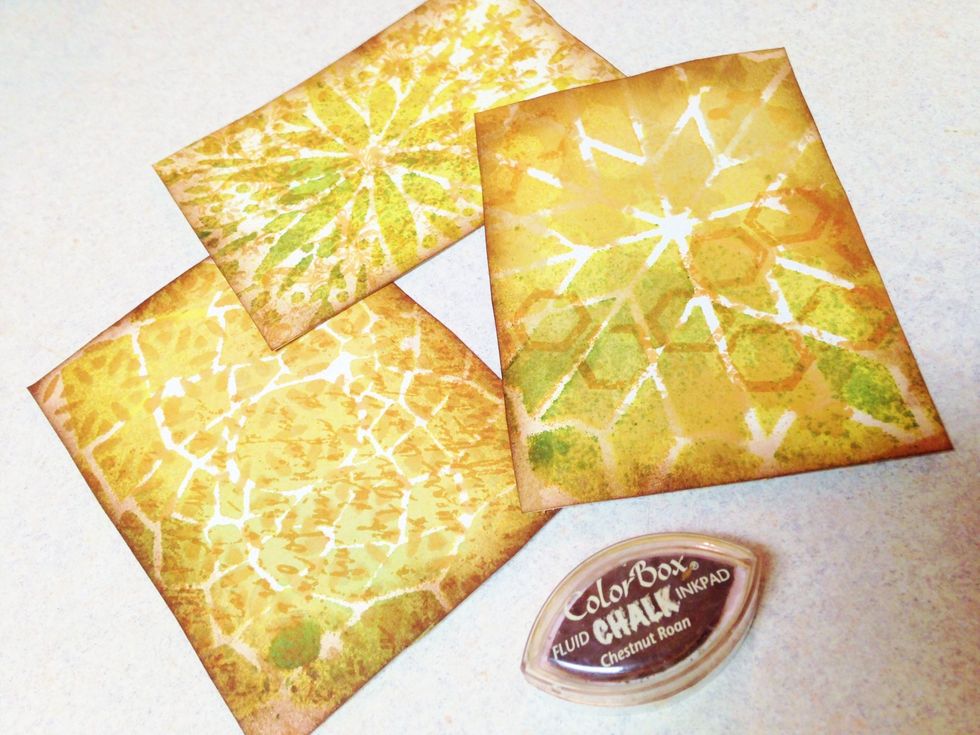 trim cardstock pieces slightly larger than windows in frame, distress edges using ColorBox Chestnut Roan Chalk Ink. be sure to ink a WIDE edge as a portion of the edges will be outside the window.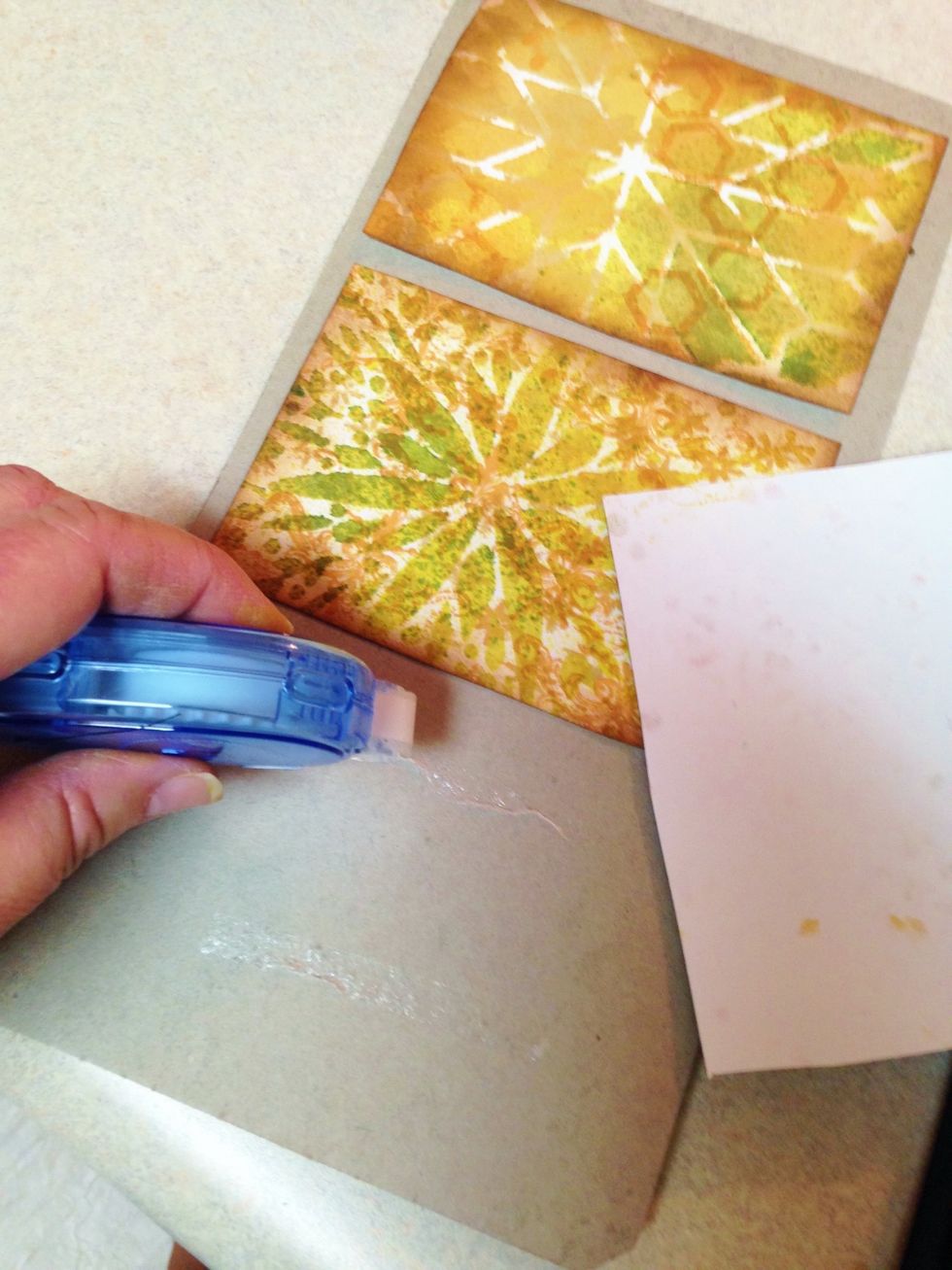 adhere finished cardstock pieces to chipboard backer of frame, spacing so they will show through the windows of the frame.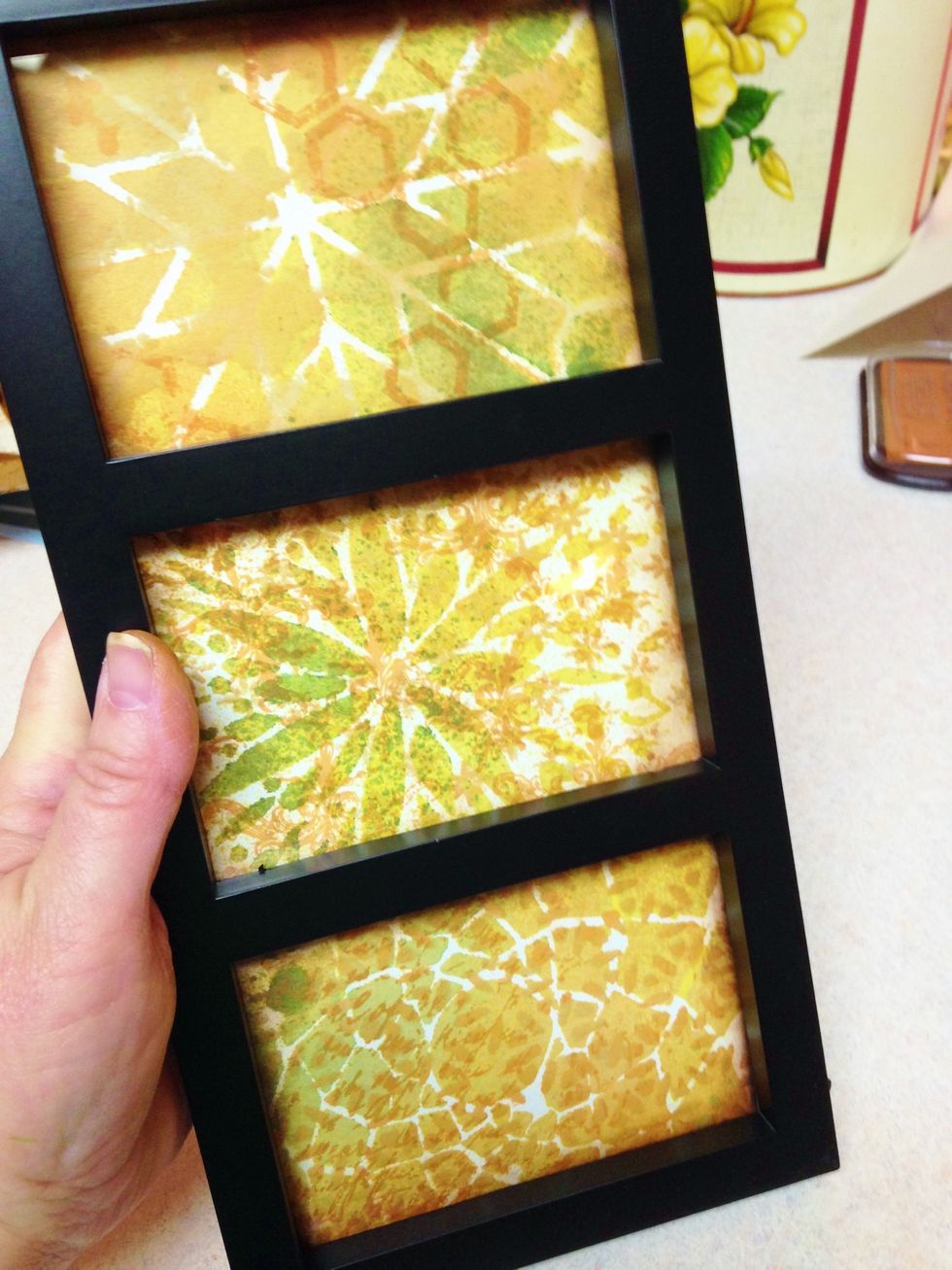 check cardstock placement, then reassemble frame.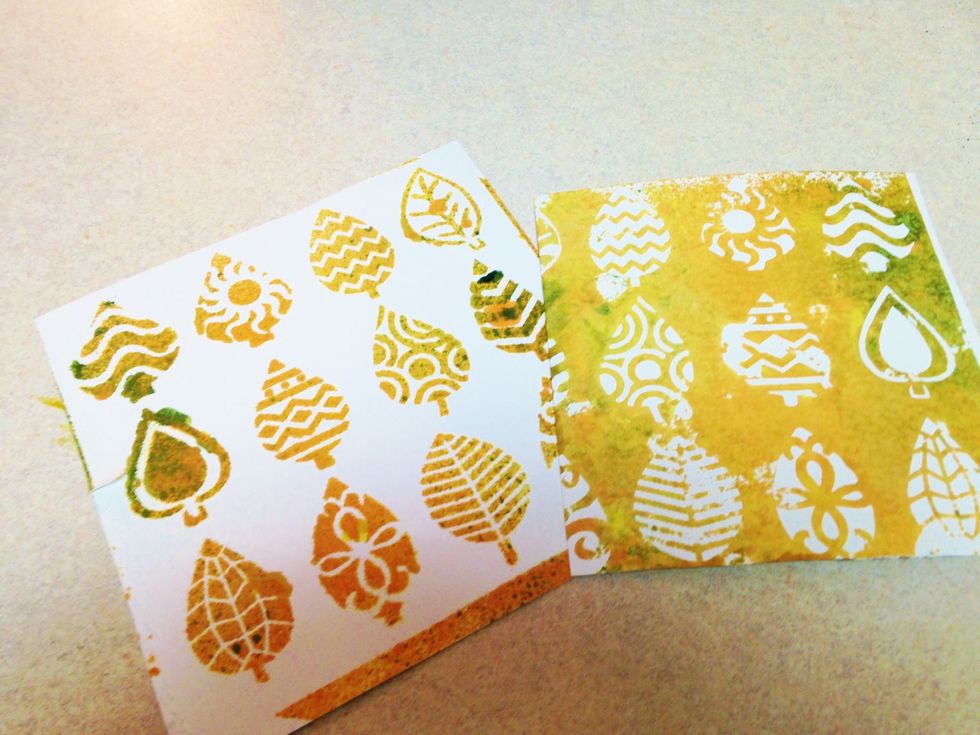 i decided i wanted some leaves to embellish my frame so using the same techniques as before, i made some using the Abstract Leaves template.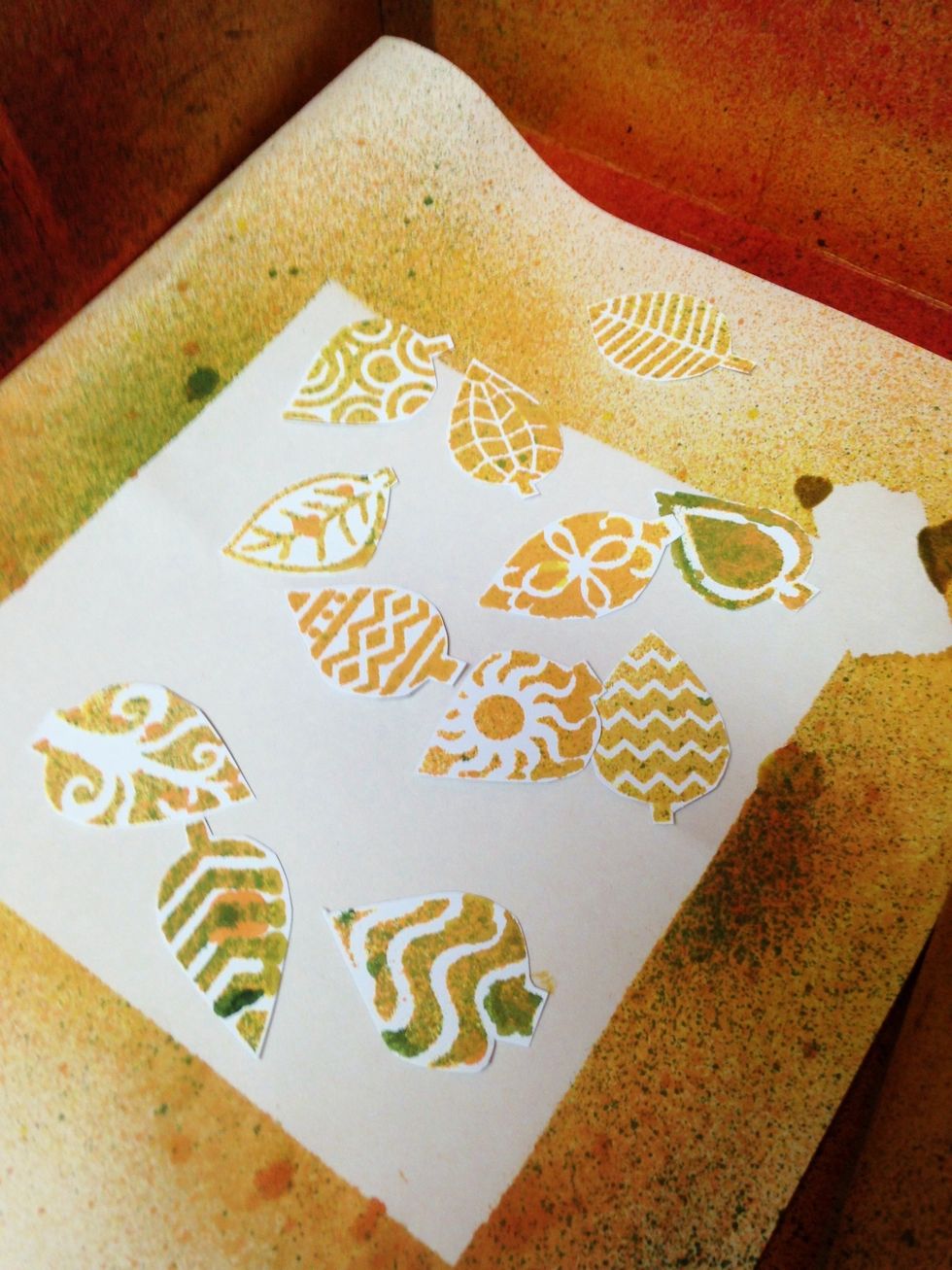 after cutting out the leaves, i found that the white areas were TOO white! so i placed them back in the Color Catcher and lightly spritzed with Lemon Drop and Putty.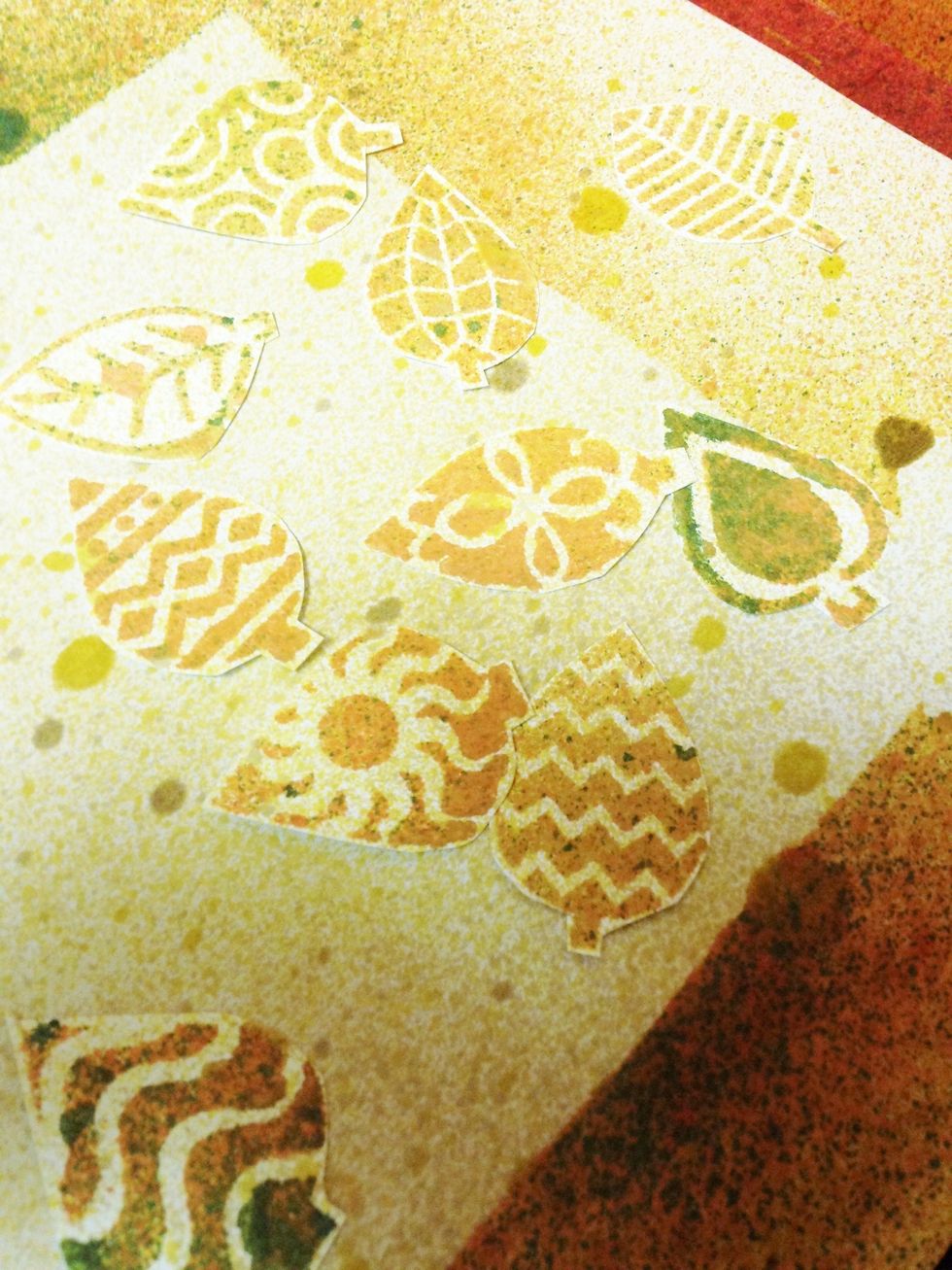 leaves after spritzing.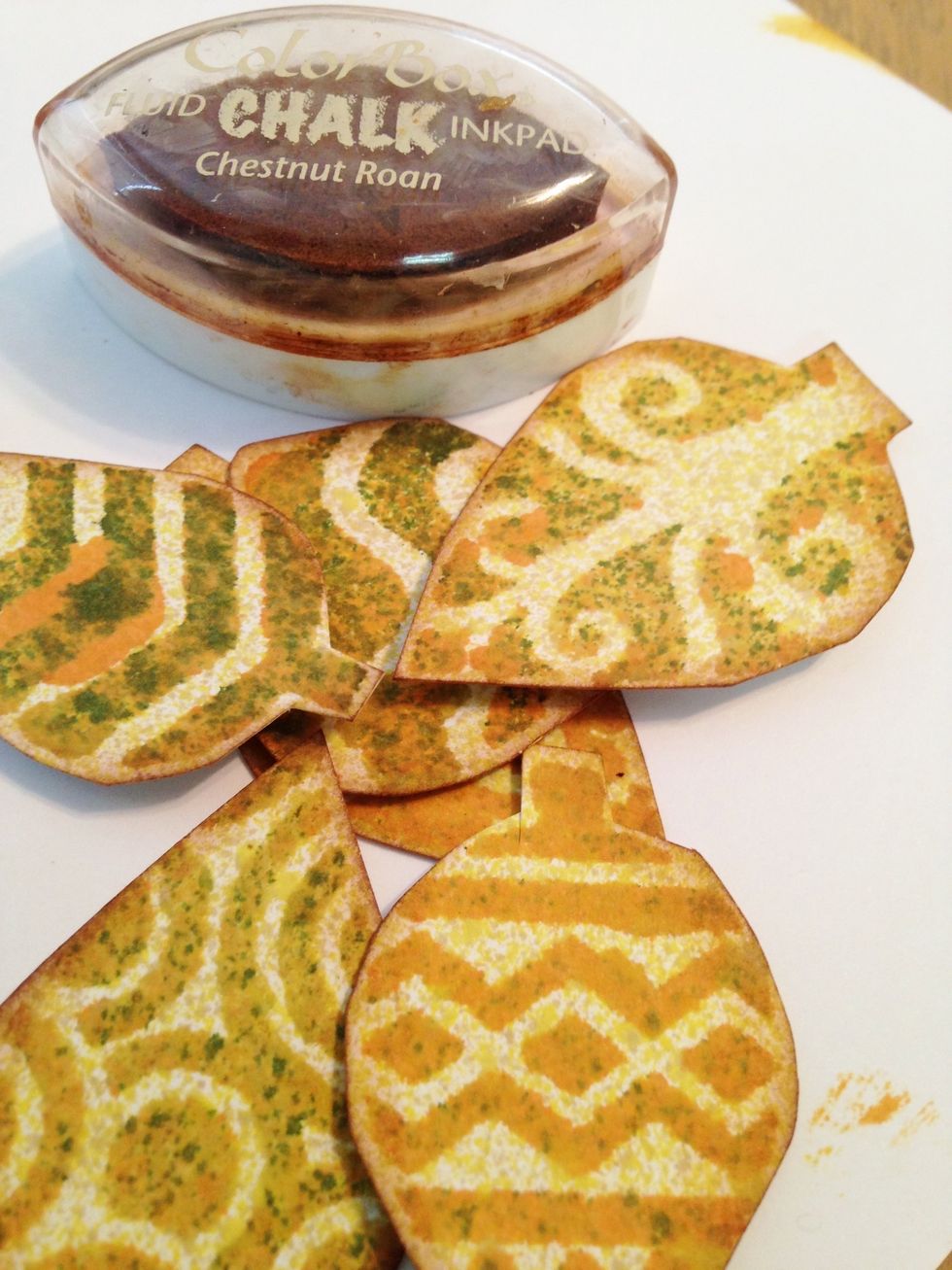 distress the edges using Chestnut Roan Chalk Ink.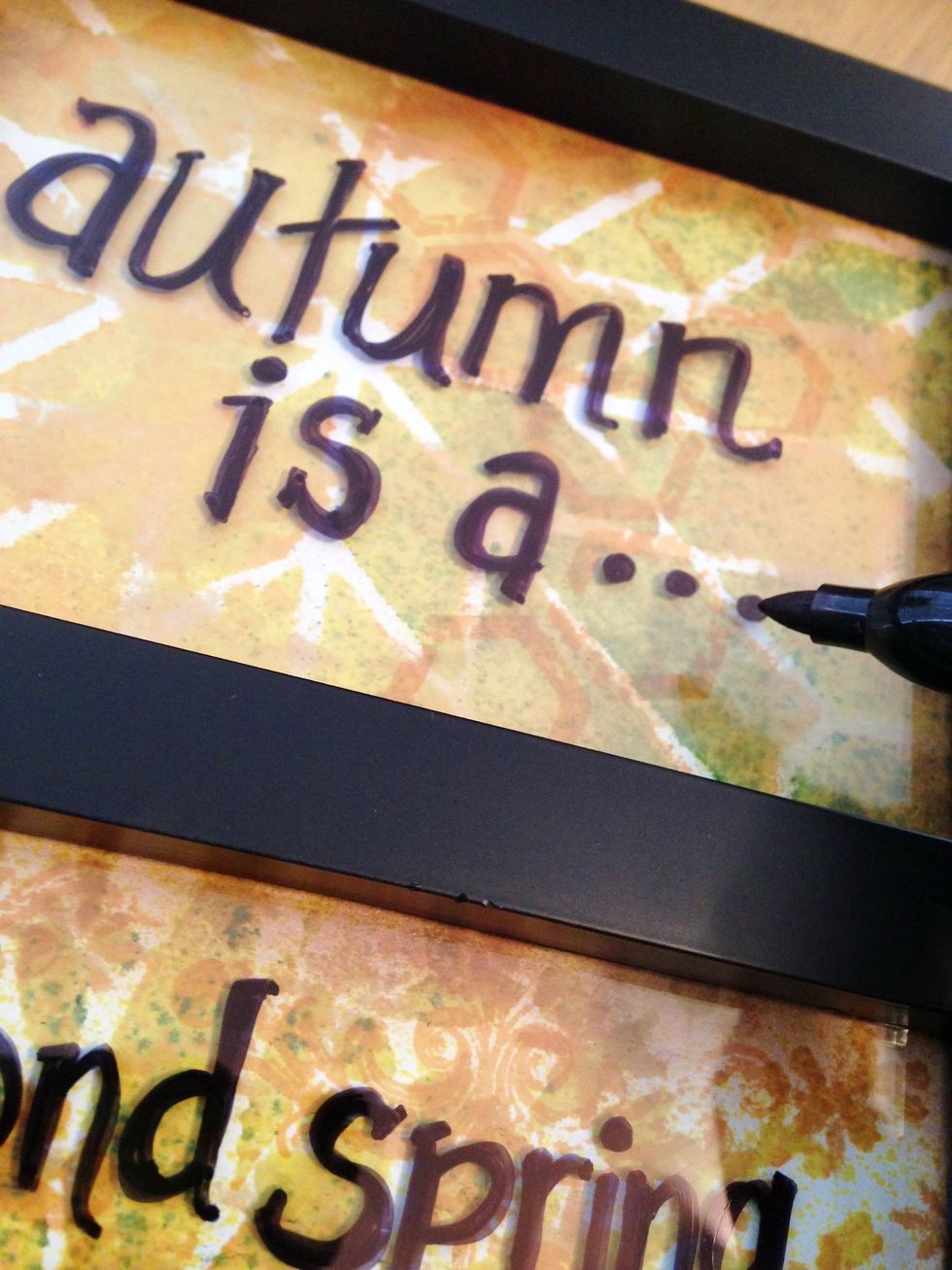 write poem on glass using black permanent marker. don't like you handwriting? TCW has templates for that! or stamp, use rubons or stickers. make a mistake freehanding it? use alcohol to remove.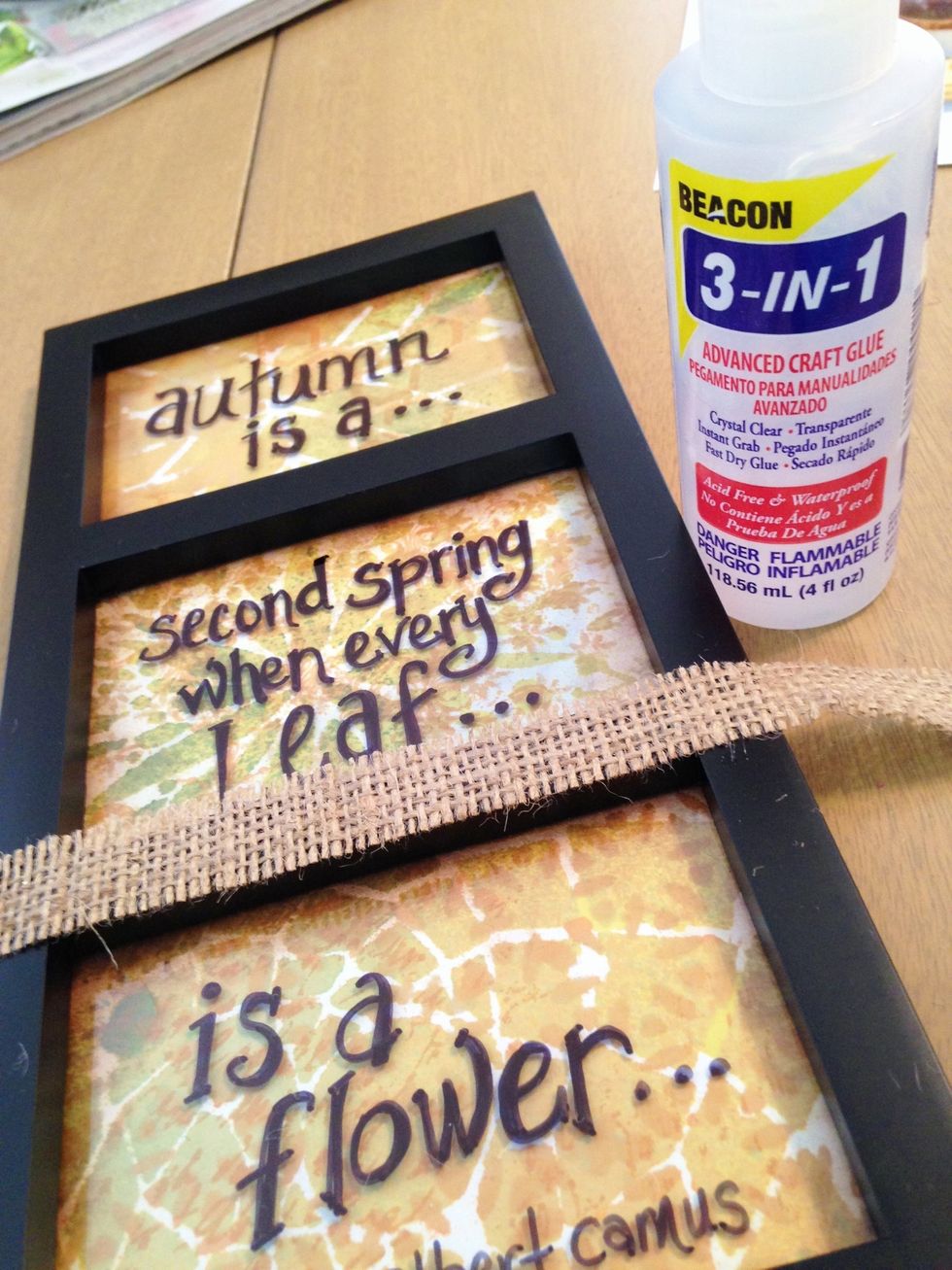 cut burlap in narrow strips, adhere one along second divider of frame.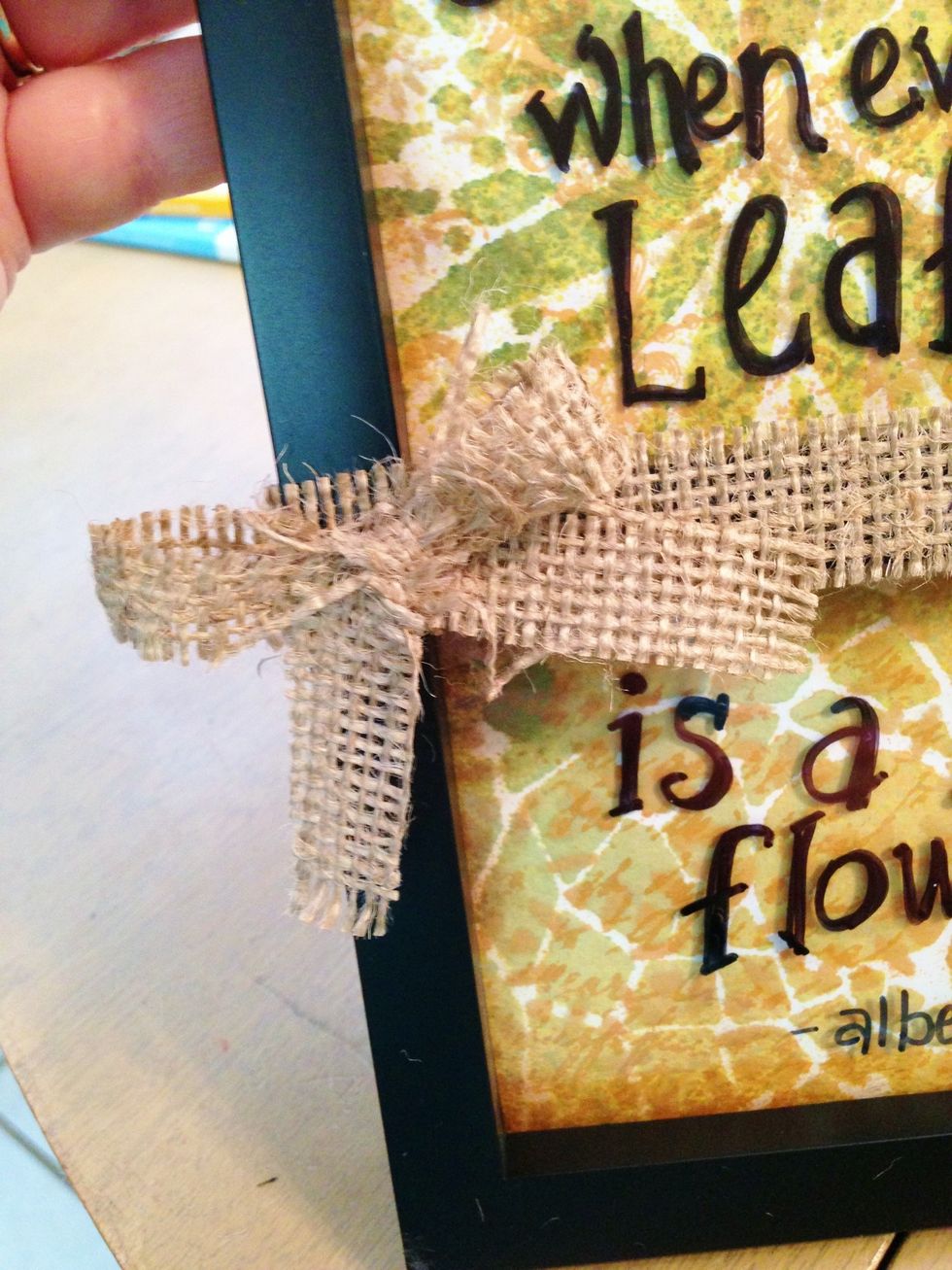 use the other to make a bow and adhere at left side.
slightly bend leaves to add dimension, then arrange and adhere on frame.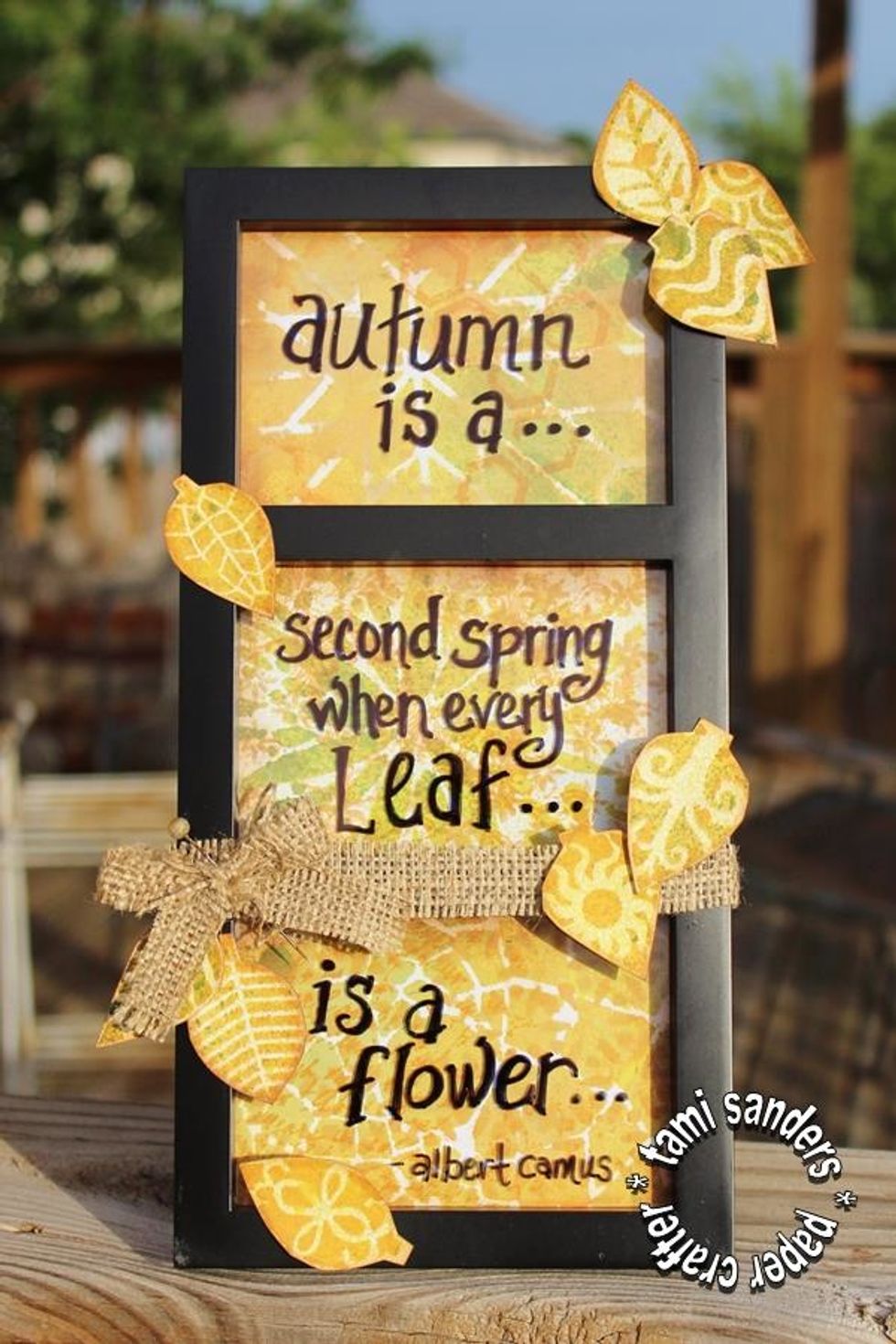 finished frame! for more projects using TCW stencils please visit our blog at http://www.thecraftersworkshop.com/blog/ you can see more of my work on my blog www.tamisanders.com --- tfl! tami
TCW493s * Folk Art Flower Template
TCW494s * Trapezoid Flower Template
TCW477s * Chrysanthemum Template
TCW473s * Fireworks Template
TCW487s * Alhambra Template
TCW481s * North Star Template
TCW395s * Abstract Leaves Template
Viva Las Vegas Stamps * Pound O' Rubber Stamps
7gypsies * Canvas Corp * Natural Burlap Sheet
Core'dinations * Heavyweight White Cardstock
Clearsnap * ColorBox Spritzer * Lemon Drop
Clearsnap * ColorBox Spritzer * Putty
Clearsnap * ColorBox Spritzer * Grasshopper
Clearsnap * ColorBox Spritzer * Golf Course
Clearsnap * ColorBox Spritzer * Pumpkin Pie
Clearsnap * Color Catcher
Clearsnap * ColorBox Chestnut Roan Chalk Ink
Clearsnap * ColorBox Harvest Chalk Ink
Beacon Adhesives * 3-in-1 Glue
Blue Painter's Tape
Paper Towels
Stamping Block
Double Sided Tape or Tape Runner
Scissors
Fine Tipped Black Permanent Pen
Dollar Store Frame
Tami Sanders * Paper Crafter
* i LOVE to craft * scrapbook, paper arts, mix'd media, jewelry, stamp and more. * i design for clearsnap and grafix. * i also teach