Use Mixed Media ATC's to Decorate Your Cards
1
Let's make some pretty ATC's to place on the front of white cards to give as a gift.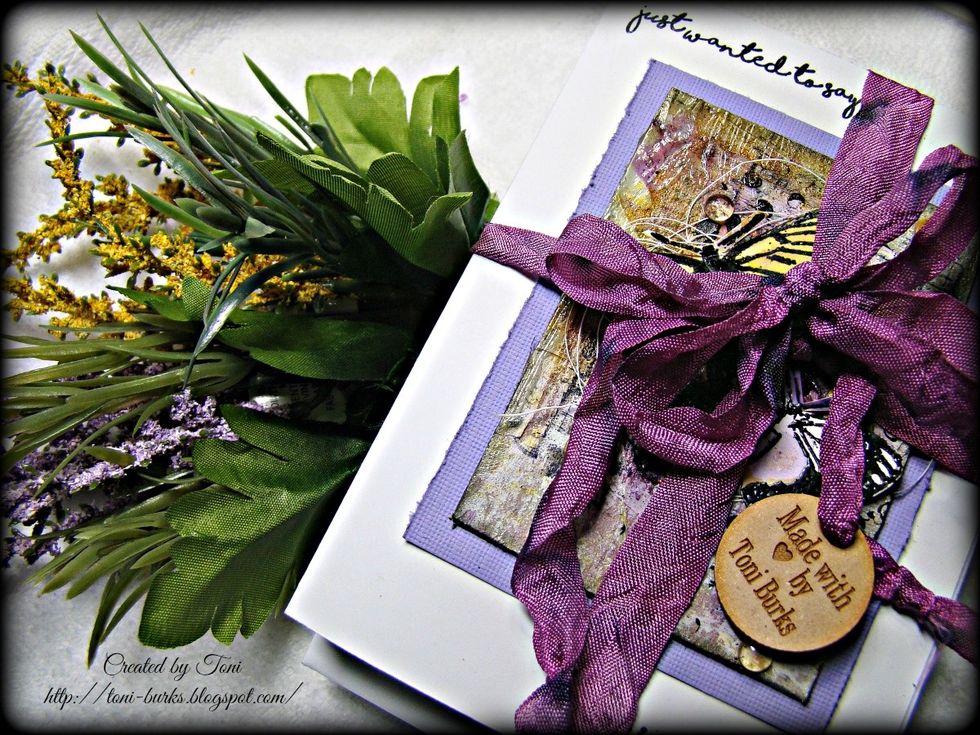 For your ATC's cut chipboard in the dimensions that are shown above.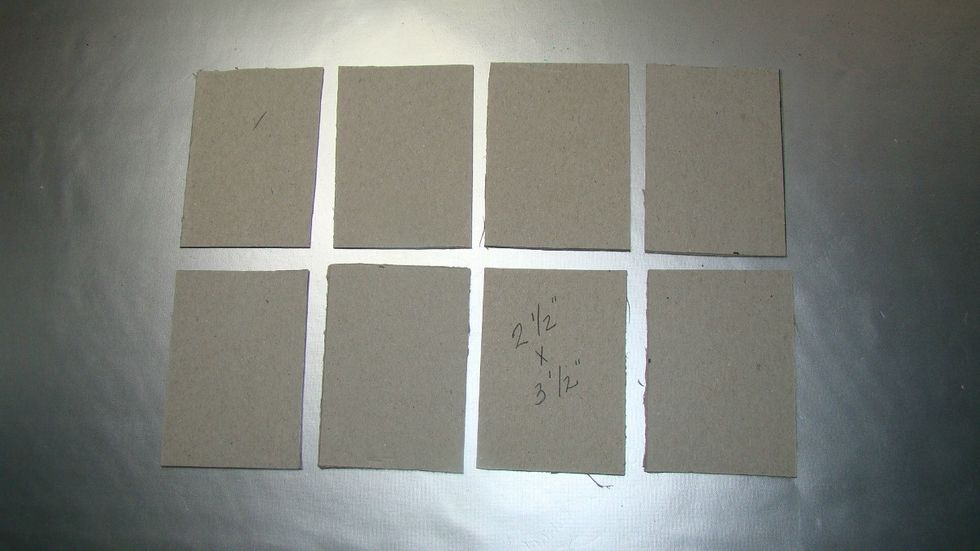 Place all together and attach randomly with tissue tape. This will act as some pretty background layers later.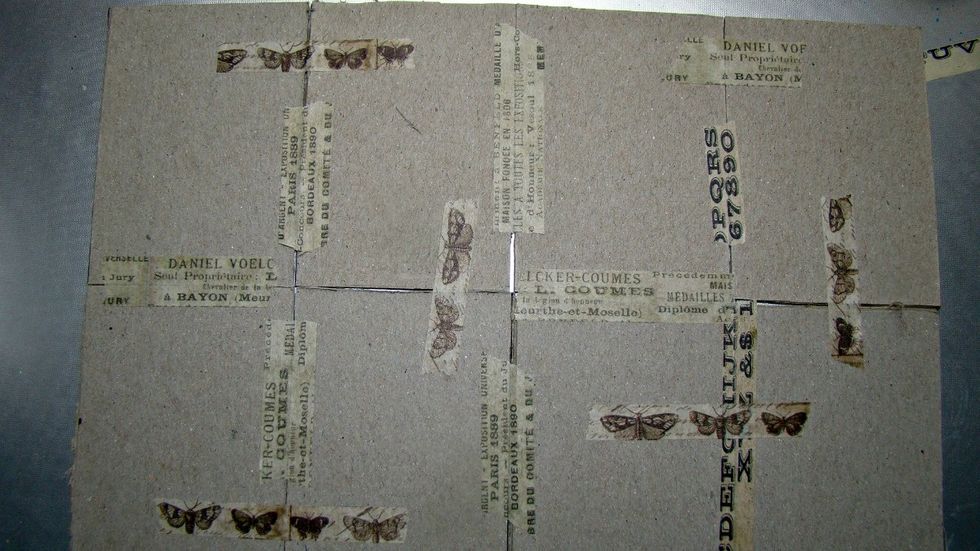 Take some old book pages and using archival ink in black I used Chasing Butterflies stencil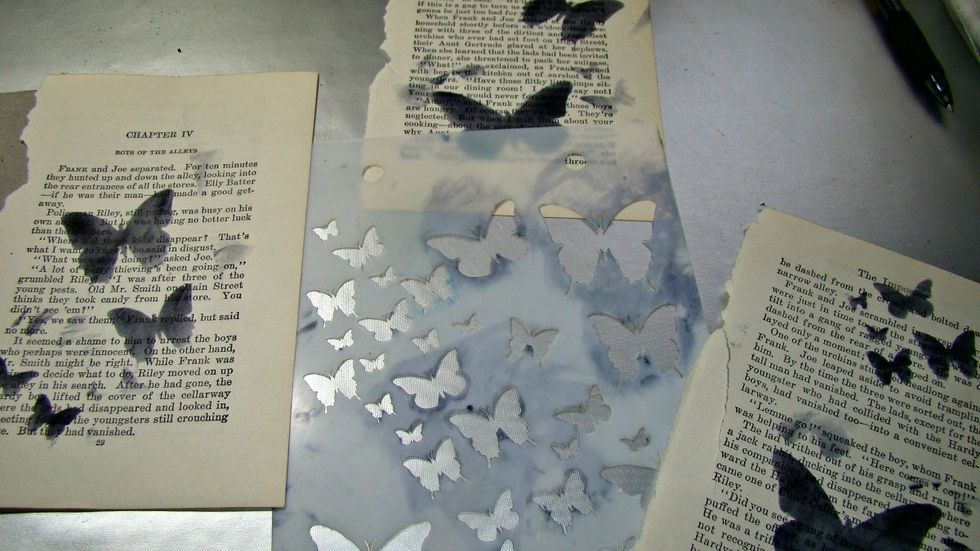 Add sections of the book pages to your ATC's apply using clear gesso. This will adhere your paper as well as prime the surface for your paint and ink mediums.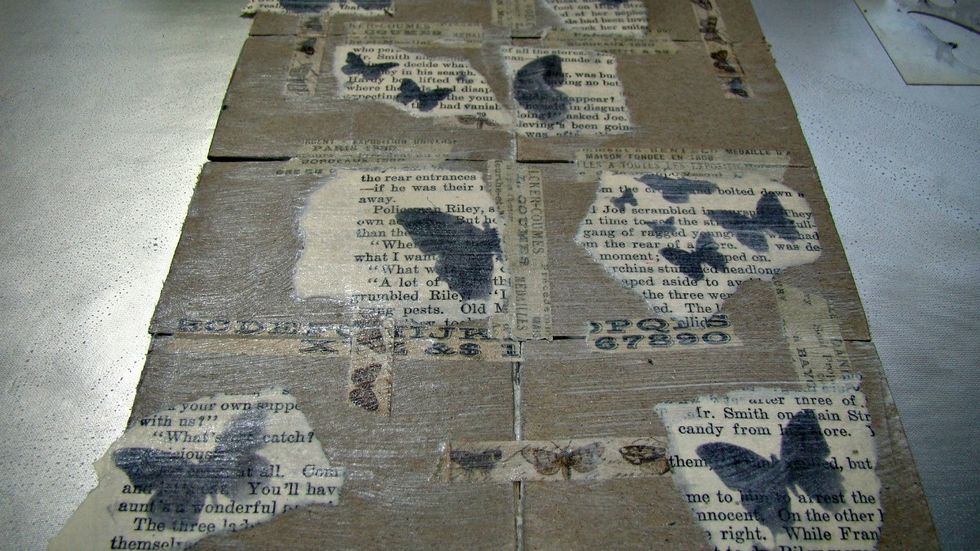 Dry brush white gesso on your ATC's in order to soften the edges of the book pages and tissue tape.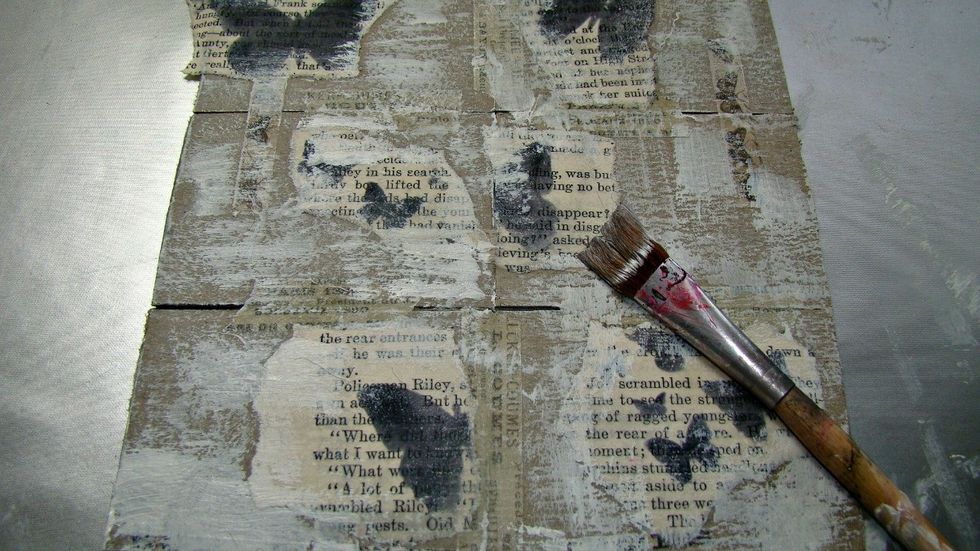 For more texture I used Dottie stencil and ran black modeling paste through it. Heat set. Using Lattic stencil run Sorbet Glass randomly on ATC's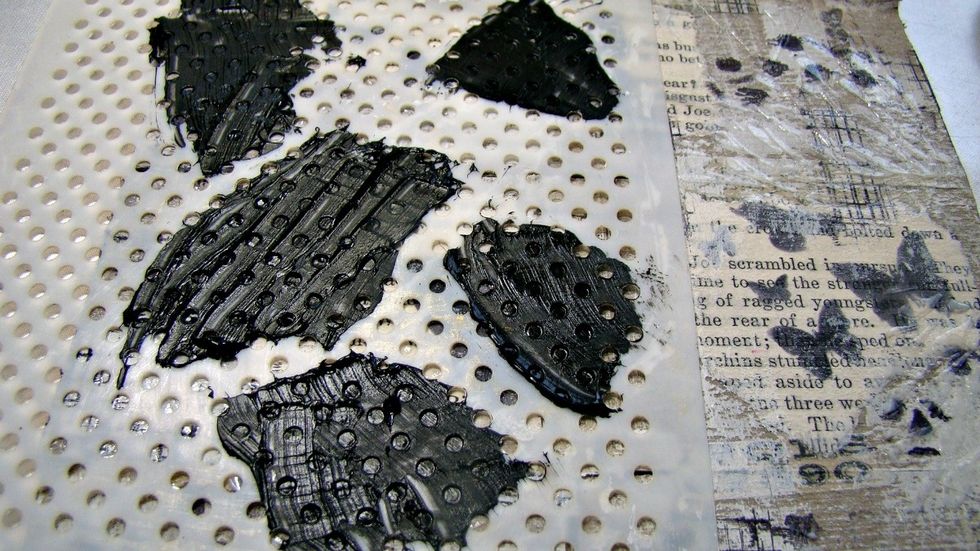 Here is a photograph of the ATC's so far. Take black archival ink and stamp texture images here and there for more interest.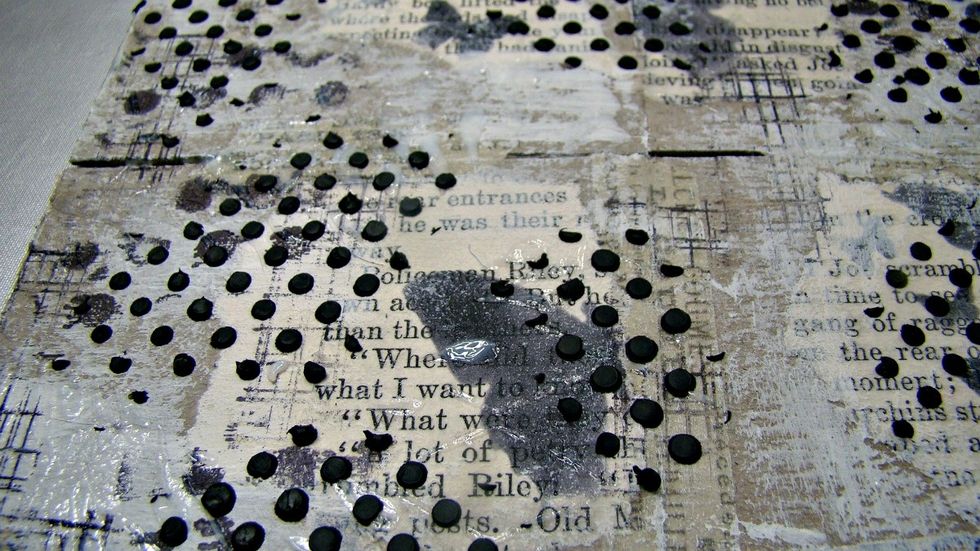 Using your craft mat, spray puddles of your Colorations on the mat so you can apply with a paint brush to your ATC's.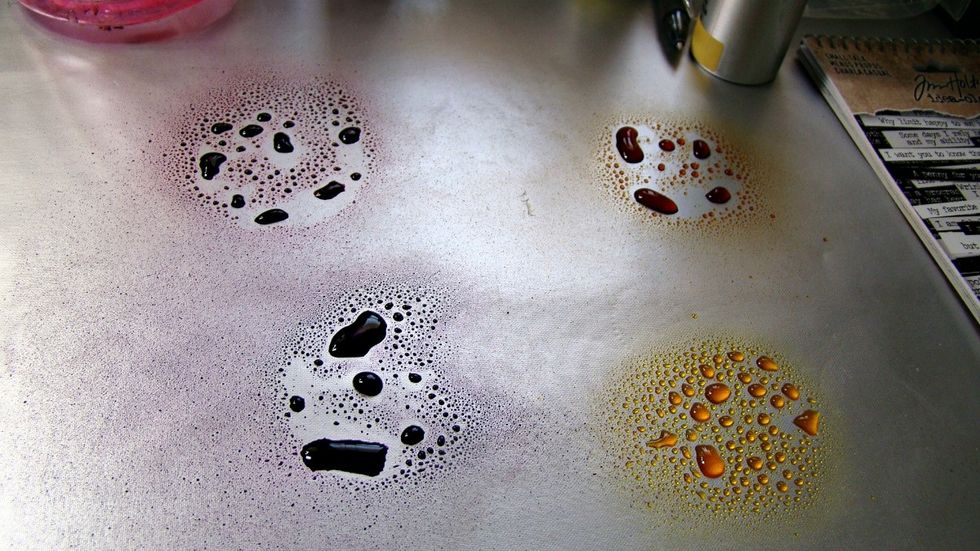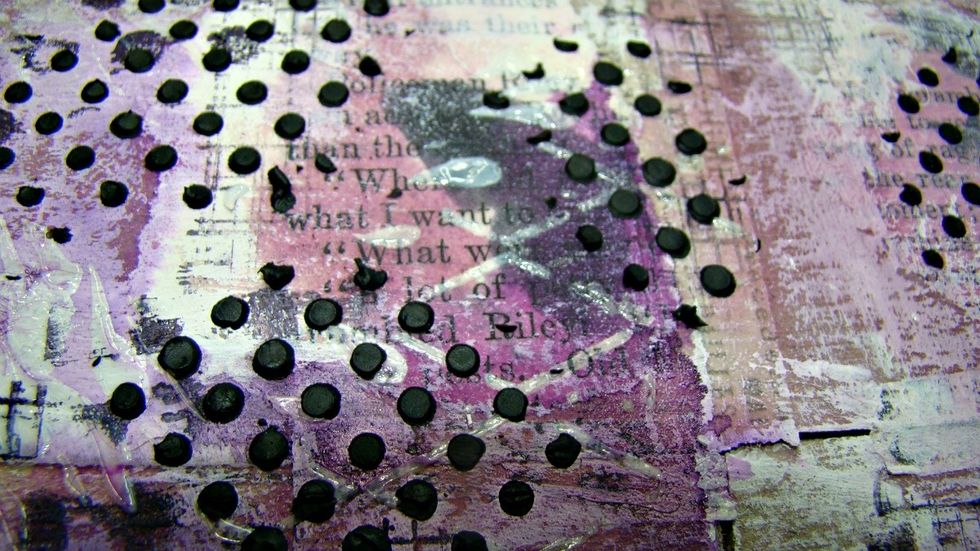 Stamp butterfly images on white cardstock using black archival ink. Allow to dry. Using a water brush apply more Colorations and spritz with water to provide a watercolor effect. Cut out butterflies.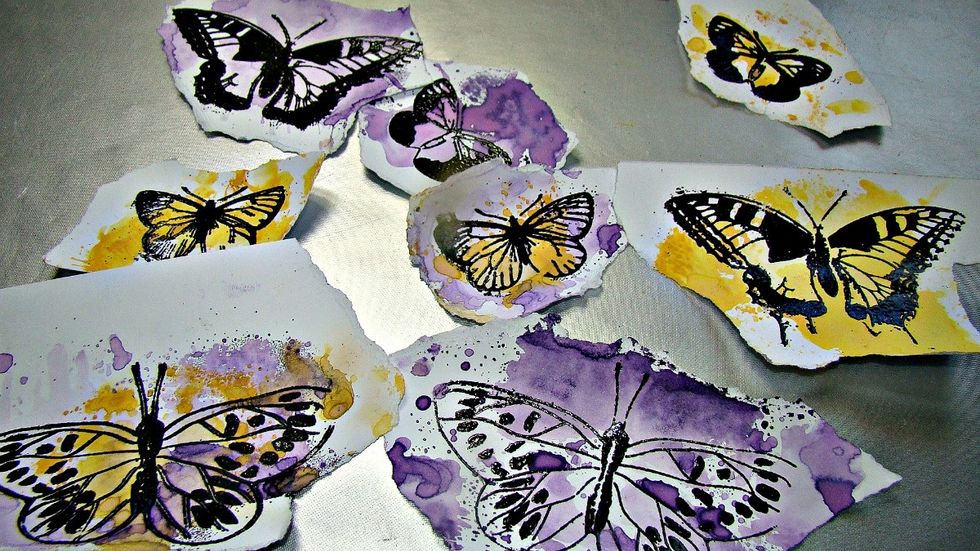 Adding some more pop of color and deep shadows on your cards I combined these two colors as well as Purple Rain and applied to the corners and beneath the butterflies.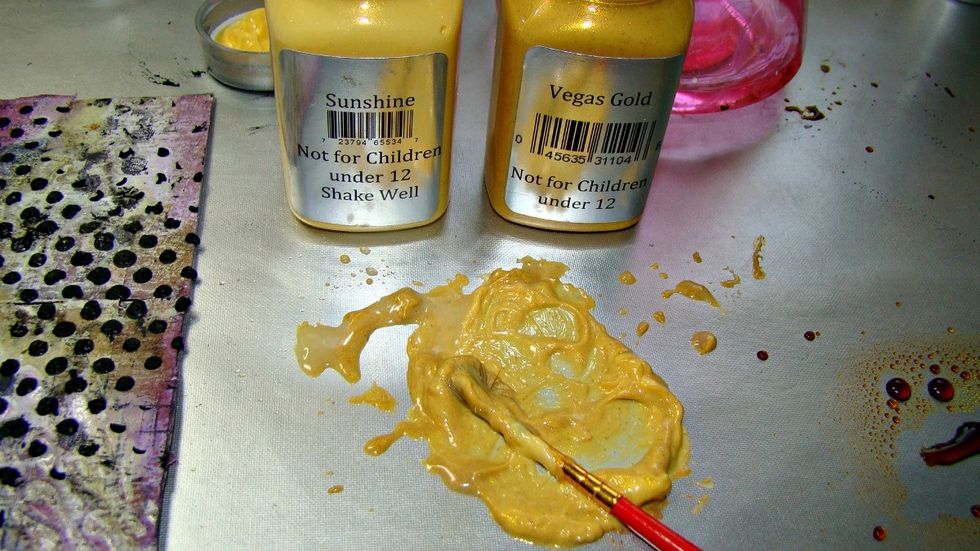 Use Sorbet Purple Rain to provide a more deep color to your cards for shadows.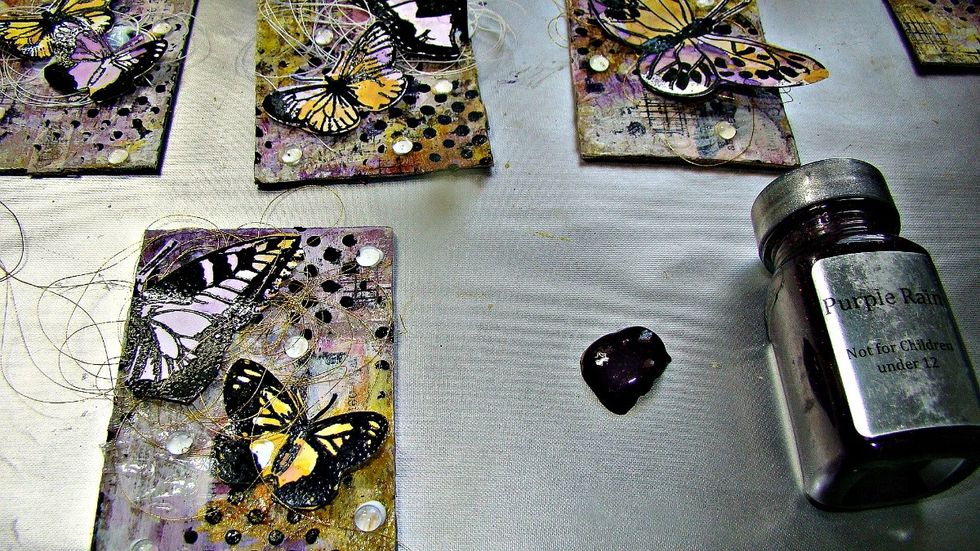 Upholstery thread is a nice touch to add to provide soft texture to your projects. I used 3D Matt Gel to adhere the thread.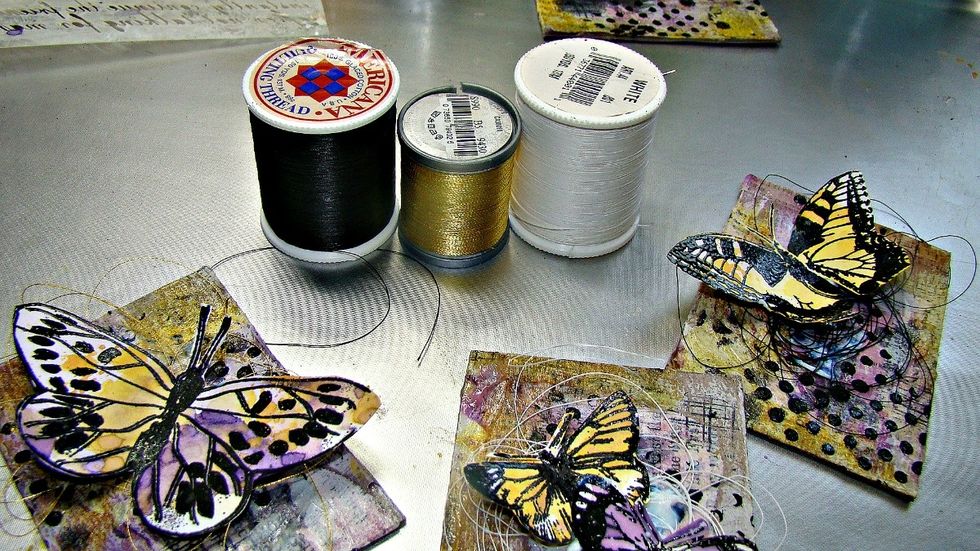 Distress the edges with Black Soot Distressed Ink.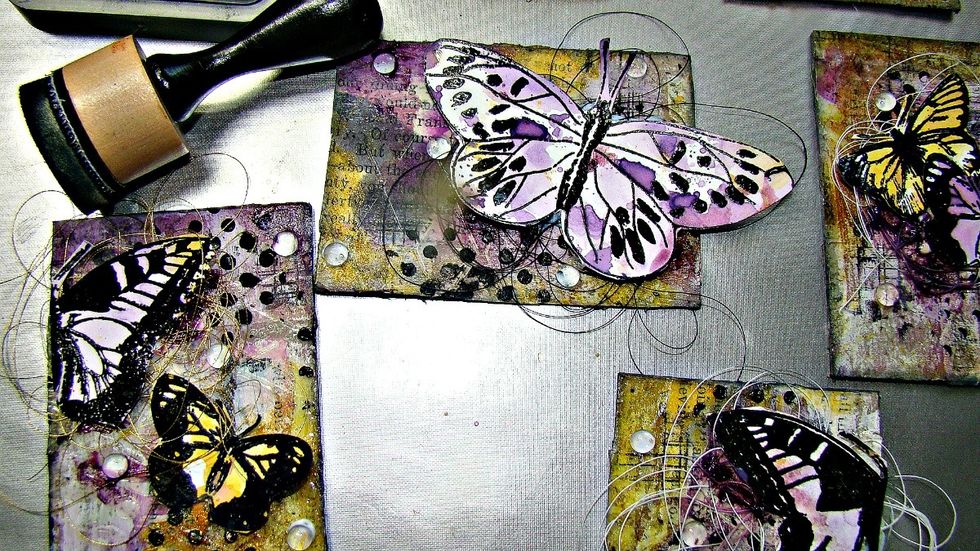 Place coordinating color mats under your ATC's for a backing.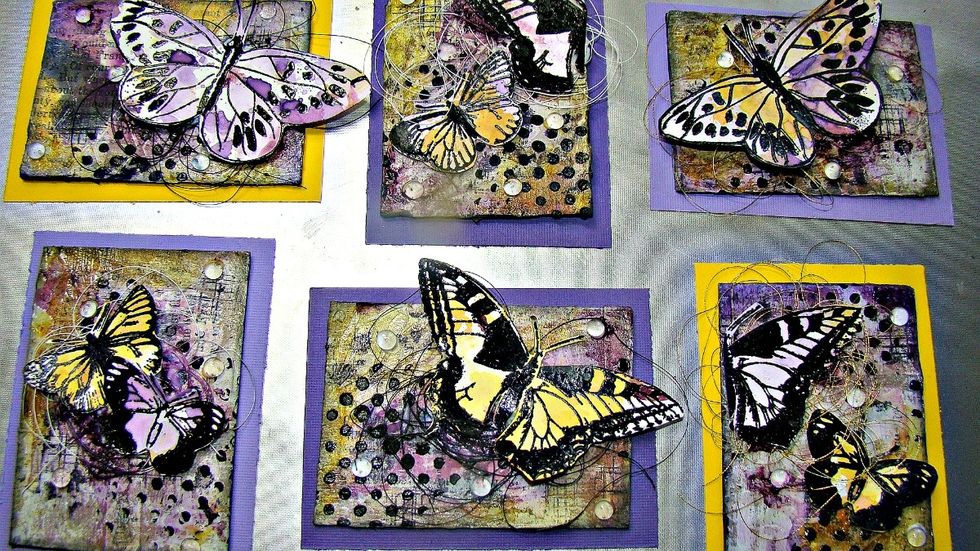 Stamp your sentiment on your white cards and apply your pretty ATC's to the front of the cards.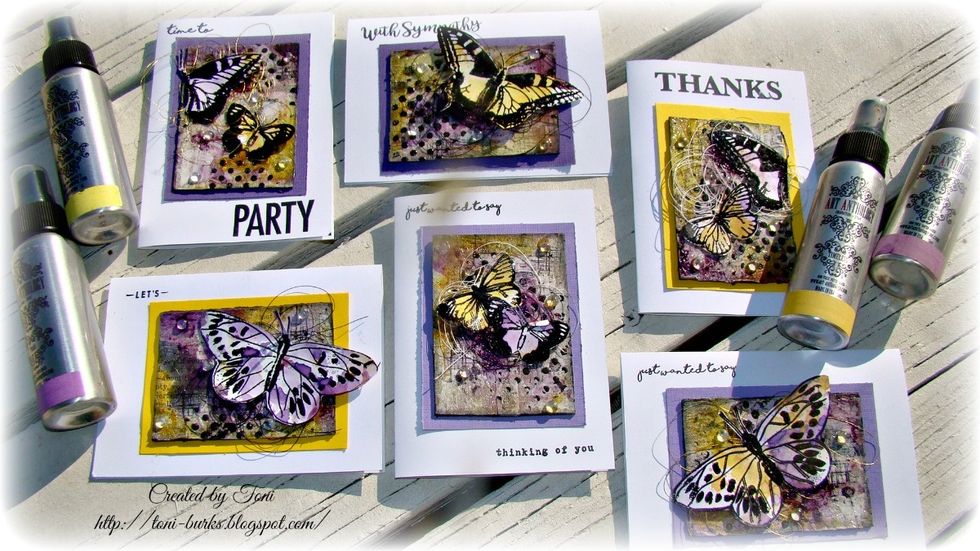 Cut the length of seam binding you would like to color and spray with your Colorations.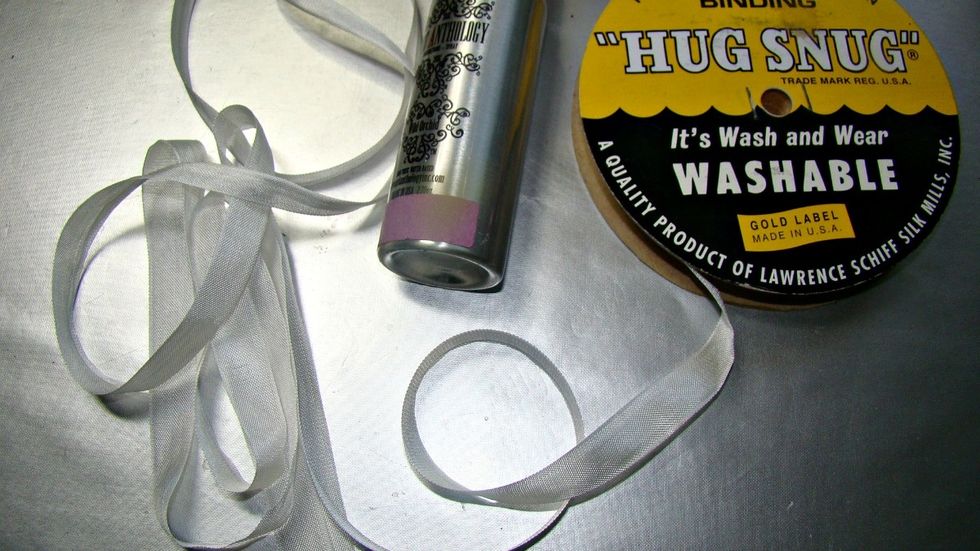 Squish into a tight ball and wind a rubber band around it and allow to dry.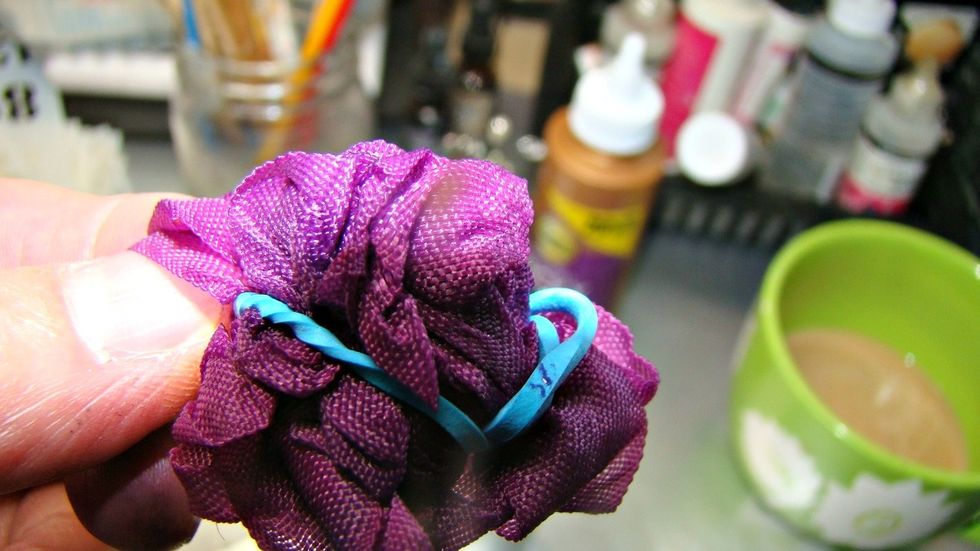 Your going to use the seam binding to wrap your little bundle of cards for your gift.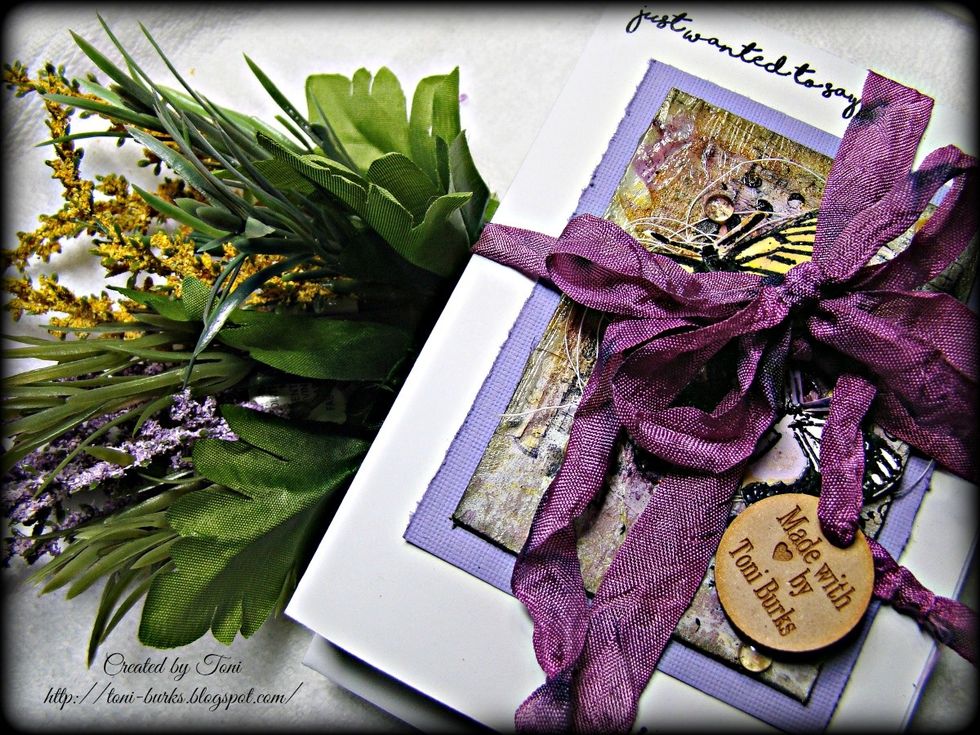 Now you have a whole set of one of a kind cards to give as a gift.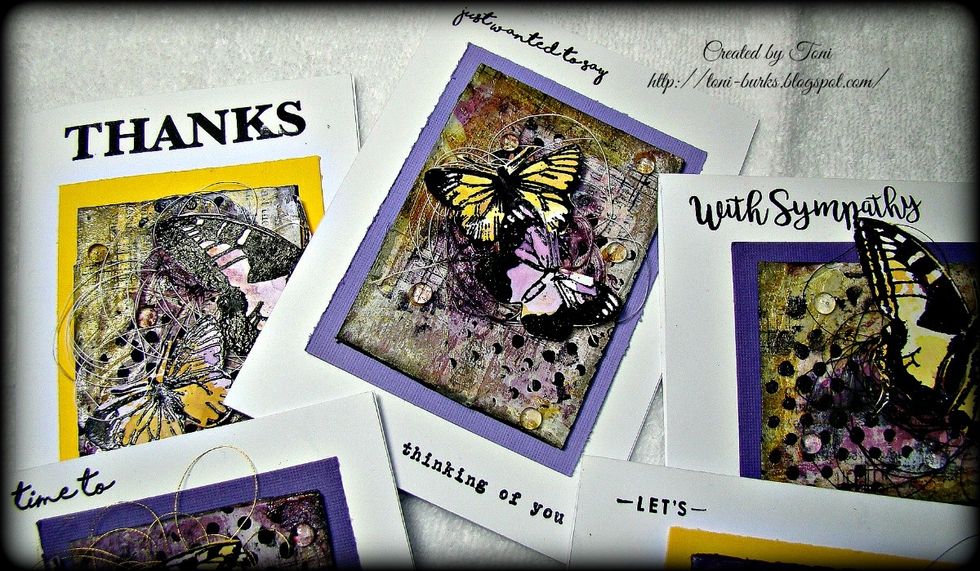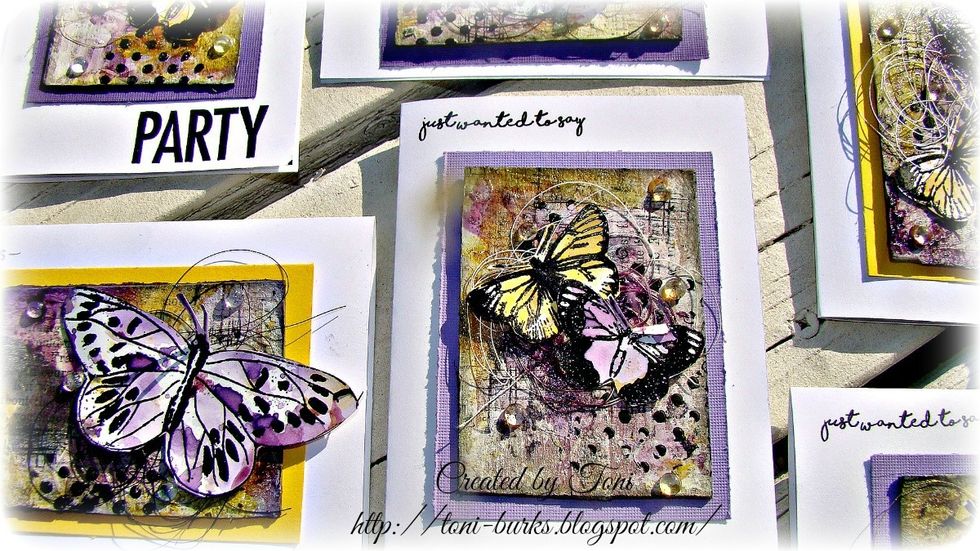 Hope this provided inspiration and don't forget to follow us at http://artanthologyinc.com/blog/ and https://www.pinterest.com/artanthology/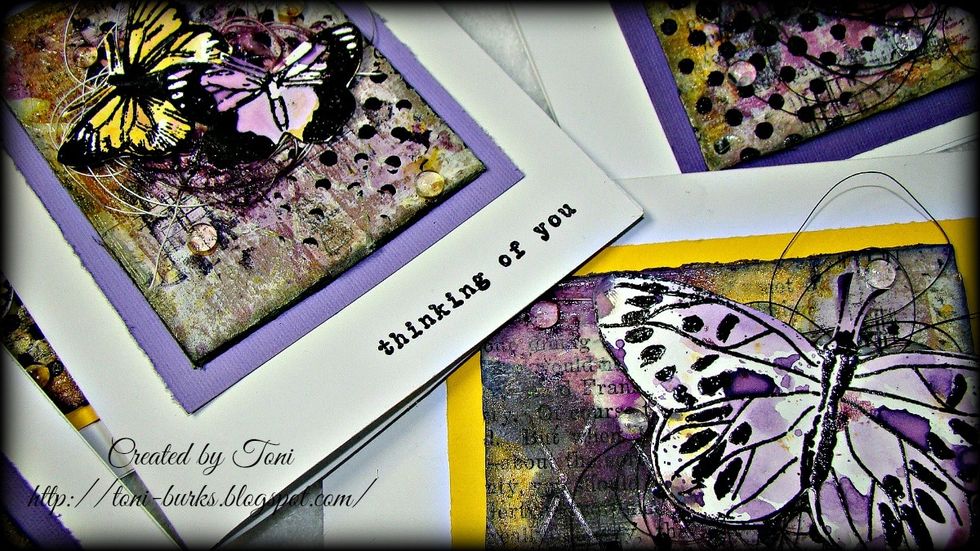 *Sorbet-Sunshine,Vegas Gold, Purple Rain, Glass
*Colorations-Timeless,Glorious, Plush, Wild Orchid
*Stencils
Chipboard
Gesso, white and clear
Black Archival Ink
Tissue Tape
Old Book Pages
Black Modeling Paste
Thread
Stamped Image of Butterfly
Art Anthology
Art Anthology is a manufacturer of dimensional mediums.\n\nCome chat with us in our Facebook Group: Art Anthology Adventures in Art