Knotch is an opinion app where one "Knotches" about different topics and shows if one is positive or negative about the said topic. Let's go over some of the features.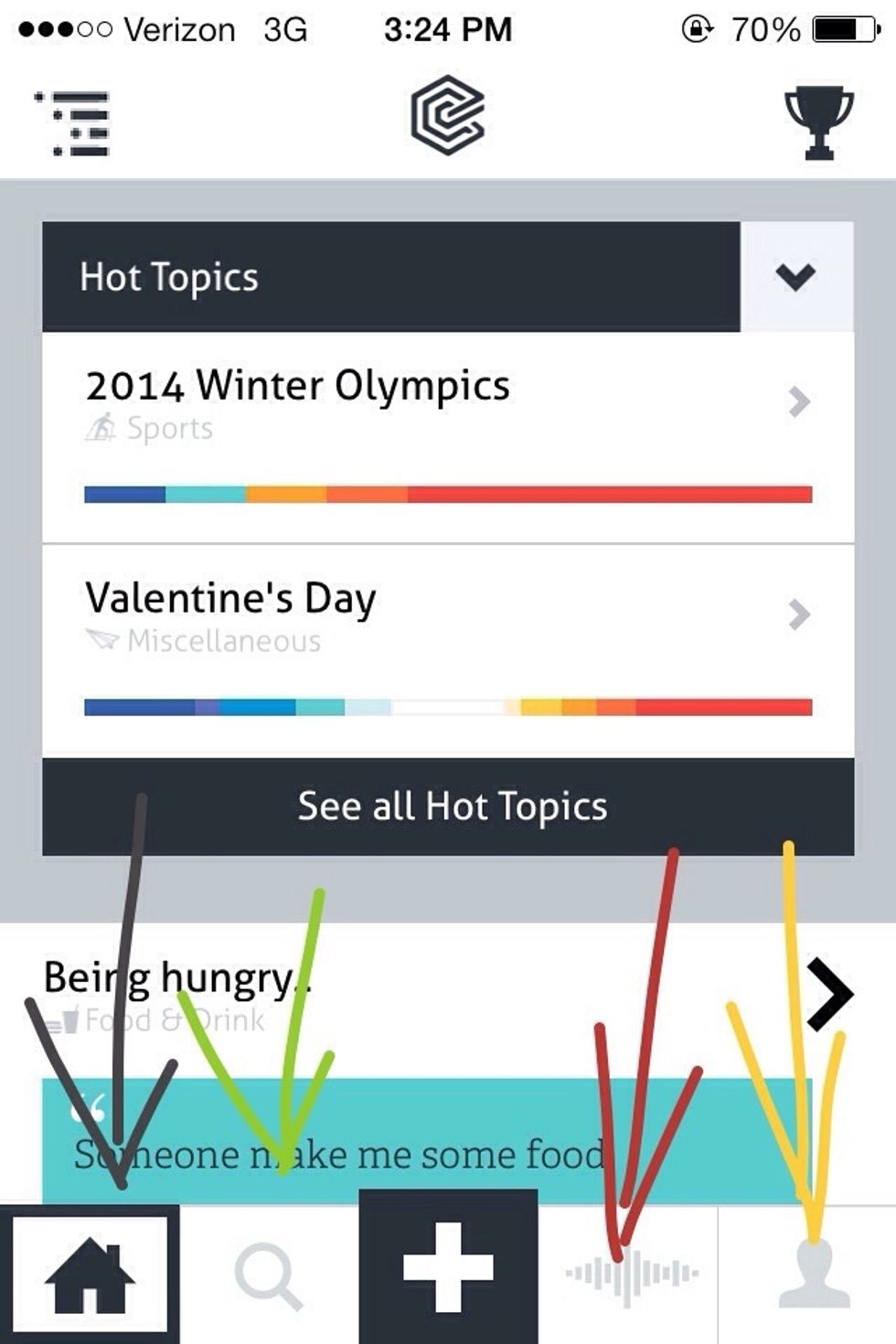 The Home button (black arrow) is your main page. This is where you would be able to see the stream of the most recent topics and Knotches; which makes it easier for you.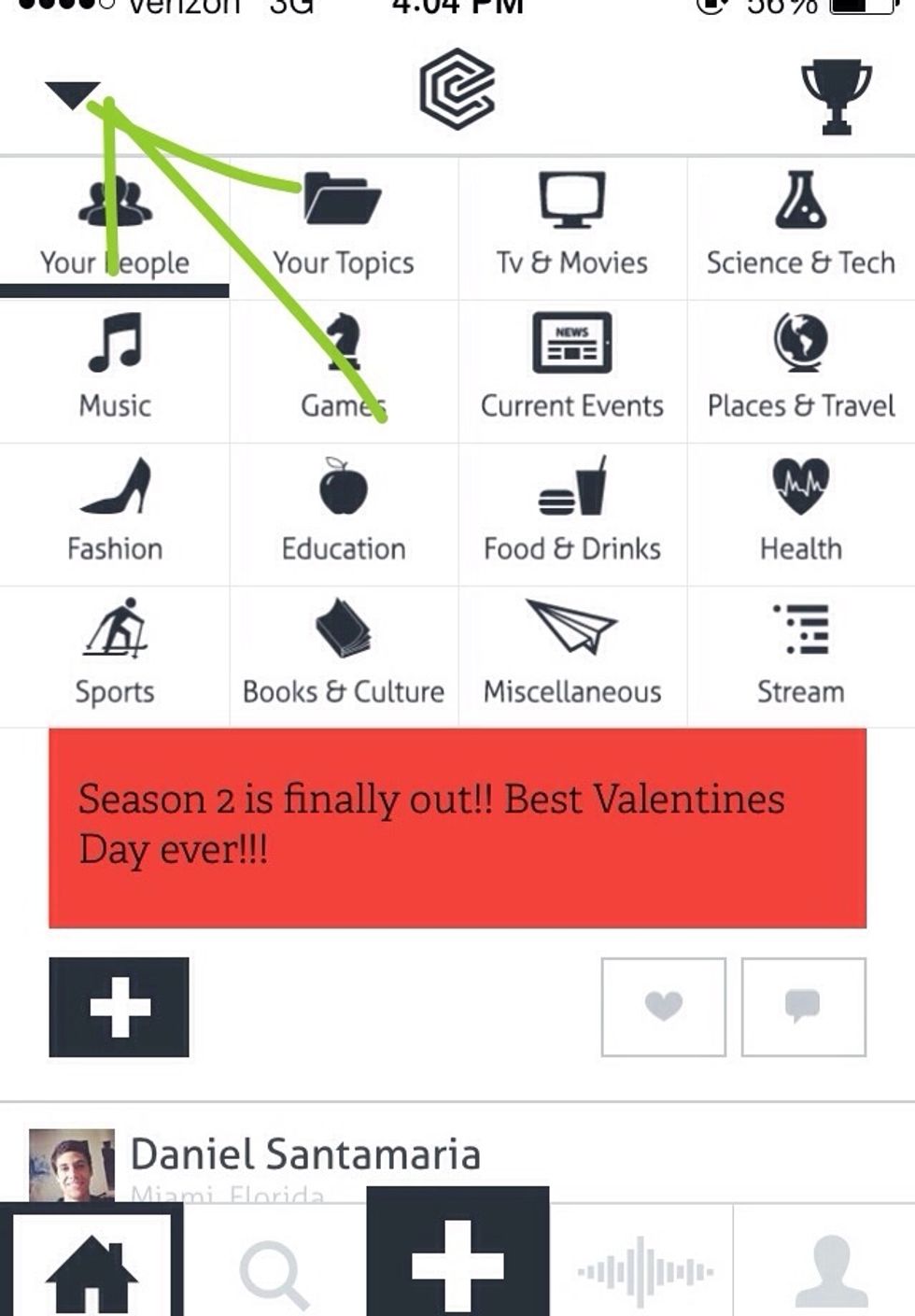 To change categories to the ones you want to see on the Home page, hit the drop down in the top left corner and you'll be able to cycle through the different categories of your choice.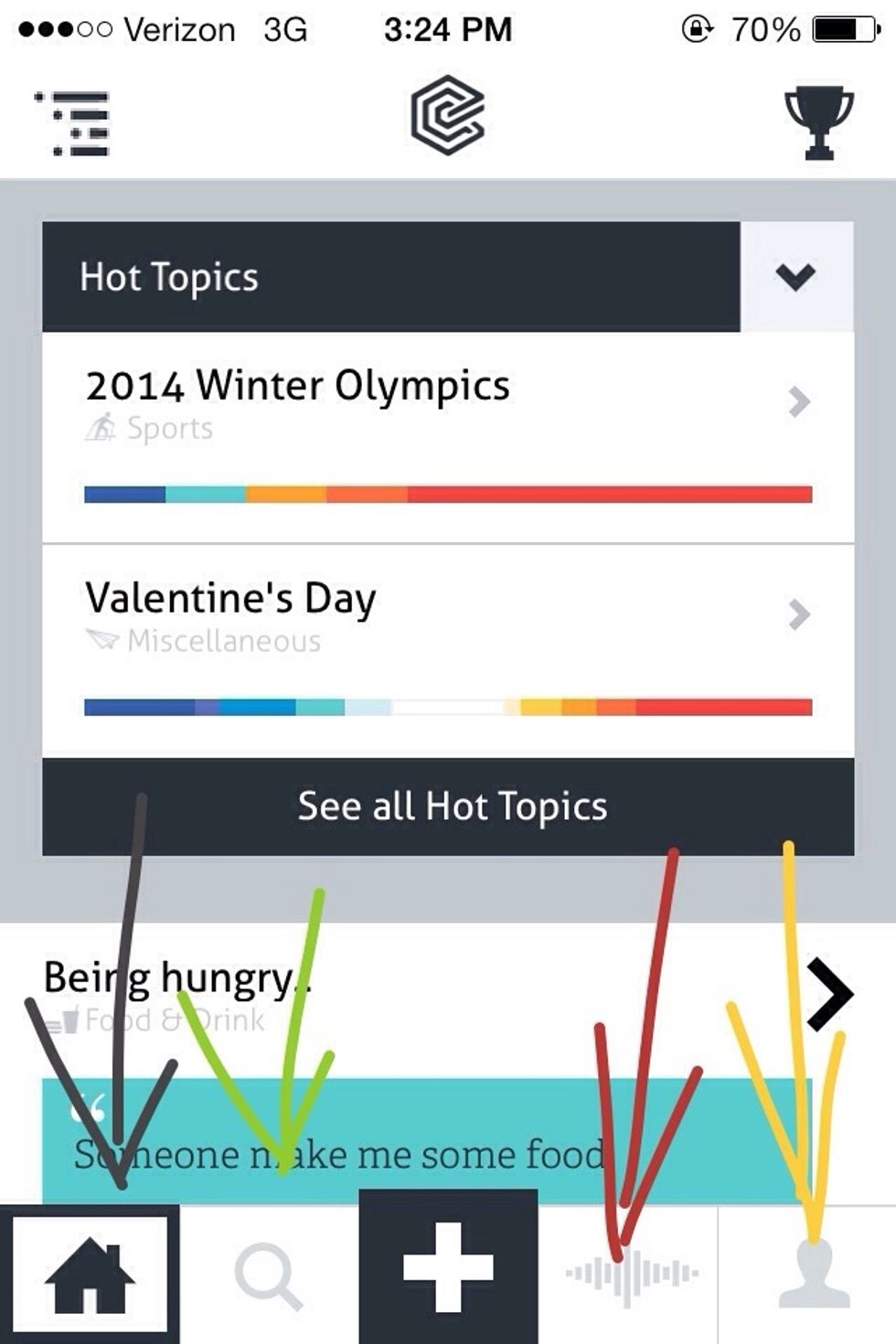 The search button (green arrow) lets you search for Knotches already made. If your Knotch isn't in the list, you simply create a new one. You'll also be able to see a list of recently made Knotches.
Also, to add, you can switch between topic searching and user searching.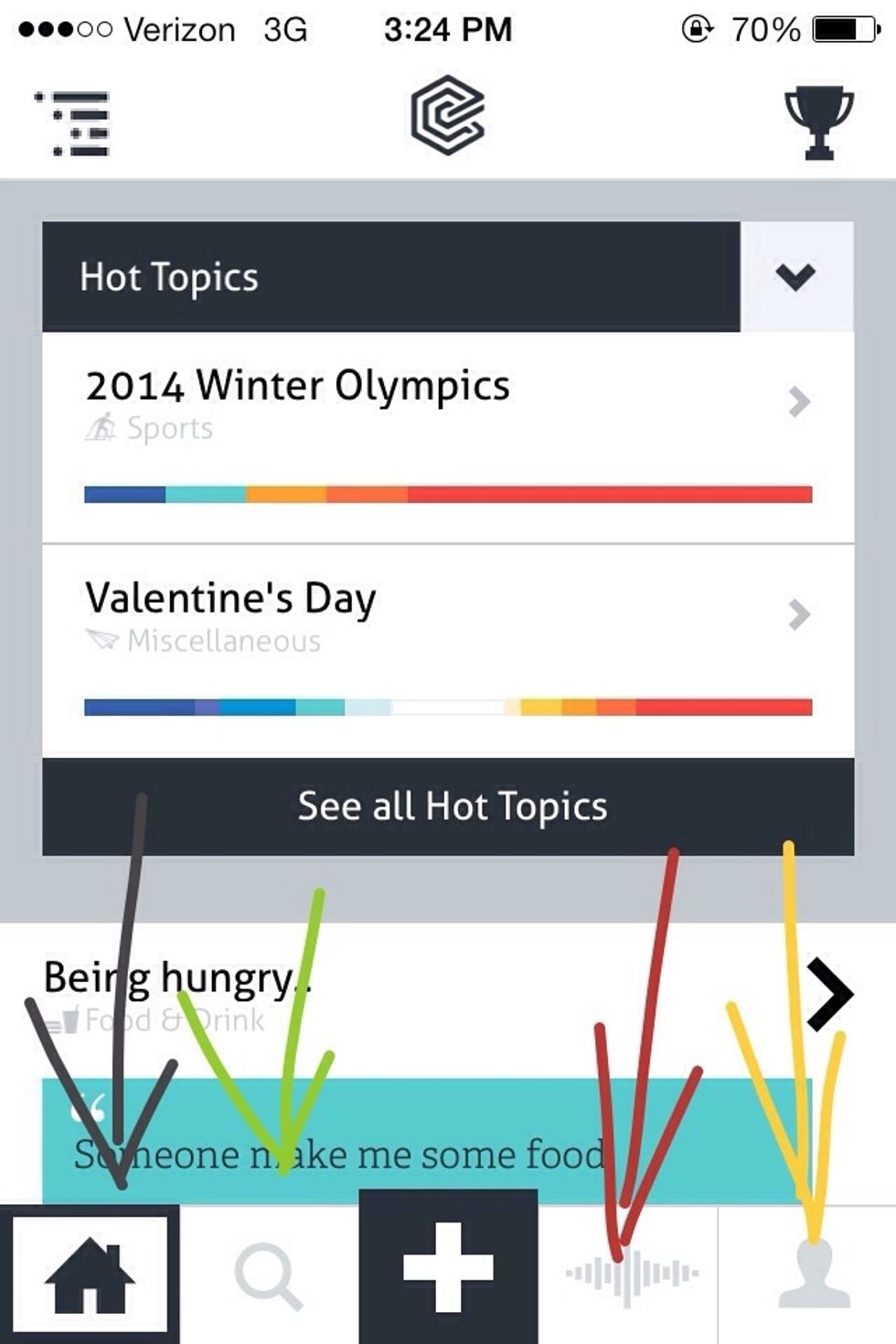 The notifications button (red arrow) is what it is. It notifies you when you have new followers, when someone likes your Knotch, when someone comments on your Knotch, (continue to next step)
when someone asks you to Knotch about a topic, and when someone mentions your name in a comment or Knotch.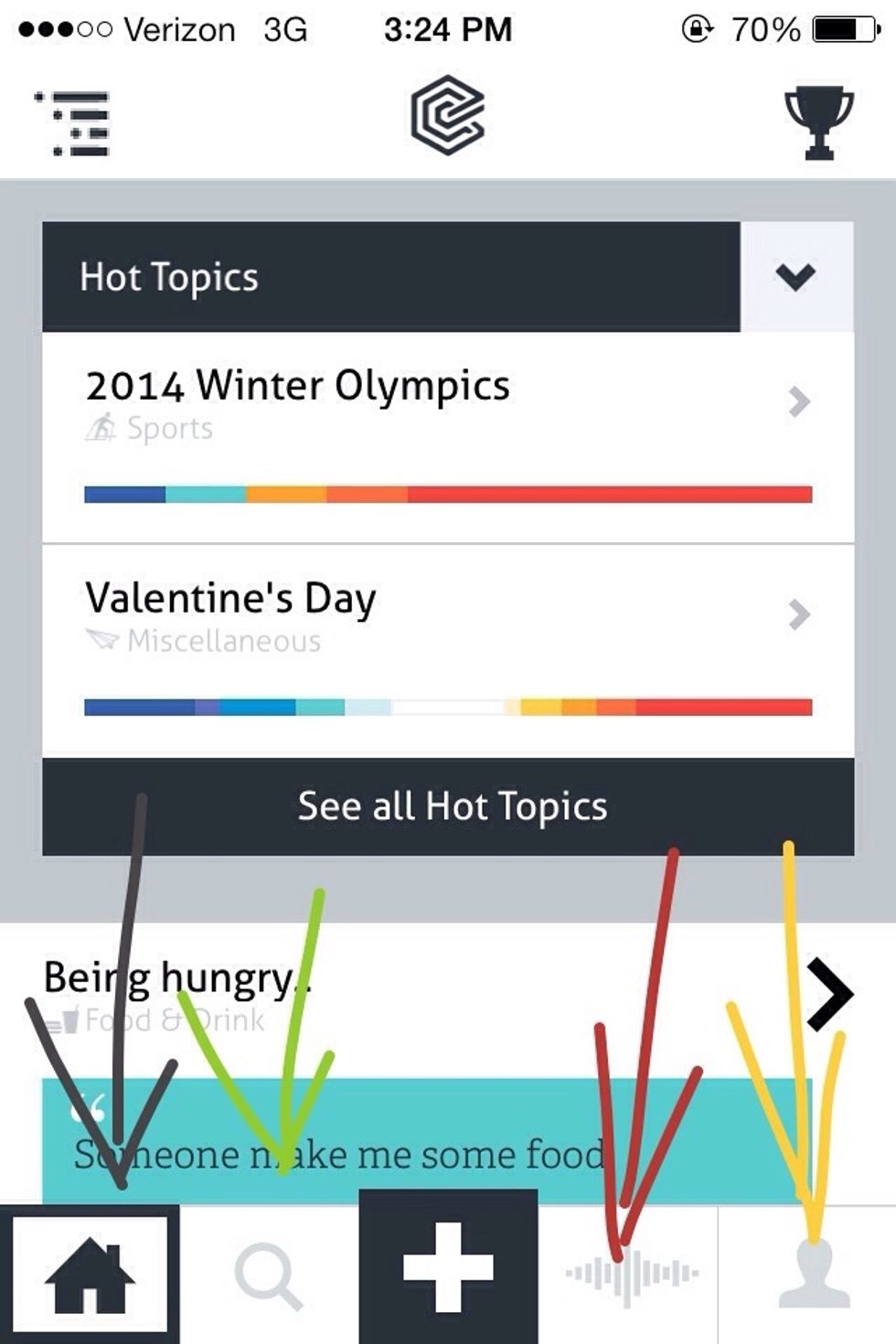 The profile button (yellow arrow) shows how many followers you have, how many people you follow, the number of topics you've Knotched on, your Glory, and a list of everything (continue on next step)
you've Knotched on since joining Knotch.
To quickly create new Knotches, press the "+" to create one or choose from the list that comes up.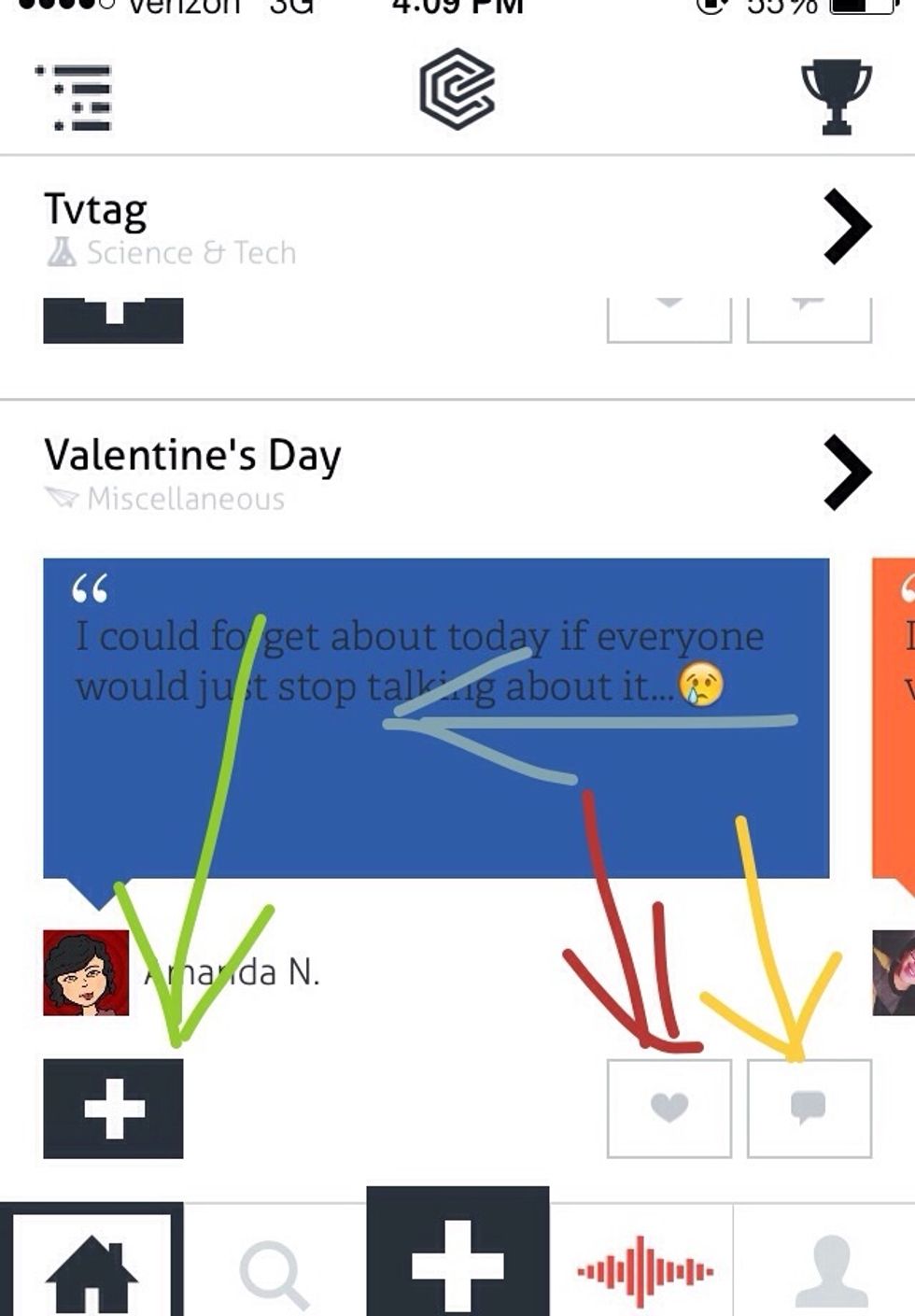 To Knotch on a topic you see in the stream, tap the "+" below that topic (green arrow). To like the Knotch of the person, tap the ❤️ (red arrow). To comment on the Knotch, tap the 💬 (yellow arrow).
You can also cycle through the Knotches of other people of that specific topic by scrolling the Knotch to the left (grey arrow).
When in a topic, there are three buttons at the top. You can "Ask a Friend" to Knotch on the topic, you can "Follow" the topic, and of course, you can "Knotch" on the topic.
Now, to do some actual Knotching. Go to the topic of your choice and tap on the Knotch button as showed in any of the previous steps. When done, go to the next step.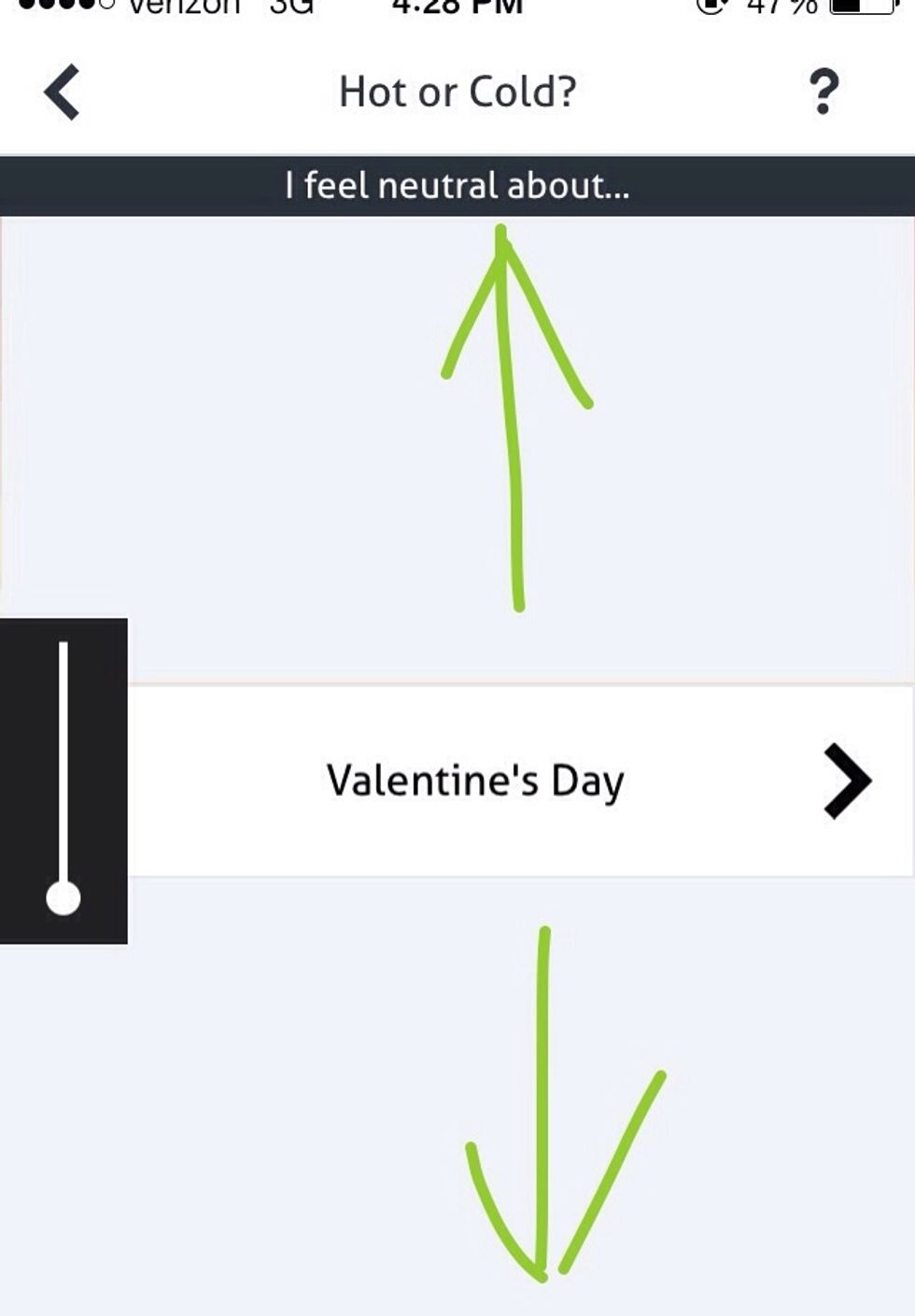 In Knotch, there is a Red-Blue color spectrum. When Knotching, slide up for how positive you are towards a topic or swipe down for how negative you are towards it. Then tap the arrow to move on.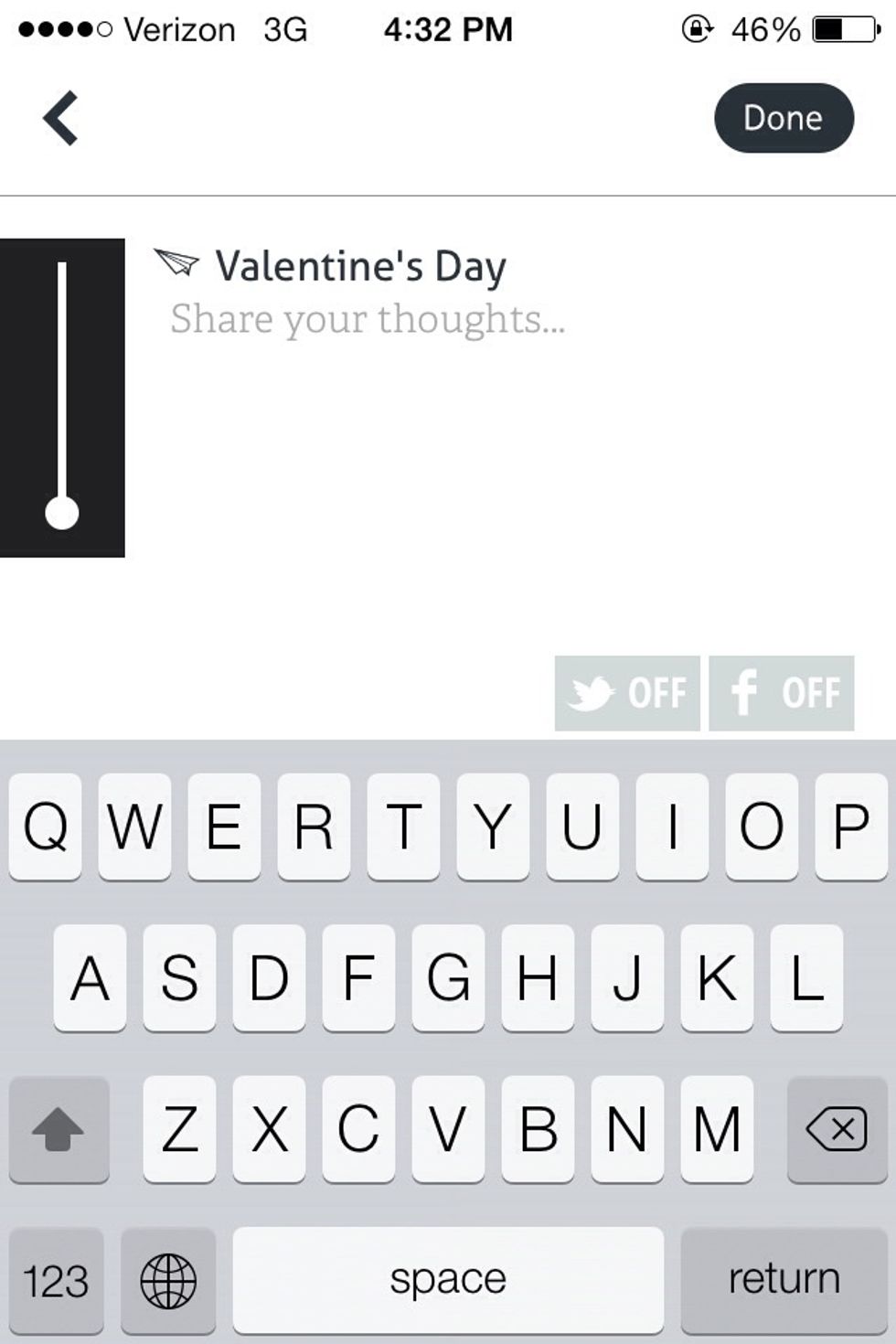 You can then add your opinion on the topic and you may even share it to your Twitter or Facebook if you'd like.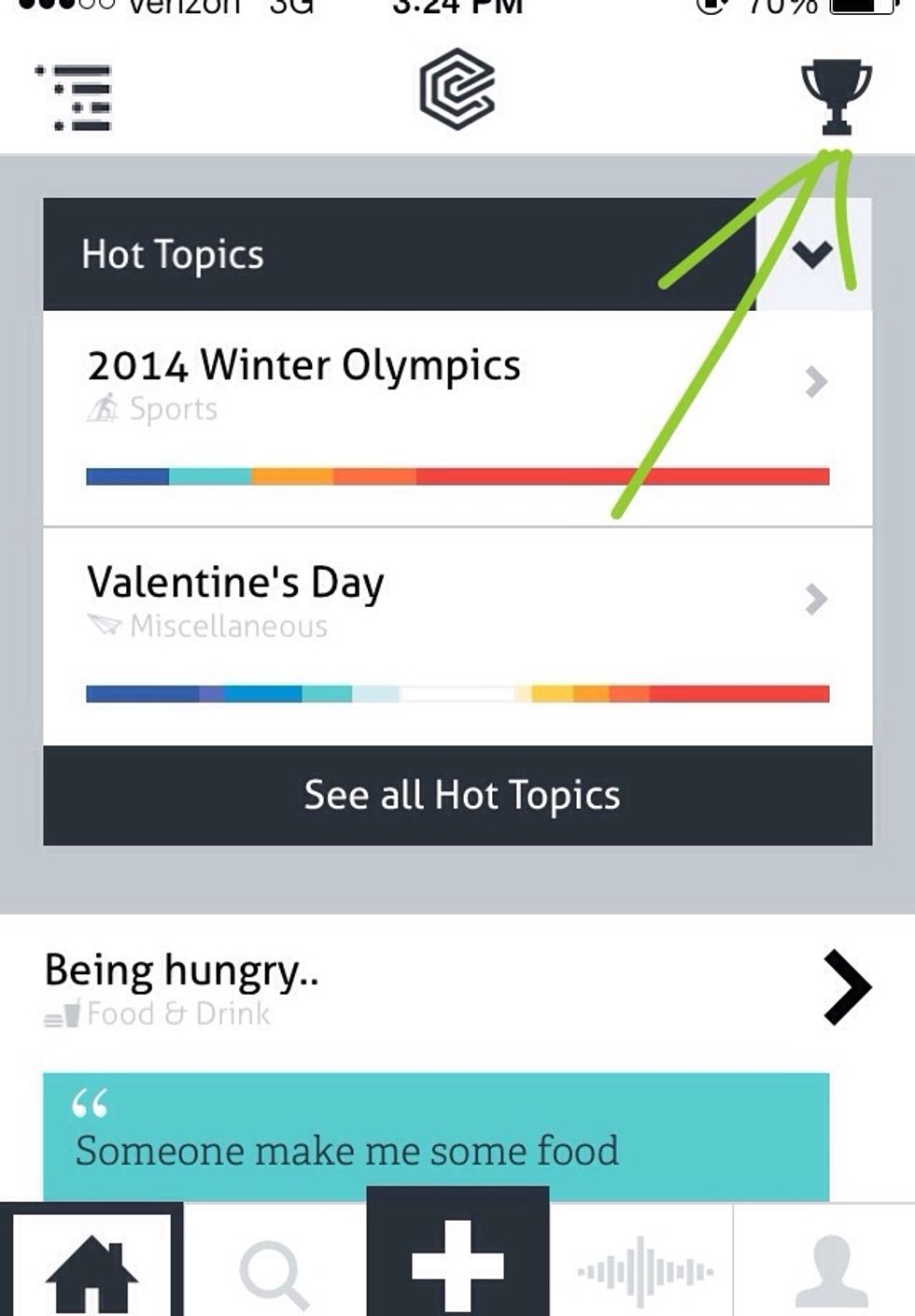 What is Glory? Glory is a sort of leaderboard. A point system, if you will. Move to the next step to get familiar with it.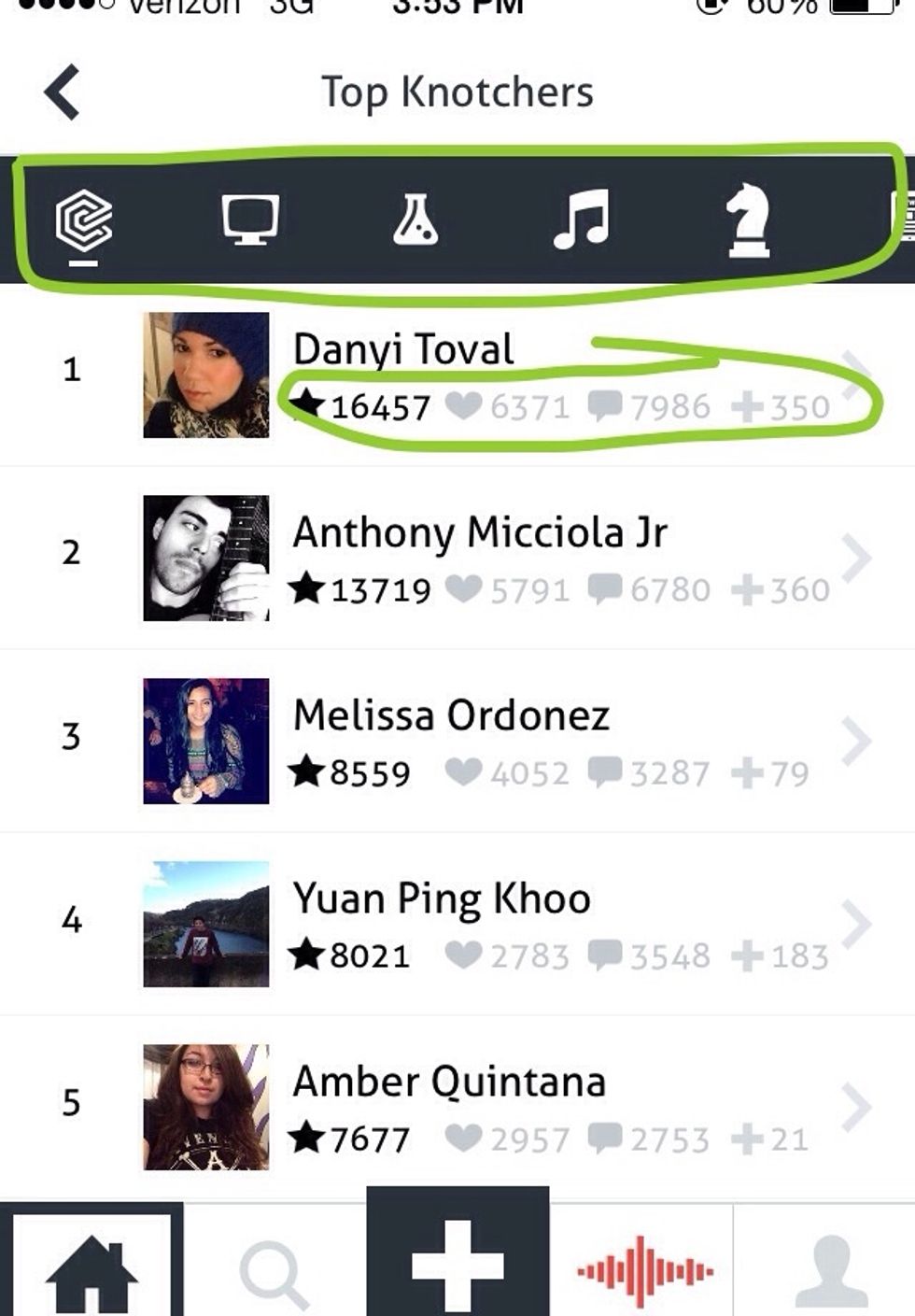 In the Glory page, you can identify the top Knotchers for each category. You can change categories by sliding and tapping on the one you want to switch to (circled green). When (continue to next step)
looking at a specific Knotcher. You can view their number of Knotches, Comments, and Favorites they have. And of course, their rank or in this case, "Glory" (second circle in green).
To quickly view you're own "Glory", go to your profile and tap on the glory button. It shows the same stats as in the Leaderboard but you can see yours a lot faster.
So now you're a pro at expressing your opinion. Knotch away.
1.0 Knotch App
1.0 iPhone
1.0 Facebook or Twitter