SLIDE THE HOLD BUTTON OFF SO THE RED DOT DOES NOT SHOW.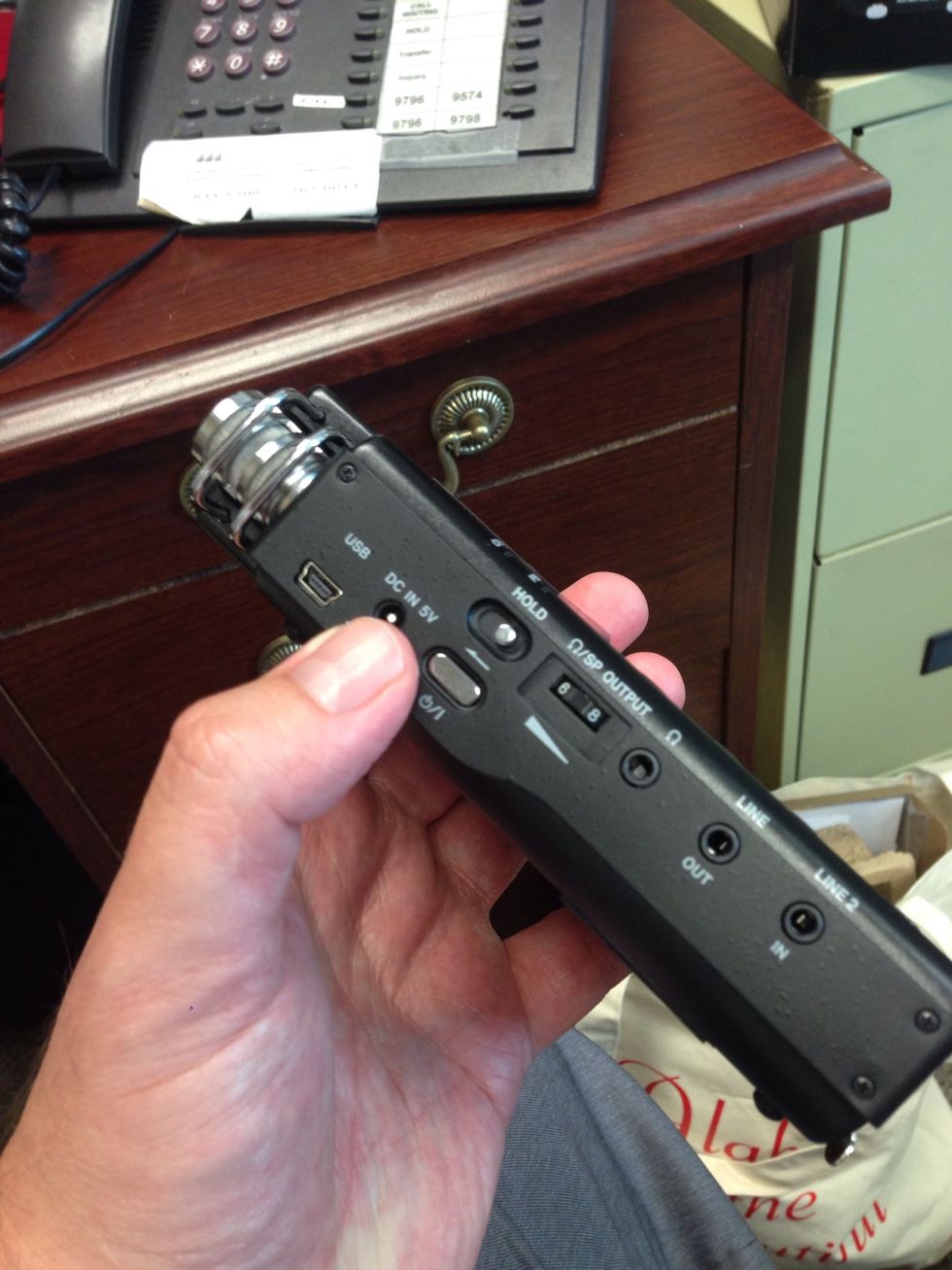 TURN THE RECORDER ON BY HOLDING THE OBLONG SILVER BUTTON. THE DISPLAY WILL GLOW ORANGE AND READ "TASCAM".
PLUG IN THE XLR CABLE INTO THE L SIDE OF RECORDER (BOTTOM OF THE UNIT.)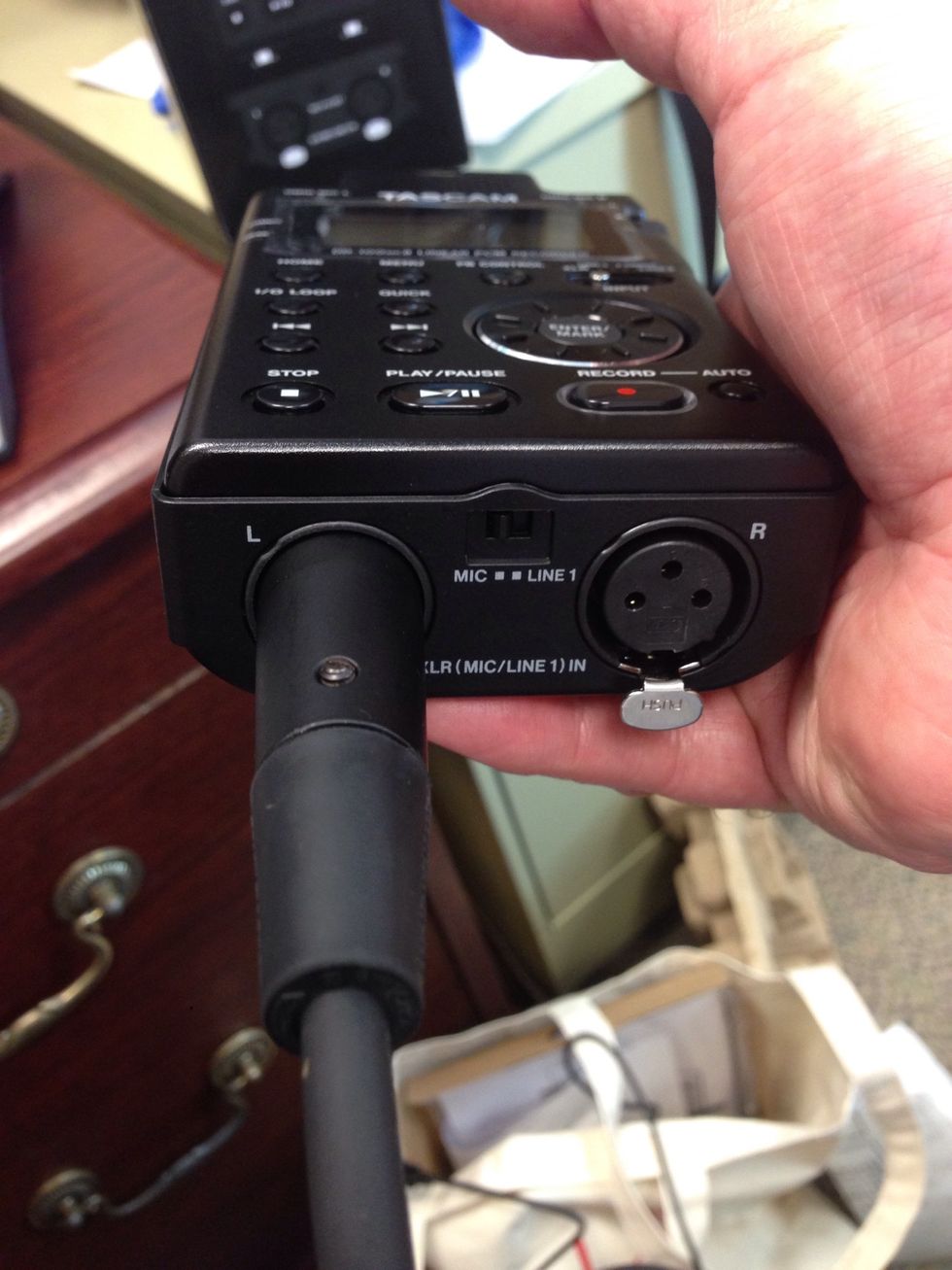 SHOULD LOOK LIKE THIS.
PLUG THE OTHER END INTO THE AUDIOTECHNICA MIC. MAKE SURE MIC "POPPER STOPPER" FUZZY HEAD IS ON.
PLUG HEADPHONES INTO JACK ON LEFT SIDE OF UNIT. ADJUST VOLUME ON KNOB. REMEMBER TO LOOK AT LEVELS ON RECORDER AND USE KNOB ON RIGHT HAND SIDE TO GET LEVELS TO AROUND THE ARROW.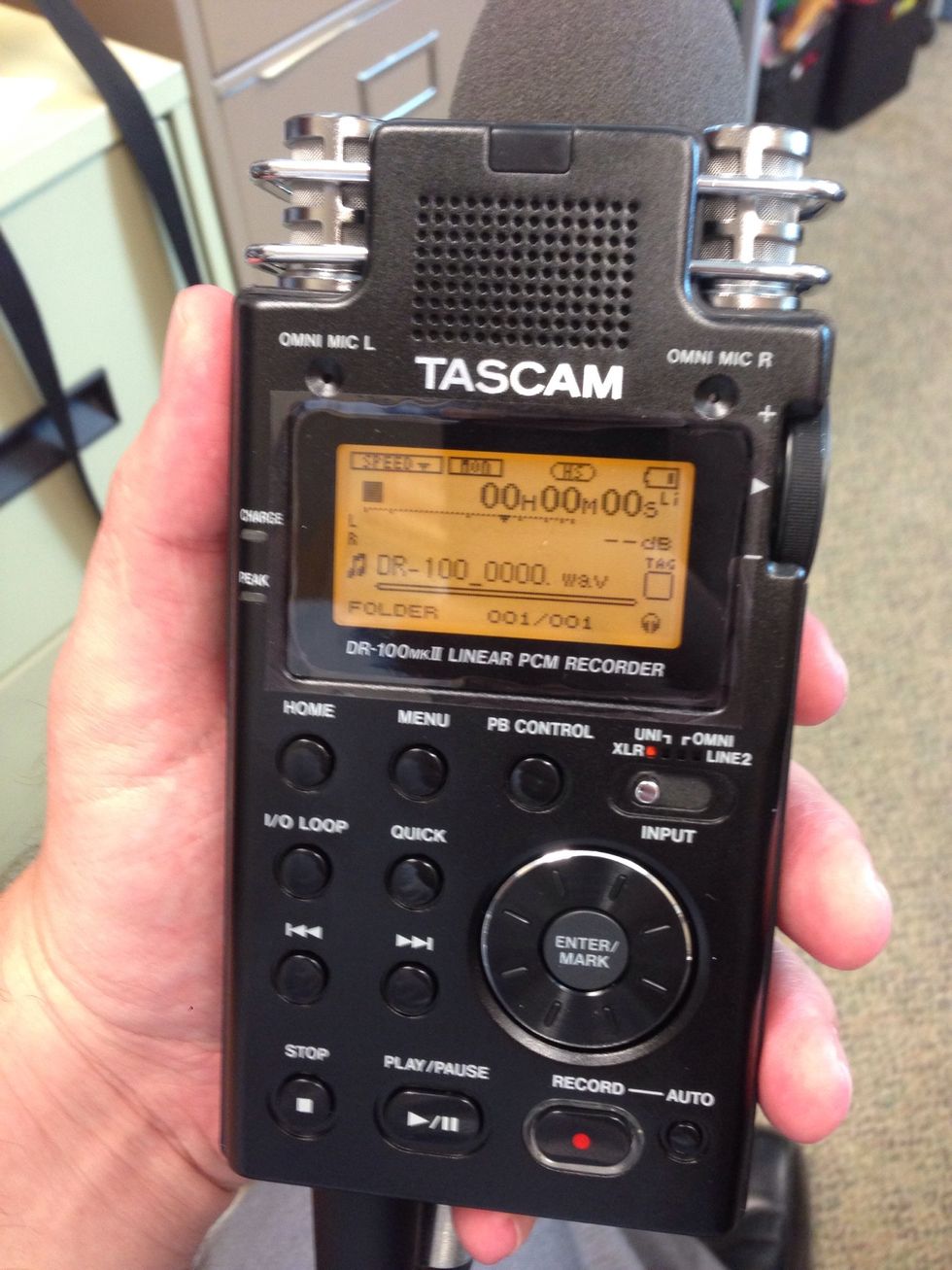 RECORDER SHOULD LOOK LIKE THIS WHEN READY. NOTE BATTERY IS LOW IN THIS PICTURE. PLUGGING THE UNIT INTO THE COMPUTER AND TURNING IT ON WILL CHARGE IT.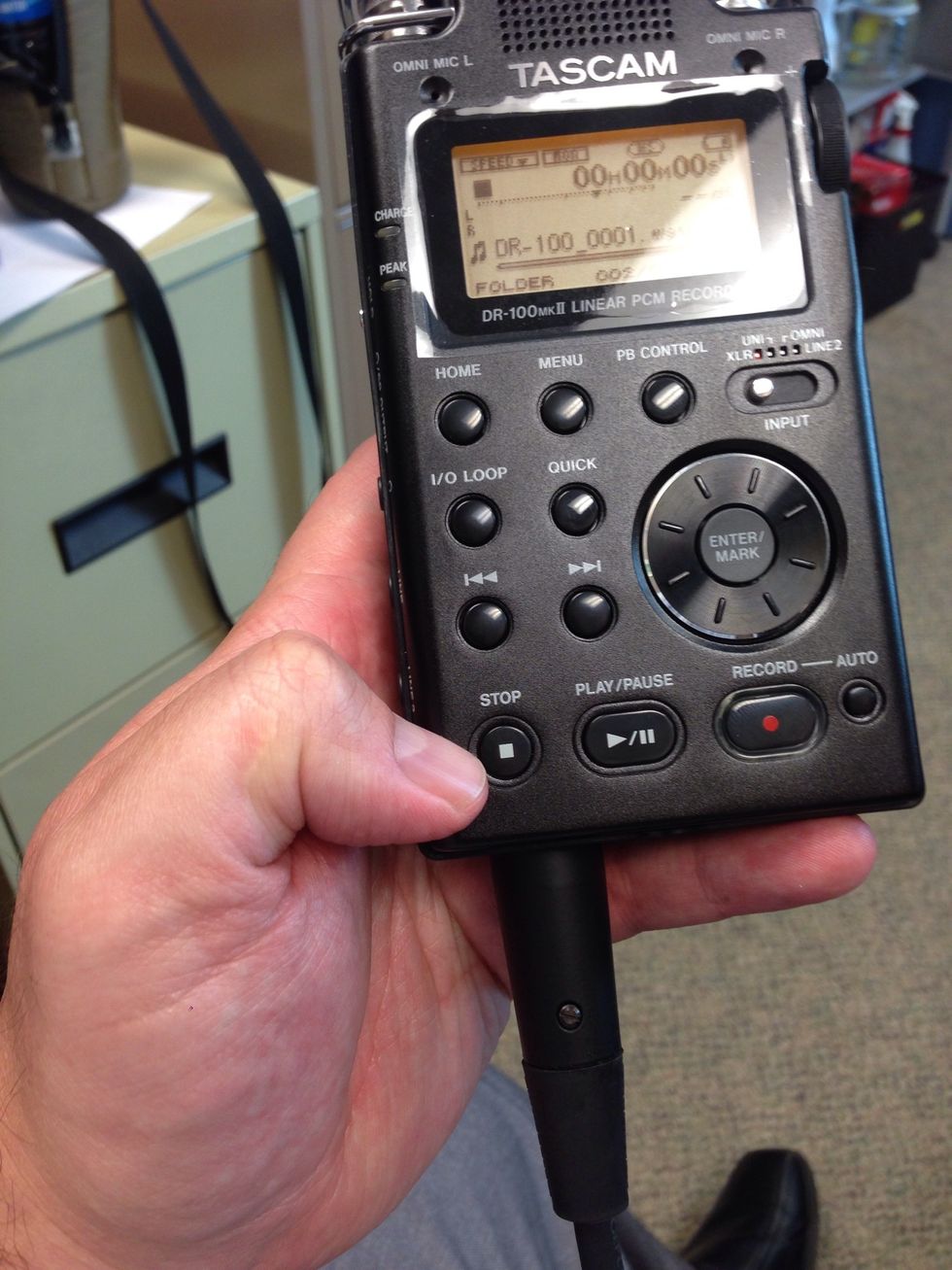 HIT THE RECORD BUTTON TWICE. AFTER THE FIRST TIME THE BUTTON WILL FLASH IT IS NOT RECORDING. HIT IT AGAIN AND THEN IT WILL GLOW STEADY TO RECORD. THIS IS VERY IMPORTANT! HIT STOP WHEN FINISHED.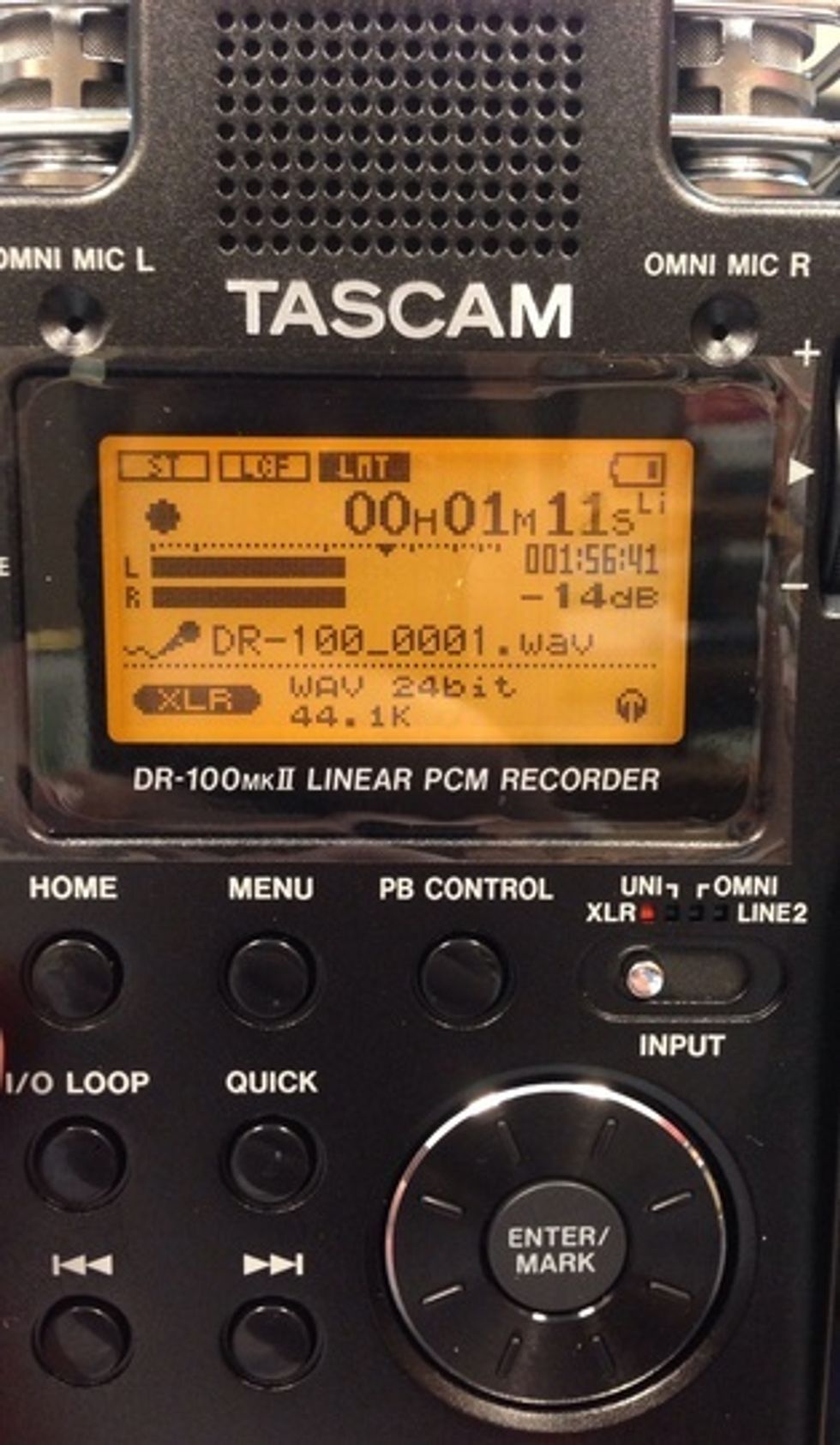 YOUR RECORD LEVELS SHOULD HOVER AROUND THE ARROW. THIS LEVEL IS A LITTLE LOW. TO ADJUST USE THE KNOB ON THE RIGHT (NOT LEFT) SIDE OF THE RECORDER.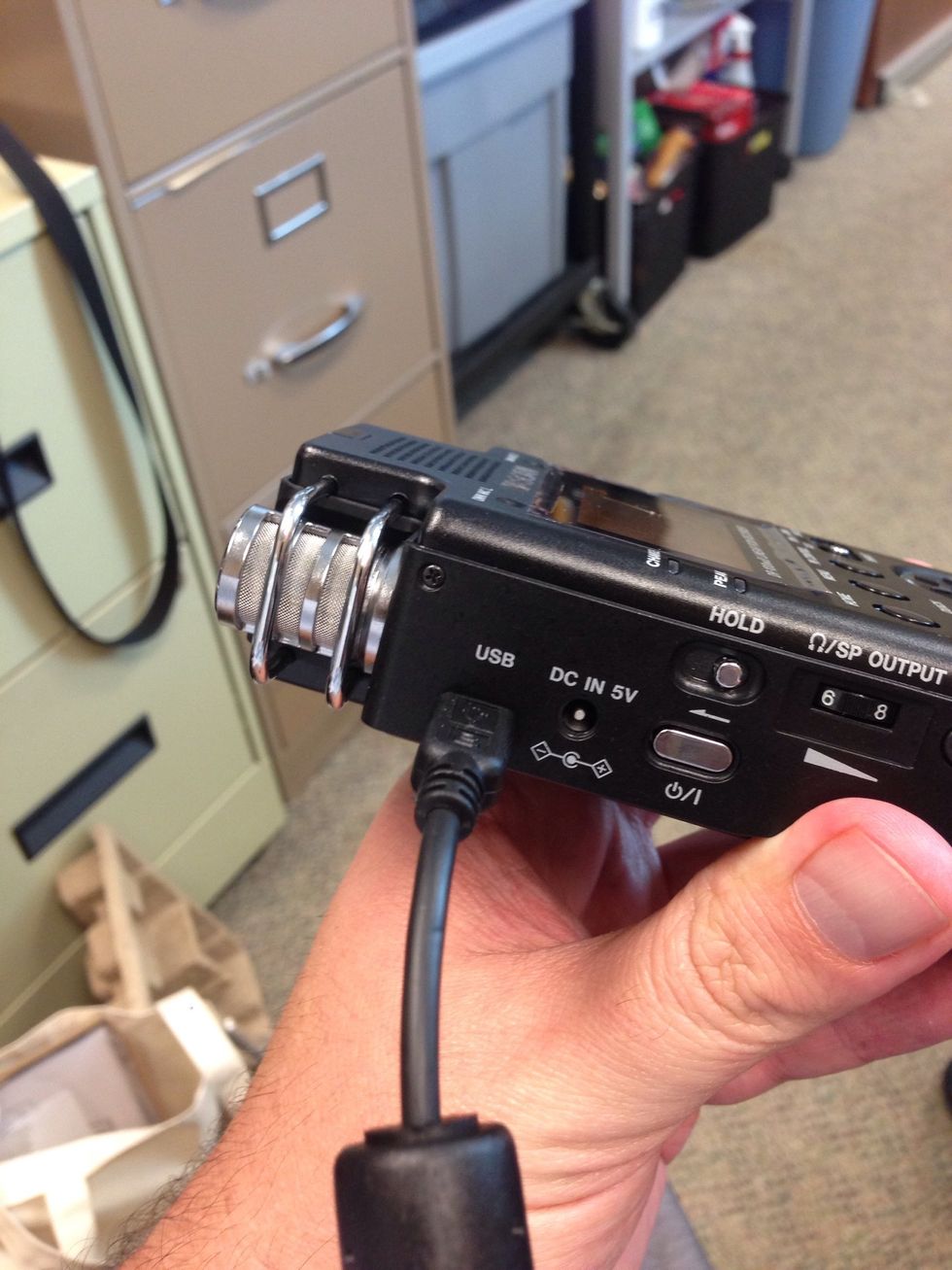 NEXT PLUG THE USB CORD INTO THE RECORDER. AND THE OTHER END INTO THE COMPUTER.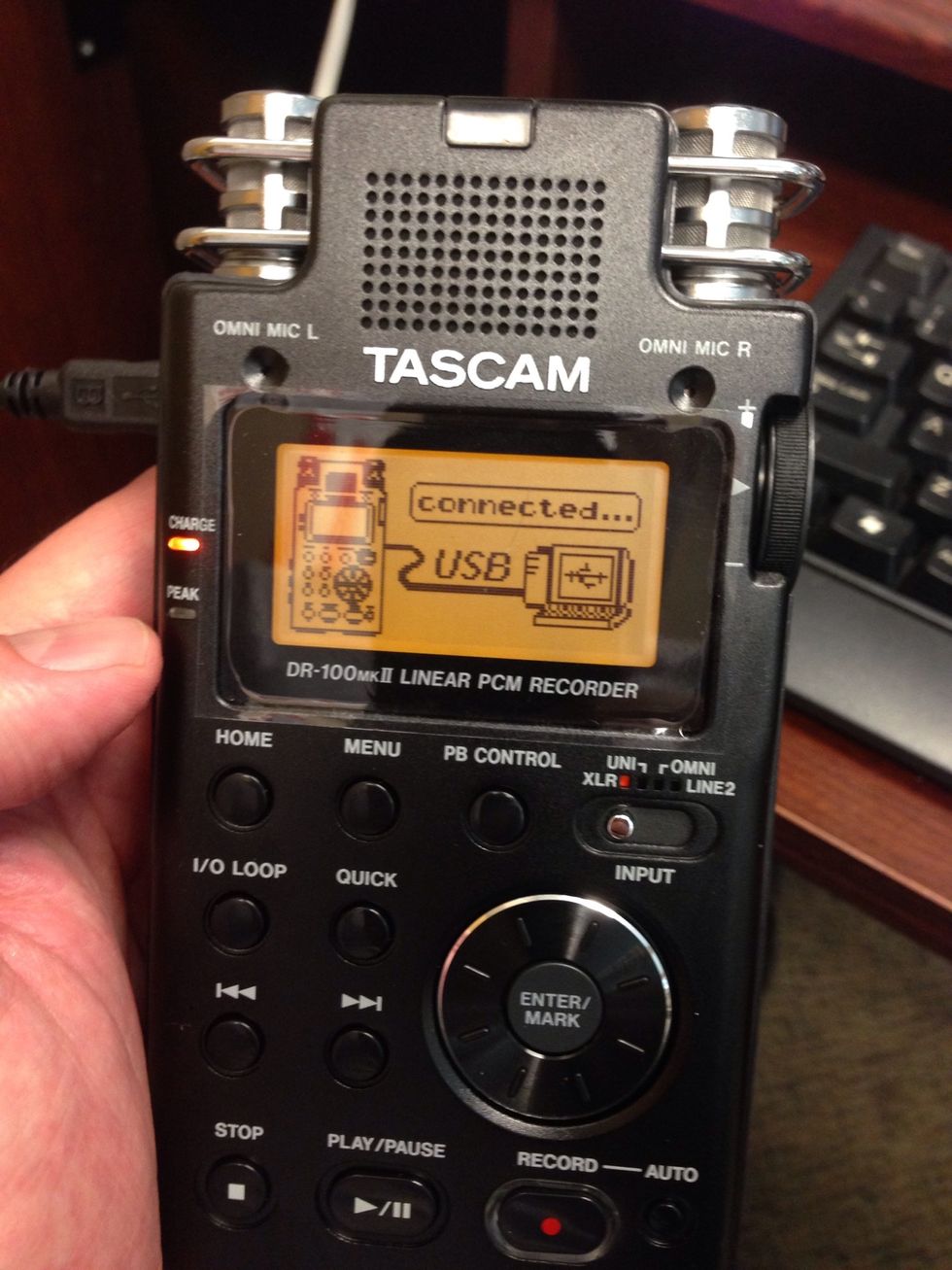 THE RECORDER WILL LOOK LIKE THIS WHEN CONNECTED TO THE COMPUTER.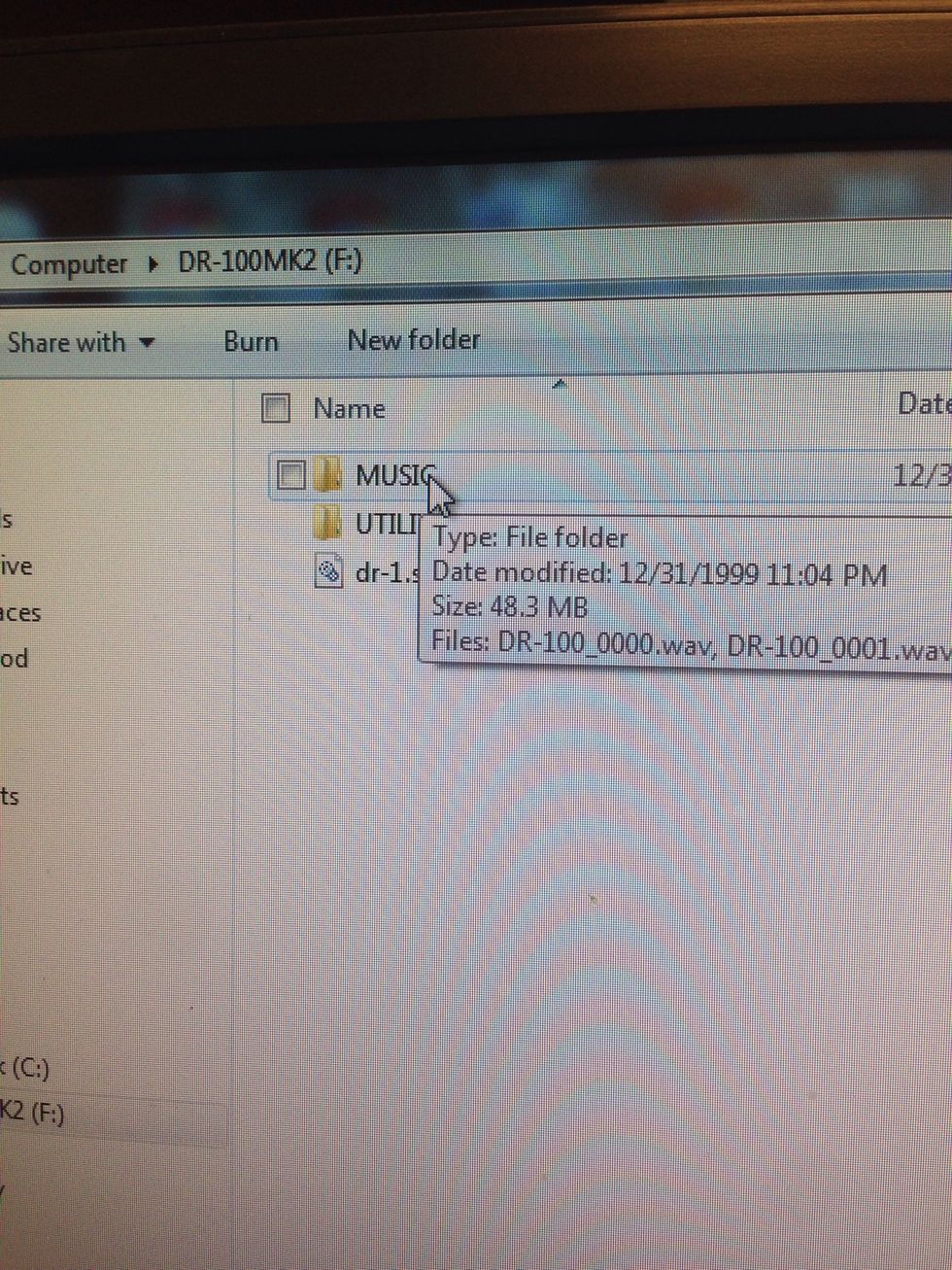 FIND THE FOLDER, YOU MAY HAVE TO CLICK ON THE "COMPUTER" ICON THEN THE RECORDER UNDER REMOVABLE DEVICES. THEN CLICK ON THE "MUSIC" FOLDER TO FIND YOUR FILE.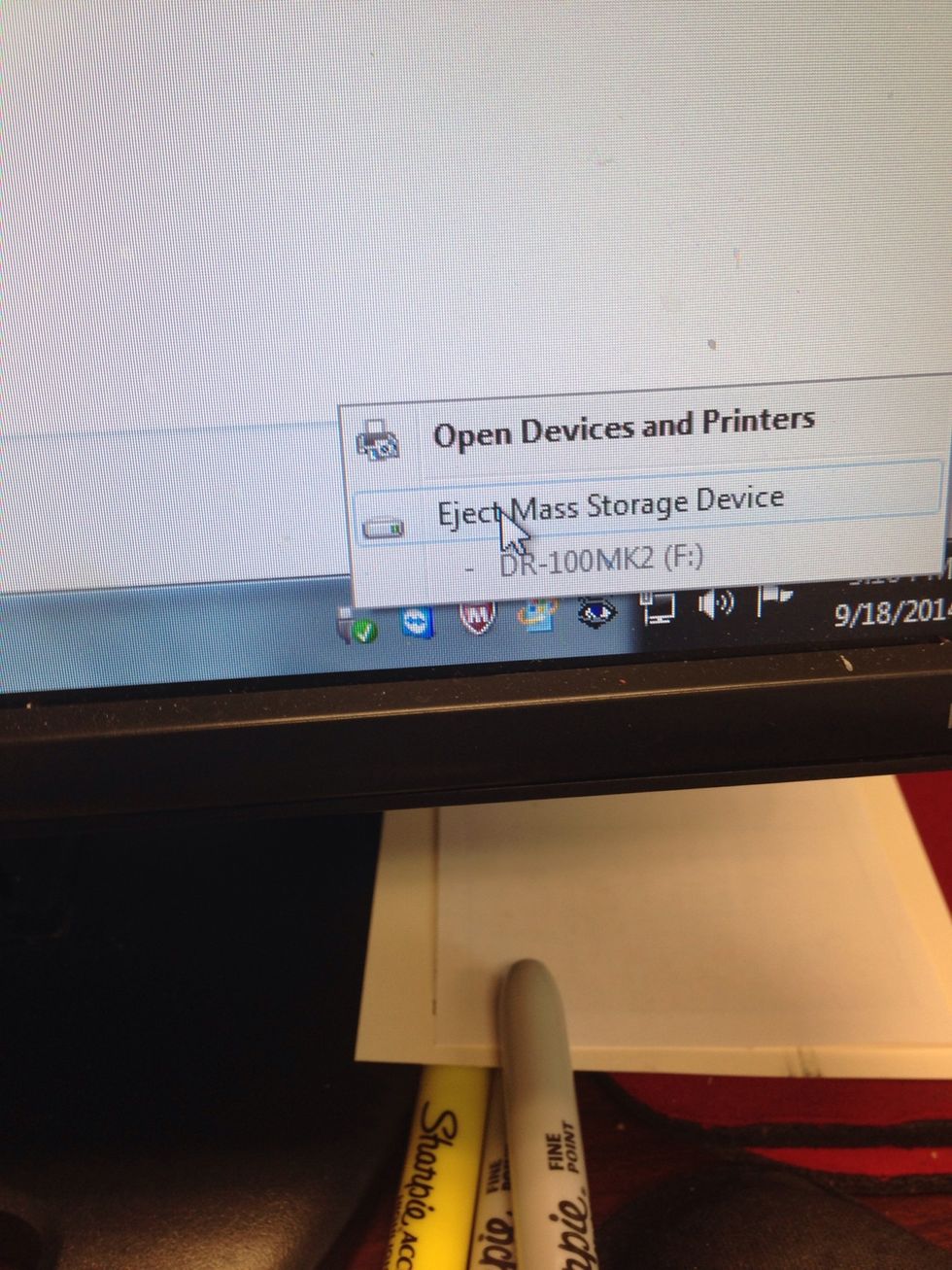 WHEN YOU ARE FINISHED EDITING, DISCONNECT THE RECORDER BY CLICKING ON THE USB ICON AND CHOOSING EJECT MASS STORAGE DEVICE.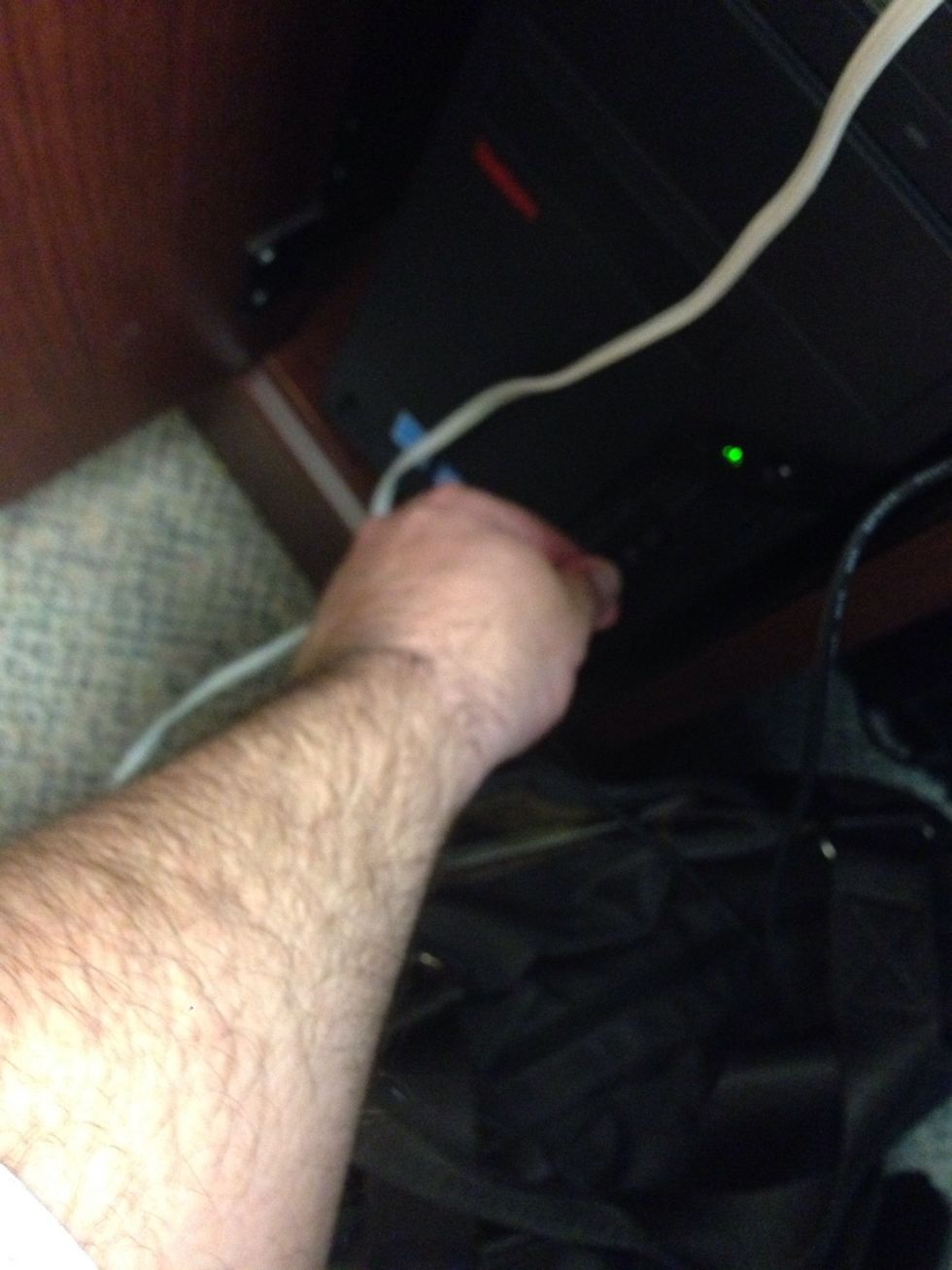 THEN YOU CAN PULL THE USB CABLE FROM THE COMPUTER.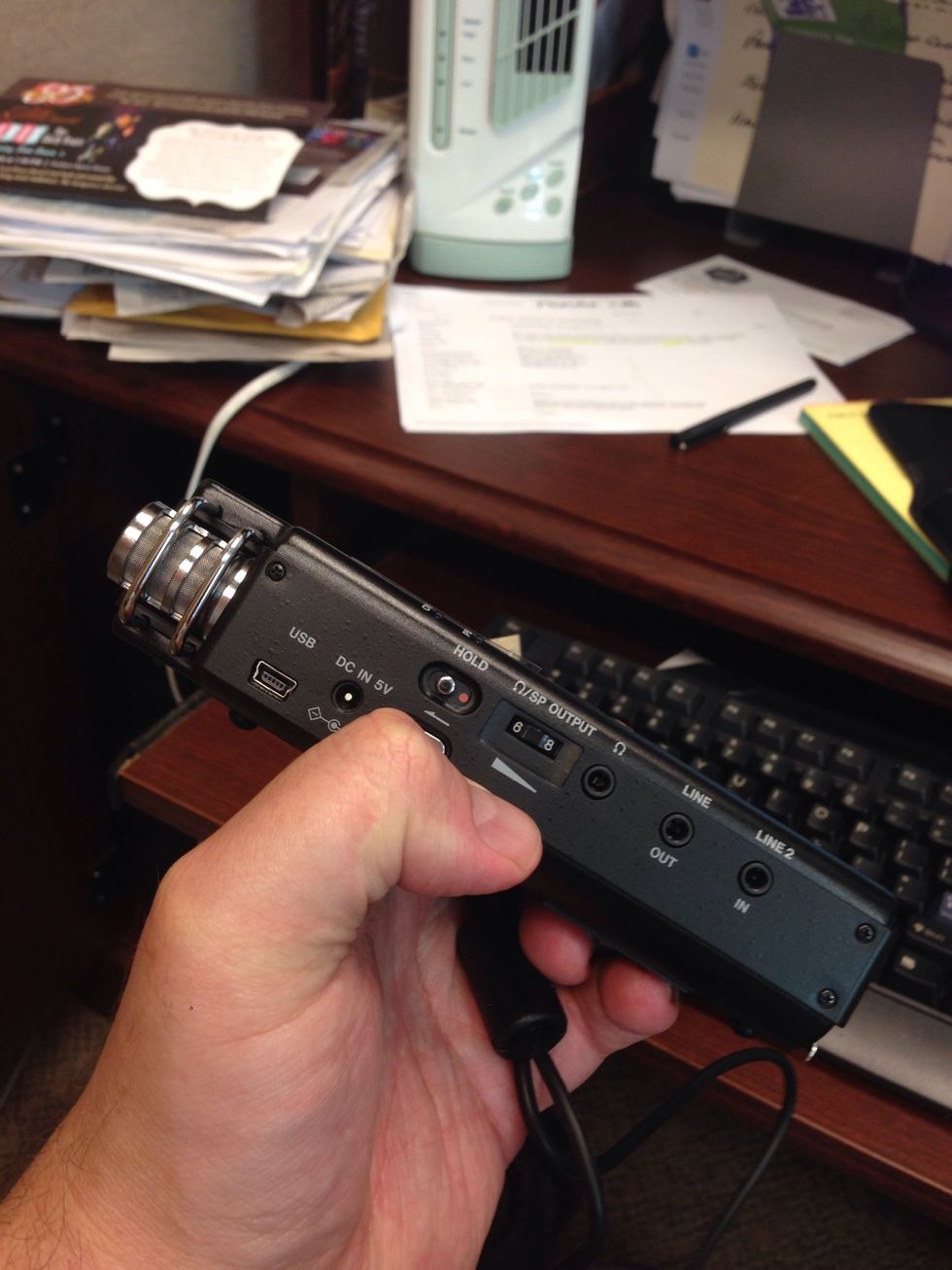 SLIDE THE HOLD BUTTON BACK TO RED, SO NO BUTTONS CAN BE PRESSED WASTING BATTERY LIFE.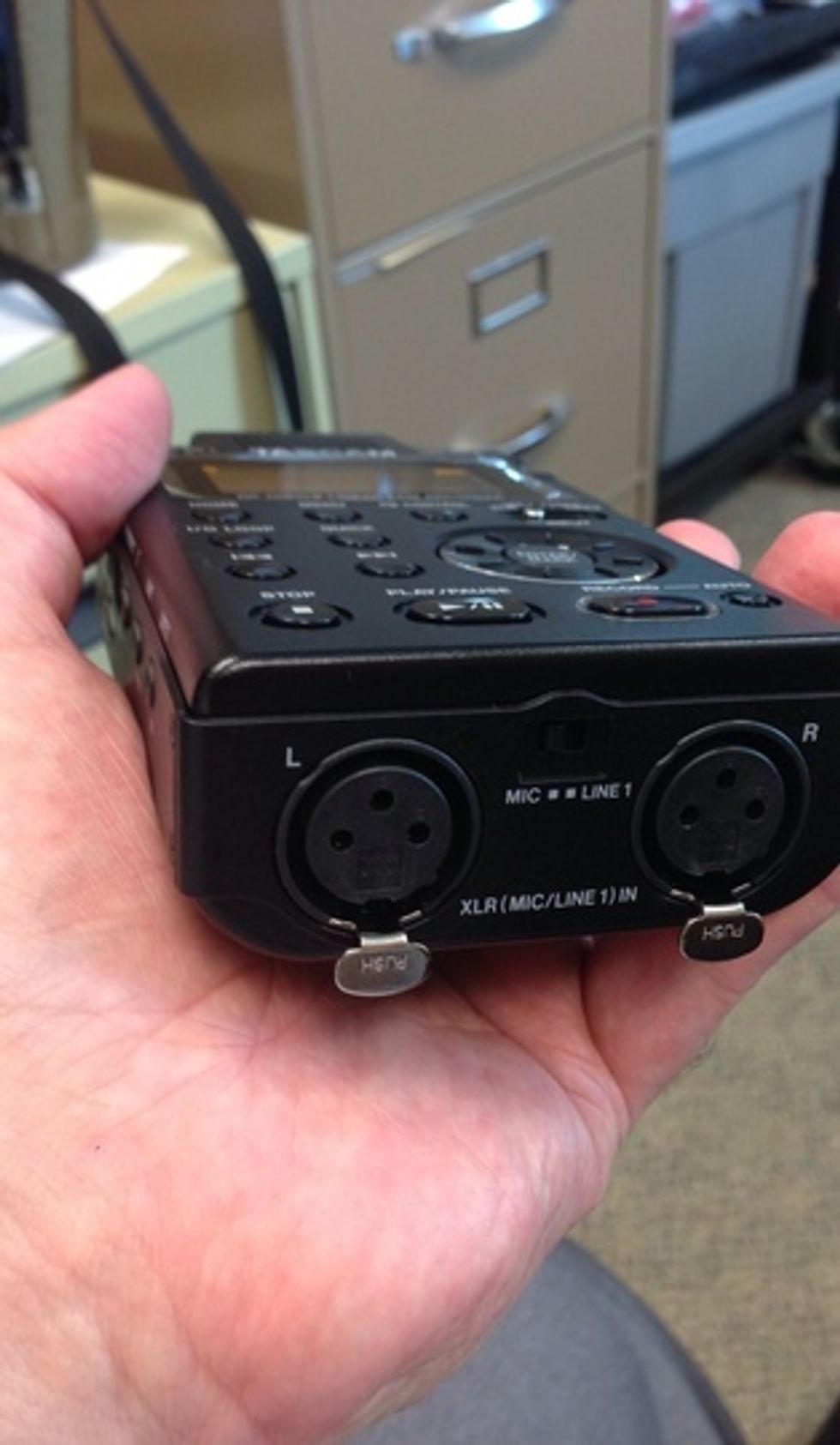 UNPLUG THE MIC AND HEADPHONES AND YOU'RE DONE!!
TASCAM mk-100 RECORDER
AUDIO TECHNICA MIC
XLR CORD
HEADPHONES