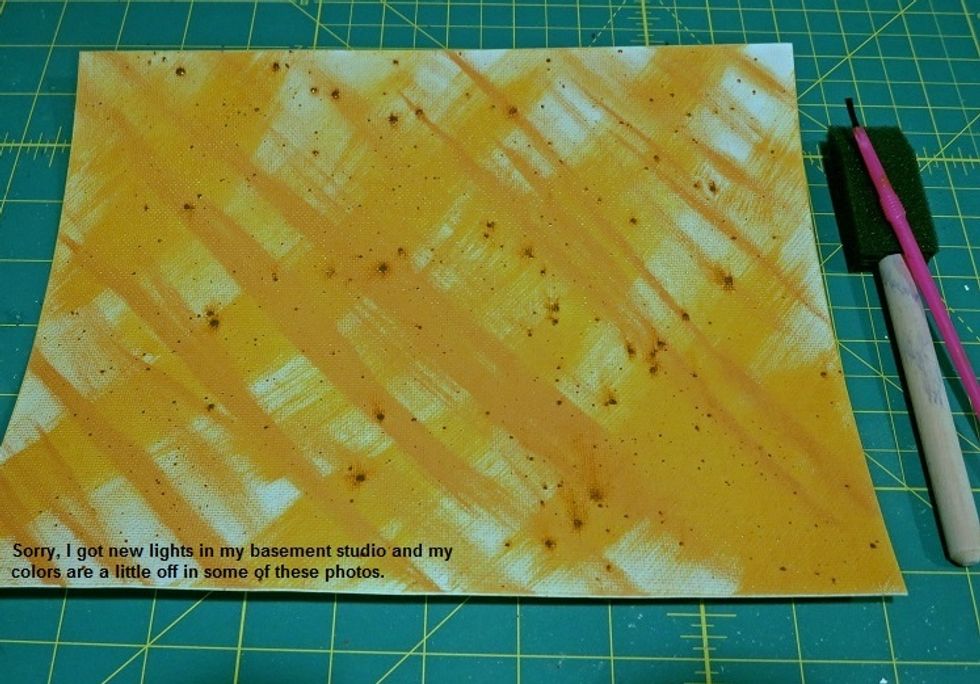 Distress Paints Wild Honey and Rusty Hinge were painted on with a foam brush and Antiqued Bronze was tapped on using a fine paintbrush against a marker to get splotches.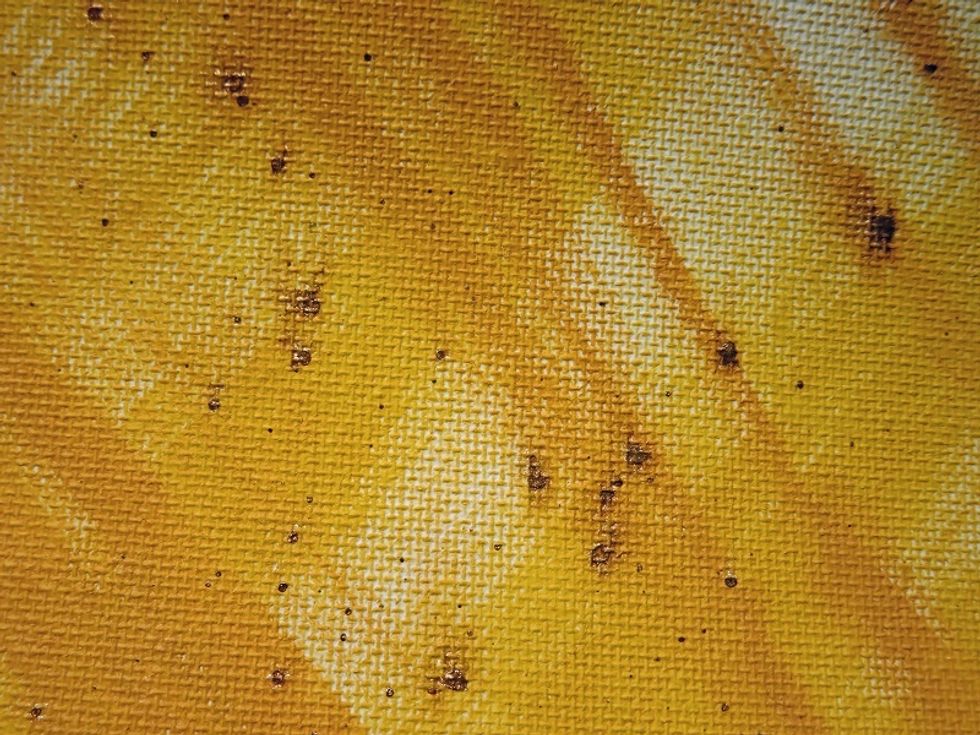 Close up of the metallic splotches.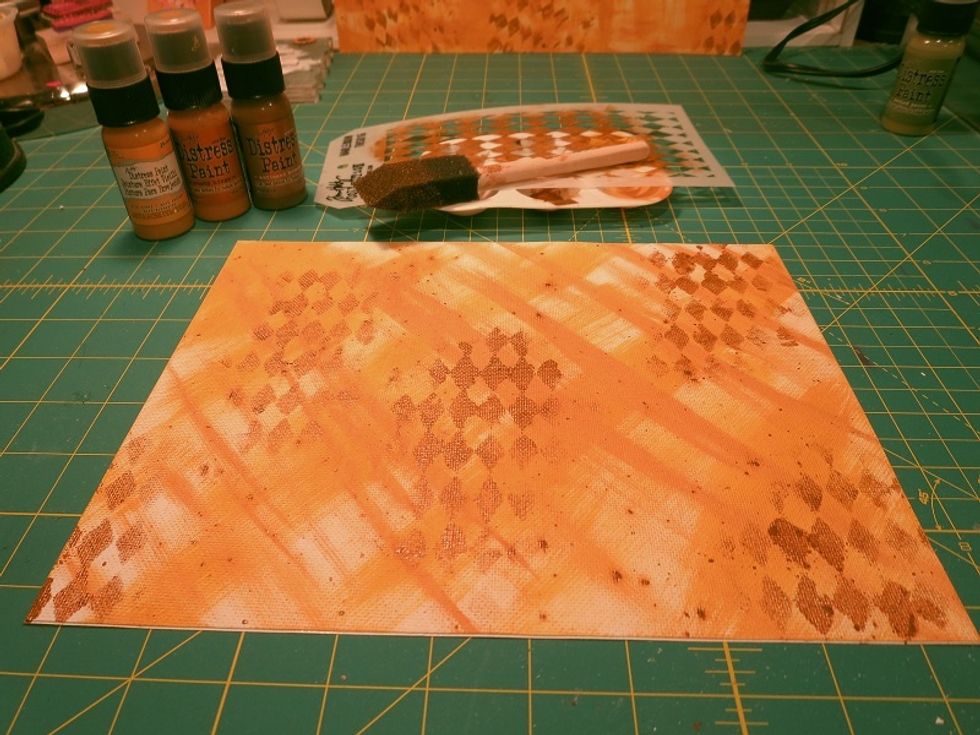 Antiqued Bronze was sponged through a stencil to get these shiny diamonds.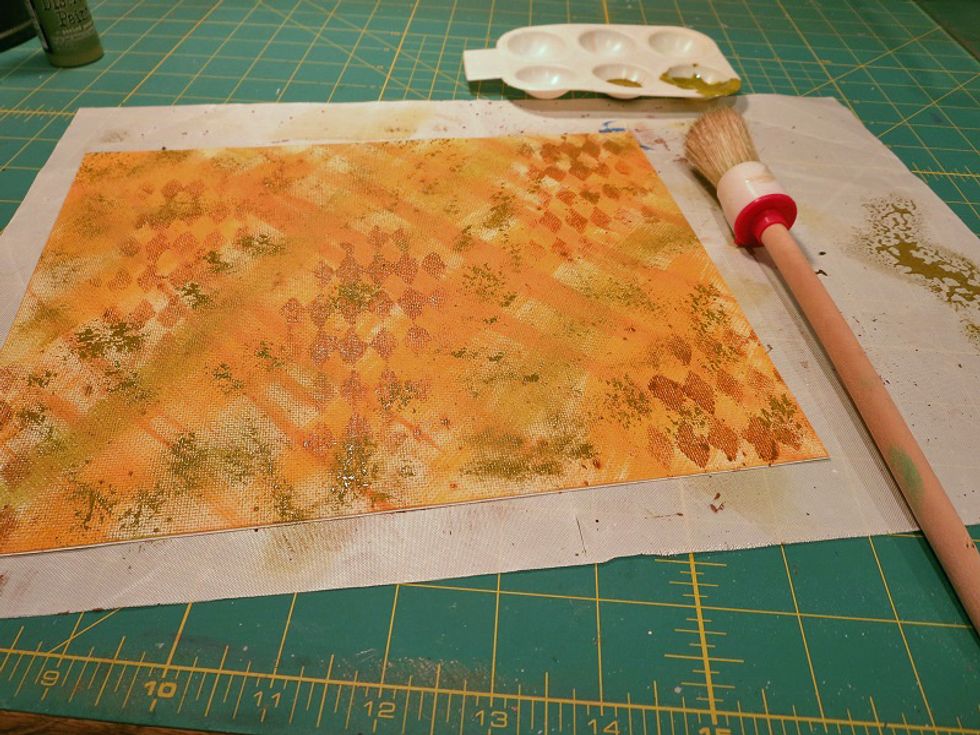 Tim Holtz Distress Paint Peeled Paint was brushed into some of the white space and then Forest Moss was dabbed on with a stipple brush.
Additional color was added anywhere there was too much white showing.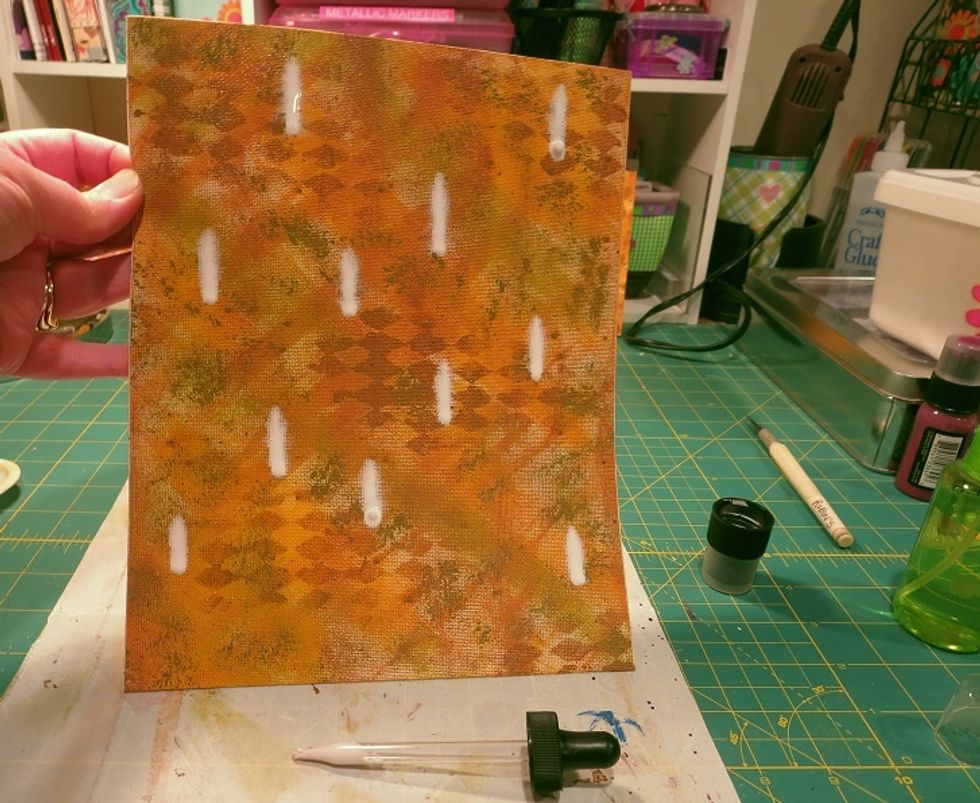 Using an eyedropper, Tim Holtz Distress Paint Picket Fence was dripped evenly across the canvas the sprayed with water to create a whitewash effect. Baby wipes were used to remove some of the white.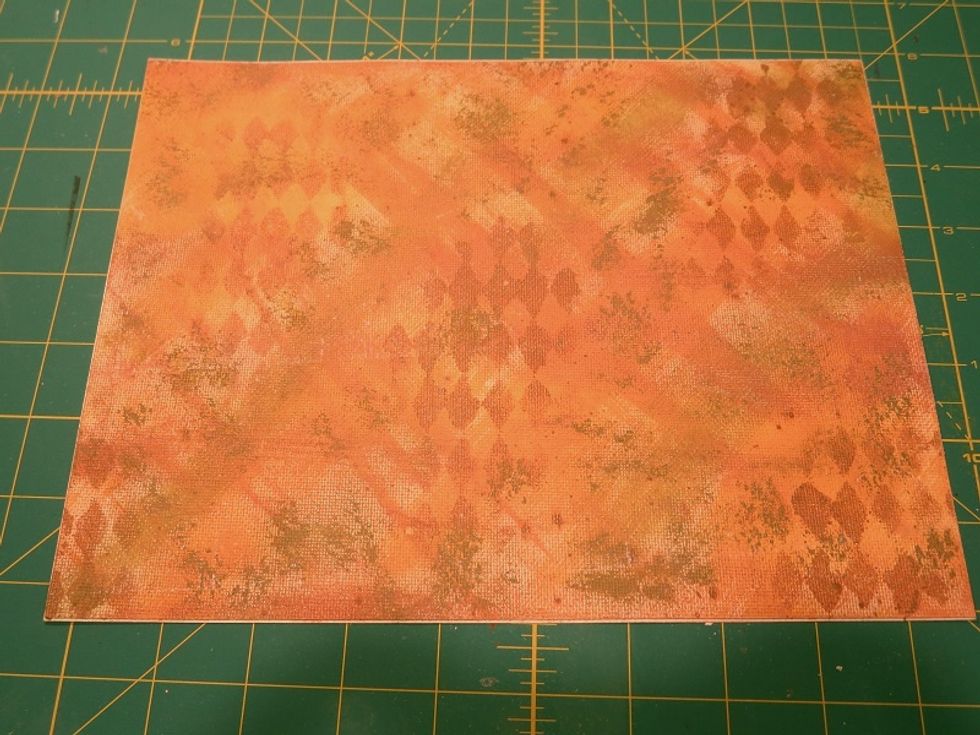 The whitewash produced a softer background.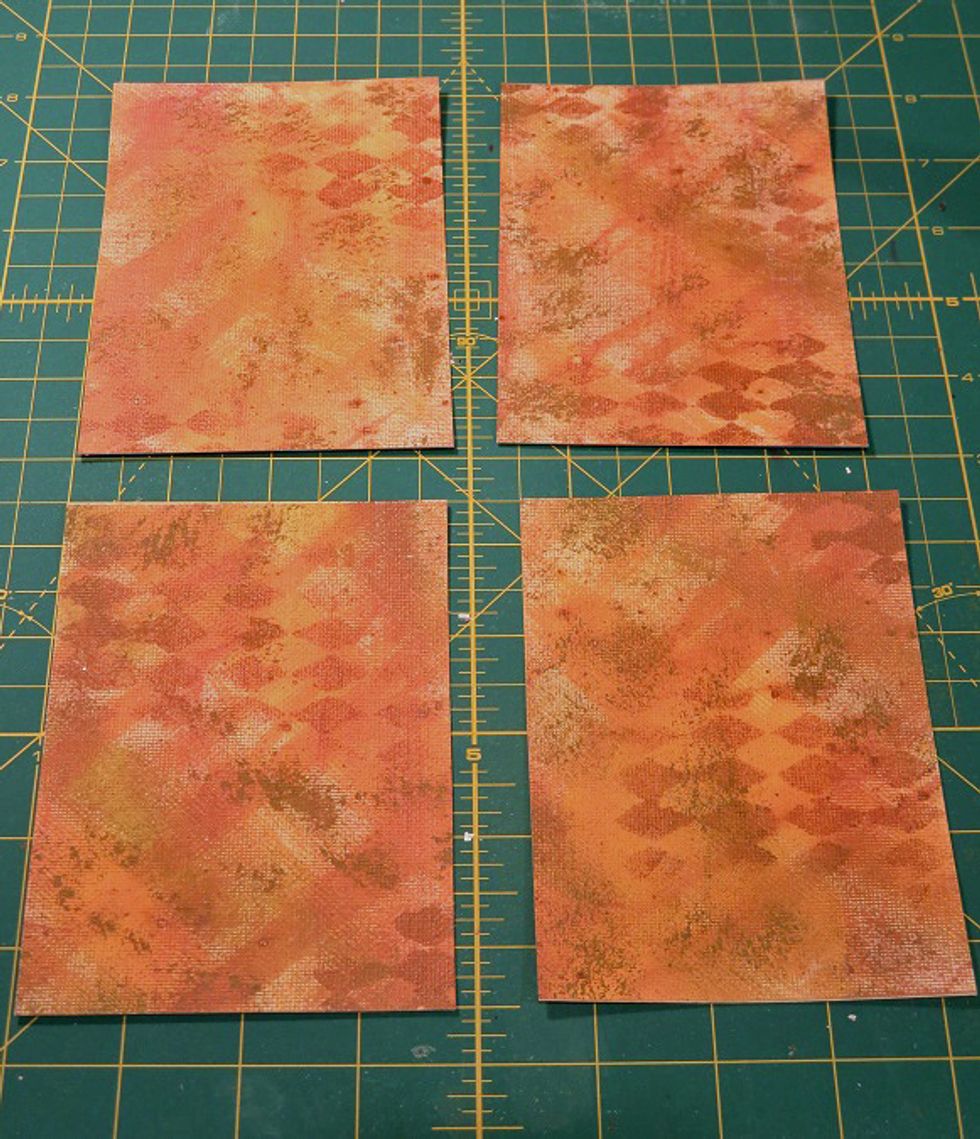 The canvas was then cut into four panels of 3 3/4 x 5 inches each.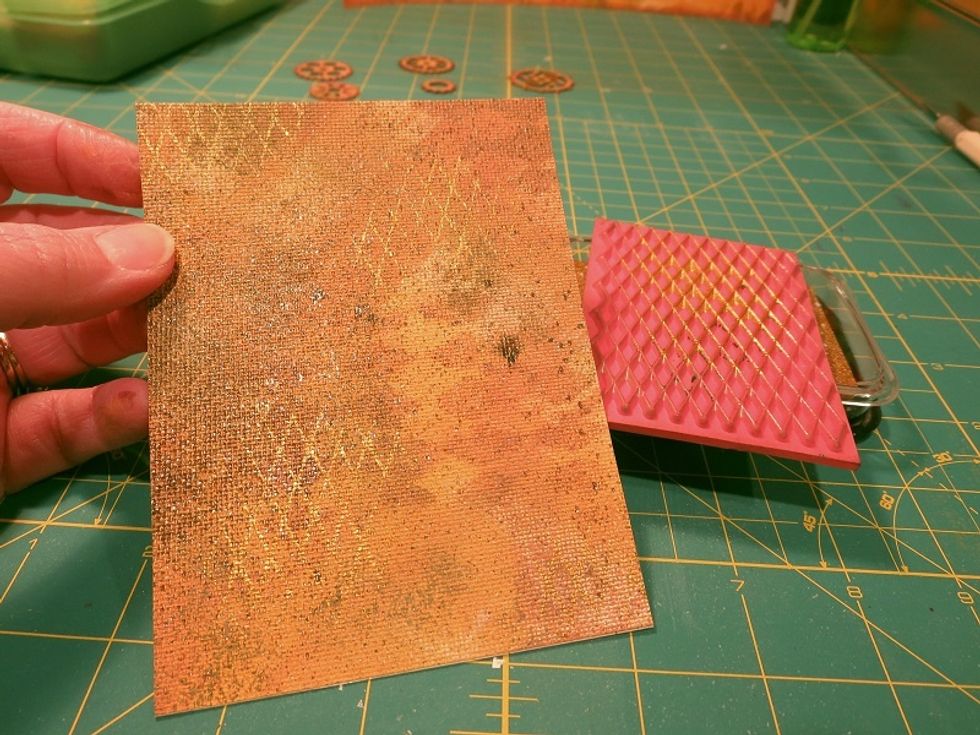 This piece was sprayed with irresistible Bronze and then stamped with a gold weave.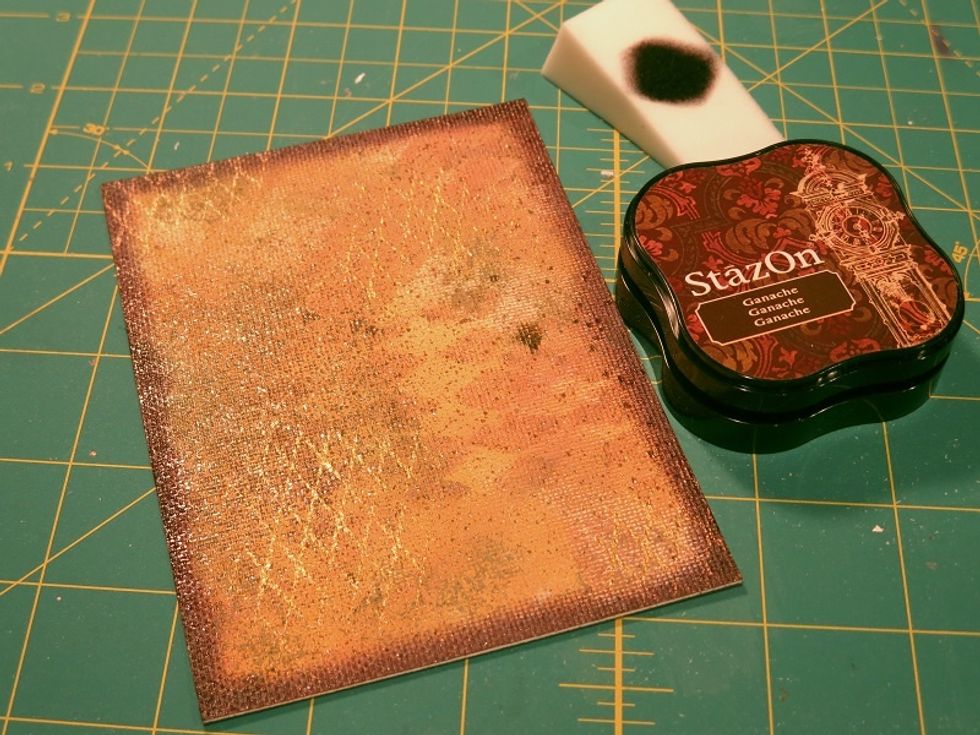 A makeup sponge was used to give the panel a dark border.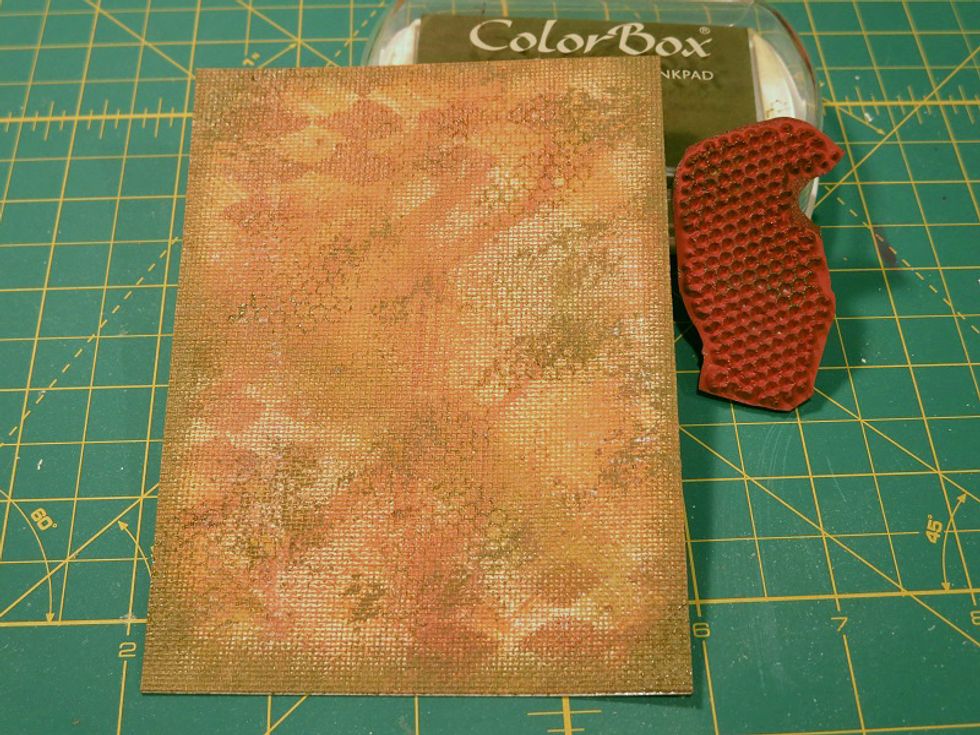 This panel was stamped and edged in Colorbox Chalk Olive Pastel.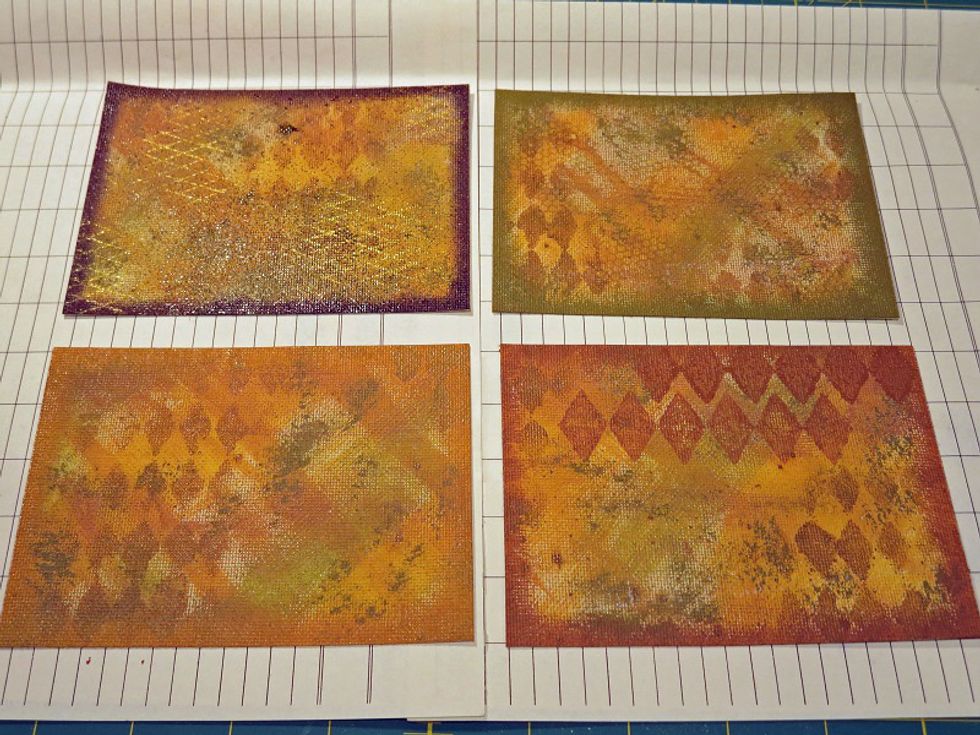 Additional stamping and paint produced these four panels.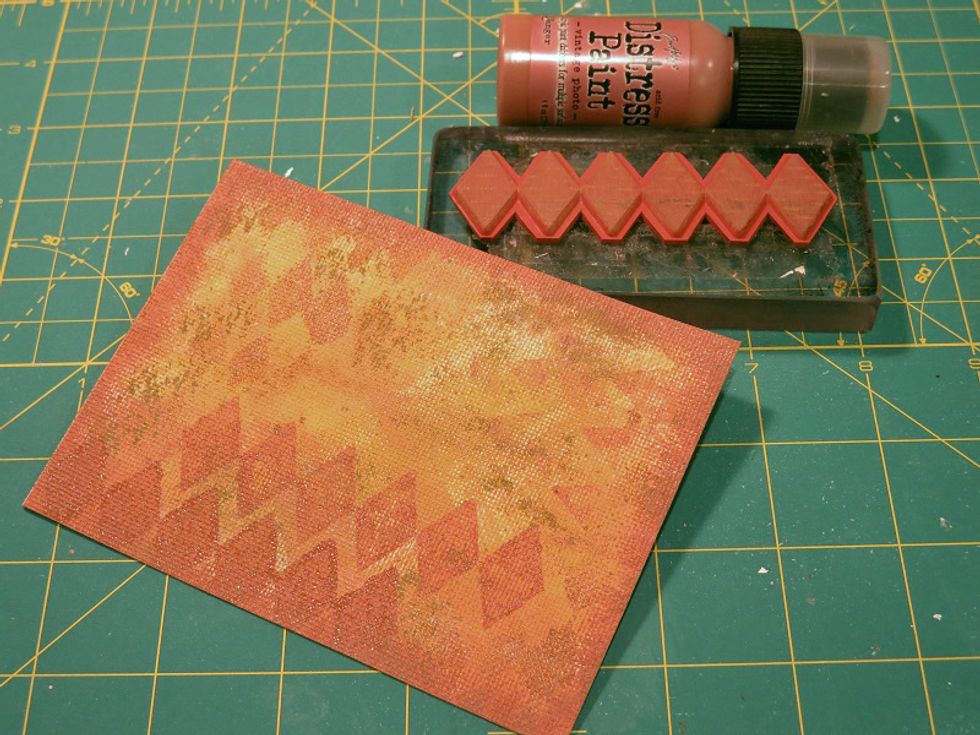 Tim Holtz Distress Paint Vintage Photo was used for the stamping and border on this one.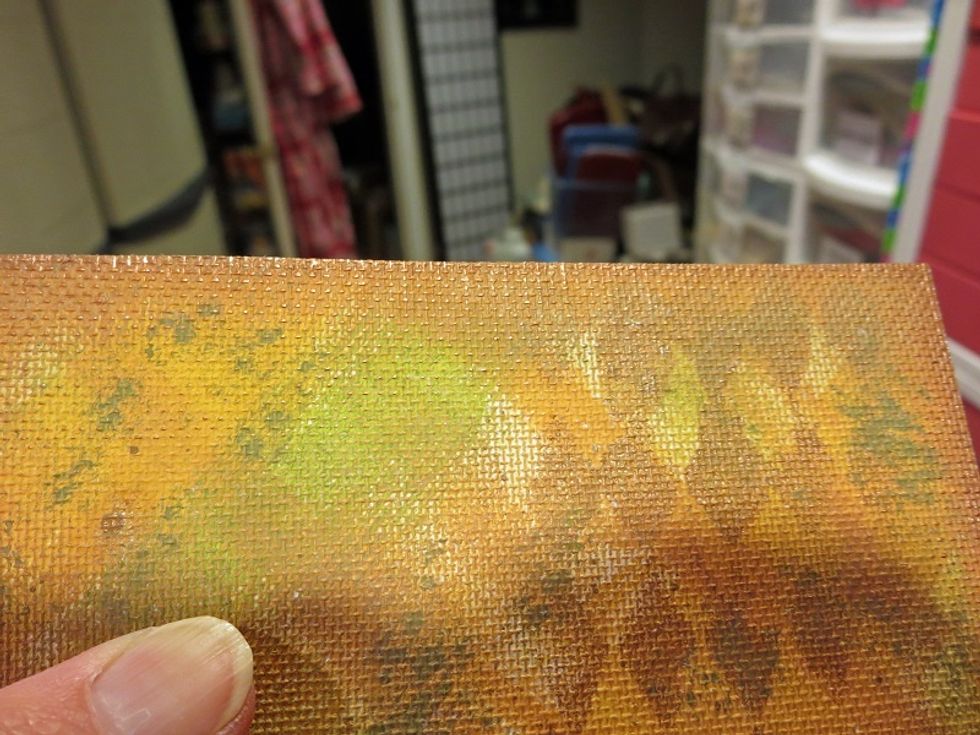 Can you see the lines along the edge?
Those lines were made using a wallpaper sealing wheel which was run through Colorbox Bronze ink.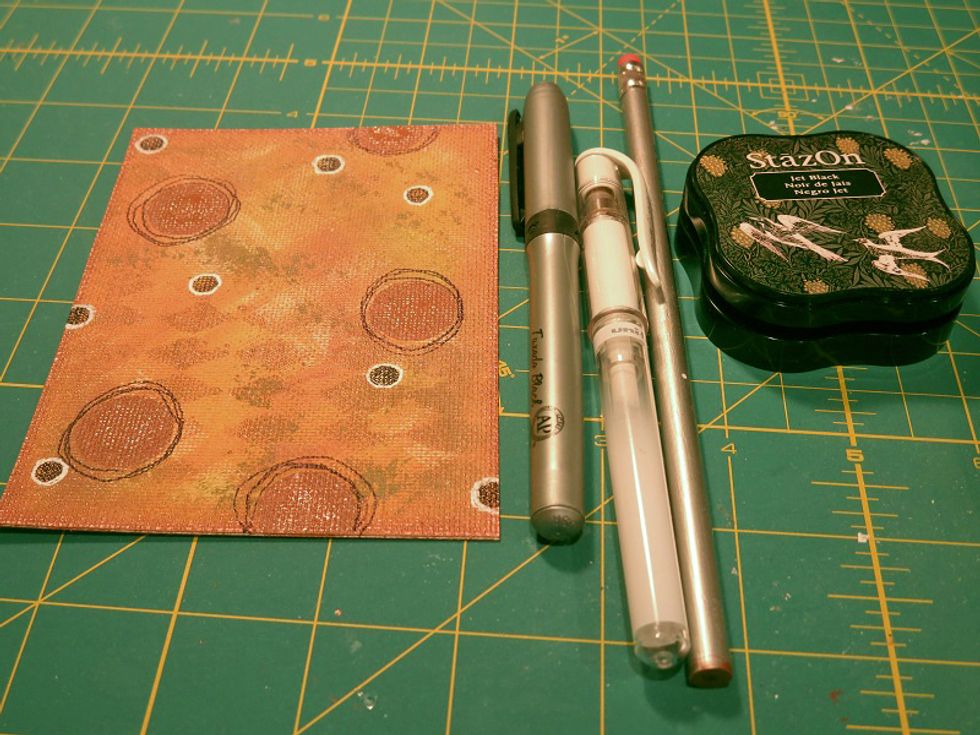 An unsharpened pencil was used to make the small circles and the dauber top of the Vintage Photo bottle made the larger circles. Each was outlined.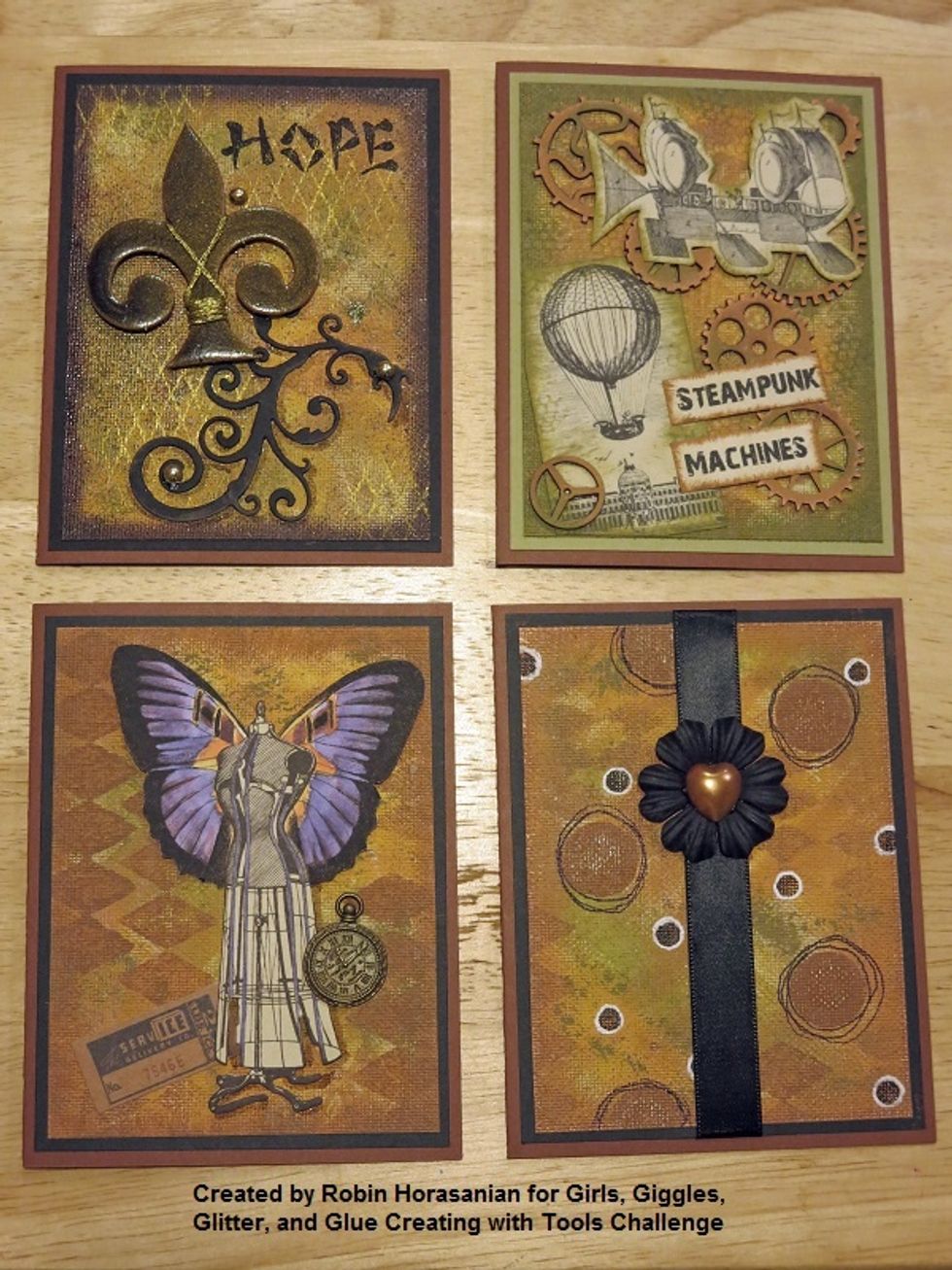 Here is the completed set, which was submitted for my challenge entry.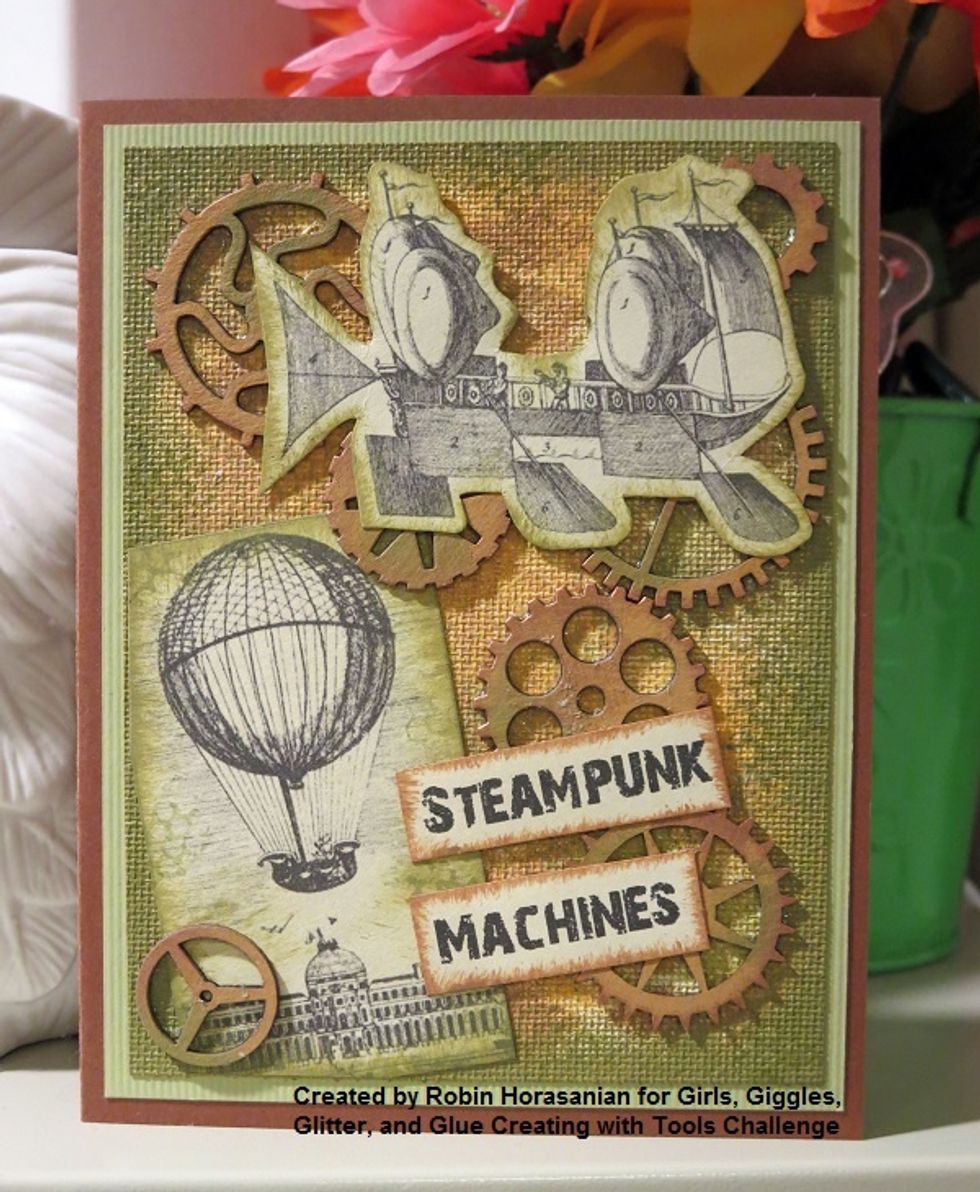 The gears were plain chipboard and painted with the same Distress Paint as the background. The black and white photos were highlighted with Peeled Paint.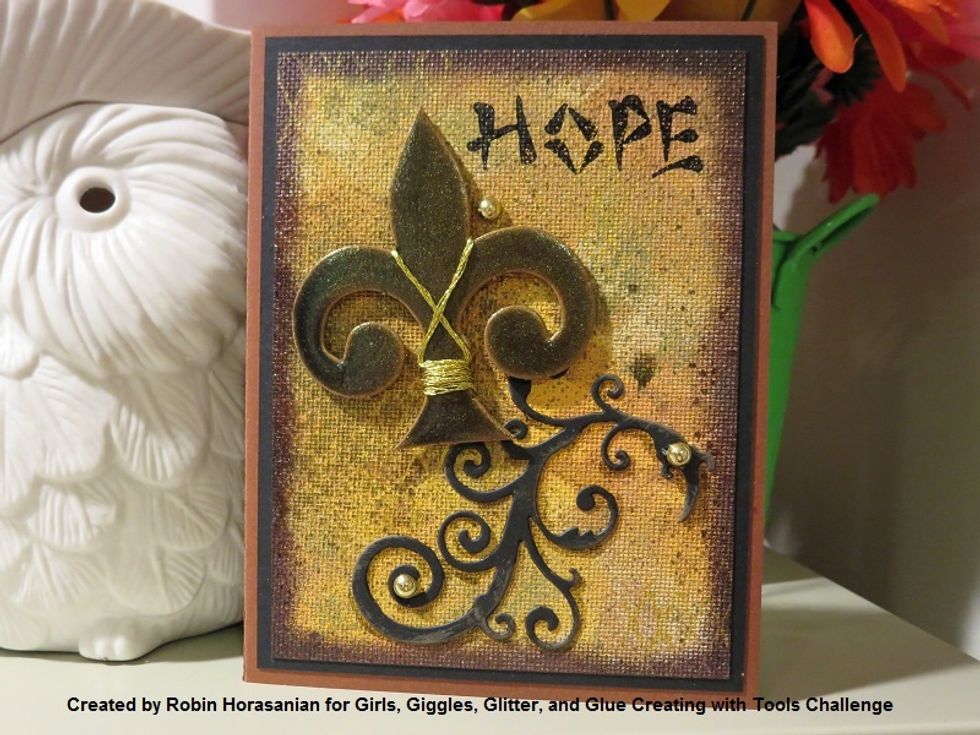 This plain chipboard Fleur de Lis was coated with irresistible spray then wrapped in gold thread. The flourish is black cardstock run through the Cuttlebug. Gold Dew Drops were added for accents.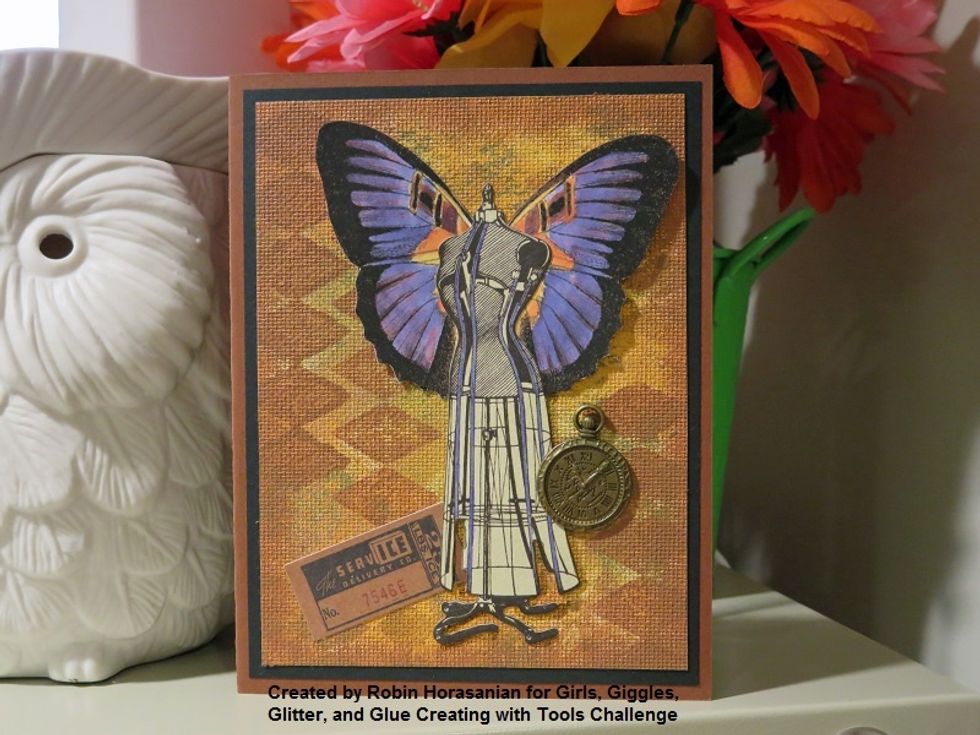 The black and white Tim Holtz Ephemera dress form was colored with purple marker to match the wings from Altered Pages.com. The ticket is also from Tim Holtz's Ephemera pack.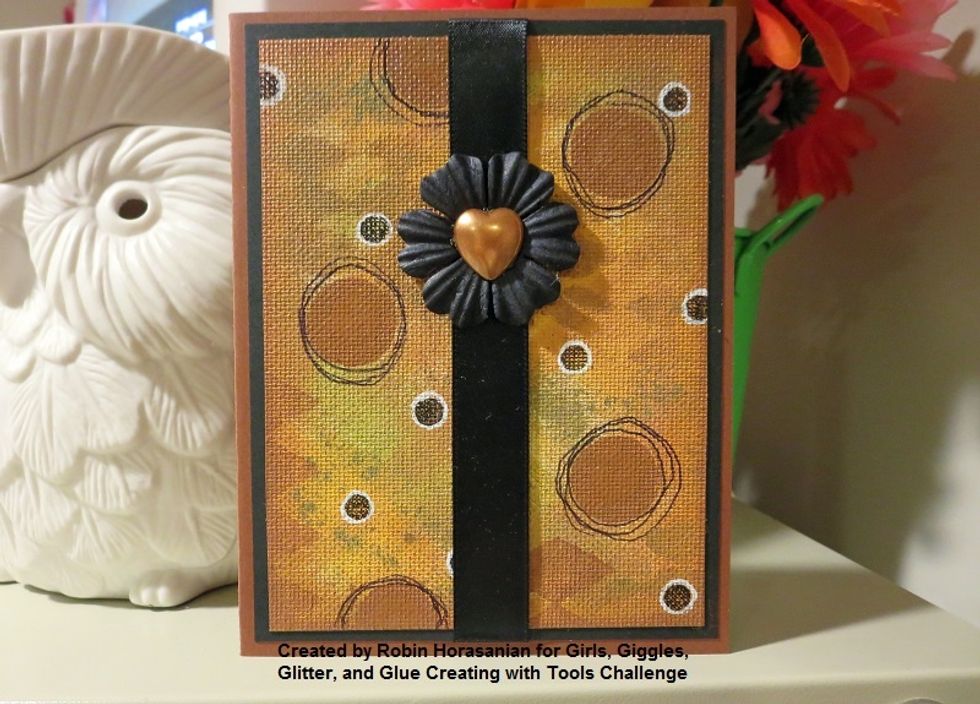 Black ribbon, a black Bazzill paper flour and a pearl button colored with a brown Sharpie complete this card.
Thanks for stopping by. I hope you'll take a moment to check out my blog http://www.robinsbirdhouse.blogspot.com for other projects.
Girls, Giggles, Glitter and Glue is a Facebook group for anyone who enjoys creating.
Lyons Stick-On Canvas 8x10
Tim Holtz Distress Paints
Uniball White Gel Pen
Bic Mark-It Extra Fine, black
www.AlteredPages Collage - Jar Fairies Wings
Altered Pages Collage - Steampunked Machines
Tim Holtz Ephemera dress form
Spellbinders Flourish die
Chipboard & other craft items
Tsukineko irRESISTible spray - bronze
Tim Holtz Distressed Diamond stencil
Assorted rubber stamps
Robin Horasanian
Proud to be an AlteredPages.com Design Team Member. I am a long-time rubber stamper and am fairly new to mixed media. Love learning new techniques!