Use Apple AirPlay Mirroring Functionality
1
It is inferred that you have an HDTV with a 2nd Gen. or later Apple TV already connected with an HDMI cable and that both the Apple TV and iDevice are connected to your wireless network.
Turn on your HDTV and Apple TV. While these devices are on and idle you will prepare to mirror the image from your iDevice to the Apple TV (and therefore the HDTV).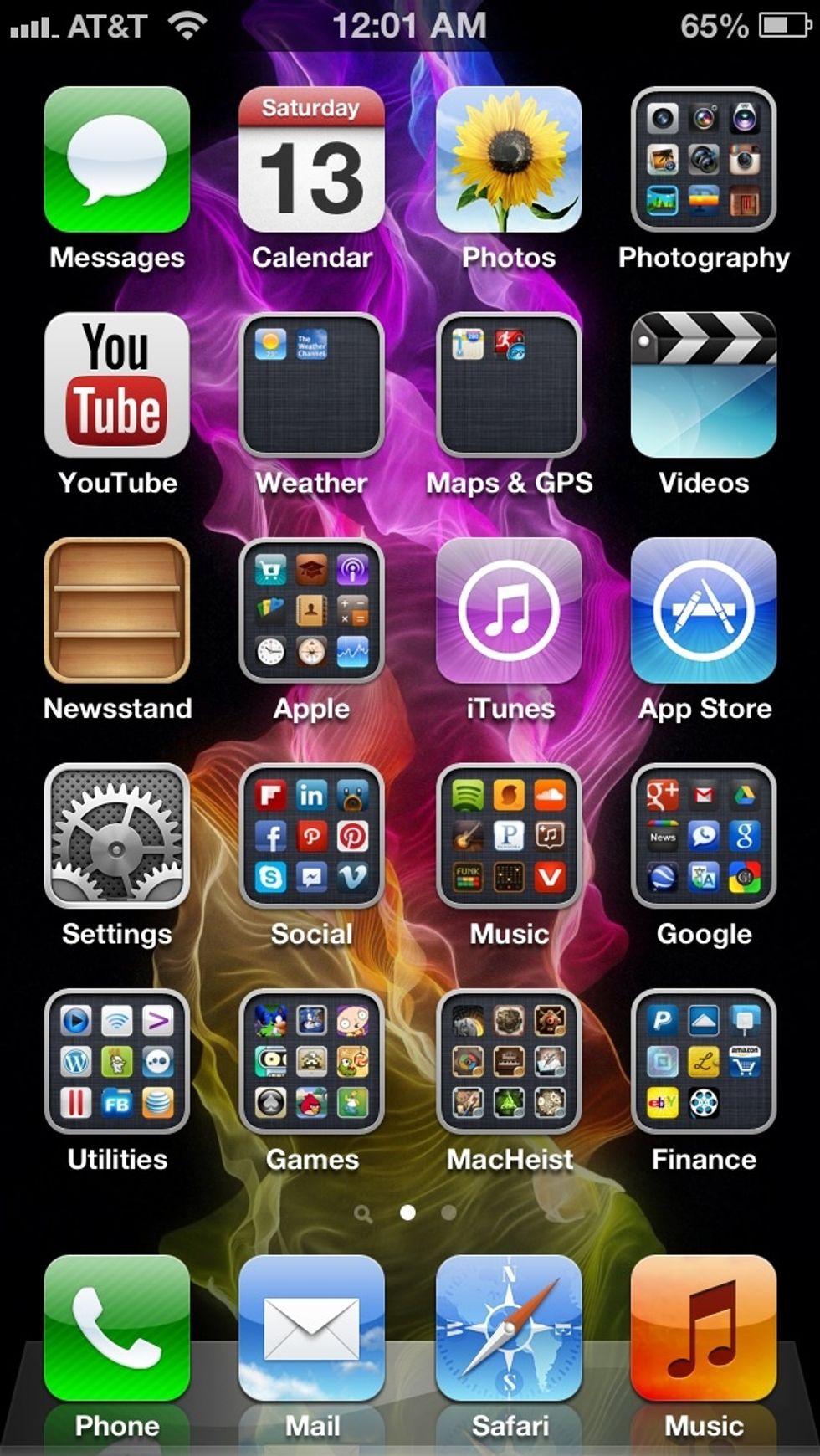 While holding your iDevice double tap the home button.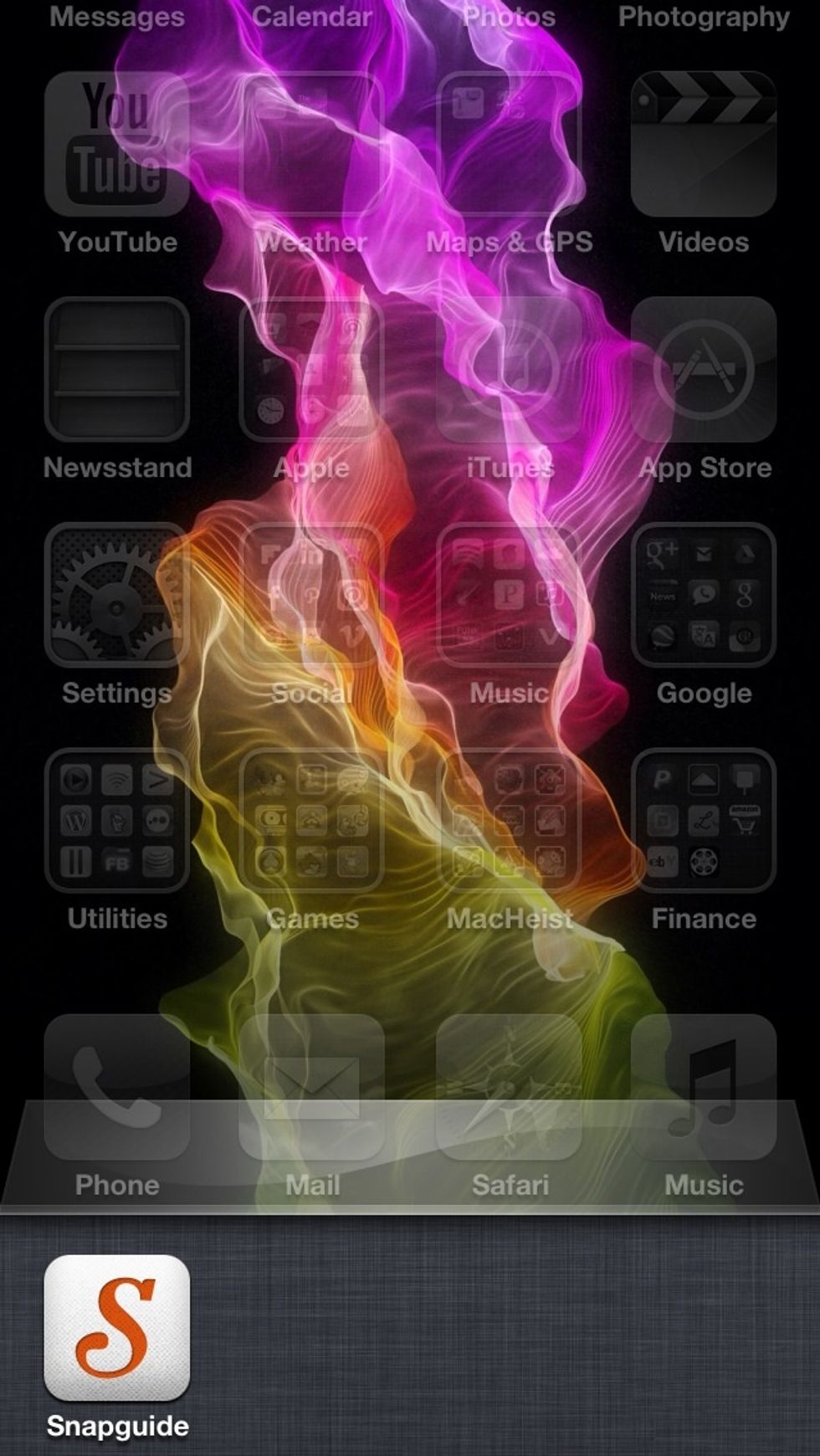 Double tapping the home button will bring up the multi-tasking tray. Swipe from the left side of the tray to the right.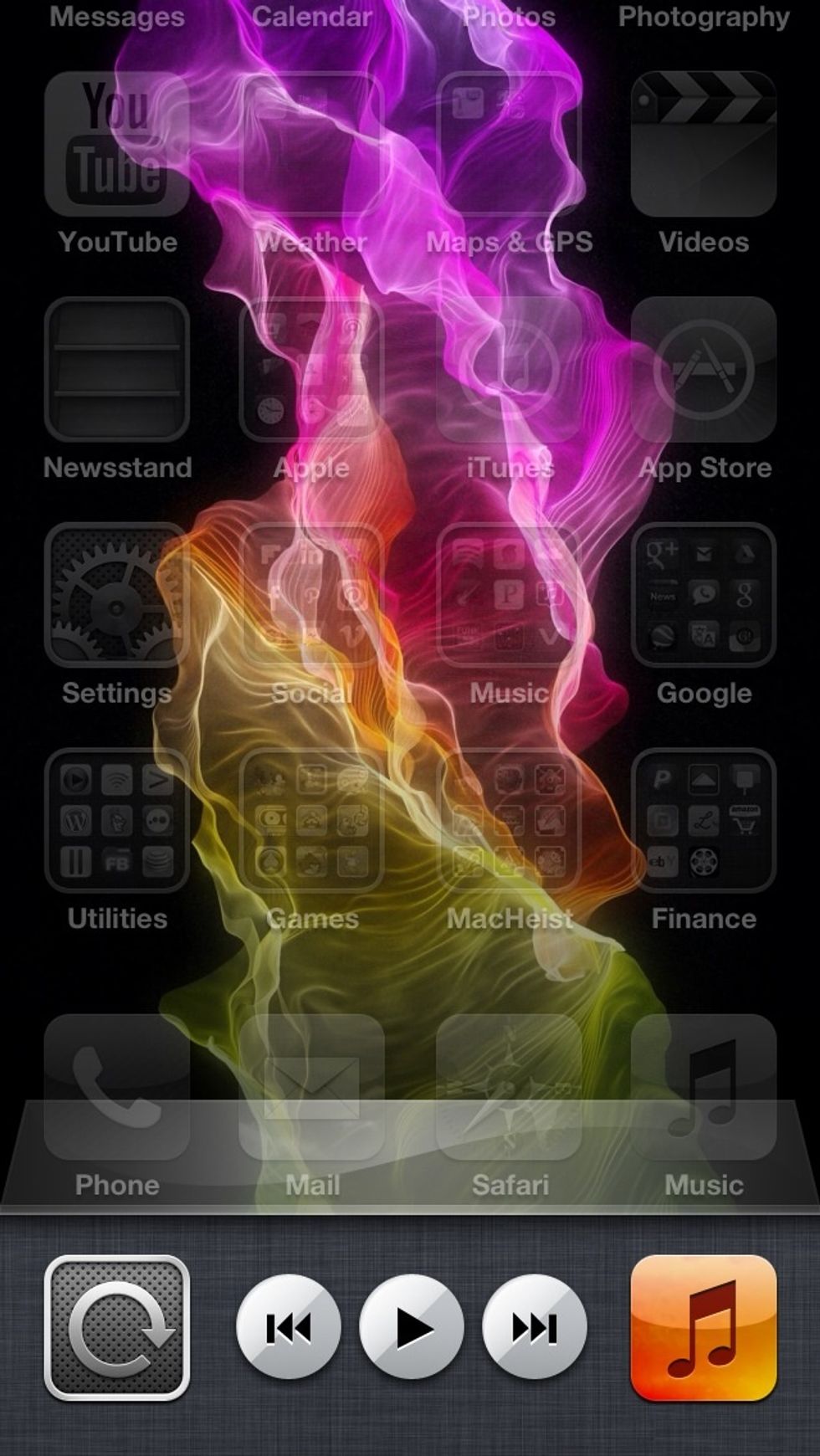 The iPod (Music) controls are now visible. Once again swipe from the left side of the tray to the right.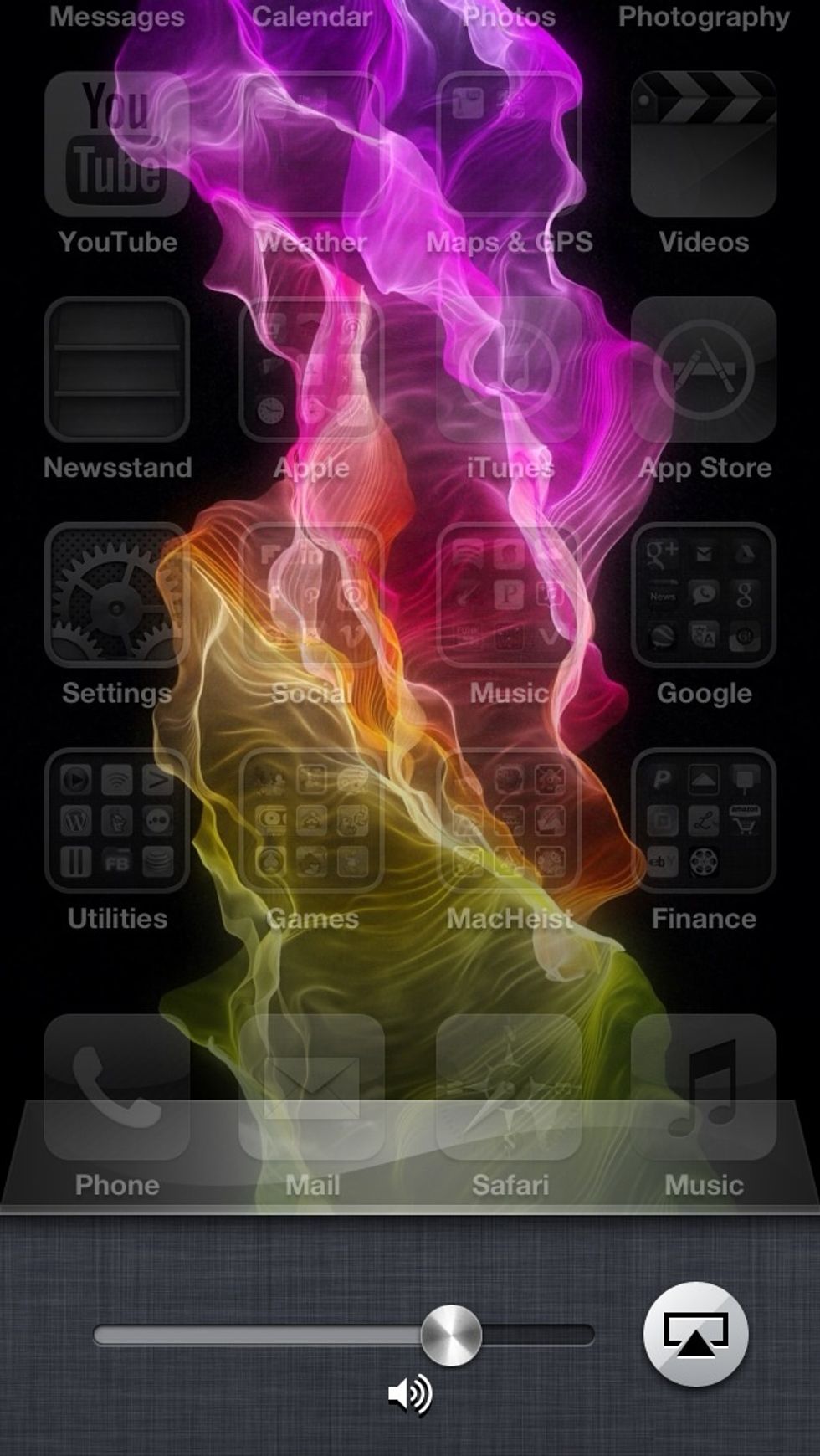 This is the area that will enable you to access AirPlay mirroring and volume control. Tap the AirPlay icon to open the preference pane to enable or disable the mirroring functionality.
Quick Tip: before enabling the AirPlay functionality (mirrored or not) it is always great practice to turn down the volume on your HDTV and iDevice to prevent any loud noises. Adjust accordingly..
While under this preference pane you can select one of three options (Done, iPhone or Apple TV).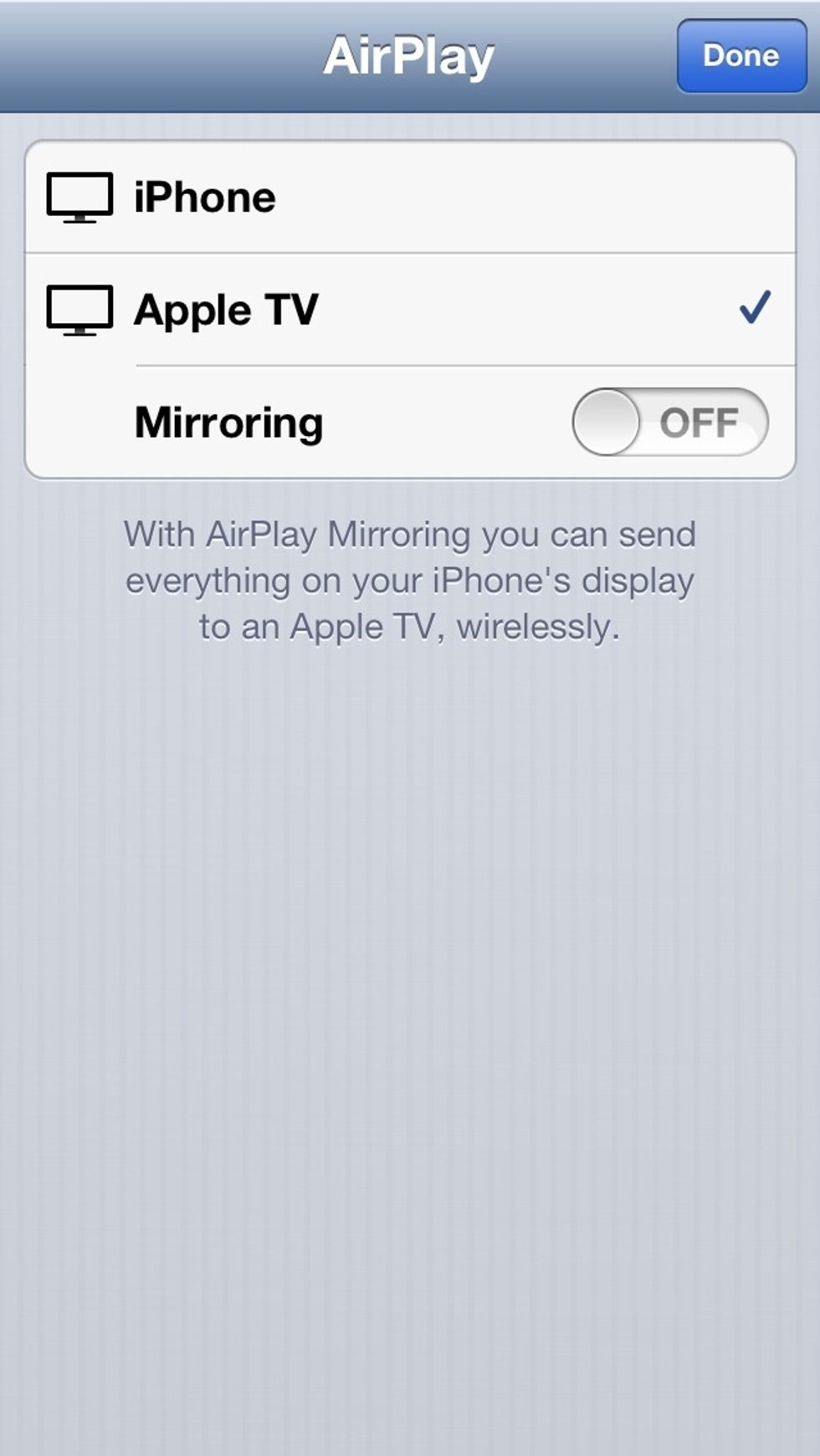 Tap 'Apple TV'. Once selected there is one more option you can configure. If you wish to mirror the display of the iDevice to the Apple TV this must be selected.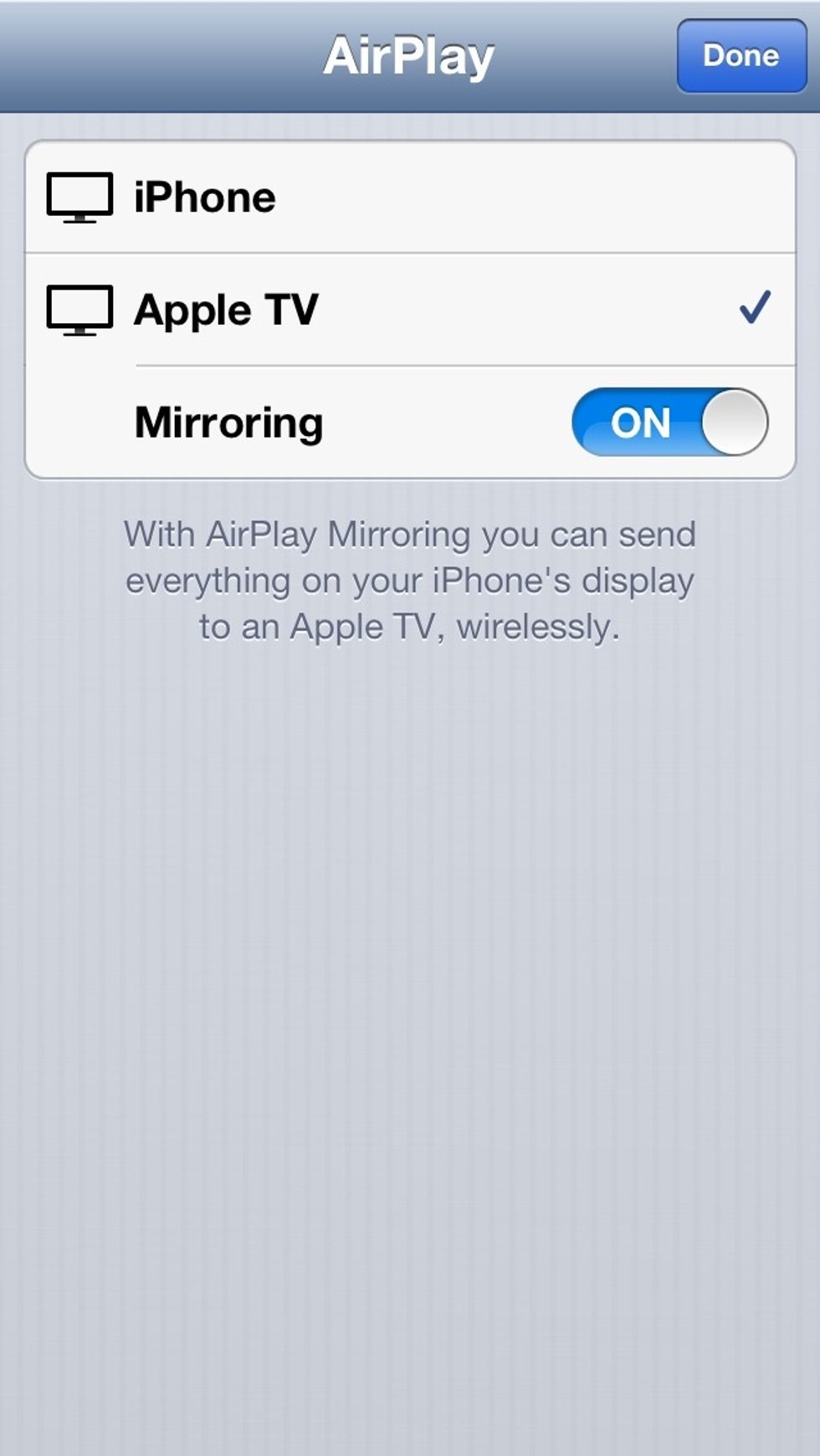 Now that the mirroring option has been tapped (selected) it is now time to tap 'Done'.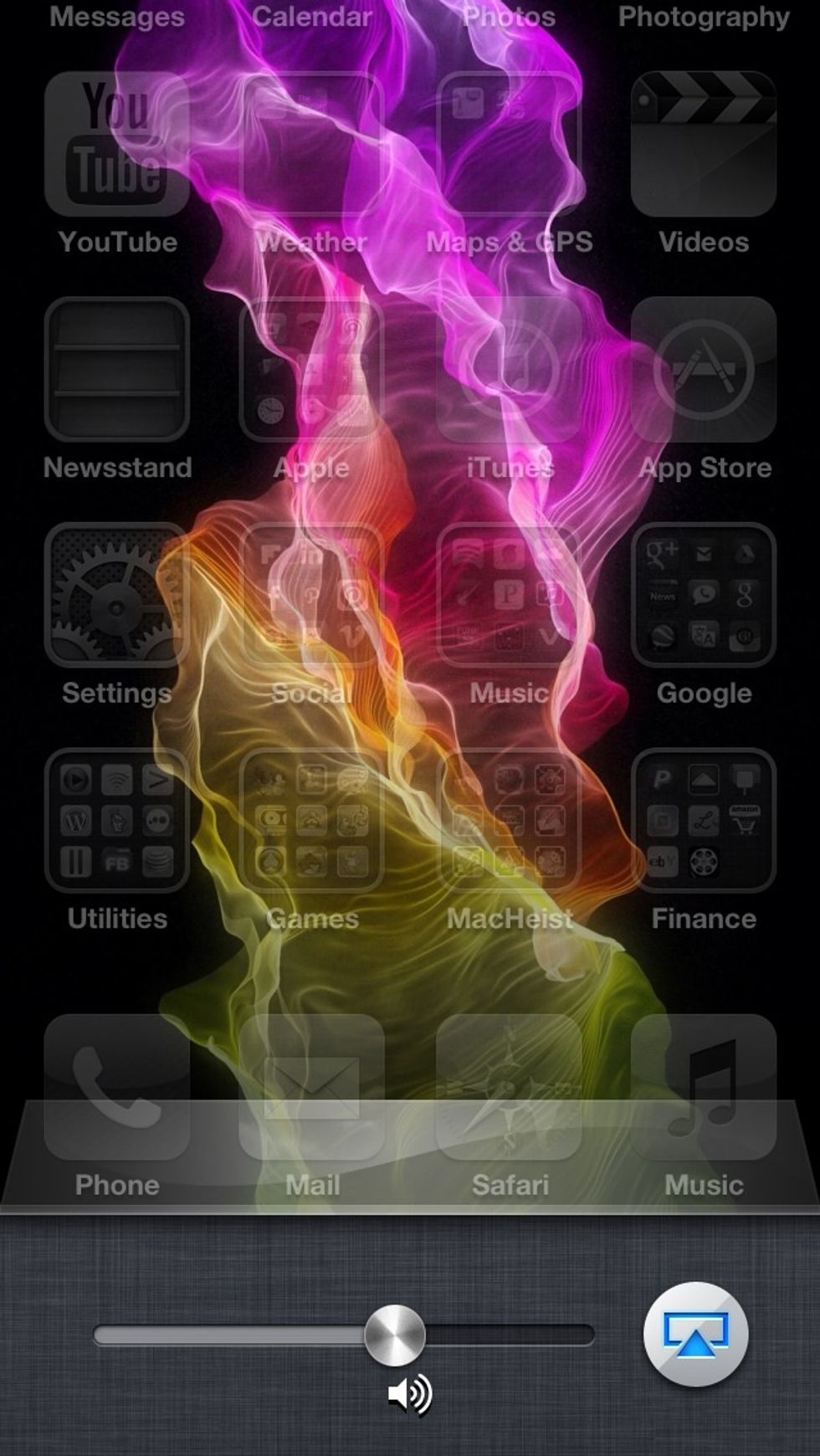 This is the state that the iDevice will be in after tapping 'Done' from the previous step. Tap the center of the iDevice to return to the default state and begin playing with the mirroring function.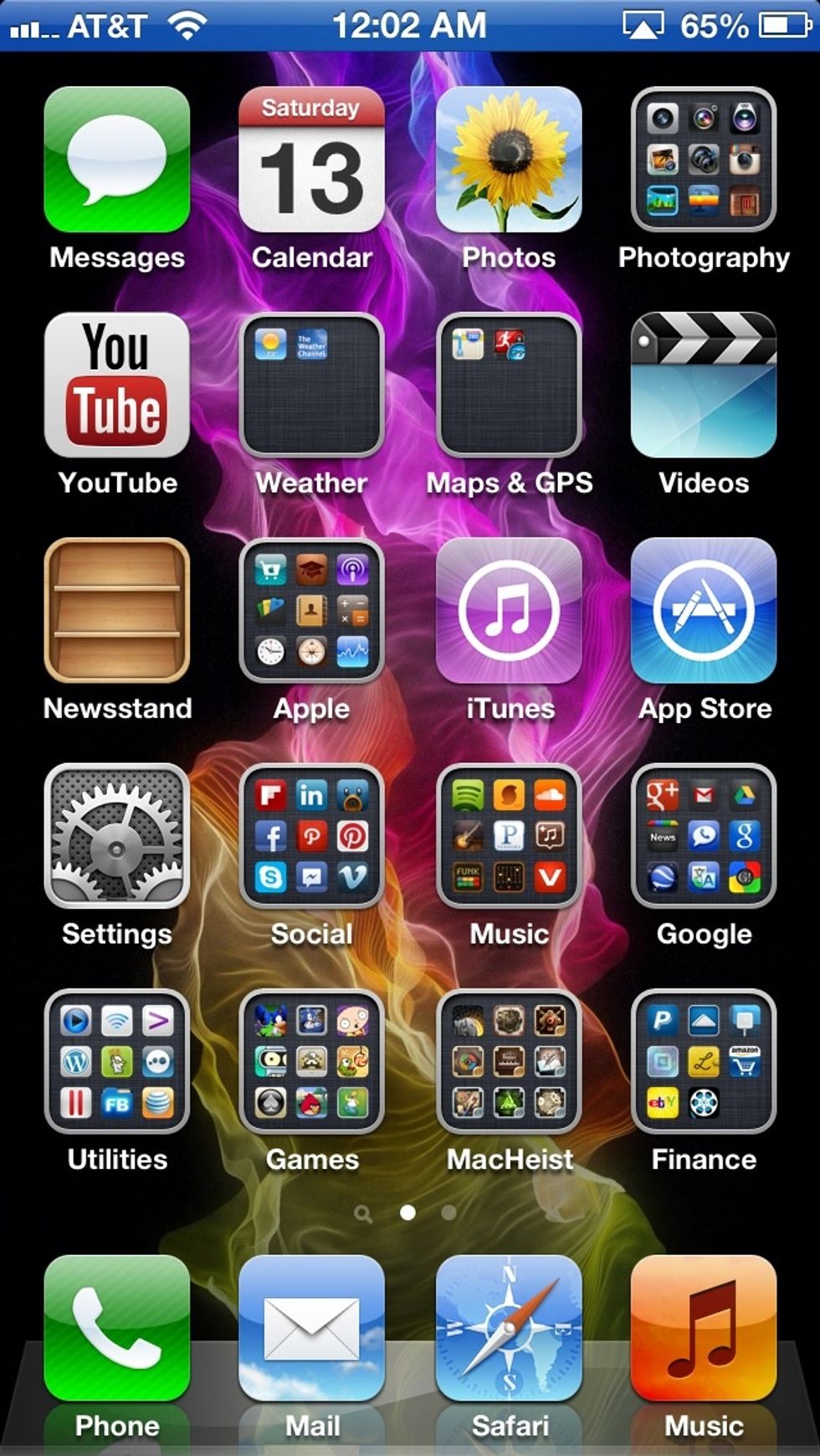 Notice the solid blue bar at the top of the iDevice. This is how iOS indicates that you are in AirPlay (Mirror) mode. Now conduct a presentation, play a game or surf the net on your HDTV.
If you have the standard layout and wallpaper this is what Apple AirPlay Wireless Mirroring should look like. Photo Courtesy of Apple, Inc. (http://www.apple.com).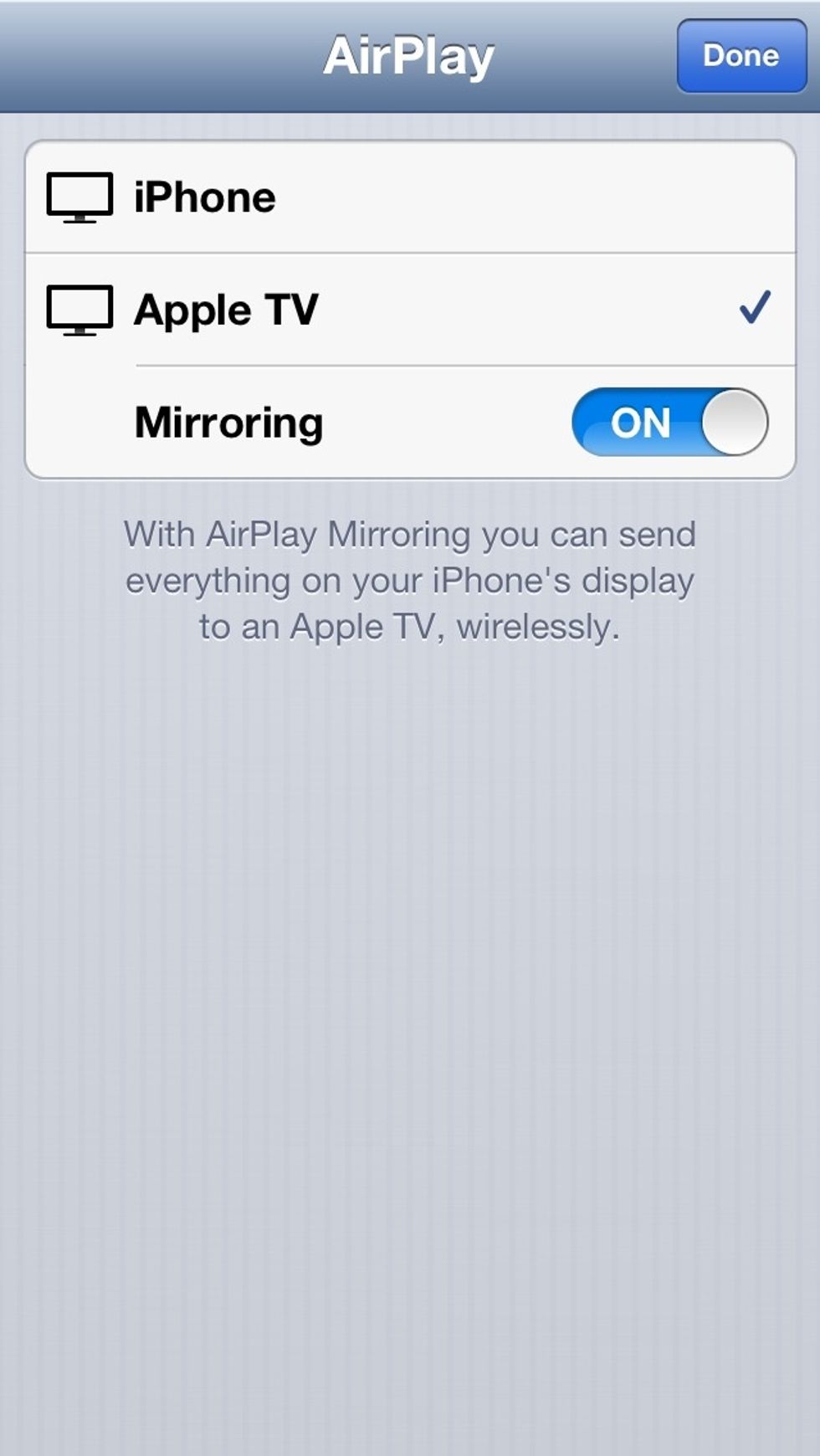 Once finished using AirPlay mode and wish to disable it, return to the preference pane where it was originally enabled (double tap home button, swipe to the right twice and tap on the AirPlay icon).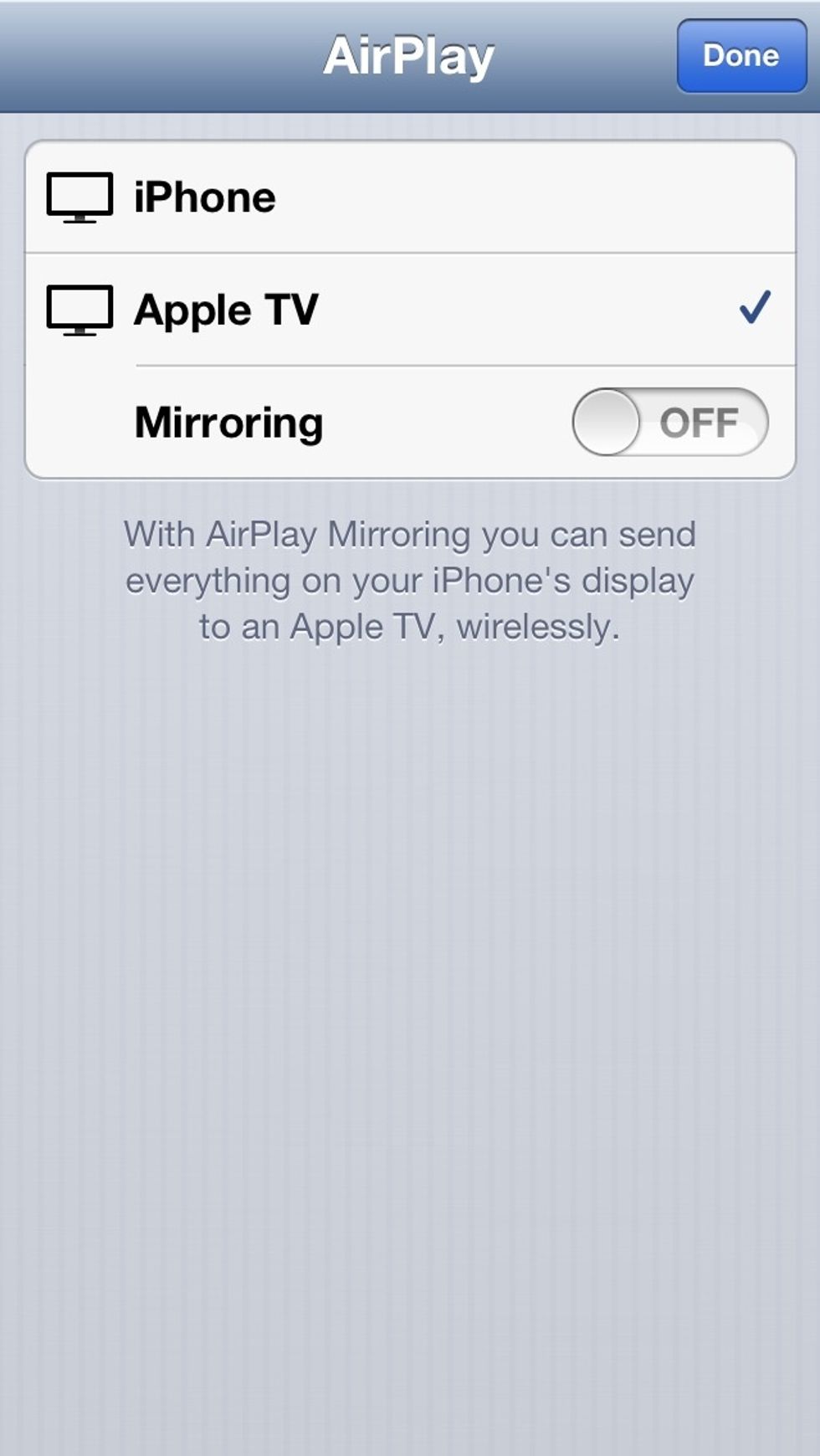 Tap the 'Mirroring' button to disable mirroring and then tap 'iPhone' to return it to the default setting. Tap 'Done' and again, tap the center of the screen. Now continue normal usage.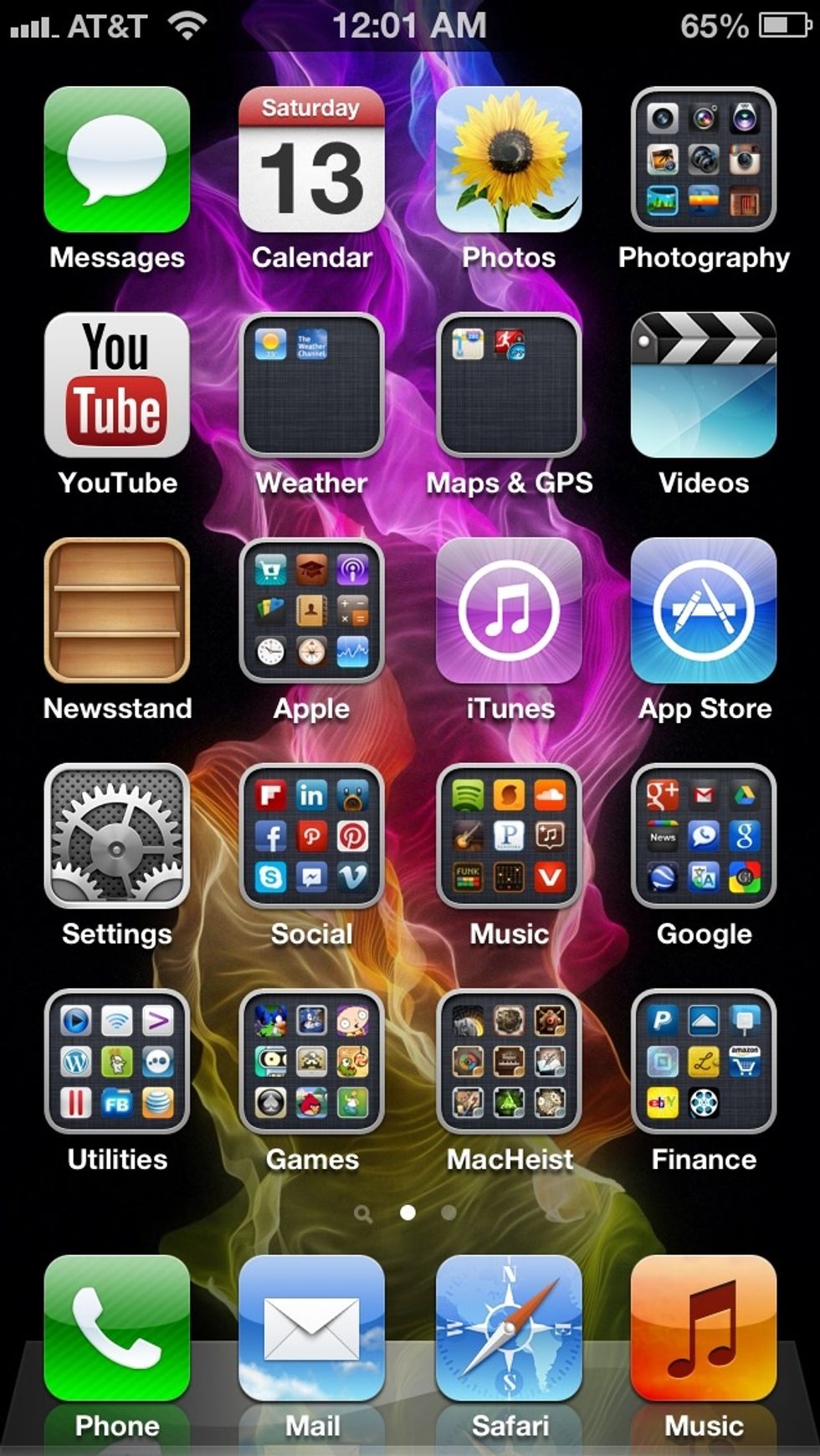 Now your iDevice is back to its original state and AirPlay has been disabled. You are free to use your iDevice without it being connected to the big screen. Hope you enjoyed this quick tutorial!
Troubleshooting: If AirPlay is greyed-out please make sure that your Apple TV is on and connected to the same wireless network that your iDevice is connected to.
1.0 HDTV
1.0 Apple TV (2nd Gen. +)
1.0 iPhone 4S, iPhone 5, iPad 2 or New iPad
1.0 HDMI Cable