The Betta Splendens is a hard-working animal that adds a dash of colorful exotic energy to any space. This guide will help you enjoy and build great rapport with your Betta, in a non-violent way.
112
In captivity, most Bettas eat a processed food pellet mono-diet. No hunting required. This is a recipe for Betta boredom.
In their natural environment, Bettas are great hunters. They will jump at mosquito larvae and tiny insects that approach the water's surface.
Building on this natural hunting behavior, this tutorial will help you train your fish to jump out of the water and snatch a treat from your finger tip.
Amaze your family and friends with the ultimate smart pet trick in a bowl!
Ready? Step 1) scrape a tiny amount of frozen beef or fish with a very sharp knife such that you shave a thin layer of cells onto the blade.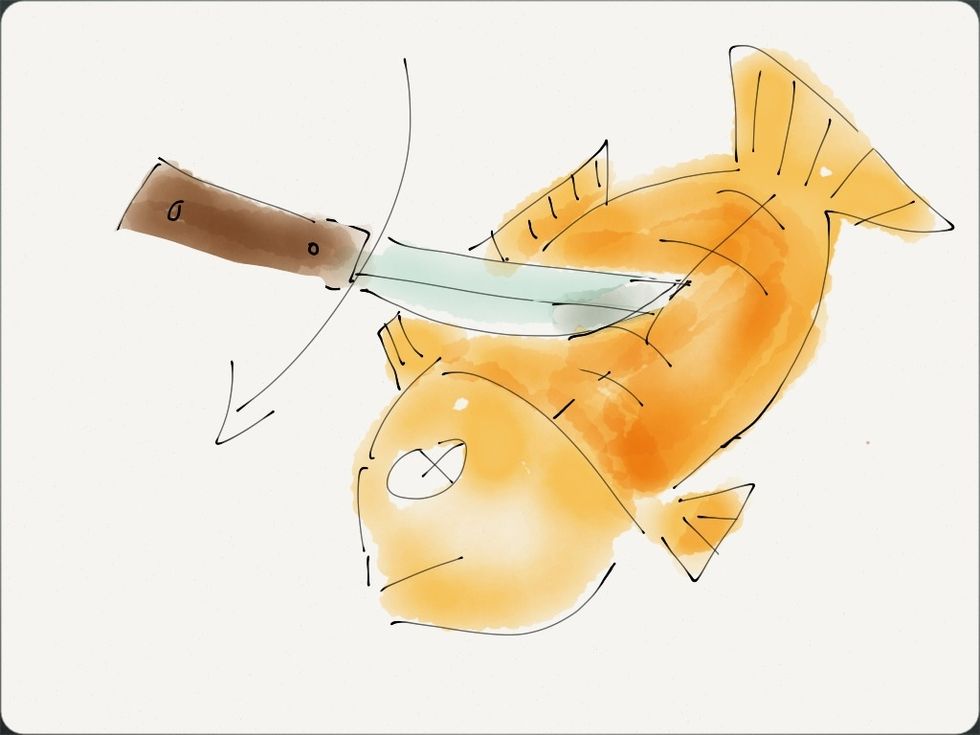 Scrape some cells of raw, un-seasoned, un-marinated, fish or beef with a sharp knife.
Step 2) Take a tiny amount of that protein and roll it into a pellet about the same size as your pet's usual food.
Step 3) Stick the protein pellet onto your finger tip and then be very still as you hover at the water's surface. At first, your finger should remain out of the water while the pellet should be under.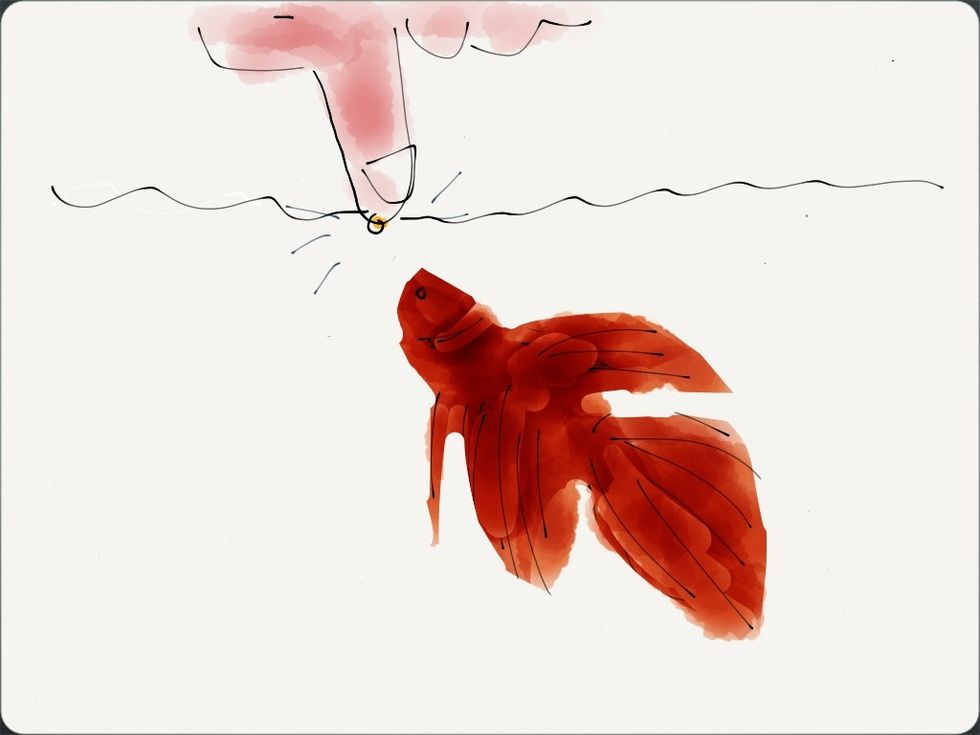 Wait for it...!
Step 4) At first the Betta will be wary of your presence. Let it see the bait. If it hesitates, shake the bait very gently so it falls off your finger. It will usually go for it after it drops.
Step 5) Repeat. a couple times max. in any one training session. Soon the Betta will not hesitate to snap the treat directly off your finger tip. Now it's just a matter of slowly raising the bar...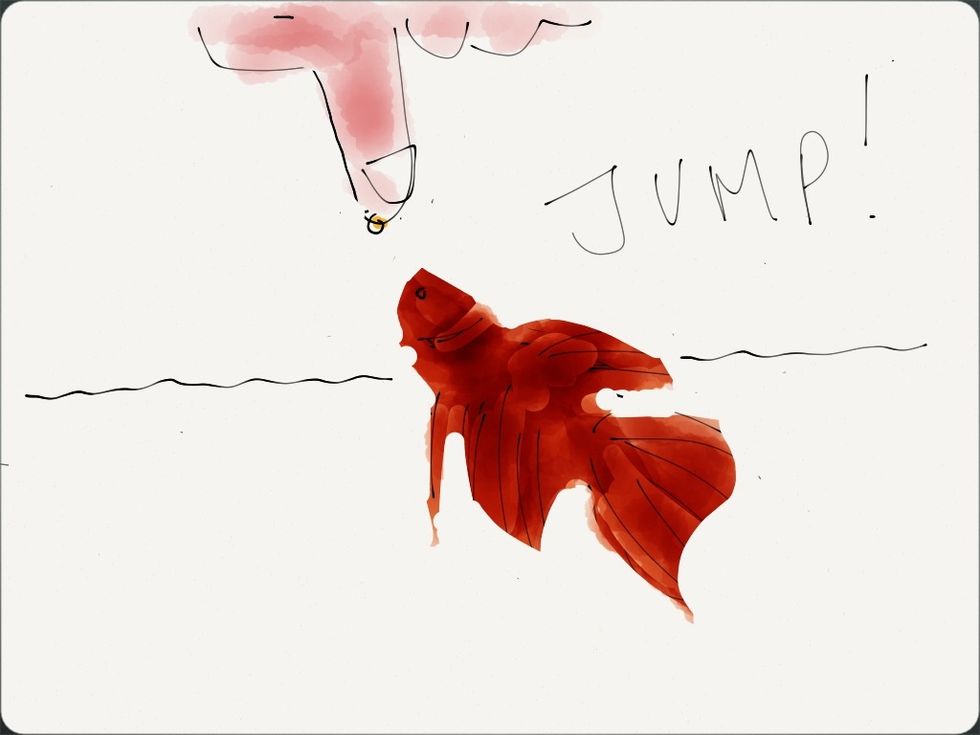 Prepare to enjoy your Betta a whole lot more. Artist rendition does not depict actual. Always ask your Veterinarian before adopting a new diet or training regimen for your pets.
Never feed treats more than once per week.
Warning: Betta's must be kept isolated or they will fight each other to death. It is unethical and criminal to make any animal fight for sport.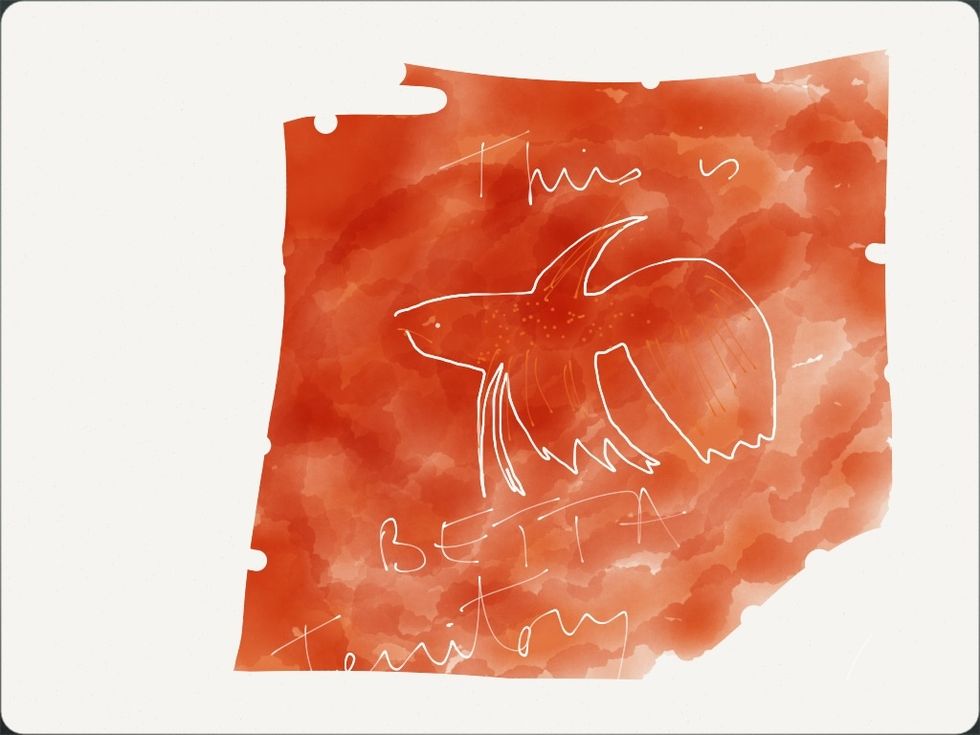 Housing pictured is a 2 gallon tank with 1.5" of coarse sand, 3.5" water, snails, rocks, plants (Pothos and Anachris), solar heat, biological filtration, no water changes so far. Red is 3 years old.
Thank you for reading! Tweet @probodywork
1.0 Betta Splendens (Siamese fighting fish)
1.0pch Frozen fresh water fish or beef
1.0 Sharp kitchen knife
1.0Tbsp Patience
1.0oz Stillness