Few cities marry urban environments with nature — and therefore blend bustling city pace with calming landscapes — so well as Seattle.
Today, we're teaming up with Sherwin-Williams® to bring another installment of our color lover's travel guide — this time for the ever-majestic Seattle, king of the Pacific Northwest.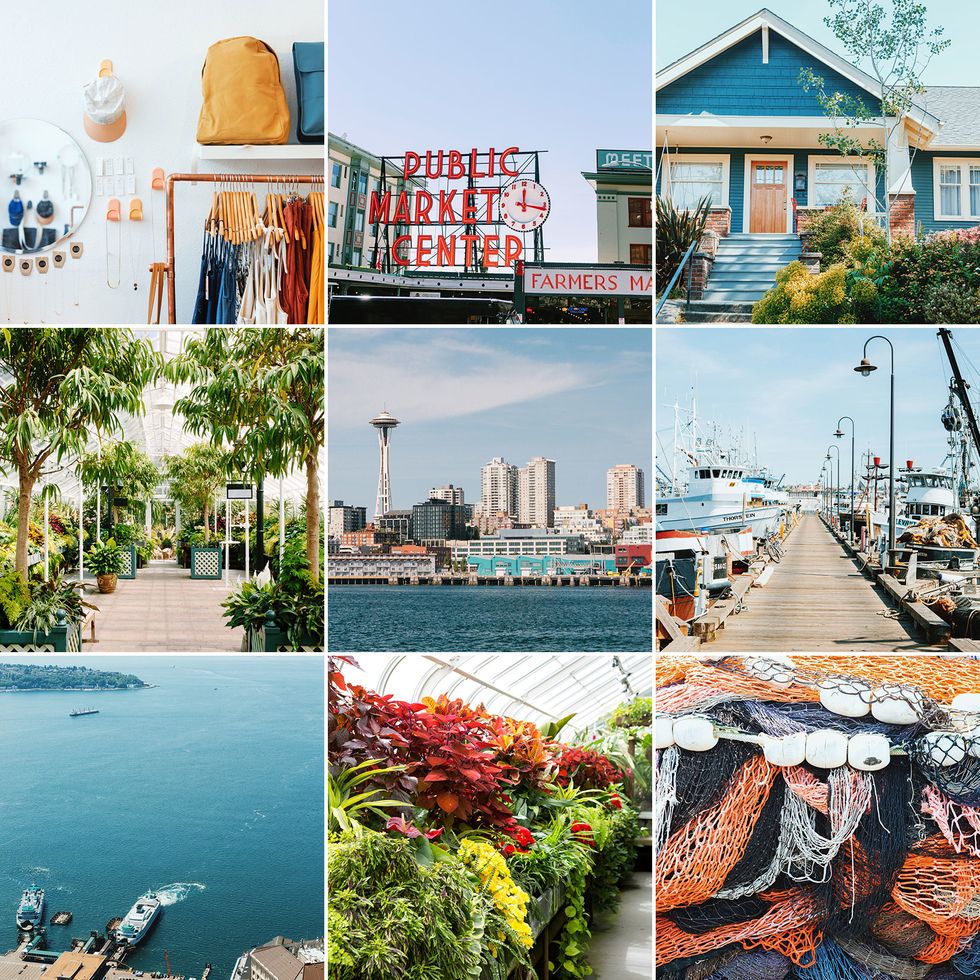 If the Palm Springs color palette is pastel, youthful, and feminine, then Seattle is its counterpart, with timeless masculine tones and elegant character. http://go.brit.co/2t2FwK7
Thanks to the Sherwin-Williams® ColorSnap® Visualizer app, we have a tool to bring these incredible color palettes off of our cameras and into our home. http://bit.ly/2nWxMq2
ColorSnap Visualizer app matches colors from your photos and creates a customizable palette using Sherwin-Williams paint colors.
With the help of this app, we created the following color palettes from our Seattle travels. We even applied one to a kitchen renovation, which you can take a peek at toward the end of this post.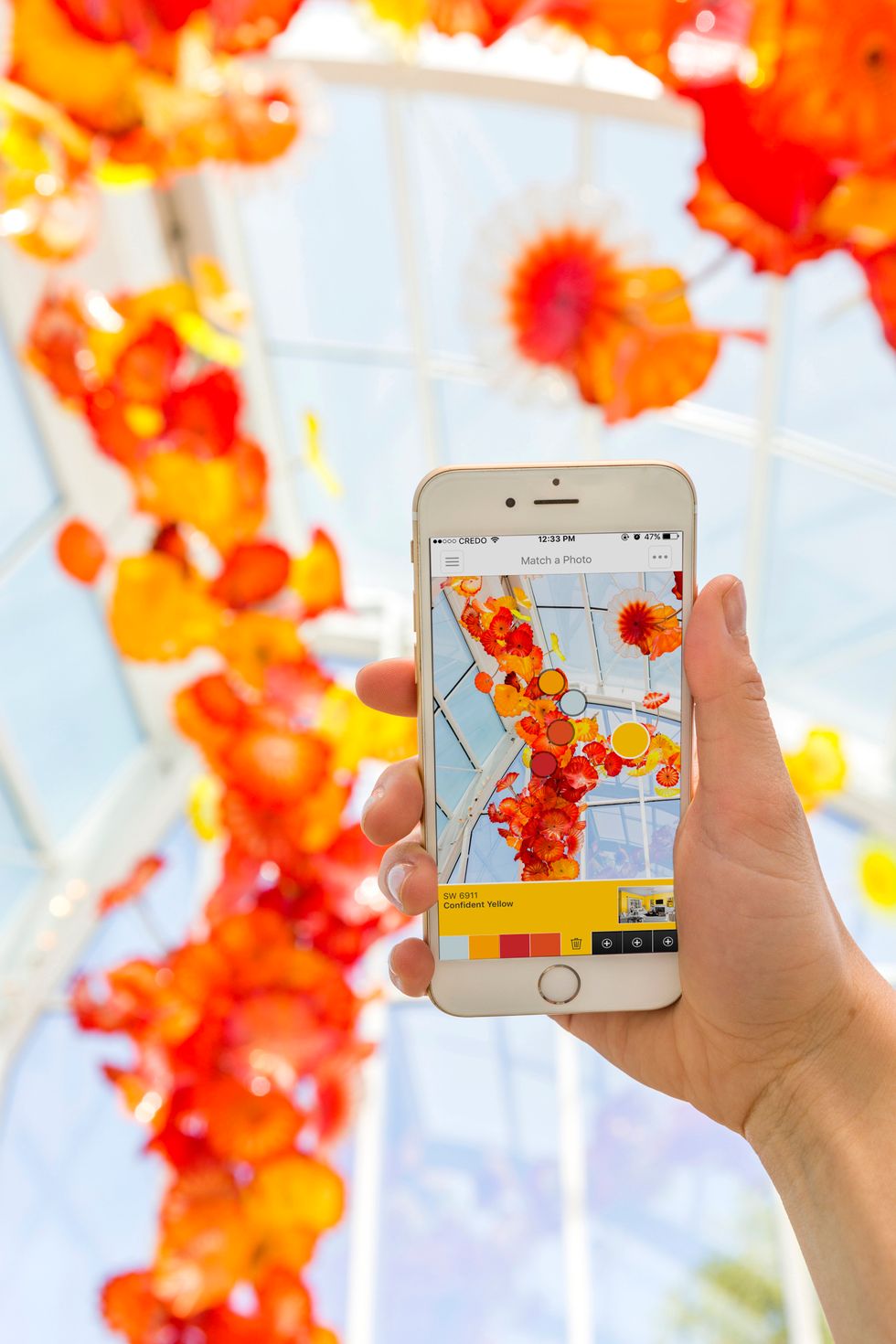 Located at the tippy top of one of downtown Seattle's many high rises, the Sky View Observatory is the highest public observatory in the PNW.
It offers 360-degree views of Seattle + neighboring suburbs. You can even see Mt. Rainier! BTW: Your ticket buys you access 'til 11pm, so you should probably come back for sunset :)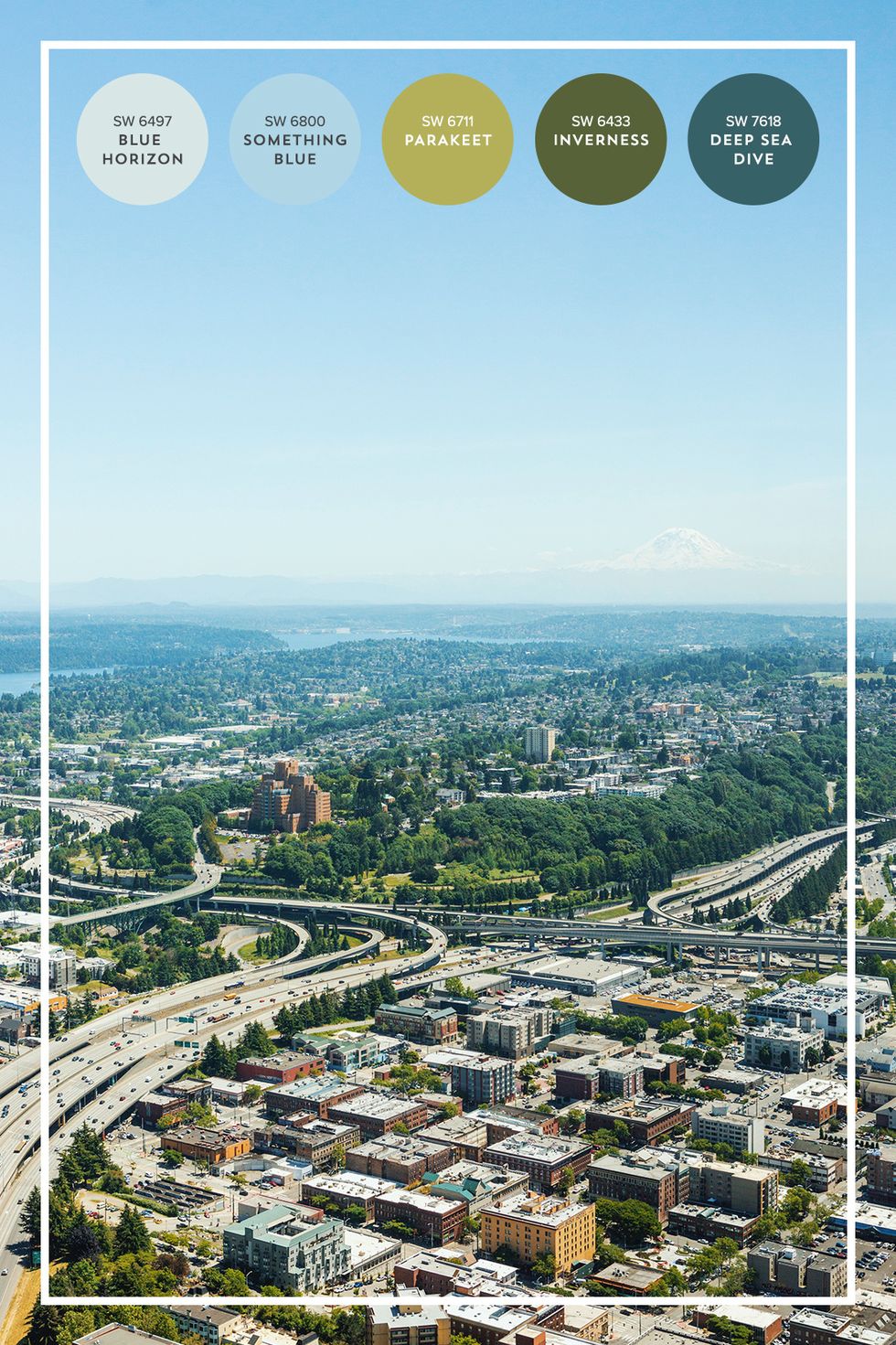 Seattle lives up to its global reputation as a coffee mecca. There are cafes on every block, some filled with intimidatingly intricate coffee machines and equally intimidating well-dressed baristas.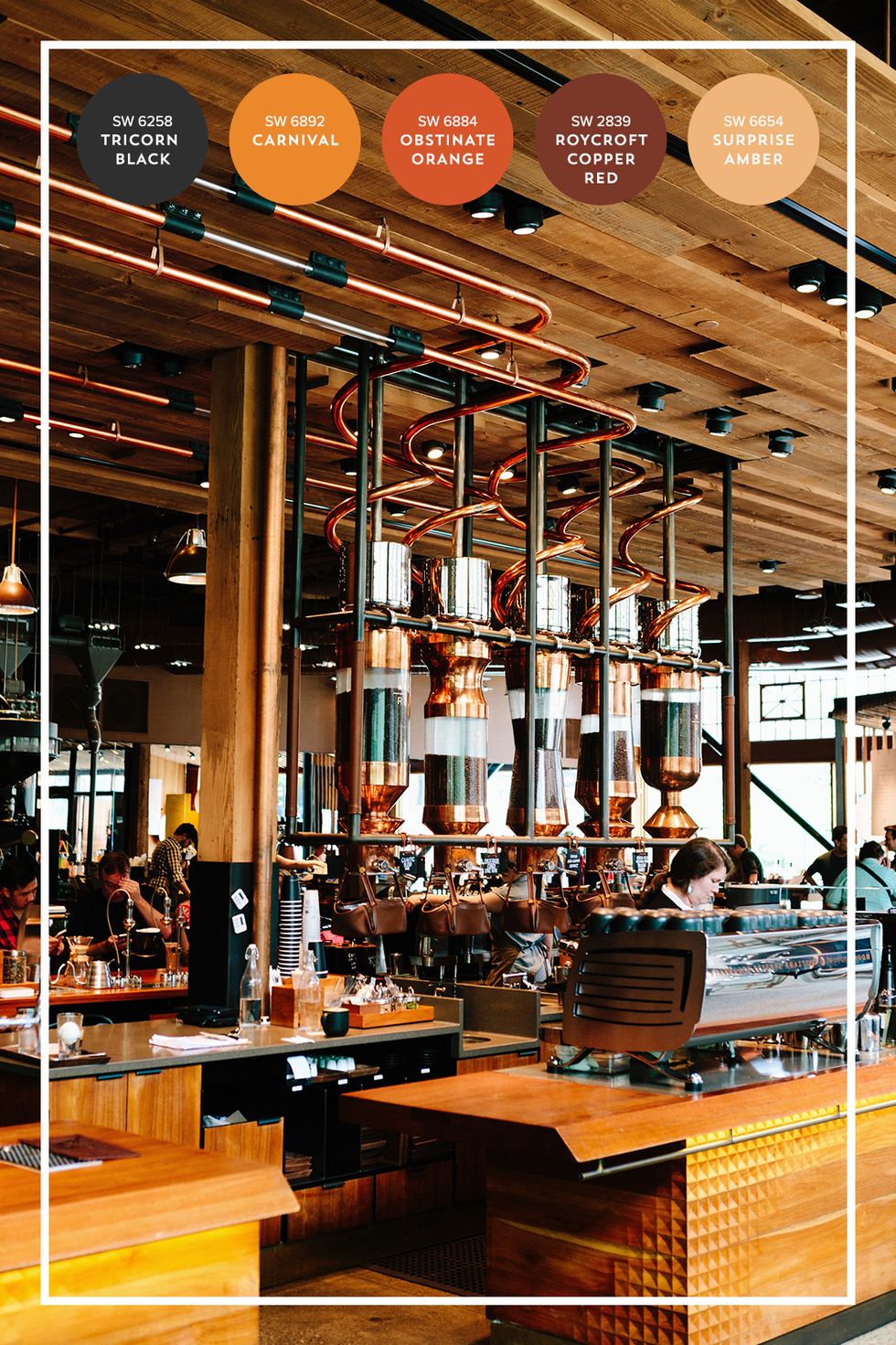 Regardless of the ambiance, *every* coffee shop we visited had delicious coffee. If you don't leave Seattle over-caffeinated, you're doing it wrong.
Eat EVERYTHING at Pike Place Market. And we do mean everything. Luckily, you can't go a yard without passing a free sample, so this task is totally doable.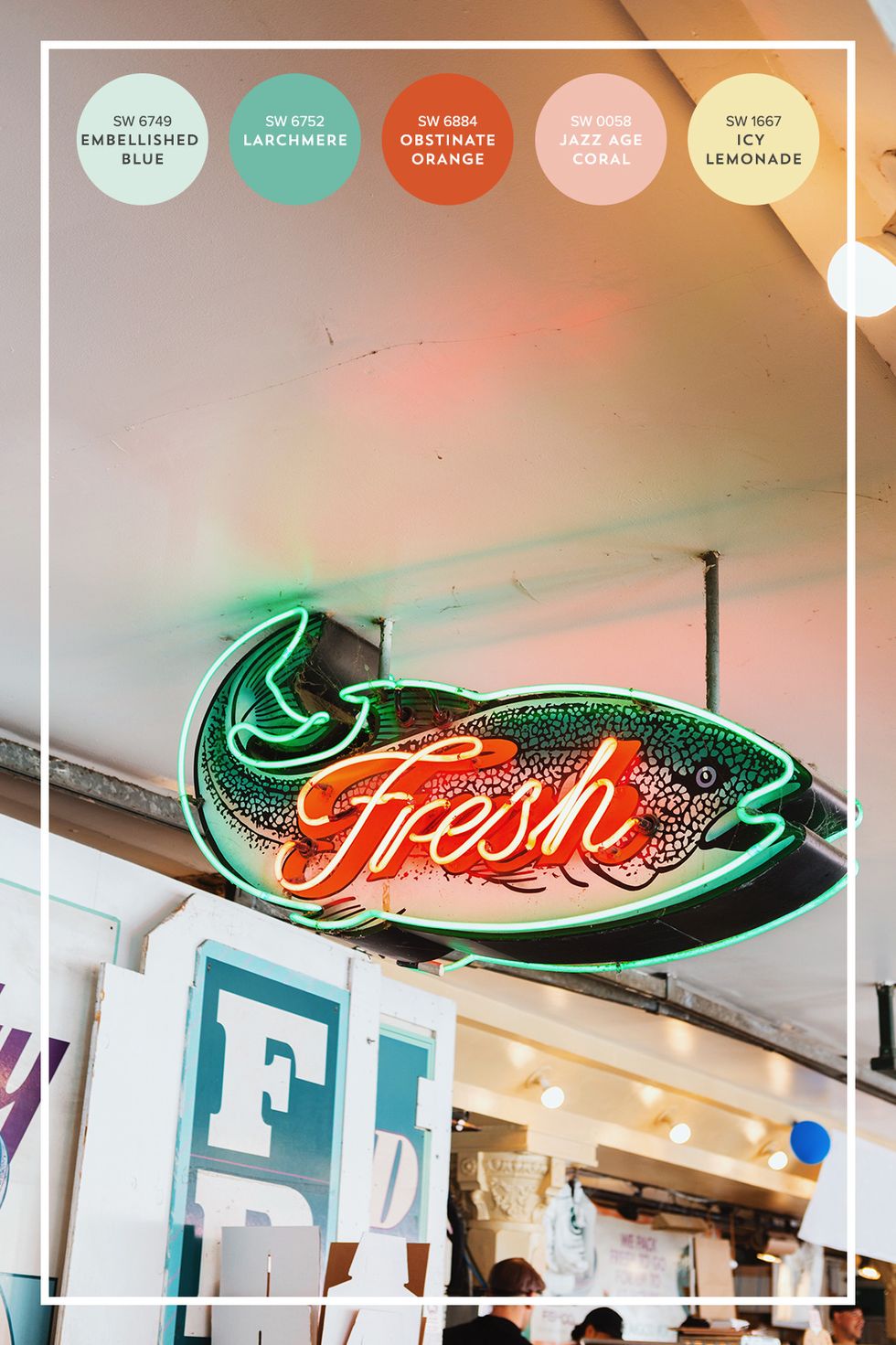 There are dozens of food booths with every cuisine; from famous sit-down restaurants with a view of Elliott Bay; + iconic vintage neon signs to help you navigate the many corridors of this food mecca.
After stuffing yourselves silly upstairs, head below Pike Place Market to Post Alley and witness the notorious Gum Wall.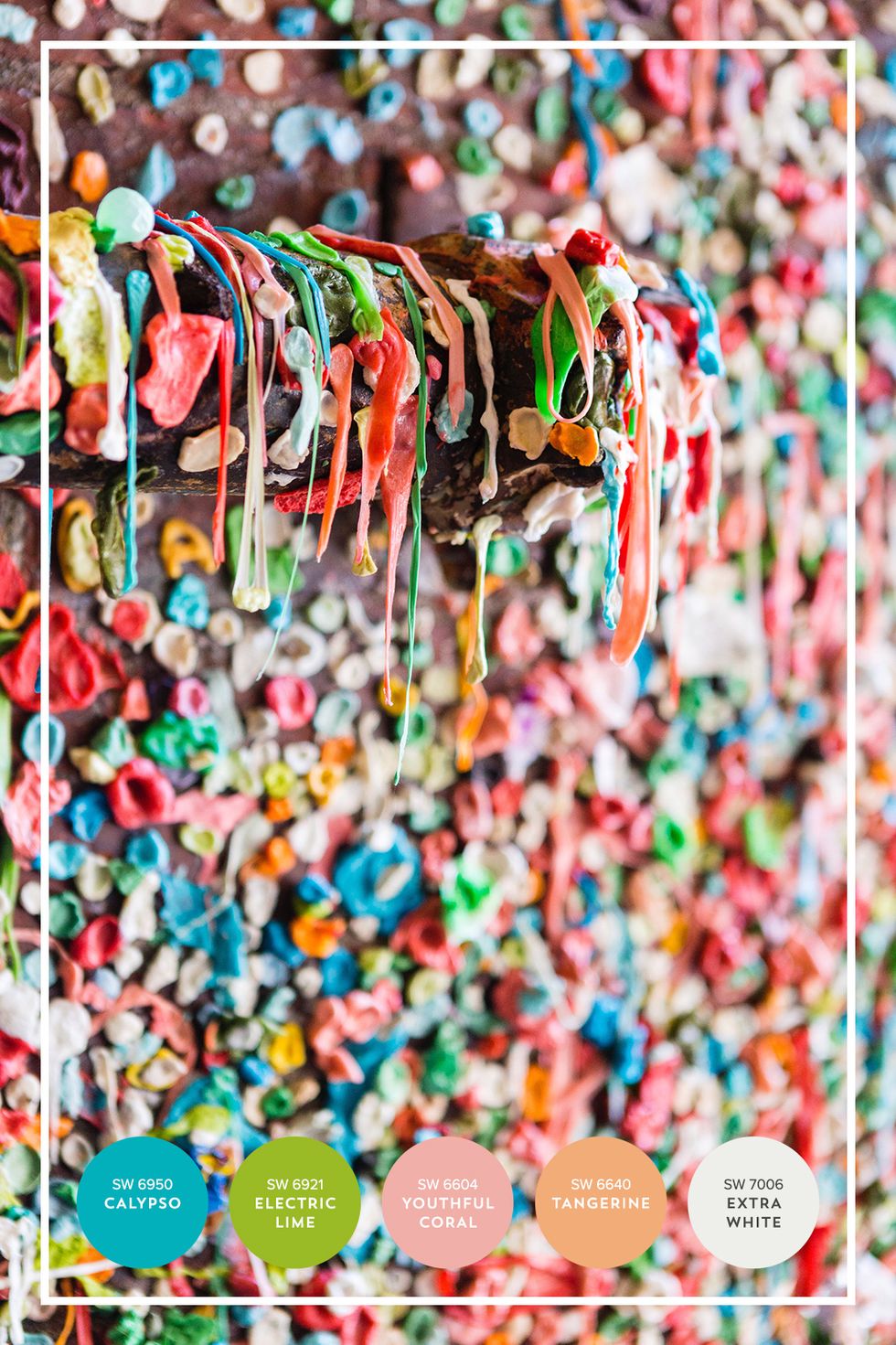 Optimists might call it a crowdsourced public work of art; pessimists, a kinda gnarly alley full of germs. But man, those bubblegum colors! You really do need to see this one for yourself.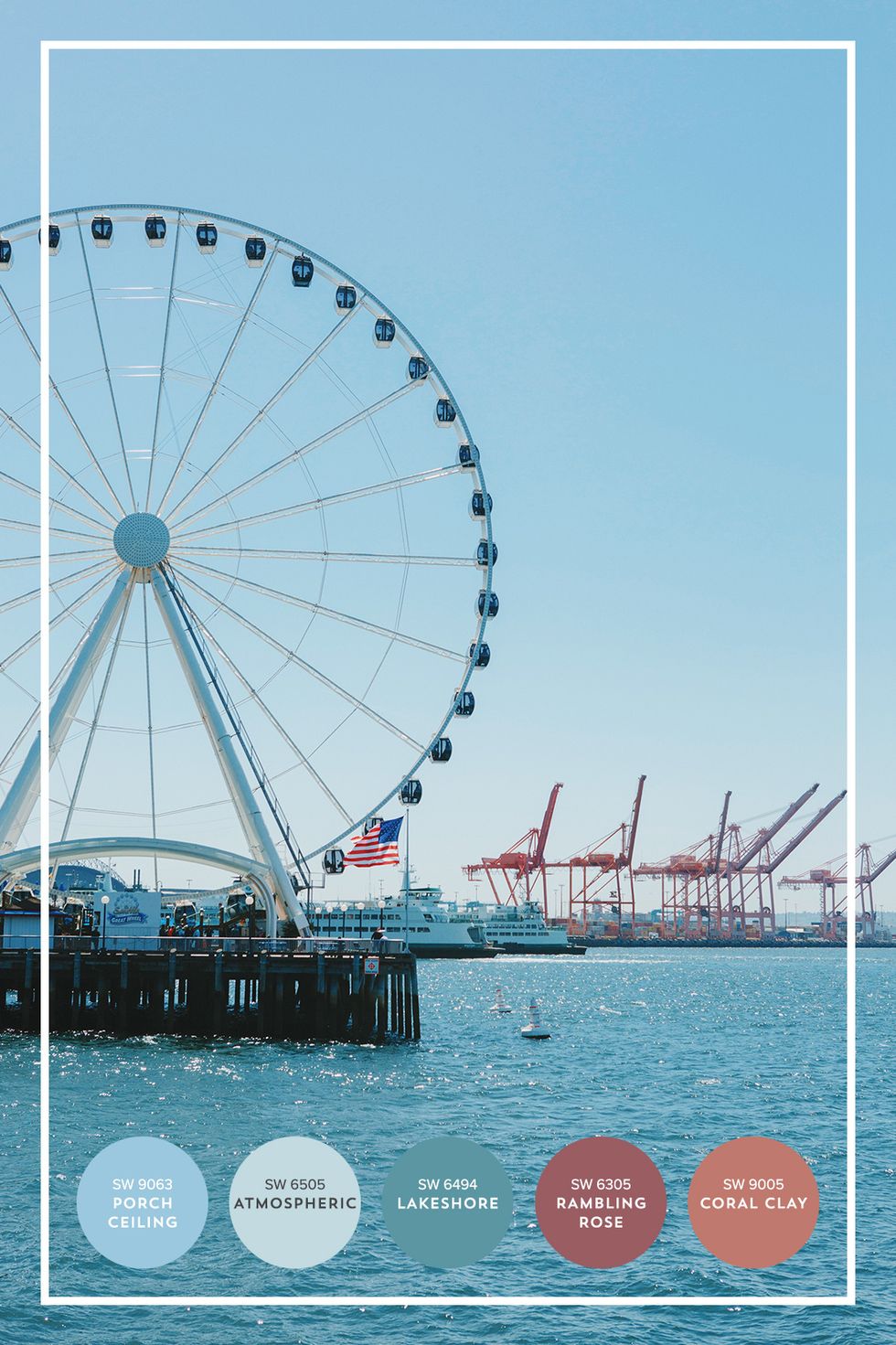 Pioneer Square is a great neighborhood to explore between plans. You'll wander past up and coming restaurants, local street murals, and even boutiques with bars in the back.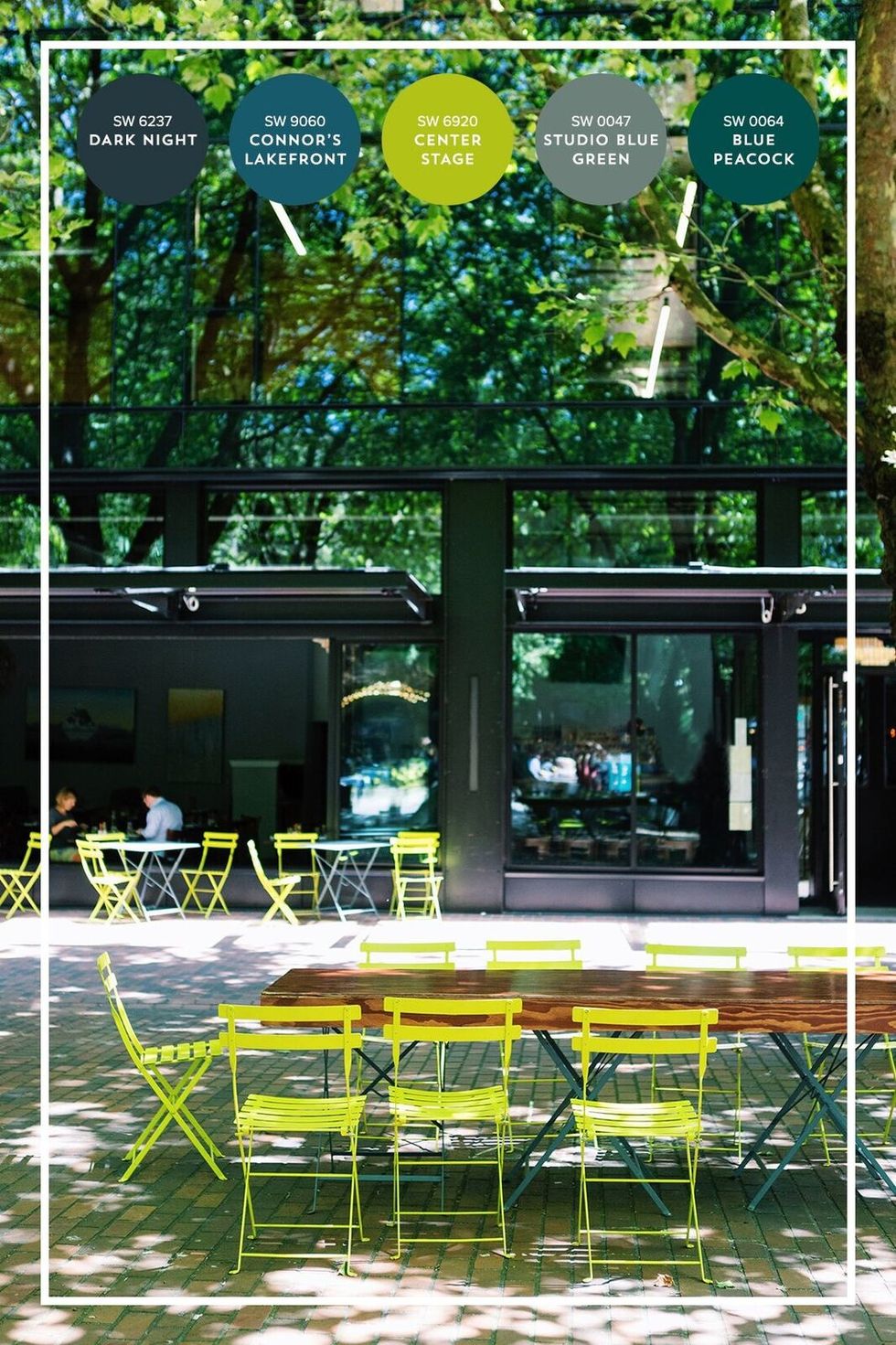 In Pioneer Square itself, you'll find maple trees creating lovely canopies across the walkway. On a sunny day, the dappled light it creates is delightful.
It's no secret that Seattle is home to world-famous museums. Pro Tip: These destinations get crowded! If you can, aim for weekdays for a more relaxed experience.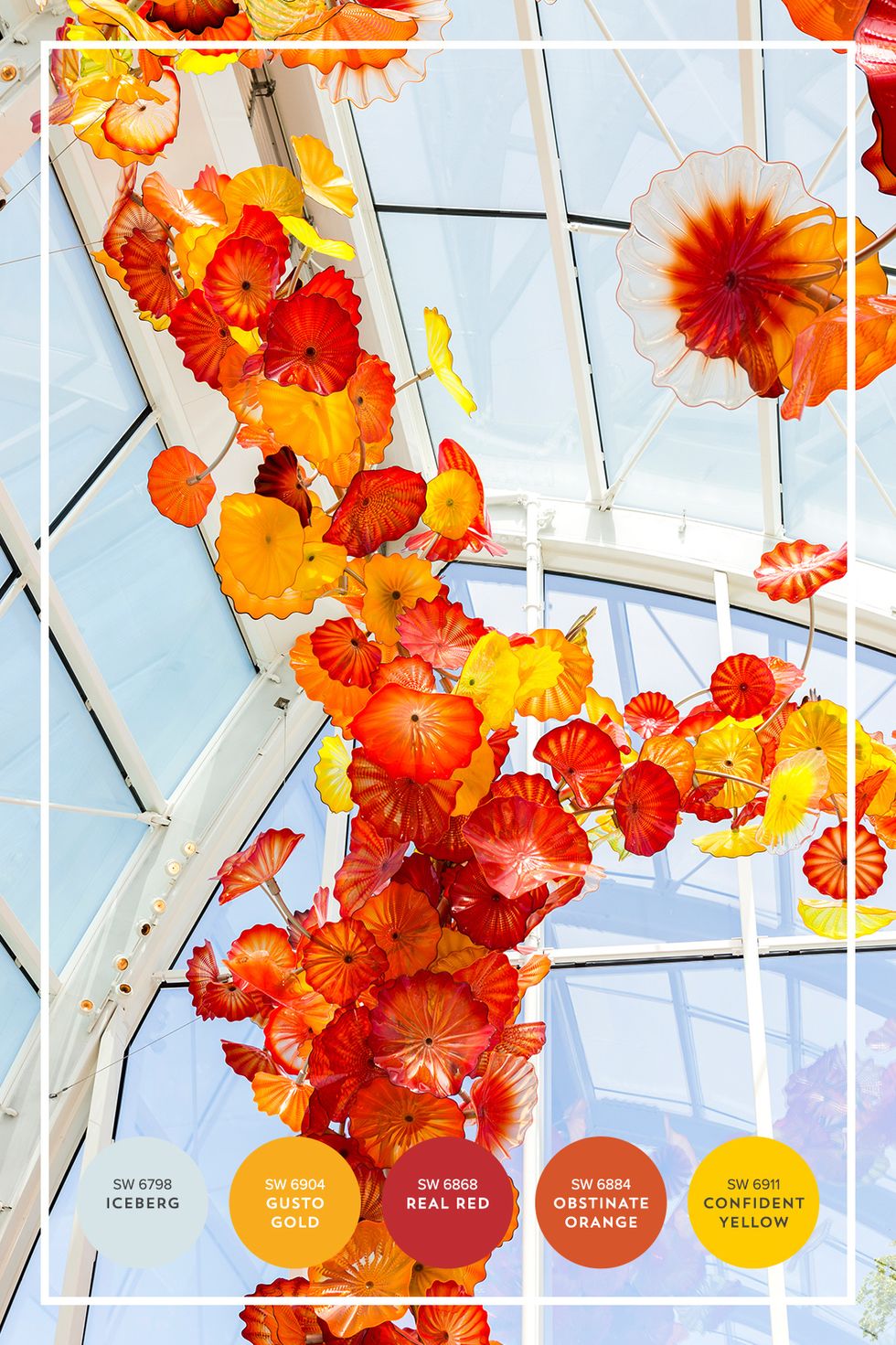 This public space is symbolic of the increasingly postmodern architecture filling Seattle's most urban area: downtown.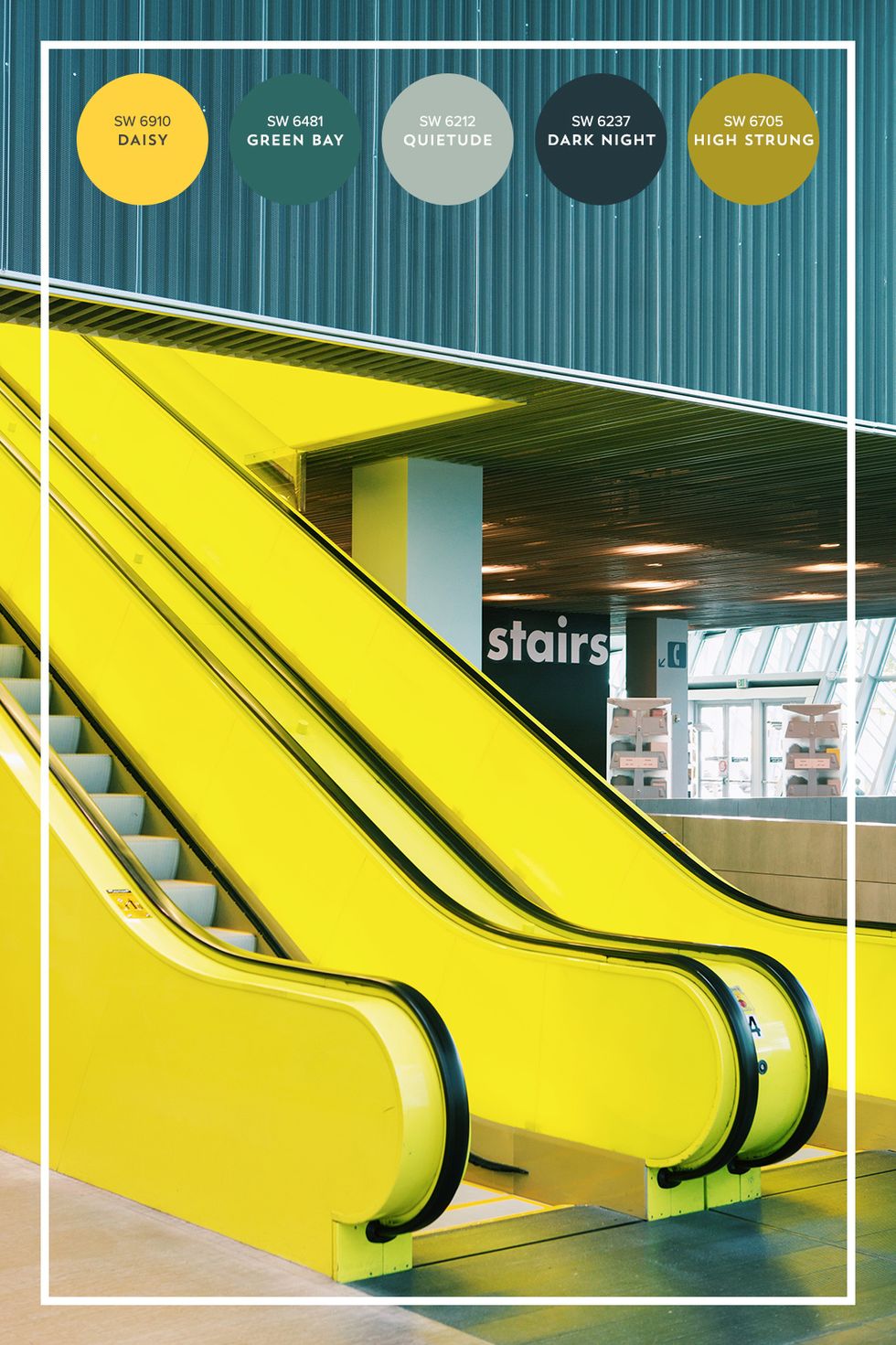 Inside, you'll find bright sculptural elements like these escalators; outside, you'll see the library's funky diamond-like shape that's an architectural feat in itself. It's a trip!
Are we the only ones who are obsessed with botanical gardens? This conservatory can be found in the middle of Volunteer Park, an expansive green in Capitol Hill.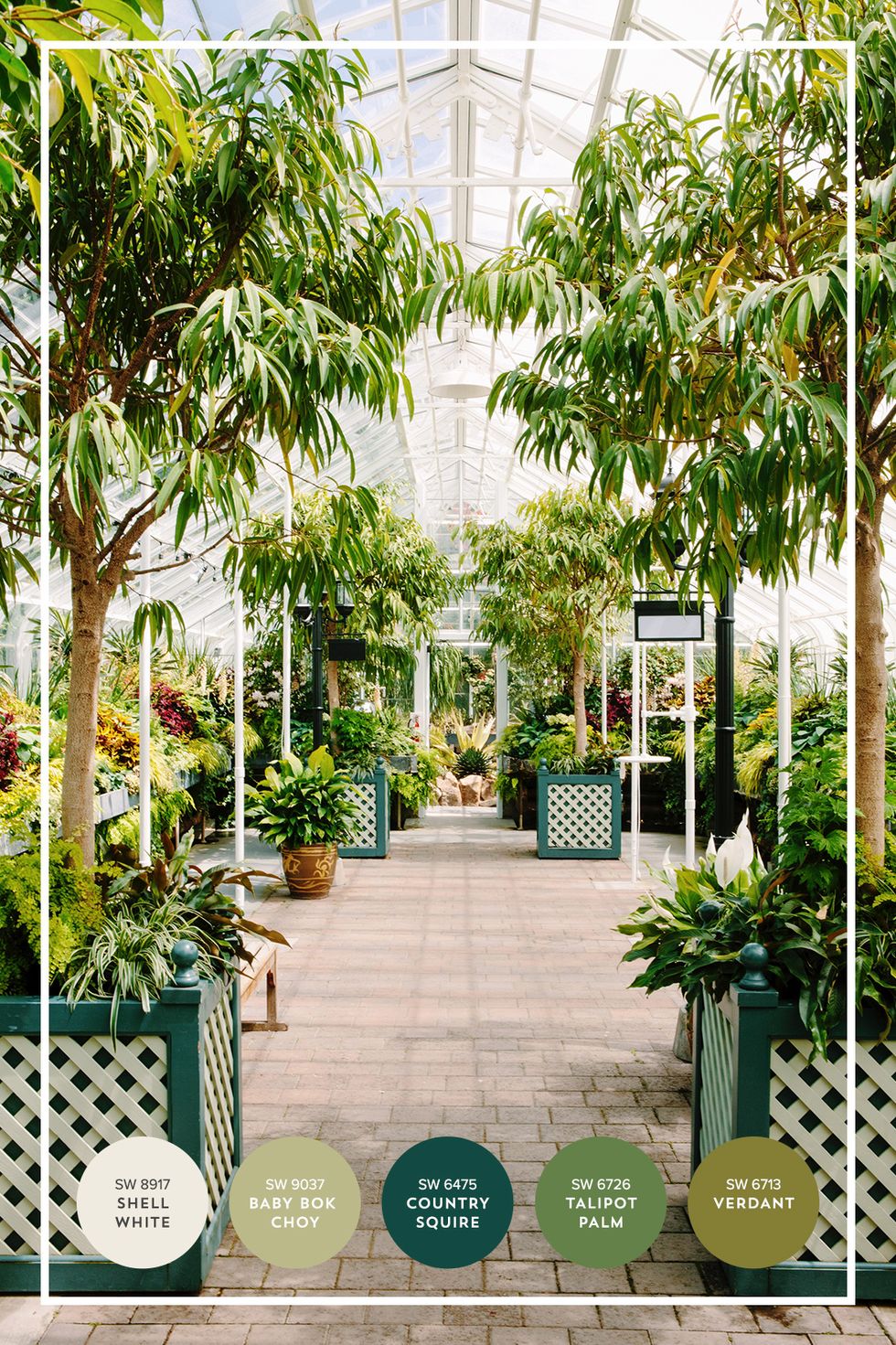 We may or may not have spent half a day driving through neighborhoods, just to ogle at the beautiful houses. Take this craftsman delight in Queen Anne, a residential area northwest of downtown.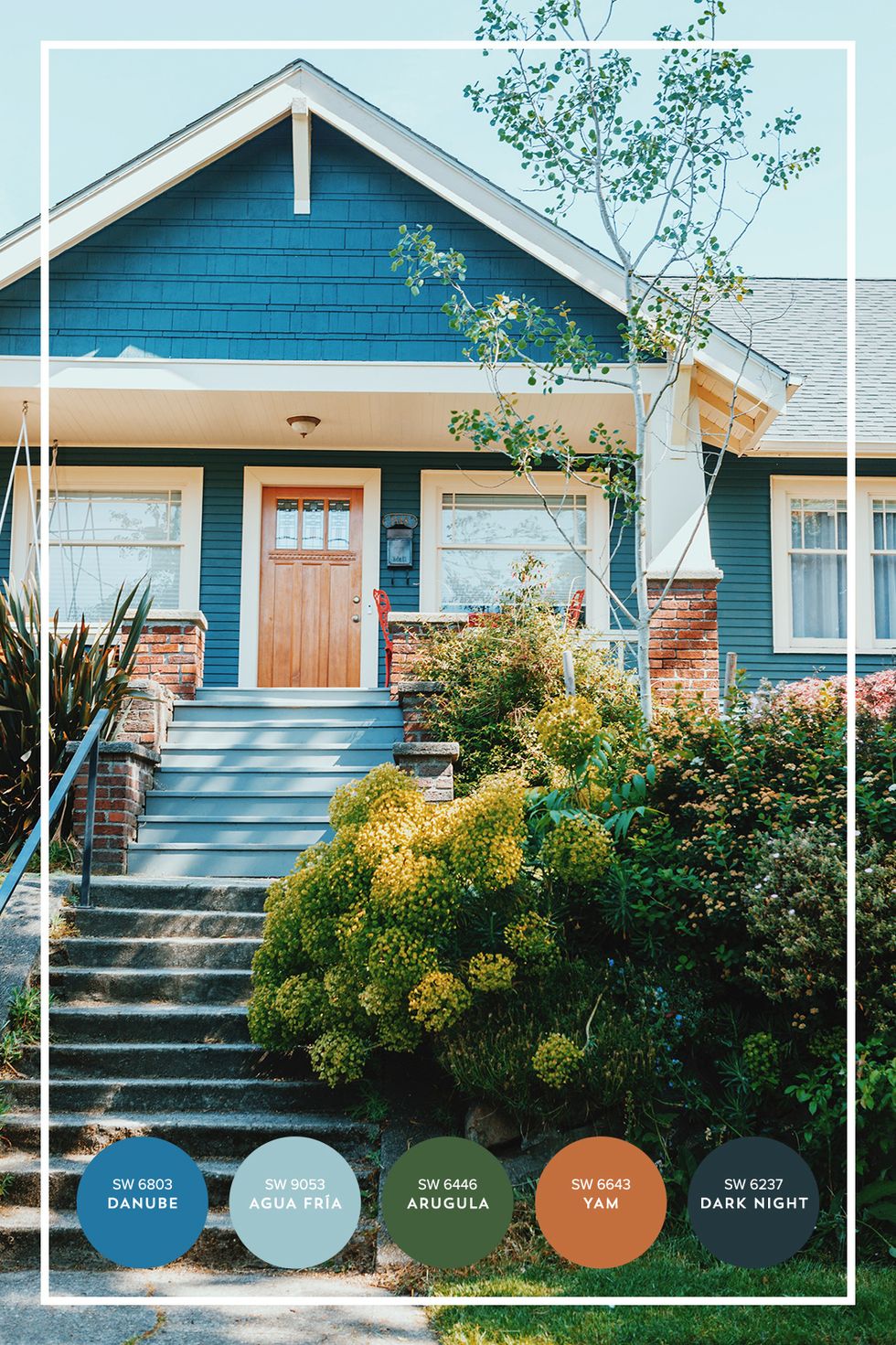 So many of these homes' color palettes mirror the sea blues + forest greens that define Seattle's color story. If you feel like admiring homes, explore areas like Queen Anne, Capitol Hill + Ballard.
Minimalists, you're about to have a field day. All over Seattle, you'll find novelty shops full of artisan clothing, jewelry, accessories; the works.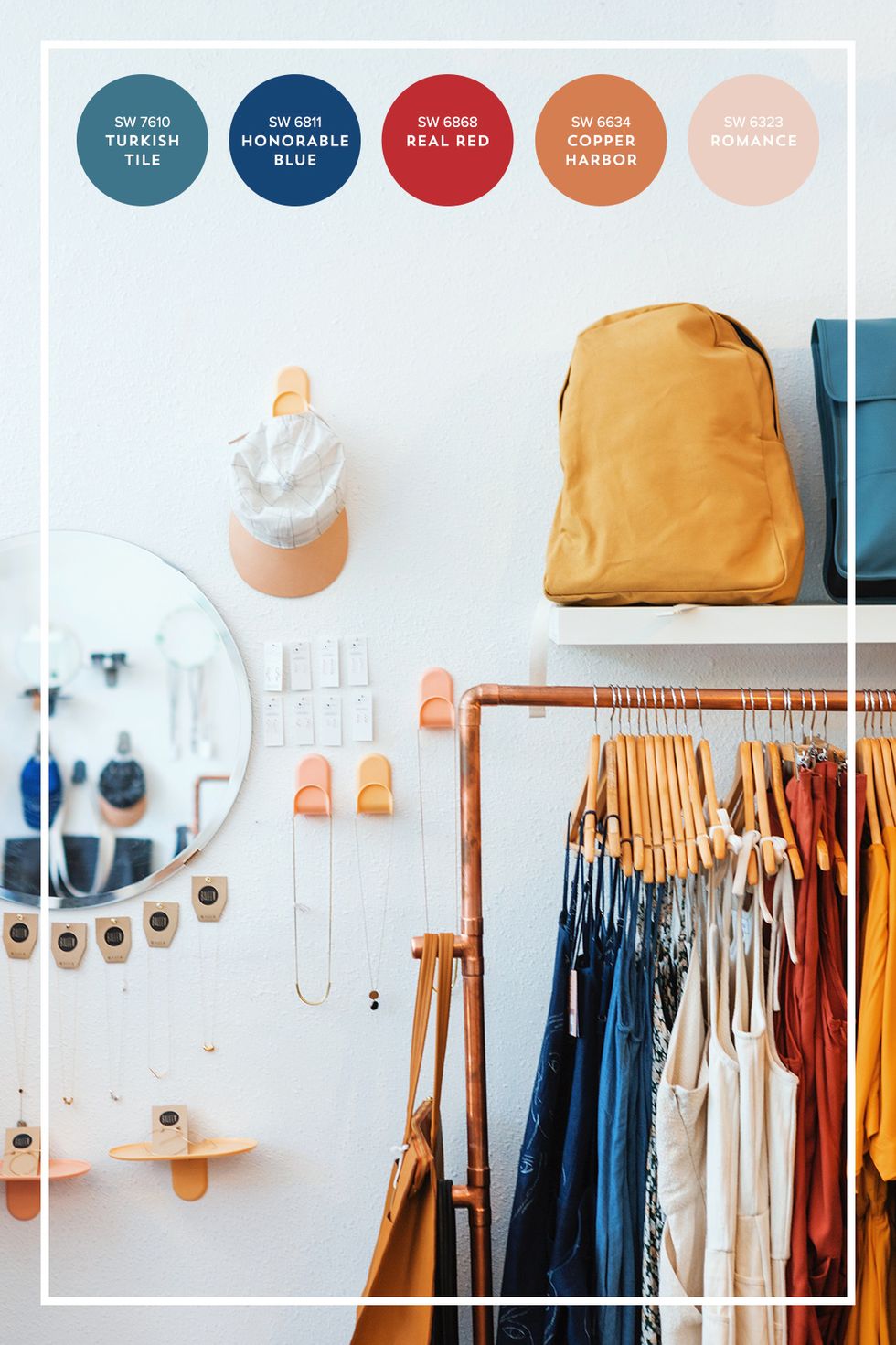 We were particularly smitten with the boutiques found on Ballard Ave. It's like EVERY item for sale is thoughtfully handcrafted by a local designer. We'll take one of everything, thank you.
If you need a detox from the bustling downtown district, head across Aurora Ave to Fremont, a sweet neighborhood full of quirky public art, trendy folks, and waterfront walkways.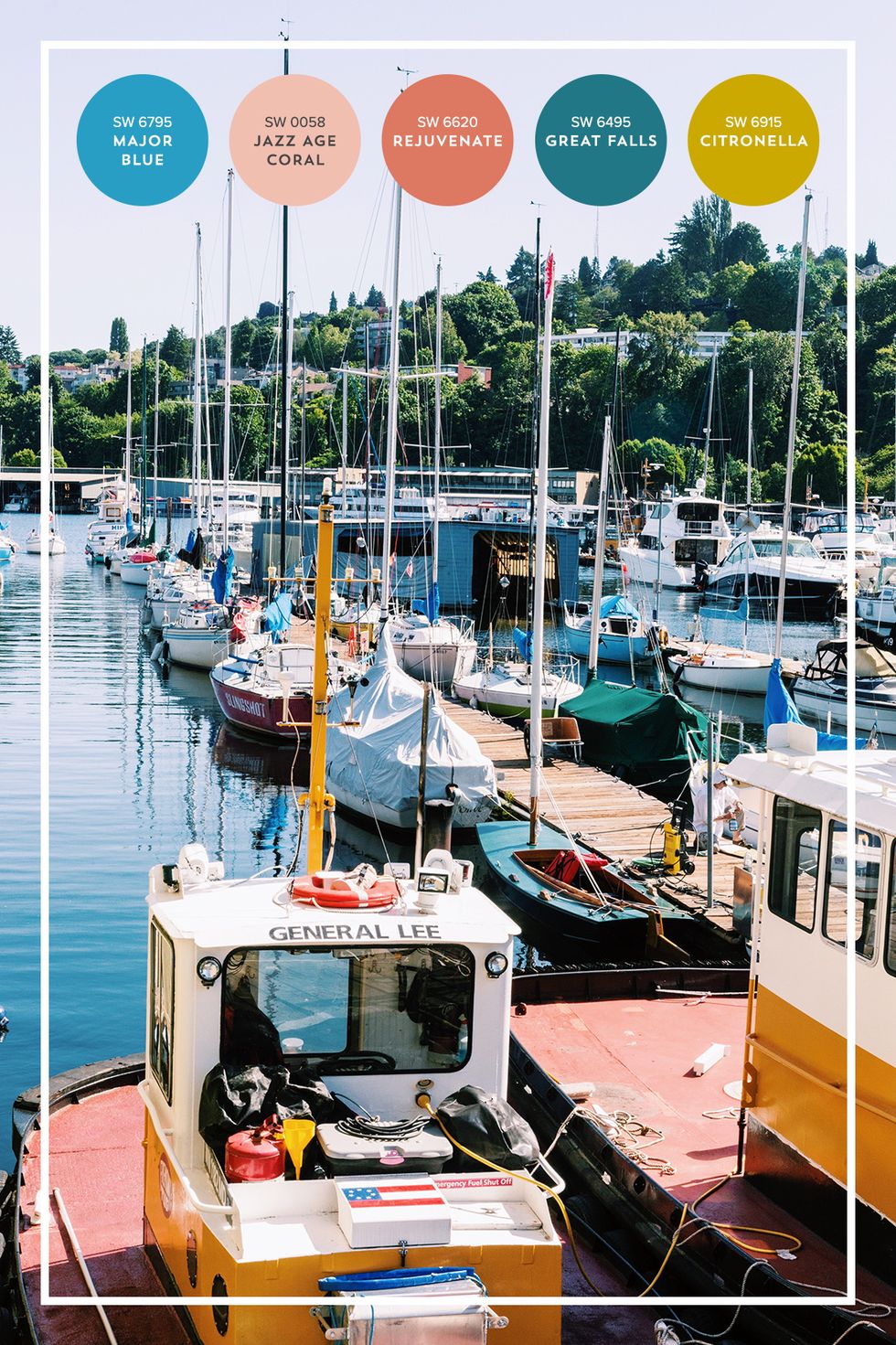 We spent the afternoon at Gas Works Park, a Fremont public park resting at the edge of Lake Union, with a killer view of Central Seattle. This view is especially stellar on sunny days ;)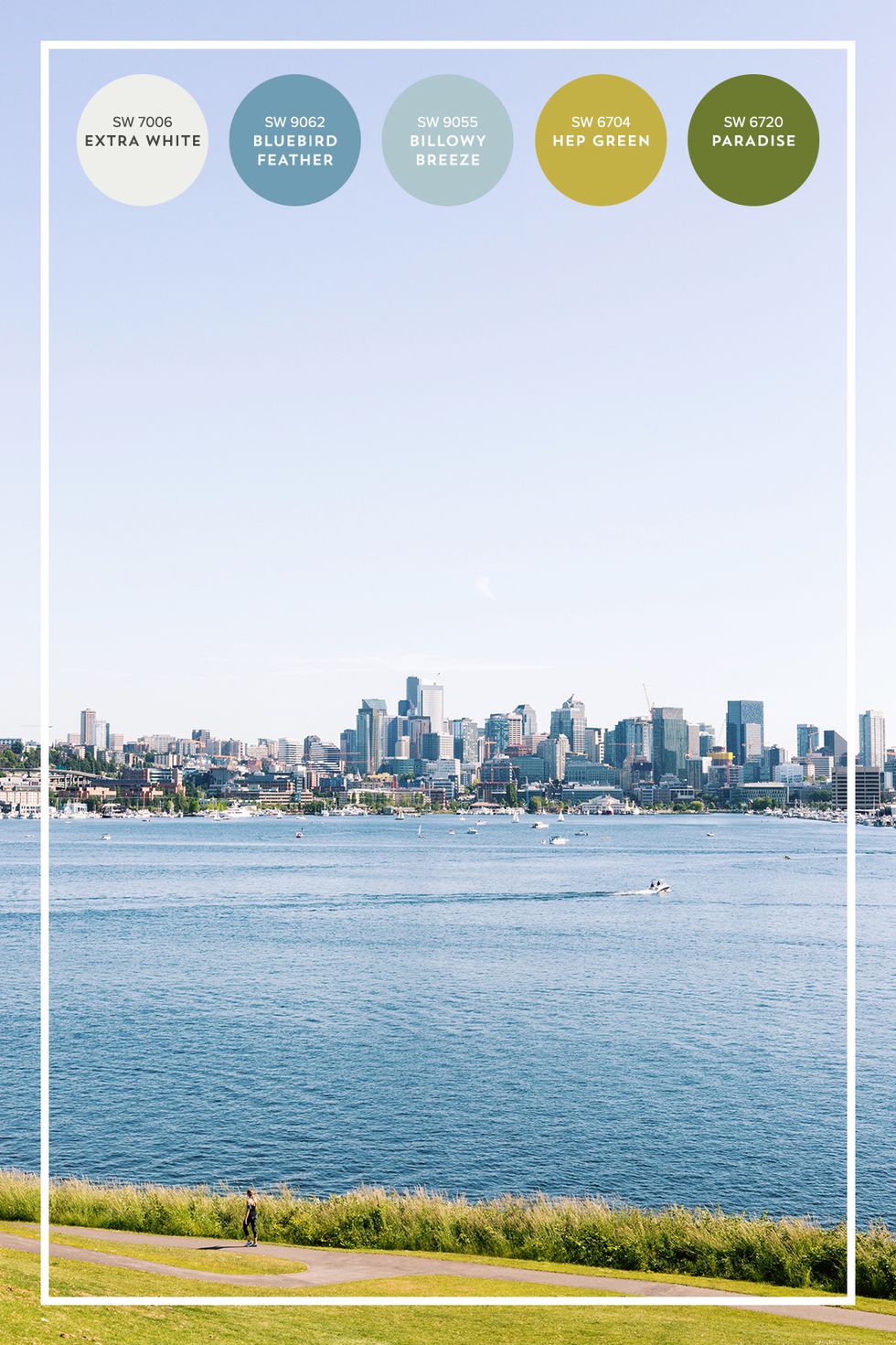 It's spots like this that'll make you truly appreciate how much nature this metropolitan city has to offer. The 230-acre arboretum is a sweet, green escape from city life — in the middle of the city.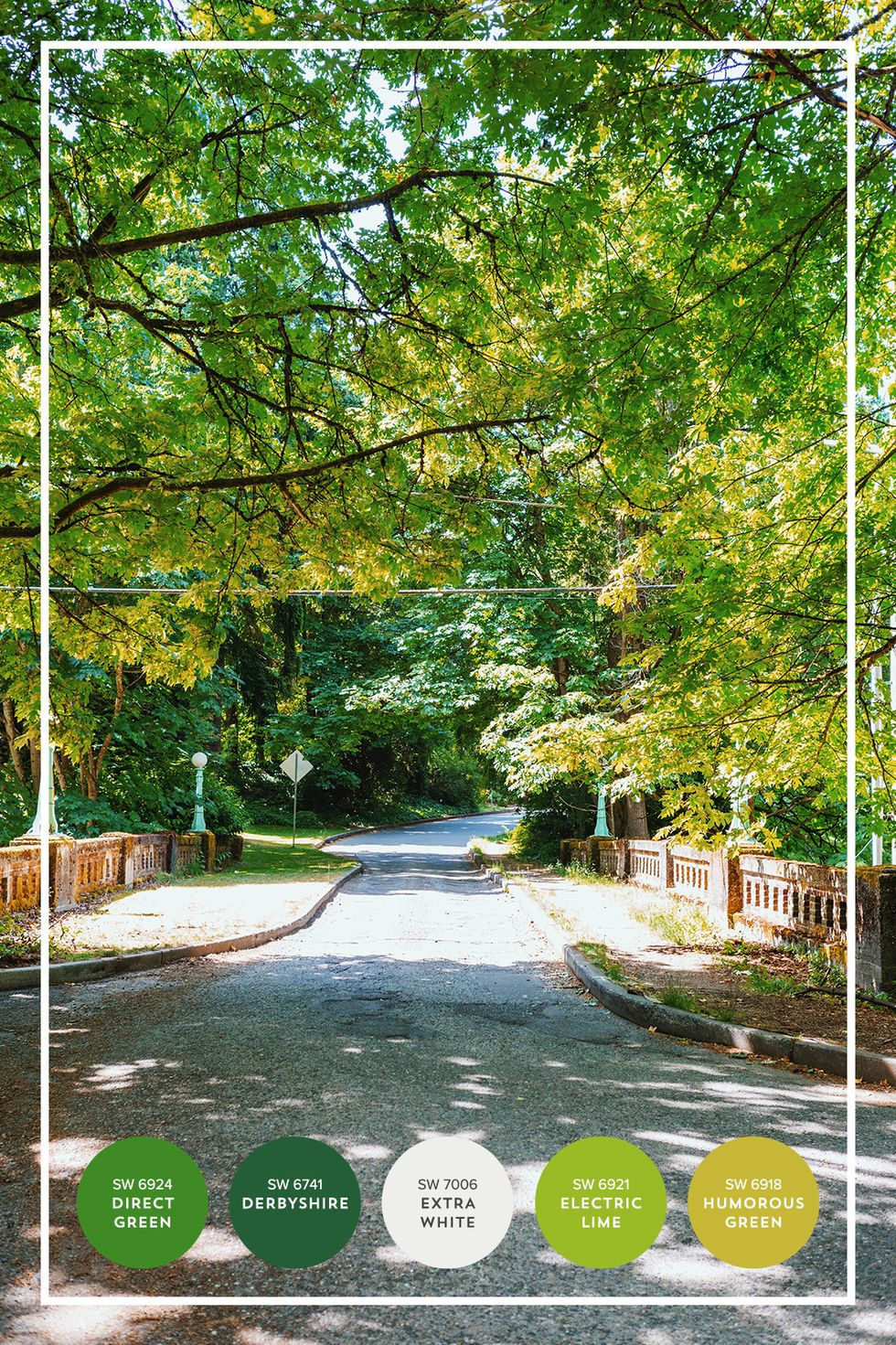 Whatever you do, be sure to take a ferry ride. Seattle is surrounded by charming residential islands (like Bainbridge and Vashon Island), and many islanders commute to Seattle via ferry every day.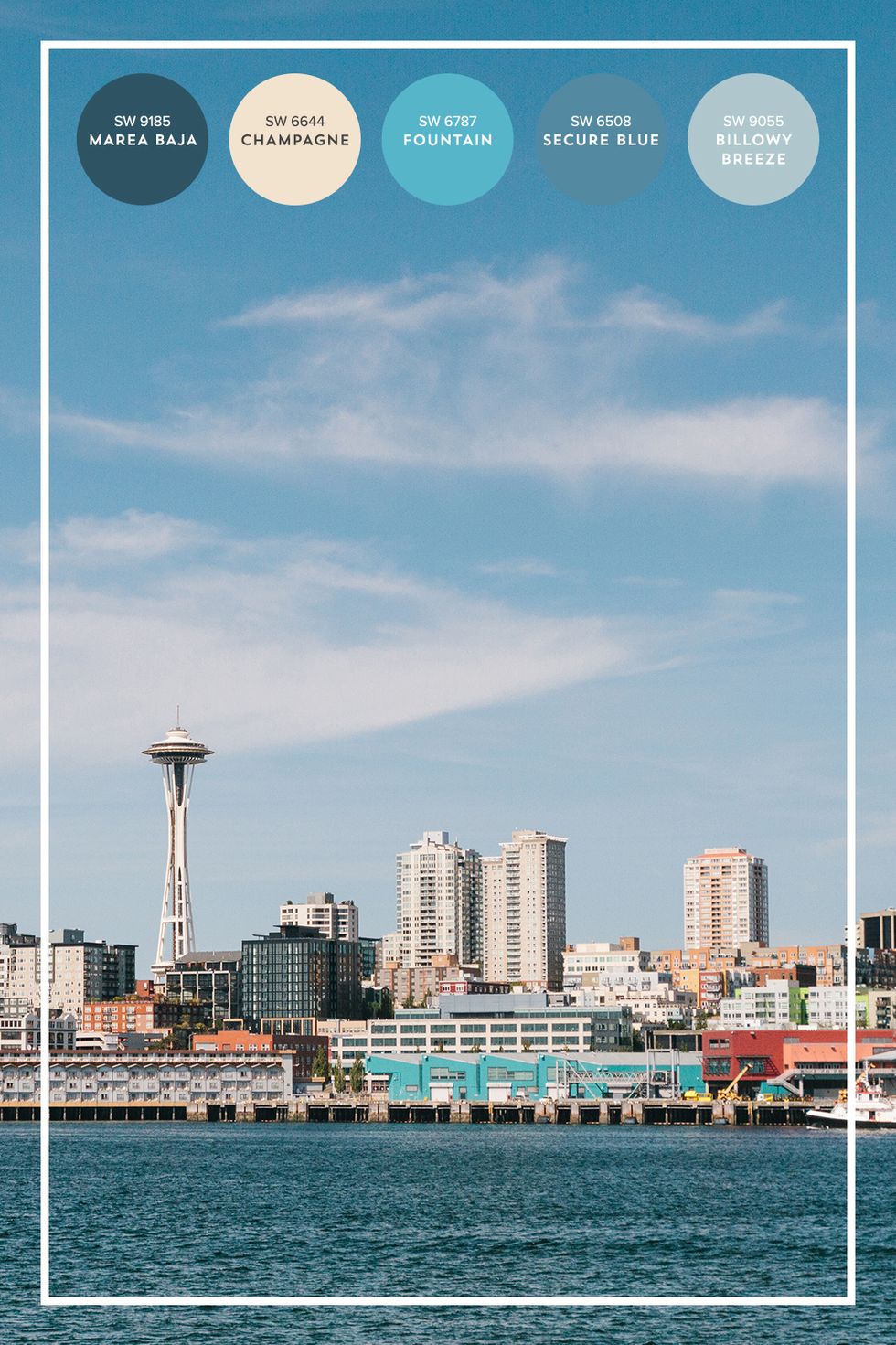 If you're feeling adventurous, wander through the many docks throughout this seaport city. We were nerding out over the fonts, color combos + silhouettes of these gems.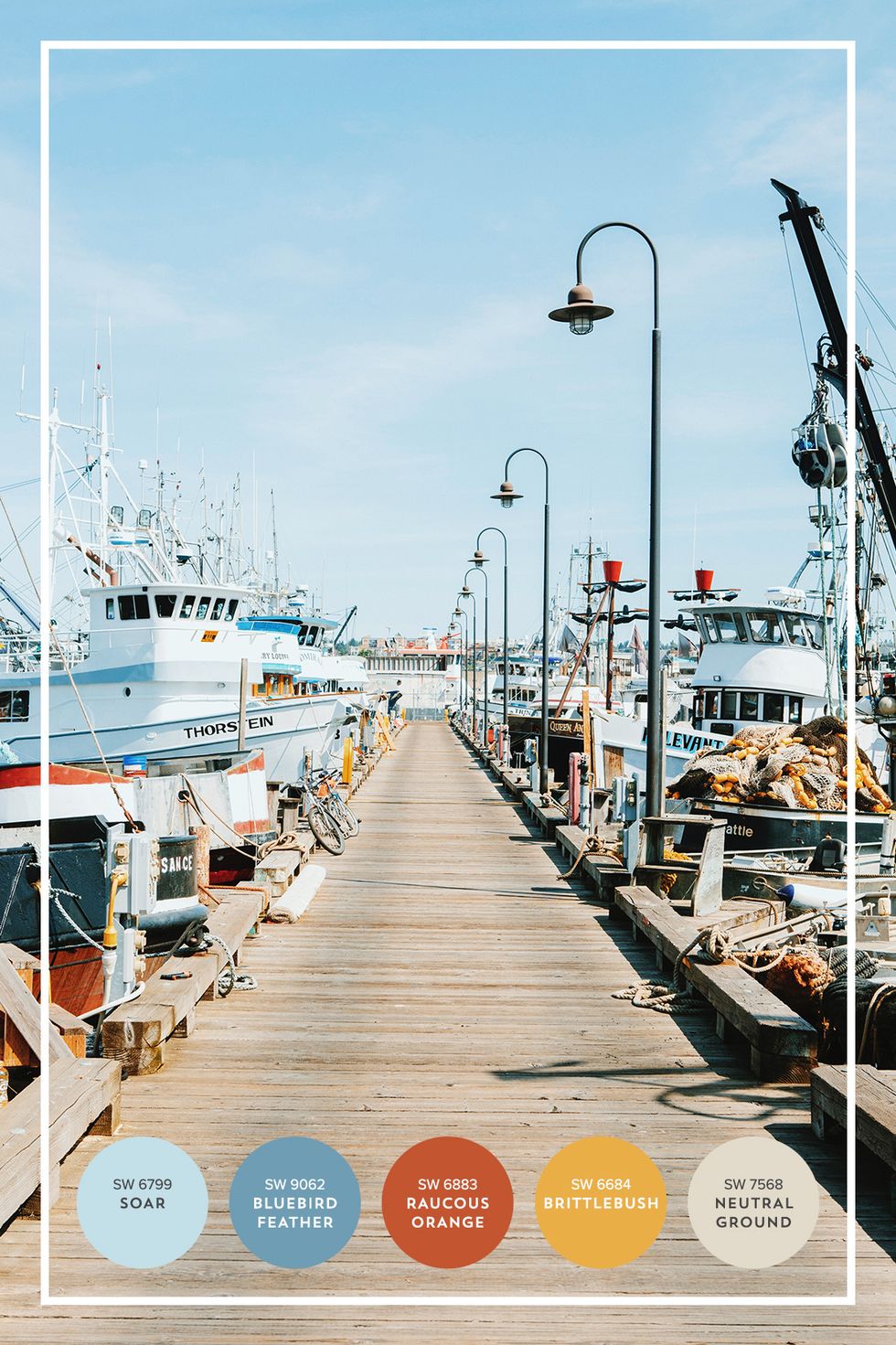 We couldn't help but snap a photo (or twelve) of these seven-foot high piles of fishing nets also found at the docks. The colors and textural combos — likely accidental — are seriously out of control.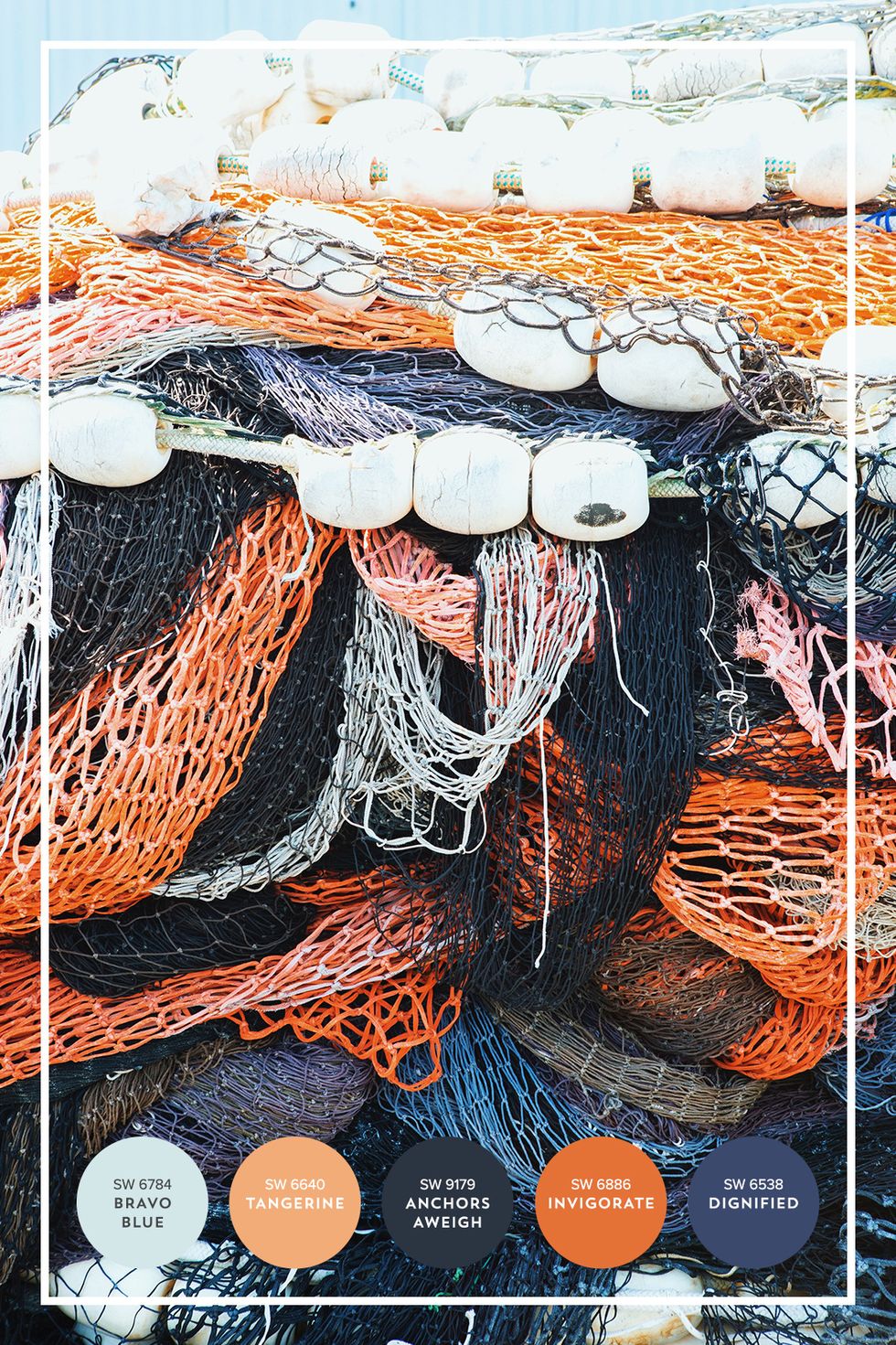 If you can, mosey up to the San Juan Islands off the northwest coast of Washington. It might be a trek, but we couldn't help but include this destination.
Accessible only by ferry, these delightful islands are all of your retro summer vacation dreams come true; chock full of beautiful cabins, national parks, oyster farms + rocky beaches.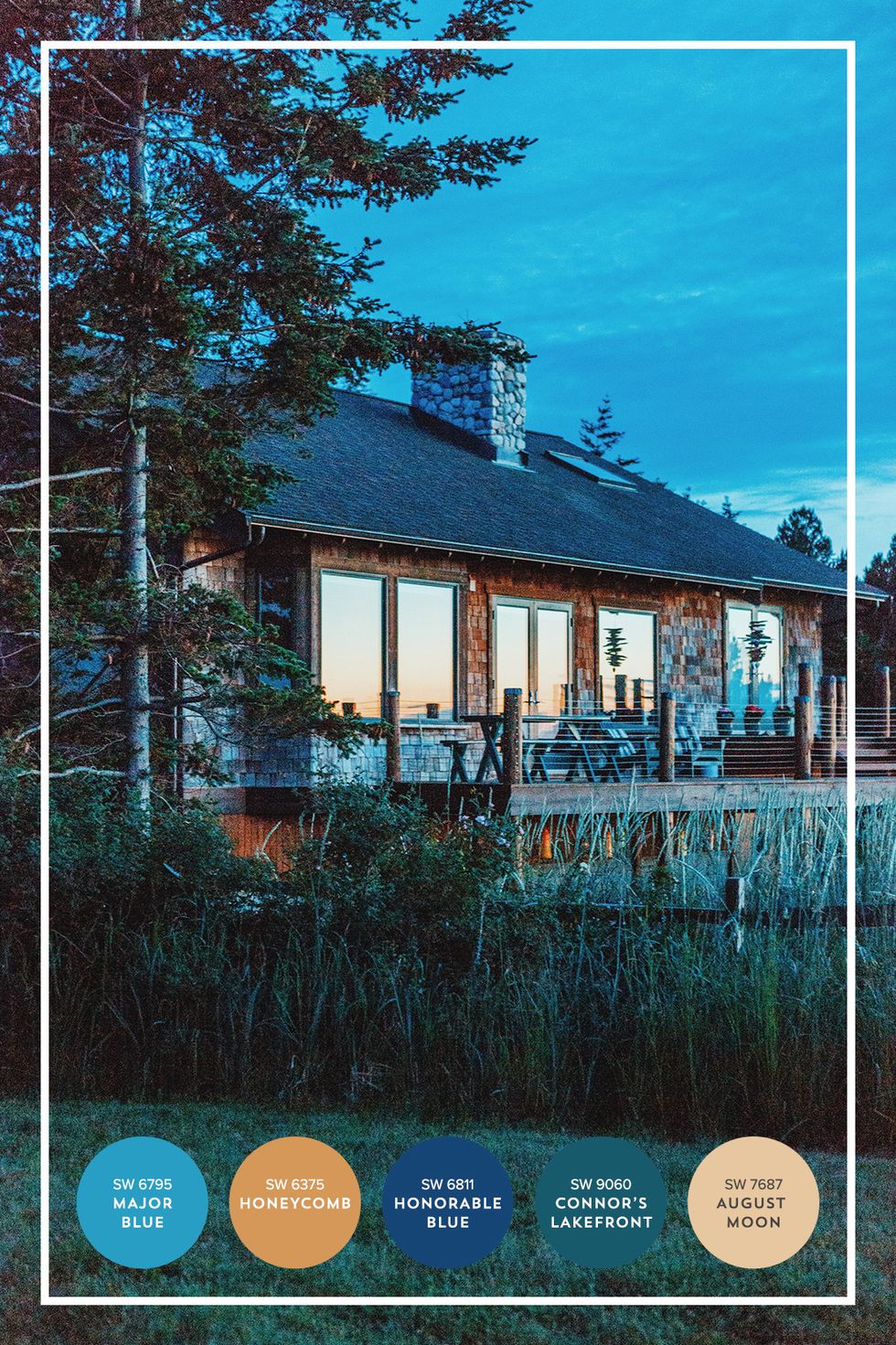 It wouldn't be a true B+C article if we didn't create art from our color inspo! With the help of ColorSnap Visualizer app, we used one of the color palettes above to transform a kitchenette.
The ColorSnap Visualizer app made it a breeze to bring PNW vibes back home with us. All we had to do was take one of our vacation photos and upload it to the app.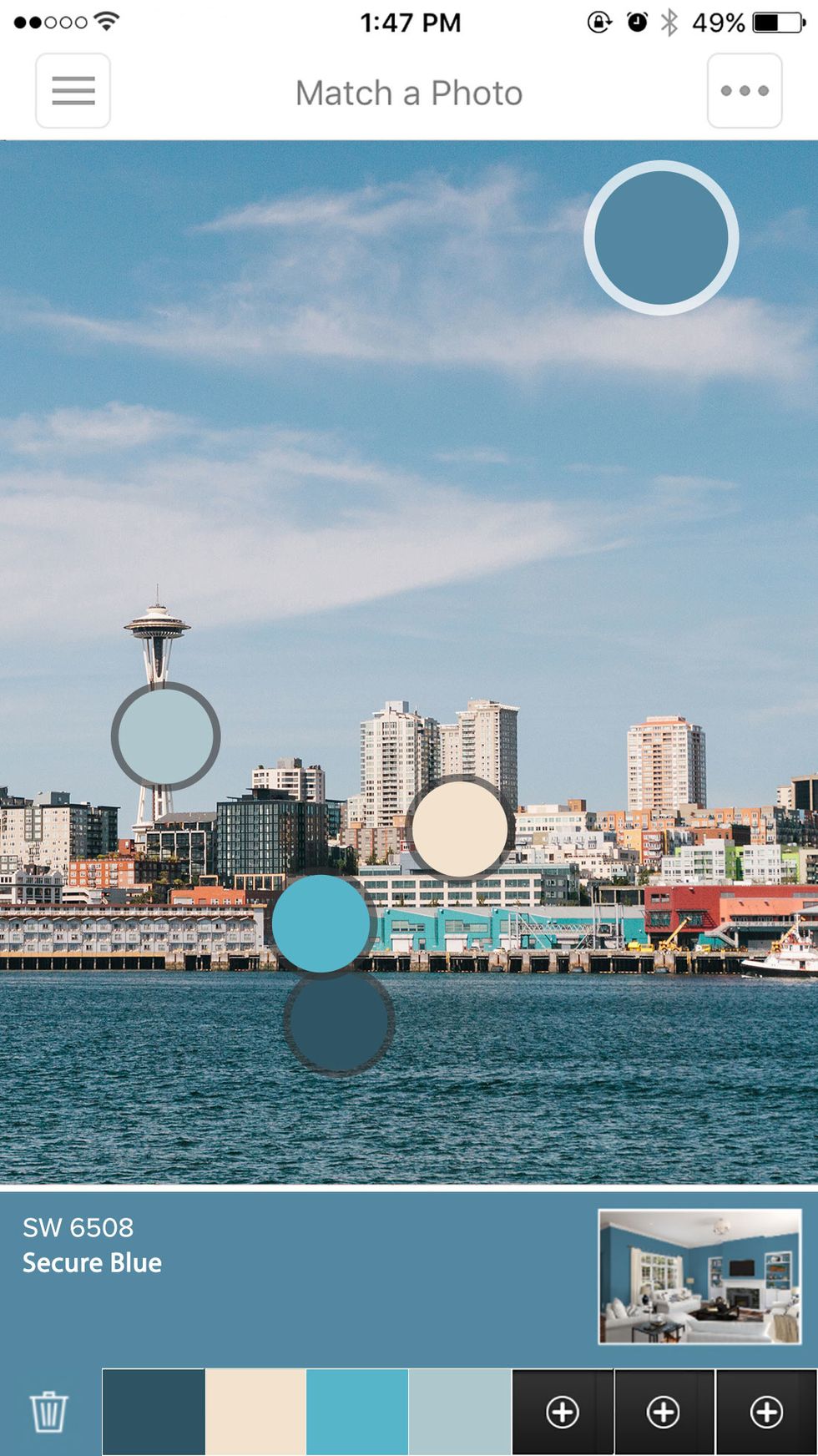 The app captured colors and matched them to Sherwin-Williams paint colors. From there, it was simple to create a custom color palette for our home decor.
We painted the walls Marea Baja SW 9185 and Billowy Breeze SW 9055, then added Fountain SW 6787, Champagne SW 6644, and Secure Blue SW 6508 as accents throughout the kitchenette.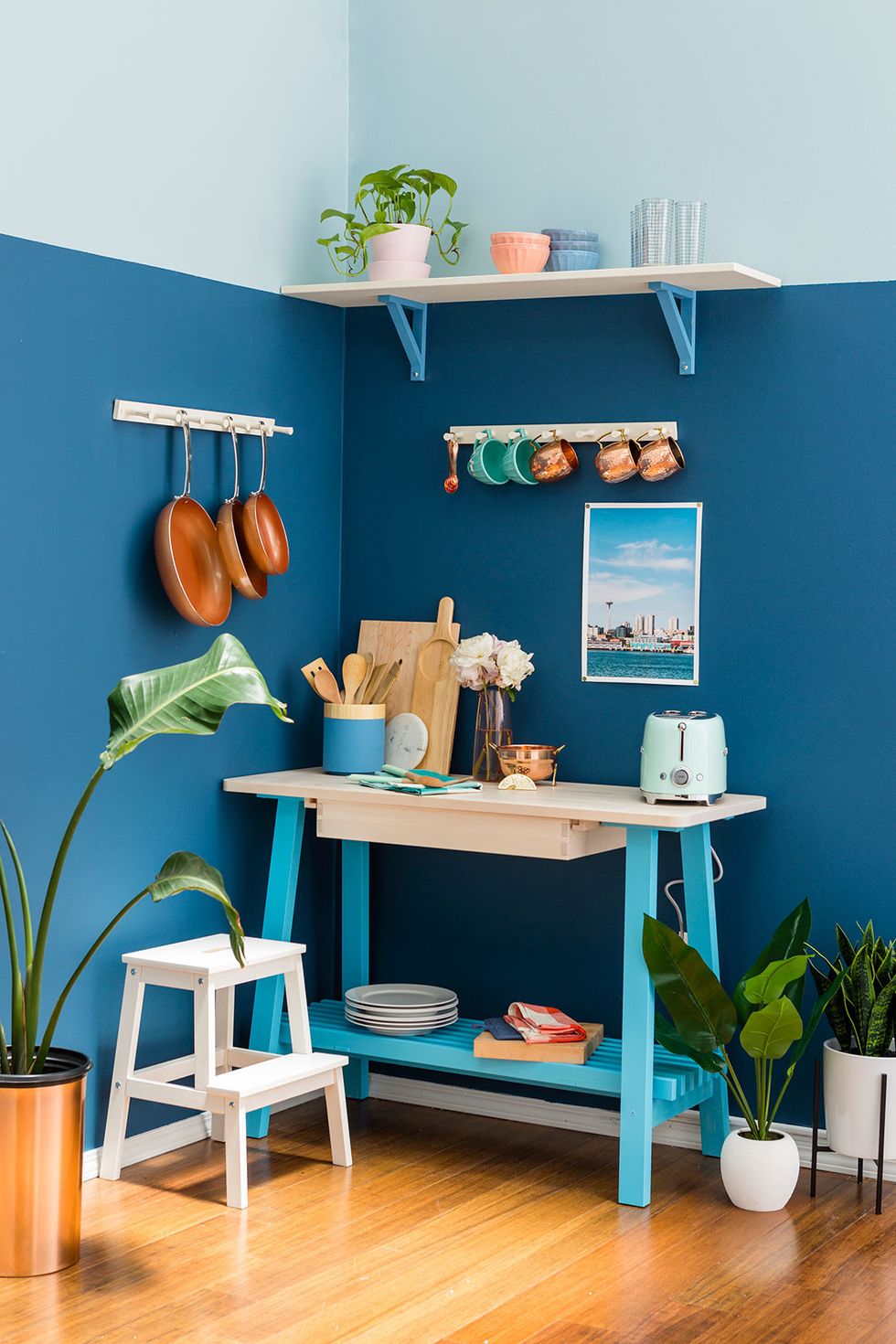 We filled the room with copper + light wood accessories, and finished it off with plants and more plants. If we're lucky, every time we hang in this space we'll be reminded of the serene Puget Sound.
That's it, folks! We came, we saw, we made color palettes, we painted. And now, we will rest. Thanks for reading! http://go.brit.co/2vTaBp2
The creator of this guide has not included tools
B+C
We are the team behind B+C Guides. Feel free to message us if you have any questions or see something that could be improved!