You know that feeling when you travel somewhere and can't believe the entire place is photogenic? Like, every corner of the town down to the pawn shops and parking lots?
That's how we felt about Palm Springs and Joshua Tree. Yes, the mid-century architecture, magical other-worldly national park, palm trees a-plenty, and expansive Mojave Desert are no doubt majestic.
Today, we've teamed up with Sherwin-Williams® to bring you the second installment of our travel guides for the color obsessed.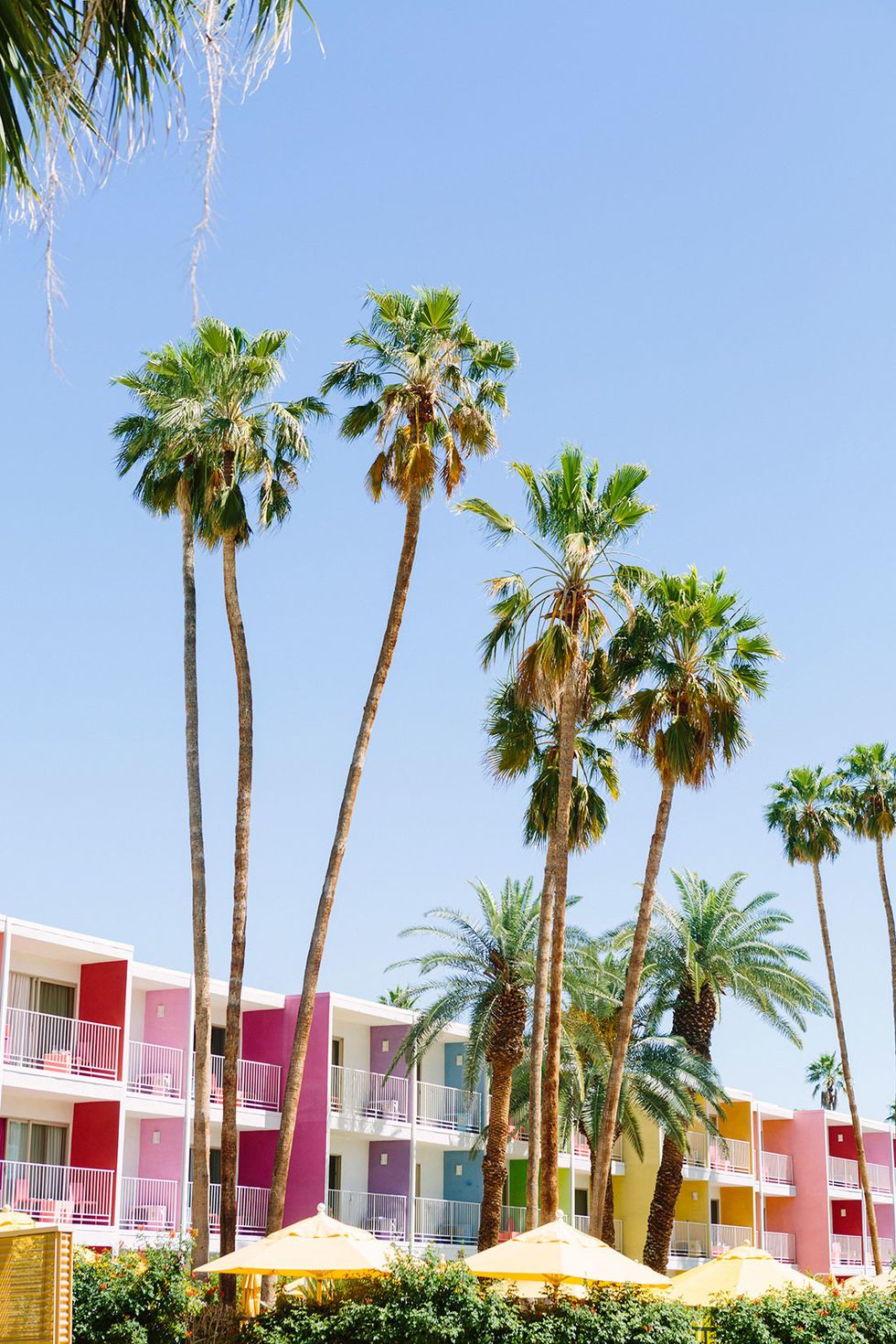 Thanks to the Sherwin-Williams ColorSnap® Visualizer app, we now have a tool to bring these incredible colors to life, create palettes and bring them into our home.
The ColorSnap Visualizer app captures color from your photos and creates a customizable palette from over 1,500 Sherwin-Williams paint colors.
With the ColorSnap Visualizer app, we created the following color palettes with photos from our travel. We applied one to a foyer renovation, which you can take a peek at toward the end of this post.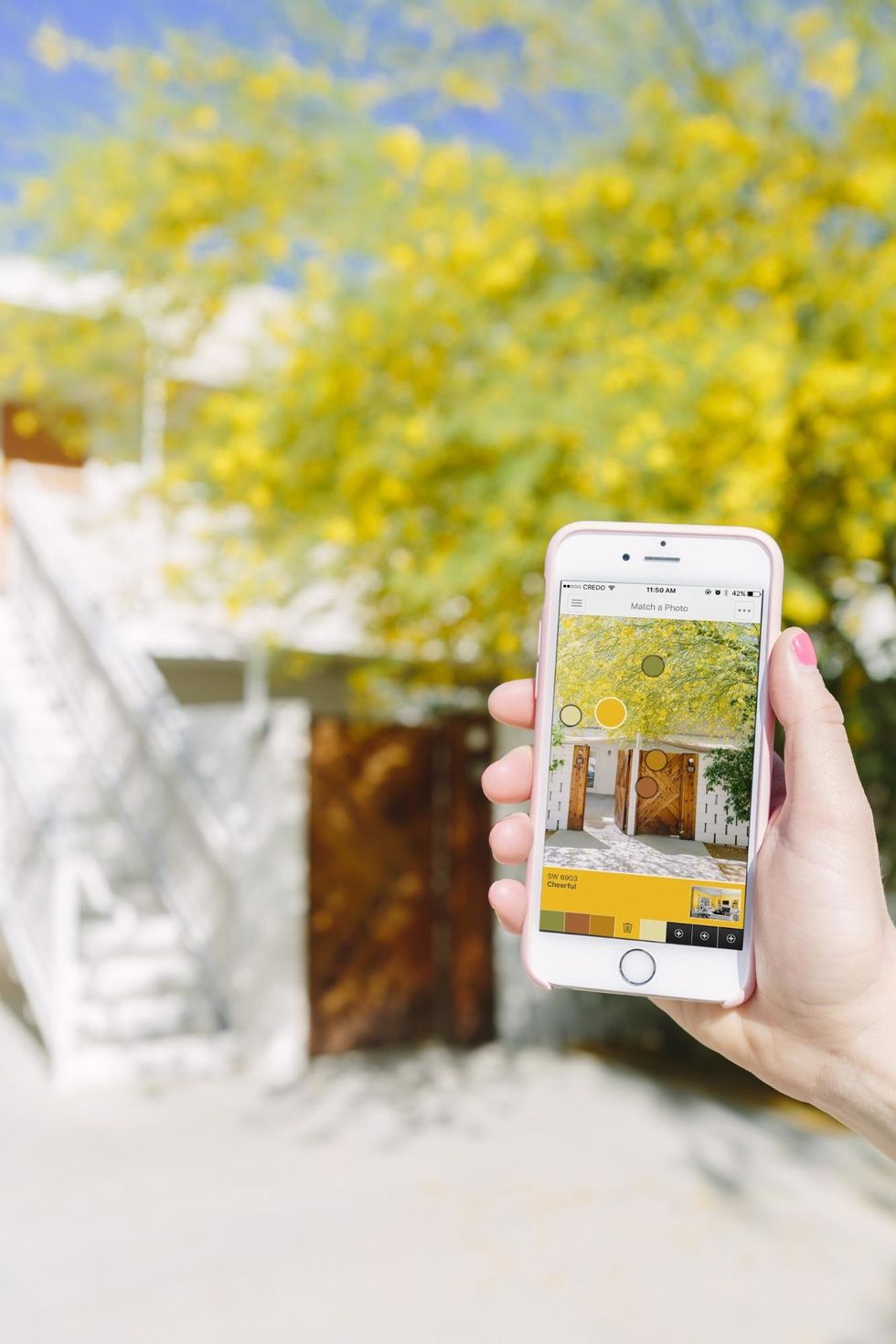 BTW, we're totally making the phrase, "But first, let me take a ColorSnap" a thing :)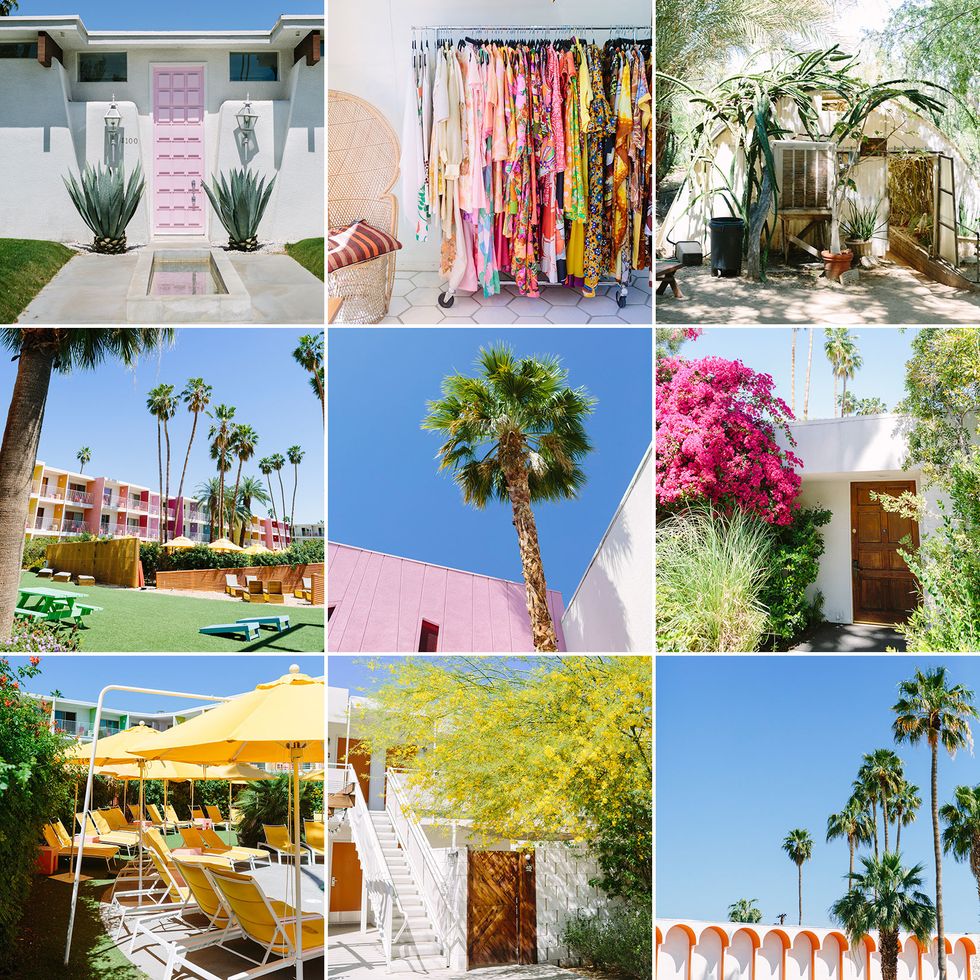 Welcome to Palm Springs, home to some of the most exquisite architecture, resorts, and desertscapes in the world.
There's no shortage of neon front doors, aquamarine pools, and vivid green tall palms — which happen to pair brilliantly with the blue, blue desert sky. It's a color lover's dream.
There must be thousands of palm trees in Palm Springs. The bold green stocks line the streets, cluster in front of hotels + bridge the magnificent one-story structures with the perennially blue sky.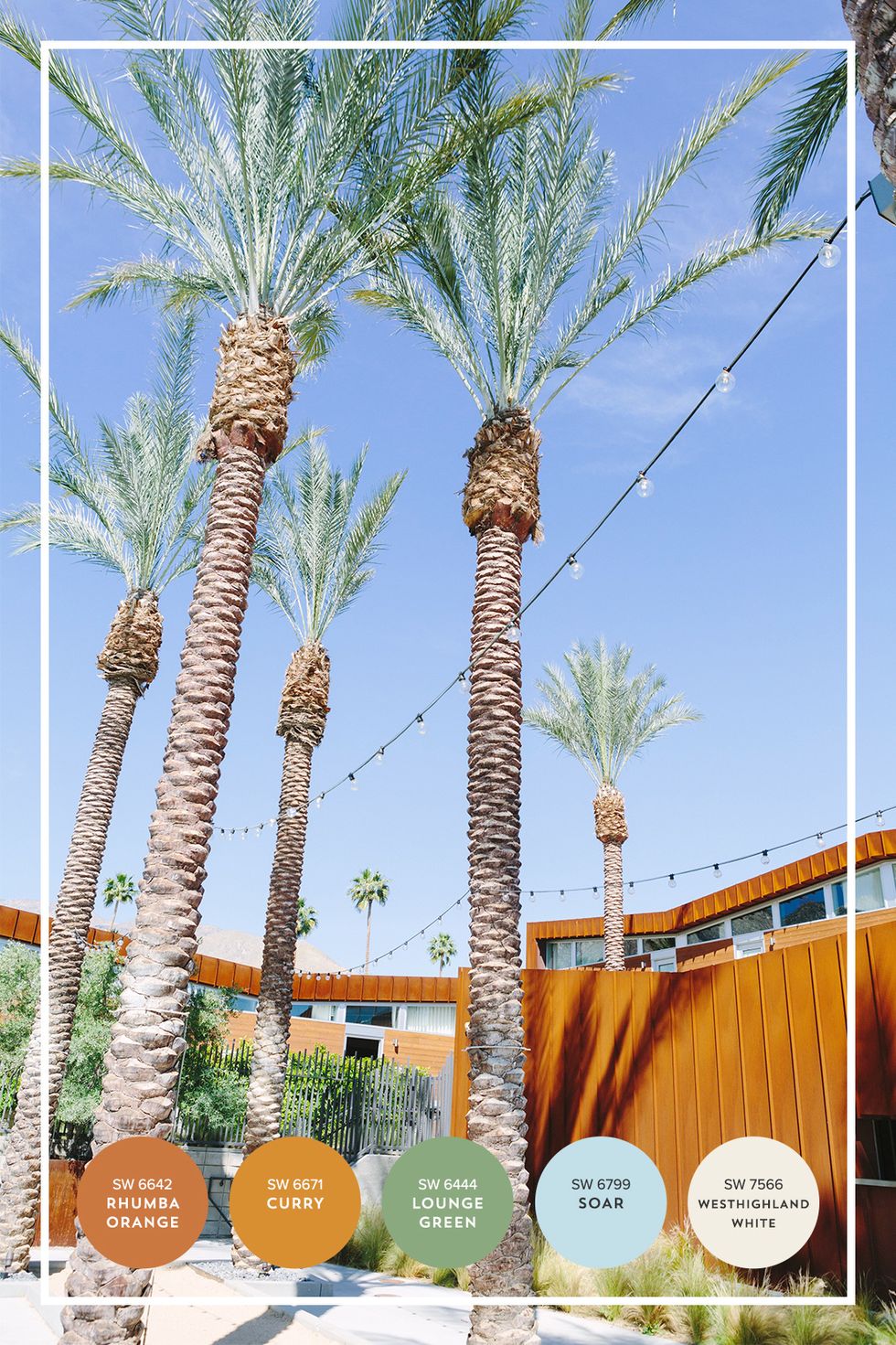 If you haven't already gathered, hotel-hopping is a solid pastime in Palm Springs. There are plenty of open-concept poolside restaurants at the swanky hotels located in the area.
The designers of these hotels have put a ton of effort into their color palettes, often using nature as their guide, so be sure to hit up as many as you can for inspiration.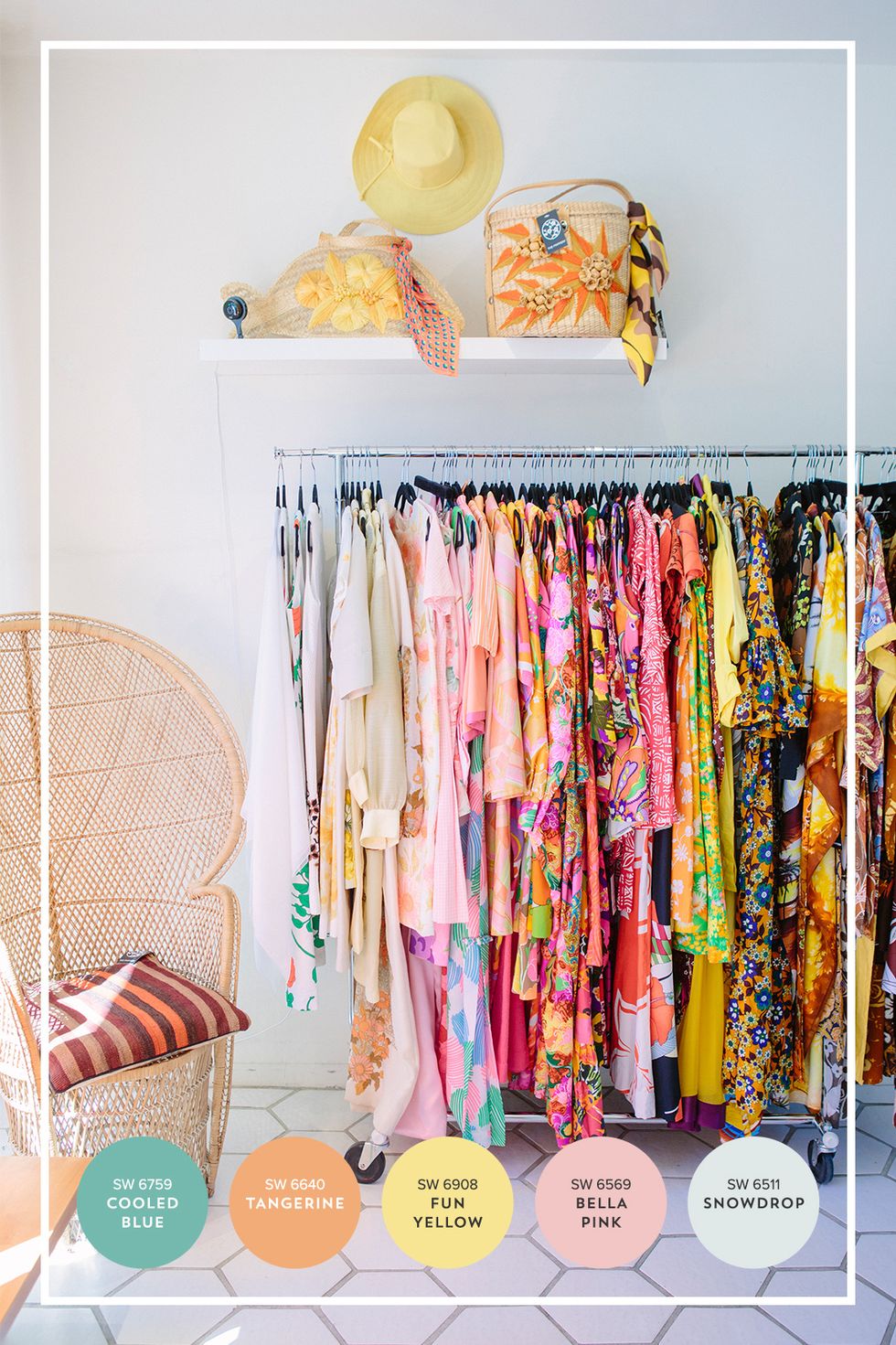 Kaftans, kimonos, blouses, oh my! We can thank Palm Springs for making our grandma's patterned clothes cool again.
Stop by some of the town's iconic vintage stores and adorn yourself in the necessary pastel 1970s resort-chic attire.
There's tons to be said about Palm Springs' mid-century details — heck, you could have your entire trip revolve around touring them.
We love that shadows serve as an architectural feature. Aside from highlighting the genius design of the place, these shadows make for some swoon-worthy color stories.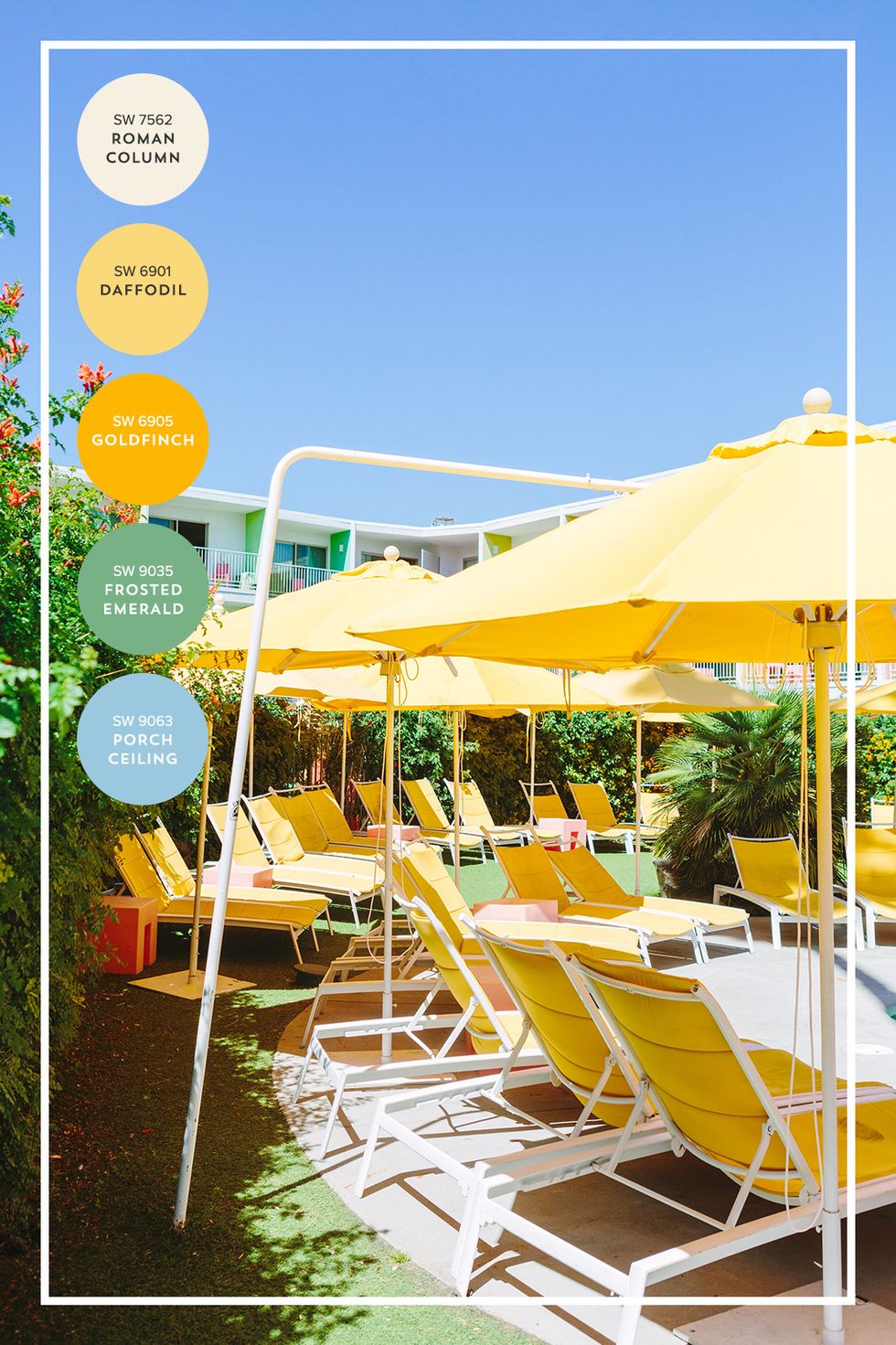 Palm Springs can get hot, so book a hotel that has a pool, then lounge away the hours in epic sunshiny chaises. If your hotel doesn't have one, make some calls to see where you can get a day pass.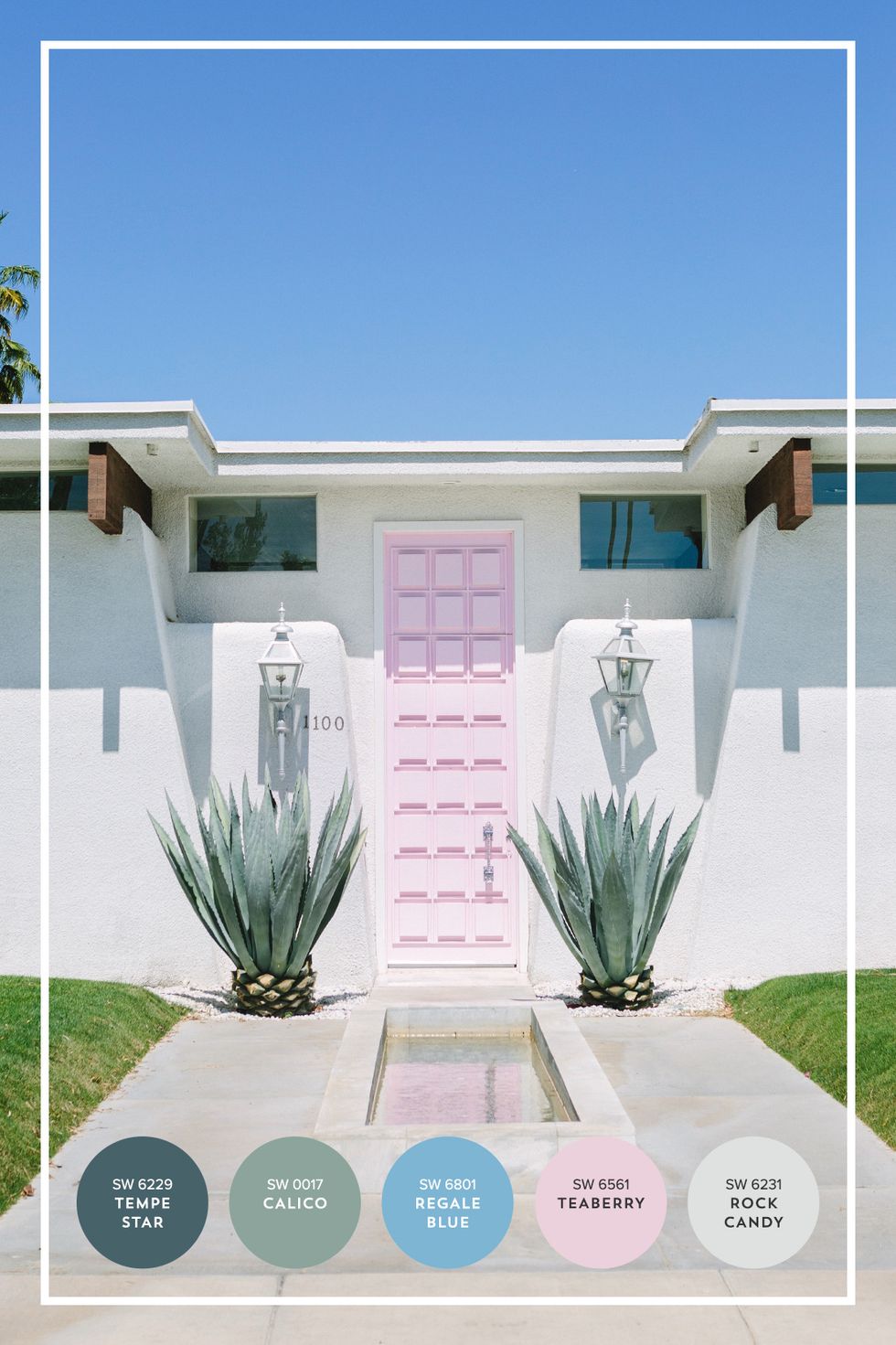 On an unassuming suburban street resides the most famous front door on the internet: #ThatPinkDoor: http://bit.ly/2qCjYnl
We think it perfectly symbolizes Palm Springs architecture: pastel tones, clean lines, shadow play, and brilliant execution. It's like a giant pink chocolate candy bar, and we ain't mad about it :)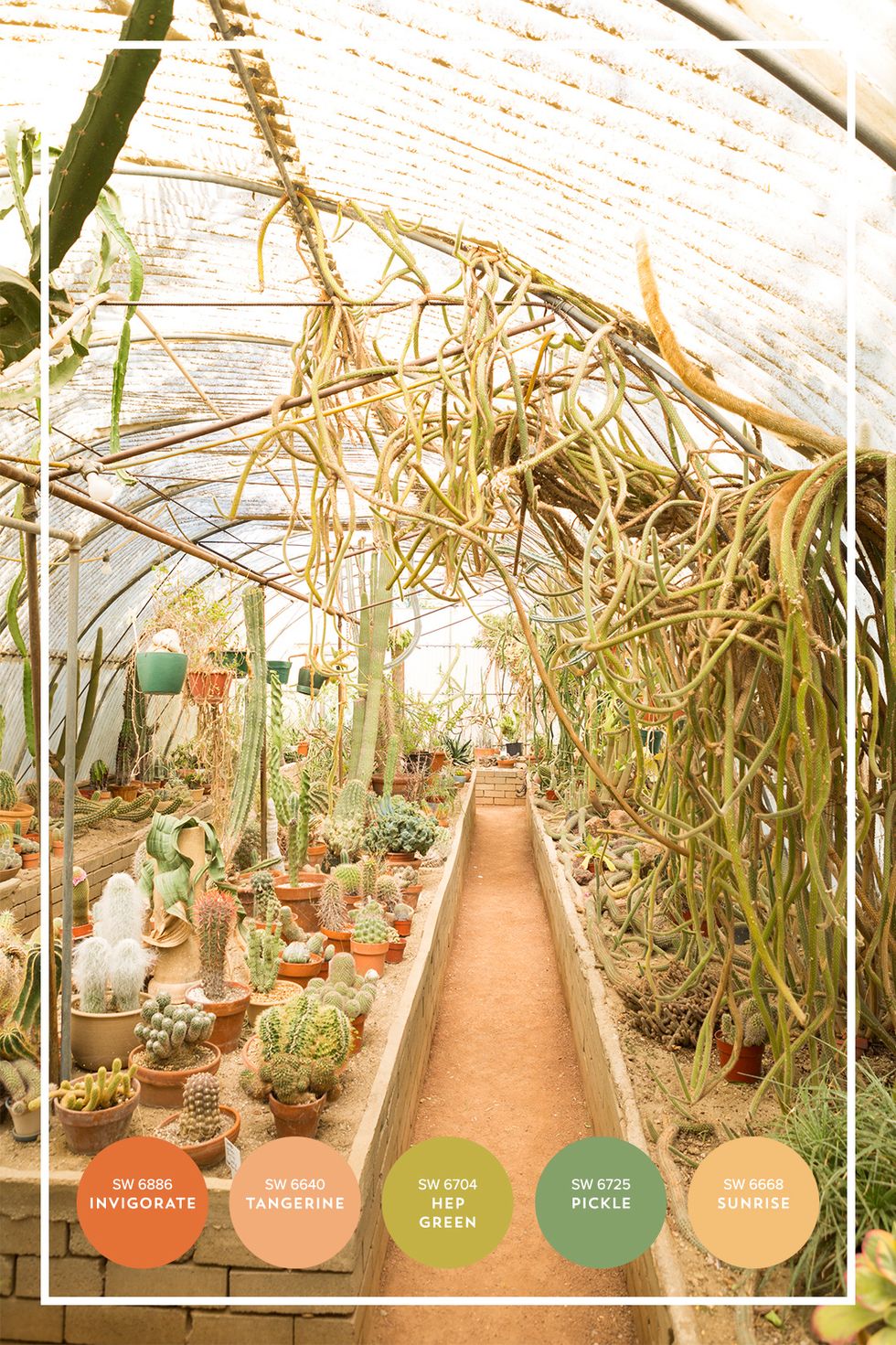 Cactus lovers, behold: Palm Springs hosts the world's first (and only?) cactarium. It's a dreamy oasis for plant lovers and is a mecca of desert earth tones.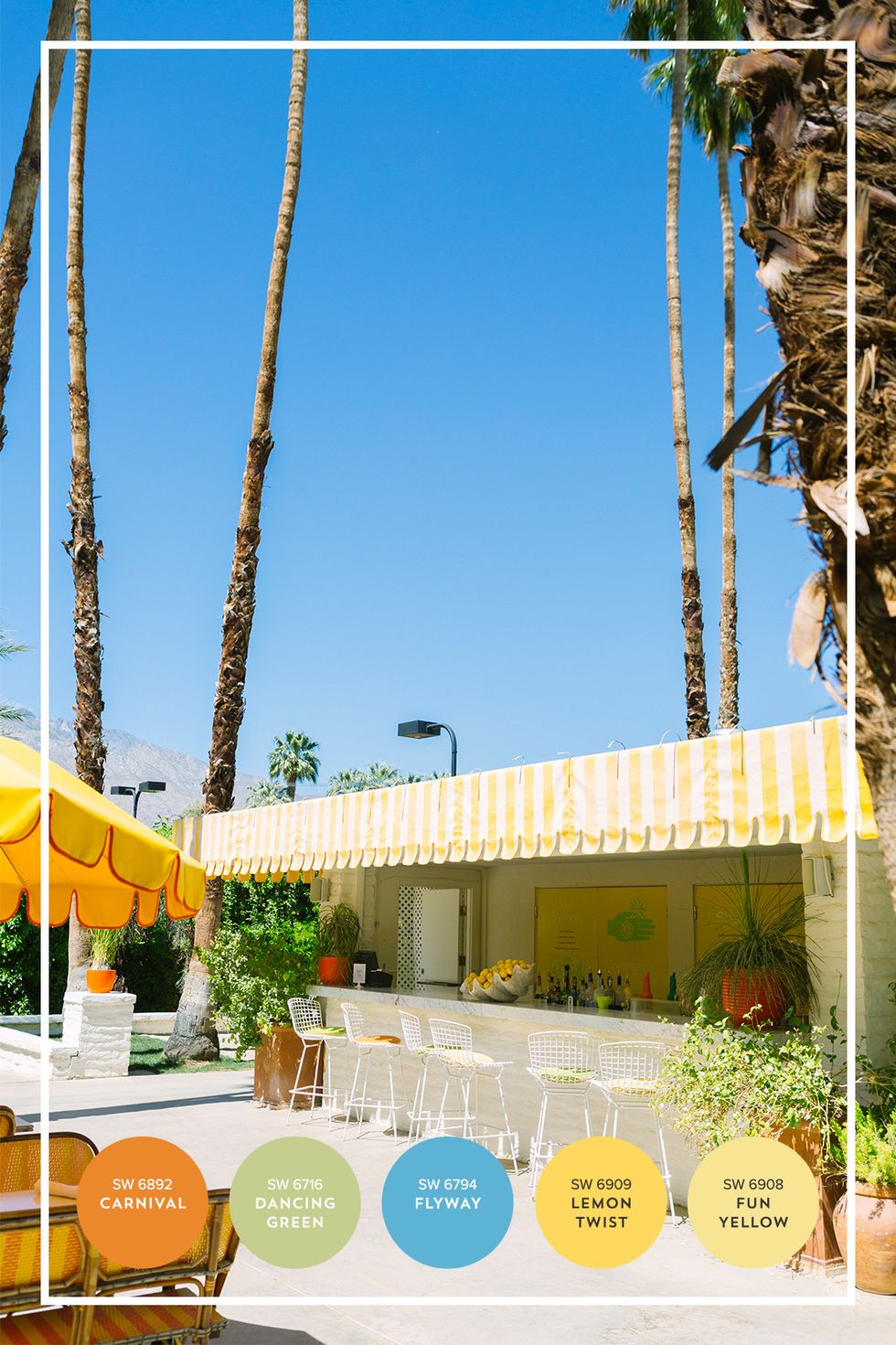 Be sure to save time to post up at their open-air bar. Grab their cocktail menu + whet your whistle with a mixologist special. Fancy drinks are perfect fodder for some Insta-worthy shots.
Up next, Southern California's capitol of quirk! Joshua Tree is home to some of the funkiest outdoor art structures we've ever seen, as well as some breathtaking desertscapes.
It's an ideal retreat destination for artists and nature-lovers alike. If you're already in Palm Springs, the hour drive to this area is 100 percent worth it.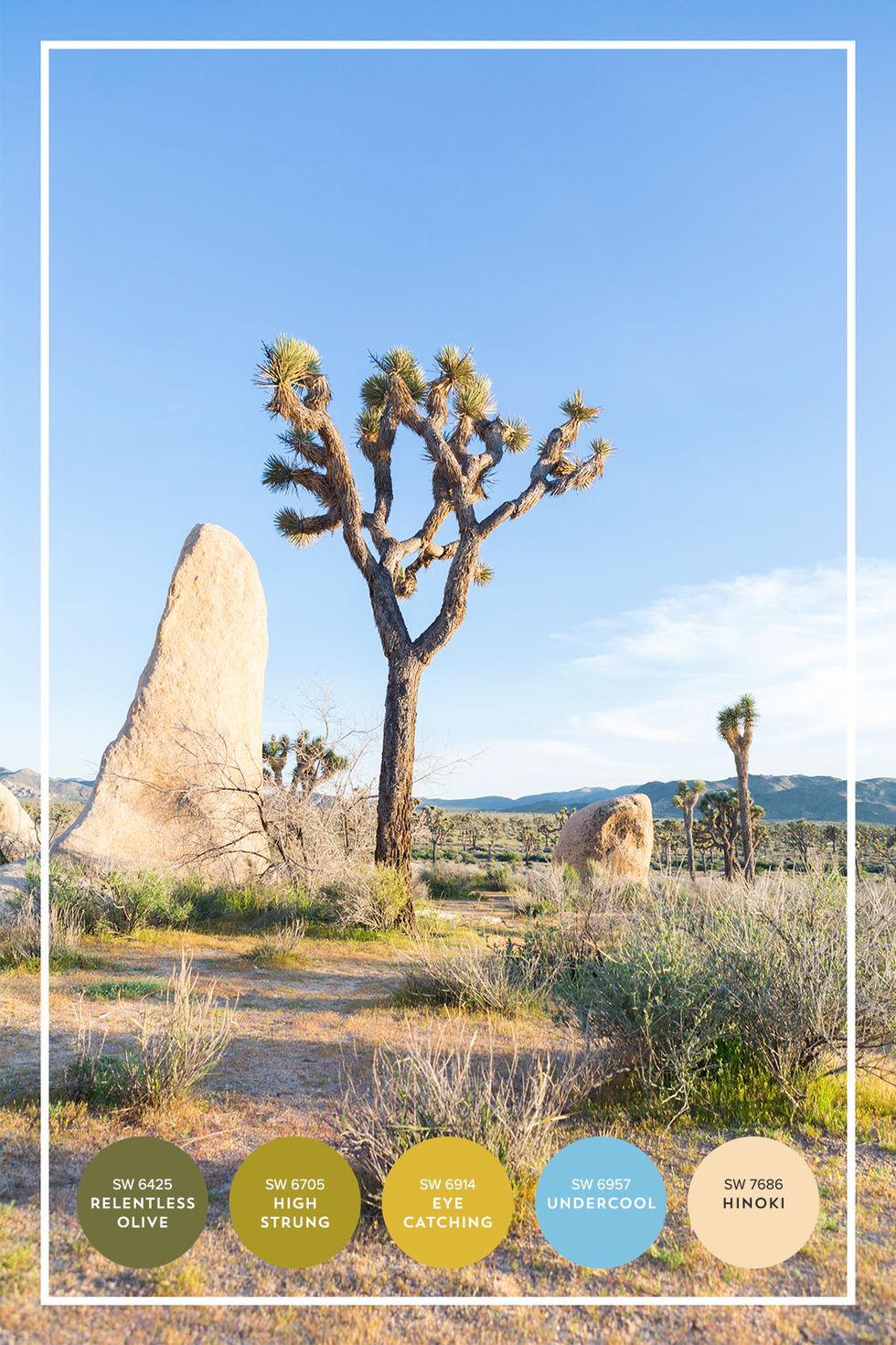 This one's a no-brainer. Joshua Tree is an expansive national park full of otherworldly trees, rock structures, and cacti as far as the eye can see.
As is the case in Palm Springs, the park's color story changes immensely from sunrise, to high noon, to dusk, and each palette is more beautiful than the next.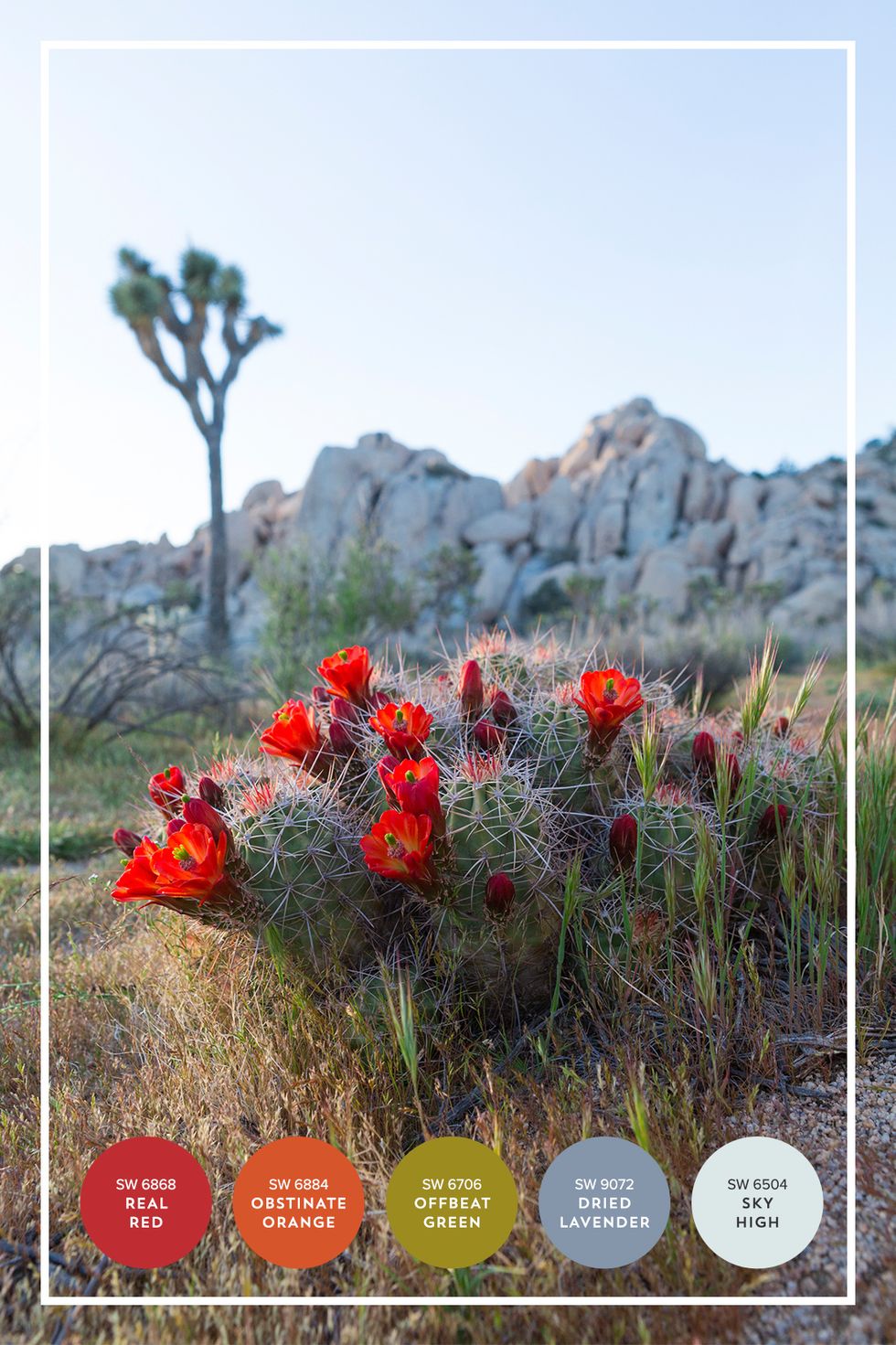 While you explore the vast Joshua Tree National Park, keep an eye out for these blood-red beauties. It's astounding that such muted earth tones can give life to such a vibrant hue.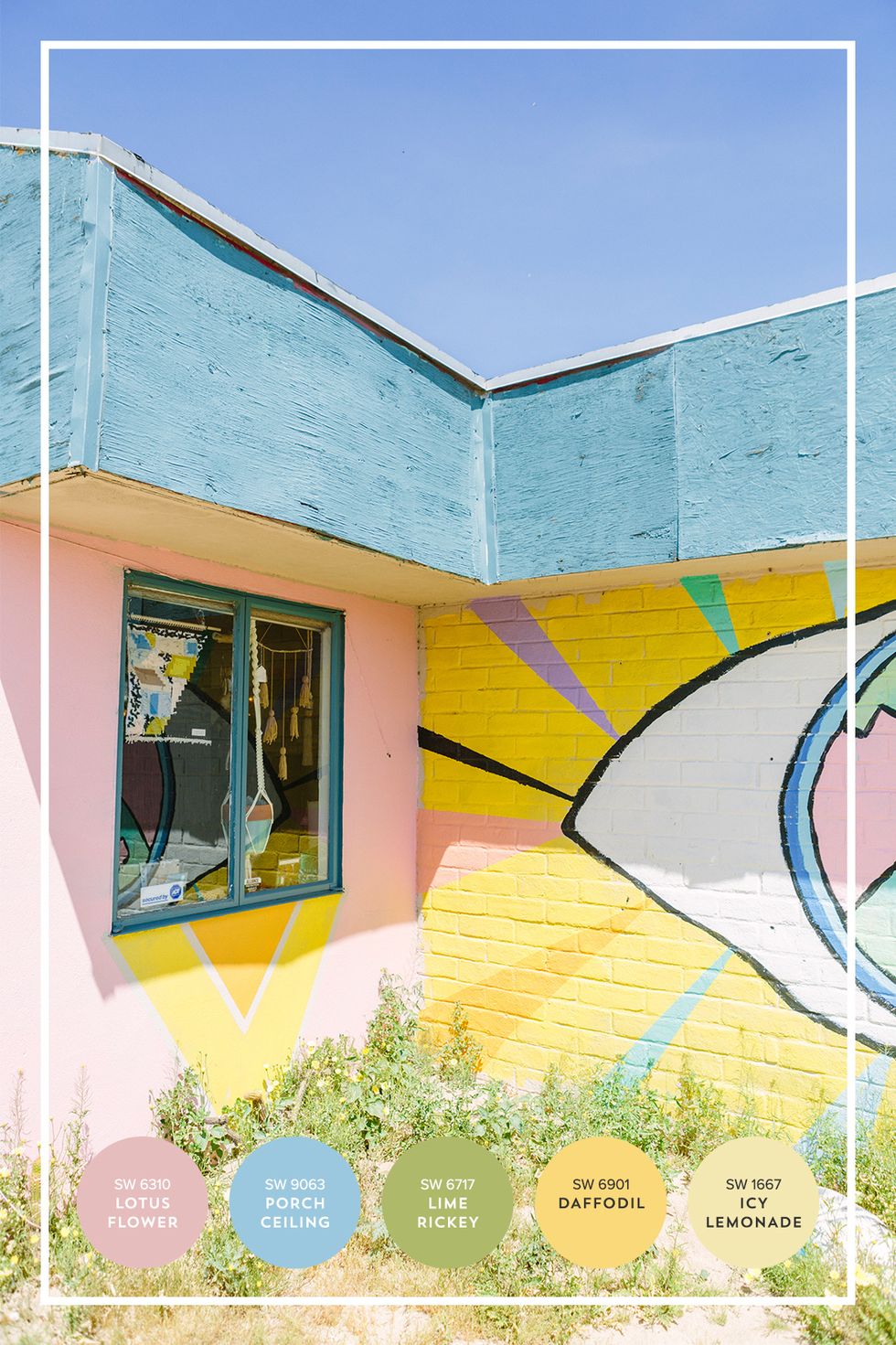 Drive through the town of Yucca Valley, adjacent to Joshua Tree National Park, to experience some wacky + unique curated vintage shops as well as restaurants with some stellar exteriors.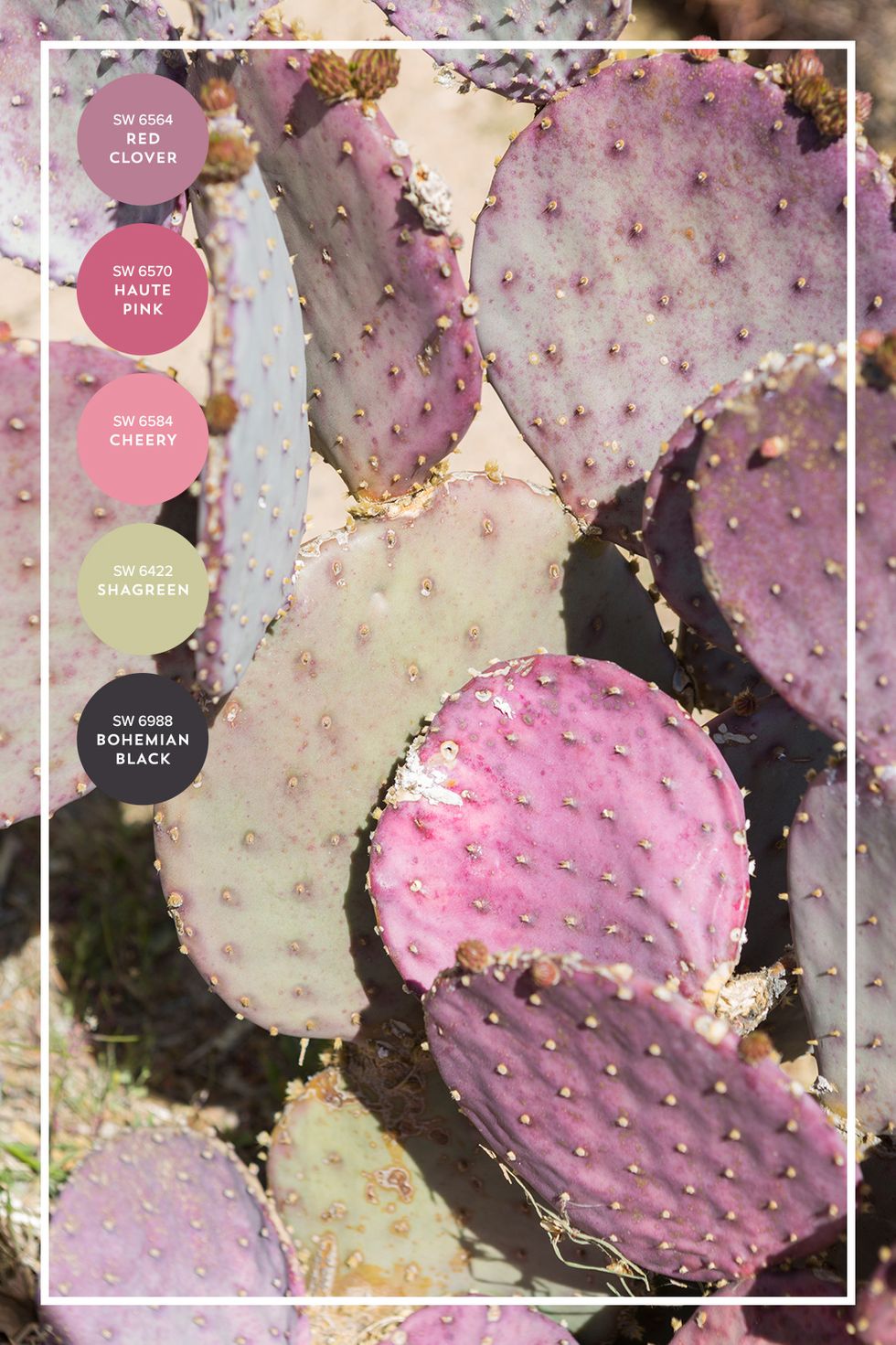 And just when you thought green cacti were perfect plants, this purple species had to go and one-up 'em. We officially have a new obsession and also a new go-to color palette :)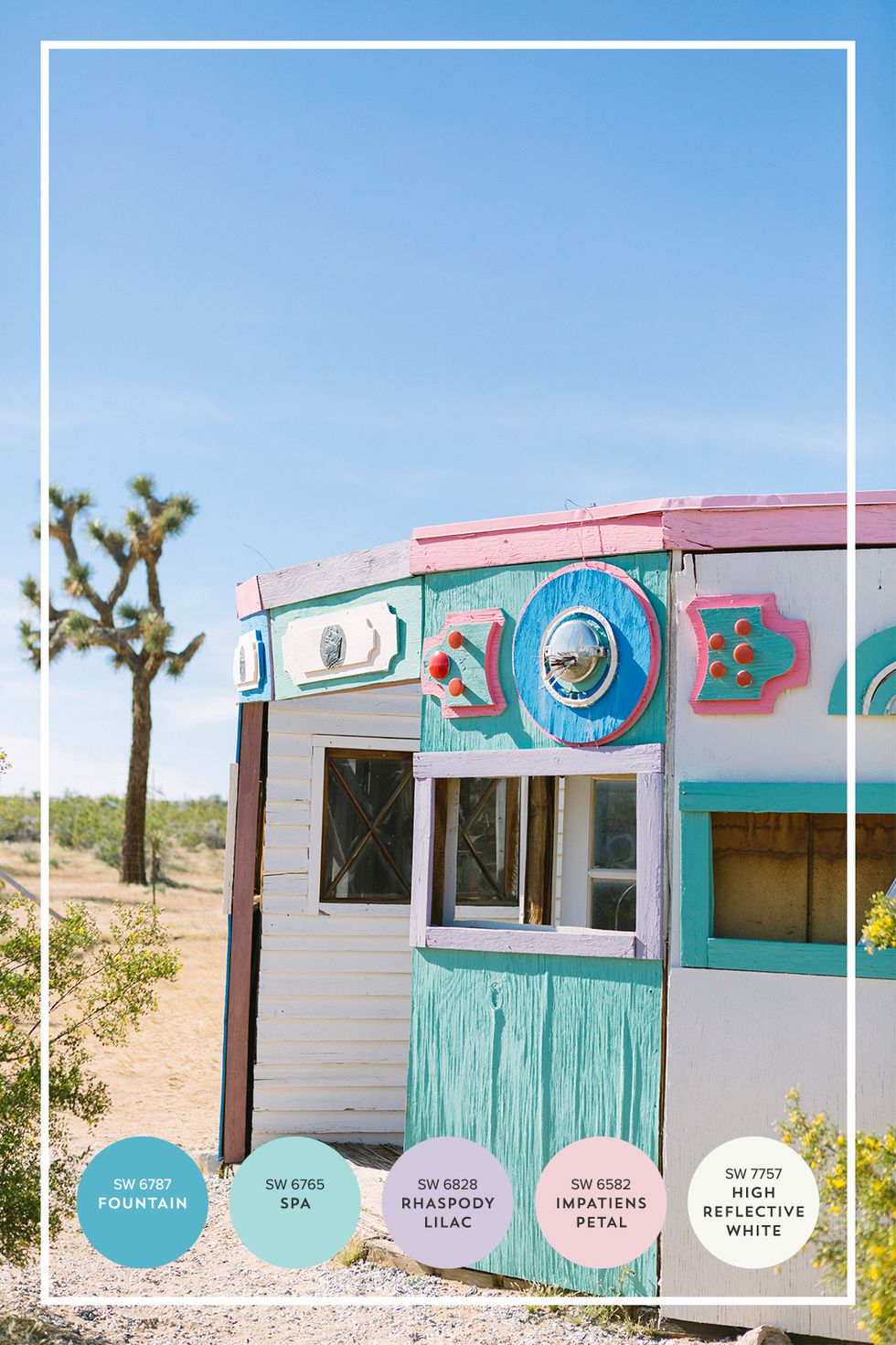 Scenery and hotels aren't the only gems to see in Palm Springs and Joshua Tree. The desert provides an eery yet beautiful landscape for outdoor museums.
Artists and enthusiasts alike come from afar to view unhoused installations with a backdrop unlike any other.
The ColorSnap Visualizer app made it a breeze to bring Mojave Desert vibes back home with us.
All we had to do was snap a vacation photo and the ColorSnap app matched the colors in photo to Sherwin-Williams paint colors and created a color palette.
From there, it was simple to create a custom color palette by moving the color bubbles around on the photo and select the colors we wanted to use for our home.
Hours of furniture assembly + a few coats of paint later, we had our very own Palm Springs oasis at home. Check it out!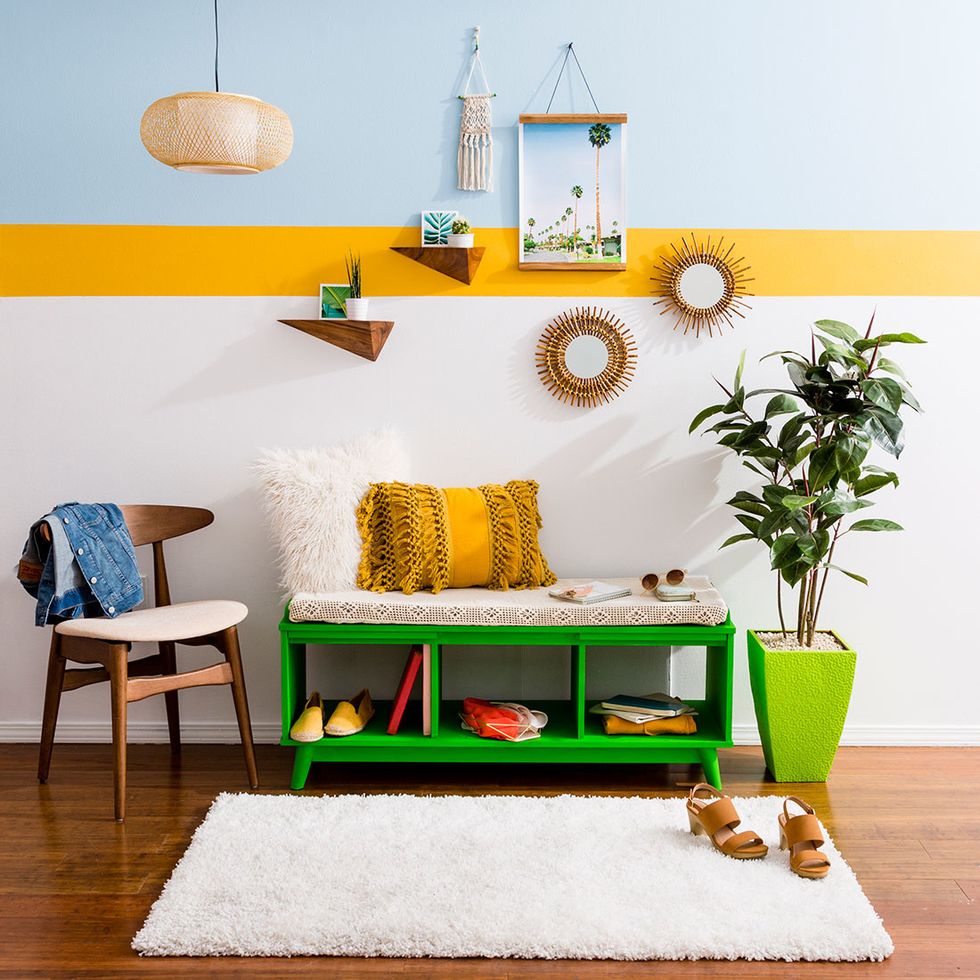 We're pretty smitten with the results. We painted the walls Goldenrod SW 6677, Something Blue SW 6800, and High Reflective White SW 7757, then painted the entryway bench with Direct Green SW 6924.
Lastly, we updated a metal planter with a coat of Electric Lime SW 6921. Easy, peasy!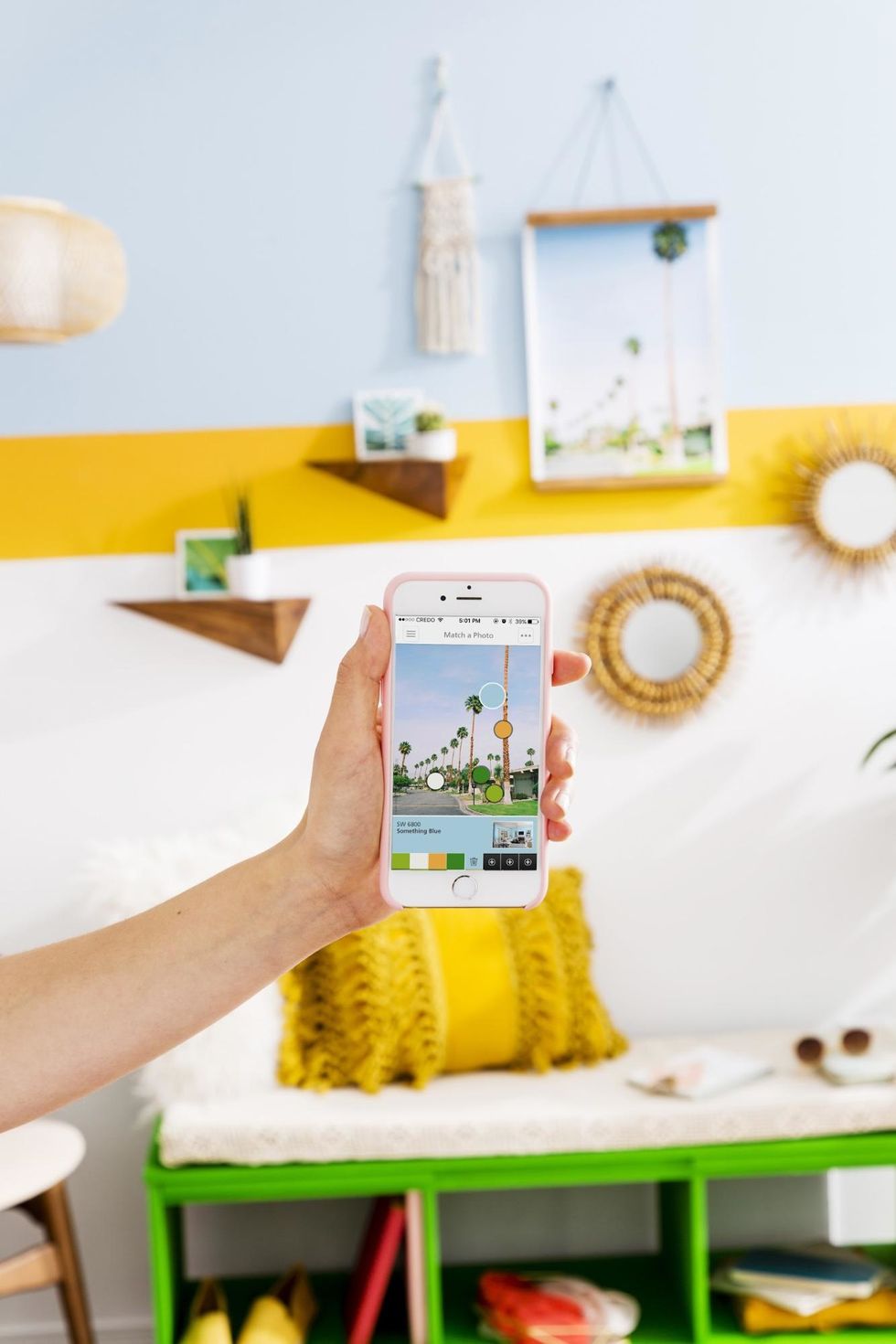 That's it, folks! Hopefully I've convinced you just how imperative a trip to the Mojave Desert is for your home renovations, not to mention your Instagram account ;) Happy travels!
Make sure to check out the full post to see the color lover's travel guide to Palm Springs + Joshua Tree: http://go.brit.co/2t2FwK7
The creator of this guide has not included tools
B+C
We are the team behind B+C Guides. Feel free to message us if you have any questions or see something that could be improved!