How to thanksgiving gsl bracket edged mini stagger album
Thanksgiving GSL Bracket Edged Mini Stagger Album
11
We will first create the pages, then we will use mixed media techniques to prepare our chipboard. Finally, we will assemble all the parts into a beautiful Thanksgiving album. Let's get started!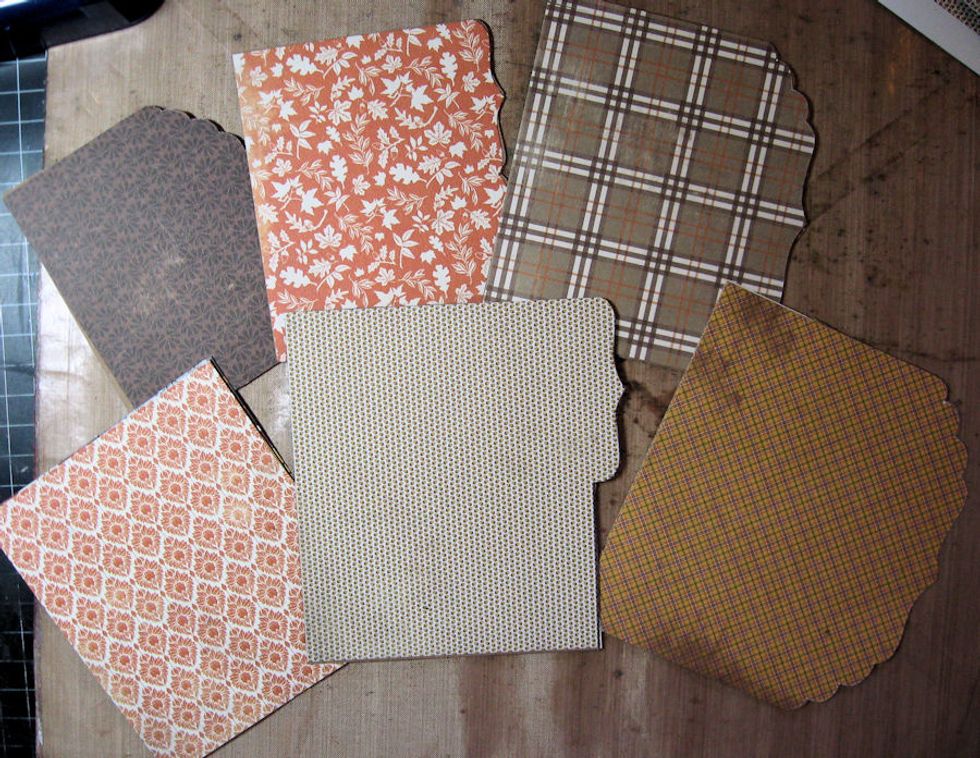 Trace each chipboard page onto designer paper. You will need a front and back for each page. Cut out, and then ink the edges with Vintage Photo Distress Ink. Set aside.
Paint all the outer edges of the chipboard pages with Walnut Stain Distress Ink. Set aside.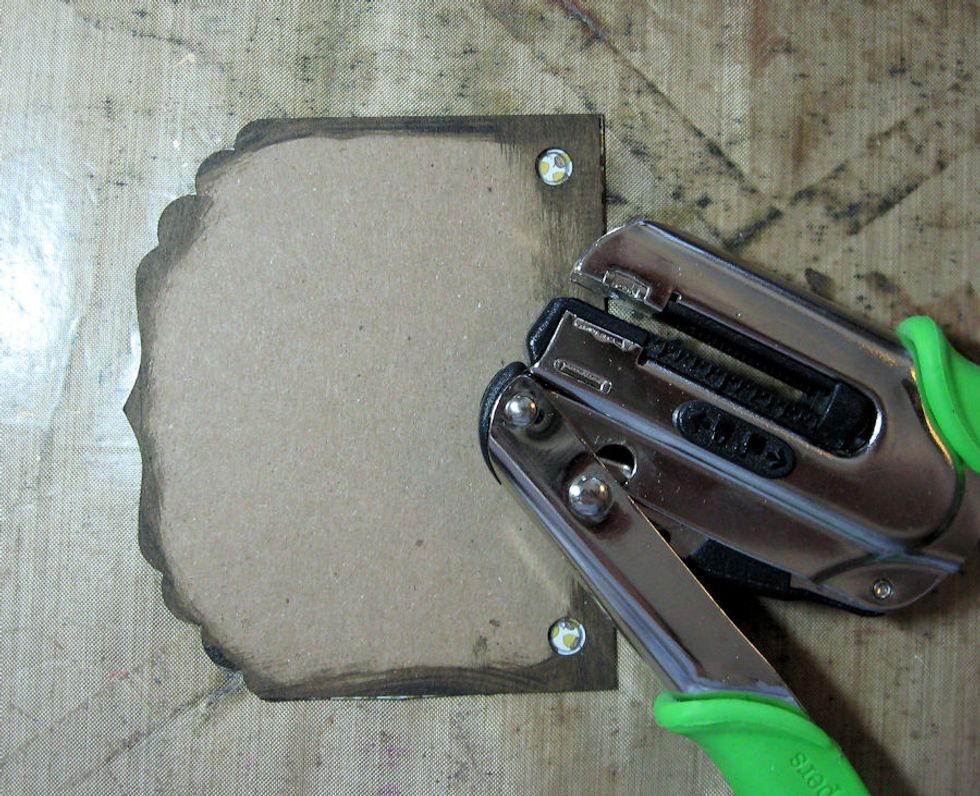 Glue each cut our designer paper in place. Use a hole punch on one side before you glue the back side on so that you don't lose track of where the O Ring hole is.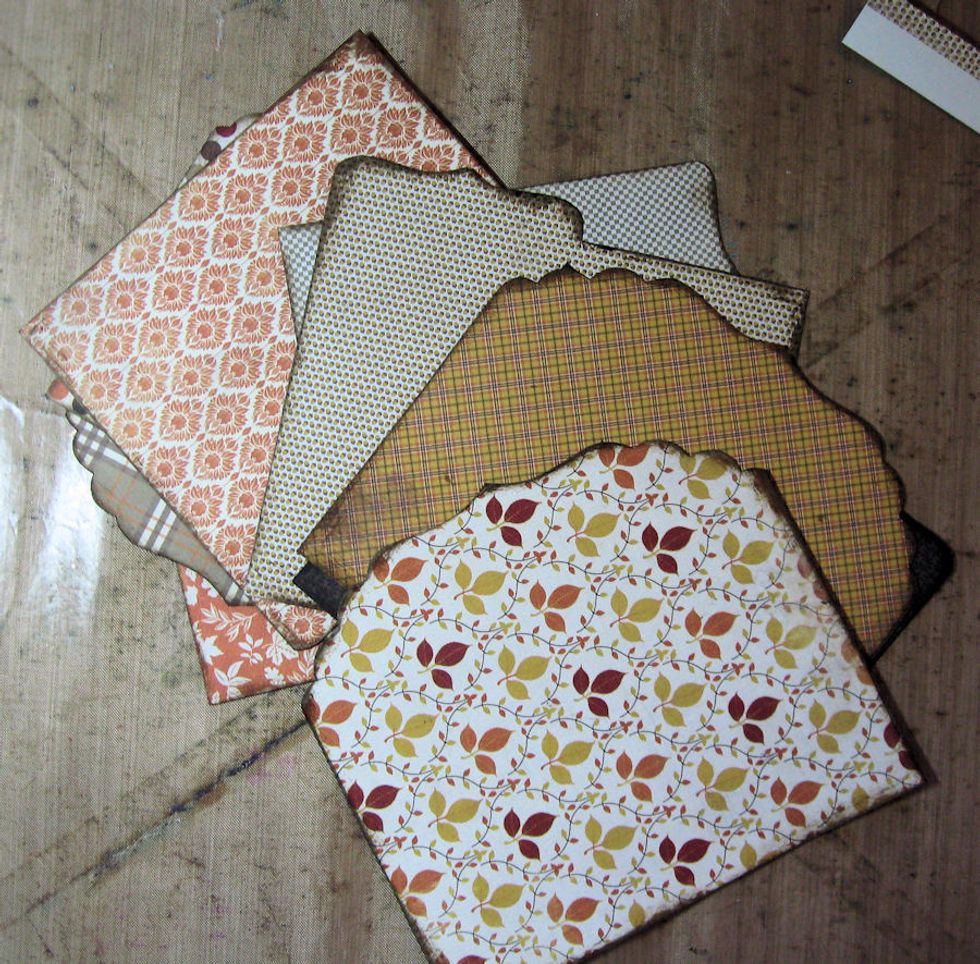 When all the traced papers are glued down and the holes are all punched, 4un a bead of Walnut Stain Distress Paint along the edges.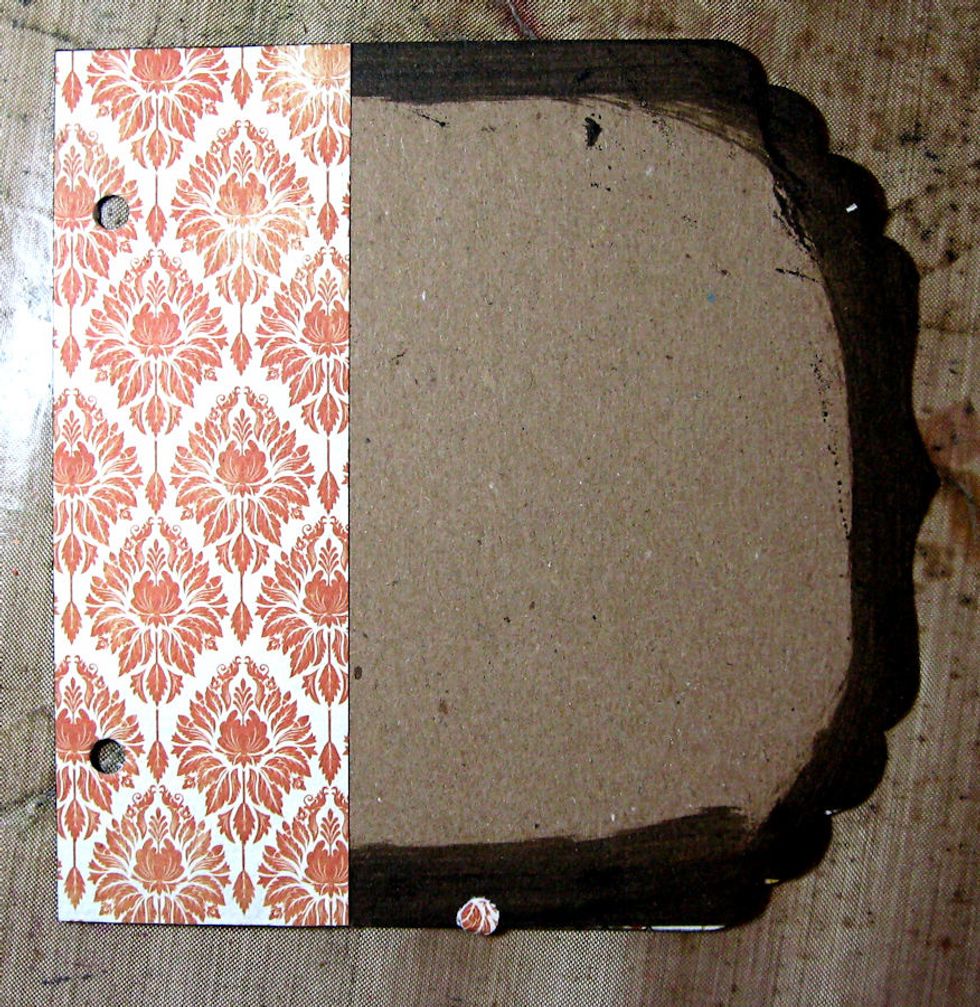 I added a contrasting border to the back inside cover. This is an optional step.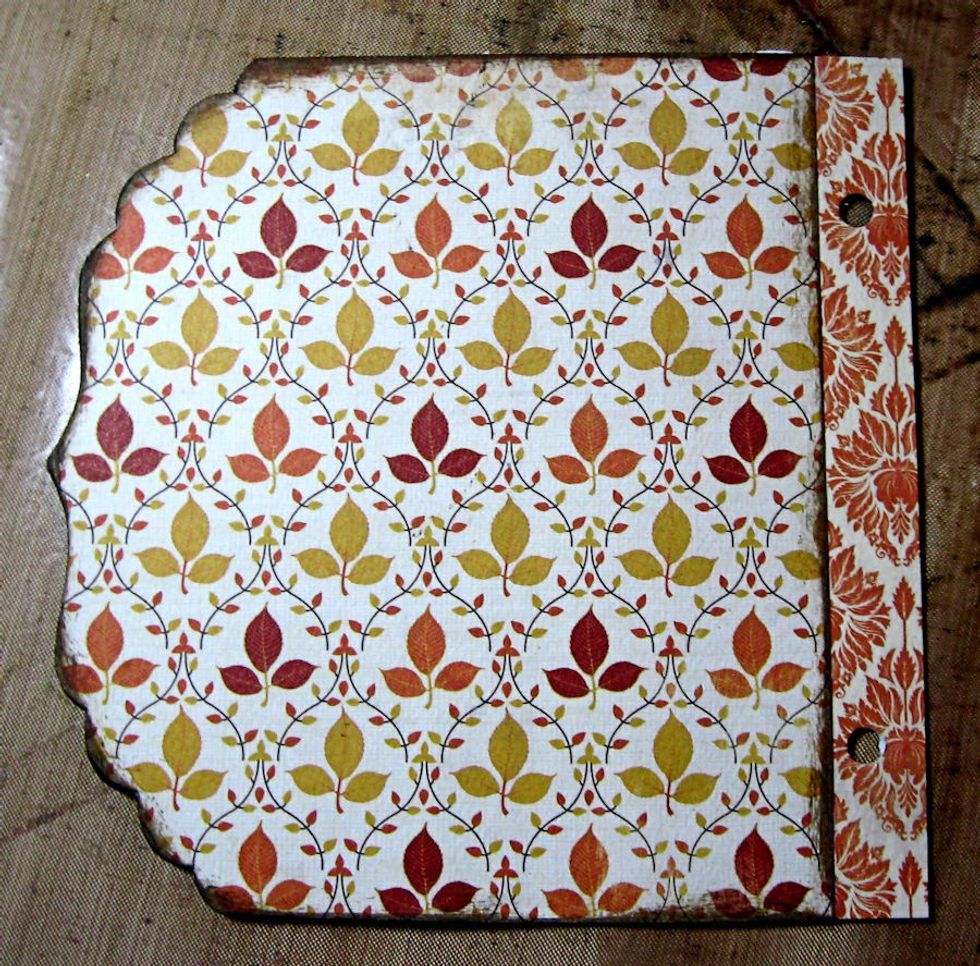 Here's how it looks after the top layer is added.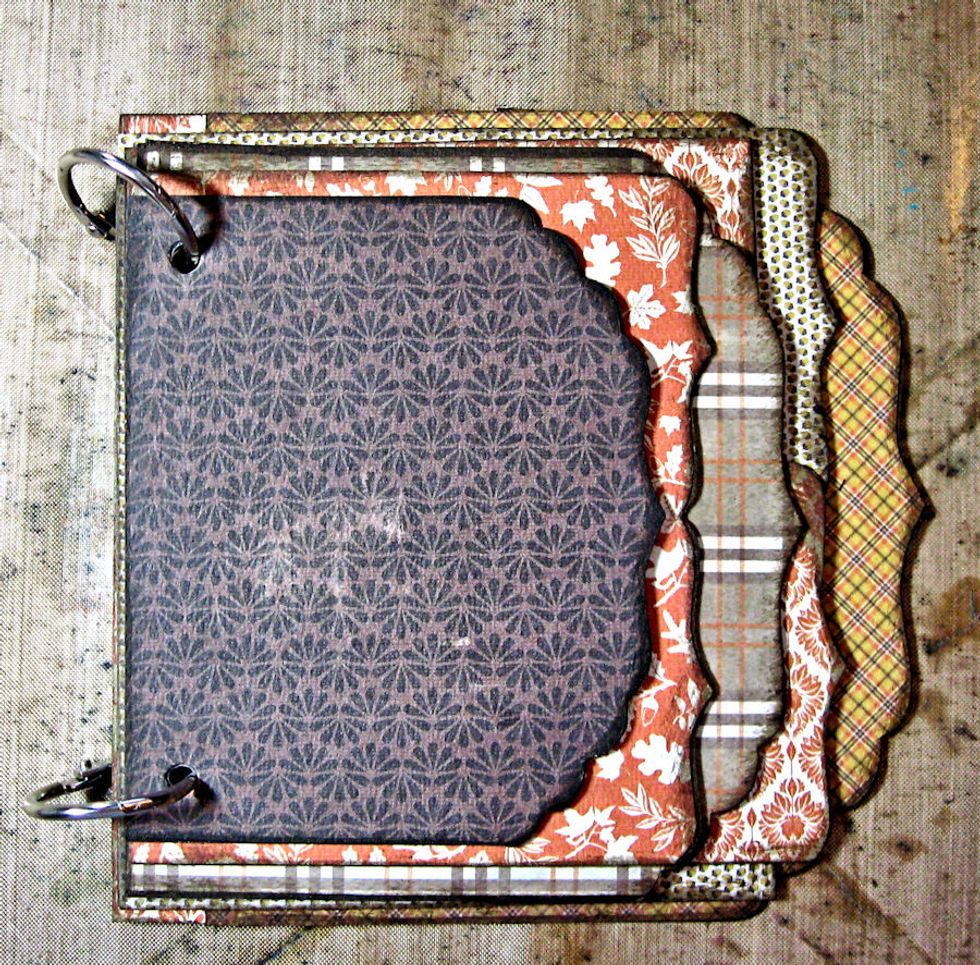 Once all pages are covered with designer paper, line them up & hook them together with the O Rings. This will keep the pages in order. Unhook pages one at a time as you work on on it, then return.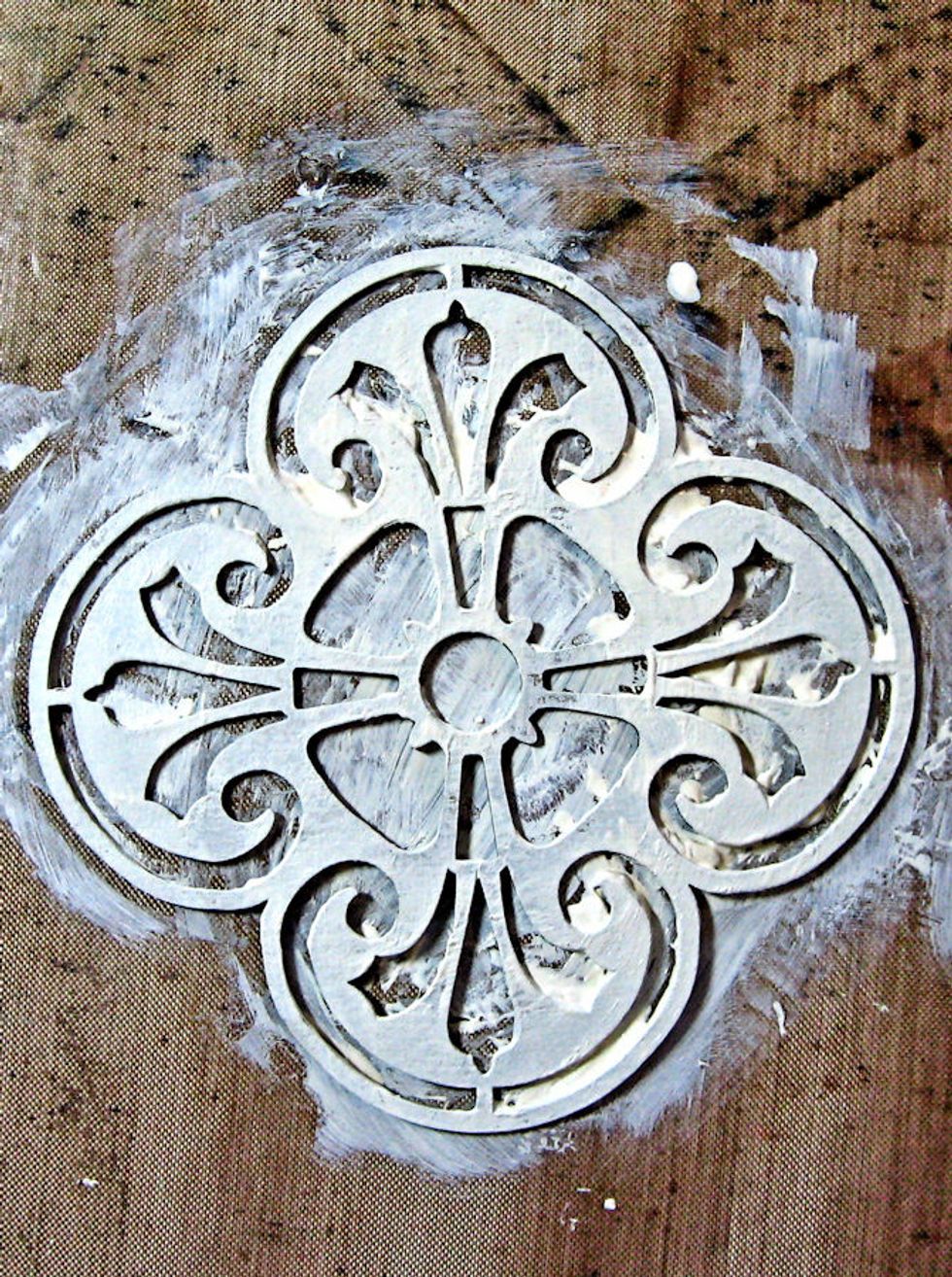 Paint the Rose Tudor Medallion with ivory chalk paint.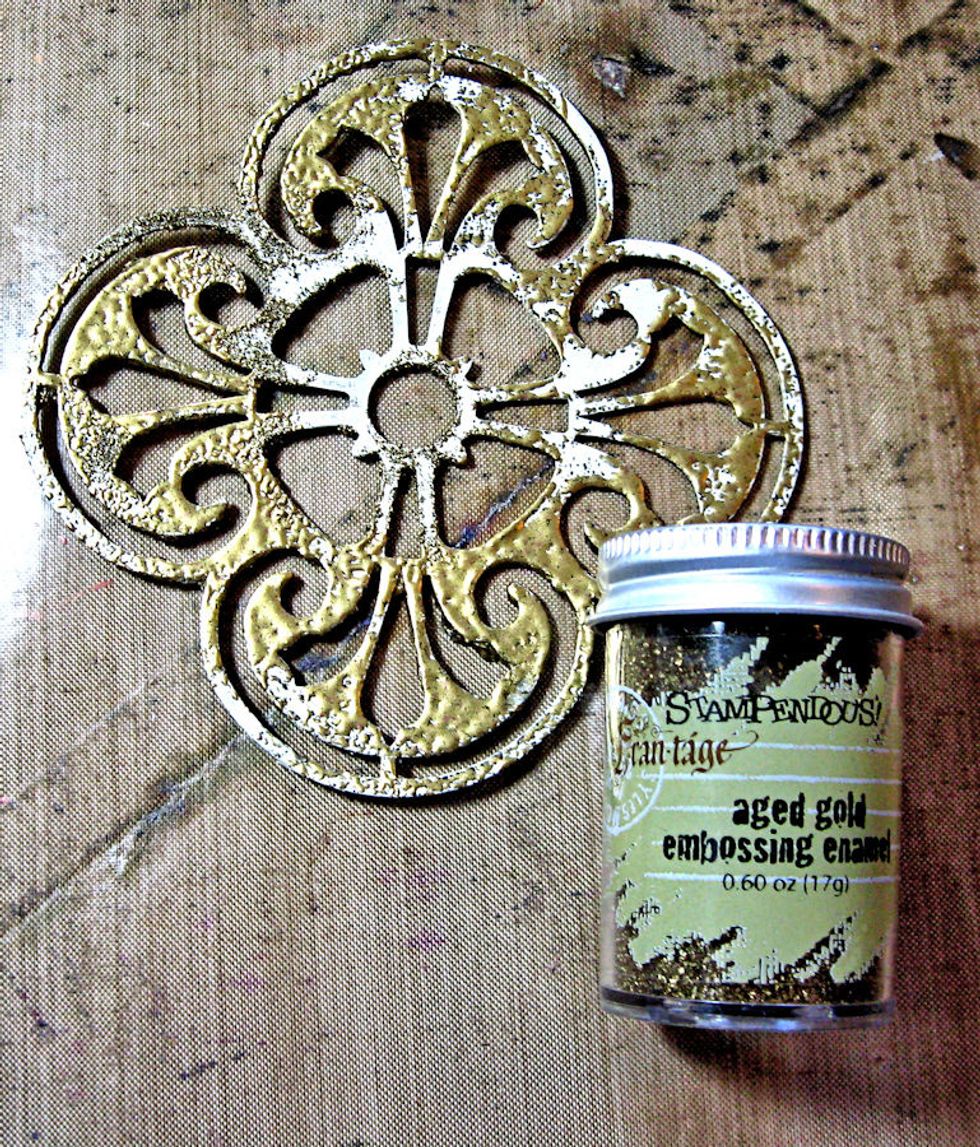 While paint is still wet, sprinkle with Aged Gold EP. Don't cover all the painted areas if you want to keep a shabby shic look. Heat emboss.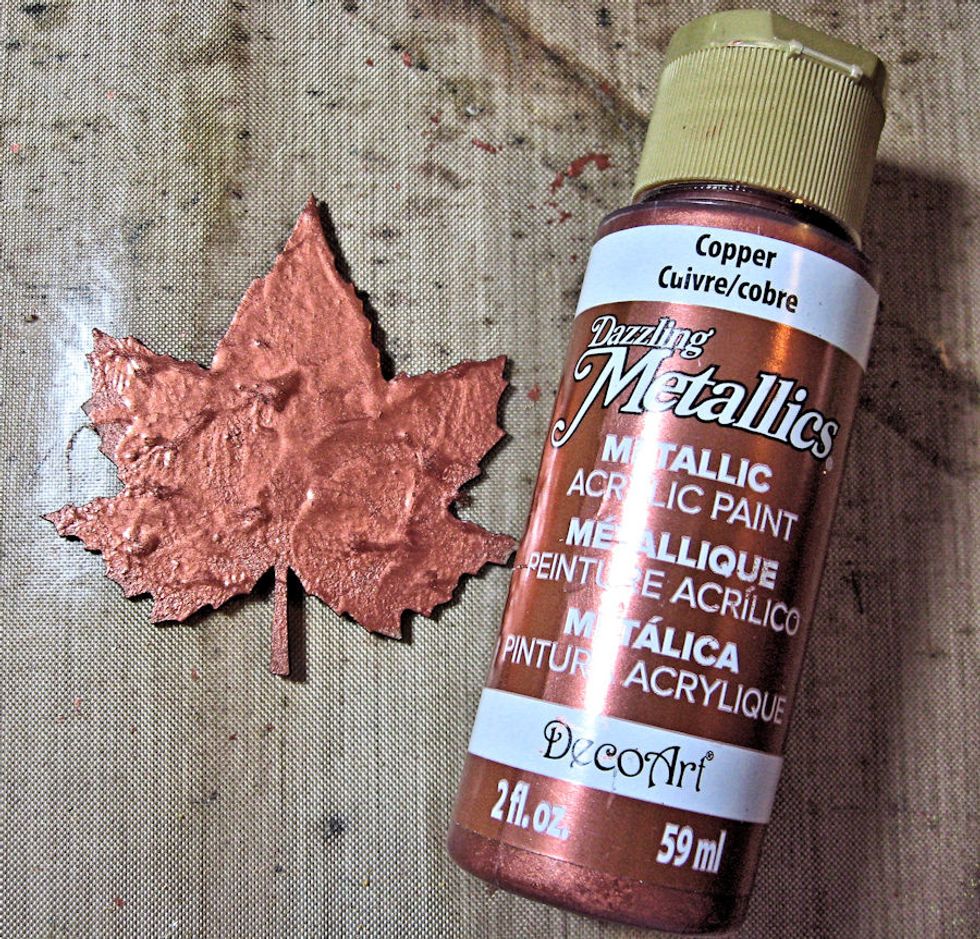 We will use the Fall Shape Set for the next series of chipboard embellies. Use fingers to tap on a fairly heavy coat of copper metallic paint. This creates dimension as you can see in this photo.
Pinch a small amount of Aged Gold & Butterscotch Embossing powders between your fingers and sprinkle over wet paint as though you were sprinkling on salt or sugar. Heat until paint/powder bubbles.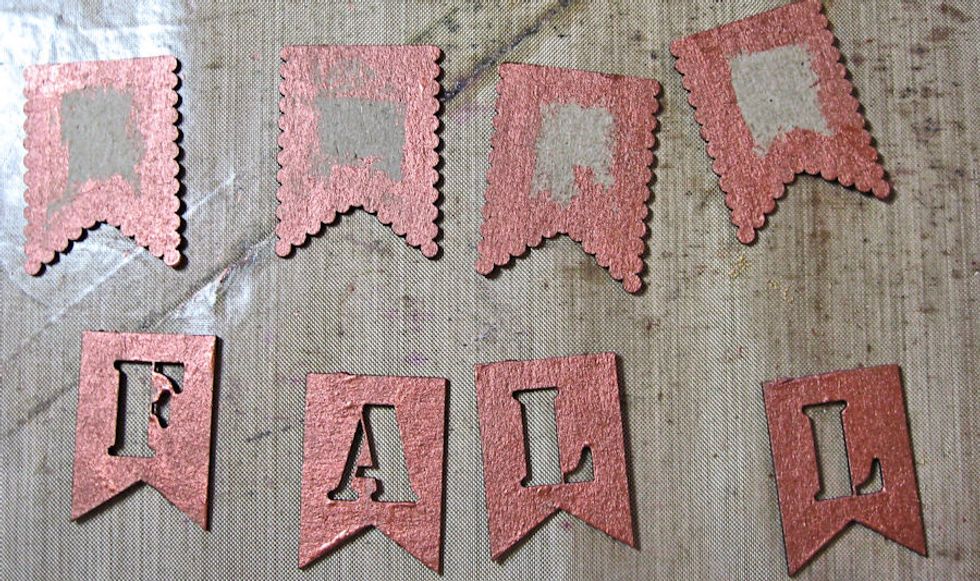 Punch out FALL banner pieces. Paint with copper paint. Use a sanding block to distress once the paint is completely dry.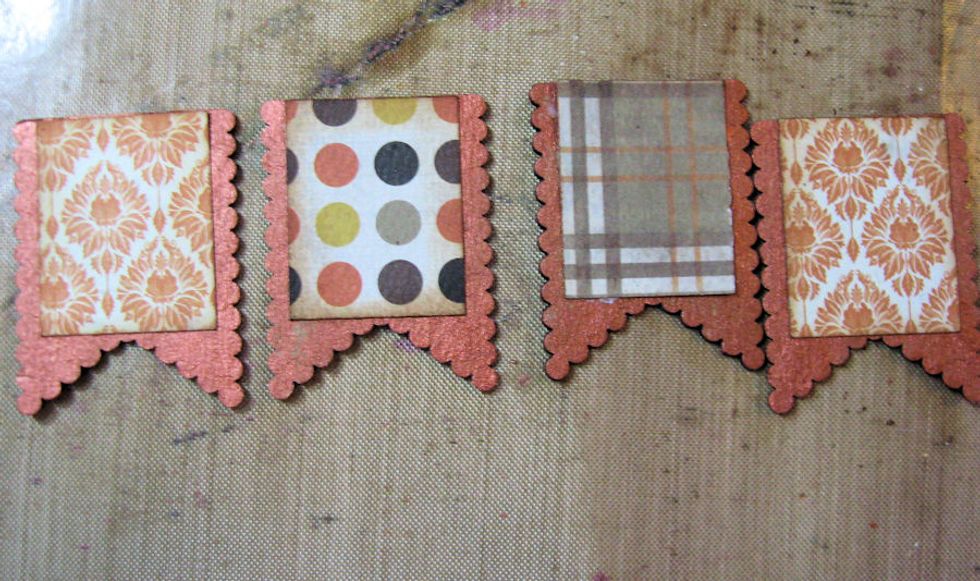 Cut 1" wide x 1.25" tall rectangles from paper scraps and glue onto scalloped banner pieces as seen here.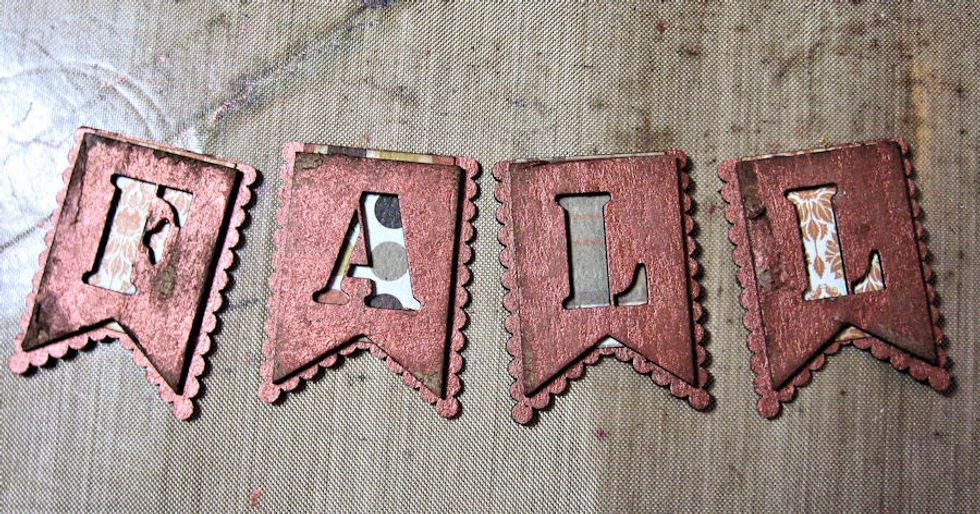 Glue the stencil lettered banner flags over the scalloped base. Blend Vintage Photo Distress Ink over the sanded areas.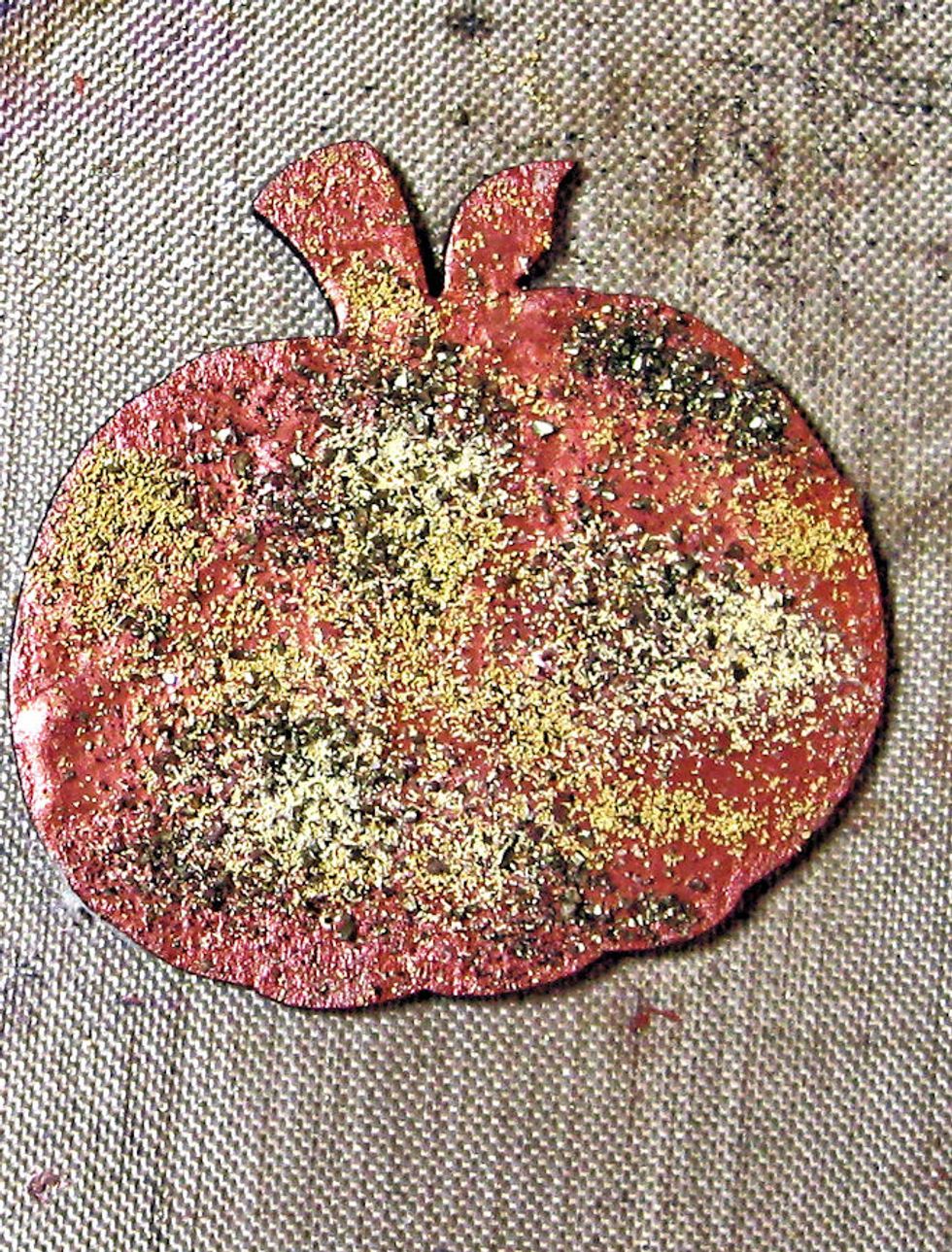 Paint smallest pumpkin with copper. Whie still wet, sprinkle with Scattered Straw, Aged Gold, and Butterscotch embossing powders. Heat emboss until the powder and paint bubble.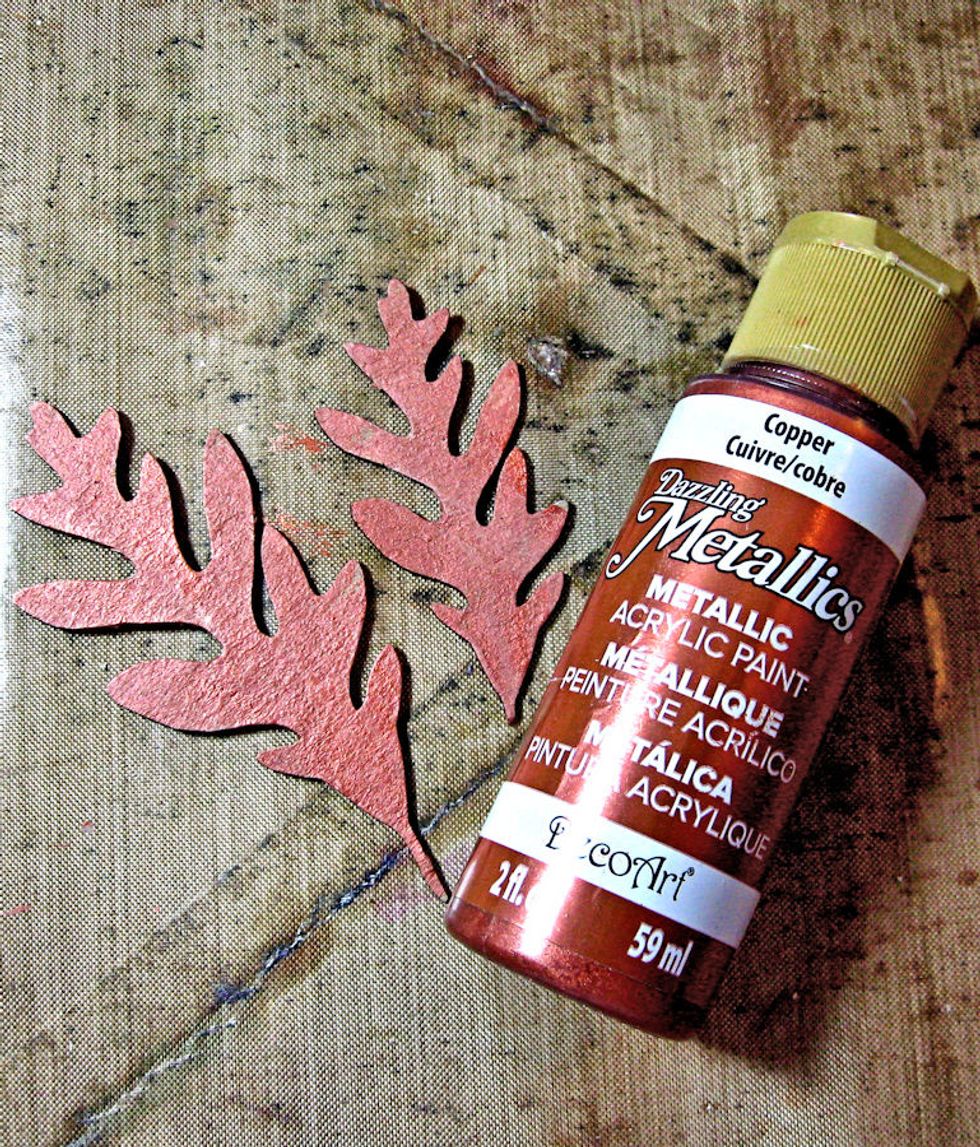 Paint small oak leaves and repeat this same process of sprinkling with embossing powder while paint is wet.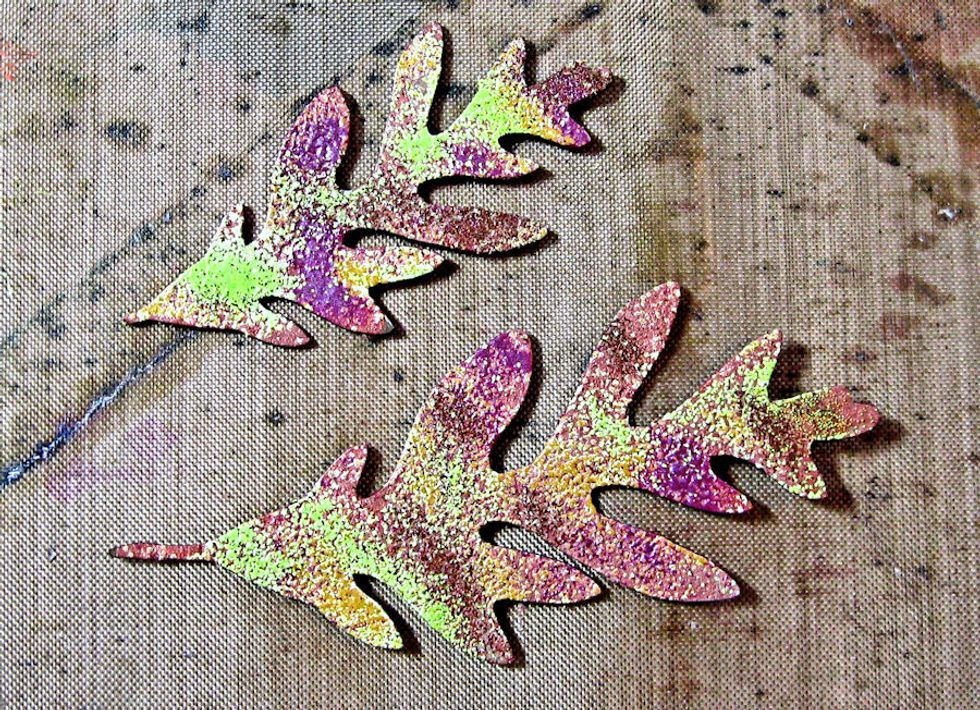 I added some green and red this time. The red looks purple here, but when heated becomes a deep mahogany color.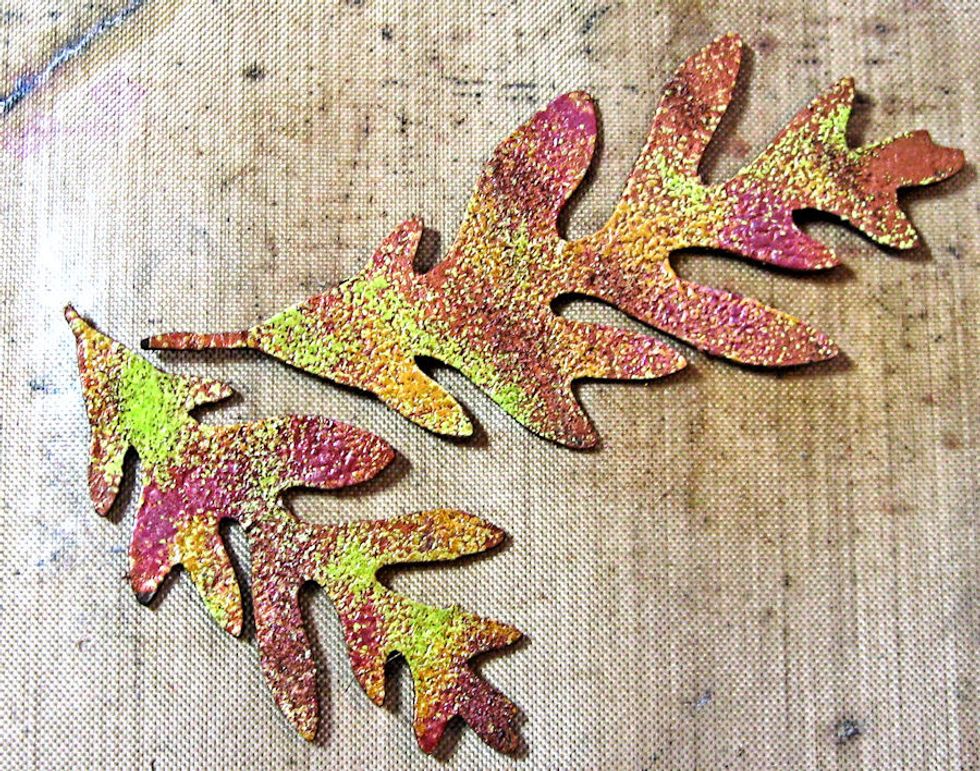 Use blending tool to grind in Vintage Photo Ink along edges and over the top of the leaves.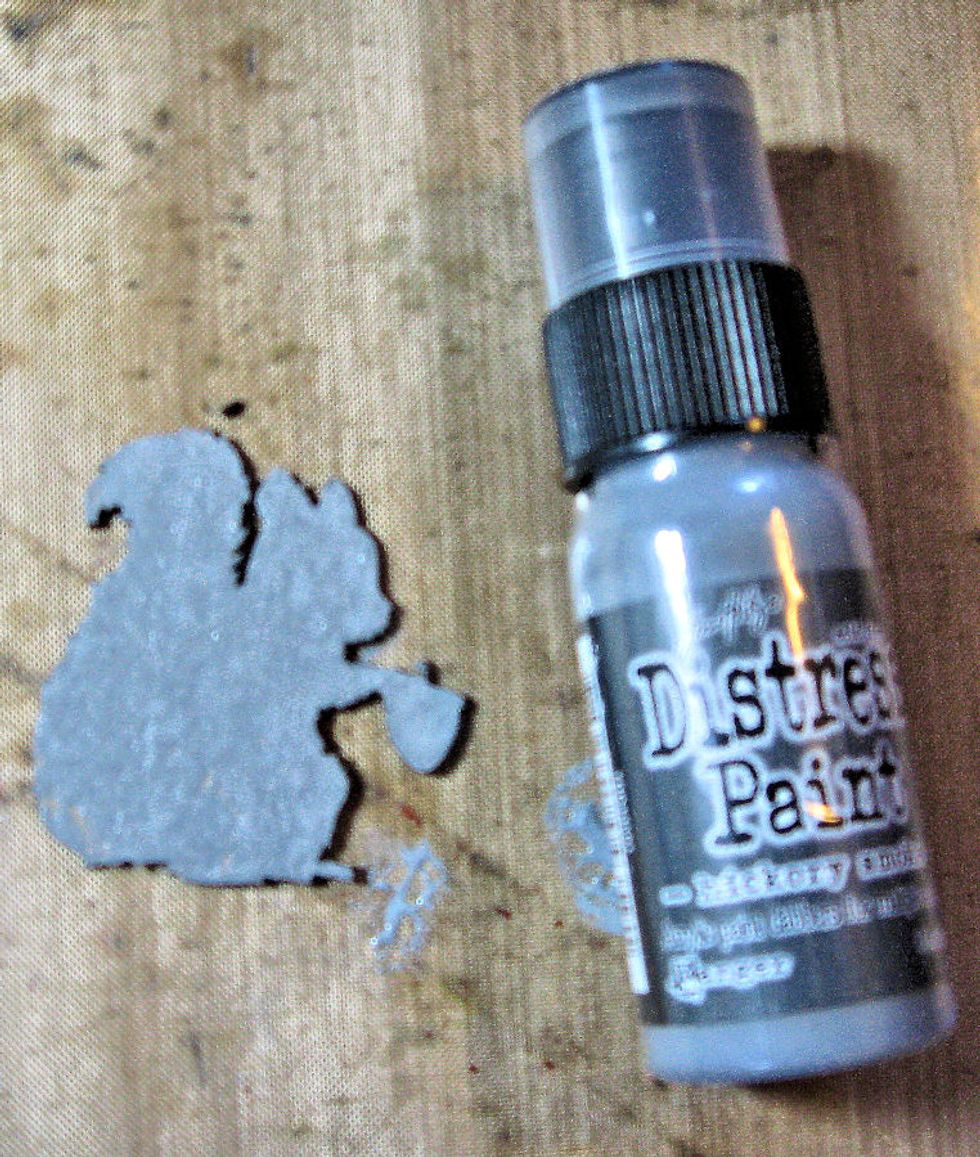 Paint both squirrels with Hickory Smoke Distress Paint. Sprinkle with Vintage Photo Distress powder. Heat emboss.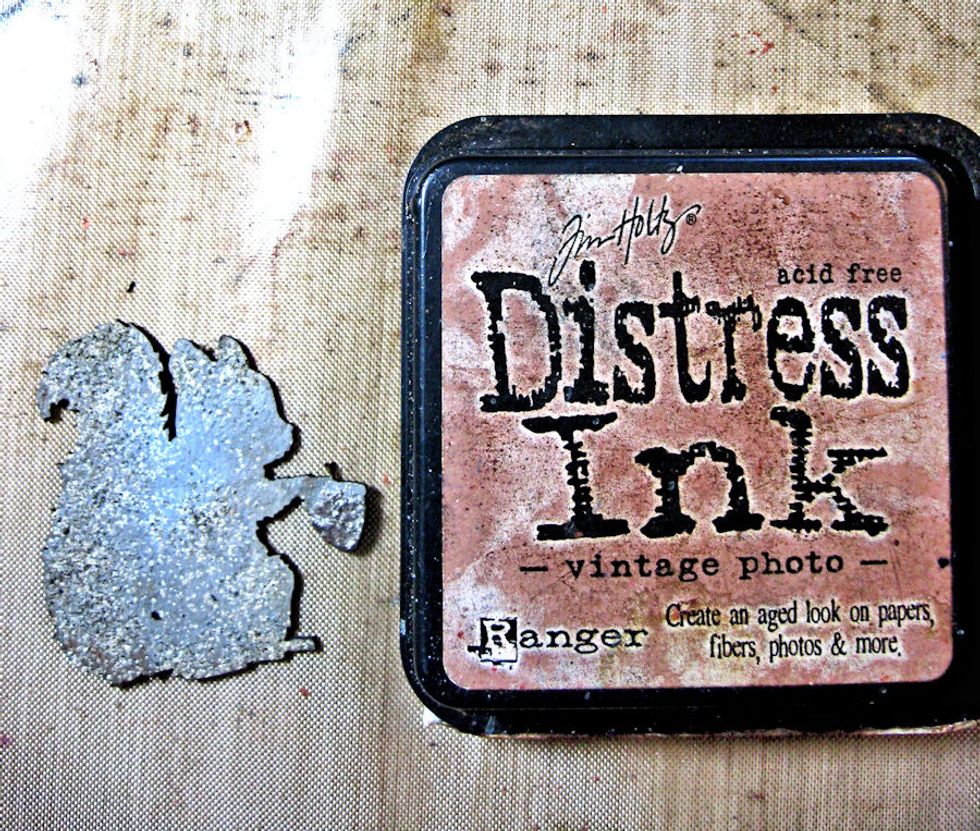 Grind in Vintage Photo Distress Ink. Tap some areas with Antique Linen Distress Paint. I forgot to take photos, but paint the acorn chips with copper paint & sprinkle with aged gold EP. Heat emboss.
This is the Amanda Flourish painted, sprinkled with Espresso EP and heat embossed. I forgot to take a photo, but do this same thing to the small flourished open circle frame.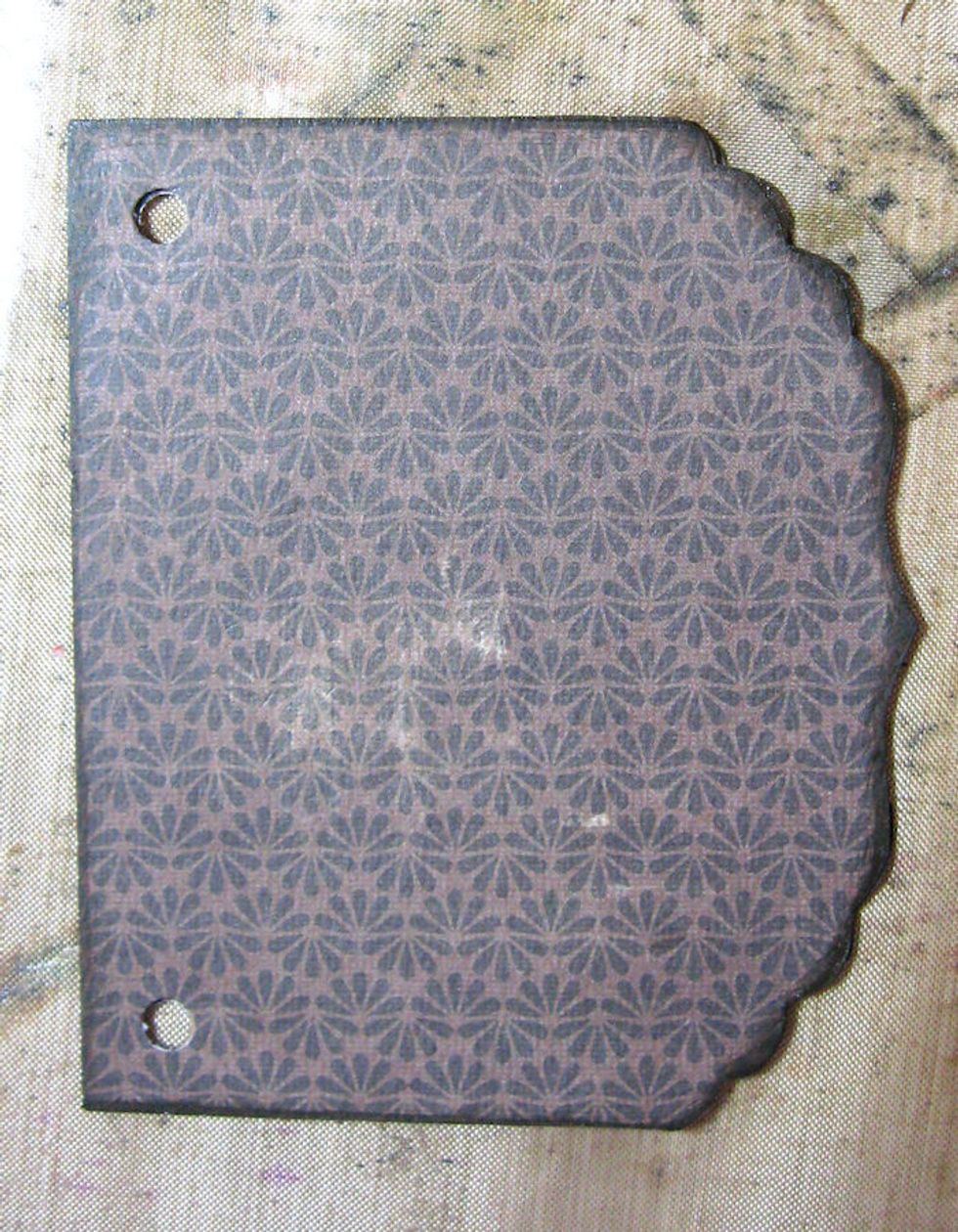 Now we will decorate the cover using the Tudor Rose Medallion, embossed leaves, real acorns and Petaloo Flowers,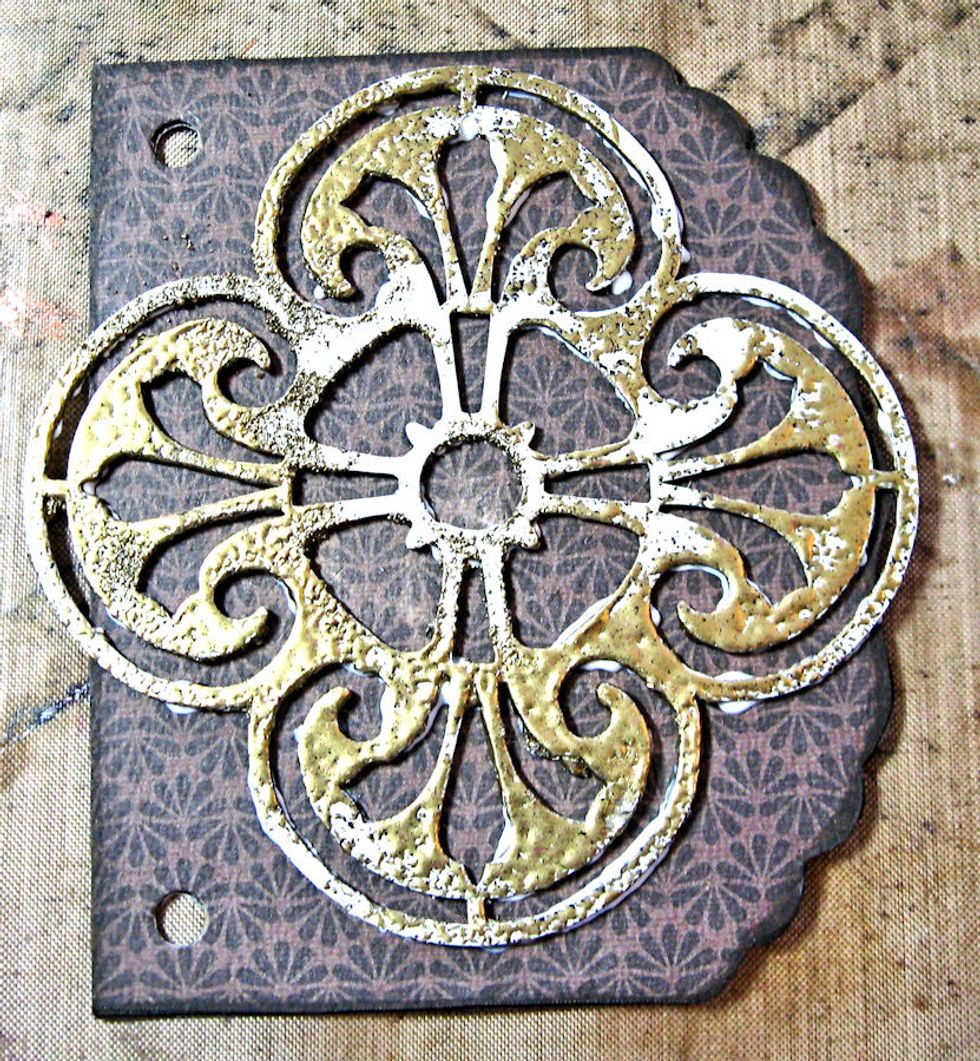 Glue the medallion in place on the chipboard cover. I tapped mine with copper paint to age it even further, then ground in Vintage Photo Distress Ink to add patina.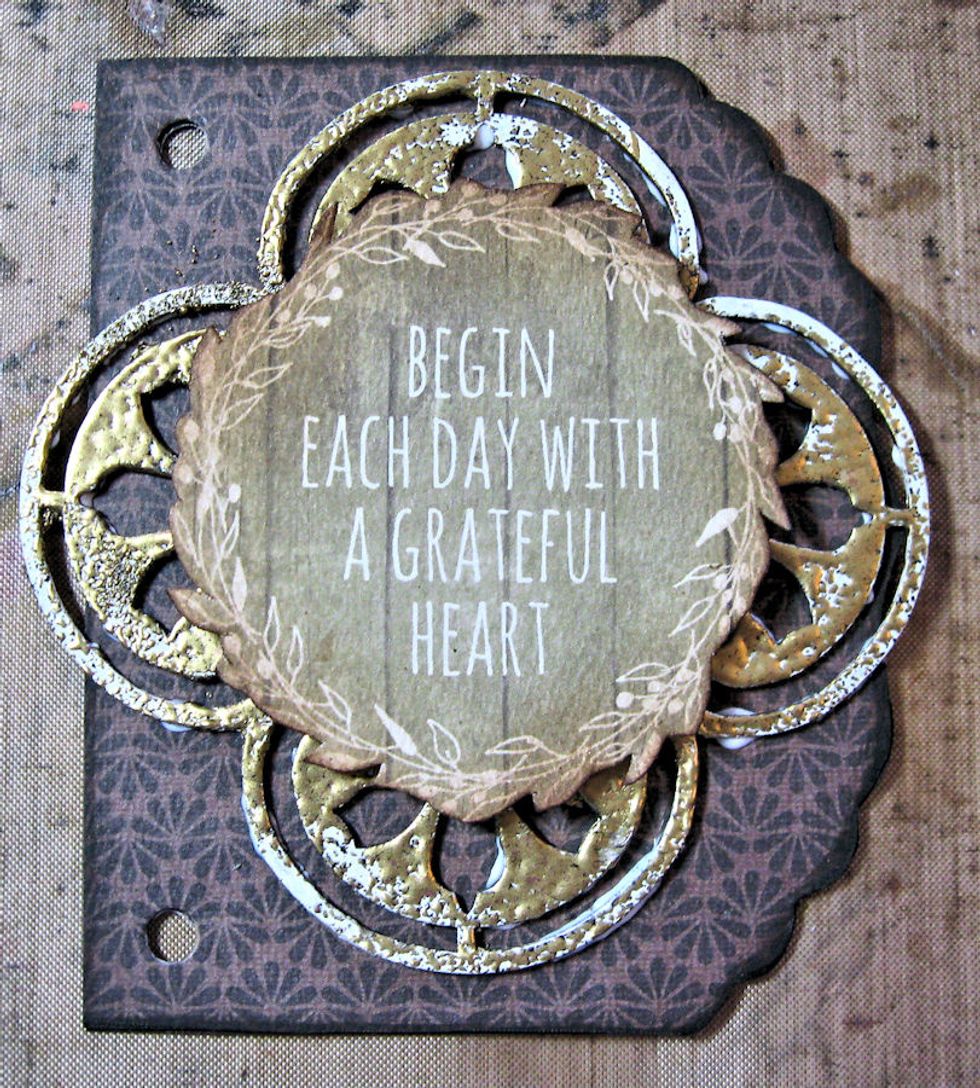 Fussy cut this sentiment wreath and ink the edges. The next photo shows you how to use waste chipboard to add dimension.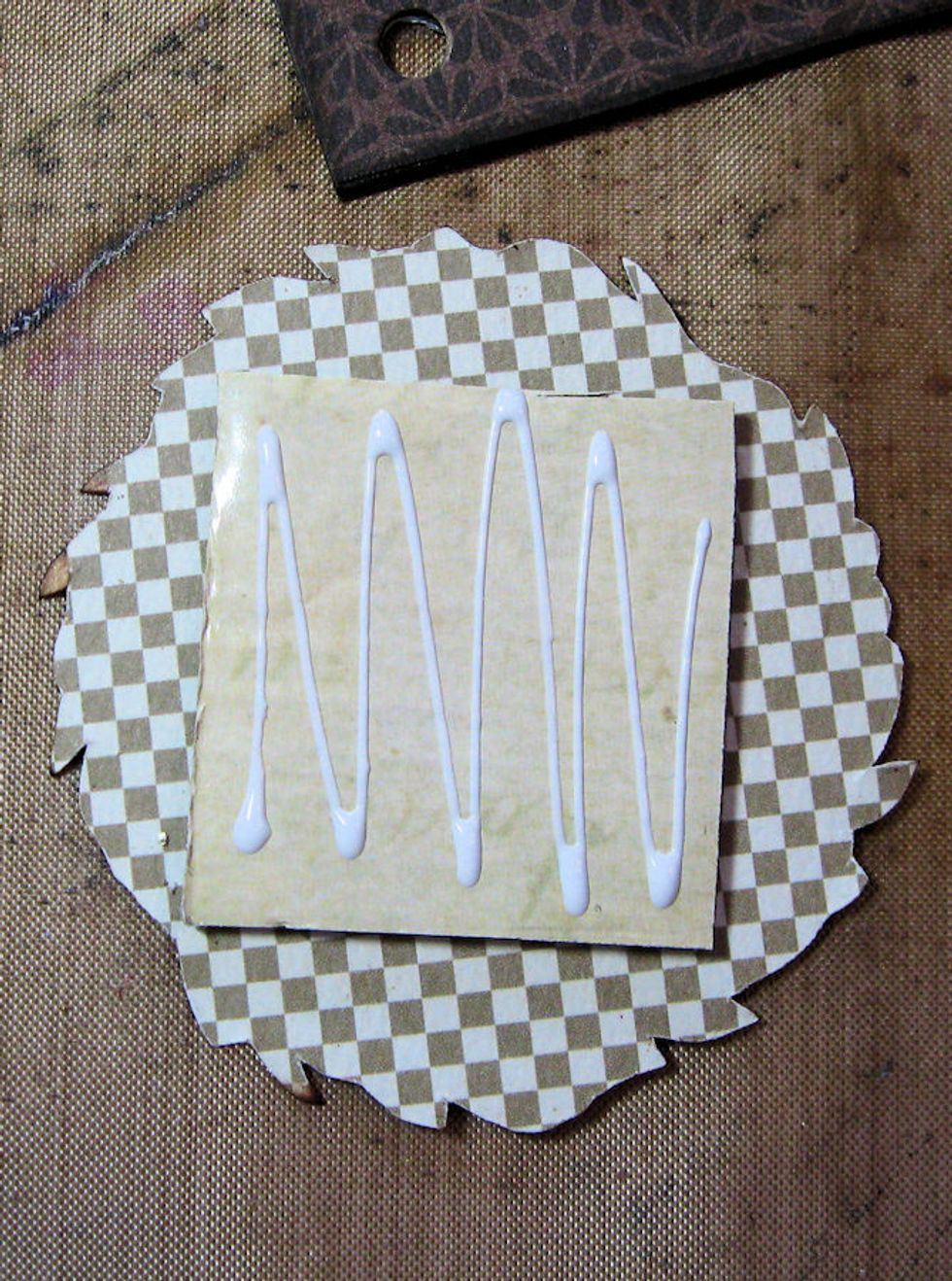 Cut a piece of waste chipboard that is slightly smaller than the circle and glue onto the back of the fussy cut wreath. Add glue to the waste chipboard and glue in place. You just saved some money!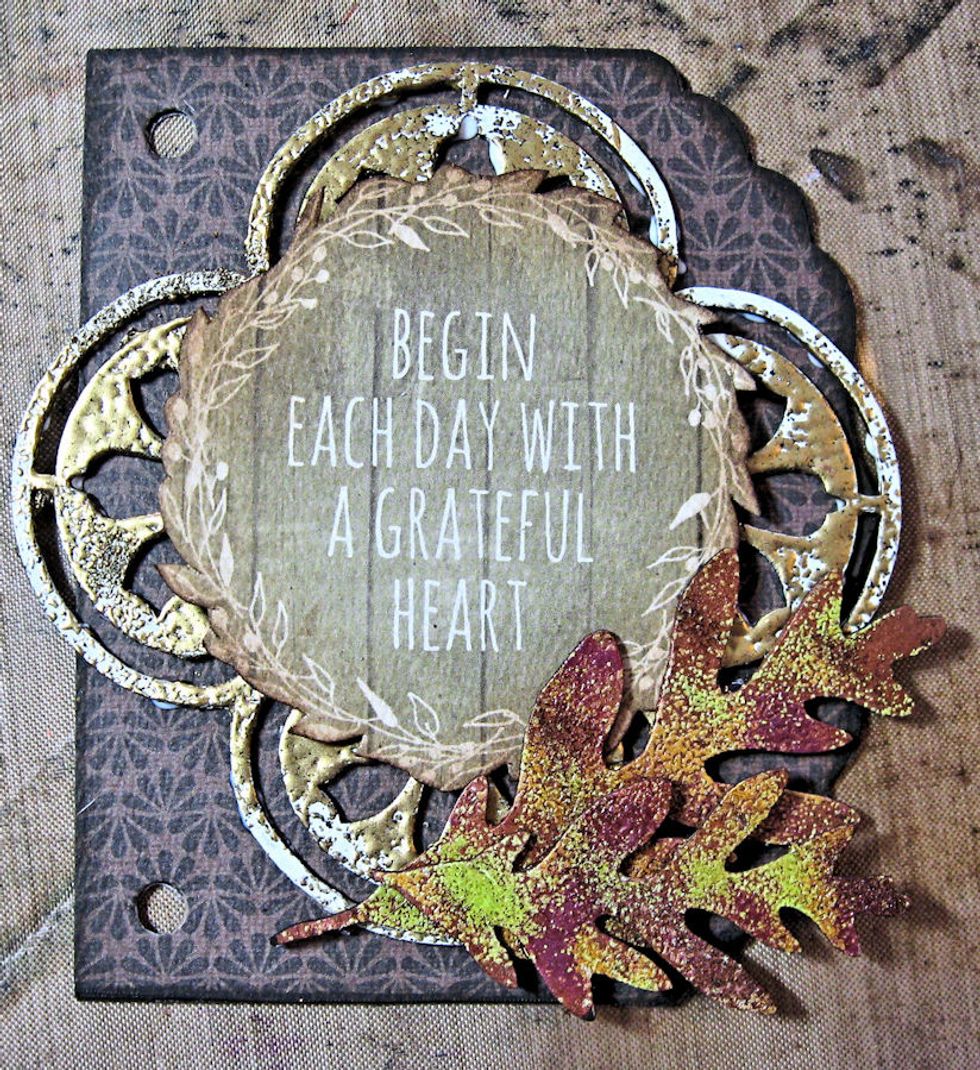 Glue the chipboard leaves in place.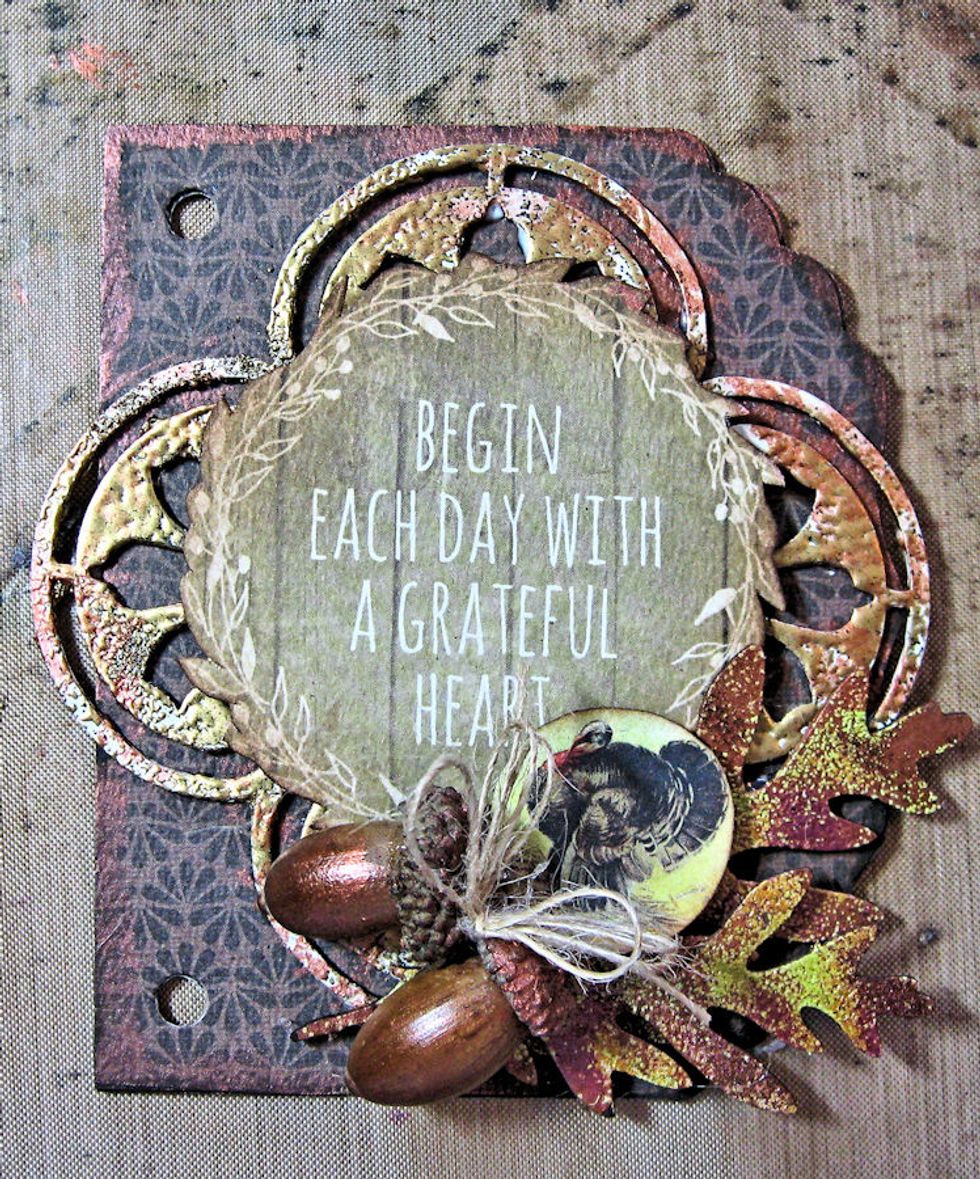 Brush acorns lightly with copper paint and glue in place with glue gun. Add burlap string bow and the small turkey sticker from the paper collection.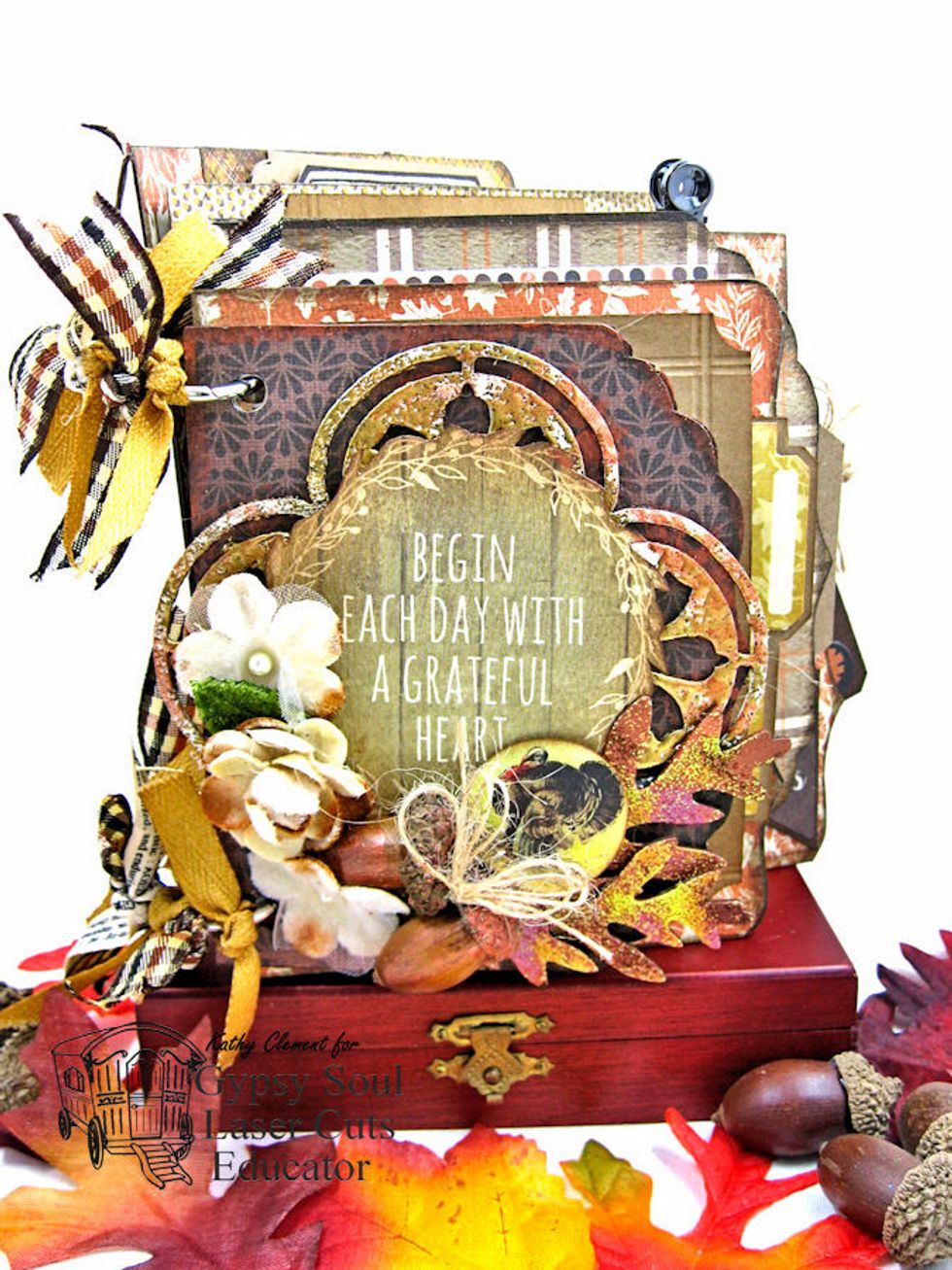 To finish the cover, add 3 Petaloo flowers on the left. The front cover is now completed.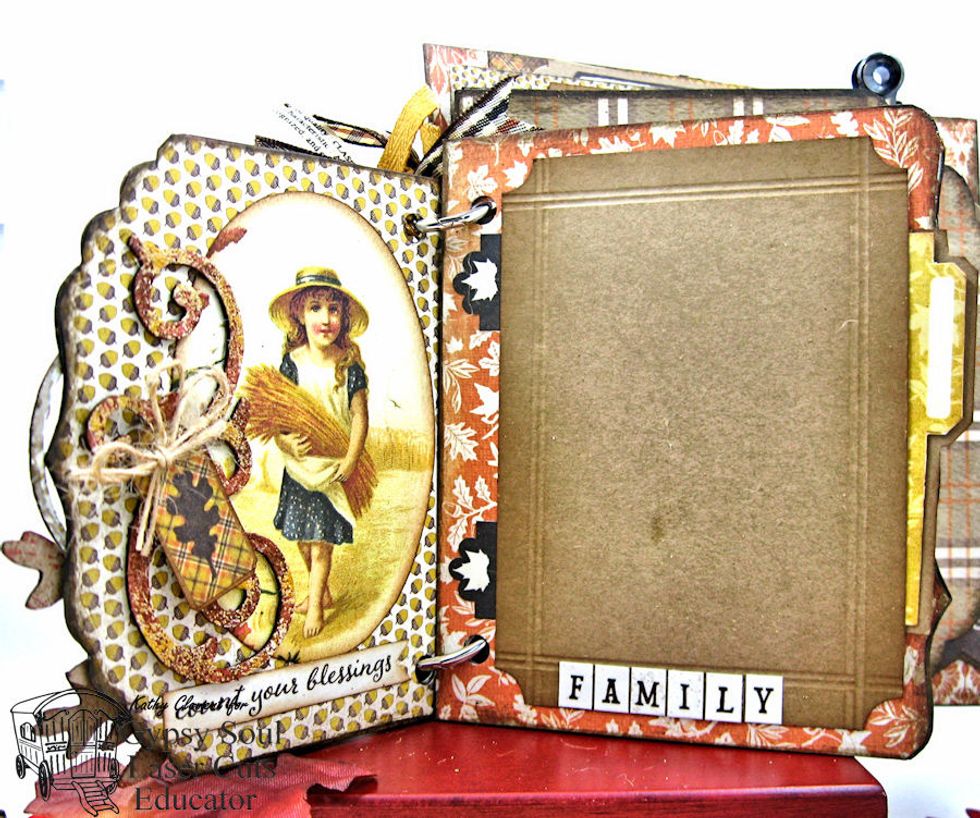 Here is the inside cover and first photo mount page. Cut kraft cardstock to 3.25" x 4.5". Shape corners. Add embossed lines with scoring tool. Glue down top, bottom and left, leaving a pocket.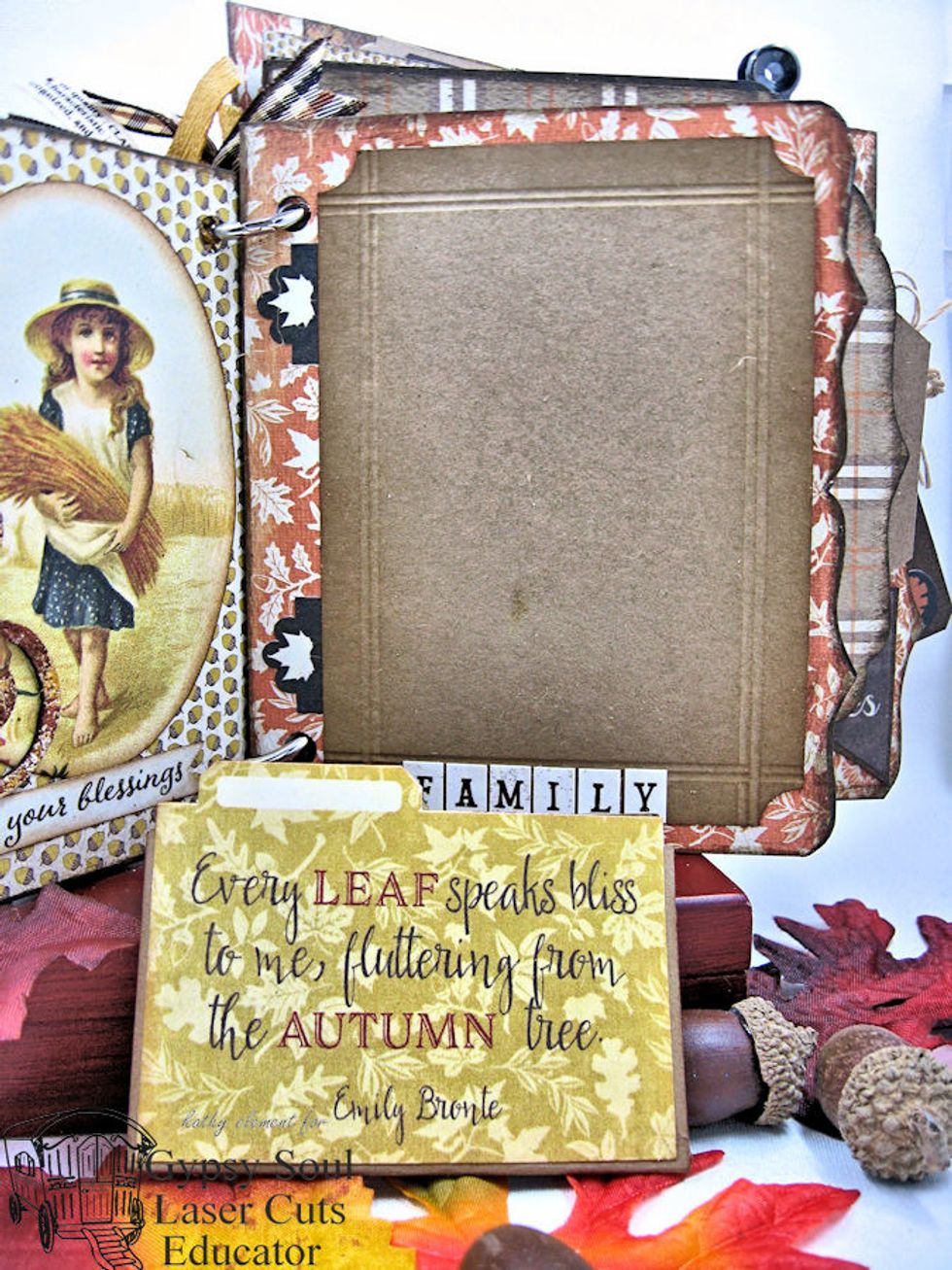 Create mini file folder by adding sticker to folded kraft cardstock. Tuck behind photo mount. Add leaf tab stickers and spell family with alpha stickers. I ink all edges with Vintage Photo Ink.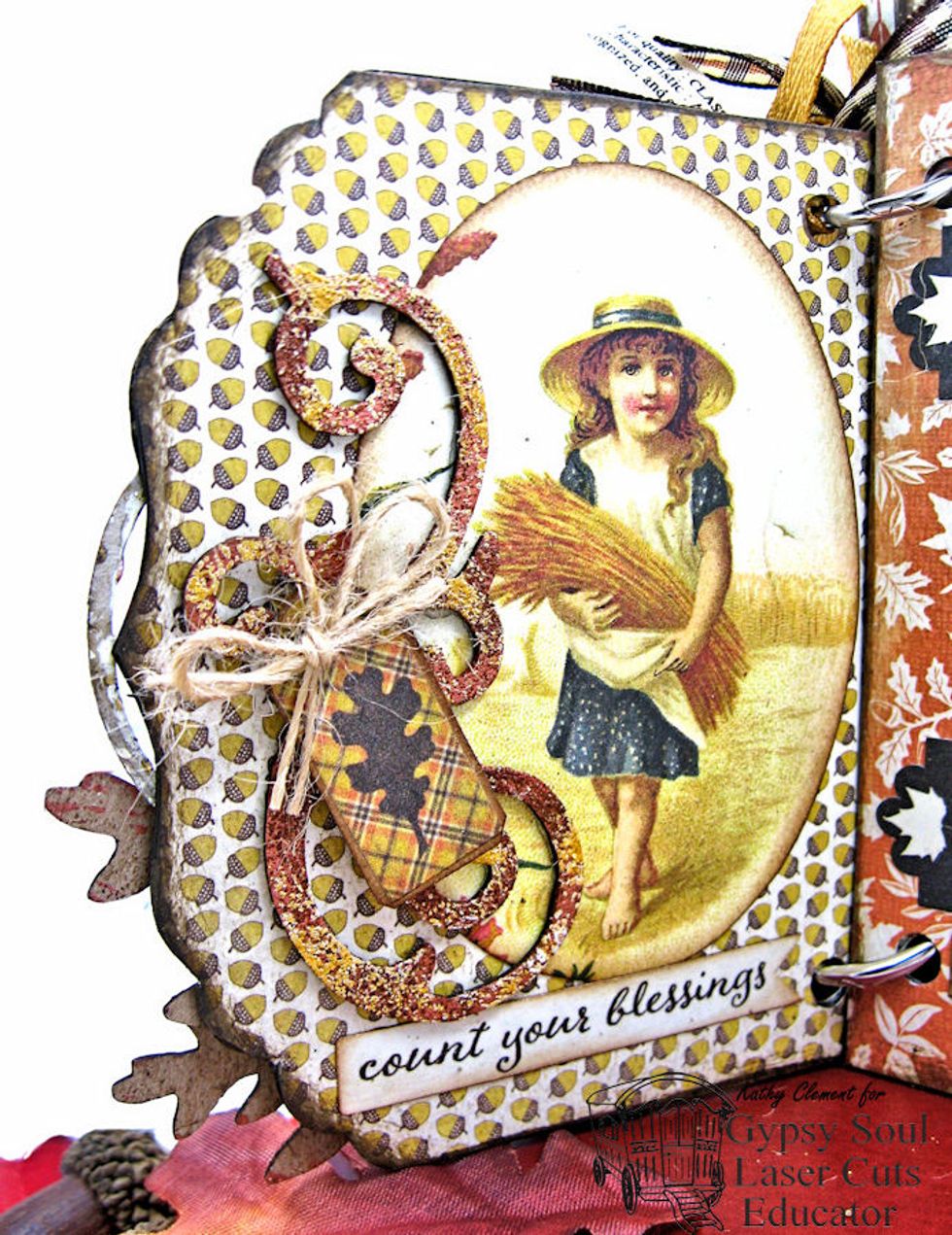 Inside cover: Fussy cut image from journal card. Add Amanda flourish. Tie small tag from collection with burlap string. Add sentiment sticker.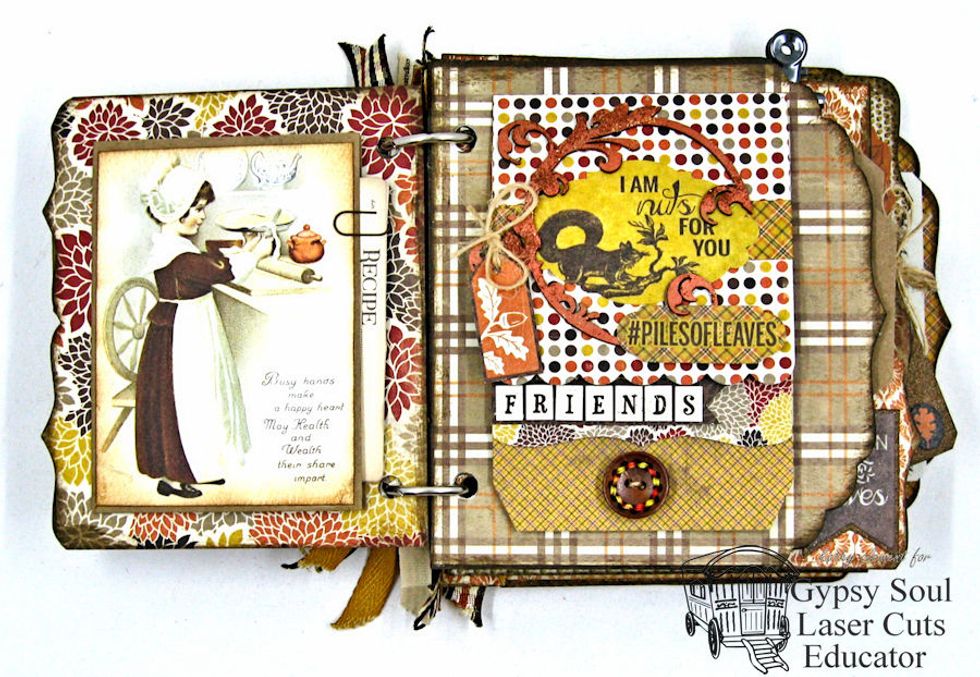 Page 3 & 4. Page 3: Create fold out by scoring a 11.5" x 4" rectangle in half, making 5.75" wide x 4" tall panels. Decorate front with a journal card from collection.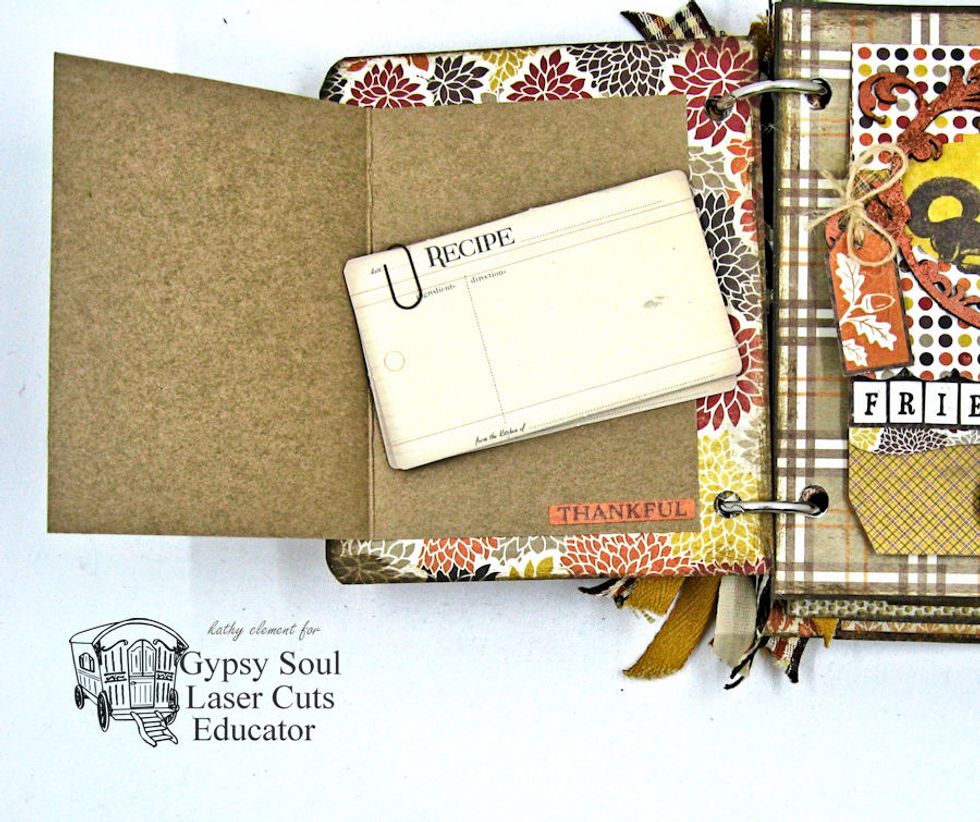 Add sentiment sticker and mini recipe cards from Canvas Corp Brands inside the fold out. Hold in place with Tim Holtz Mini Paper Clip.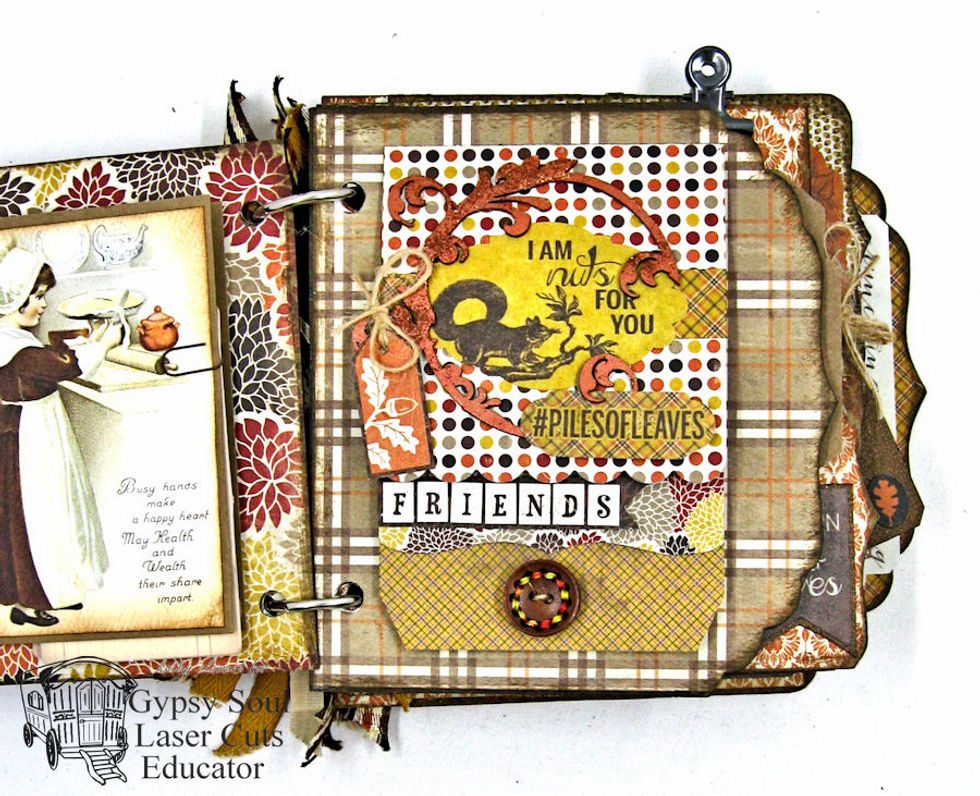 Page 4: Waterfall folio is made by die cutting designer paper wtih Tammy Tutterow waterfall dies set 1&2. Add Open flourished circle frame around squirrel sticker. Add tag, etc. Use 6x6 papers here.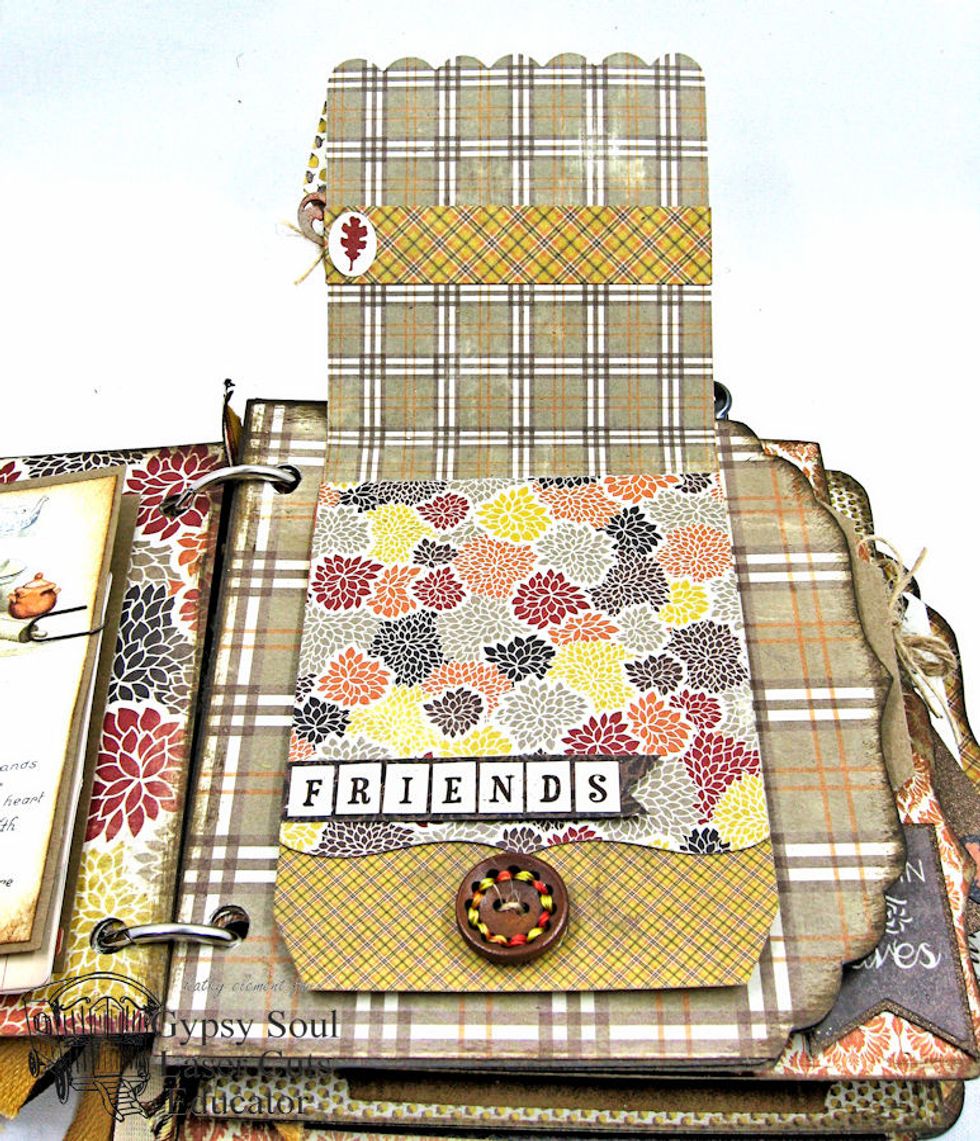 Decorate interior. Glue just a small spot of tags/sentiments so that photos can be slipped behind. (Watch my video tour on YouTube to see this in action.)
Create another mini file folder with sticker and kraft cardstock. Place on base layer of waterfall folio.
Pages 5&6: Page 5:Create another photo mount as before. Add small squirrel and fall banner. We will make a double pocket on page 6. Glue top, bottom & left edge of 3.25" x 4" kraft paper,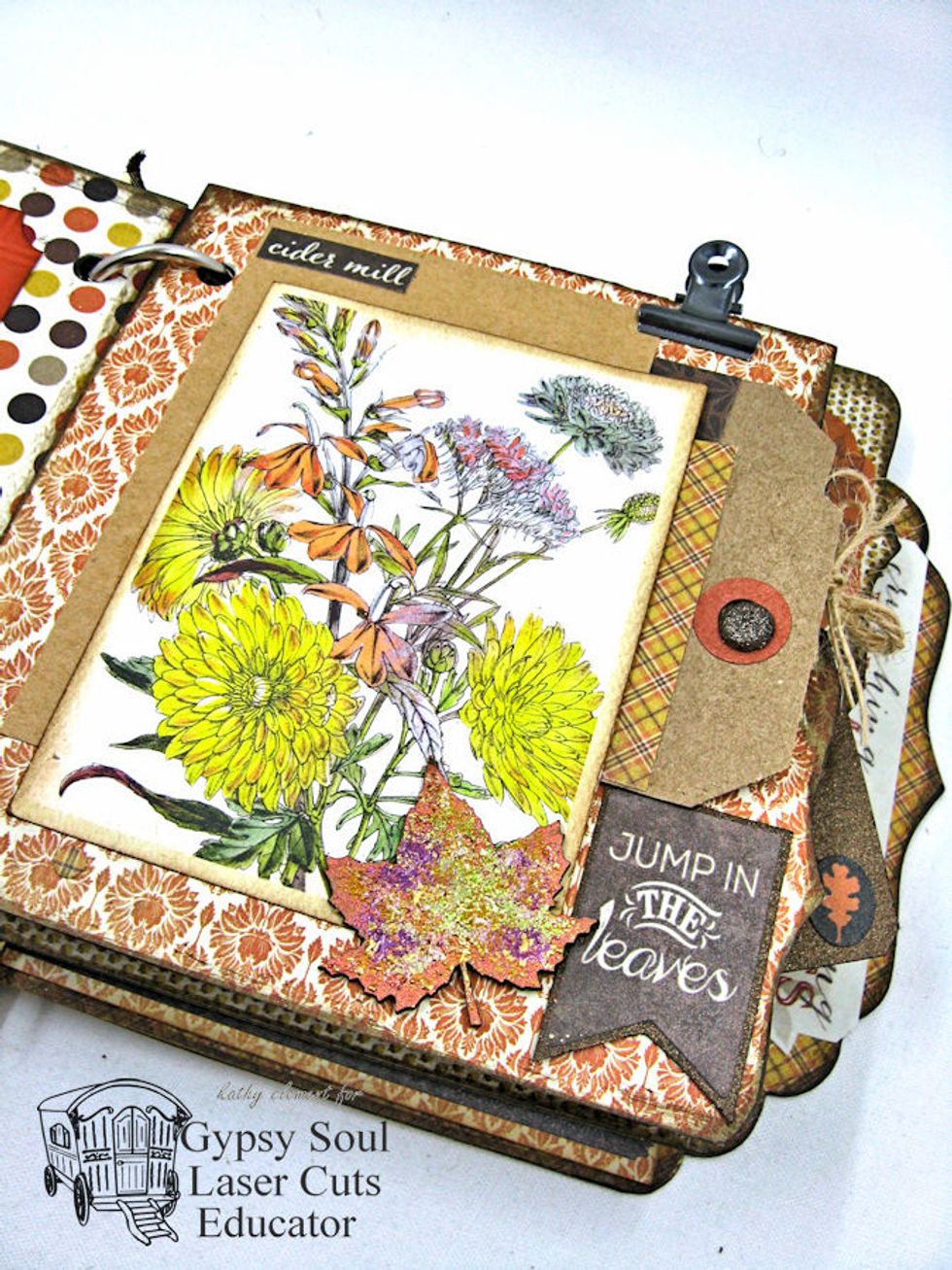 Glue top, bottom & left edge of journal card as seen. Add paper to 2 small ranger kraft tags. Add glitter brads. Insert one tag in each pocket. Add sentiment strip, maple leaf and banner.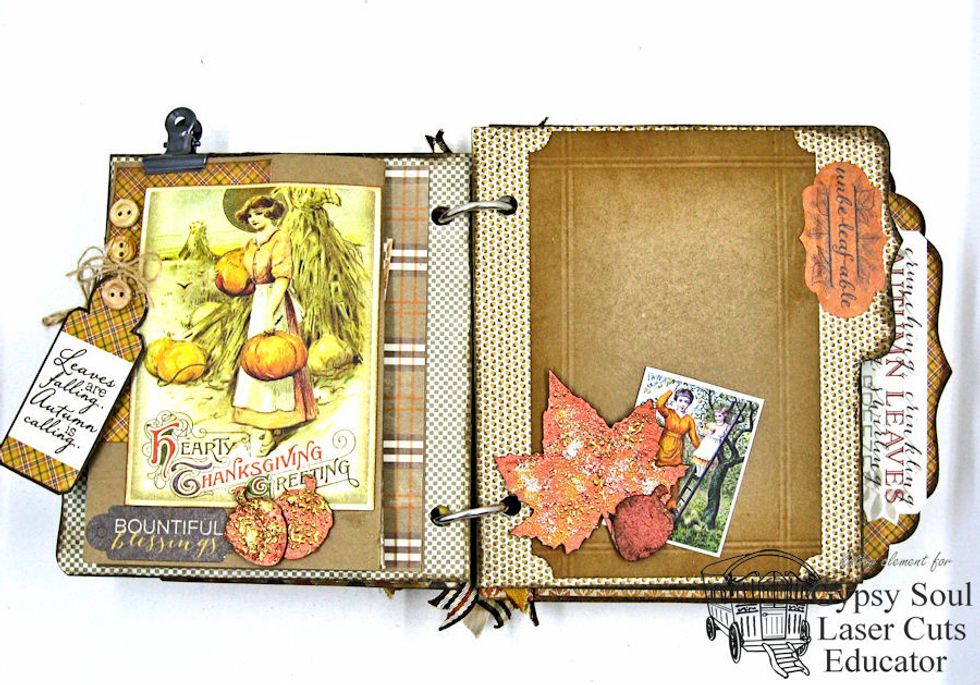 Pages 7&8 Page 7 is a fold out page. Score a 10.5" x 5" rectangle at 3.5" and at 7". Accordion fold. Glue the far right panel (the widest panel) onto page base. Decorate front as seen here.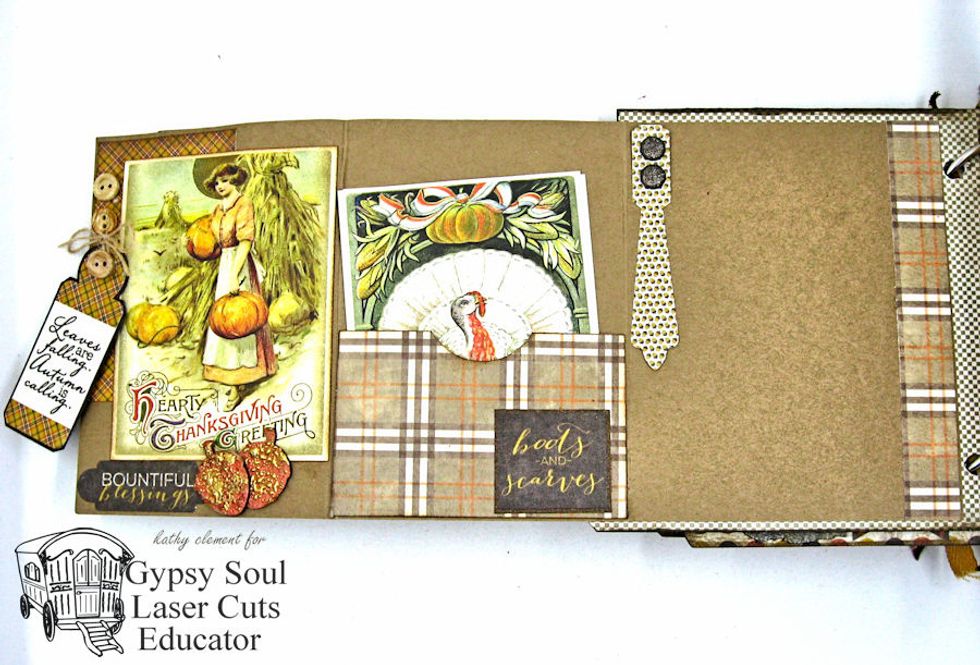 Create pocket by scoring a 4" wide by 2.76" tall rectangle 1/2" in on sides and bottom. Bevel edges, Add a punched thumb hole. Glue in place. Fill w/journal cards. Add embellishment to far right.
On reverse side of fold out, add FALL banner and border strips from the sticker page. Be careful not to glue into the crease! Hold closed with small binder clip.
On right hand side, add another photo mount, maple leaf, acorn and stickers. Glue so that you can fit photos/ephemera behind.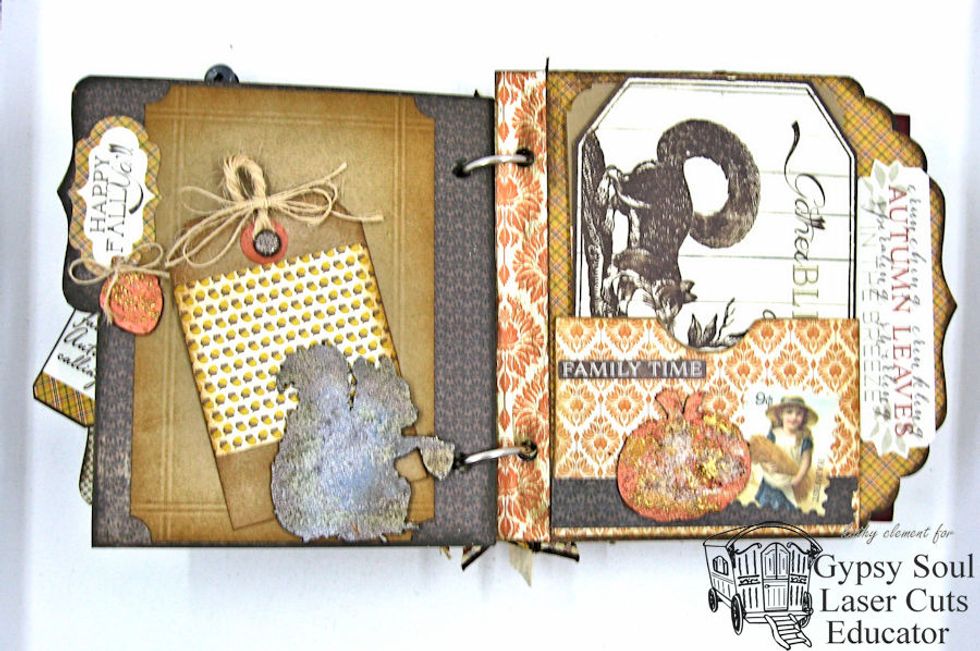 Pages 9&10. Add photo mount, large squirrel and another small tag to page 9, gluing so that photos can be slipped behind. The tag is not glued in. It is slipped behind the squirrel.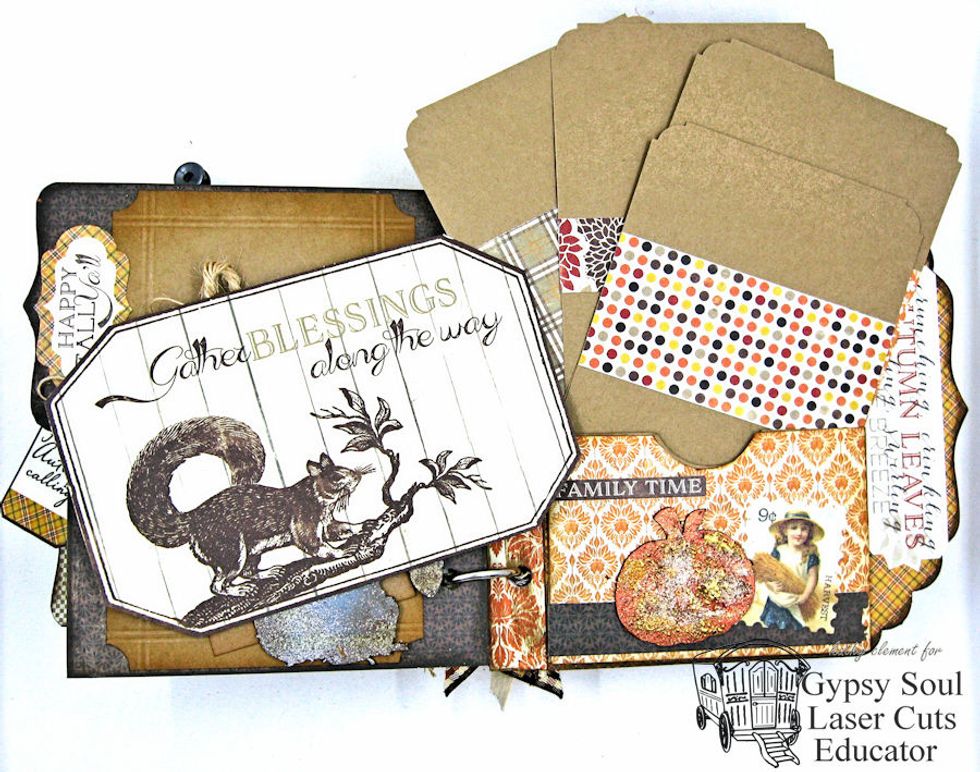 Page 10: create another pocket page as before. Cut photo mounts from rectangles of kraft paper and add decorative belly bands. Add journal card, pumpkin, sentiment and stamp. The album is complete.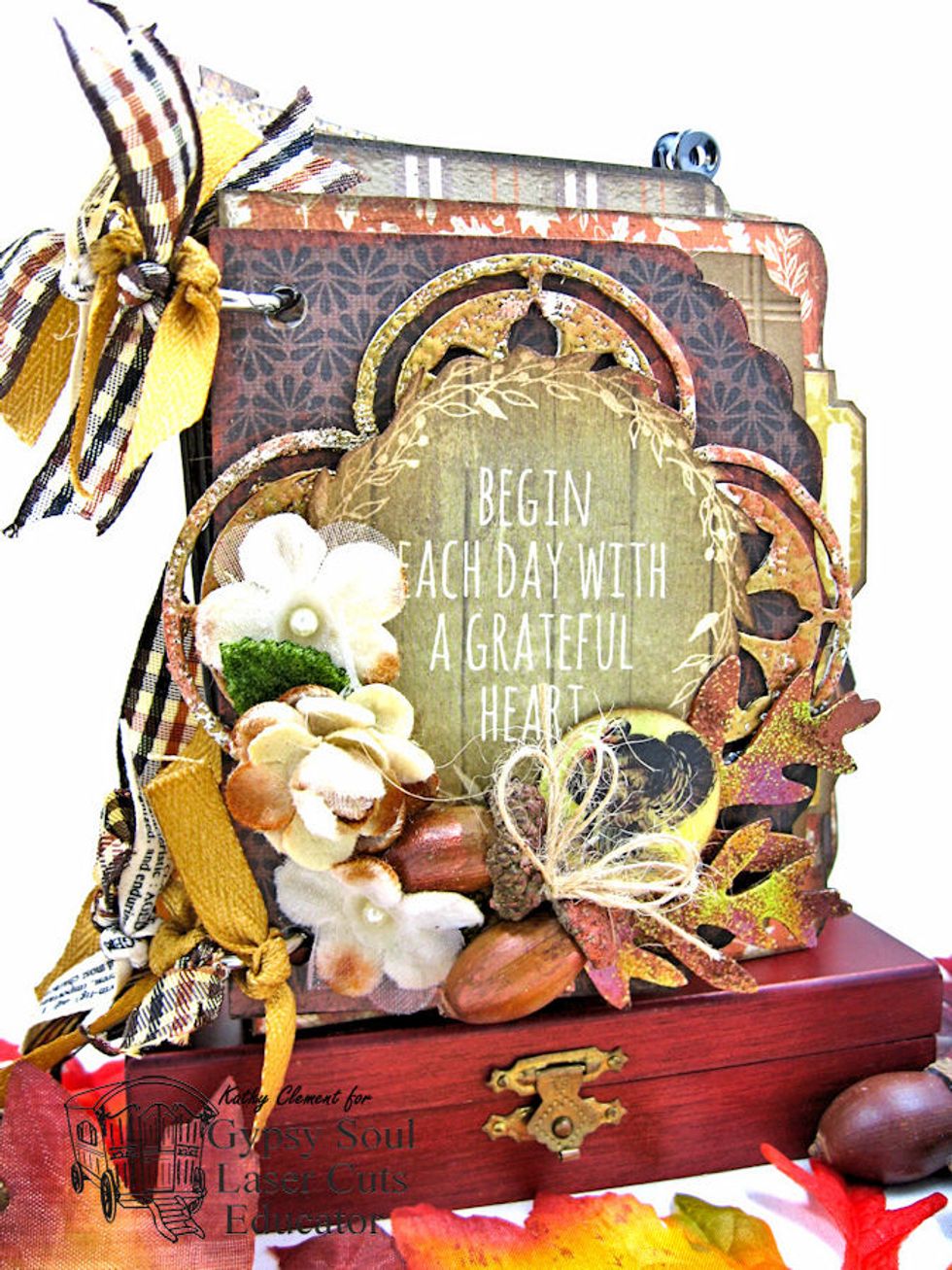 Secure O Rings. Tie ribbon scraps onto rings using square knots. Have fun filling your album with beautiful memories. Thanks for joining me. I'd love to hear from you in the comment section.
Gypsy Soul Laser Cuts (GSL) Bracket Edge Mini
GSL Amanda Flourish (from set of 3)
GSL Fall Shape Set
GSL Tudor Rose Singles
GSL Small Open Circle Flourished Frame
Authentique 12x12 paper collection
Authentique 6x6 paper pad
kraft cardstock, several sheets
dusty durango cardstock, 1 sheet
Walnut Stain Distress Paint
Deco Art Americana Chalky Finish Paint (Whisper)
Deco Art Metallics Copper Paint
Hickory Smoke , Antique Linen Distress Paints
Stampendoud Aged Gold Embossing Powder
Scattered Straw Distress Embossing Powder
Vintage Photo Distress Embossing Powder
Frayed Burlap Distress Embossing Powder
Zing Red Metallic Finish Embossing Powder
Zing Leaf Opaque Embossing Powder
Adirondack Butterscotch Embossing Powder
Adirondack Espresso Embossing Powder
Sanding Block
Ranger Coffee Archival Ink
Vintage Photo Distress Ink
Versamark Embossing Ink
Ink Blending Tool
Petaloo Ivory Vintage Velvet Minis
Tammy Tutterow by Spellbinders Waterfall 1&2 Dies
Ribbon, Burlap String
heat gun
Canvas Corp Brands Mini Recipe Cards
Tim Holtz Mini paper clips
Kathy Clement
I'm a wife, a mom and a Nana who loves to play with paper. Married for 40 years, I am a full time designer, life long learner, and pretty darn good cook.