This is a quick meal that has lots of veggies, eggs for protein and uses simple ingredients but tastes authentically Asian! Impress your friends with this awesome noodle stirfry recipe.
370
So this guide has MANY pictures, not because it has many steps, but rather, because I like to visually show each step. It makes it appear less intimidating for those who are afraid of making stirfry.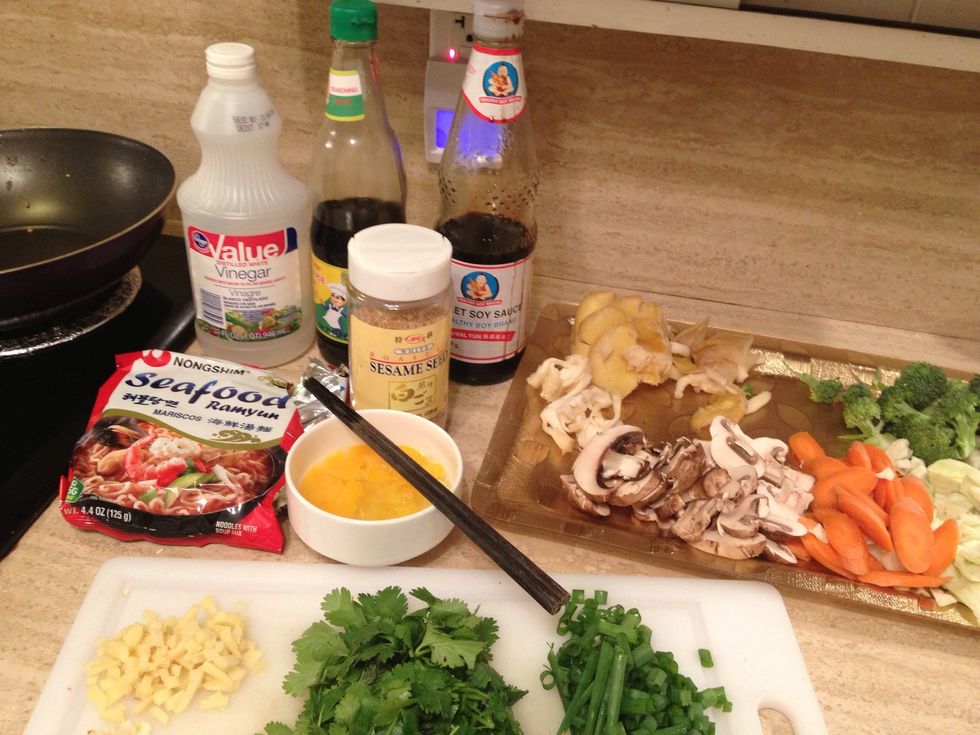 Get all of your ingredients prepped and at your reach. Chop your veggies to bite size. (I ended up not using the vinegar and I did use some mushroom seasoning but it's not pictured)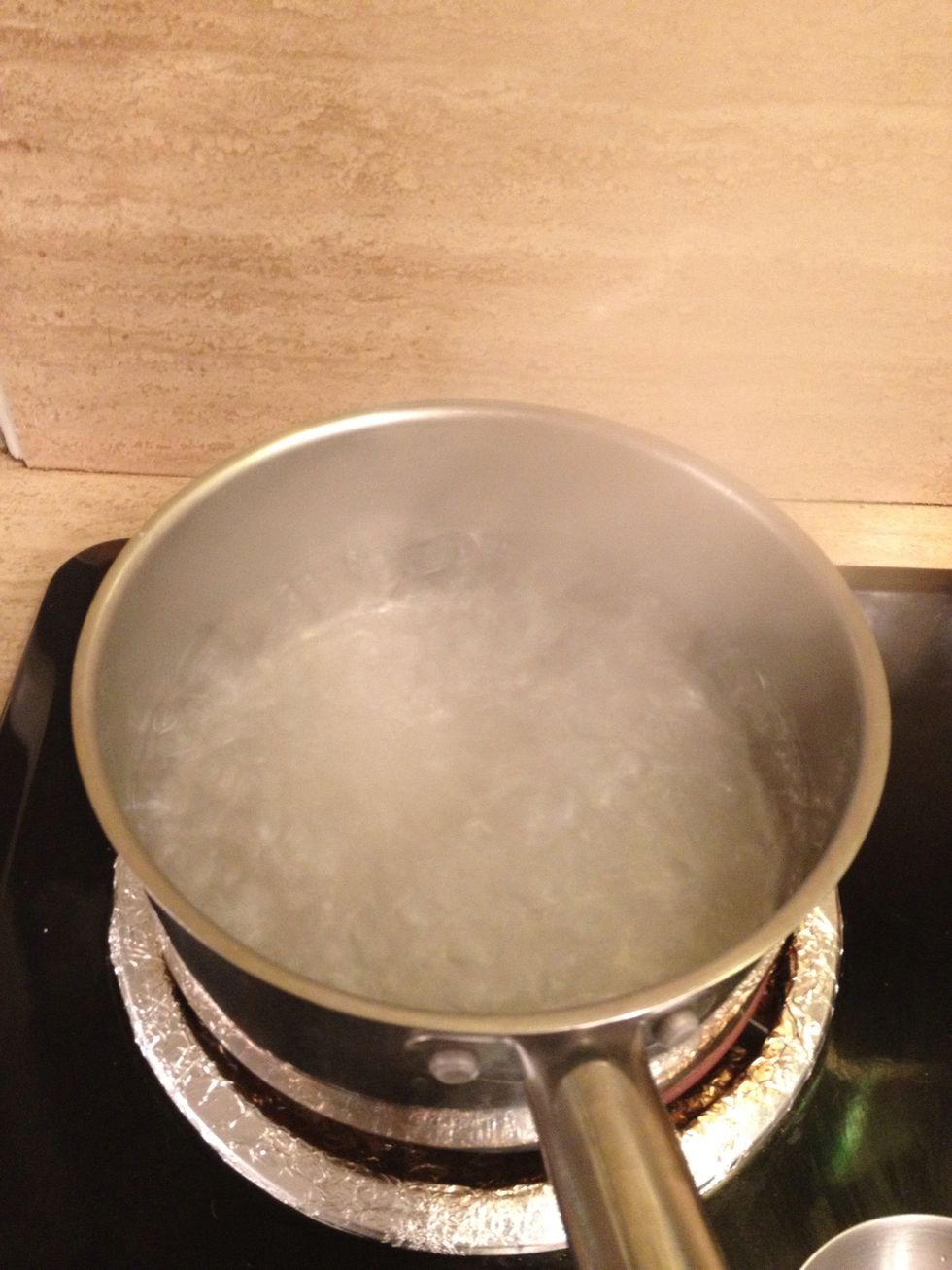 Bring some water to boil (about 2 and a half cups)
Get a wok ready with some olive oil. Medium heat.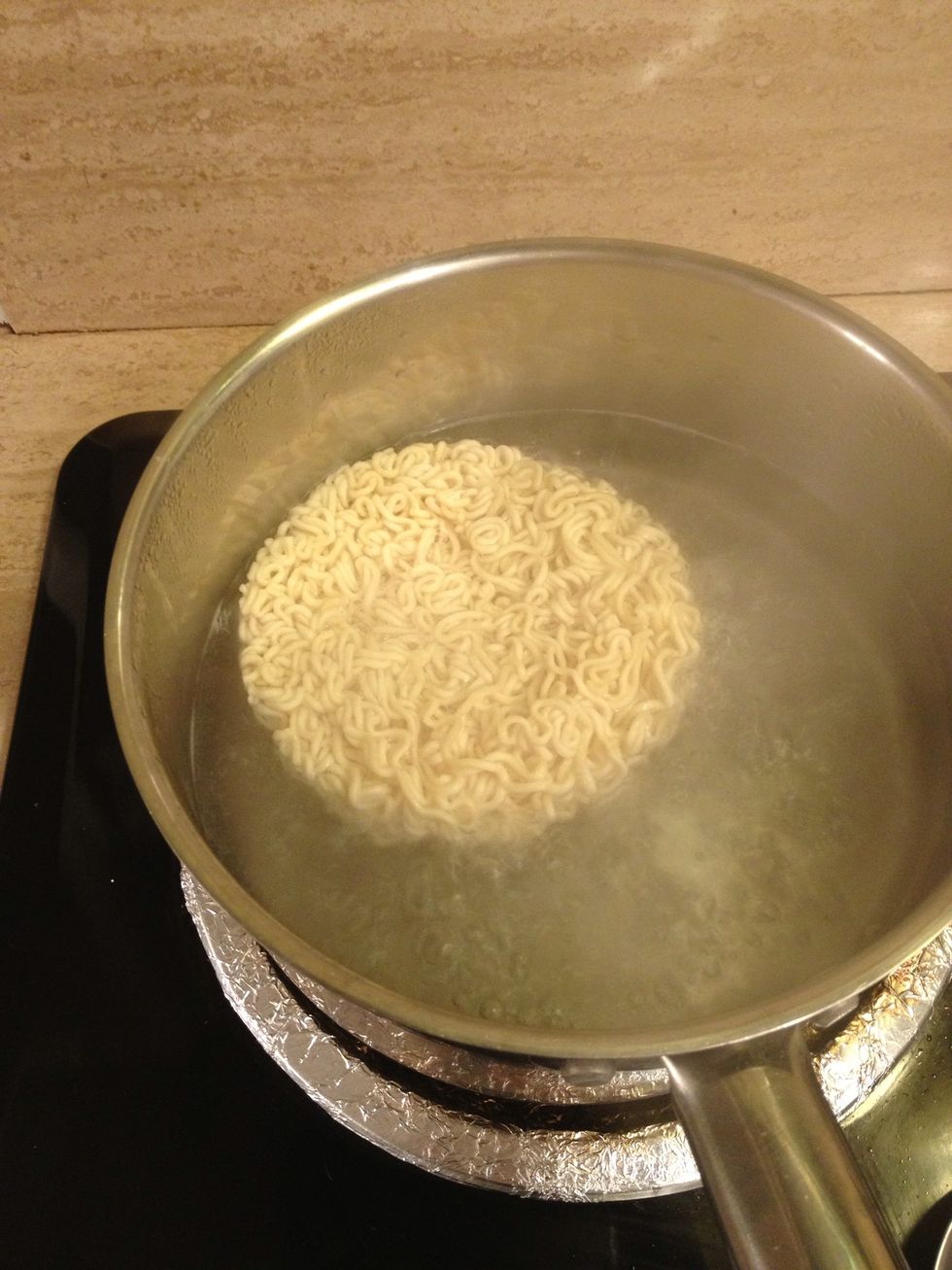 Drop in your instant ramen. You will only let them cook for about 2 minutes because they will continue to cook when you add to the wok later.
Lightly scramble 2 eggs. I like to see the yolk and whites so I don't over scramble.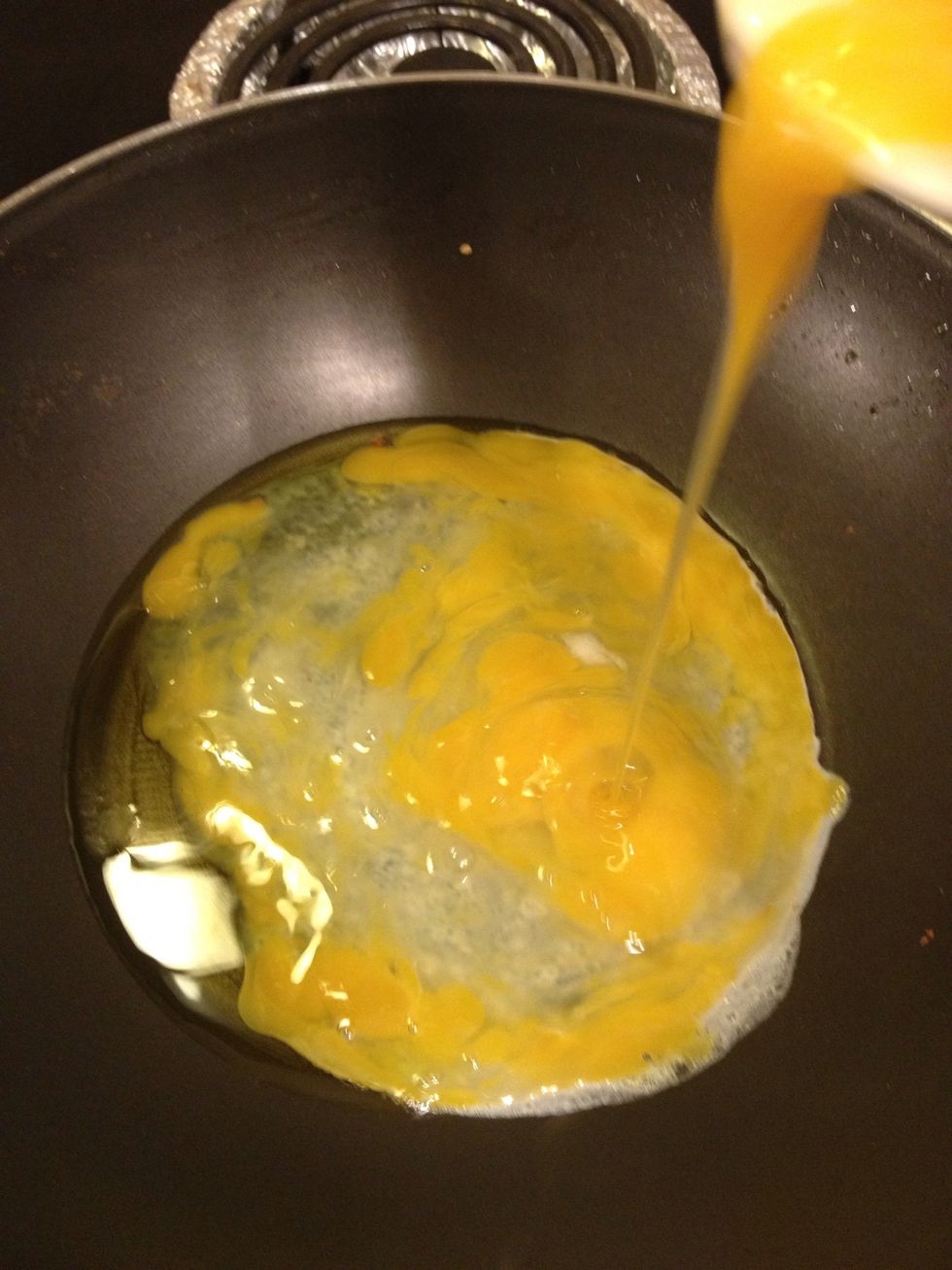 Pour eggs in the wok and don't touch!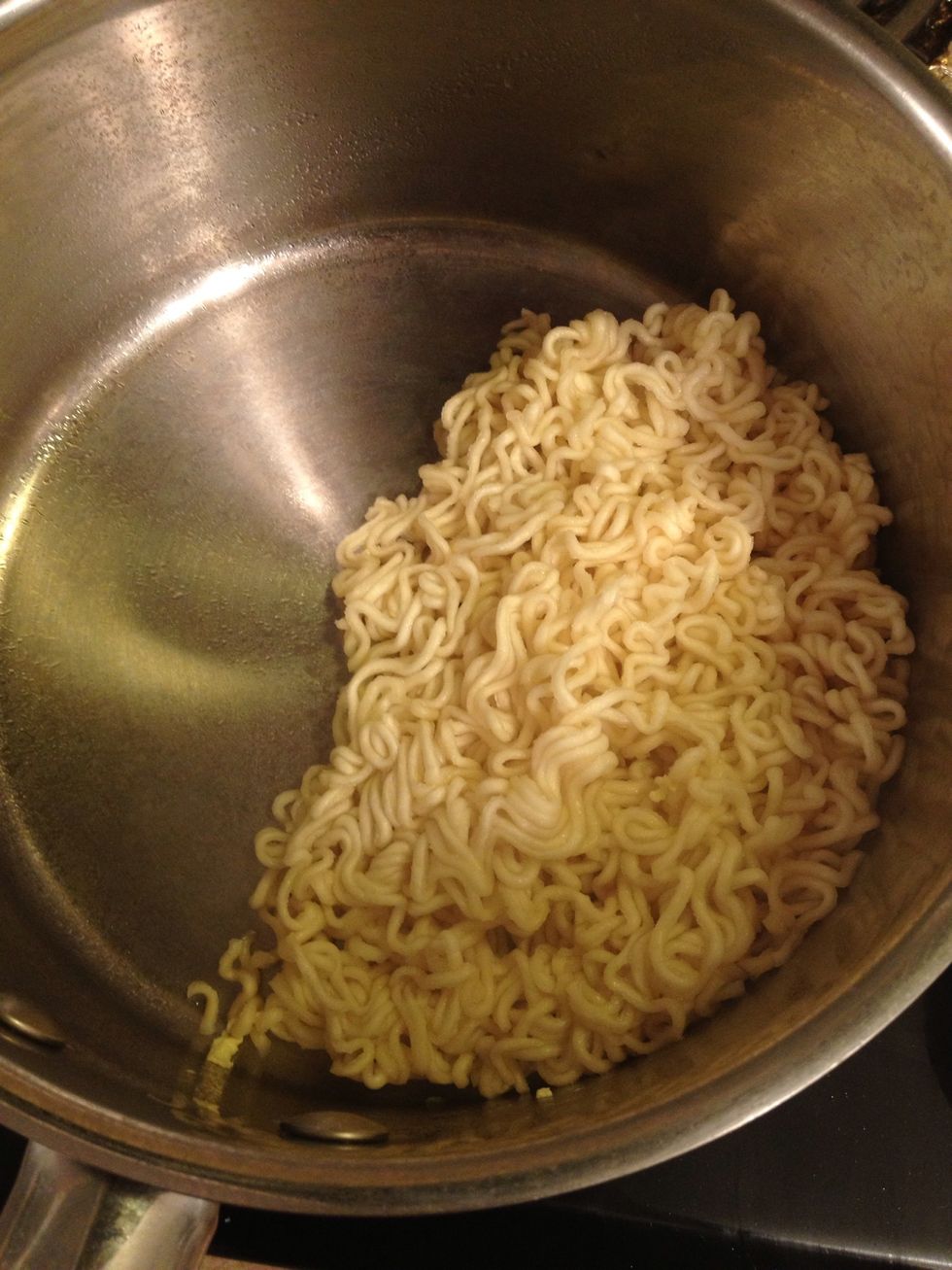 While the egg is frying, drain your noodles in sink and keep the noodles in the same pot. (Less dishes to clean ;))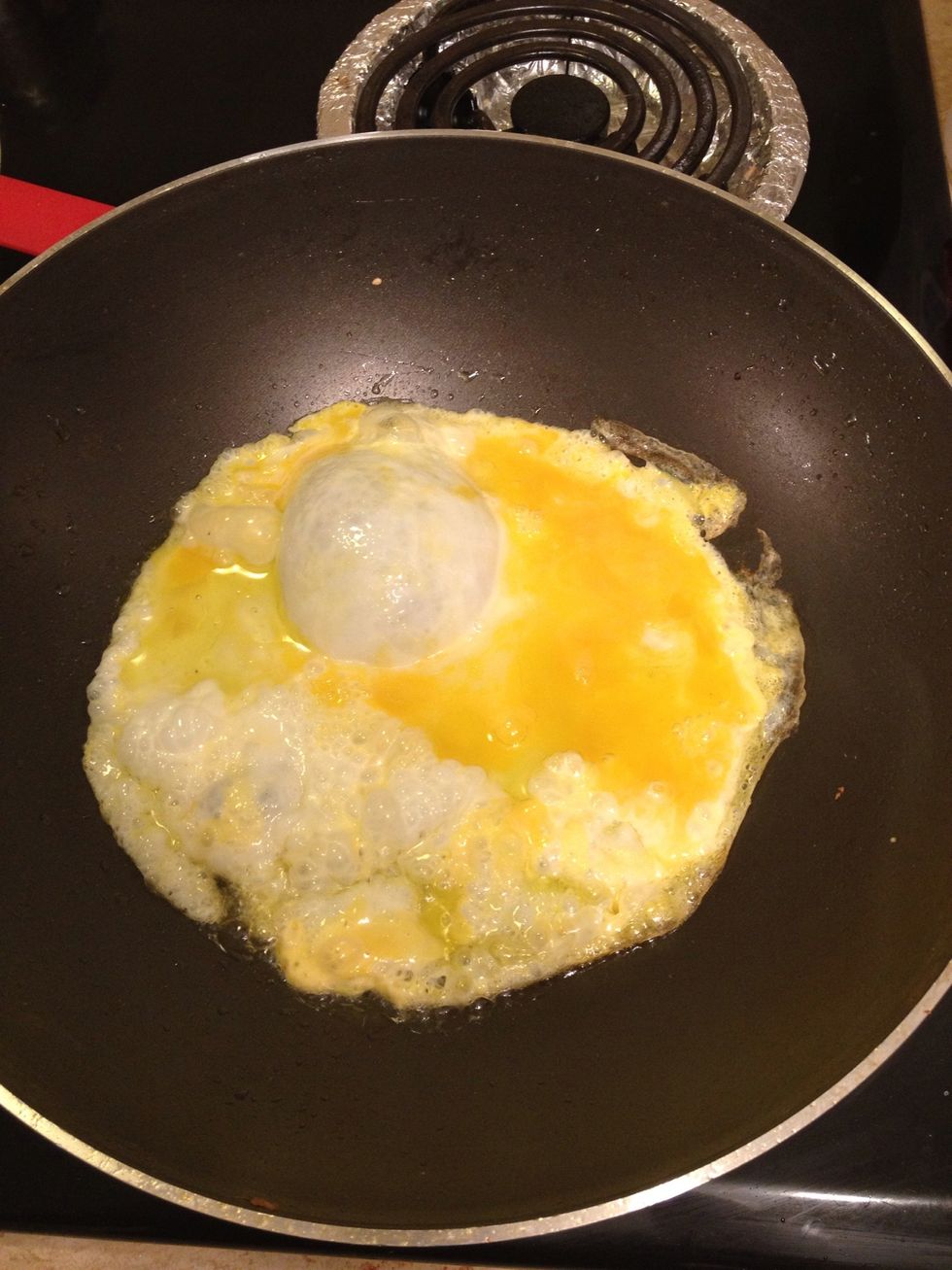 When the egg is 75% solid, flip it with a spatula. Check out that bubble!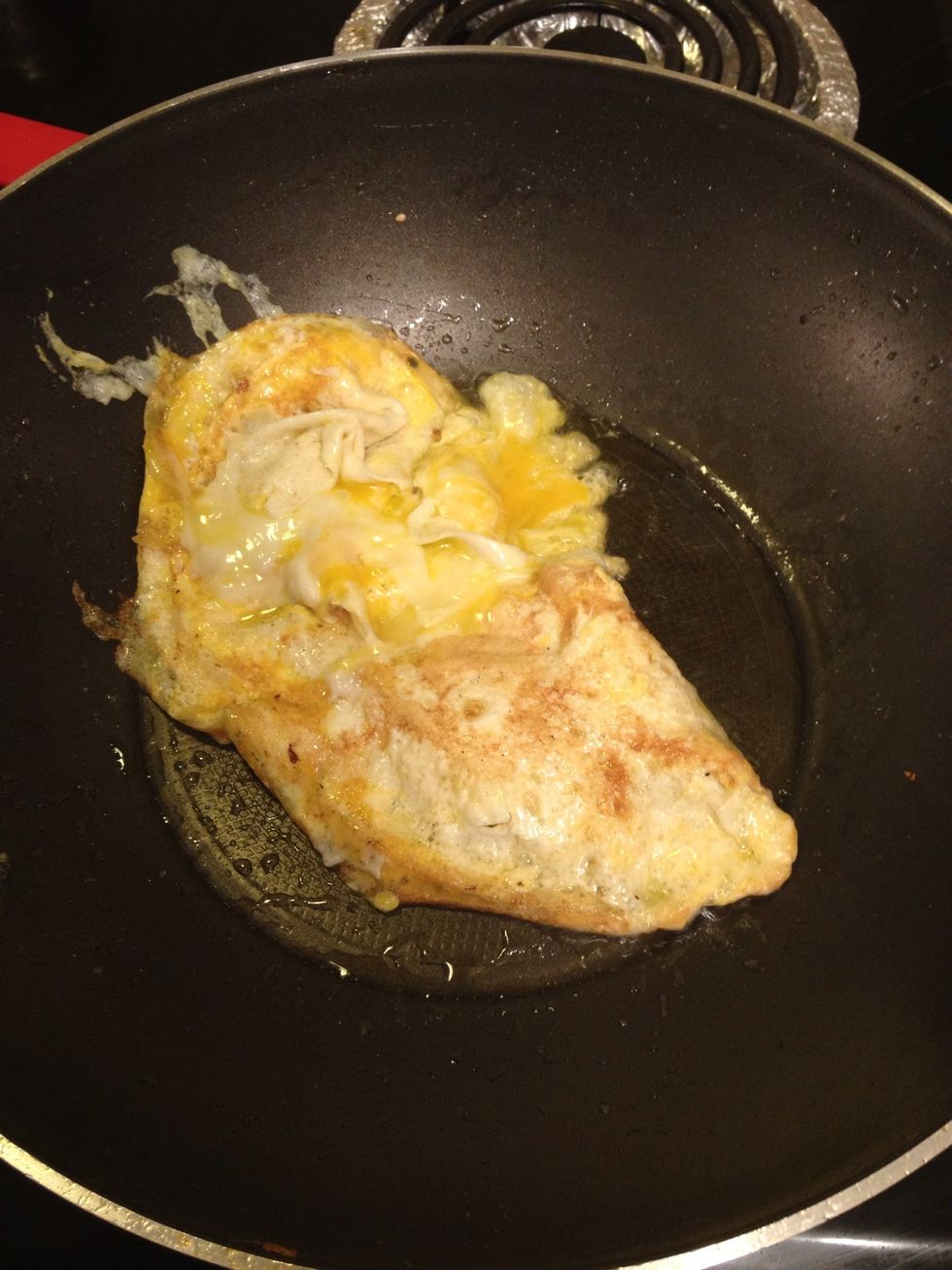 Like this. Give it 20 seconds and flip again if its still runny.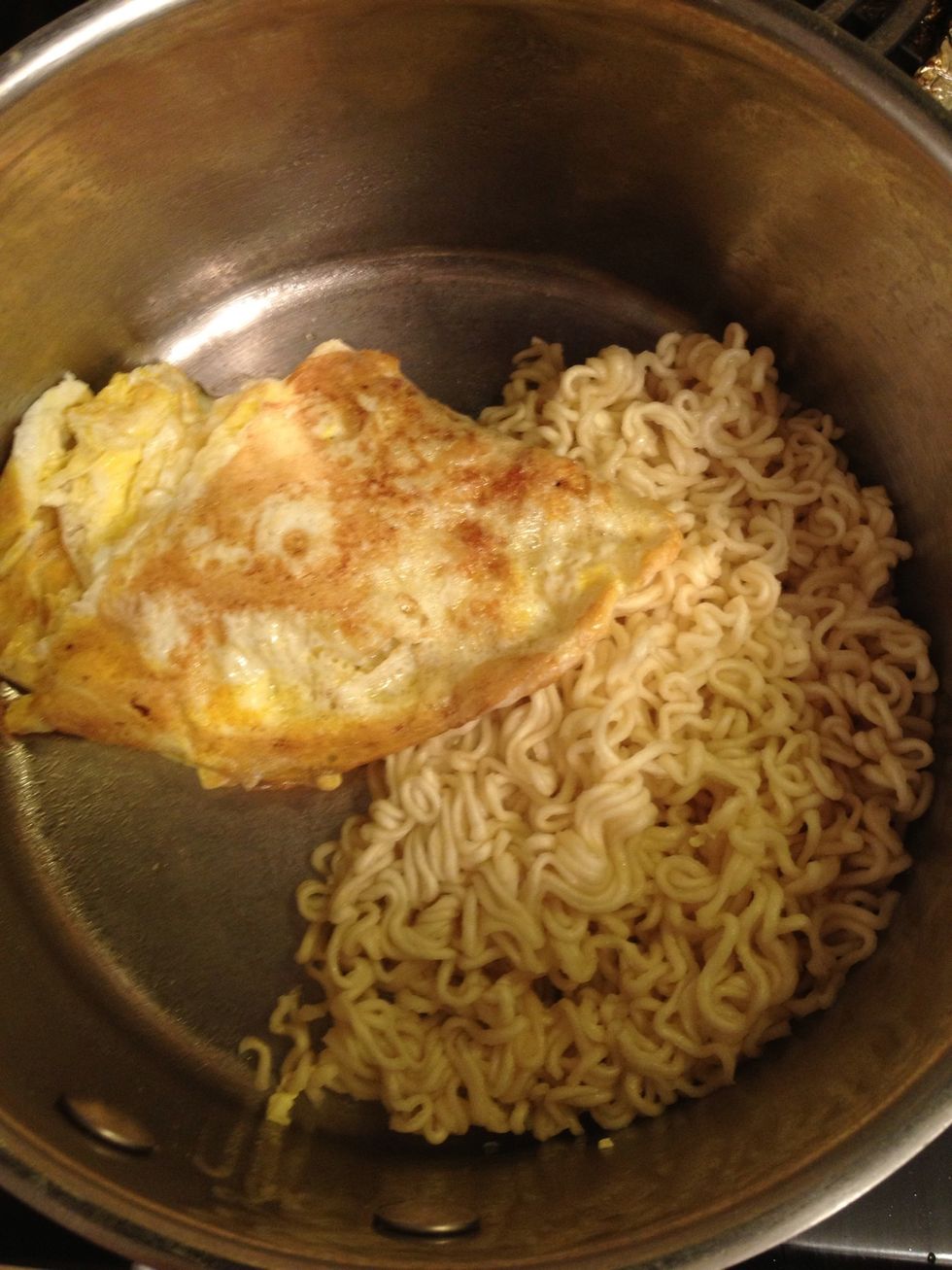 Now drop the egg into the pot with ramen.(again, less dishes to watch)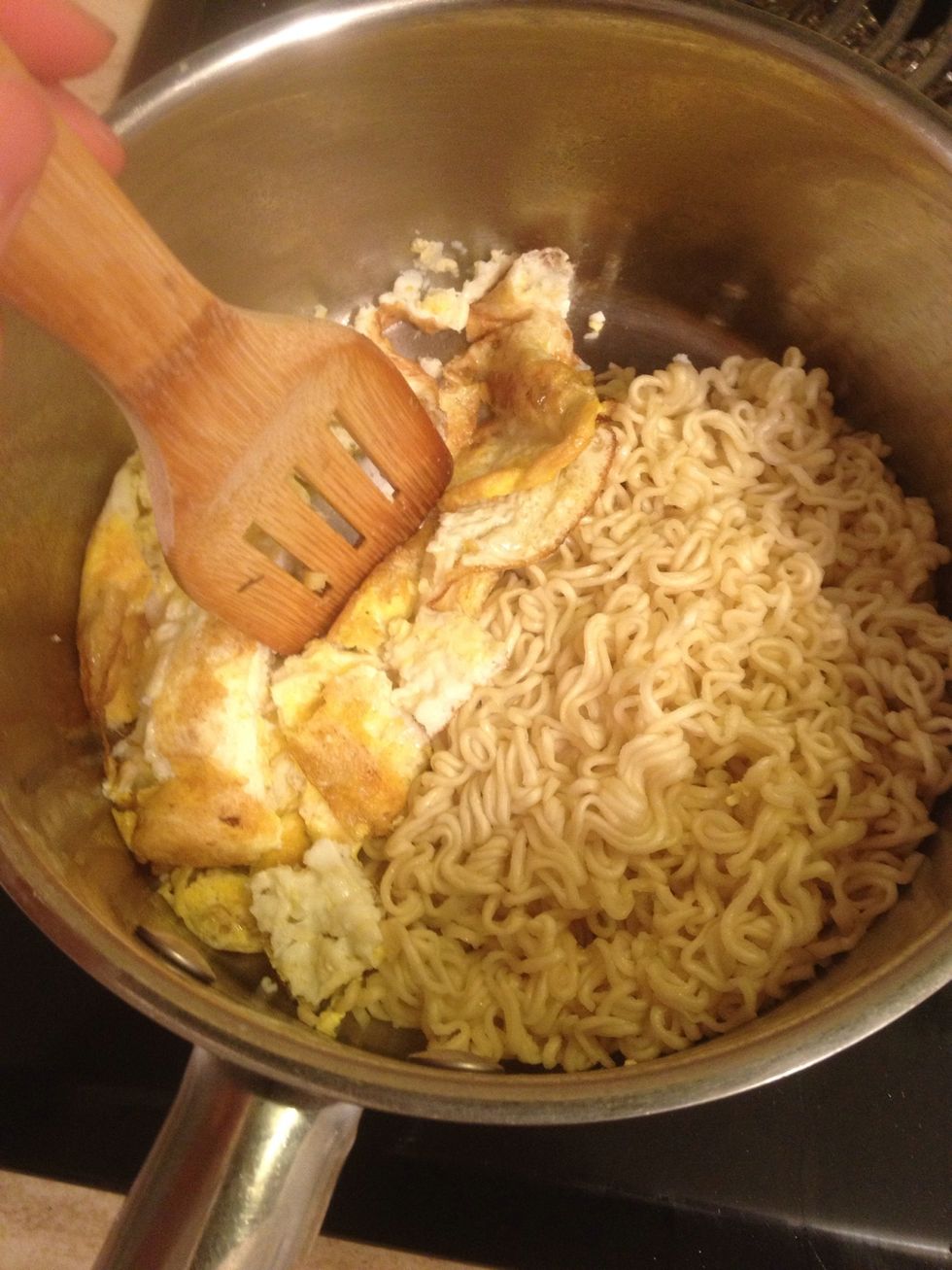 With your spatula, cut up your egg into small pieces.
Like this :)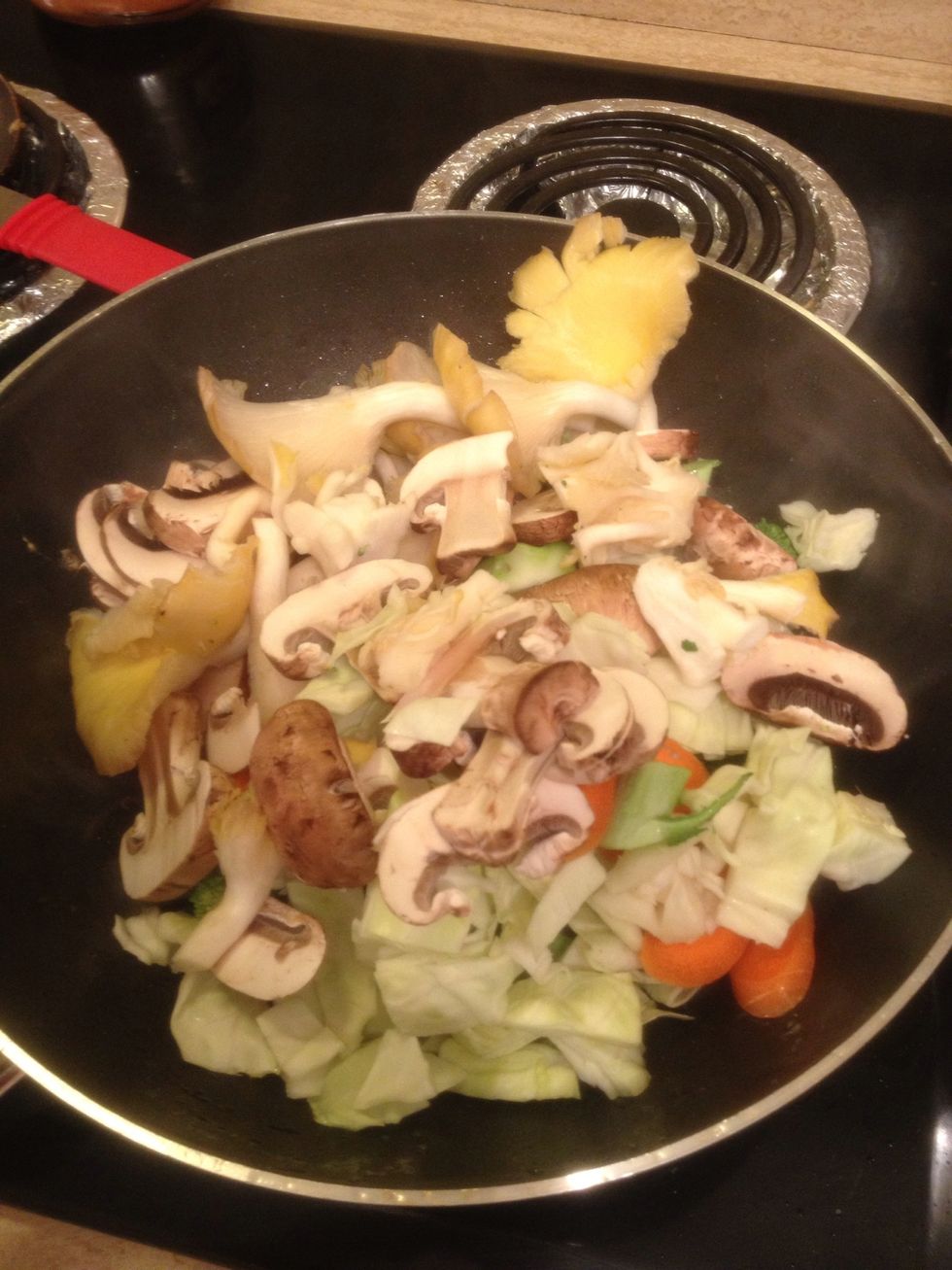 Now, back to the wok! With medium high heat, add 2 tbsp olive oil. Add ALL of the cut up veggies(except for garlic and ginger) and stir it up. Make sure you stay at medium high heat from this point on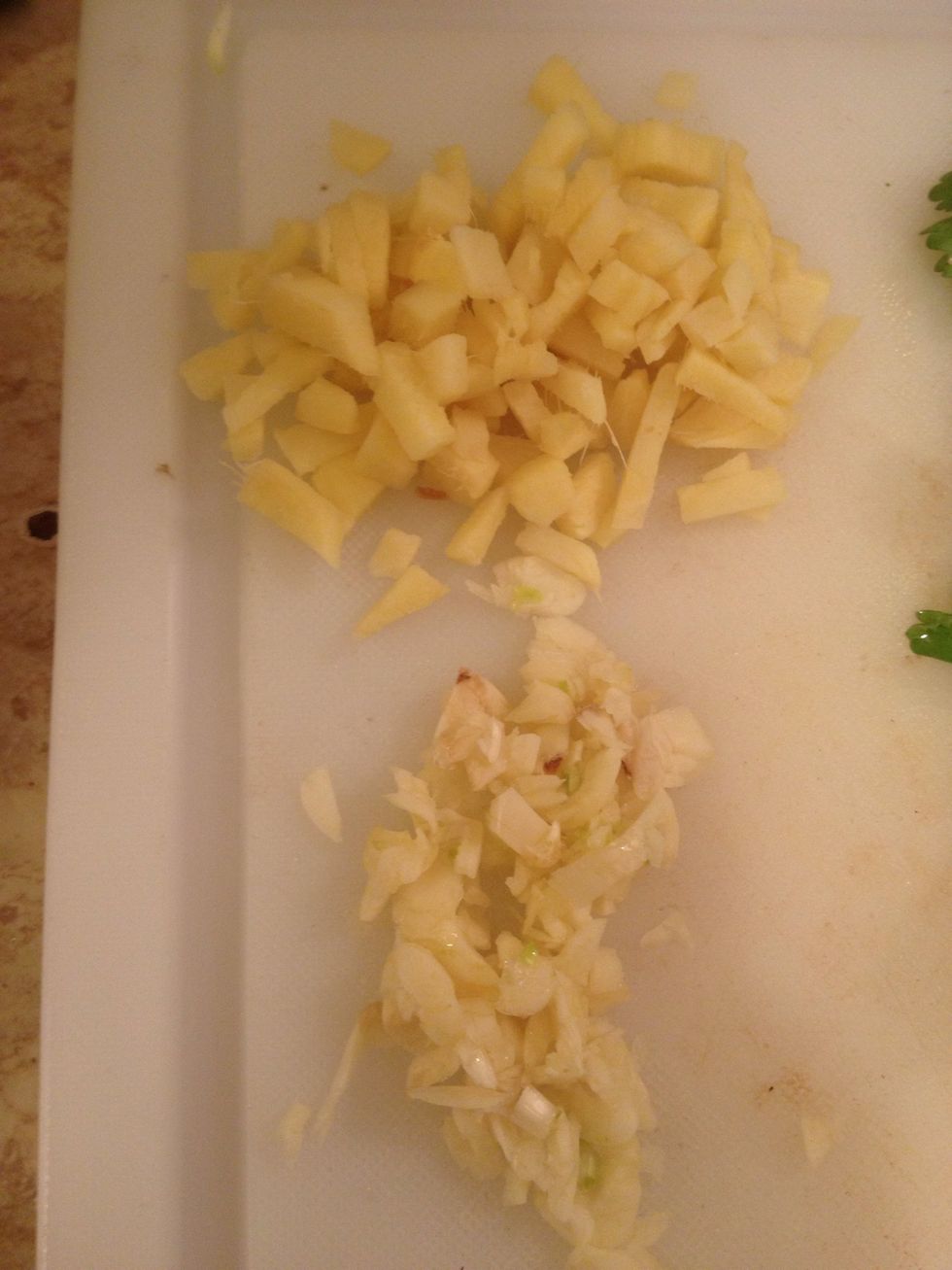 After about 2 minutes of frying the veggies, add garlic and ginger on top.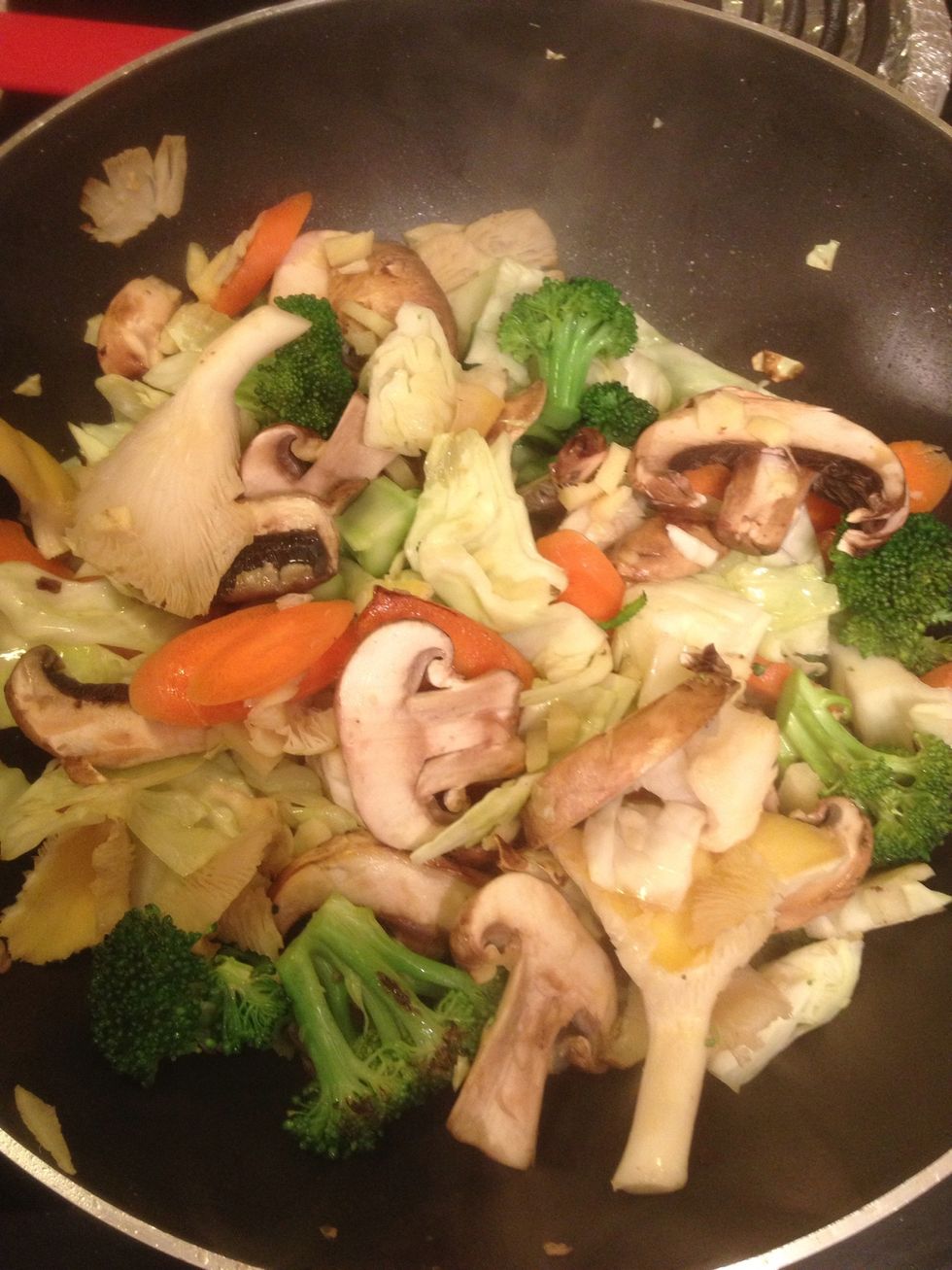 Stir some more and then add soy sauce.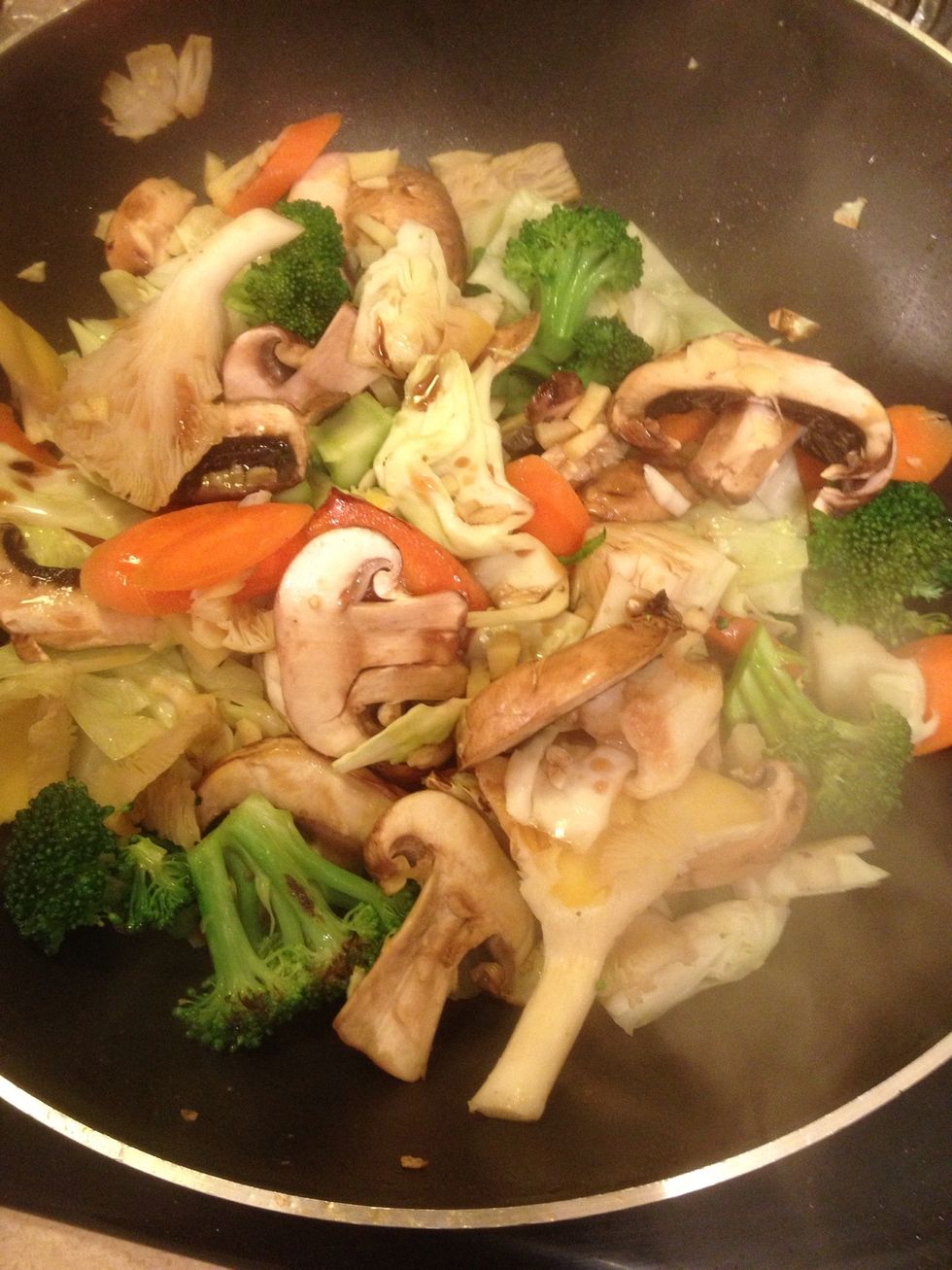 Like this. Keep stirring. The heat and shape of the wok will perfectly fry and steam as you constantly stir it around. It cooks fast because everything stays slightly crisp.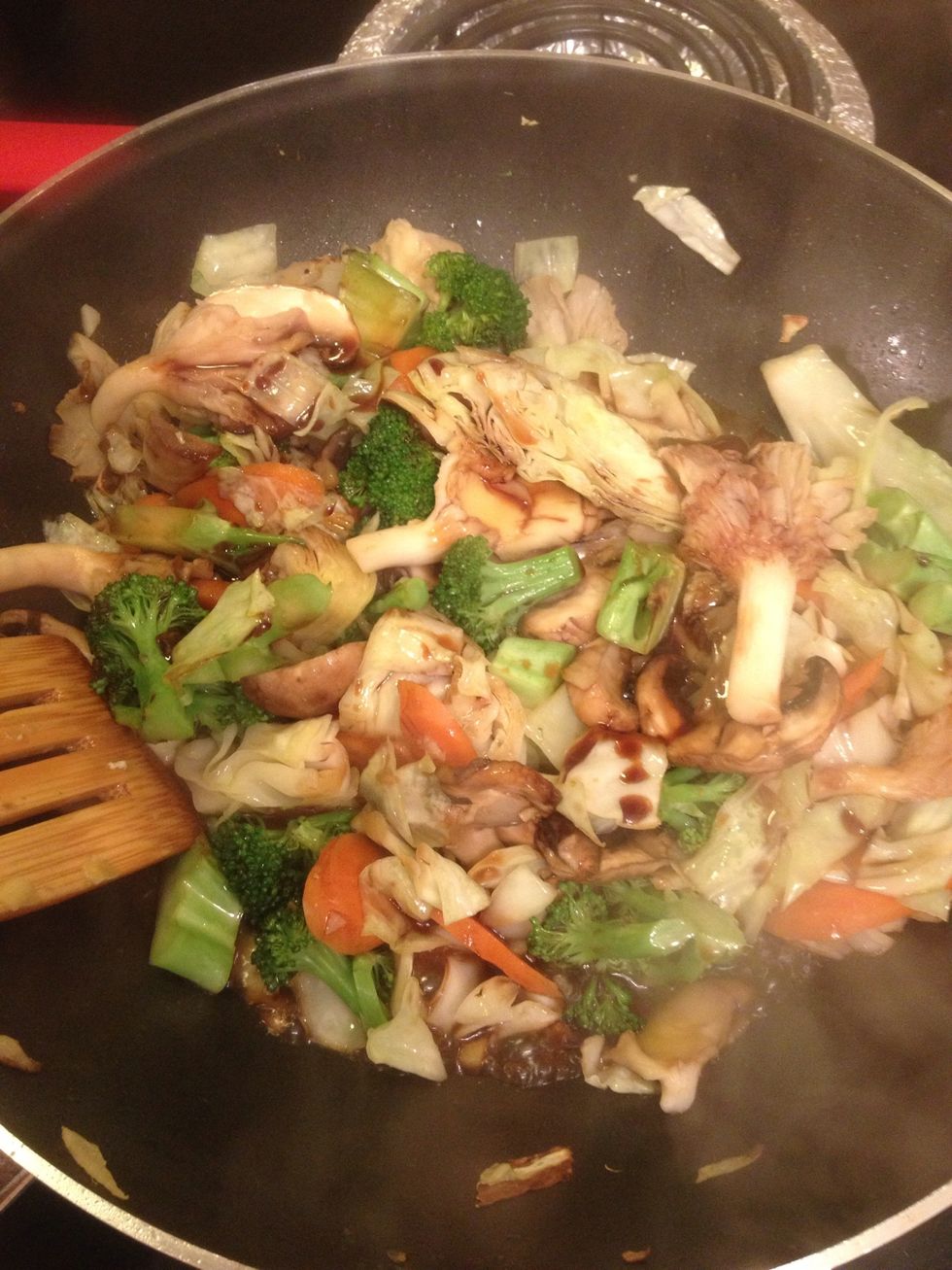 Now add the sweet soy sauce. Stir.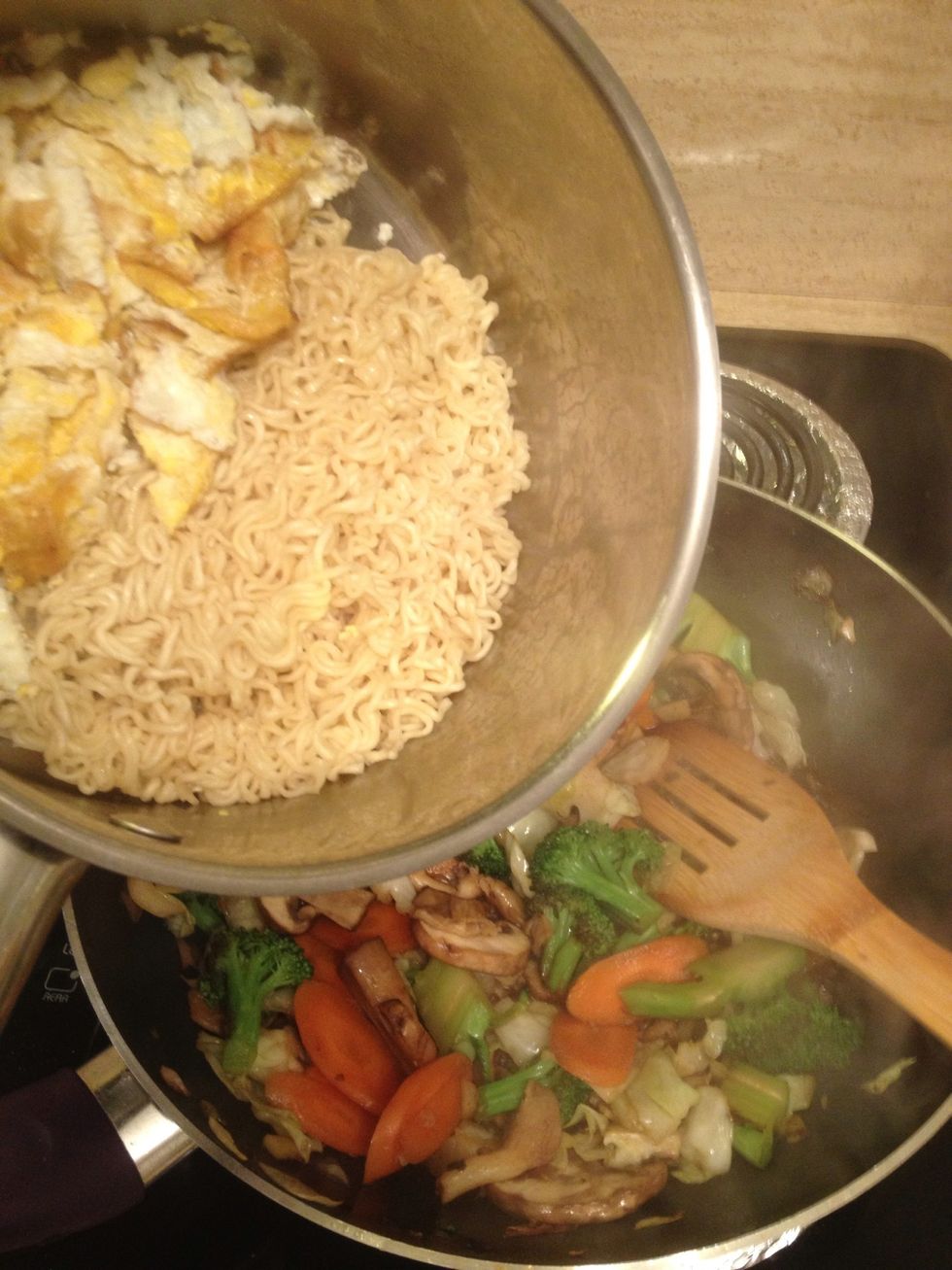 Now add the noodles and eggs. Stir it all up.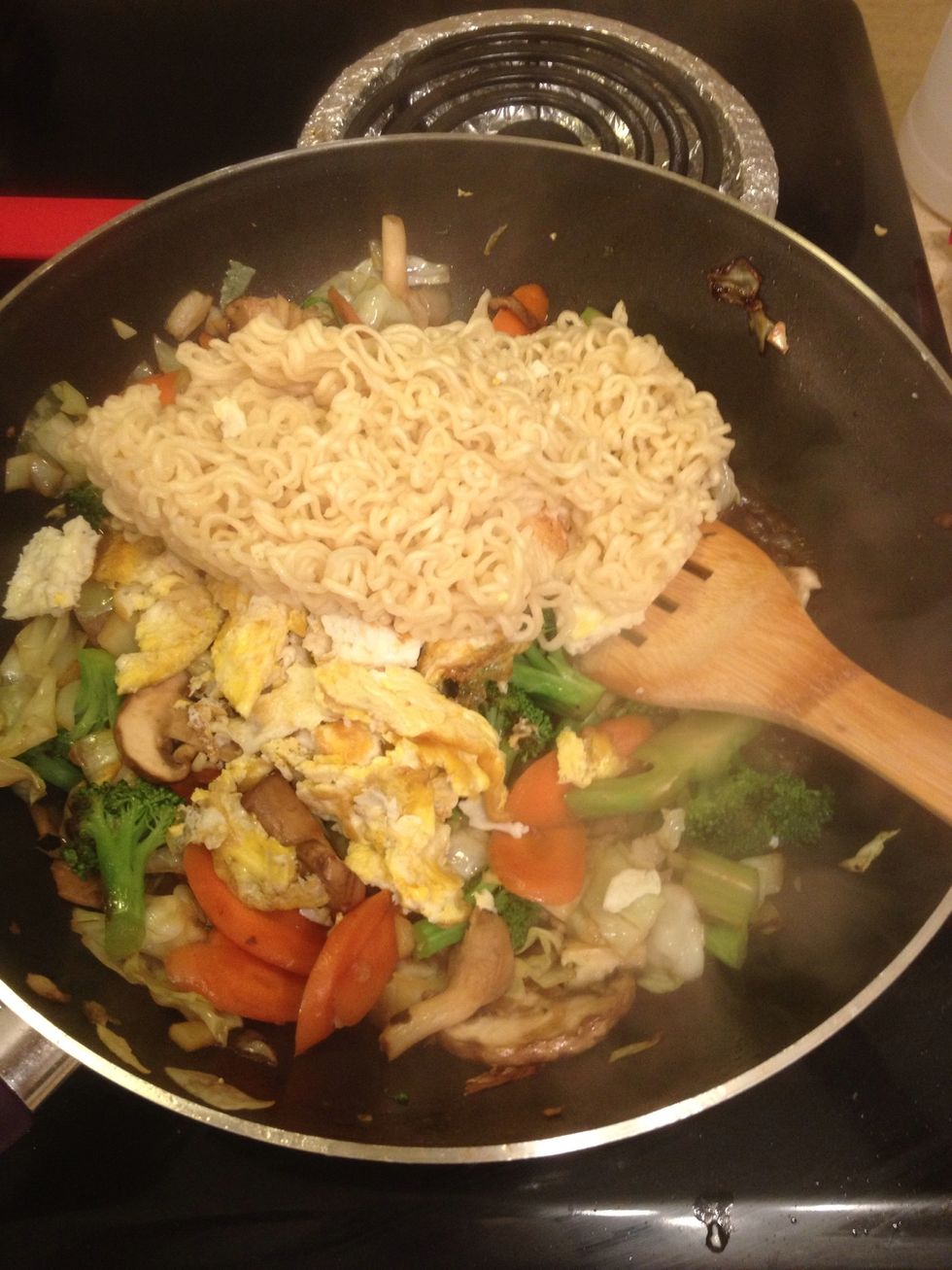 Yum! It's almost done! How fast and easy was that!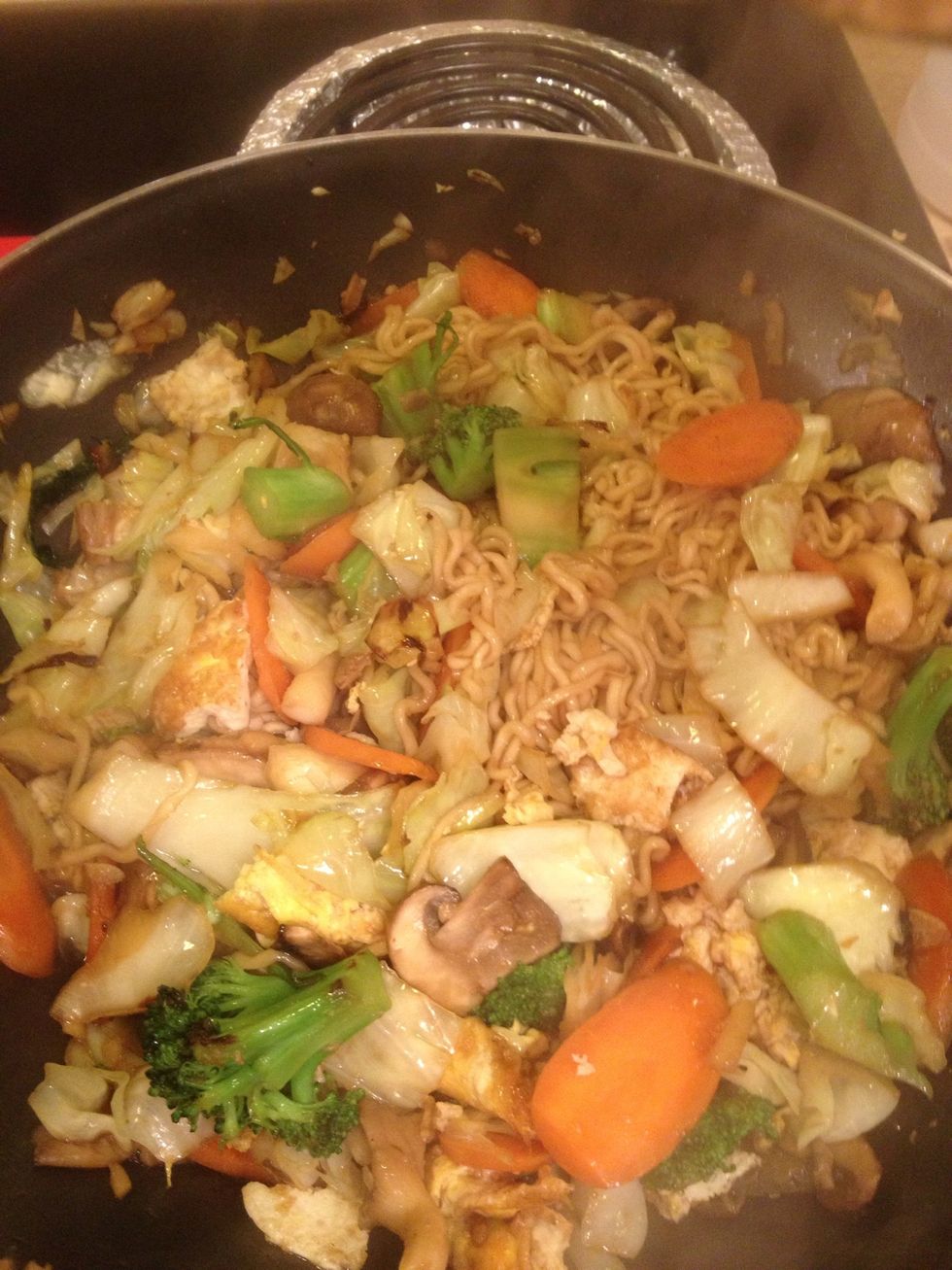 All stirred up and everything looks done. Now taste a piece of veggie. If its bland, add more sweet soy or soy. I actually added a tablespoon of mushroom seasoning at this point.
Turn the heat off and add sesame seeds...
...and fresh cilantro and green onion. (Onions are from my garden 👍)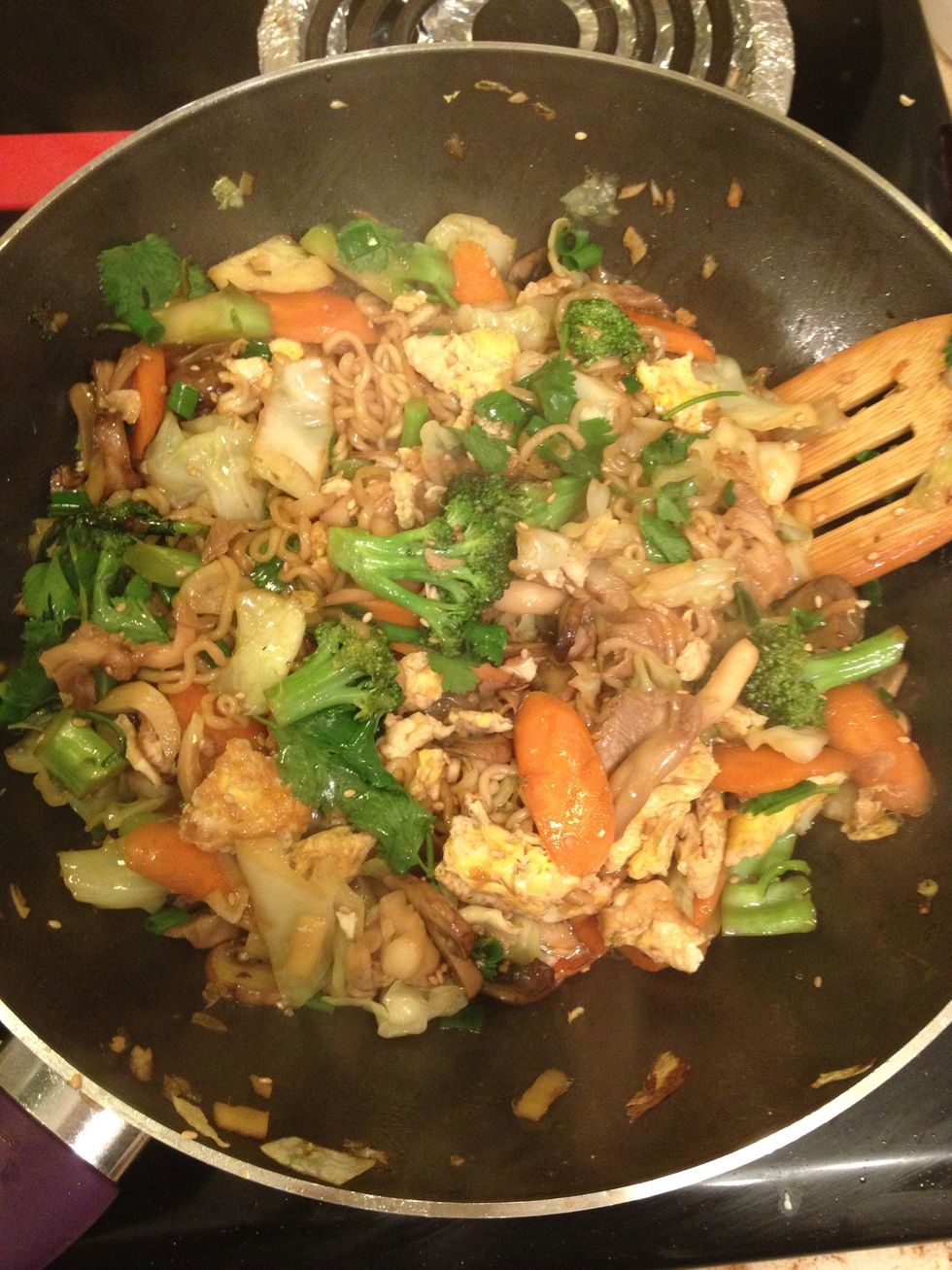 Give it a final stir to mix the sesame seeds and herbs. And you're done! This should have taken a total of 10-12 minutes from the time your water was boiling.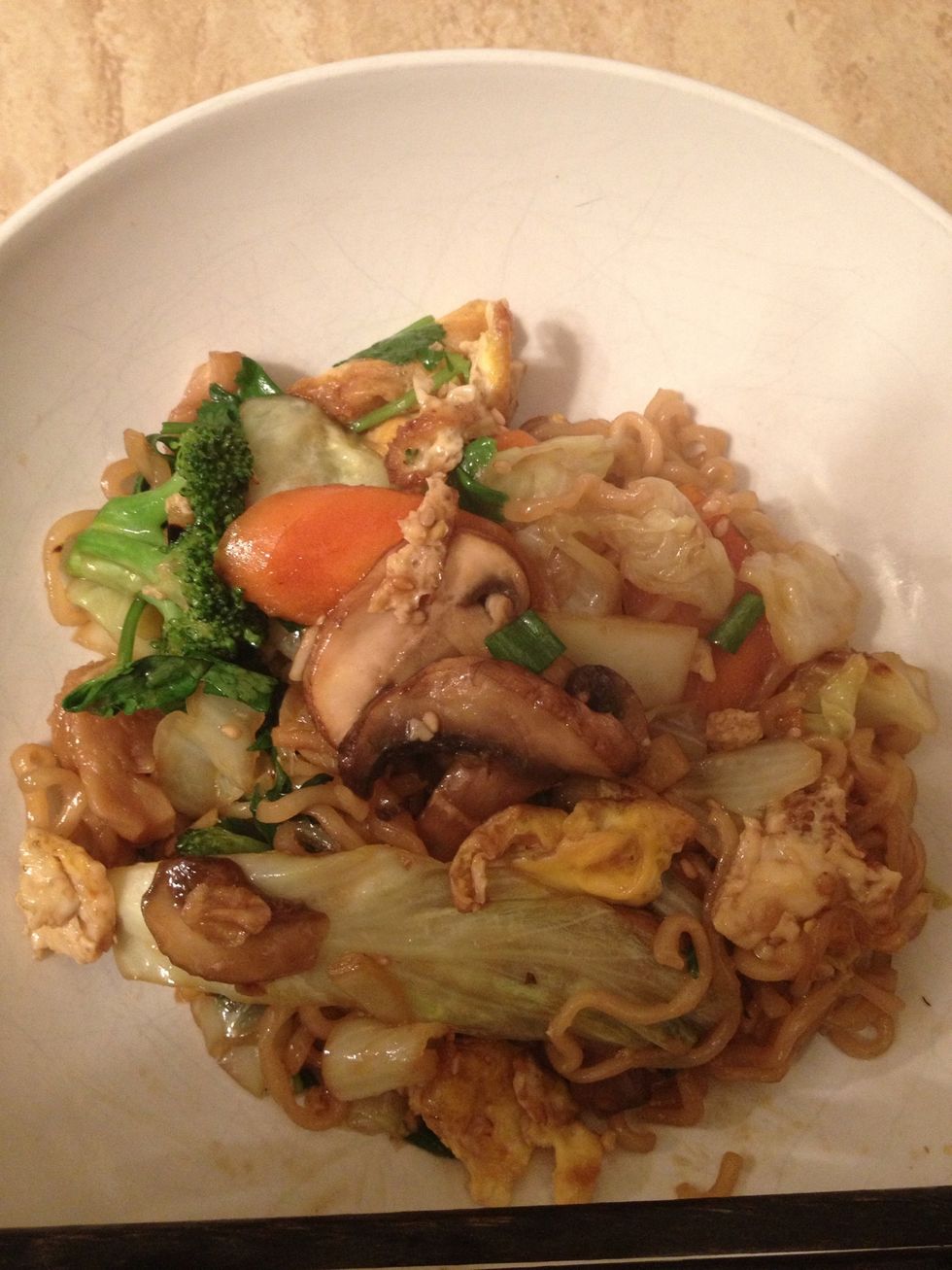 It's delicious!!!☺👍👌🍴on it's own or...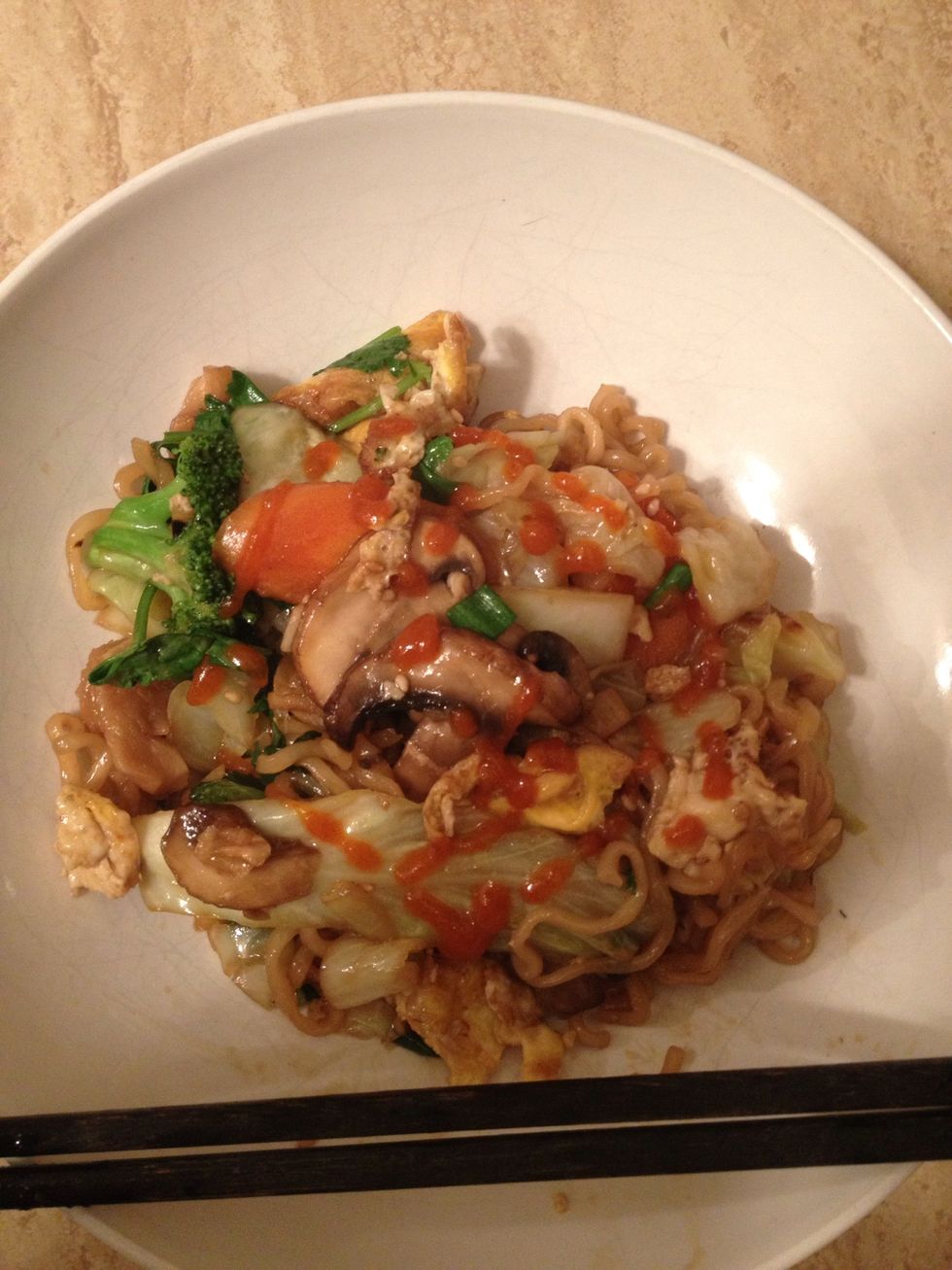 ...with sriracha. ♨🚩It's a home run!⚾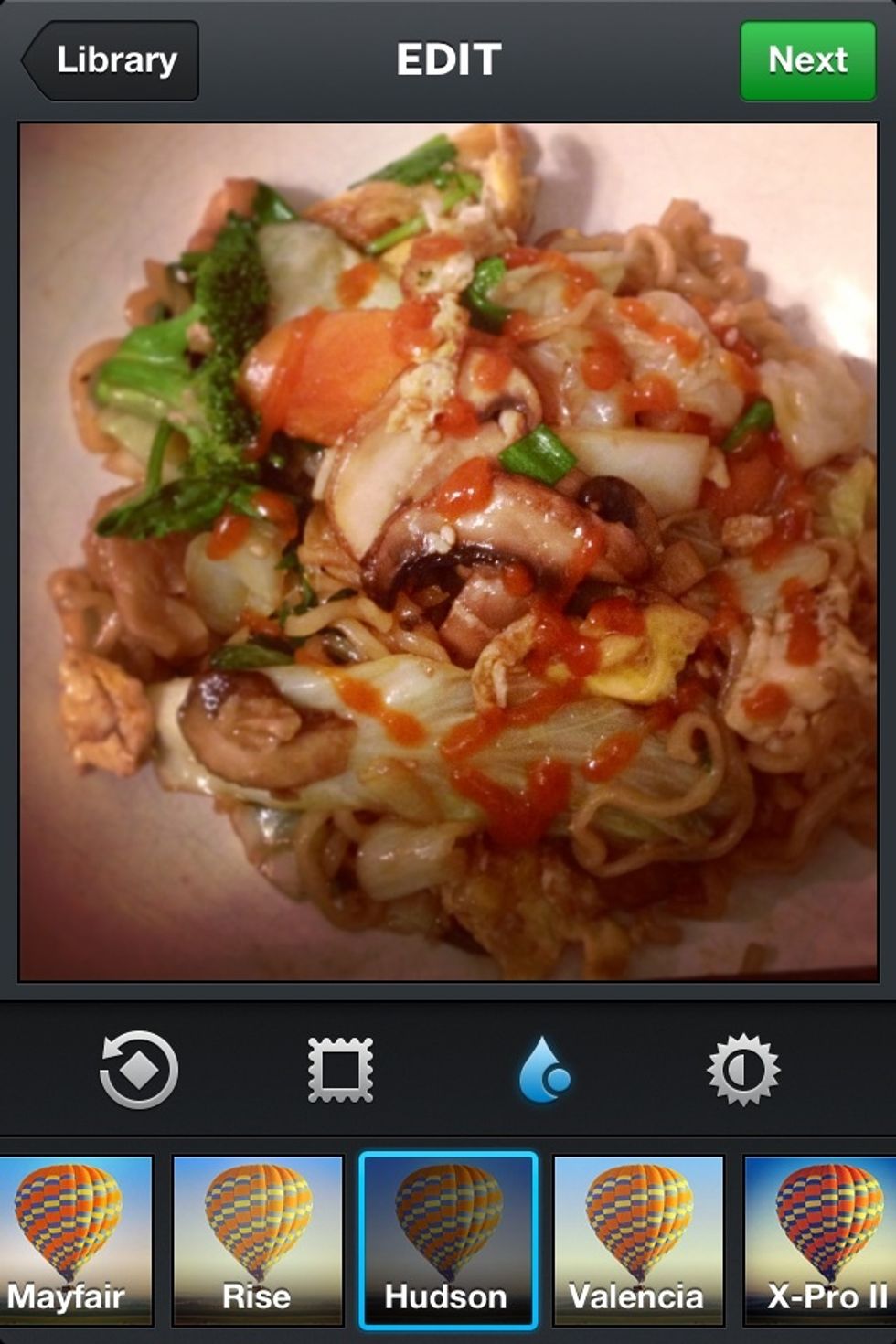 Enjoy!!! And follow me👌I'll be posting more easy recipes like this🍴😉
1.0 Ramen noodle package(toss the seasoning packets)
3.0 Cloves garlic minced
1.0 Piece of ginger minced about same amount of garlic
Veggies! (Whatever you have in your fridge)
Mushrooms
Carrots
Cabbage
Broccoli
2.0Tbsp Soy sauce (to taste)
2.0Tbsp Sweet soy sauce
1.0Tbsp Sesame seeds
2.0Tbsp Olive oil and another tablespoon to fry egg
2.0 Eggs loosely scrambled
1.0Tbsp Mushroom seasoning