How to steampunk spells mixed media canvas with chippies
Steampunk Spells Mixed Media Canvas With Chippies
66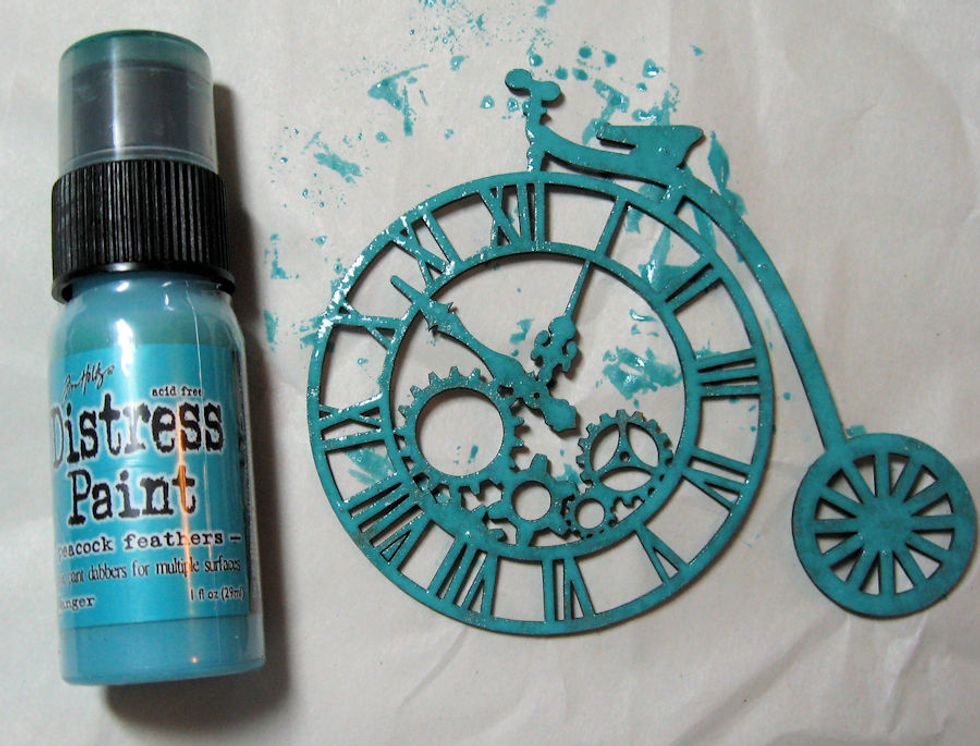 Paint the Clockwork Penny Farthing Chipboard with Peacock Feathers Distress Paint.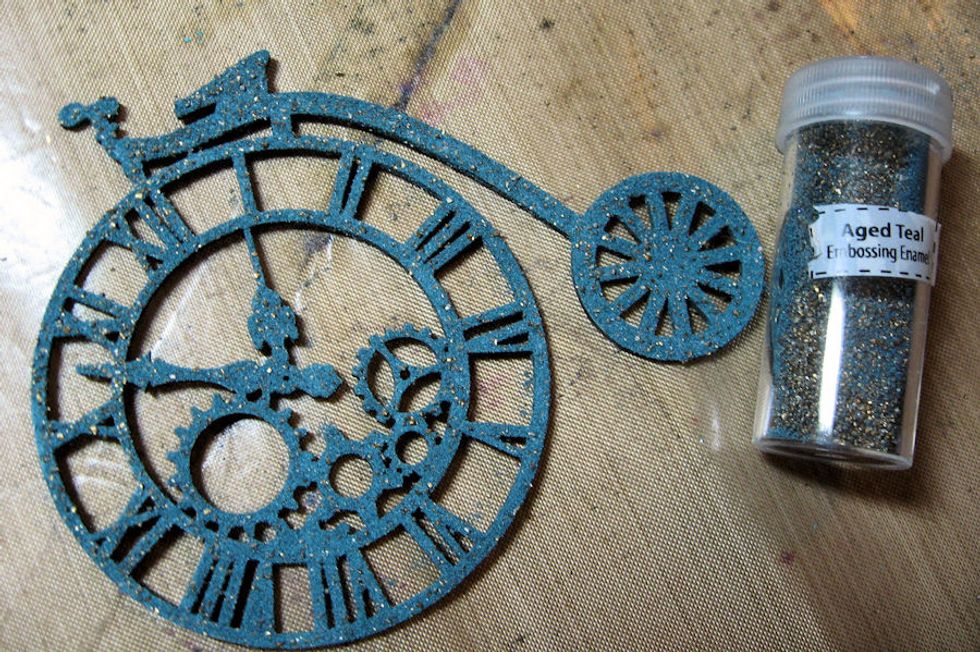 While Paint is still wet, cover with Stampendous Aged Teal Embossing Enamel. Slide excess off into tray onto paper and put back in the bottle.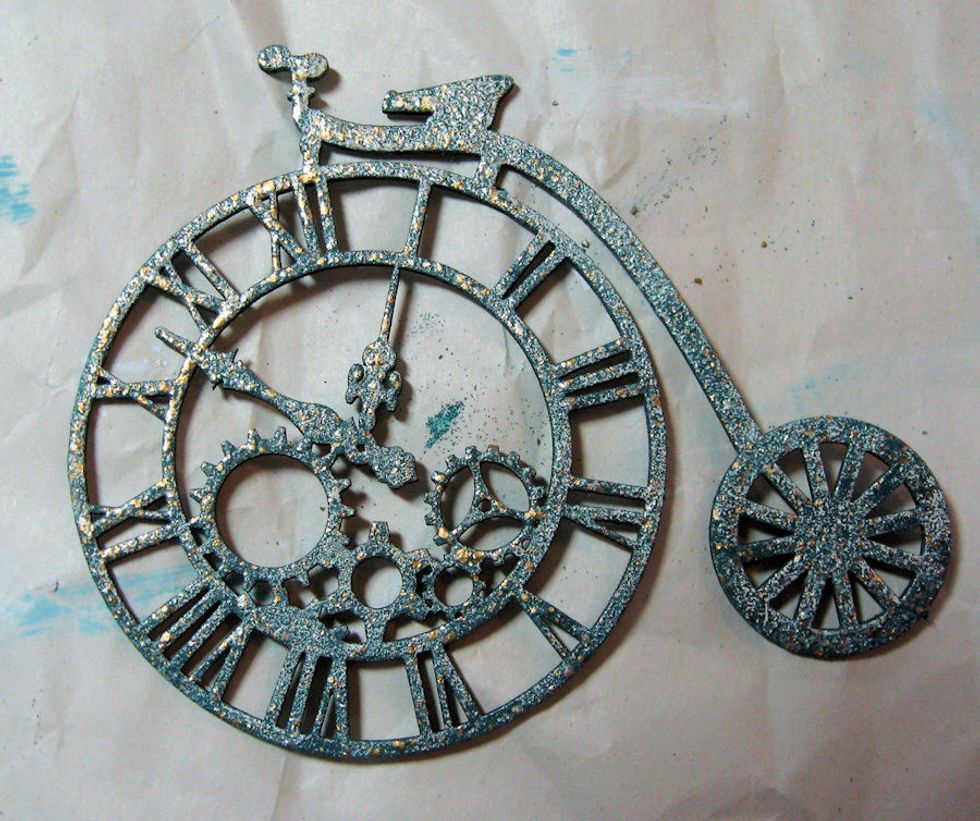 Heat set the embossing enamel, starting from beneath the chipboard. This way the powder won't fly all over the place. Once the enamel starts to melt, you can heat from the top.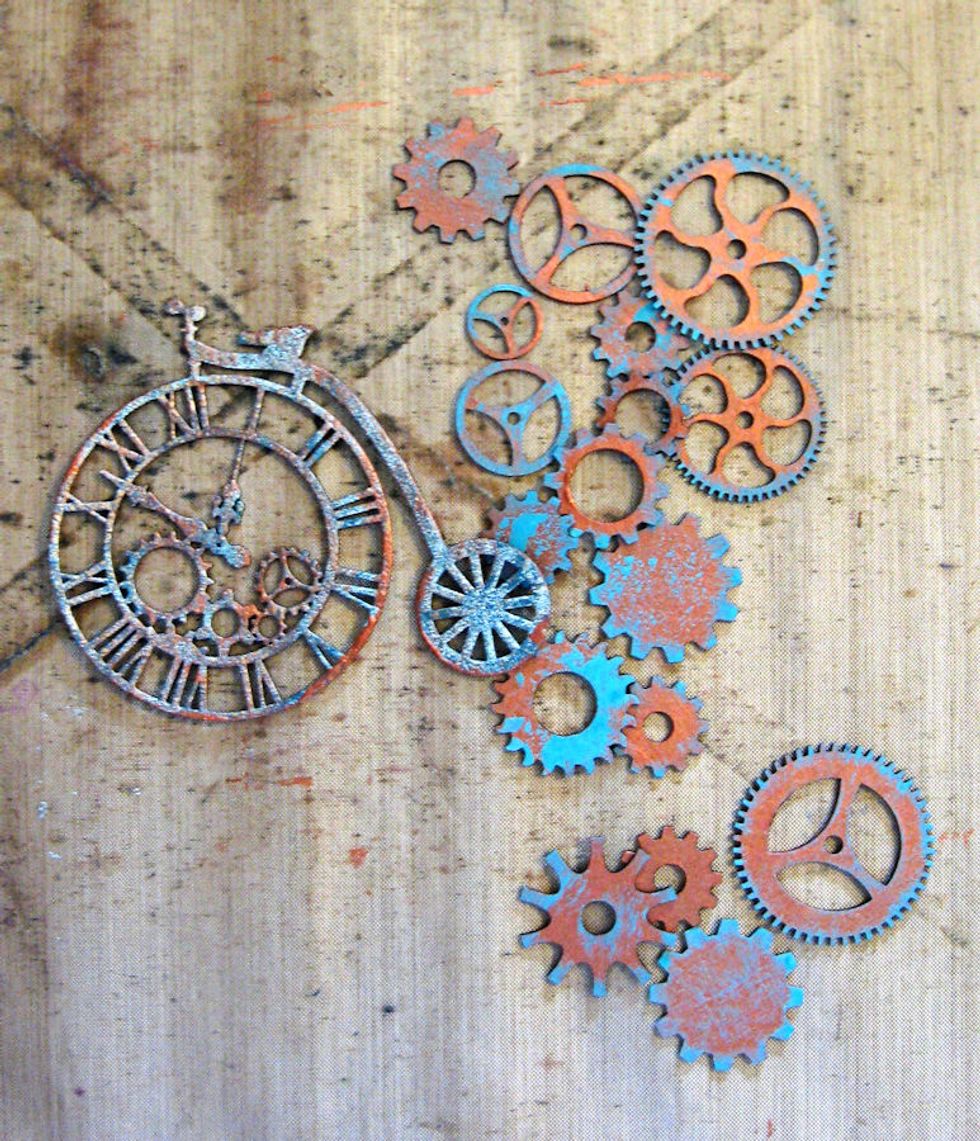 Paint the gears with copper metallic paint. Dab with Peacock Feathers. Brush edges of Penny Farthing with copper paint. Set aside to dry.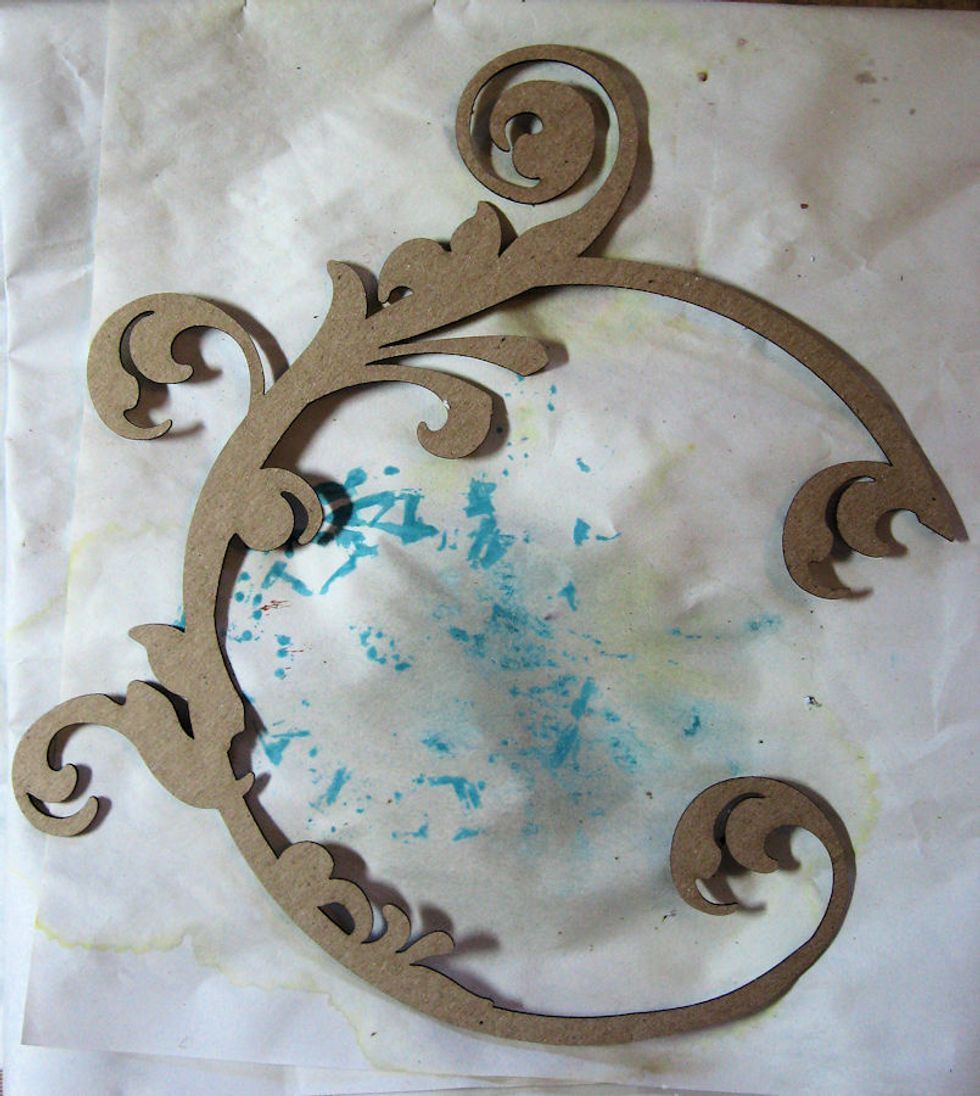 Remove the large open flourished frame from the chipboard and sand off any edges. We are going to give this a rust treatment!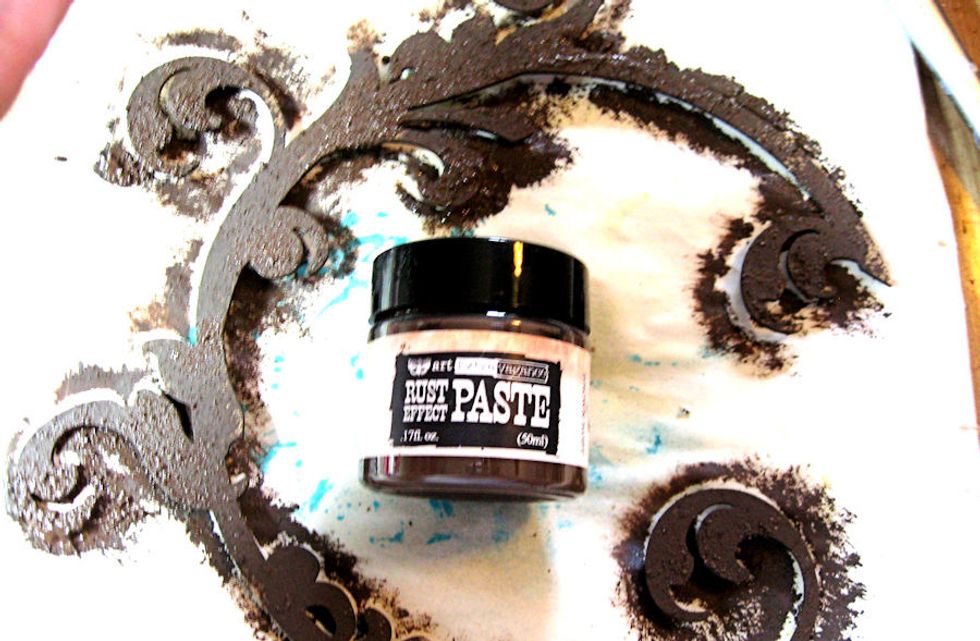 Use a paintbrush to pounce the darkest shade of Prima Rust paste onto the surface of the chipboard. Vary the intensity by adding thicker and thinner sections of paste.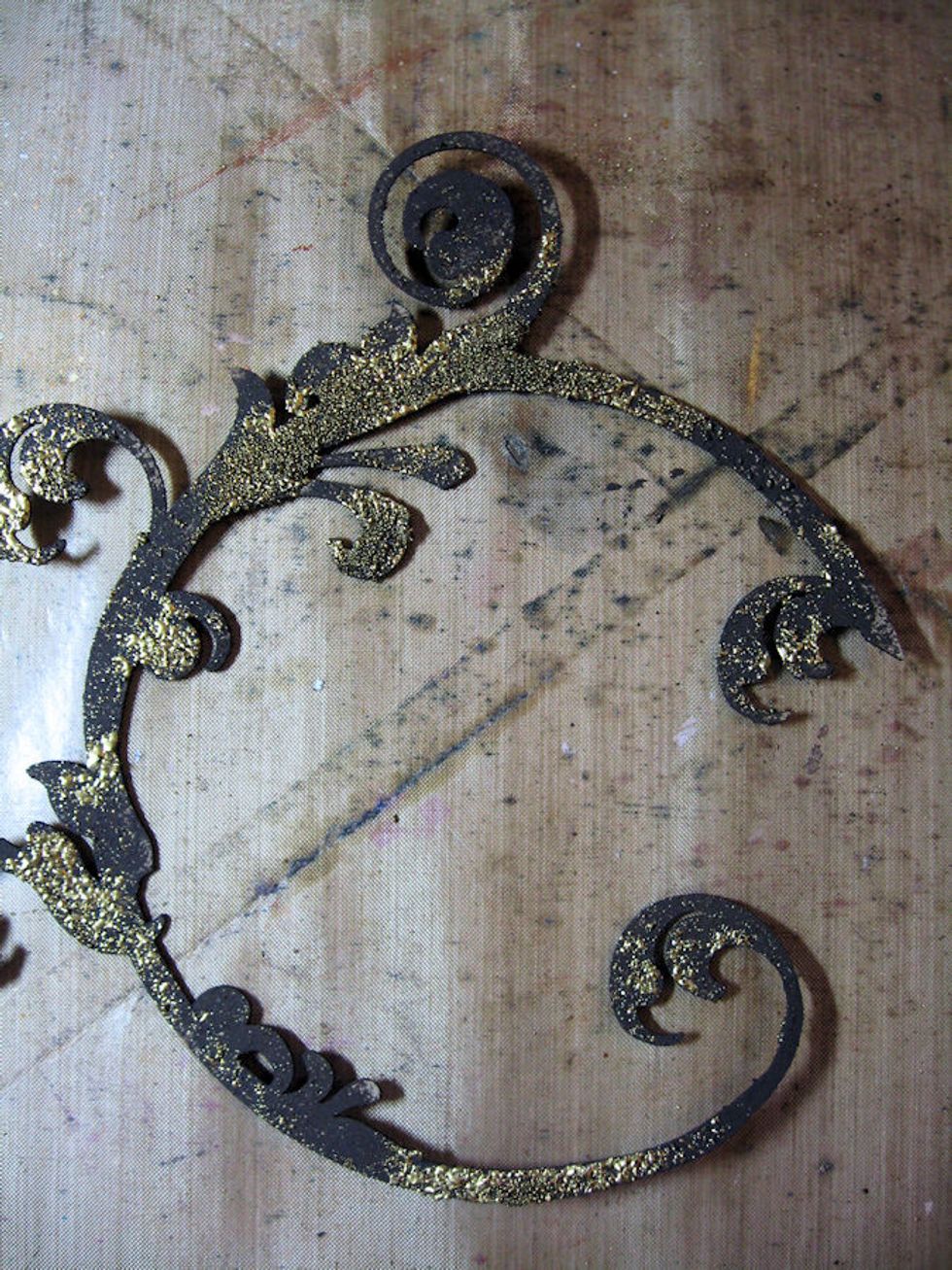 While the base layer of rust is still a little wet, sprinkle with Stampendous Aged Gold Embossing Enamel. Don't cover the whole thing. We are just looking for accented areas of gold.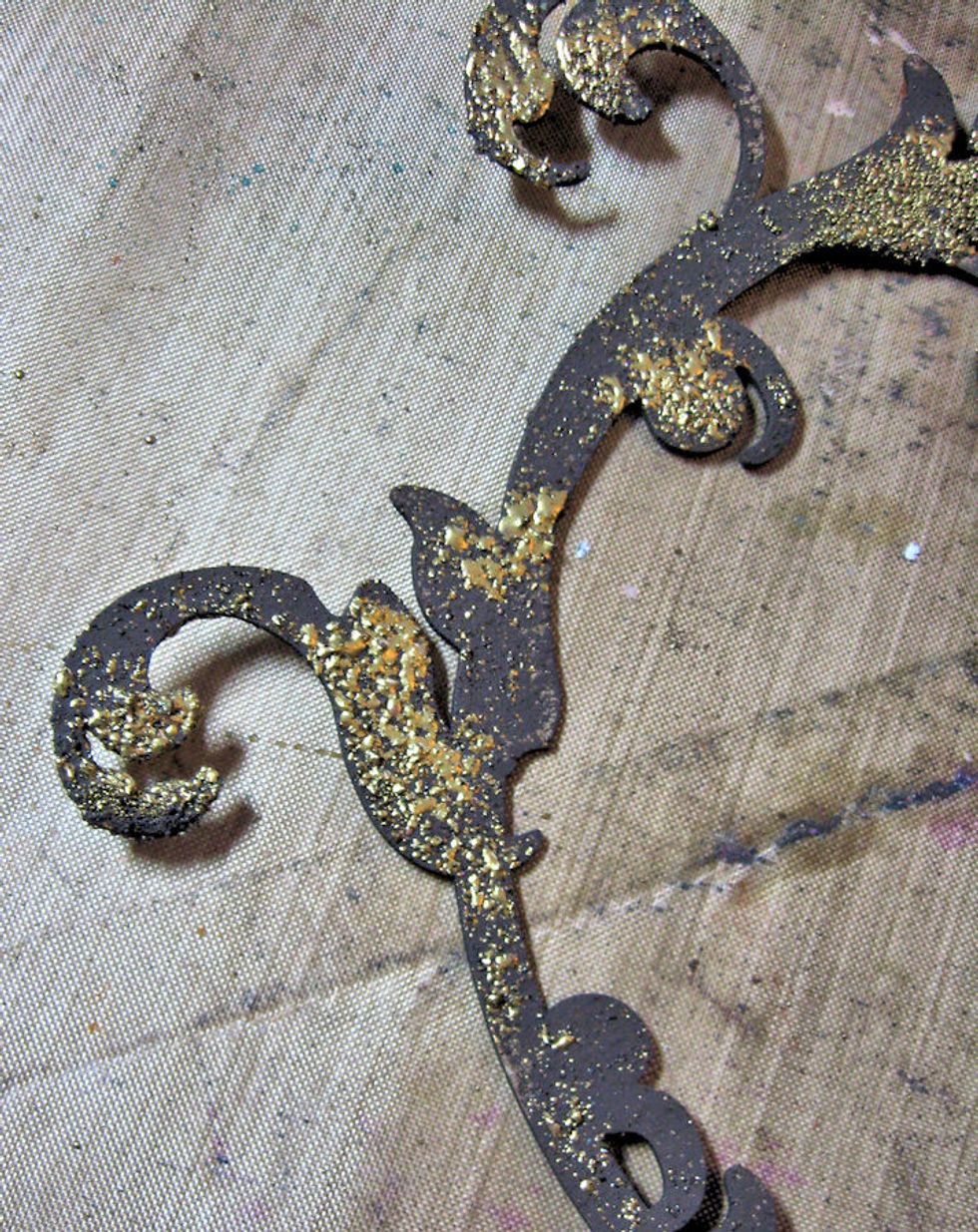 Heat emboss, leaving some areas a little "underdeveloped" and over heating other areas to create a really rustic, grungy finish like you see here.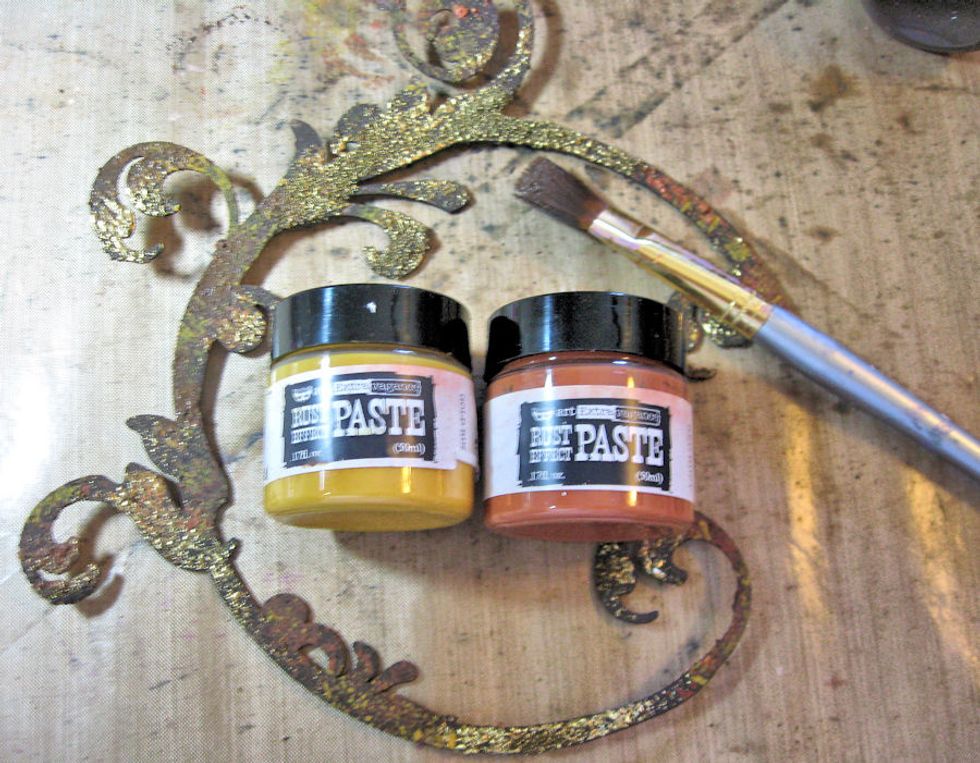 Go back in with your brush and add accents of the medium and light tones of rust paste. Set aside to dry thoroughly.
To create the canvas, join both sections of the autograph book together by wrapping all the way around with a few layers of G45 washi tape. Randomly brush copper and blue paints onto the edges.
Color texture crackle with Espresso Reinker and mix with Palette knife. Apply through a stencil. (I used TH mini Flourish). Let dry. Tap with clear embossing powder and heat emboss gold.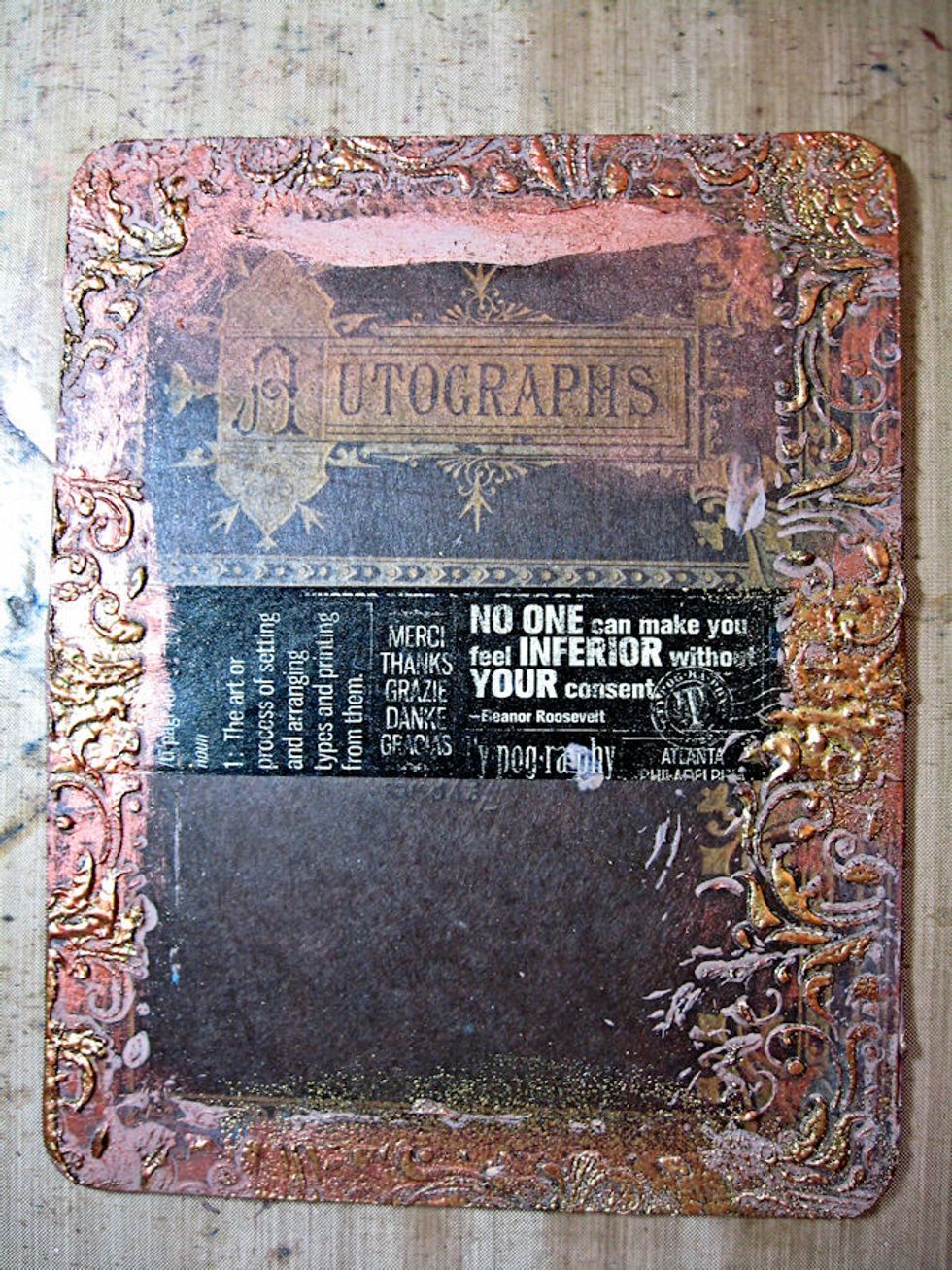 Dry brush embossed areas with copper metallic paint. I also added some bits of blue.
Cut 3 panels of Steampunk Spells paper to fit the canvas. Black = 5 7/8" x 8". Houndstooth is 1/2" smaller. Floral is from 8x8 pad and is cut 1/2" smaller than houndstooth. Distress all the edges.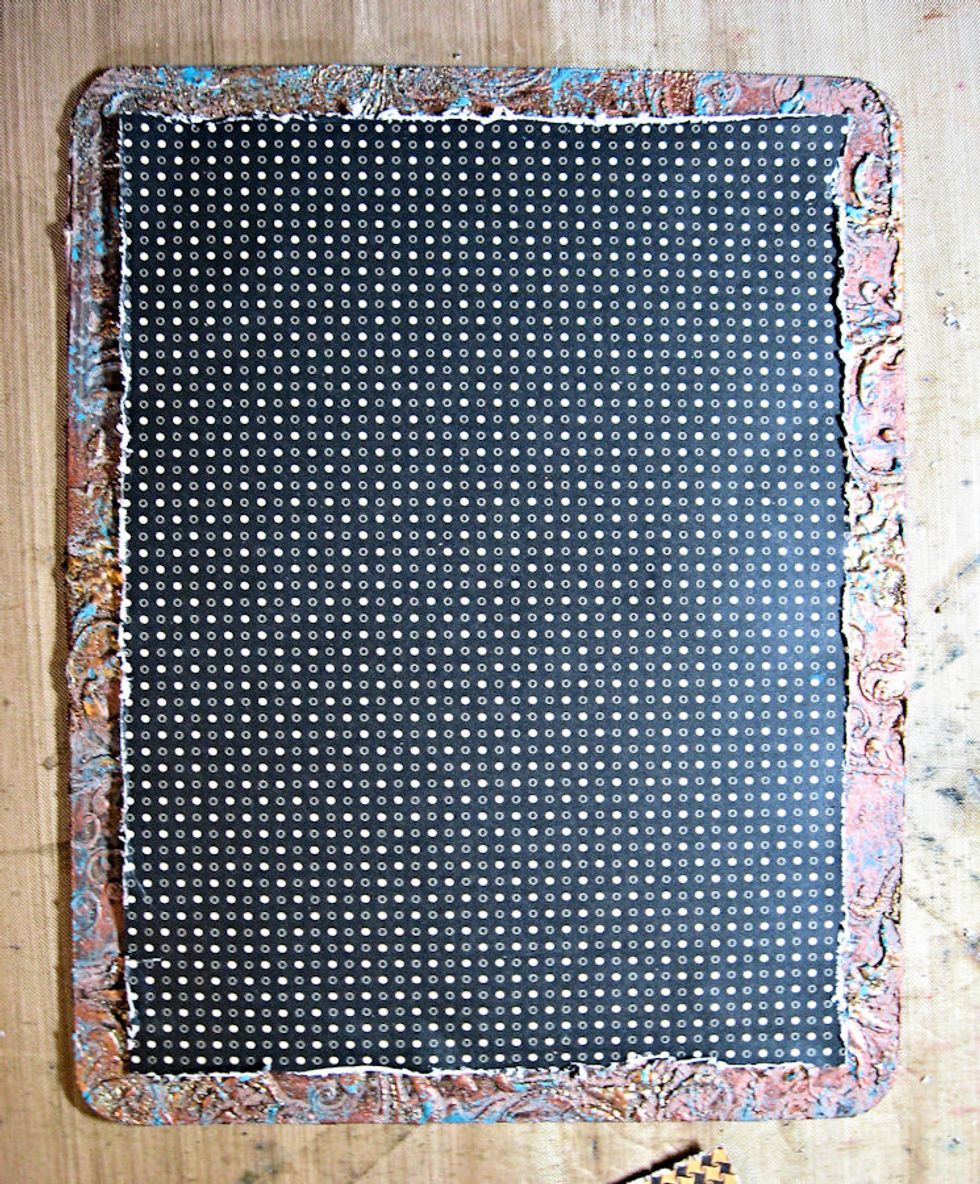 Glue foam tape (or squares of waste chipboard) to the back side of the black paper and center over prepared canvas. Glue in place.
Use a paintbrush handle to roll and further distress corners.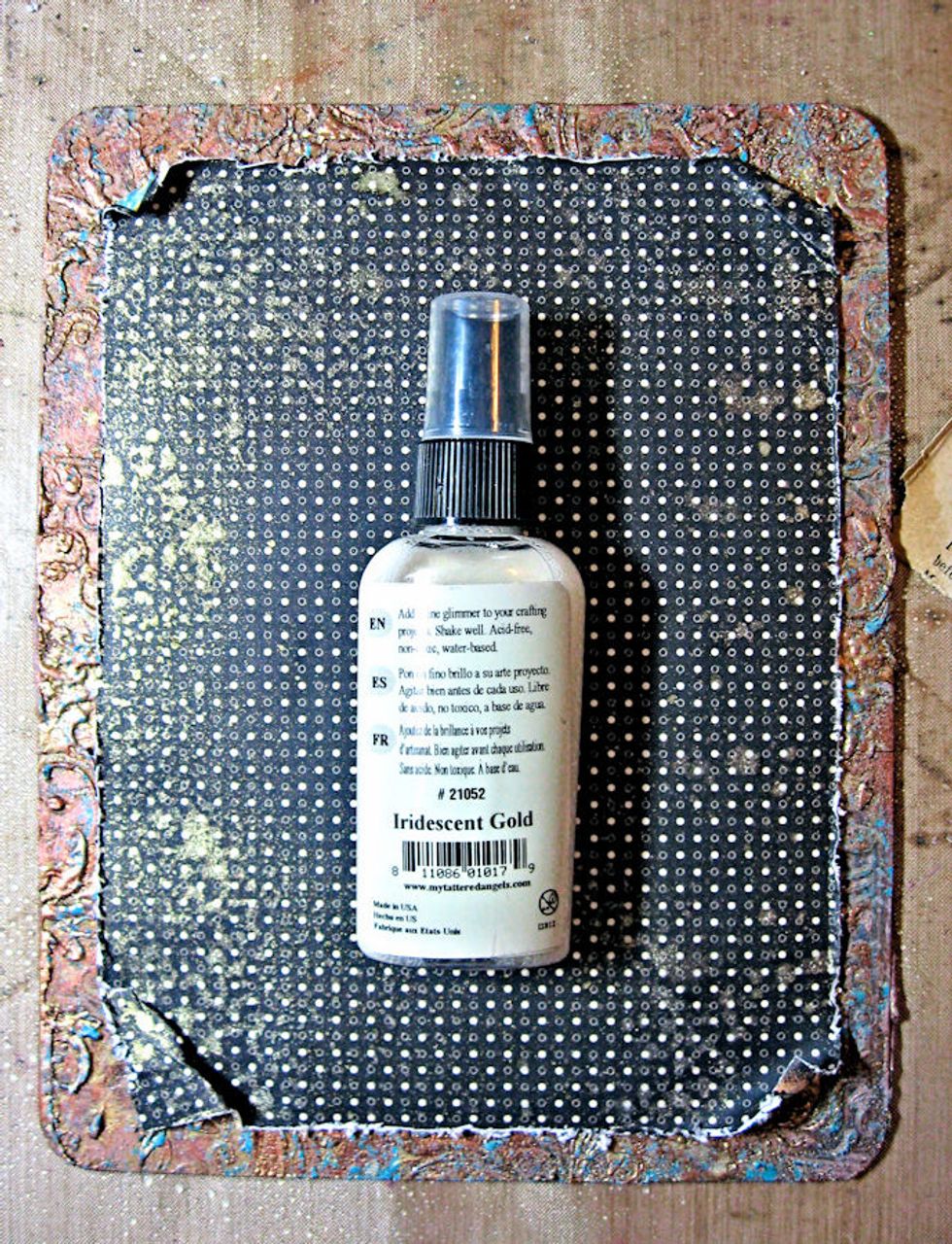 Spritz with Iridescent Gold Glimmer mist.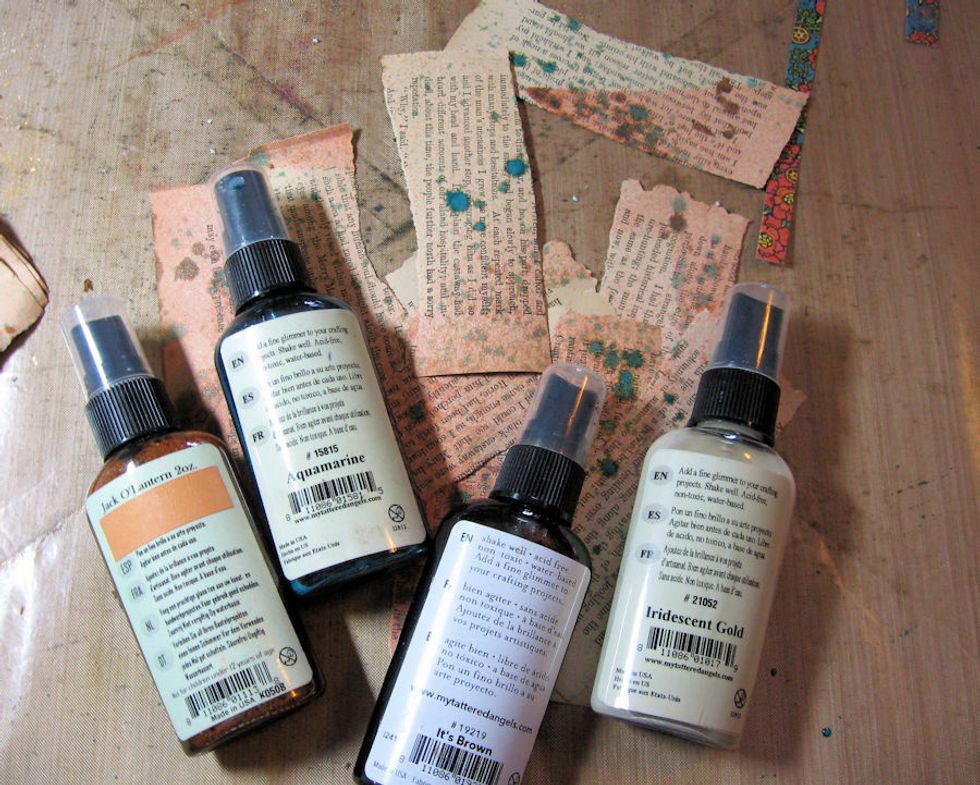 Tear old book pages into strips and distress with Glimmer Mists.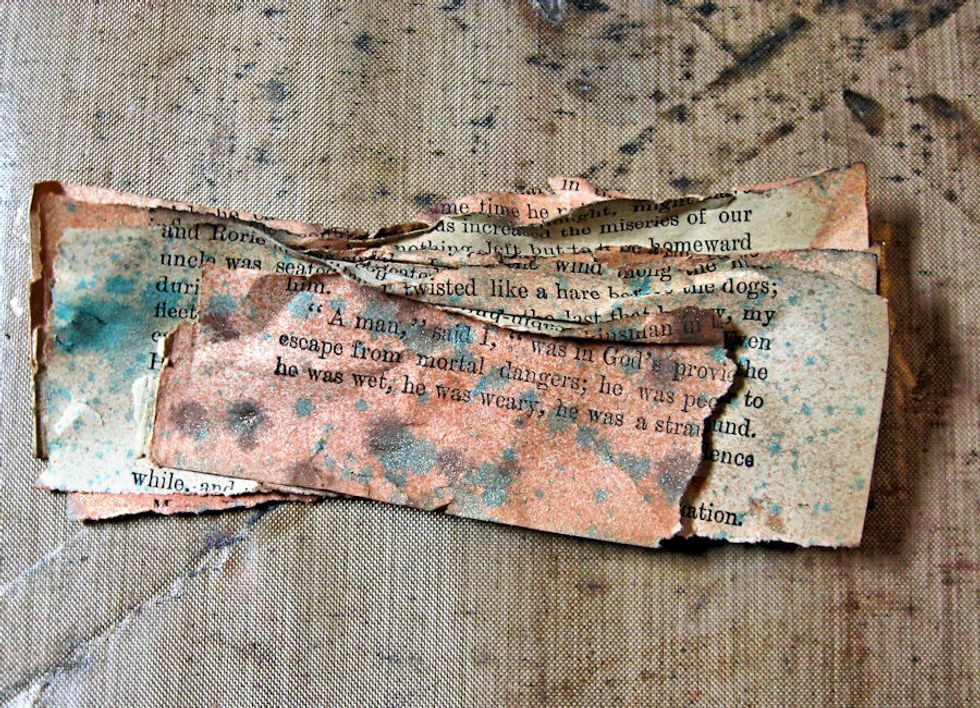 Crumple the edges and glue together into a little bundle as seen here.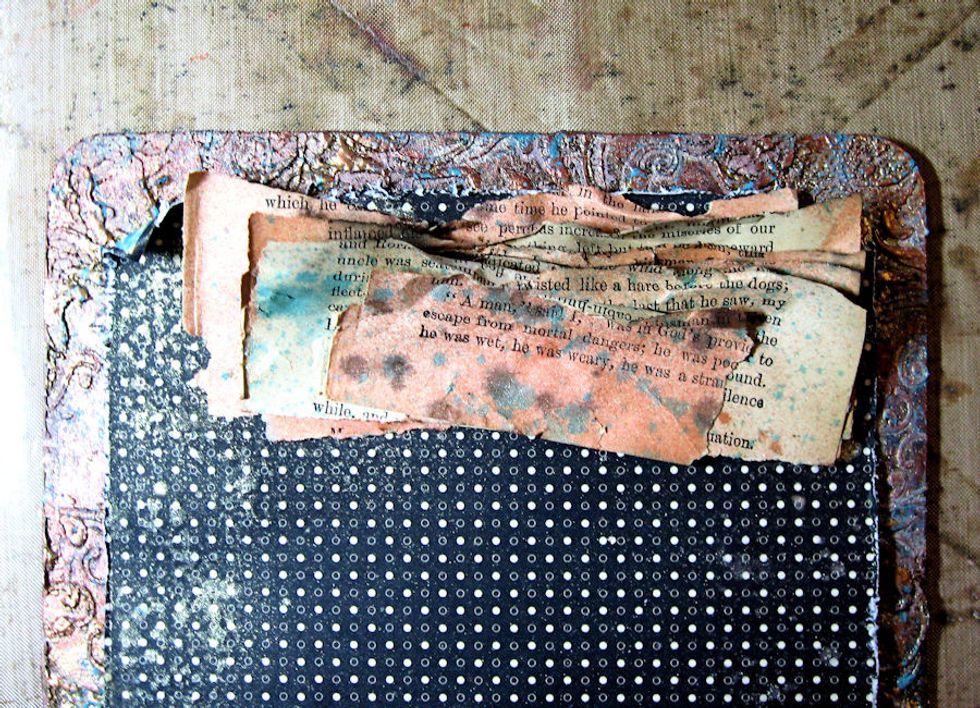 Glue in place at the top of the canvas.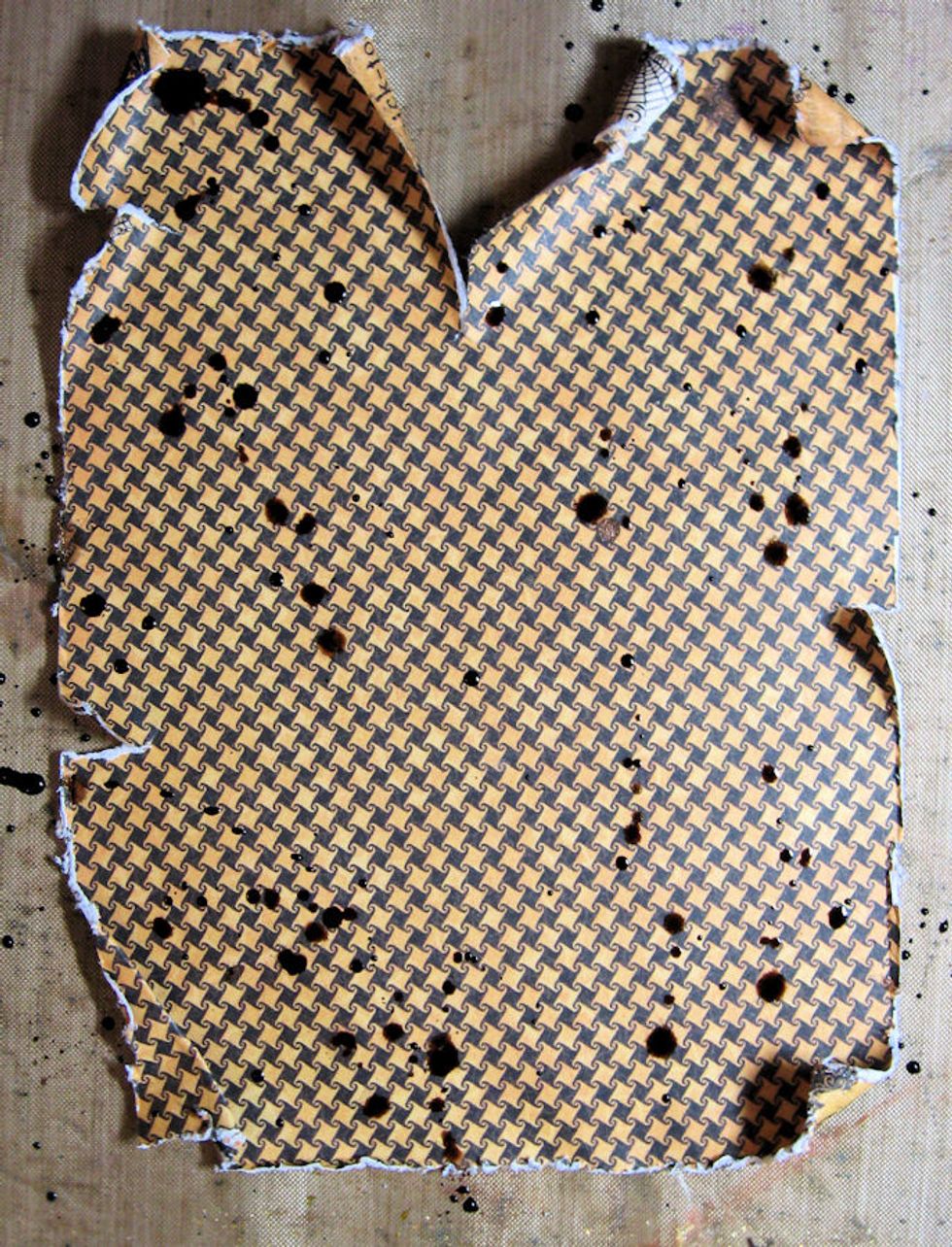 Tear, curl and distress the houndstooth panel.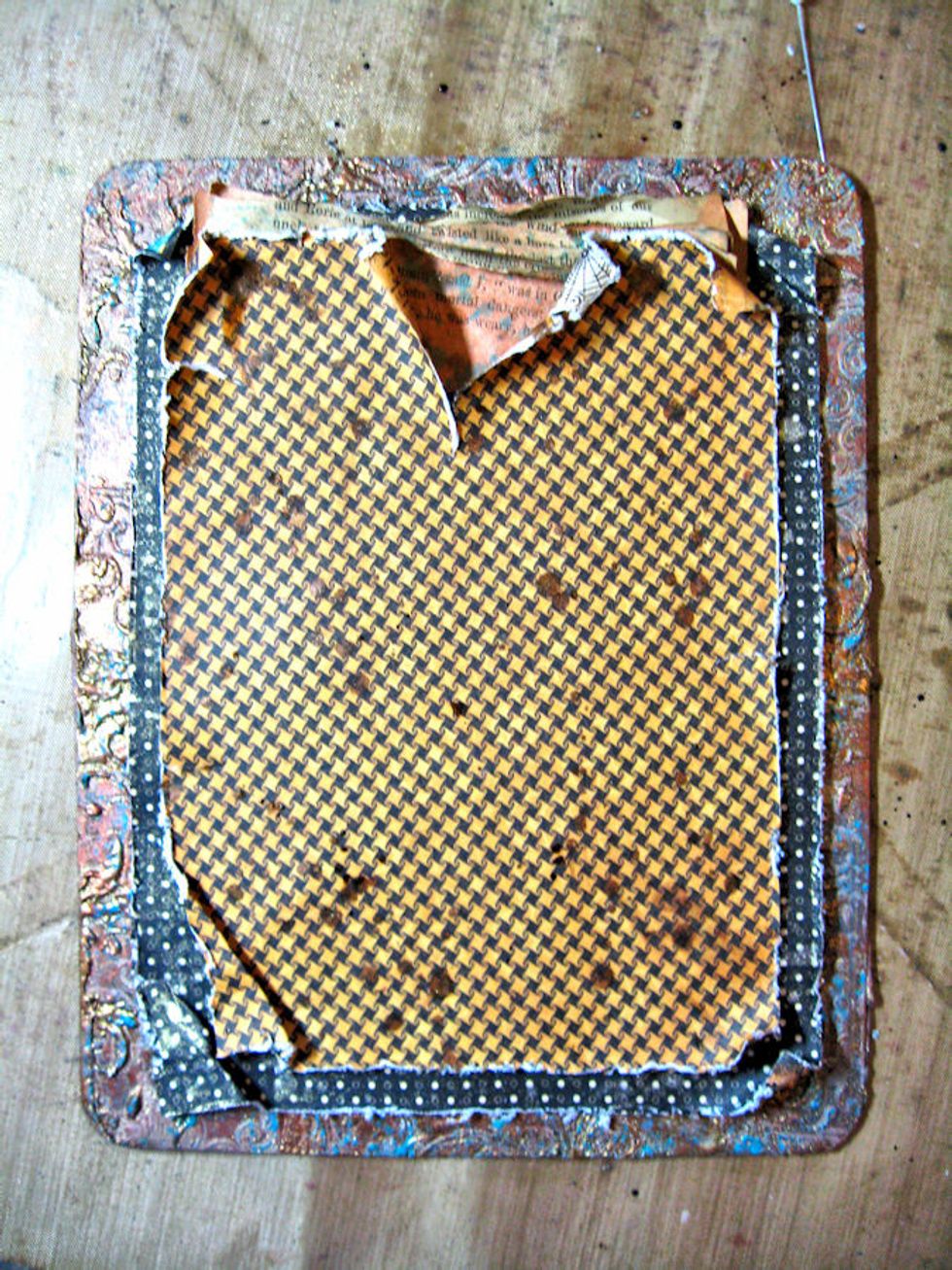 Use foam tape or waste chipboard to add another raised layer to the canvas. Make sure the book pages peek through the torn area as seen here.
Distress the floral paper a little more, then add with foam or chipboard spacers.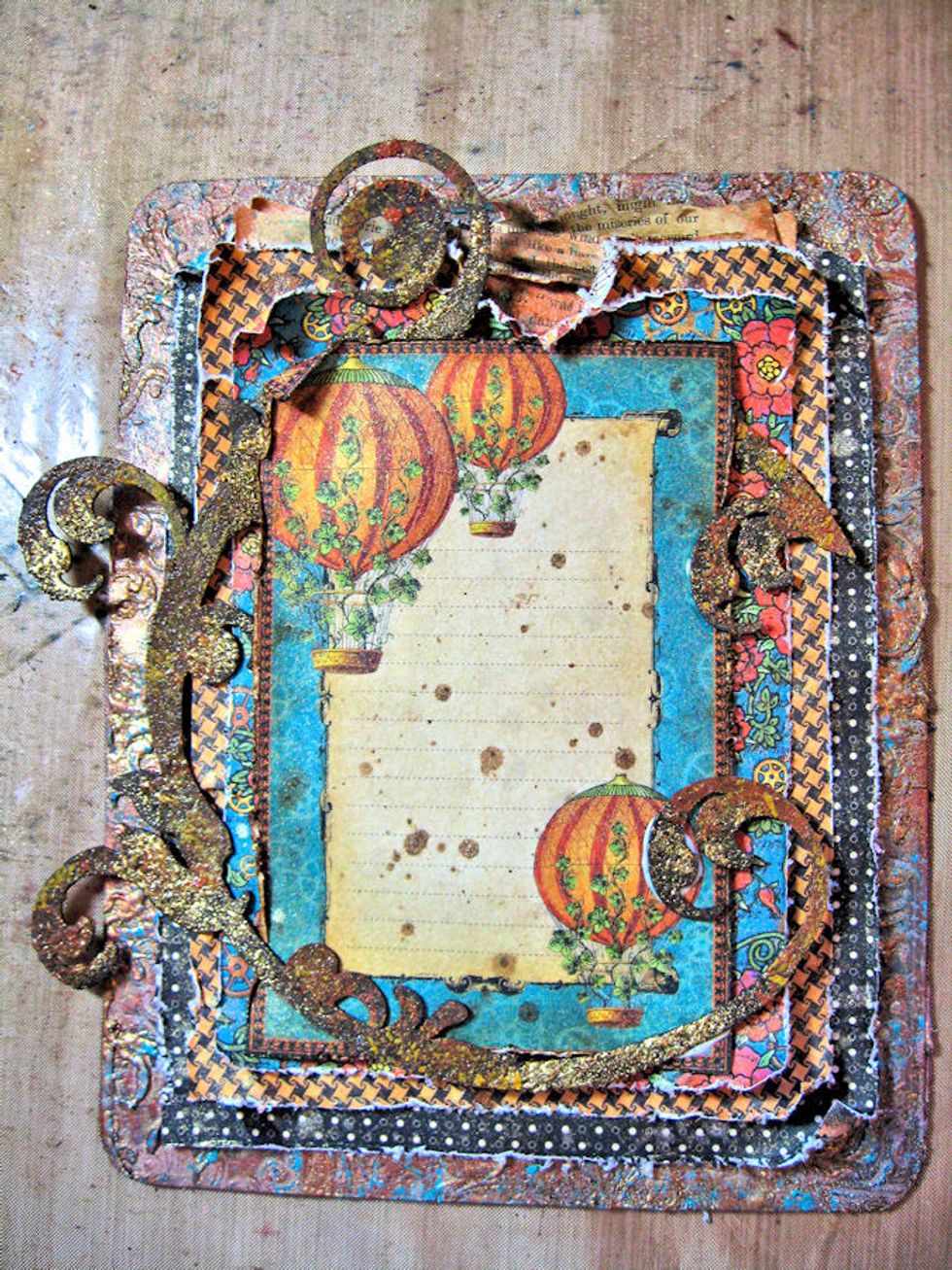 Wrap open flourished frame around chosen image (from 12x12 pad) and glue in place.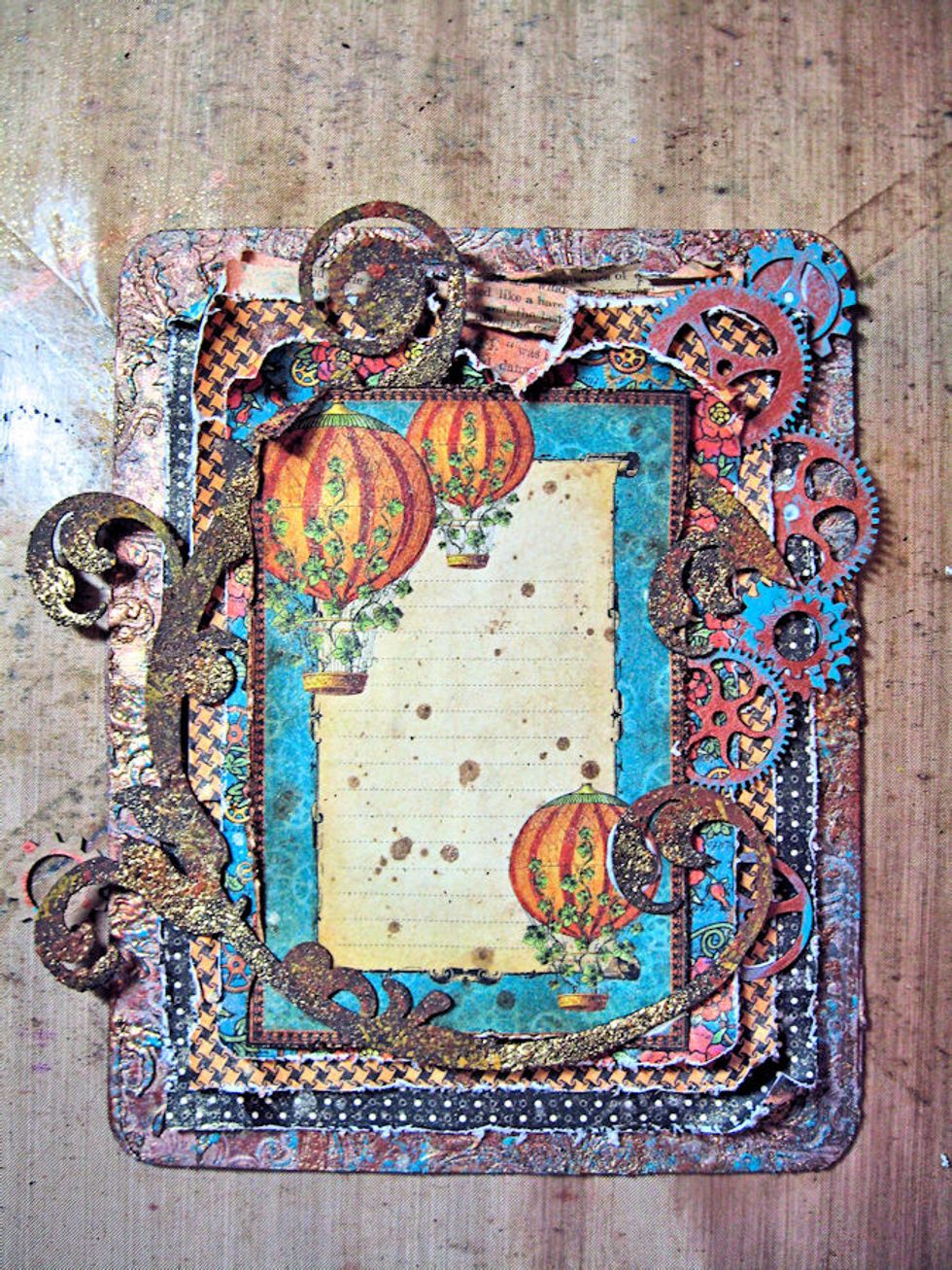 Add prepared steampunk gears to paper layers, some above, some below as seen here.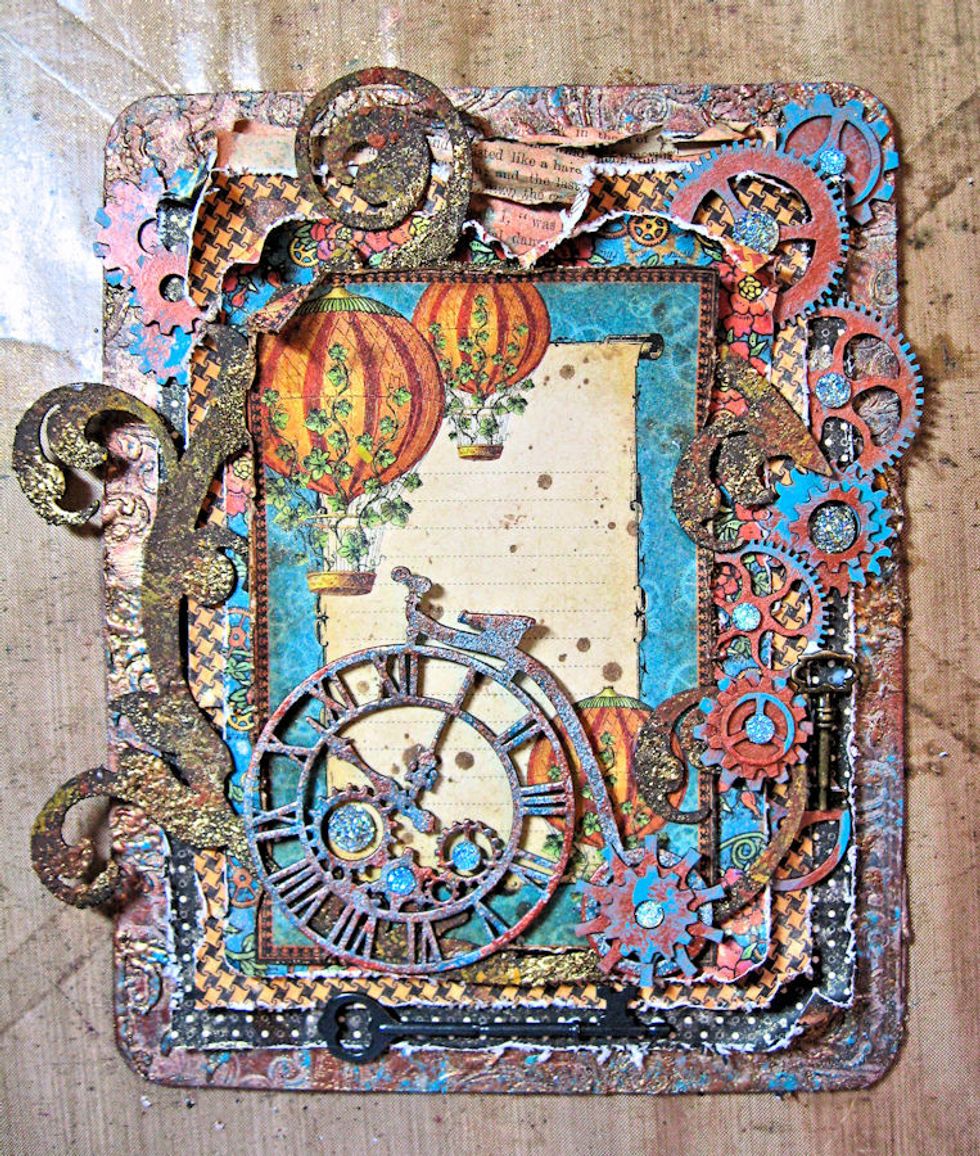 Add Penny Farthing, using foam or chipboard spacers to create a little depth. Layer some gears onto the small wheel. Add gems to gear centers. Glue a key at the base of teh canvas.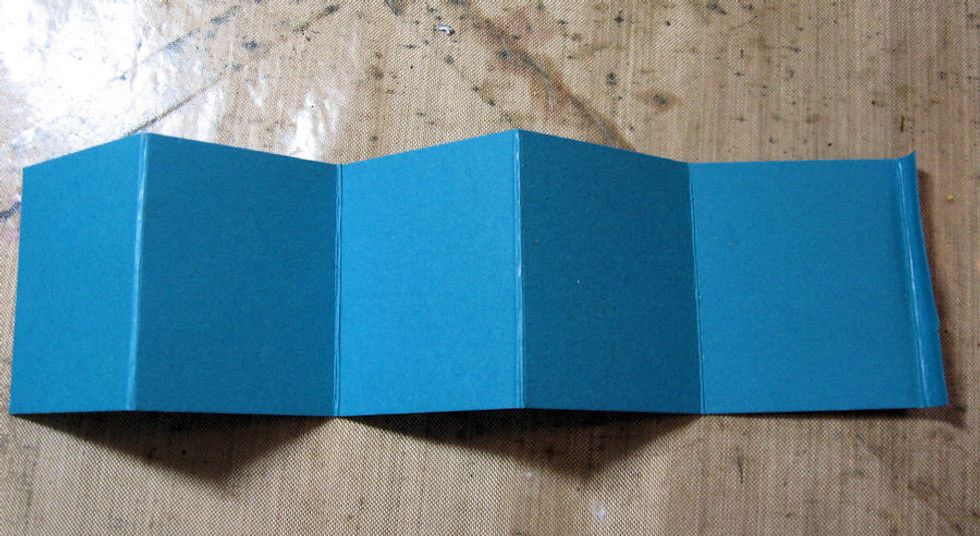 Cut a 2" tall strip of Lost Lagoon cardstock. Score every 1 5/8." Accordion fold. We will make this into a little spells and potions book with pockets.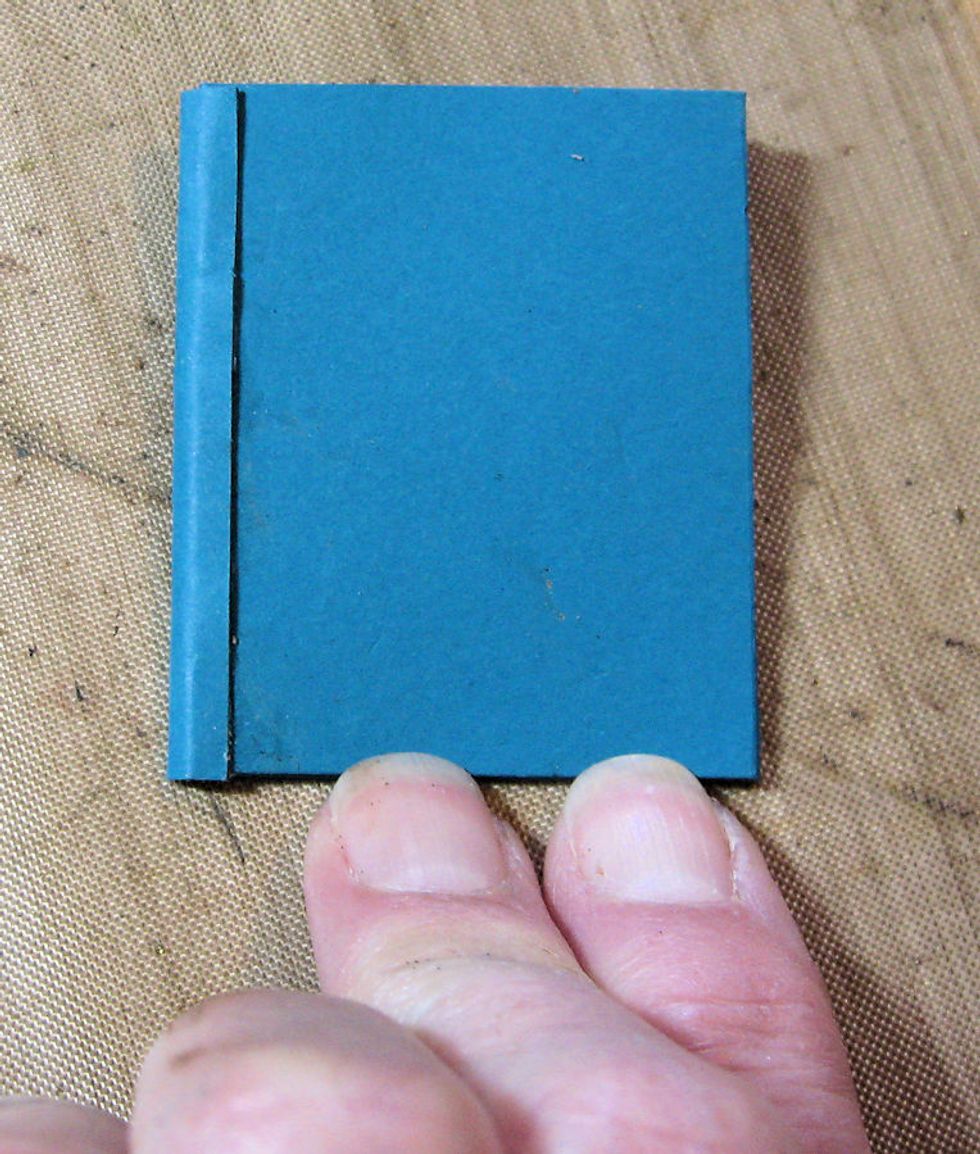 You will have 6 sections with a tiny overlap. Accordion fold the book. Wrap the overlap to the top of the booklet to serve as the spine/binder for the book.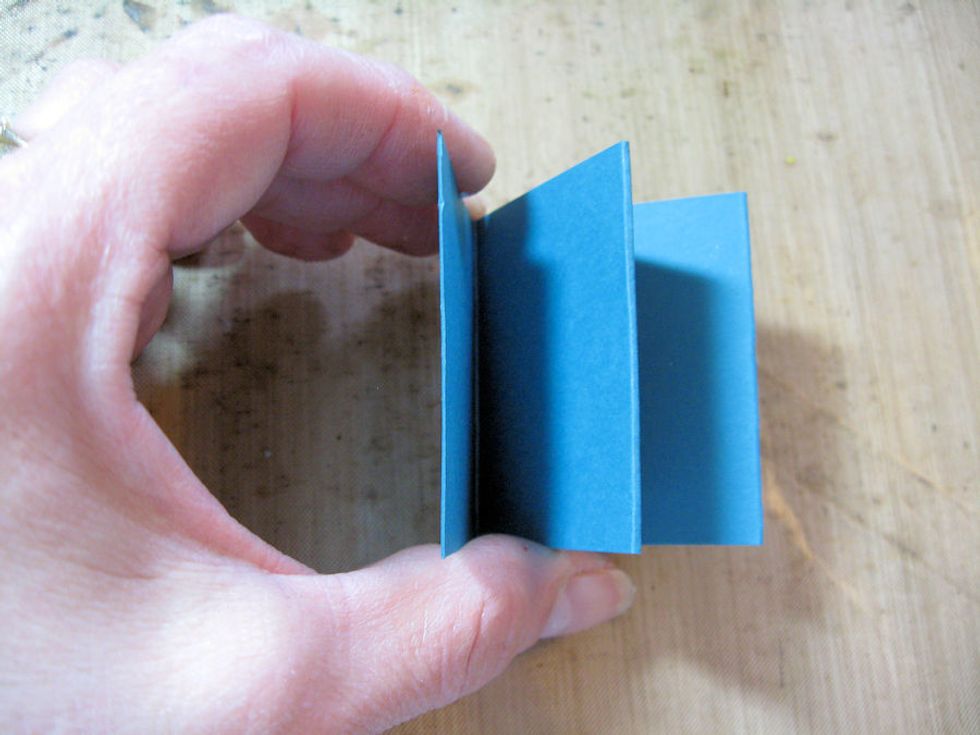 You will have a cover and two pocket pages, like this. Cut portraits and book cover from the 8x8 pad. Distress the edges. Ink edges with black ink. Paste in place. Add two small portraits to pockets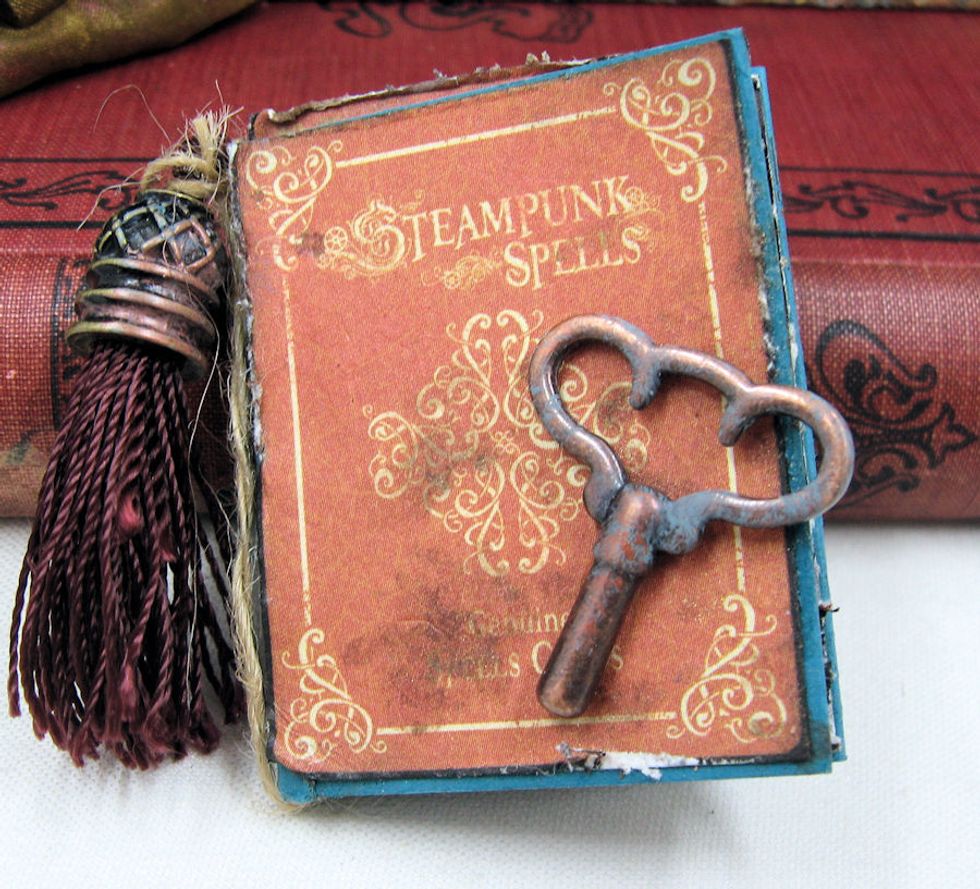 Tap Prima key with paints. Glue onto cover. Add Prima Tassel to spine with string.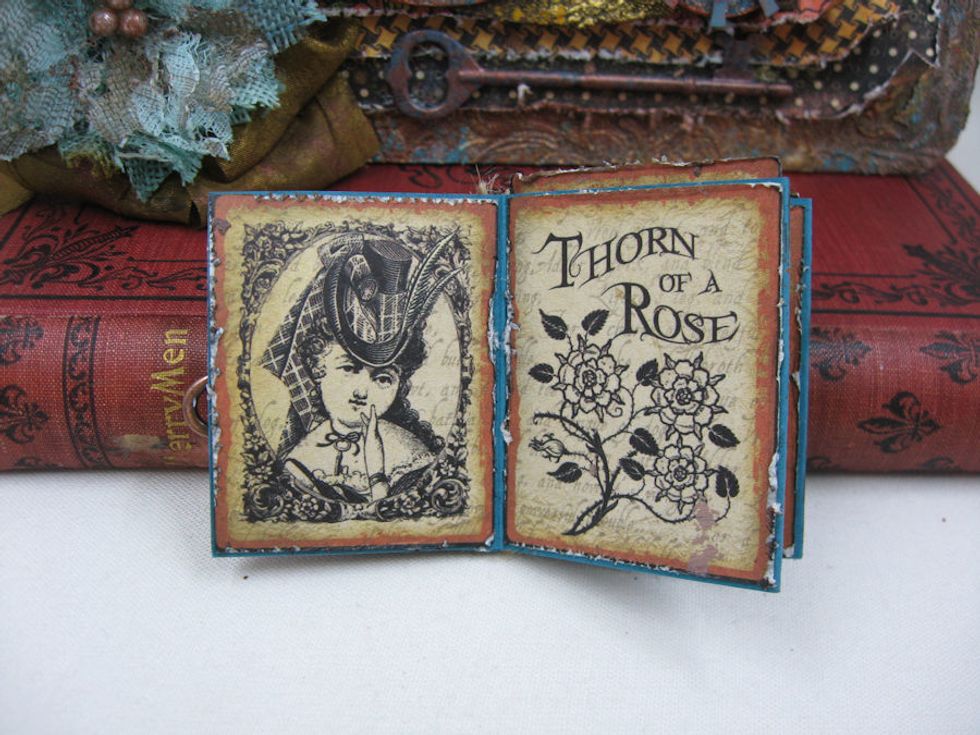 Here's the first page. See the little tab peeking up at the top? that's another portrait inserted into the pocket.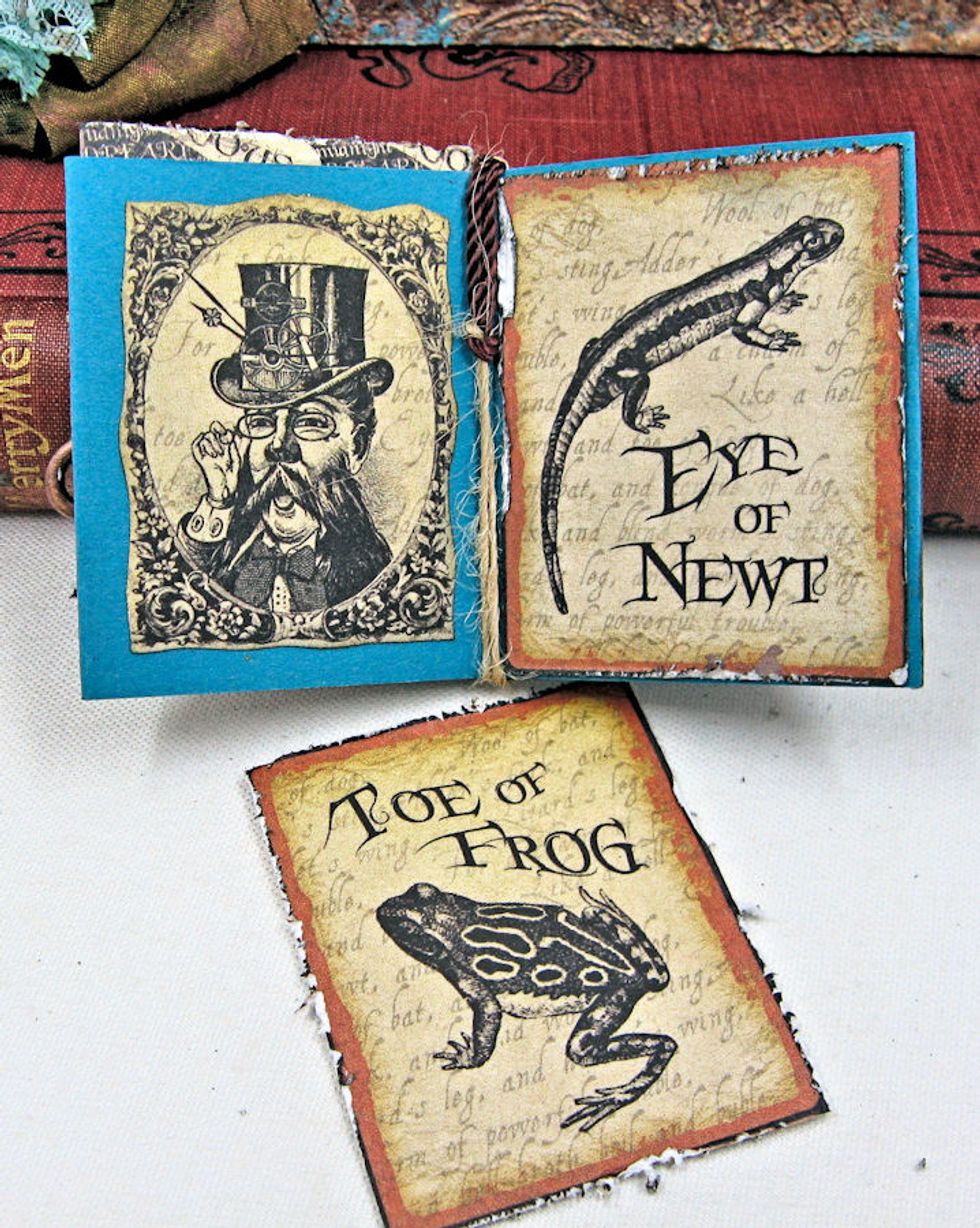 The back page with the pocket portrait displayed.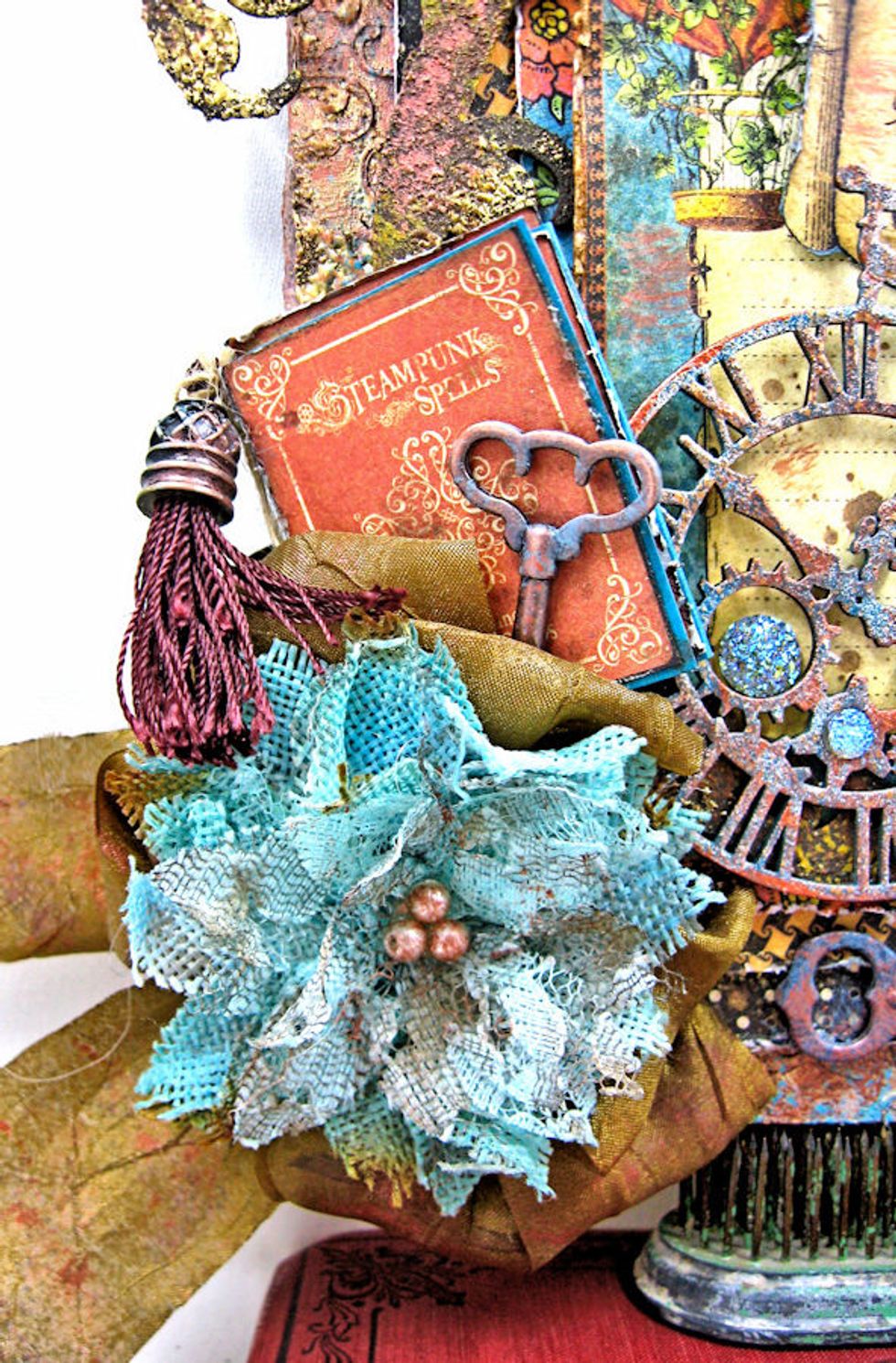 Distress ribbon with paint and spray. Tie bow. Hot glue in place. Add flower (also distressed). Now you can slip the back cover under the penny farthing wheel and rest in place behind the ribbon.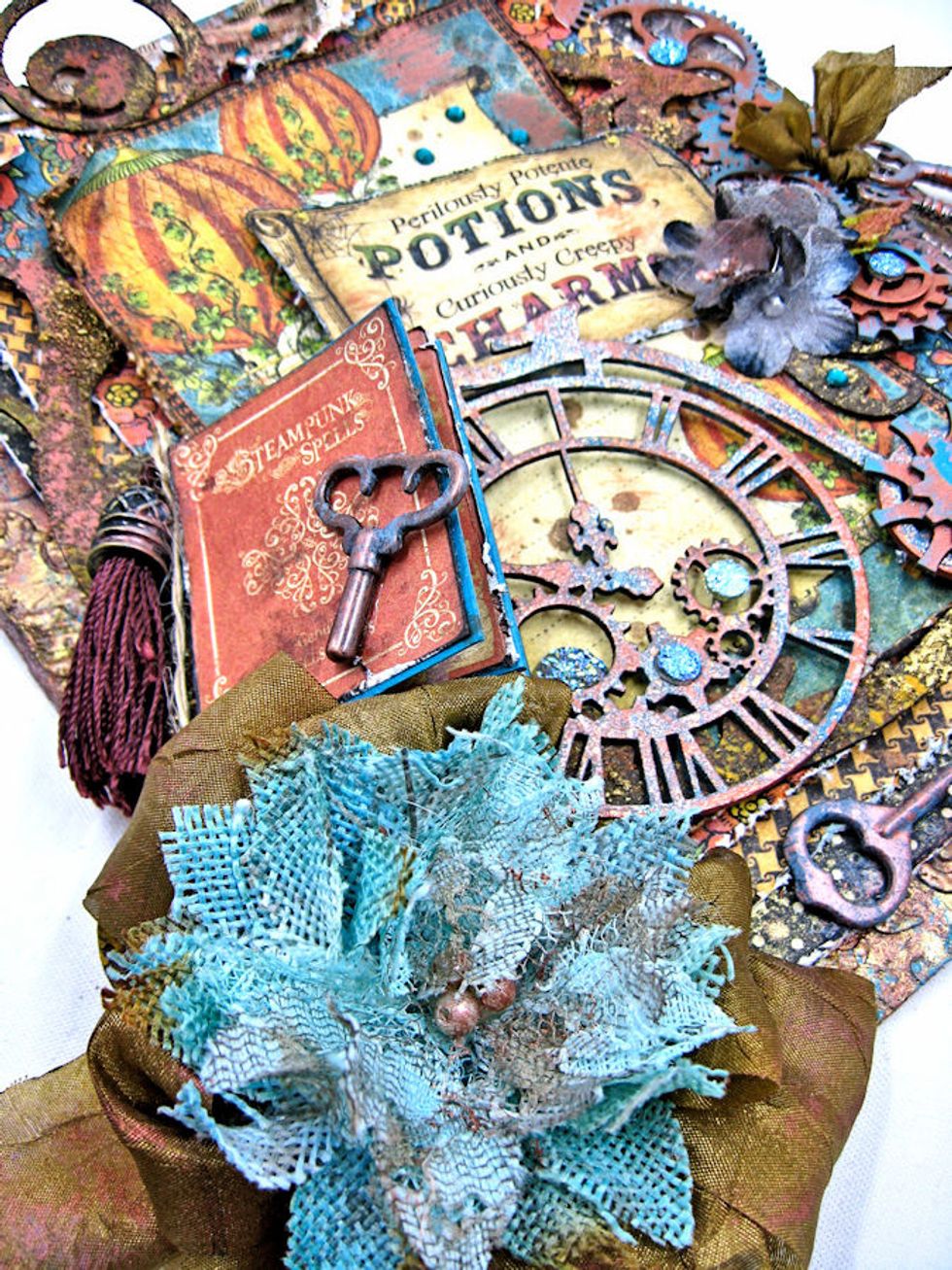 The book is not glued in place. It can be pulled out and opened, then slide back in place behind the wheel of the Penny Farthing and ribbon.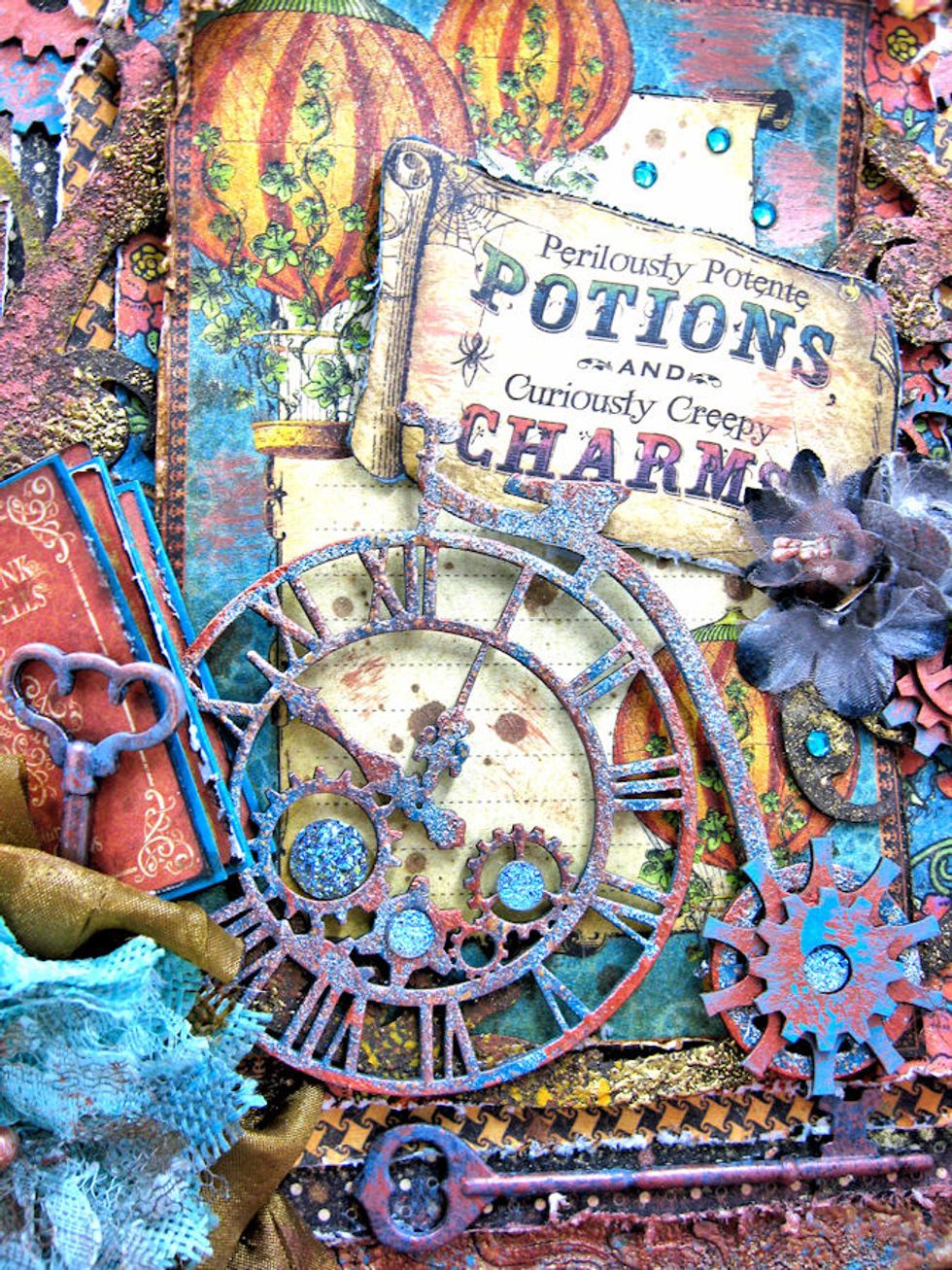 Fussy cut the potions and charms scroll from 12x12 paper. Distress and ink edges. Add with foam or chipboard spacers. tap keys with paint and add any finishing touches.
I added more painted keys and more Petaloo flowers.
I glued rhinestone gems in between book pages and scattered randomly onto canvas.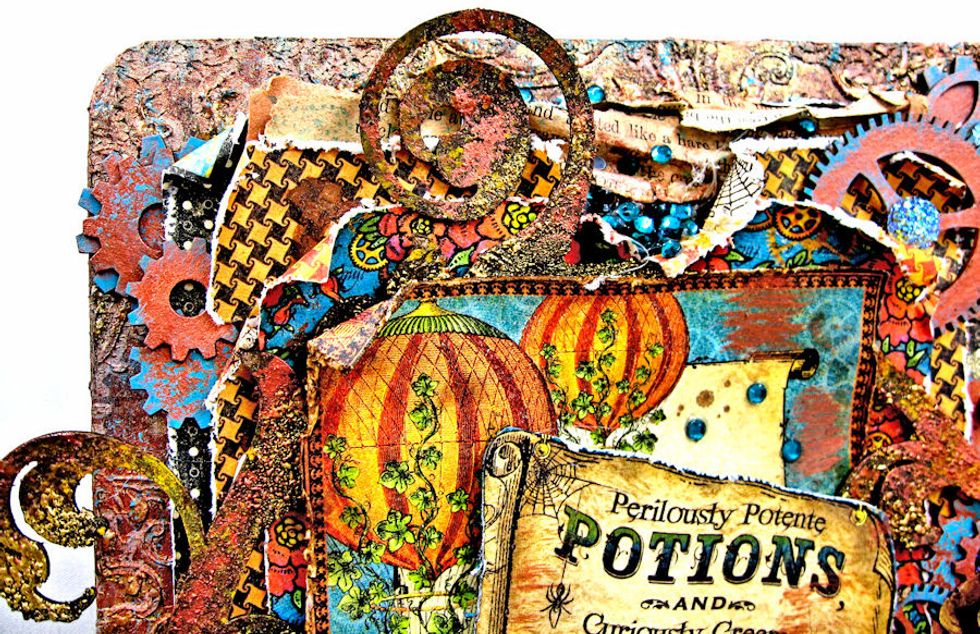 You can add more gems, gears and dry brush paints randomly as you see fit.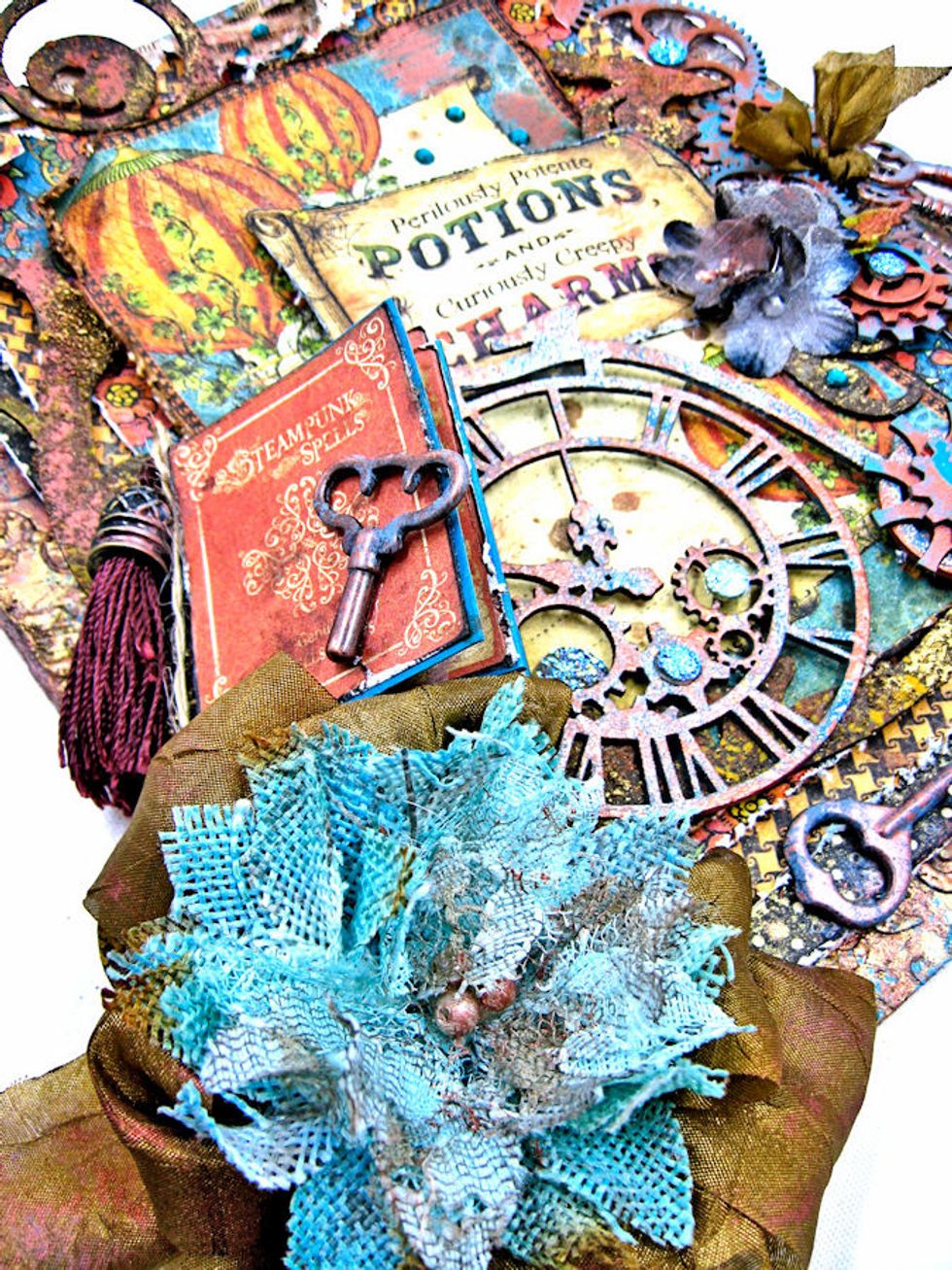 Look how beautiful!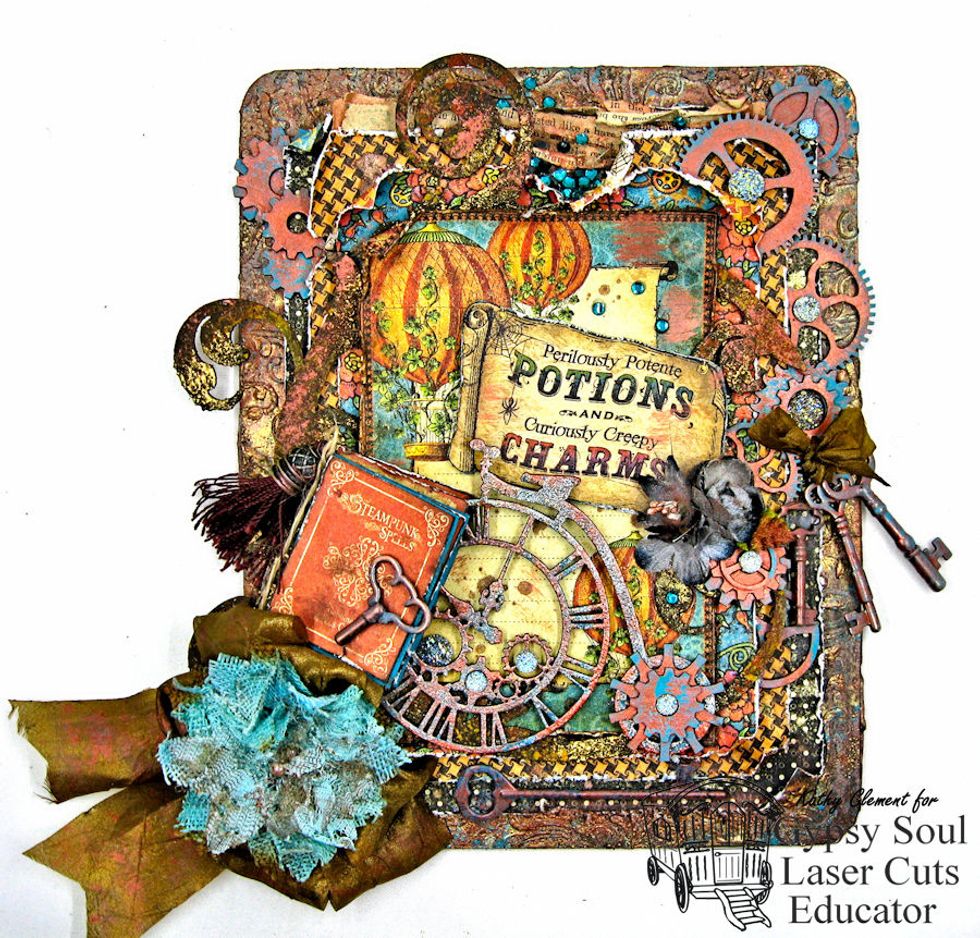 Thanks for joining me here today! I hope you were inspired! I'd love to hear from you in the comment section below. You might also enjoy the video tour on YouTube. Now go get your craft on!
Gypsy Soul Laser Cuts (GSL) Gears Shape Set
GSL Clockwork Penny Farthing
GSL Large Flourished Open Frame
G45 Steampunk Spells 12 x12
G45 12x12 Steampunk Spells Tick Tock
assorted G45 Steampunk Spells 8x8 papers
7 Gypsies Autograph Vintage Book Cover
G45 Washi Tape
Tim Holtz Re-Inker Ground Espresso
DecoArt Texture Crackle Medium
Tim Holtz Mini Stencil Set 10 (flourish)
Palette Knife or old credit card
DecoArt Dazzling Metallics, Copper
Prima Rust Paste
Tattered Angels (TA) Glimmer Mist: Aquamarine
TA Glimmer Mist, Jack O Lantern
TA Gimmer Mist It's Brown
TA Glimmer Mist Iridescent Gold
Stampendous Frantage Aged Gold Embossing Enamel
Peacock Feathers Distress Paint
Prima Say it in Crystals
Aqua Rhinestone Gems
Prima Junkyard Findings Keys
Petaloo Teal Burlap Birdnest Flower
Petaloo Textured Blossoms, Gray
Foam tape or waste chipboard
Art Glitter Dries Clear Adhesive
Glue Gun, Paint Brushes
Old Book pages
Antique Gold Silky Crush Really ReasonableRibbon
Heat gun
Lost Lagoon Cardstock
Stampendous Aged Teal Embossing Enamel
Clear embossing pad
Burlap string
Small Prima Ingvid Bloem tassel
Kathy Clement
I'm a wife, a mom and a Nana who loves to play with paper. Married for 40 years, I am a full time designer, life long learner, and pretty darn good cook.