Round up your ingredients! Let's do this!
Star to cook your rice. I use a electric rice cooker and the rule of thumb is generally 1 cup of rice = 1 cup of water.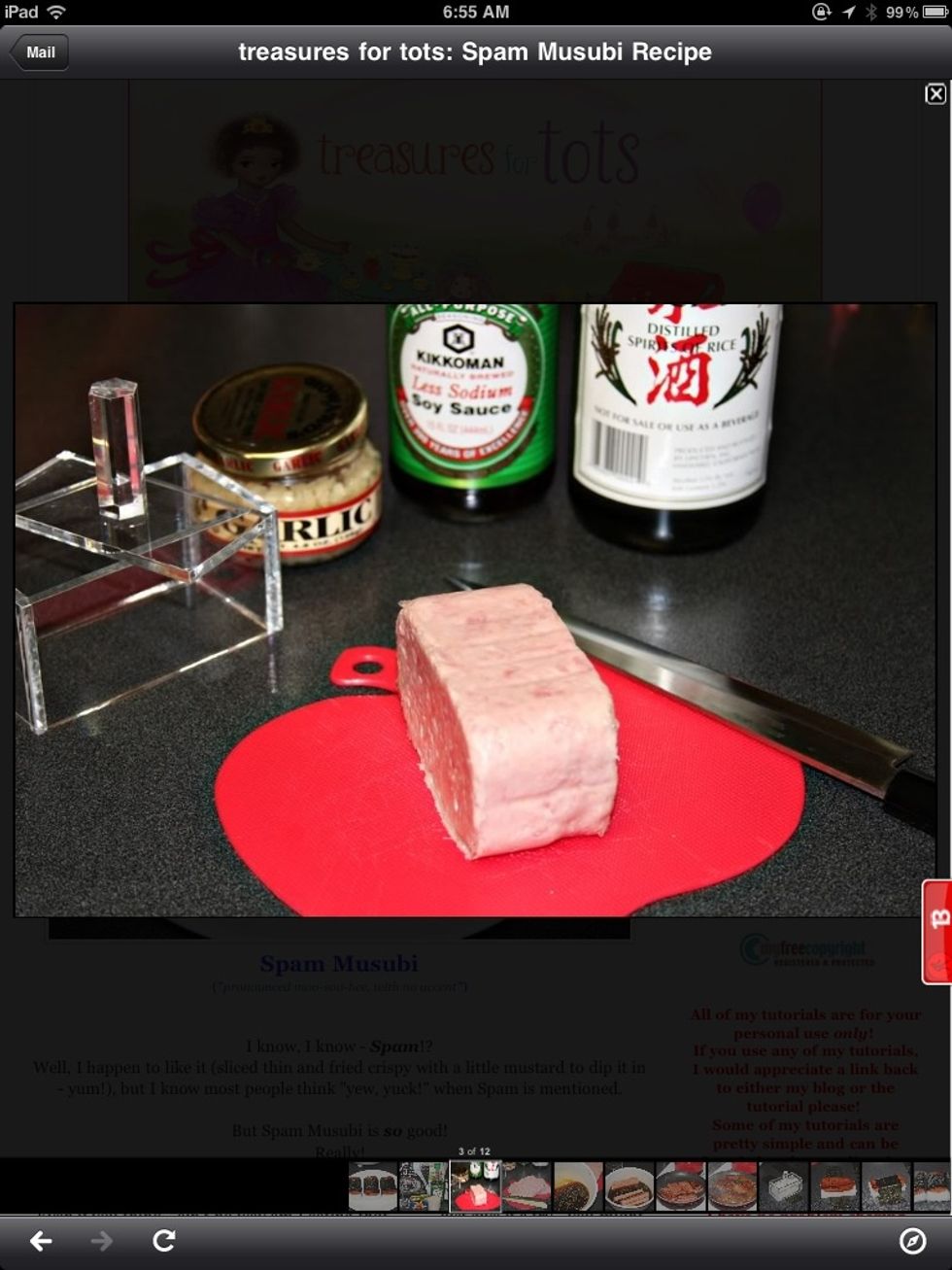 While the rice is cooking. Slice up your Spam. 1 can of Spam is usually about 5 slices. But it depends in how thick you slice it!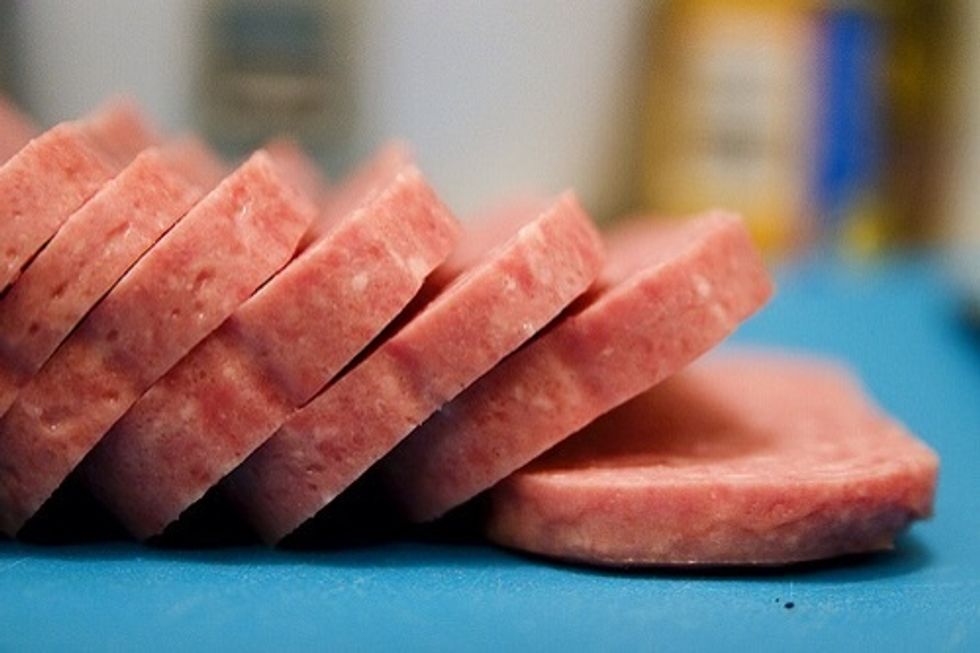 5 perfect slices of pink perfection!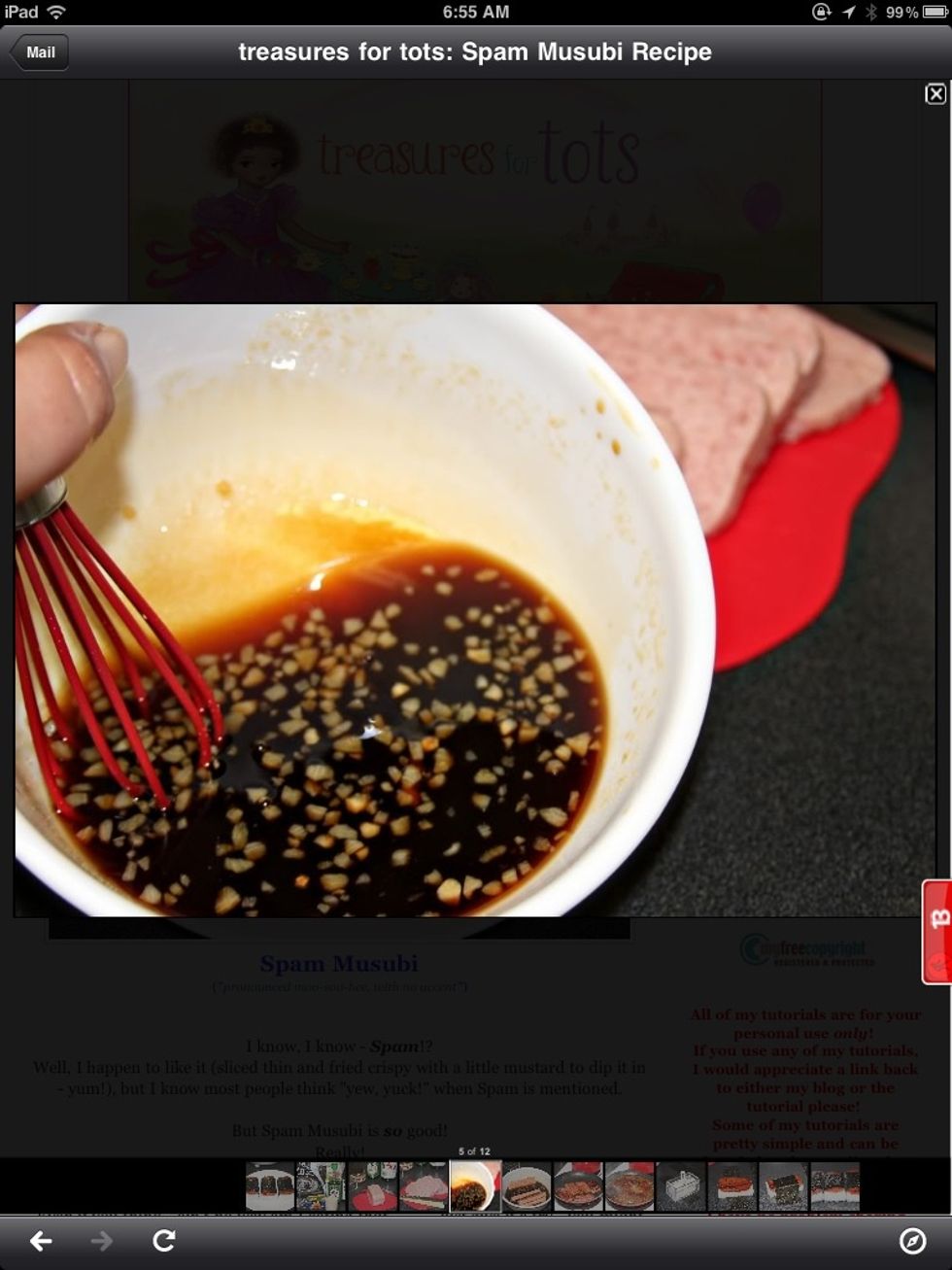 Marinate the Spam! Start with 1/2 cup of rice wine vinegar, soy sauce and sugar mixed together, add the garlic and any extra optional ingredients then taste and add more of each ingredient as needed.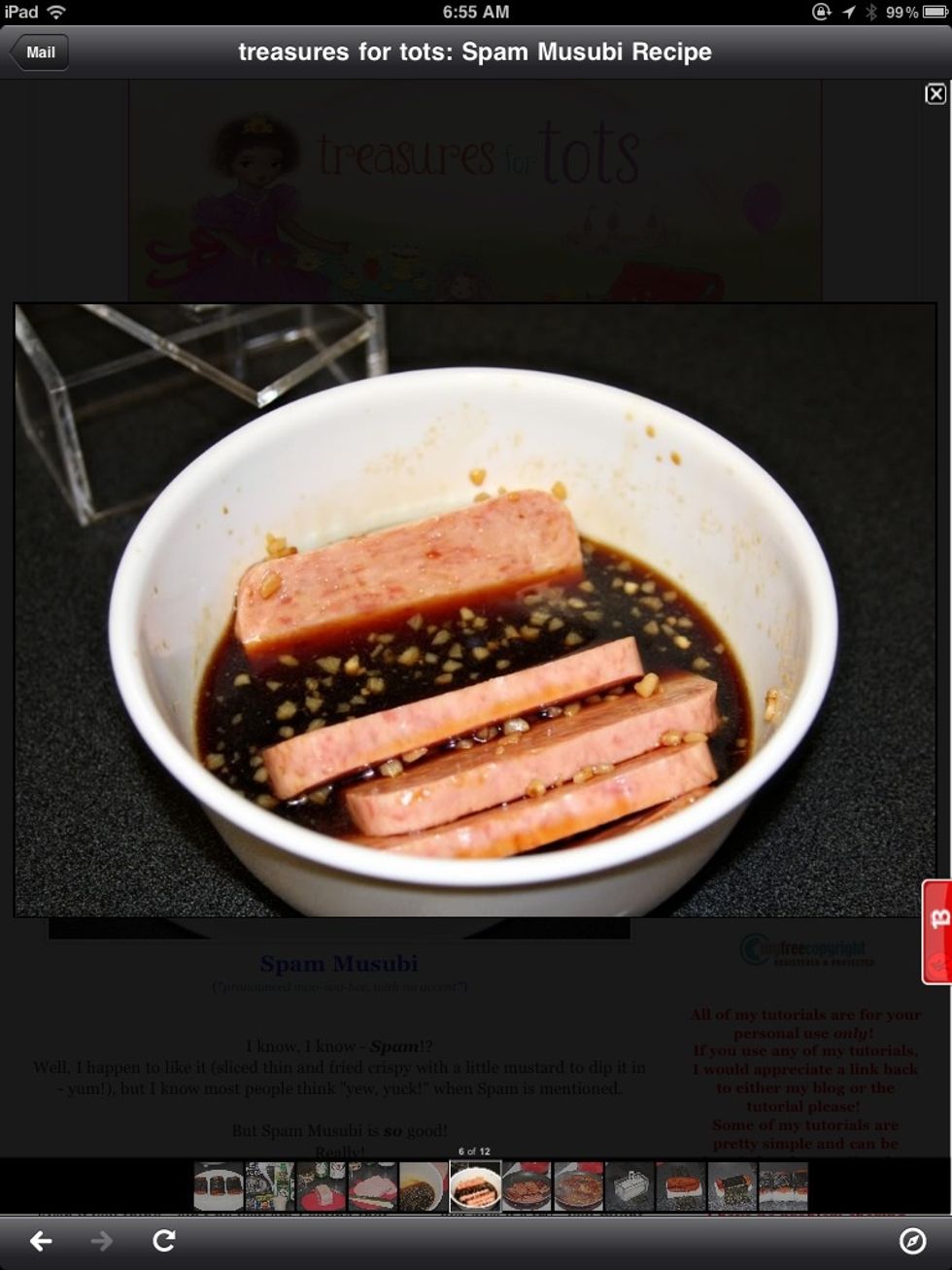 Put the spam slices in the mixture and marinate until the rice is cooked. Approx. 30 minutes.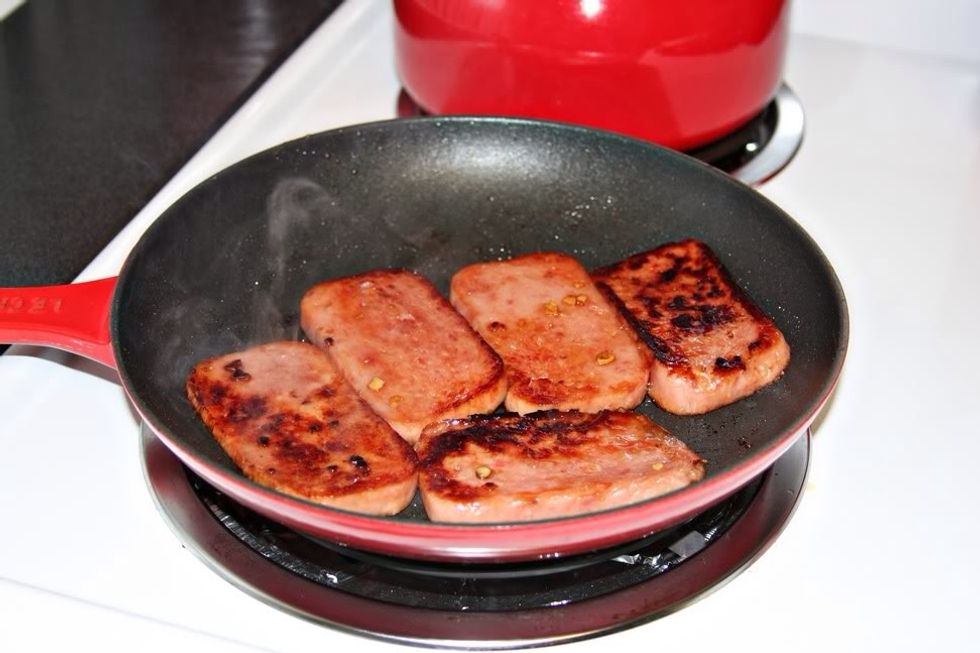 Brown the spam on medium-high heat according to taste. I like mine on the dark side!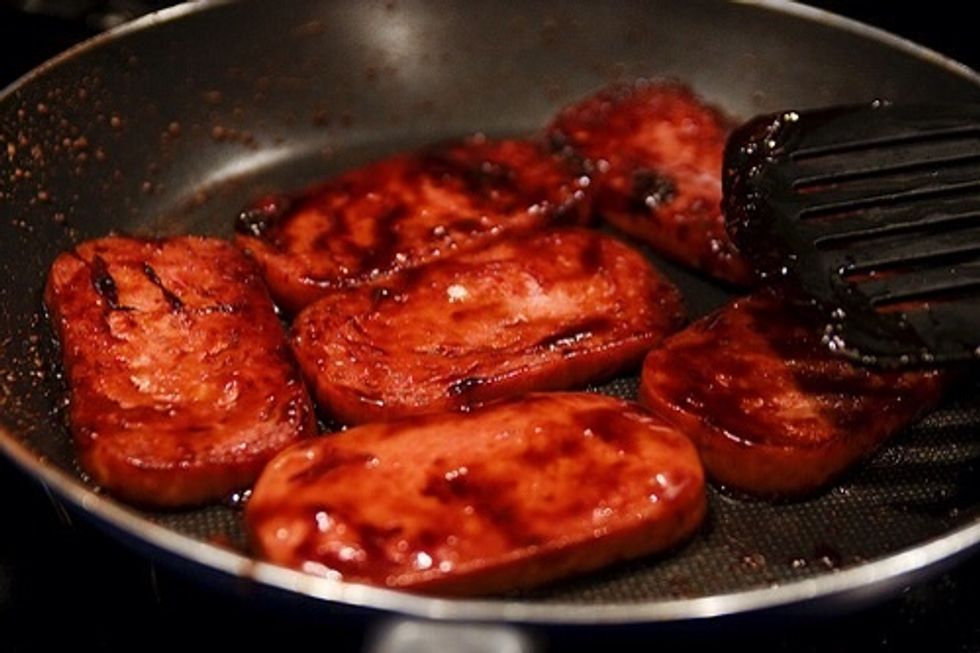 Mmm looking good! Let it cook for 5 minutes using your best judgement before taking it off the heat!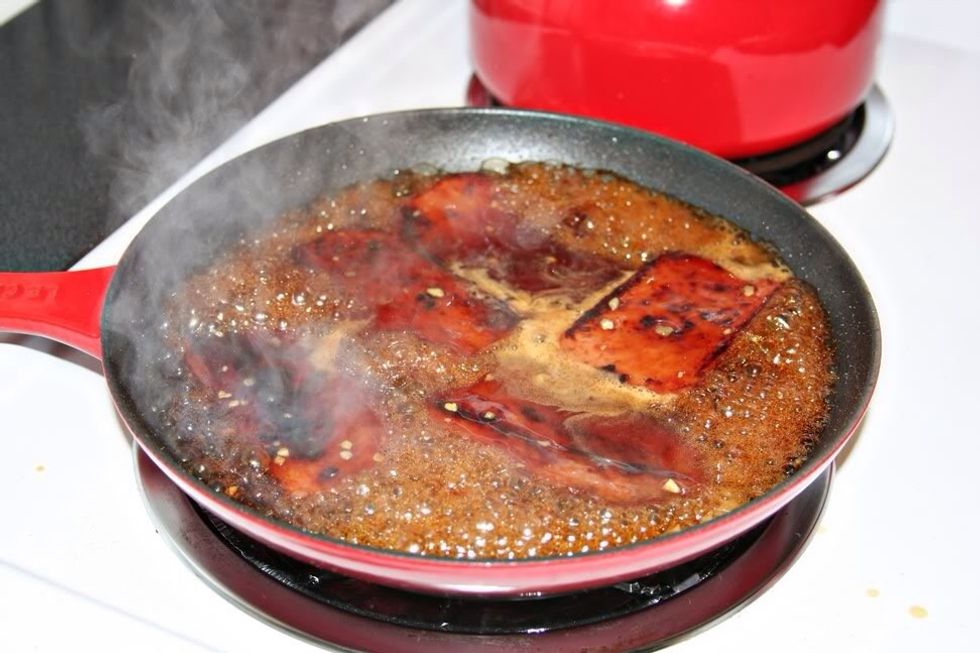 Add remaining marinade mixture to the pan and immediately turn the heat down to low, these will boil and bubble like crazy. The sugar will naturally caramelize!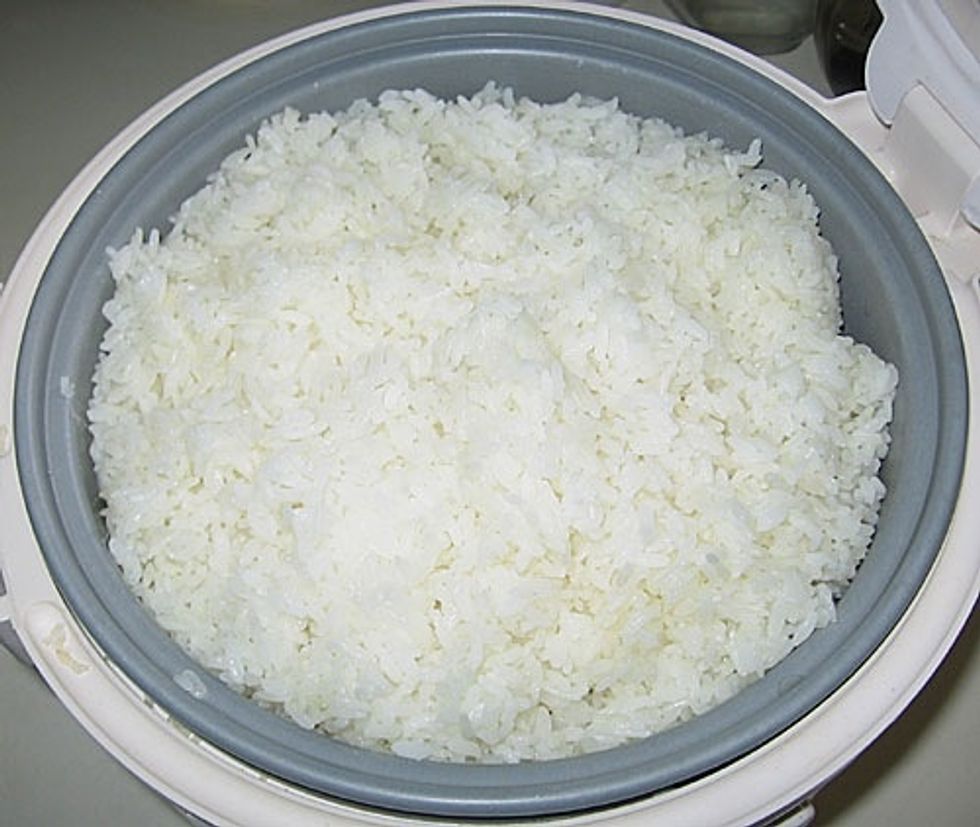 The rice at this time should be ready!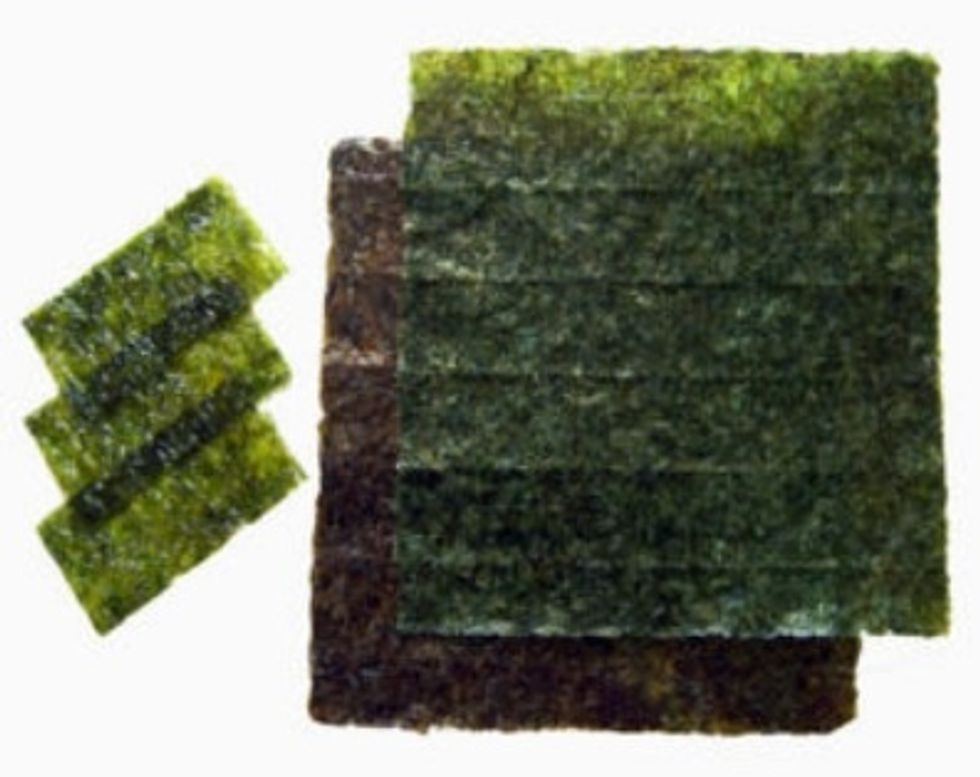 Using a pair of scissors, cut the nori into strips. The width is your own personal preference I like to use the pre-cut nori lines as my guide. If you don't like nori, try soy wraps instead!
If you can't find a sushi or musubi mold, try cutting off the ends of the spam can and use it as a mold! Works just as great without the cost! Or use your hands to shape them too!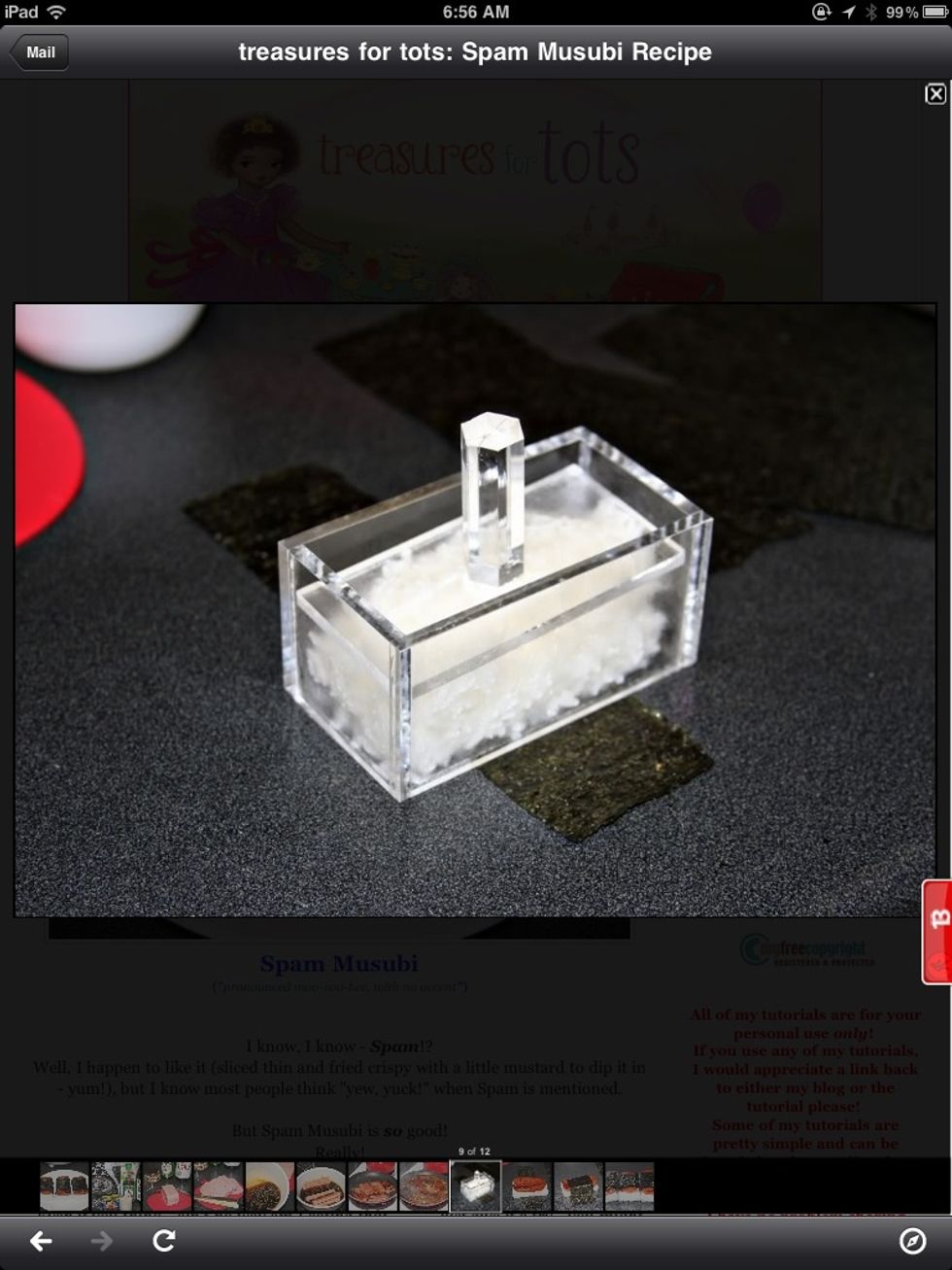 You'll need to position the mold* in the center, near the end of the nori strip. *I have a neat little mold a friend sent to me from Hawaii - I've also seen them at local Japanese and Asian markets.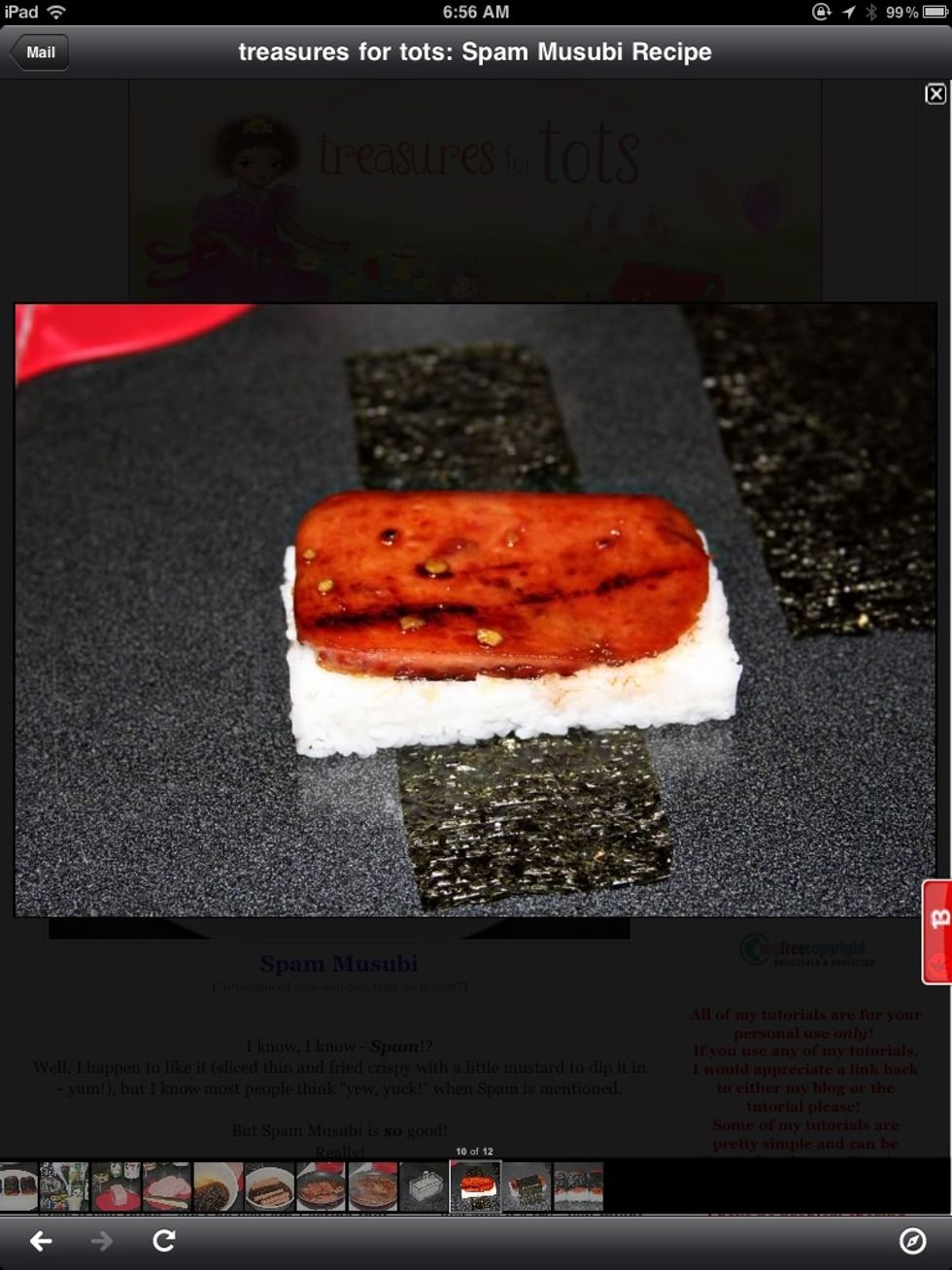 Scoop a bit of rice in your mold and press down firmly remove the mold and add a slice of yummy spam! .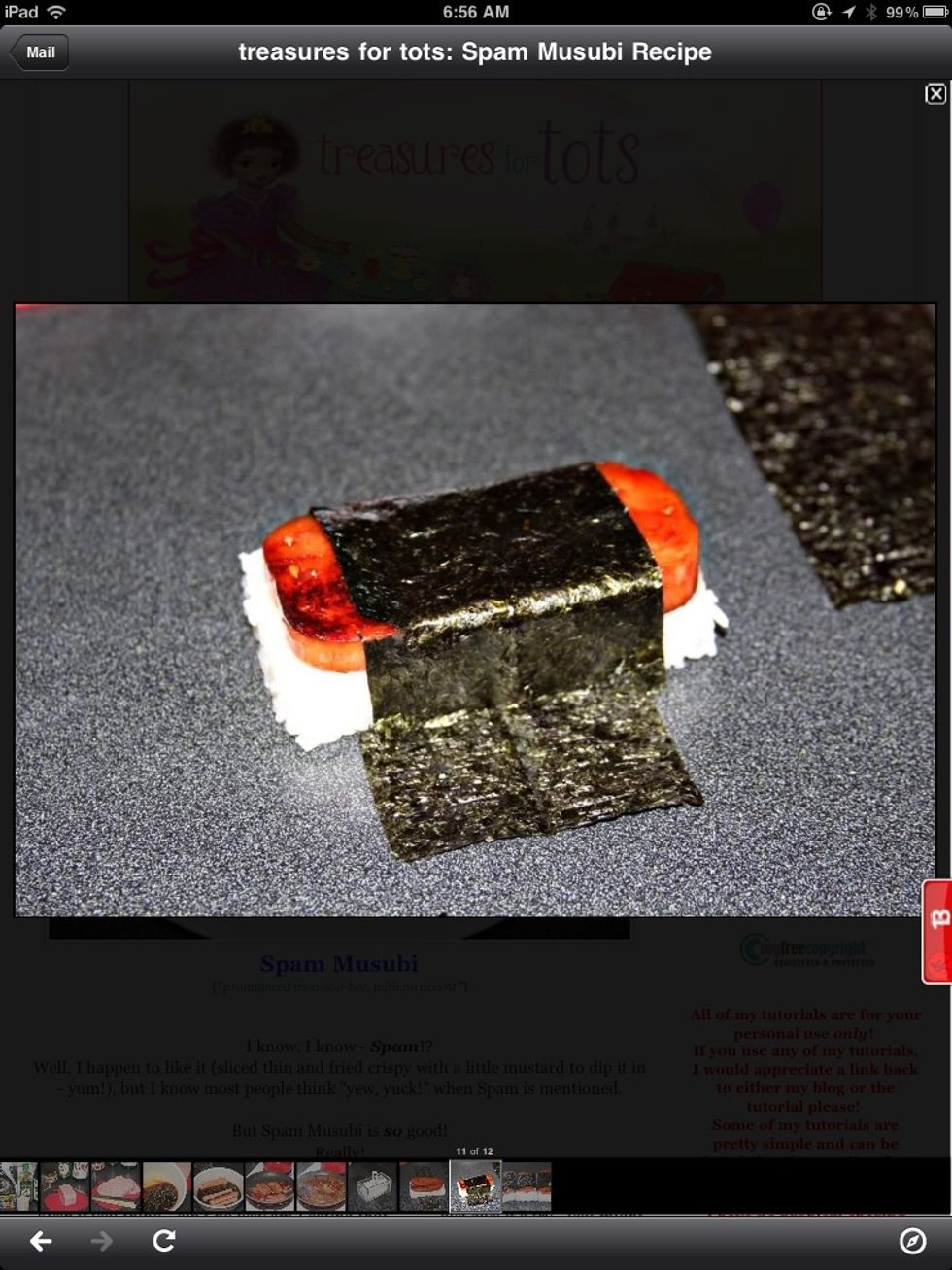 Fold over the nori, put a tiny bit of water to "seal" it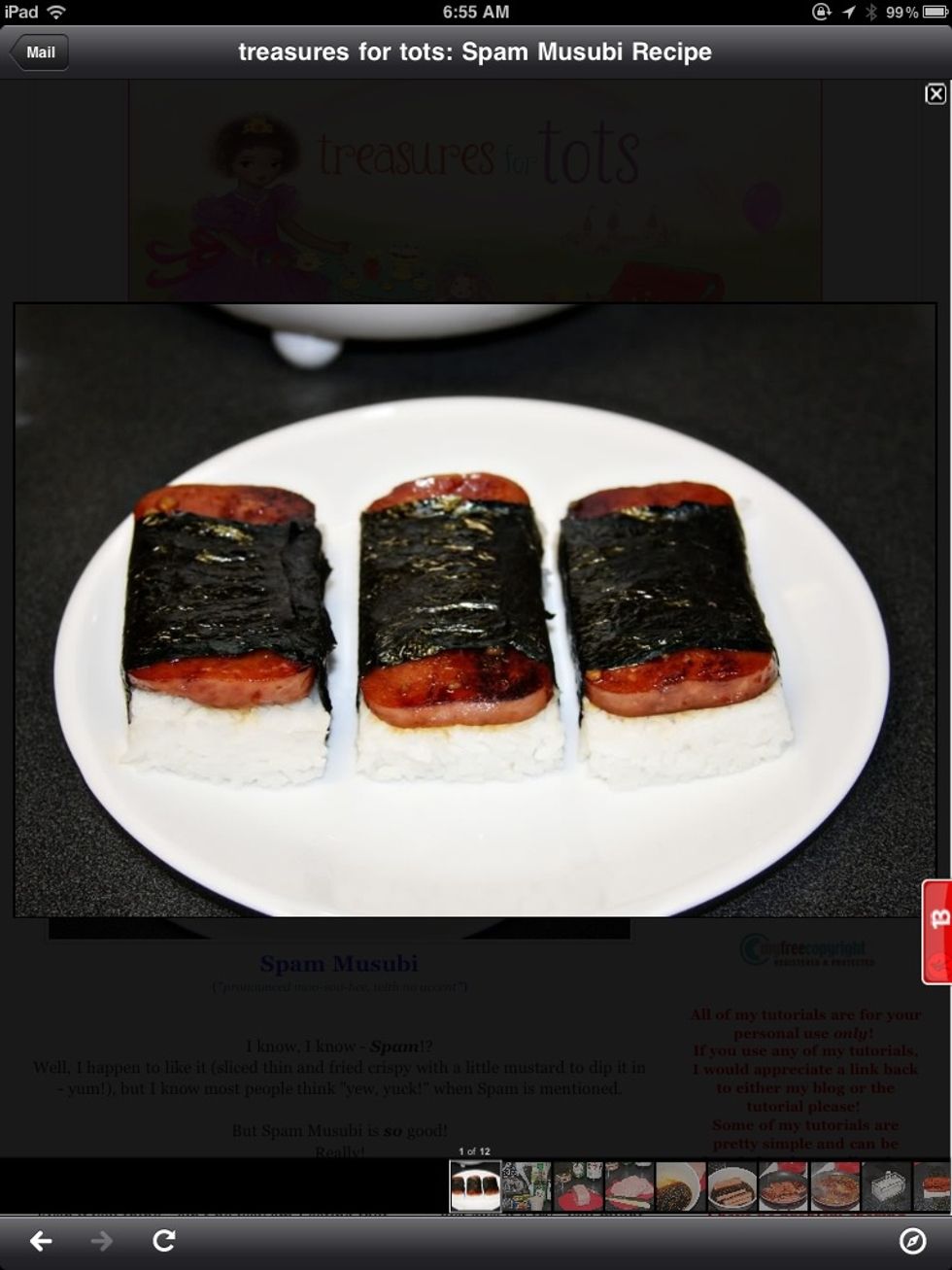 Serve immediately! They're ready to eat! I like to dip mine in siracha hot sauce or teriyaki sauce as a condiment !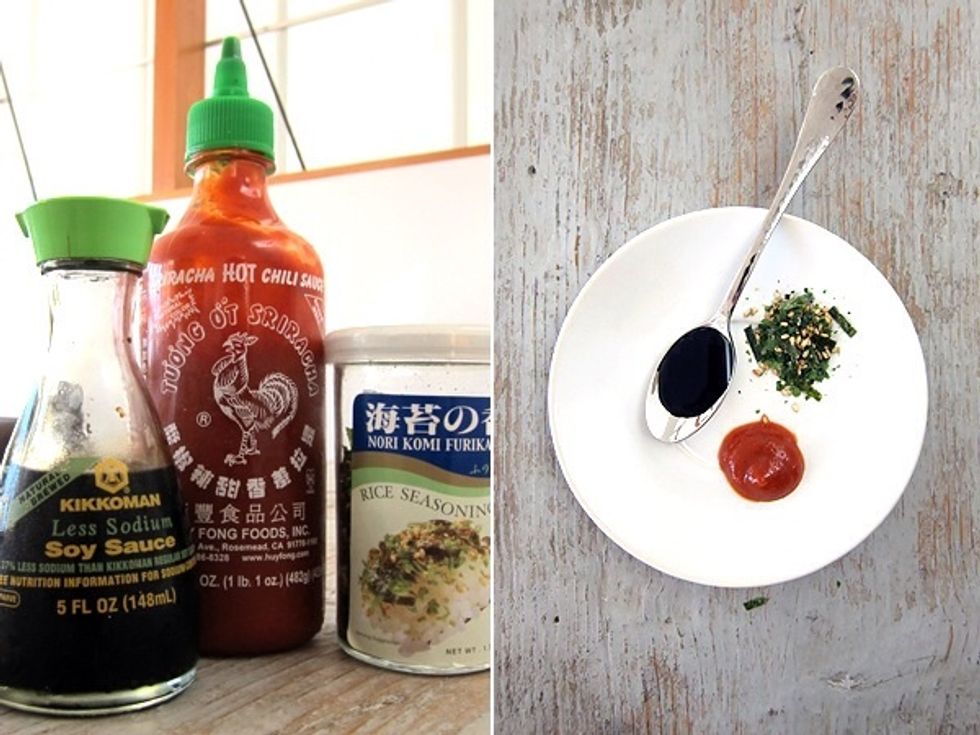 Some great condiments for your spam musubi.... Soy sauce, sriracha, and furikake seaweed/rice seasoning !
Wrap leftovers in plastic wrap and refrigerate. Pop them in the microwave for a few seconds to warm up and soften them as refrigeration tends to make rice harden. Enjoy!
1.0 Can Of Spam
1.0c Jasmine Or Japanese Botan Rice
1/2c Rice wine vinegar
1/2c Soy Sauce
1.0Tbsp Garlic, Minced
1/2c Sugar
1.0 Seaweed or Nori
Optional: grated ginger, 5 spice powder, furikake