I love to grill, as you already know if you have seen my guides before. Please let me know if you like this recipe or try it yourself. Follow me too, I have a lot more guides coming!
311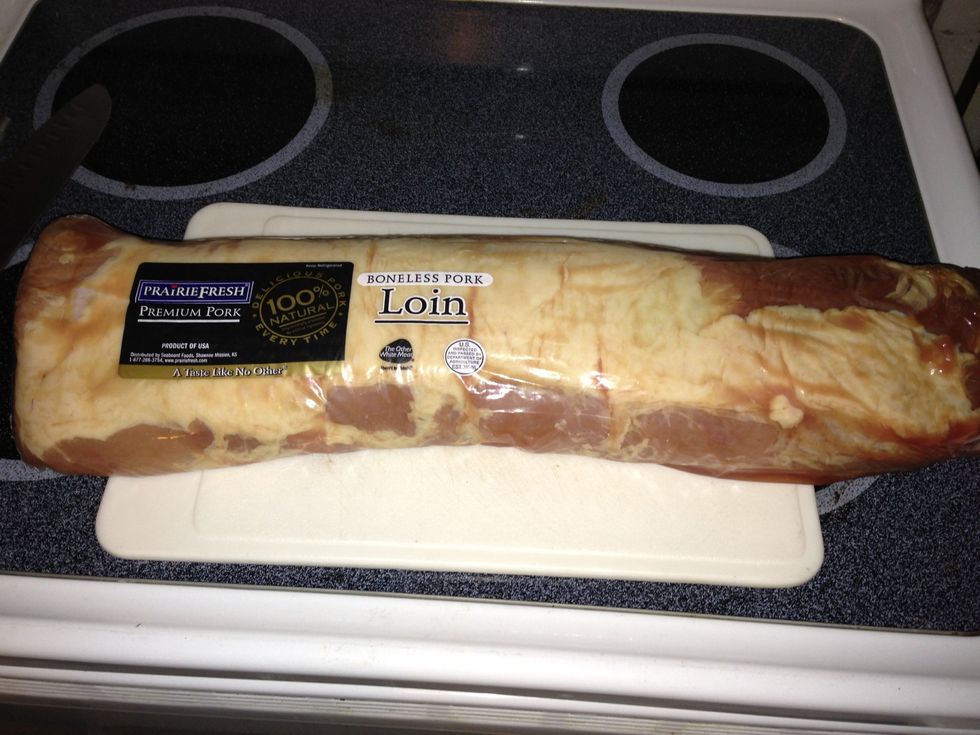 Start preparations the night before as you will be marinading the meat ahead of time. This recipe is for a 5 pound loin, so I cut this 10-pound one in half.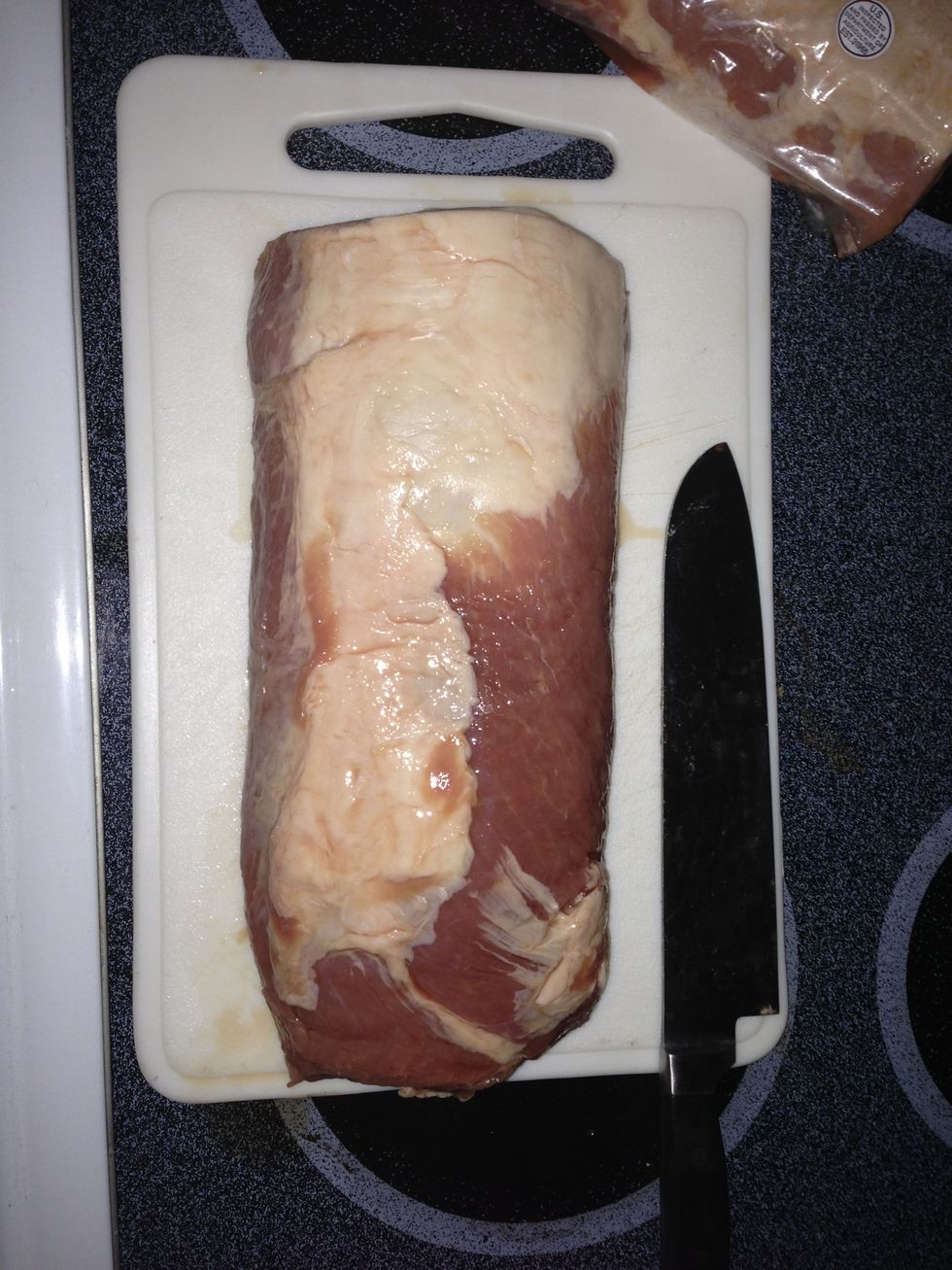 Trim off the excess fat. Don't worry about the loin drying out, this recipe takes that into consideration.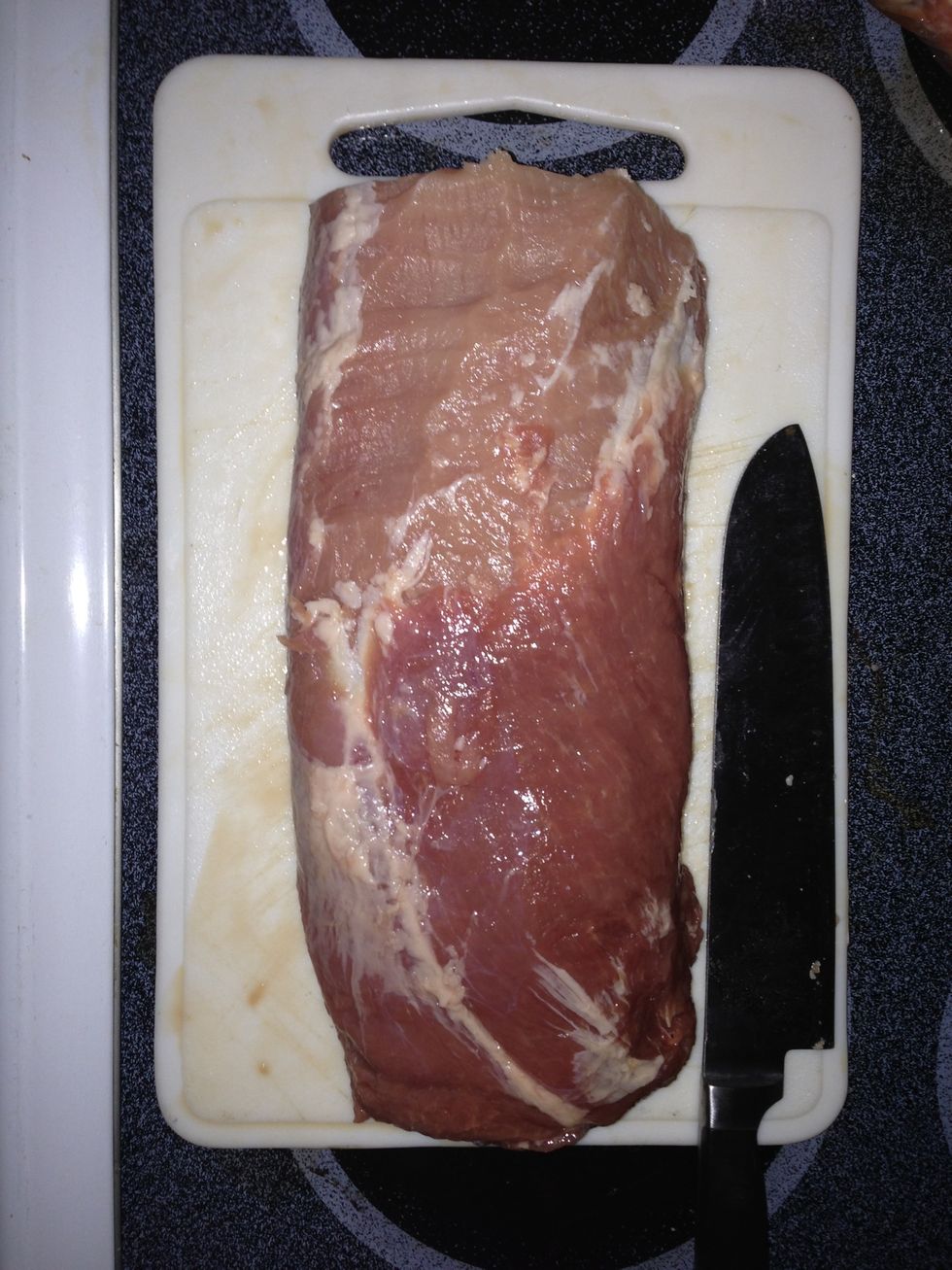 You can leave traces of the fat.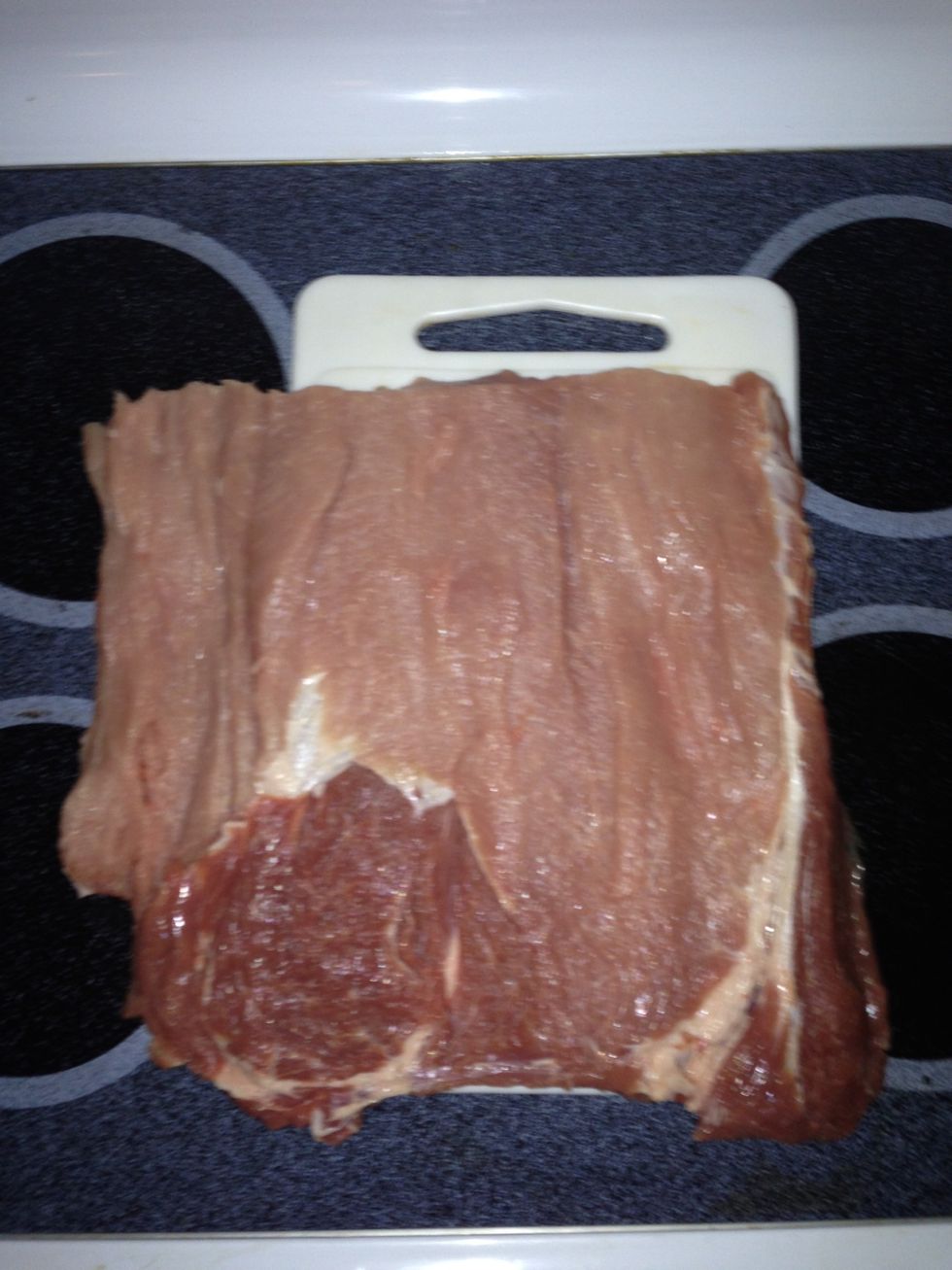 Starting 3/4" up from the bottom, cut into the loin and roll away from the knife until you have a flat piece between 1/2 and 3/4 inches thick across.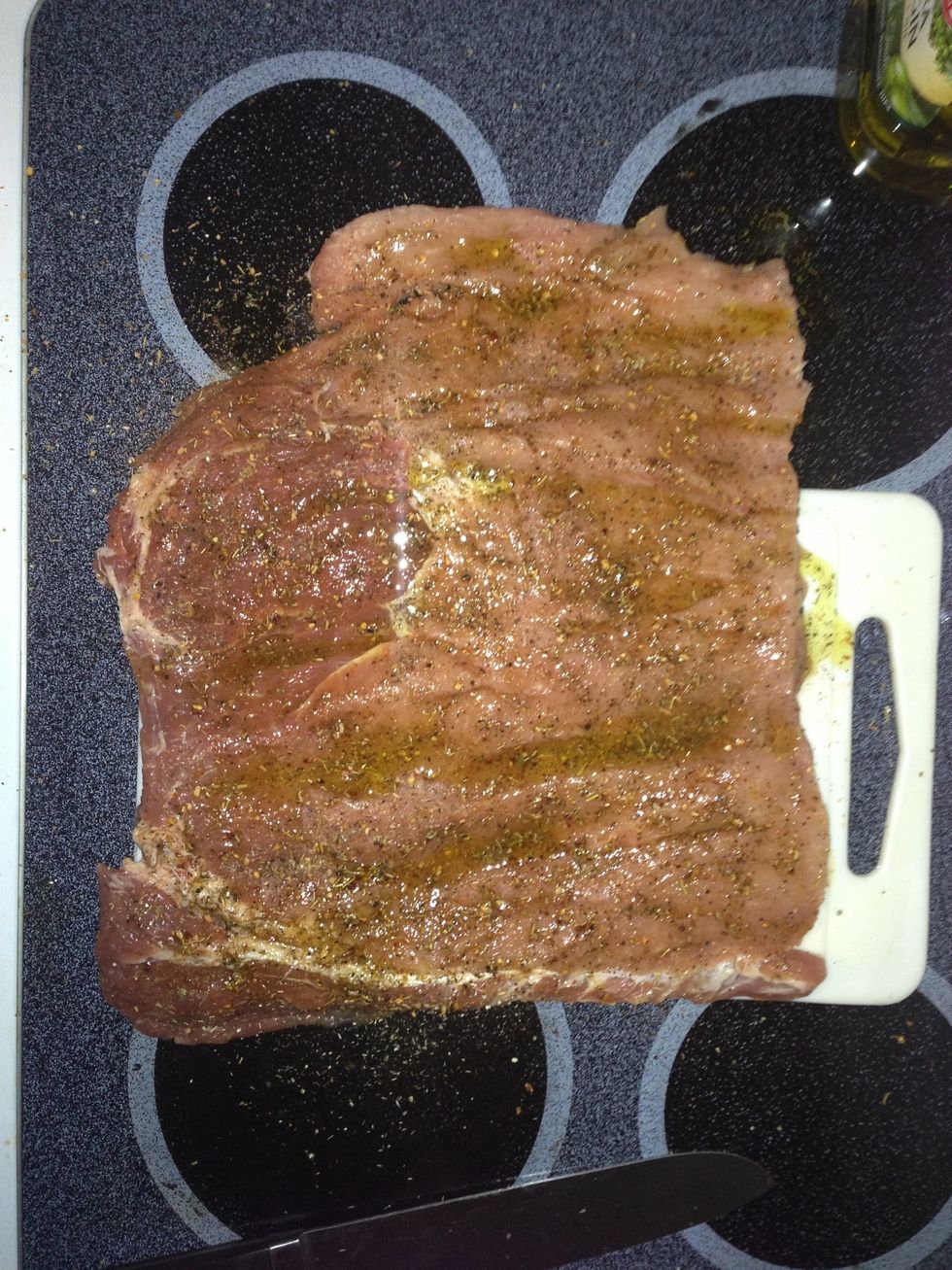 Coat the inside (cut side) of the loin with olive oil, then add garlic, rosemary, paprika (not much) and whatever else your heart desires. Just be careful not to overdo it.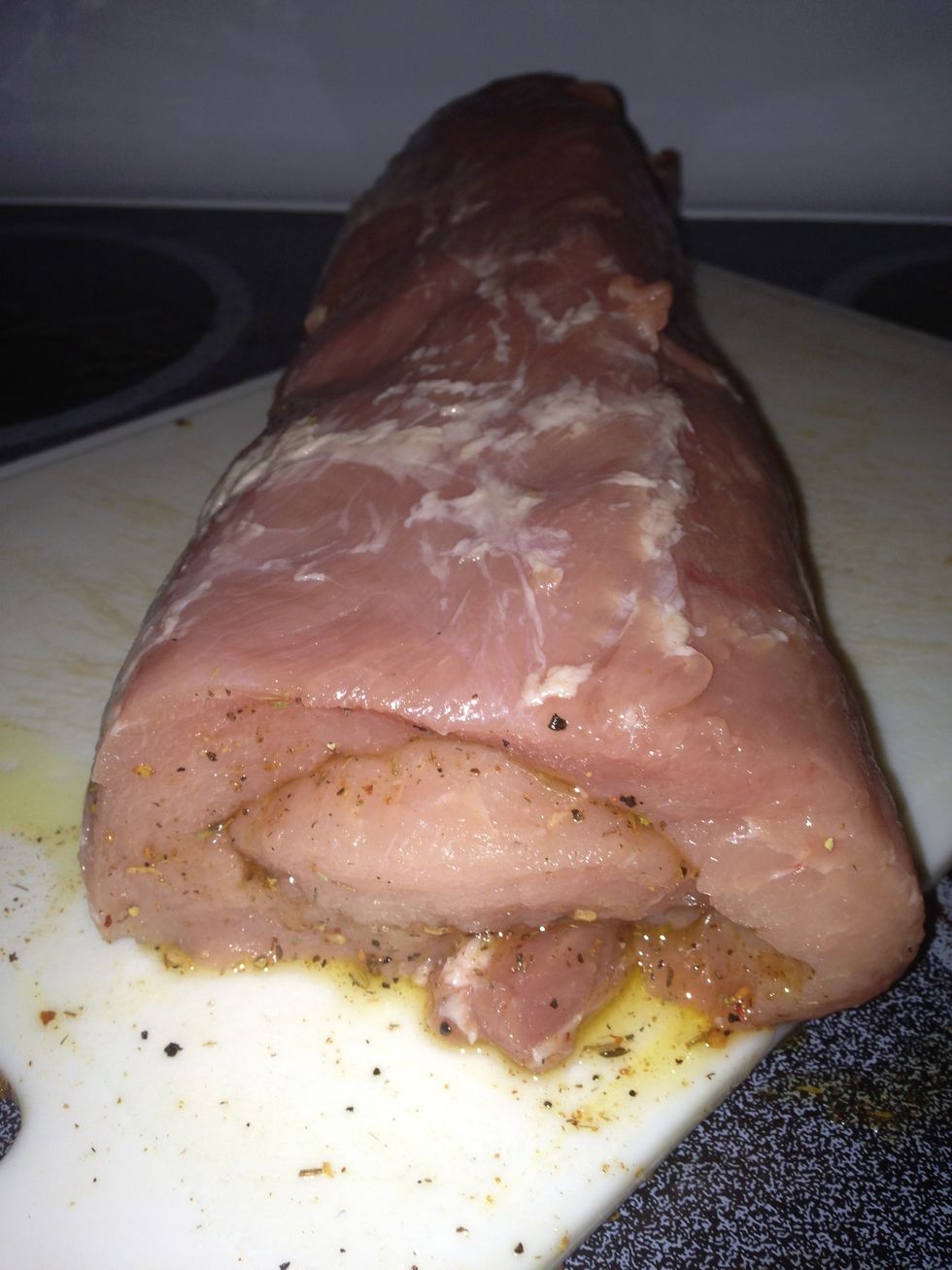 Roll the loin back up. You can add more oil and seasonings to the outside as well, if you wish.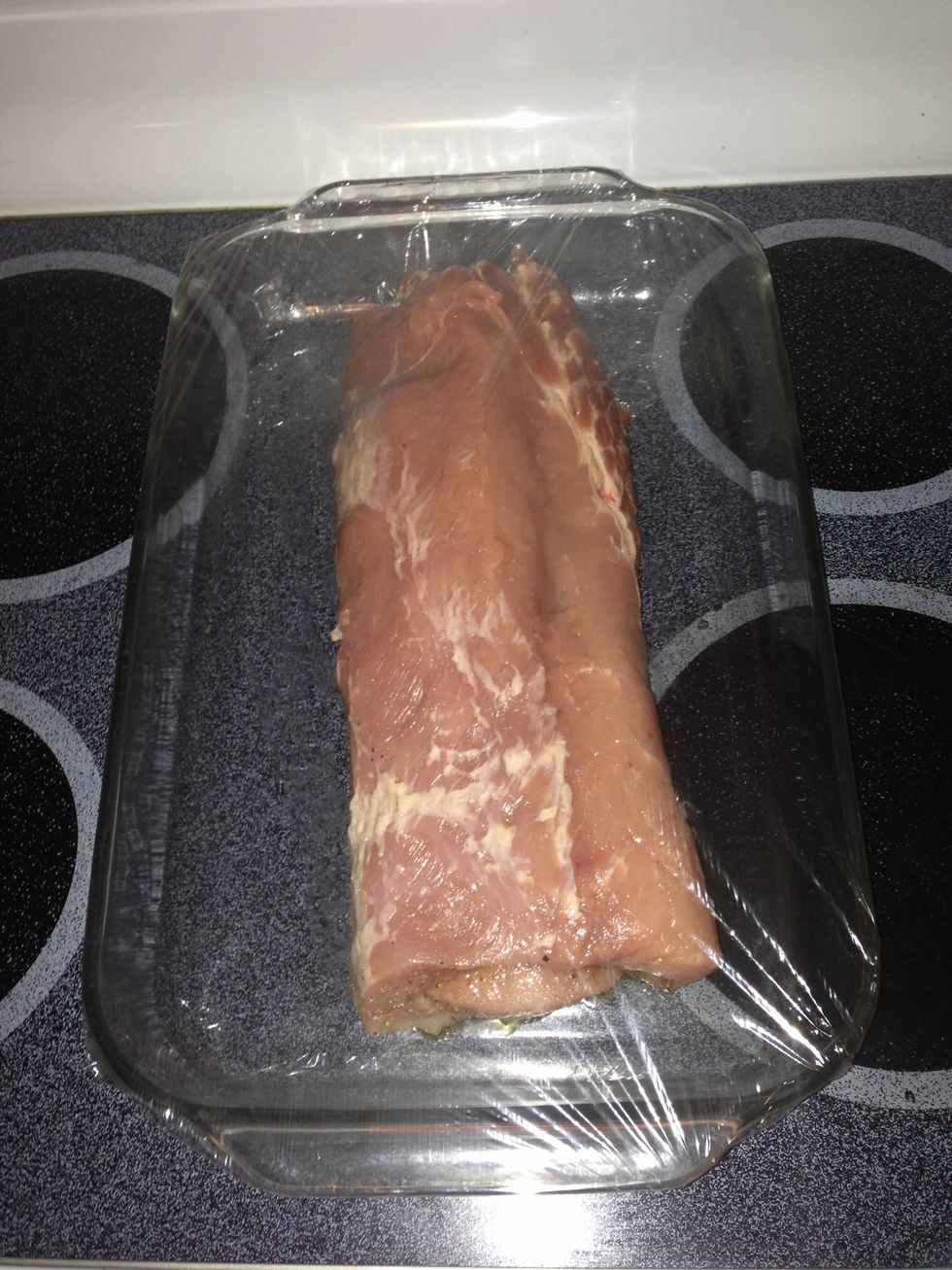 Seal tightly in a non-metallic container and place into the fridge for at least 4 hours. I'll leave this one marinating overnight.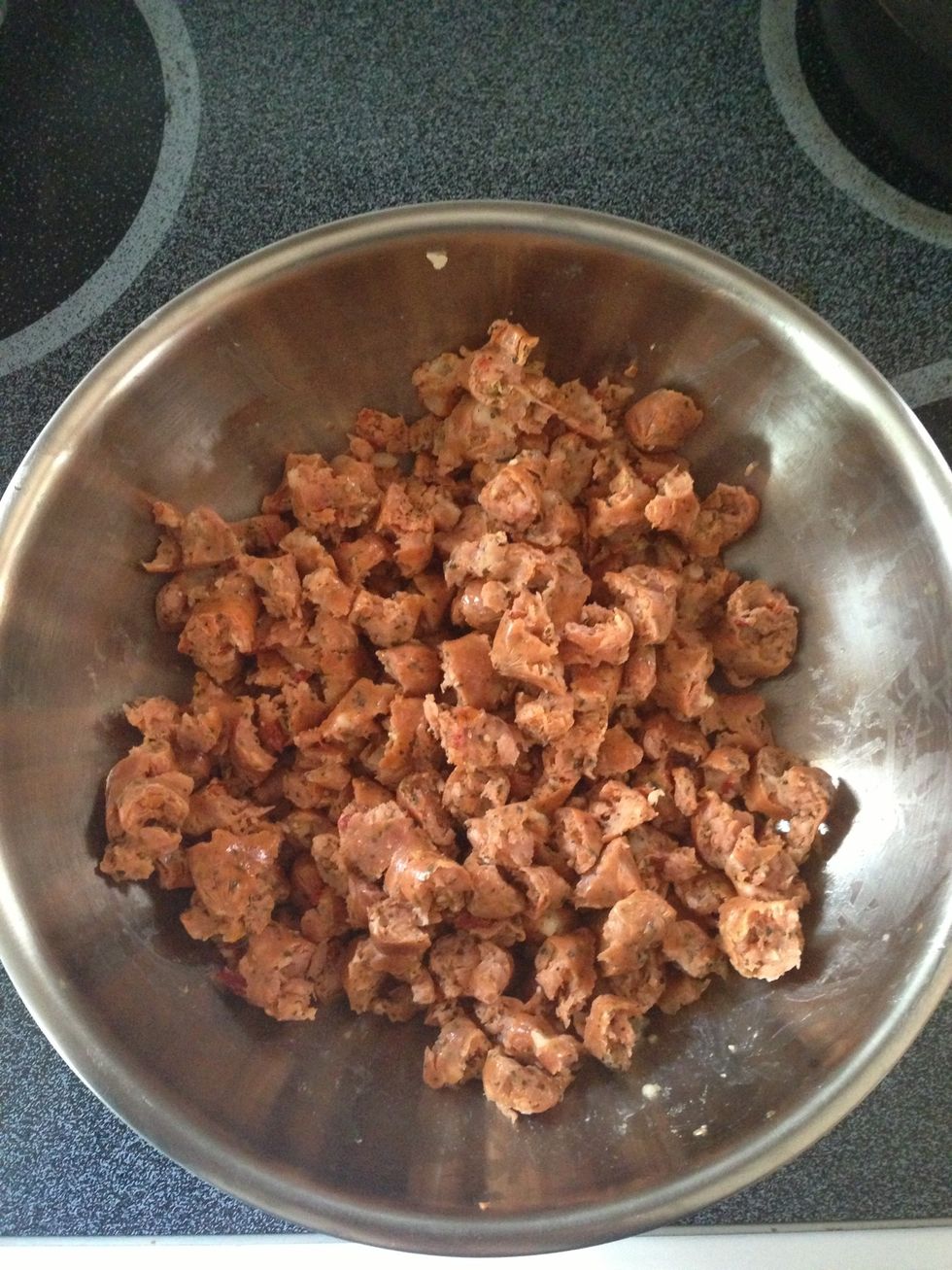 The next day, get your sausage ready first. You want it to be cooked so if you have it raw go ahead and cook it (brown). This is precooked sun dried tomato sweet sausage so I just broke it up myself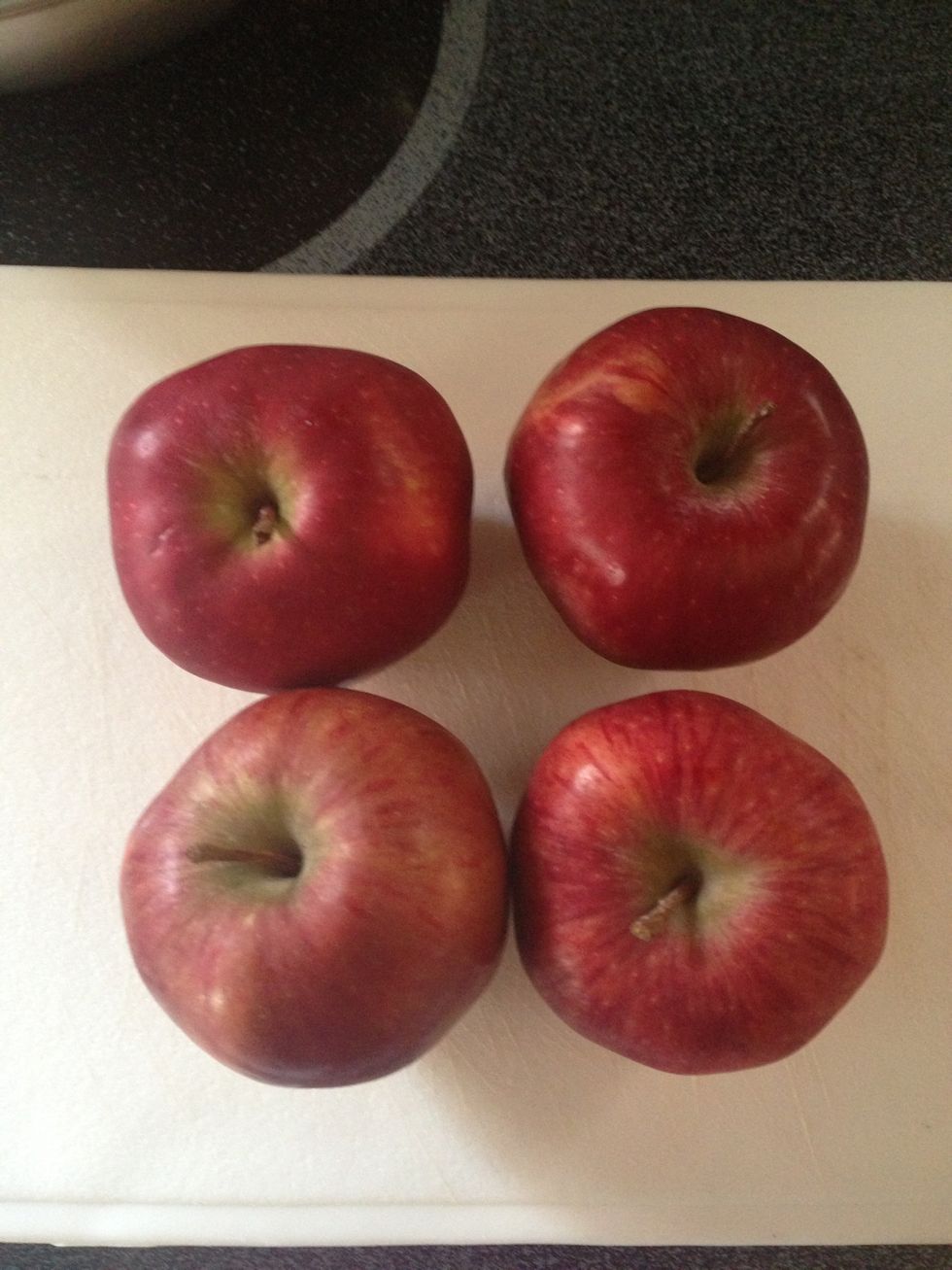 Pick two good apples out of your bunch. I used red delicious because that's what I had in the fridge but I prefer golden apples.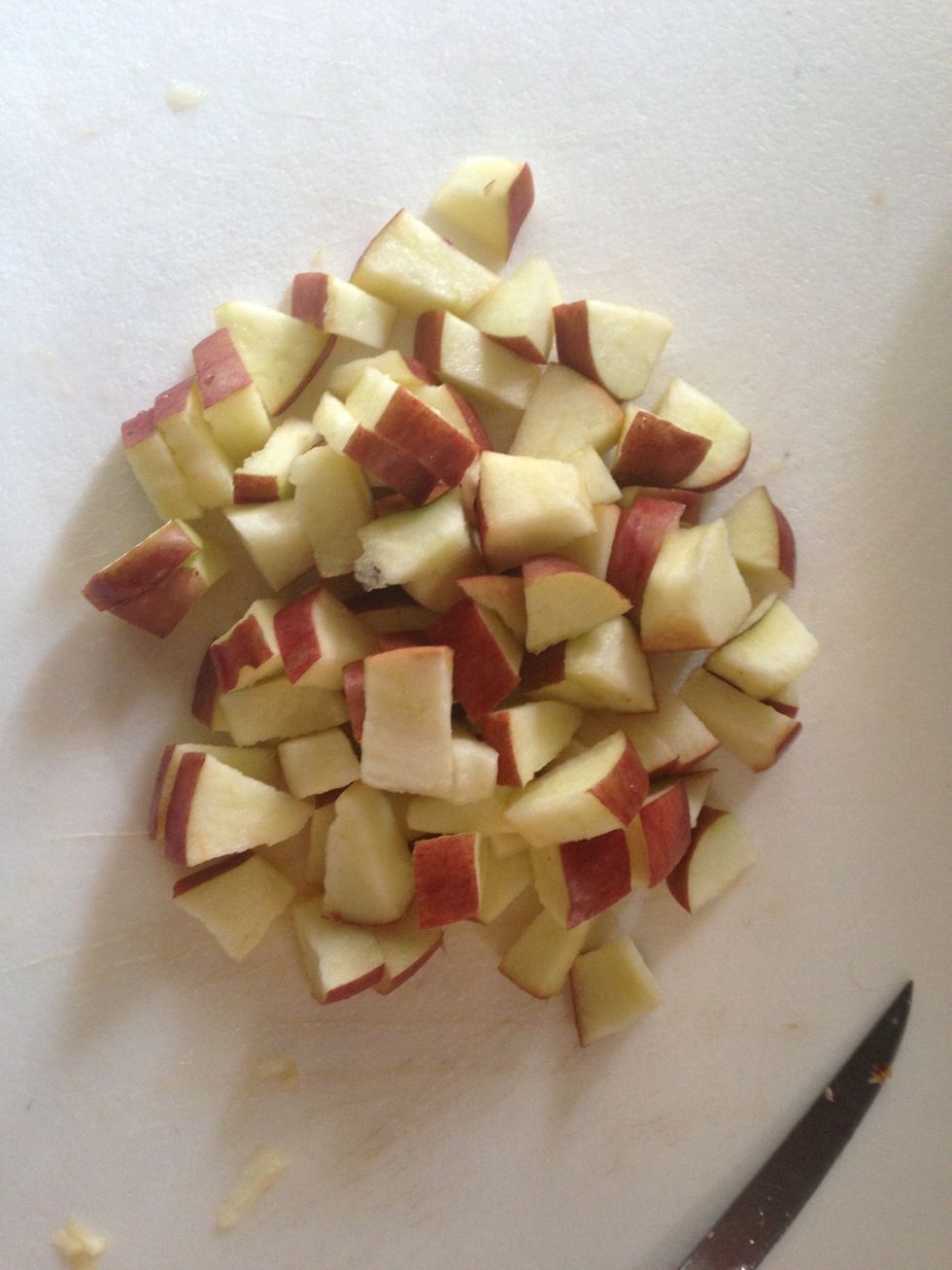 Cut the apples up into small pieces. Be sure not to get any seeds or core in there. This is one of my two apples here.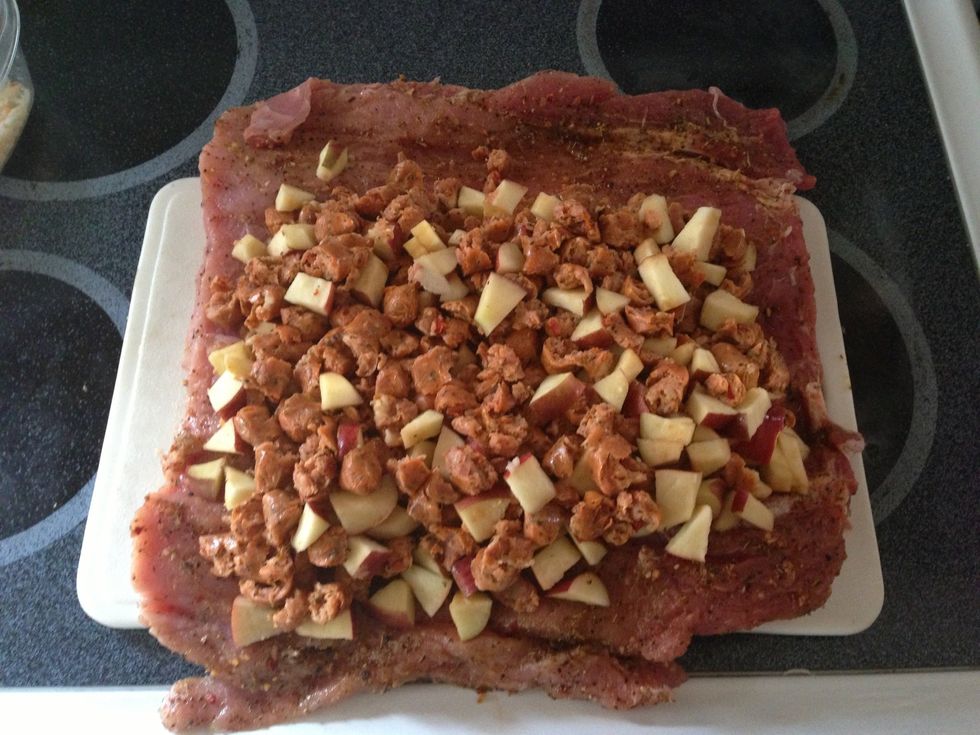 Take the loin back out of the fridge and lay it flat, cut side up. Spread out your sausage and apples evenly, leave a little space along the bottom and sides, and a little more across the top.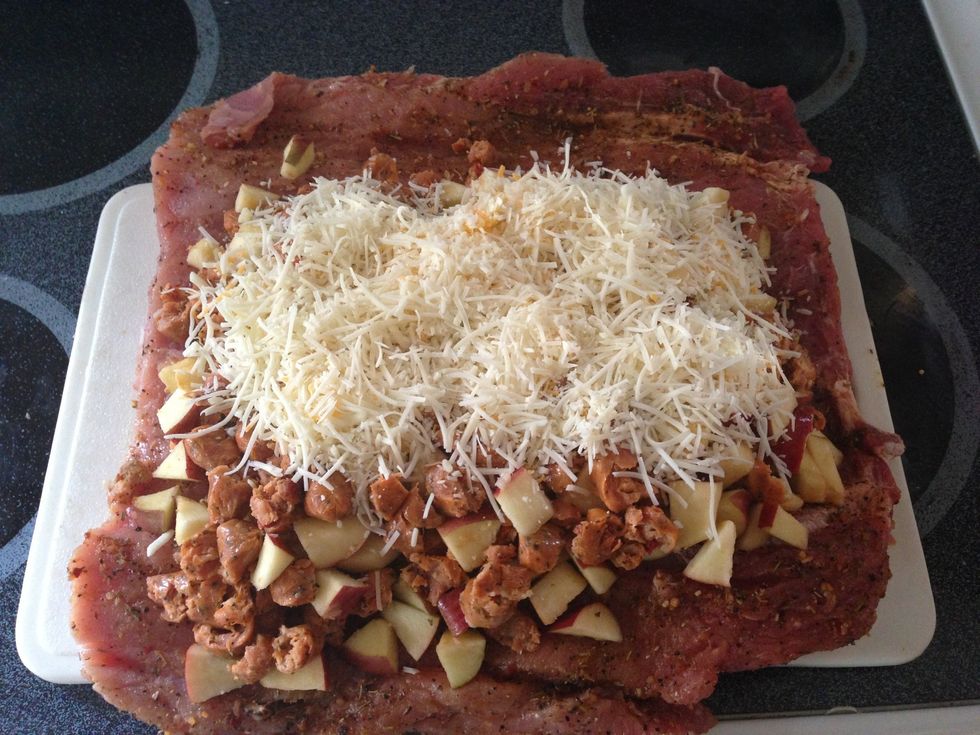 Add your shredded or sliced cheese. This is a mix of what I had on hand - asiago, mozzarella and Colby jack.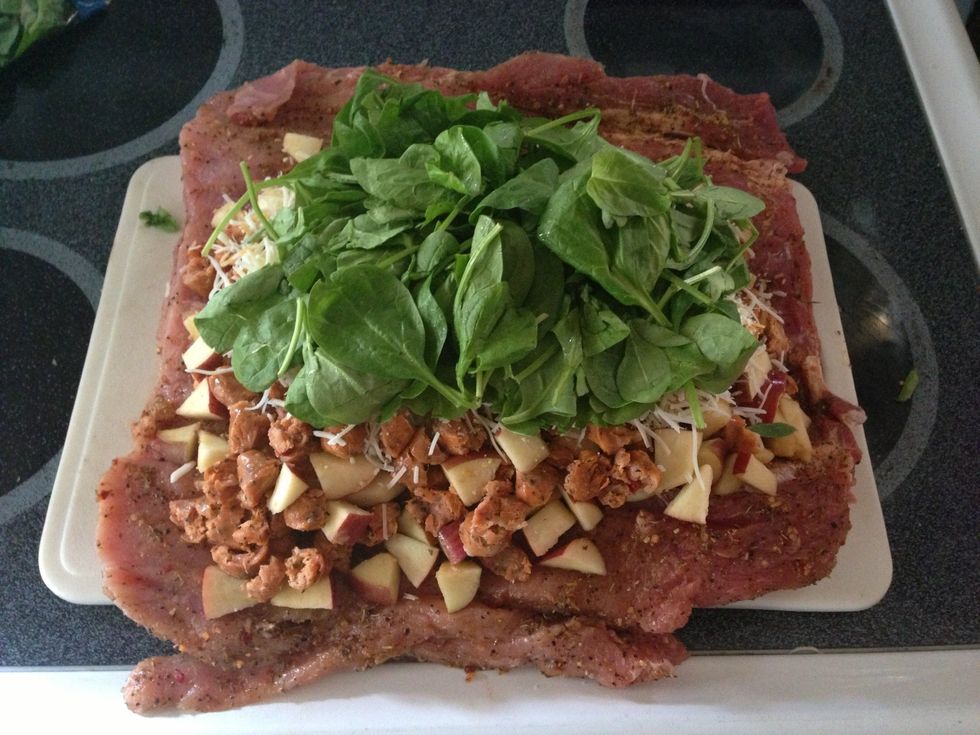 Add a big handful of fresh spinach on top, keep it mostly in the middle.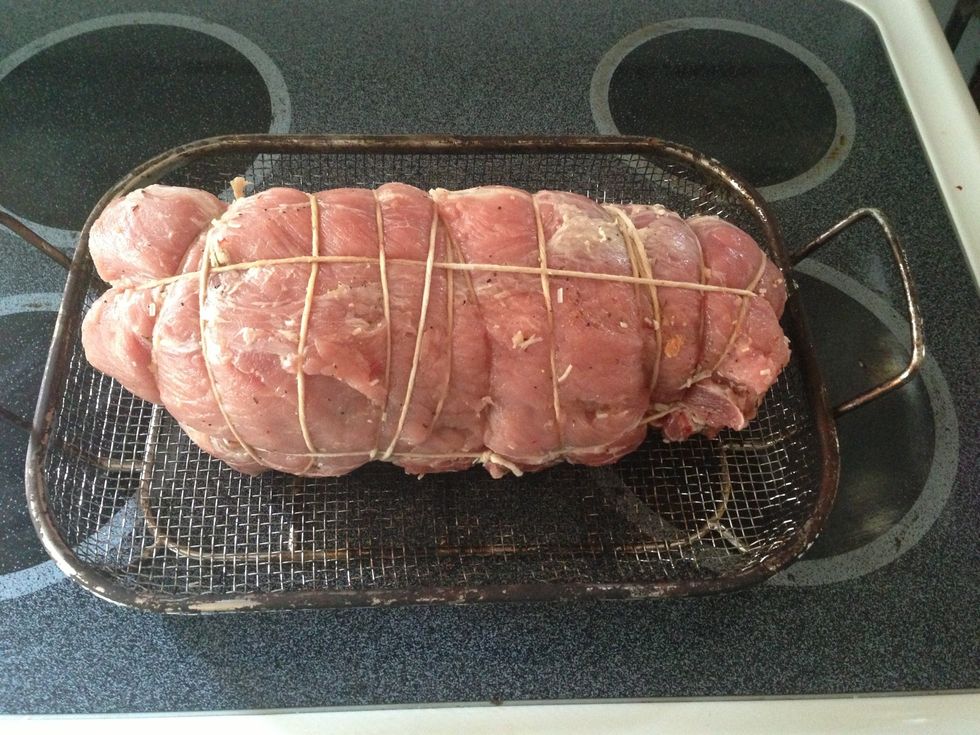 Roll your loin tightly starting at the bottom. Try to keep everything inside. Wrap the loin together with butcher's (kitchen) twine. Yes, I know this is a bad looking wrap job, but it will work!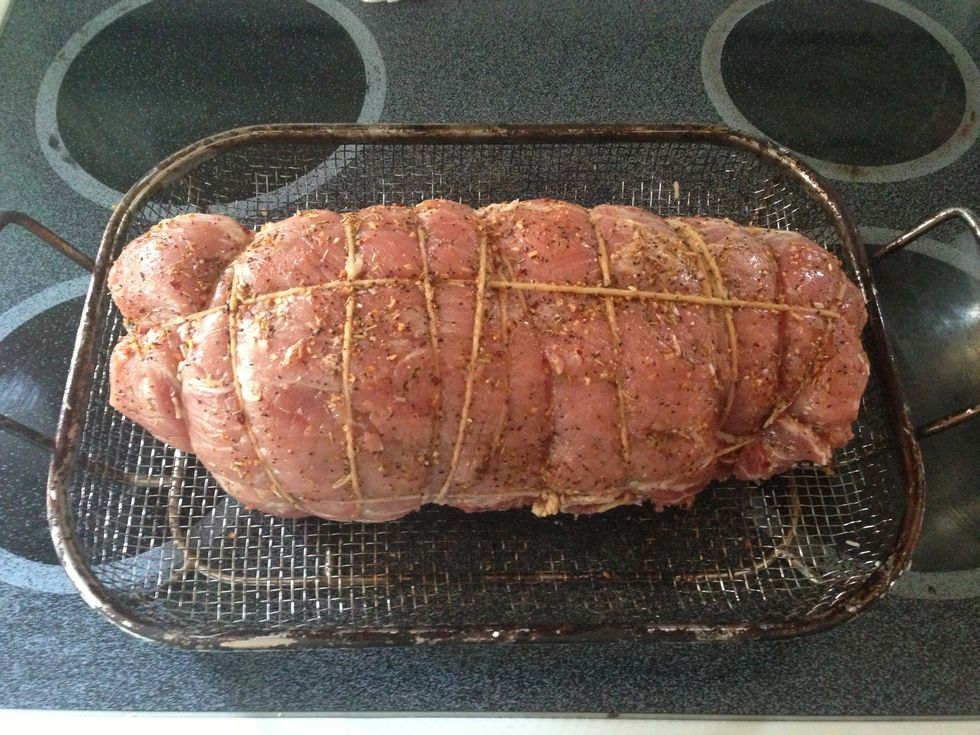 Also, make sure you wrap the ends closed. You don't want everything falling out. Put on a coat of olive oil and seasonings.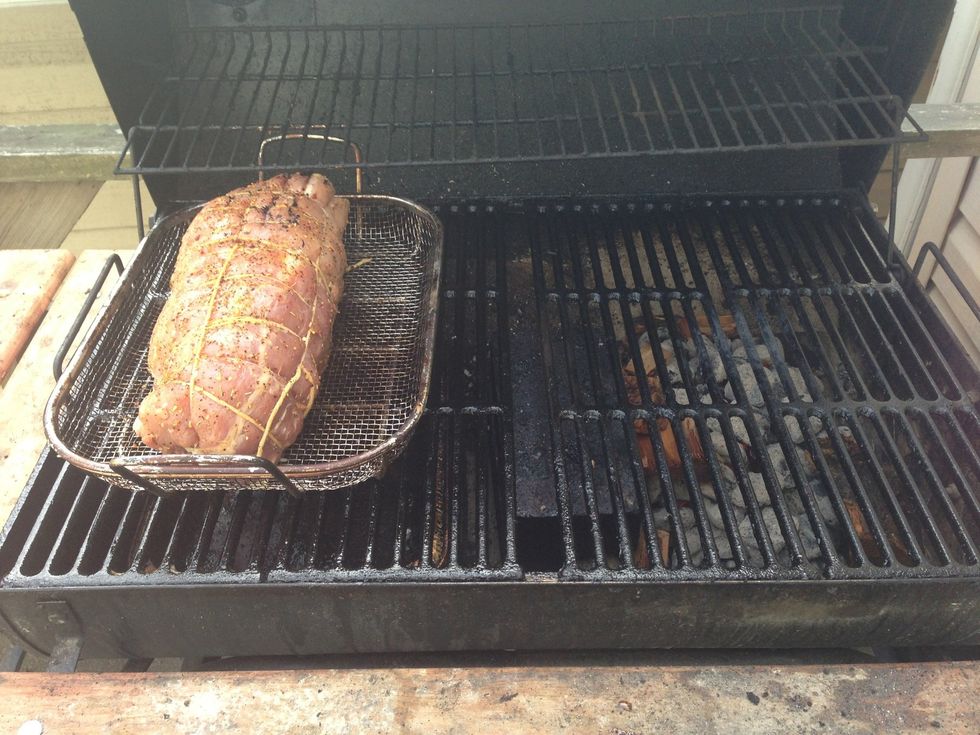 Cook slow and low, indirect heat only. For this I cooked it close to 250 F and it was done in about 3 hours. I used apple wood to smoke with.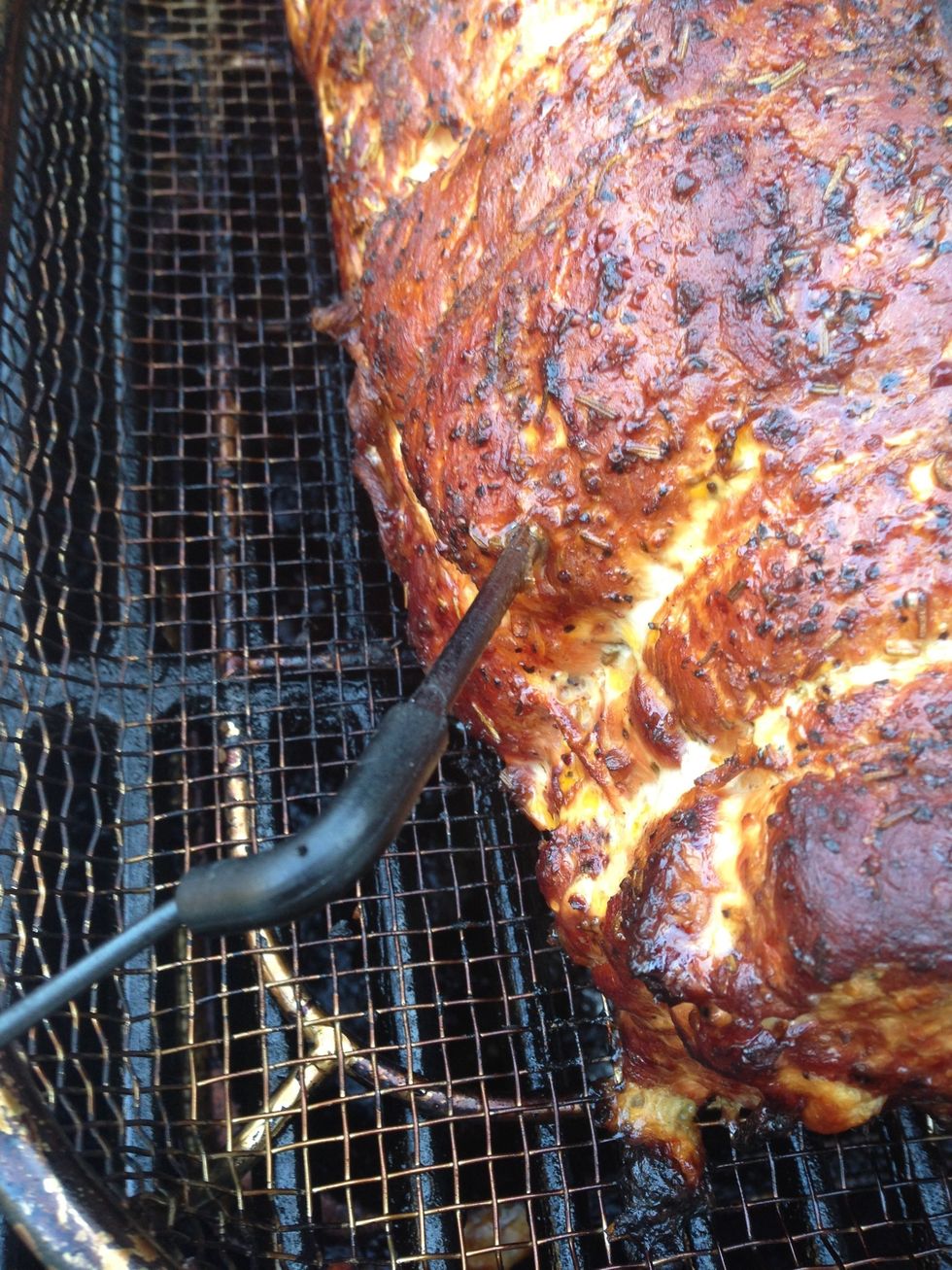 Make sure you use an internal thermometer. You want to cook to 145 F (new USA regulations have lowered the required temp for pork so now it doesn't dry out as easily - the olive oil helps too!)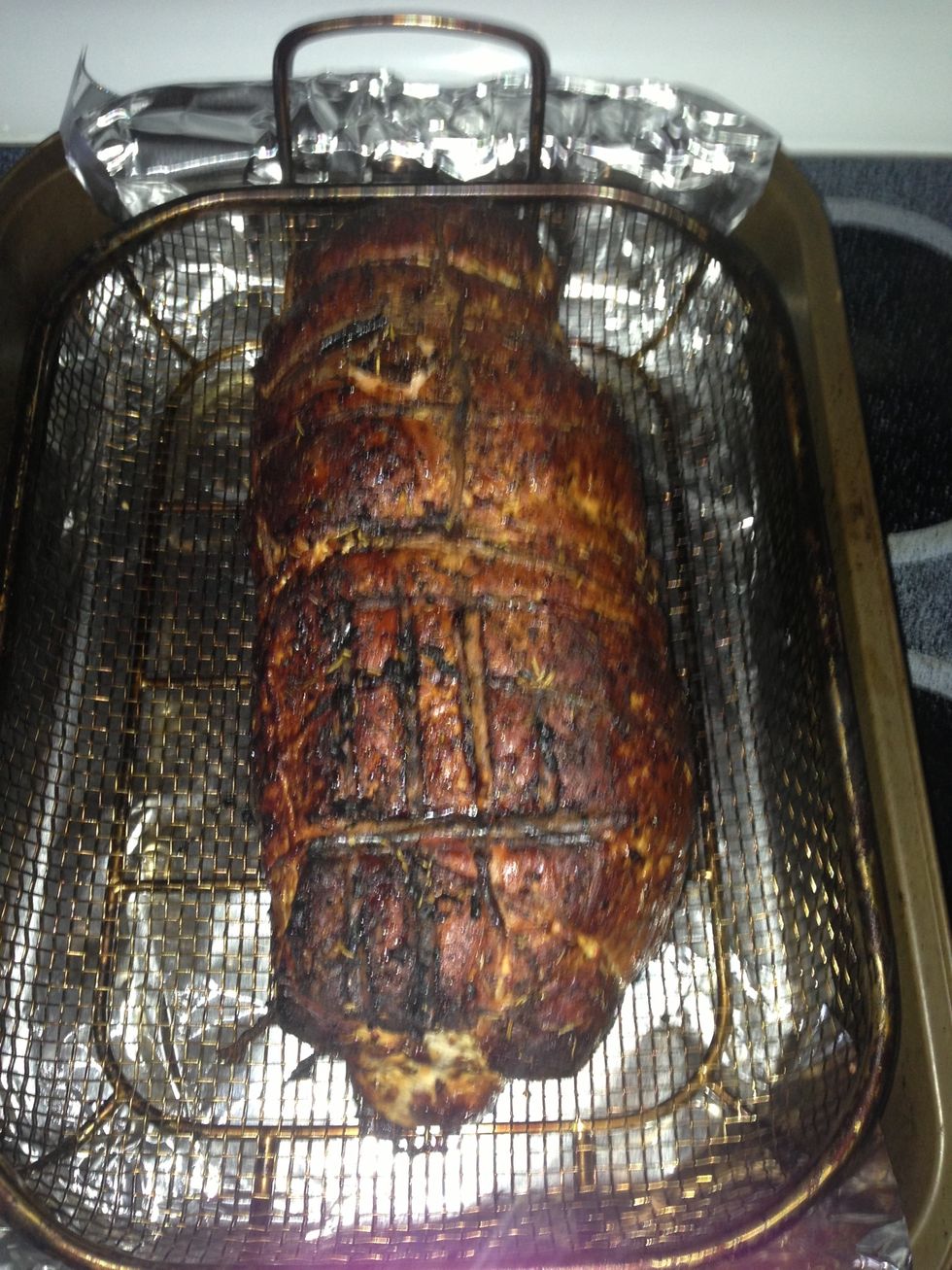 Out of the grill and over a pan. Cover with foil and let stand for 10-15 minutes before serving.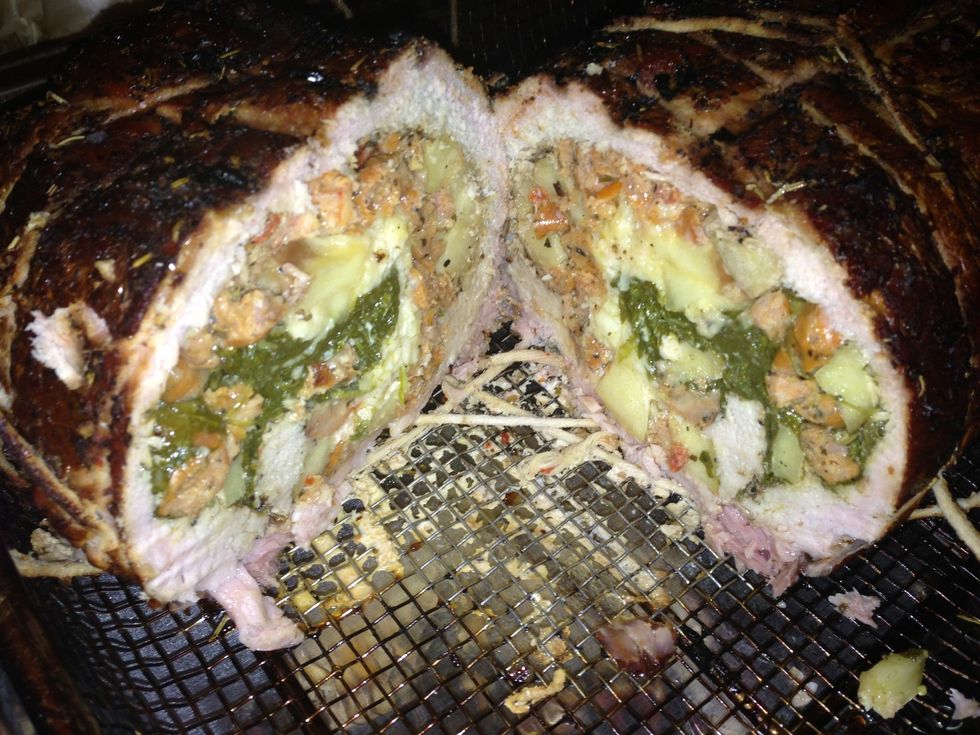 You can see a light smoke ring on the outer edge. If you packed everything nice and tight it should cut cleanly without everything spilling out.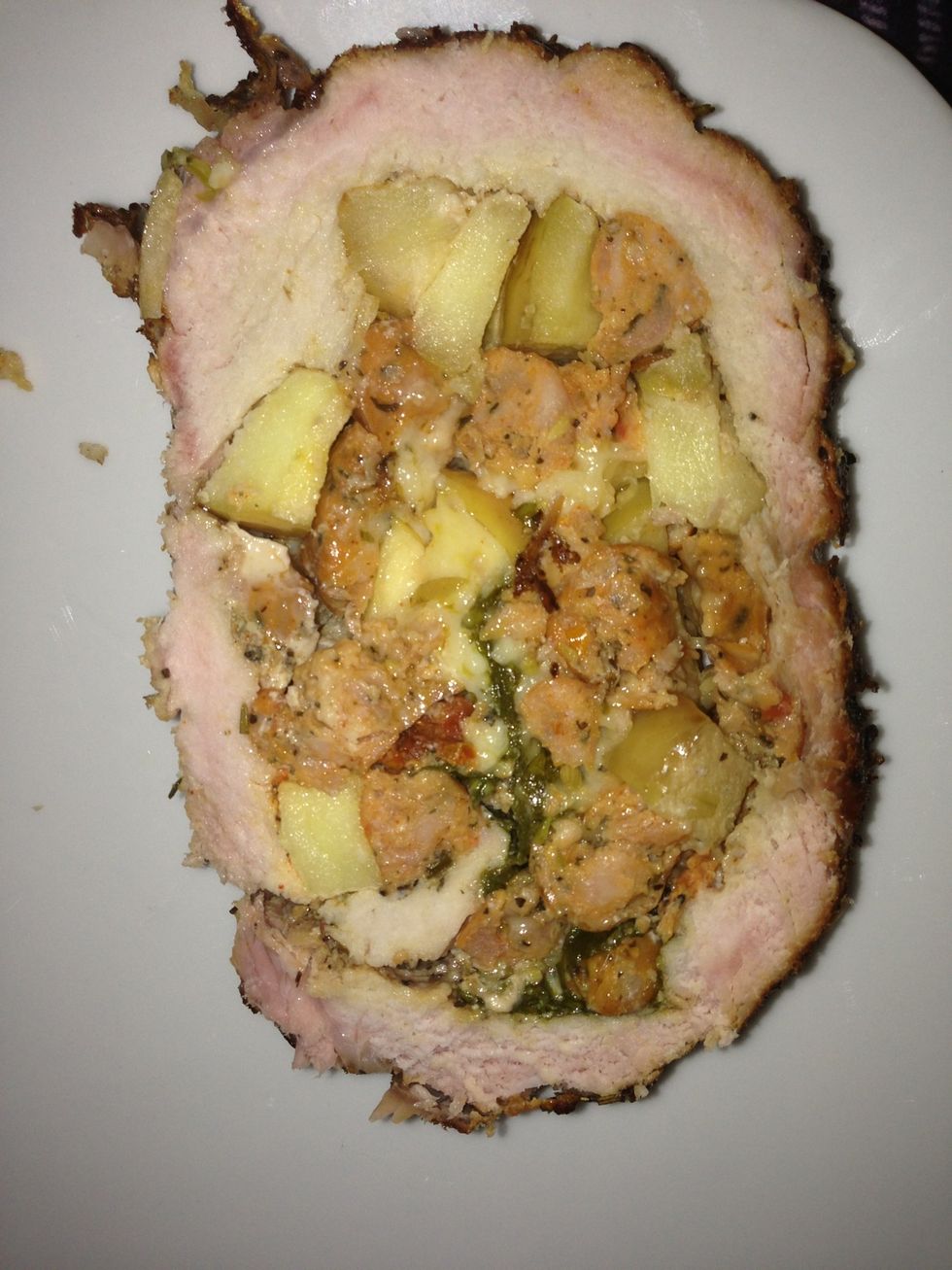 On the plate. This was a really delicious substitute for the norm!
5.0lb Pork loin, Trimmed
Olive oil
Garlic, minced
2.0 Apples (Red delicious, golden)
1.0lb Sausage (Sweet sun dried tomato, other)
Rosemary, to taste
Paprika
Fresh spinach, handful
0.0lb Cheese (Asiago, mozzarella, provolone, Colby jack)
Butcher's (Kitchen) twine
Wood for smoking (apple, cherry)
Don Cook
I love to grill and smoke food. Meat, veggies, everything. I grill all year. Follow me, I plan on putting up a lot of guides of how to make great food!