How to smile & make adana kebab
I'm a worldtraveler - currently bicycling from Denmark to Turkey. I enjoy making food guides in different restaurants while traveling. Todays guide: Adana Kebab. www.t-spotter.blogspot.com
67
Juicy Adana Kebab in front of the central clock, Canakkale, Turkey.
This portion serves 4 (see "supplies")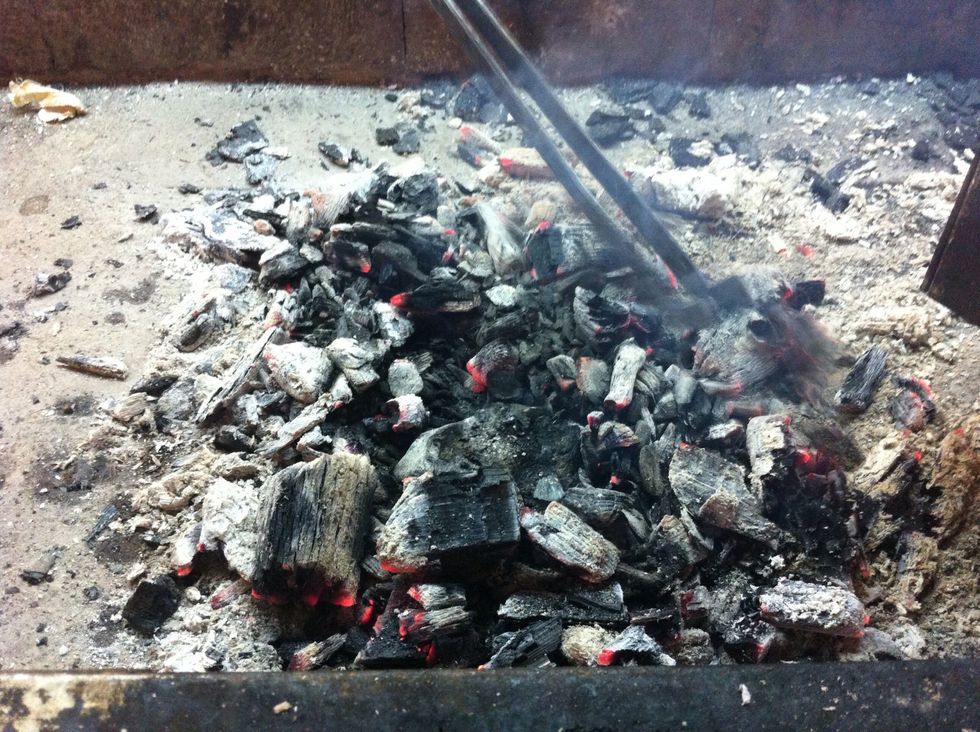 Get your BBQ on high heat ;)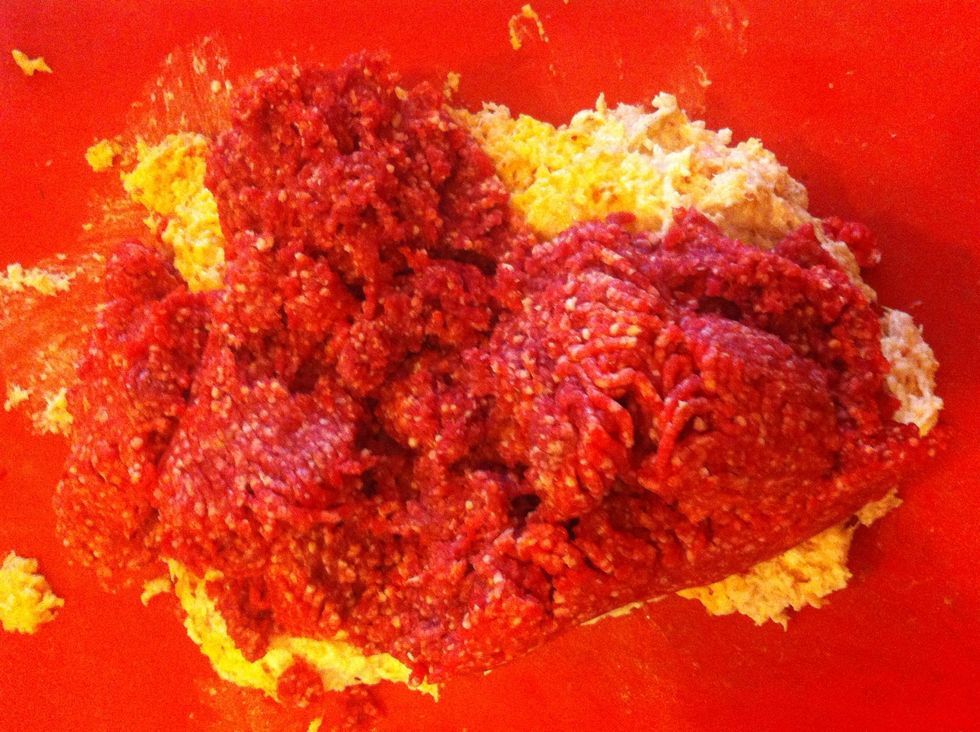 Mix your fat from a lamb tail (if you can't find this, just make it without) with your grounded beef.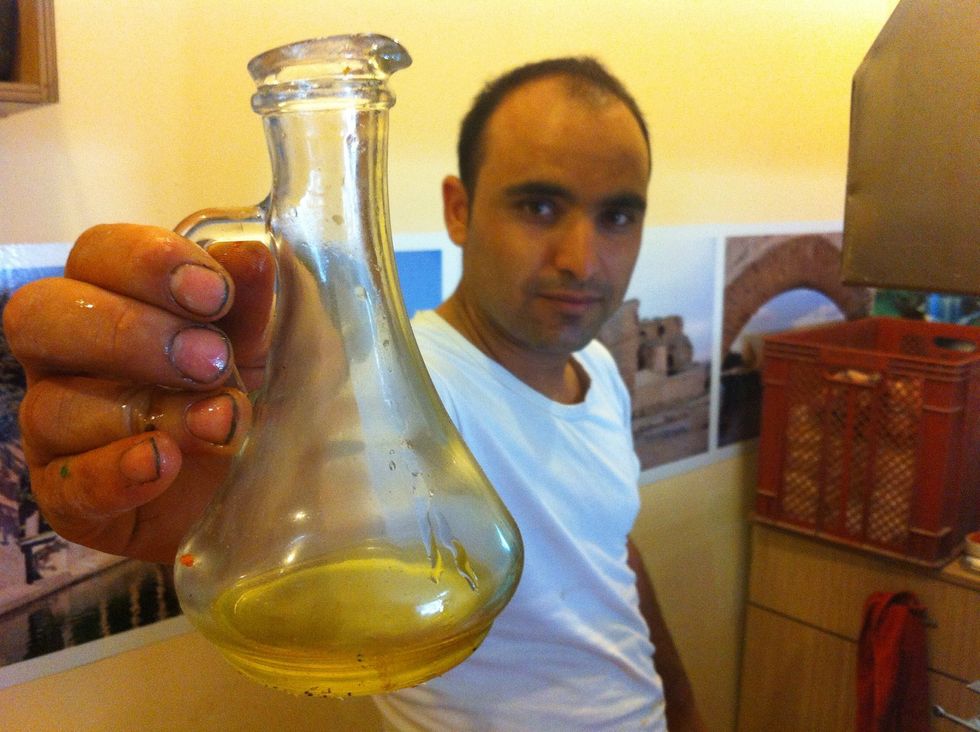 Add some oil, baby. Dosen't matter you've got dirty nails...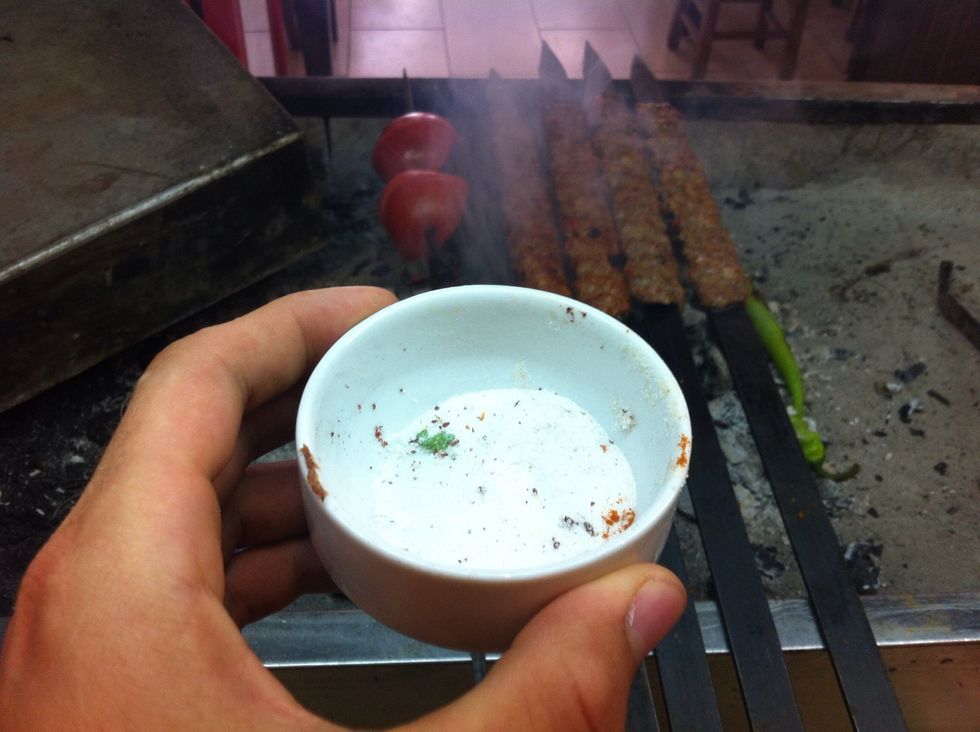 Salt, pretty important!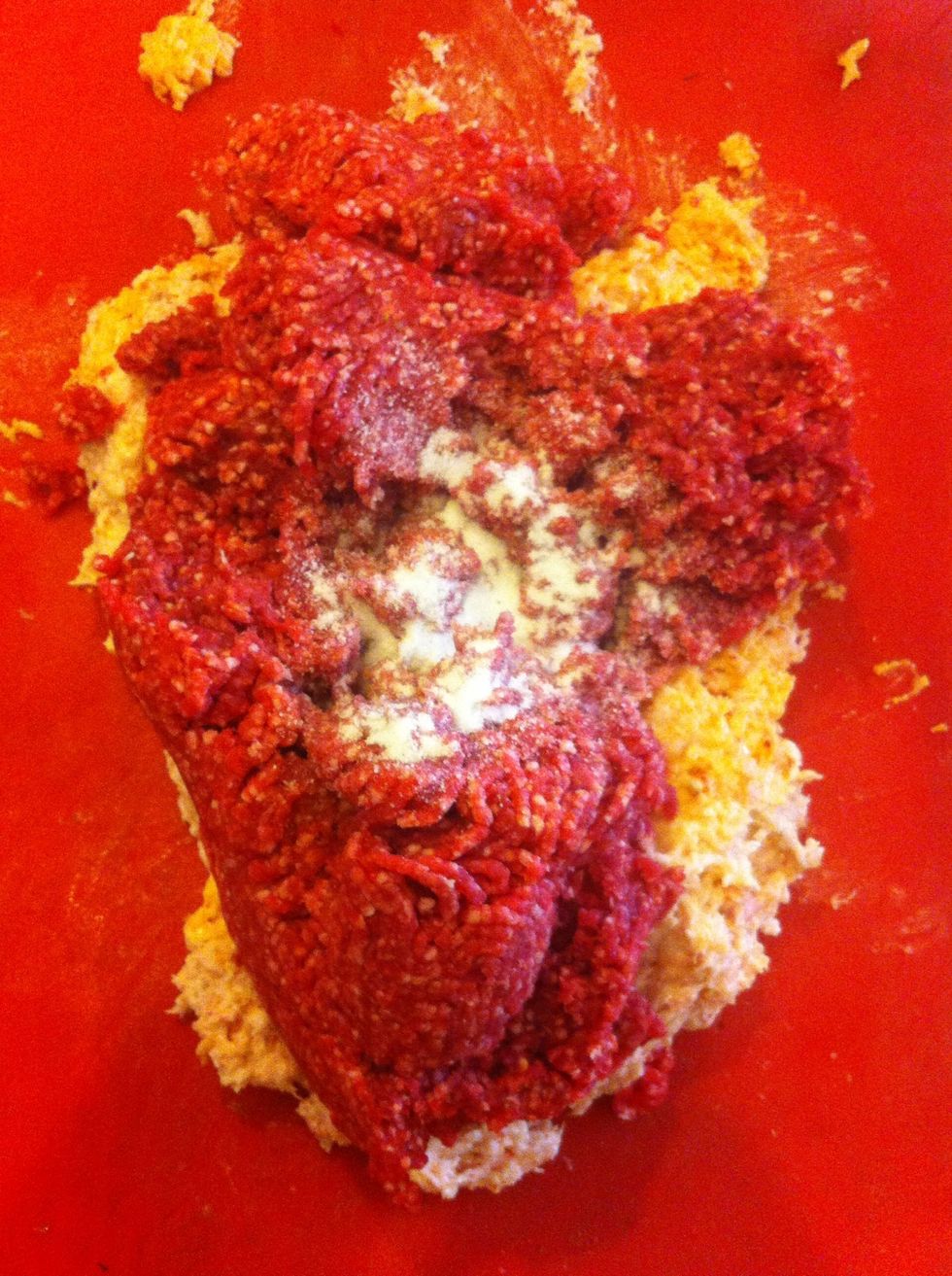 Add it! Hey... Smile for a second... There you go!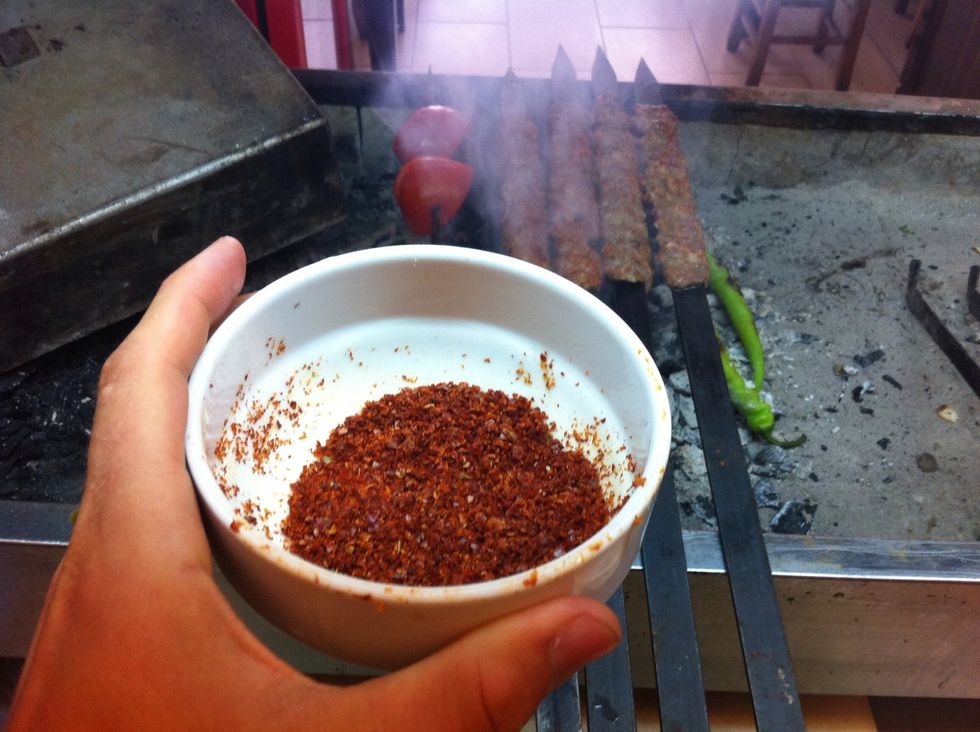 Chili, chili, chili! How much can you take??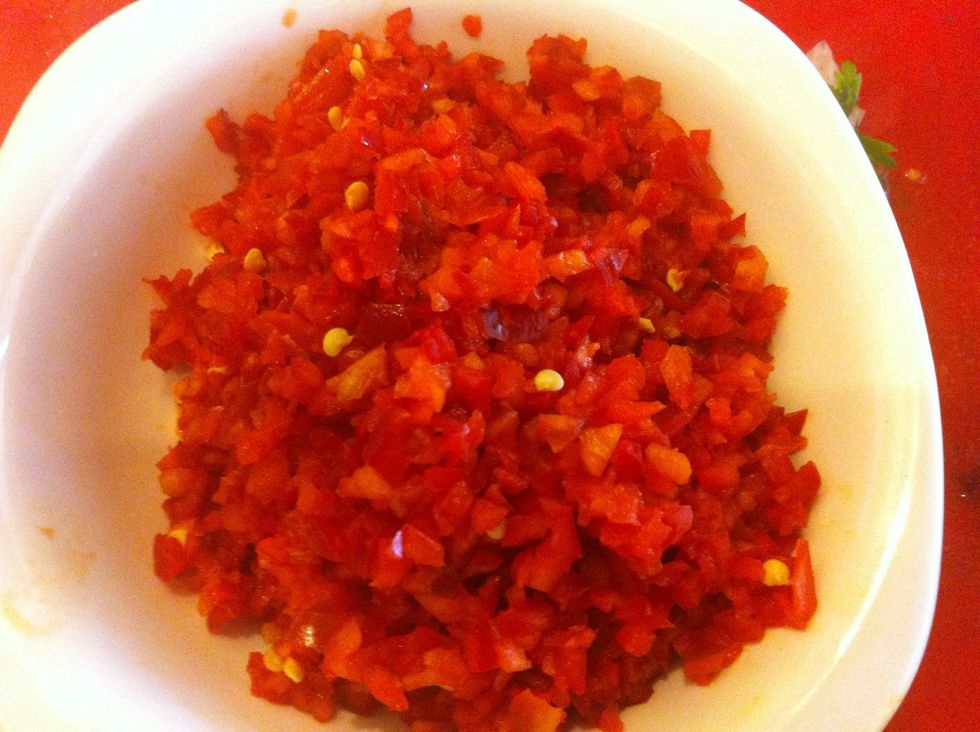 Chop your red pepper.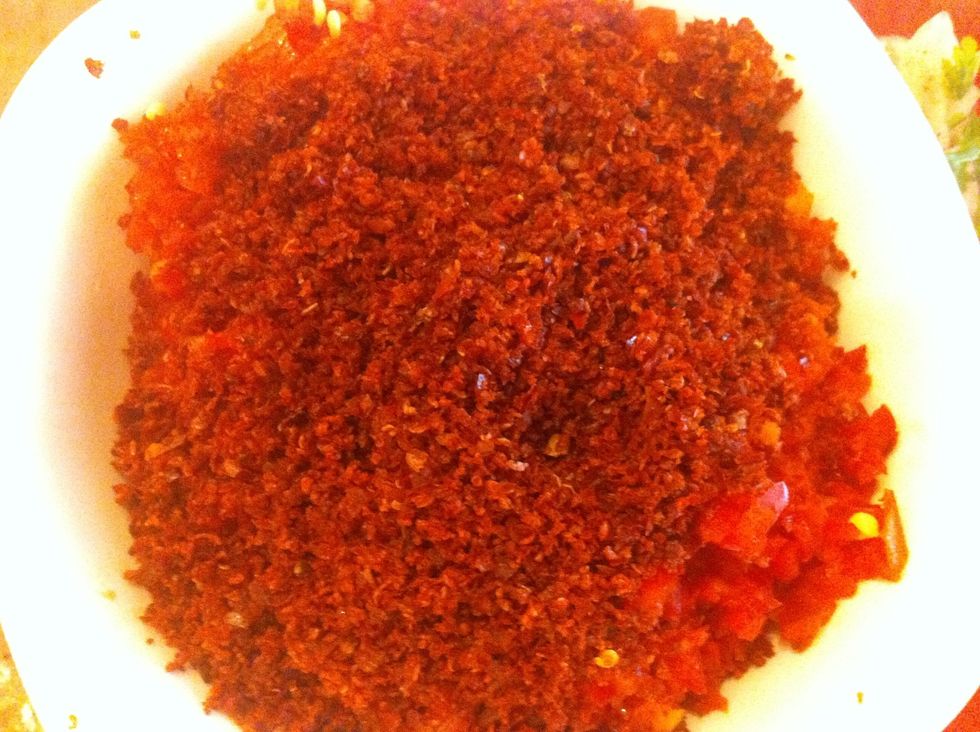 Mix with chili, cumin and coriander (you can also use fresh coriander).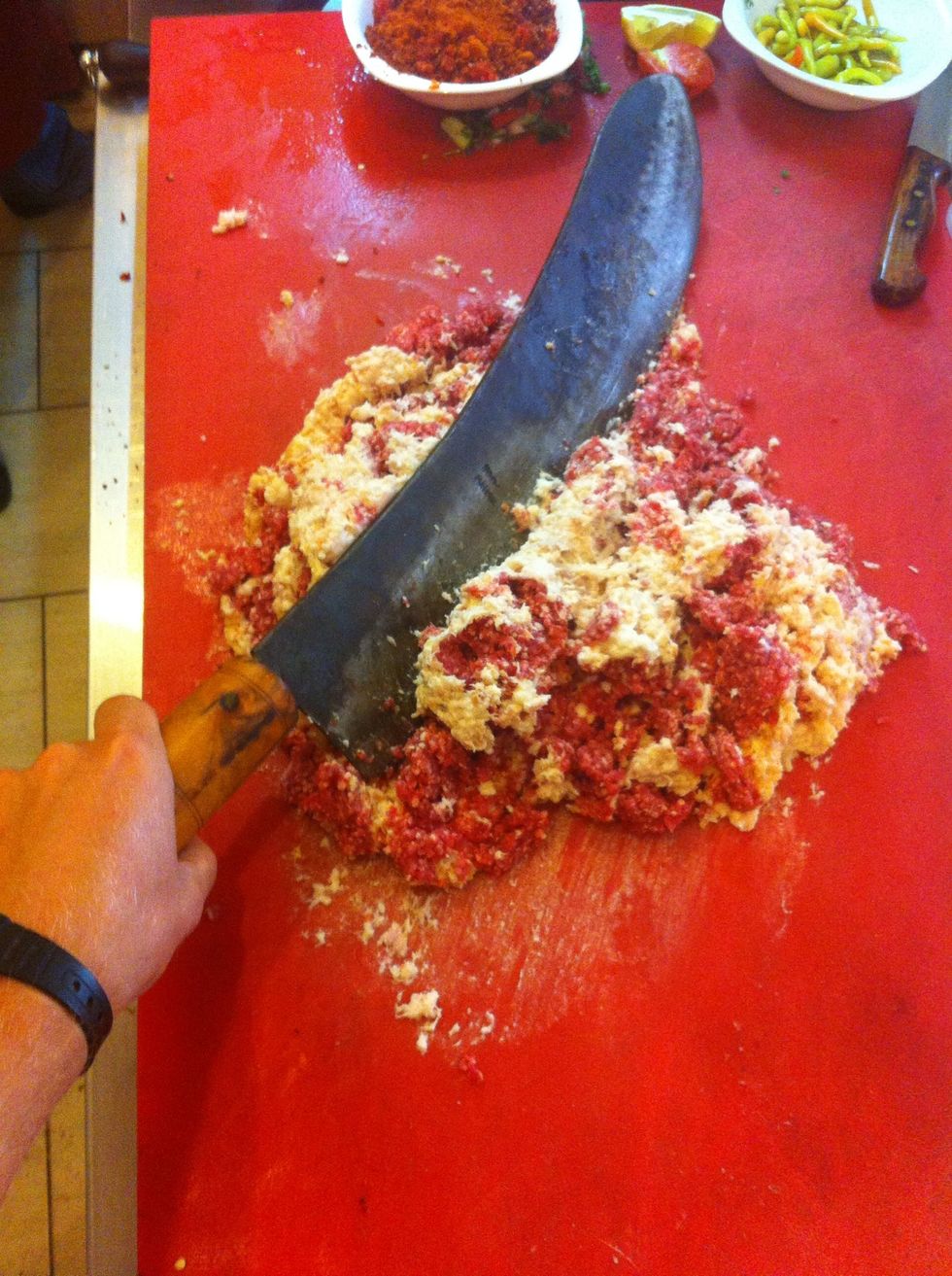 Find you biggest fuckin' knife. Take a picture. Smile.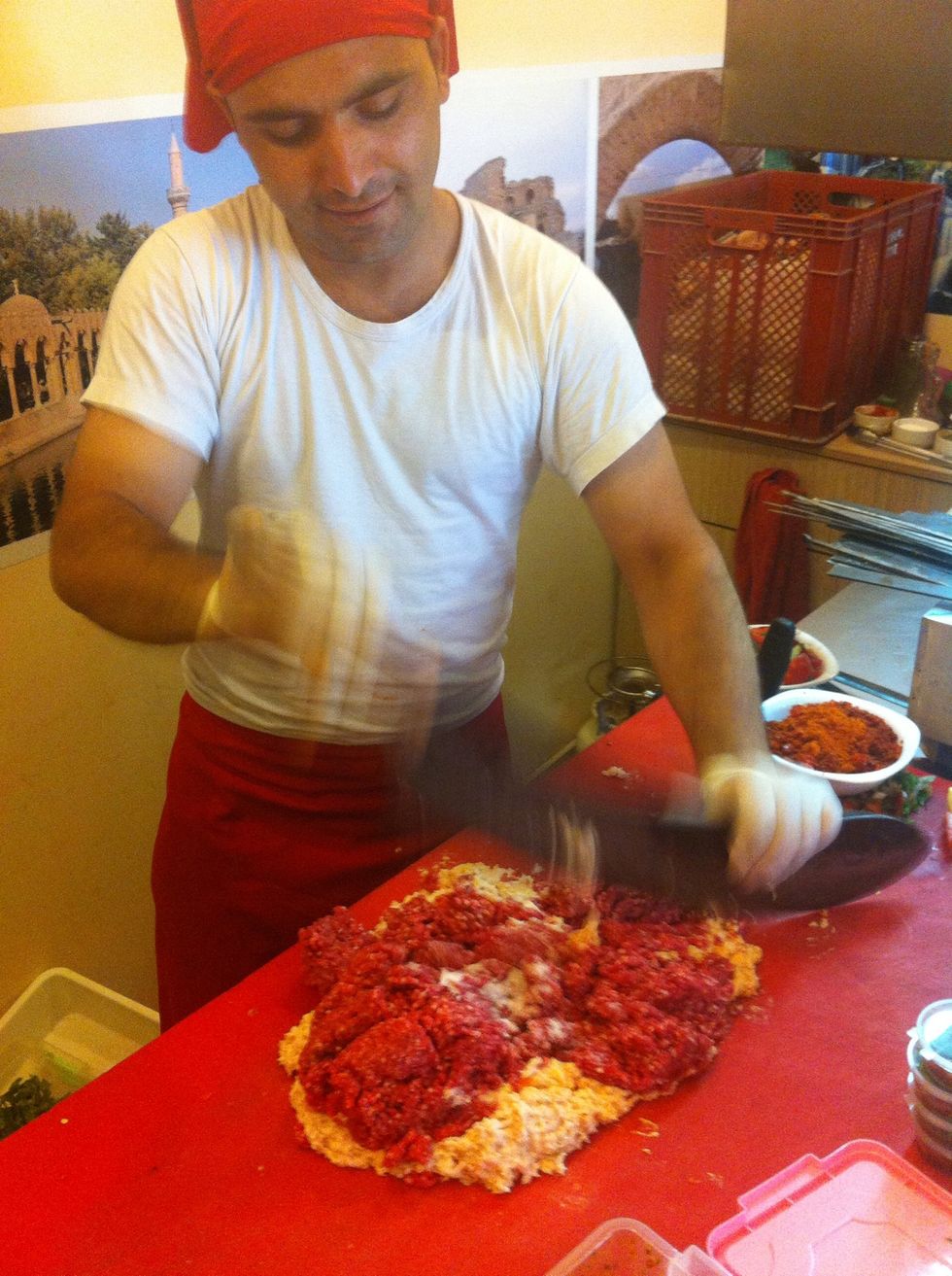 Get someone to continue. It's getting greasy!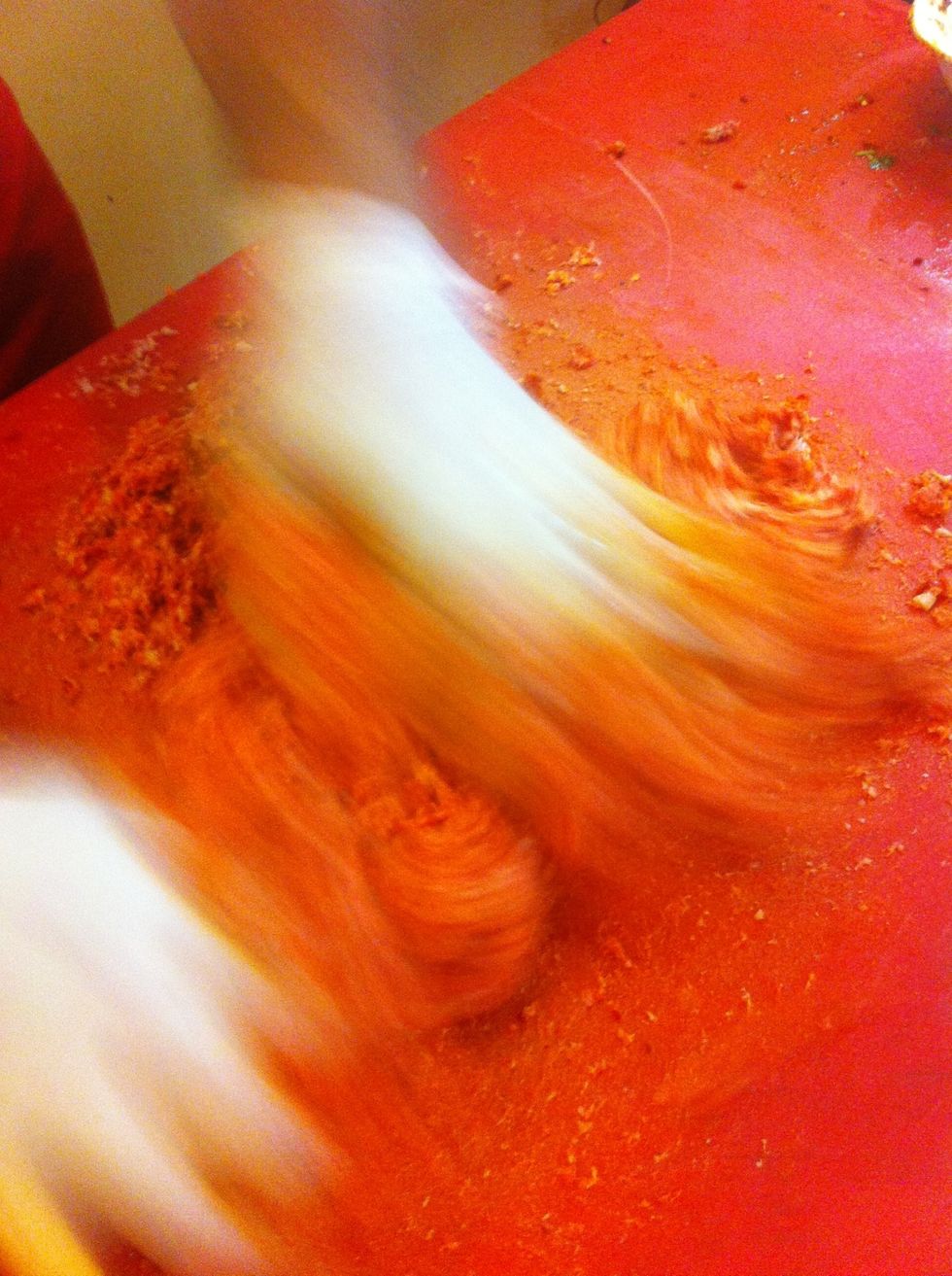 Time to give it some massage. Tell your helper to wear plastic gloves - he will give you a smile in return.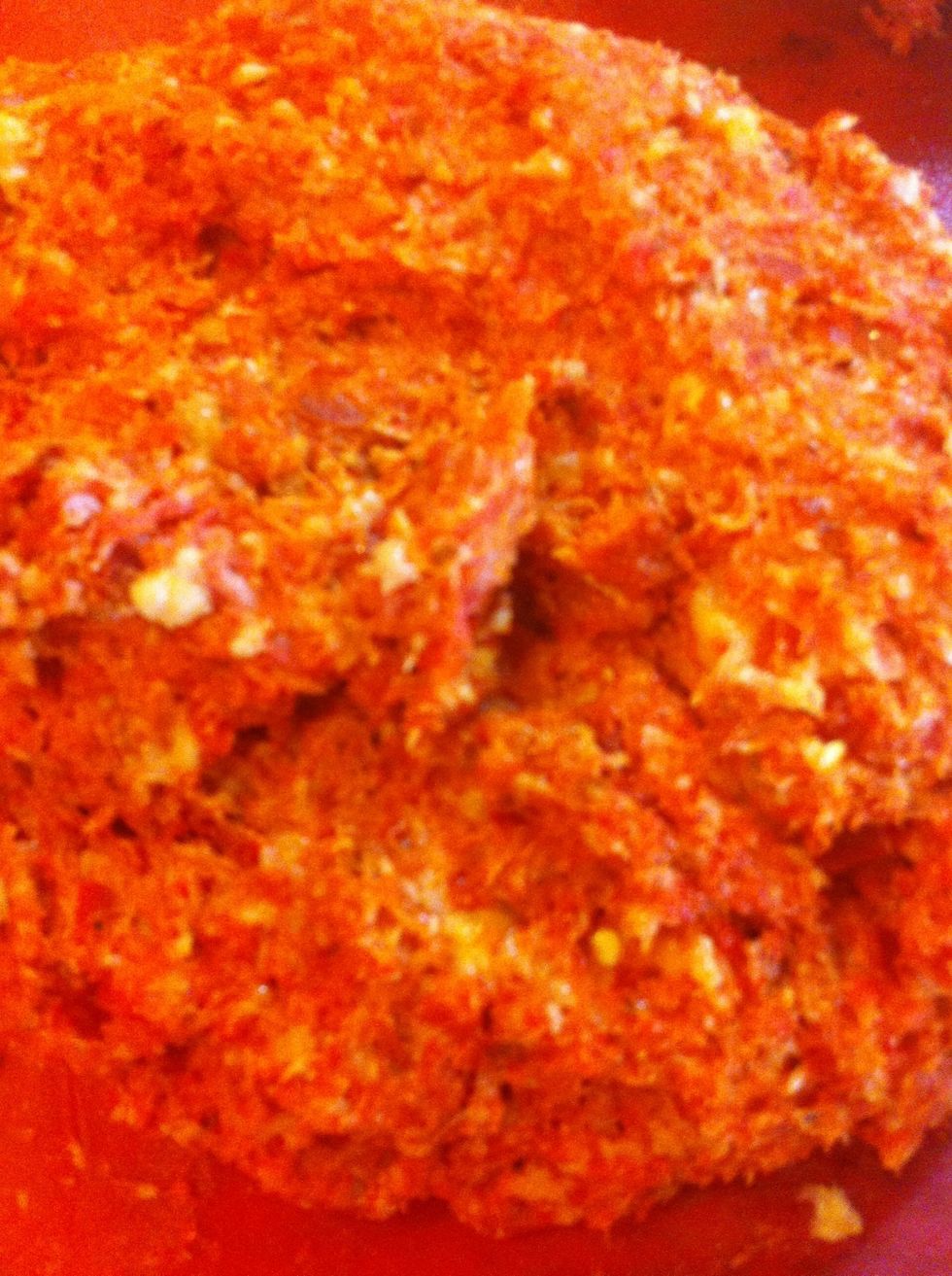 After a full body massage your meat should look like this.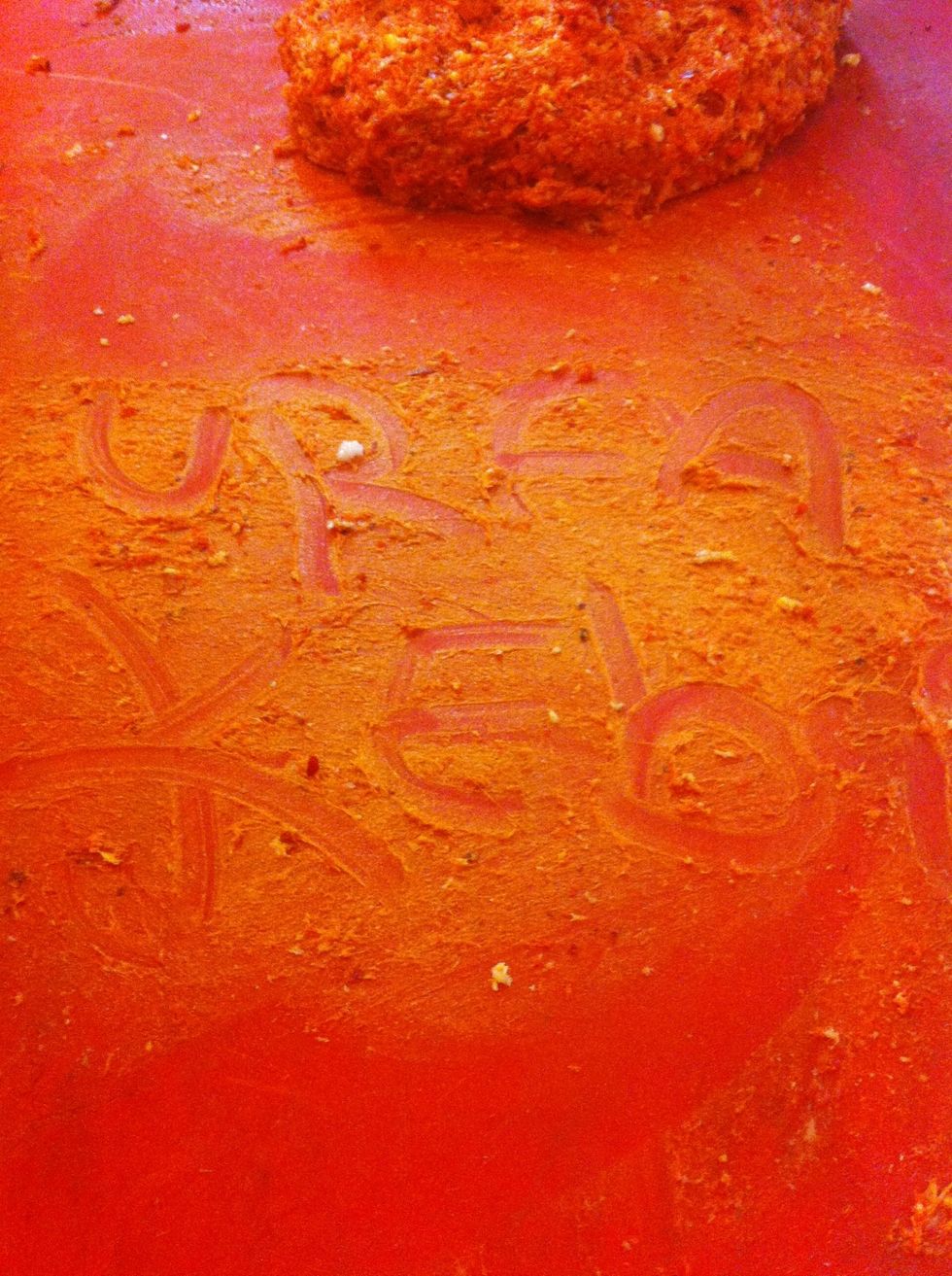 My teacher today is from Urfa, Turkey, and he use the greasy table to tell me that.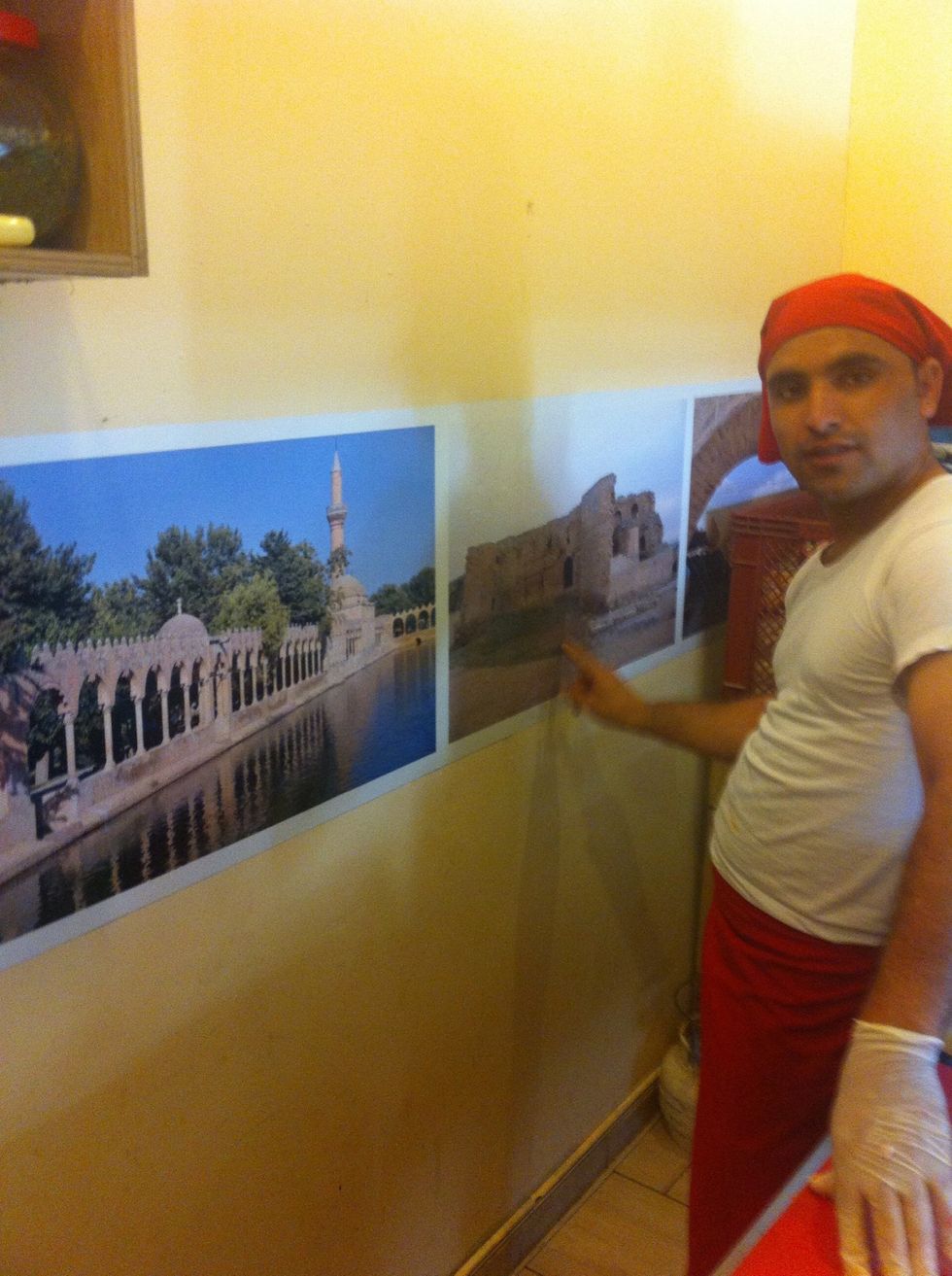 Before the meat is impaled by long skewers it's time for a cultural lesson about Urfa city and it's highlights.
Press the meat mixture onto skewers, so that your finger marks makes this characteristic Adana Kebab shape.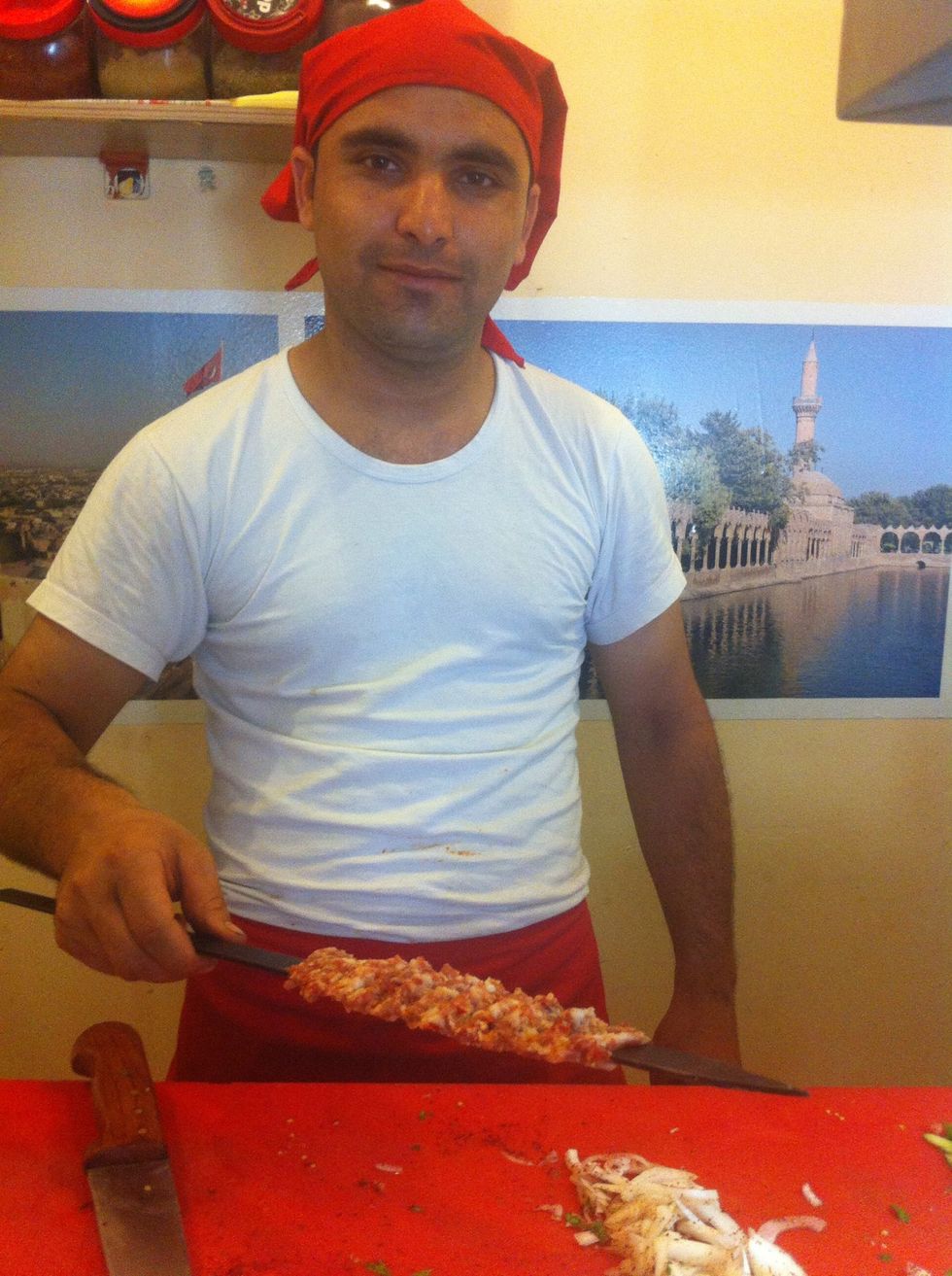 Just like this (he really tries to smile...)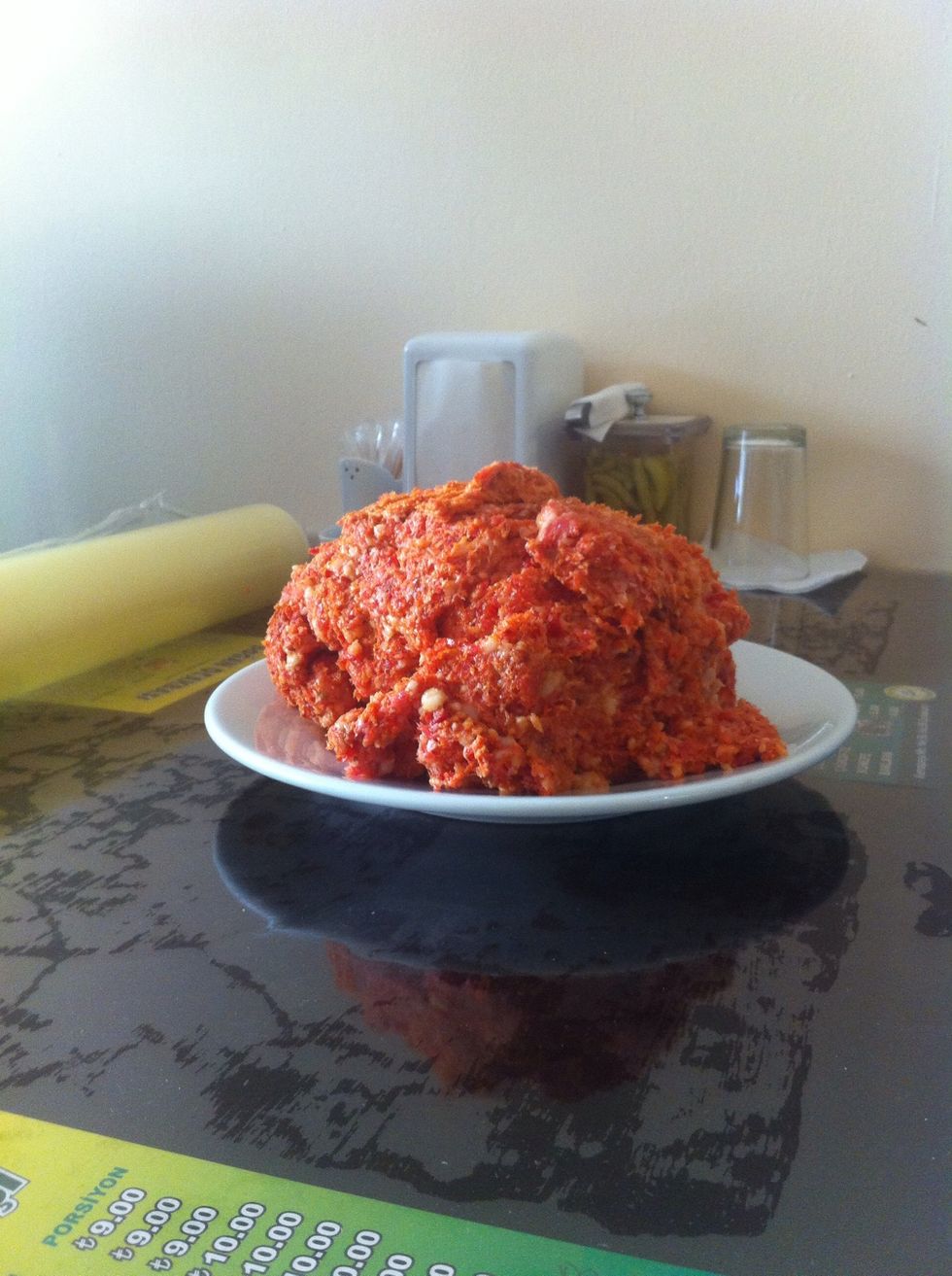 If you have leftovers - wrap it, and save it for later - when you start to grill this meat your neighbors might come over...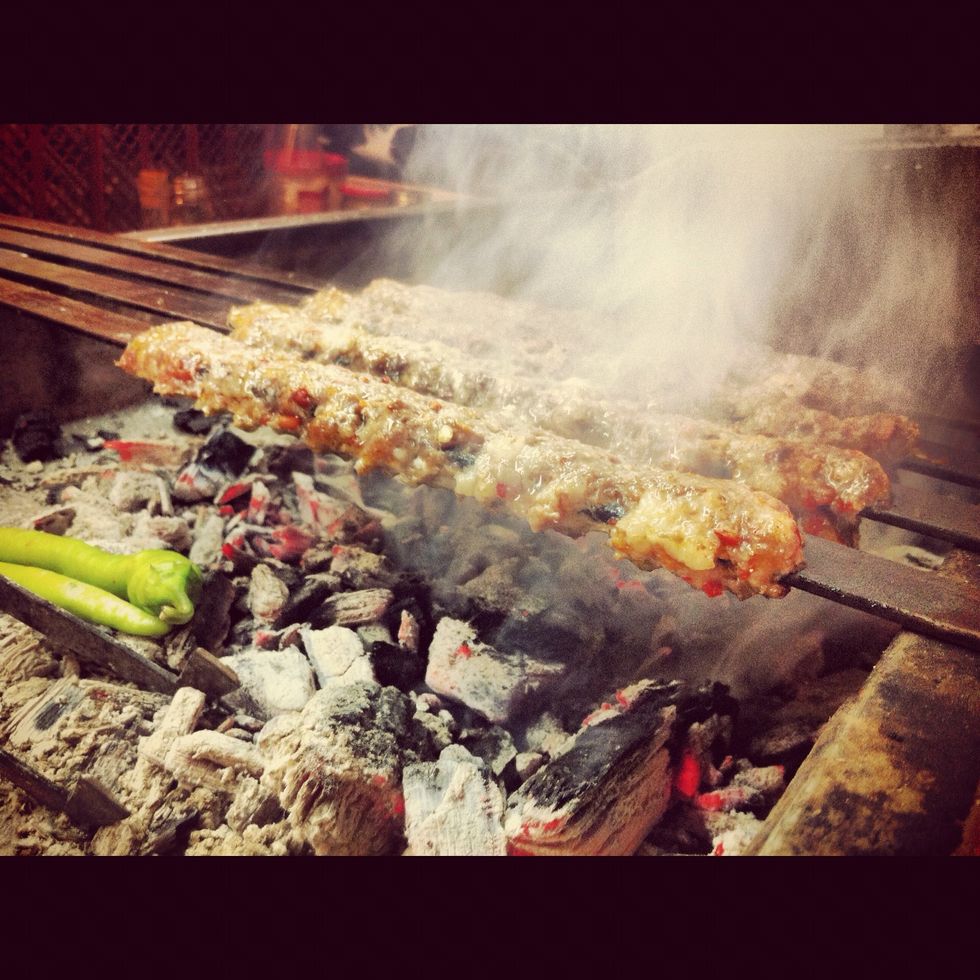 An epic moment, an epic smell, an epic meal is soon to be enjoyed.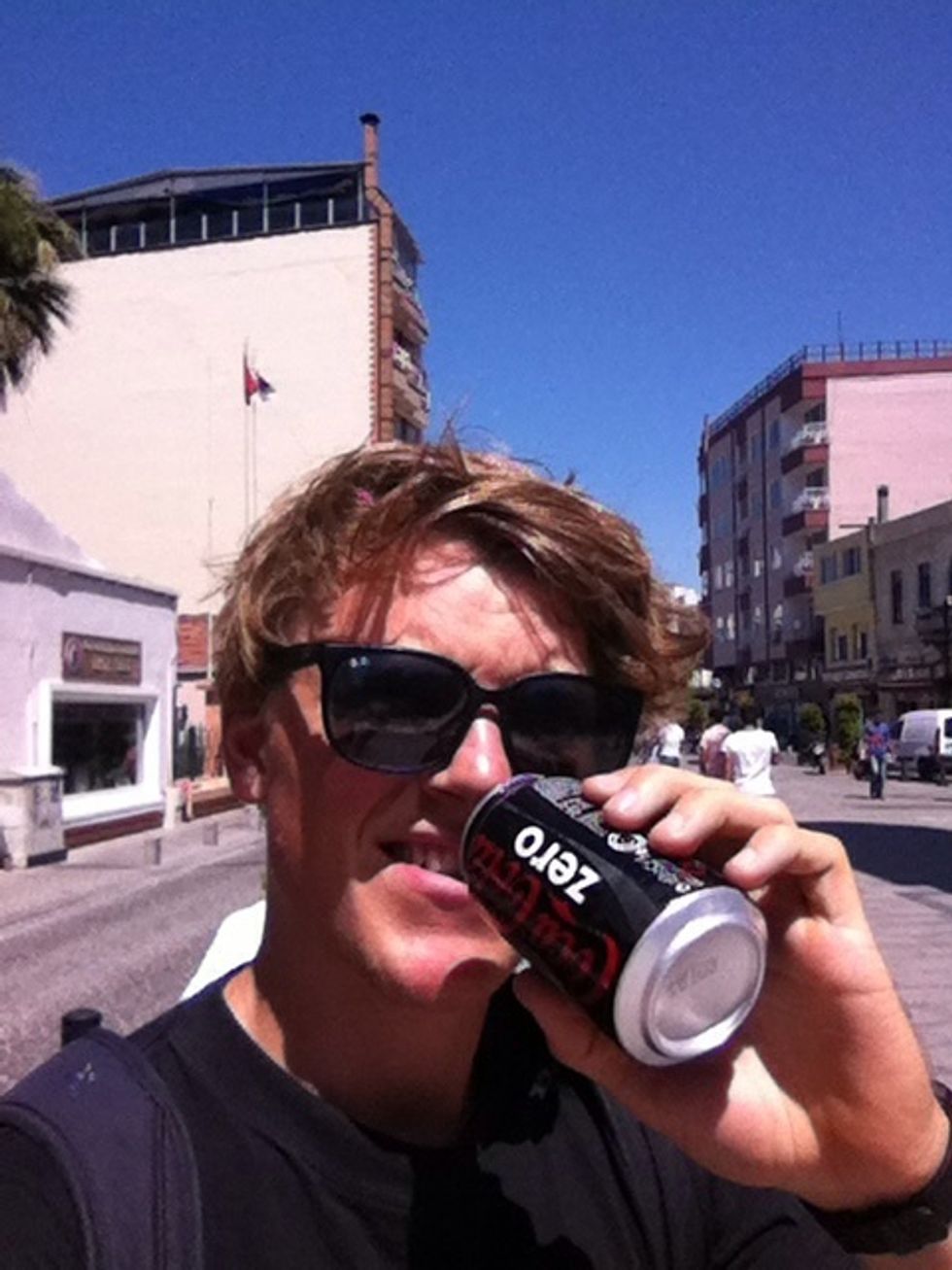 If it's getting too hot: go outside and grab a healthy(?) cold coke zero. Love it!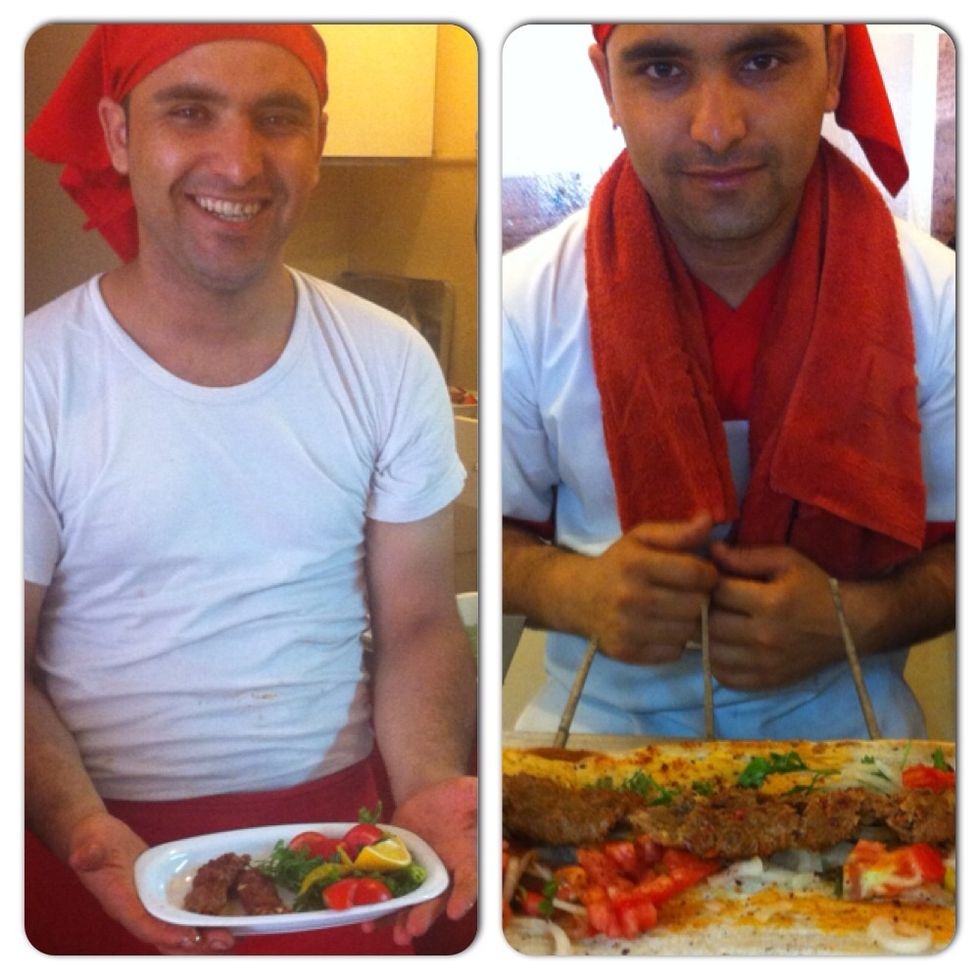 Make your decision: with or without bread (hey, isn't he smiling now??)??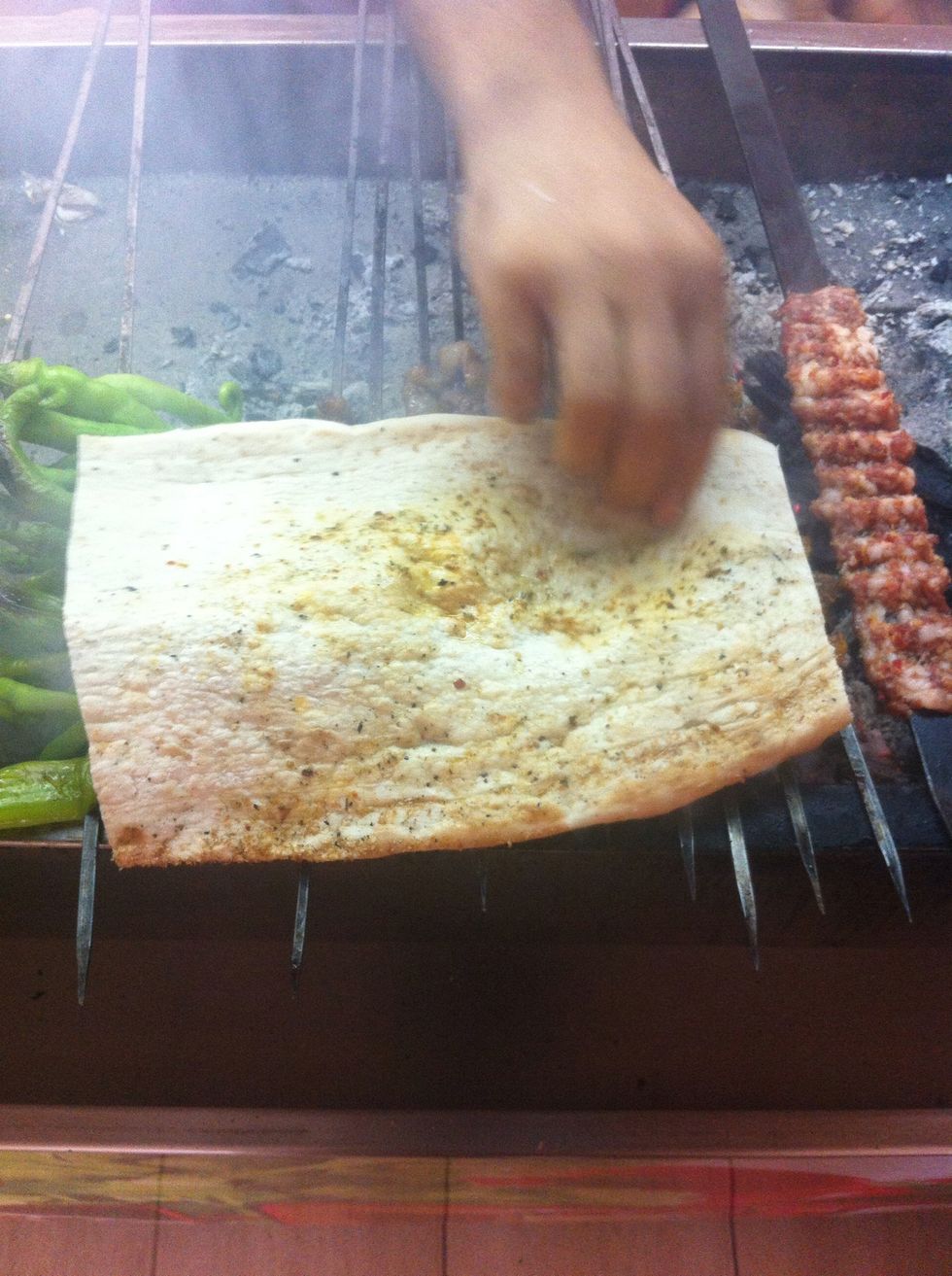 I choose to roll my dear Adana kebab into a bread - remember to heat it first.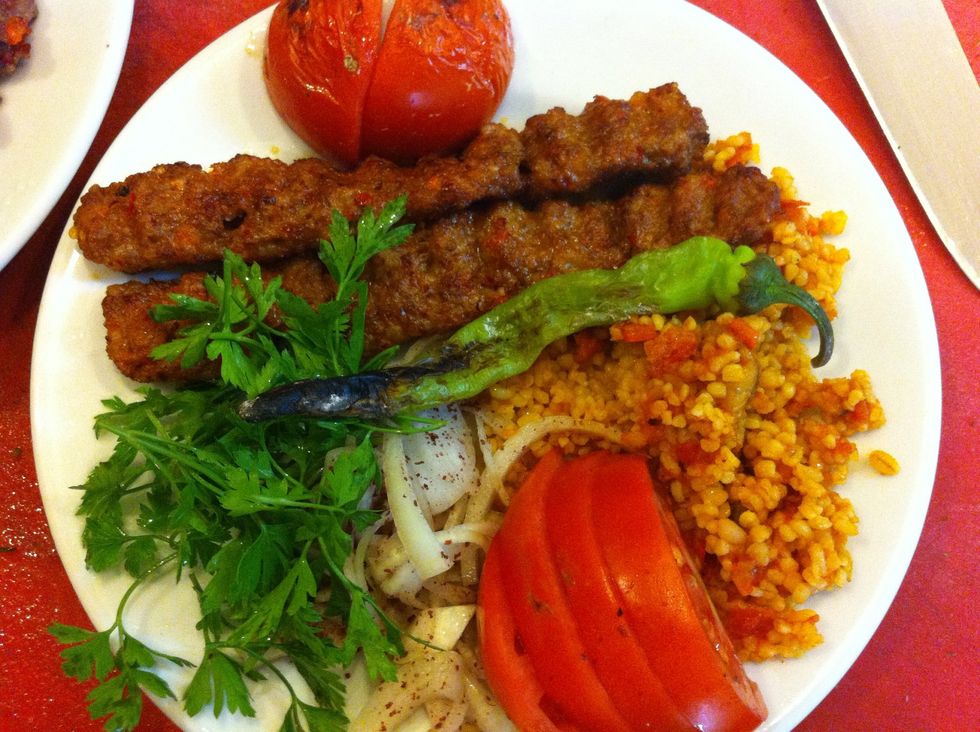 OR: skip the carbonhydrates from the bread and make it without (don't eat the rice, haha).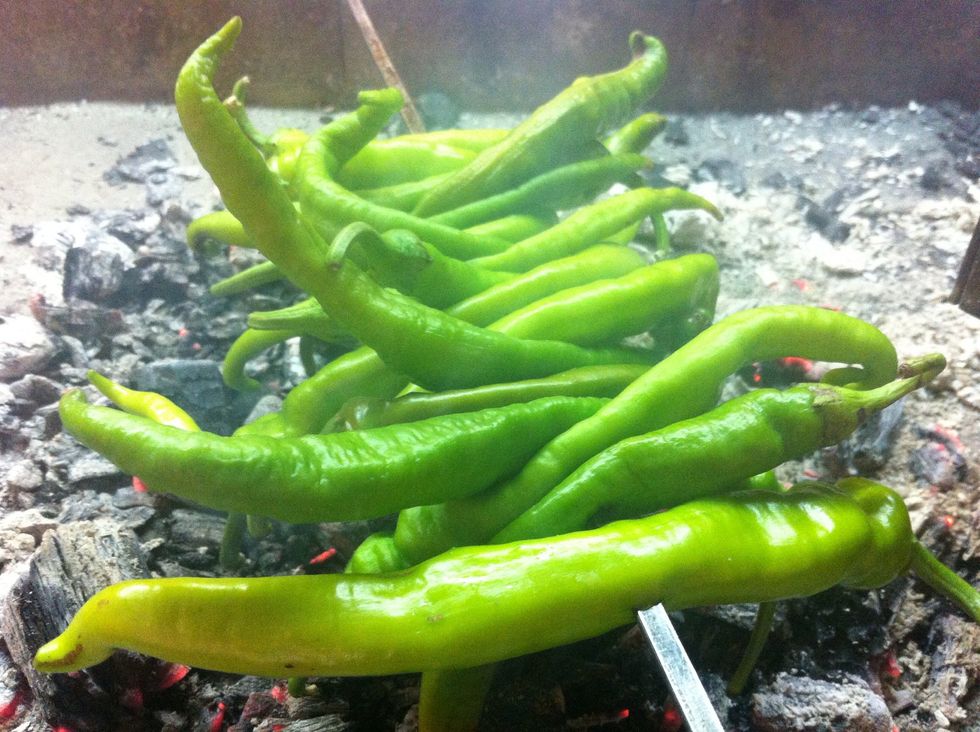 Grill some chilies if you like'em so - I prefer them cold and raw.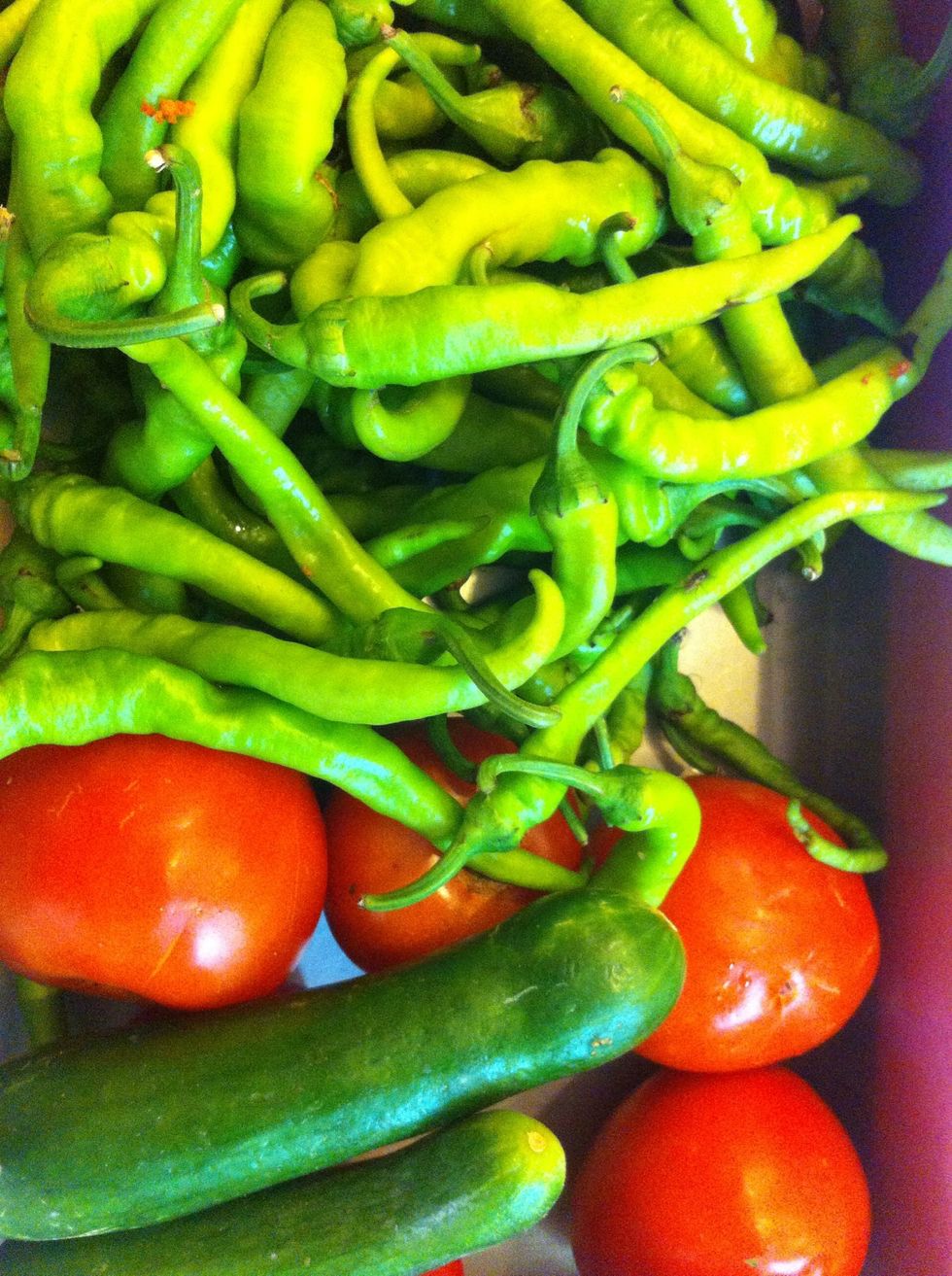 Cut tomatoes, cucumber and raw spicy chillies.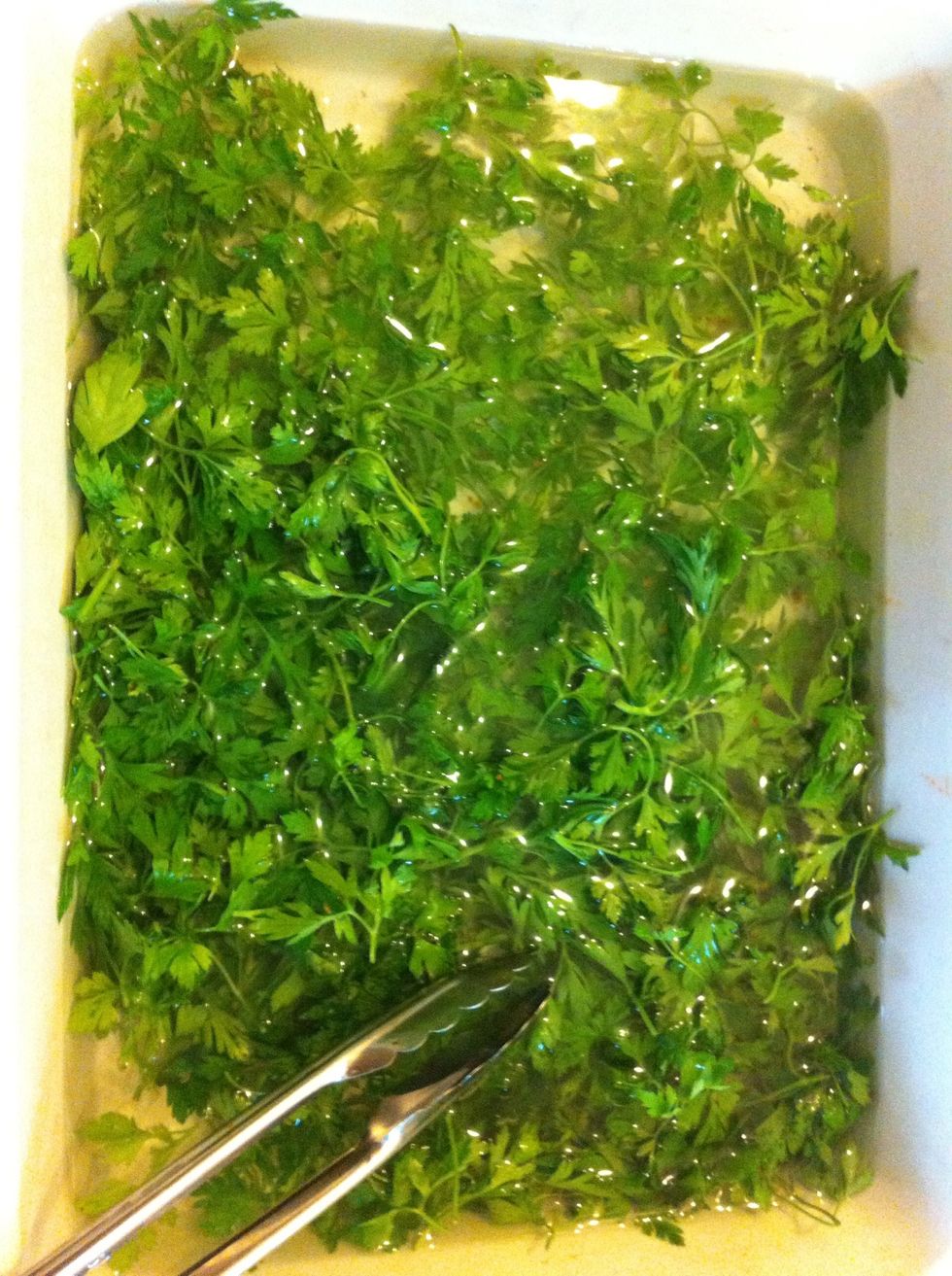 Find your crispy parsley. Add loads of it.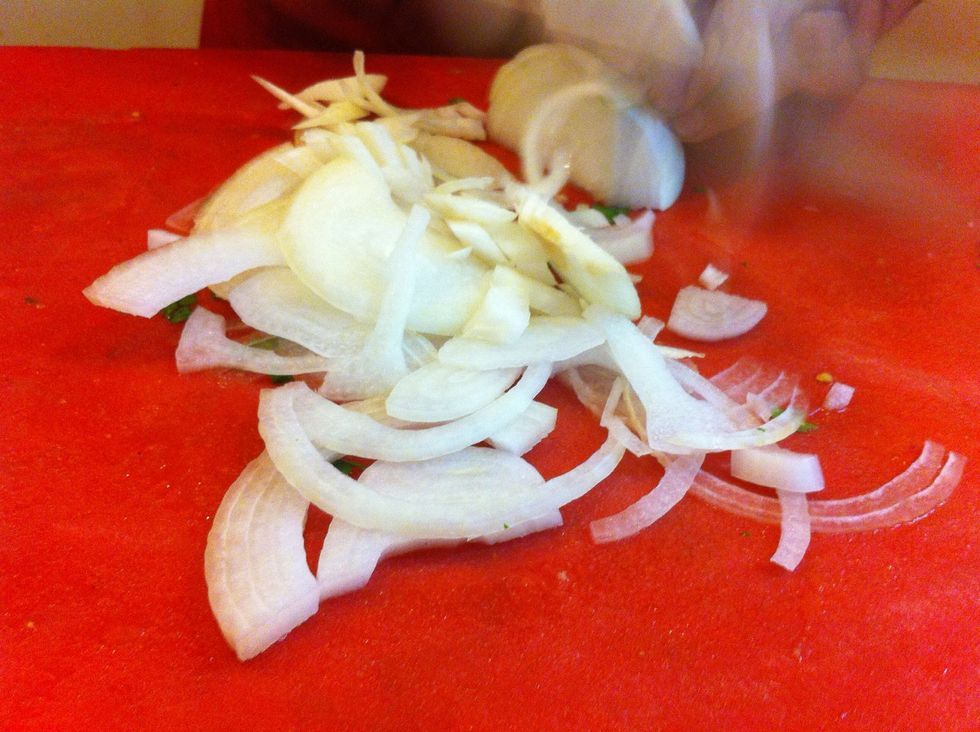 Dice an onion.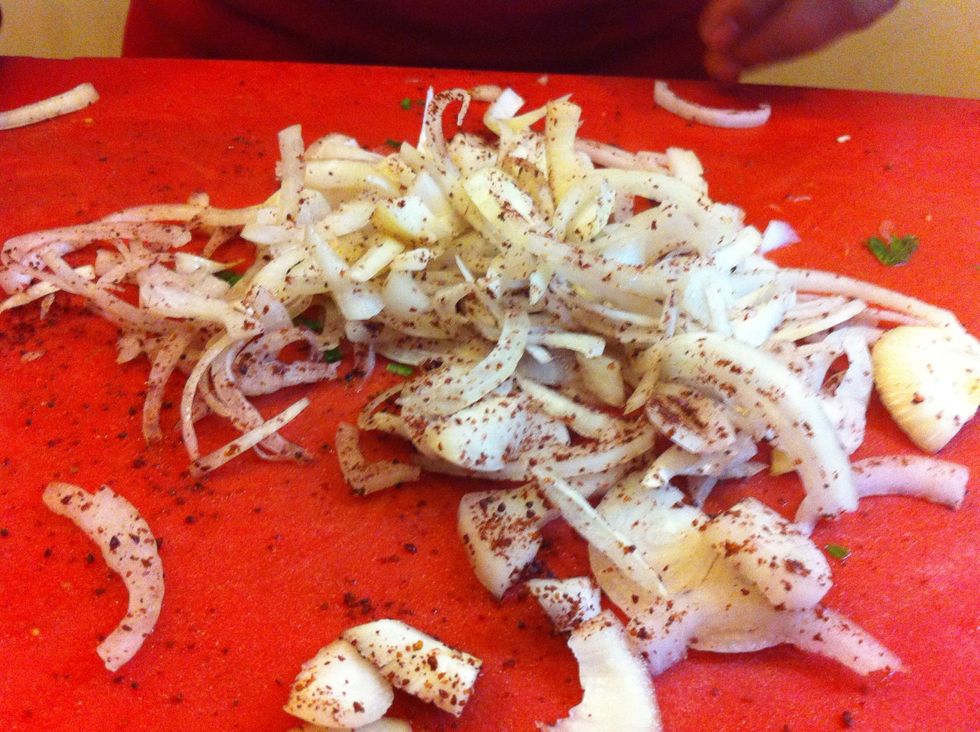 Add some sumac spice, baby!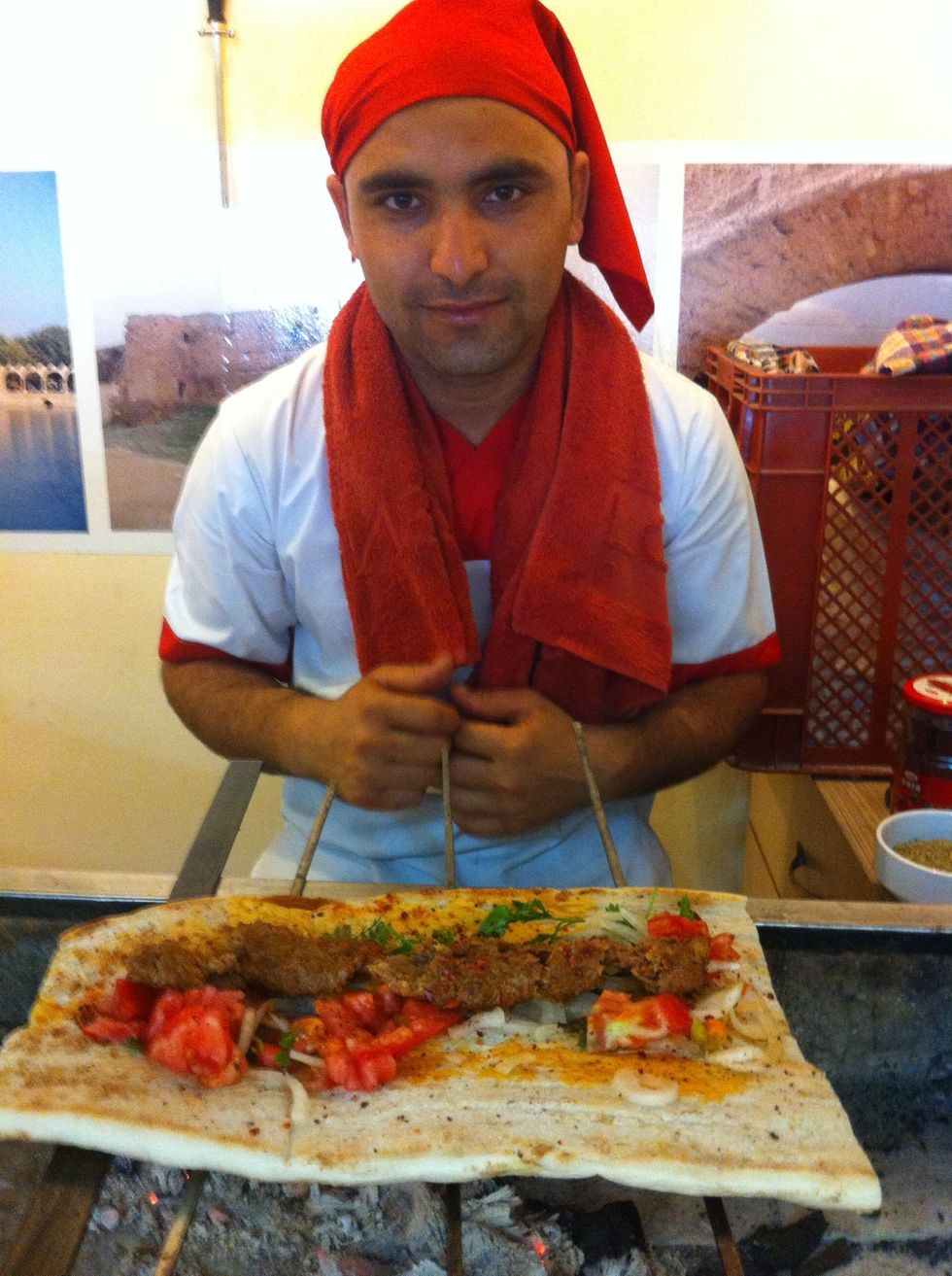 Place it all on your torilla pancake or a soft turkish ekmek. Have a look at it and a smile (again he tries his best to do so).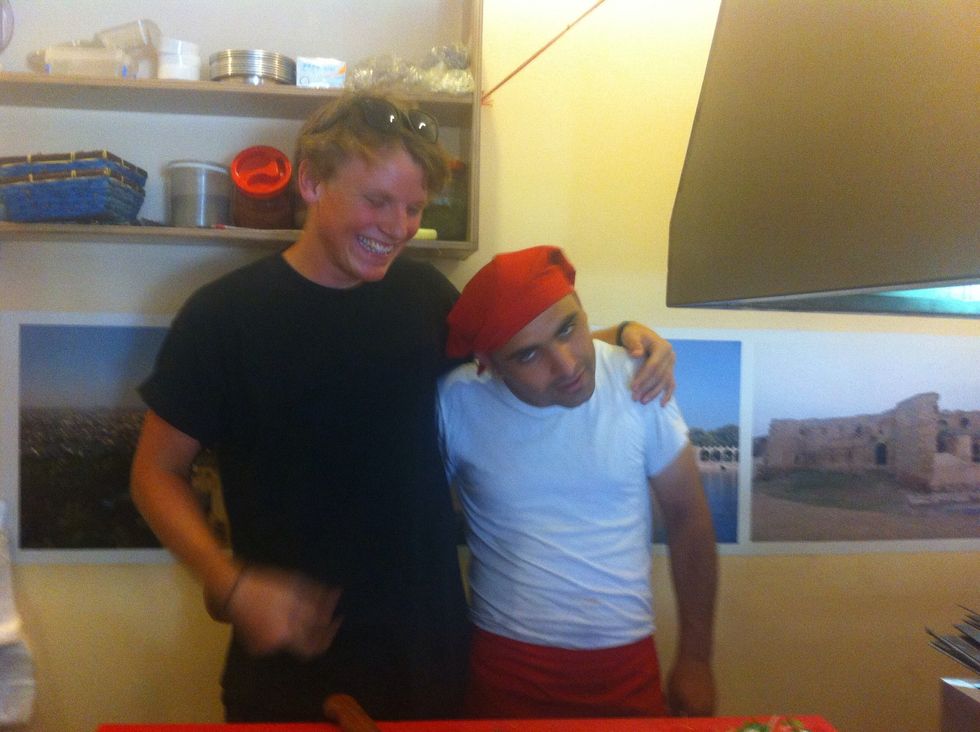 Hug each other. Laugh. Smile. You are soon ready to enjoy an excellent, traditional and damn tasty Turkish meal.
Disinfect your hands with lemon alcohol. Prepare yourself. It's meal time.
Warning: sit down, you might pass out due to the large amounts of chillies and the amazing taste of Adana Kebab. Have some bites of your sweet little baby. Capture it and tell your friends!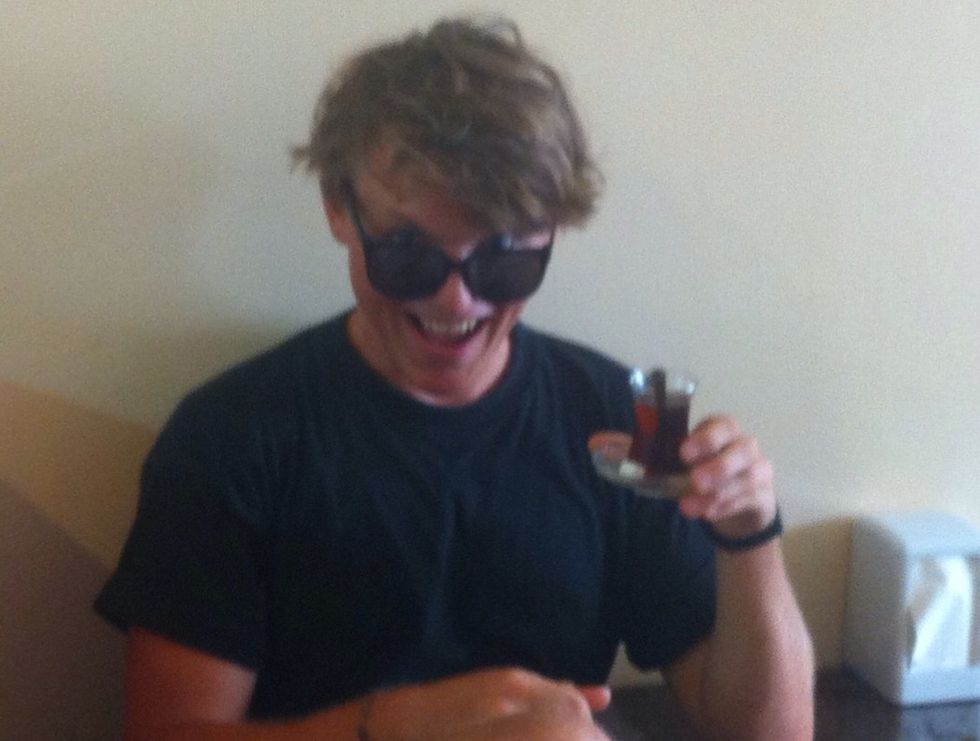 You made it! Enjoy a glass of Turkish chai. Smile.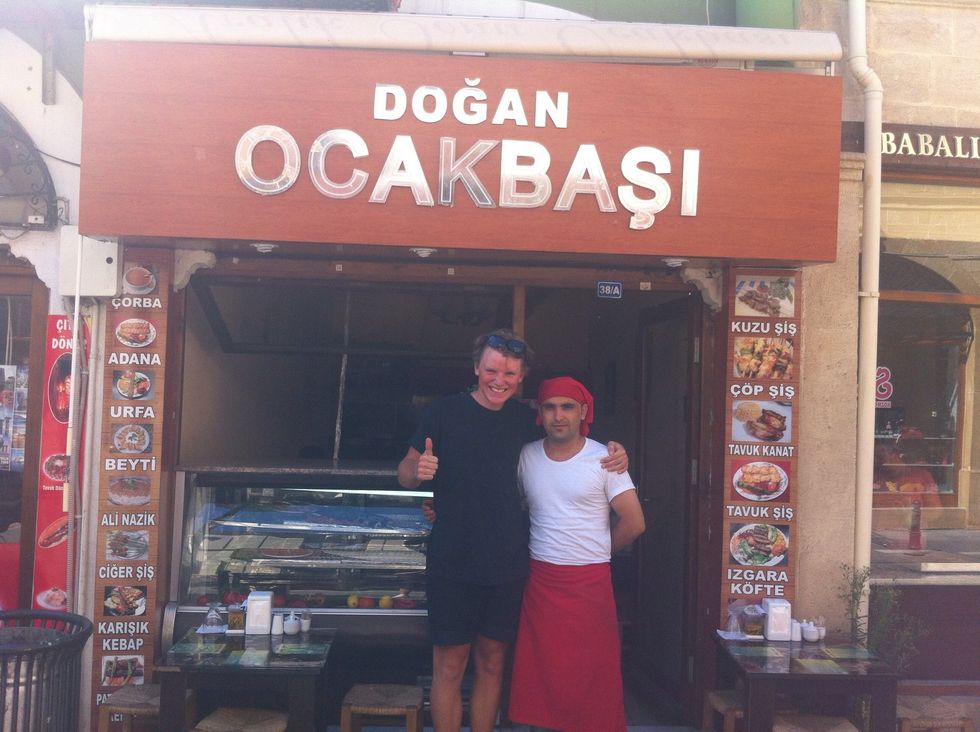 Finally: take a photo with the boss in front of his restaurant. This makes him both happy and proud. Promise to tell the whole world about his place. Eat one more Adana Kebab before you say goodbye...
1.0lb Ground beef
1/4lb Fat from lamb tail (mmmh)
1.0 Chopped sweet Red pepper
2.0 Onions
1.0Tbsp Oil
1.0Tbsp Chili powder (spicy)
1/2Tbsp Cumin
1/2Tbsp Coriander
4.0 Fresh chopped Chili Peppers
4.0 Tomatoes
1.0bnch Parsley
4.0 Tortilla breads (or eat kebab only)
1.0tsp Sumac
Mr. Food-Traveler Pedersen
I'm a danish world explorer for four years now. I combine both culture, traveling and food into recipes by meeting up with chefs from all over the world!