Sometimes I find an app and want to text the link to someone so they can "click" and be taken directly to its location in the App Store ... Here's the easy way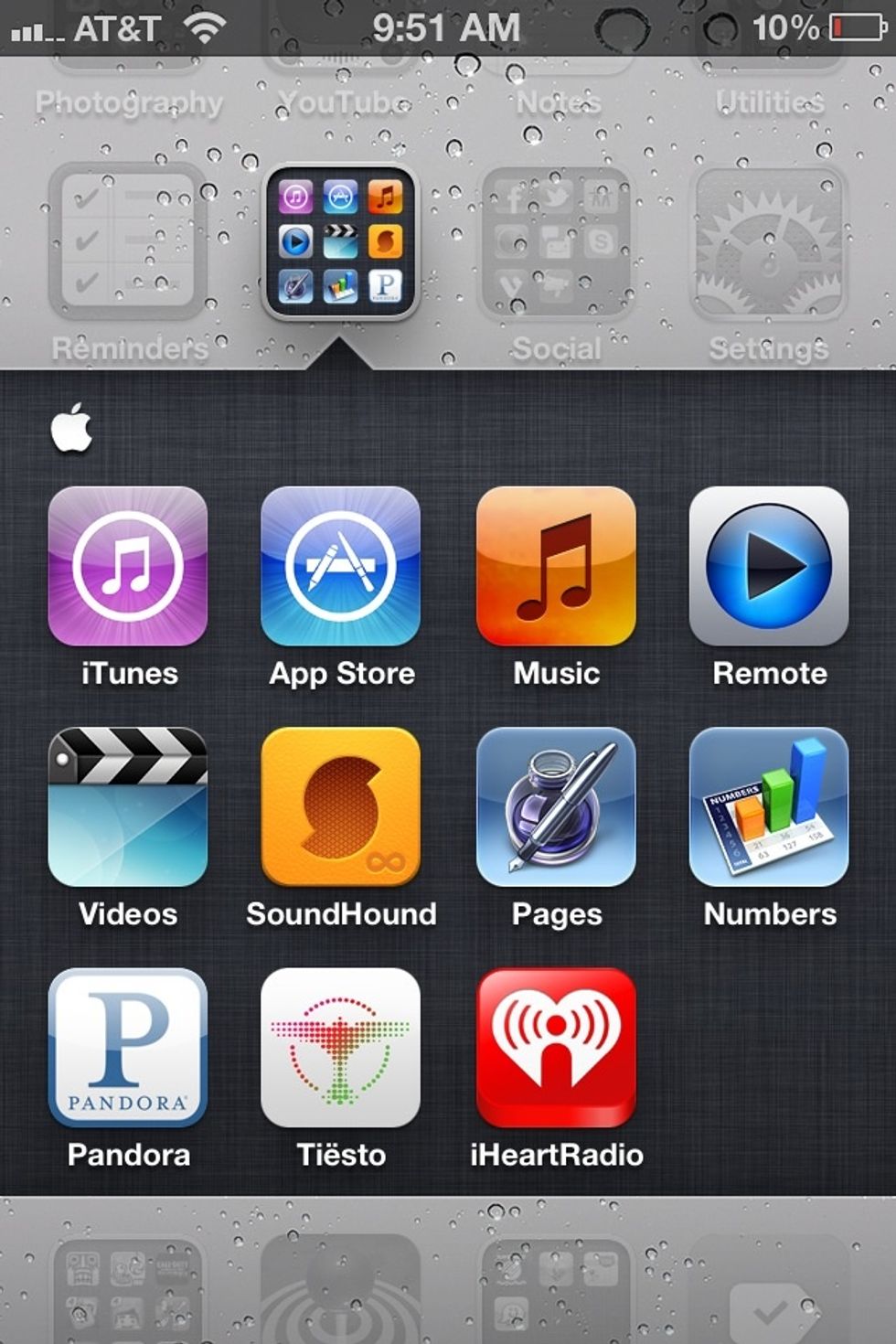 Go to App Store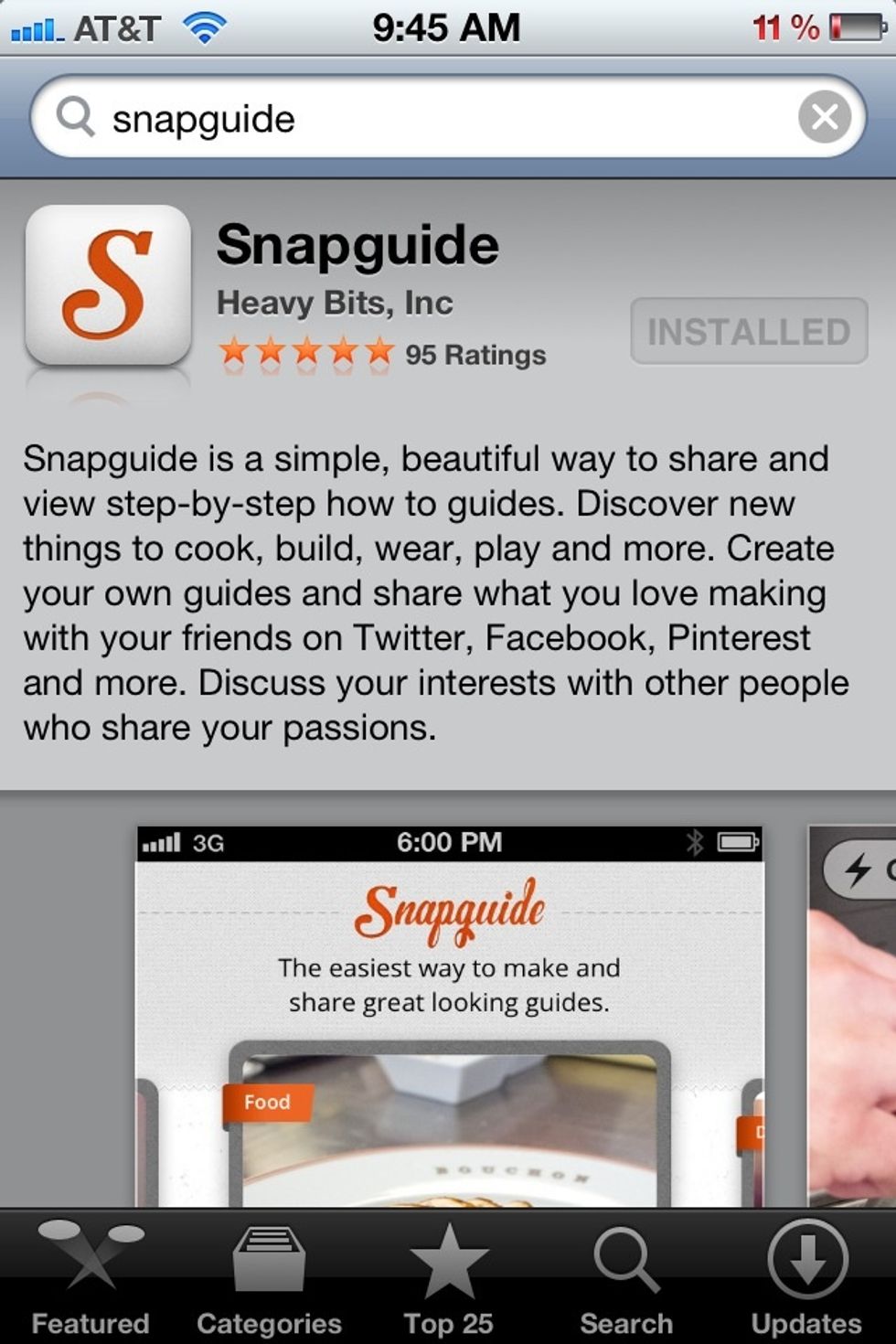 Find the app you'd like to share
You do have the option to email to a friend but I think this is easier and for me faster
[rebelmouse-image 24382576 is_animated_gif=false crop_info="%7B%22image%22%3A%20%22https%3A//assets.rbl.ms/24382576/origin.jpg%22%2C%20%22thumbnails%22%3A%20%7B%22origin%22%3A%20%22https%3A//assets.rbl.ms/24382576/origin.jpg%22%2C%20%222000x1500%22%3A%20%22https%3A//snapguide.rebelmouse.com/media-library/eyJhbGciOiJIUzI1NiIsInR5cCI6IkpXVCJ9.eyJpbWFnZSI6Imh0dHBzOi8vYXNzZXRzLnJibC5tcy8yNDM4MjU3Ni9vcmlnaW4uanBnIiwiZXhwaXJlc19hdCI6MTY0MTAyMTc0Mn0.U3S33REzSmN2eR4mAofucAN2DKE97D98659V1HKnv7I/image.jpg%3Fwidth%3D2000%26coordinates%3D0%252C239%252C0%252C240%26height%3D1500%22%2C%20%22600x200%22%3A%20%22https%3A//snapguide.rebelmouse.com/media-library/eyJhbGciOiJIUzI1NiIsInR5cCI6IkpXVCJ9.eyJpbWFnZSI6Imh0dHBzOi8vYXNzZXRzLnJibC5tcy8yNDM4MjU3Ni9vcmlnaW4uanBnIiwiZXhwaXJlc19hdCI6MTY0MTAyMTc0Mn0.U3S33REzSmN2eR4mAofucAN2DKE97D98659V1HKnv7I/image.jpg%3Fwidth%3D600%26coordinates%3D0%252C373%252C0%252C373%26height%3D200%22%2C%20%2235x35%22%3A%20%22https%3A//snapguide.rebelmouse.com/media-library/eyJhbGciOiJIUzI1NiIsInR5cCI6IkpXVCJ9.eyJpbWFnZSI6Imh0dHBzOi8vYXNzZXRzLnJibC5tcy8yNDM4MjU3Ni9vcmlnaW4uanBnIiwiZXhwaXJlc19hdCI6MTY0MTAyMTc0Mn0.U3S33REzSmN2eR4mAofucAN2DKE97D98659V1HKnv7I/image.jpg%3Fwidth%3D35%26height%3D35%22%2C%20%22600x600%22%3A%20%22https%3A//snapguide.rebelmouse.com/media-library/eyJhbGciOiJIUzI1NiIsInR5cCI6IkpXVCJ9.eyJpbWFnZSI6Imh0dHBzOi8vYXNzZXRzLnJibC5tcy8yNDM4MjU3Ni9vcmlnaW4uanBnIiwiZXhwaXJlc19hdCI6MTY0MTAyMTc0Mn0.U3S33REzSmN2eR4mAofucAN2DKE97D98659V1HKnv7I/image.jpg%3Fwidth%3D600%26coordinates%3D0%252C160%252C0%252C160%26height%3D600%22%2C%20%22980x%22%3A%20%22https%3A//snapguide.rebelmouse.com/media-library/eyJhbGciOiJIUzI1NiIsInR5cCI6IkpXVCJ9.eyJpbWFnZSI6Imh0dHBzOi8vYXNzZXRzLnJibC5tcy8yNDM4MjU3Ni9vcmlnaW4uanBnIiwiZXhwaXJlc19hdCI6MTY0MTAyMTc0Mn0.U3S33REzSmN2eR4mAofucAN2DKE97D98659V1HKnv7I/image.jpg%3Fwidth%3D980%22%2C%20%22700x1245%22%3A%20%22https%3A//snapguide.rebelmouse.com/media-library/eyJhbGciOiJIUzI1NiIsInR5cCI6IkpXVCJ9.eyJpbWFnZSI6Imh0dHBzOi8vYXNzZXRzLnJibC5tcy8yNDM4MjU3Ni9vcmlnaW4uanBnIiwiZXhwaXJlc19hdCI6MTY0MTAyMTc0Mn0.U3S33REzSmN2eR4mAofucAN2DKE97D98659V1HKnv7I/image.jpg%3Fwidth%3D700%26coordinates%3D50%252C0%252C50%252C0%26height%3D1245%22%2C%20%221000x750%22%3A%20%22https%3A//snapguide.rebelmouse.com/media-library/eyJhbGciOiJIUzI1NiIsInR5cCI6IkpXVCJ9.eyJpbWFnZSI6Imh0dHBzOi8vYXNzZXRzLnJibC5tcy8yNDM4MjU3Ni9vcmlnaW4uanBnIiwiZXhwaXJlc19hdCI6MTY0MTAyMTc0Mn0.U3S33REzSmN2eR4mAofucAN2DKE97D98659V1HKnv7I/image.jpg%3Fwidth%3D1000%26coordinates%3D0%252C239%252C0%252C240%26height%3D750%22%2C%20%221500x2000%22%3A%20%22https%3A//snapguide.rebelmouse.com/media-library/eyJhbGciOiJIUzI1NiIsInR5cCI6IkpXVCJ9.eyJpbWFnZSI6Imh0dHBzOi8vYXNzZXRzLnJibC5tcy8yNDM4MjU3Ni9vcmlnaW4uanBnIiwiZXhwaXJlc19hdCI6MTY0MTAyMTc0Mn0.U3S33REzSmN2eR4mAofucAN2DKE97D98659V1HKnv7I/image.jpg%3Fwidth%3D1500%26coordinates%3D0%252C53%252C0%252C53%26height%3D2000%22%2C%20%22600x%22%3A%20%22https%3A//snapguide.rebelmouse.com/media-library/eyJhbGciOiJIUzI1NiIsInR5cCI6IkpXVCJ9.eyJpbWFnZSI6Imh0dHBzOi8vYXNzZXRzLnJibC5tcy8yNDM4MjU3Ni9vcmlnaW4uanBnIiwiZXhwaXJlc19hdCI6MTY0MTAyMTc0Mn0.U3S33REzSmN2eR4mAofucAN2DKE97D98659V1HKnv7I/image.jpg%3Fwidth%3D600%22%2C%20%221200x400%22%3A%20%22https%3A//snapguide.rebelmouse.com/media-library/eyJhbGciOiJIUzI1NiIsInR5cCI6IkpXVCJ9.eyJpbWFnZSI6Imh0dHBzOi8vYXNzZXRzLnJibC5tcy8yNDM4MjU3Ni9vcmlnaW4uanBnIiwiZXhwaXJlc19hdCI6MTY0MTAyMTc0Mn0.U3S33REzSmN2eR4mAofucAN2DKE97D98659V1HKnv7I/image.jpg%3Fwidth%3D1200%26coordinates%3D0%252C373%252C0%252C373%26height%3D400%22%2C%20%22600x400%22%3A%20%22https%3A//snapguide.rebelmouse.com/media-library/eyJhbGciOiJIUzI1NiIsInR5cCI6IkpXVCJ9.eyJpbWFnZSI6Imh0dHBzOi8vYXNzZXRzLnJibC5tcy8yNDM4MjU3Ni9vcmlnaW4uanBnIiwiZXhwaXJlc19hdCI6MTY0MTAyMTc0Mn0.U3S33REzSmN2eR4mAofucAN2DKE97D98659V1HKnv7I/image.jpg%3Fwidth%3D600%26coordinates%3D0%252C266%252C0%252C267%26height%3D400%22%2C%20%221200x800%22%3A%20%22https%3A//snapguide.rebelmouse.com/media-library/eyJhbGciOiJIUzI1NiIsInR5cCI6IkpXVCJ9.eyJpbWFnZSI6Imh0dHBzOi8vYXNzZXRzLnJibC5tcy8yNDM4MjU3Ni9vcmlnaW4uanBnIiwiZXhwaXJlc19hdCI6MTY0MTAyMTc0Mn0.U3S33REzSmN2eR4mAofucAN2DKE97D98659V1HKnv7I/image.jpg%3Fwidth%3D1200%26coordinates%3D0%252C266%252C0%252C267%26height%3D800%22%2C%20%22600x300%22%3A%20%22https%3A//snapguide.rebelmouse.com/media-library/eyJhbGciOiJIUzI1NiIsInR5cCI6IkpXVCJ9.eyJpbWFnZSI6Imh0dHBzOi8vYXNzZXRzLnJibC5tcy8yNDM4MjU3Ni9vcmlnaW4uanBnIiwiZXhwaXJlc19hdCI6MTY0MTAyMTc0Mn0.U3S33REzSmN2eR4mAofucAN2DKE97D98659V1HKnv7I/image.jpg%3Fwidth%3D600%26coordinates%3D0%252C320%252C0%252C320%26height%3D300%22%2C%20%22210x%22%3A%20%22https%3A//snapguide.rebelmouse.com/media-library/eyJhbGciOiJIUzI1NiIsInR5cCI6IkpXVCJ9.eyJpbWFnZSI6Imh0dHBzOi8vYXNzZXRzLnJibC5tcy8yNDM4MjU3Ni9vcmlnaW4uanBnIiwiZXhwaXJlc19hdCI6MTY0MTAyMTc0Mn0.U3S33REzSmN2eR4mAofucAN2DKE97D98659V1HKnv7I/image.jpg%3Fwidth%3D210%22%2C%20%22300x300%22%3A%20%22https%3A//snapguide.rebelmouse.com/media-library/eyJhbGciOiJIUzI1NiIsInR5cCI6IkpXVCJ9.eyJpbWFnZSI6Imh0dHBzOi8vYXNzZXRzLnJibC5tcy8yNDM4MjU3Ni9vcmlnaW4uanBnIiwiZXhwaXJlc19hdCI6MTY0MTAyMTc0Mn0.U3S33REzSmN2eR4mAofucAN2DKE97D98659V1HKnv7I/image.jpg%3Fwidth%3D300%26coordinates%3D0%252C160%252C0%252C160%26height%3D300%22%2C%20%221245x700%22%3A%20%22https%3A//snapguide.rebelmouse.com/media-library/eyJhbGciOiJIUzI1NiIsInR5cCI6IkpXVCJ9.eyJpbWFnZSI6Imh0dHBzOi8vYXNzZXRzLnJibC5tcy8yNDM4MjU3Ni9vcmlnaW4uanBnIiwiZXhwaXJlc19hdCI6MTY0MTAyMTc0Mn0.U3S33REzSmN2eR4mAofucAN2DKE97D98659V1HKnv7I/image.jpg%3Fwidth%3D1245%26coordinates%3D0%252C299%252C0%252C300%26height%3D700%22%2C%20%22750x1000%22%3A%20%22https%3A//snapguide.rebelmouse.com/media-library/eyJhbGciOiJIUzI1NiIsInR5cCI6IkpXVCJ9.eyJpbWFnZSI6Imh0dHBzOi8vYXNzZXRzLnJibC5tcy8yNDM4MjU3Ni9vcmlnaW4uanBnIiwiZXhwaXJlc19hdCI6MTY0MTAyMTc0Mn0.U3S33REzSmN2eR4mAofucAN2DKE97D98659V1HKnv7I/image.jpg%3Fwidth%3D750%26coordinates%3D0%252C53%252C0%252C53%26height%3D1000%22%2C%20%22300x%22%3A%20%22https%3A//snapguide.rebelmouse.com/media-library/eyJhbGciOiJIUzI1NiIsInR5cCI6IkpXVCJ9.eyJpbWFnZSI6Imh0dHBzOi8vYXNzZXRzLnJibC5tcy8yNDM4MjU3Ni9vcmlnaW4uanBnIiwiZXhwaXJlc19hdCI6MTY0MTAyMTc0Mn0.U3S33REzSmN2eR4mAofucAN2DKE97D98659V1HKnv7I/image.jpg%3Fwidth%3D300%22%2C%20%221200x600%22%3A%20%22https%3A//snapguide.rebelmouse.com/media-library/eyJhbGciOiJIUzI1NiIsInR5cCI6IkpXVCJ9.eyJpbWFnZSI6Imh0dHBzOi8vYXNzZXRzLnJibC5tcy8yNDM4MjU3Ni9vcmlnaW4uanBnIiwiZXhwaXJlc19hdCI6MTY0MTAyMTc0Mn0.U3S33REzSmN2eR4mAofucAN2DKE97D98659V1HKnv7I/image.jpg%3Fwidth%3D1200%26coordinates%3D0%252C320%252C0%252C320%26height%3D600%22%7D%2C%20%22manual_image_crops%22%3A%20%7B%223x1%22%3A%20%7B%22width%22%3A%20640%2C%20%22top%22%3A%20373%2C%20%22height%22%3A%20214%2C%20%22left%22%3A%200%2C%20%22sizes%22%3A%20%5B%221200x400%22%2C%20%22600x200%22%5D%7D%2C%20%223x2%22%3A%20%7B%22width%22%3A%20640%2C%20%22top%22%3A%20266%2C%20%22height%22%3A%20427%2C%20%22left%22%3A%200%2C%20%22sizes%22%3A%20%5B%221200x800%22%2C%20%22600x400%22%5D%7D%2C%20%221x1%22%3A%20%7B%22width%22%3A%20640%2C%20%22top%22%3A%20160%2C%20%22height%22%3A%20640%2C%20%22left%22%3A%200%2C%20%22sizes%22%3A%20%5B%22600x600%22%2C%20%22300x300%22%5D%7D%2C%20%223x4%22%3A%20%7B%22width%22%3A%20640%2C%20%22top%22%3A%2053%2C%20%22height%22%3A%20854%2C%20%22left%22%3A%200%2C%20%22sizes%22%3A%20%5B%221500x2000%22%2C%20%22750x1000%22%5D%7D%2C%20%2216x9%22%3A%20%7B%22width%22%3A%20640%2C%20%22top%22%3A%20299%2C%20%22height%22%3A%20361%2C%20%22left%22%3A%200%2C%20%22sizes%22%3A%20%5B%221245x700%22%5D%7D%2C%20%229x16%22%3A%20%7B%22width%22%3A%20540%2C%20%22top%22%3A%200%2C%20%22height%22%3A%20960%2C%20%22left%22%3A%2050%2C%20%22sizes%22%3A%20%5B%22700x1245%22%5D%7D%2C%20%224x3%22%3A%20%7B%22width%22%3A%20640%2C%20%22top%22%3A%20239%2C%20%22height%22%3A%20481%2C%20%22left%22%3A%200%2C%20%22sizes%22%3A%20%5B%222000x1500%22%2C%20%221000x750%22%5D%7D%2C%20%22600x300%22%3A%20%7B%22width%22%3A%20640%2C%20%22top%22%3A%20320%2C%20%22height%22%3A%20320%2C%20%22left%22%3A%200%2C%20%22sizes%22%3A%20%5B%22600x300%22%5D%7D%2C%20%222x1%22%3A%20%7B%22width%22%3A%20640%2C%20%22top%22%3A%20320%2C%20%22height%22%3A%20320%2C%20%22left%22%3A%200%2C%20%22sizes%22%3A%20%5B%221200x600%22%2C%20%22600x300%22%5D%7D%7D%7D" dam=1 site_id=19547355 original_size="640x960" alt="Once you locate the app you want to share open a text add recipient and in the body of the text add the following URL http://itunes.com/app/[app name]" expand=1]
Once you locate the app you want to share open a text add recipient and in the body of the text add the following URL http://itunes.com/app/[app name]
I am using Snapguide for this guide so the correct URL should read the following ... Http://itunes.com/app/snapguide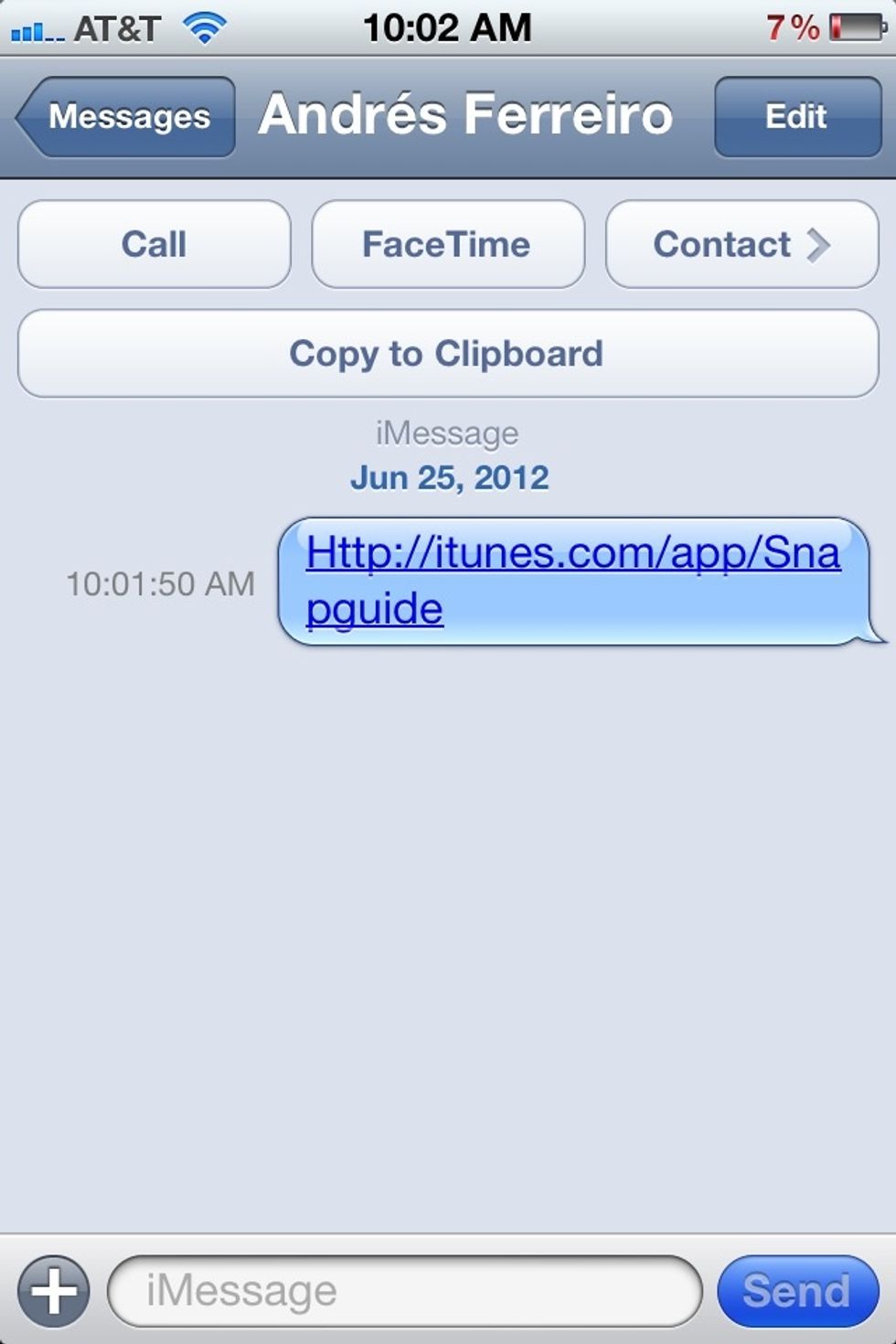 When your text is received it will look like this. Then your intended party can just click and be taken to its direct location within the App Store
Now of course you have to type the URL in ever time. So another shortcut for that would be to add a keyboard shortcut with couple letters an then all you have to do is just correctly spell the app!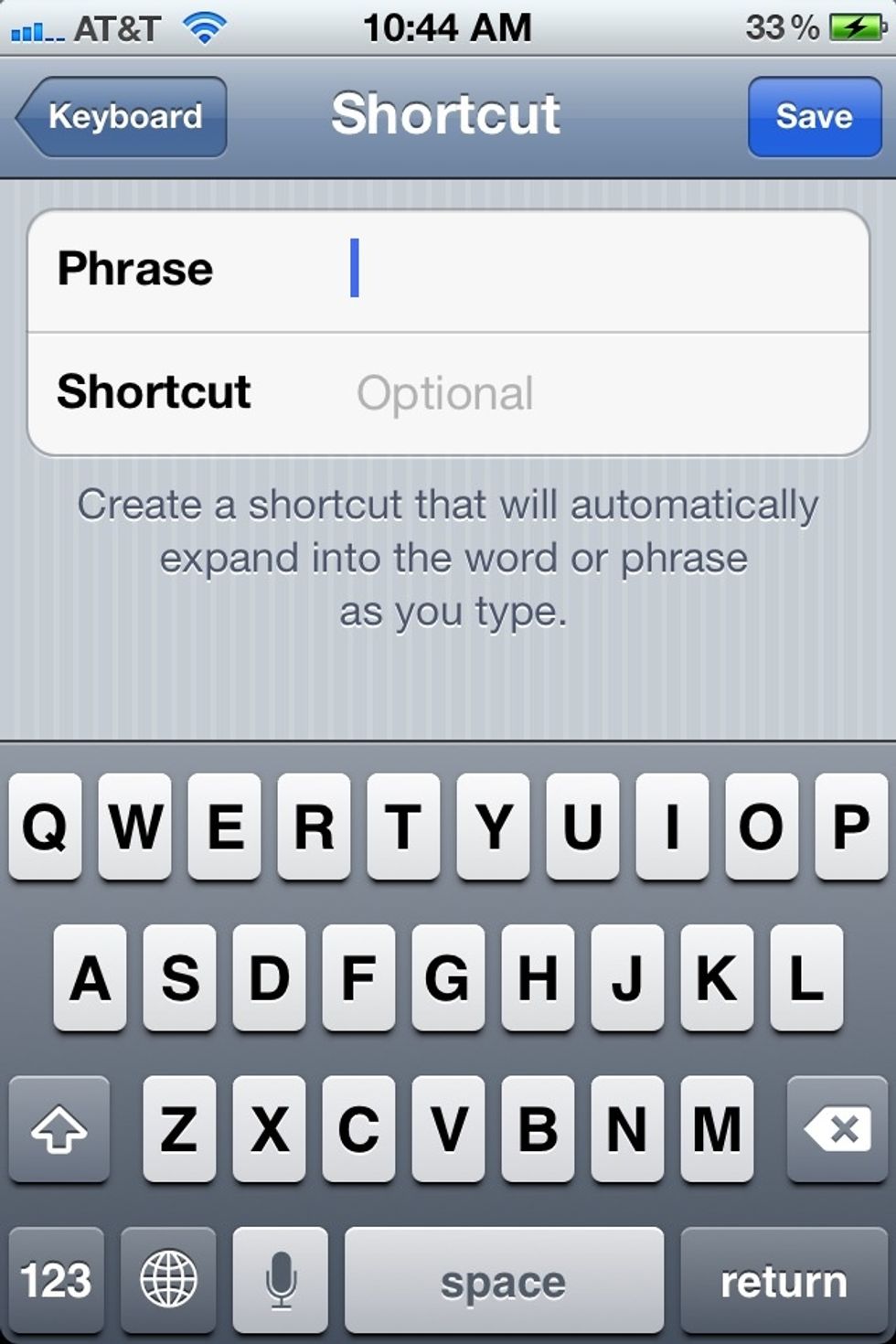 Follow this path: Settings > General > Keyboard > Add New Shortcut...
You can add whatever you want for your shortcut. Here's what I chose. Just make sure the Phrase is spelled correctly Http://itunes.com/app/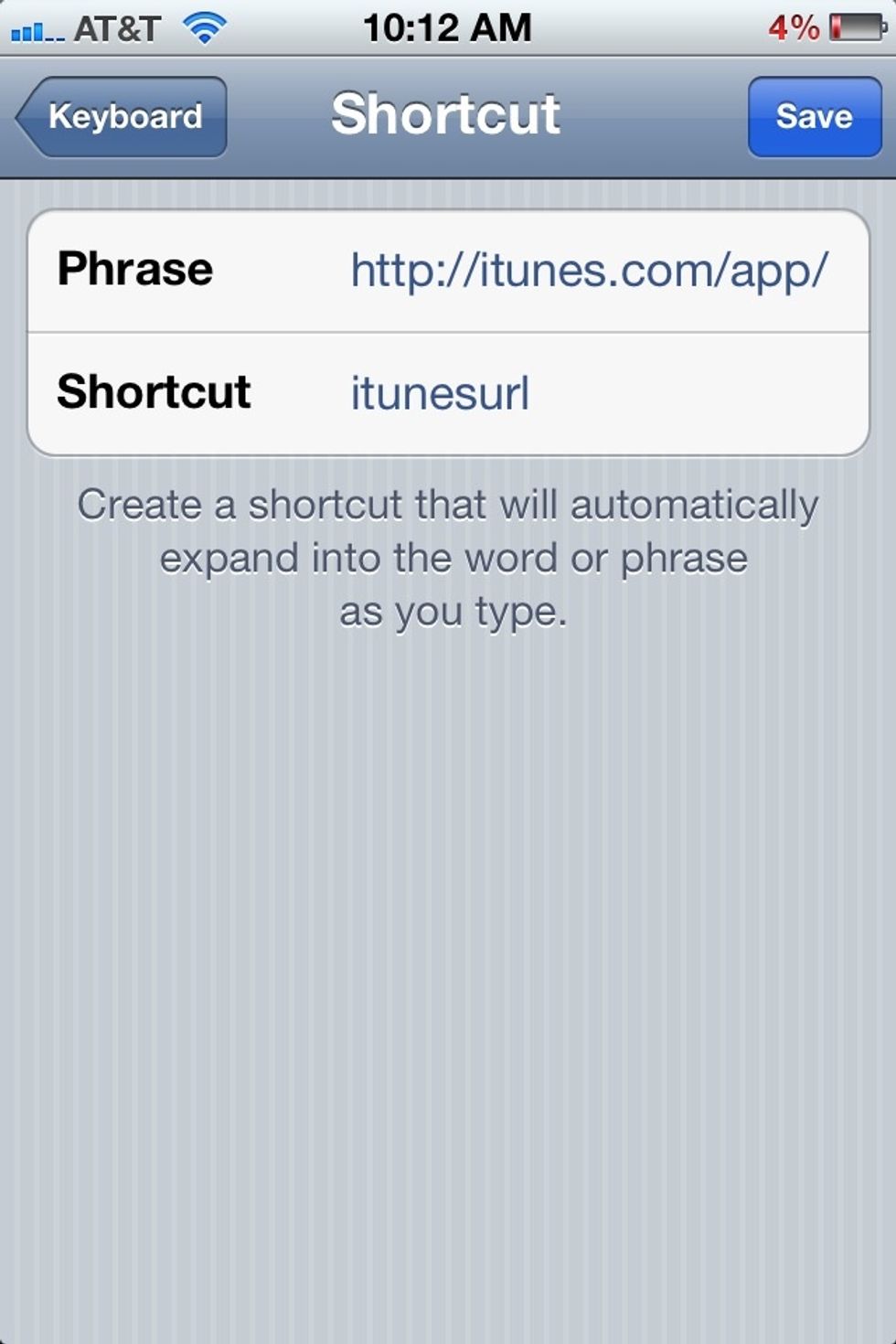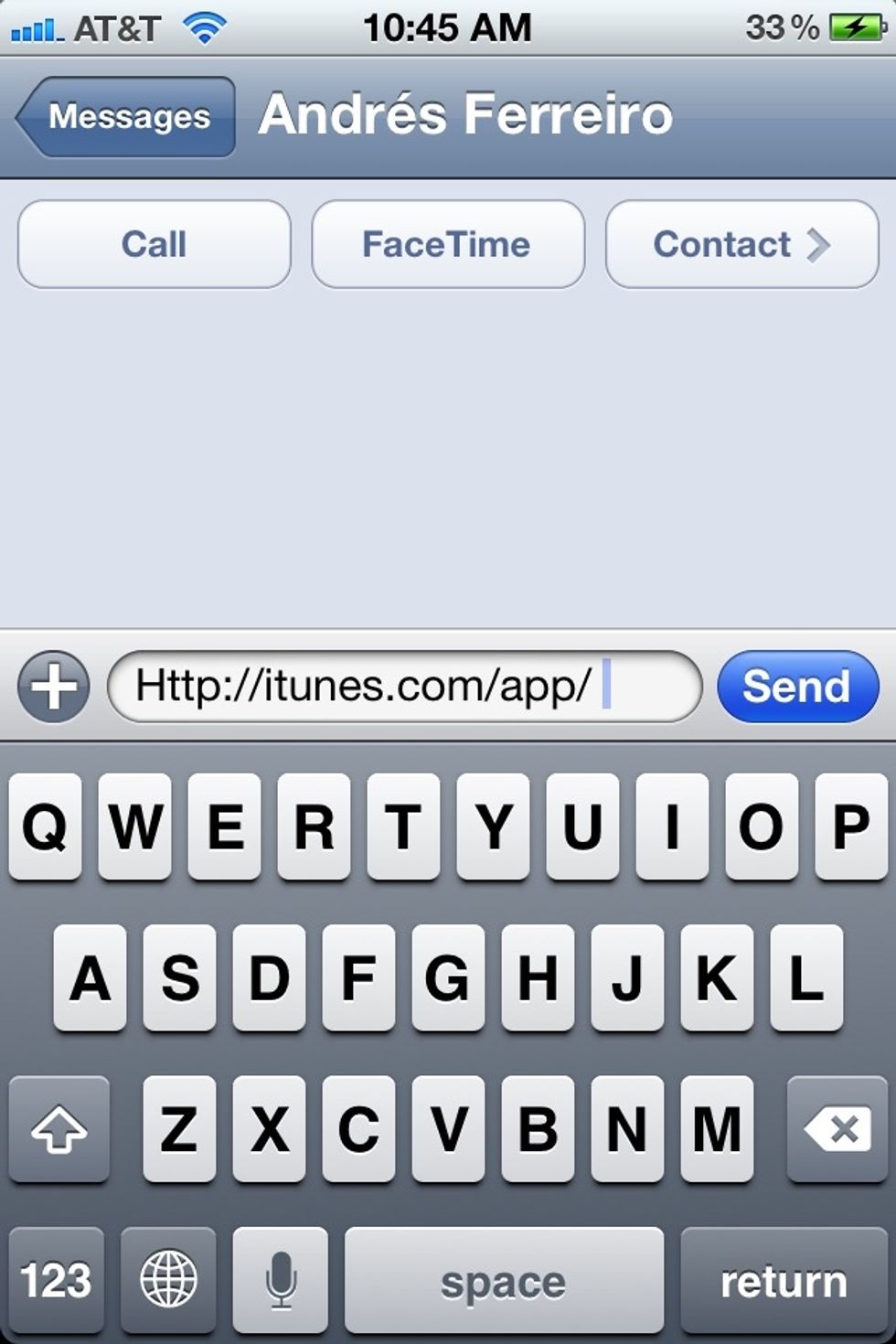 So when you type in your shortcut letters here's what it should do for you.
Then just fill in the app name at the end and the URL is created for you.
And that's my easy way to share! Enjoy! 