In this guide you'll learn how to use Tikly to create different types of tickets, sell merch, and create a survey for your ticket buyers!
6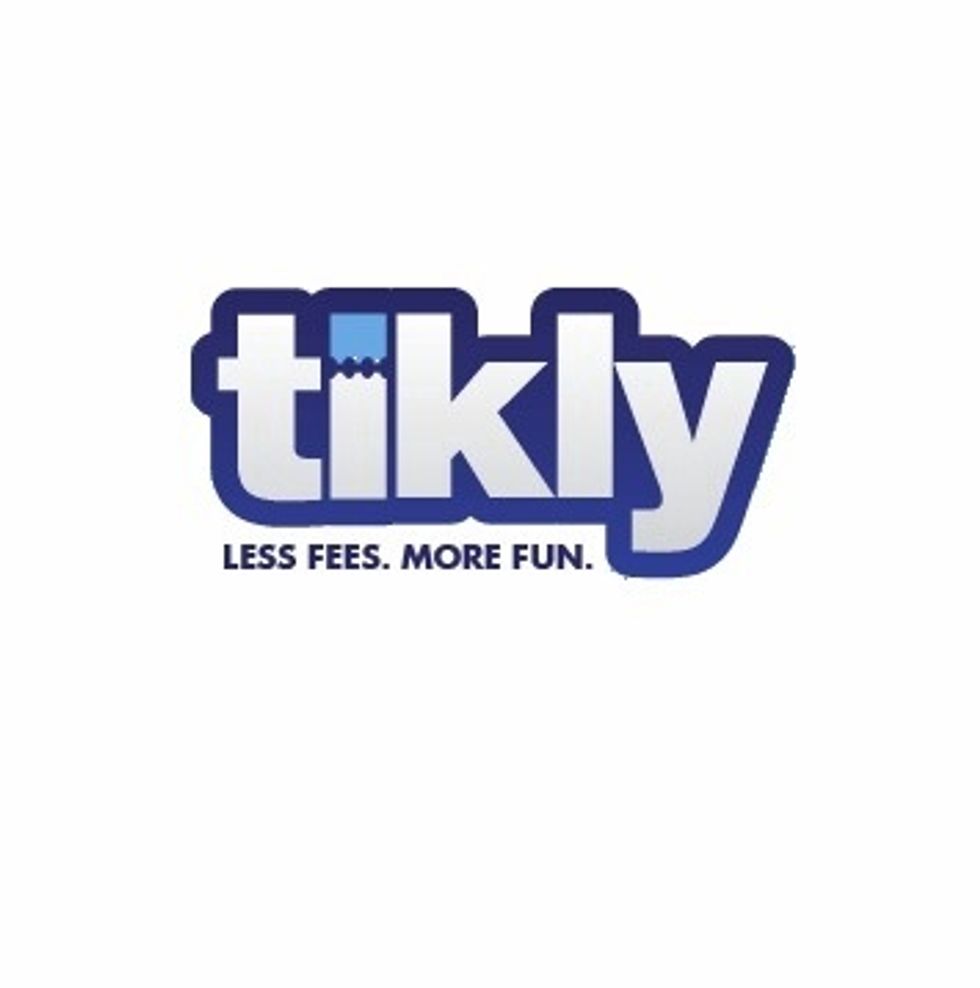 Hi! This is my third installment of Tikly guides, designed to make selling tickets easier, cheaper, and (dare I say) cooler! Some background know-how is helpful, so first check-out my "Basics" guide.
Ok Tikly'ers! First we'll learn how to make different kinds of tickets within the same event. Log-in at www.tikly.co and pick the event you'd like to work with. Head over to the "Tickets & Merch" tab.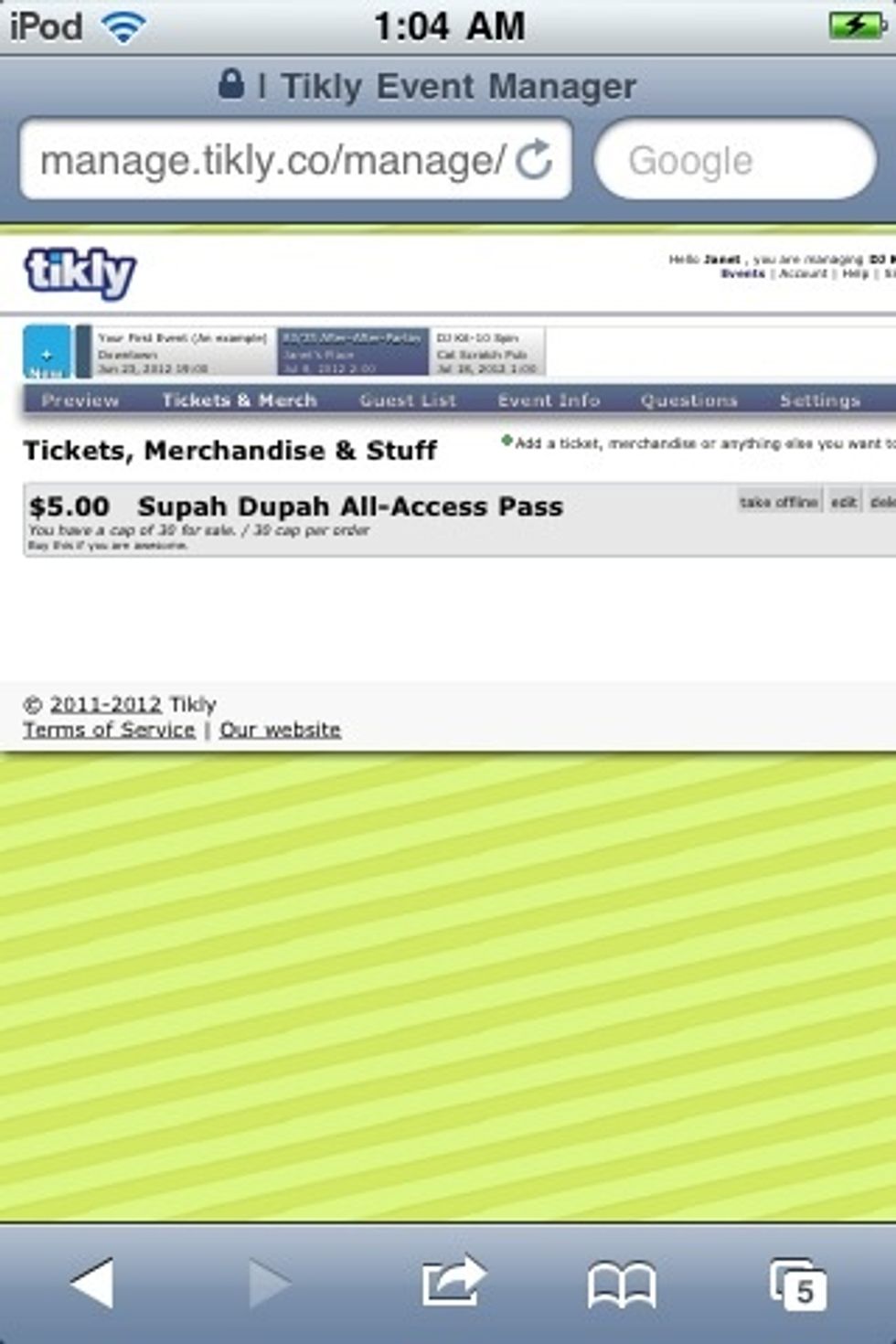 For this event I currently have one type of ticket (Supah Dupah) for $5. But I want to add different levels of tickets: a more expensive VIP type, for example, or a free guest list for close friends.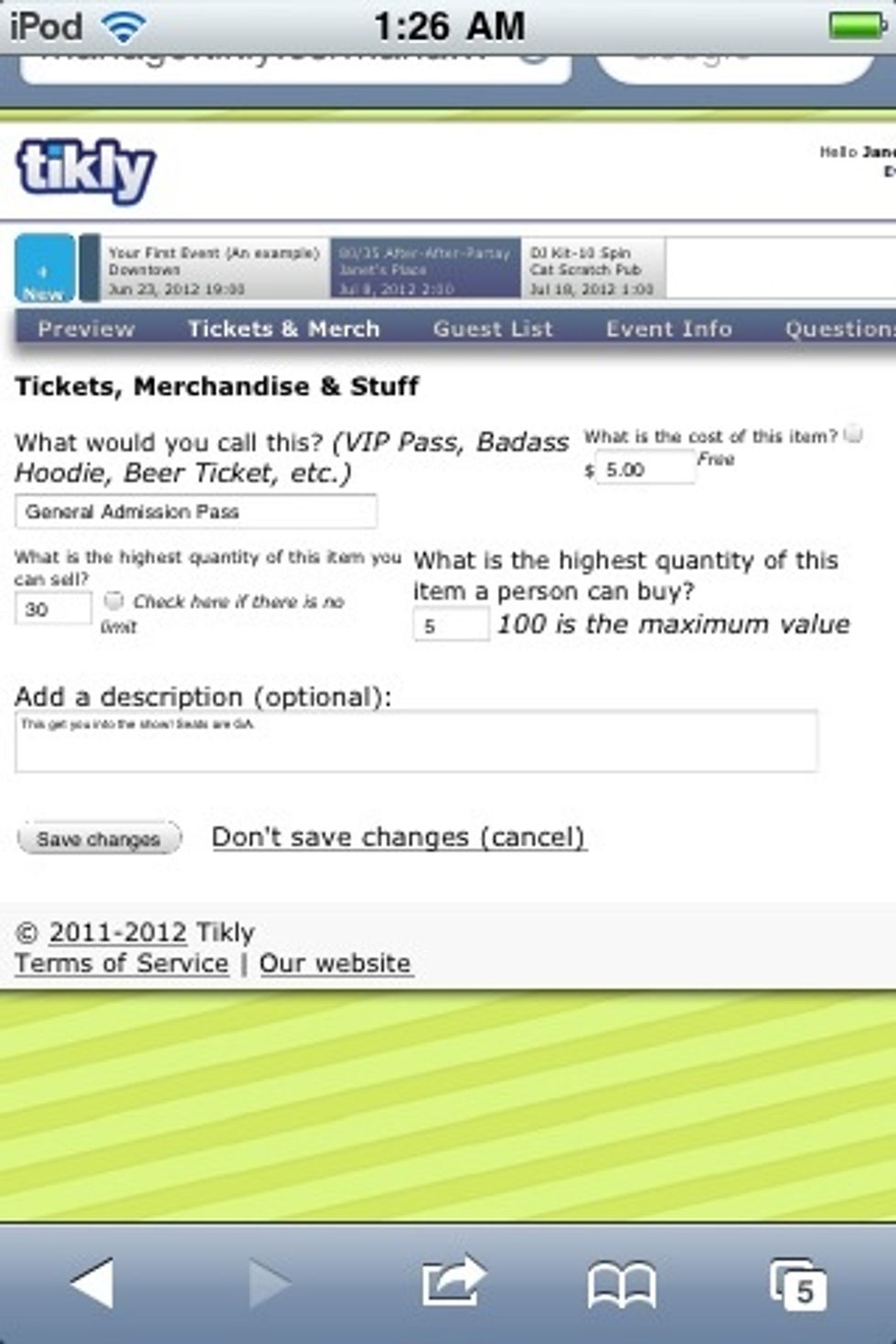 First I'm going to edit my existing tickets by clicking the (what else?) edit button to the far right. Now on the edit page, I'll rename them "General Admission Pass" (boooring). Now save the changes.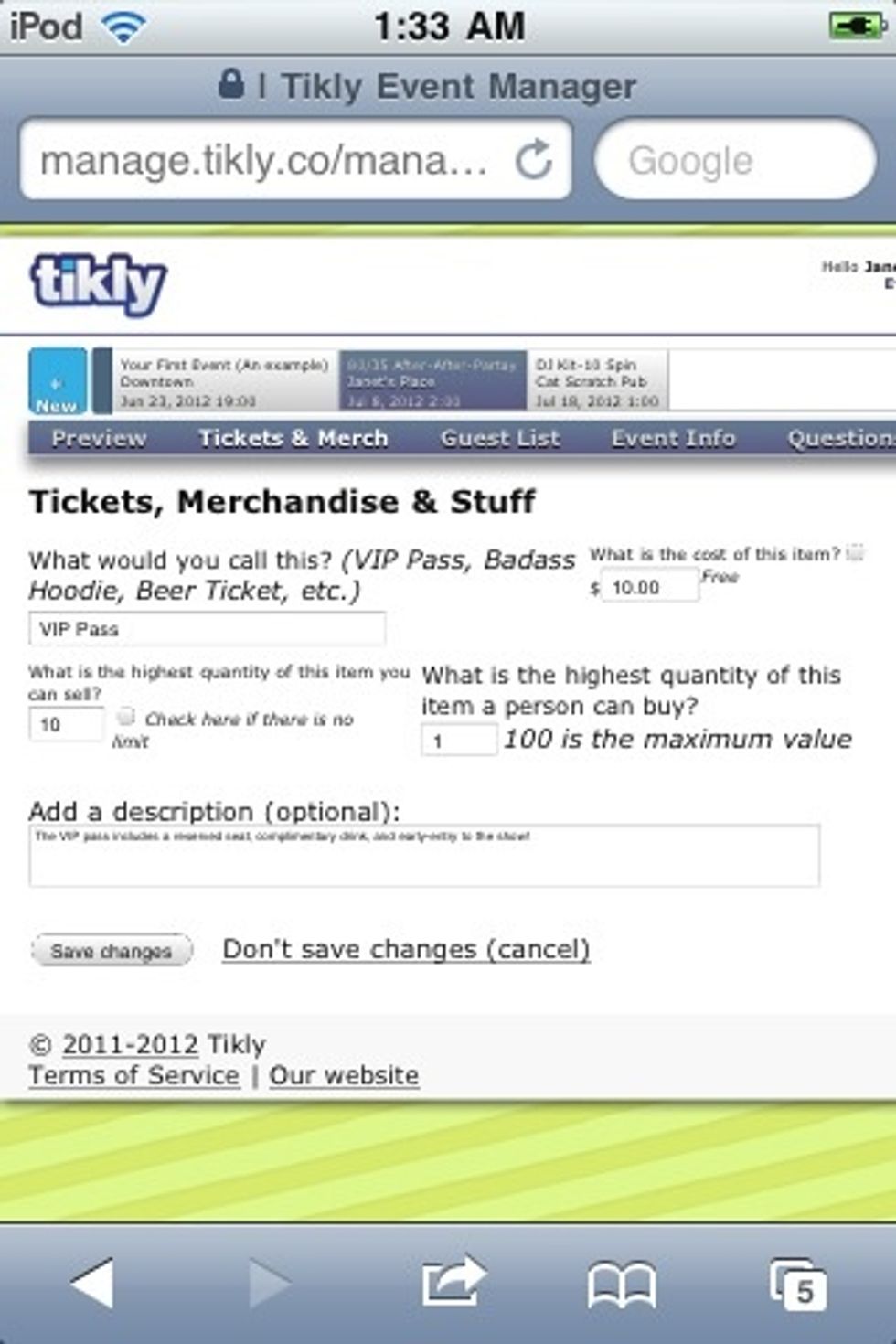 Now, we'll make some tickets for those special VIPs. To make new tickets, hit the green plus sign on the "Tickets & Merch" page. I've made them $10, with only 10 available to buy. Maximum 1 per order!
Lingo FYI: "cap for sale" is how many of this type of ticket can be sold. It goes without saying that you'll pay attention to venue-size when setting this cap. But I said it anyway.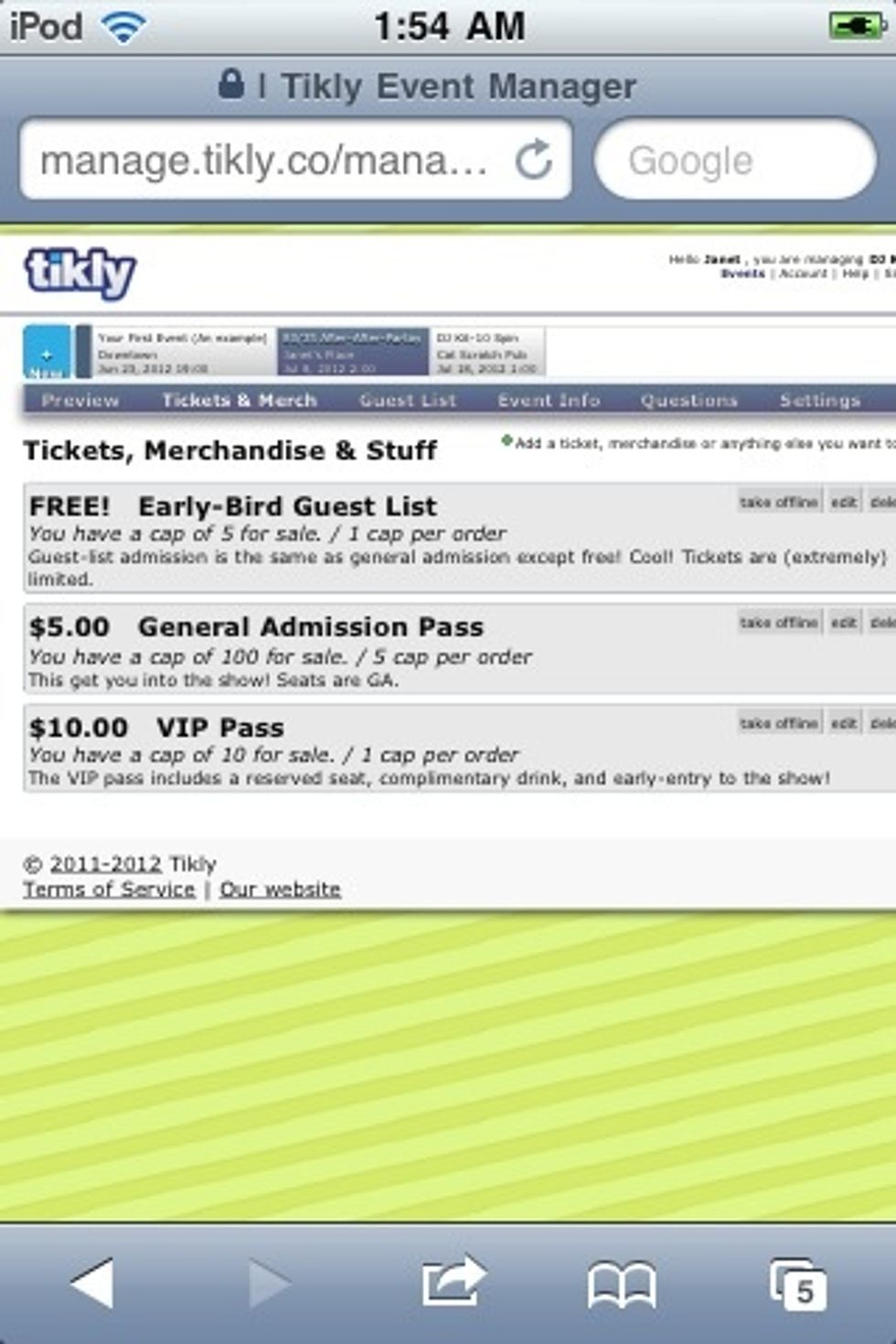 Finally I made a set of tickets for five super-awesome early-bird buyers. These will go on sale the same time as the others, but they are free General Admission Tickets!
Create free tickets by checking the "free" box next to "What is the cost of this item" as you are creating a new set of tickets. This type of ticket is completely free to the buyer--no fees!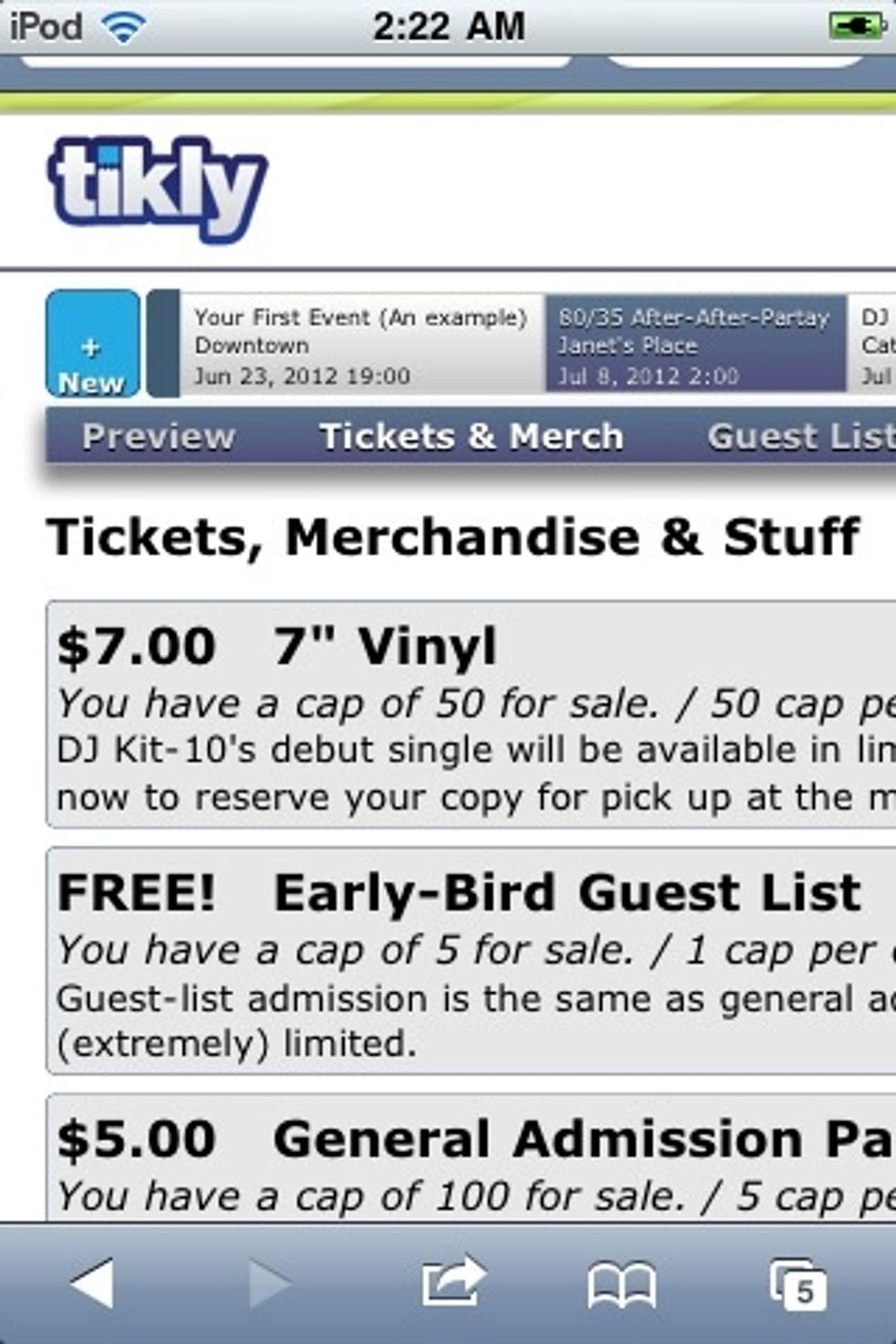 This is also a great way to pre-sell merch! I added a "ticket" the same way as before, but instead of show admission, fans buy a 7" record for pick-up at the show merch table or wherever! Cool!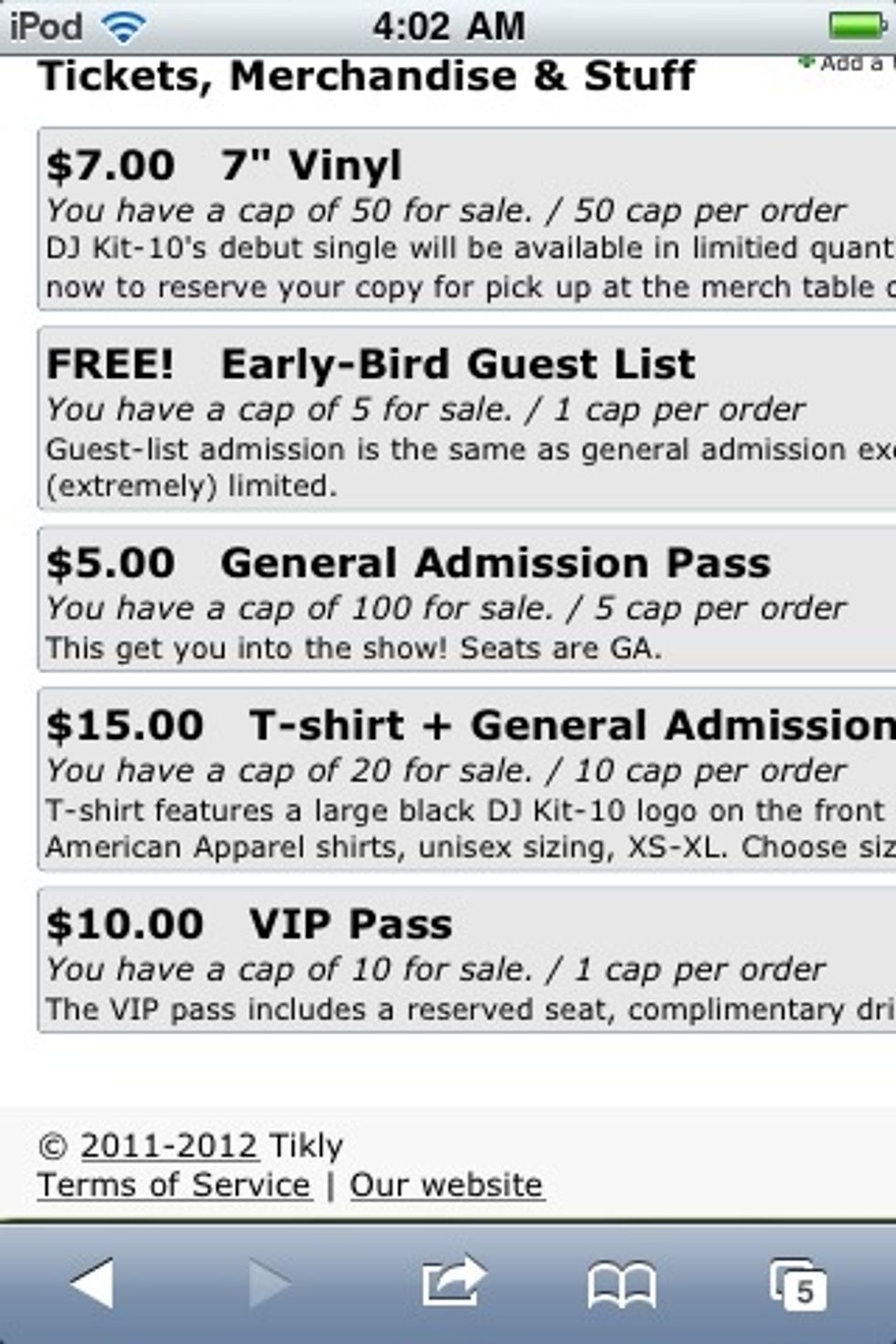 You can also bundle merch-- like a t-shirt and ticket, for less than they cost individually. Pre-selling is an easy way to keep fans from running out of cash or forgetting to buy merch at the show.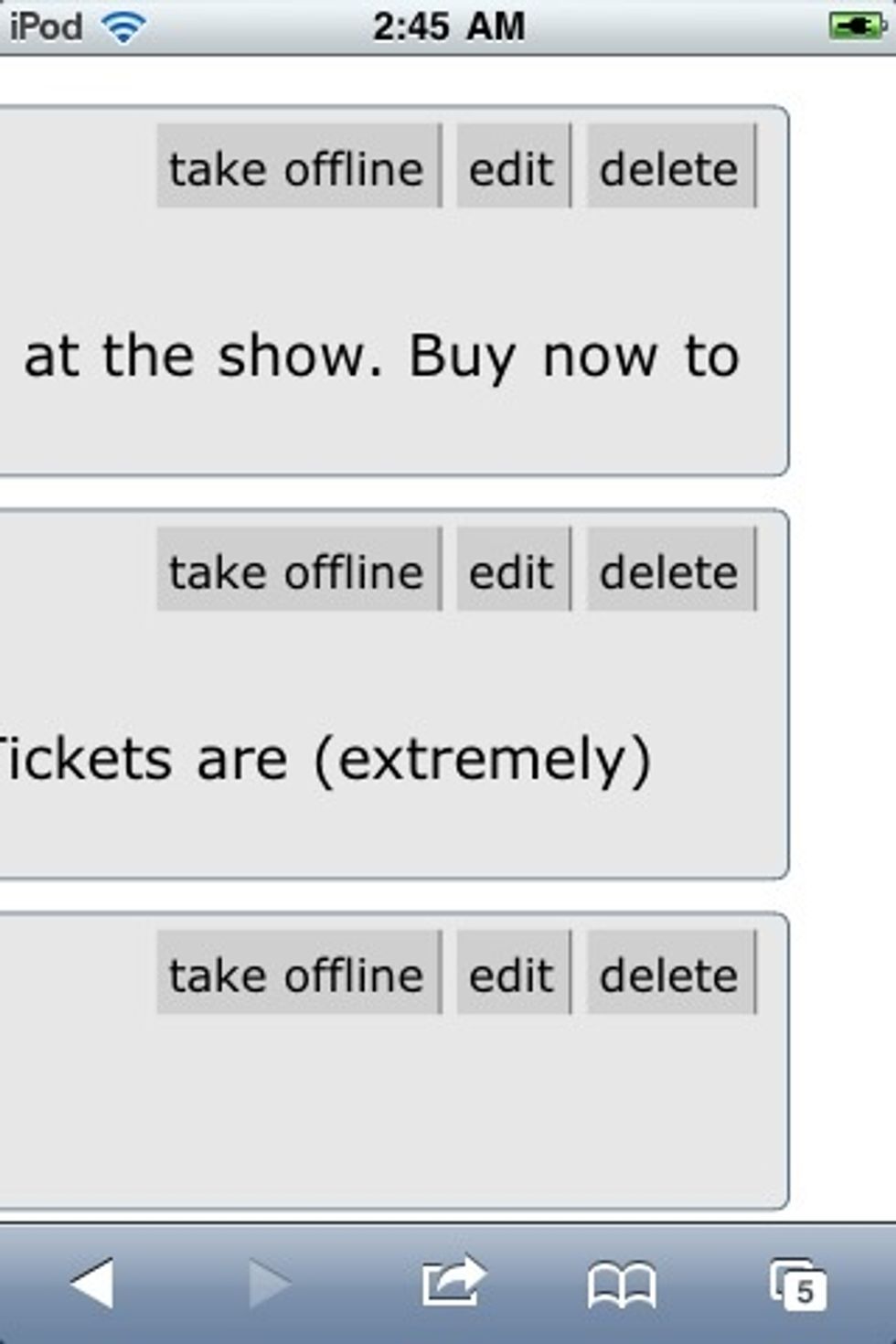 Notice that you can take tickets or merch "online" or "offline", just as you can with your event as a whole. If a certain type of ticket is offline, none of those can be sold!
If you want certain tickets to be on sale for a different time frame than others (a VIP pre-sale, for instance), you can do this manually by putting them on- or offline at times of your choosing...
...or by creating a separate event with a different time frame for those tickets, maybe with ticket sales starting earlier and/or ending sooner than other tickets. Ohhh fancy!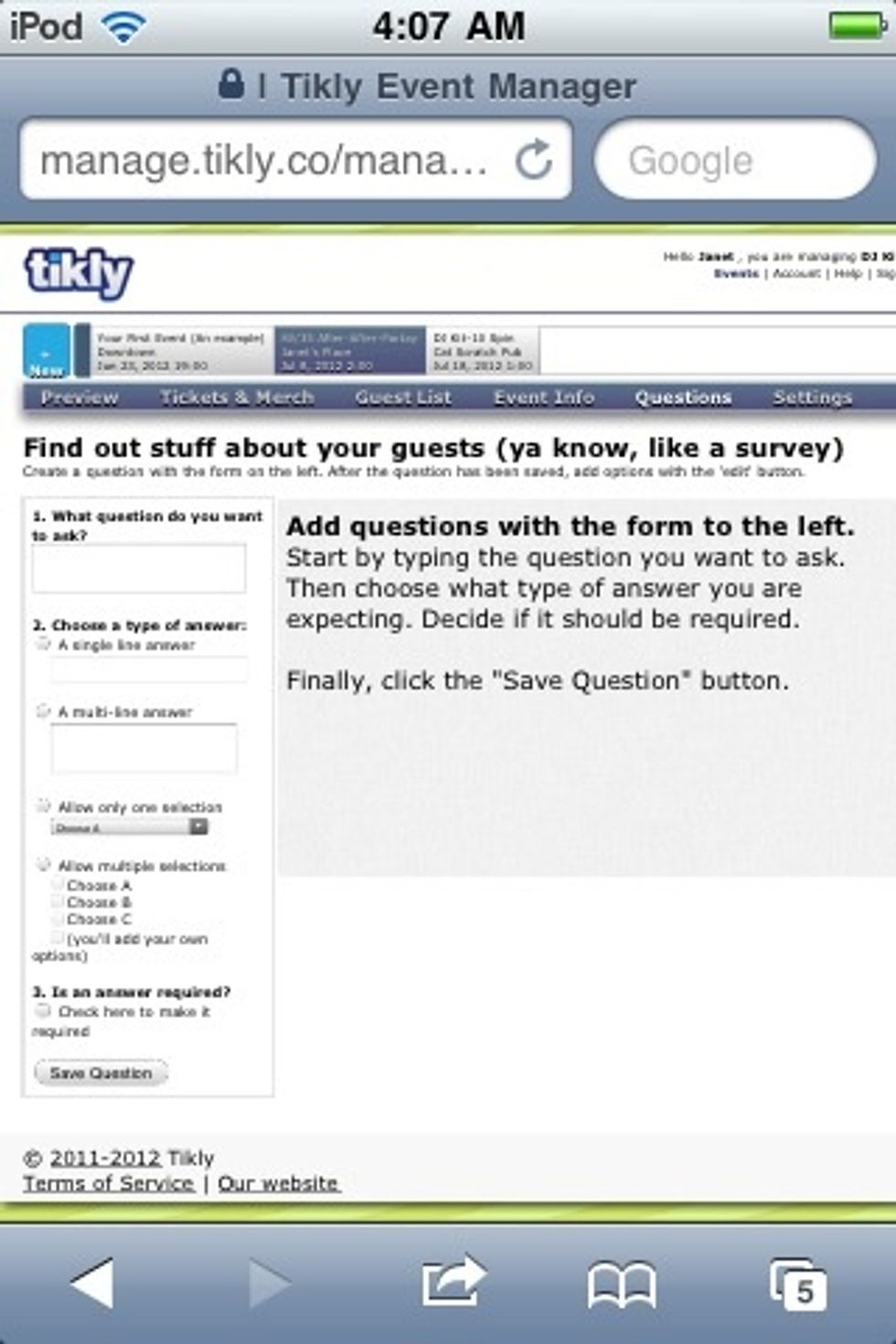 Ok now that your tickets and merch are set up, check out the hitherto ignored "Questions" tab! Here you can set-up...well...questions to ask your guests as they finish buying their tickets.
Like some of these other "extras", questions aren't required, but can be helpful to make this event awesome, your next event awesomer, and lets fans have their voices heard. So let's get askin'!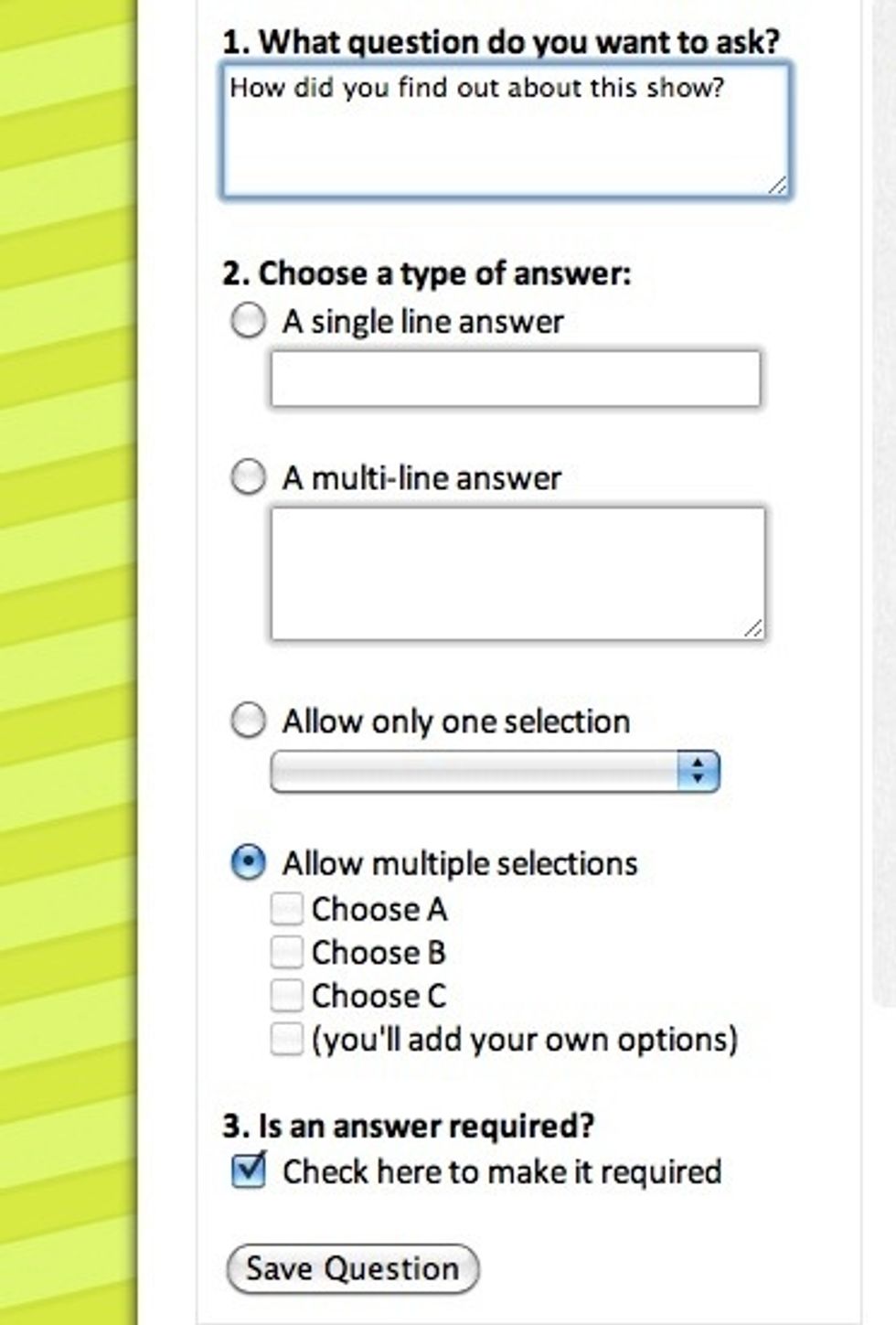 To create questions, just fill out this lil' form. First write your question, then decide how you want your guests to answer. Answers can be open-ended or multiple-choice, required or optional.
Once the form is filled out, be sure to save at the bottom, and your question will appear on the on the page. Click "edit" to change your wording or add answer options to a multiple choice question.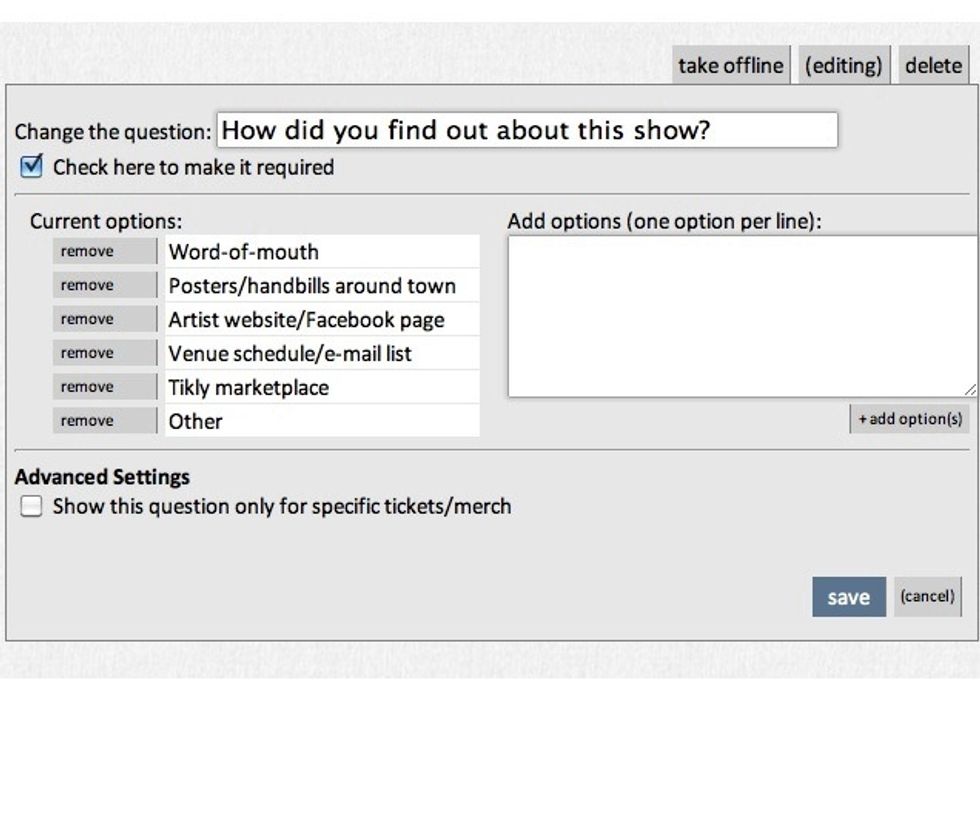 Here are the options for this question. I allowed guests to choose more than one option (since you can find out about a show in more than one way!), and I made it required because, hey, I'm curious!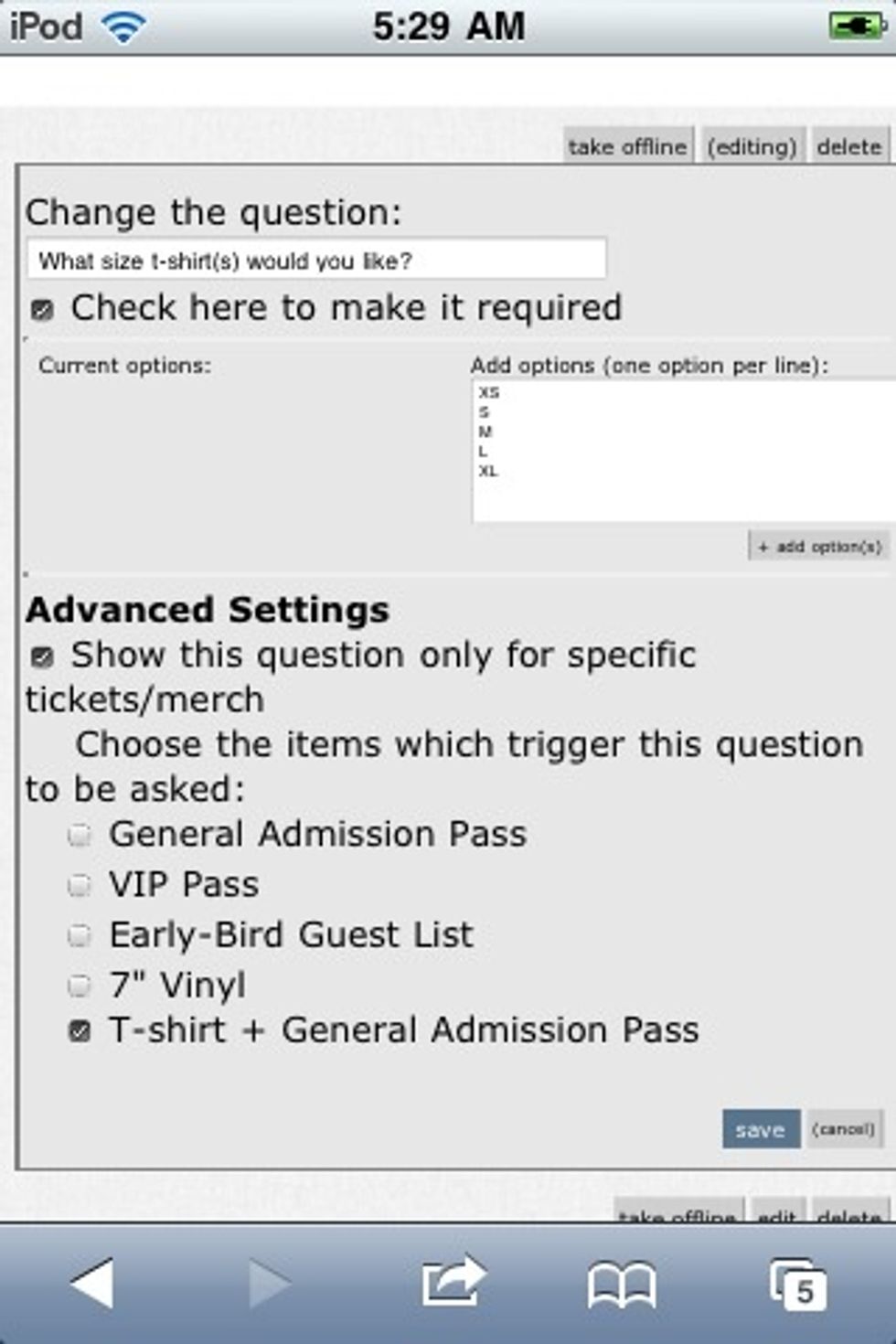 Recall that t-shirt bundle? Here you can ask guests what size(s) they want, list sizes as options, and make it required. Then "show this question only for specific items/merch", and pick the bundle!
You can also use the "show this question only for specific items/merch", to trigger research questions tailored to purchases. For example, I asked vinyl buyers how much they spend monthly on vinyl!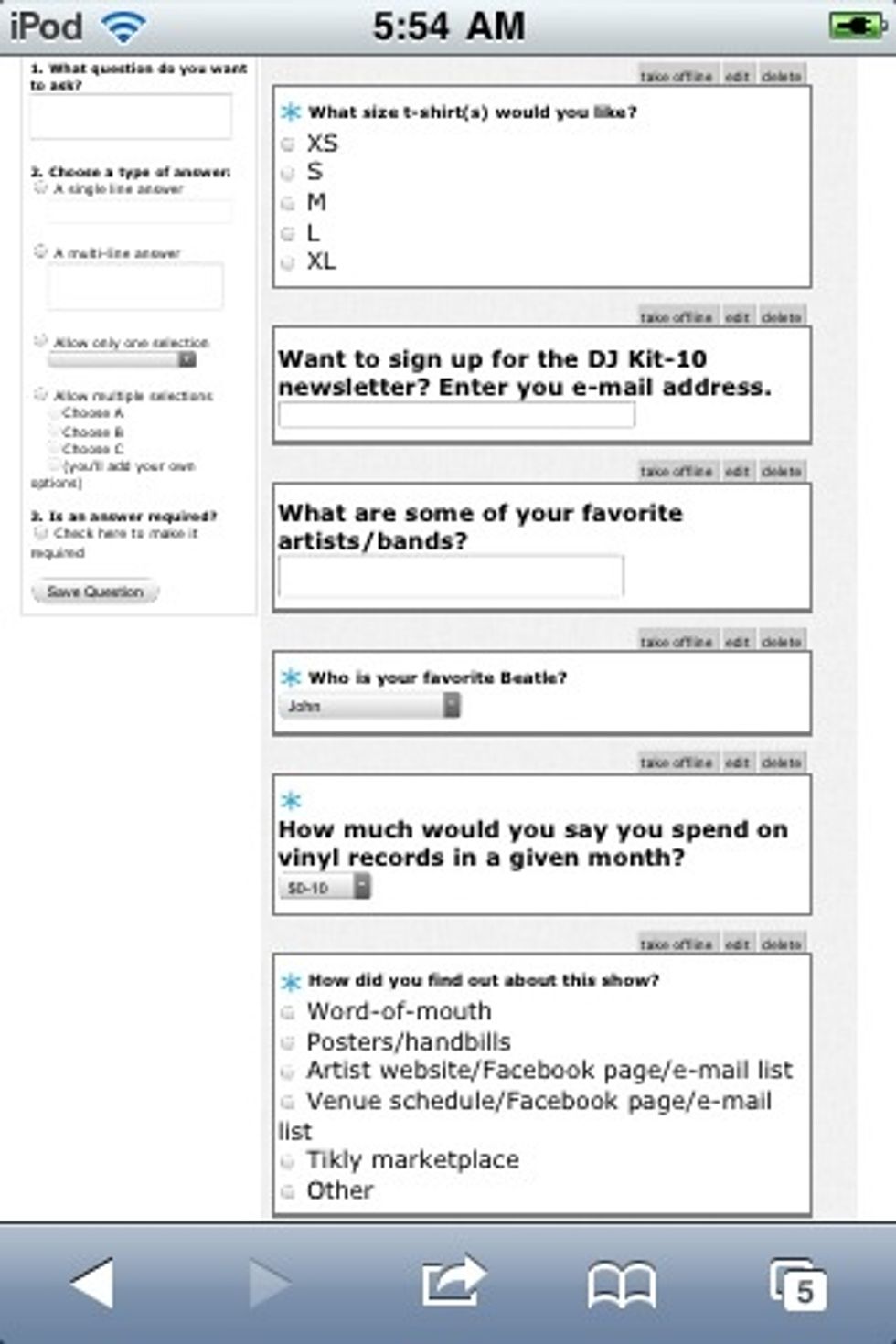 Here's a survey I completed for this event, using different types of questions. The blue asterisk means "required". Note that questions can also be on- or offline. Be sure to save as you go!
FYI: we will be working with the data from ticket sales and questions in another guide. But if you've just GOTTA KNOW NOW how to see it, head over to "Guest List". There you can download the data!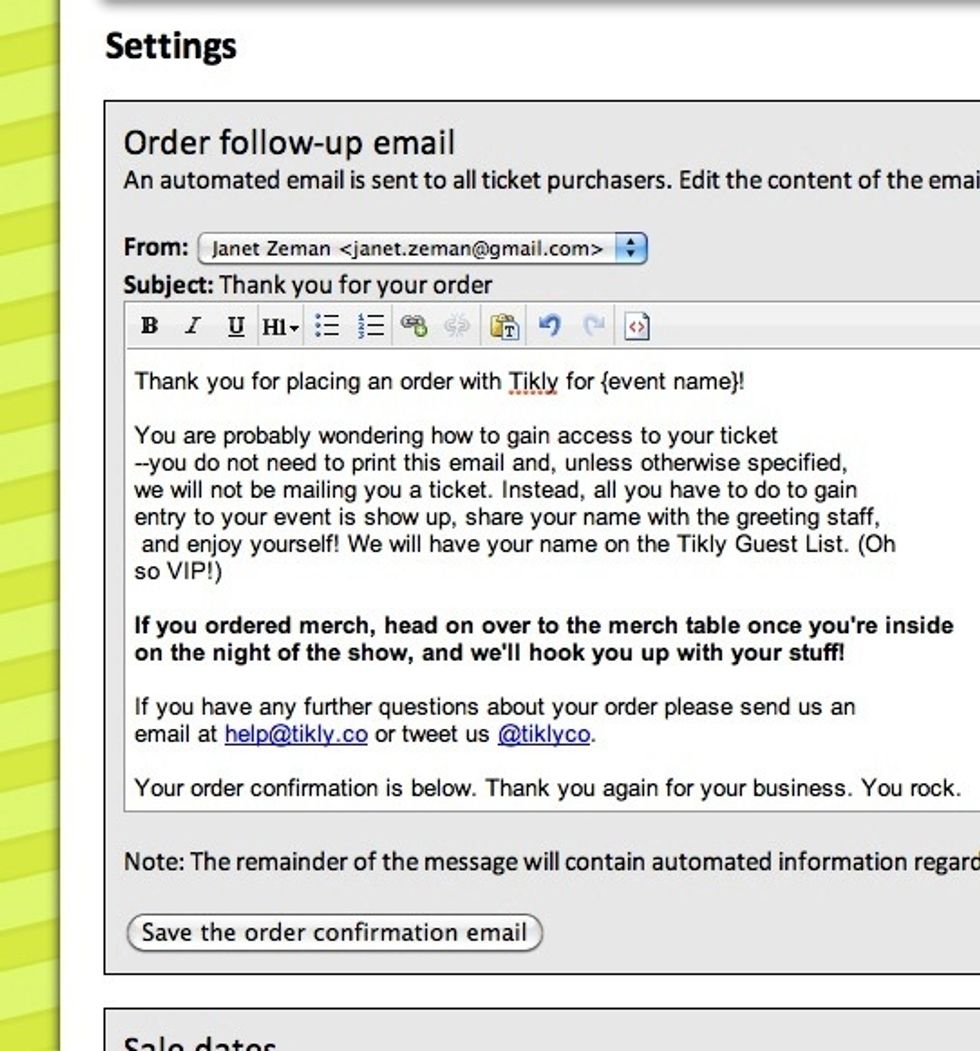 Since we added merch in this guide, I'm going to pop over to "Settings" to edit the follow-up e-mail my guests receive. Let's make sure they know how to pick up their cool stuff...there! All set!
That's all for today! You've created different tickets, sold merch, and written a survey! The best way to learn to Tikly is to try it for yourself, so go forth and sell some tickets. See you soon!
An awesome event
A computer
A basic knowledge of Tikly!