The cast iron pan sandwich cooks the chicken quickly and evenly, brining ensures the meat remains juicy and tender. A pan giblet gravy puts this into overload!! Jay Bentley: Open Range
7
Brine the chicken 3-24 hours in advance of cooking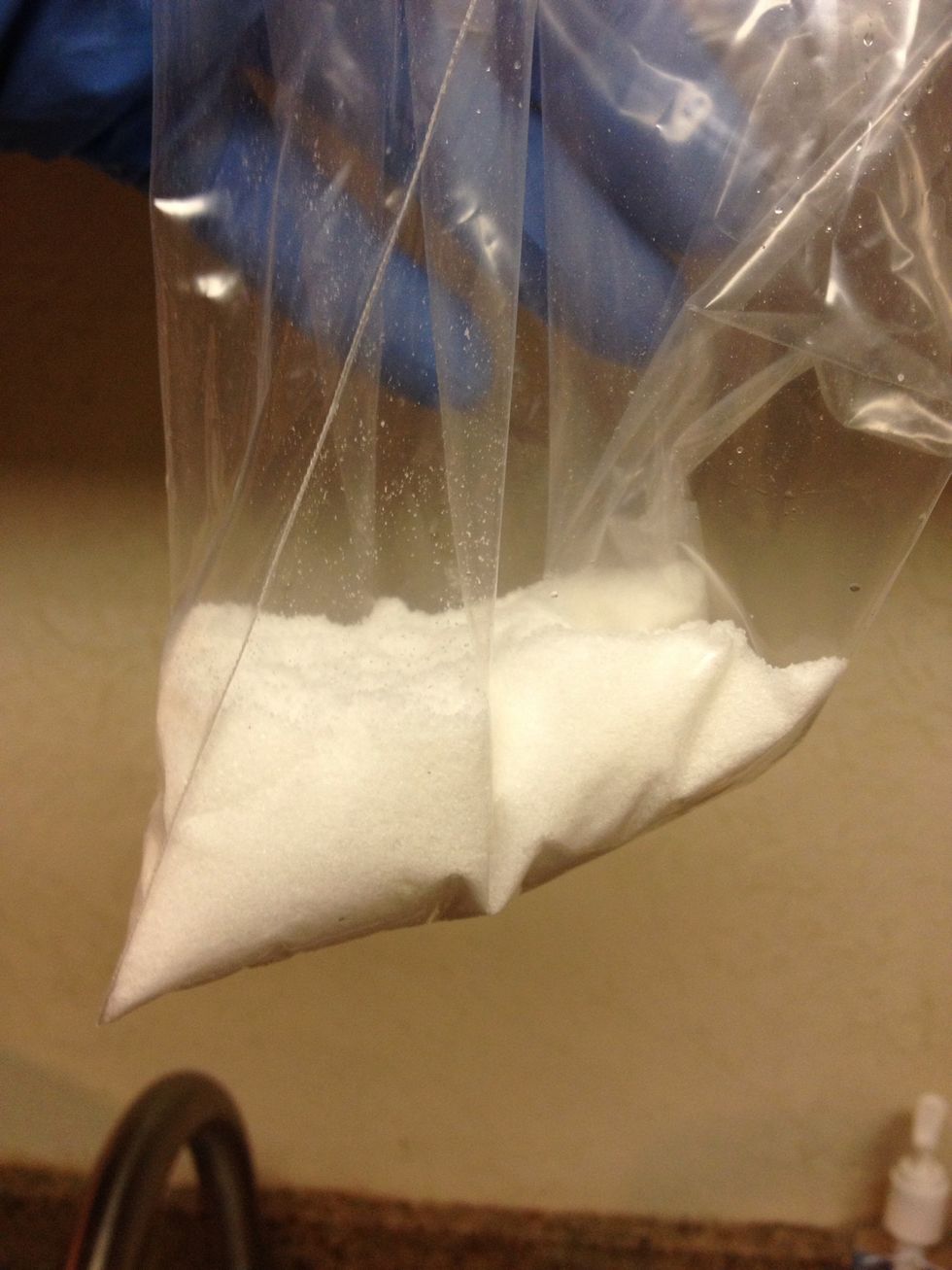 Fill a large ziplock bag with 1/4 cup salt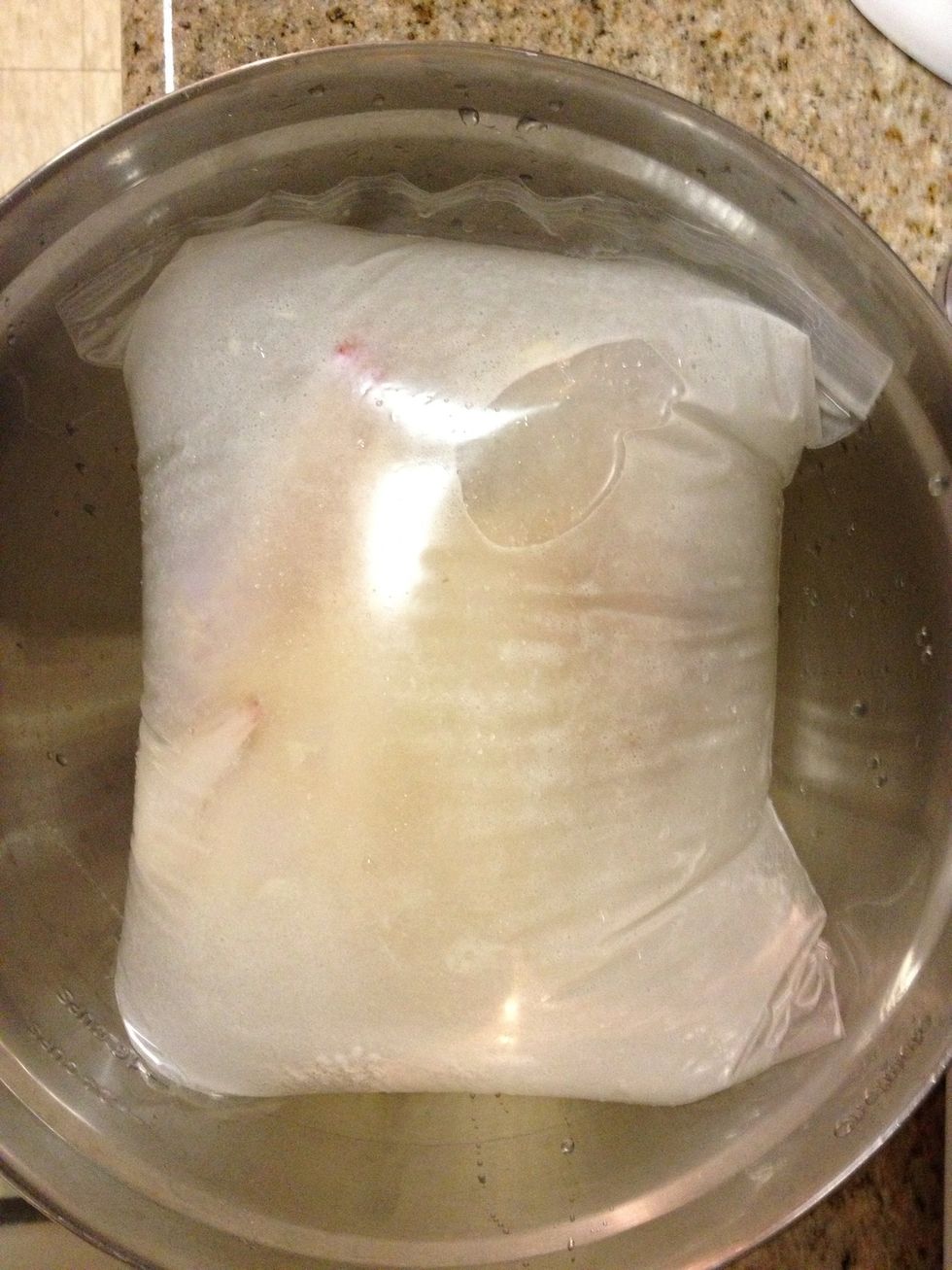 Add a 4-5 lb fryer chicken to the bag and fill to 80% with water then seal & shake gently to distribute salt, then place bird-bag in a bowl in the fridge.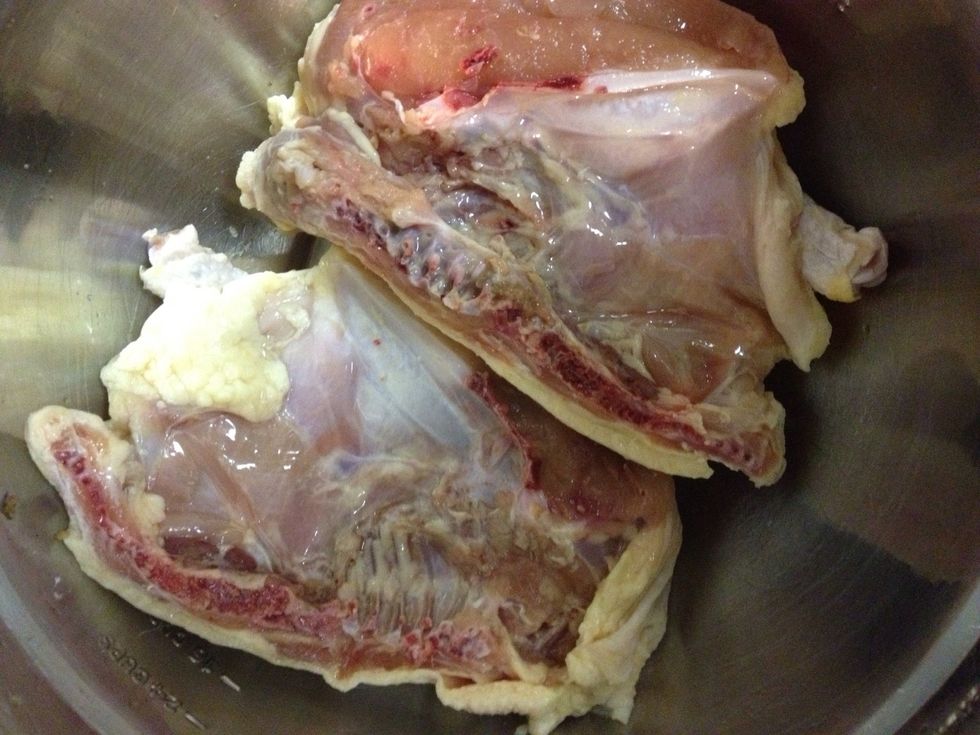 After 3-24 hours drain chicken and pat dry. I split the chicken with kitchen sheers it's quick & easy that way.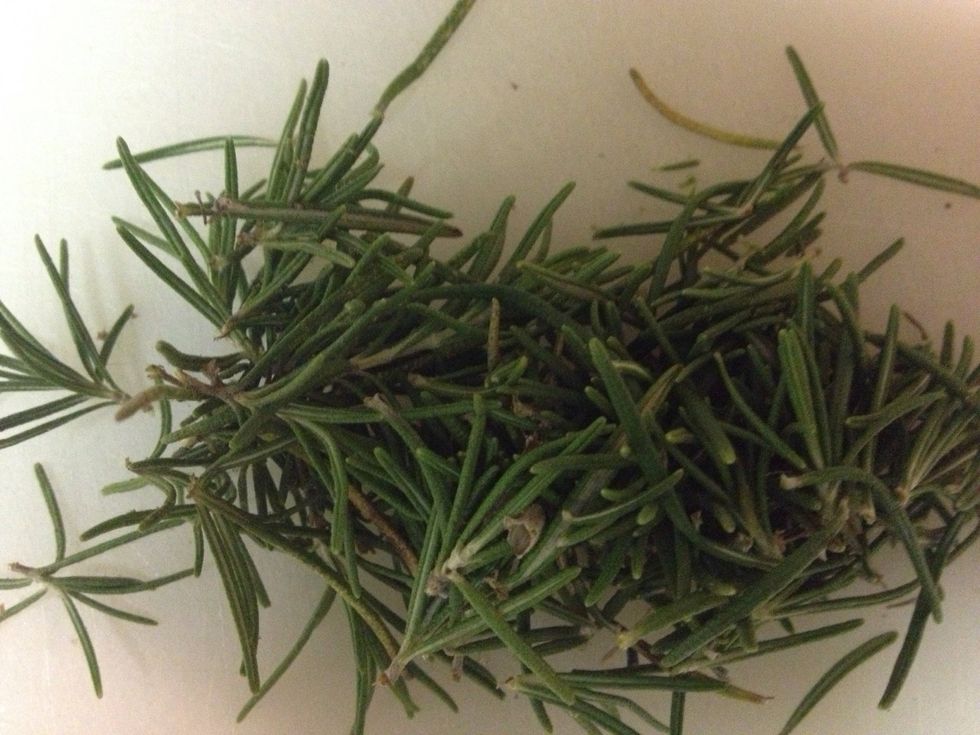 Make the marinade: Chop fine 3 tbsp fresh rosemary
Add 1.5 tbsp chili powder, 1 tbsp salt, 1/2 tsp pepper,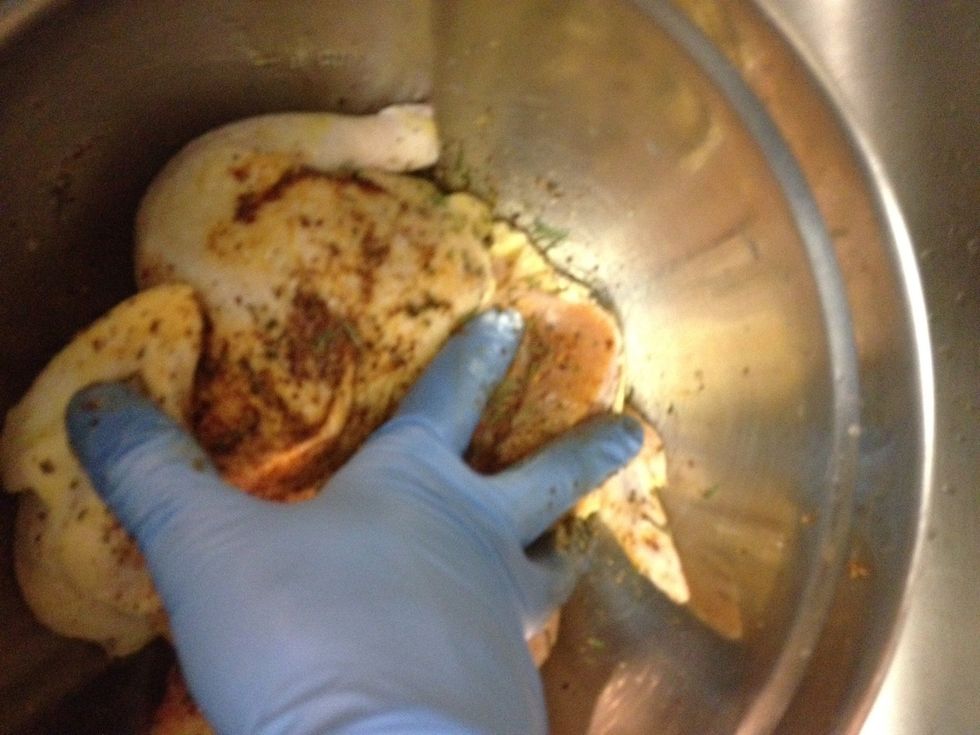 Dump the dry mix onto the chicken with 1/4 cup olive oil and 3 tbsp Lemon juice and thoroughly coat. Let rest at room temp for 2 hours.
While the chicken marinates start the gravy. I worked off of a Bon Appetit recipe -Brandied Giblet Gravy http://www.epicurious.com/recipes/food/views/Brandied-Giblet-Gravy-236226?mbid=ipapp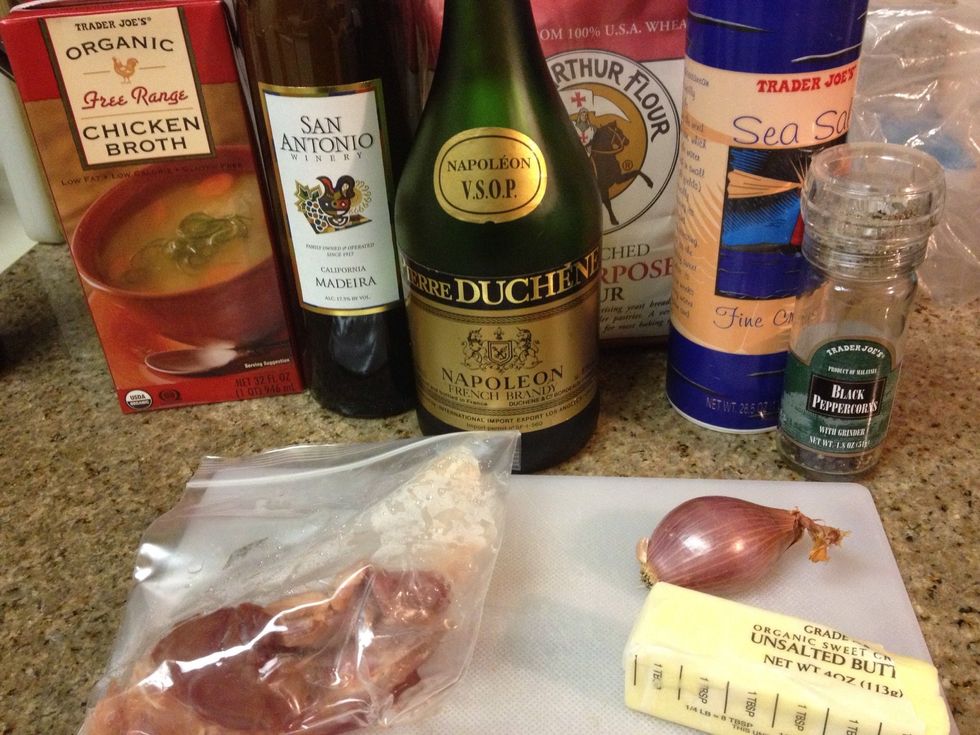 Gather ingredients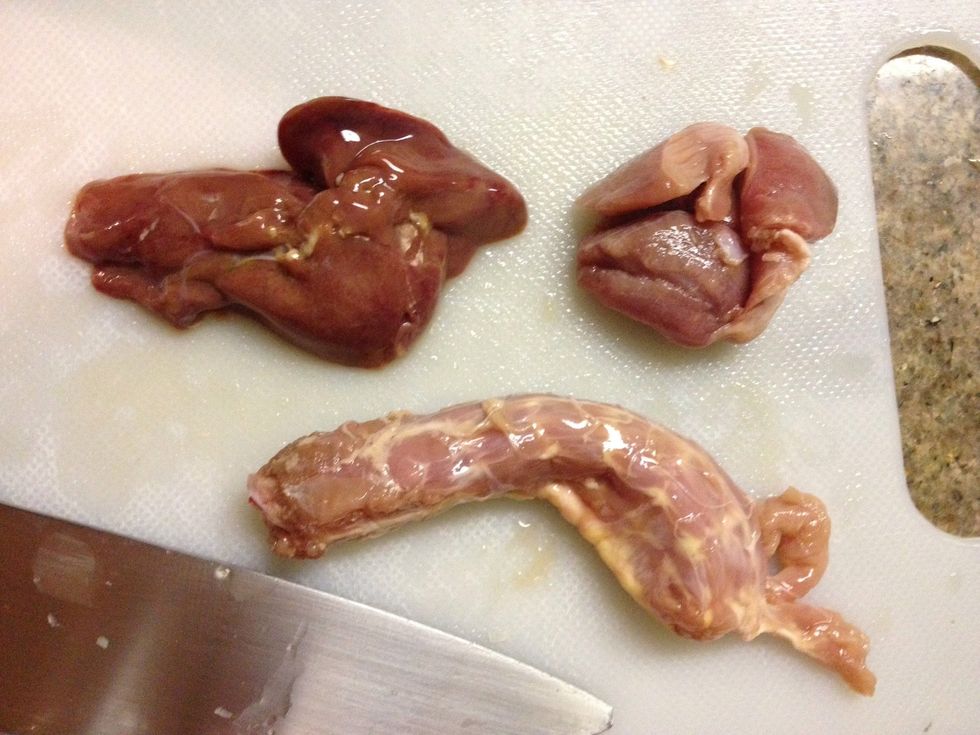 My chicken came with a little bag of goodness Liver, heart, and neck. Cut off fat and connective tissue on liver and heart and chop fine. Save the neck for making broth.
Melt a 1/2 tablespoon butter.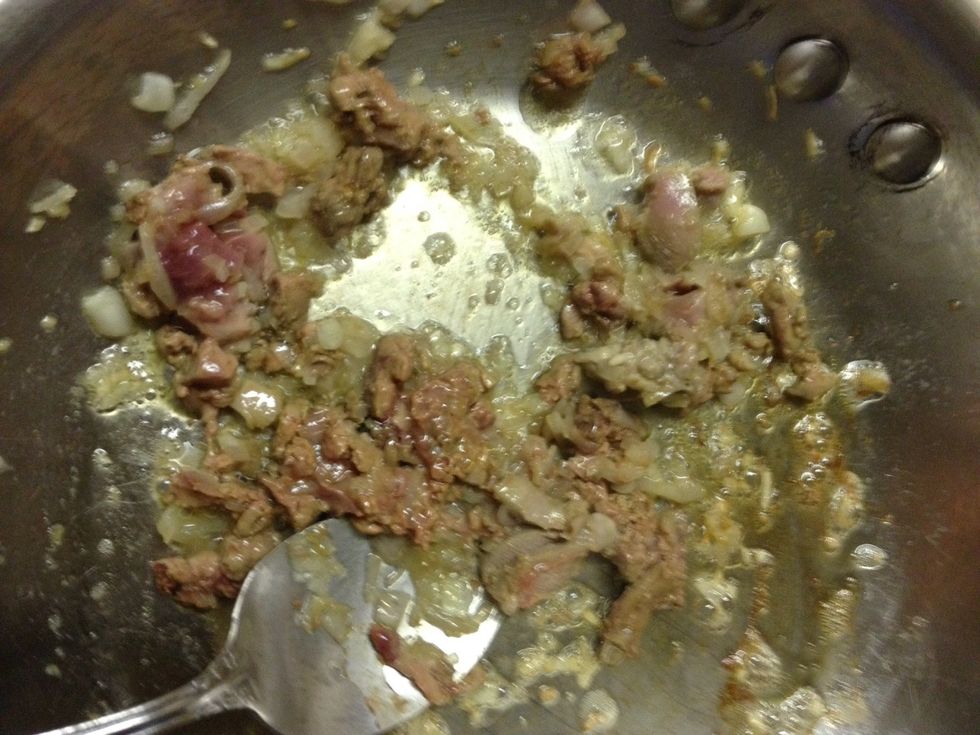 Add a small shallot chopped fine and cook for 3 minutes, then add meats and cook for an additional 3 minutes on medium heat, stir and mash up the goodness with the back of a spoon.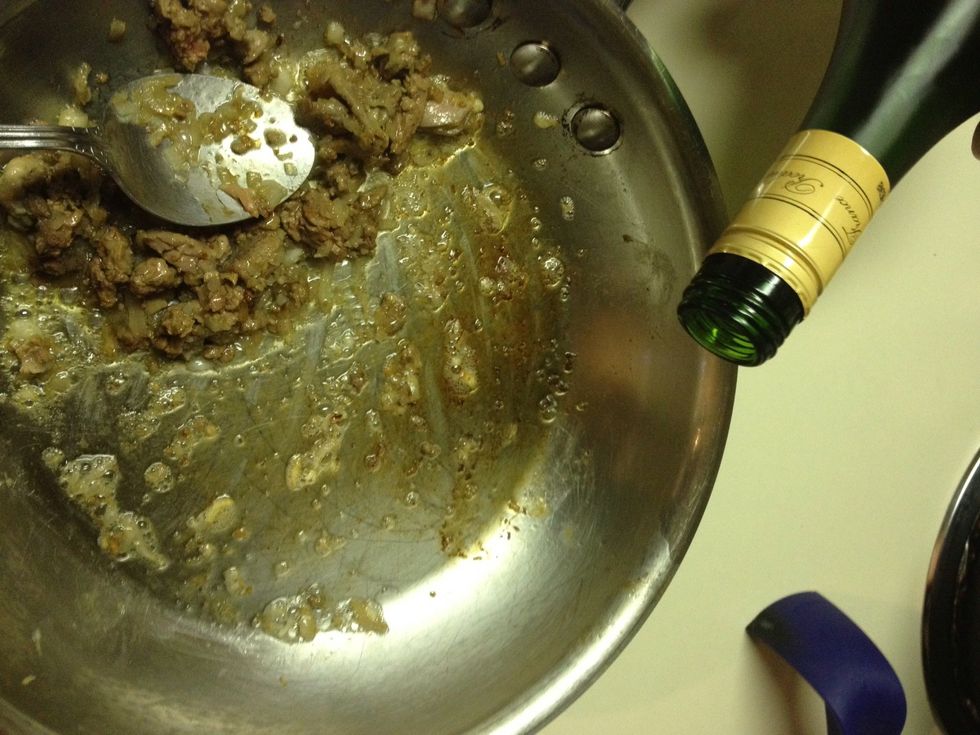 Add 2 tbsp brandy while titling the pan to keep it in the corner. Let warm for a bit...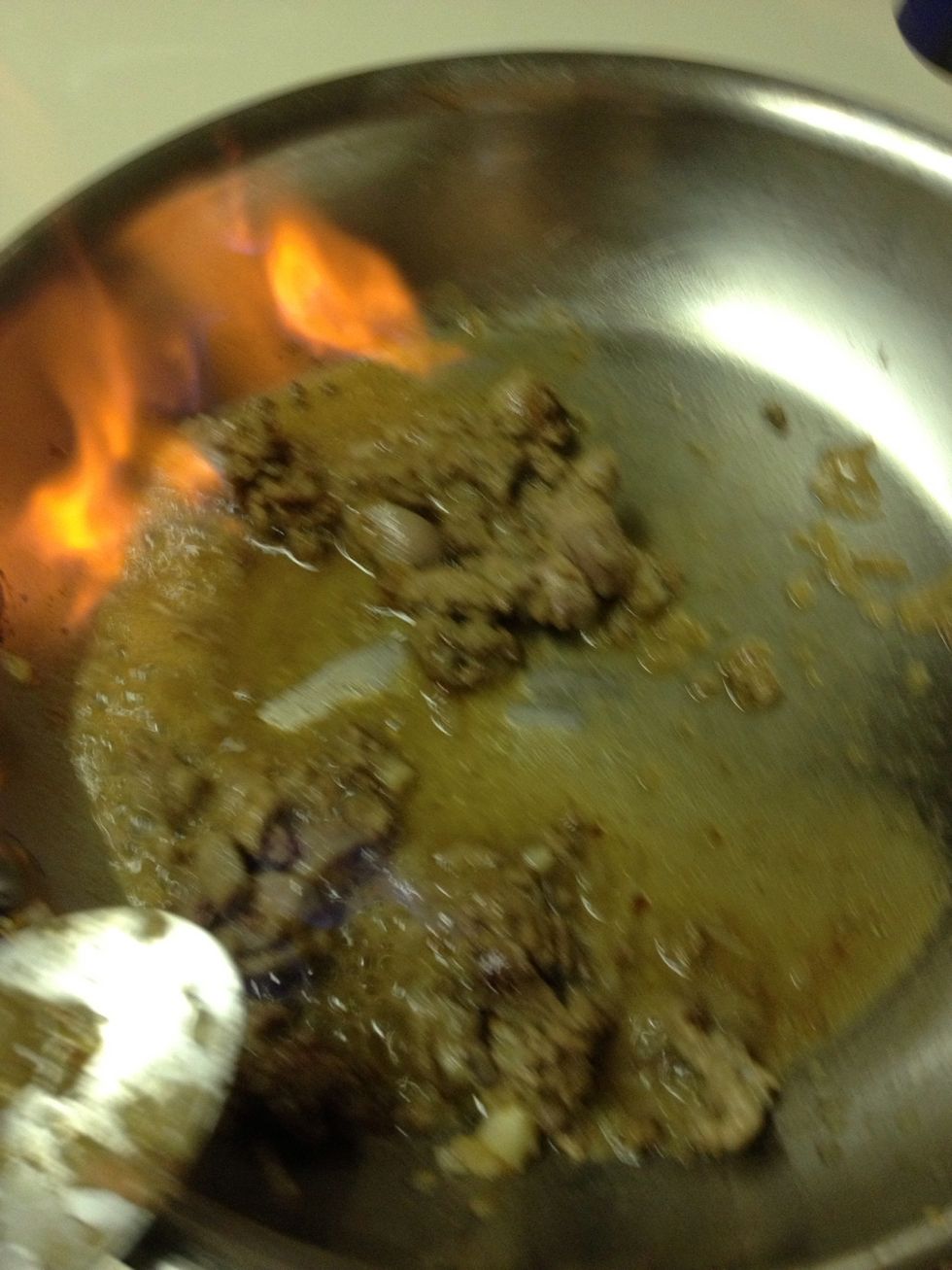 Once warm light with flame. Burn off alcohol by tilting around. Cook until slightly reduced pull from heat and set aside.
The key to this meal is the Cast Iron Sandwich: By stacking the chicken between two preheated cast iron pans you get quick and even cooking.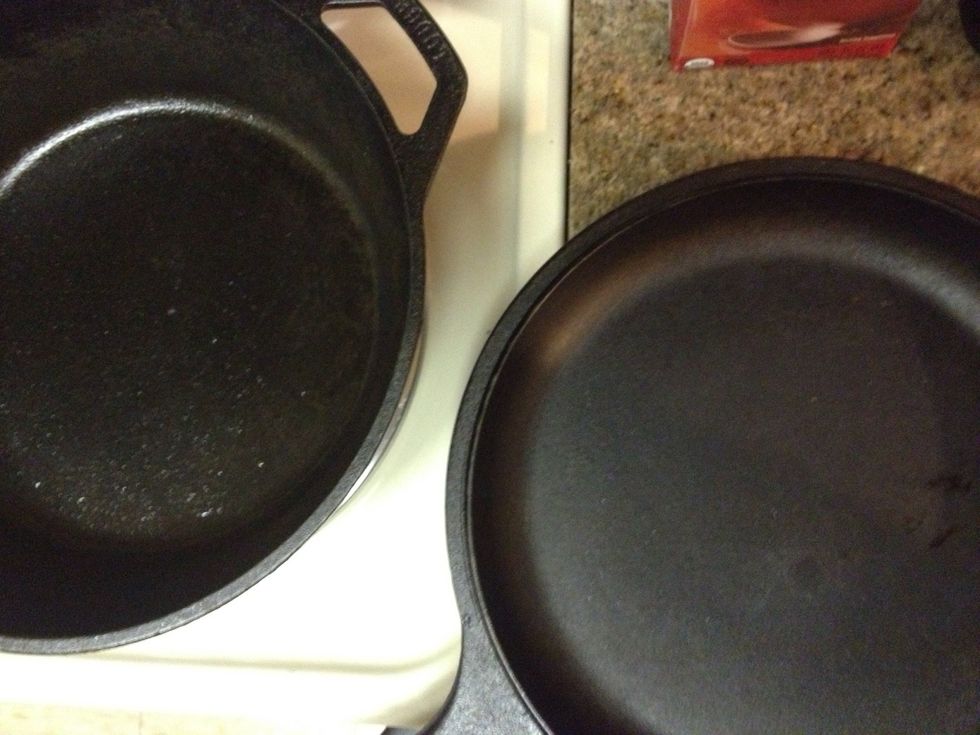 Preheat the pans for 30 minutes at 425F while the chicken marinates.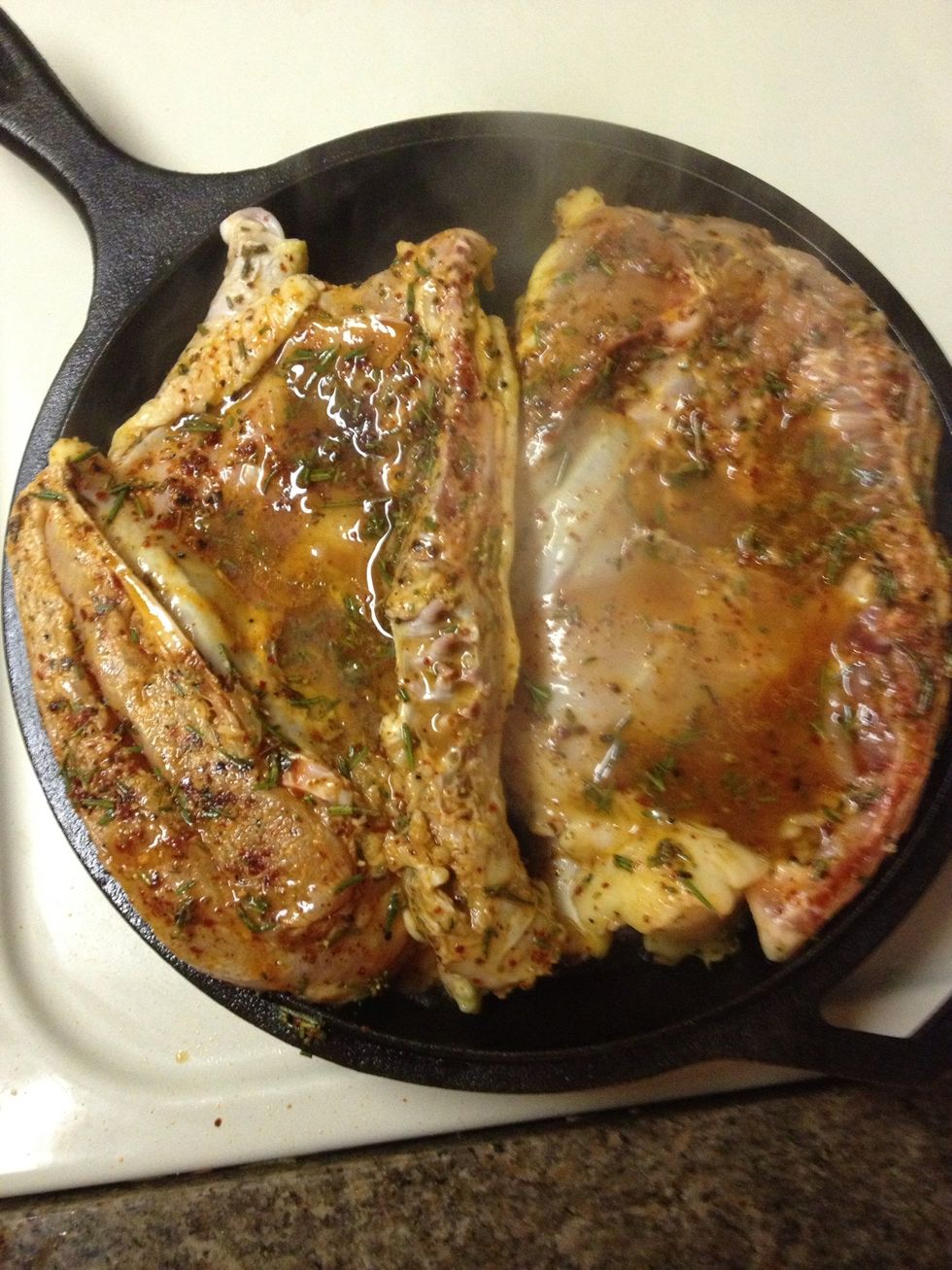 Once the pans are hot add the marinated chicken halves skin side down to one pan.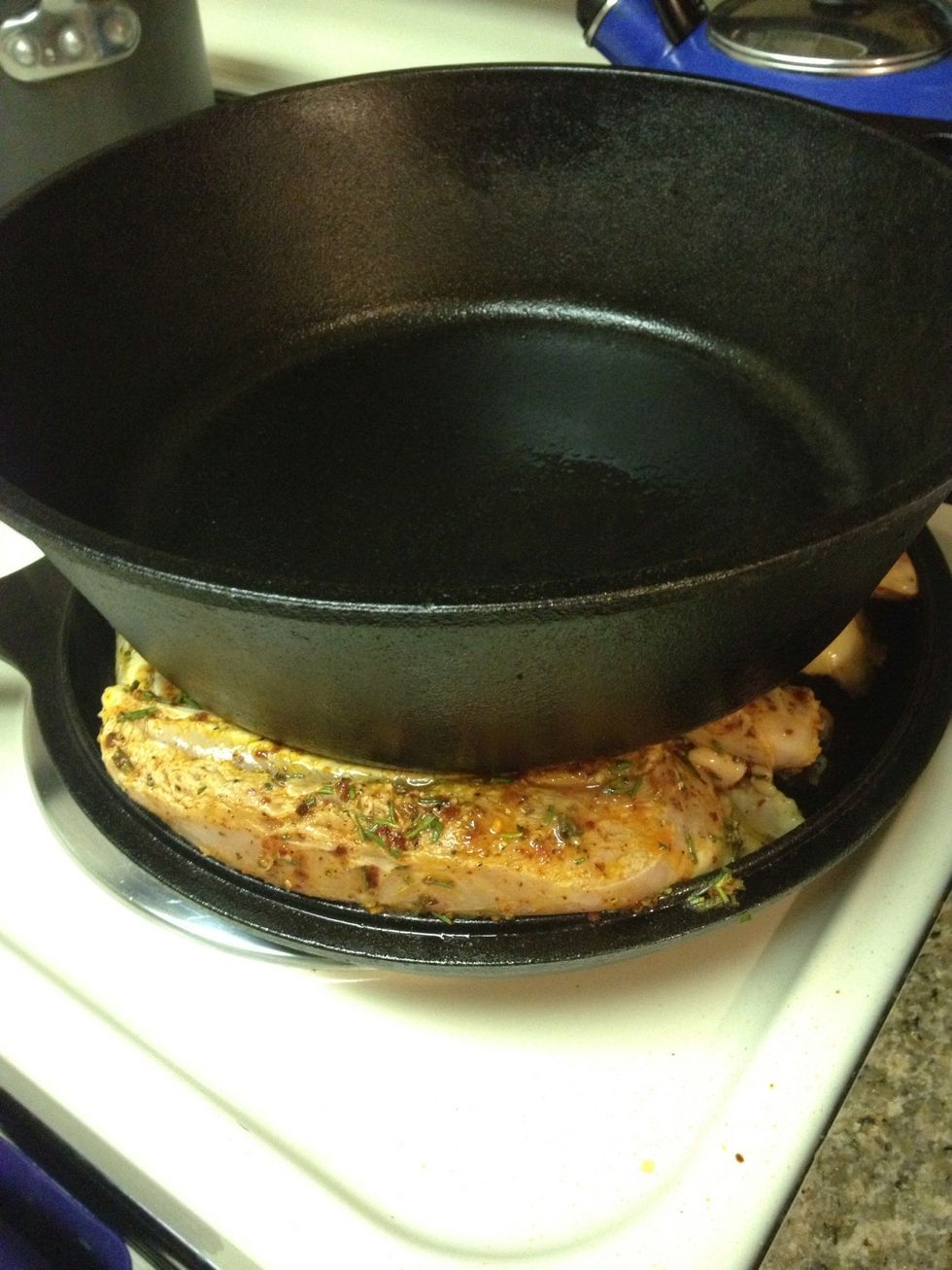 Stack the 2nd preheated pan on top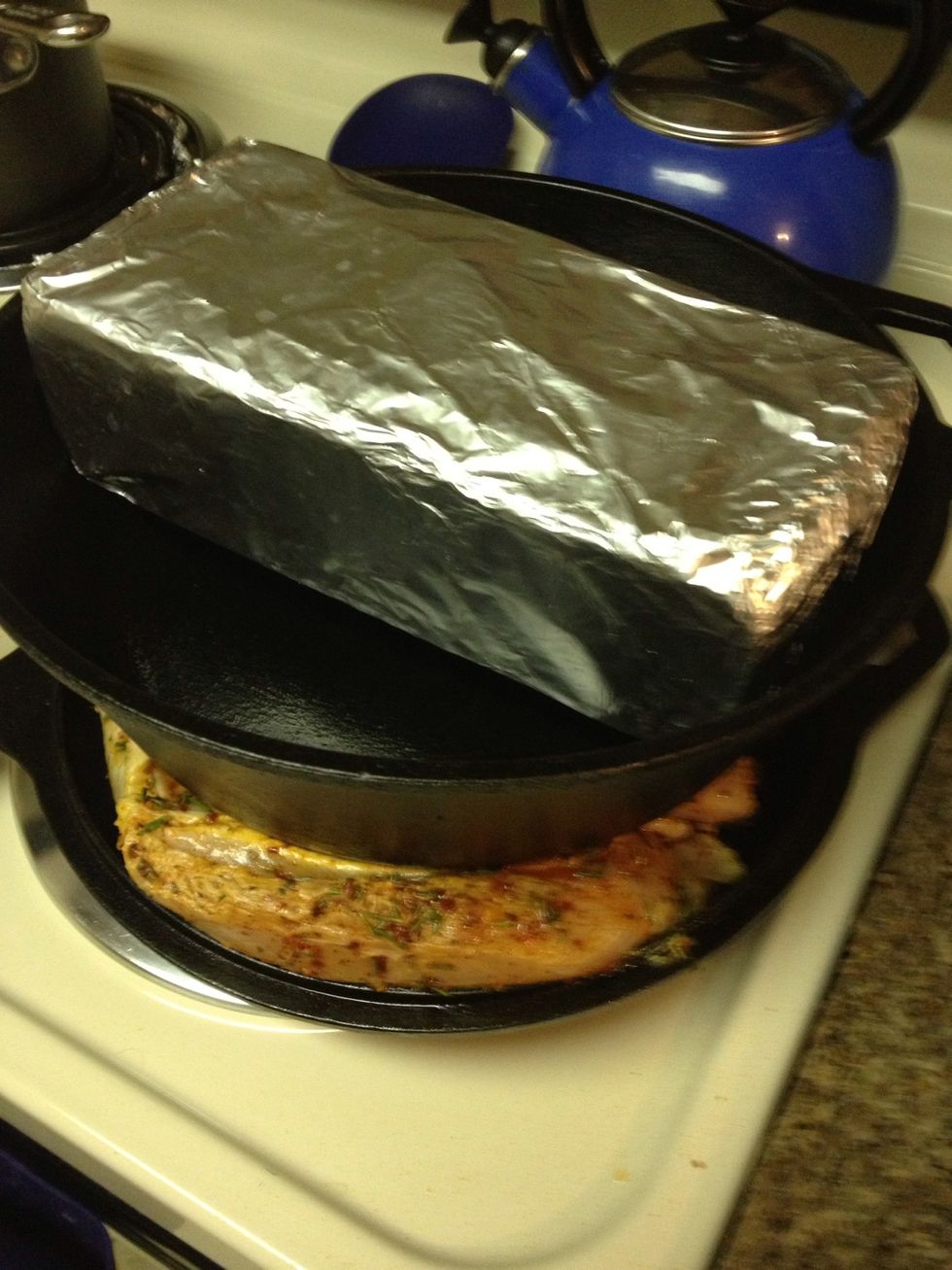 I added a brick to increase the press weight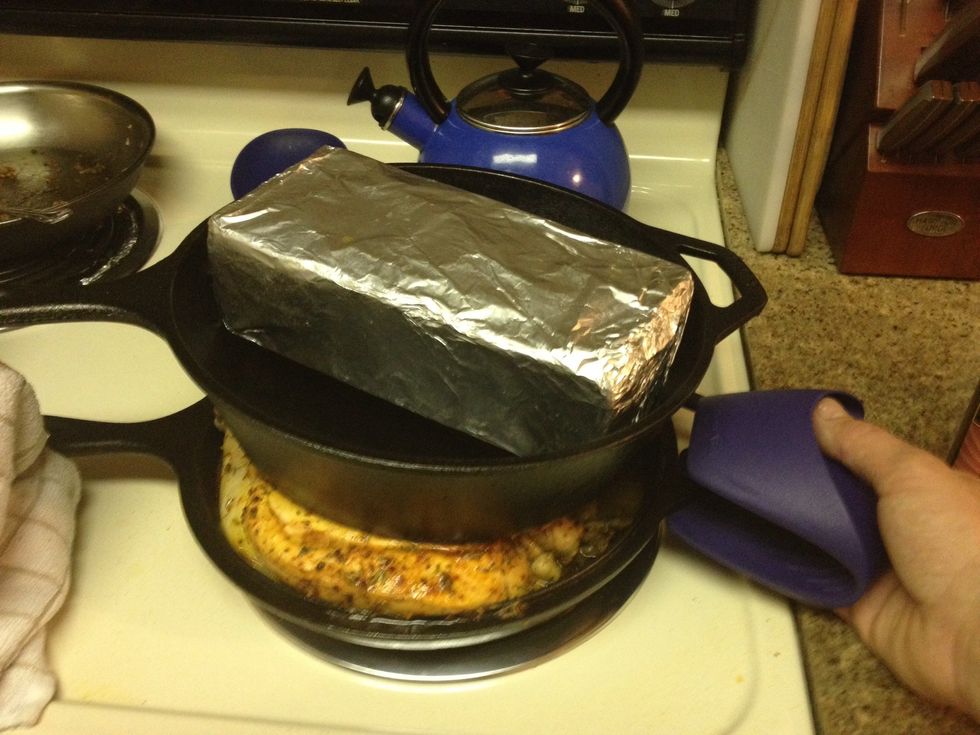 Now for the Transfer to the oven! I'd recommend assembling and disassembling the setup a piece at a time in the oven. This weighed 20+ pounds!!!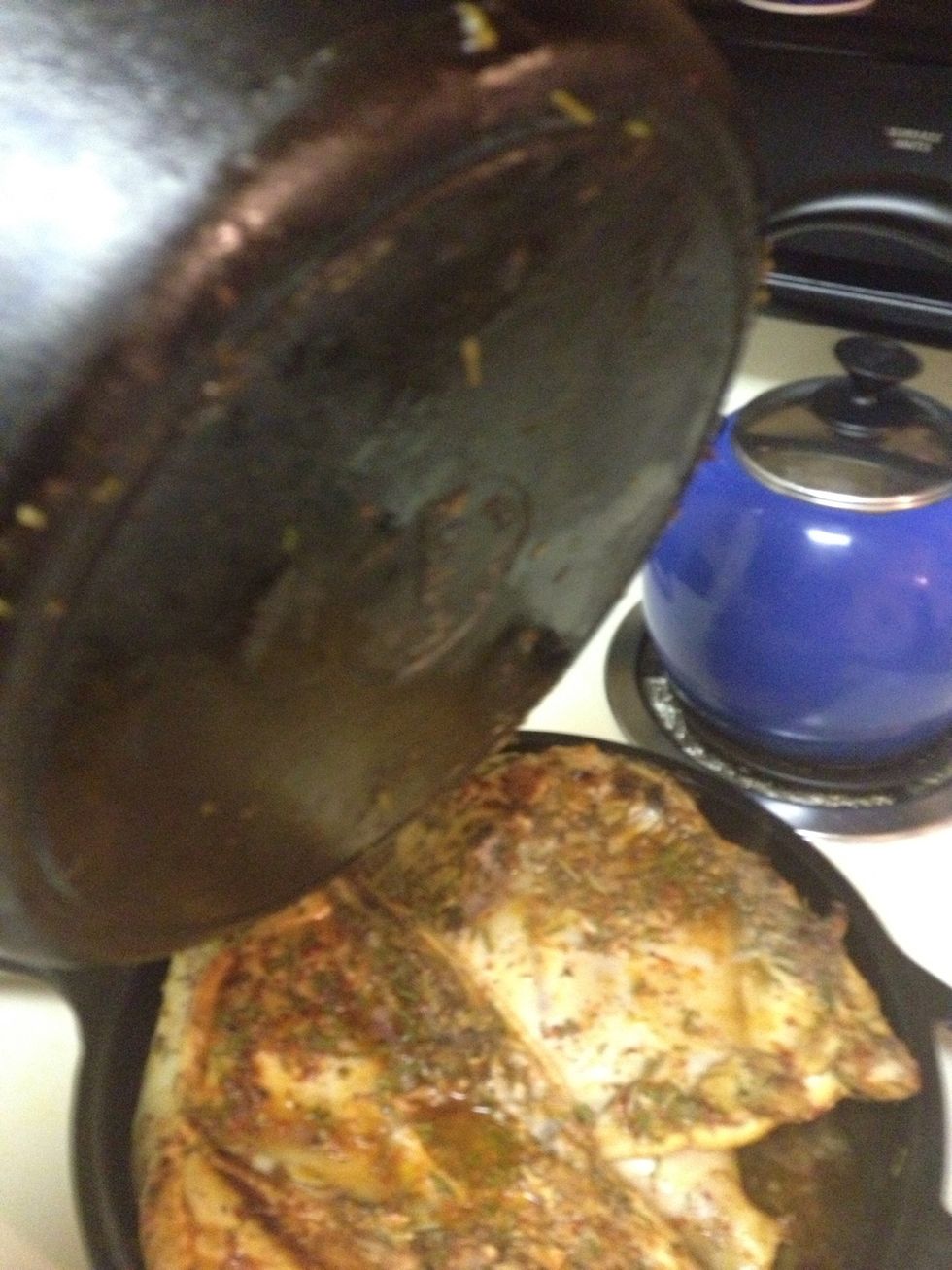 After 25-30 minutes pull iron bird sandwich and flip bird halves into upper pan, tent with foil. Save the juices for the gravy.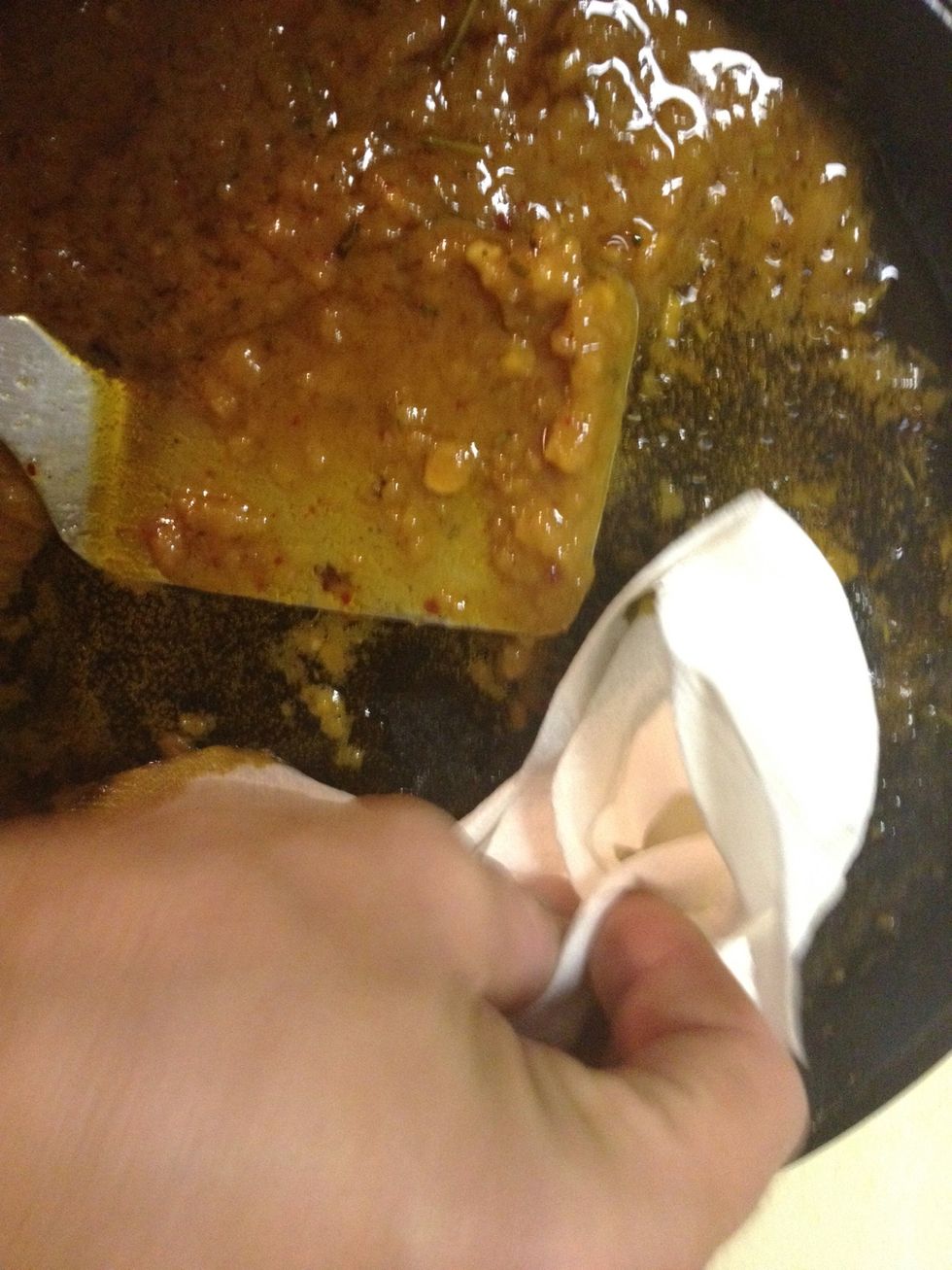 The chicken juice will have a lot fat. Get rid of all but a 1/4 cup. I used a couple paper towels to blot the grease up.
Once most of the fats been removed add 1/3 cup Madeira, reduce on med-high for 15 minutes.
Once reduced add 1/4 cup flour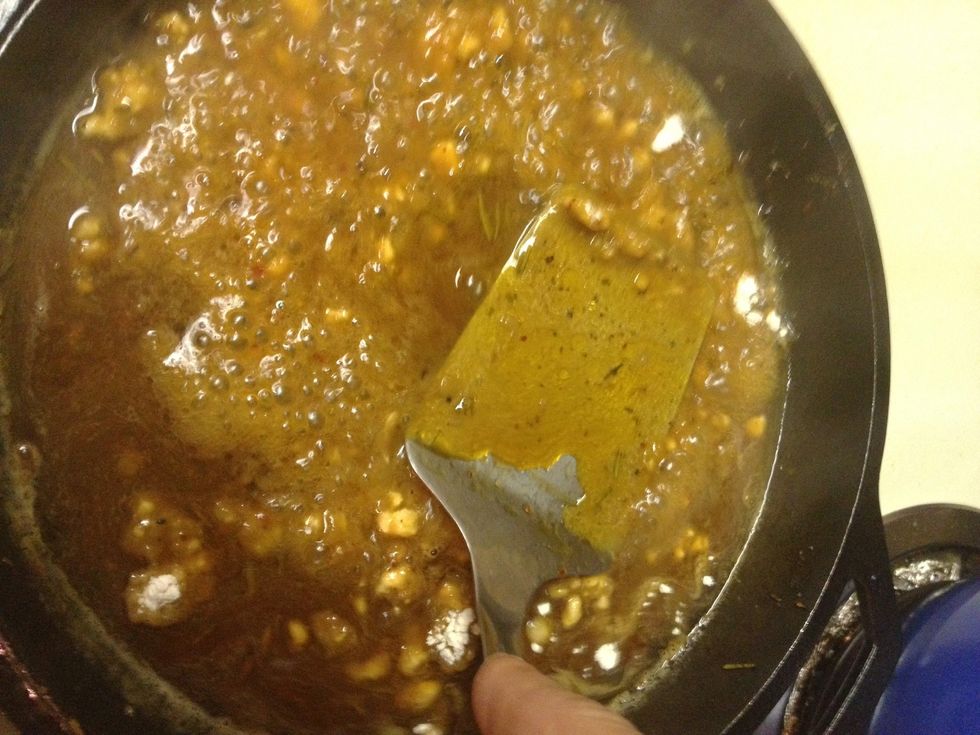 Make sure to squish lumpys.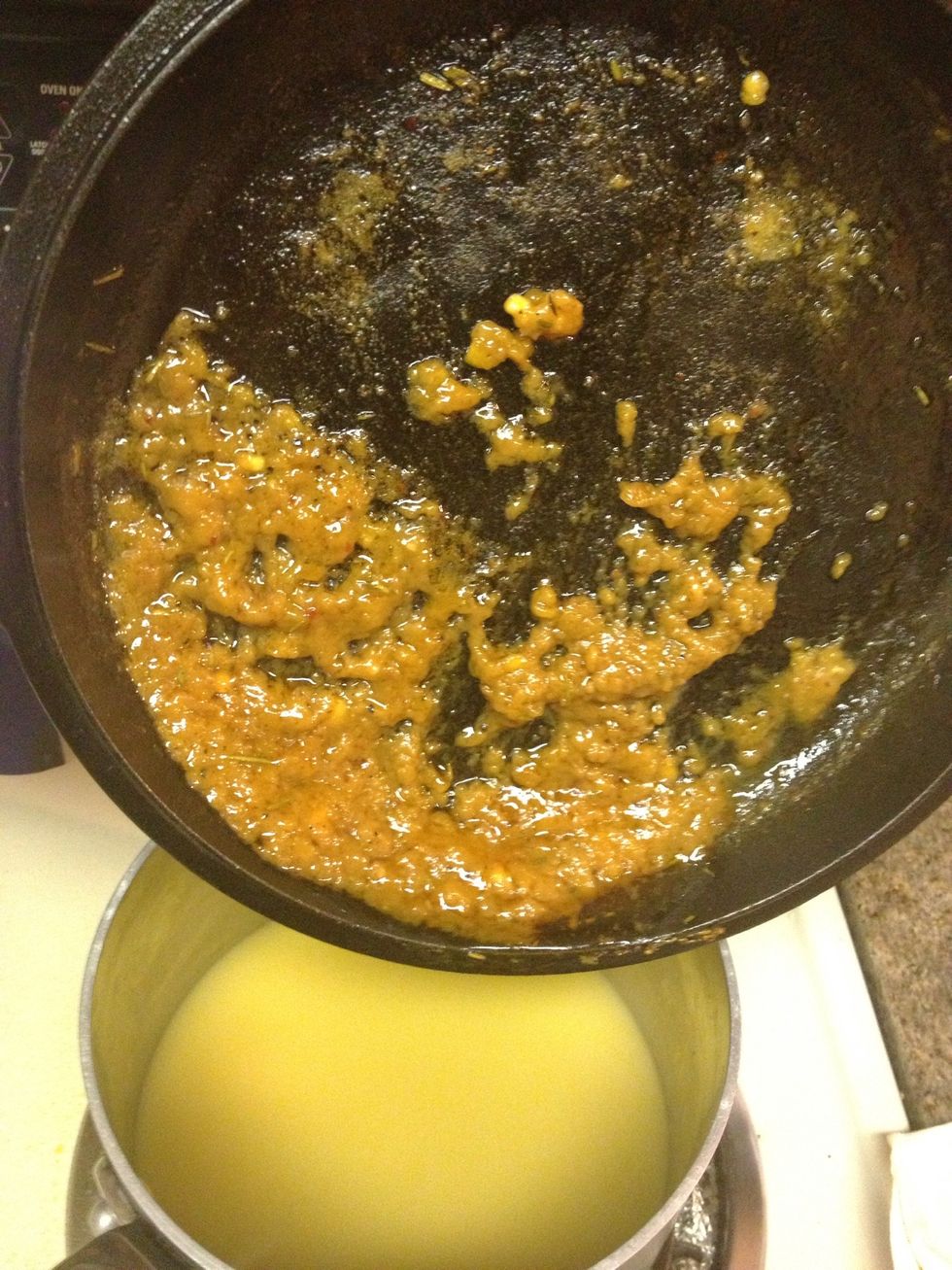 Once roux is nice and browned ~5 minutes add to hot stock and simmer and stir until thickened season with salt and pepper.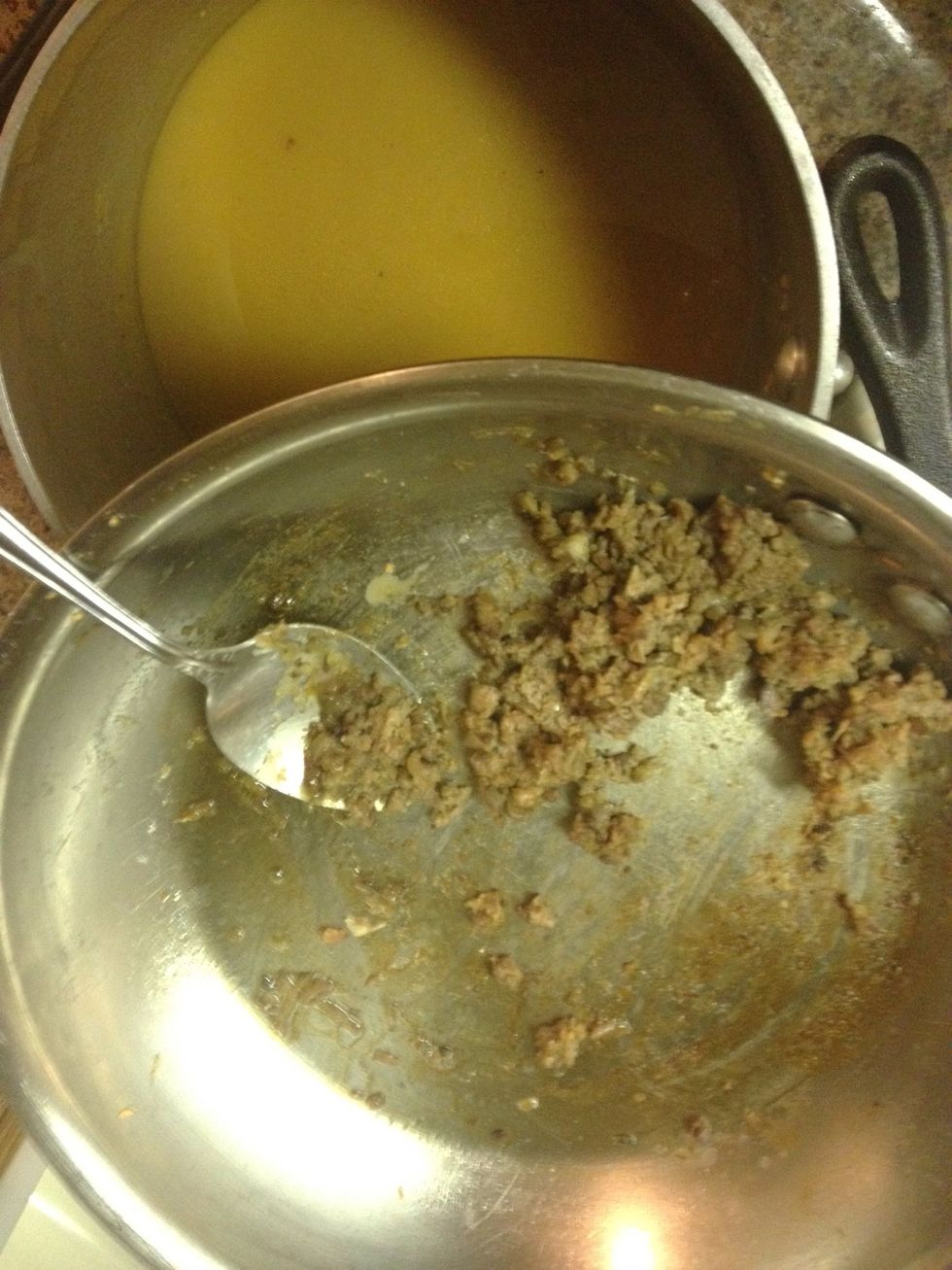 Add giblets, cook for a couple more minutes and serve.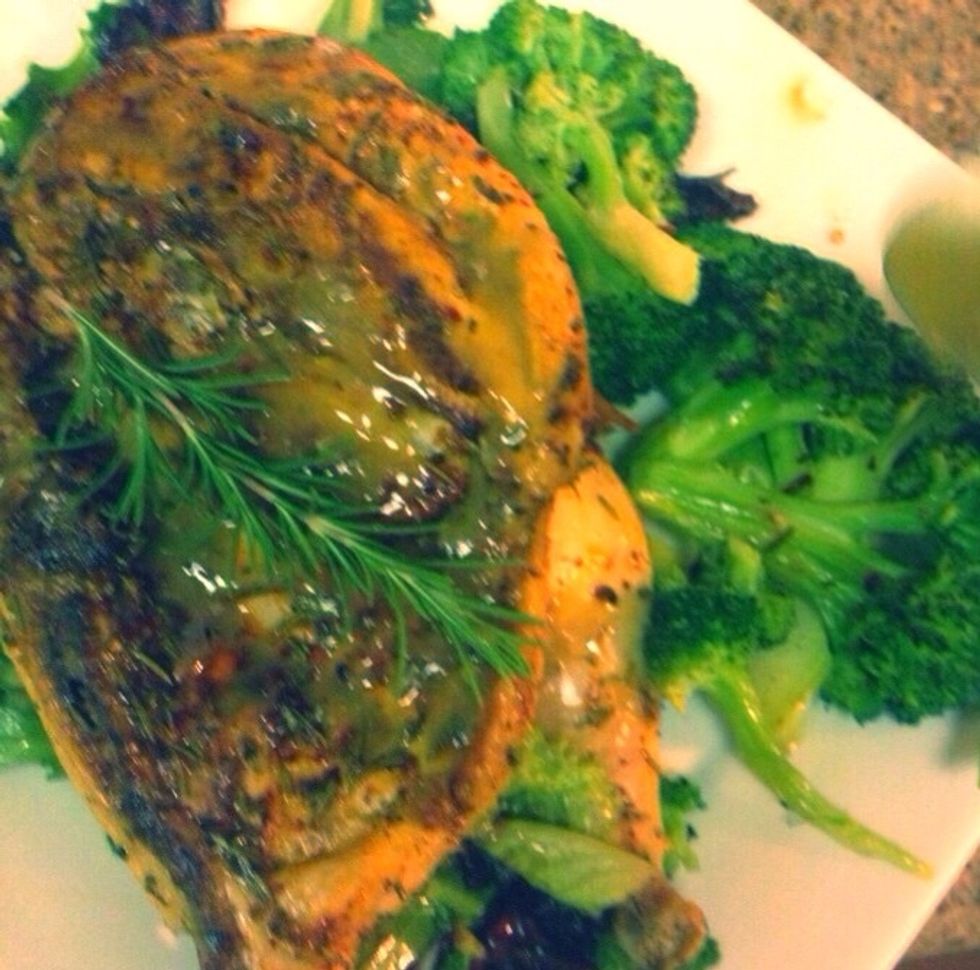 I had to put the chicken under the broiler foir a minute to crisp up the skin while the gravy reduced. Still it was super moist and tender!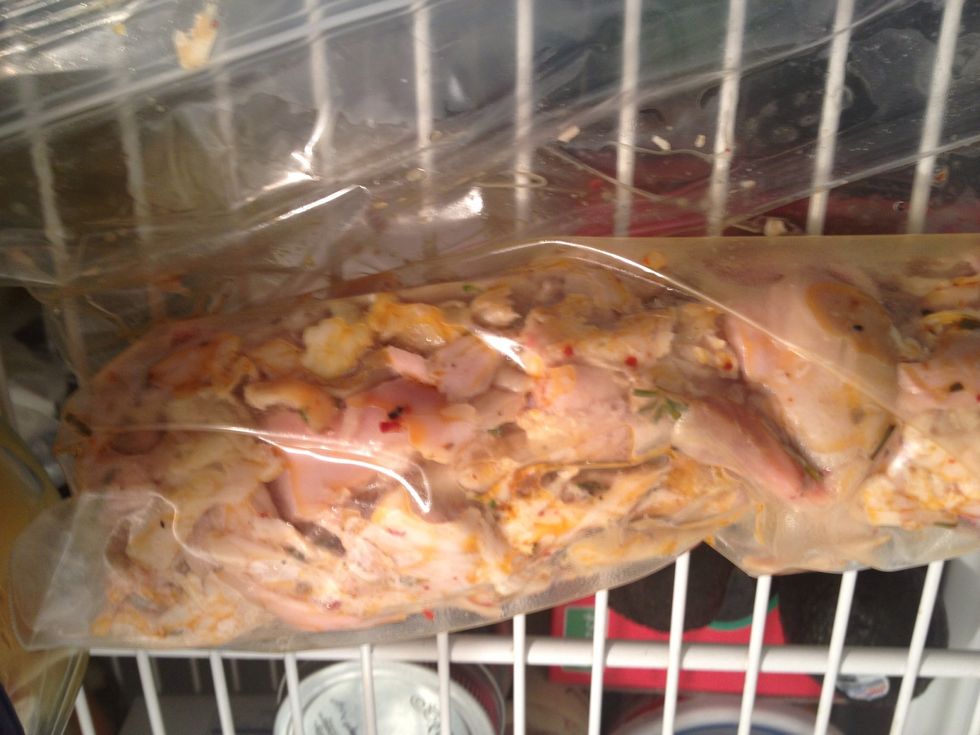 So much leftovers with a whole chicken! Scavenged 1.5 cups meat, froze it for now.. So many options, what to do?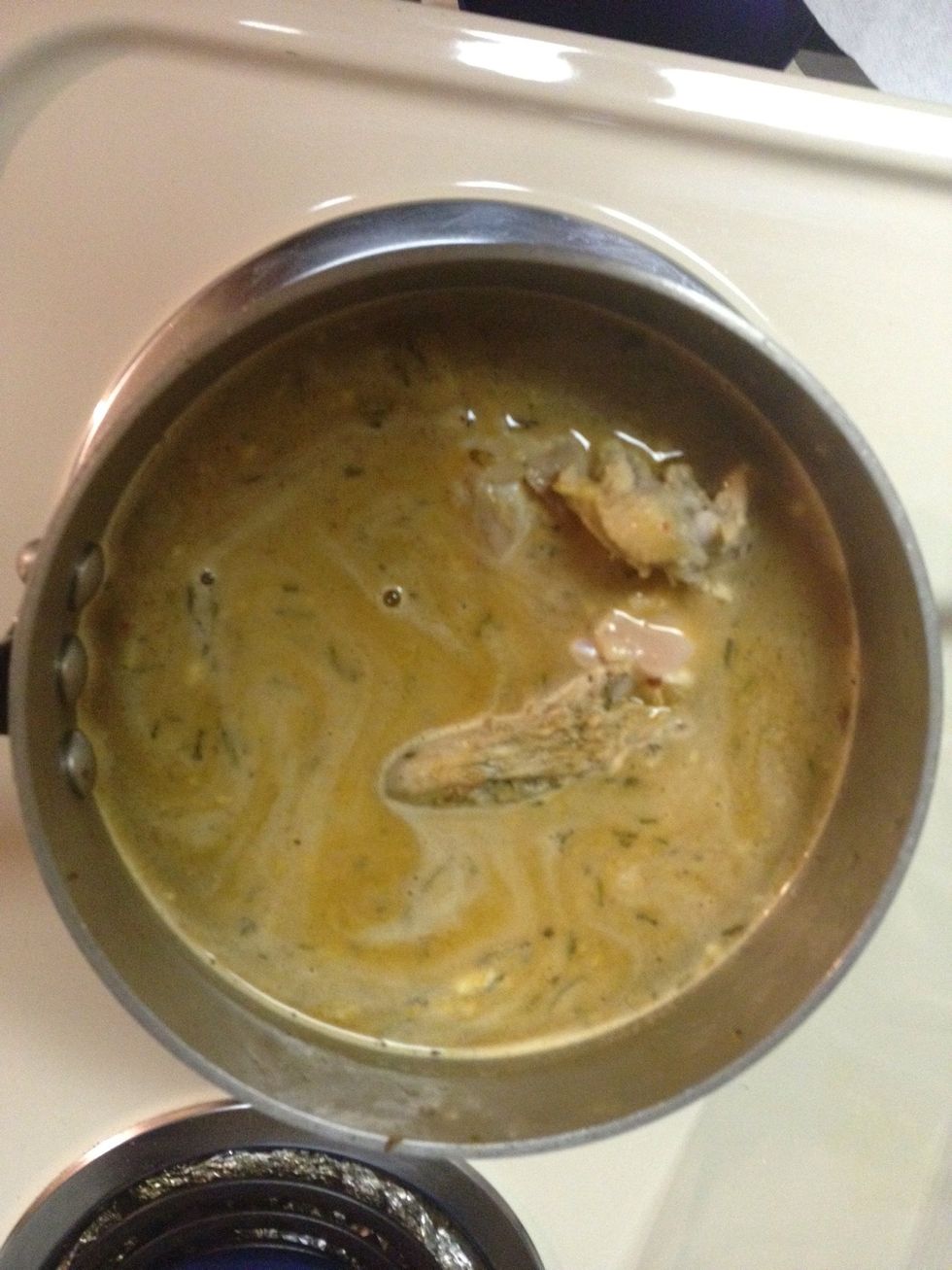 Add chicken bones to water with a carrot and celery and you have some broth in a couple of hours.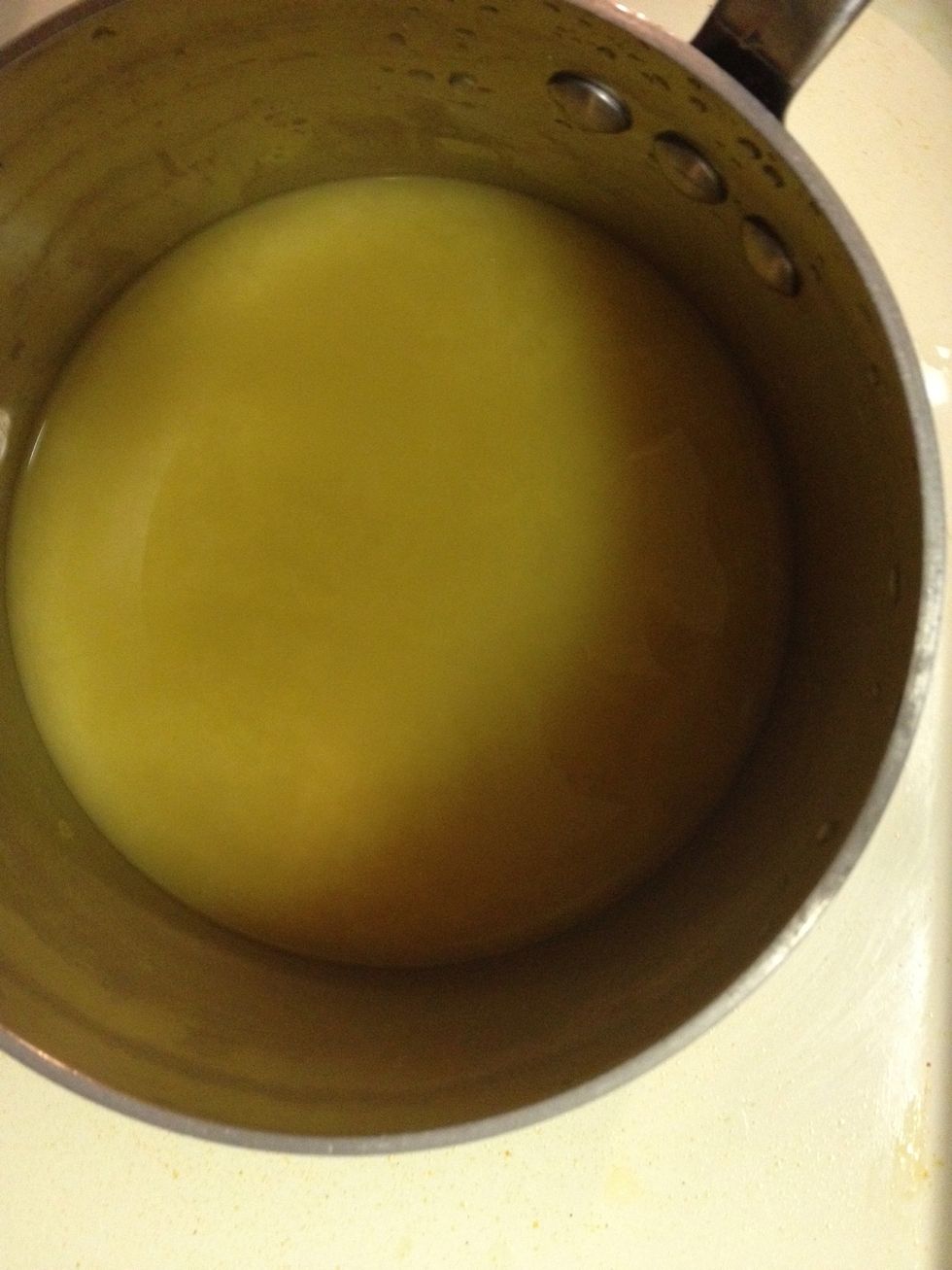 Cool overnight in fridge. Next day remove fat and strain.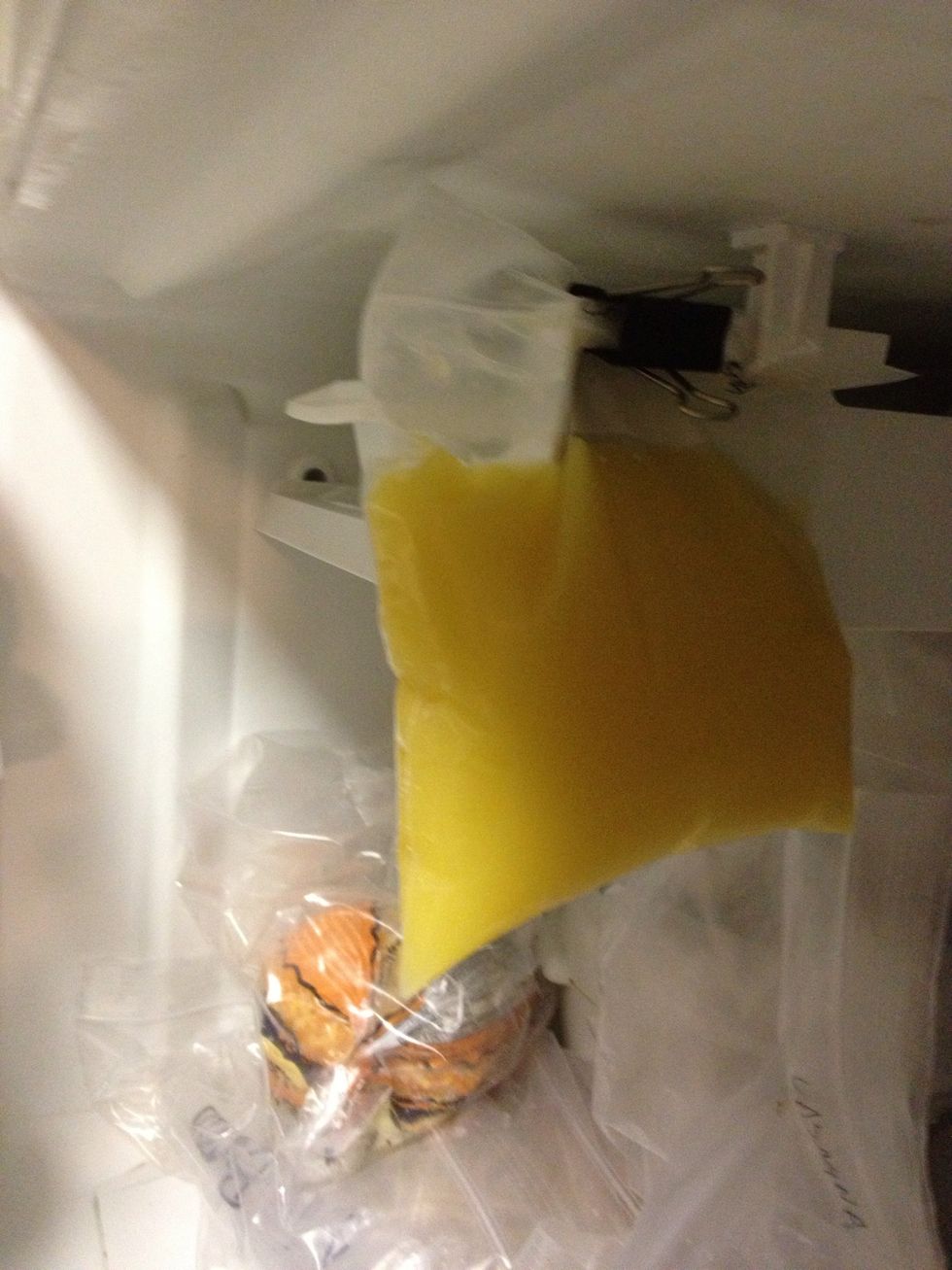 I froze the brother well it's good for a couple of months.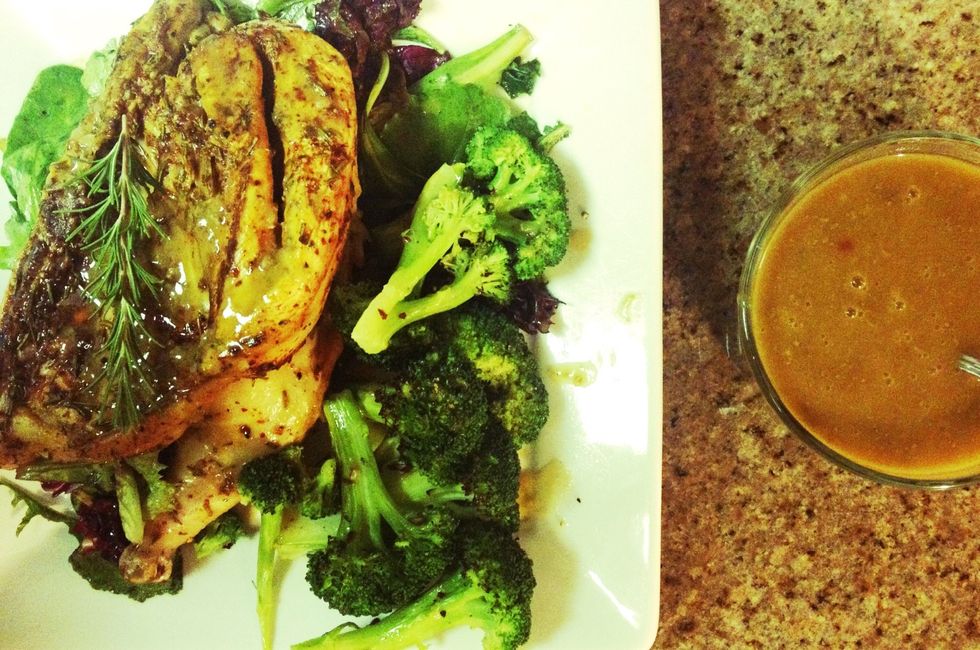 I Served with roasted broccoli needs a carb though, mashed potatoes would have been Epic.
I hope you enjoyed this guide!
2.0 10" Cast iron pans
1.0 4-5 lb fryer chicken
3.0Tbsp Rosemary
1/2Tbsp Chili powder
3.0Tbsp Lemon juice
4.0Tbsp Olive oil
3/5Tbsp Salt and pepper
Giblet gravy
1.0 Chicken Liver
1.0 Chicken heart
1.0 Shallot
1.0Tbsp Butter
3.0Tbsp Brandy
4.0Tbsp Madeira
1/4c Flour
2.0c Chicken stock
1/2Tbsp Salt and pepper