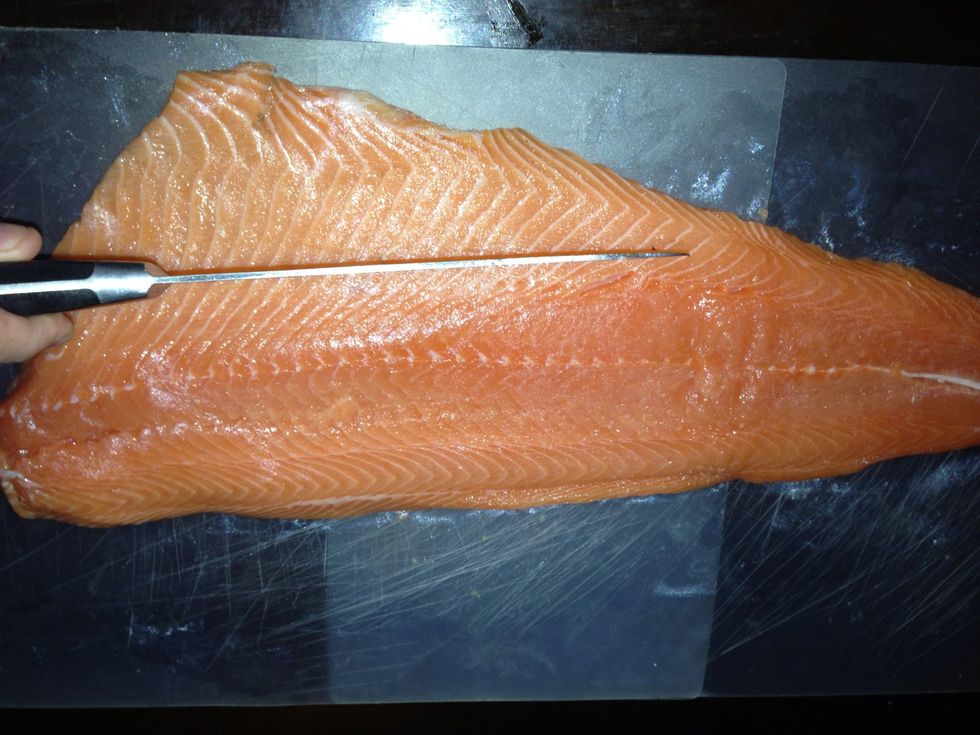 Start the night before your meal by slicing off the thin side and end of your salmon. The pieces will still be used. Please be very clean and safe with this and all recipes!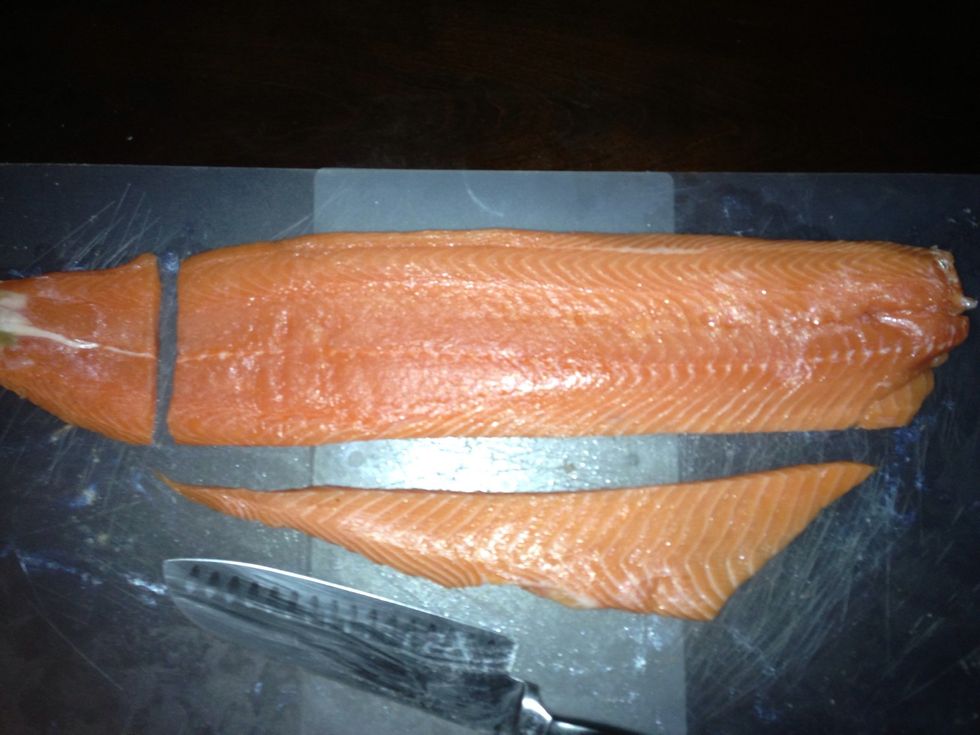 Notice how it squares off the rest of the salmon. This will help make perfect individual portions that are cooked evenly throughout. This is a 2.1# fillet by the way.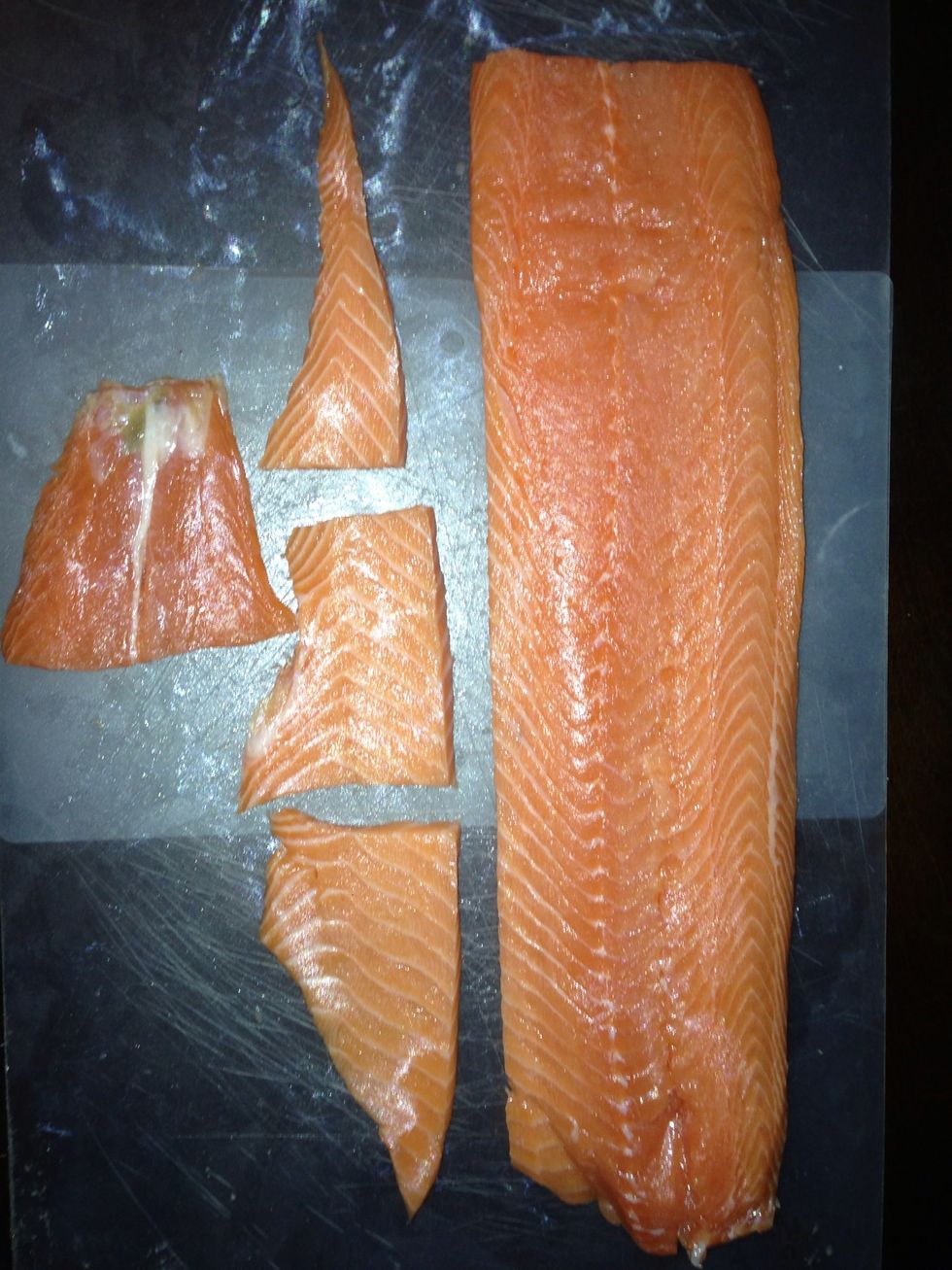 The end tail piece and the divided thin side should be kept but put aside for now.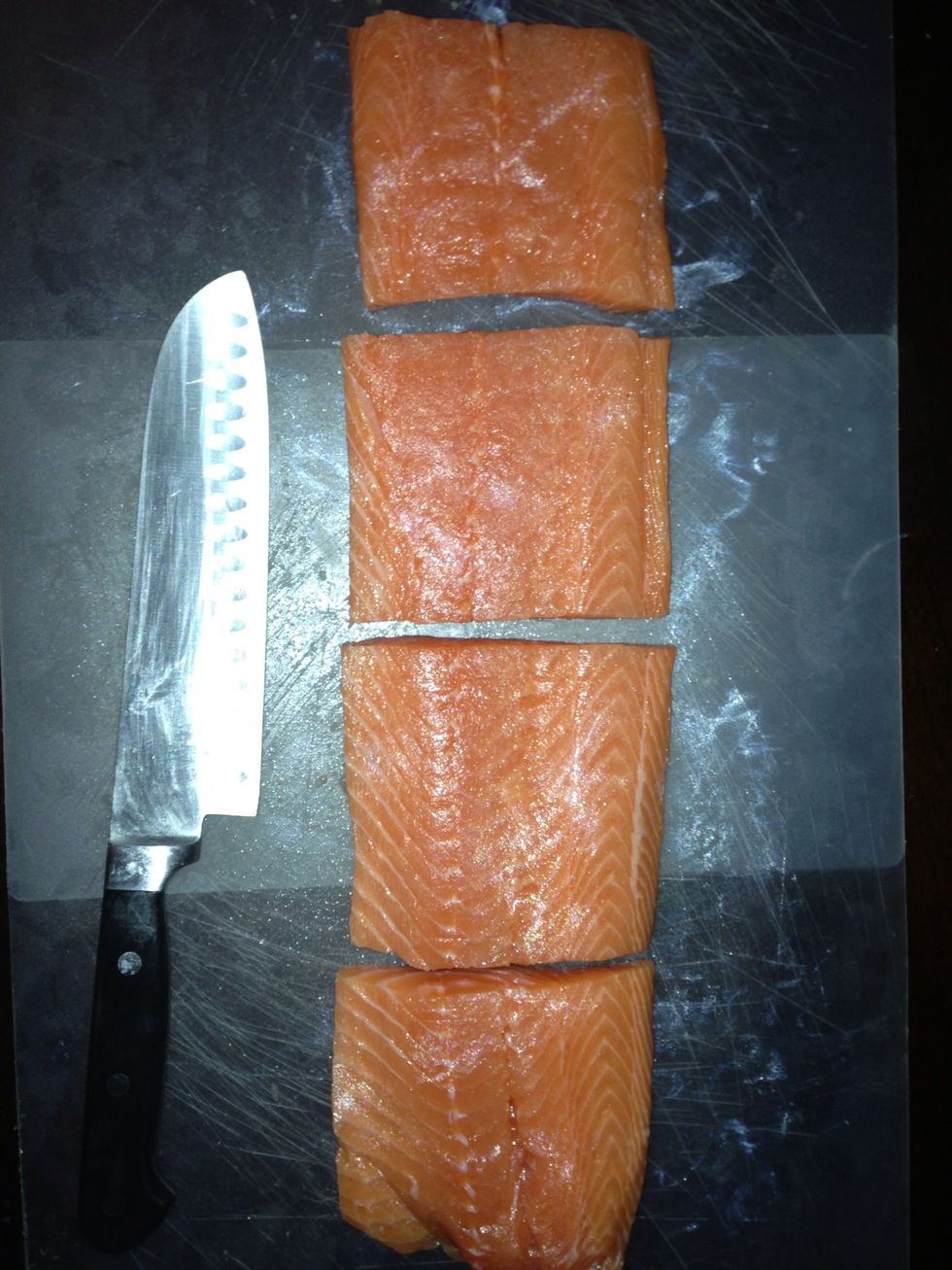 Slice up the thicker portions into squares (4 or 5 per fillet). These will be your main pieces.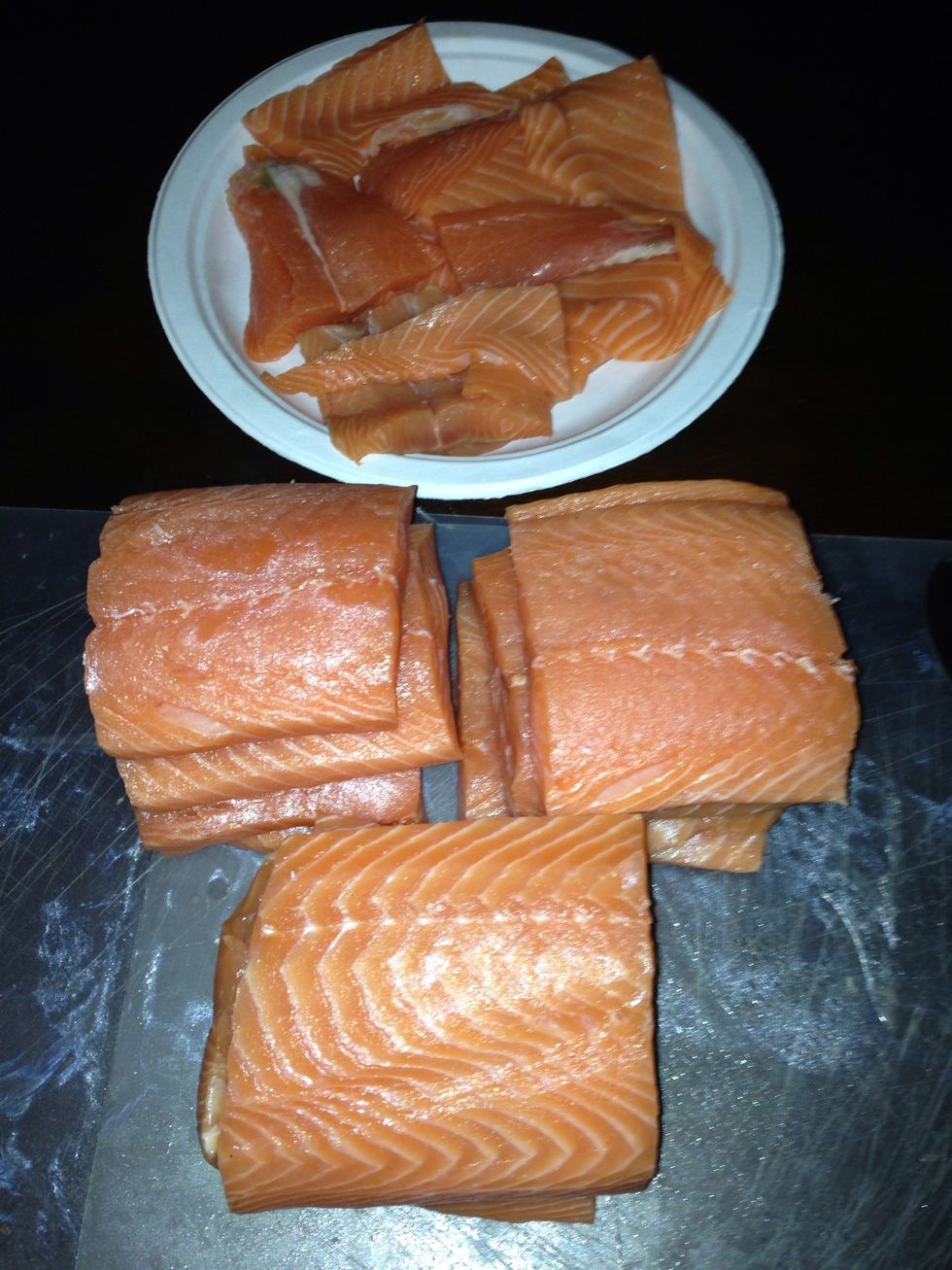 For this guide I've sliced up 3 large fillets.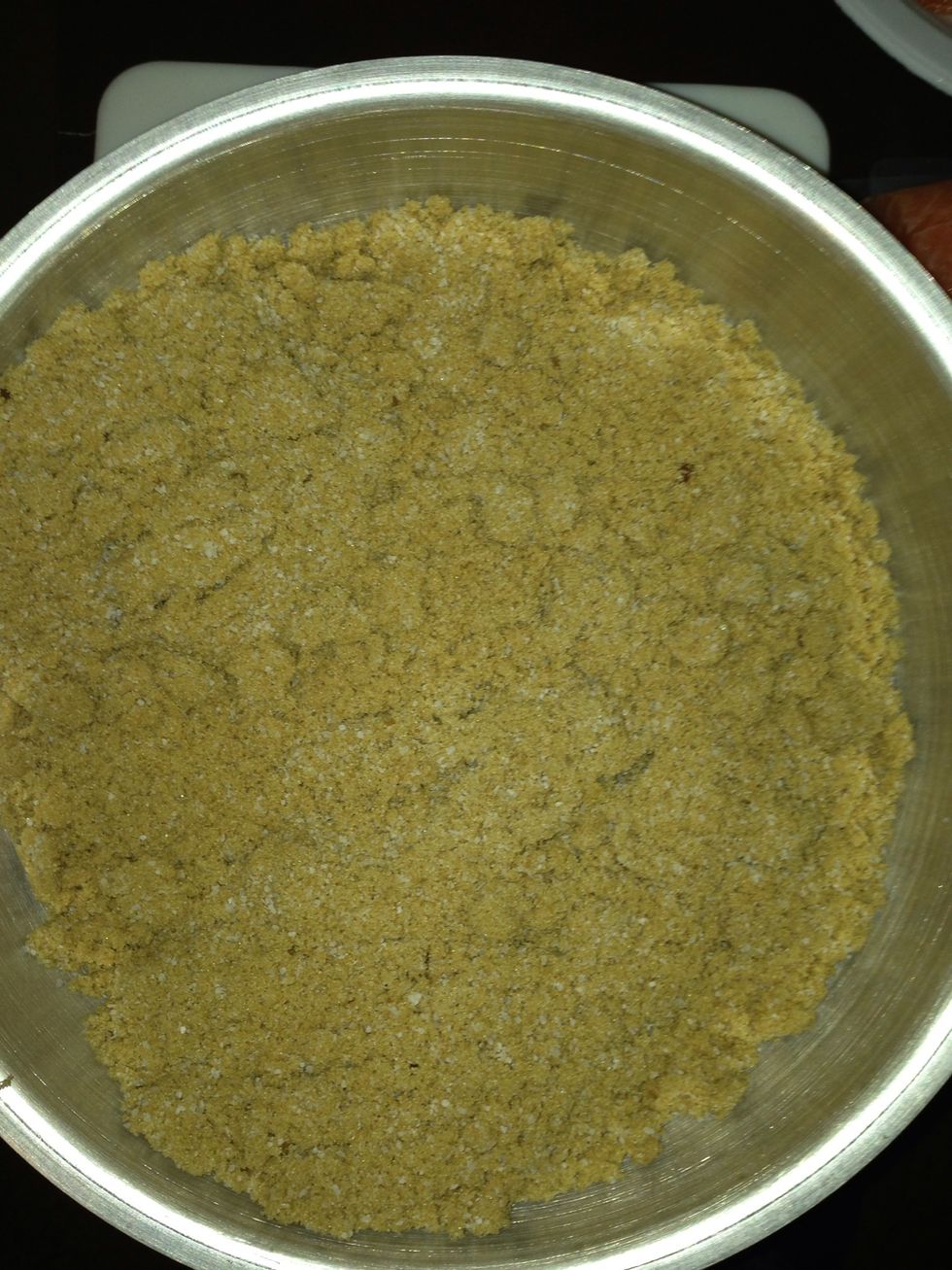 Put together your brine mix as 1 part Kosher Salt to 4 parts Brown Sugar. Kosher salt is important because it is not iodized, which could affect the flavor of the fish. This is 1# salt and 4# sugar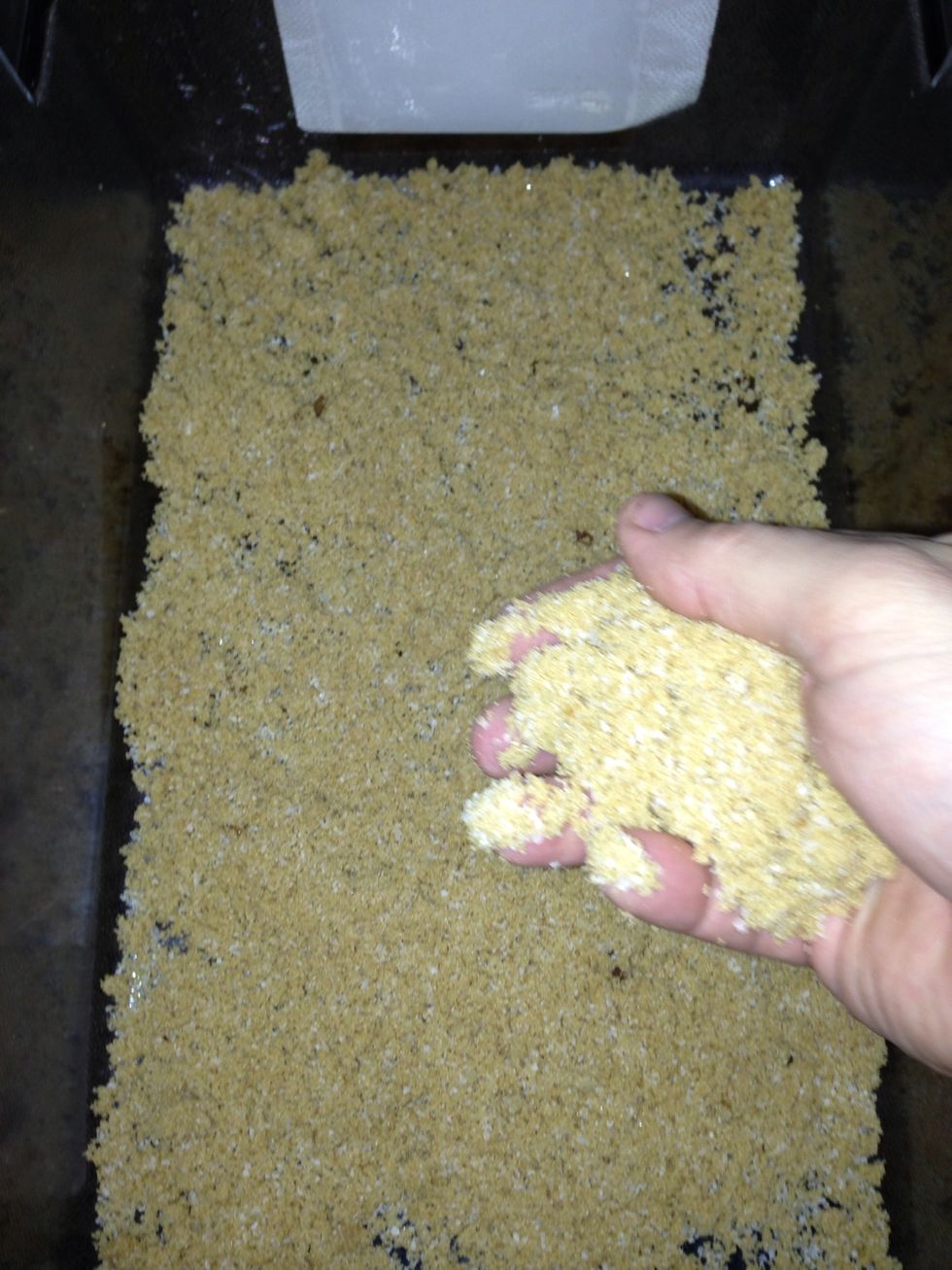 Spread a layer of your brine mix over the bottom of a large container that will fit in your refrigerator. Brining will draw most of the moisture out of the fish and prepare it to smoke better.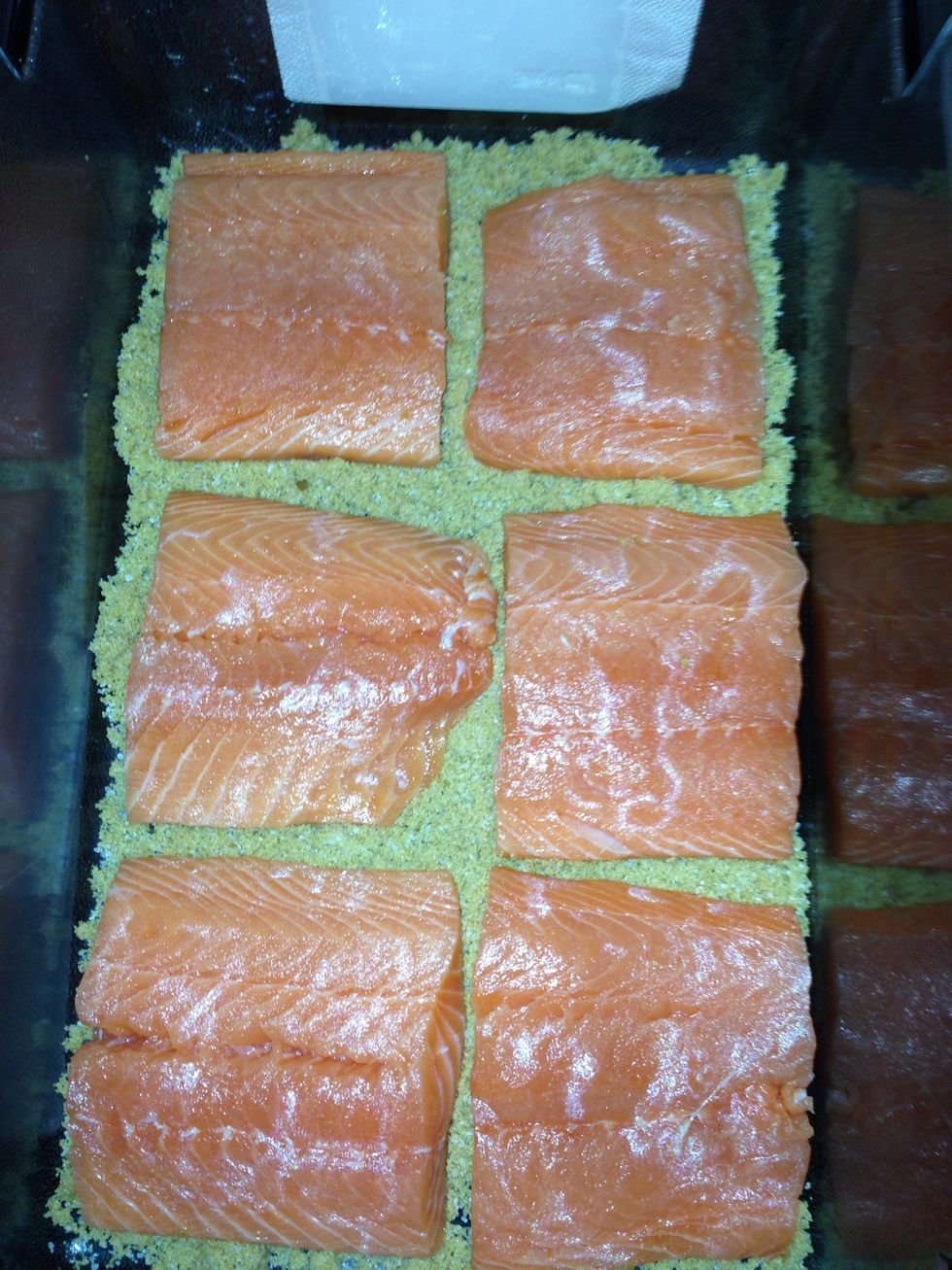 Lay your larger, thicker pieces like so, separated slightly over the brine mix.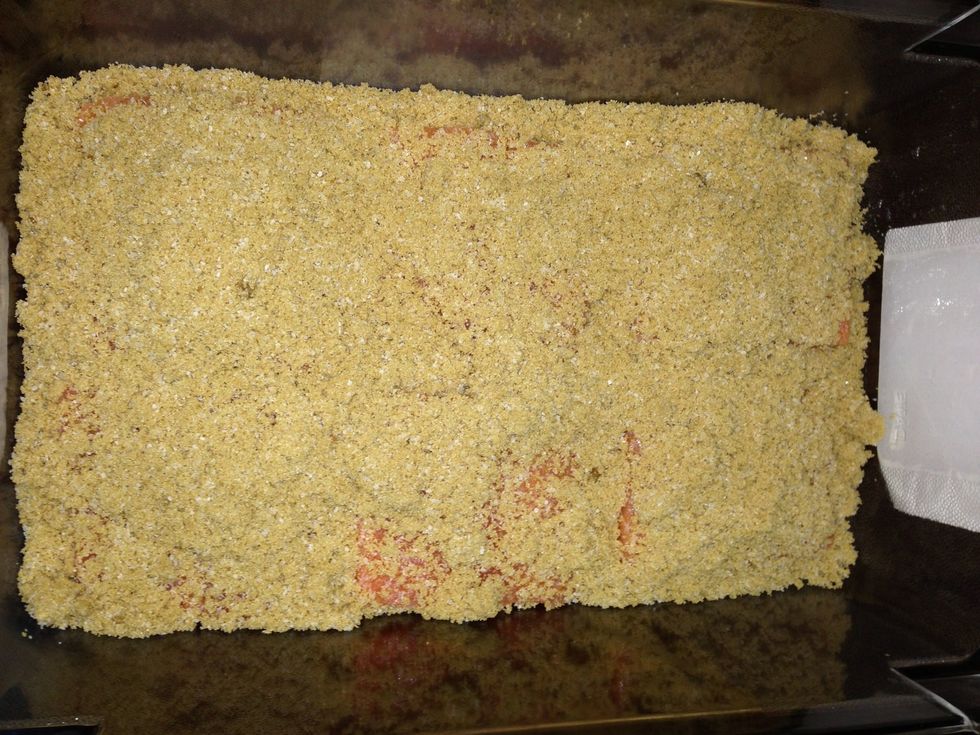 Cover this layer fully with more brine mix.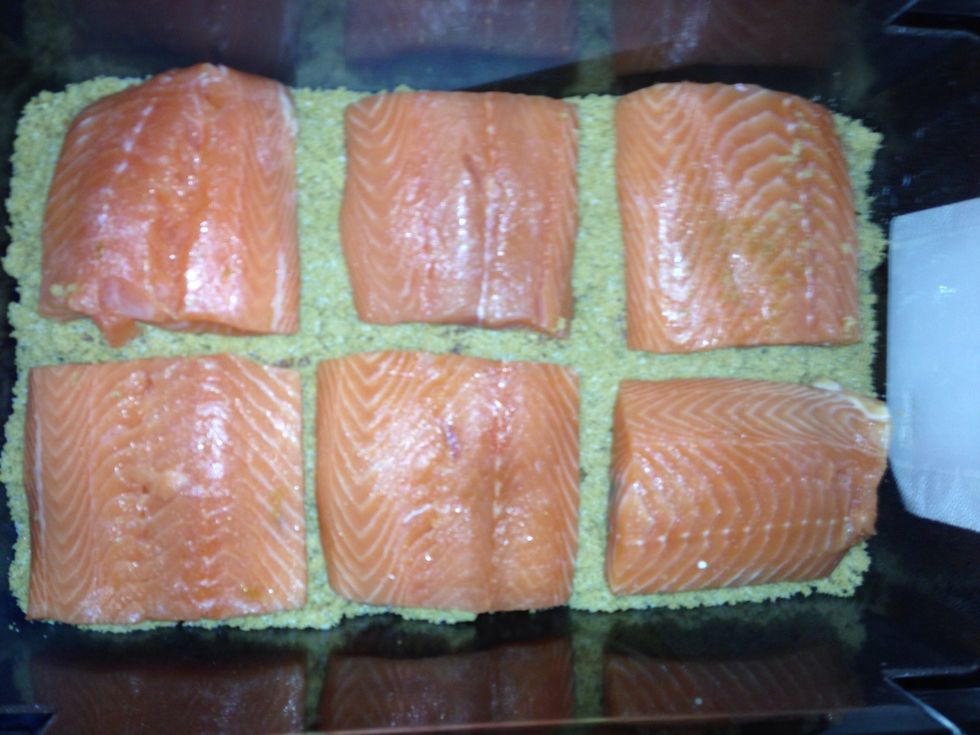 Add another layer, repeat.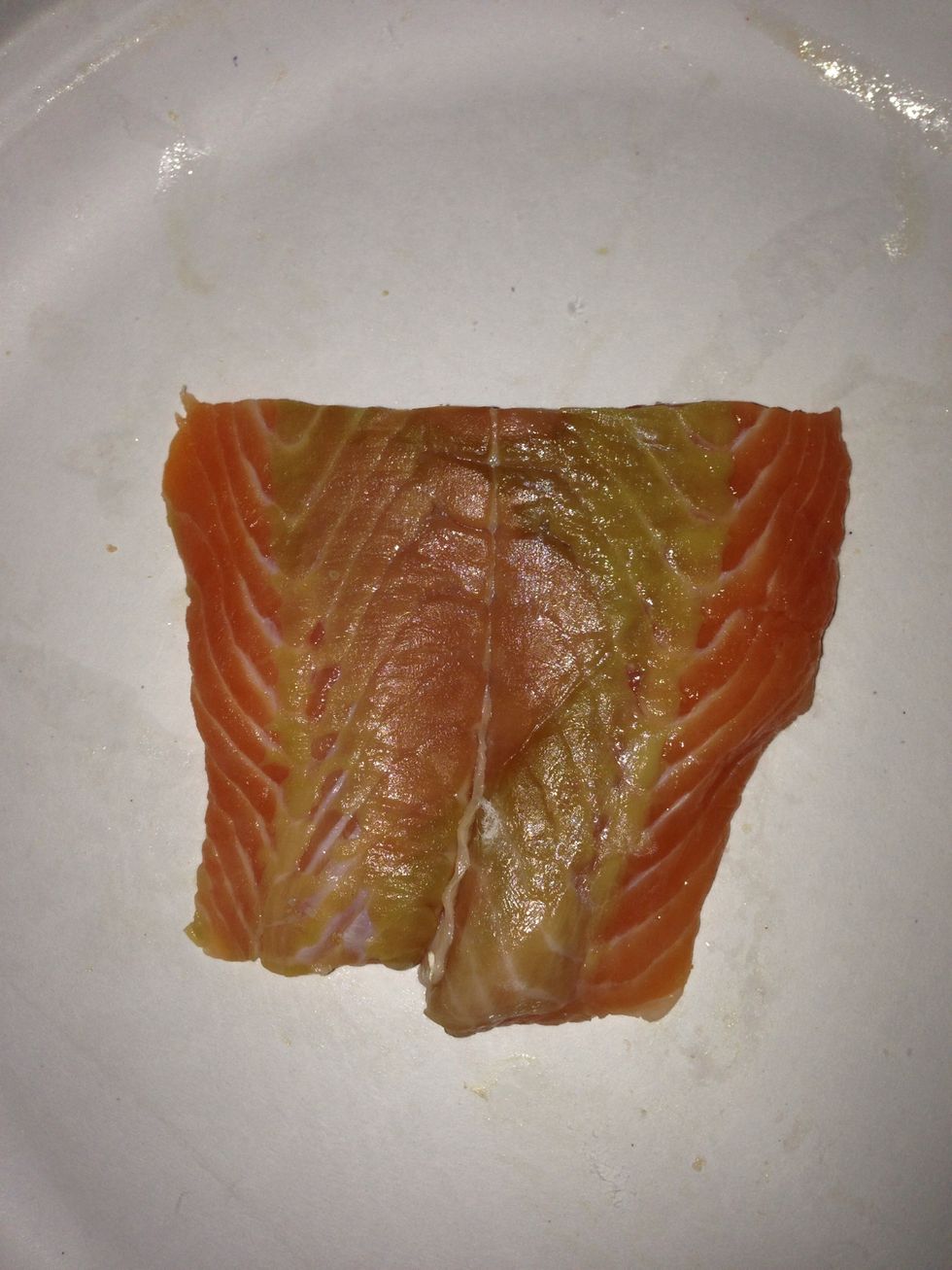 Note that you should put the fish "skin side down". If you don't have skin on your salmon, notice the differences so you get the right side down. This is where the skin was, see how it is darker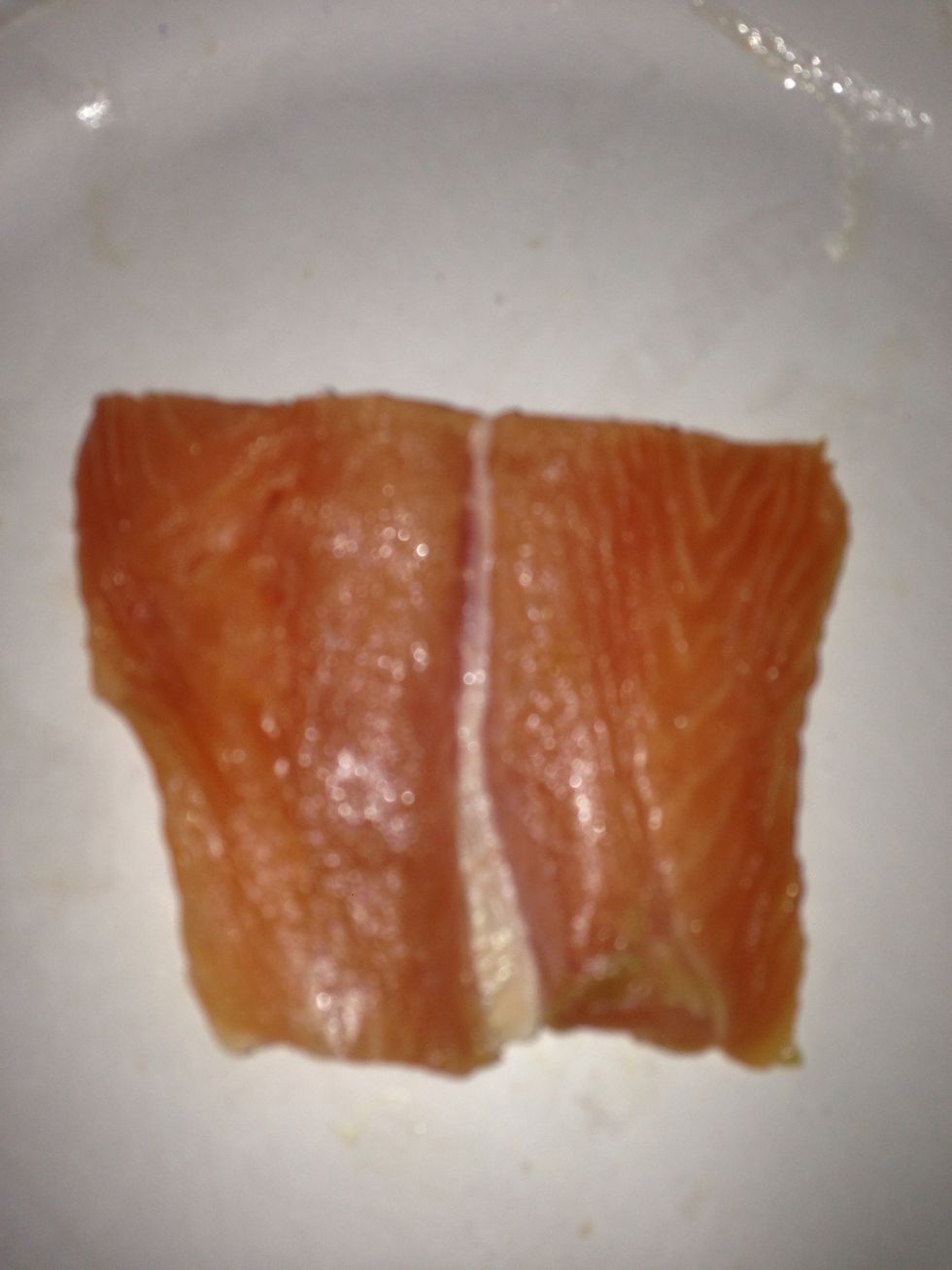 This is the same piece of salmon with the skin side down. See how it is more consistent in color.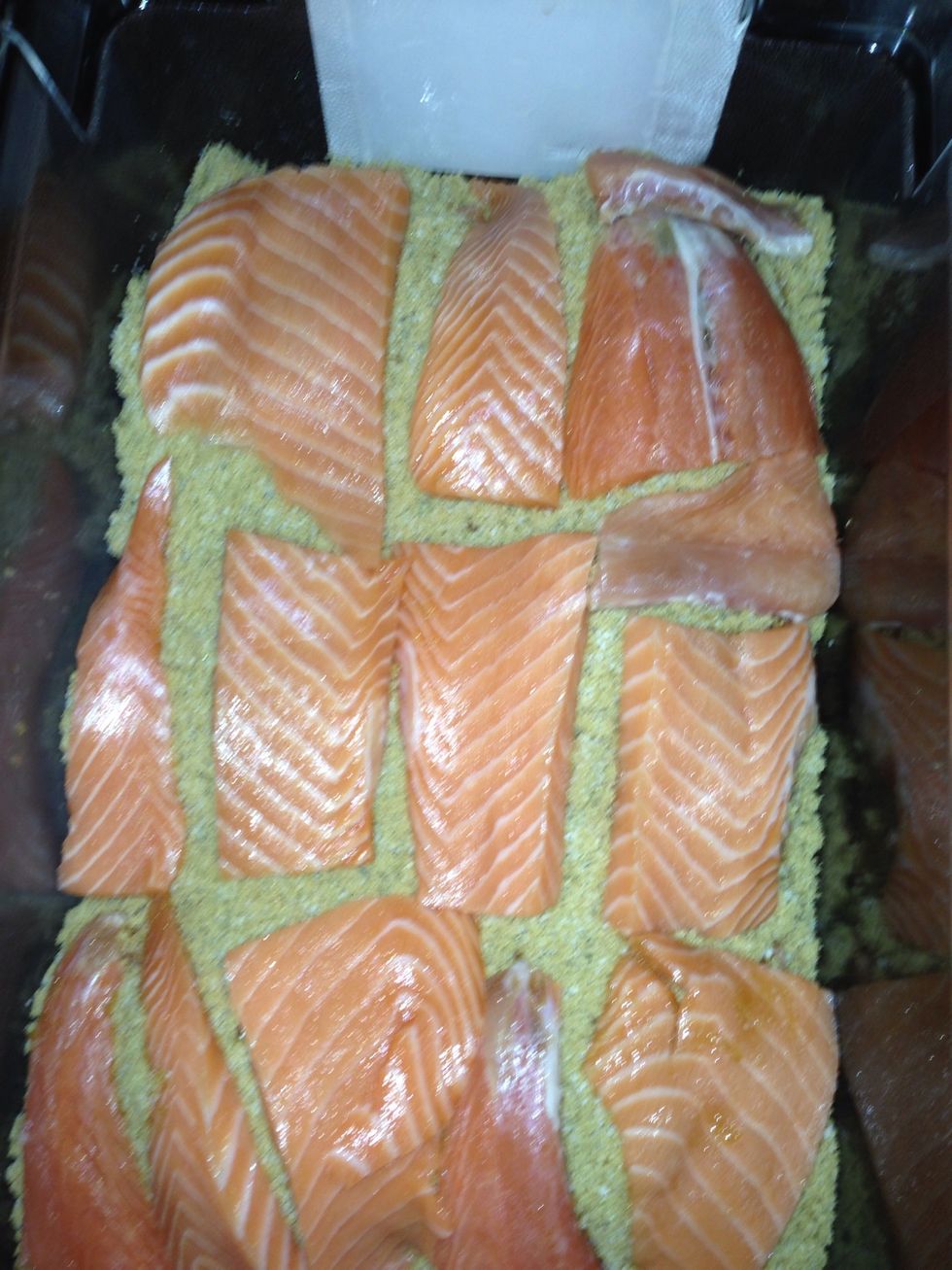 Remember your smaller, thinner pieces? Put them here on the very top layer after your more consistent pieces are already layered and covered.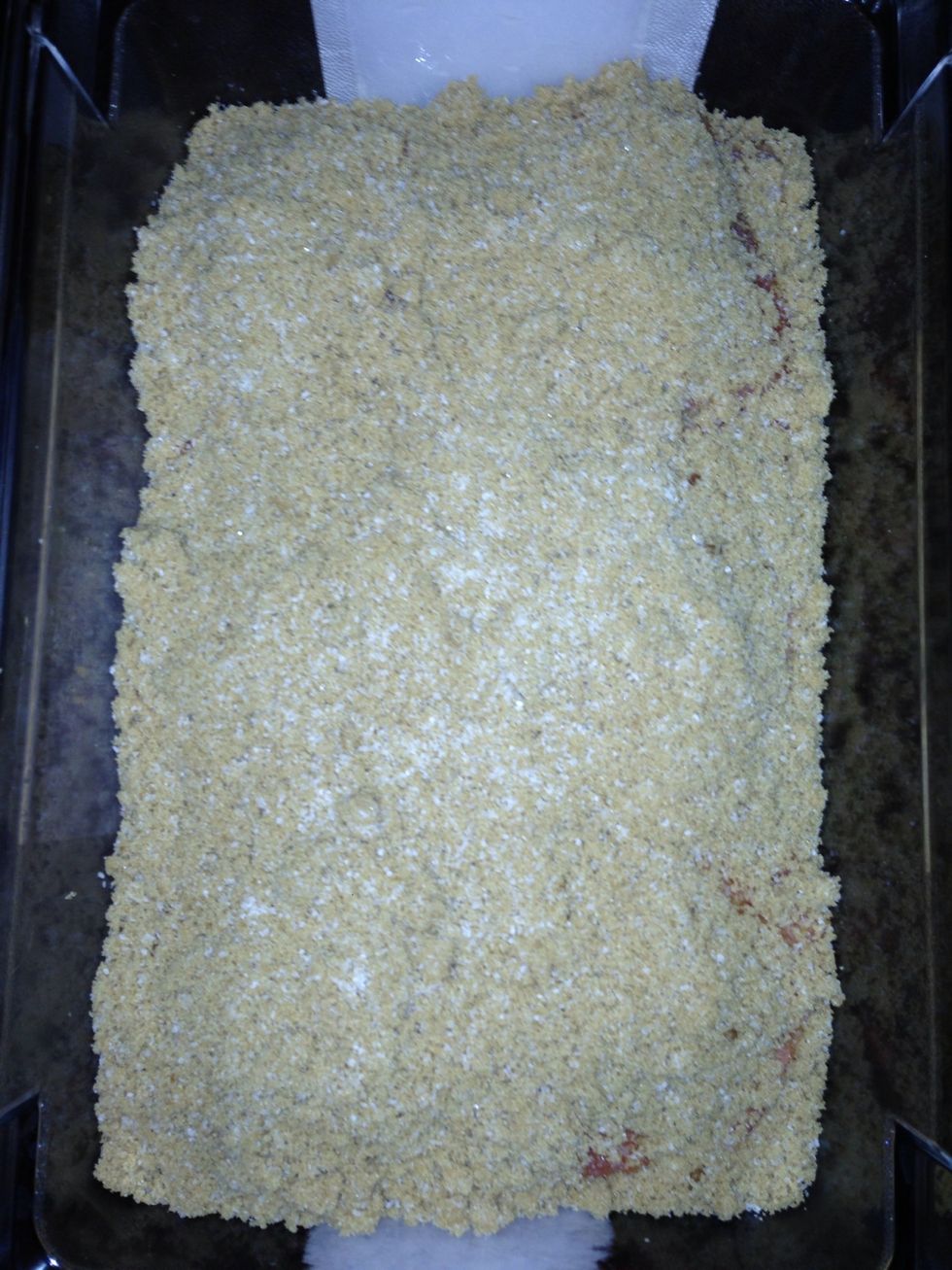 Top it off with the rest of the mix. It's ok if there is more on this layer than the rest.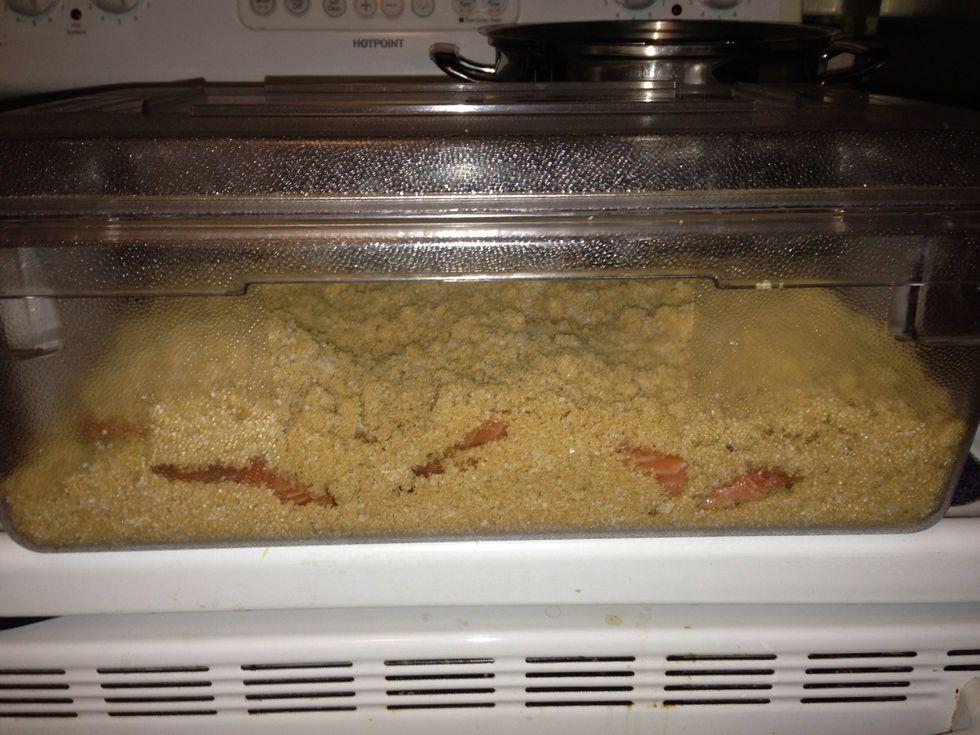 Side view of the salmon and brine mix. Put your filled container into the refrigerator and leave there at least 4 hours but I leave it in overnight (7 hours in this case).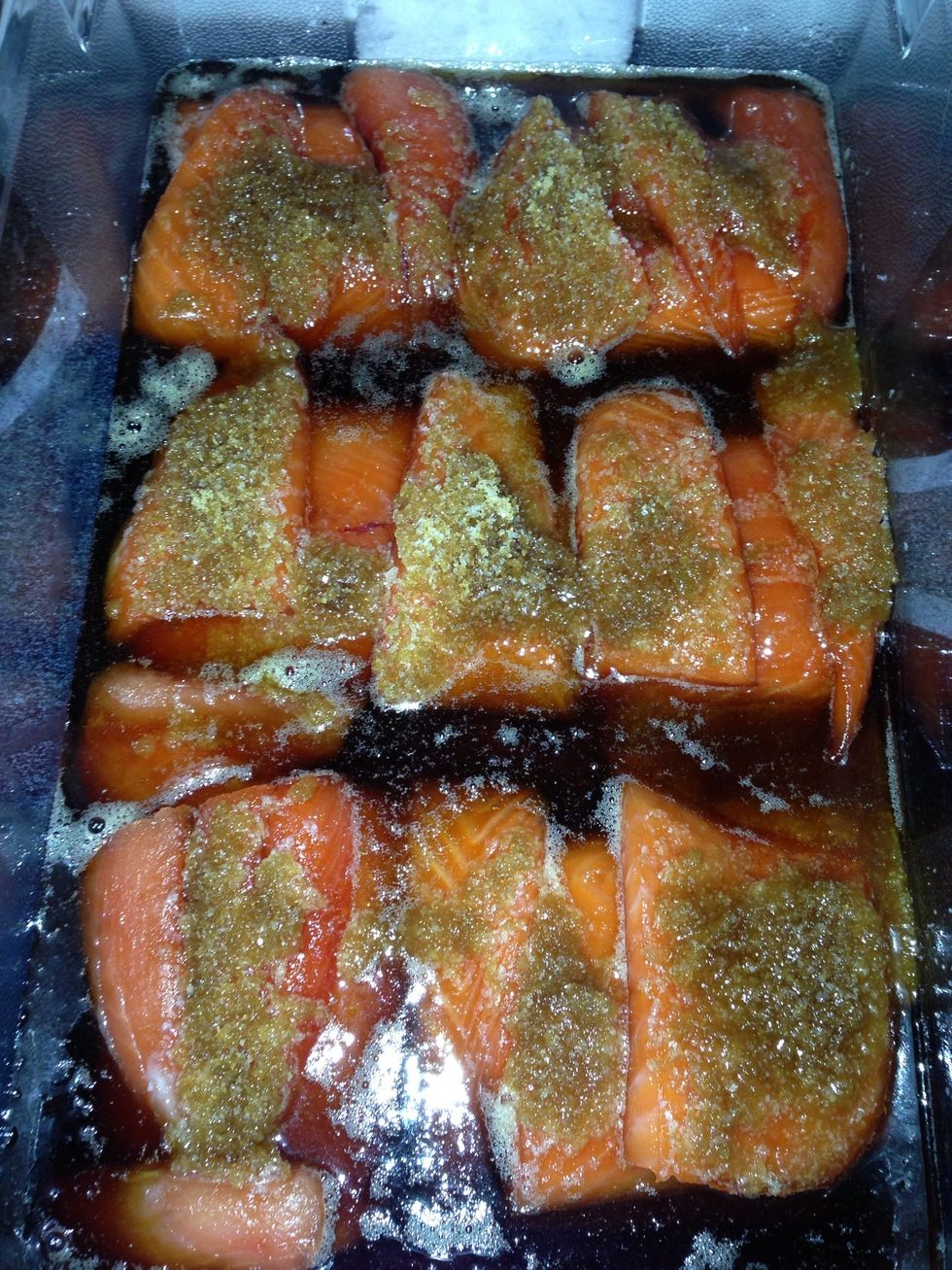 In the morning this is what you will see. Your lovely salmon swimming in a thick syrup which shows you how much liquid that brine mix pulled out of it.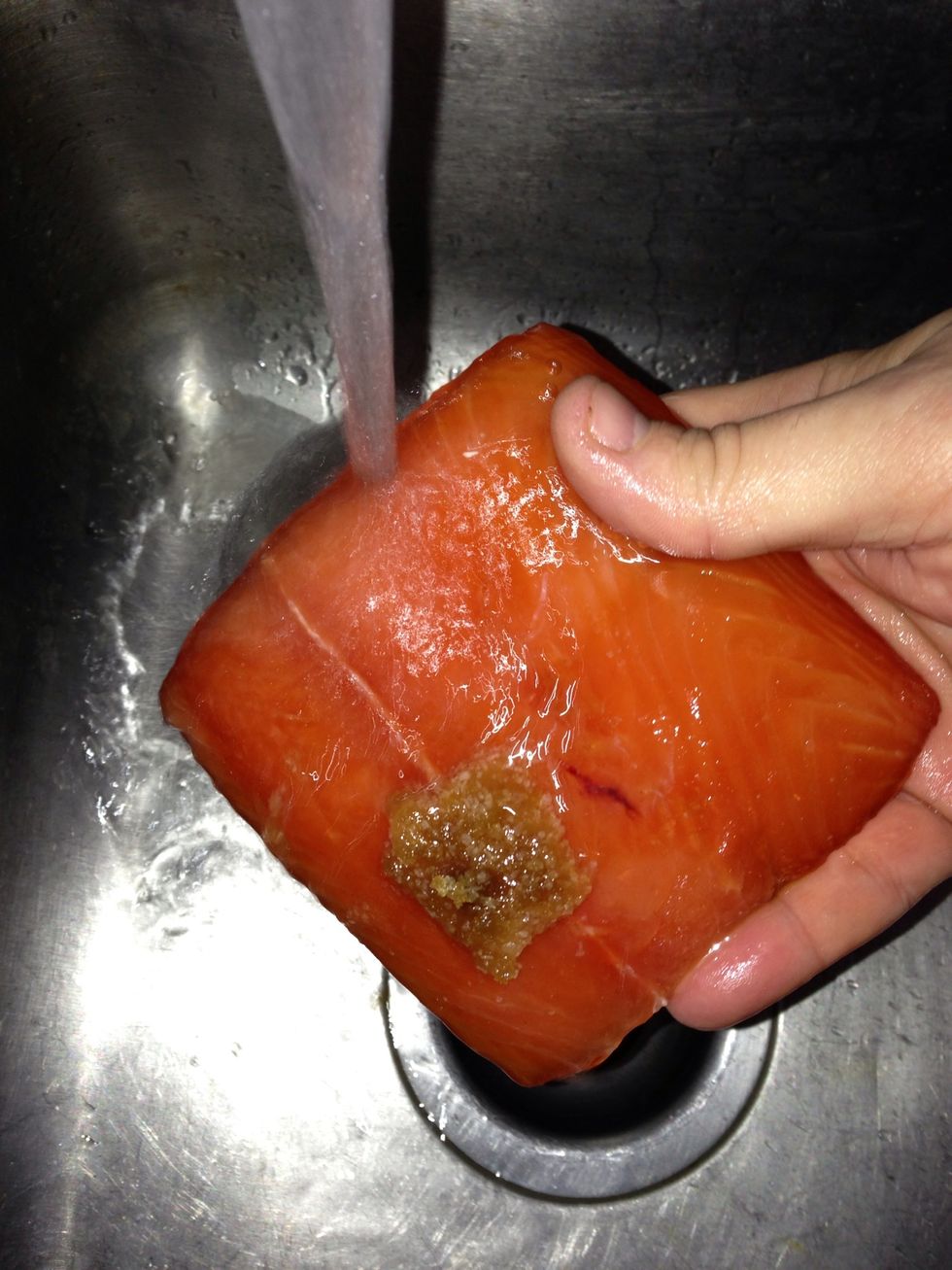 Bring the full container and a clean plate or platter over by the sink. Rinse the individual pieces carefully under cold water to remove all of the brine mix and liquid.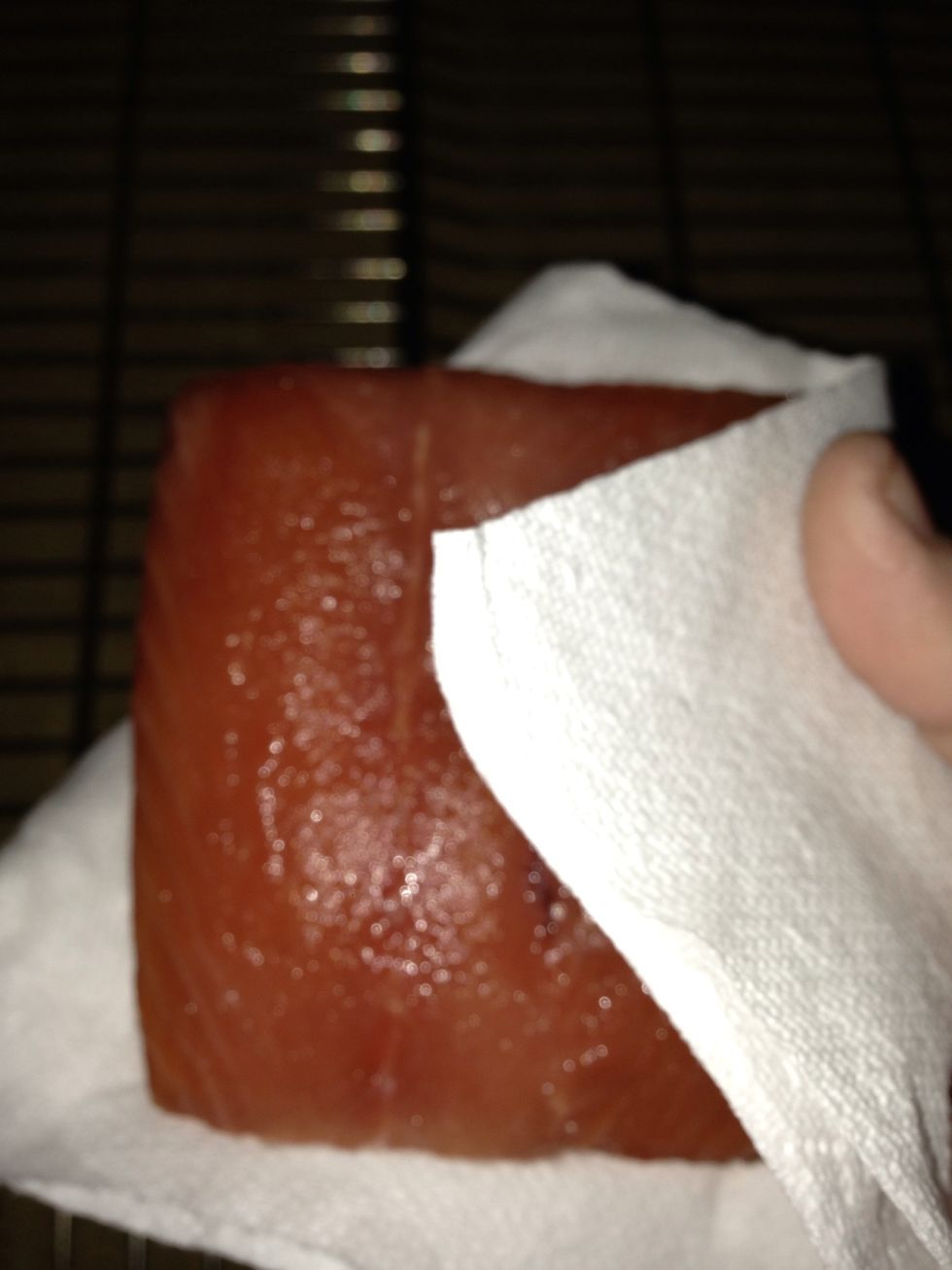 Pat each piece dry with a paper towel. Be careful not to squeeze them or break them. They are a lot firmer now but you don't want to break them apart.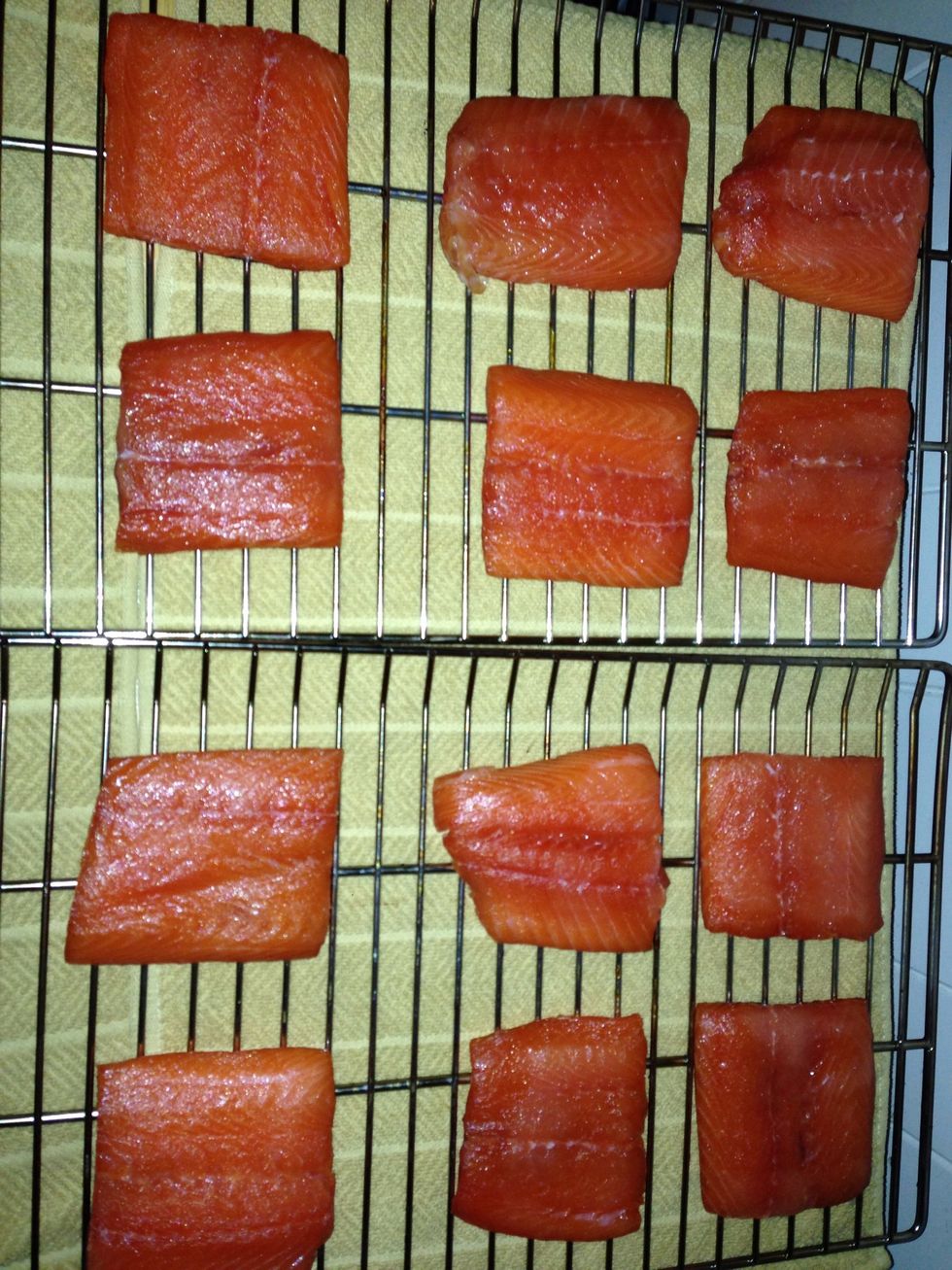 Air dry your fish for 2 - 4 hours, patting them now and then. You can help this process if you have a fan going nearby but it's not necessary. Let air get above and below them, using racks helps.
Your smaller pieces should also be handled the same way. These will be firmer than the larger pieces but not as presentable. These will be your own special treats and snacks when you are done!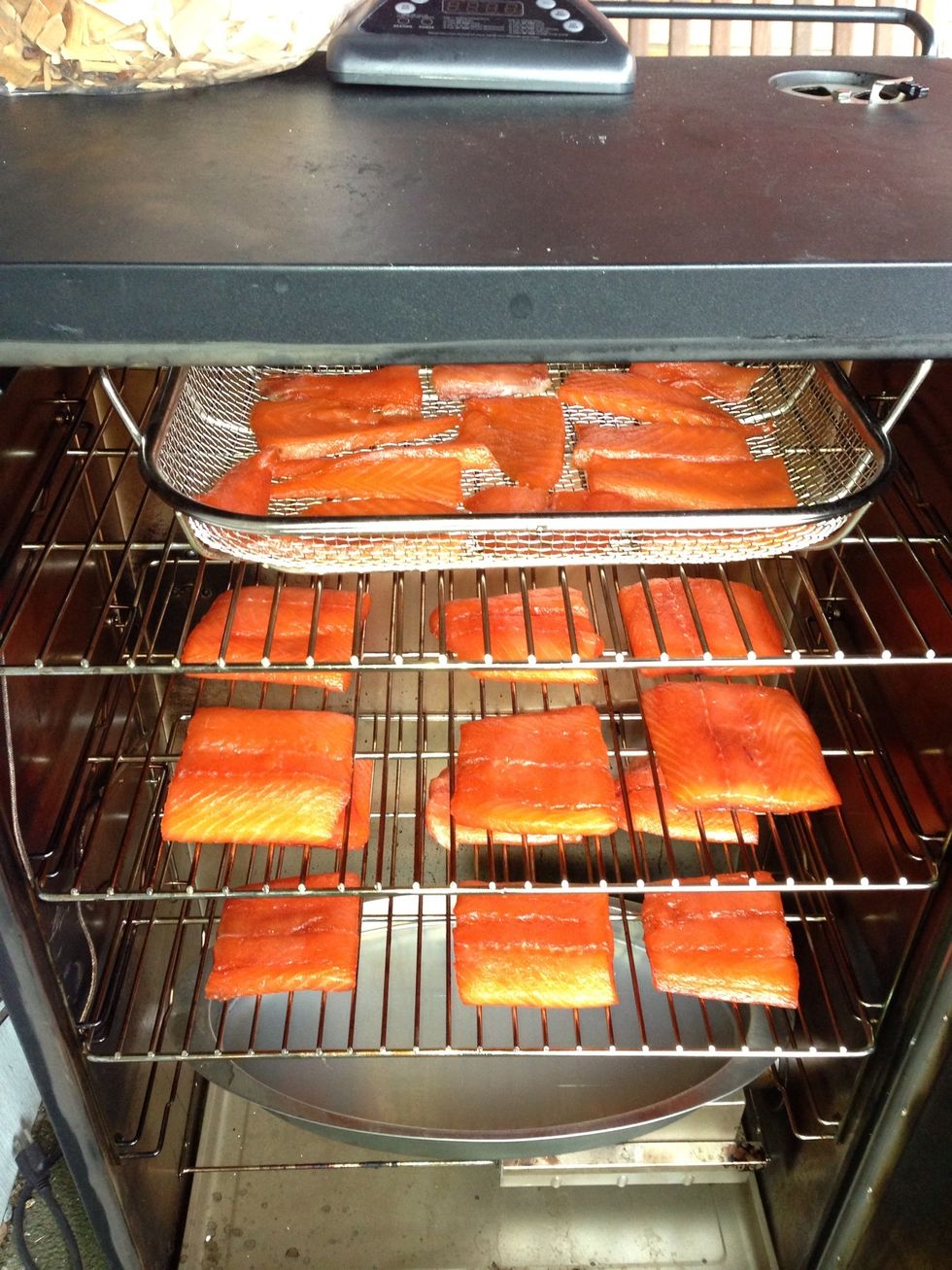 I'm using an electric smoker for this but you can do this in a grill if you know how to smoke with it. Larger pieces toward the bottom and the small ones on the very top.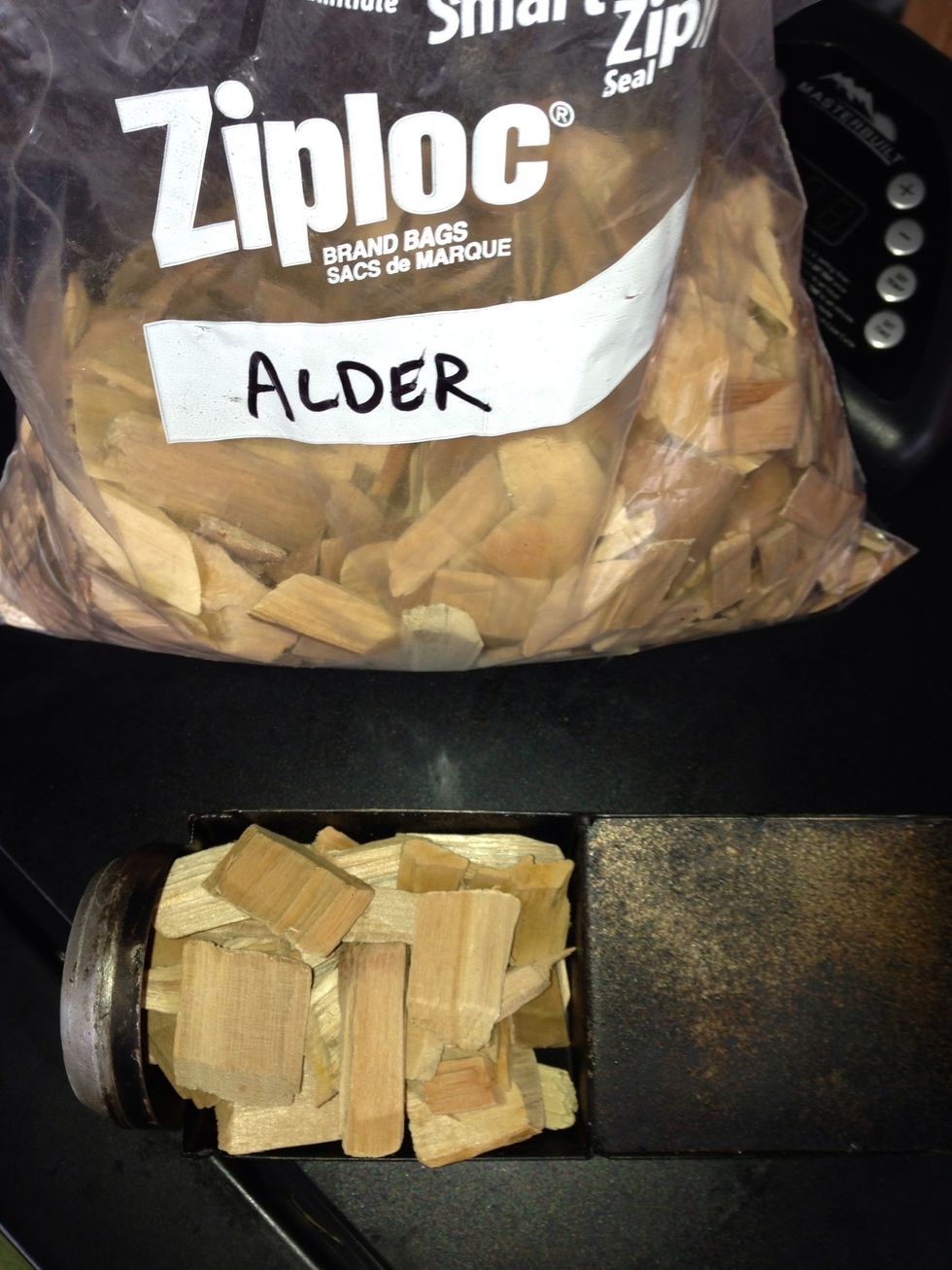 I use alder wood only for salmon. It's a lighter wood but penetrates well.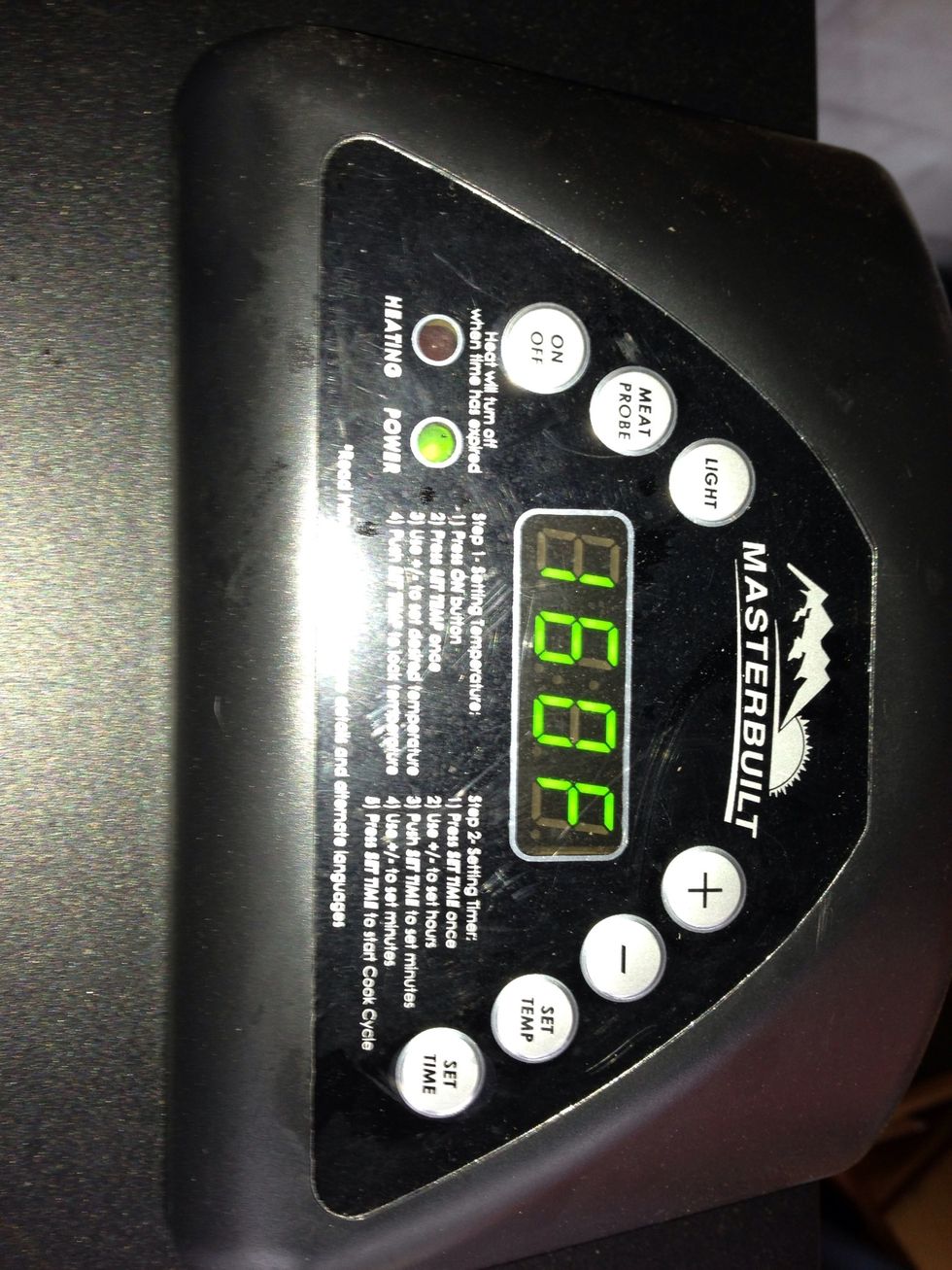 Smoke at 160F until the inner temperature of the fish reaches 145 degrees. This batch took 4.5 hours and I restocked the wood 2 times (3 small handfuls total).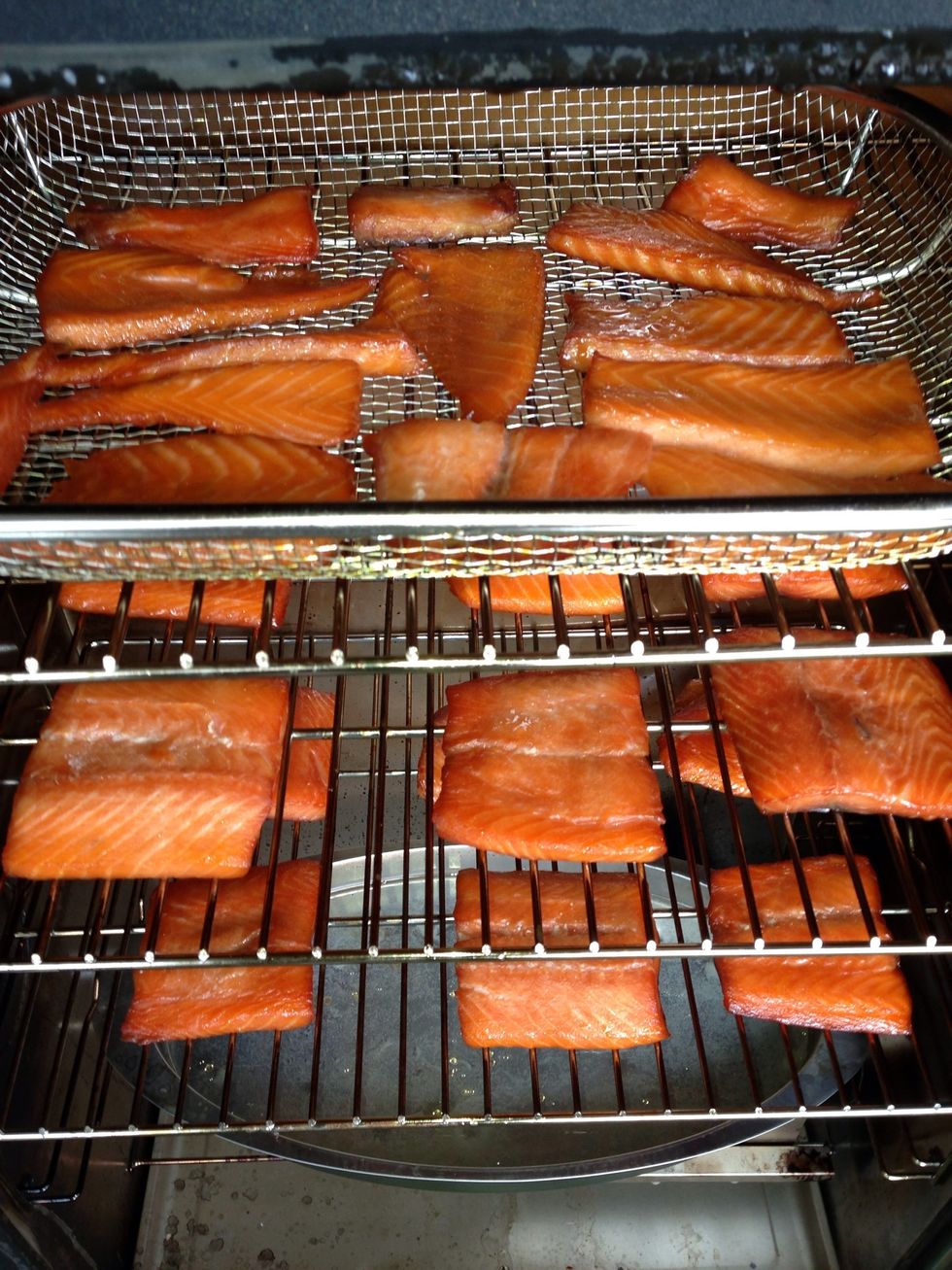 You may want to pat down the salmon once or twice during the smoking as a white film or liquid can form on the tops. This is the finished product. The small pieces are dryer, closer to jerky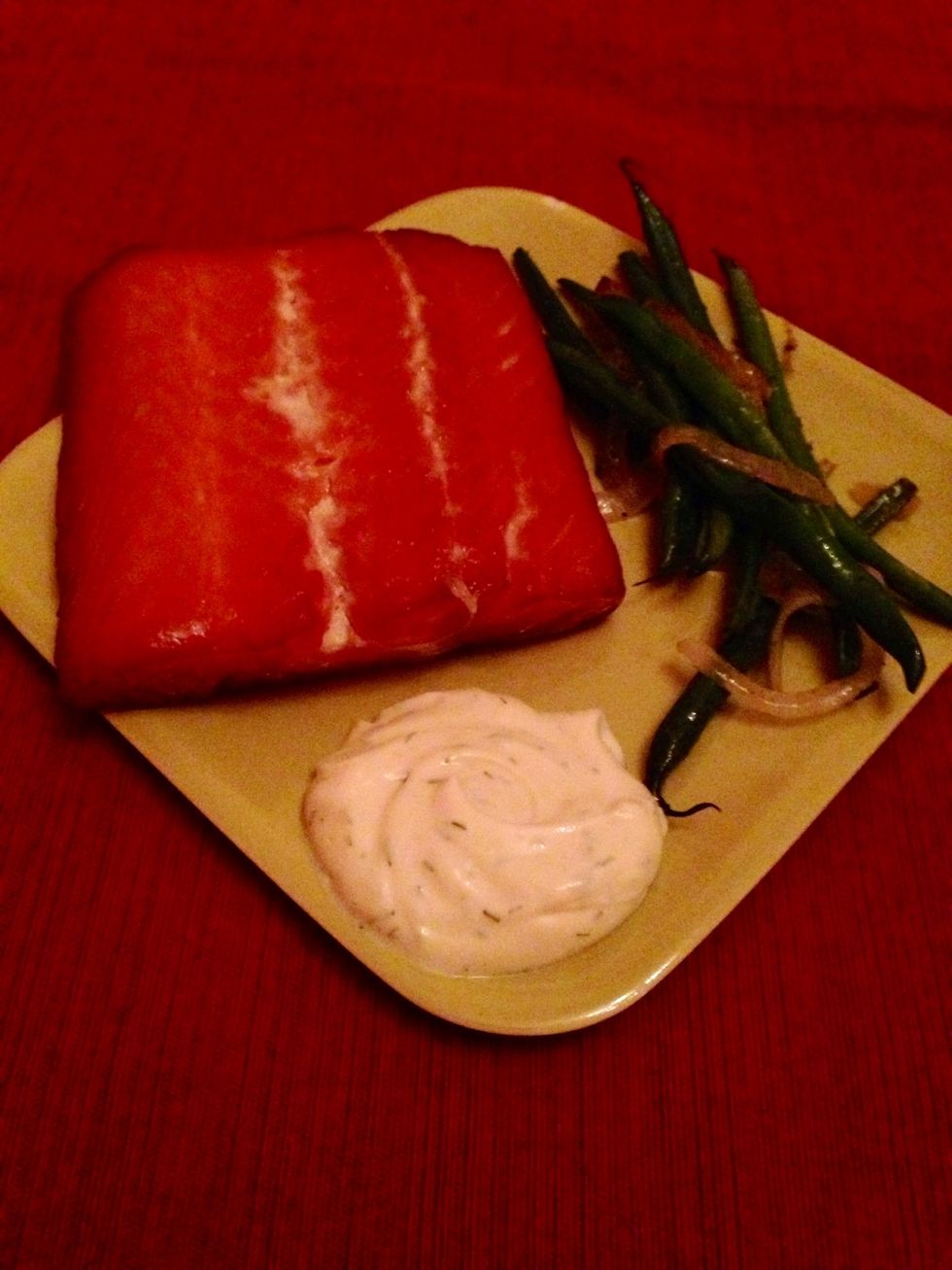 Served with roasted green beans and onion, and a mix of olive oil mayonnaise, Dijon mustard and fresh dill. Very tasty! Bag up the small pieces and refrigerate to snack on later.
Salmon, fresh
Brown sugar (dark or light)
Kosher salt, coarse
Wood for smoking (alder wood)
Don Cook
I love to grill and smoke food. Meat, veggies, everything. I grill all year. Follow me, I plan on putting up a lot of guides of how to make great food!