How to play with colorations spray and household items
Play With Colorations Spray and Household Items
1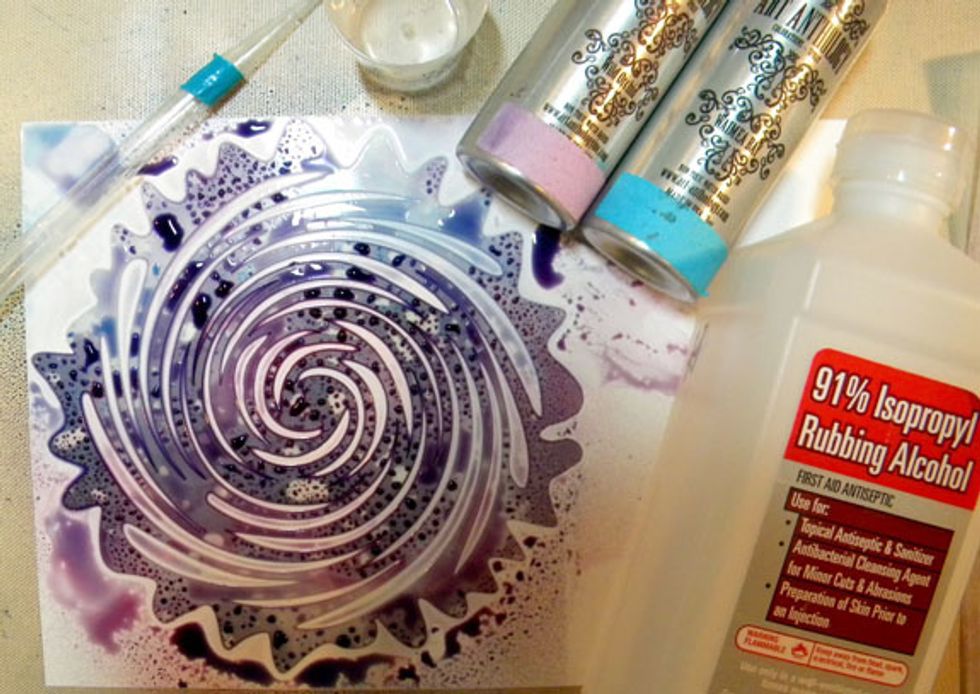 Lay down a stencil and liberally spray Colorations Spray in 2 colors. While wet, apply alcohol using a dropper or spray bottle onto the surface. Let dry completely with the stencil in place.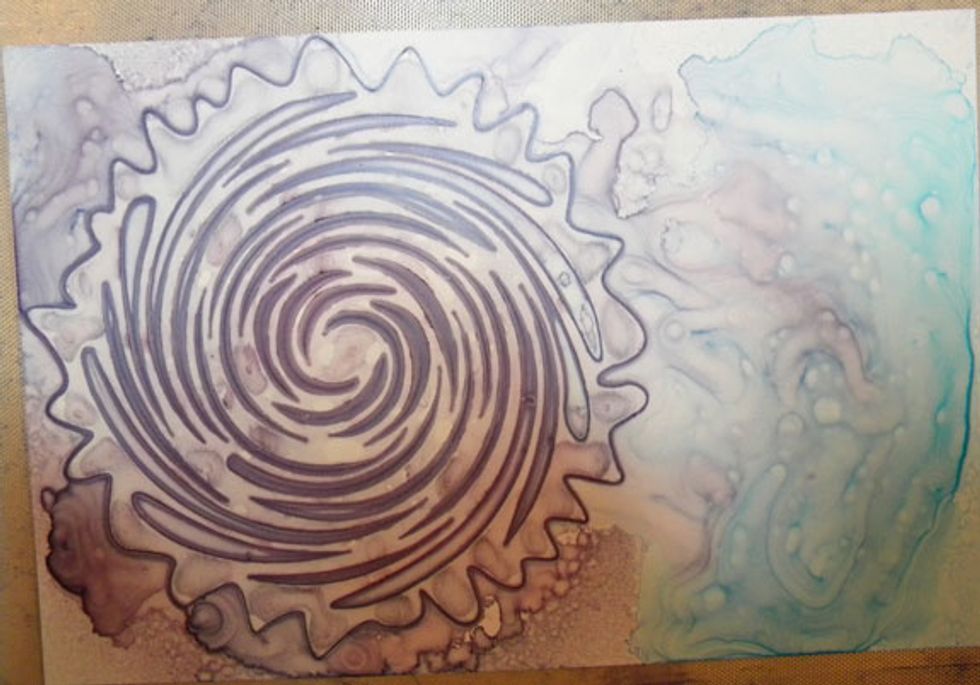 Here is the result when dried. Where the alcohol landed, the spray resisted it and left dots and white areas. I realized that to really see the effects, I shouldn't use a stencil.
So for the next one, I sprayed Colorations Spray and hydrogen peroxide without using any stencil and let it pool and do what it wanted. Then I let it air dry completely. I got tiny dots this time.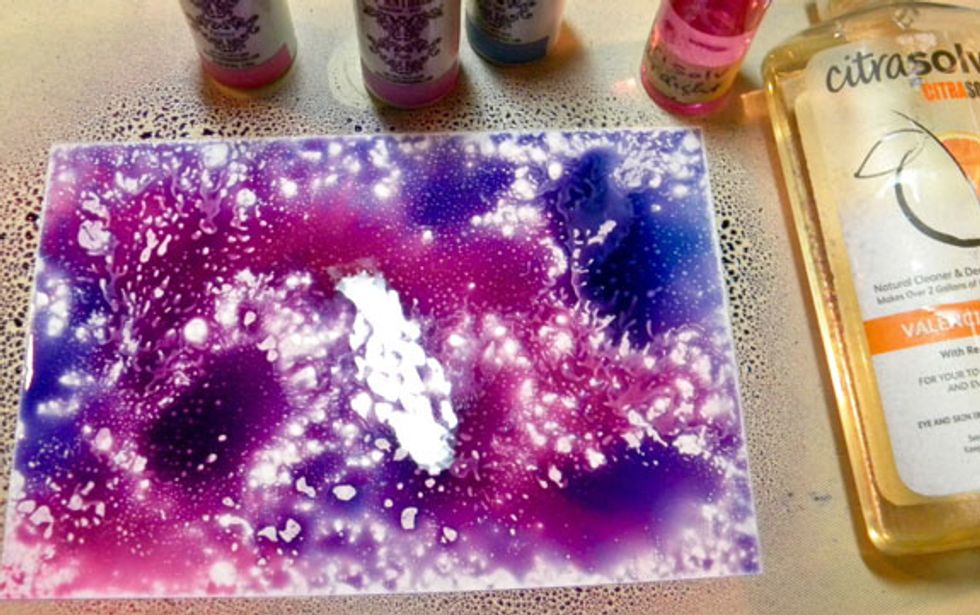 Citrasolv is a natural cleaner made from oranges. I added it to a spray bottle at full strength and sprayed it onto the wet Colorations sprays.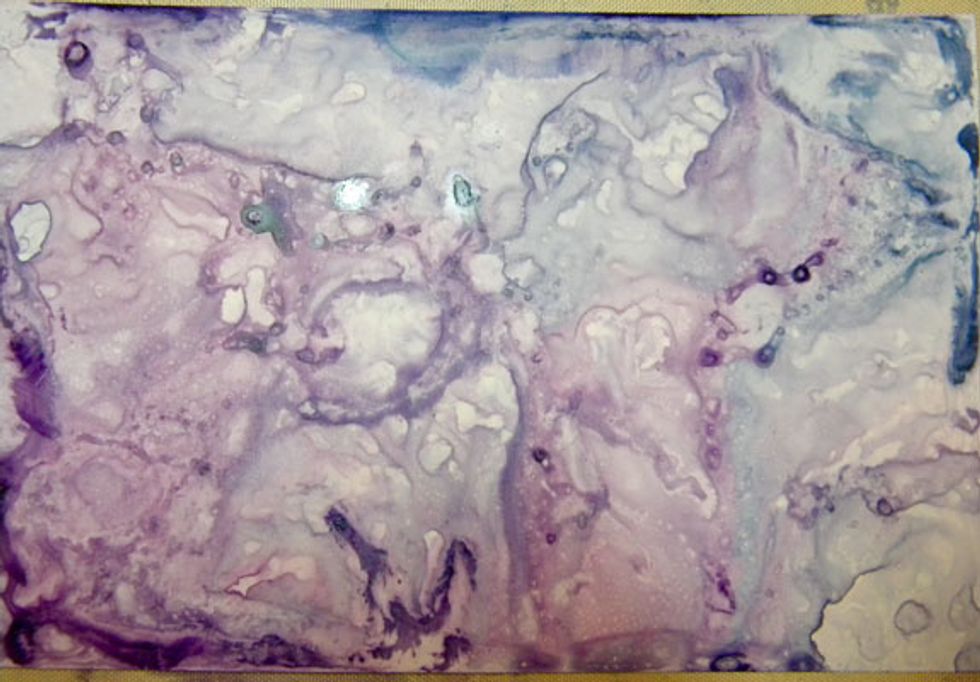 I let it pool on Yupo without moving it and let it air dry naturally. It had a similar reaction to the alcohol but smelled better! Do an online search and see what else you can do with Citrasolv.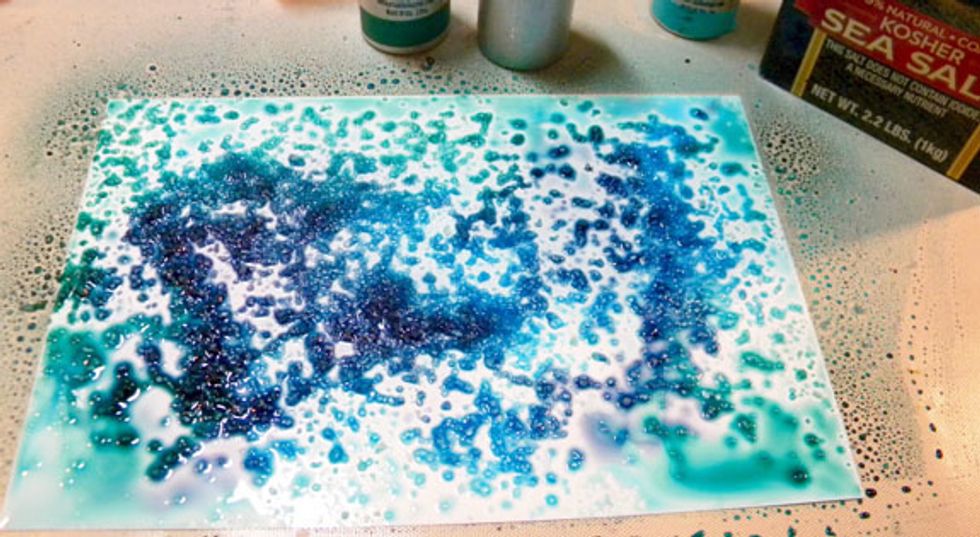 Next I added course sea salt to Yupo then sprayed 2 or 3 Colorations sprays on top. I let it sit and completely air dry before removing the salt crystals.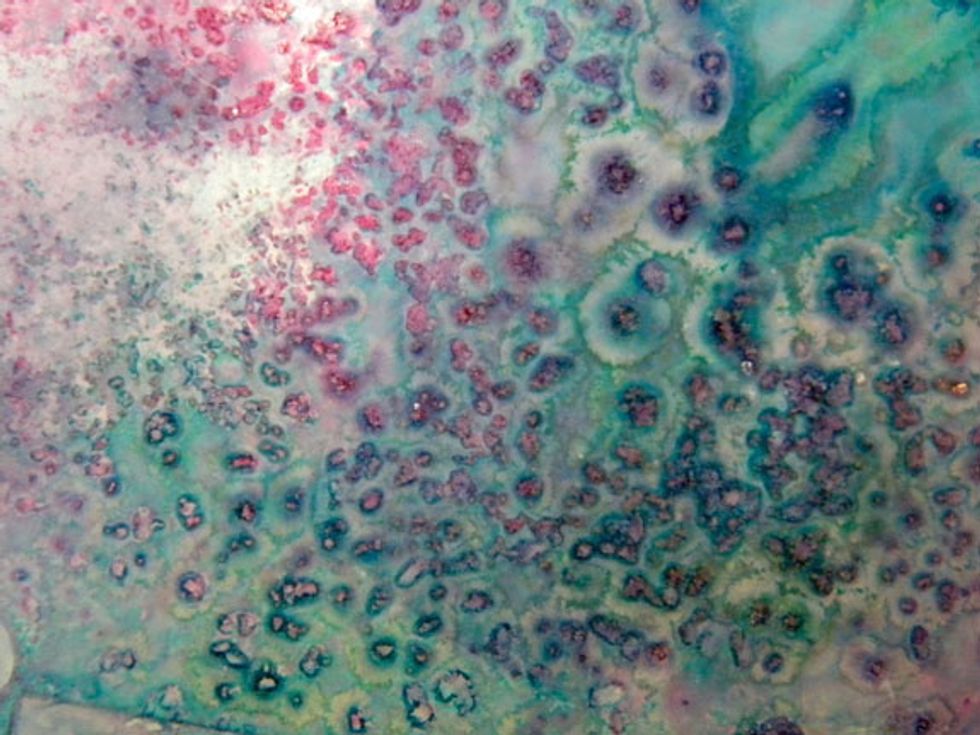 What a beautiful result I got when I removed the salt! I love how it absorbed some of the colors and other pooled around it. Very cool!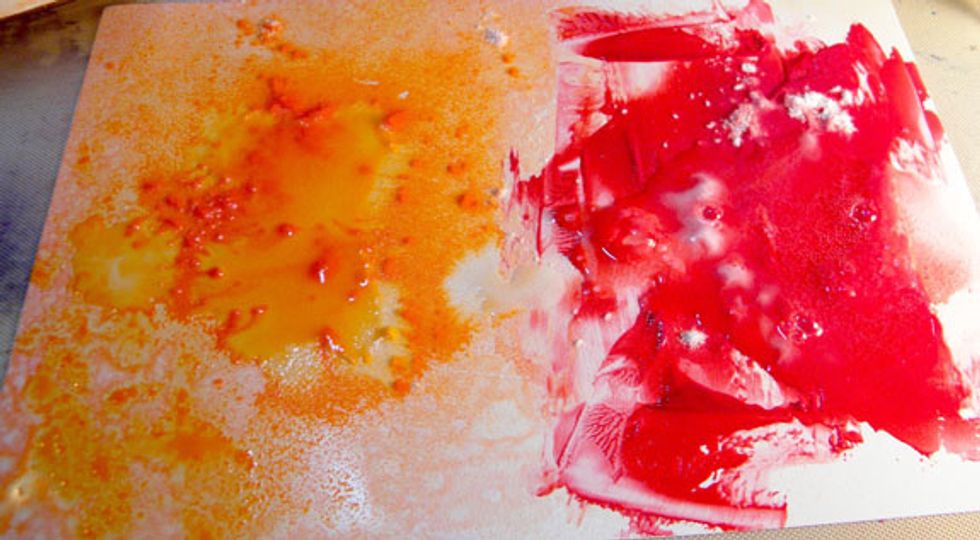 Next, I sprayed Colorations spray on one side and Velvet paint on the other. Then I added baking soda and vinegar, and let it foam up. This is the only time I used paints in this experiment.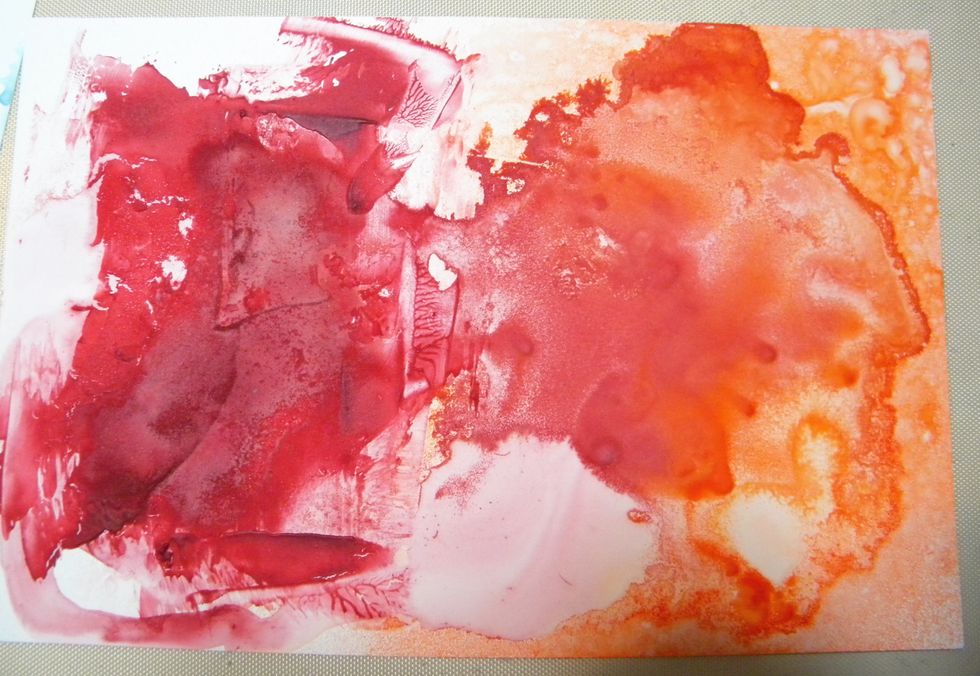 After it dried, both sides had a matte finish and was very gritty. I really love how it made the paint look chalky. It also was easy to chip off so I sprayed it with Krylon Crystal Clear varnish.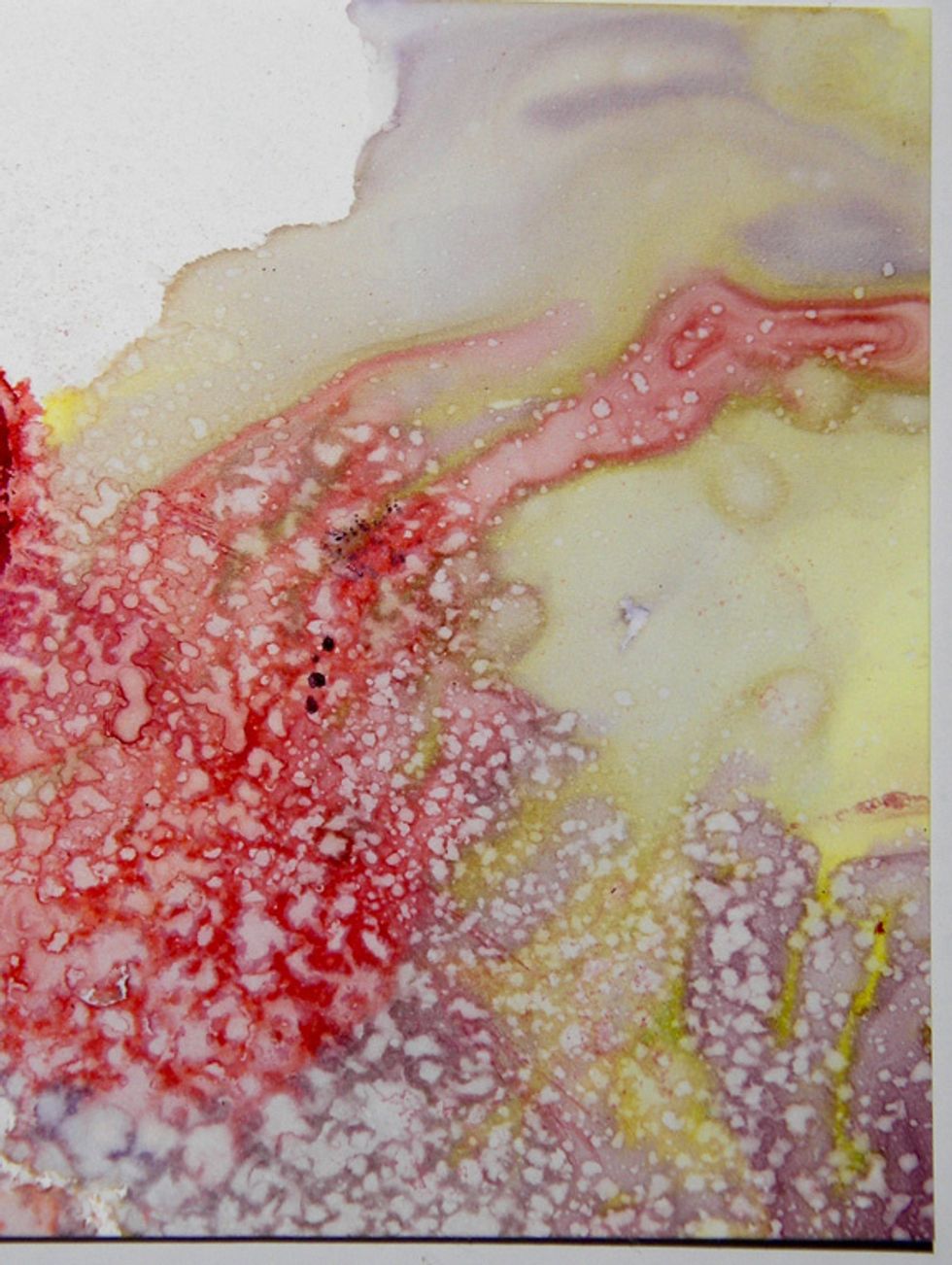 The last experiment was using water. I spritzed water onto already dried spray. I love the way it reacted on the Yupo paper.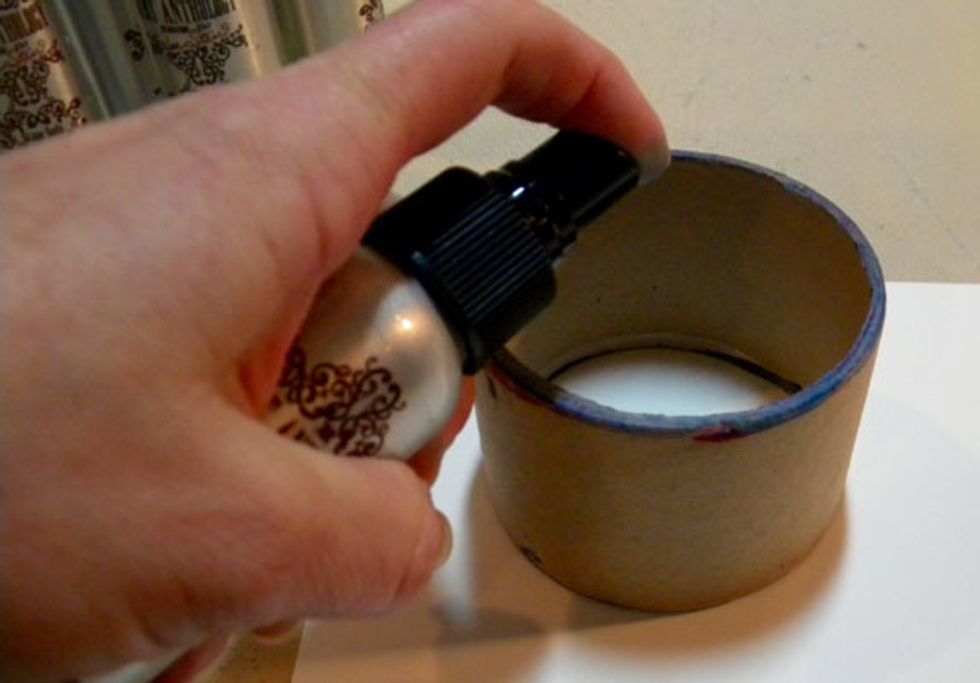 I tried a few other techniques during my play session that I will share with you. To make a circle using spray, use an old tape roll and sprayed into it, then removed the roll.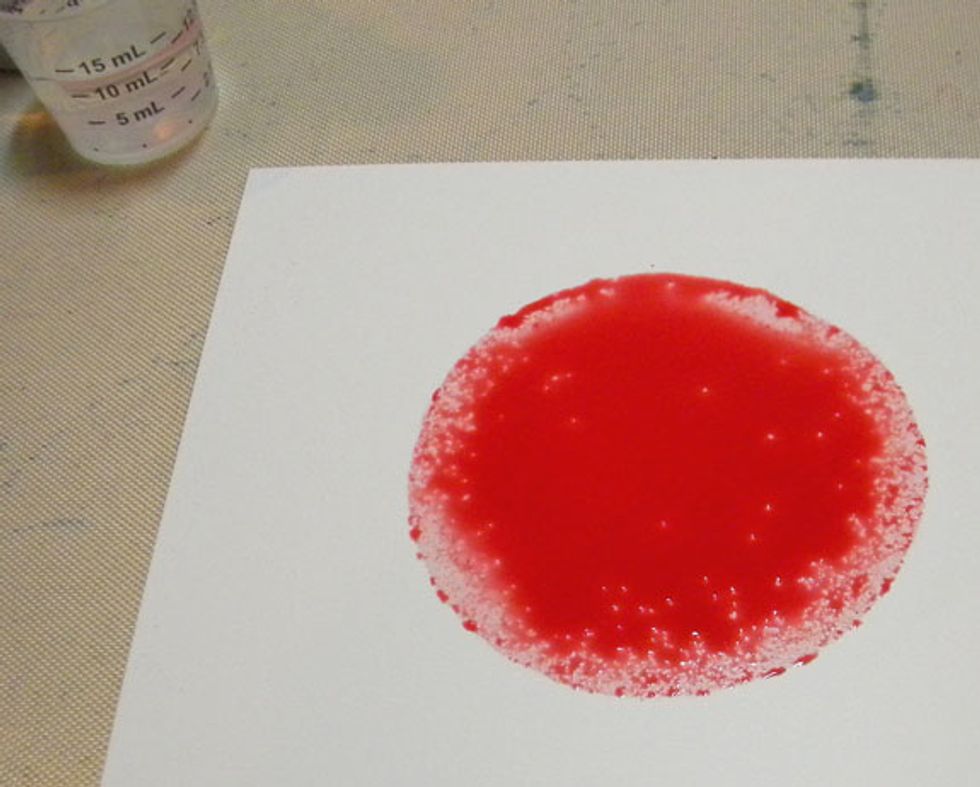 How cool is that?!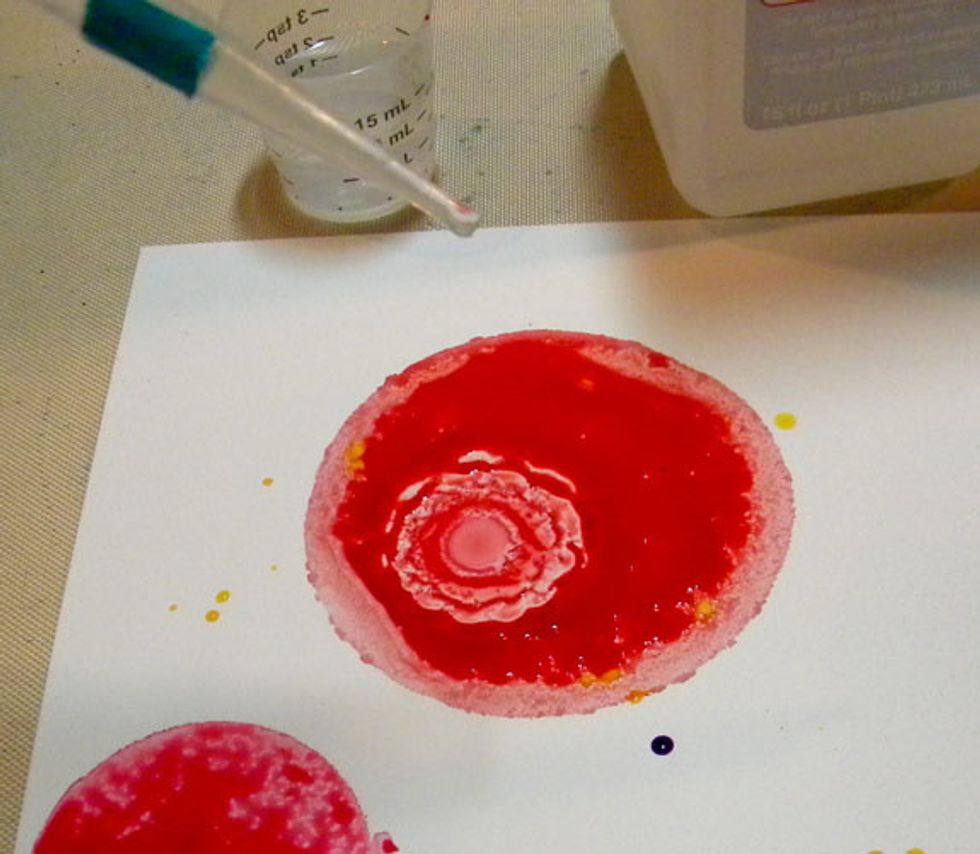 Then I added alcohol using a dropper. I was trying to achieve a certain look but it didn't come out as expected. For one thing, the colors did not hold their vibrancy using Yupo paper.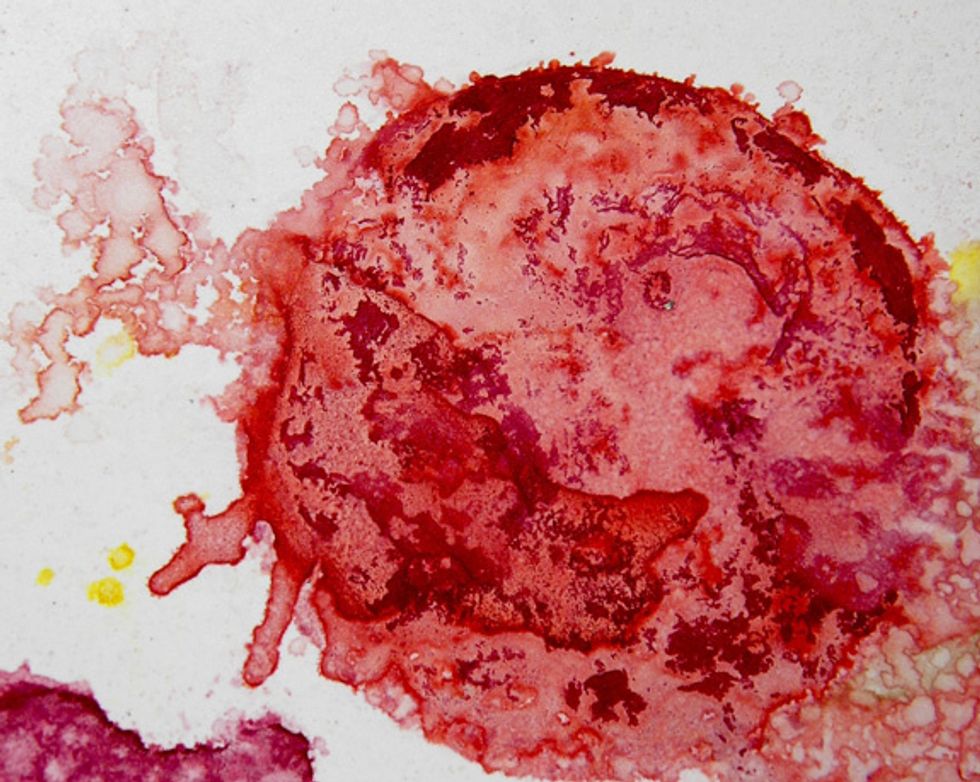 And because there was so much liquid, the circle didn't keep it's shape. But I like the outcome anyway. When experimenting, you have to have an open mind and not have too many expectations.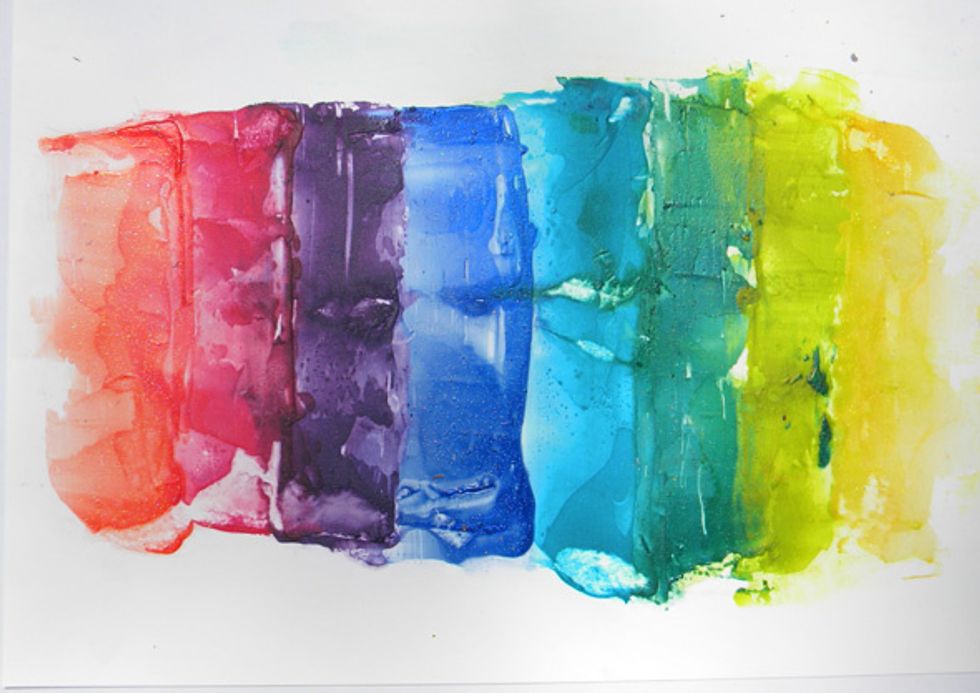 The reason I decided to use only Colorations Sprays is because I painted different colors of paint onto the paper then sprayed alcohol onto it before it dried. And nothing happened.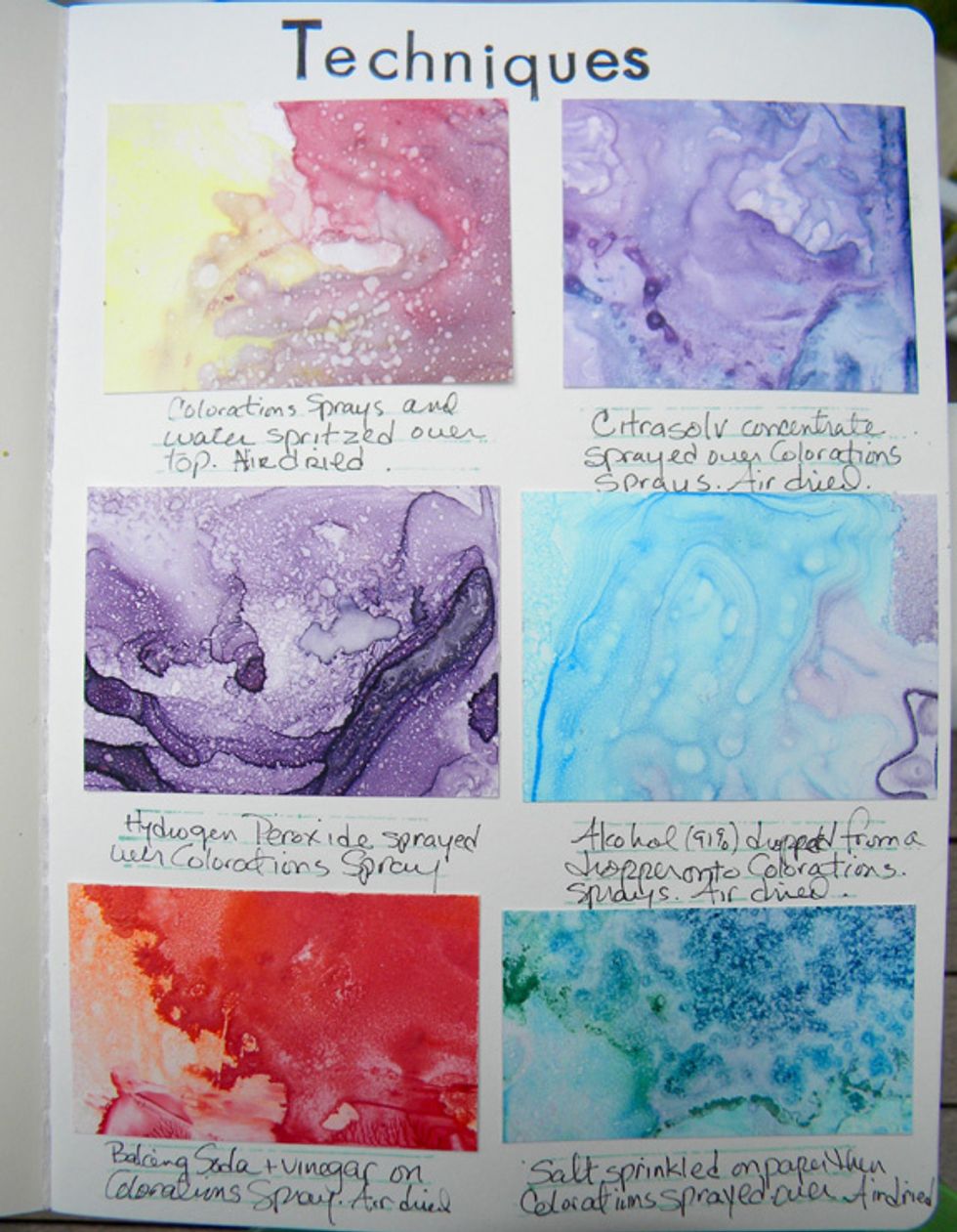 When I was done, I cut out rectangles and added them to my Art Anthology journal with a description of each technique.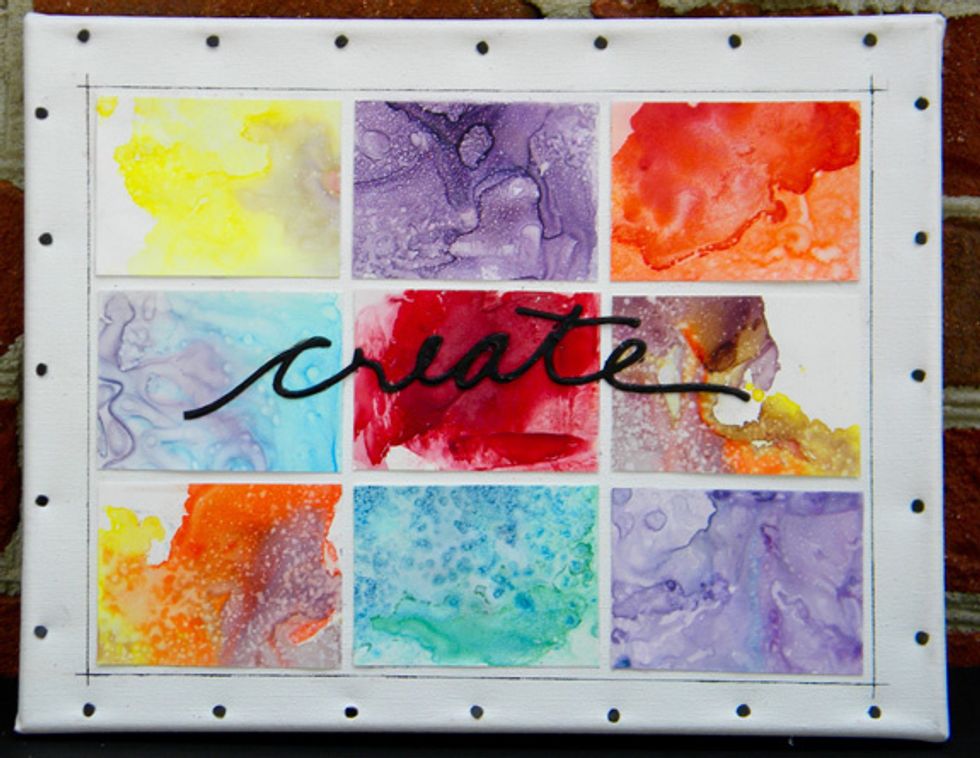 Then I created this canvas as a reminder to have fun and experiment even when things don't work out as planned.
Colorations Sprays in your favorite colors
Yupo Paper
Dropper and Spray Bottles
Alcohol, 91%
Hydrogen Peroxide
Citrasolv Concentrated Cleaner
Baking Soda and Vinegar
Sea, Course
Water in Spray Bottle
Art Anthology
Art Anthology is a manufacturer of dimensional mediums.\n\nCome chat with us in our Facebook Group: Art Anthology Adventures in Art