How to play backgammon
Backgammon is one of the oldest board games for two players. The playing pieces are moved according to the roll of dice, and players win by removing all of their pieces from the board
109
Place the pieces as shown on the next slide. This is the starting position.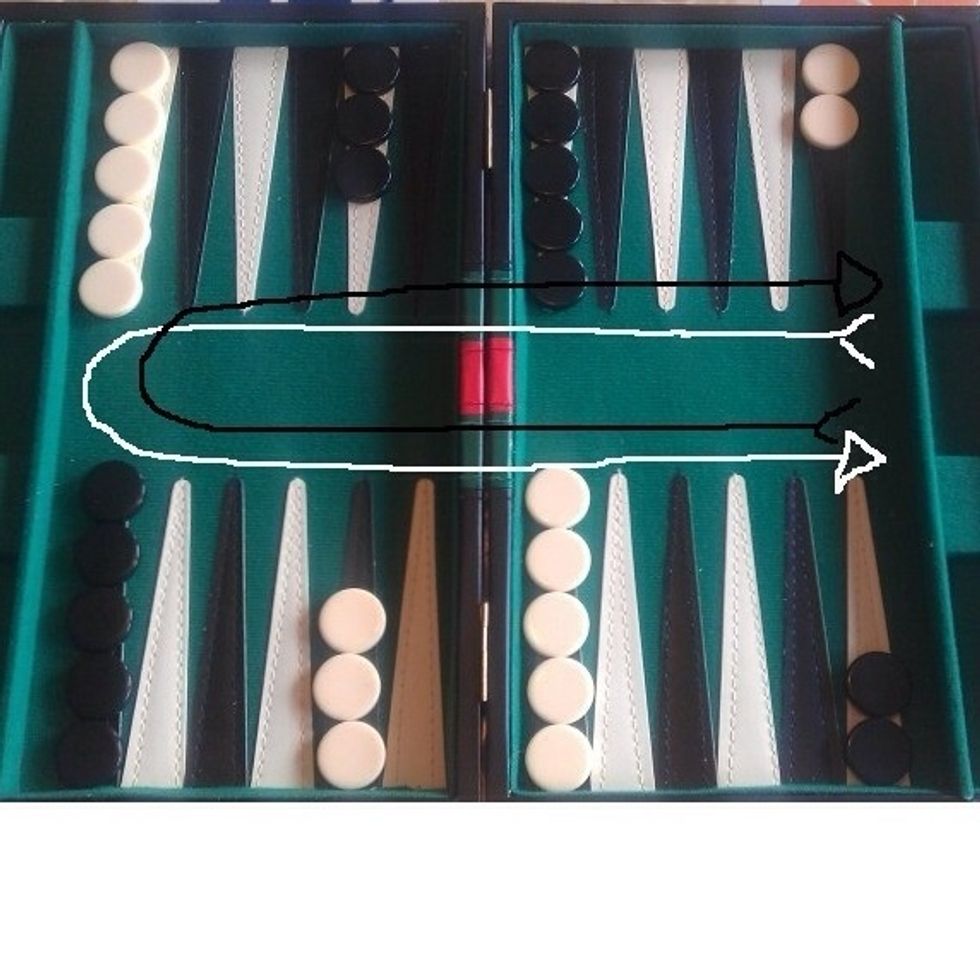 Lower right quadrant is White's home. Upper right is Black's. The goal is to move all the men home and out of the board. Move the men in the direction of the arrows. That is, in opposite directions.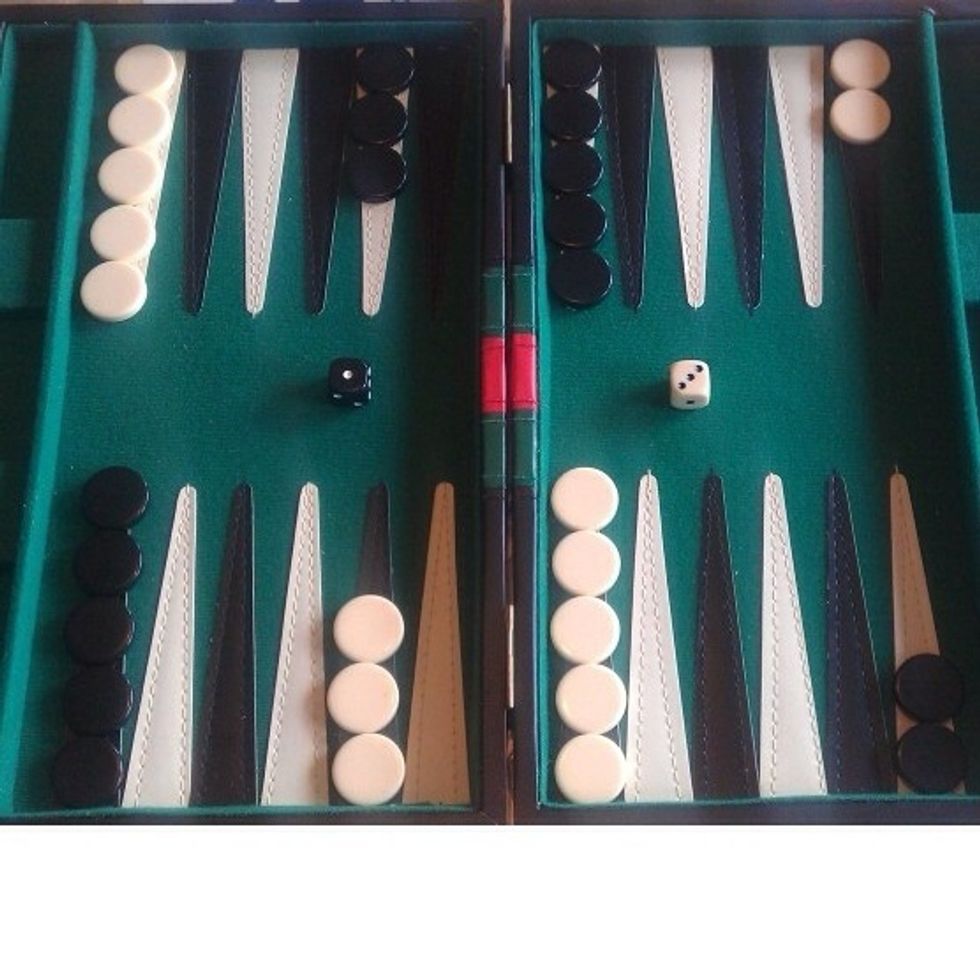 The game starts with both players rolling one die. The winner starts with those as his first throw. Here white wins the opening roll and starts by moving 1-3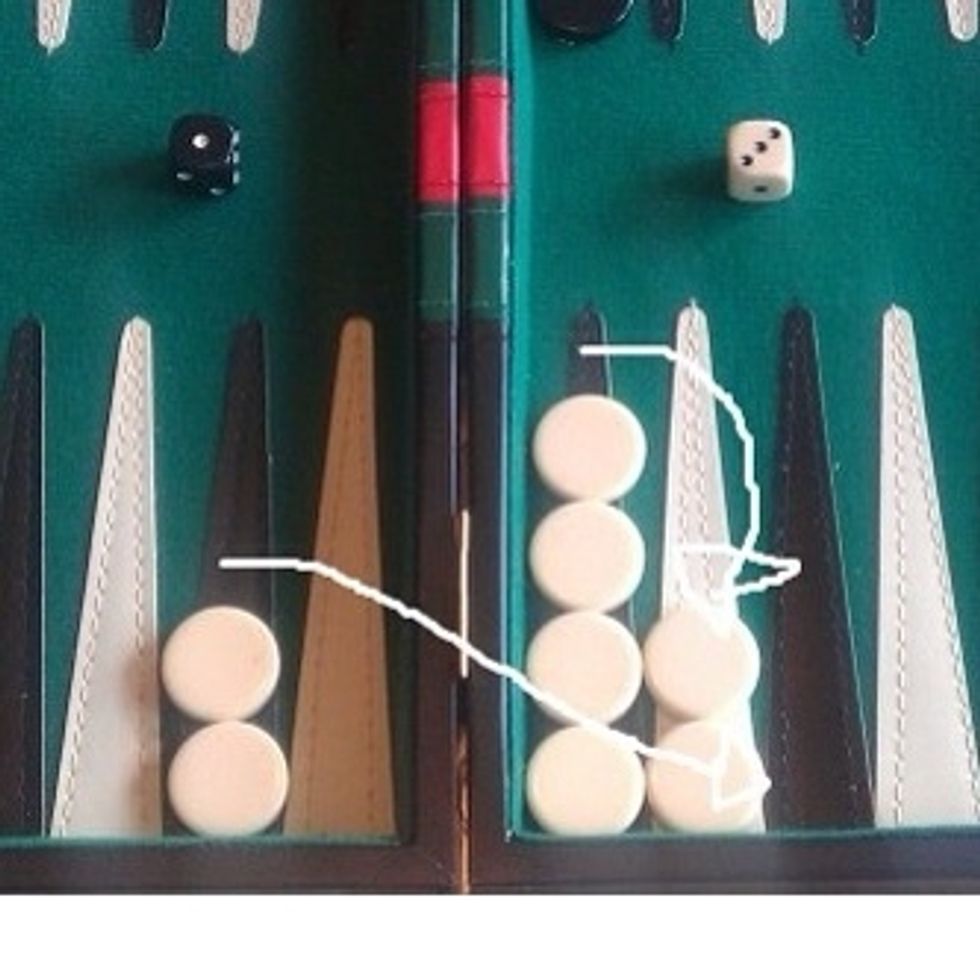 He moves one piece 3 and another piece 1 to form a new "point" in his home area. A point can not be hit. Only when a piece is alone, can it be hit. A piece that is single is called a blot.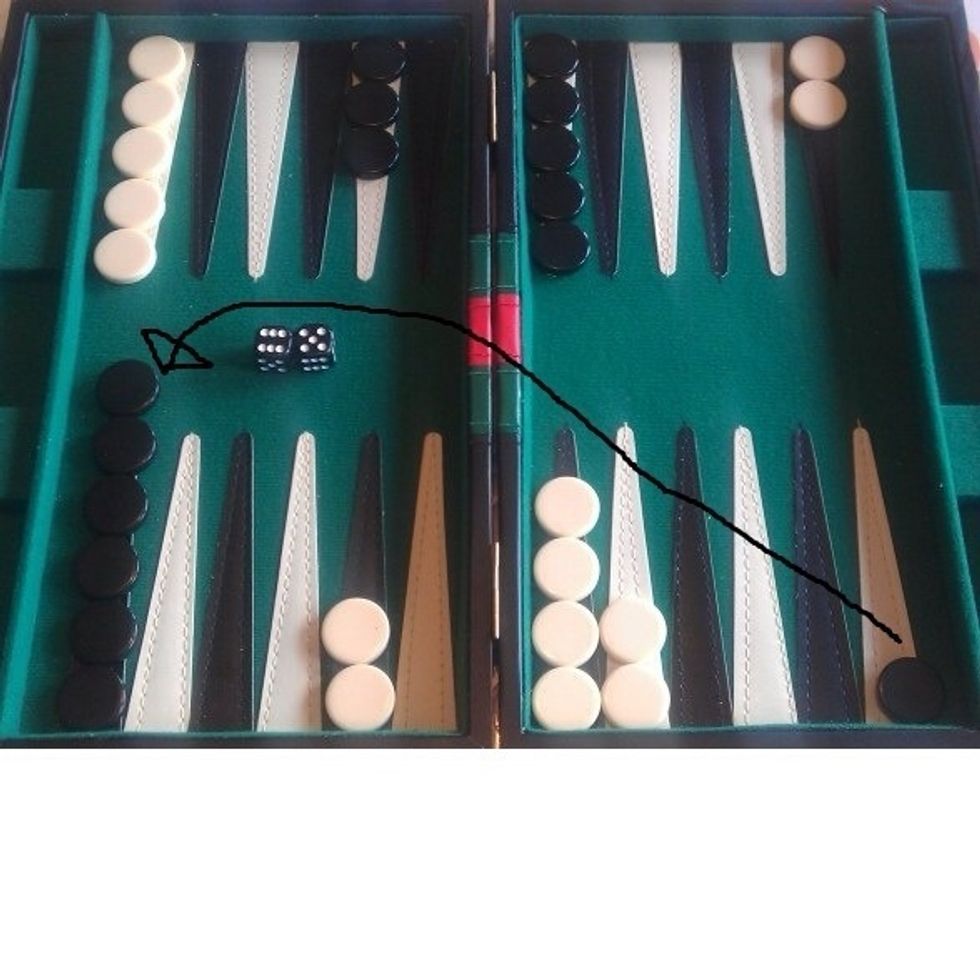 Black rolls both dice. He gets 6-5. He can move one piece from the back to the point in the middle. There is no limit to how many pieces can be on a single point. Note that black now has a blot.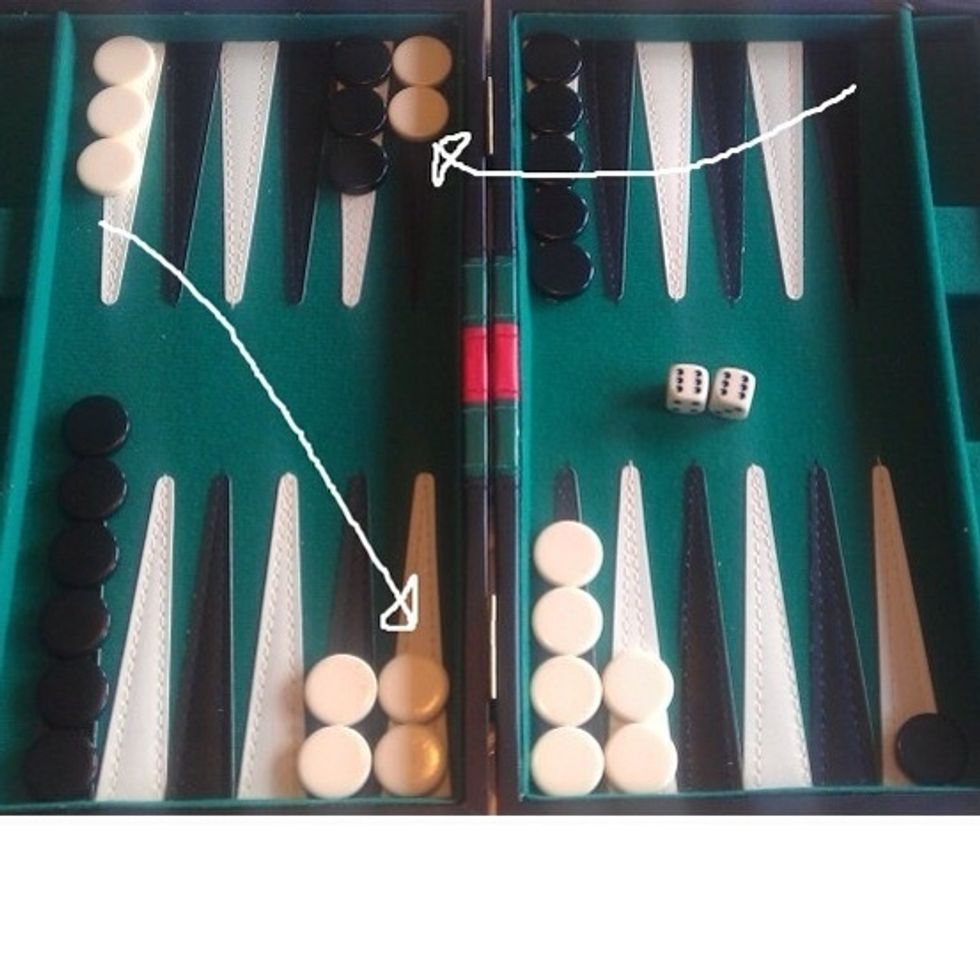 White rolls 6-6, or double six. A double gives the player the right to move four pieces. White moves two from the back and two from the middle. It is not allowed to move backwards.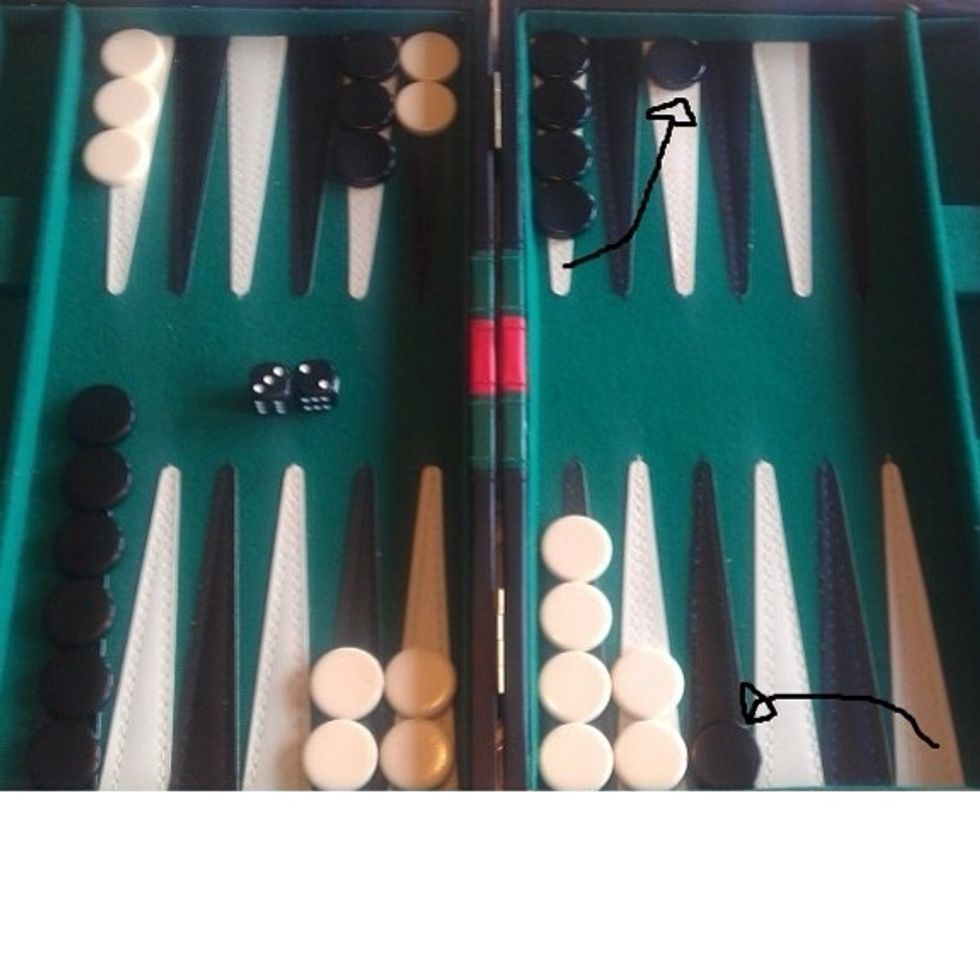 Black moves his 3-2 as shown. He need to escape with his backmost piece, before it is trapped. White has already four in a row, which makes it difficult for black.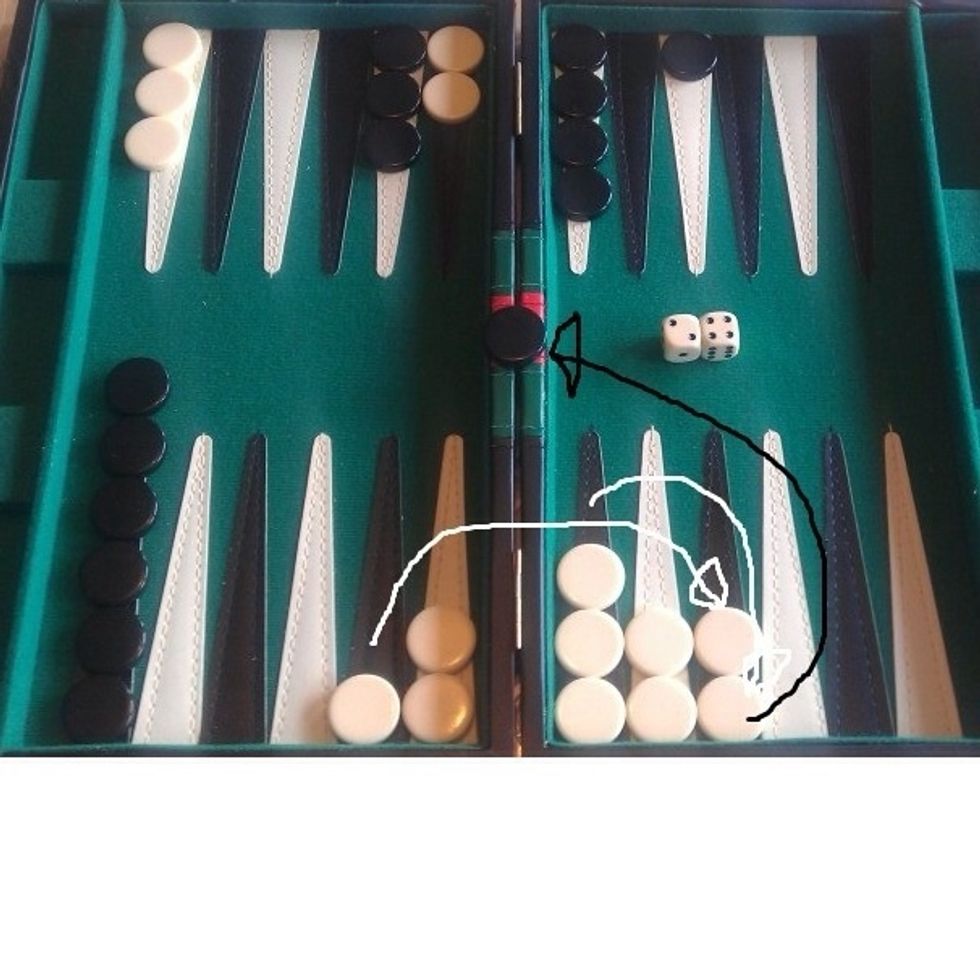 White rolls 4-2. Now he can hit the black blot. He moves it to the bar, the line in the middle of the board. Black has to escape with the piece on the bar before he can continue the game.
Black rolls 6-6, but he can not move because the six is blocked by white. He need to enter in white's home area. Only one, two or three would allow black to escape. Black "dances".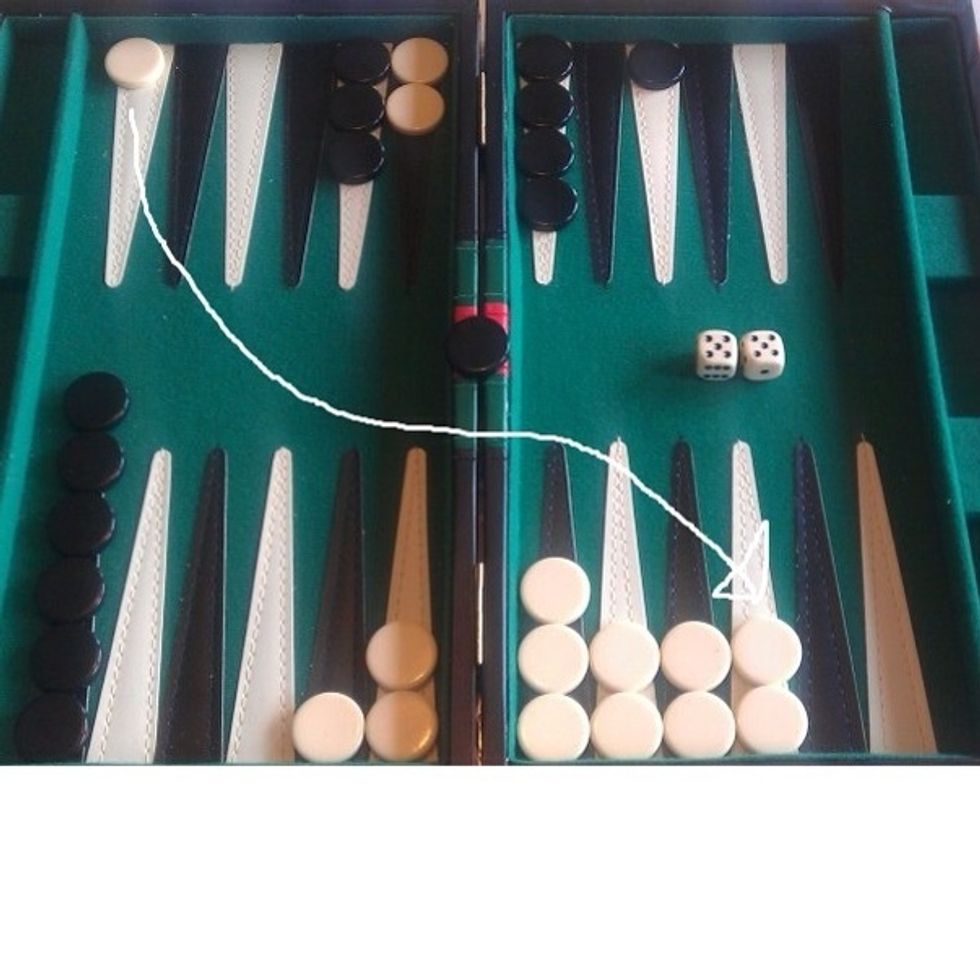 White is lucky and rolls a double 5. He moves two pieces all the way from the middle (his mid-point) to his three point. Now black need to roll a one or two to escape from the bar.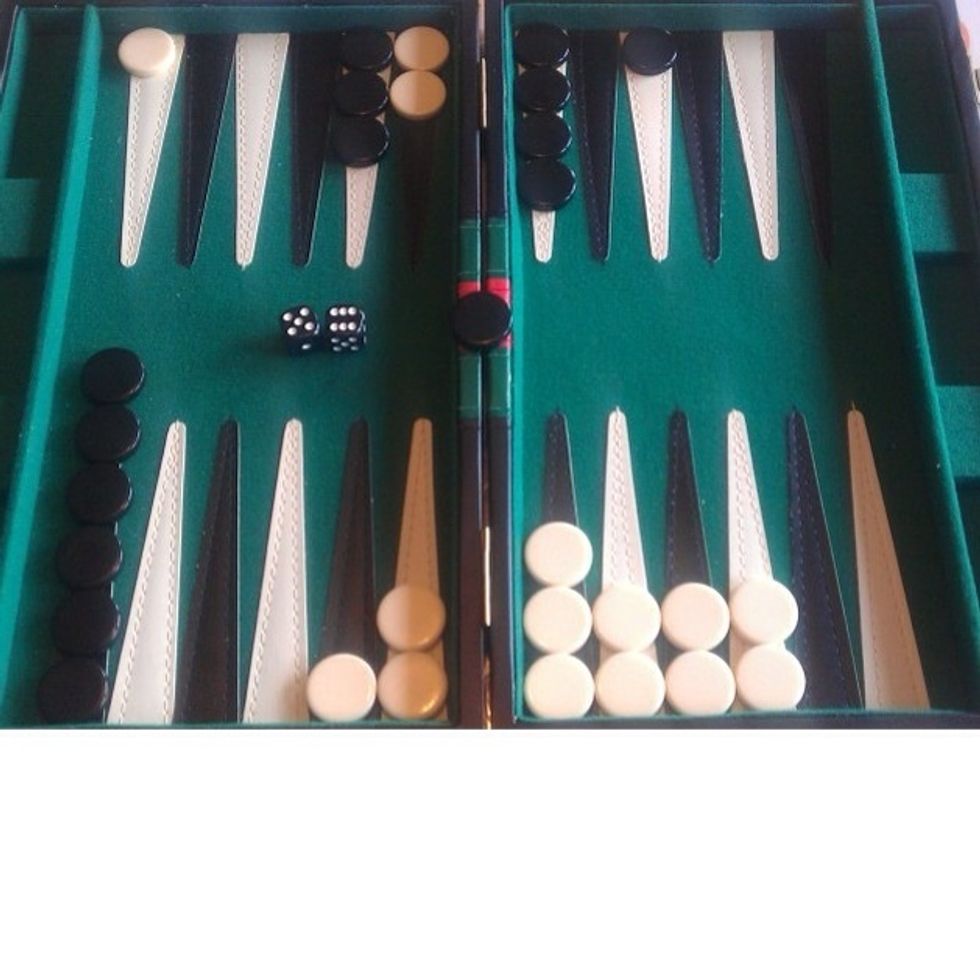 Black dances again, and can not move. Remember, it is not allowed to move before you have escaped the pieces that is trapped on the bar.
White rolls 6-5 and makes his two-point. Now black needs a one to escape.
Black rolls 1-2 and can finally escape. He moves down from the bar and uses the 2 to cover the blot on his four-point.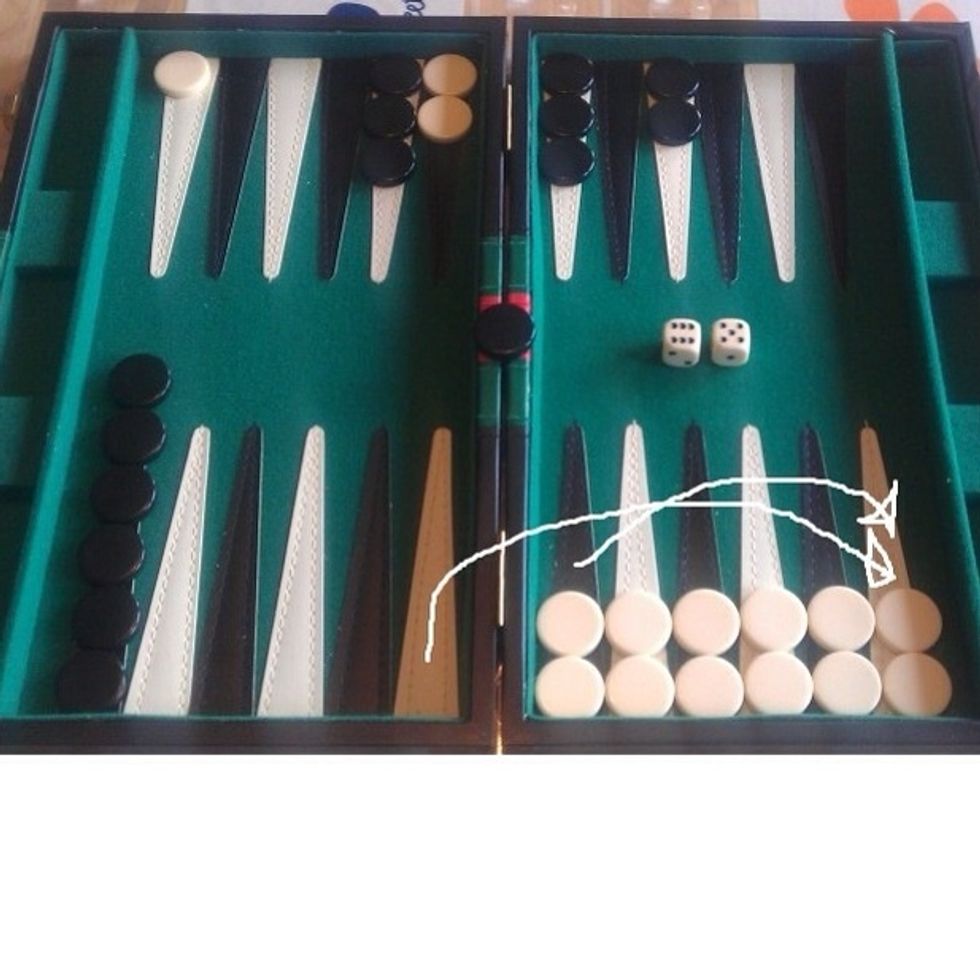 White rolls 6-5 and hits black again. Now white has covered all his points in his home, and with black on the bar, there is no point for black to roll, because there is no escape.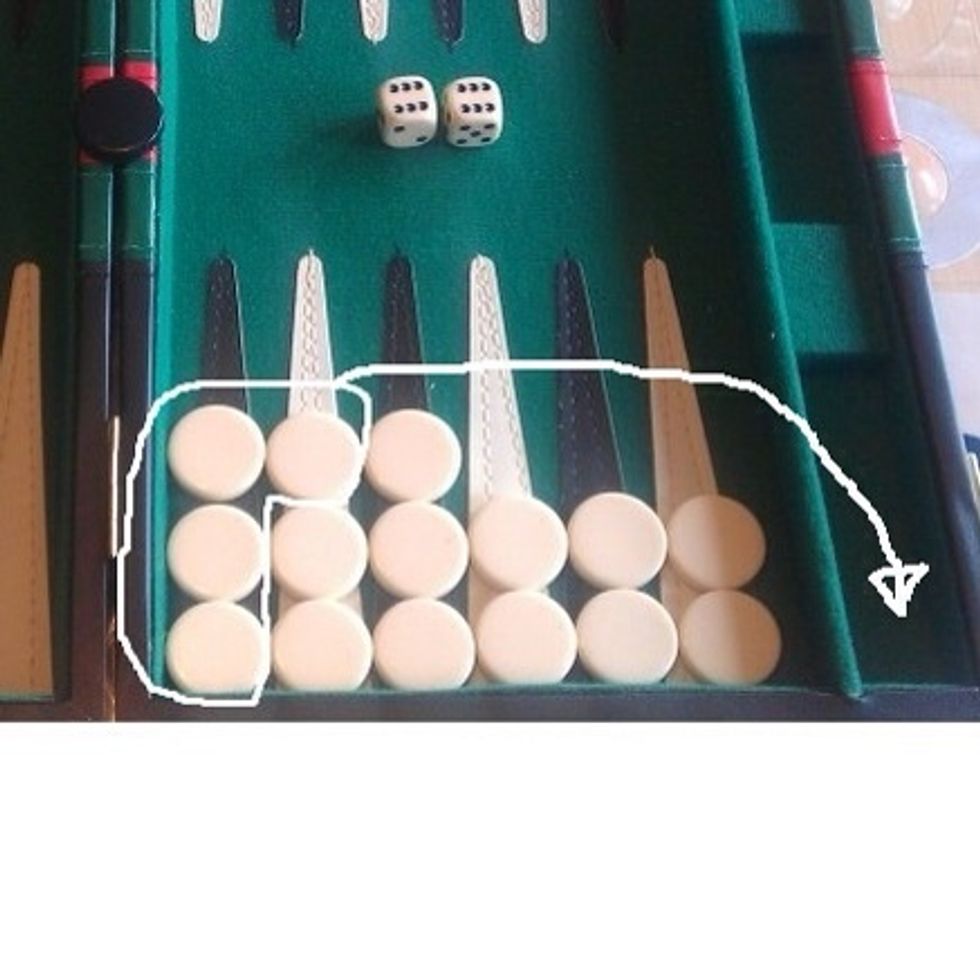 White rolls until all his 15 pieces are in his home area. Now he can start to "bear off". With 6-6 he can take off 4 pieces. He can take out from the 5 point as long as there is none on a higher point
If you get a one, you can bear off from your first point and so forth. But, you are not forced to bear off, if it is not desirable. You can, for example, move from your sixth point to the fifth.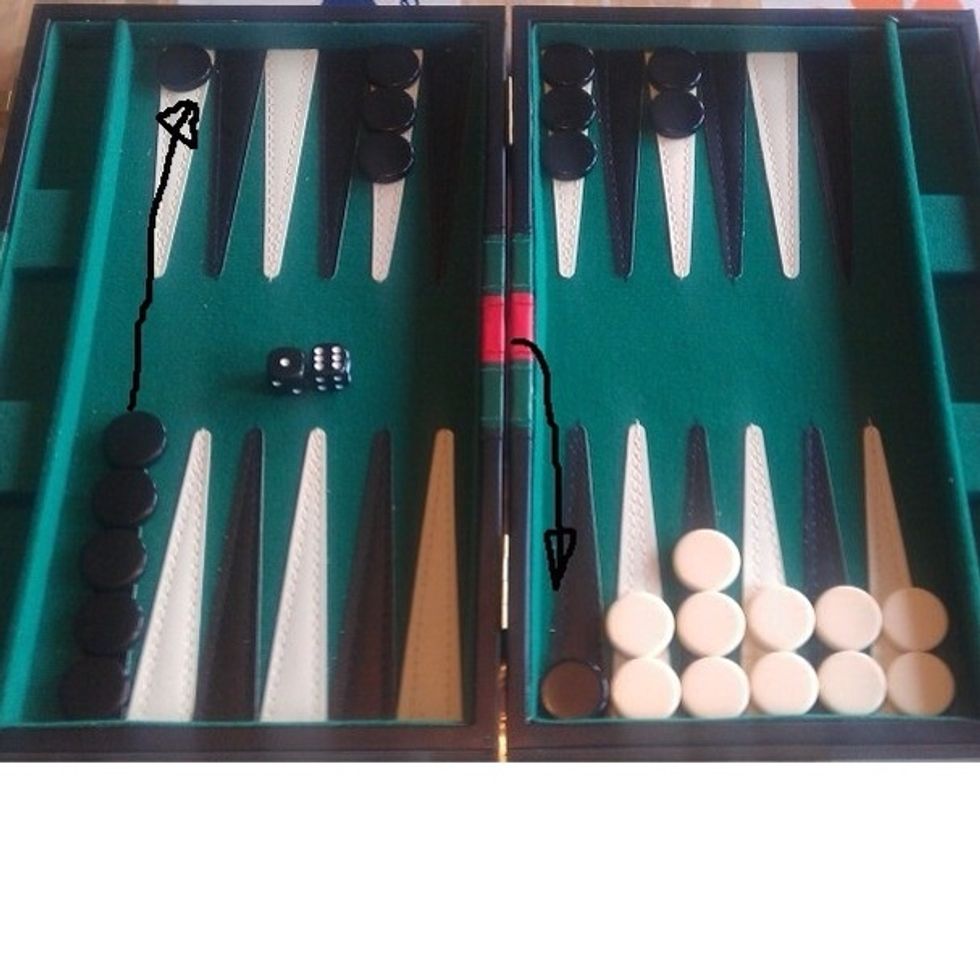 Now black can start to roll. He escapes with 6-1. He has lost, but he need to bear off at least one piece in order to not lose two points, which is called "a Gammon".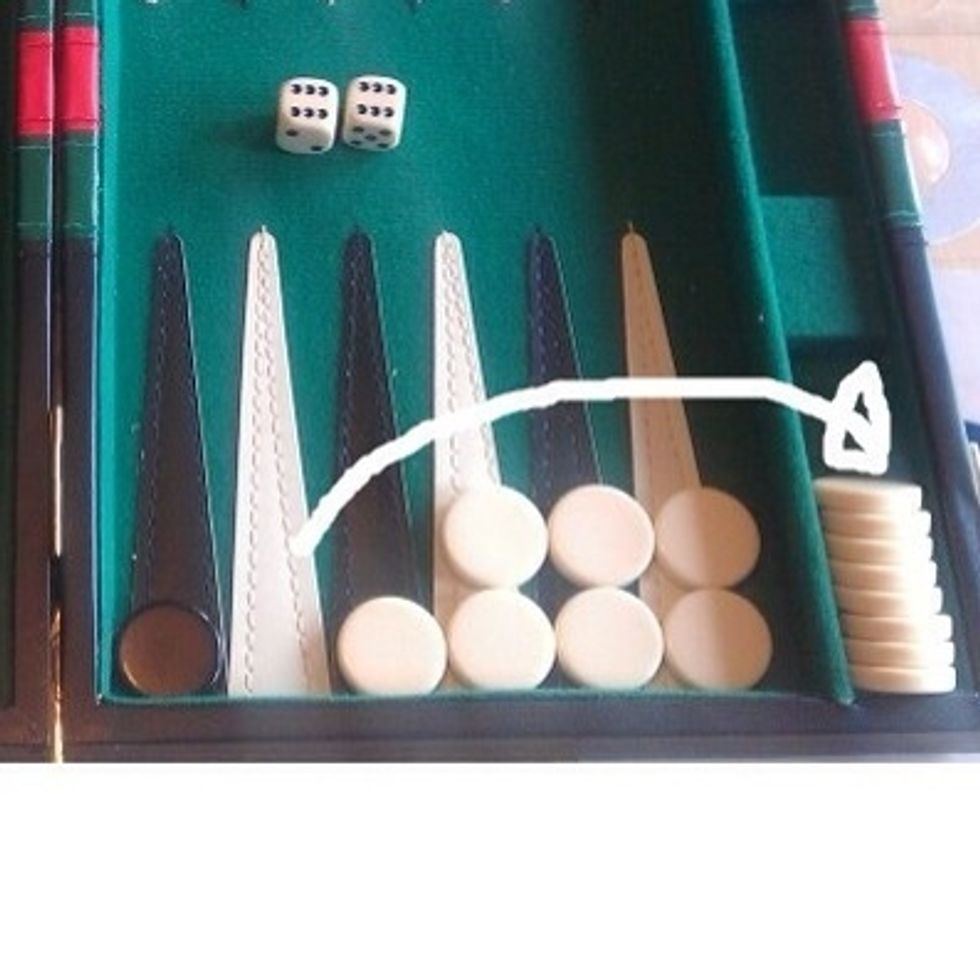 White rolls a double six and can bear off the four backmost pieces. If he finishes while black still has a piece on the bar or in his home area, he wins three points or "a Backgammon".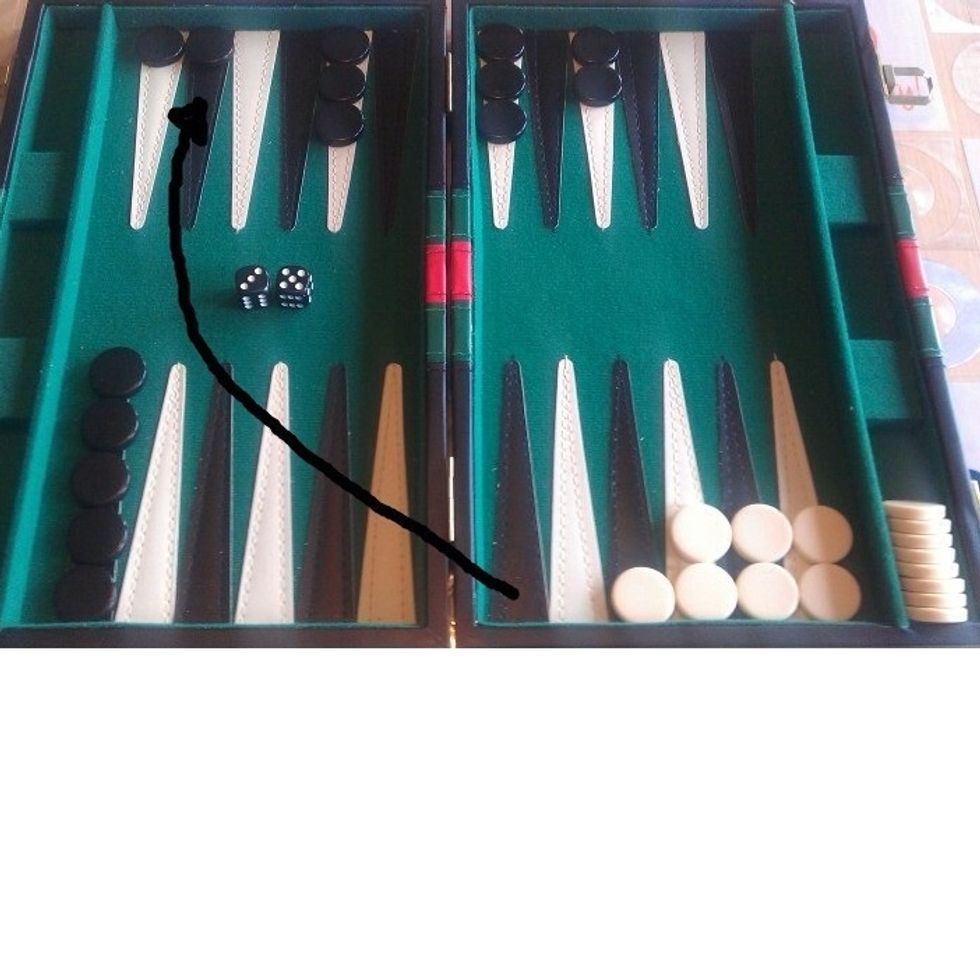 Black rolls 5-3 and escapes his backmost piece. Now he can not lose a backgammon.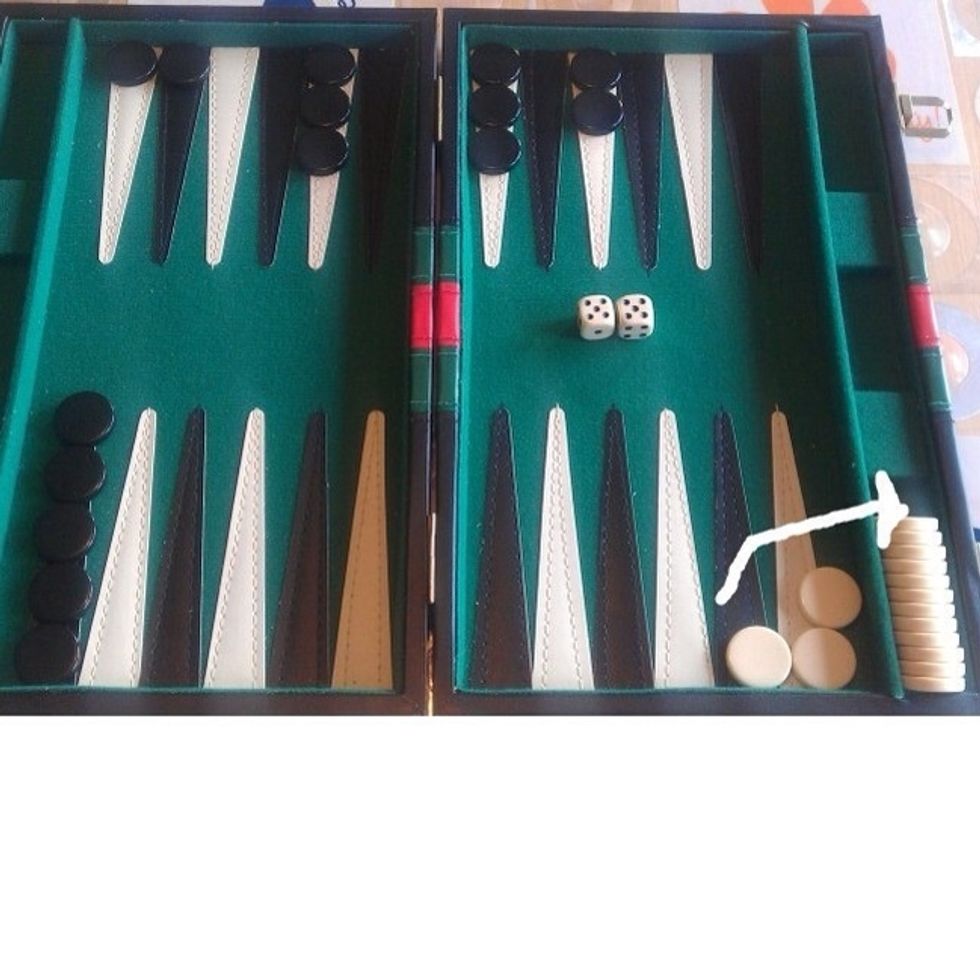 White rolls another double and takes out four pieces. Now black will lose a gammon for sure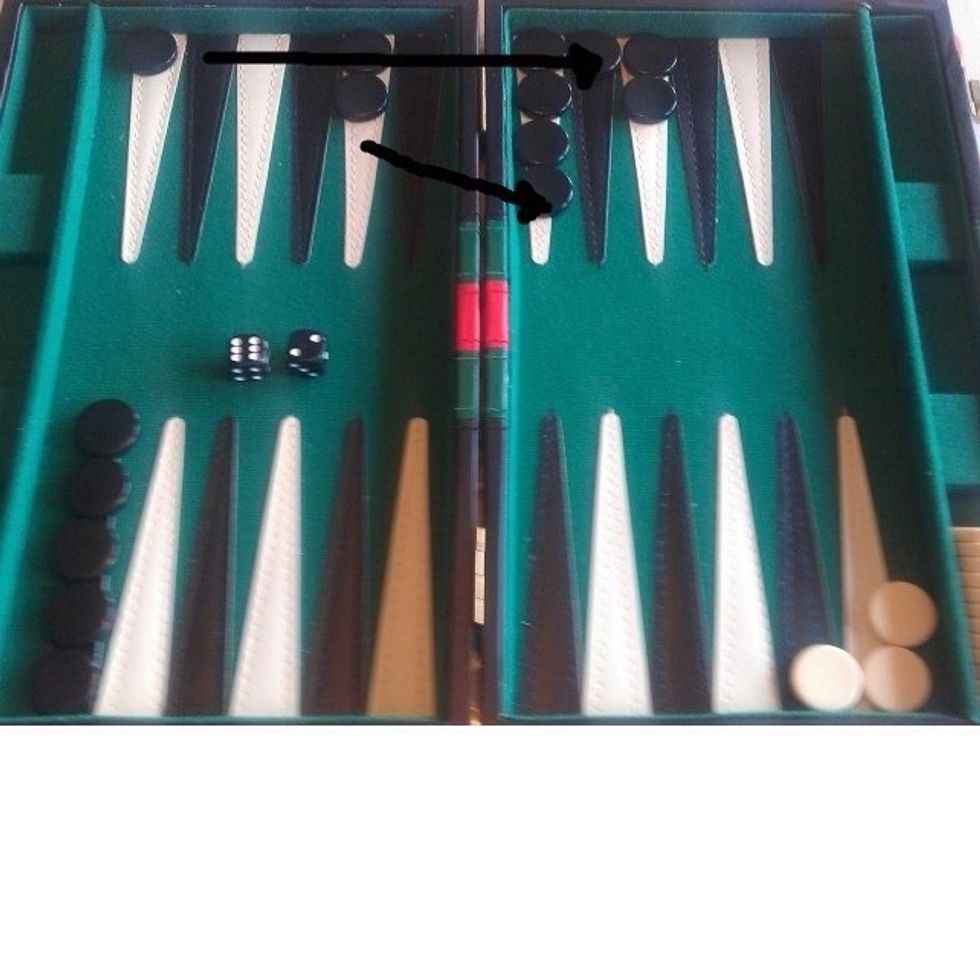 Black rolls 6-2 and moves two pieces inside his home area
White rolls another double and moves his last three pieces out of the board and wins a gammon. He gets two points. If black had managed to bear off at least one piece, he would lose one point.