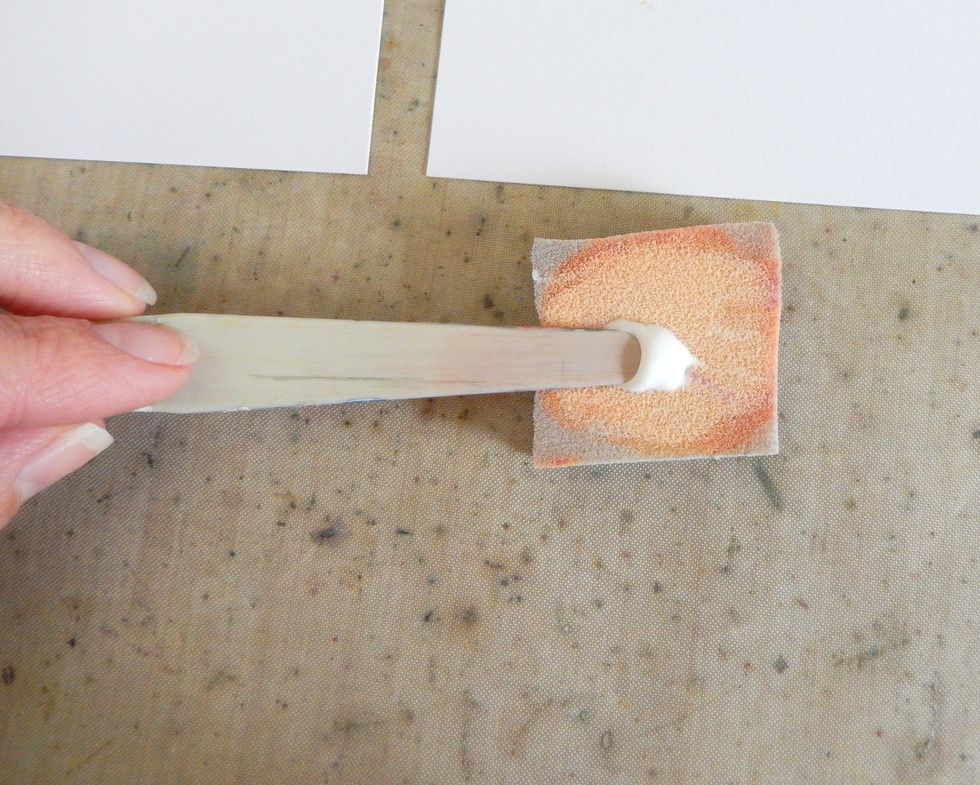 Start by adding FlitterGlu to with a spatula to a piece of Phat Foam. These items are all included in the FlitterGlu Starter Kit.
Next swipe uneven lines of FlitterGlu over a plain piece of card using the Phat Foam; it can be added exactly where you need it and, most importantly, it remains tacky permanently.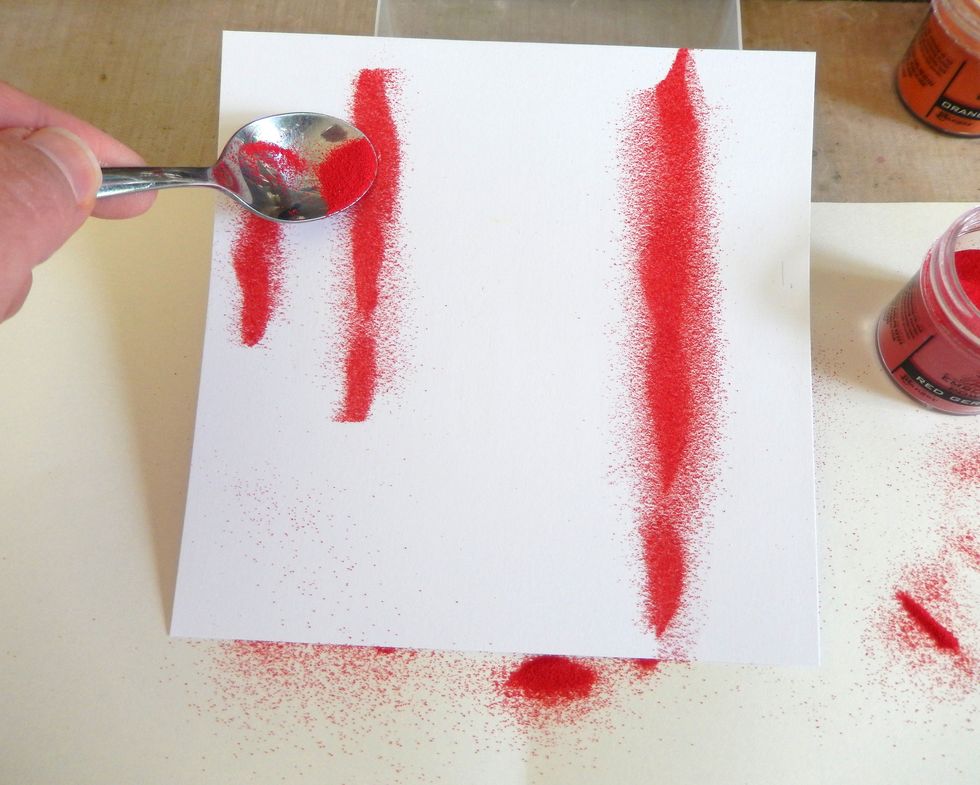 Using a small spoon sprinkle lines of your first colour embossing powder across the areas where you've added the glue. Return the excess powder to the pot by catching it on a piece of paper.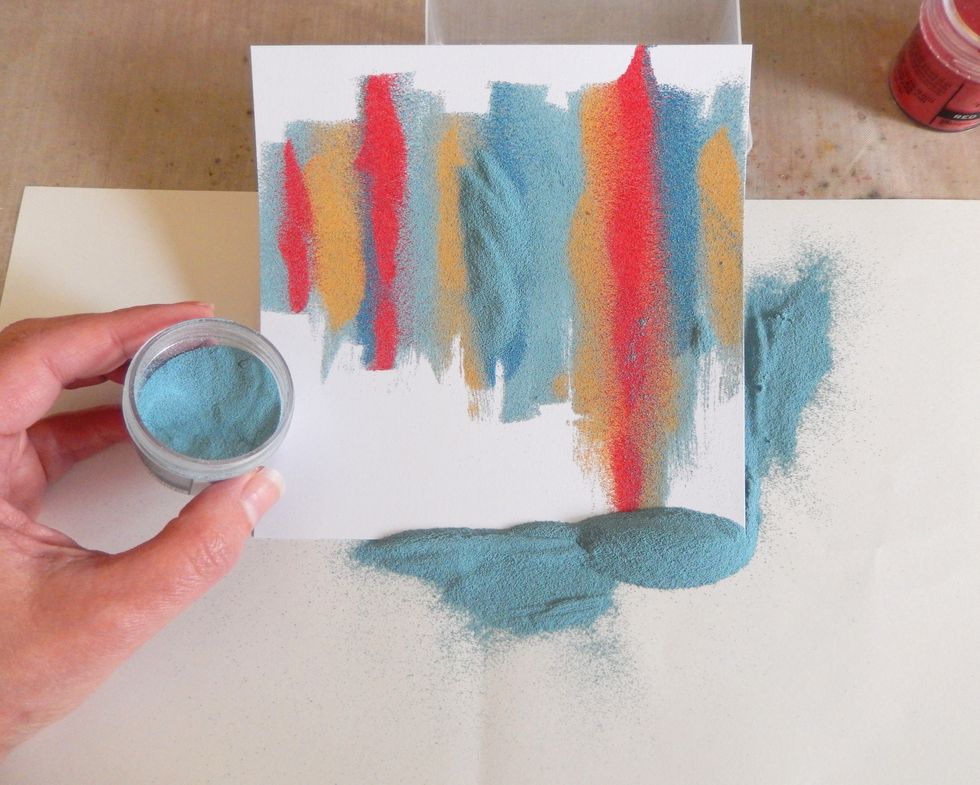 Do not heat set at this stage. Repeat the process using the two further darker colours. Finally fill in the gaps with the lightest colour.
Alter straight edges by gently removing any excess powder with your finger. Now heat set the embossing powder with a heat gun. If your background warps mist it with water and place under heavy books.
Put the mixed powder into a container, adding a little extra powder from each of the chosen colours to create your own custom colour. Mix together thoroughly.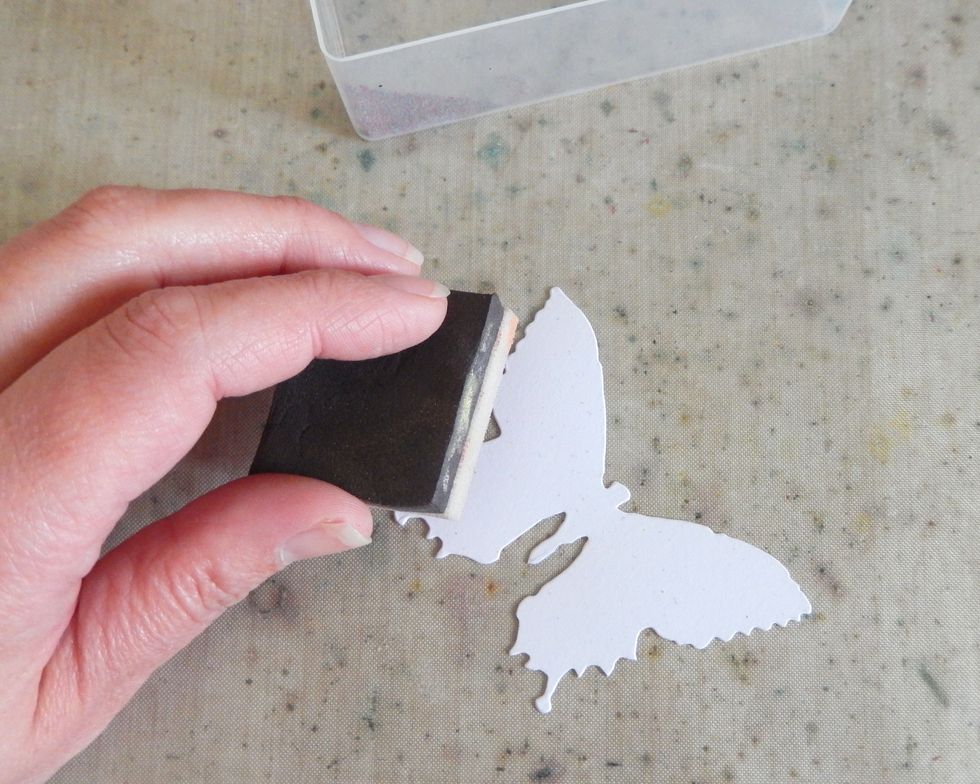 Cover a die cut butterfly in FlitterGlu using the same piece of Phat Foam that you used for the background.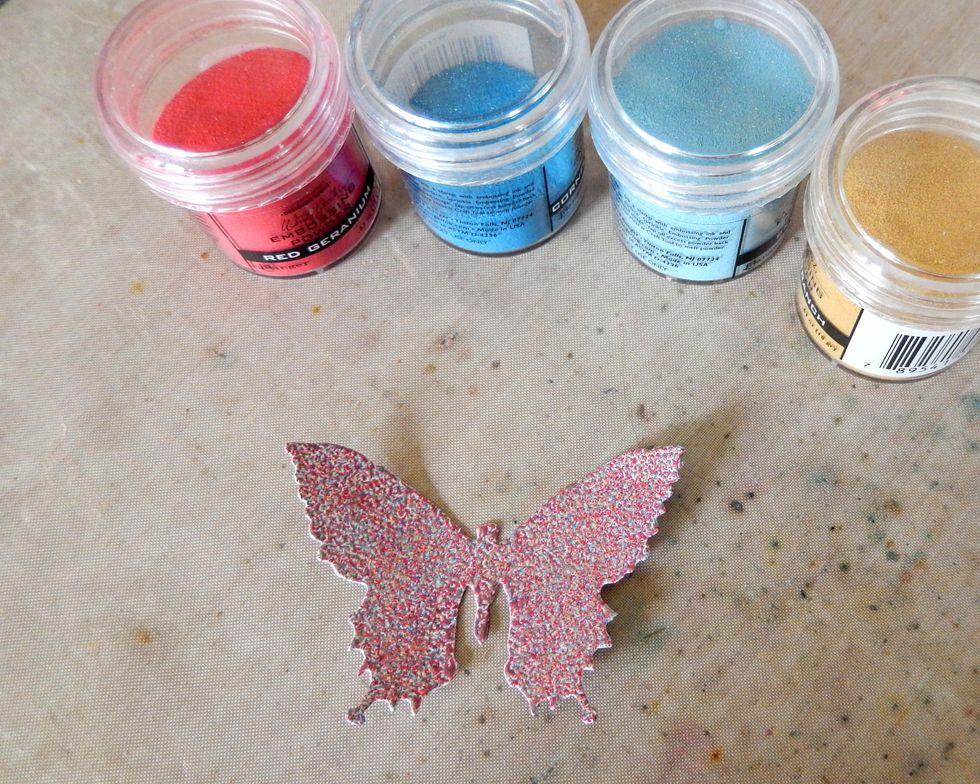 Cover the butterfly in the mixed embossing powder and again, set it with your heat gun, allowing the melted powder mix to cool completely before moving on to the next step.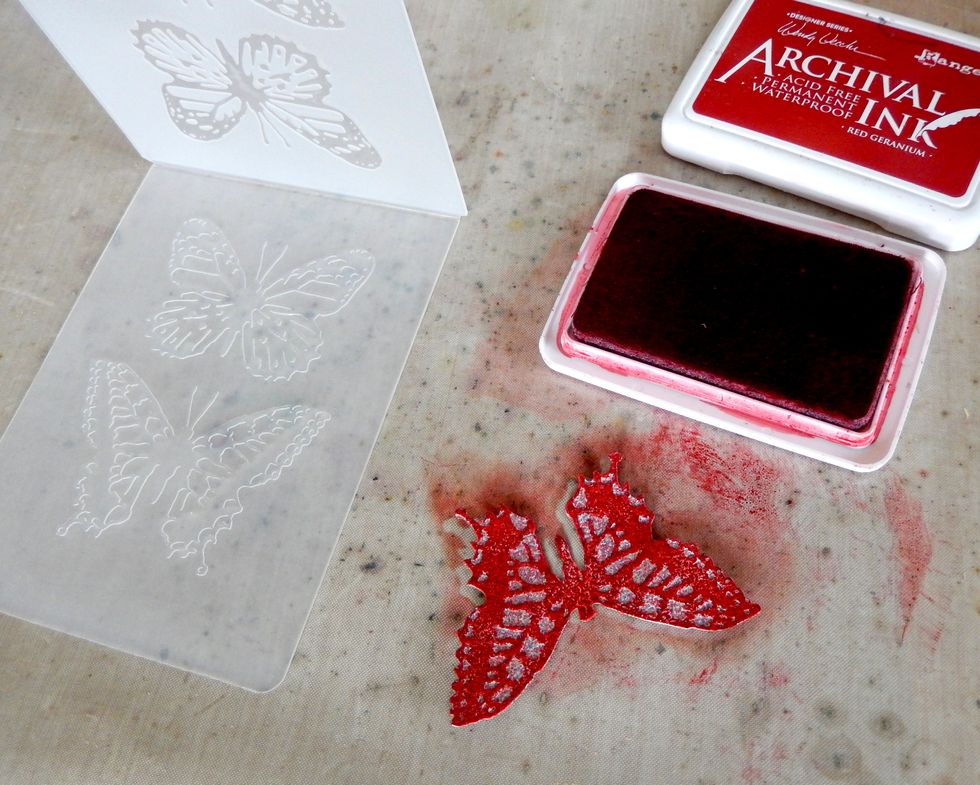 Run your embossed butterfly through an embossing folder, then rub a Red Geranium Archival Ink pad over the raised areas to cover them in the ink.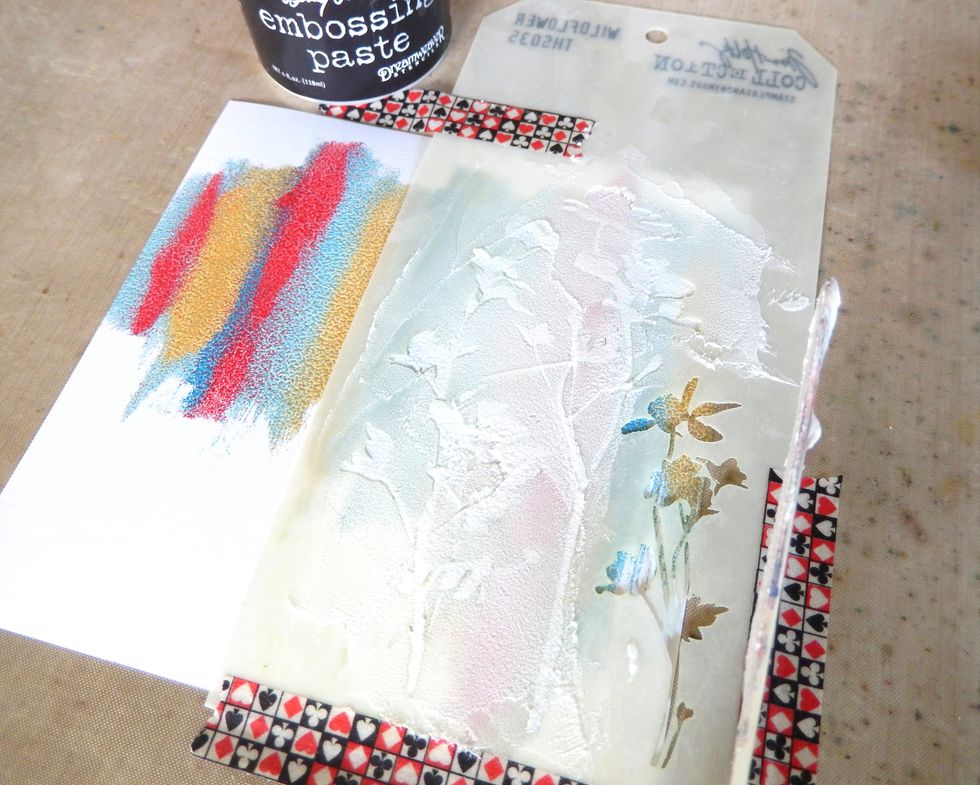 Setting the butterfly aside, return to your embossed background and apply white embossing paste through a stencil over part of the design.
To finish the card add lace, a die cut sentiment and the embossed butterfly (with added pearl beads in the centre).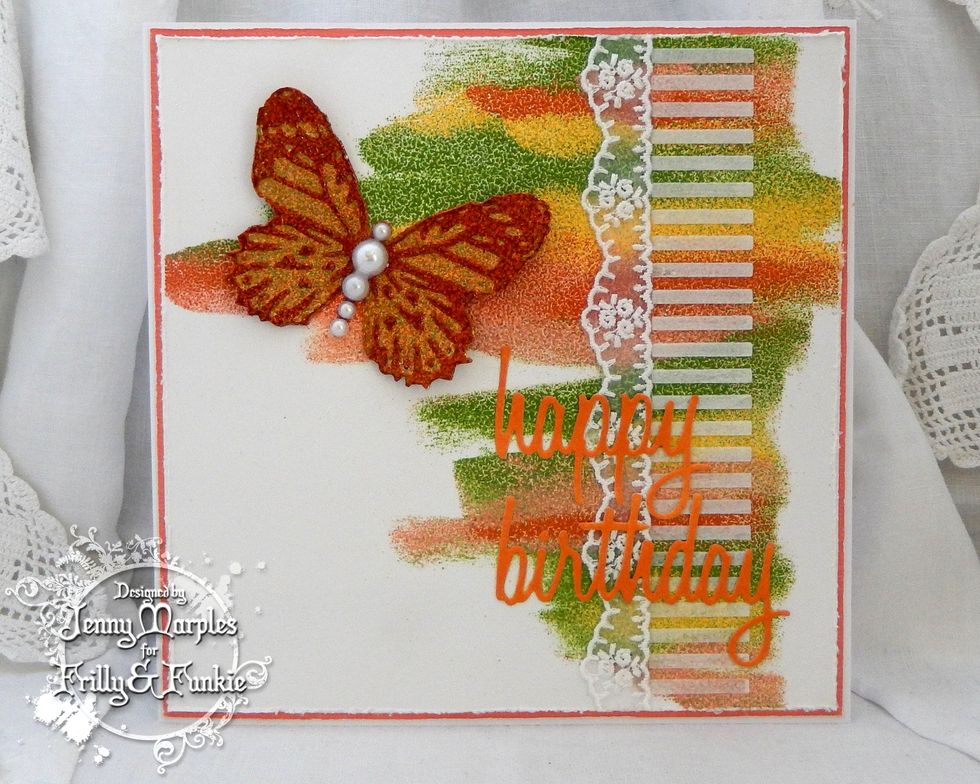 Use the same method with different colours of embossing powder, stencil designs and lace to create an alternative look.
1.0 Wendy Vecchi Embossing Powder Red Geranium
1.0 Wendy Vecchi Embossing Powder Cornflower Blue
1.0 Wendy Vecchi Embossing Powder Tree Branch
1.0 Wendy Vecchi Embossing Powder Sky Blue
1.0 Wendy Vecchi Archival Ink Red Geranium
1.0 IndigoBlu FlitterGlu Starter Kit
1.0 Sizzix Tim Holtz Butterfly Duo Bigz Die and Folder
1.0 Wendy Vecchi White Embossing Paste
1.0 Tim Holtz Wildflower Layering Stencil
1.0 Sizzix Tim Holtz Thinlits Celebration Words Script
1.0 Lace Trim
1.0 Self Adhesive Pearl Beads
Jenny Marples
Mixed Media Designer, Educator, television and retail/trade demonstrator and contributor to several International publications.
Staffordshire, United Kingdom