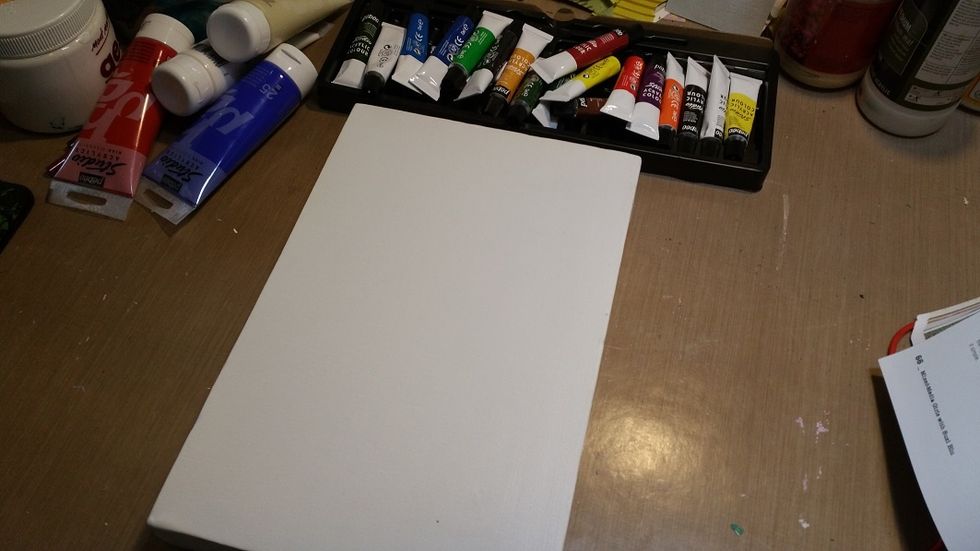 Start with a set of pebeo acrylic paints. this basic set has all the colour you'd need and is really cost effective. I have used an 8x12 inch canvas here but you can choose your size.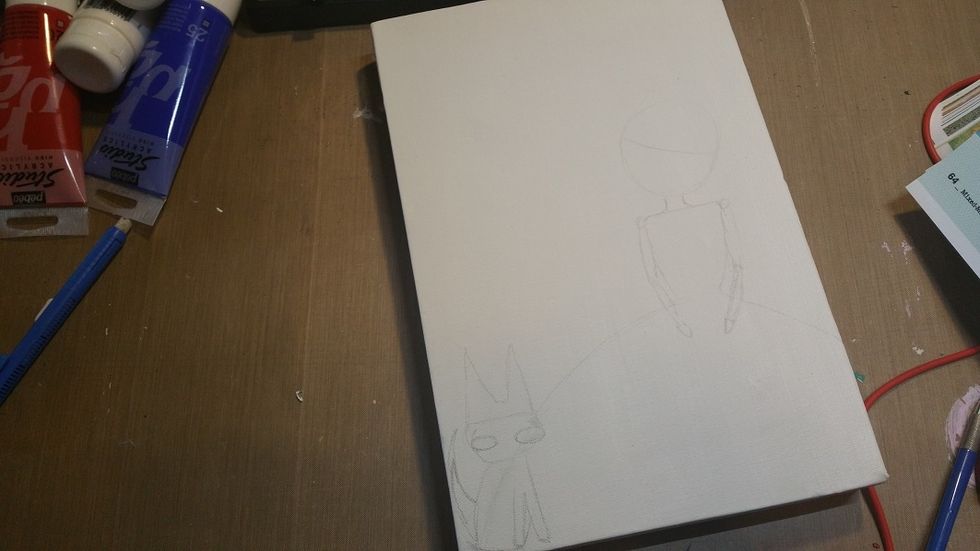 Here I've sketched a basic girl. Look how the head is round. the body is an upside down triangle and the arms are jointed like a doll. the skirt is very full.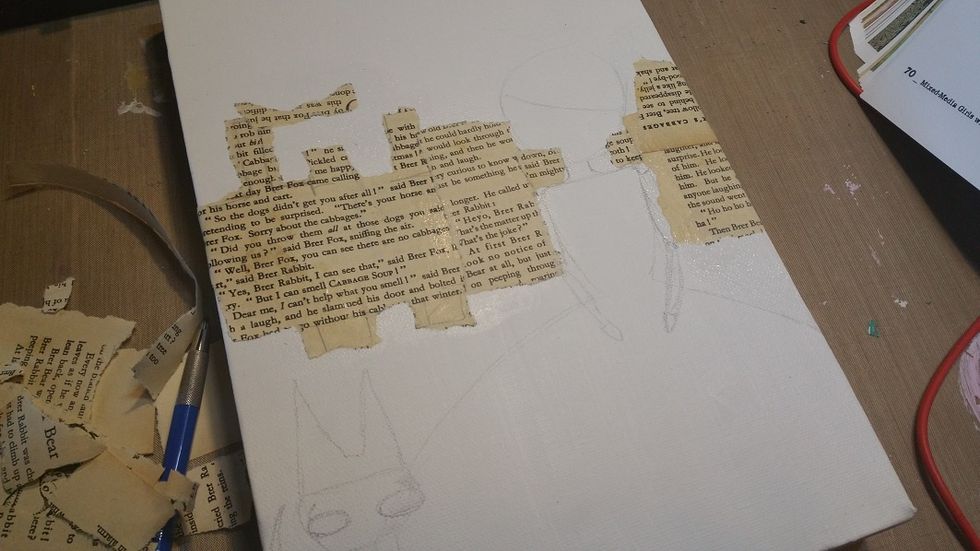 take an old book page and roughly sketch a basic background geometric castle shape. it's in the background so no need to be perfect and rip the edges. seal with matte medium or modpodge.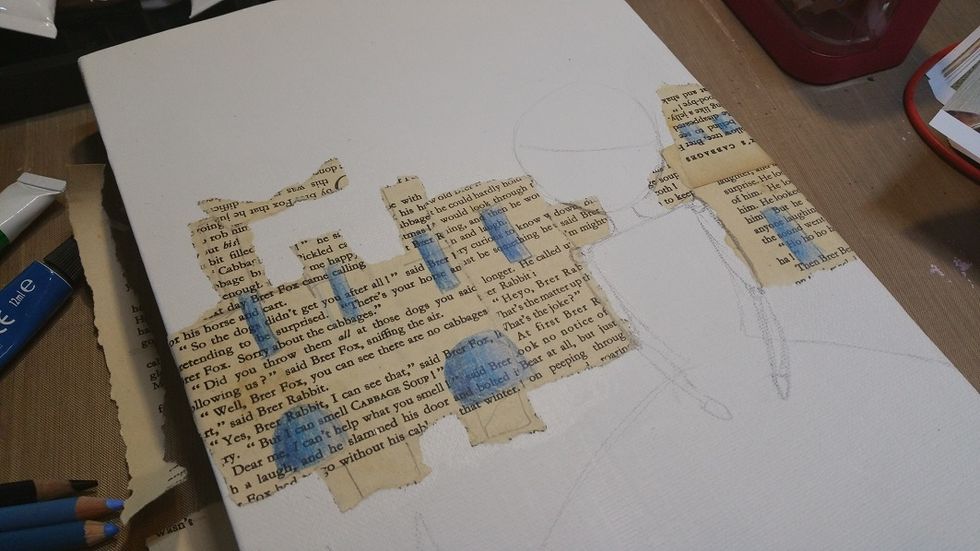 grab your colour pencils and draw a few windows and doorways. i used three shades of blue to create a rough gradient of colour here and blended them together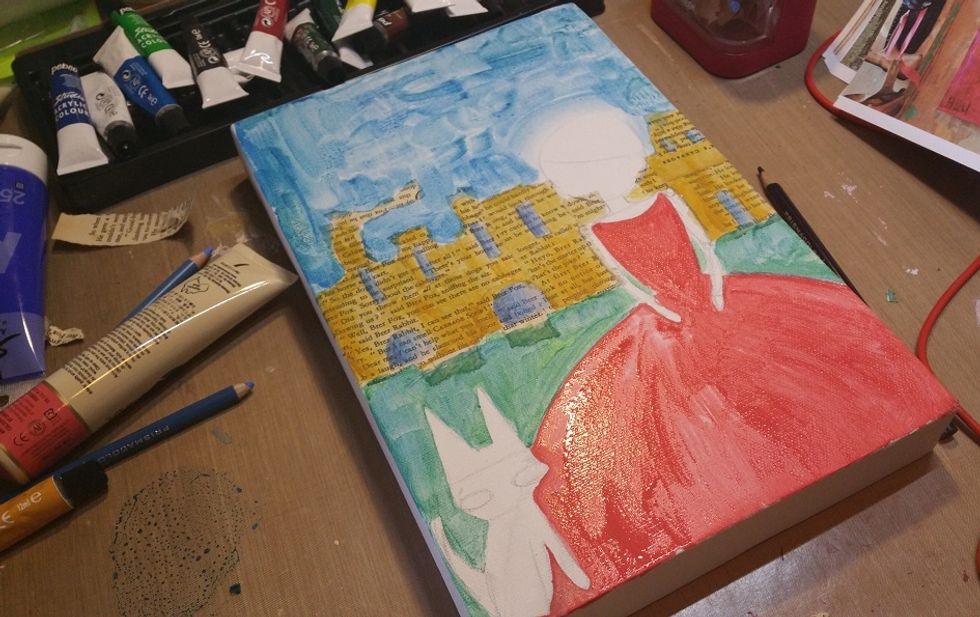 here i've taken primary cyan and cadmium gree hue paints and blended them a little in a puddle with some water. you can see the watered down look on the canvas. Use quinacridone scarlet for dress.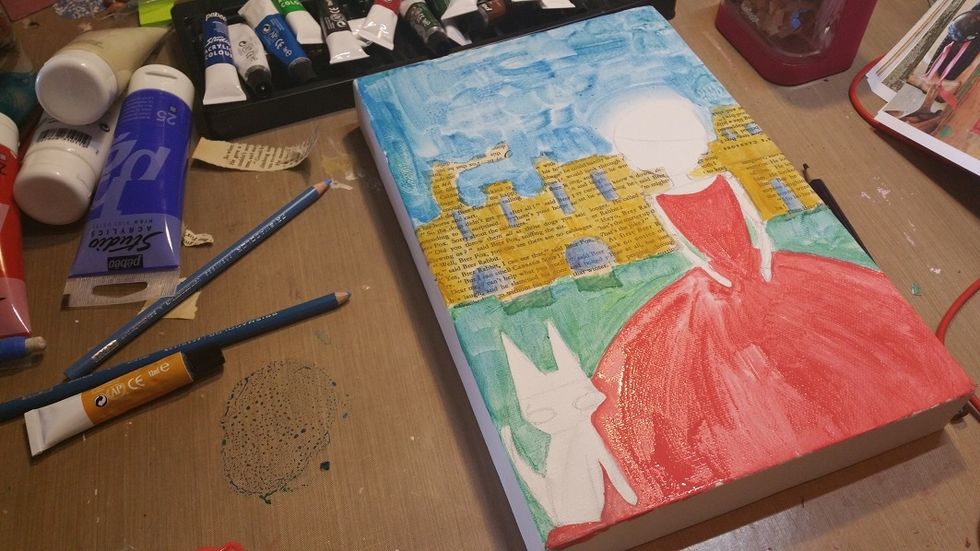 Now add with your water soluable crayons and your yellow ochre acrylic paint a layer that's a little splotchy on the book pages. think of shadow areas on the walls.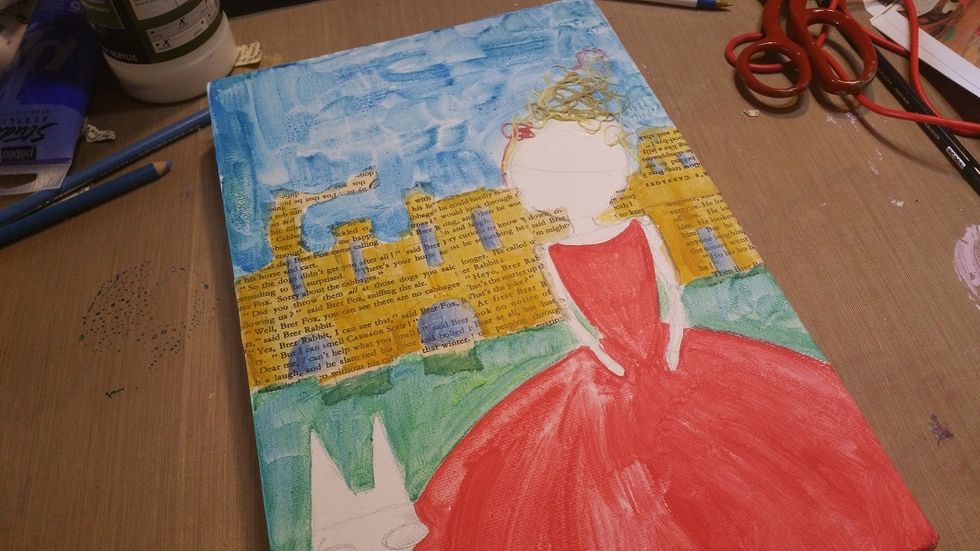 This is fun. grab some cottons or embroidery floss off cuts and stick them down to create a high pouff on our whimsy girl. Let this thoroughly dry.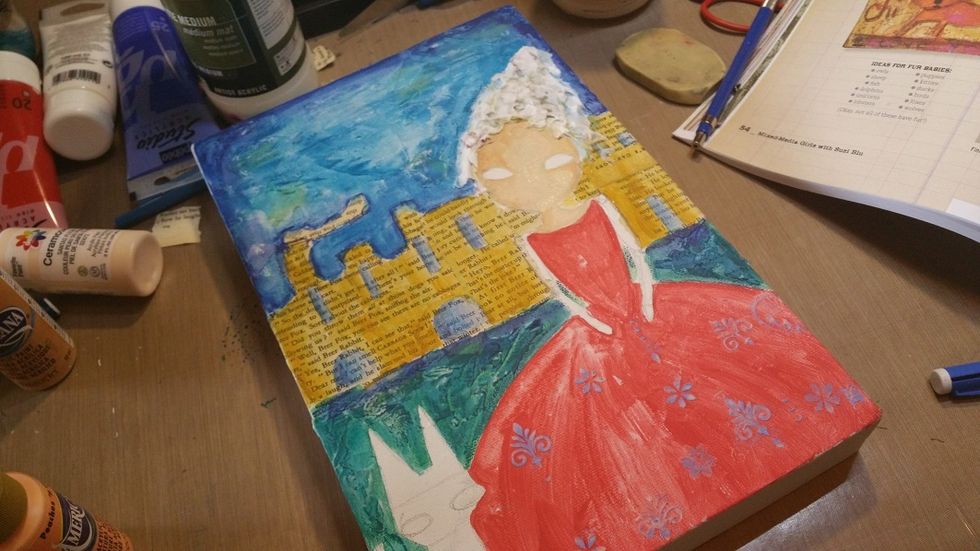 I have used crayons and pencils to deepen the colour of the grass and sky. but before i did that i used some light modelling paste applied haphazardly with a palette knife to create texture.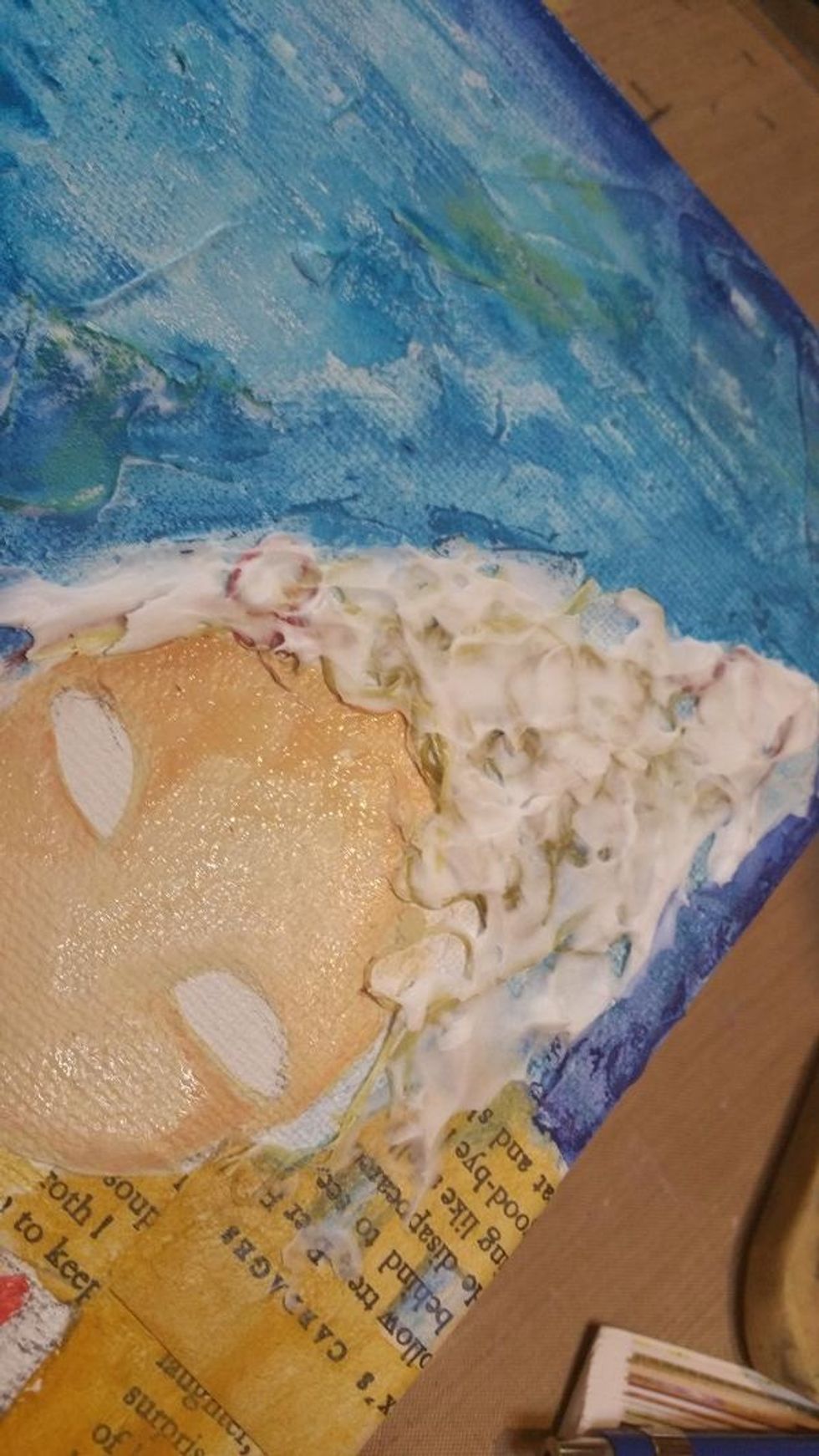 see the light modelling paste on top of the floss offcuts. the crayons catch in the dried modelling paste and this creates pools of colour when water activated.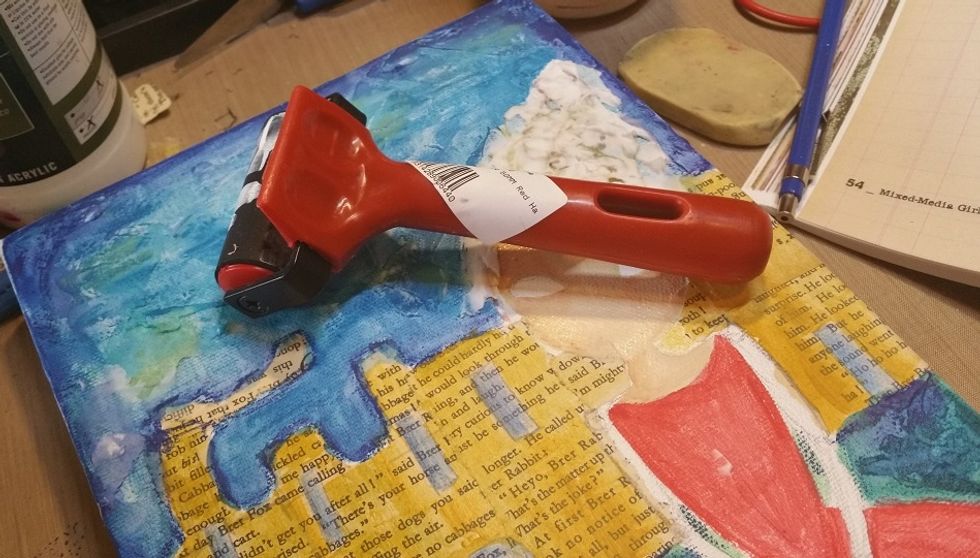 use a small brayer OR and old credit card or store card to distress the surface with some white paint.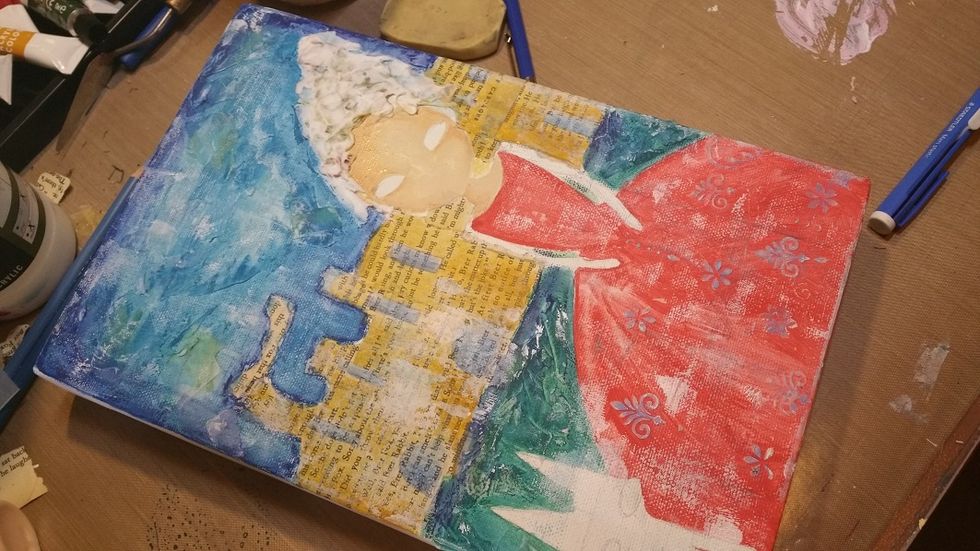 see how this applied lightly creates an old weathered effect. note that i've used the modelling paste to stencil a few patterns on the skirt and then rubbed over them with crayon.
And here is the finished girl. I used a fine black liner to draw in the eyes. a marker to colour the eyes and a marker to paint her lips. a white marker to add lace to her bodice and eyes.
The white marker can be used to add patterns to the skirt. and white highlights to eyes. I also used a little bit of yellow ochre paint for the cat and mixed that with a little green for his eyes.
Then the finishing touches were the black fineliners to define the eyes and features of the cat and the skirt details. We are now finished!
pebeo acrylic paints
3.0 brushes large, medium, small
modelling paste
1.0 palette knife
gesso
water soluble crayons
1.0 black fineliner rollerball dry permanent pen
1.0 white paint maker
colour pencils, various colours
old book pages for castle
pencil and soft eraser
marker for eyes on girl
stencils for patterns on girls skirts