Use the paper bag to sand you're canvas to keep your brushes from tearing up. DON'T USE SAND PAPAER, because then it will take all of the texture of the canvas off. :)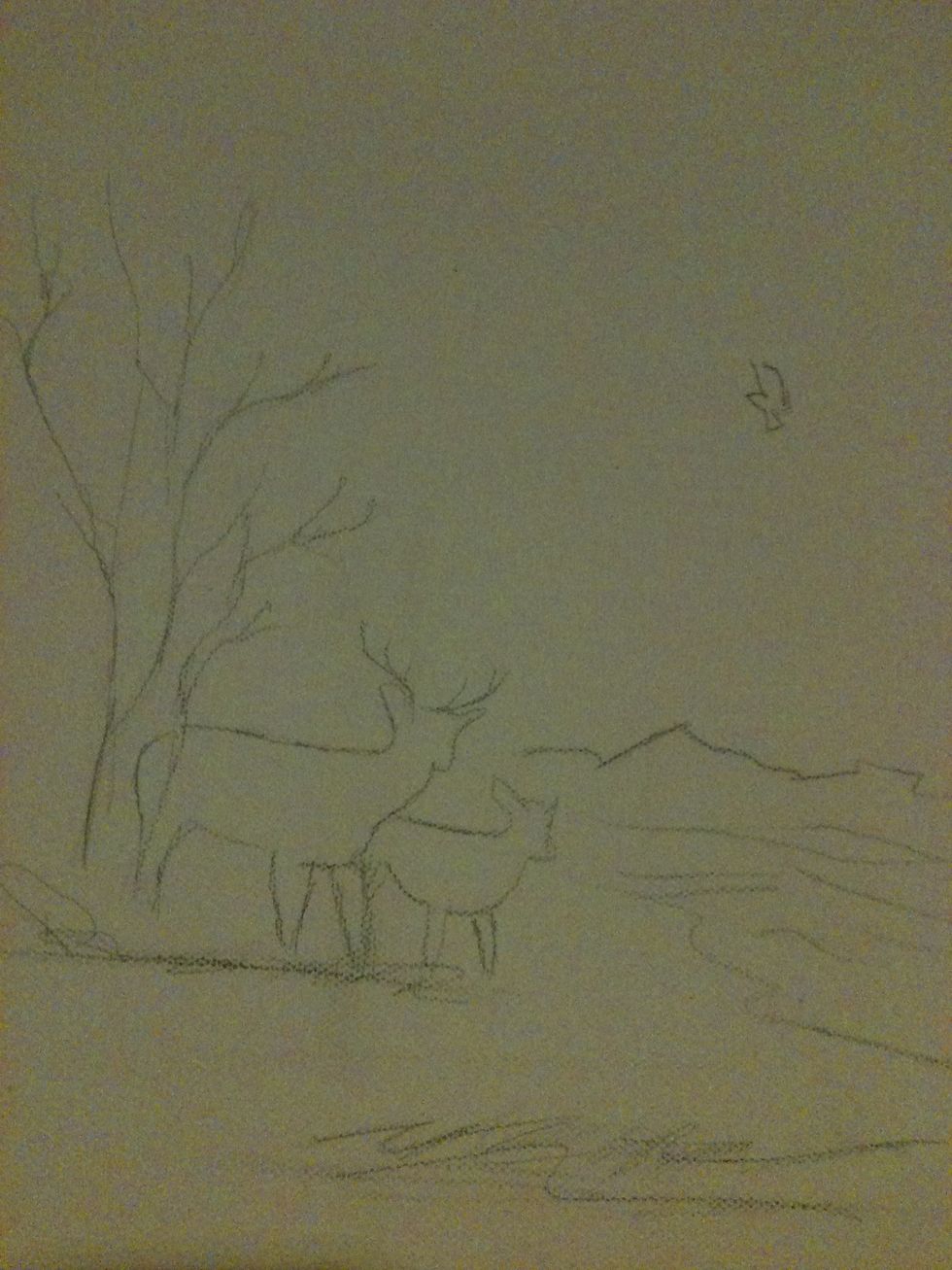 This is something simple I traces on there. It doesn't have to be perfect right now. A pattern isn't even required, but it makes it a lot easier. Don't make your pencil too dark.
Once your finished "sanding" and sketching, now to prepare your pallet! The colors can be completely up to you. It's your painting.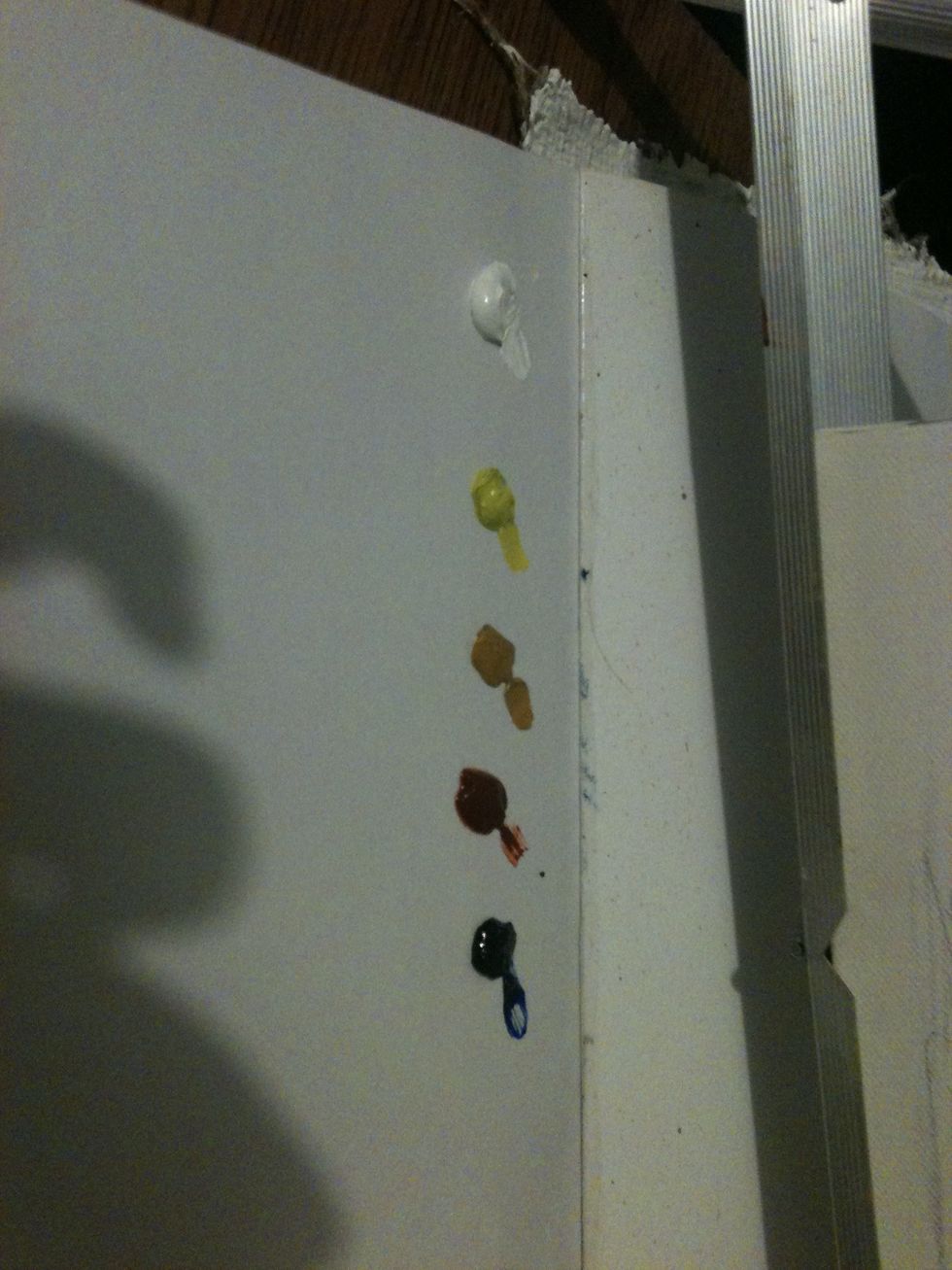 From left to right is Titanium White, Cad Yellow, Yellow Ochre, Burnt Sienna, and Ultramarine Blue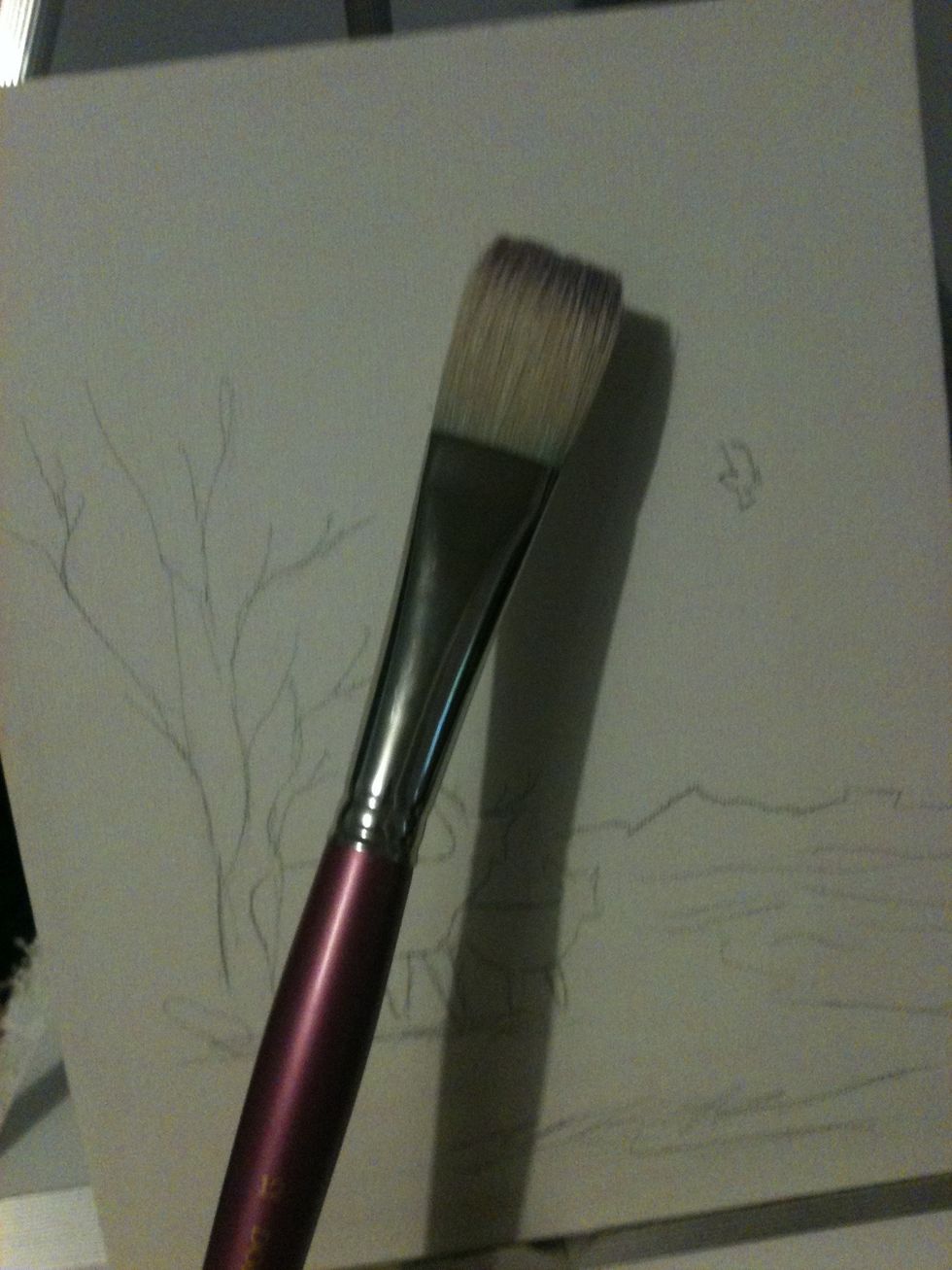 Background brush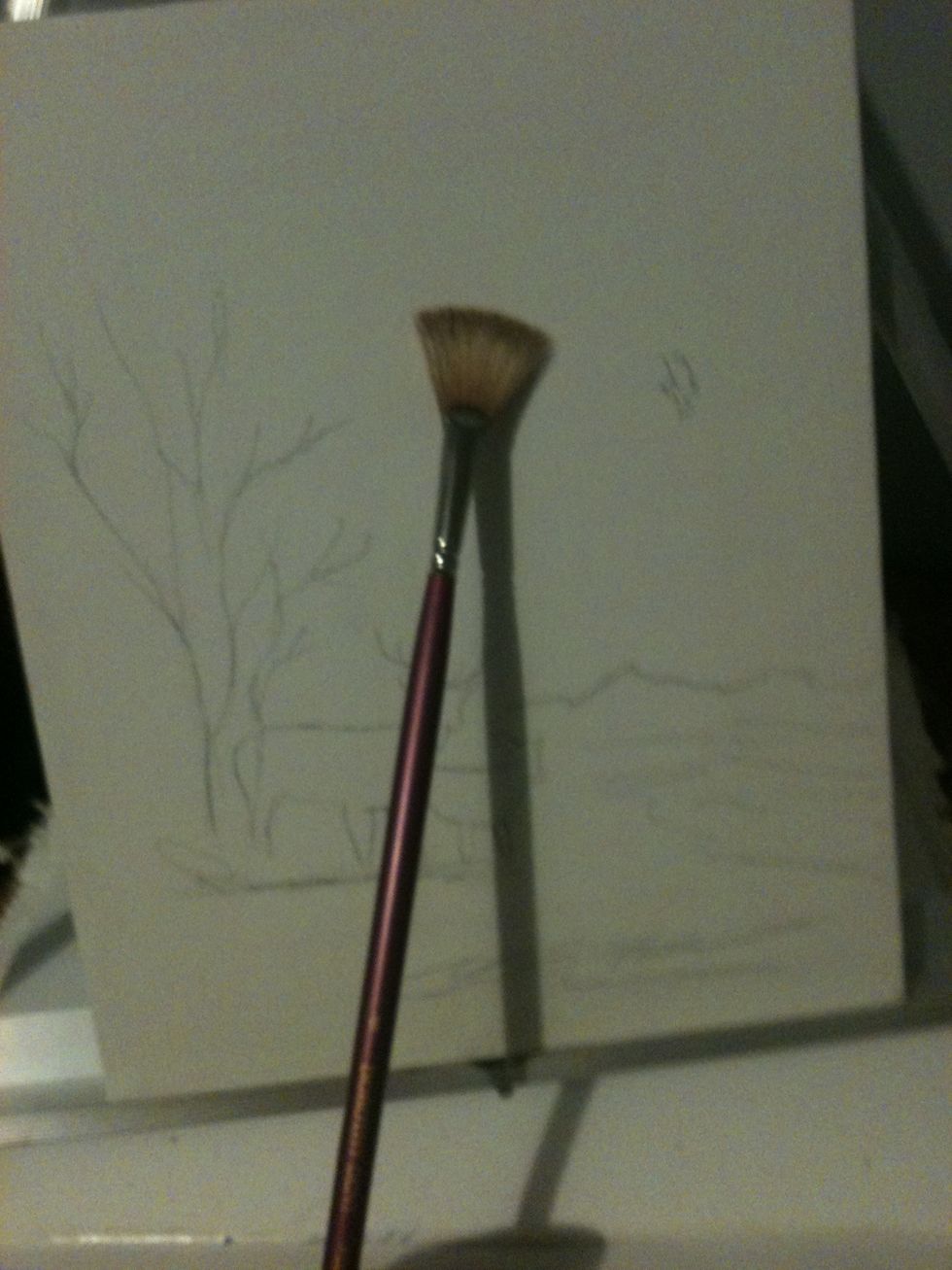 Fan brush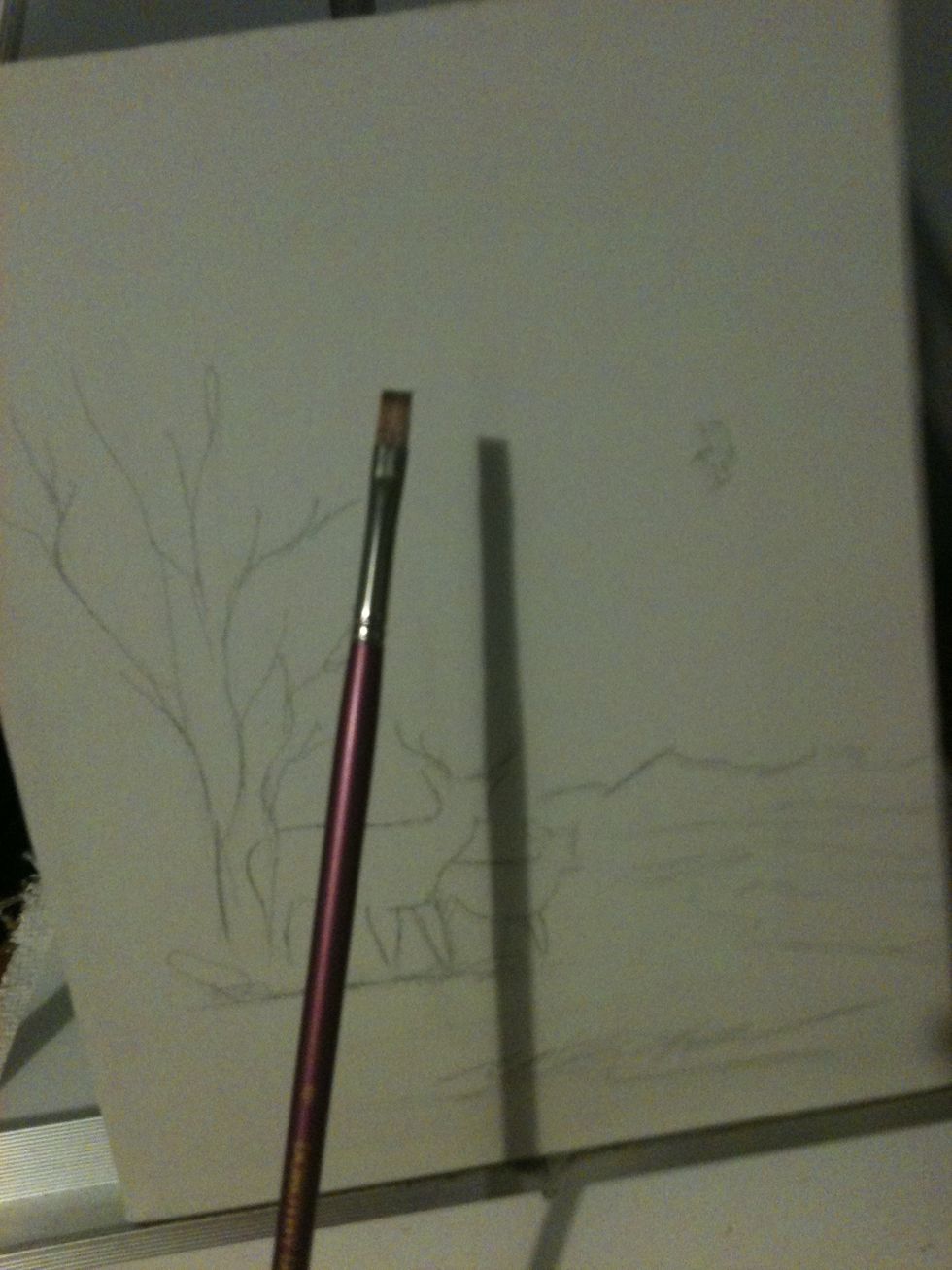 Small detail brush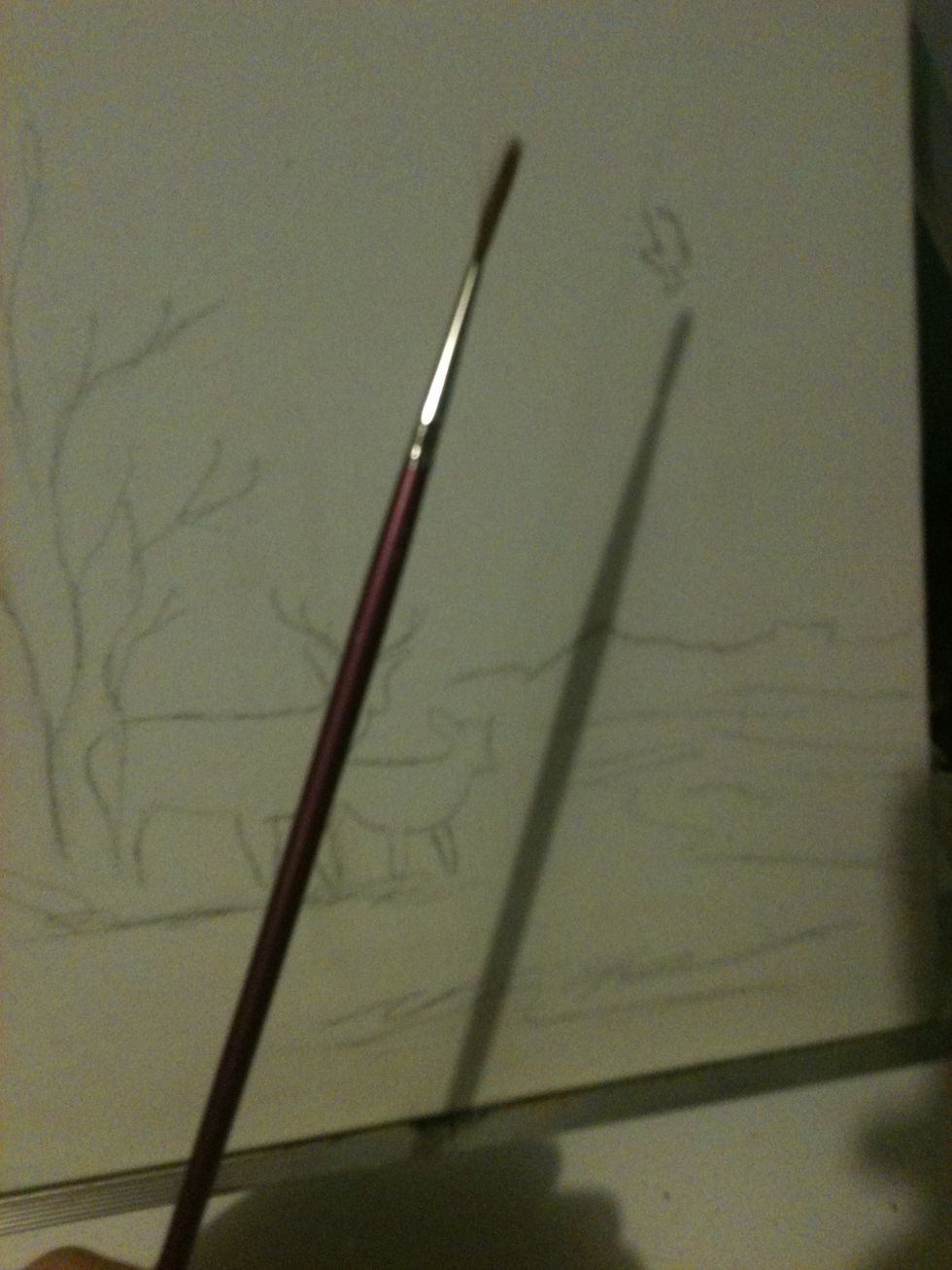 Twiggy liner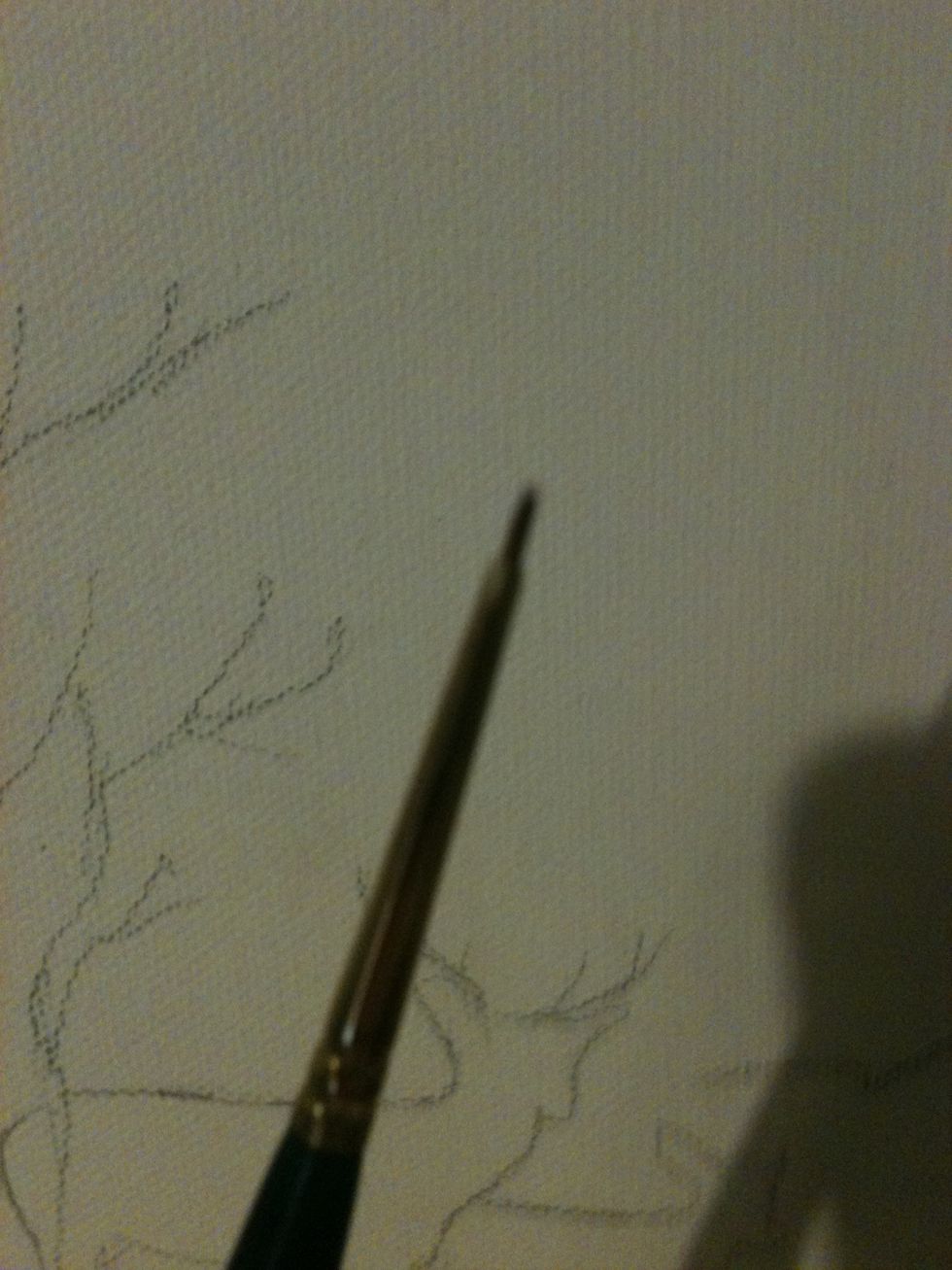 Spotter brush. It's a small brush for small detail.
Notice I covered up the trees and part of the deer and mountains. Don't be afraid to touch them. Go over the trees. They are gonna look different at the end anyway.
Next the distant mountains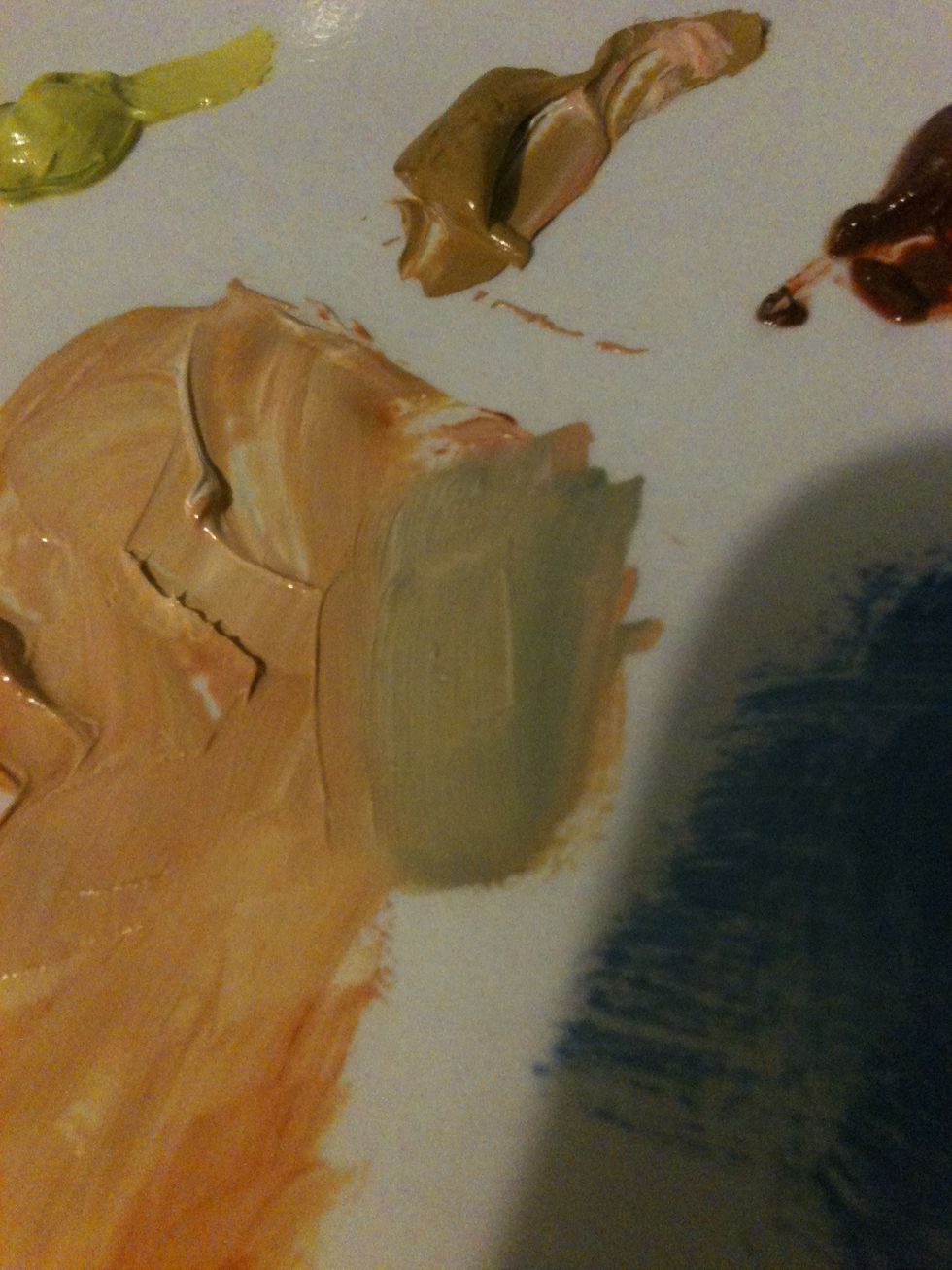 On the side I added a few hairs of blue and white. I also added some Liquiglaze to thin it.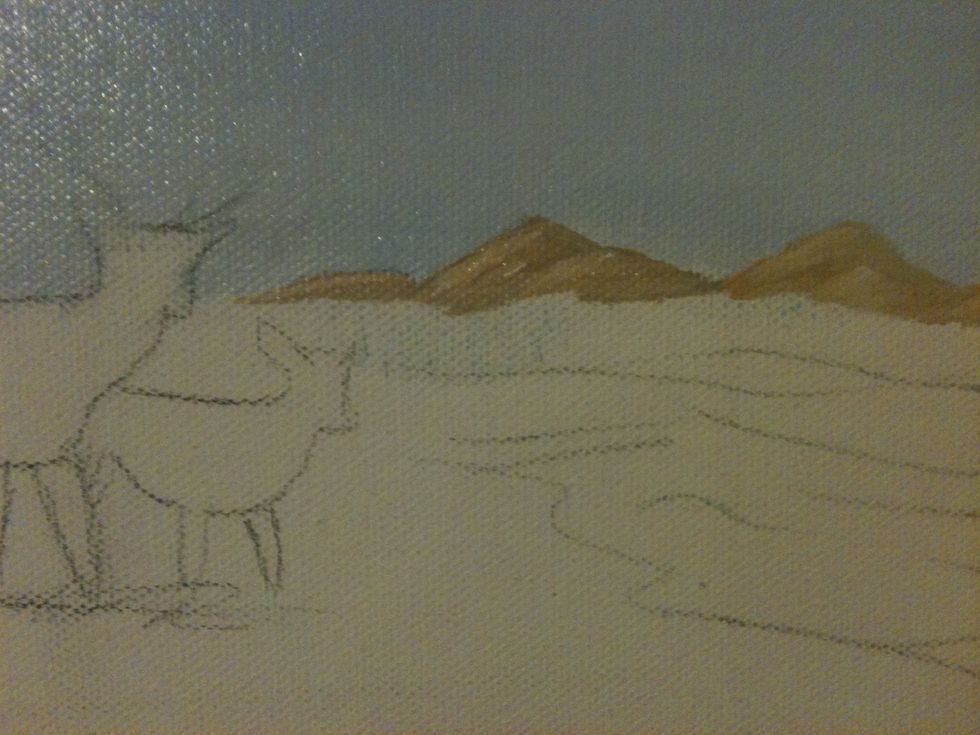 Then added highlight on the left side of the rock.when your satisfied, clean ur brush.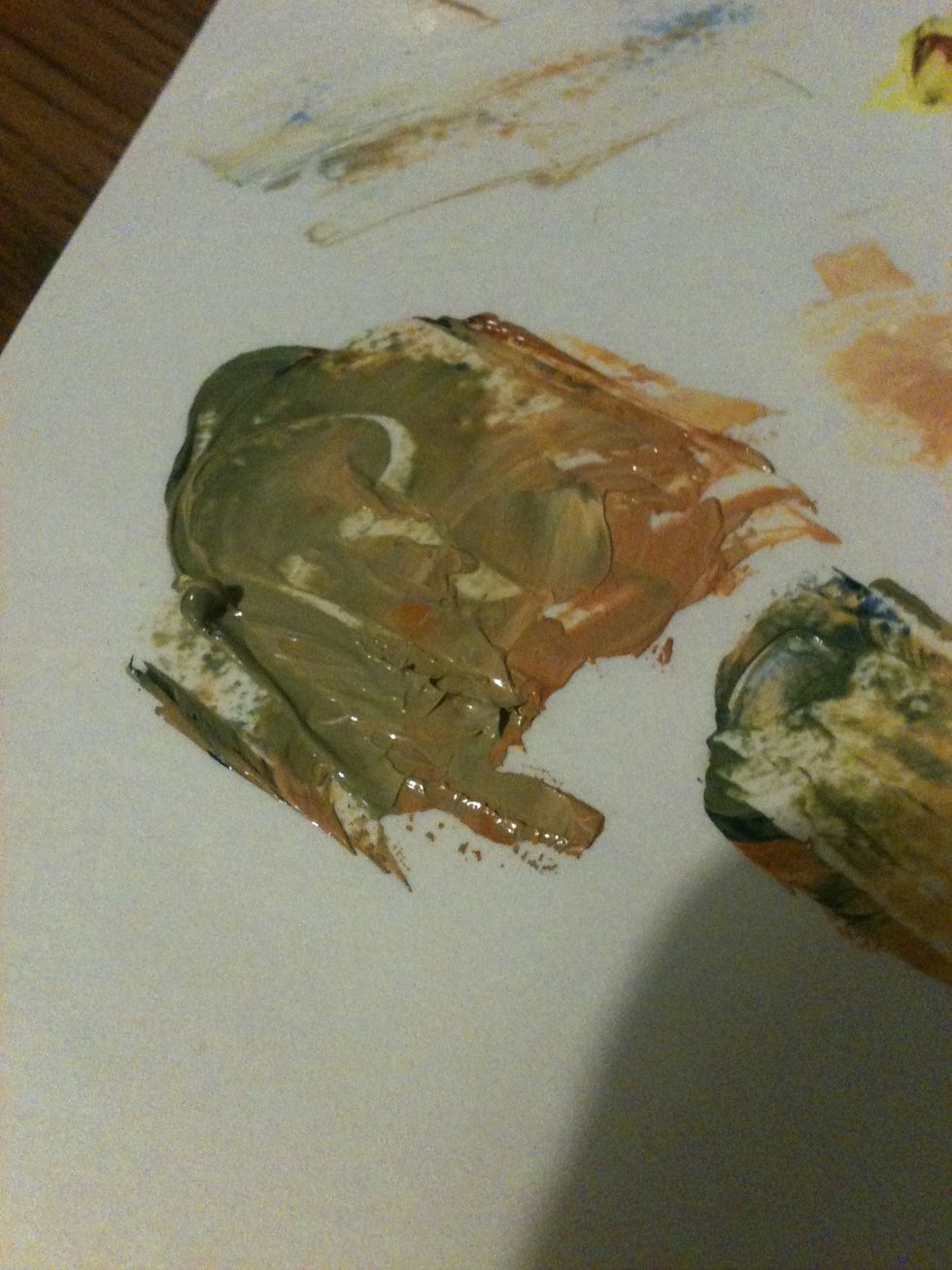 For this step, I took some of my mountain color, then I just added little bits of every color to get a greenish color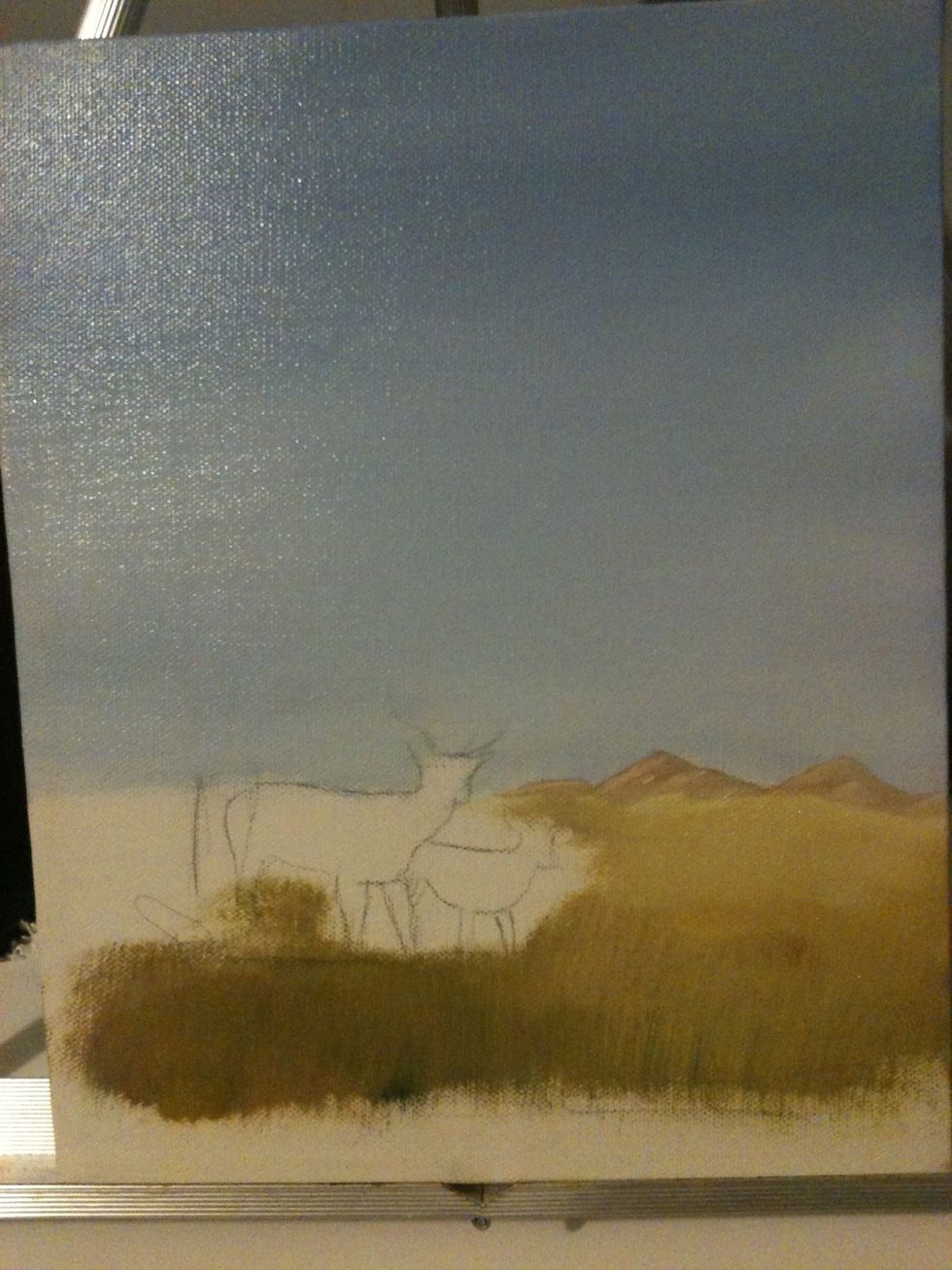 At this point my iPhone wouldn't take video anymore :*( . I'm just pulling down the color. It needs to be darker in the front and lighter in the back. I used the fan brush.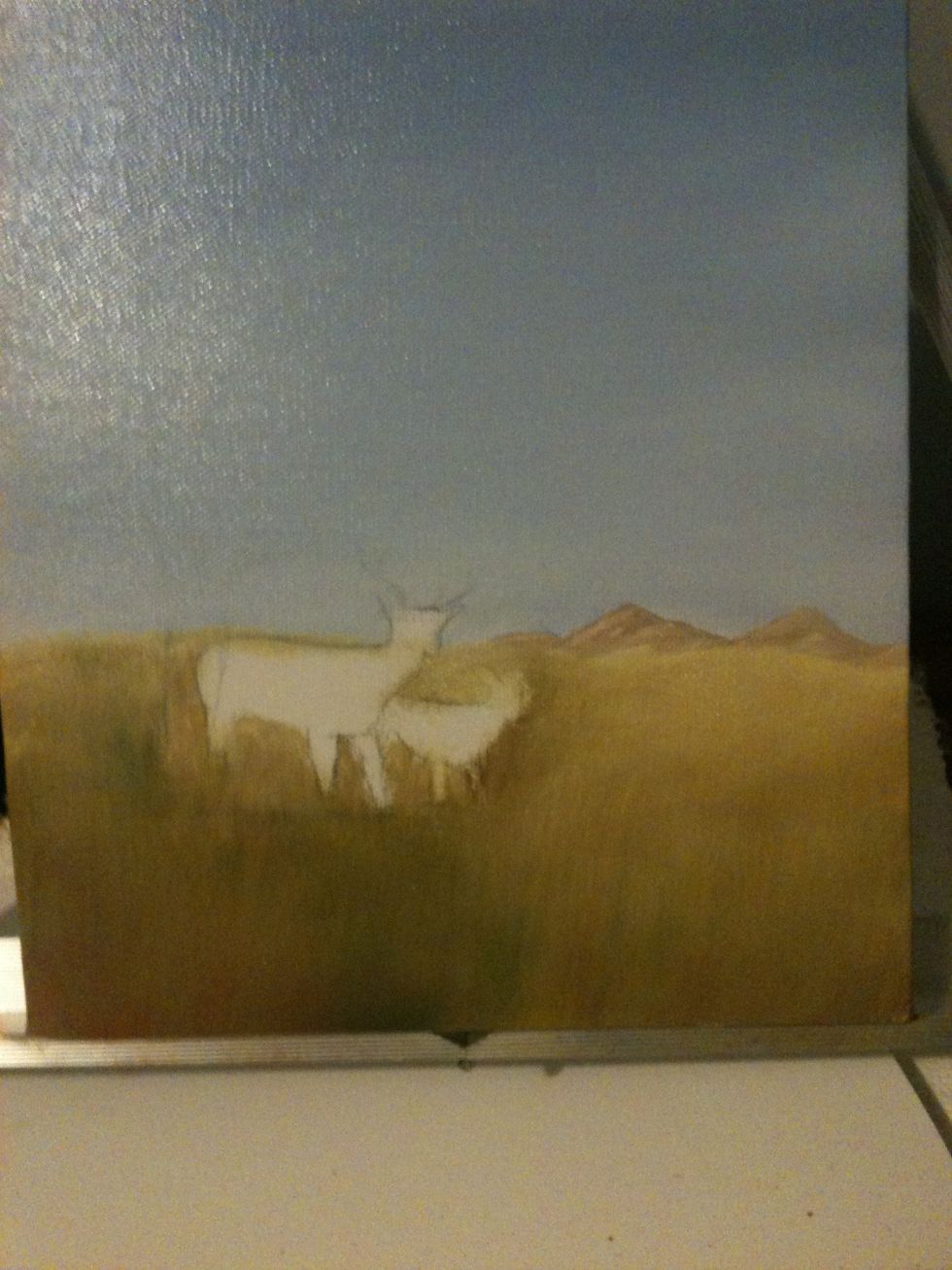 Once you have your color blocked in, wipe your brush off on a paper towel or what ever you use.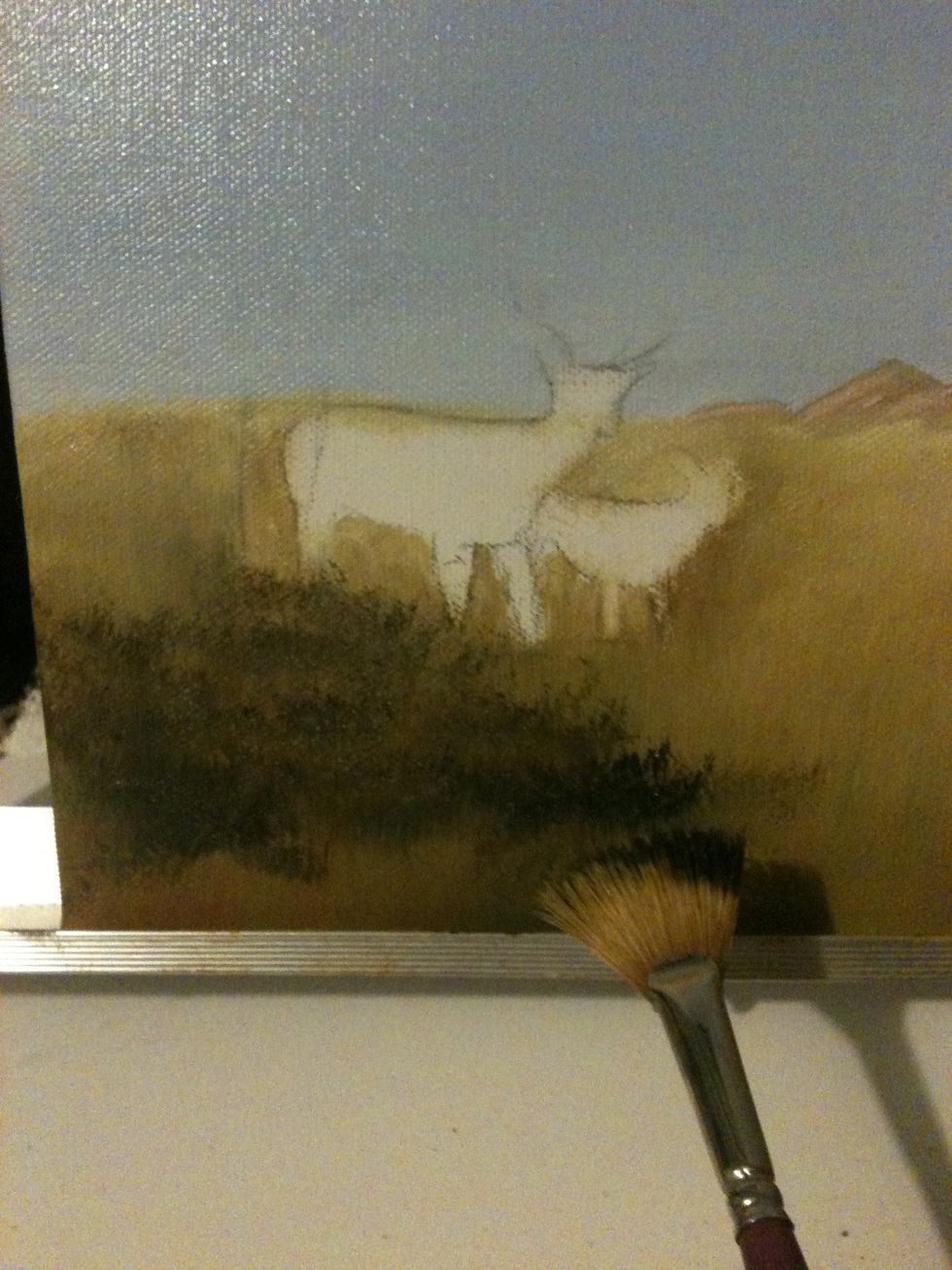 I mixed the blue and burnt sienna to get a dark color. Load the paint on the top of the brush and using flicking down motions.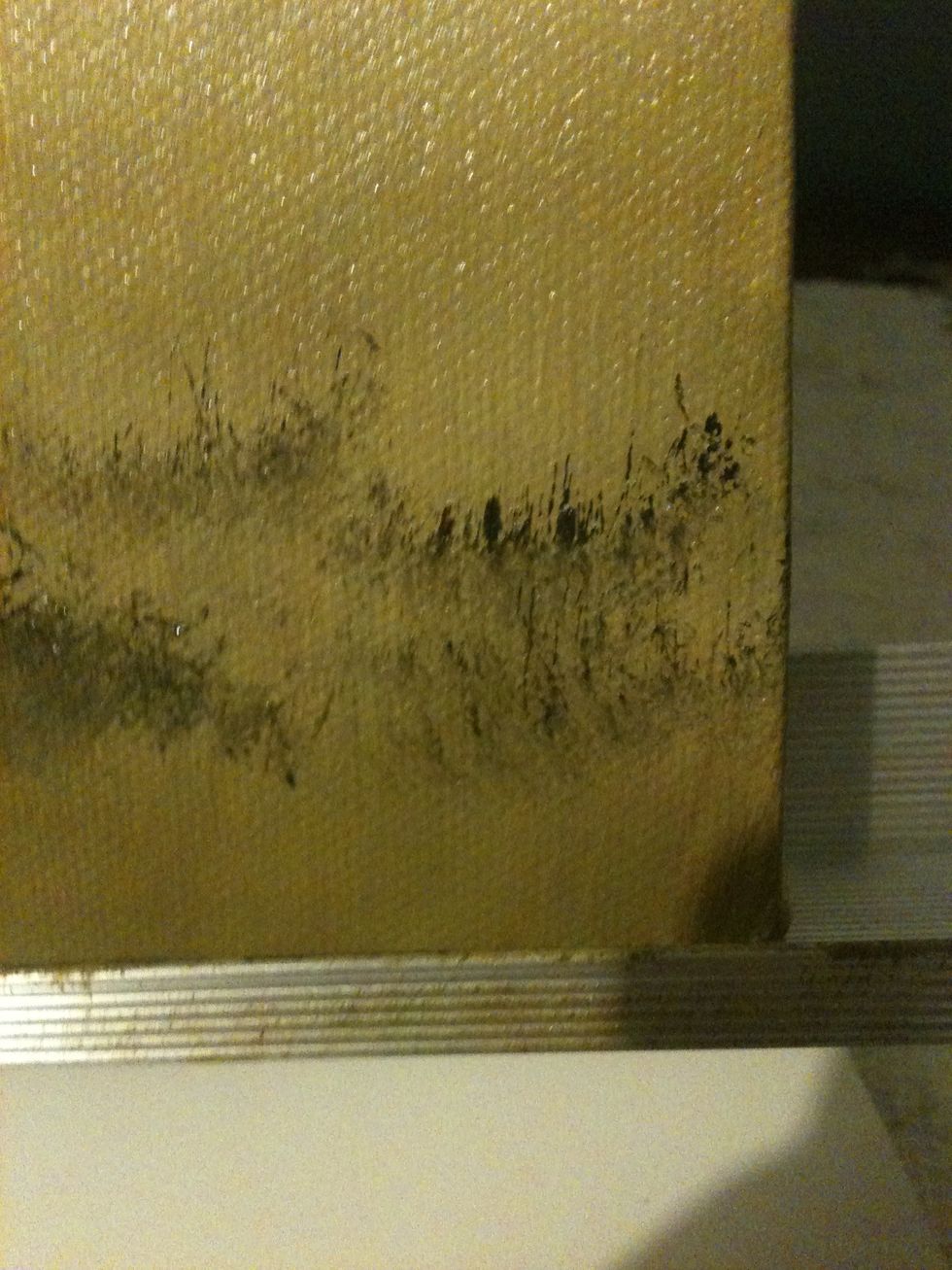 Use the corner of the fan brush, not the whole thing or u will get smiles faces all over. Smiley faces are good, but not in the grass. Keep them on Facebook! ;)
If your starting to get frustrated, remember: this is oil paint. Go watch some tv for a few minutes, drink coffee, or something. Painting is supposed to be fun! :)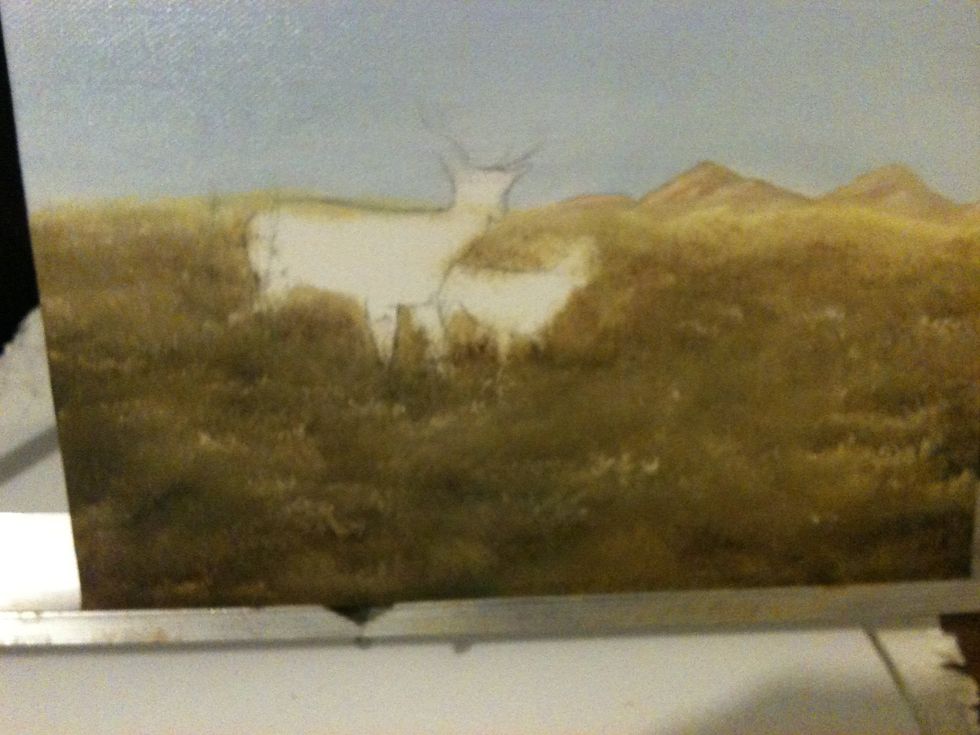 Once your pretty well satisfied, clean ur brush.
Let's do the focal point. The deer.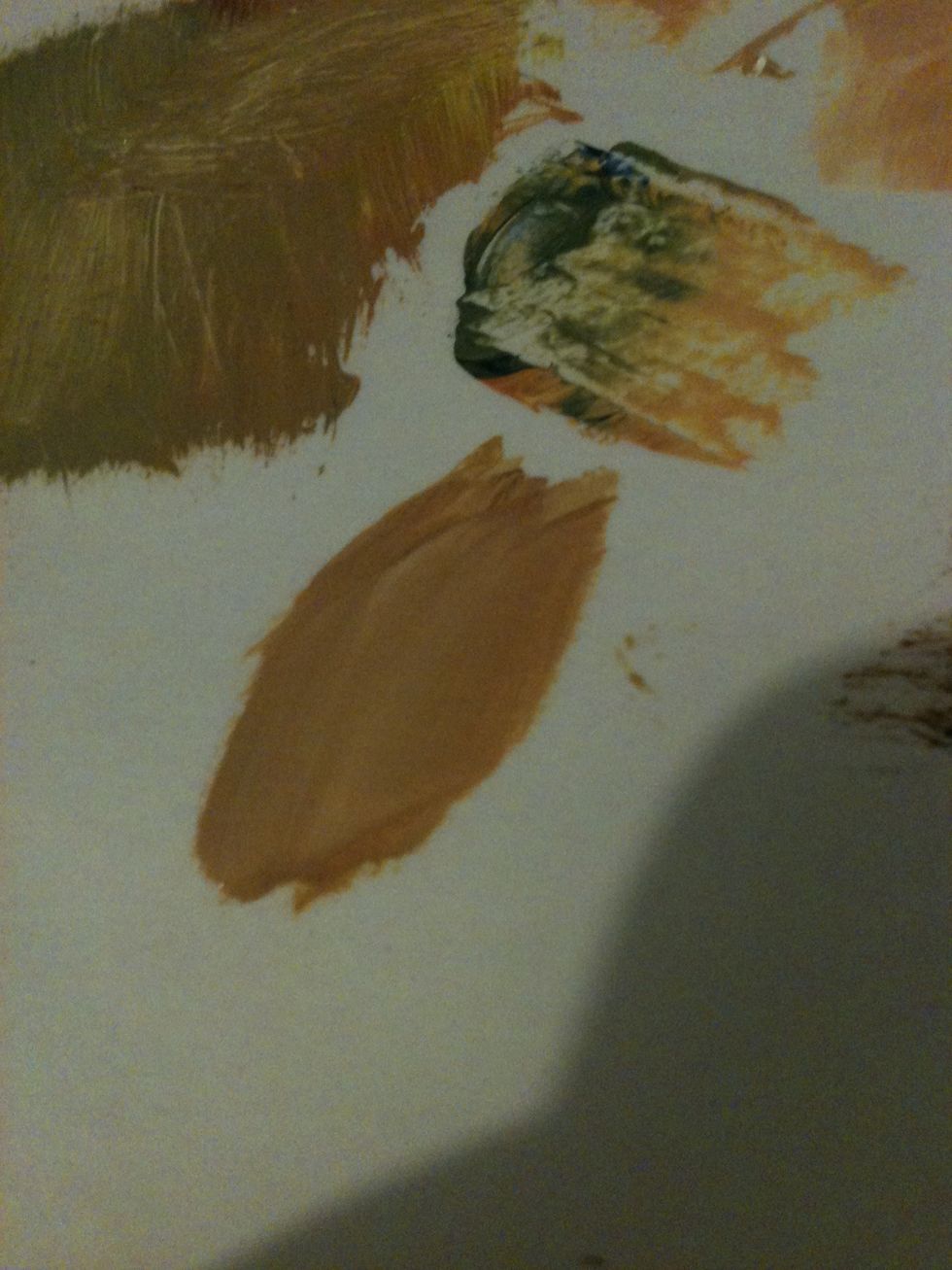 I did burnt sienna and white and a touch of blue until I got a color I liked.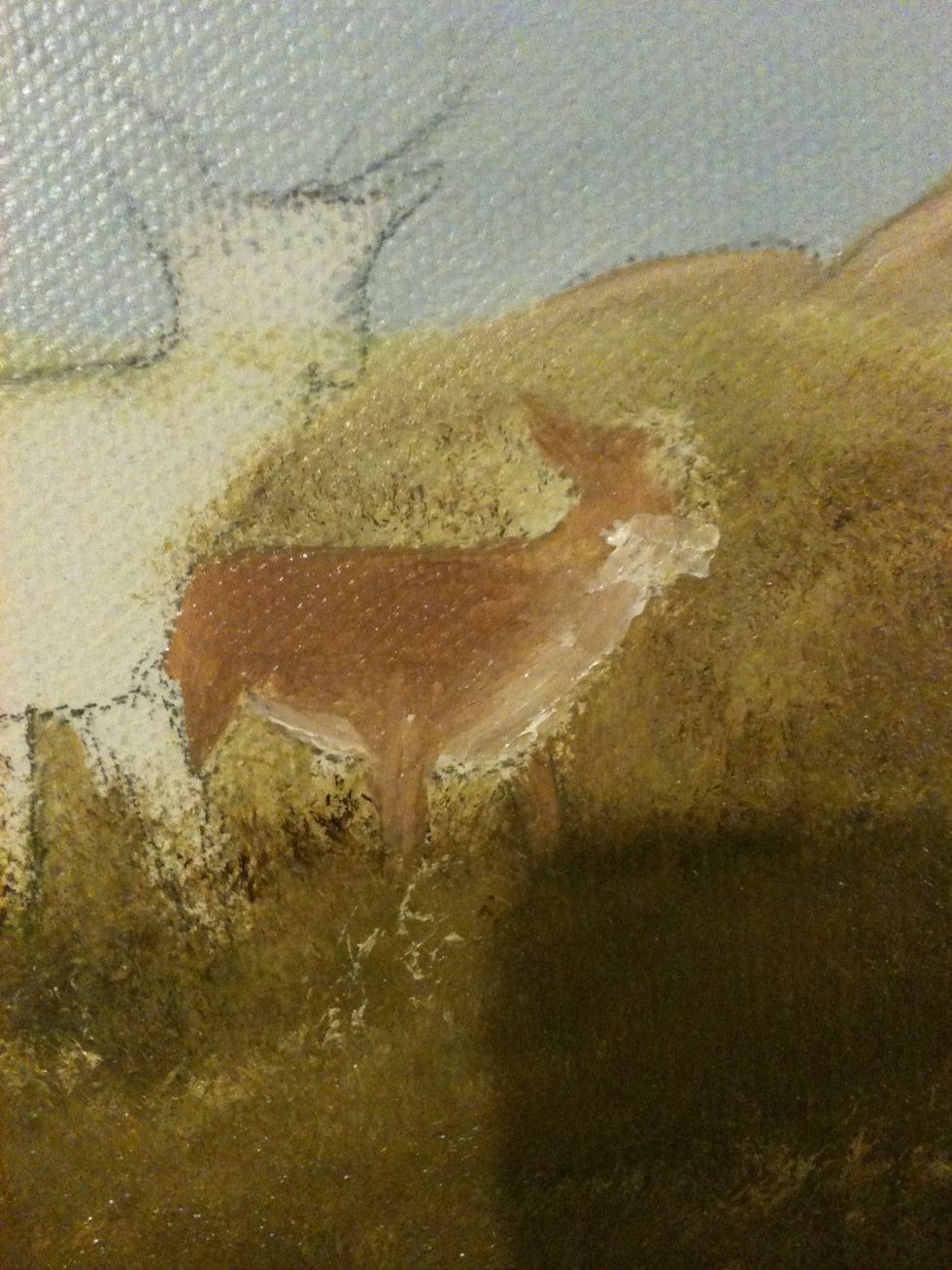 Now I'm just blocking in color :)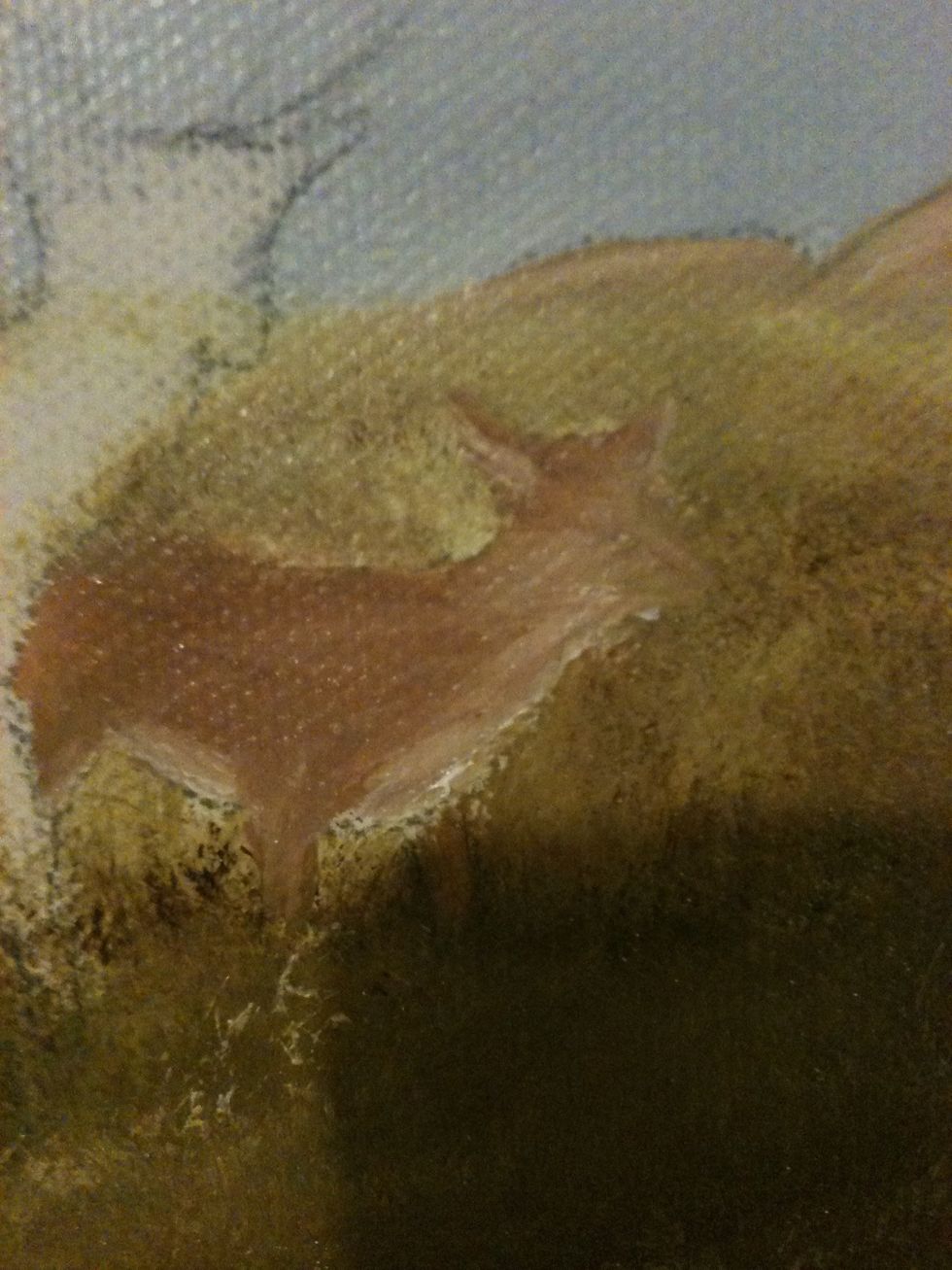 Add small highlights and get the color u want.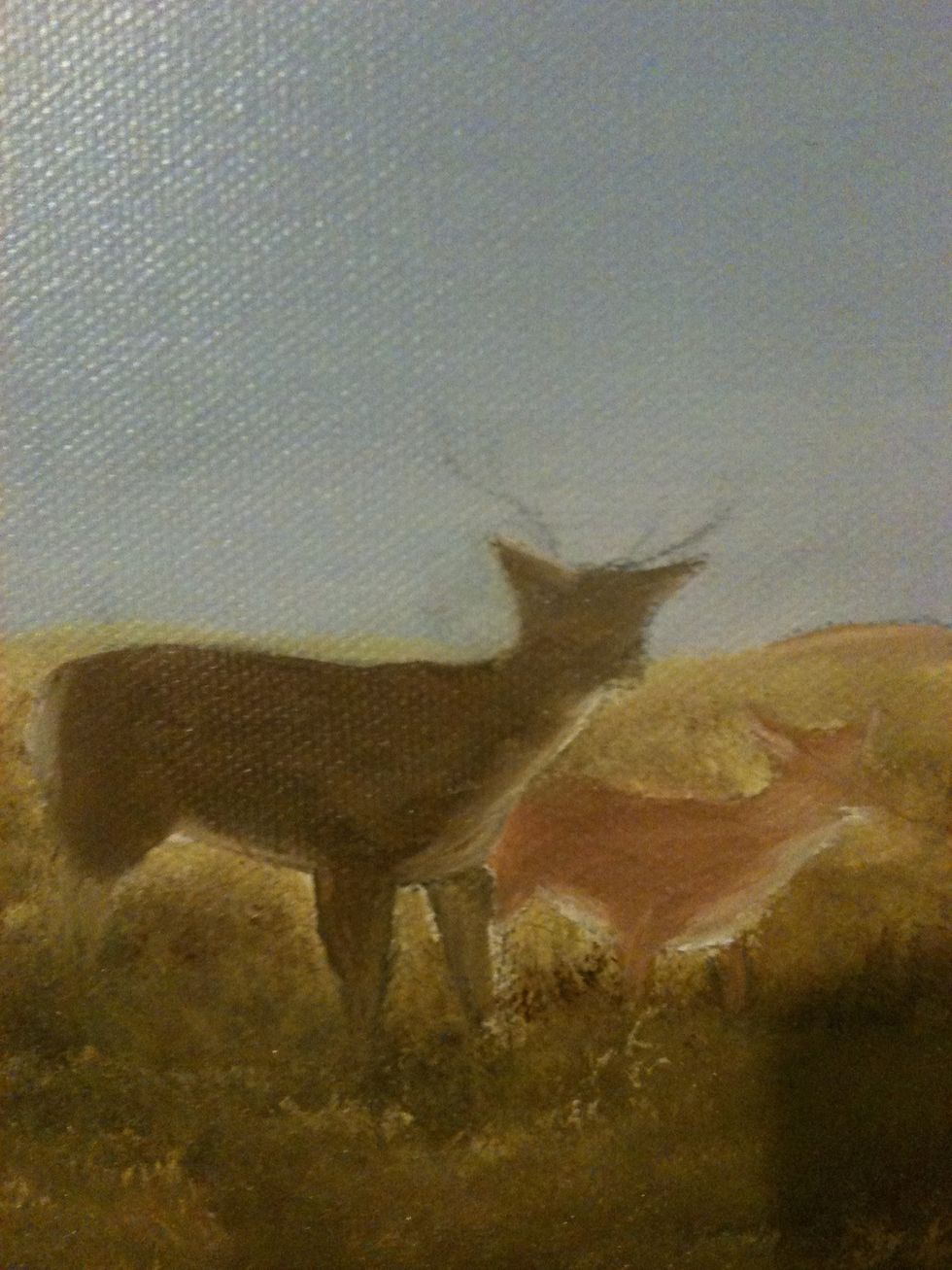 I chose a darker color for the older deer.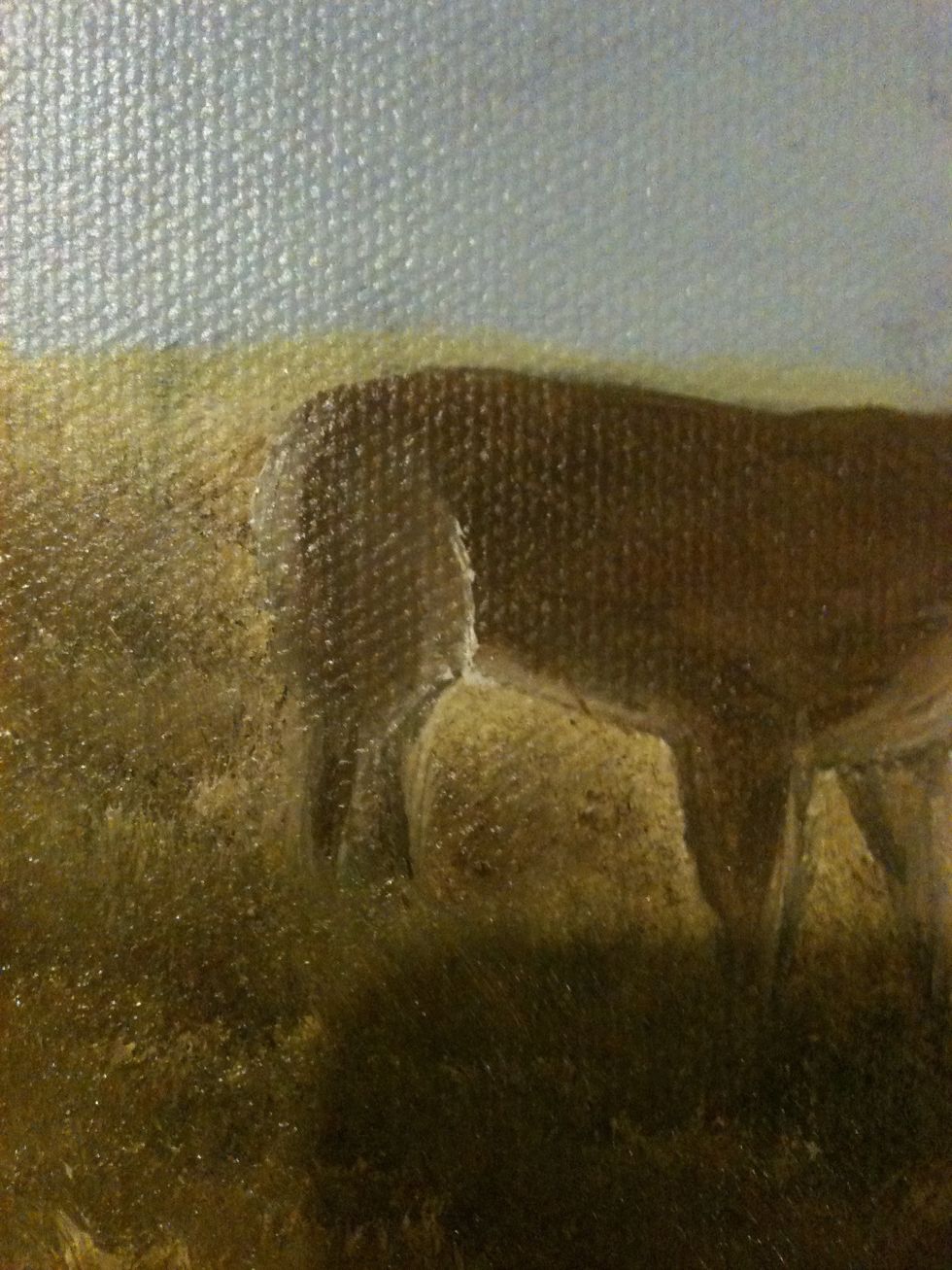 I spend a good 10 minutes on this back leg to look how I wanted it. I ended up having to turn my painting to I could get the angle I wanted.
At this time, I stopped and went to watch the rain.
Now I'm going back to do touch ups and detail on the little deer
I darkened him a little and added white to his ears. Now to ad spots with the spotter!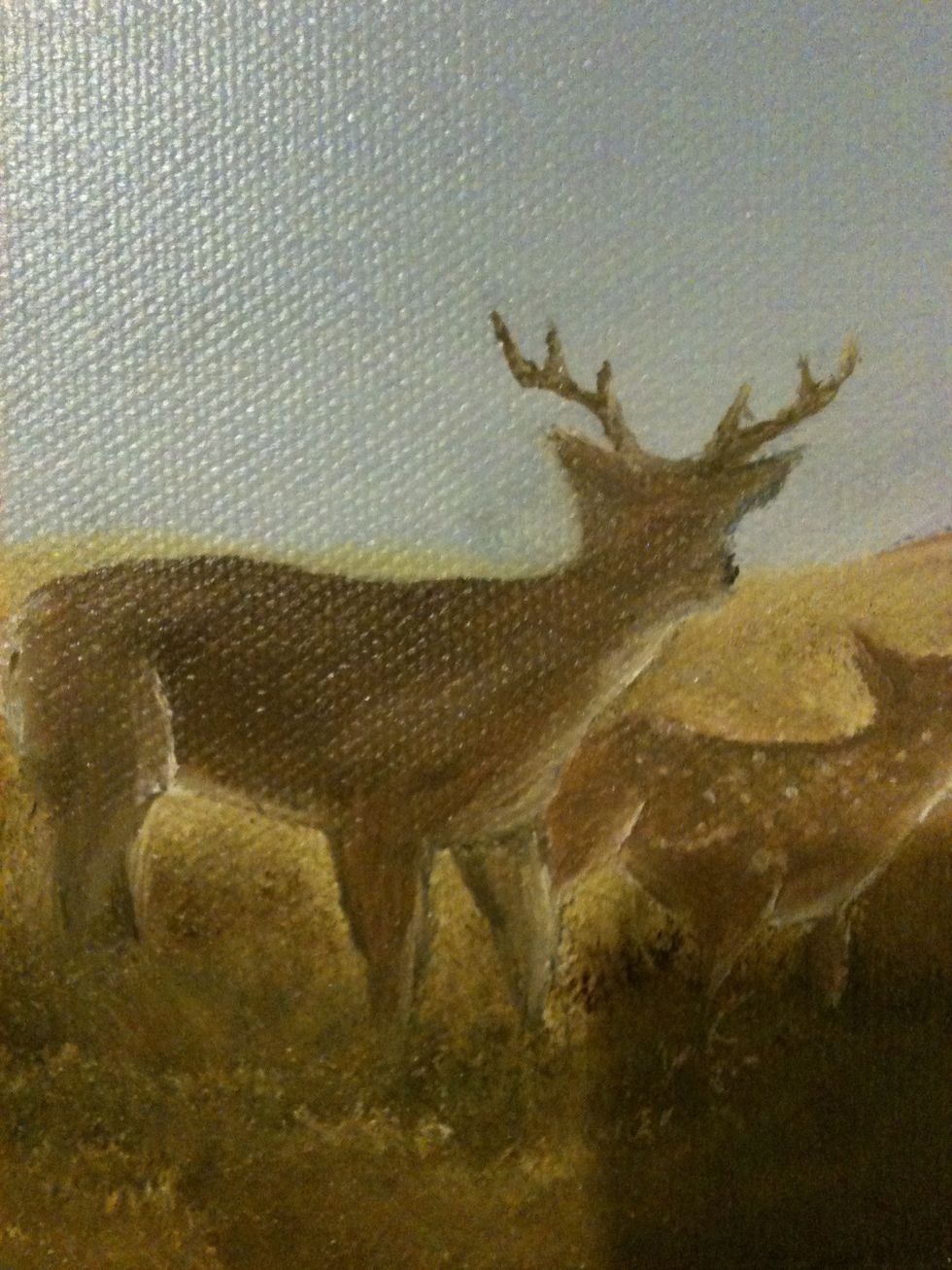 I put in the horns with the deer color and white. I used the twiggy liner and thinned the paint to about like ink. I also put on little bits of lighter color so it isn't the same all over.
Now to do the tree, bird and set the deer in the ground.
Burnt umber and blue and lots of thinner to do the trees.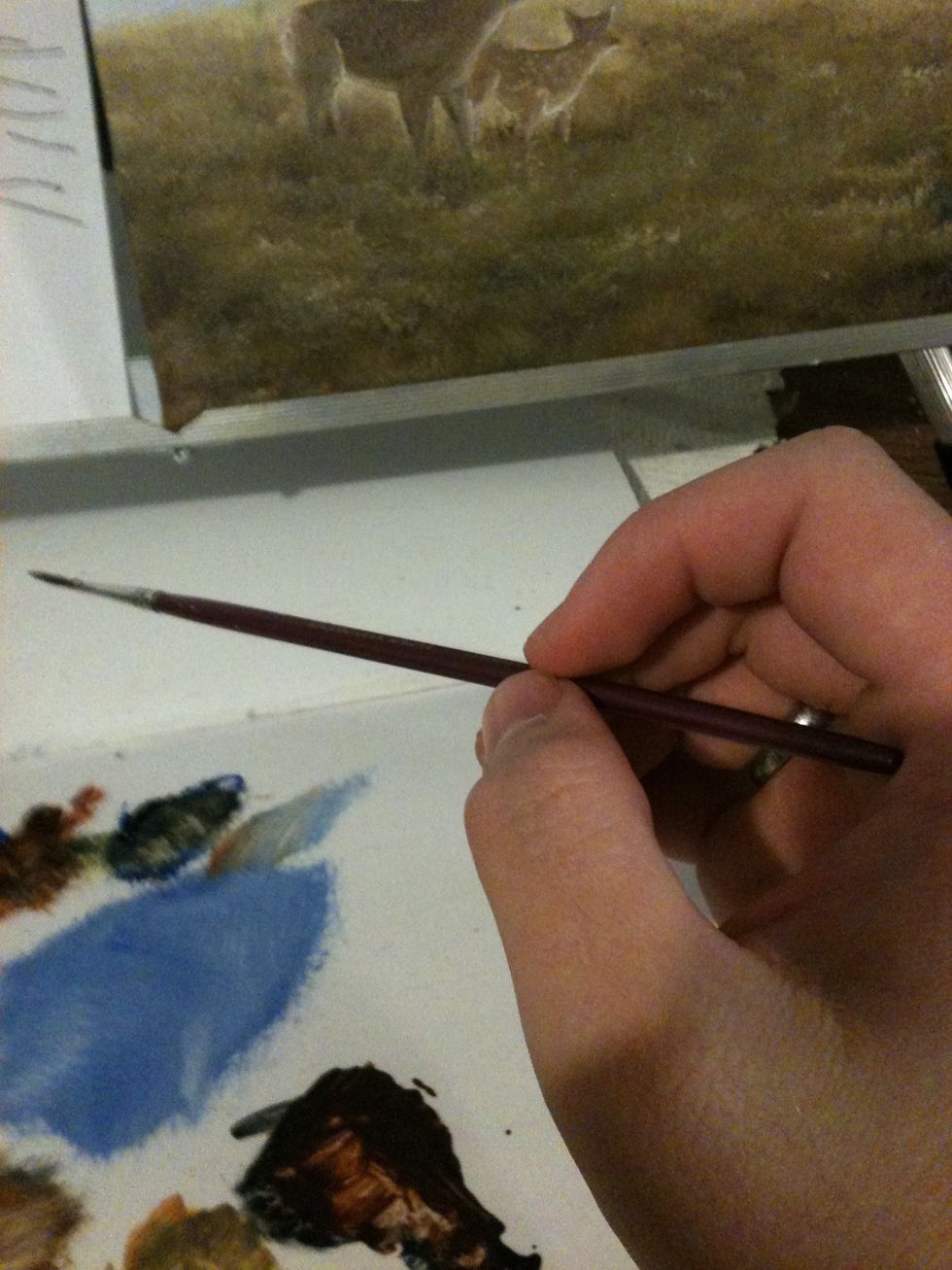 Hold the brush back here.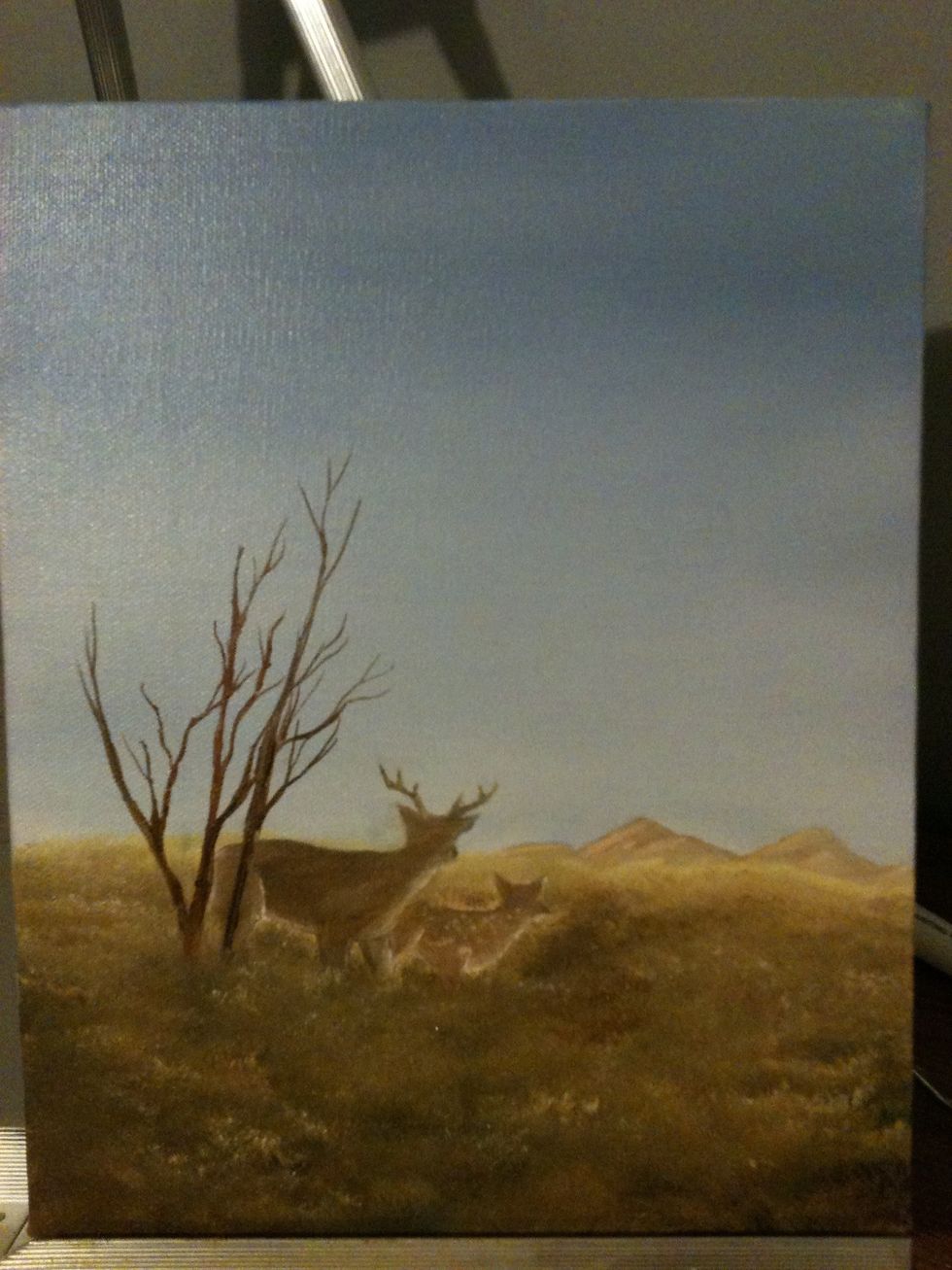 I'm going to let this dry, then add the Bird and work on the bark of the tree. I have another guide that shows you how to save your paint.
Clean all of your brushes, take a break and allow it to dry completely before we move on! :)
Once dry, get out your blue and burnt sienna mix it to a dark color and add a Little Liquiglaze or Liquitex.
I added the bird.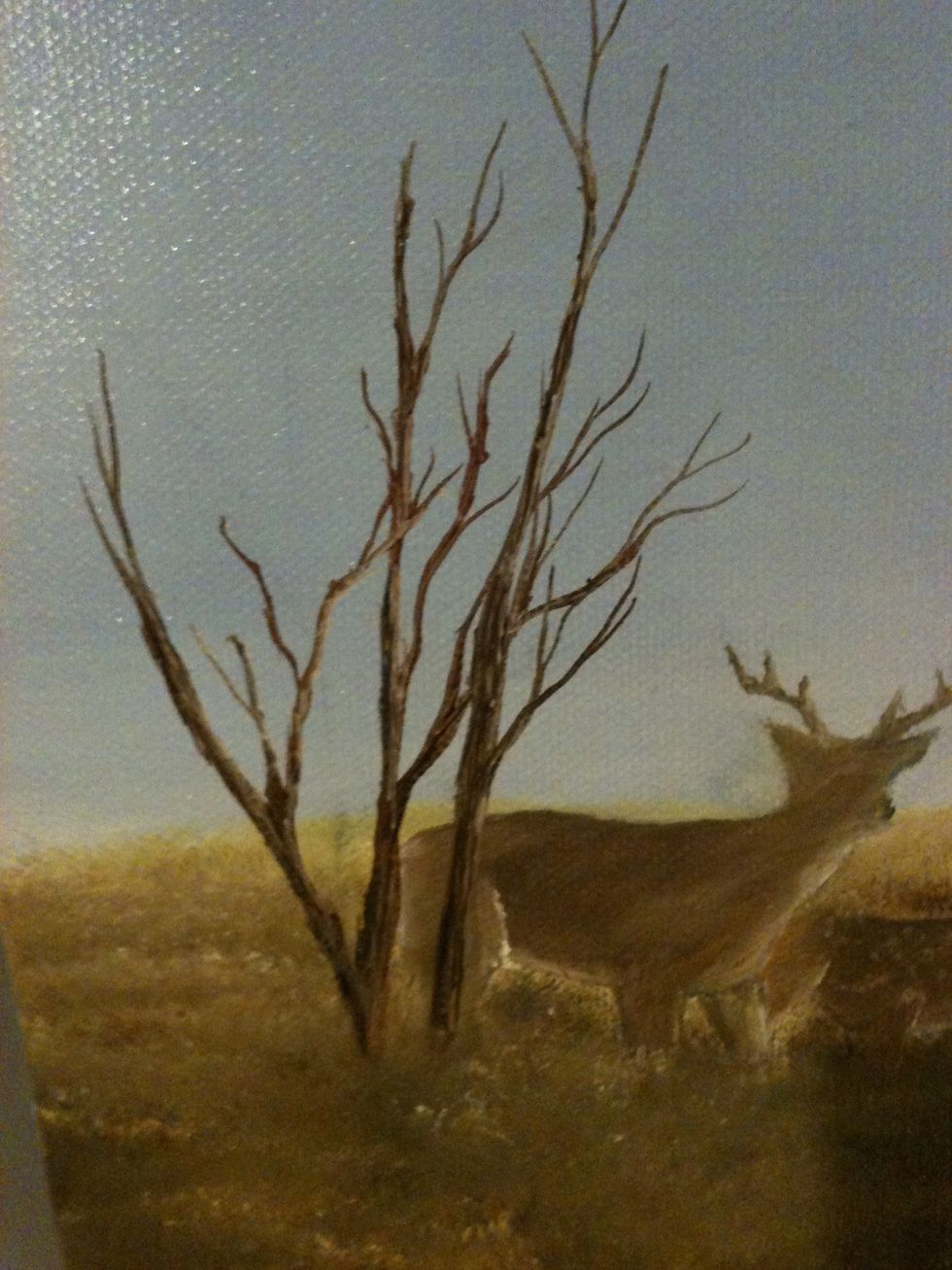 Added highlights on the bark to make it look round. I just used my twiggy liner with white and yellow ochre. Make the paint like ink. Just use short little strokes for the bark.
I'm satisfied with it! Don't forget your signature! :) I would use colors that have good contrast and that are already in your painting. I just use white. Grab your twiggy liner and thin your white.
The finished product! :)
I hope you had fun! :) before I do another guide, I would like to have at least 150-200 followers on here or on twitter. I want to see your painting, so send them to me on twitter.
Don't forget to follow me! Here and on twitter! @AaronLoyd96 P.s. I like comments! ;)
Oil paint
Burnt Sienna
Ultramarine Blue
Titanium White
Cadmium Yellow
Yellow Ochre
One or Two Fan Brushes
A Twiggy Liner
Size 12 Background Brush
Small detail brush
A size 15/0 spotter brush
Brown paper bag
8X10 stretched canvas
(paint thinner, and extra stuff you may want)
Your pallet of course! ;)
Liquiglaze or Liquitex