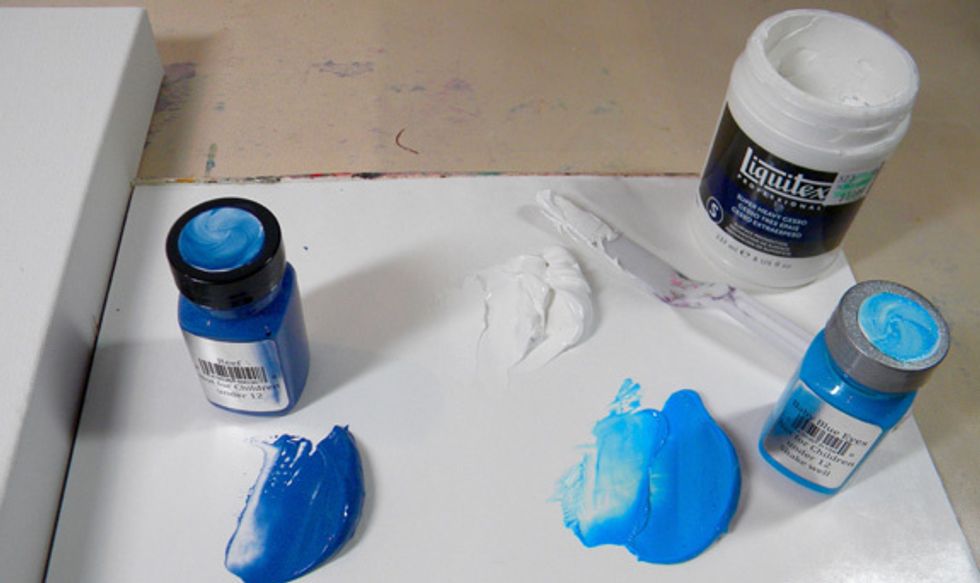 To build the layers for the background, start with Reef Velvet, Baby Blue Eyes Sorbet, and heavy gesso.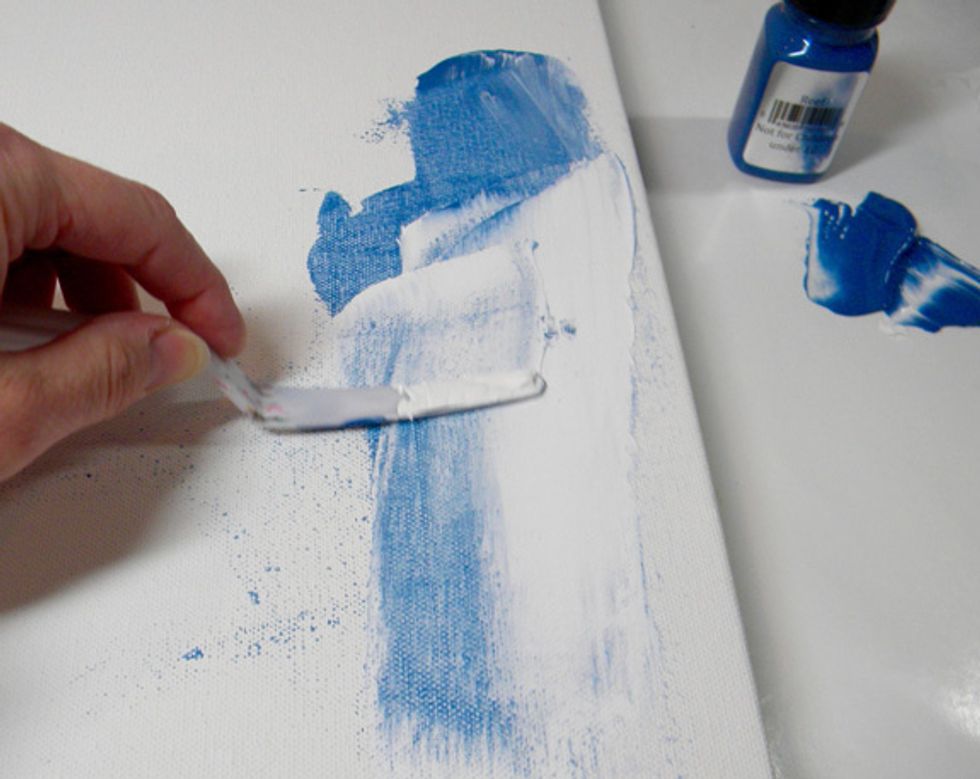 Pick up a generous amount of Reef and gesso on a palette knife and spread onto canvas. I like to start with the darker colors first to create depth. Then layer the lighter colors over the darker.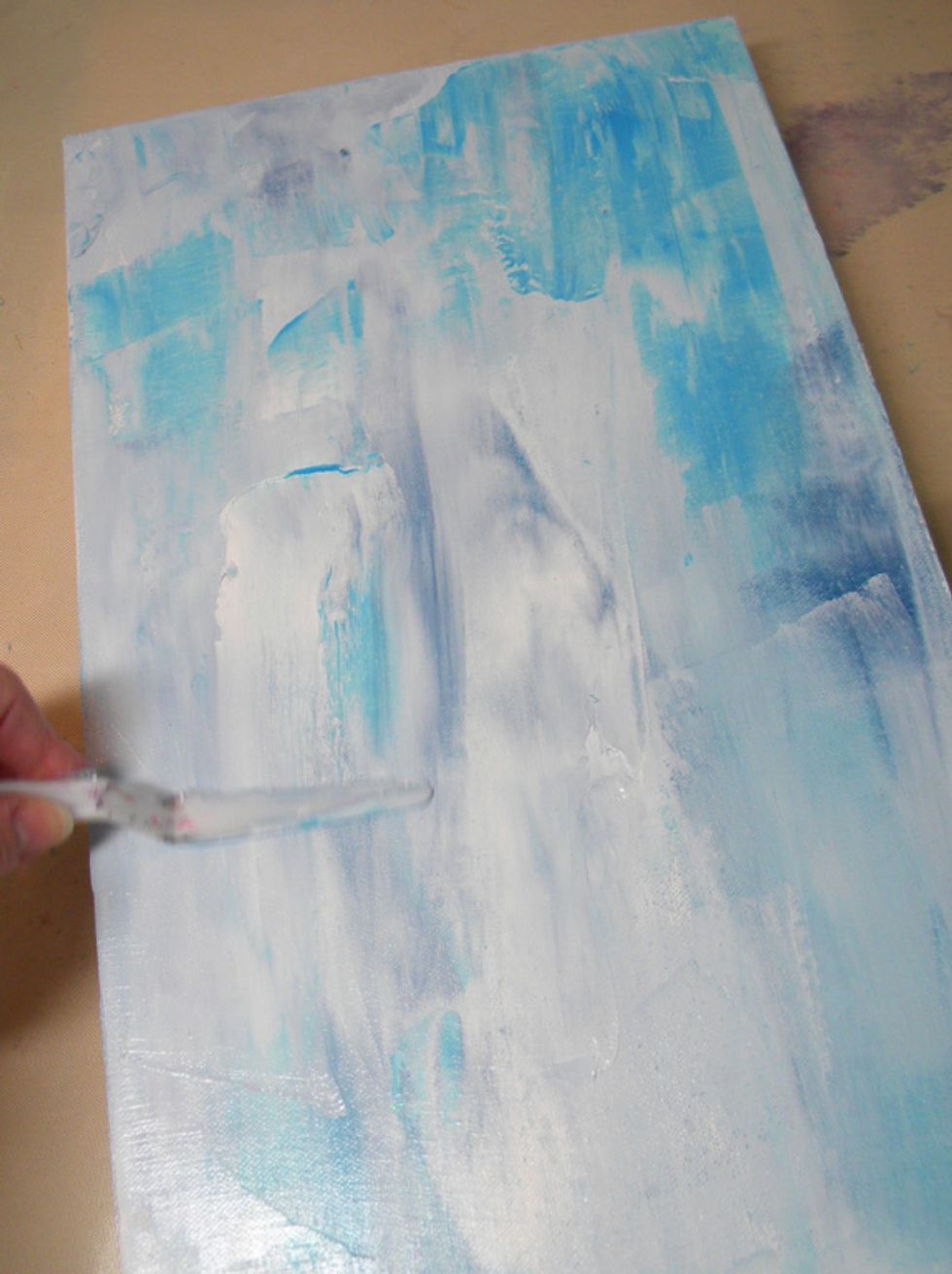 Alternate applying the two blues and gesso. till the canvas is covered. Don't be stingy with the paint and gesso. I really clumped it on!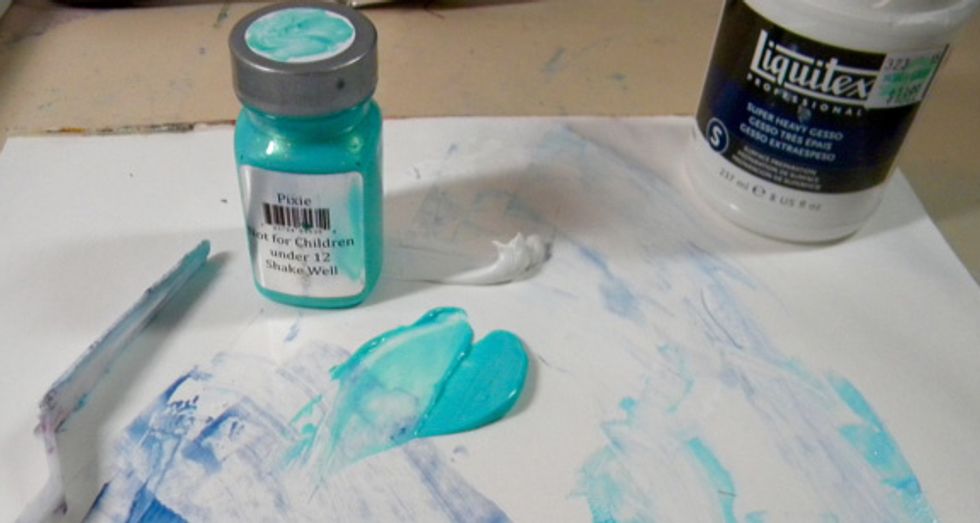 Add Pixie and gesso using the same technique.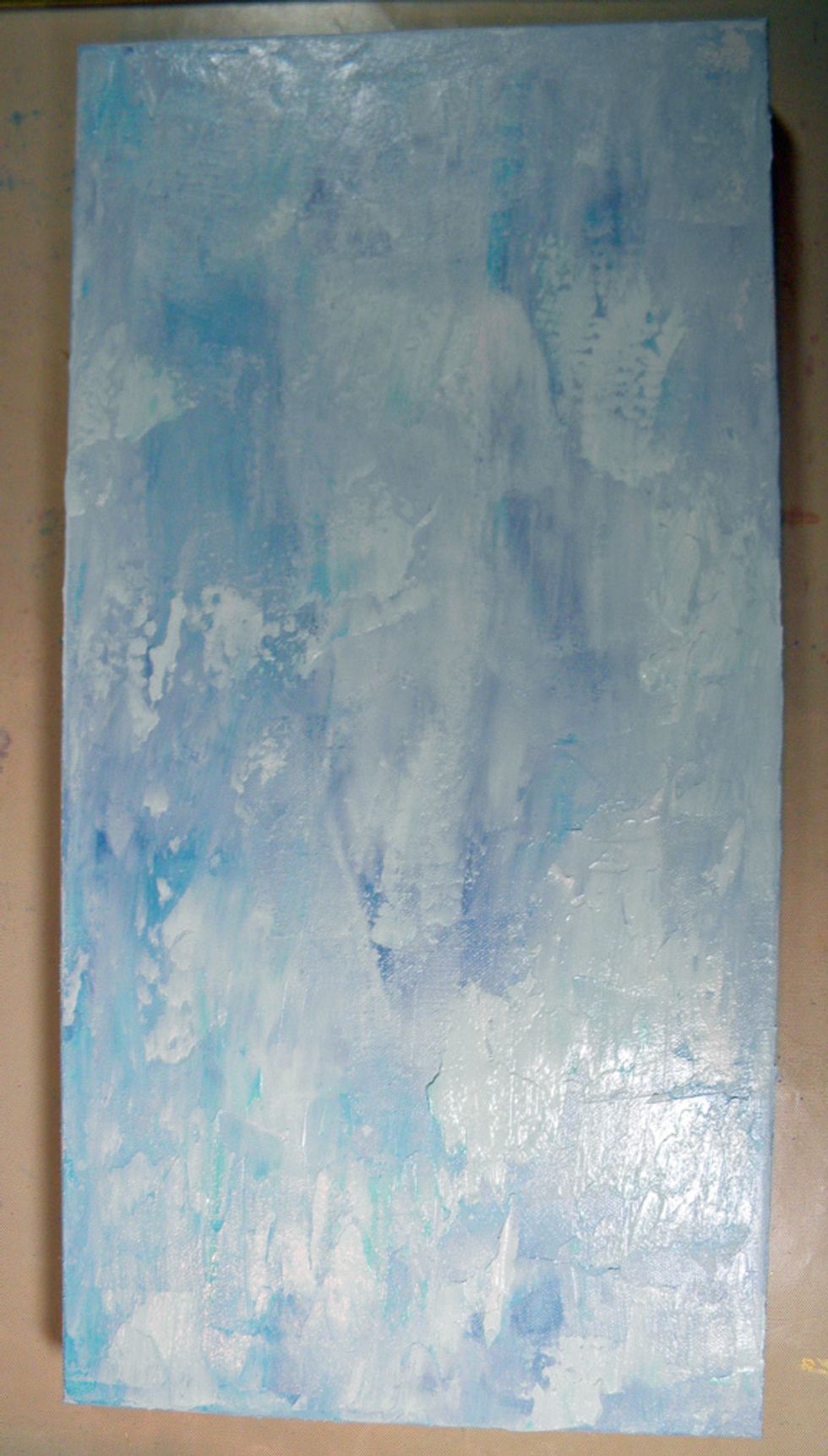 Here is the canvas so far. But we are not done with the background yet! We are creating yummy layers!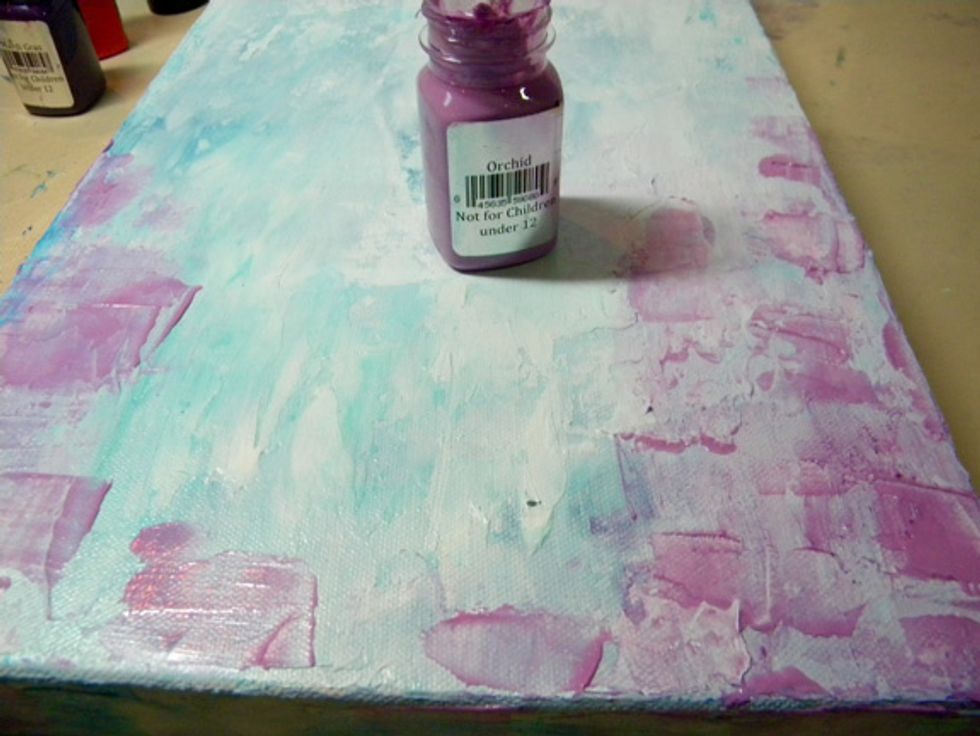 Add Mardi Gras, Orchid and gesso using a 1/2" brush to the top, sides and bottom. I also added the blues and more gesso with a brush as well to add even more texture to the background.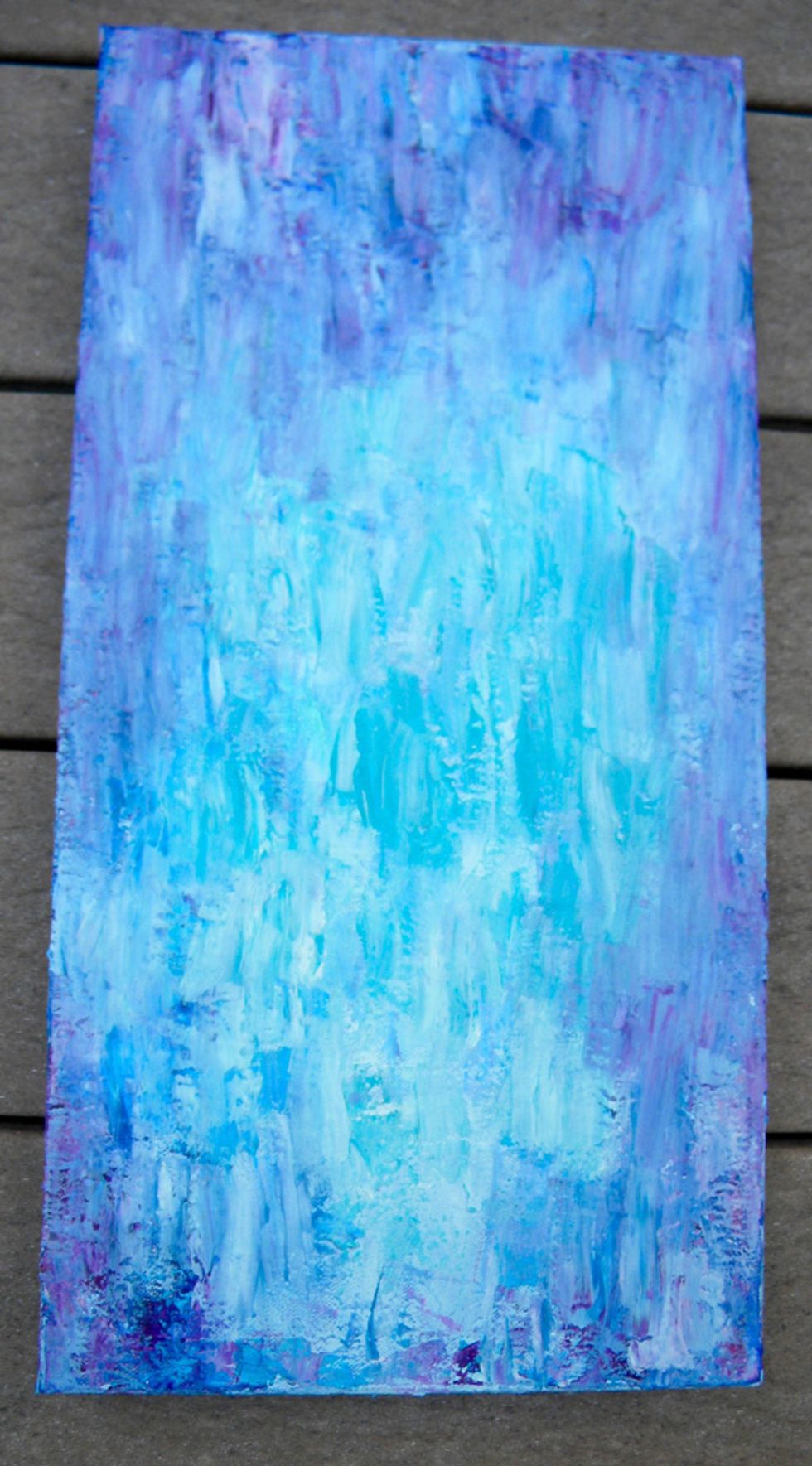 I wanted to see the brush strokes so I kept adding color and gesso with a brush till I liked the result. I kept the middle blue and white. Let dry completely. Here is the finished background.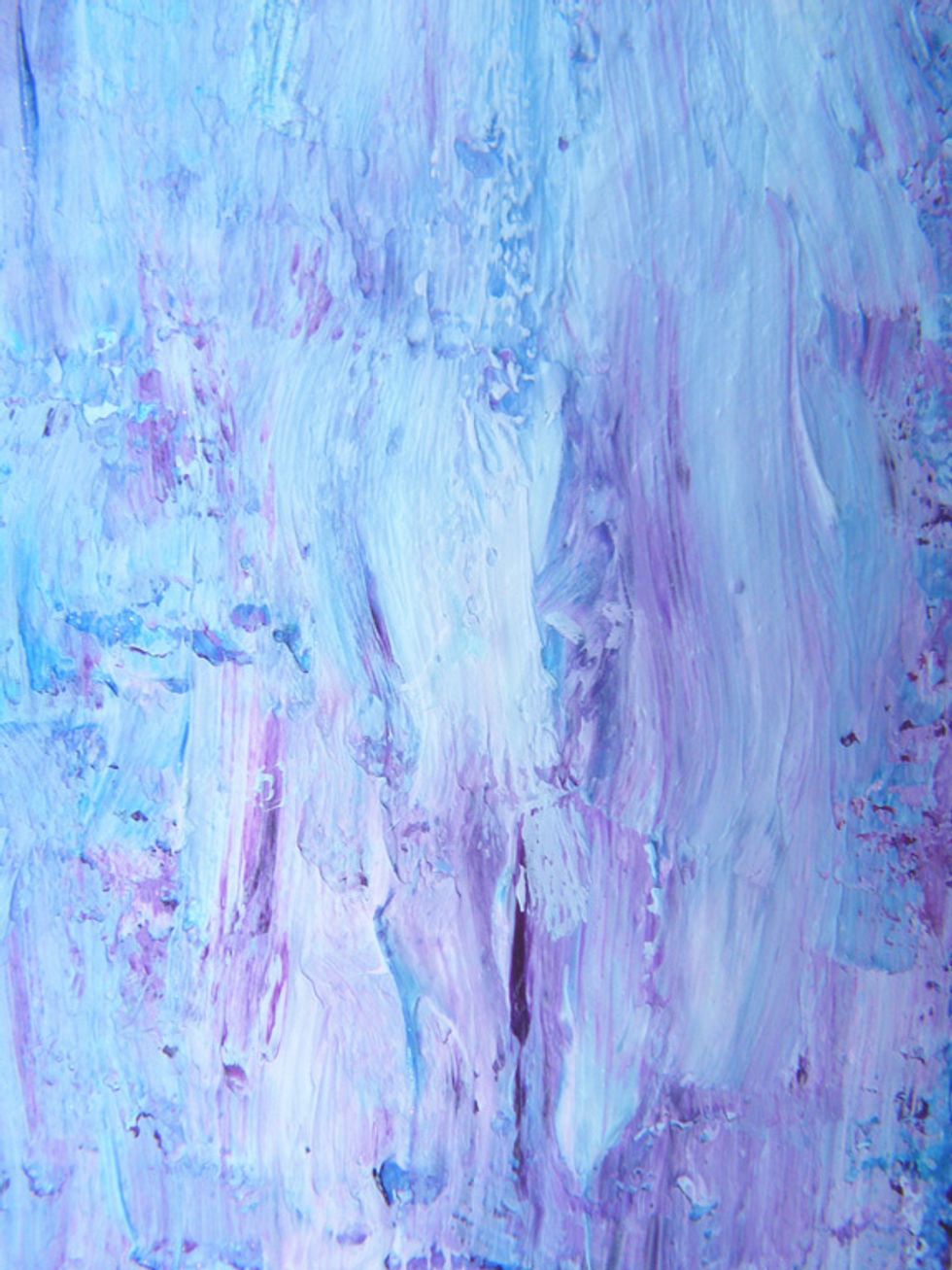 Mixing Art Anthology paints and heavy gesso can stretch your paints while creating beautiful pastels colors and great textural effects.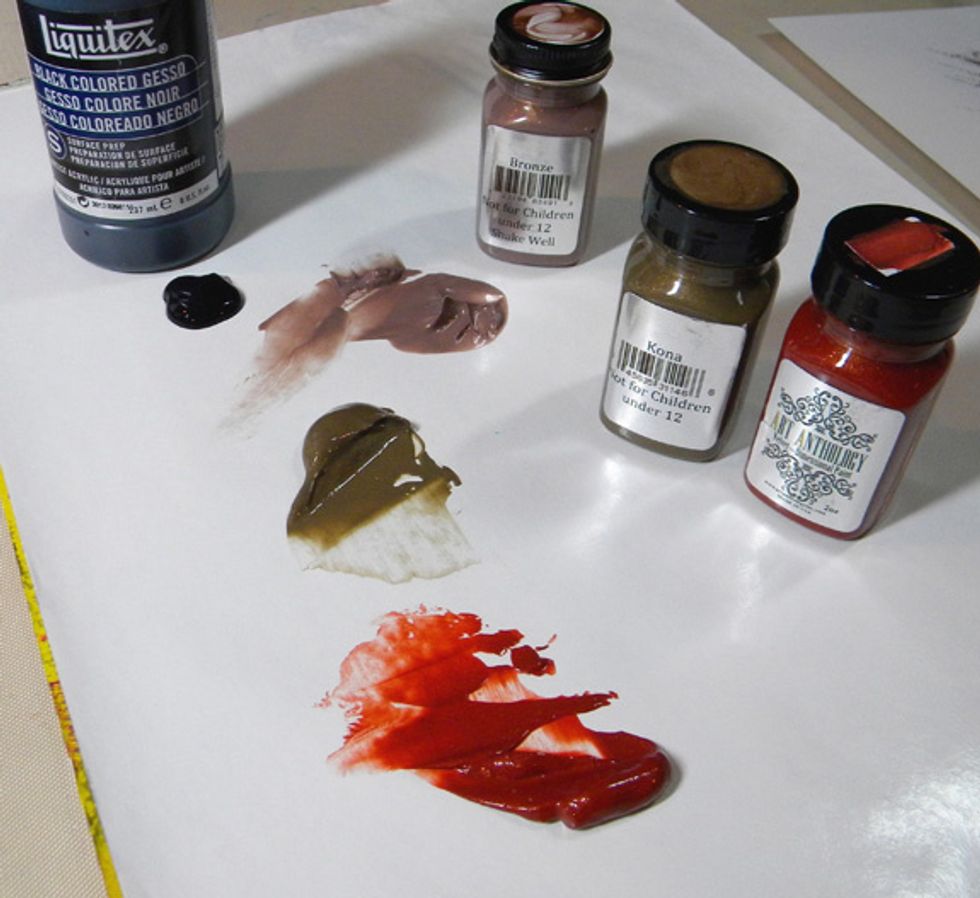 For the trunk of the Palmetto tree I put Kona, Terra Cotta Velvet, Bronze Metal Effects and black gesso on my palette.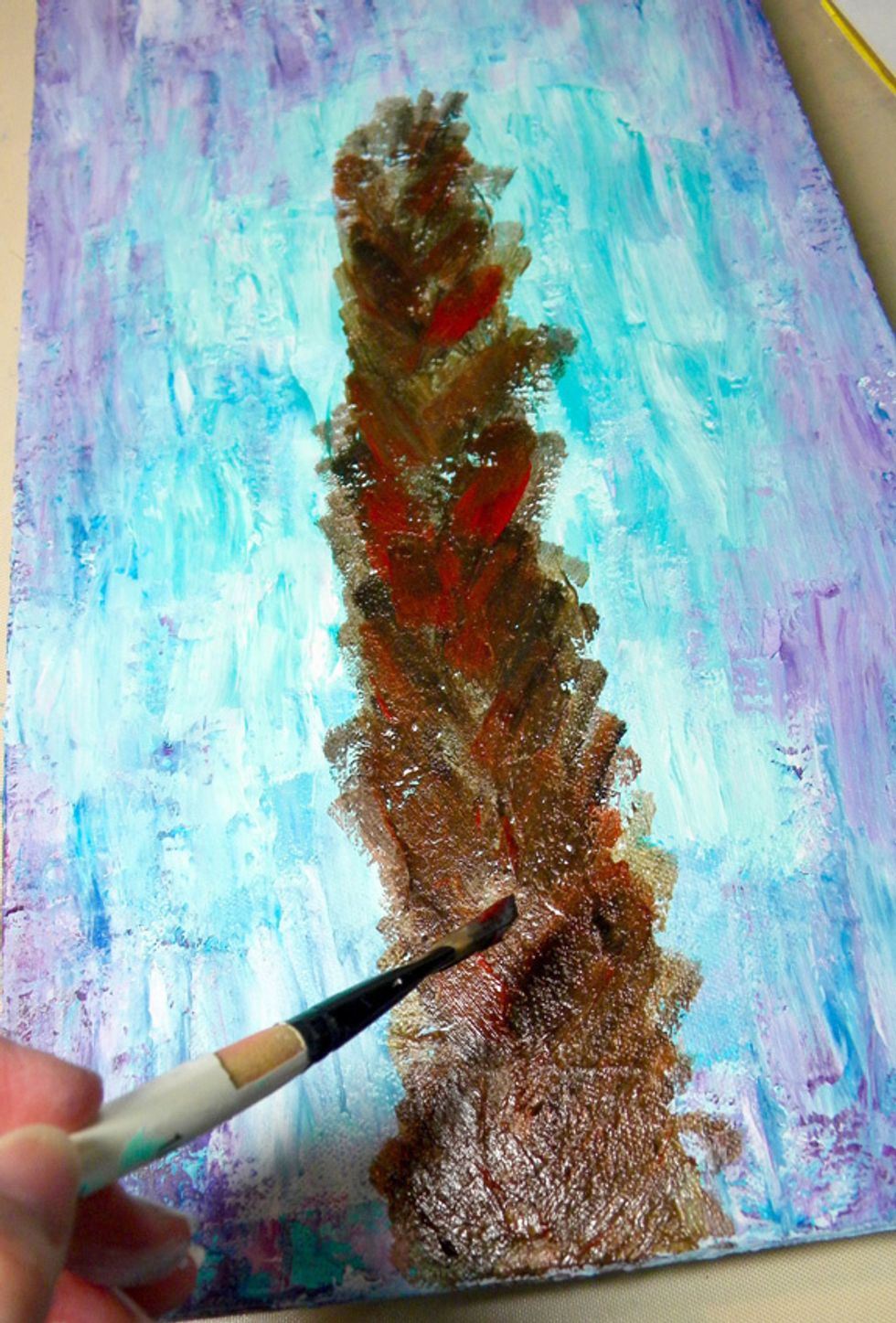 The palmetto tree has a different trunk than a palm tree. Its bark grows in a criss-cross pattern. So I used a small, flat brush to recreate this pattern, alternating different colors.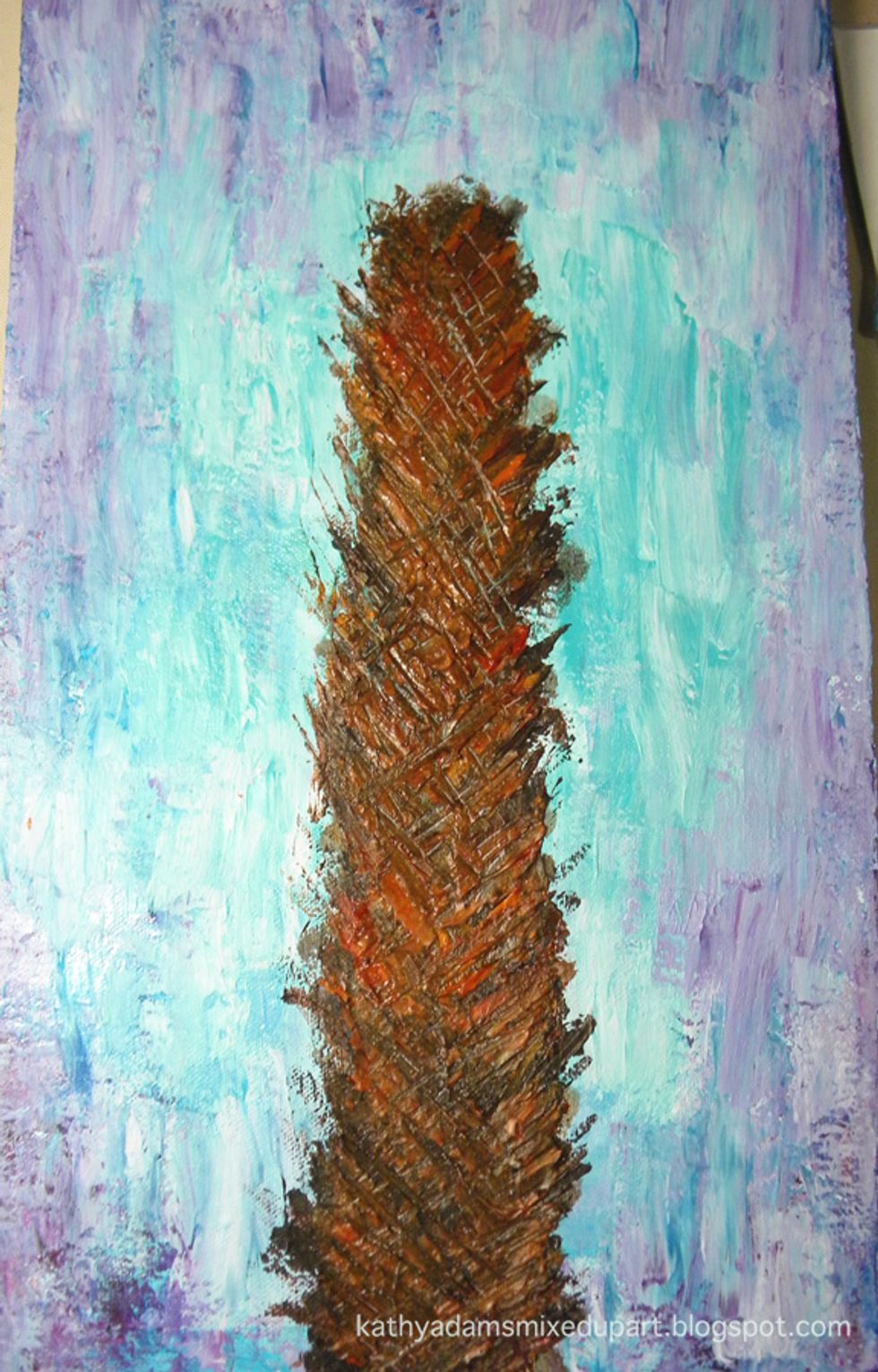 I used the edge of a key card to create more of a criss-cross pattern while the paint was still wet. I also added highlights using Tango Velvet and Kenyan Copper to parts of the trunk.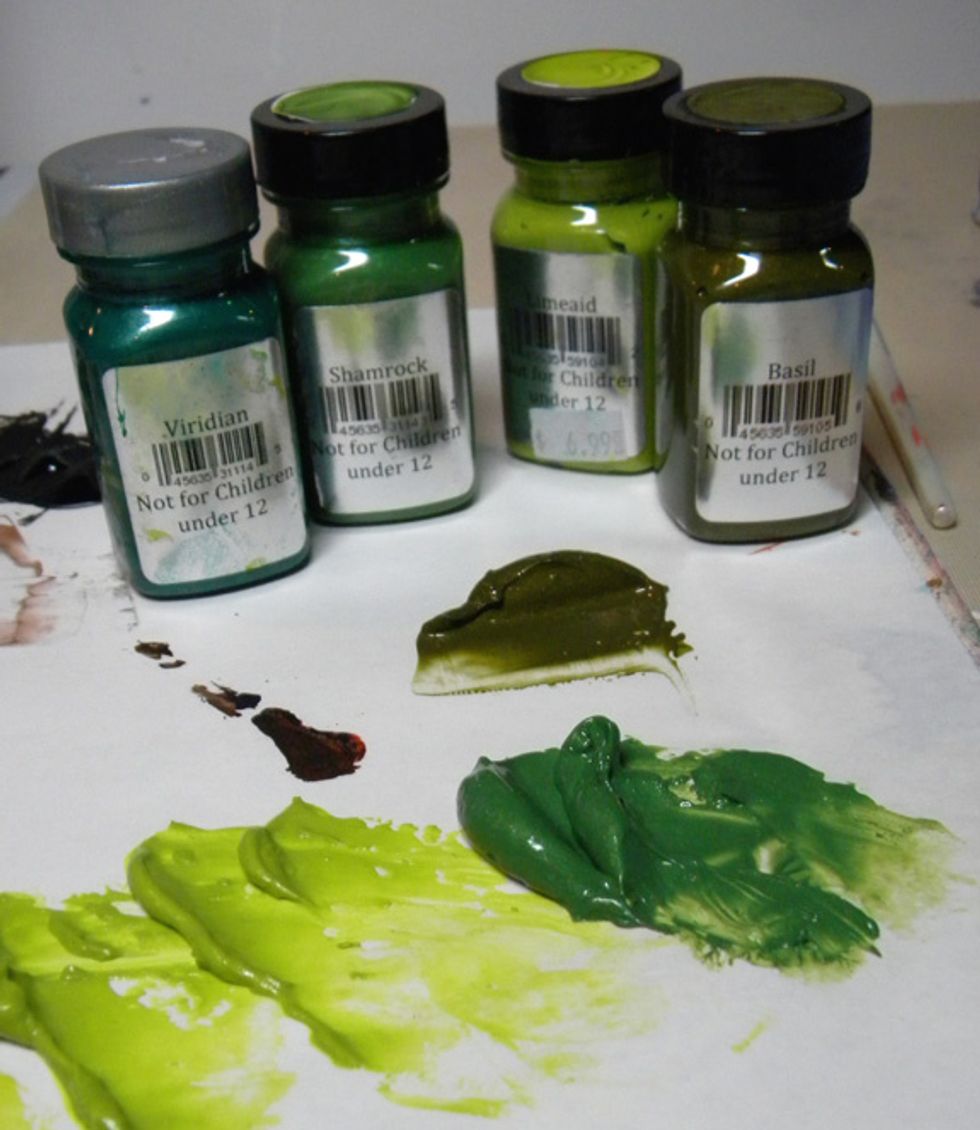 For the leaves I used Limeade, Shamrock and Basil Velvet, and Viridian Sorbet.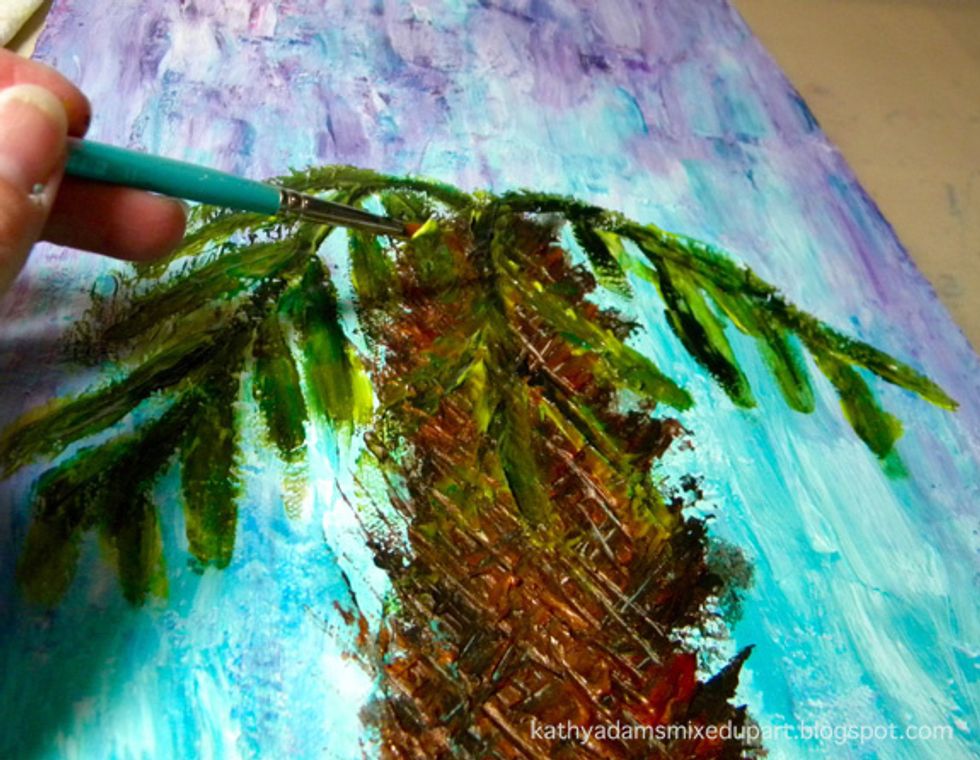 Using a small, round brush, apply Basil for the stems and shadows and Shamrock and Limeade for the leaves and highlights. I created the leaves by twirling the round brush and using long strokes.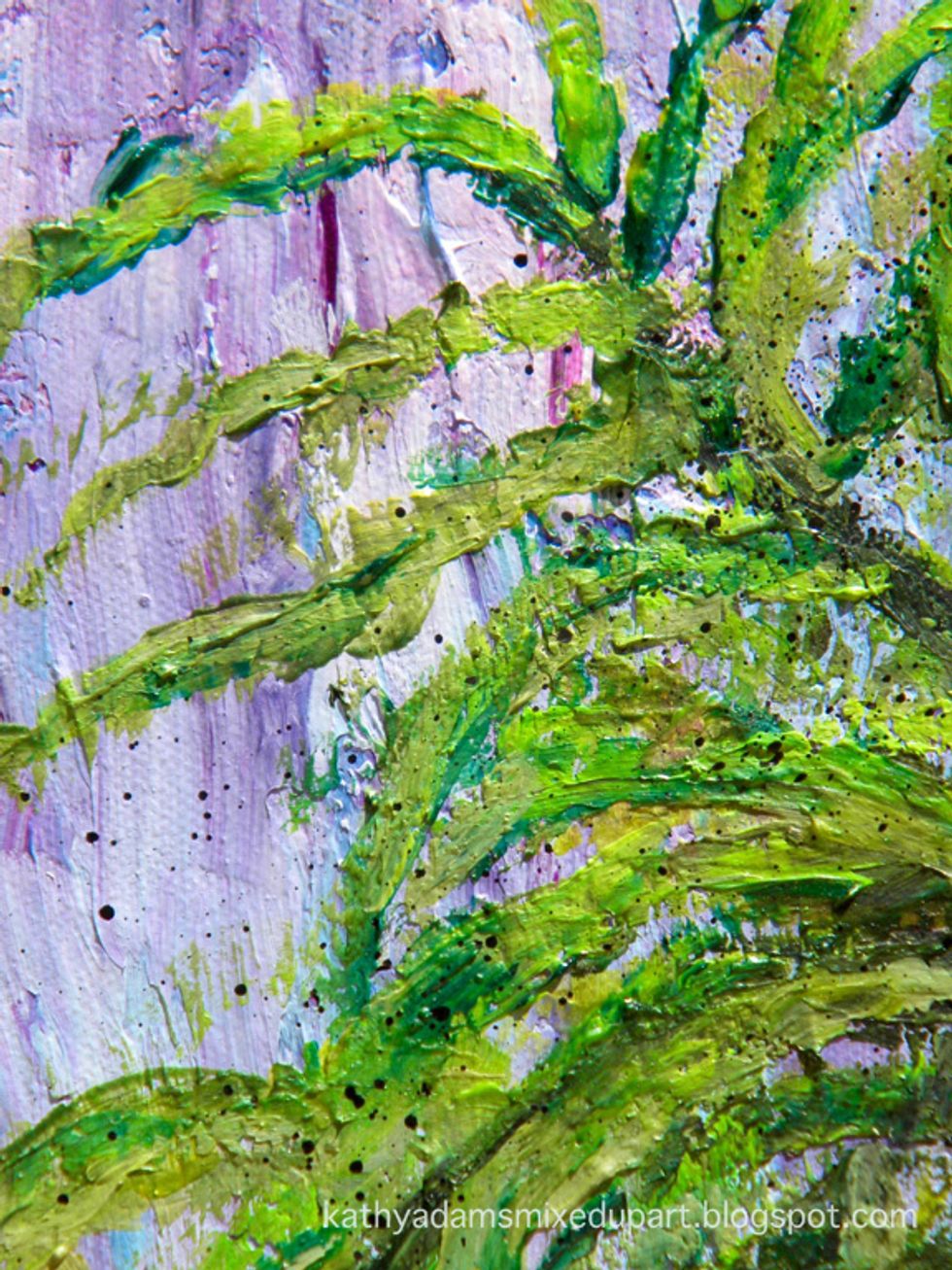 After the leaves were finished I mixed black gesso and Kona Velvet together with a bit of water and splattered it around the tree. I often do this as a finishing touch to add texture and interest.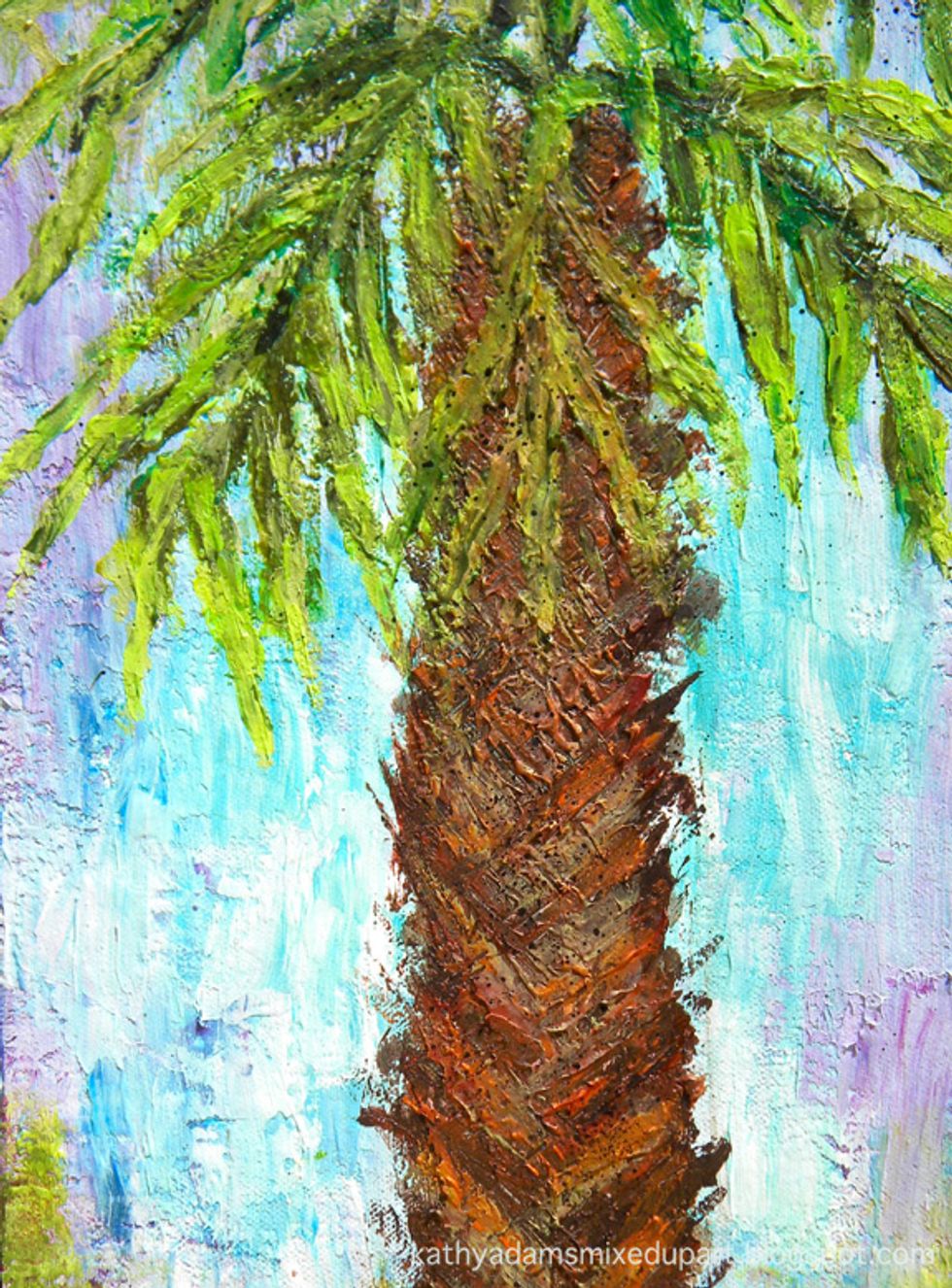 Here is a detail of the trunk and leaves. By leaving the middle of the painting mostly blue and white, it brings the eye's attention to the center of the painting.
Baby Blue Eyes Sorbet
Viridian Sorbet
Pixie Sorbet
Leaf Sorbet
Kenyan Copper Sorbet
Bronze Metal Effects
Reef Velvet
Mardi Gras Velvet
Orchid Velvet
Limeade Velvet
Shamrock Velvet
Basil Velvet
Tango Velvet
Kona Velvet
Portobello Velvet
Heavy Gesso
Black Gesso
Terra Cotta Velvet
10" x 20" Canvas
Art Anthology
Art Anthology is a manufacturer of dimensional mediums.\n\nCome chat with us in our Facebook Group: Art Anthology Adventures in Art