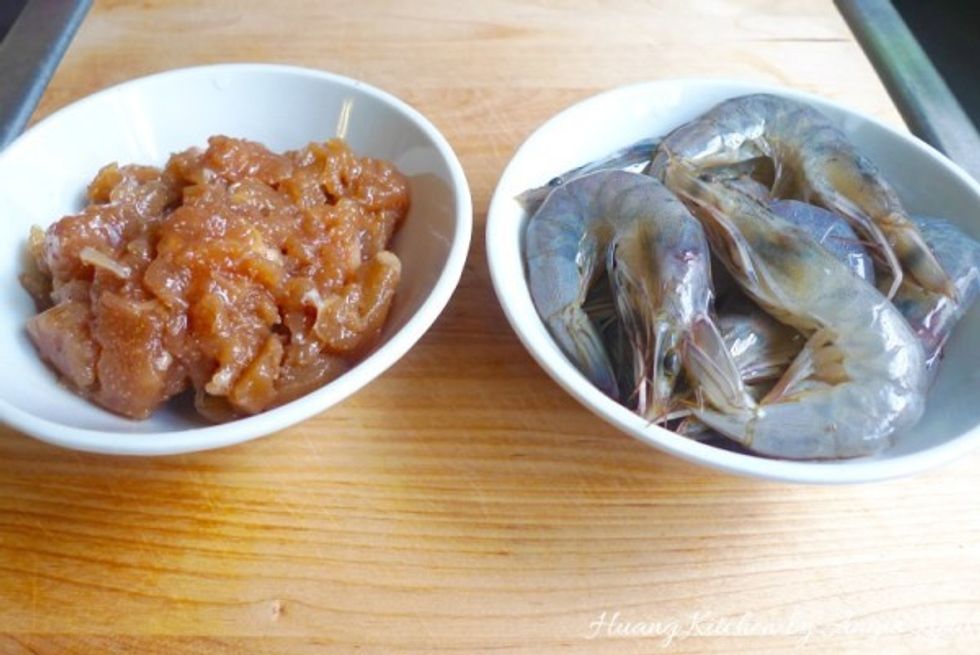 To make vietnamese spring rolls, start by cooking the meat and shrimp. Slice the chicken meat, peeled and deveined the shrimp.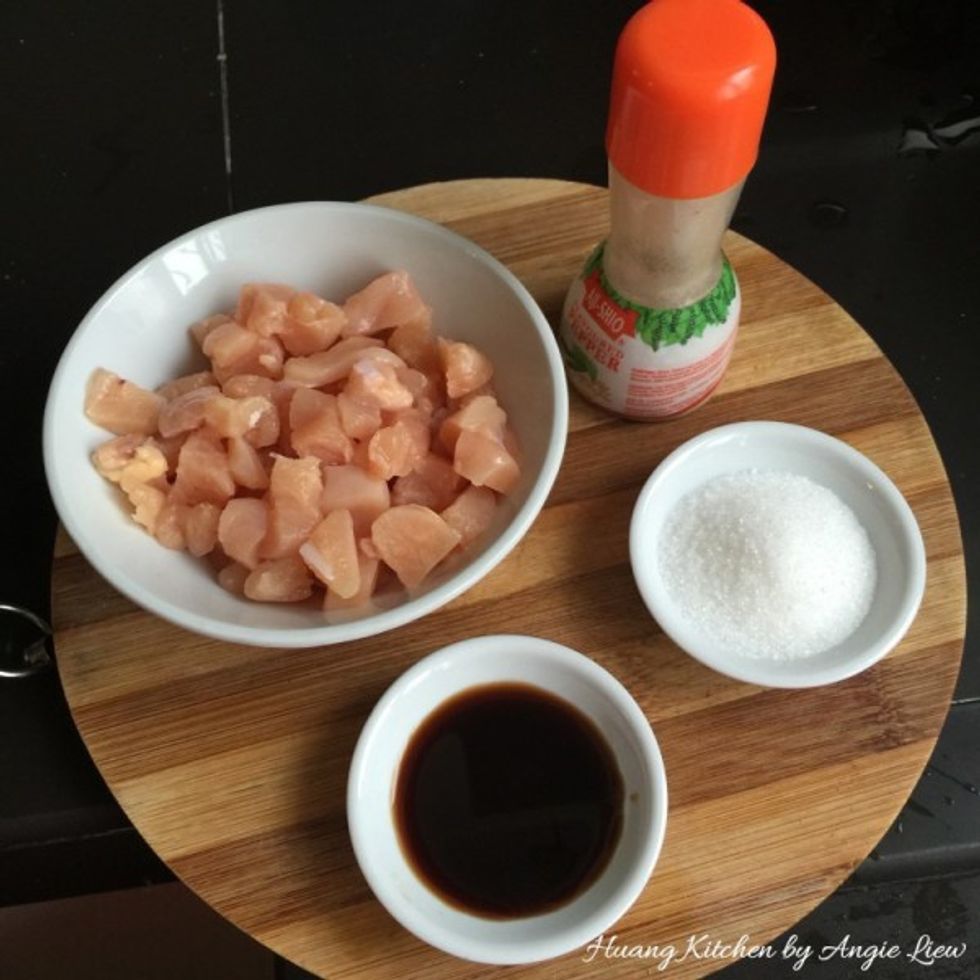 Marinate the sliced meat with sugar, soy sauce and white pepper for at least an hour.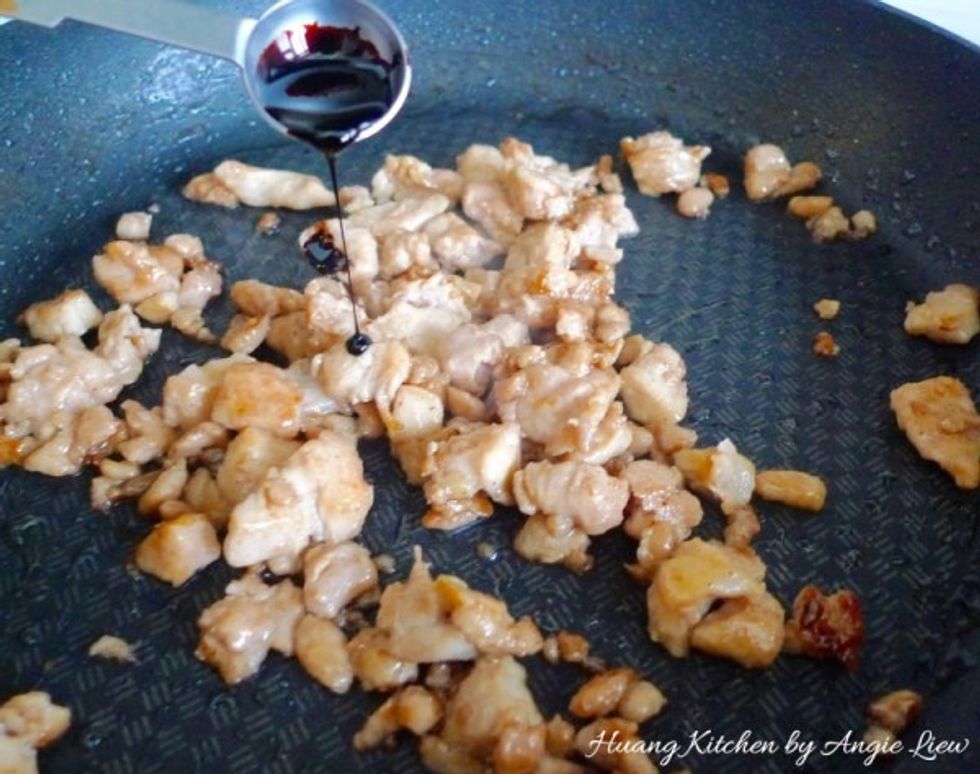 Then pan fry the meat on lightly oiled wok or pan, caramelize with some dark soy sauce.
Set aside the pan fried meat for later use.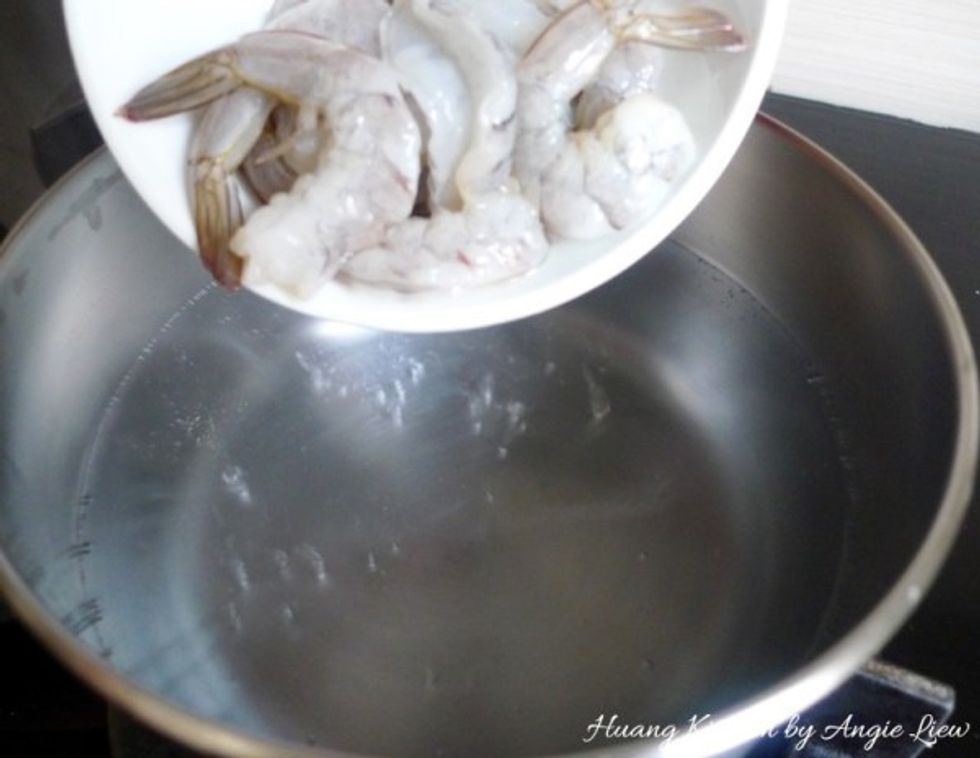 Next, boil salt water on high heat in a small pan. Then add in shrimp, reduce heat to medium and allow the shrimp to simmer for 2 -3 minutes or until pink and cooked through.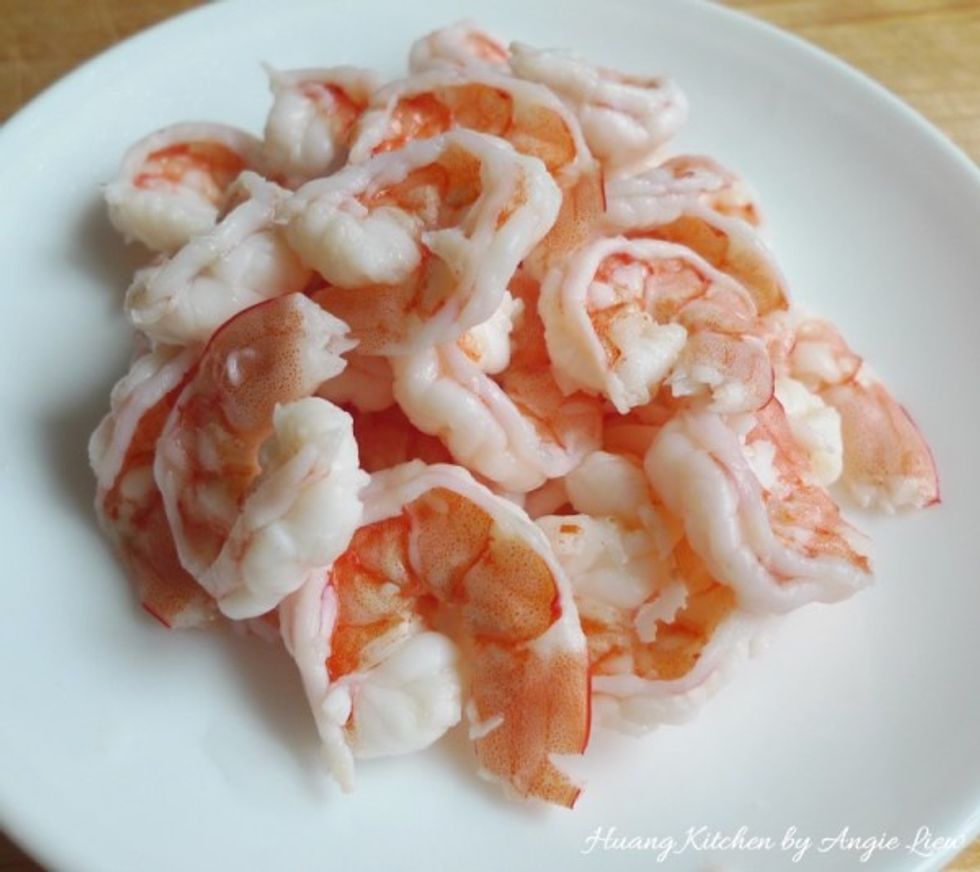 Remove the shrimp and allow to cool. Then slice the shrimp in half lengthwise and set aside.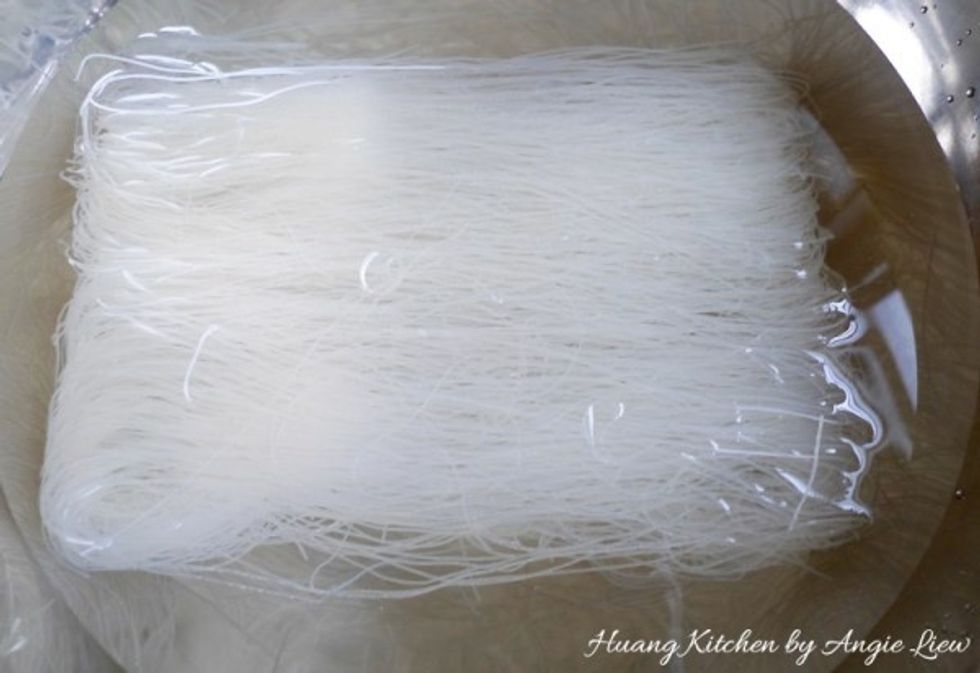 Next, prepare the noodles. Briefly soaked rice vermicelli noodles in water.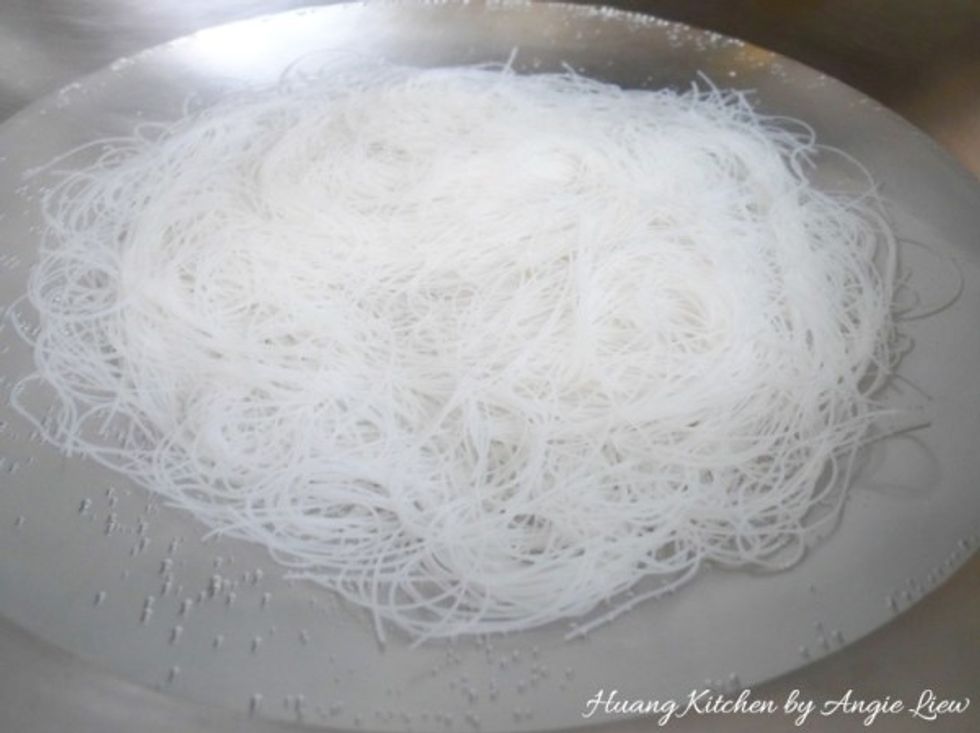 Then cook the rice vermicelli noodles in a wok of boiling water for about 3 minutes, or until al dente.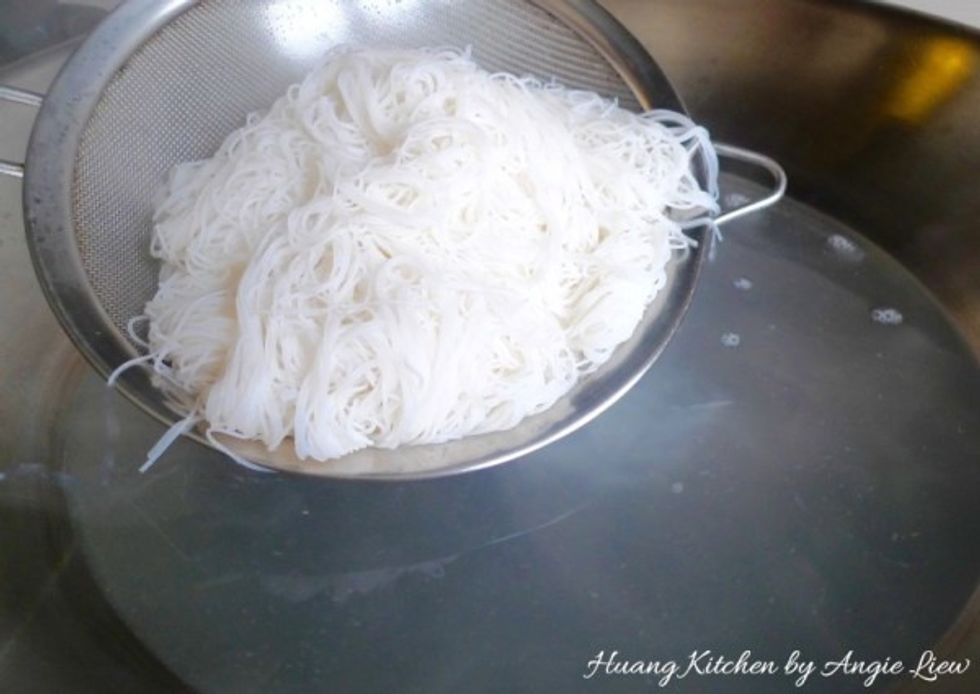 Remove, rinse in cold water and drained.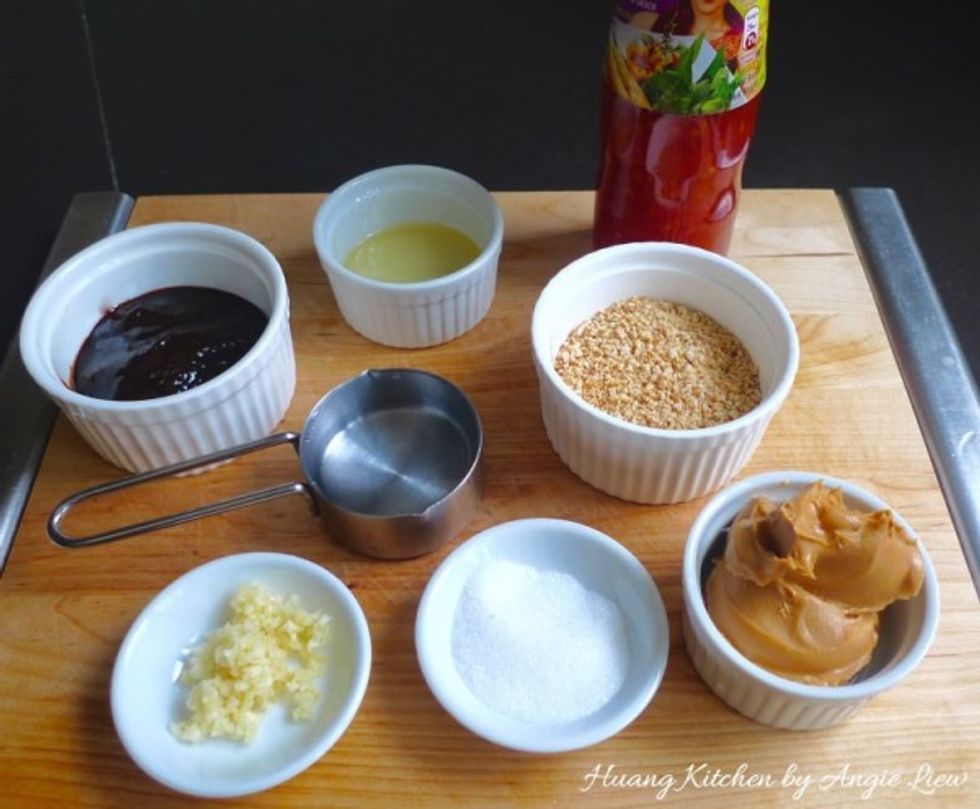 Then prepare ingredients to make first the smooth peanut sauce.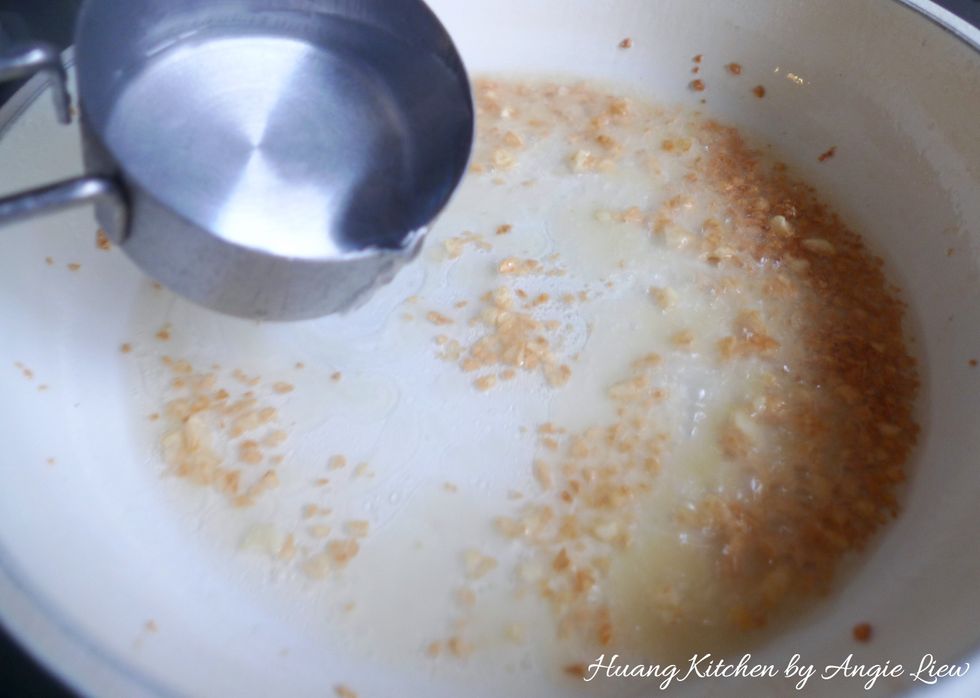 Heat up oil in the pan and fry garlic until lightly golden brown. Then add in water.
Followed by sugar, hoisin sauce and the creamy peanut butter.
Stir all ingredients together on low heat until the sauce becomes smooth and shiny.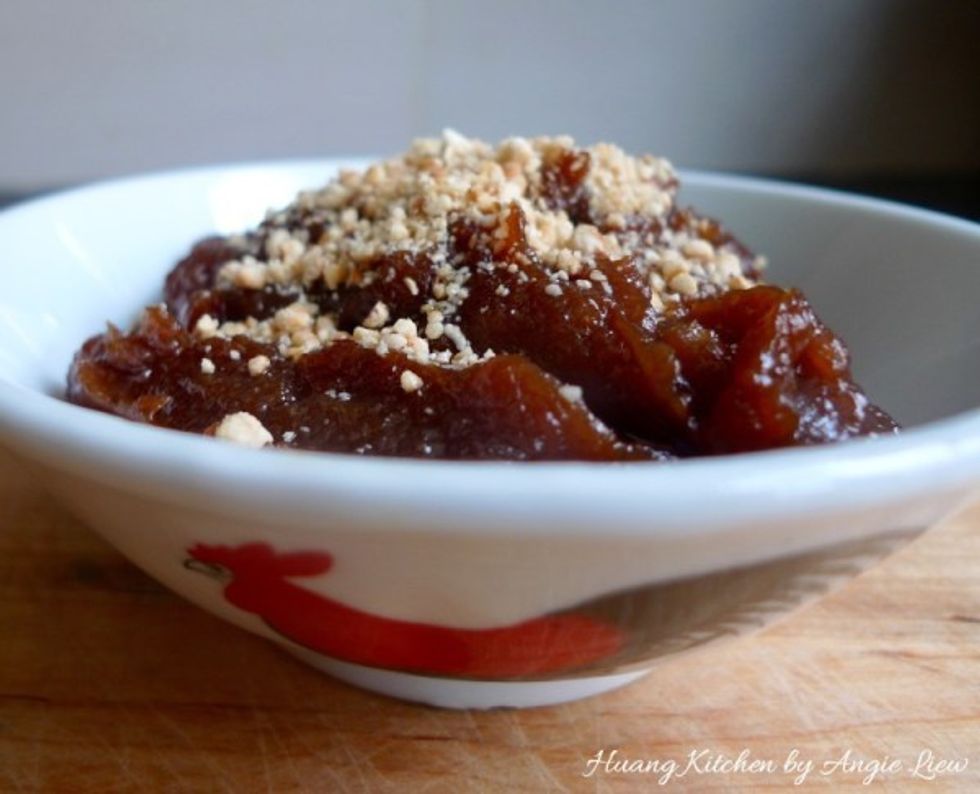 Finally turn off the heat and turn the sauce onto serving bowl, garnish with ground roasted peanut and garlic chili sauce (optional). Then set aside.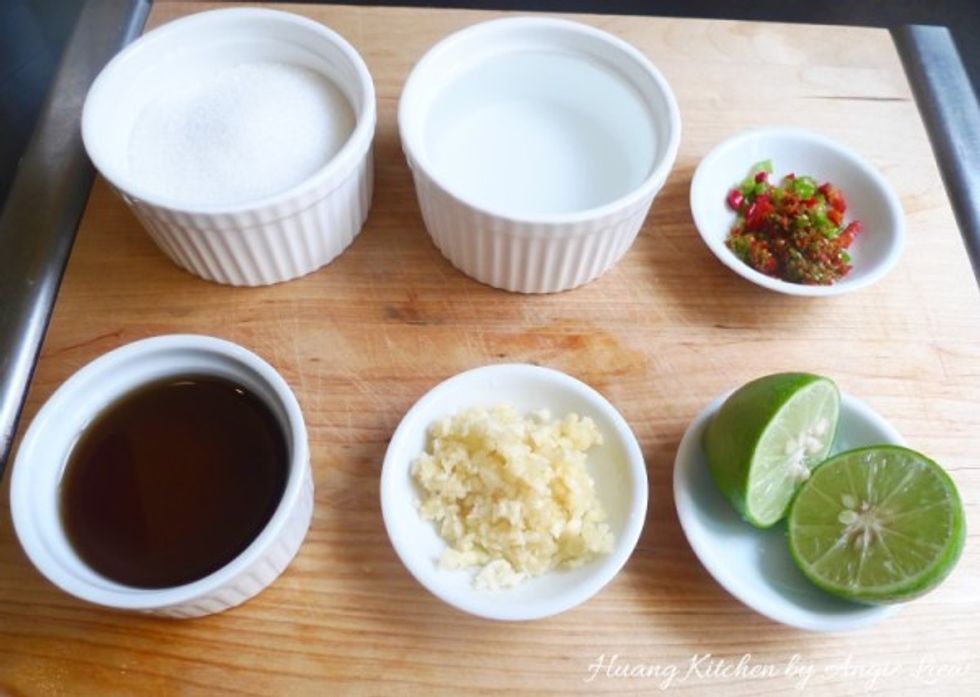 Next prepare ingredients to make the other sauce, the sweet and sour fish sauce.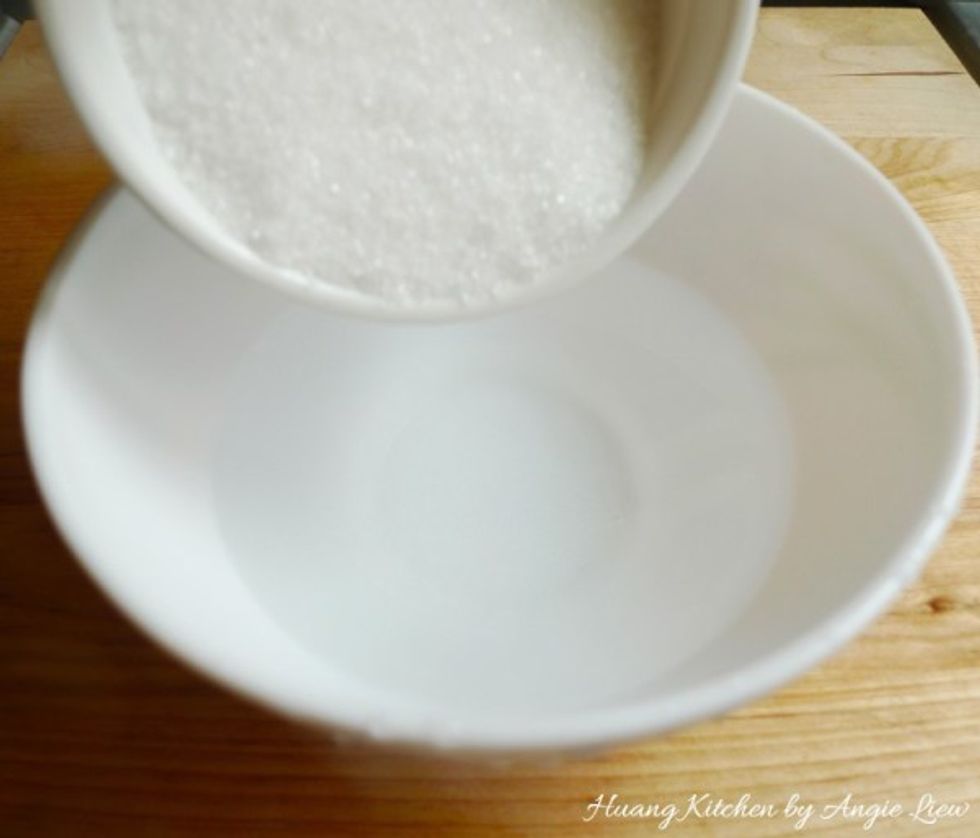 In a bowl of hot water, add in sugar and mix to dissolve the sugar.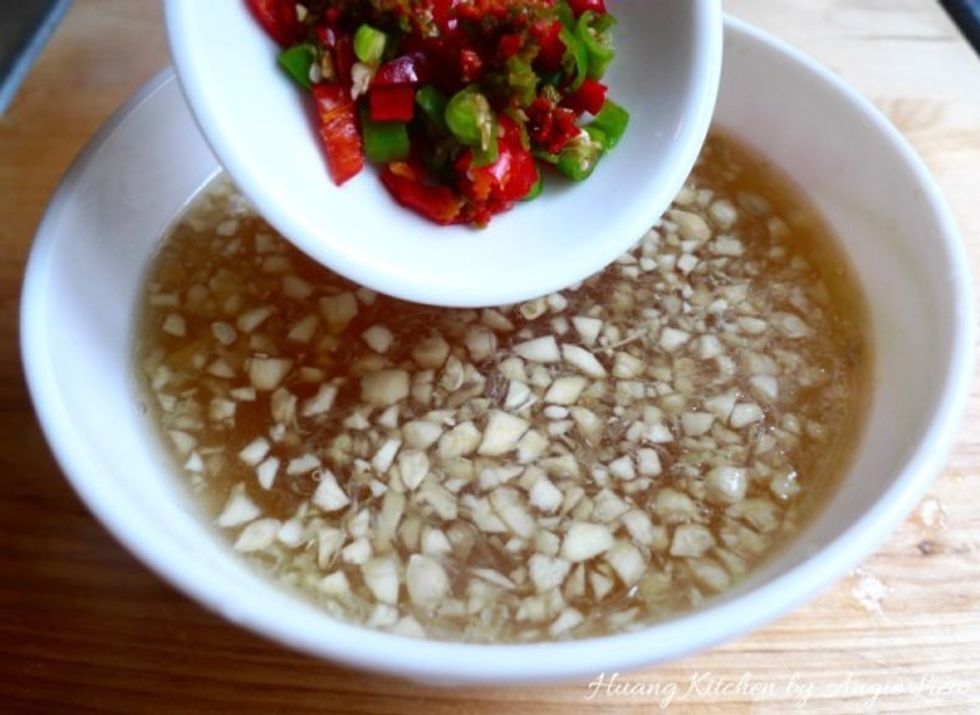 Then add in fish sauce and minced garlic. Squeeze in fresh lime juice and chopped bird eye's chilies.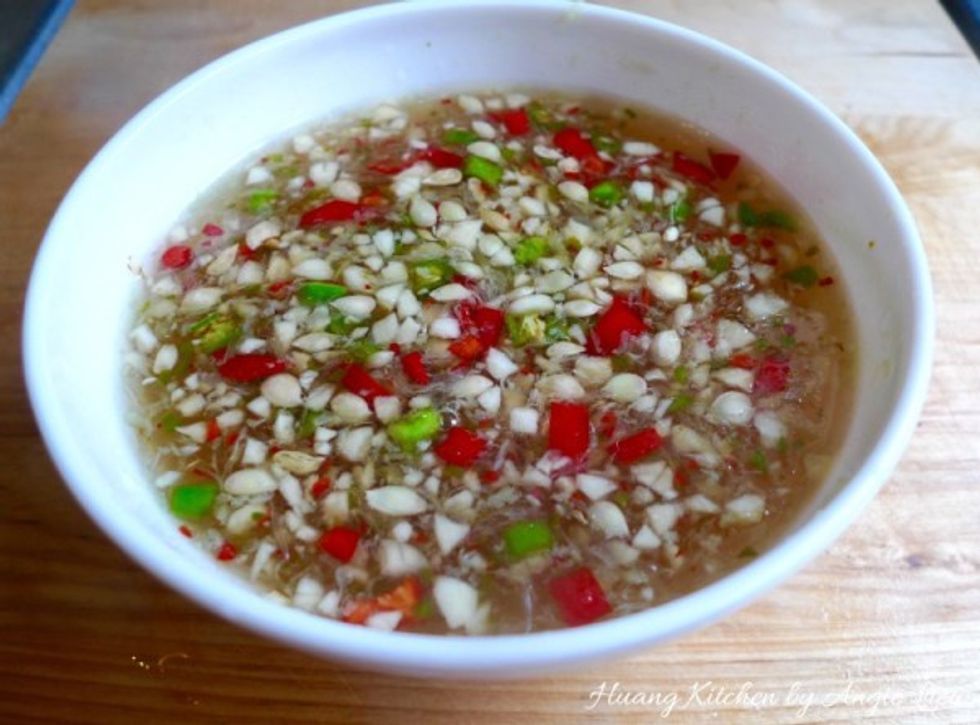 Mix everything together, adjust to taste and set aside to use as dipping sauce.
Lastly, prepare ingredients to wrap the spring rolls.
First dip the rice paper evenly in warm water and shake off all the excess water.
Put the damp rice paper on a plate or flat surface.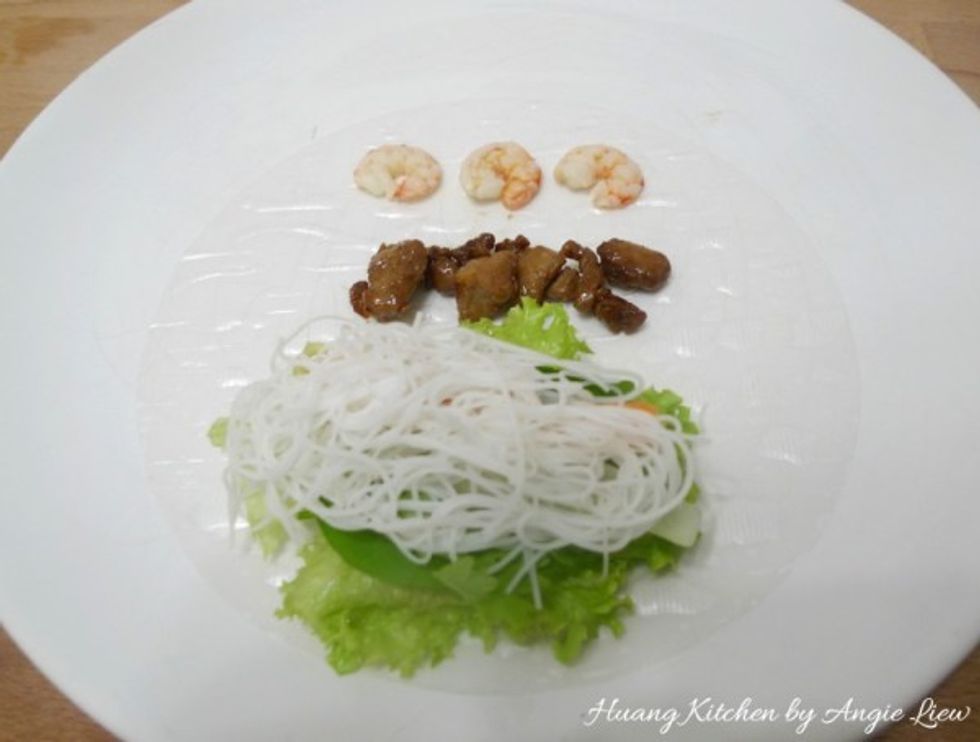 Next, put the fresh vegetables, herbs and noodles on one row, the pan fried meat on the second row and the sliced shrimp on the third row.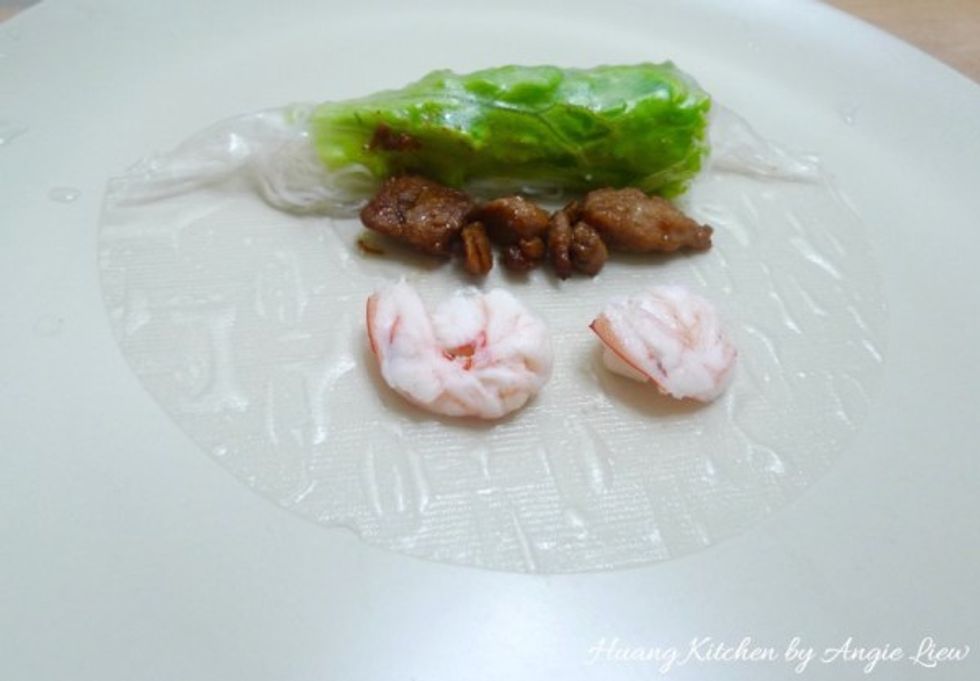 Roll the spring roll up tightly.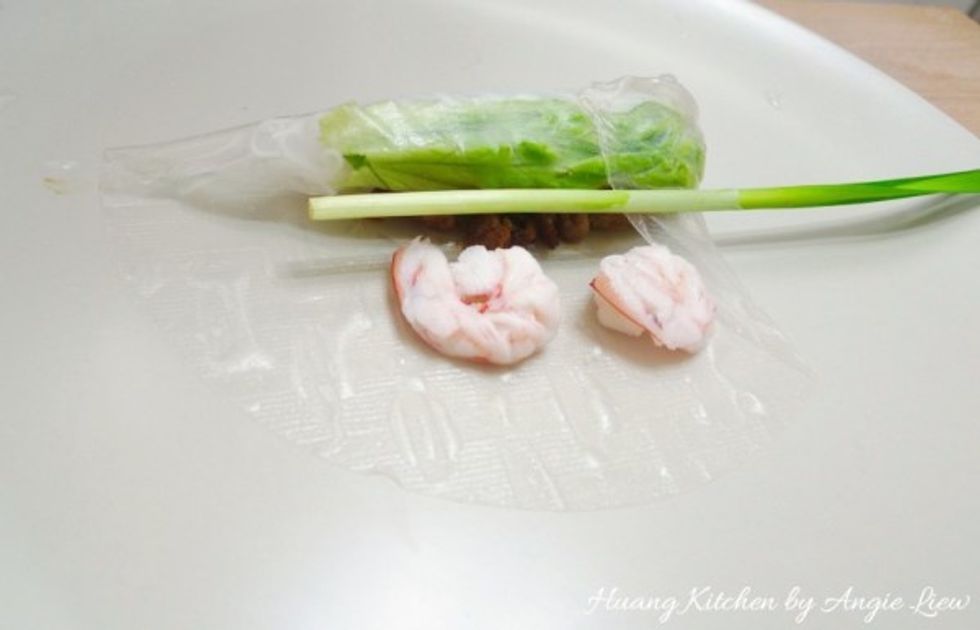 And before you get to the end (before the shrimp), fold up one side of the wrap and add in one garlic chive.
Continue to roll it up and seal it at the end. And we're done!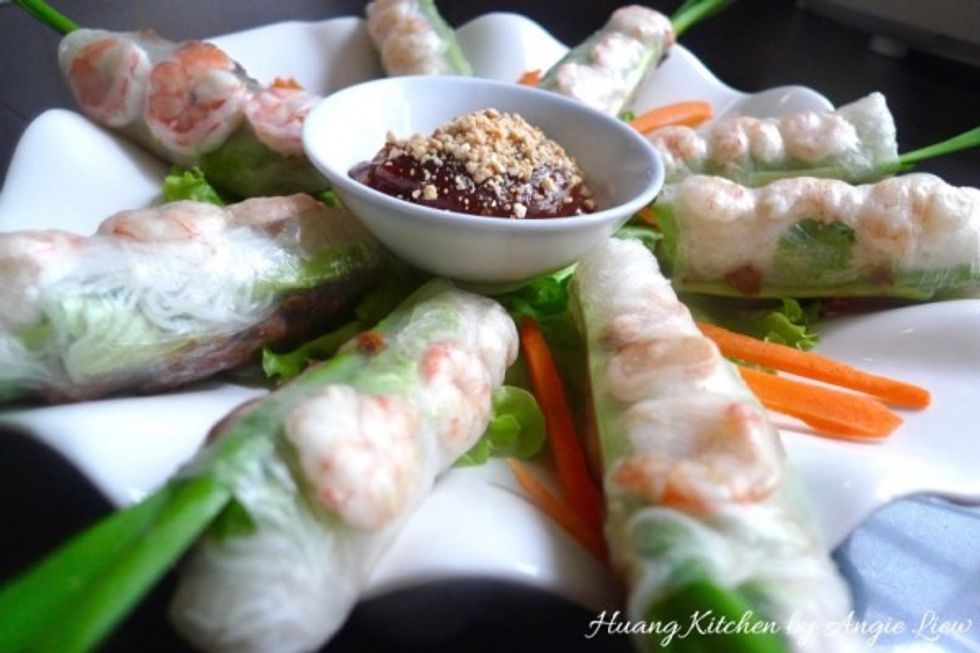 Serve these fresh spring rolls with the peanut dipping sauce that you made earlier.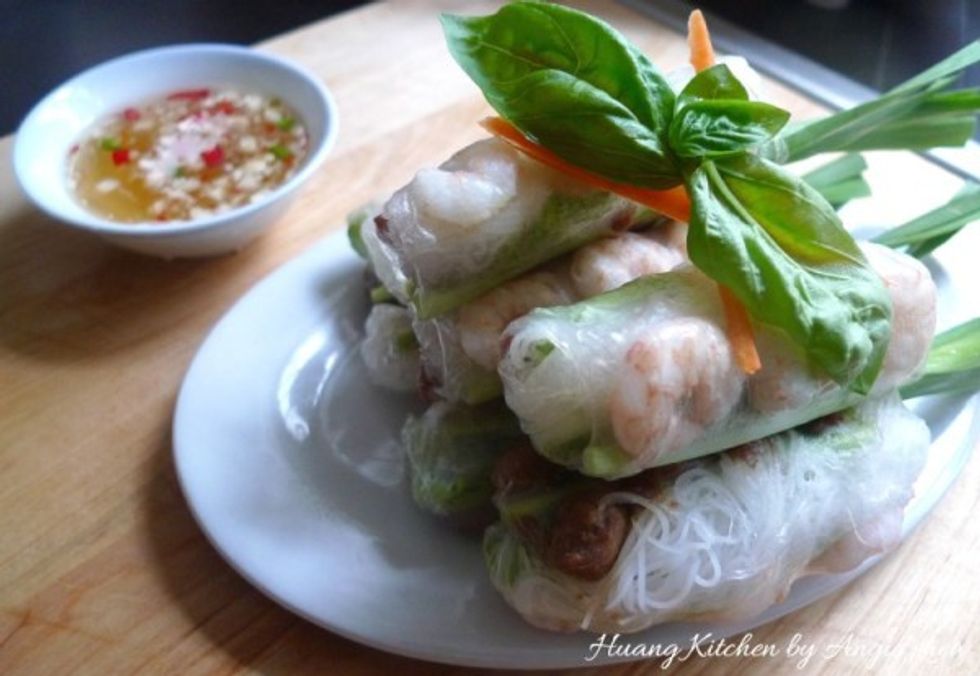 These spring rolls are also good with the sweet & sour fish sauce too. Do watch & subscribe to our channel on how to roll these beautiful rolls at http://youtu.be/jCSuFAa15sU
300.0g chicken/pork meat
2.0tsp sugar
1.0tsp salt
1.0tsp white pepper
200.0g shrimp
1.0tsp salt
100.0g rice vermicelli
6.0c water
2.0Tbsp vegetable oil (Peanut Sauce)
1.0tsp minced garlic (Peanut Sauce)
1/2c water (Peanut Sauce)
1.0Tbsp sugar (Peanut Sauce)
4.0Tbsp hoisin sauce (Peanut Sauce)
3.0Tbsp creamy peanut butter (Peanut Sauce)
1.0Tbsp roasted,ground peanut (Peanut Sauce)
1.0tsp garlic chili sauce/optional (Peanut Sauce)
1/2c hot water (Fish sauce)
1/2c sugar (Fish sauce)
1/3c fish sauce (Fish sauce)
2.0 lime,freshly squeeze juice (Fish sauce)
1.0Tbsp minced garlic, (Fish sauce)
1.0Tbsp bird eye's chili (Fish sauce)
5.0c warm water (Spring rolls)
15.0 rice paper (Spring rolls)
1.0 cucumber,sliced (Spring rolls)
1.0 carrot, sliced (Spring rolls)
1.0bnch fresh lettuce (Spring rolls)
1.0bnch cilantro (Spring rolls)
1.0bnch mint (Spring rolls)
1.0bnch garlic chives (Spring rolls)
Huang Kitchen
For more step-by-step recipes and cooking tips, visit my website at \nhttp://www.huangkitchen.com