Pib is a traditional Mayan dish made in the Yucatan Pensinsula during the day of the dead celebrations.
18
Pib is a traditionally cooked in a pit with fiery stones. It usually is made of cornmeal, chicken or pork and an annato paste. This is a vegetarian/vegan version.
Wash the chaya leaves. You can also use kale. Chop to cook.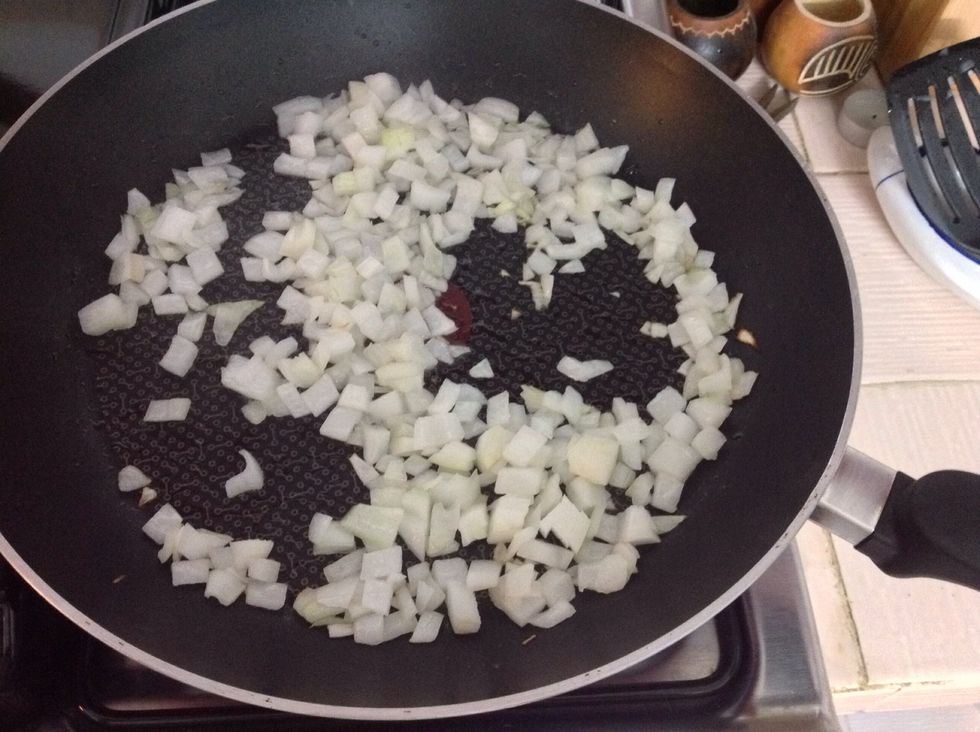 Sautée 1/2 chopped onion in 2 tablespoons olive oil.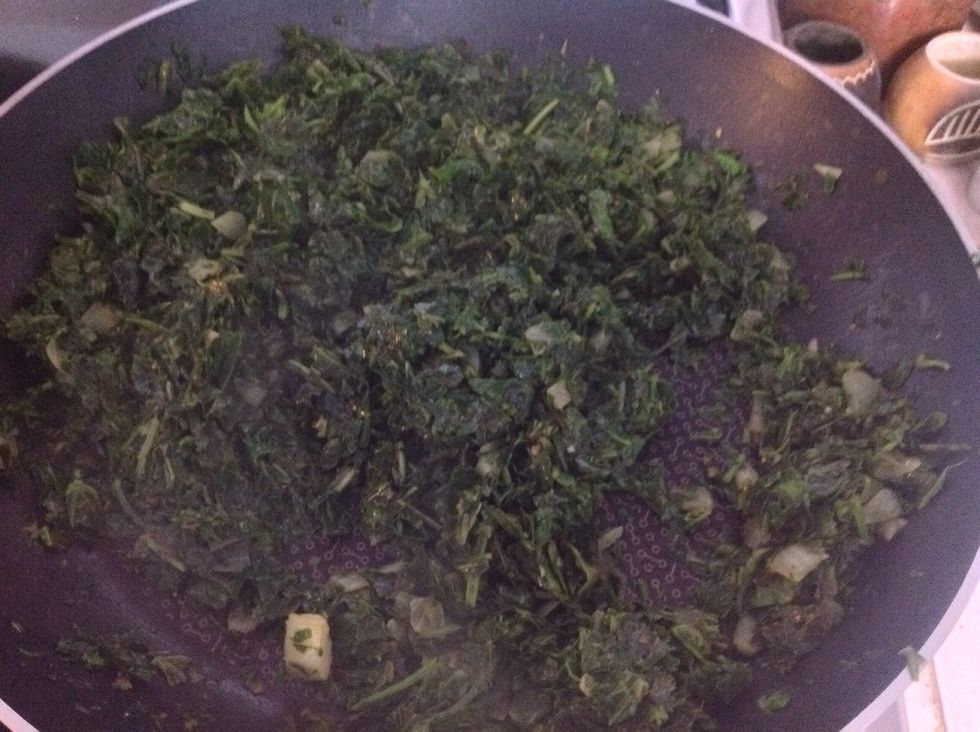 Add chopped chaya or kale and cook until done. Season with salt and pepper.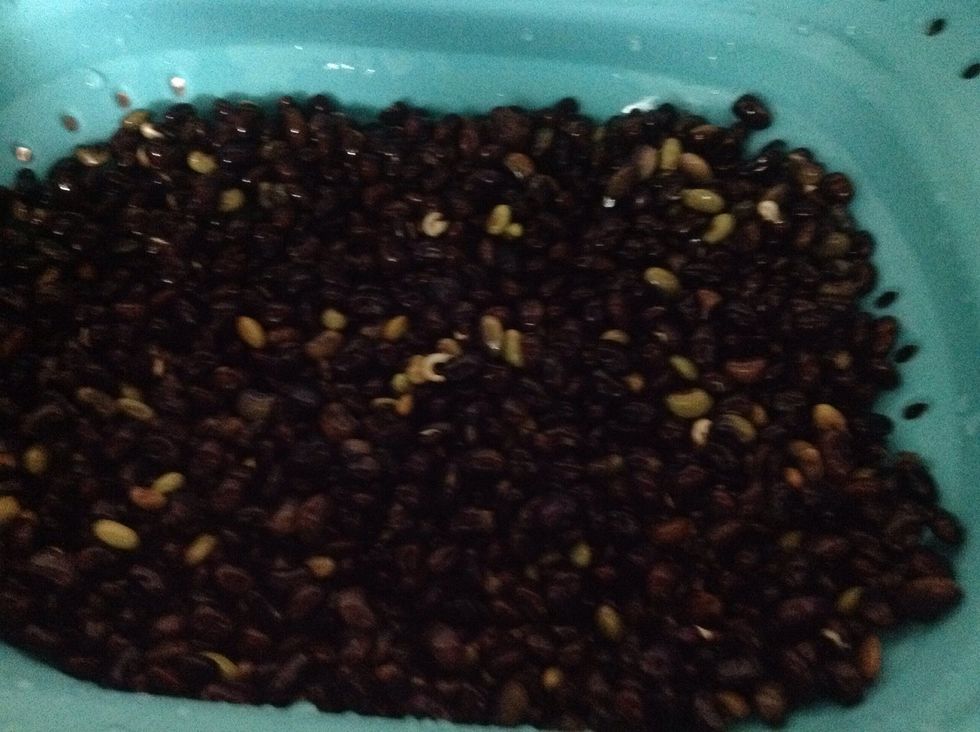 Wash the espelón beans and set aside to dry.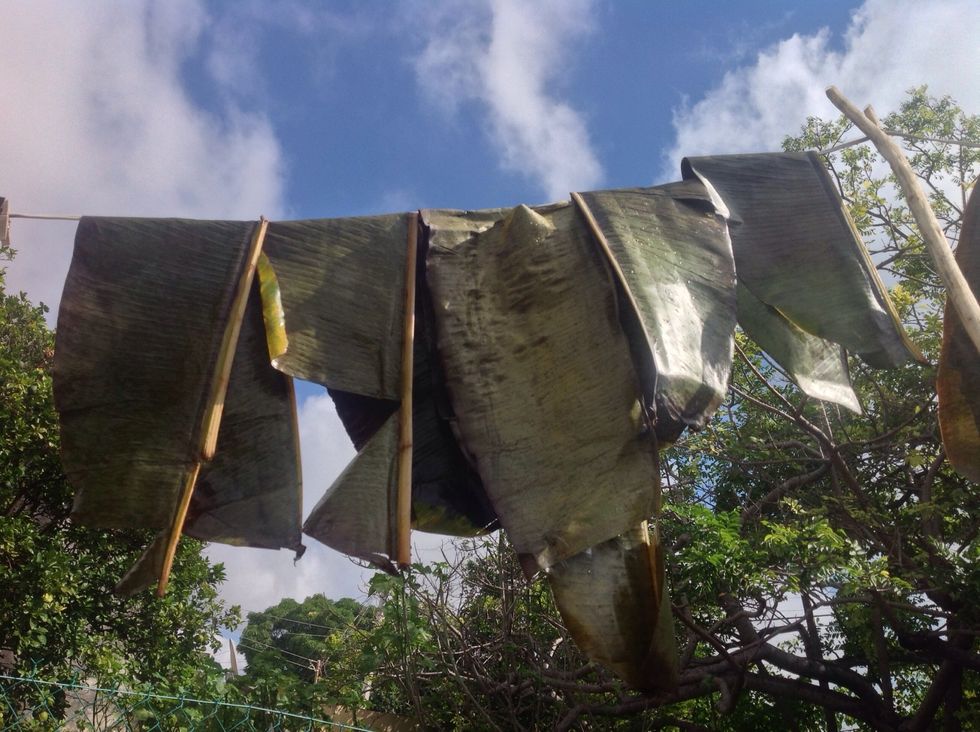 Wash the banana leaves and let dry. Then quickly pass them over the fire on the stove withou burning them, this will make it easier to bend them when you layer them on the baking sheet.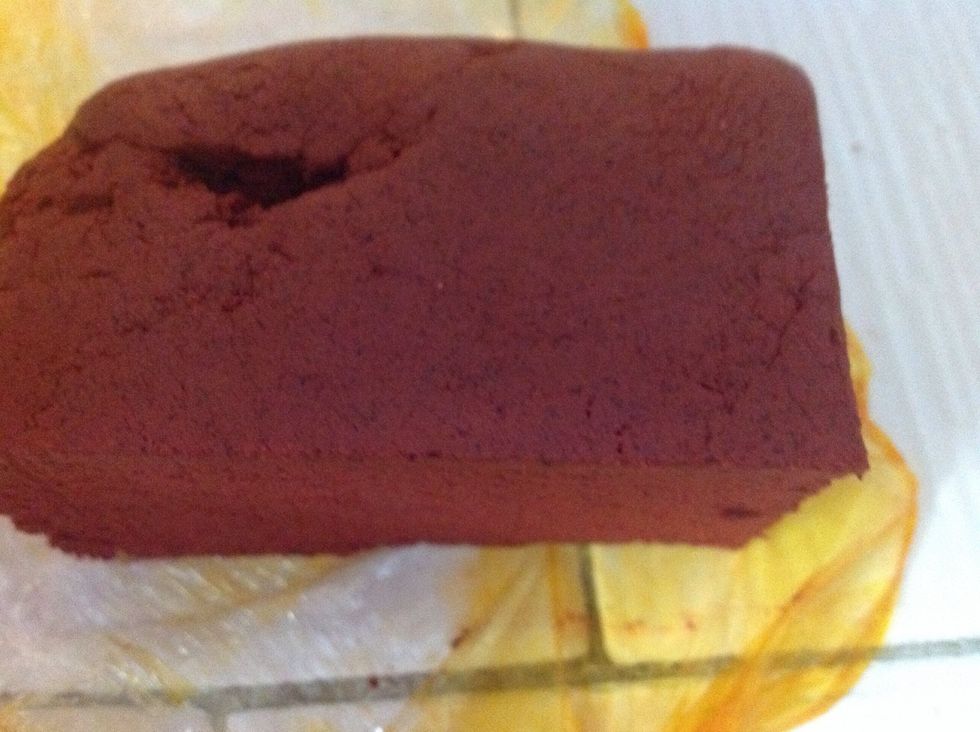 In blender mix annato paste, 5 epazote leaves, cilantro to taste (I use the leaves of a whole small bundle), pinch of oregano, 3 tomatos, garlic, 1/2 kilo maize masa, 1L vegetable broth.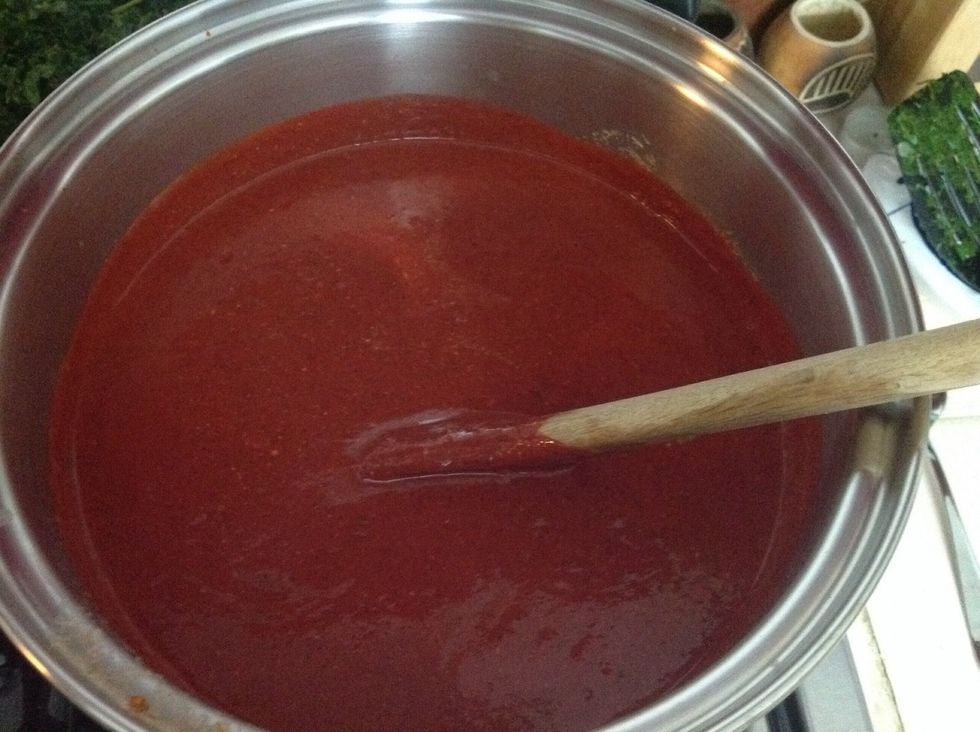 Let simmer for some minutes (15 min. Or until sauce thickens). Stir frequently.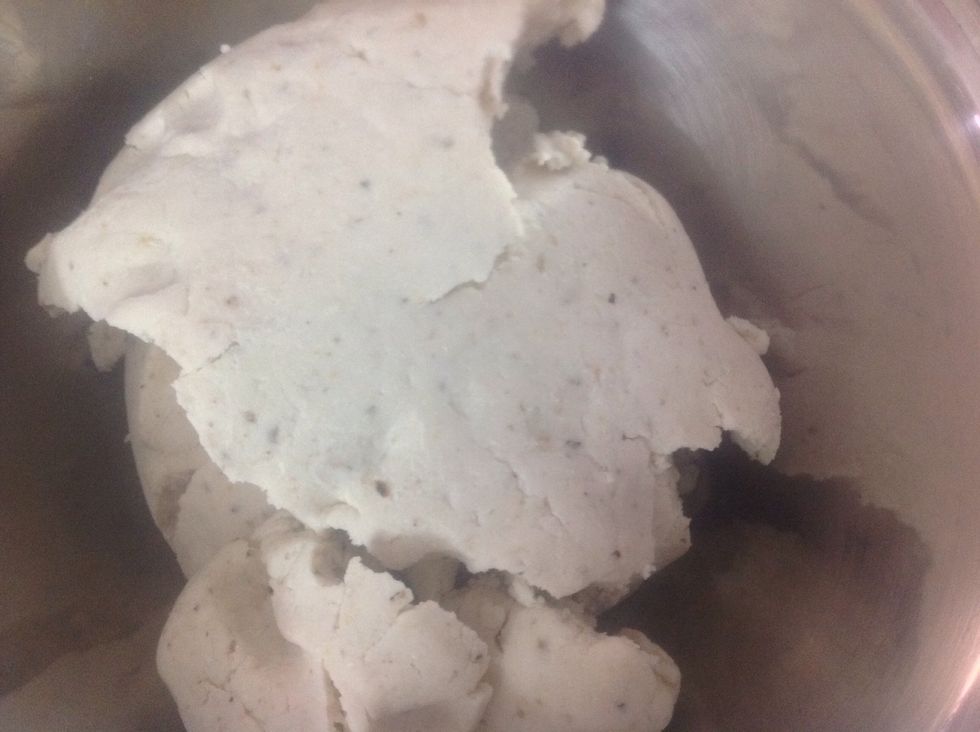 Fresh corn masa should look like this. It is best not to use masa made from dry cornmeal, but you can make do wih it if you cannot get fresh masa.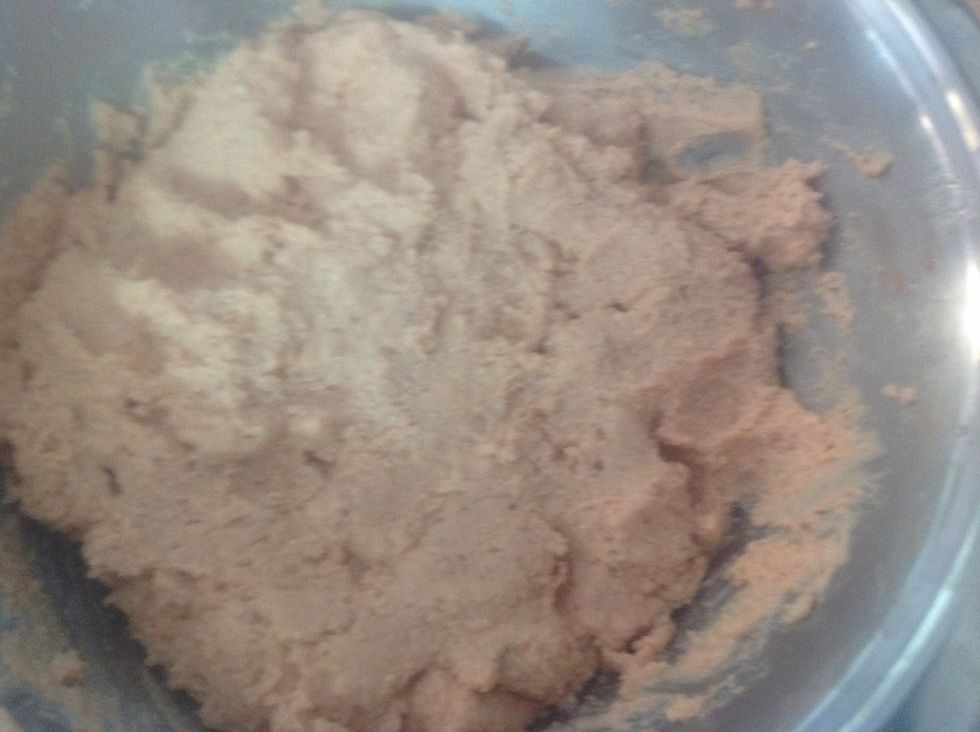 Mix 2 cups olive oil with 1/2 cup annato sauce. With your hands mix corn masa until fully blended. Separate 500g of masa and lay aside.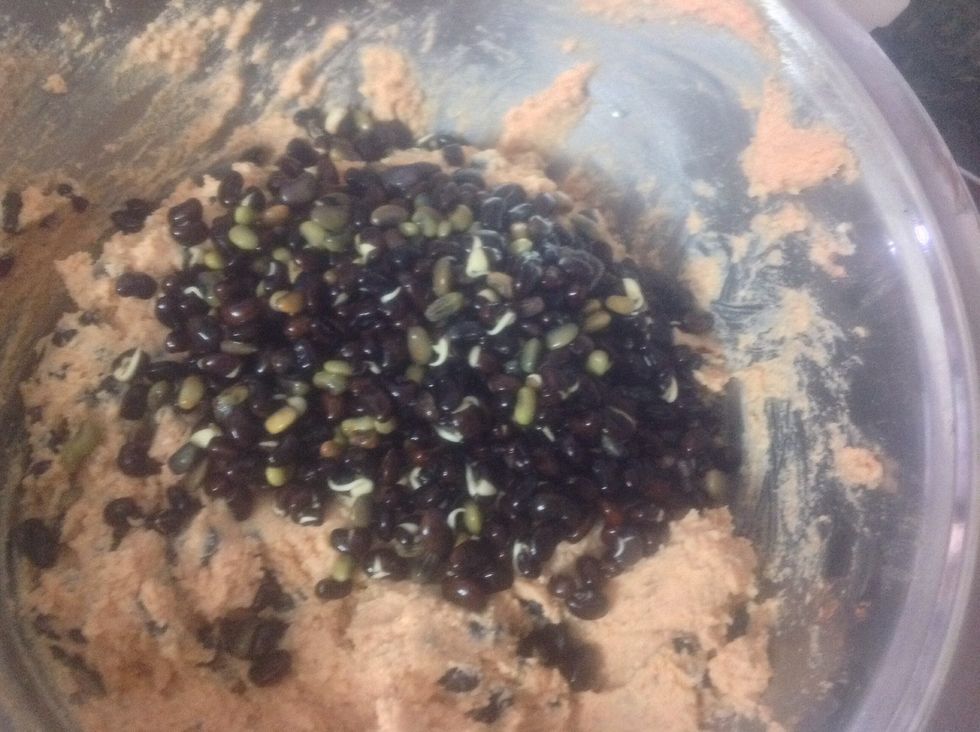 Add espelón beans and mix well. Add salt to taste.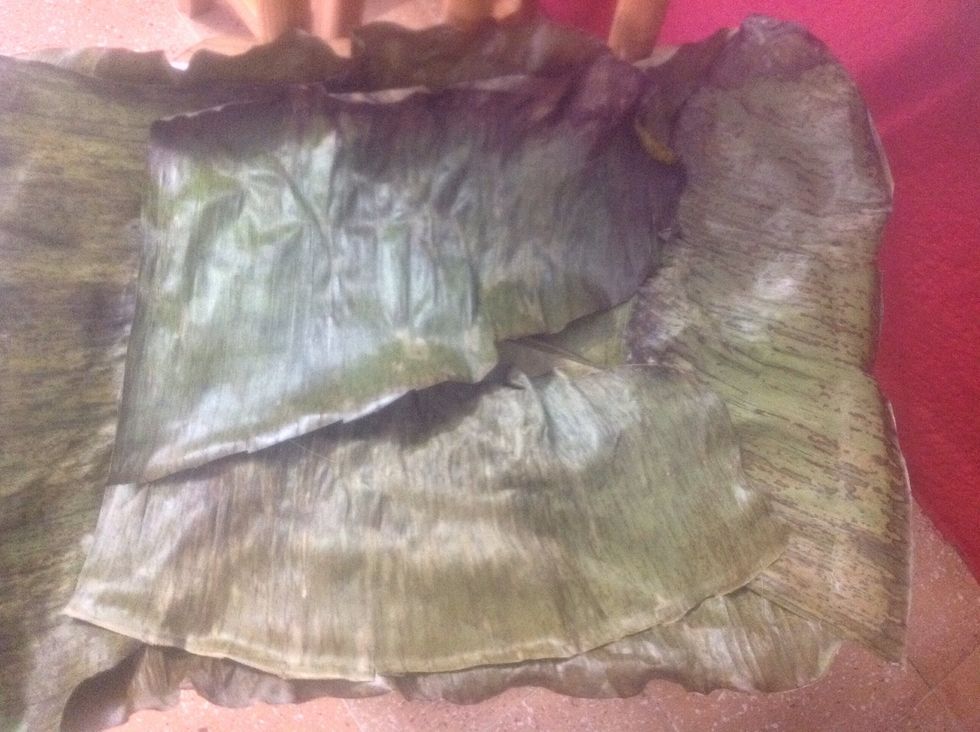 Fully cover the bottom of your baking sheet with banana leaves. Let leaves stand out from borders about 2 inches. You can cut out the center part of leaves, so you can bend them better.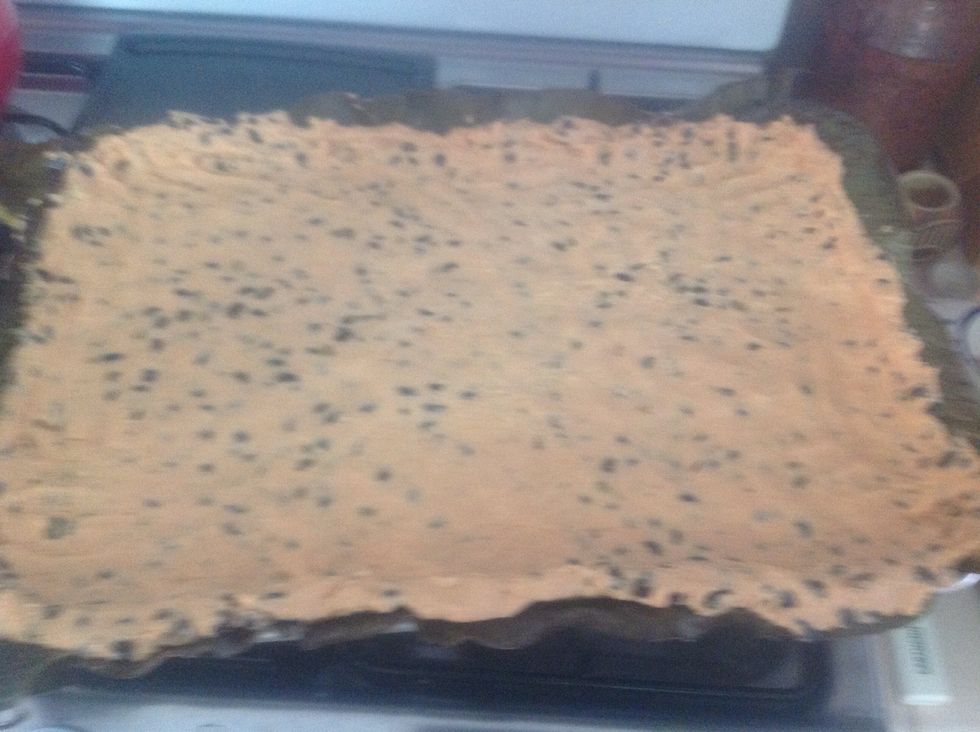 Press the masa with espelón into the baking sheet, trying to do it as evenly as possible. Make a rim around the sheet with the masa.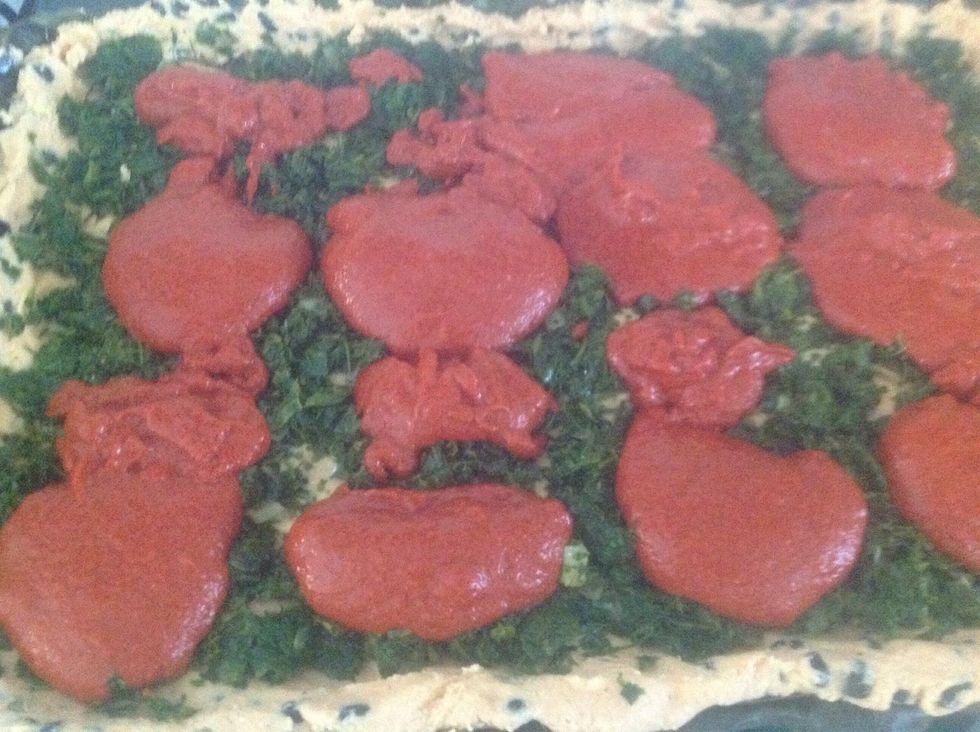 Spread out chaya or kale, then add the annato sauce and spread evenly on top.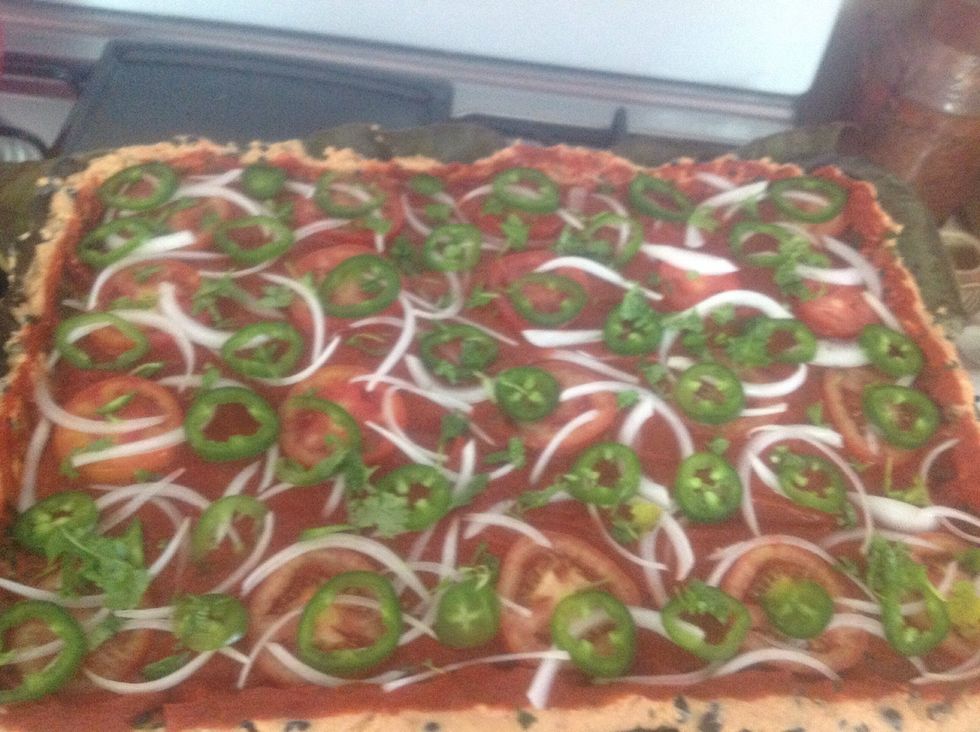 Slice 2 tomatos, slice 1/2 onion and chile. Layer these as evenly as possible and add chopped cilantro and epazote to taste. Sprinkle with a bit of salt and pepper.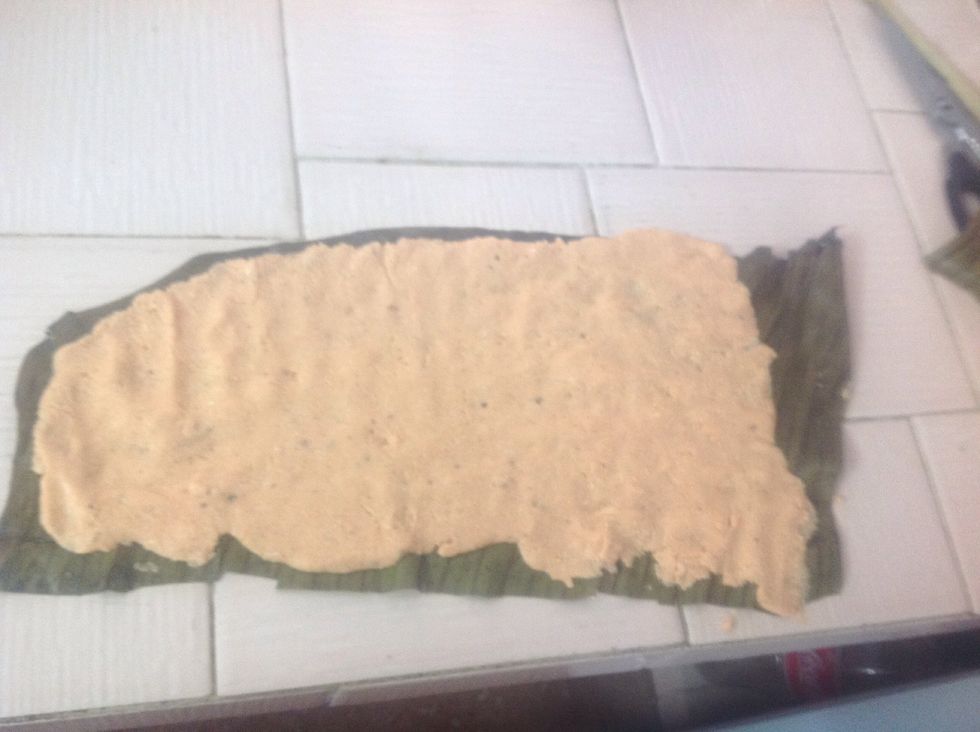 Take about 1/3 of remaining masa and spread as thinly as possible on a banana leaf as wide as the baking sheet. You will take this dough, turn the leaf upside down onto the filling to cover the pib.
Slowly peel off the banana leaf and repeat to cover the pib. Press seams together.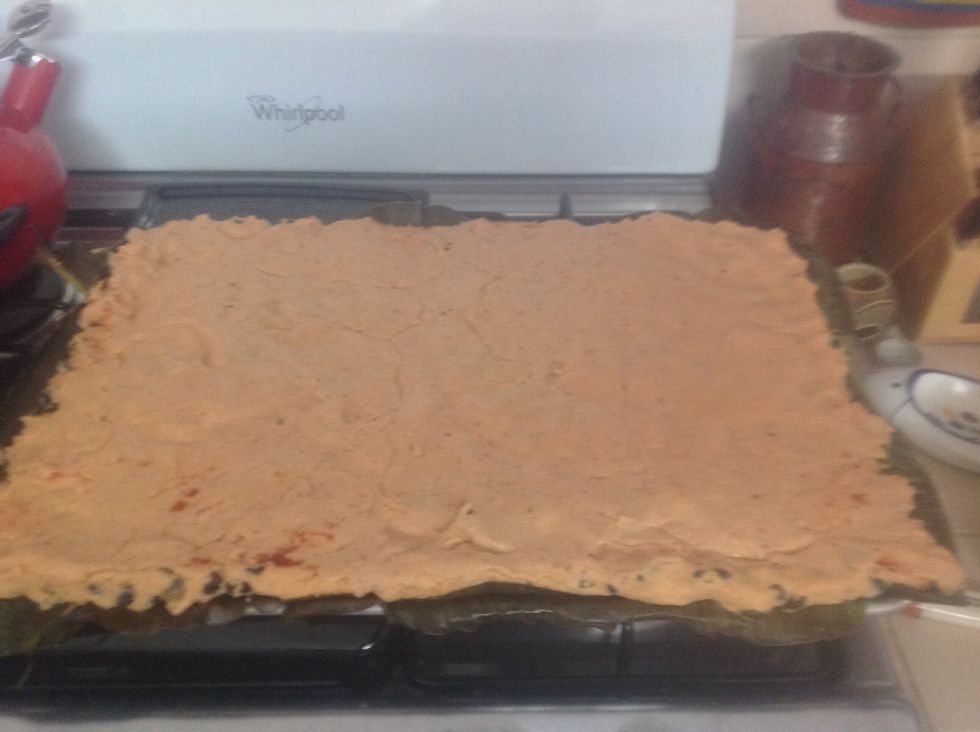 Try to get it covered as best as possible, so the sauce doesn't leak.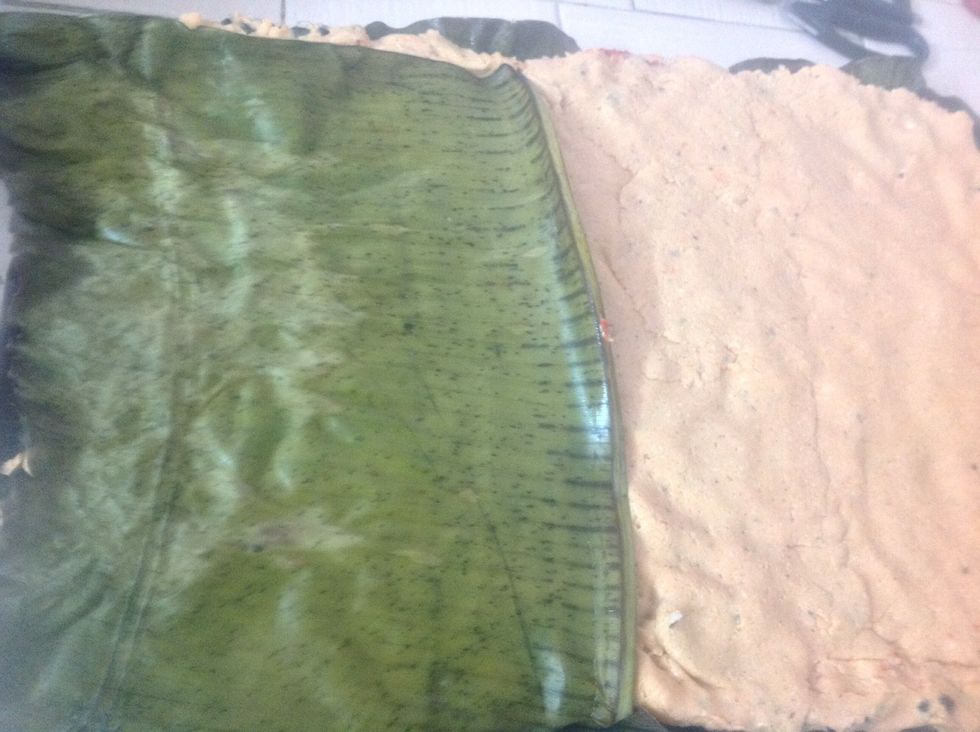 Cover the pib wit one or two layers of banana leaves. Tuck leaves underneath, to have a closed bundle.
It should look like this, no loose leaves to avoid fire in your oven. Cook in preheated oven at 250C (480F) for one hour and a half.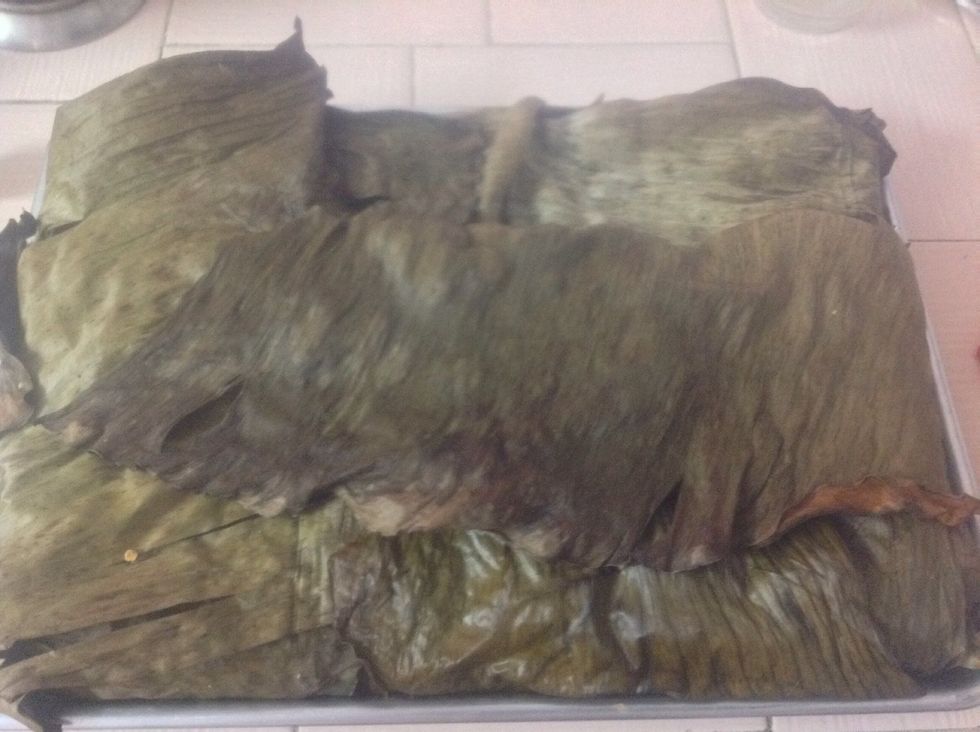 When you take it out ot should look like this.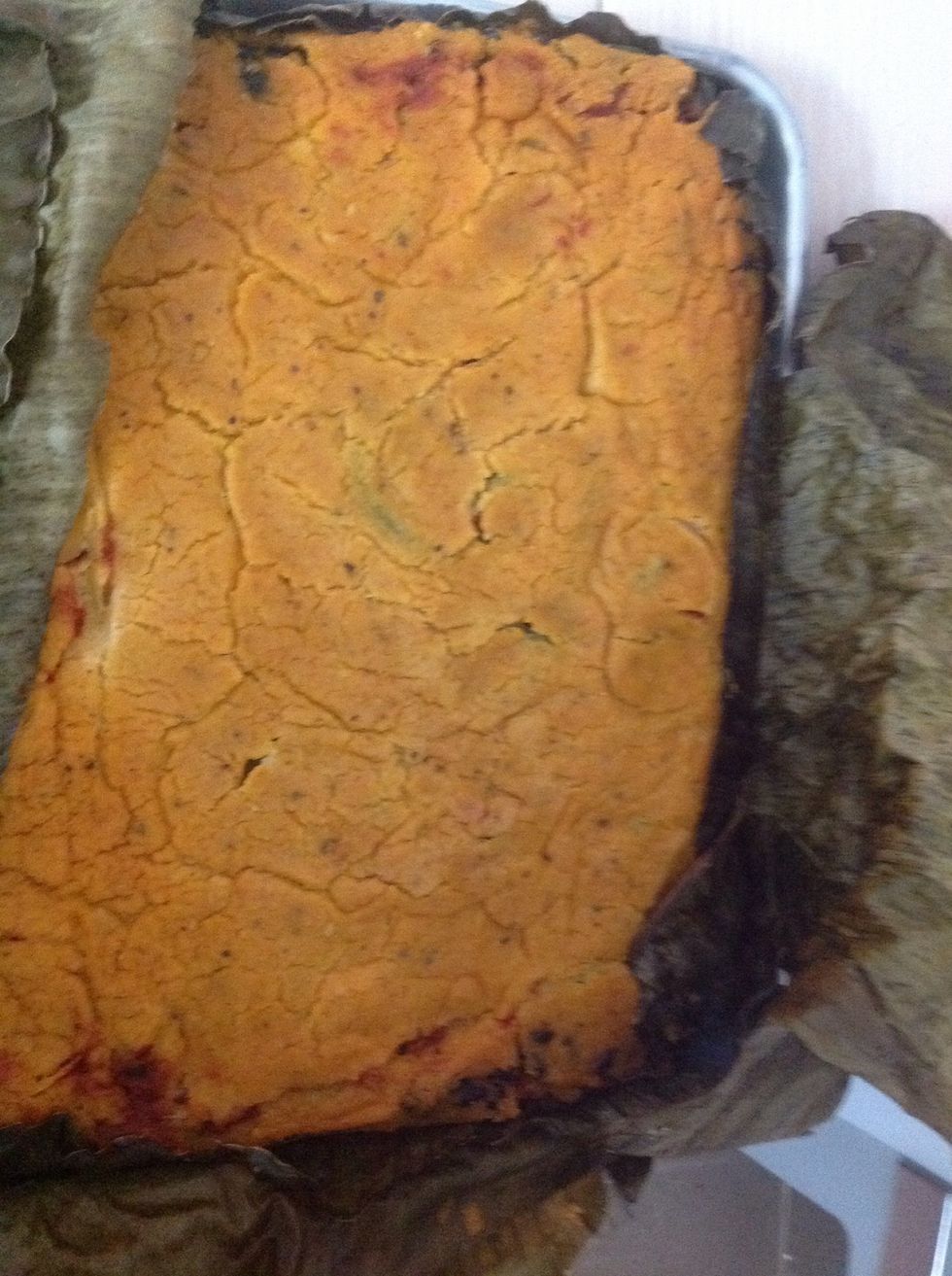 And the cooked pib will look like this.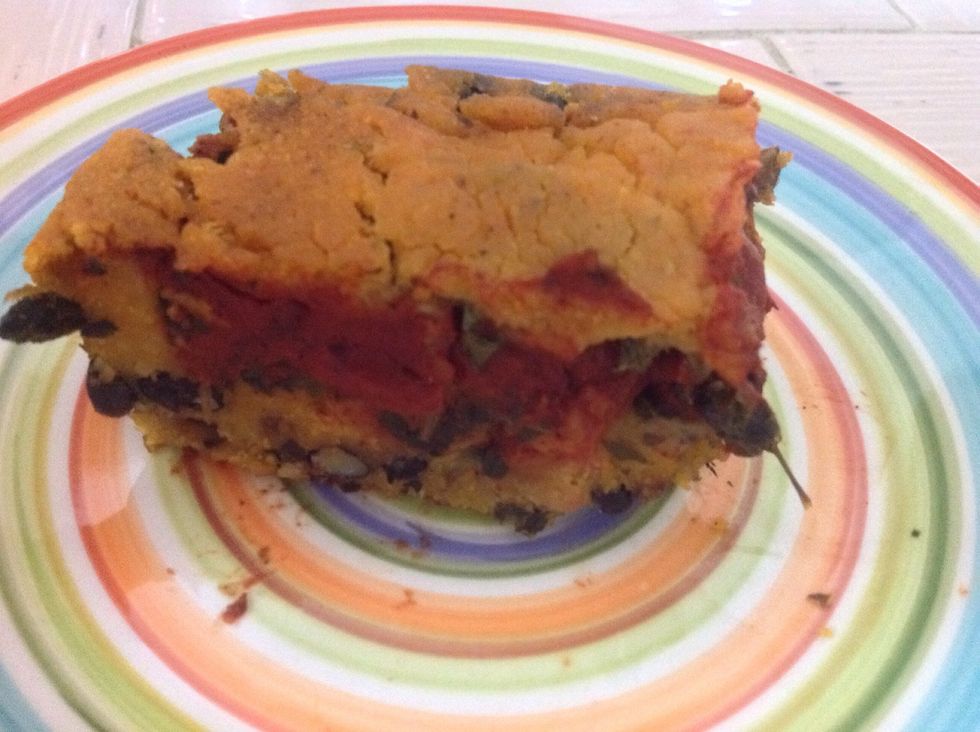 Buen provecho! Enjoy!
1/2kg Fresh corn dough (masa de nixtamal)
2.0c Olive oil
100.0g Annatto paste (recado rojo o pasta de achiote)
Salt, pepper
1.0 Garlic clove
1.0pch Oregano
1.0l Vegetable broth
1.0 Sour orange (naranja agria)
1.0bnch Cilantro
10.0 Epazote leaves
500.0g Espelón (fresh black beans) washed and drained
500.0g Chaya or kale, chopped
1.0 Medium sized onion
1.0 Habanero or serrano pepper
6.0 Medium sized banana leaves
1.0 Standard size baking sheet (9"x 13")
5.0 Small to medium sized tomatos