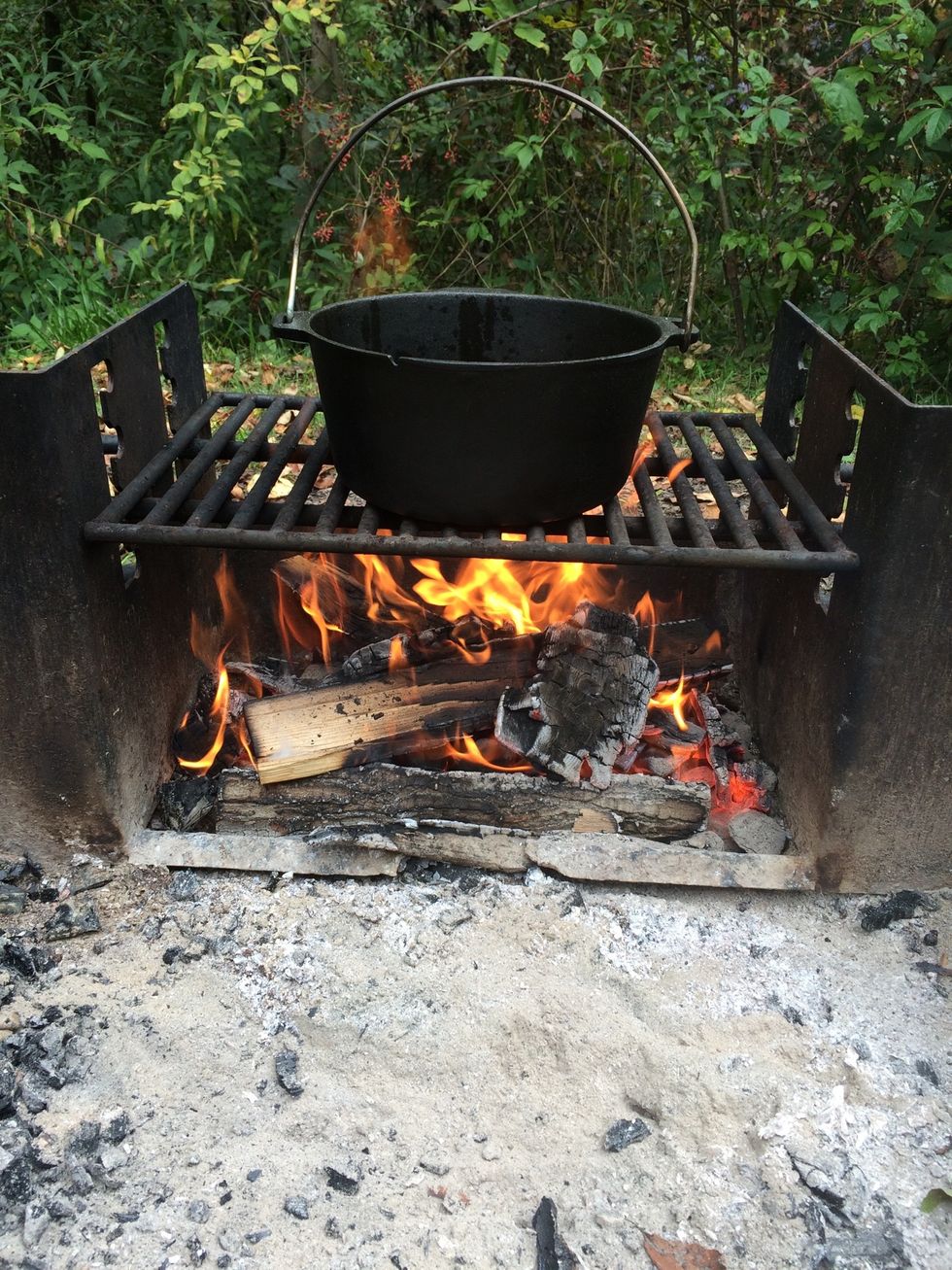 For this guide I used a cast iron Dutch oven over an open fire. This recipe can easily be done at home on the stove in any stove top pot.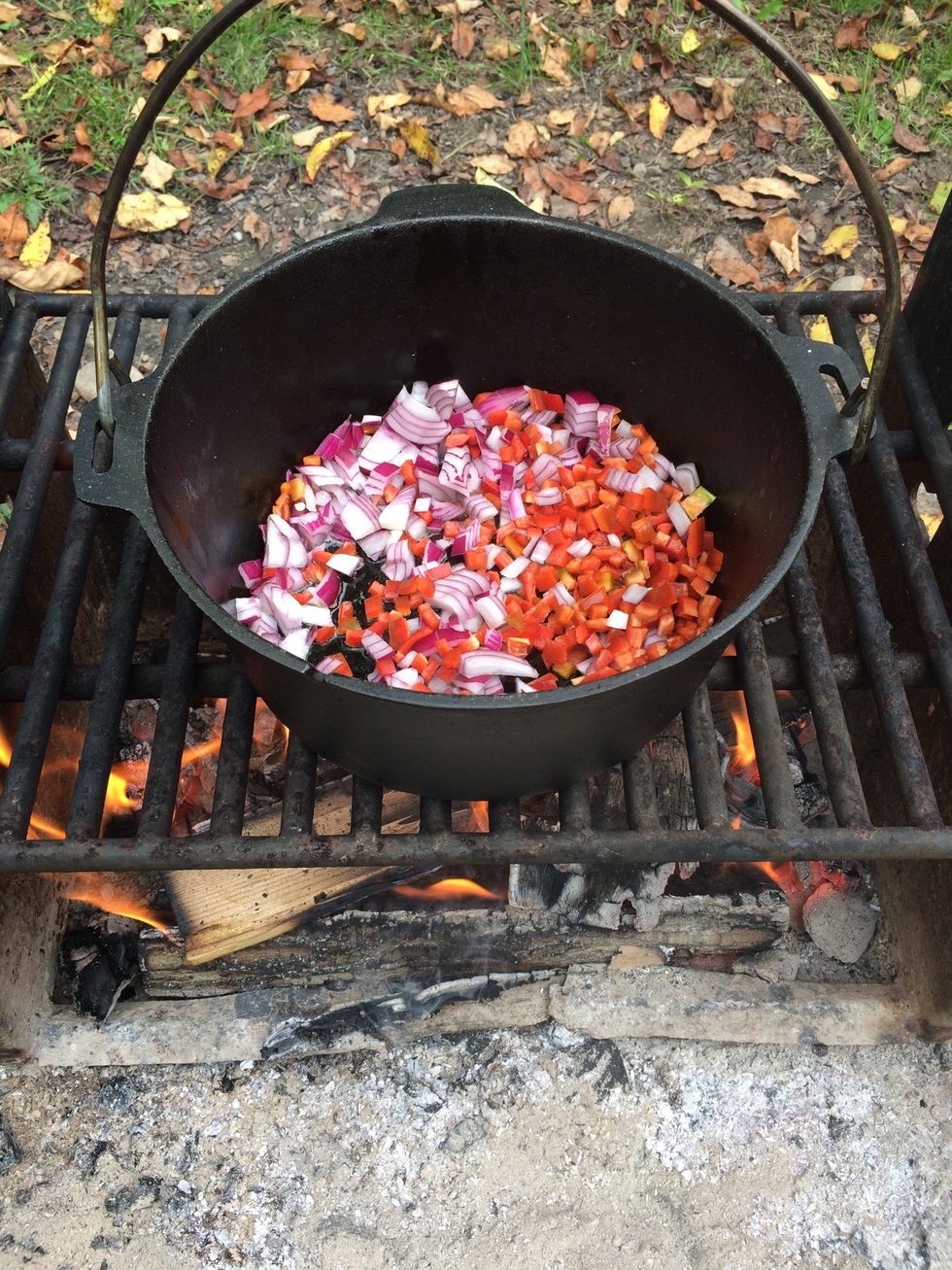 This cast iron pot that was heated over the fire, with 2tbls of olive oil. When the pot is hot, add 1 large onion, diced; 1 large pepper diced; 1 jalapeño pepper, diced. Sauté lightly.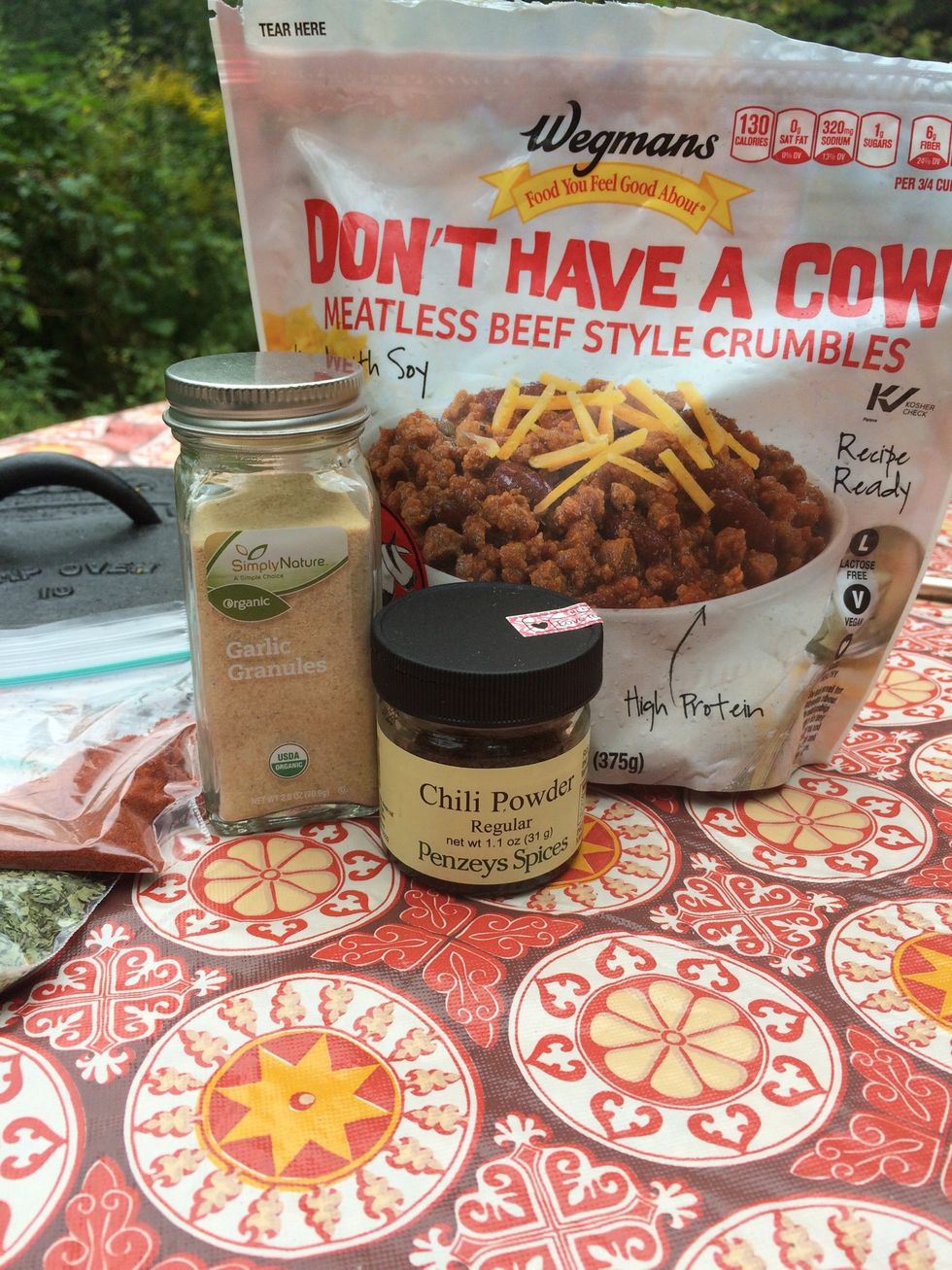 Gathered spices and vegetarian beef crumbles. You could substitute ground beef at this stage if you like. If you using ground beef, cook thoroughly.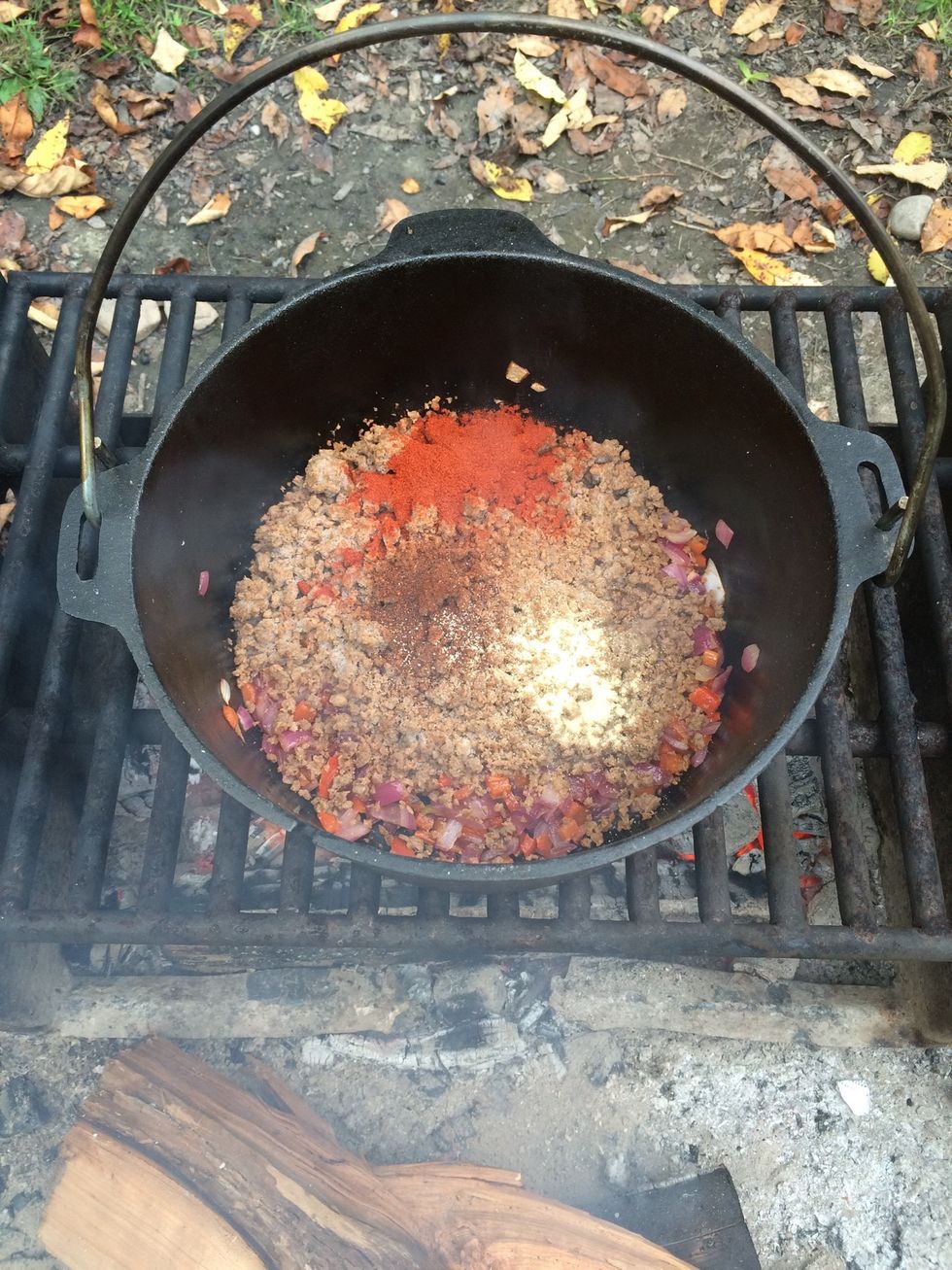 After the vegetables are sautéed, add 1 lb vegetarian meat crumbles, 2 tbls smoked paprika, 1 tbls chili powder, more or less, depends on how hot you like it, 1 tsp granulated garlic. Stir thoroughly.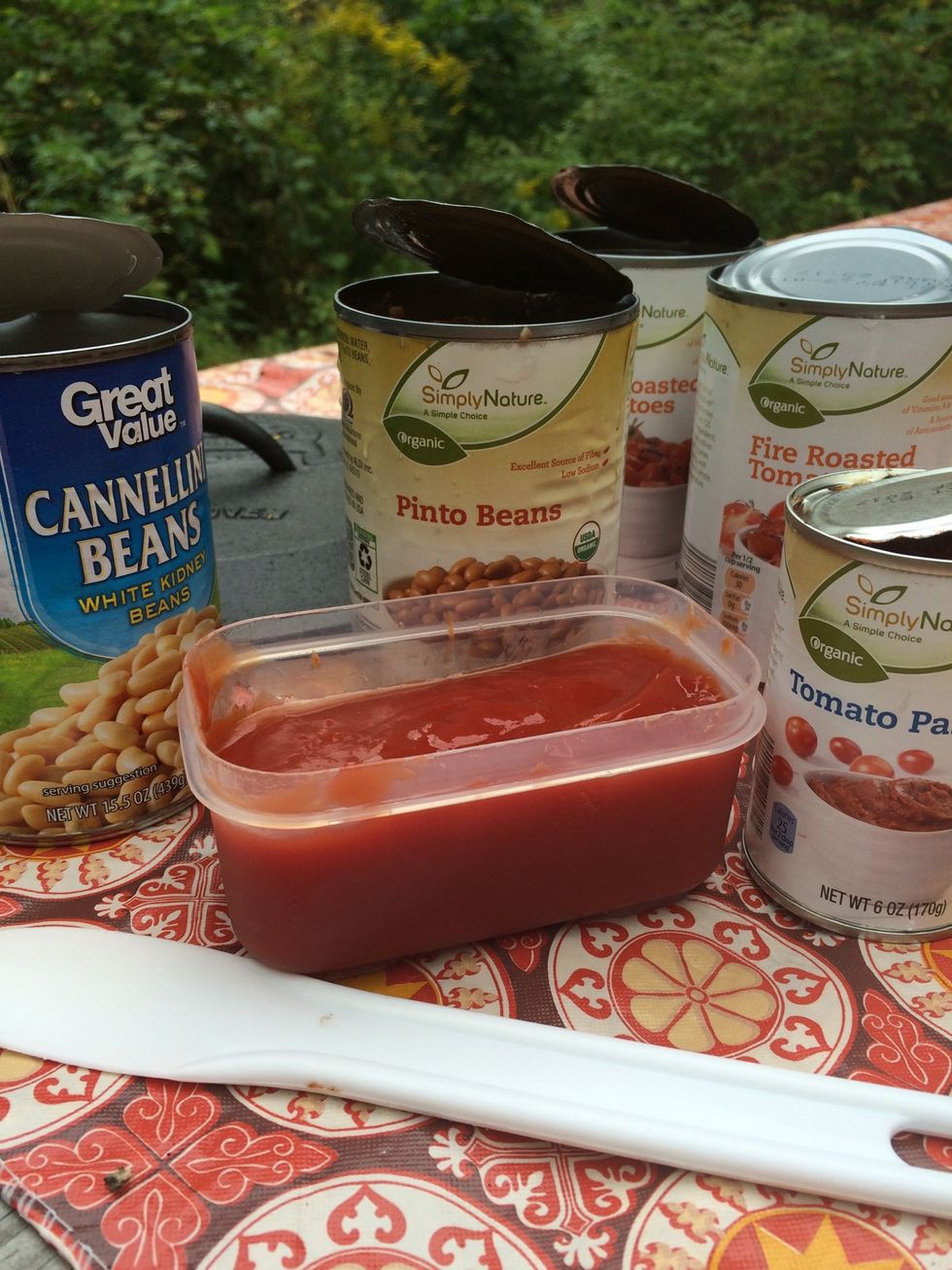 Gather; 1/2 cup ketchup, 2 tbls tomato paste, 2 cans fire roasted diced tomatoes and two cans of your favorite beans, For this I used cannellini and pinto beans, rinsed and well drained.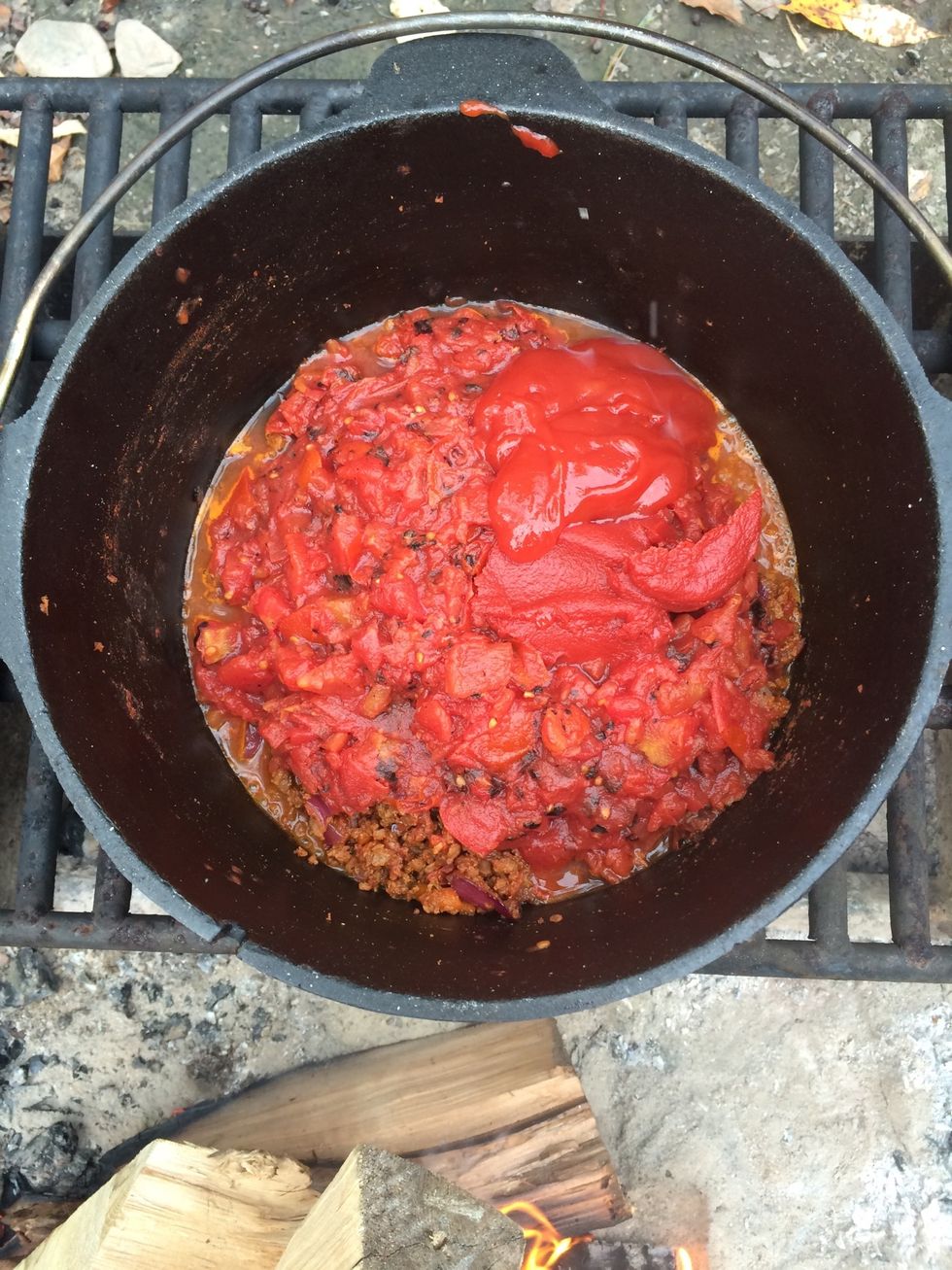 Add 2 cans fire roasted tomatoes and ketchup. Stir together.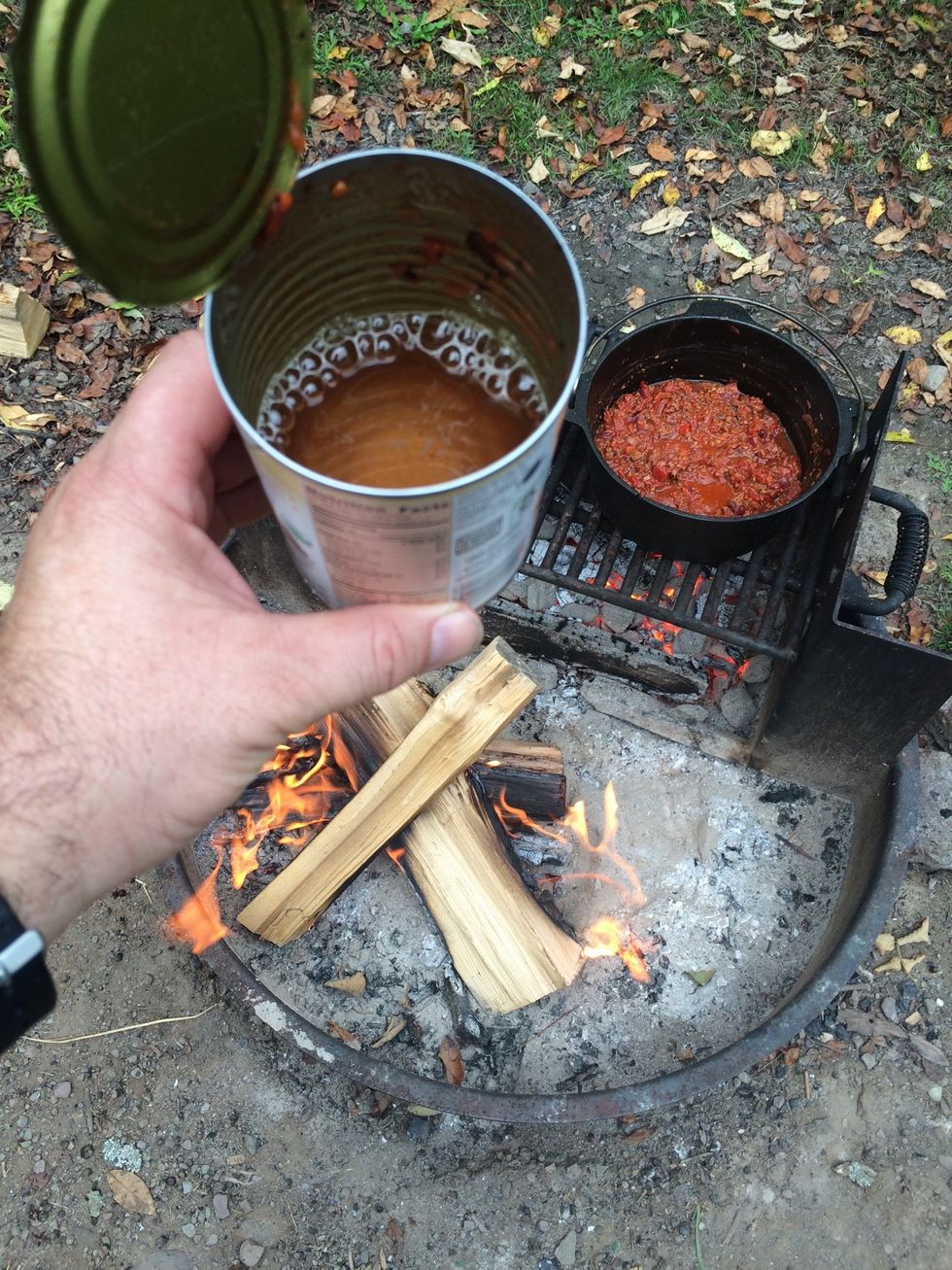 Stir in 1/2 can water.
Cover and simmer a 1/2 hour.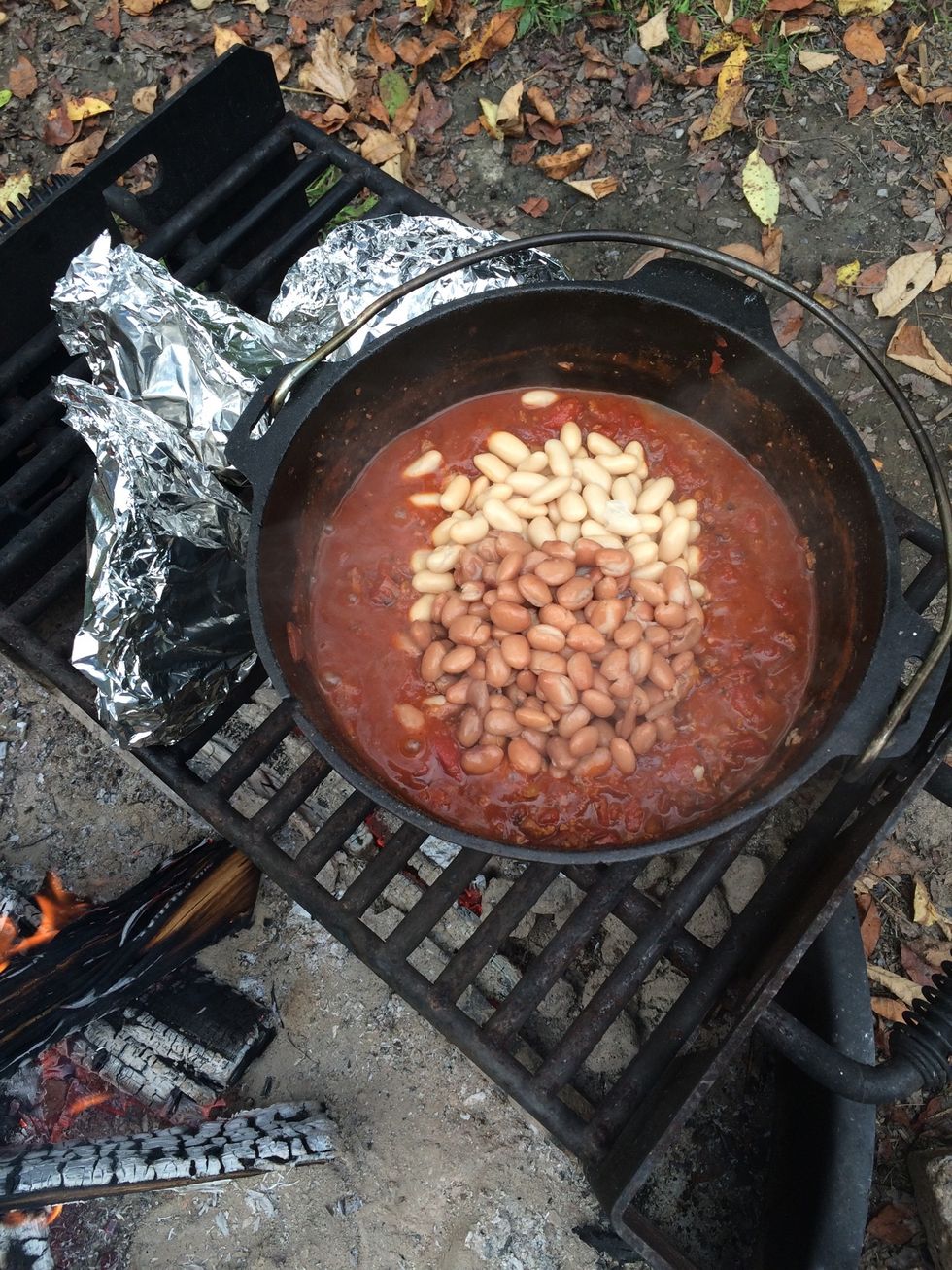 Stir in you favorite beans. 2 cans of beans; rinsed and drained. Stir. Let sit on heat for 5 minutes. Remove from heat and serve.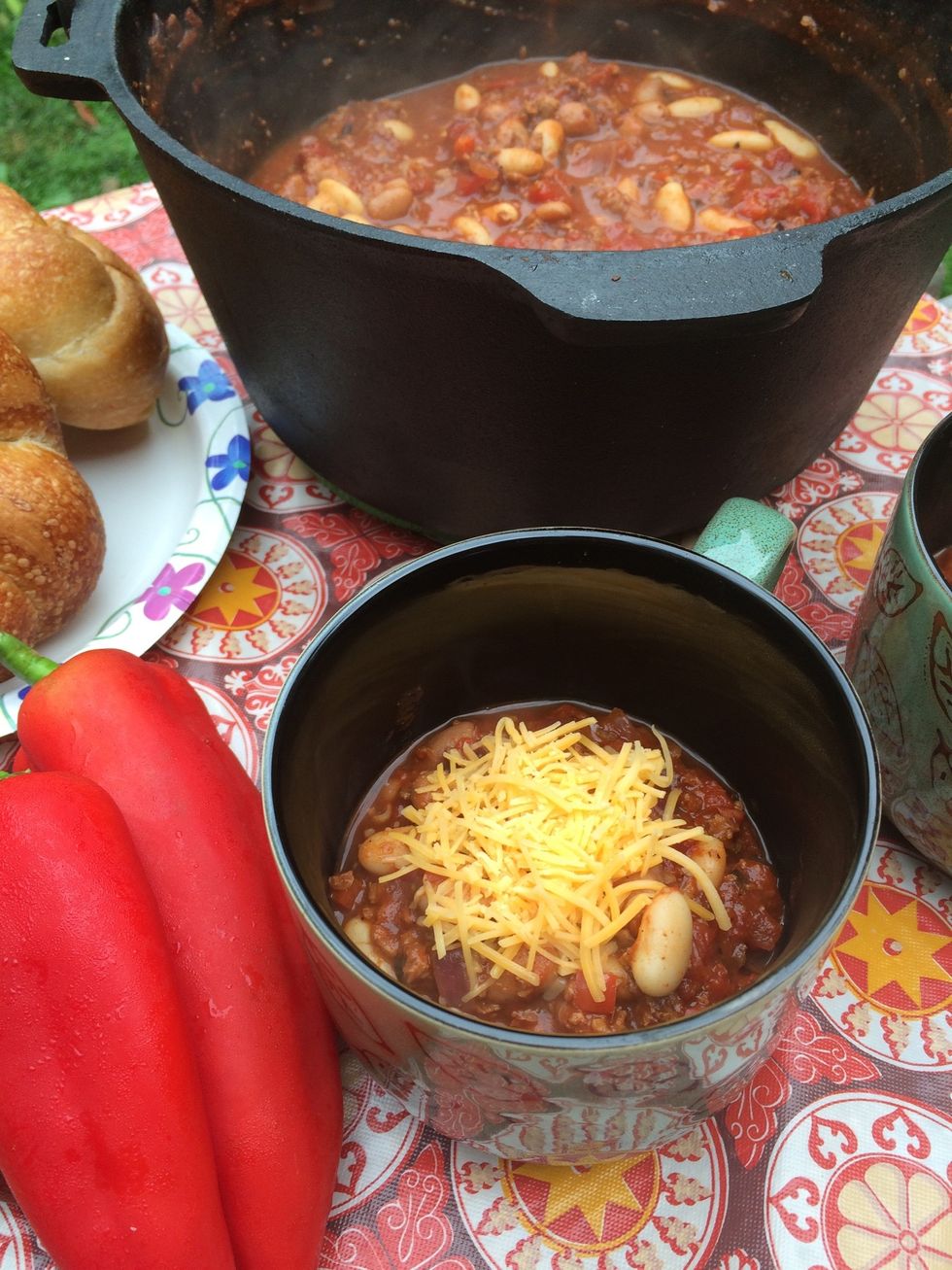 Topped with cheddar cheese and served with crusty rolls and butter.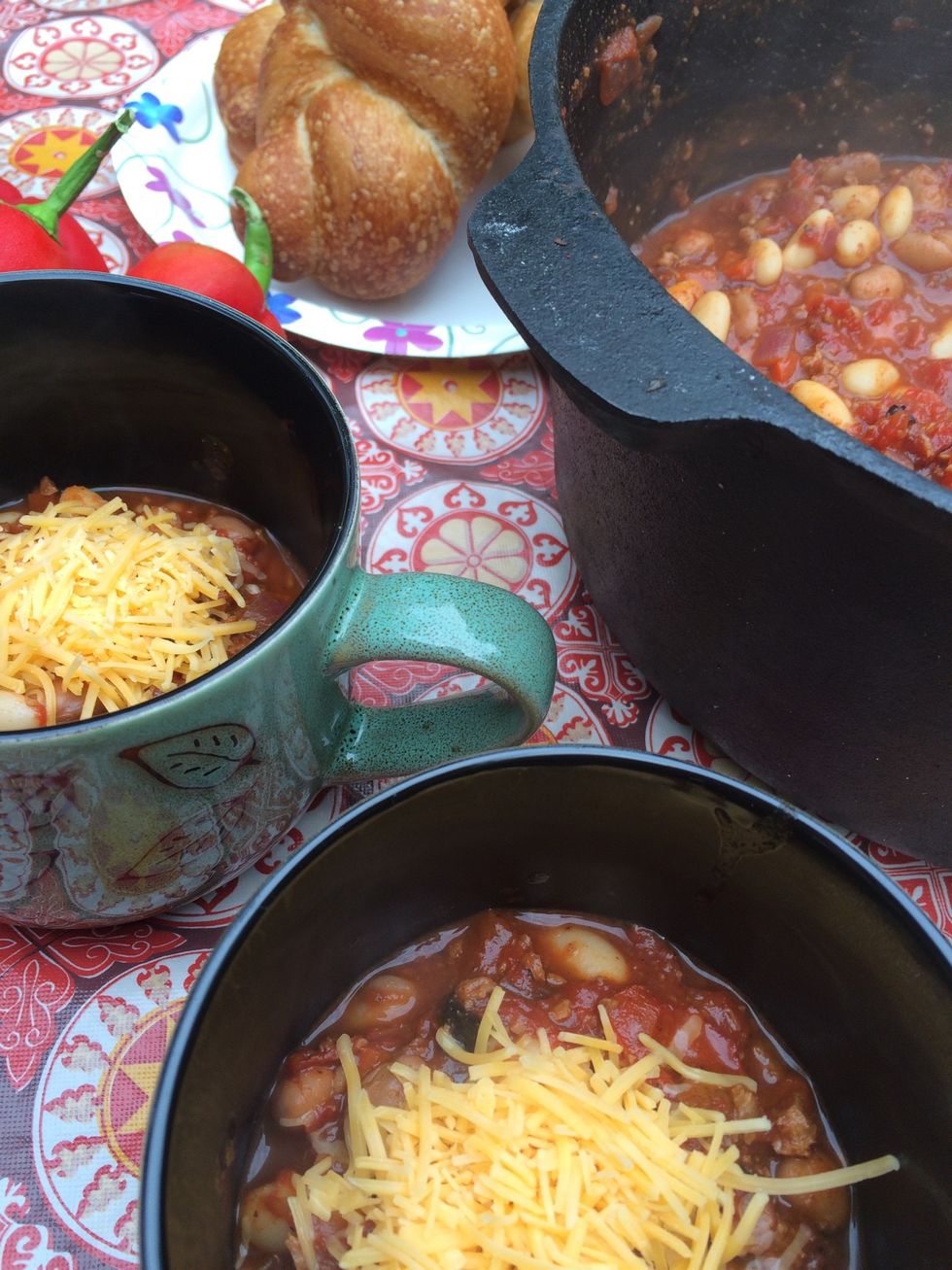 Delicious served with rice too. Remember, you can easily make this in the house on the stove too.
It's always fun and easy to cook outdoors while camping.
This guide was photographed and prepared in the beautiful, Hills Creek State Park, Pennsylvania, early fall 2015. Thank you for taking the time to view another one of my guides! Enjoy ! 😄 ❤️
2.0Tbsp Olive oil
1.0 Large Onion, diced
1.0 Large Pepper, diced
1.0 Jalopeno pepper, seeded and diced
1.0lb Vegetarian meatless crumbles
Salt and pepper
2.0Tbsp Smoked paprika
1.0Tbsp Chili powder, more if you like it spicier
1.0tsp Garlic powder
2.0 Cans Fire roasted tomatoes 15-16oz cans
2.0Tbsp Tomato paste
1/2c Ketchup
2.0 Cans of beans, kidney, pinto, cannellini beans
1/2 Can of water
Joseph Feiertag
A career pastry chef. My favorite dessert is creme brûlée. I love making anything with chocolate, blueberries, maple syrup or anything flavored with bourbon!
Northeast, Pennsylvania USA