How to make vegan makis/ comment faire des makis vg
Make Vegan Makis/ Comment Faire Des Makis VG
32
Tofu marinade: 1/2 block of tofu cut into rectangle 1 cm thick 3tablesp vegetable oil 2tablesp sauce or Bragg's soy 1tablesp.soupe lemon juice 1teasp vinegar Mix &Marinate tofu 1 hour in this mixture
in ahot pan,roast tofu sticks on each side 1 minute and set aside.Reserve marinade2 make a dressing 4a kale salad-rub 6 kale leaves chopped with marinade and serve)/
French:Marinade tofu: 1/2 bloc de tofu découpé 3c.soupe huile végétale 2c.soupe de sauce bragg's ou soya 1c.soupe de jus de citron 1c.thé de vinaigre de riz Mélanger &mariner le tofu 1 heure
French: Dans 1 poêle, rôtir bâtons de tofu de chaque côté 1 minute.Réserver la marinade de tofu pour faire une sauce pour une salade de kale;frotter 6 feuilles de kale hachées avec la marinade &servir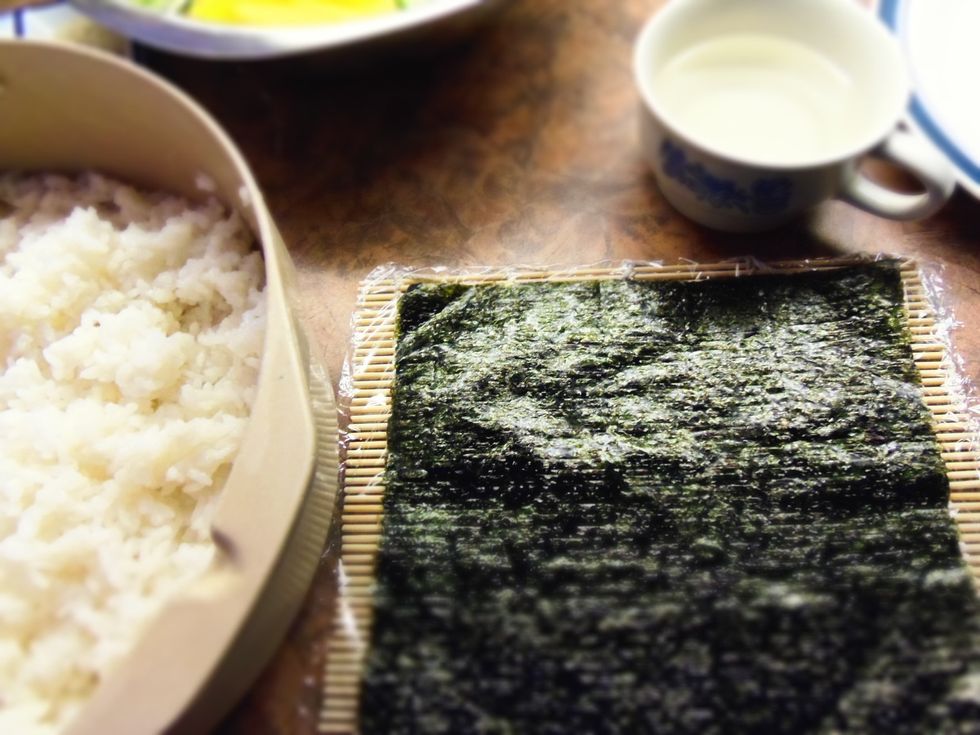 1st cook the rice with the water and cool 1 hour, season with rice viengar,salt +sugar/ cuire le riz dans l'eau, assaisonner avec le vinaigre,sel et sucre. refroidir 1 heure
peel and slice all the garnishes/ peler et trancher les garnitures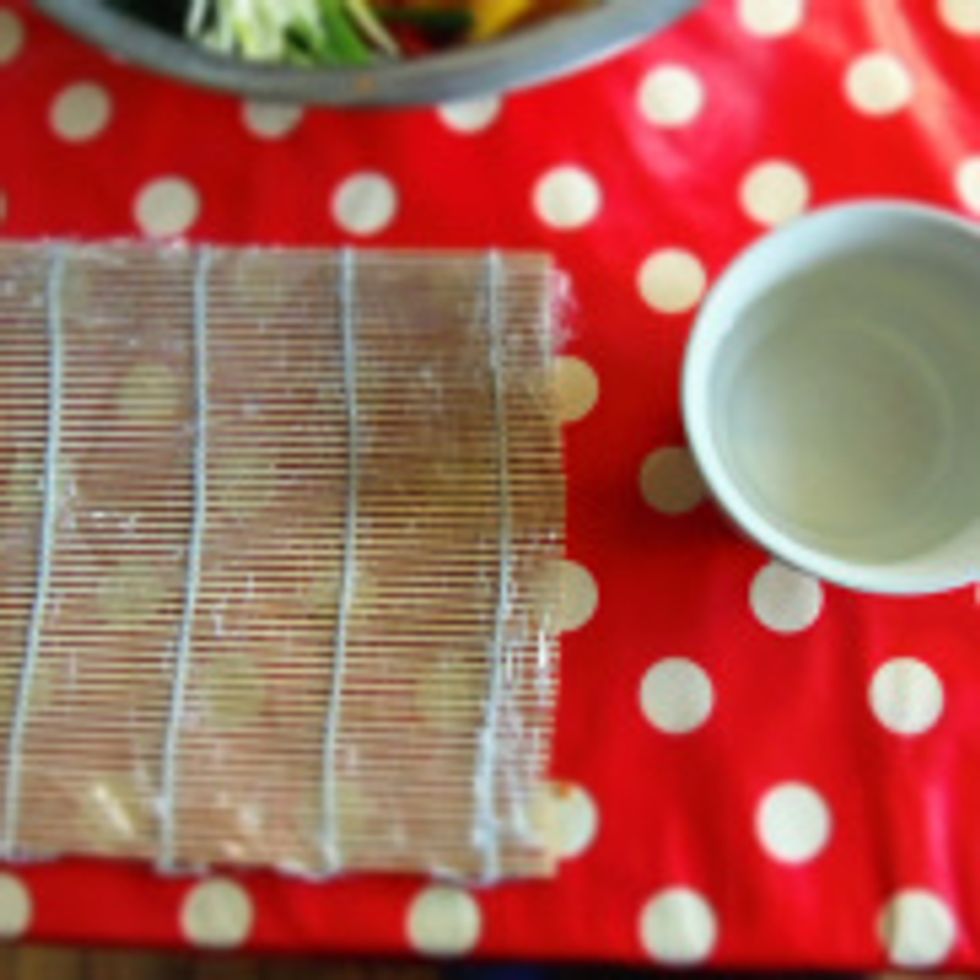 cover the placemat with plastic wrap/ recouvrir les 2 côtés du napperon de bambou de saranwrap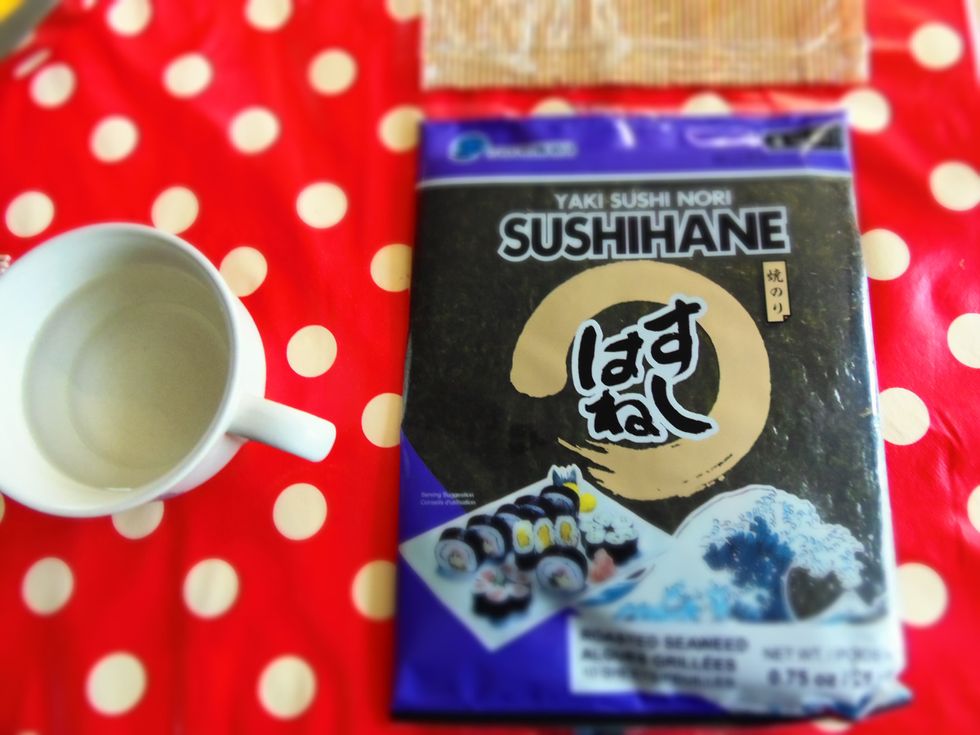 prepare one cup with water&1teasp rice vinegar and keep it on hand to rinse fingers/ mélanger de l'eau et du vinaigre dans 1 tasse pour mouiller les doigts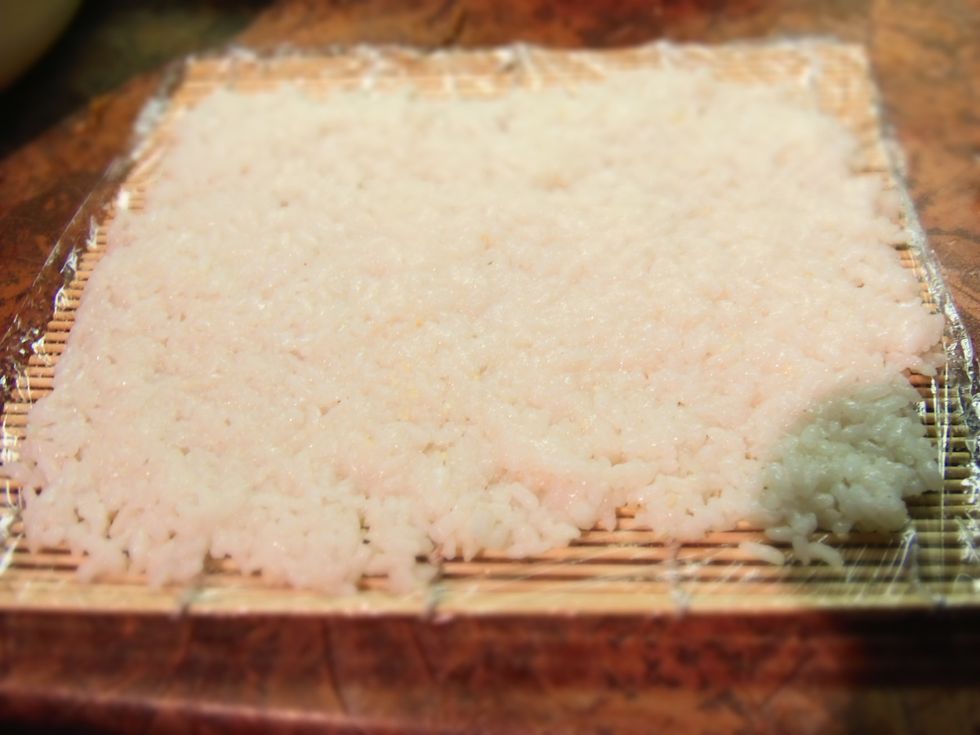 if u wish to make inverted rolls: spread 2/3 cup of rice on the placemat evenly , keep 1 inch off. rinse often your fingers or else, place nori sheet on placemat and rice on top of nori sheet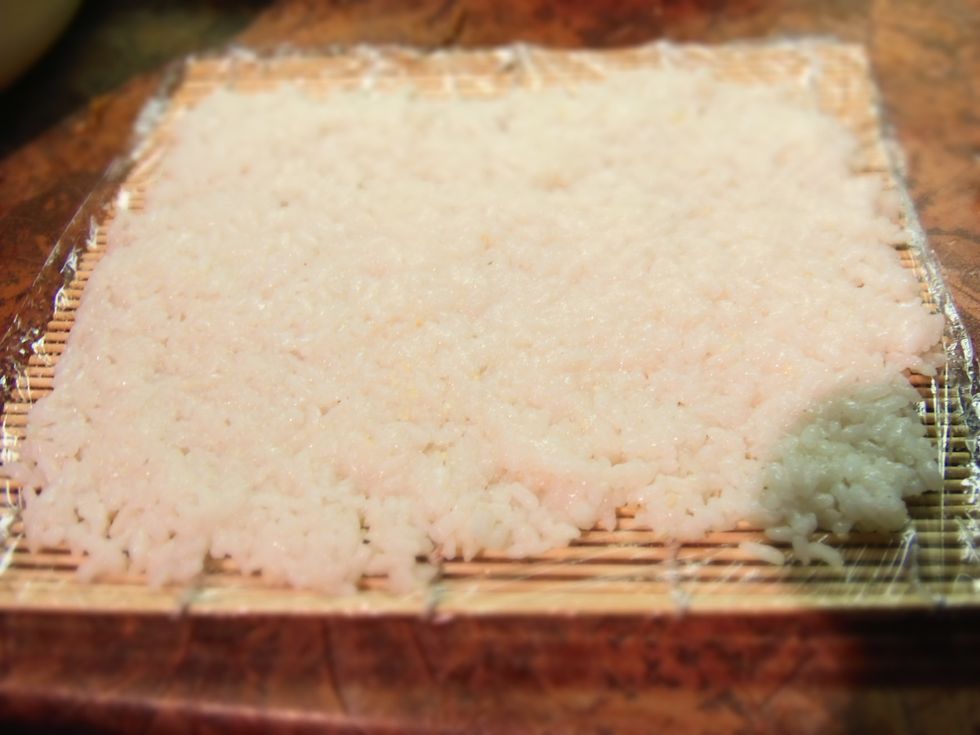 French:makis inversés; étendre 2/3 tasse de riz jusqu'à 1 pouce du rebord, rincer les doigts souvent.
Place garnishes on the center/ placer les garnitures au centre.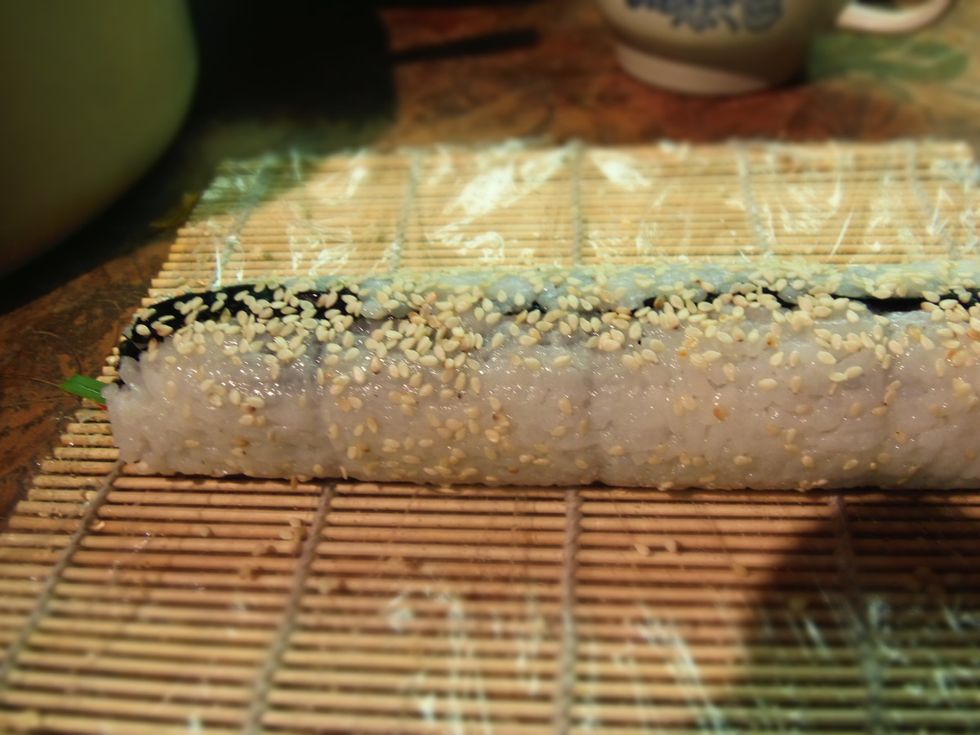 Roll 1 edge over the garnish &continue to roll gently. spread sesame on top/Rouler 1bord de maki collée avec le riz jusqu'à par-dessus la garniture&rouler encore jusqu'à fermer le roll.mettre sesame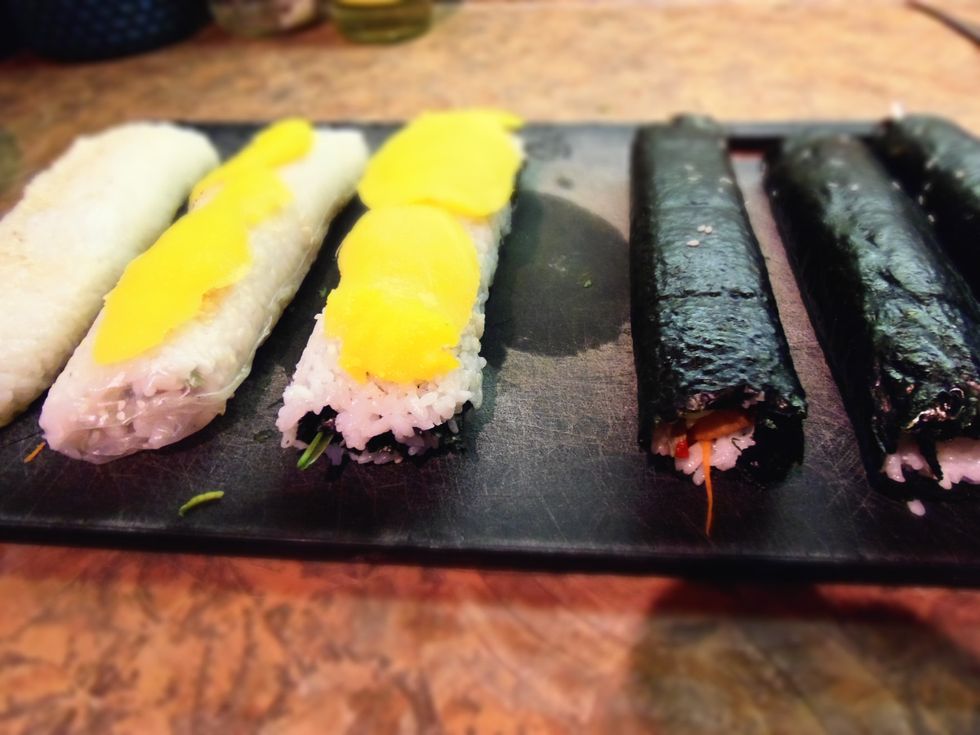 You should make 8 rolls with this recipe/ vous aurez environ 8 rouleaux.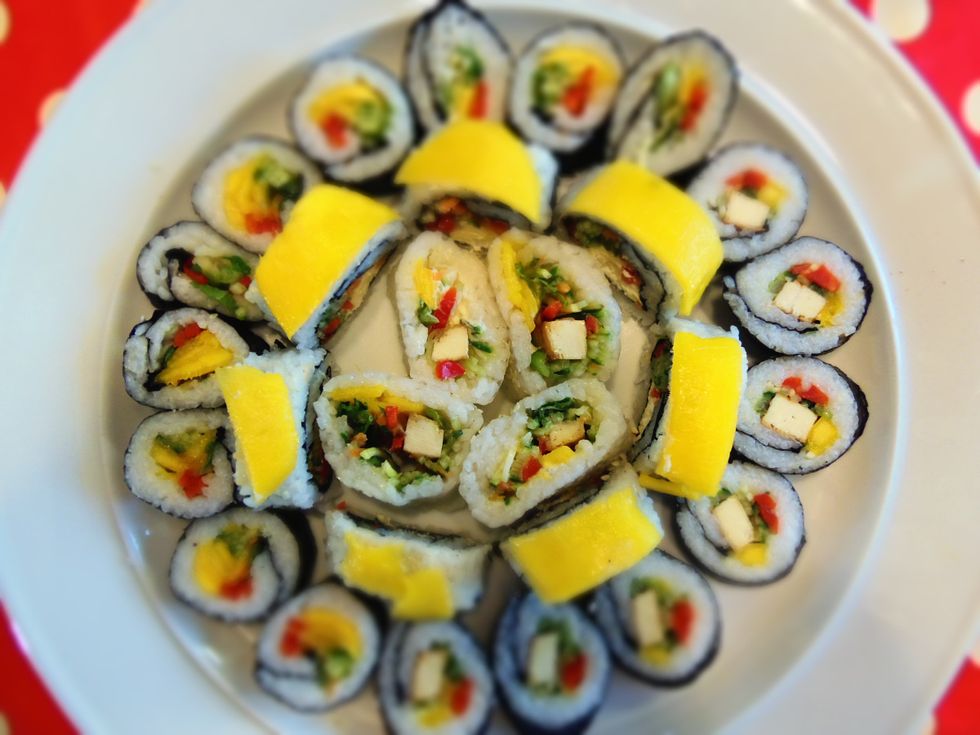 Slice the rolls and serve on a plate/ Couper les rouleaux et servir.
3.0c rice for sushis/3 tasses de riz à sushis-
6.0c water/ 6 tasses d'eau
3.0tsp rice vinegar/3 c.thé de vinaigre de riz
3.0tsp sugar/3 c.thé de sucre de canne
1.0tsp salt/ 1c.thé de sel de mer fin
1/2 of firm tofu block/1/2 bloc de tofu ferme
3.0Tbsp vegetable oil/ 3c.soupe huile végétale
2.0Tbsp soya sauce or bragg's/2c.soupe sauce bragg's/ soya
1.0Tbsp lemon juice/1c.soupe de jus de citron
1.0tsp rice vinegar/1c.thé de vinaigre de riz
1.0 pack of nori sheets/un paquet de feuilles d'algues
1.0 avocado-sliced/1 avocat en tranches
1.0 mango-peeled and sliced/1 mangue pelée et tranchée
4.0 slices creamcheese/fromage à lacrème4 lanières1cm
1.0 carrot, peeled and thinly sliced/carotte julienne
1.0 cucumber,thinly sliced/1 concombre en julienne,
1.0 zuchini-thinly sliced/1 zuchini en julienne
2.0 schallots/2 échalotes en julienne
1.0 red bell pepper sliced/1 poivron rouge julienne
1/2c sesame seeds/ 1/2 tasse grains de sesame
1.0bnch coriander, leaves/coriandre en feuille
1.0bnch mint leaves/quelques feuilles de menthe hachées
1.0 bamboo placemat/ 1 napperon en bambou
1.0 sheet of plastic wrapper/1 feuille de saranwrap
Mélissa Desève
Previously Pastry chef and cook, gluten intolerant, have a passion for sustainability and ecology!