How to make turkey, feta, spinach, & tomato ravioli.
Make Turkey, Feta, Spinach, & Tomato Ravioli.
34
Brown turkey sausage. While that cooks finely chop spinach leaves and tomatoes. Mix feta cheese, spinach, tomatoes in a bowl (I like to use a chopper/food processor to chop and mix thoroughly).
Once turkey is thoroughly cooked add to feta, spinach, and tomato mixture. Place in fridge to cool.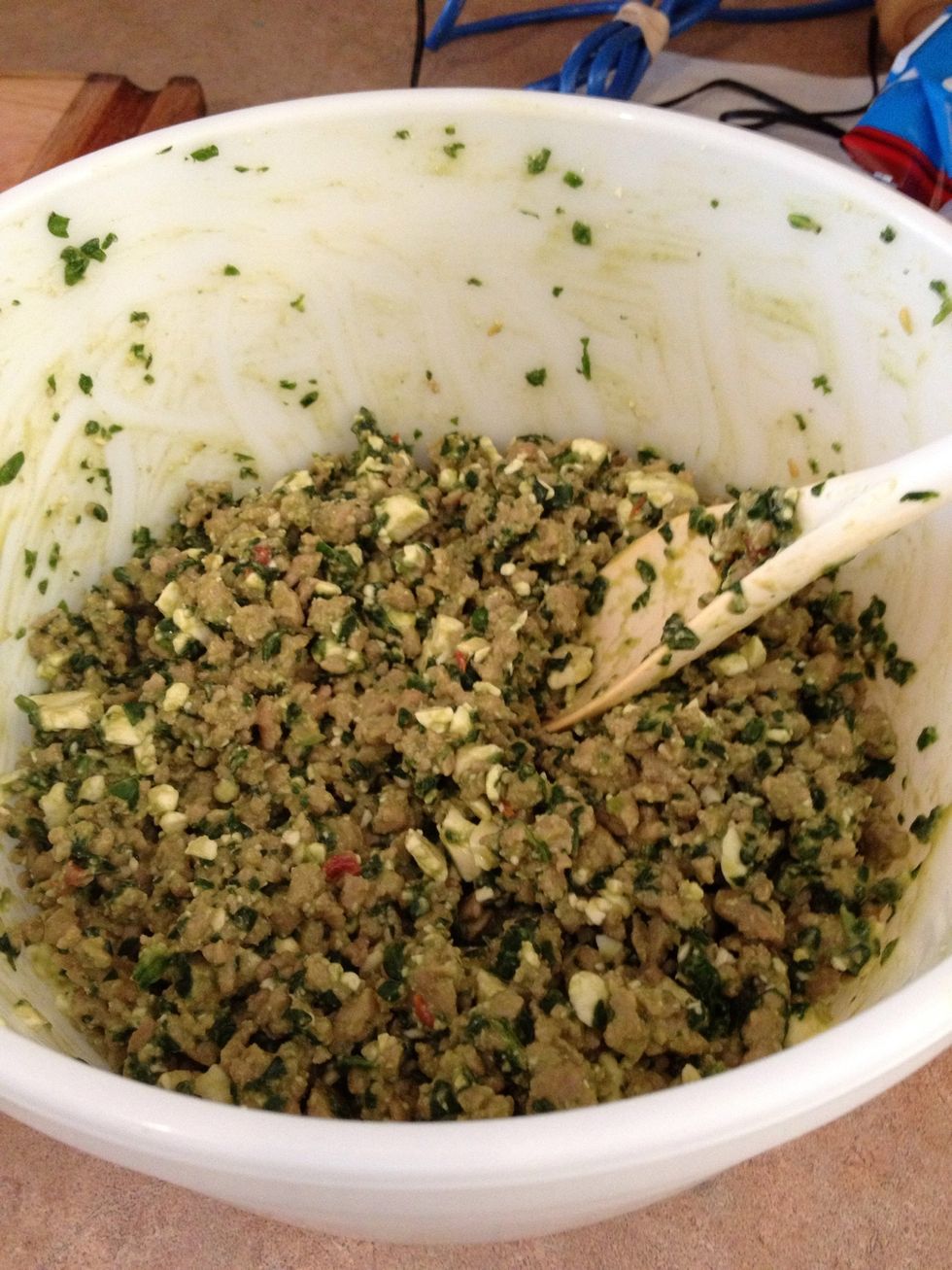 Sift flour and salt together. Put on a cutting board in a mound. Make a well in the middle of the flour/salt mixture and put two eggs in well. Break egg yolk with a fork and beat slightly.
Slowly add warm water & mix with fork until moist ingredients are mostly absorbed. Kneed until smooth. You may need to add more water. Find a consistency that stays together without being too wet/dry.
Cover dough and set aside. I roll my dough into a ball and wrap in plastic wrap as the dough will easily dry out. Let covered dough rest 15 minutes.
After dough had set 15 minutes take 1/2 the dough to use (keep other half covered). Flour a large cutting board or area on your counter top. Keep a small dish of flour handy as well.
Press dough to 1/2 inch (or less) thick with floured hands(try to keep a rectangular shape-think cookie sheet!). Use a floured rolling pin to roll to to desired thickness of 1/16 to 1/8 inch thick.
Remember, ravioli is thin. Ideally you can see your filling, or almost can. If your dough is the right consistency it will not tear when rolled thin.
Once at a desired thickness, start in the middle and work your way to the outer edge with your filling. I fold my dough in half to have a starting point. Put 1 to 1 1/2tsp of filling 1 inch apart.
Notice I left a little hump half way through my dough to work out from.
Take a pastry brush and moisten with warm water around all scoops of filling. Make sure your dough is wet on all edges. Fold the other half of dough over the top and press down well with fingers.
Take a pizza cutter, pasta cutter, or a knife if that's all you have and cut straight lines to cut ravioli out. Trim as needed to leave about a 1/4 to 1/2 inch of dough around filling.
Take a fork and press down the edges of ravioli to be sure there is a good seal and to give the pasta a finished look. If you have too much dough on the edges you can trim it here as well.
If desired, take pasta dough trimmings and roll into a tight ball and cover with plastic wrap (you may need to add water to use). Complete rolling and filling the same with the other half of dough.
Lay ravioli flat on wax paper to dry. Dry pasta for at least 1 hour. After the pasta has dried you may either place in a freezer container using wax paper between layers of ravioli and freeze or cook!
To cook ravioli bring 6-8 quarts of water with a dash if salt and 1-2 tsp of olive oil to a rapid boil. Cook ravioli 10-15 minutes.
I recommend cooking 3-5 ravioli before cooking the whole batch to pin point the cook time. I take a ravioli out of the boiling water at 10 minutes and then one every 2 minutes until cook time is right
Once cooked put in a dish with your favorite pasta sauce and top with shredded Parmesan. Enjoy!!
Filling of ravioli:
1 package Italian seasoned ground turkey
1 bunch fresh spinach
2 Roma tomatoes
1 small container feta cheese (aprox 16 oz)
1/4 cup grated Parmesan cheese
For the pasta:
3 cups white flour
2 large eggs
1/2 cup water
1/2 tsp salt
1 TBS olive oil