Mix together sugar, brown sugar, and butter into 1 mixing bowl. Beat until creamy and fluffy. Remember to pack the brown sugar tightly into the measuring cup.
Once the butter, brown sugar, and sugar are fluffy, next, add the egg and vanilla and mix well.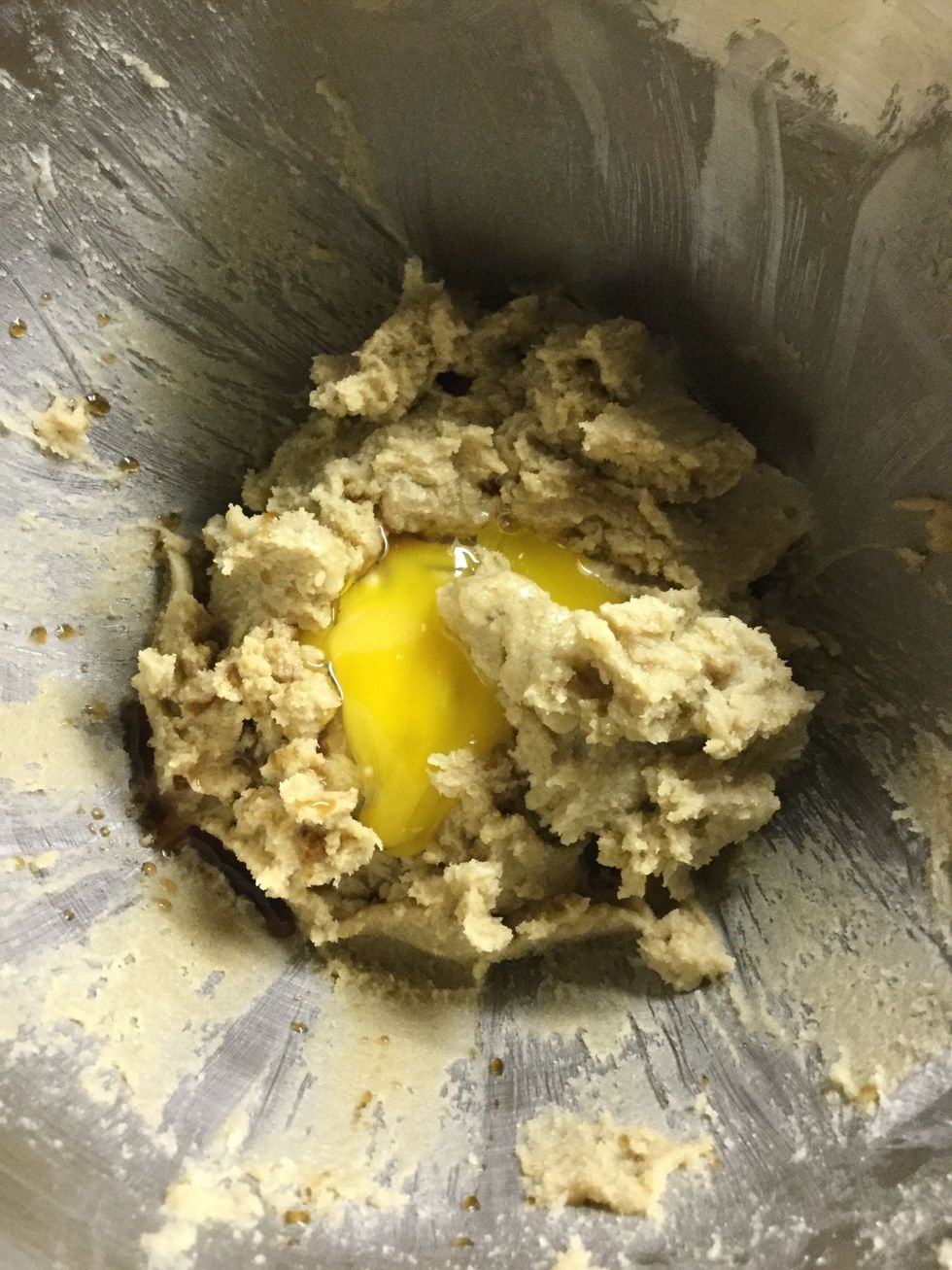 Egg and Vanilla being added
After mixing the egg and vanilla into the brown sugar, butter, and sugar, get a large bowl and mix together the remaining ingredients. (Except for the pumpkin)
After mixing the remaining ingredients, preheat your oven to 350 degrees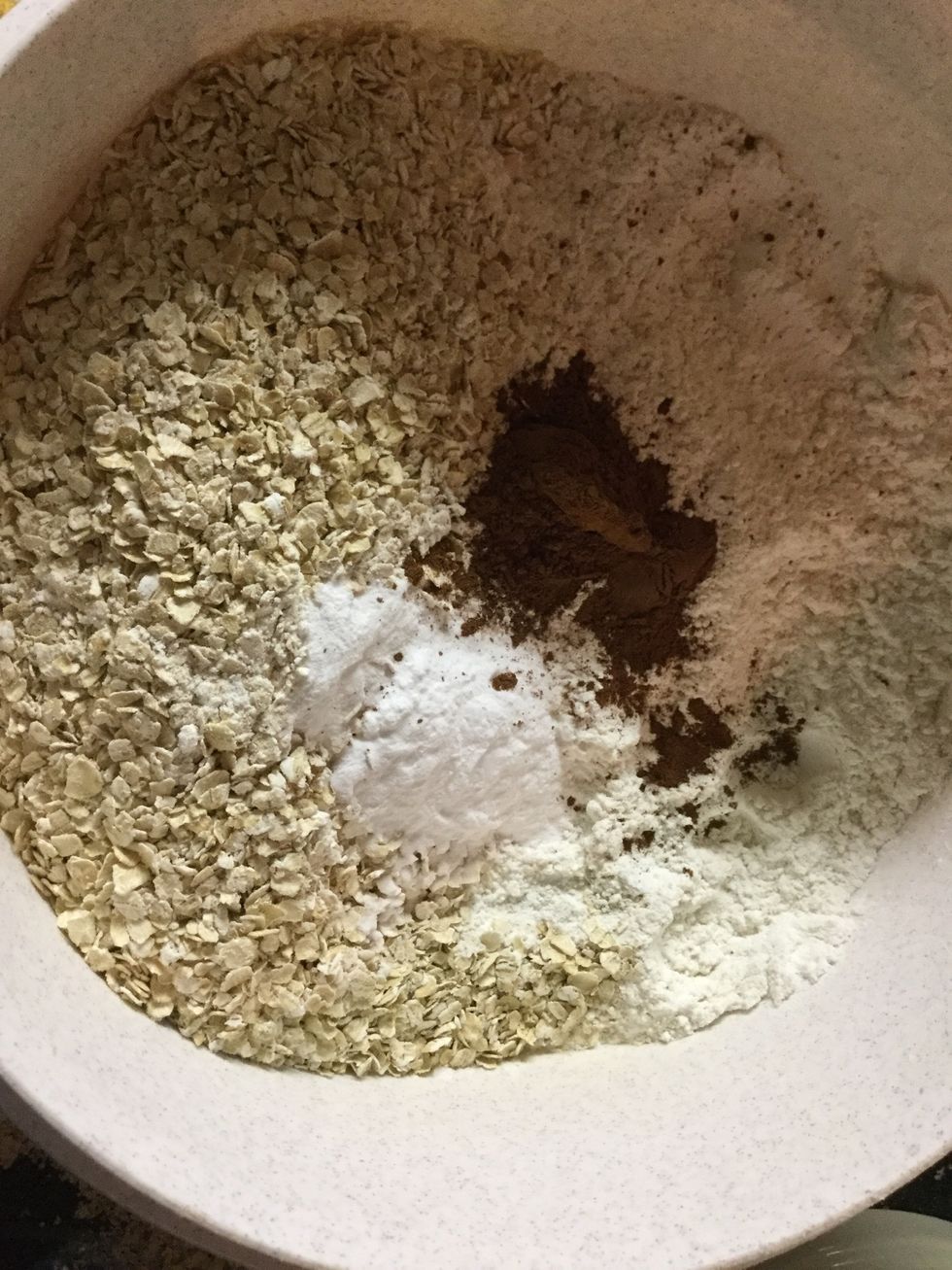 Remaining Ingredients
Once the flour, quick oats, cinnamon, and baking soda are mixed, gradually add it to butter and sugar mixture. Mix on low speed.
Pure Pumpkin
Then, after the remaining ingredients have been mixed together, add the pumpkin to the mixture gradually. Make sure the pumpkin is not pumpkin pie mix.
The last step before preparing to bake the cookies is to add the chocolate chips. You can use a wooden spoon to mix in the chocolate chips.
Chocolate Chips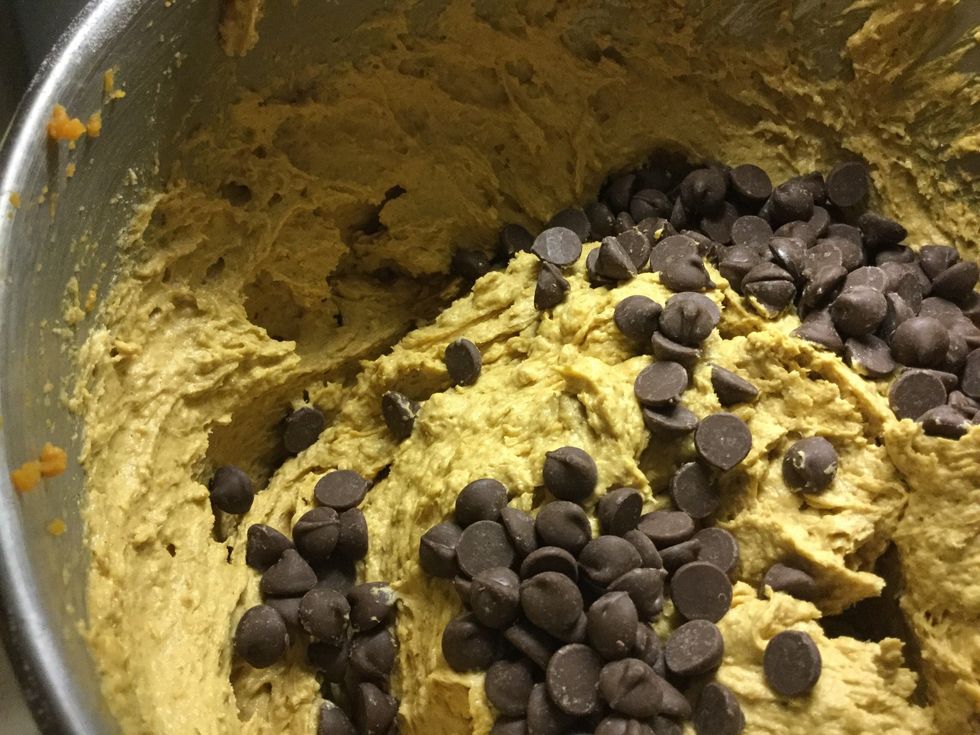 Cookie Batter
After the chocolate chips are mixed in, begin to grease your cooking sheet by using cooking spray.
Once cooking sheet is sprayed, place the cookies on the tray by using a scoop. Create a 1 in. by 1in. ball and spread the dough a little. Place each dough ball about 3 inches apart on the tray.
Bake the cookies 20-22 minutes, or until they are golden brown.
Once the cookies are done, put them on a cooling rack for at least five minutes.
Finished product
Enjoy your cookies and happy baking!
1.0c Chocolate chips (milk chocolate or semi sweet)
16.0oz Canned pumpkin
2.0tsp Ground Cinnamon
1/2c Butter (salted sticks)
4.0 Flour
1.0c Sugar (graduated)
1.0 Egg (large)
2.0 Brown sugar (packed)
2.0c Quick oats
2.0tsp Baking soda
1.0tsp Vanilla
Oven
Mixer
2.0 Large mixing bowls
Measuring cups
Measuring spoons
2.0 Spatulas
Cooking spray
Baking sheet
Scissors
Wooden Spoons
Glass bowl
Ice cream scoop