Make the Great Bar Snack, Chicken '65. Gluten Free
127
Cut the chicken into bite size pieces. Set it aside. Mix together the marinade mix.
Add the 1/2 tsp coriander to 1 Tbs Kashmiri chili...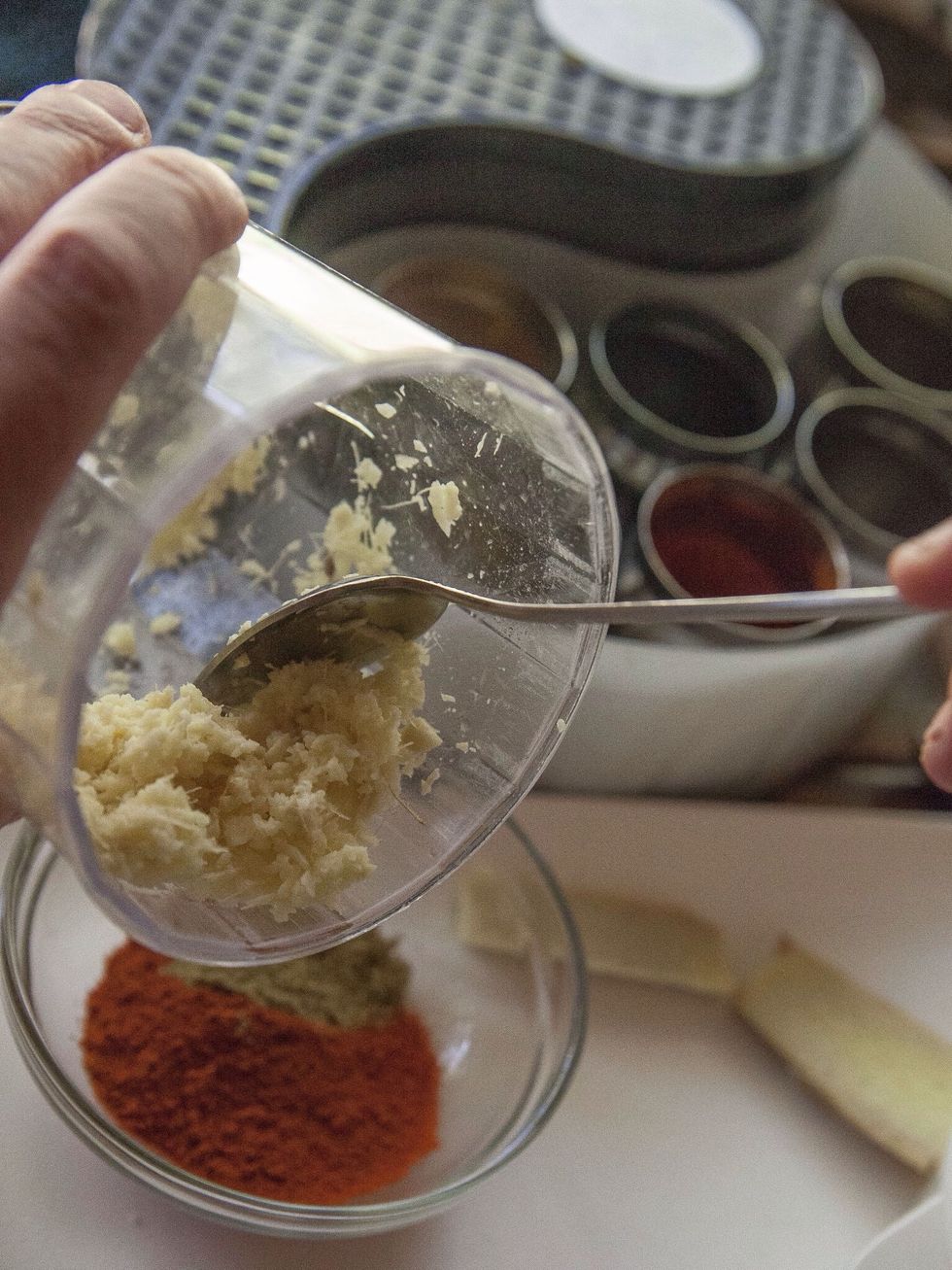 ...and 1 Tbs finely ground fresh ginger and 2 shallots.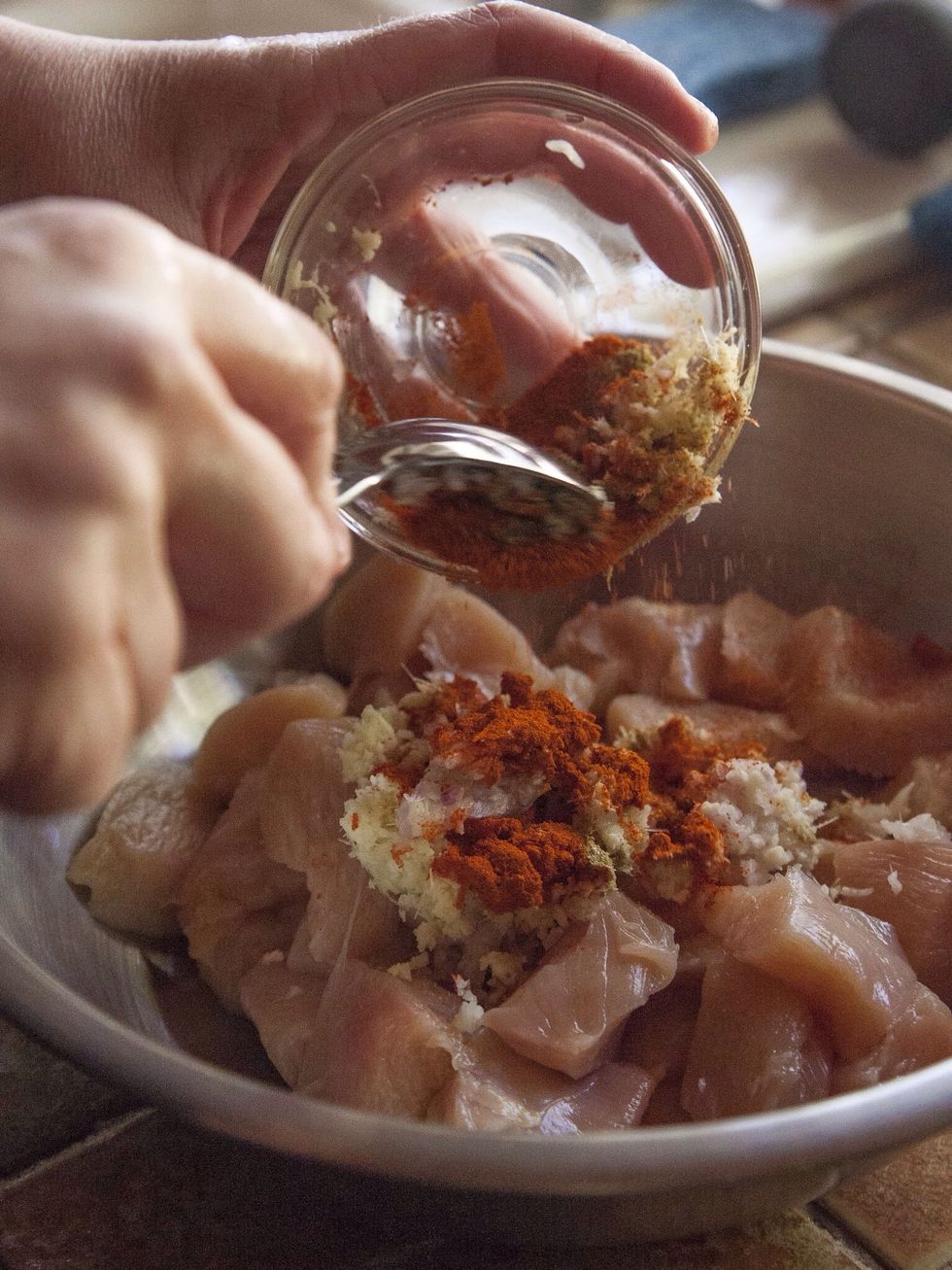 Pour the marinade into the bowl of chicken bites.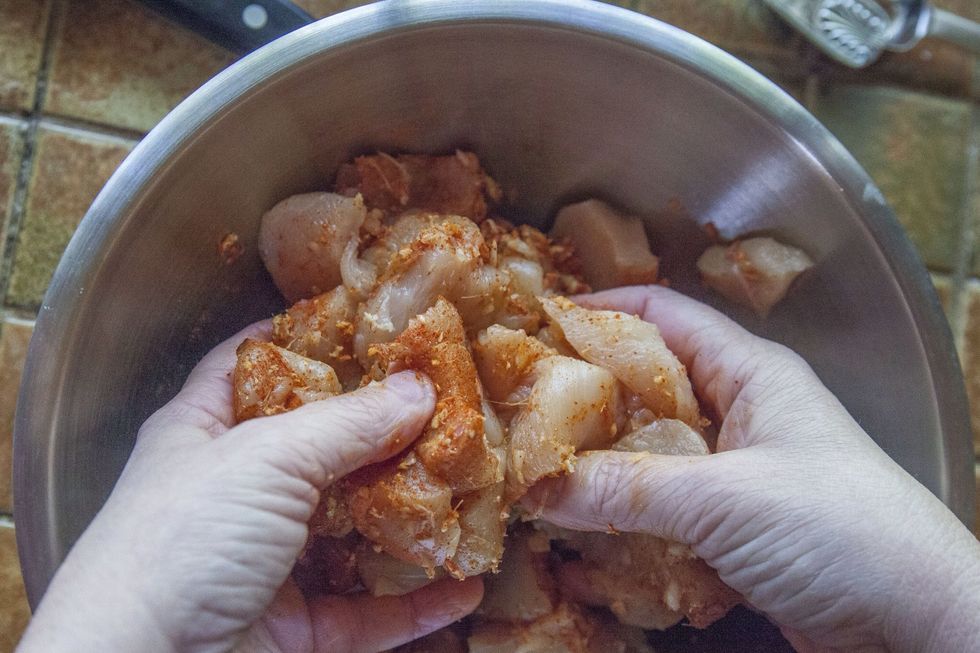 Mix everything together well.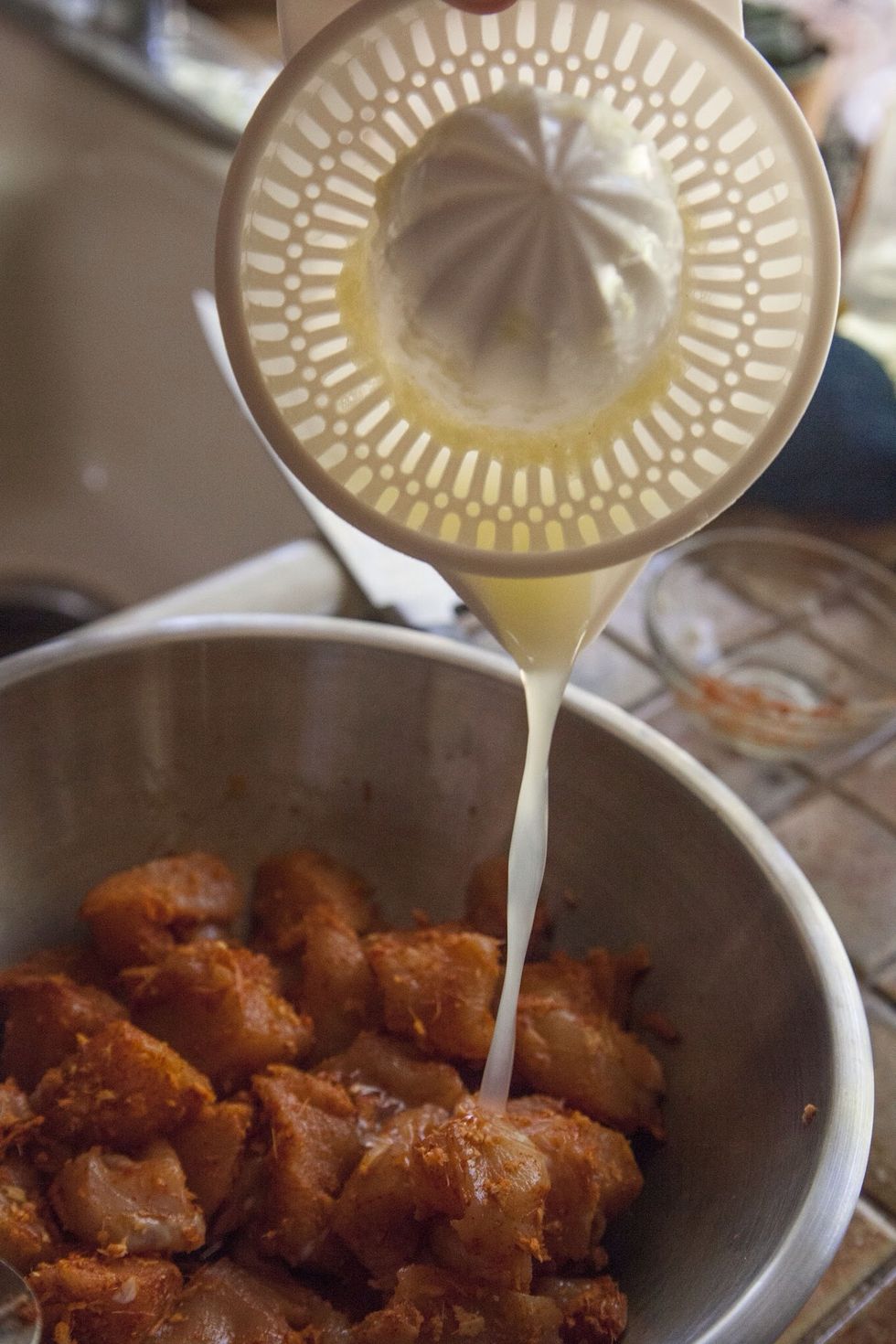 Pour in 2 Tbs of the lemon juice.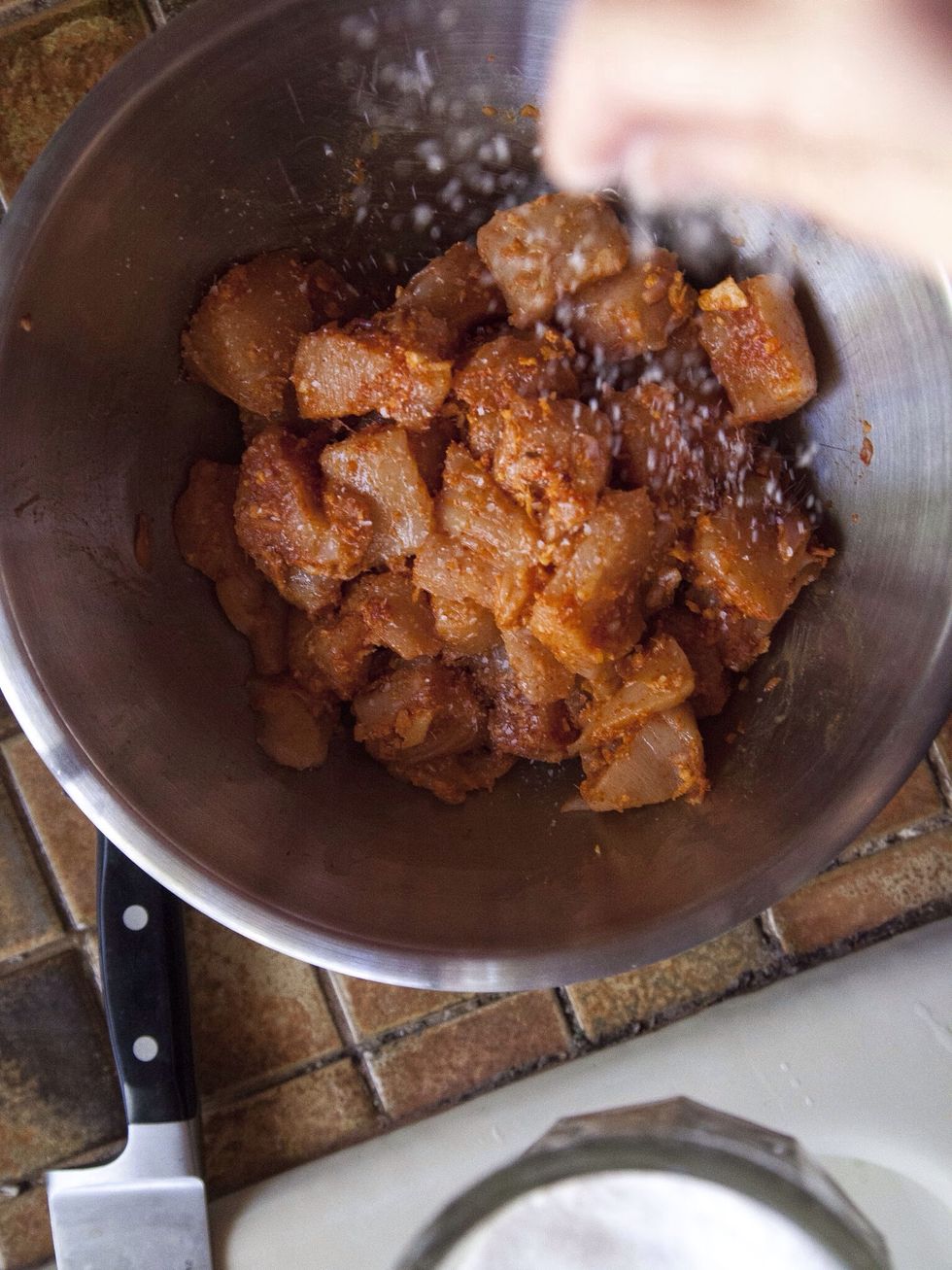 Stir things up well , salt to taste, and set it aside in the fridge for at least 1 hour.
While the chicken is chilling, mix together the gluten free coating. 5 Tbs cornstarch, 2 Tbs sorghum flour, 1 Tbs rice flour . Beat the egg and set it aside in a separate bowl.
Meanwhile prep the yogurt sauce. Mix together 2 more chopped shallots, and 1 Tbs chopped ginger.
In a separate bowl whip the yogurt, add in 1 Tbs Kashmiri chili, 2 Tbs lemon juice and 1/2 tsp coriander 1/2 tsp cumin. Set it aside.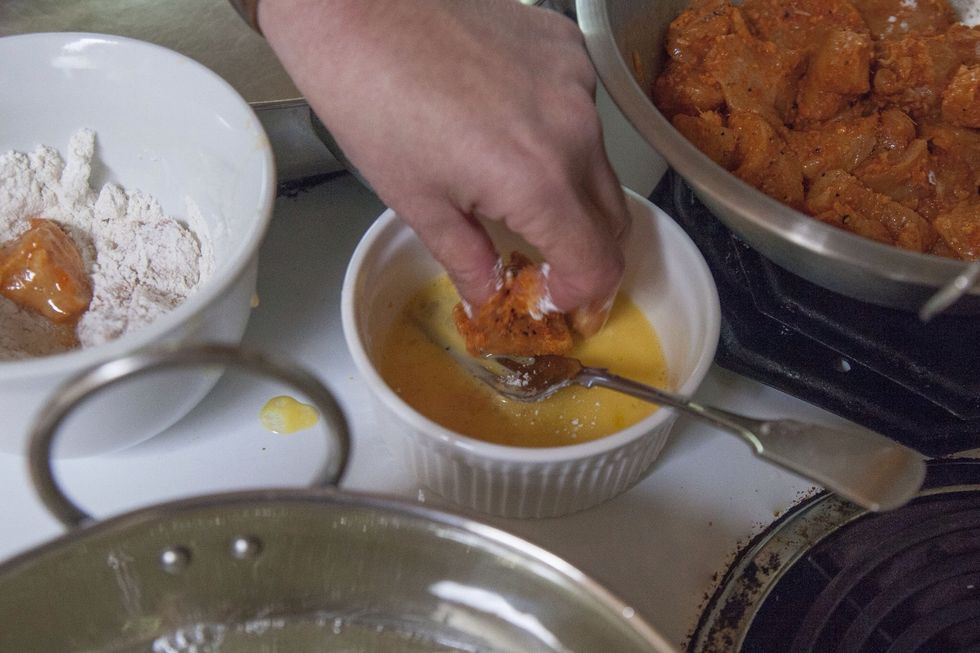 Pour the oil into a deep pot, wok or kadhai. Bring it to 350 degrees. When the oil is hot dip each chicken piece into the egg mixture.
Dredge the chicken in the coating and plop it into the hot oil. I cooked the chicken in batches of 4 or 5 pieces.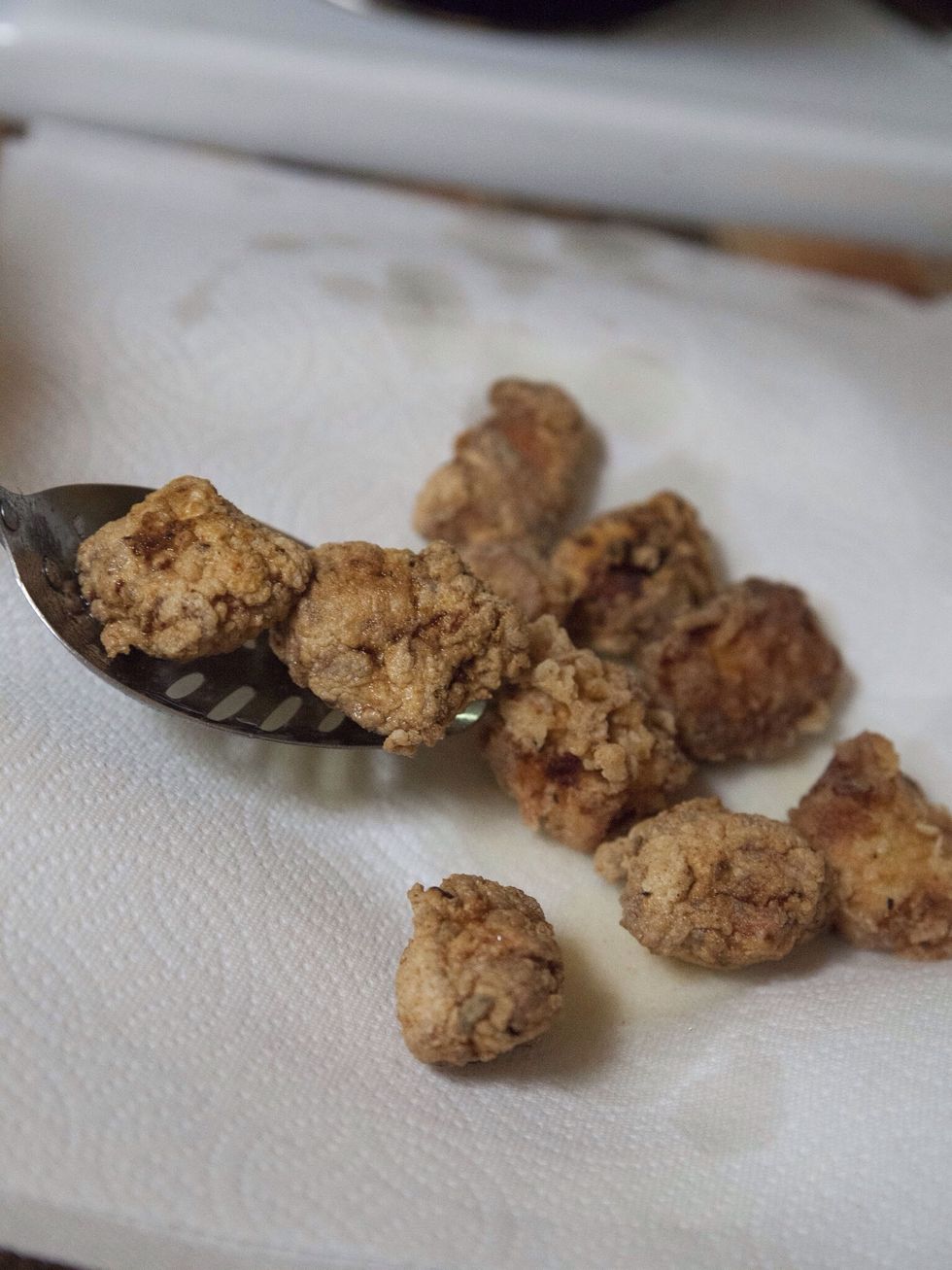 Cook each batch of chicken for about 6 minutes. As they cook place them on a paper towel covered plate to drain.
Here is where the paths diverge on Chicken '65. Some people prefer to fry their chicken and then use the yogurt as a spicy dipping sauce. This recipe is a bit different.
The yogurt sauce is heated and the chicken put back in until the yogurt is absorbed. Here's how that works.
Heat 3 Tbs of oil in a skillet or wok.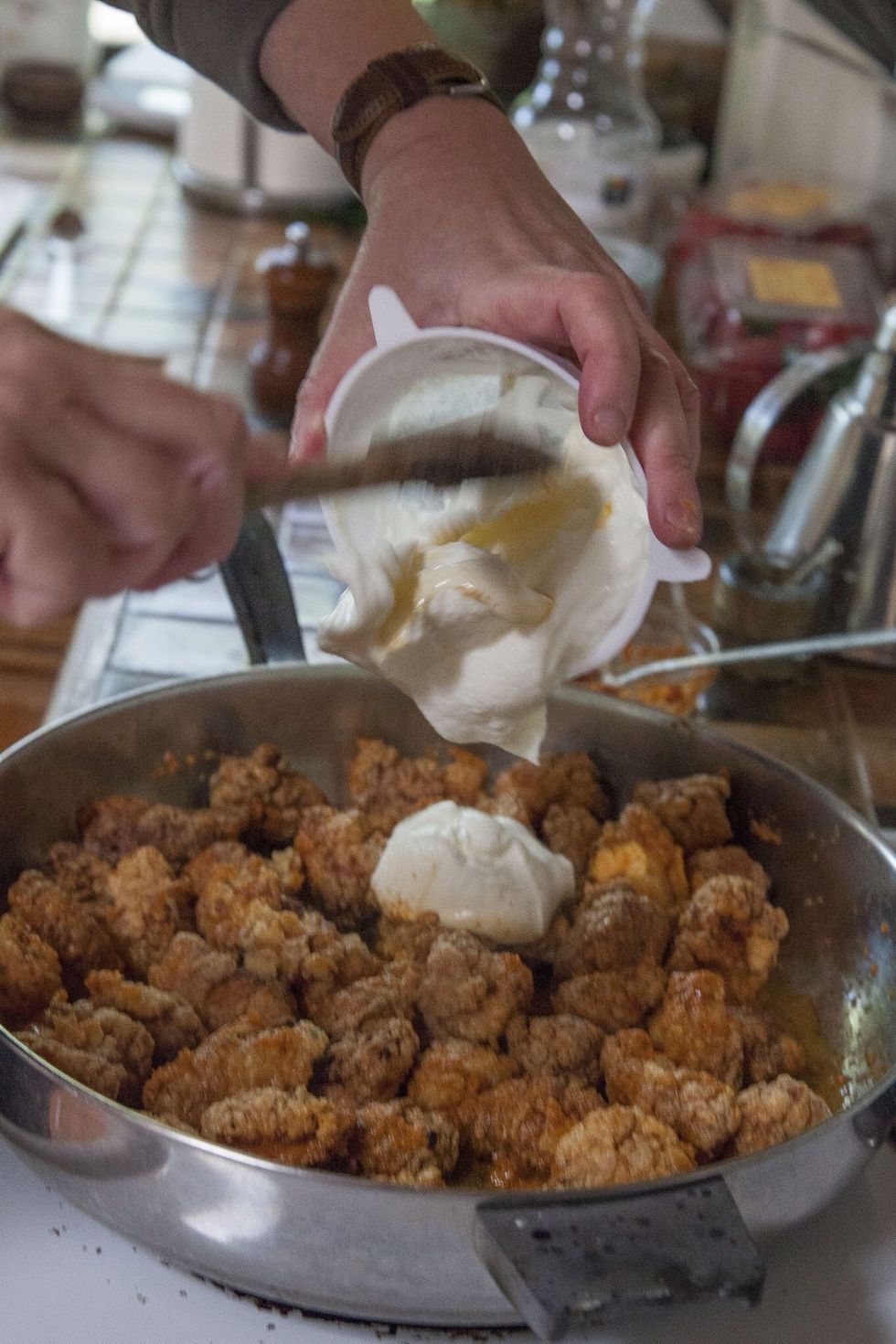 When the oil is hot toss in the chopped ginger, shallot or garlic and stir fry everything for about 30 seconds. Add the fried chicken pieces to the pan, then add the seasoned yogurt to everything.
Stir the yogurt mixture into the pan and mix everything together well.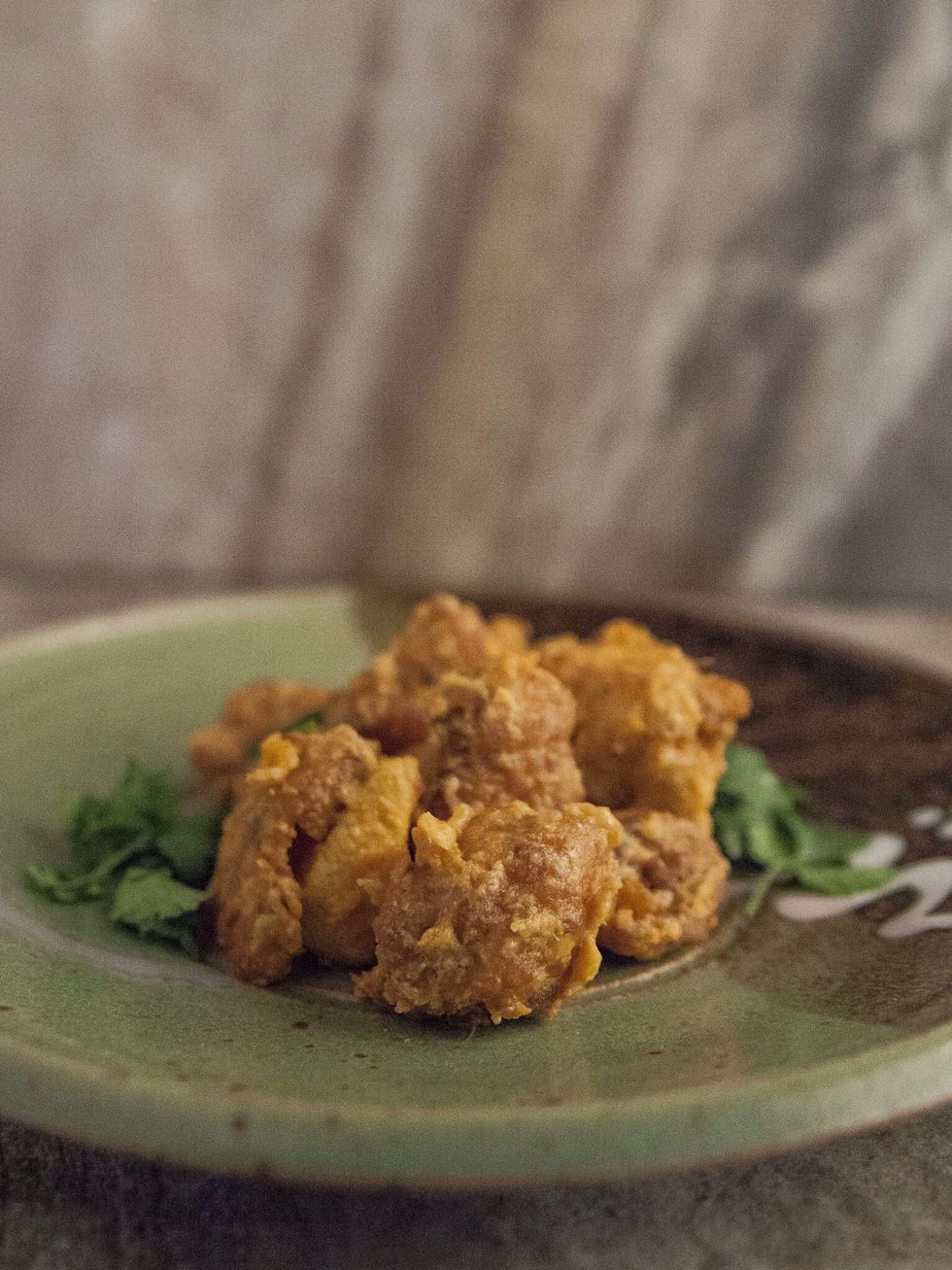 When the yogurt is absorbed into the chicken it's done. Plate it, sprinkle it with a bit of chopped fresh cilantro and serve it up!
2.0lb Chicken breast or thigh meat
2.0Tbsp Kashmiri chili
4.0Tbsp Fresh lemon juice
4.0 Shallots or garlic cloves finely chopped
2.0Tbsp Finely chopped fresh ginger
Oil for deep frying
5.0Tbsp Gluten free cornstarch
2.0Tbsp Sorghum flour
1.0Tbsp Rice flour
1.0 Beaten egg
Salt to taste
1.0tsp Ground coriander
1/2tsp Ground cumin
3.0Tbsp Vegetable oil
1.0pch Sugar
Handful of fresh chopped cilantro
1/2c Thick greek style yogurt
Kathy Gori
Screenwriter, long time Indian cook, lover of Indian foods, Saturday morning Cartoon voice. For more recipes visit my website www.thecolorsofindiancooking.com