I'm so addicted to Naan bread. It's a homemade and it's just a copy of the restaurant's made or better. It's delicious with garlic even more tasty with cheese. Yeah cheese ! Follow before you judge (: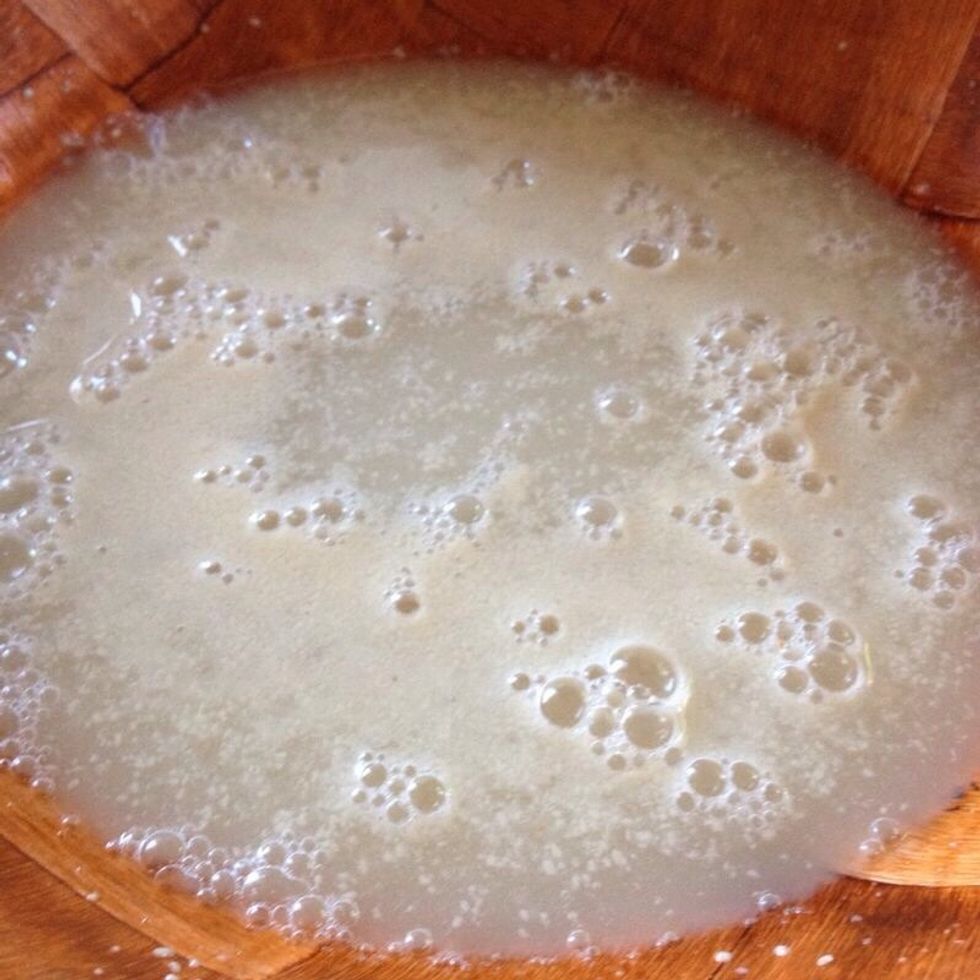 We start with activating the yeast, by combining the warm water with sugar and yeast. Let sit for 10 minutes or till foamy.
Add flour, salt, yogurt, and unsalted butter or ghee into the yeast mixture. Mix with a spoon until dough comes together and finish the dough with hands, the dough somehow sticky, therefore use oil.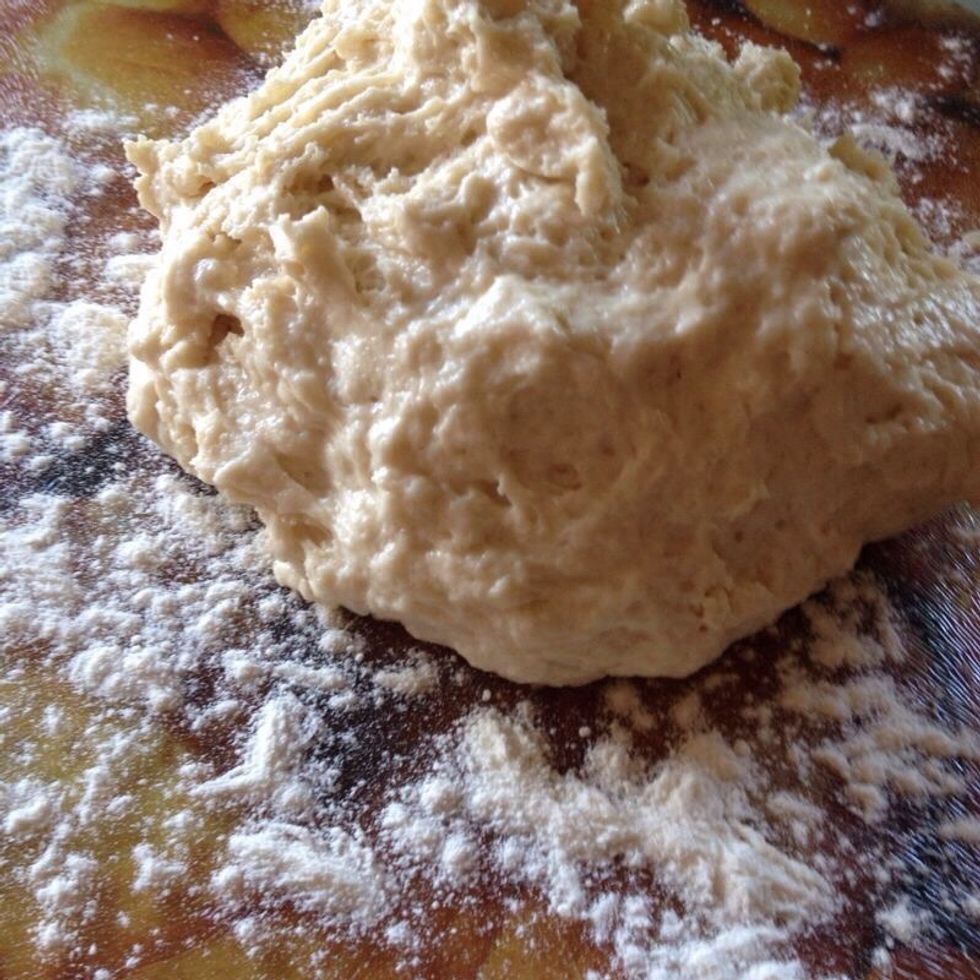 Sift some flour and take the dough and knead it for a minute or till soft.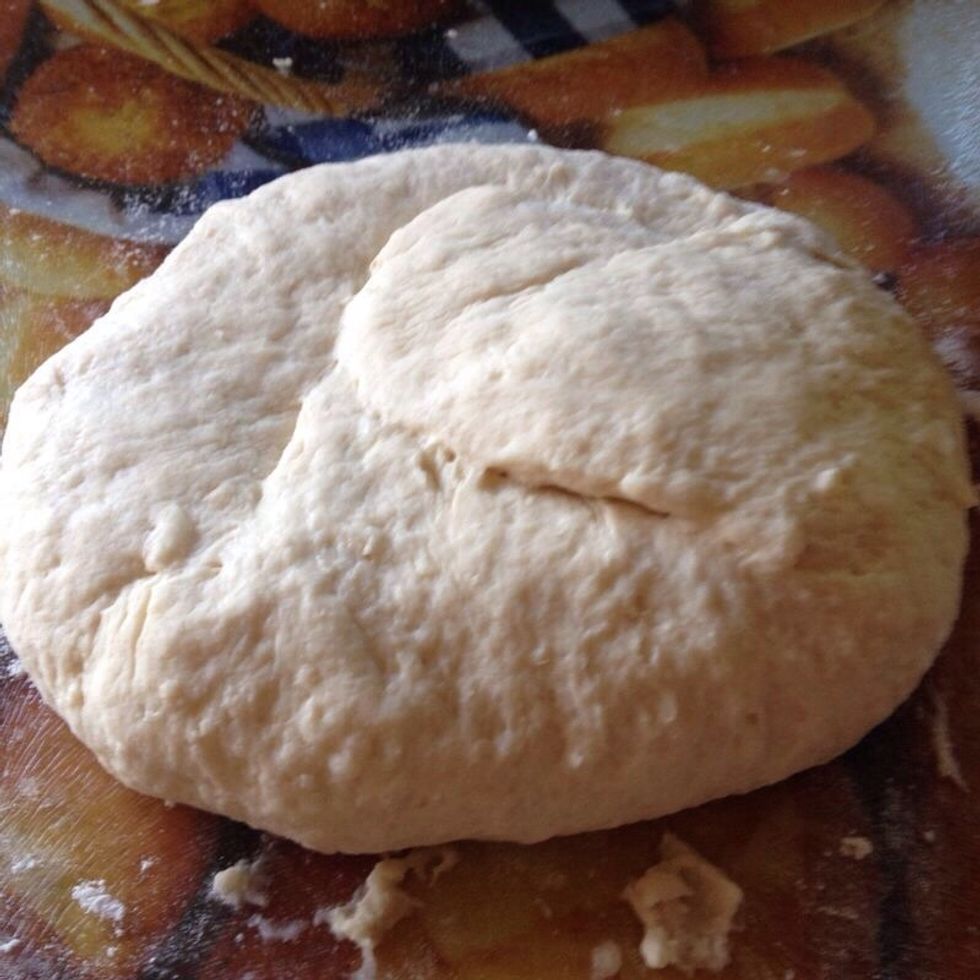 It should be like this (non-stick) after kneading ..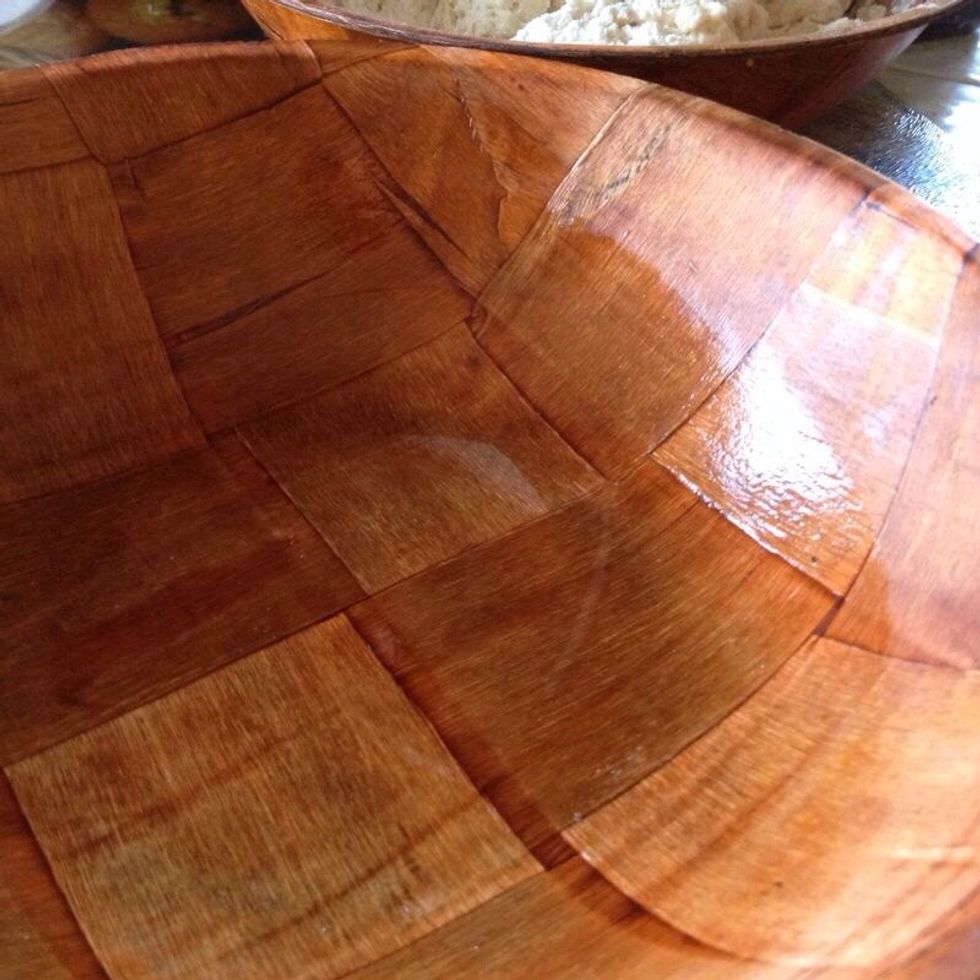 Use another bowl and spray it with oil and place the dough in there.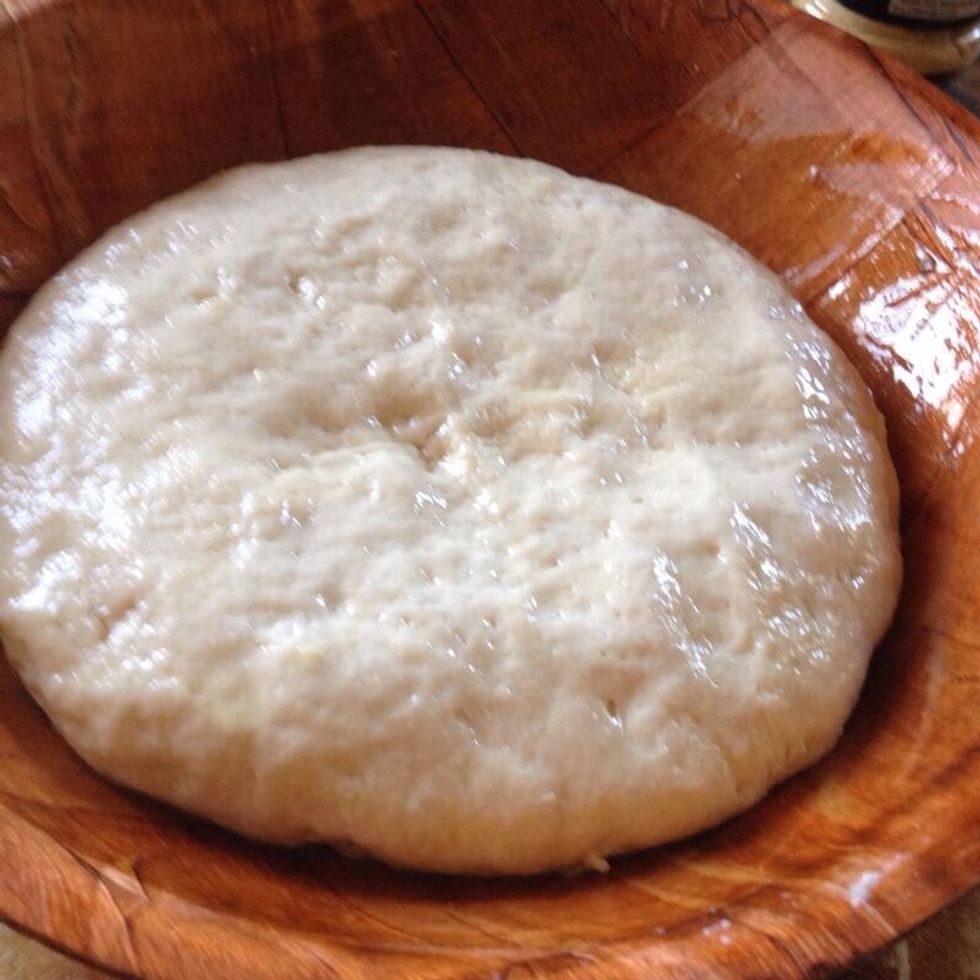 Also spray the top of the dough and cover it with a plastic wrap or a damp towel and let it rise for almost an hour or until doubled in size.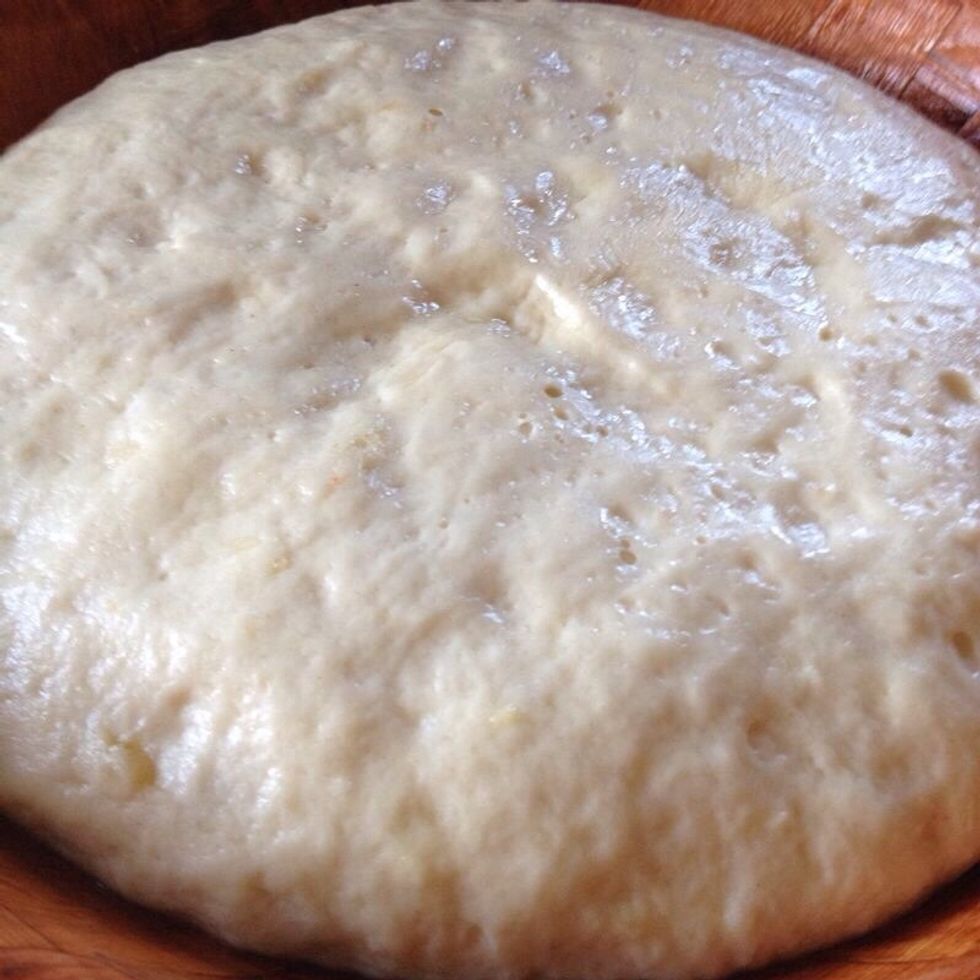 That's after doubled size. Divide the dough into 6 equals pieces .. Or small balls ..
Take a ball, roll it lil bit by hand and add (1 teaspoon) cream cheese, with a pinch of minced garlic and cilantro. Close it and set aside for 5-10 minutes.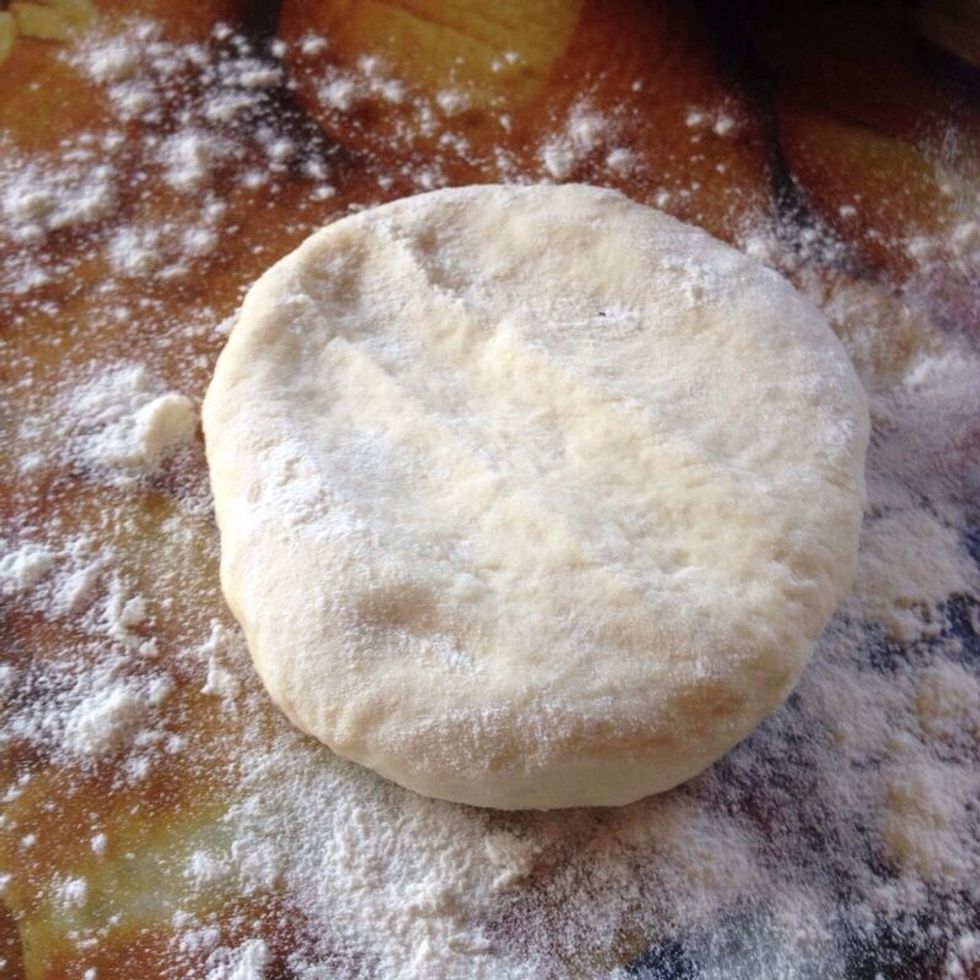 After that roll it with a rolling pin into a circle shape ..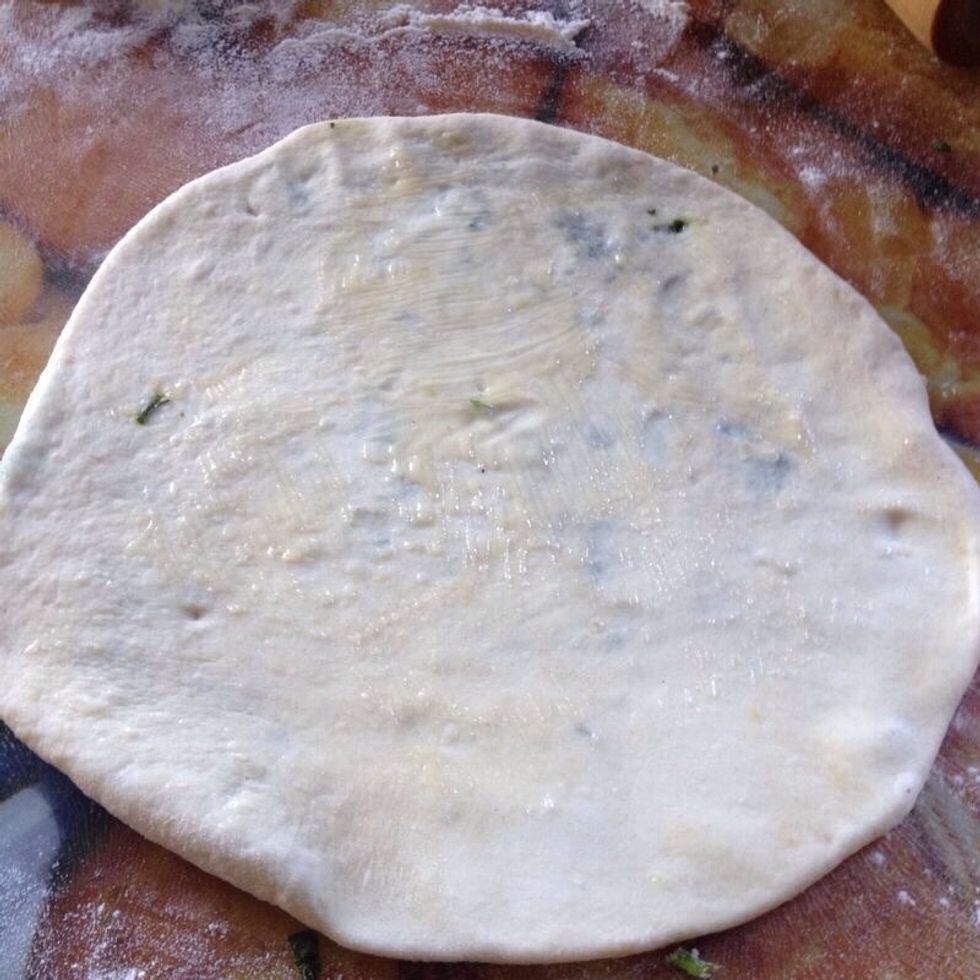 It should be about 6-8 inches long and about 1/4 inch thick .. Repeat this method with the rest of the dough. Brush the front side of naan with melted butter.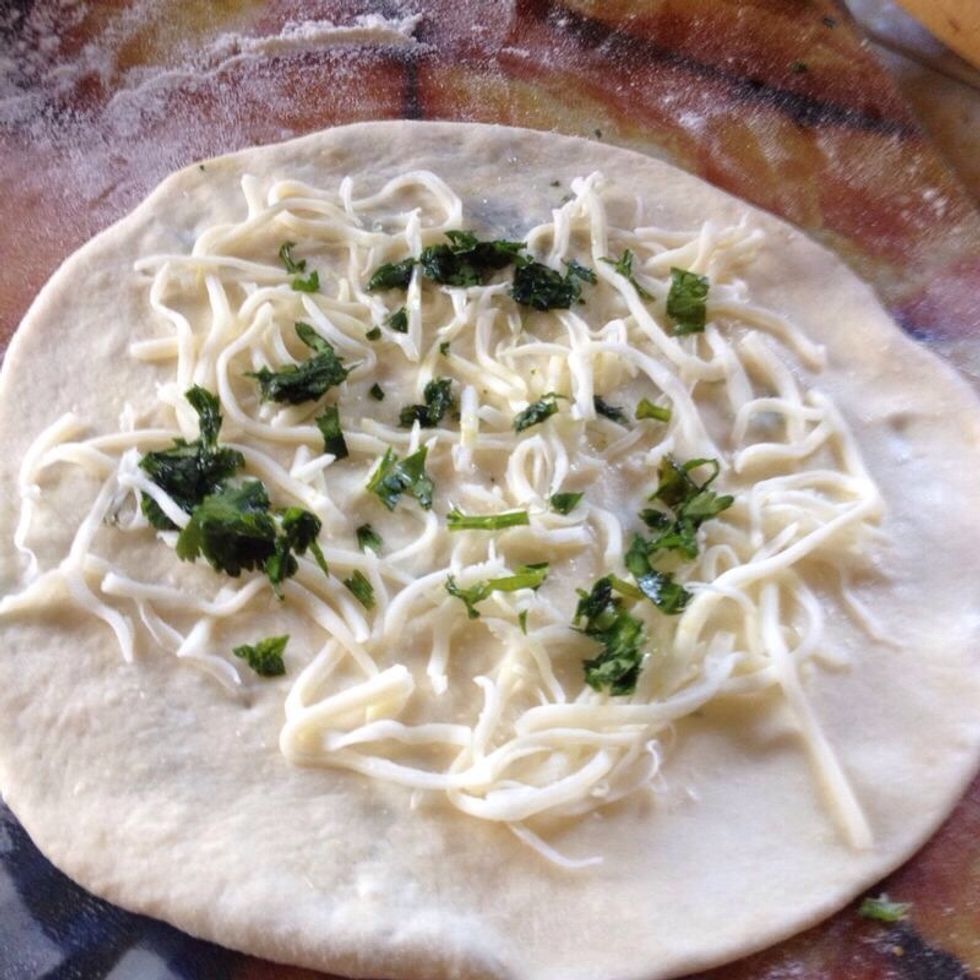 And add the mozzarella cheese and sprinkle with cilantro and garlic if you want. But I recommend that u don't do this step until u put the dough in the pan / skillet.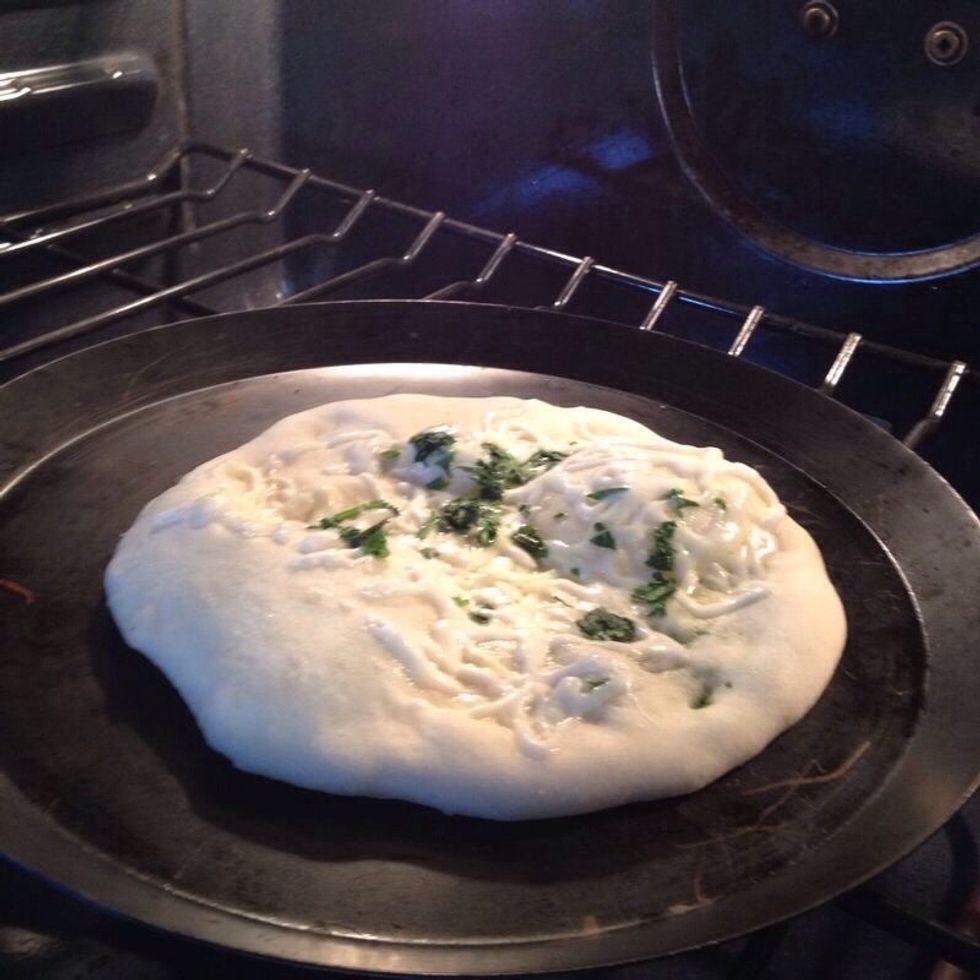 The oven and skillet / pan should be preheated to 550 degrees .. Before baking ..
And let it bake for one minute or until you see bubbles starting to form.
After seeing the bubbling turn on the oven on broil and leave it for less then one minute or until golden ..
It should be like this..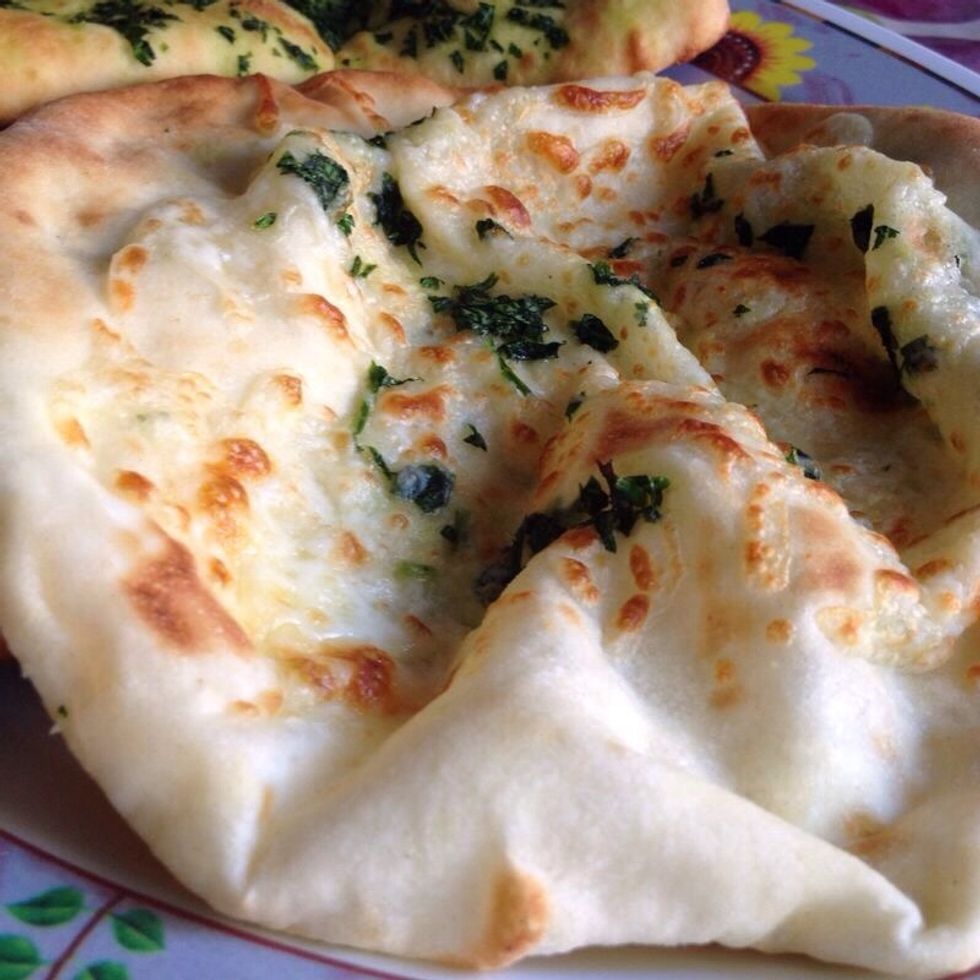 It's so delicious ..
That's from the inside.. It's so good I can't even get over it 😋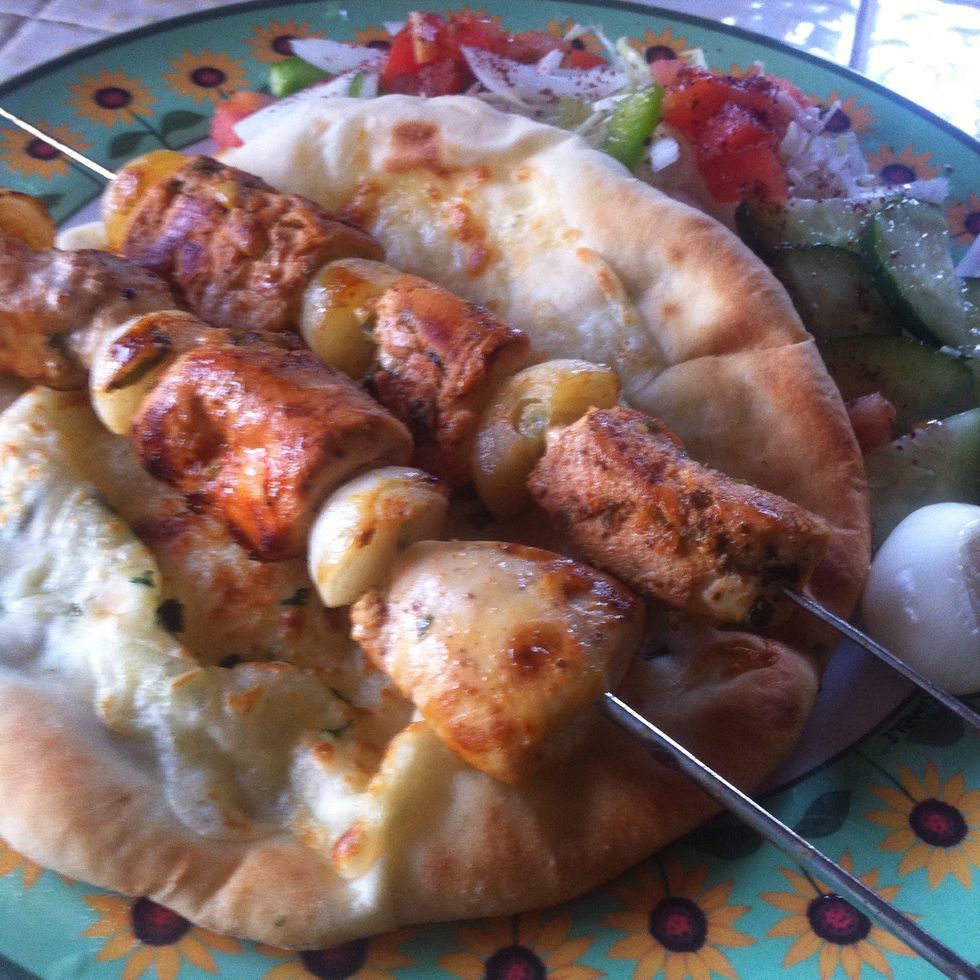 Served with also a homemade chicken kabobs ..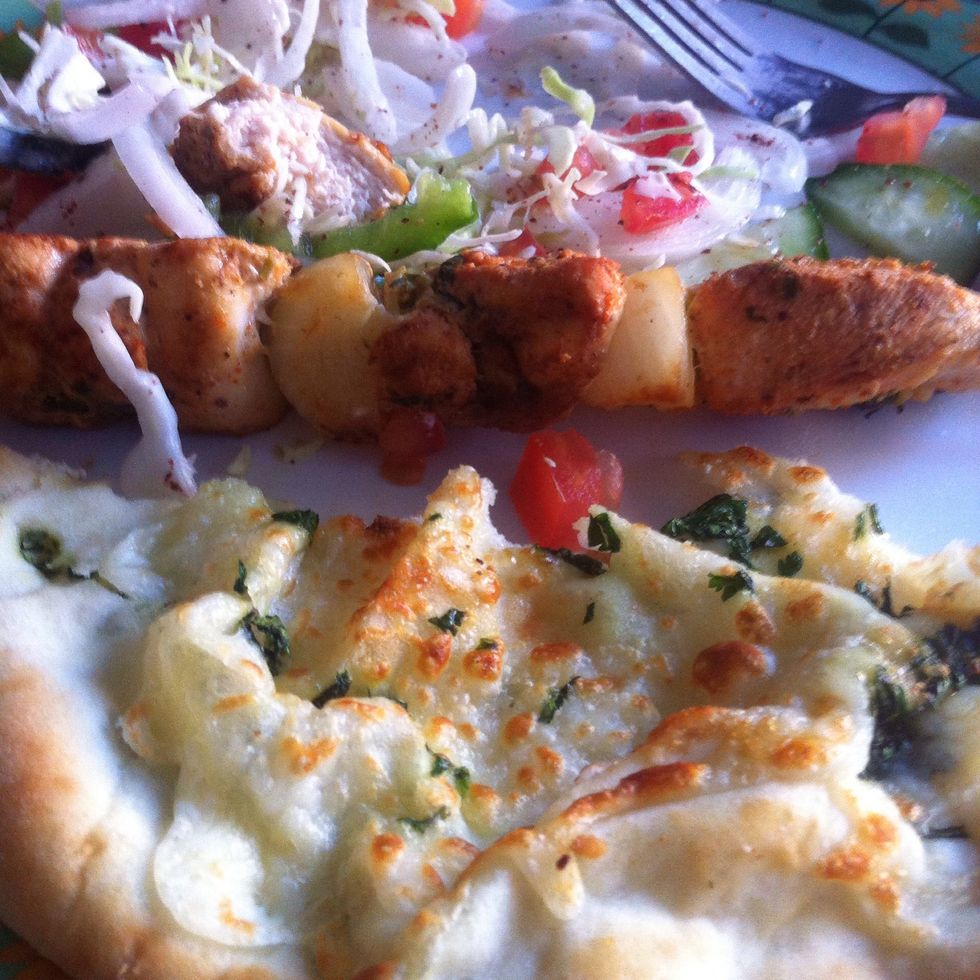 Pretty easy right? Try it .. And Follow or request any Mediterranean or Indians recipes (😊
1/2c All propuse-flour
1/2c Warm water
1/2c Plain yogurt
1.0Tbsp Active dry yeast
1.0Tbsp Sugar
1.0tsp Salt
1/3c Ghee or unsalted butter
1/2c Cream cheese
1/2c Mozzarella cheese
3.0 Garlic clove
1/2c Cilantro/ chopped
Nimah Al
There are a lot of things l like to do. I cook to make something delicious. I recycle to make something creative. Therefore, a hobby makes me happy.