My neighbor and dear friend, Traci Curry and I make a killer Lasagna. However, we alway question how we did it the last time. This time we documented our process.
38
Supplies for making pasta noodles.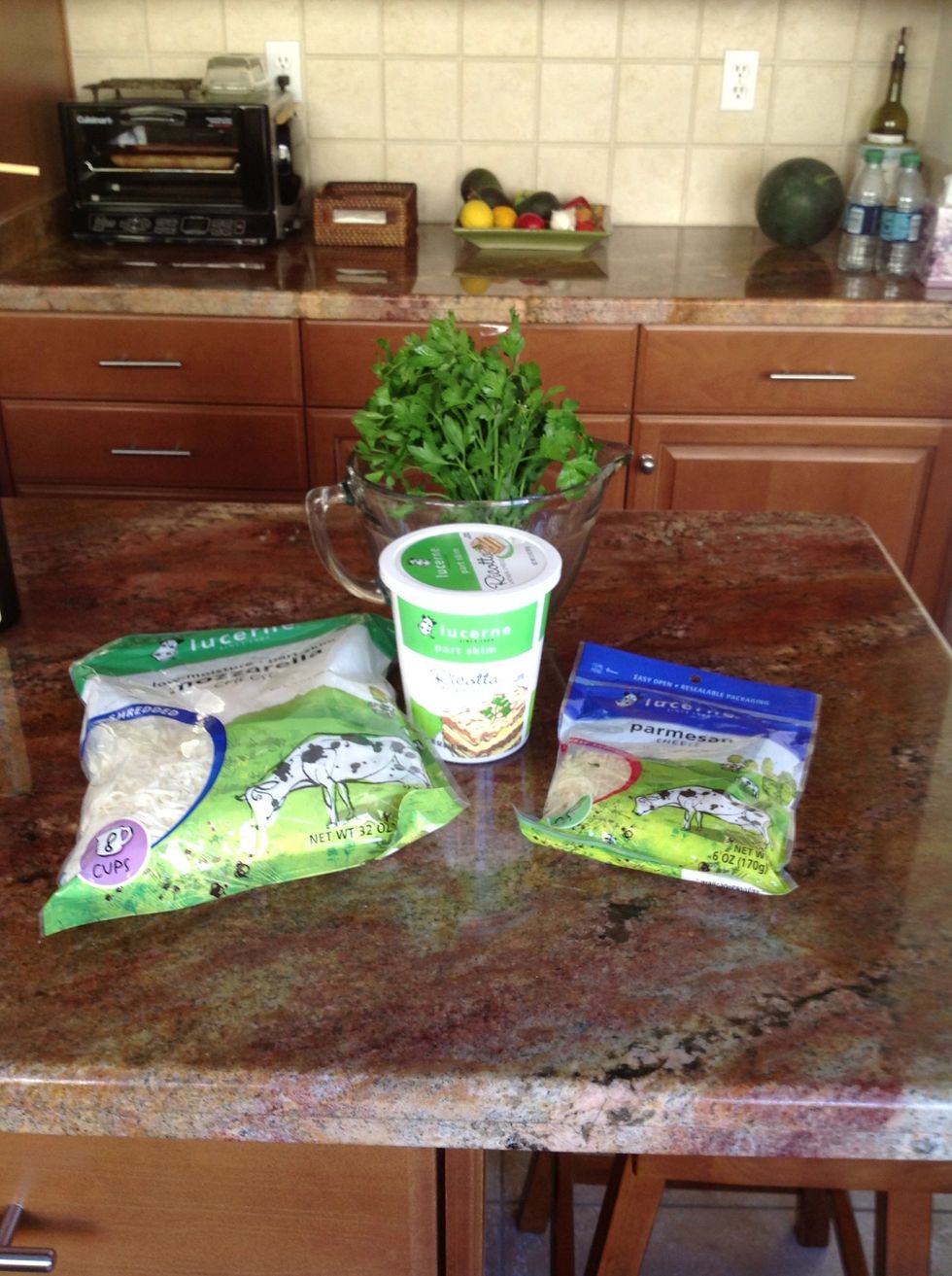 Supplies for making Ricotta layer.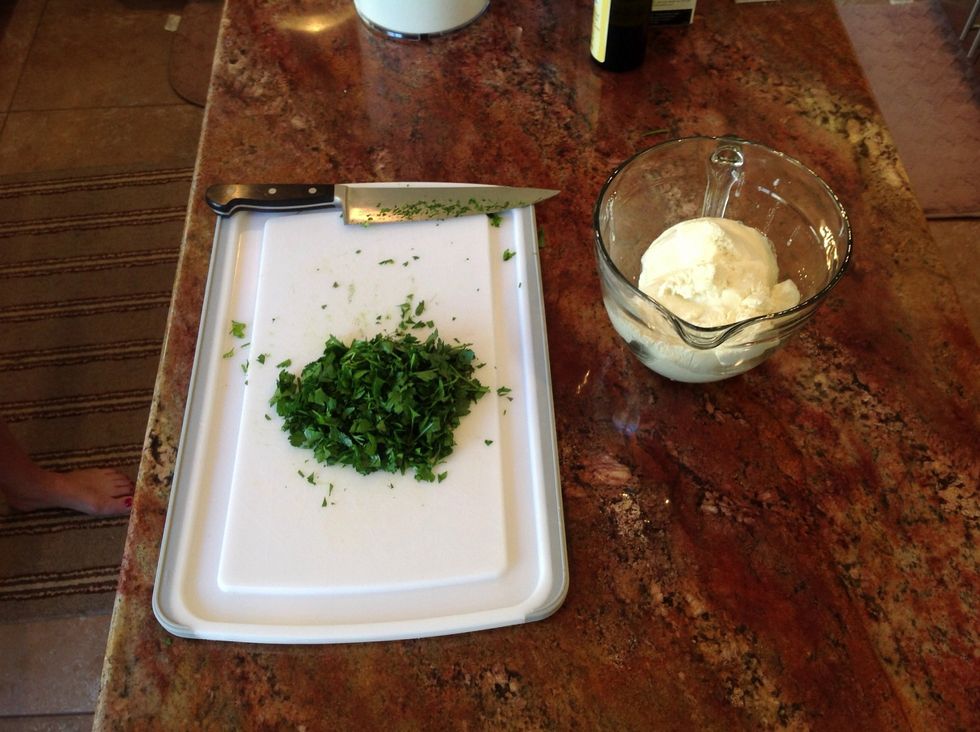 Finely chop parsley.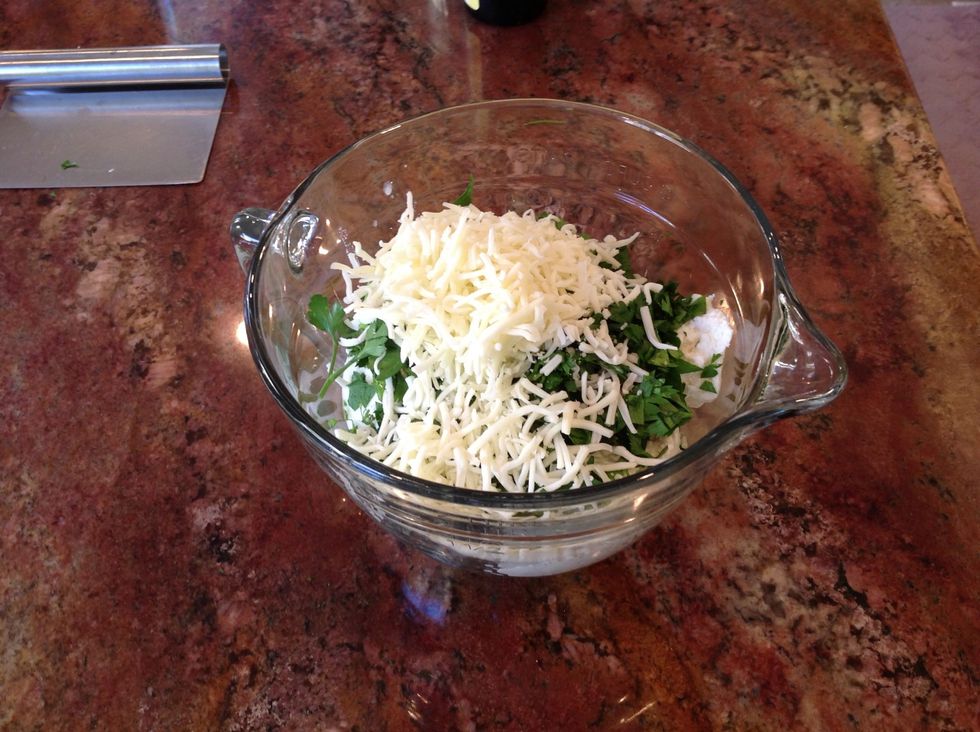 Add parsley, 2 cups mozzarella and Parmesan. Mix.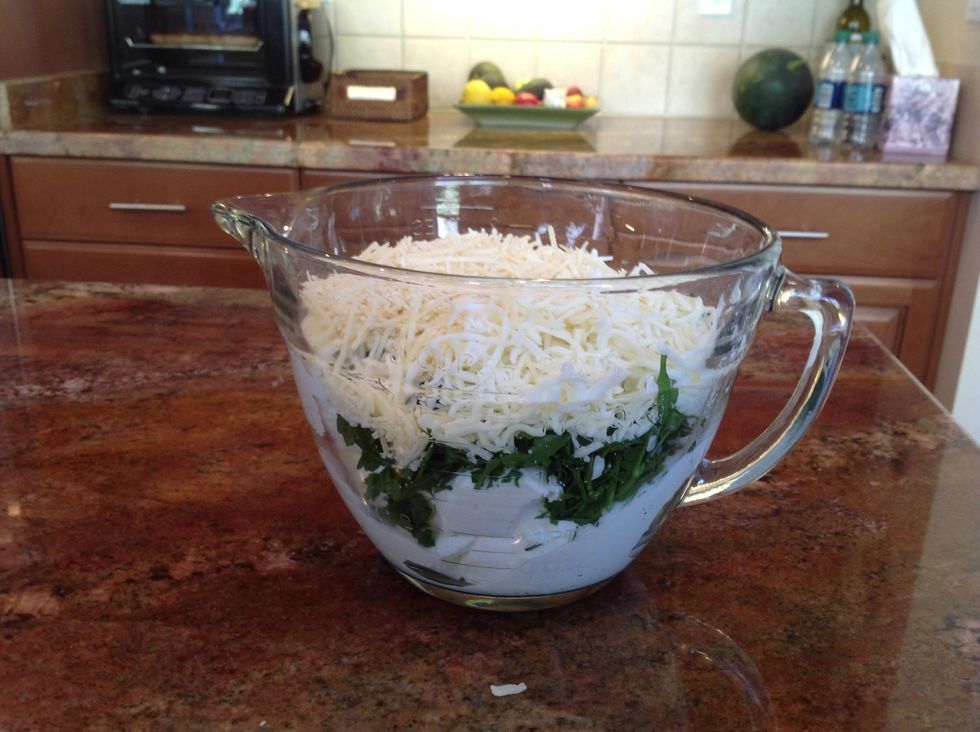 This is an 8 cup measuring bowl.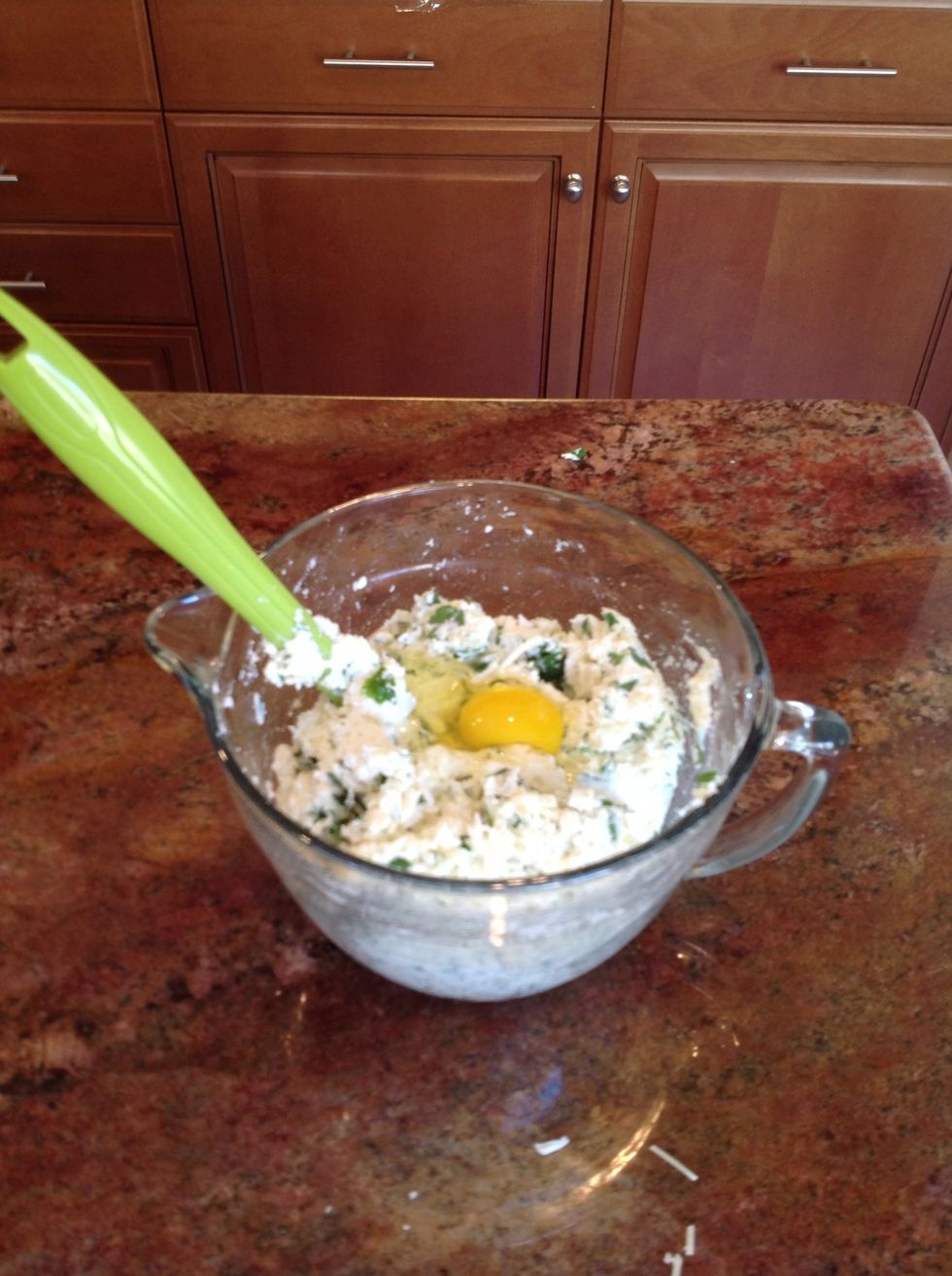 Add one egg.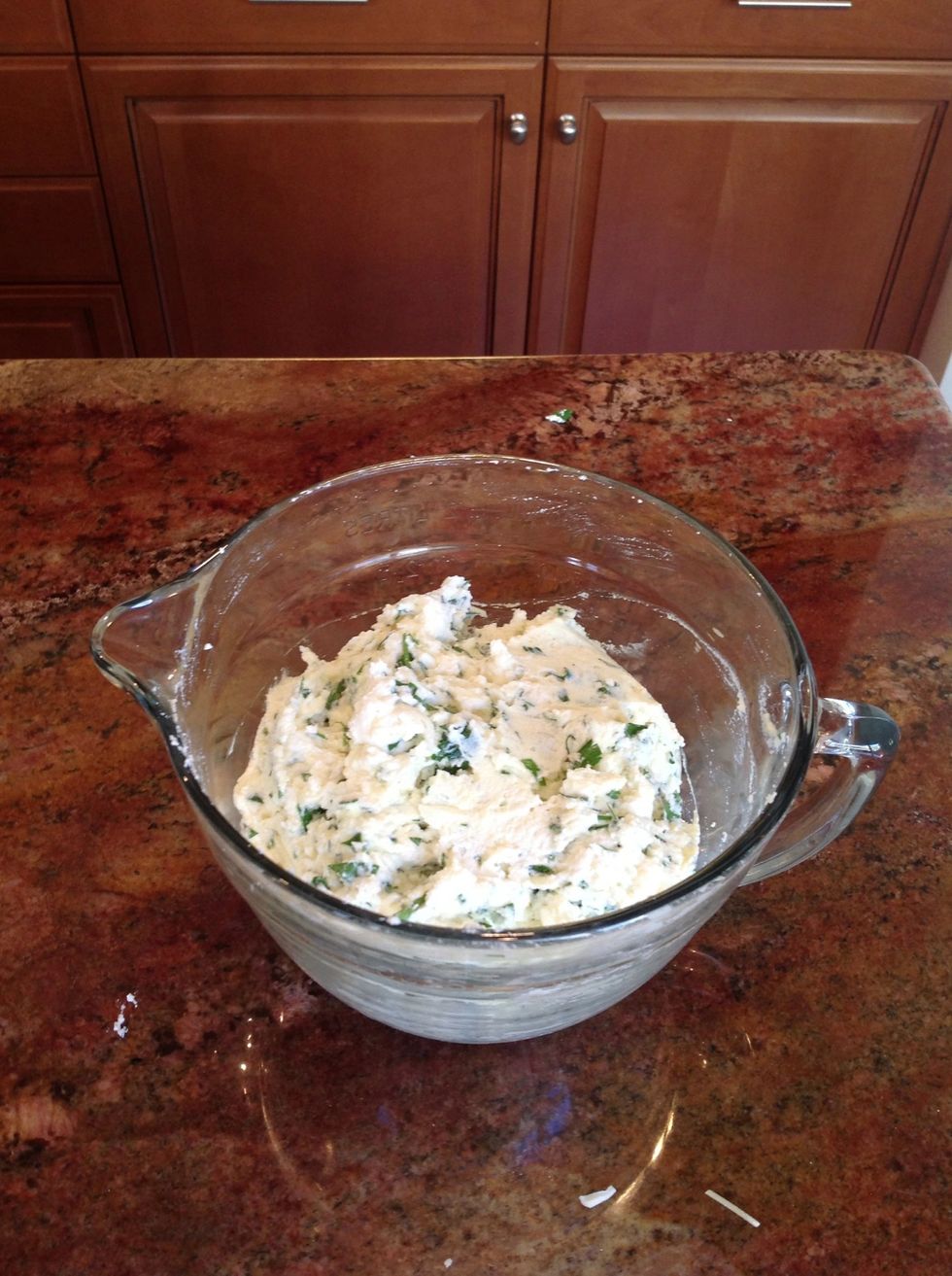 This is what it should look like when all mixed. Cover and place in fridge until you are ready to build your Lasagna.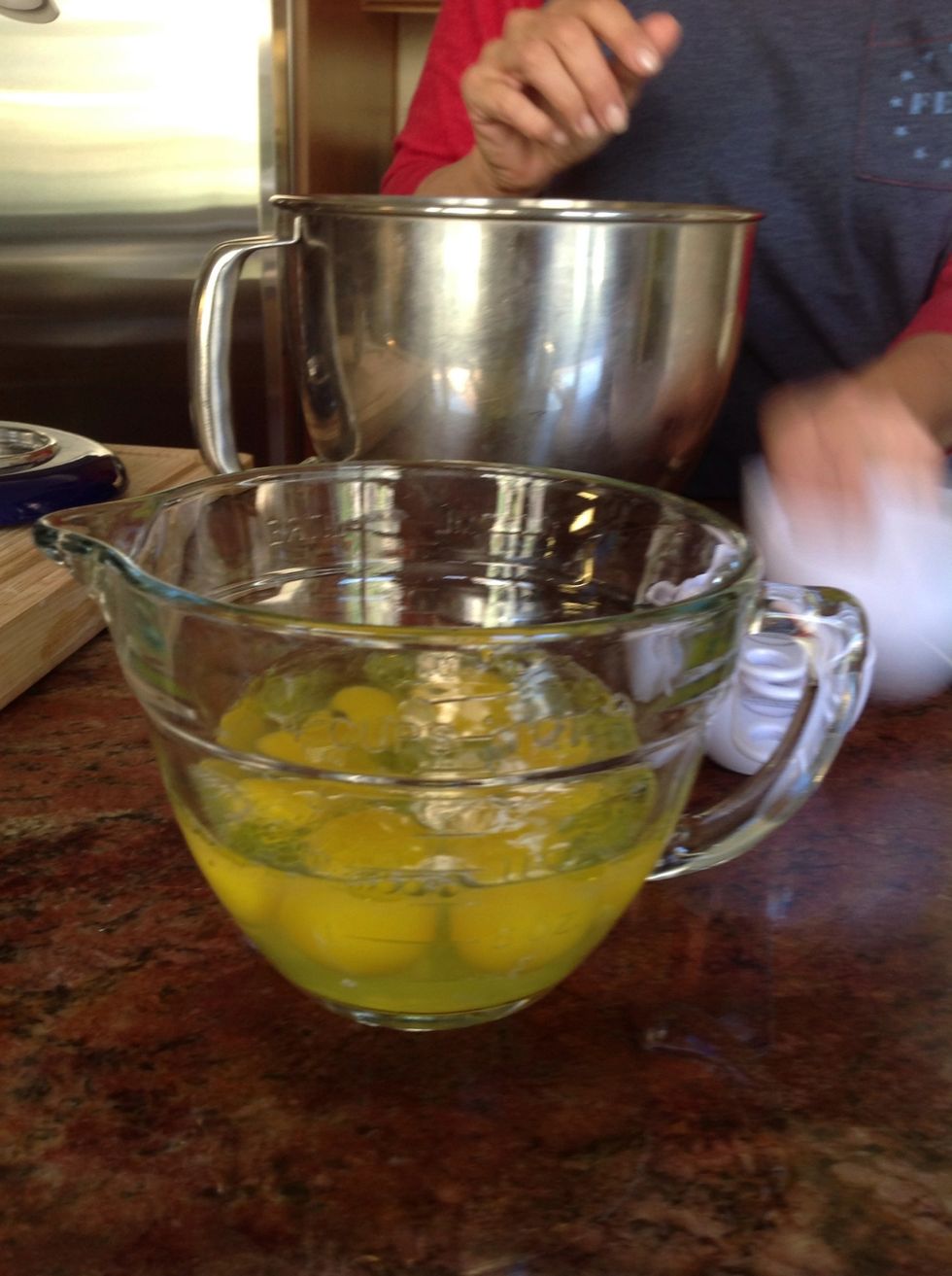 For pasta, add six eggs and water to equal 1 1/2 cups. I like to add a little olive oil too.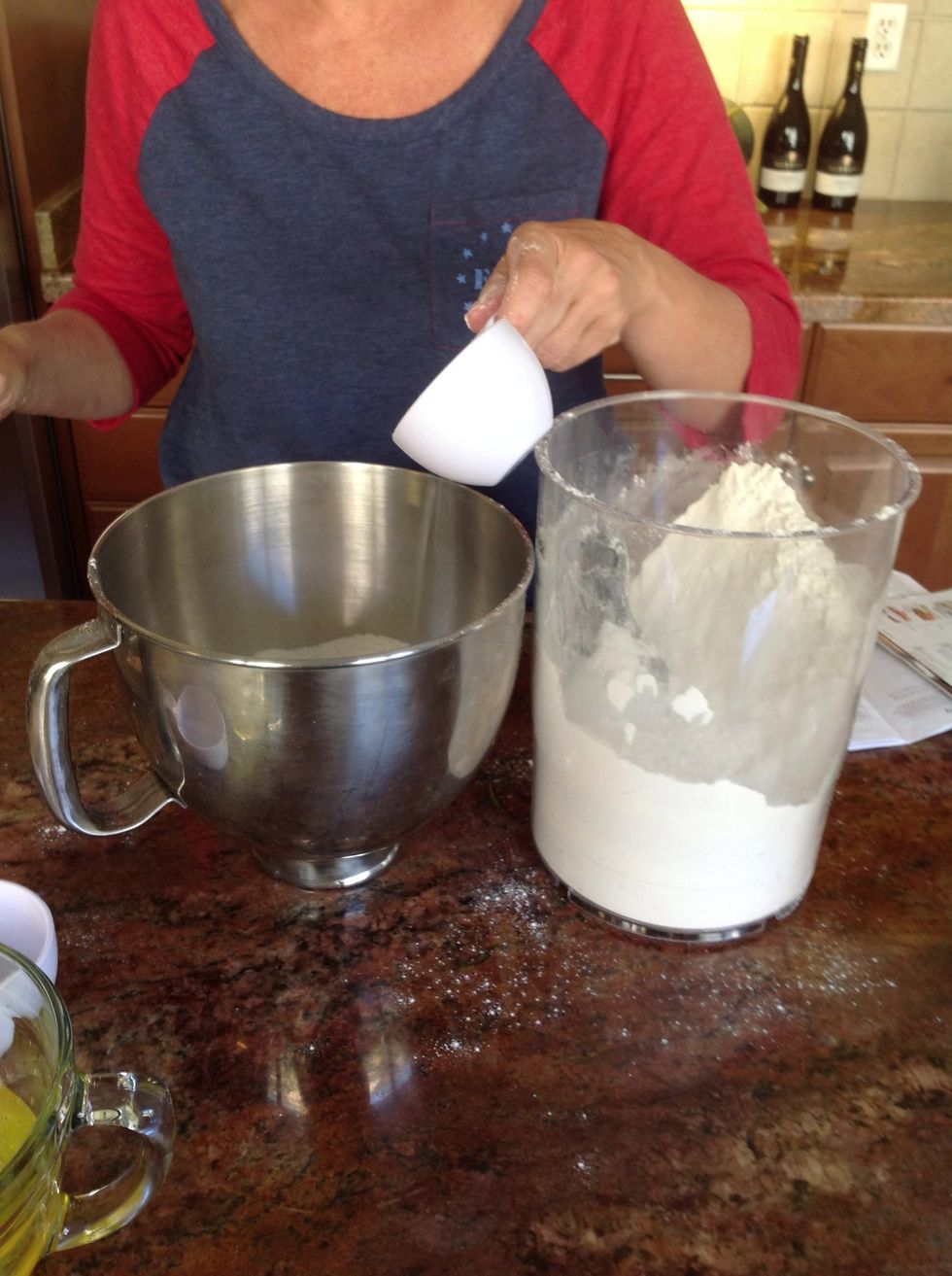 Add 51/2 cups of flour to the mixing bowl.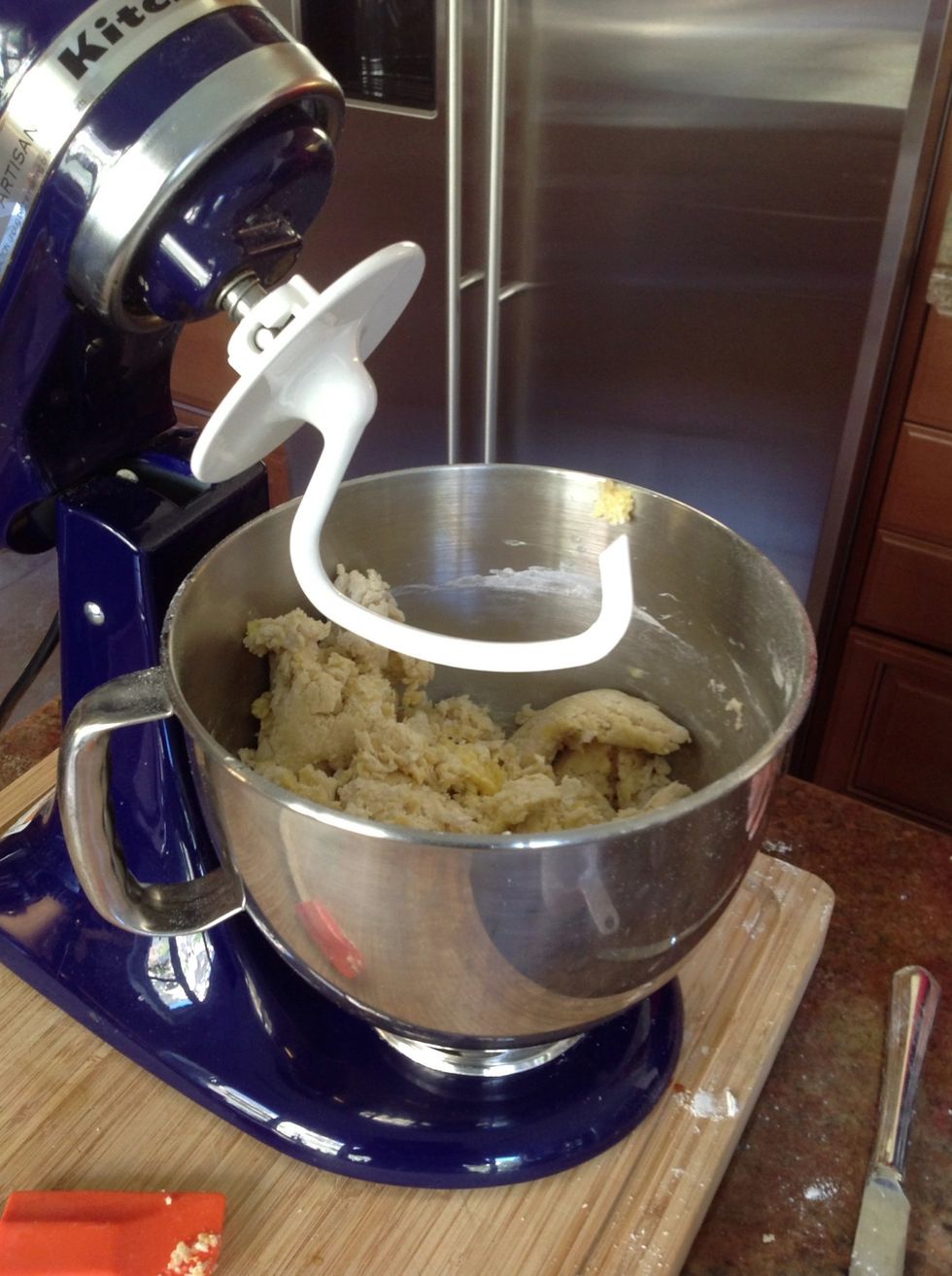 With the paddle attachment (not pictured), blend flour and egg mixture for 30 seconds. Switch to the hook and mix for 2 minutes. If mixture is to dry add a little water or olive oil.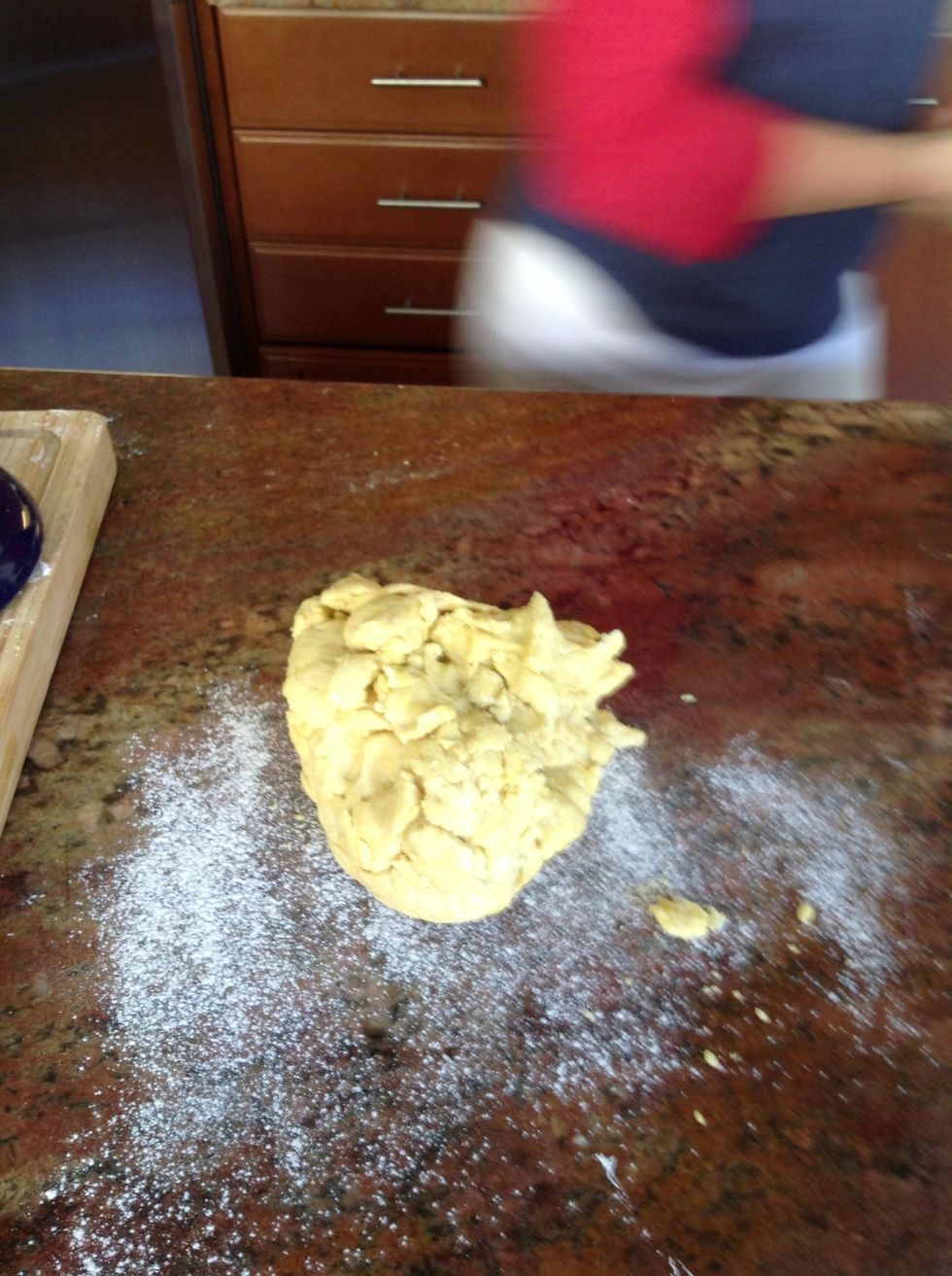 Knead dough.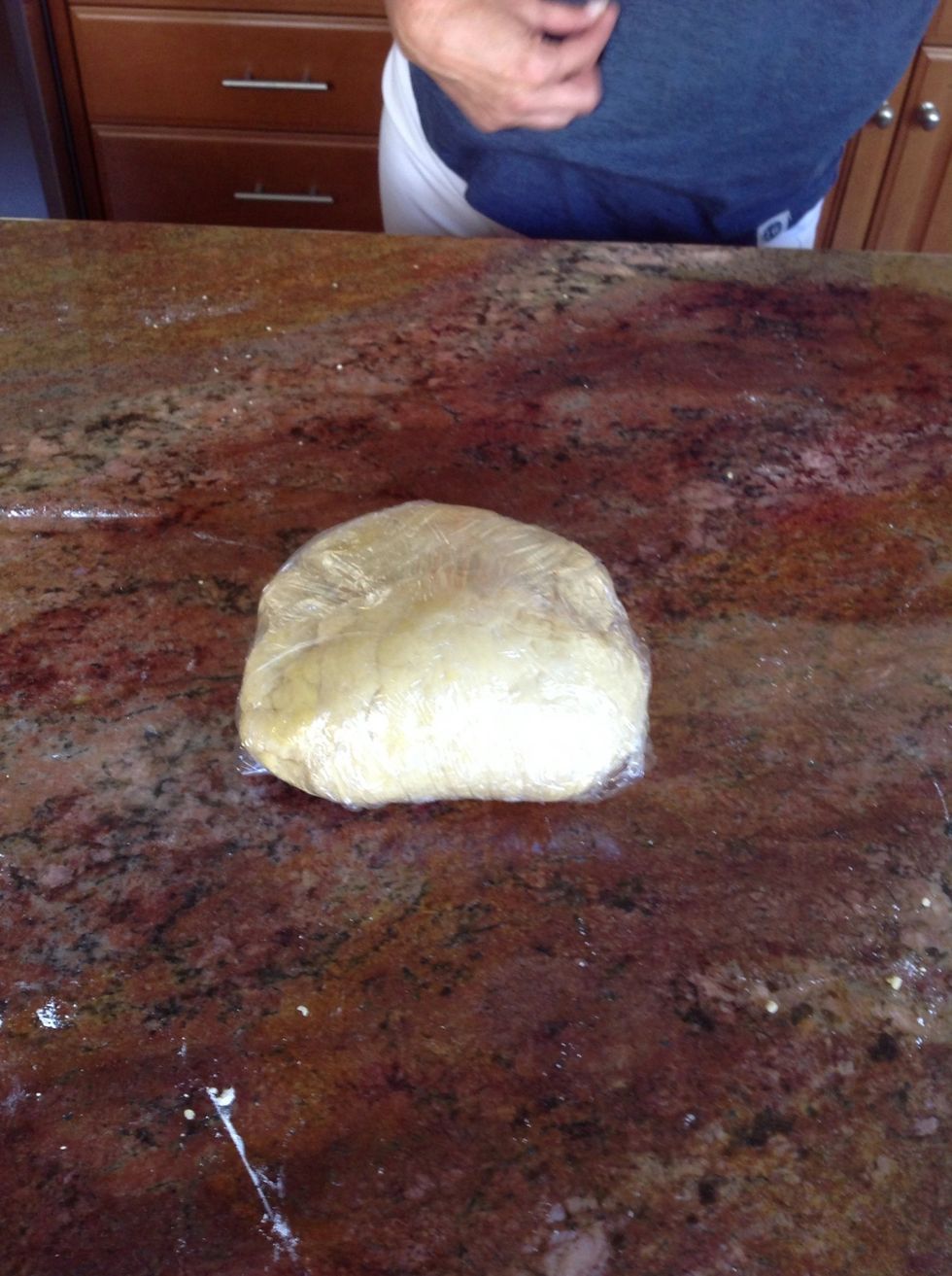 Cover with plastic wrap and let rest for 15 minutes. Cocktail time!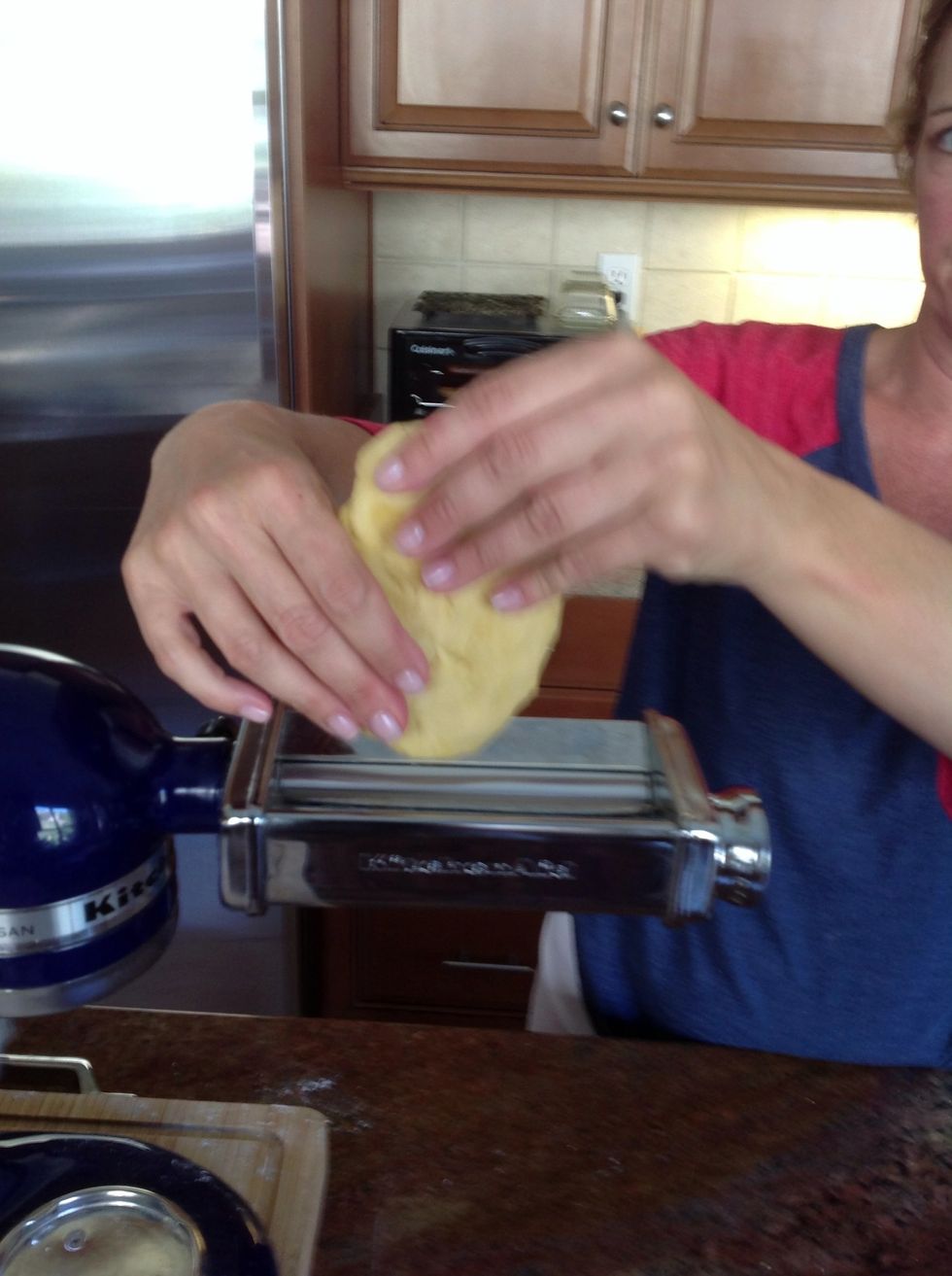 Add pasta attachment. We roll our pieces out on the largest setting. Than put the pasta through 4-5. Depends how thick you like your noodles.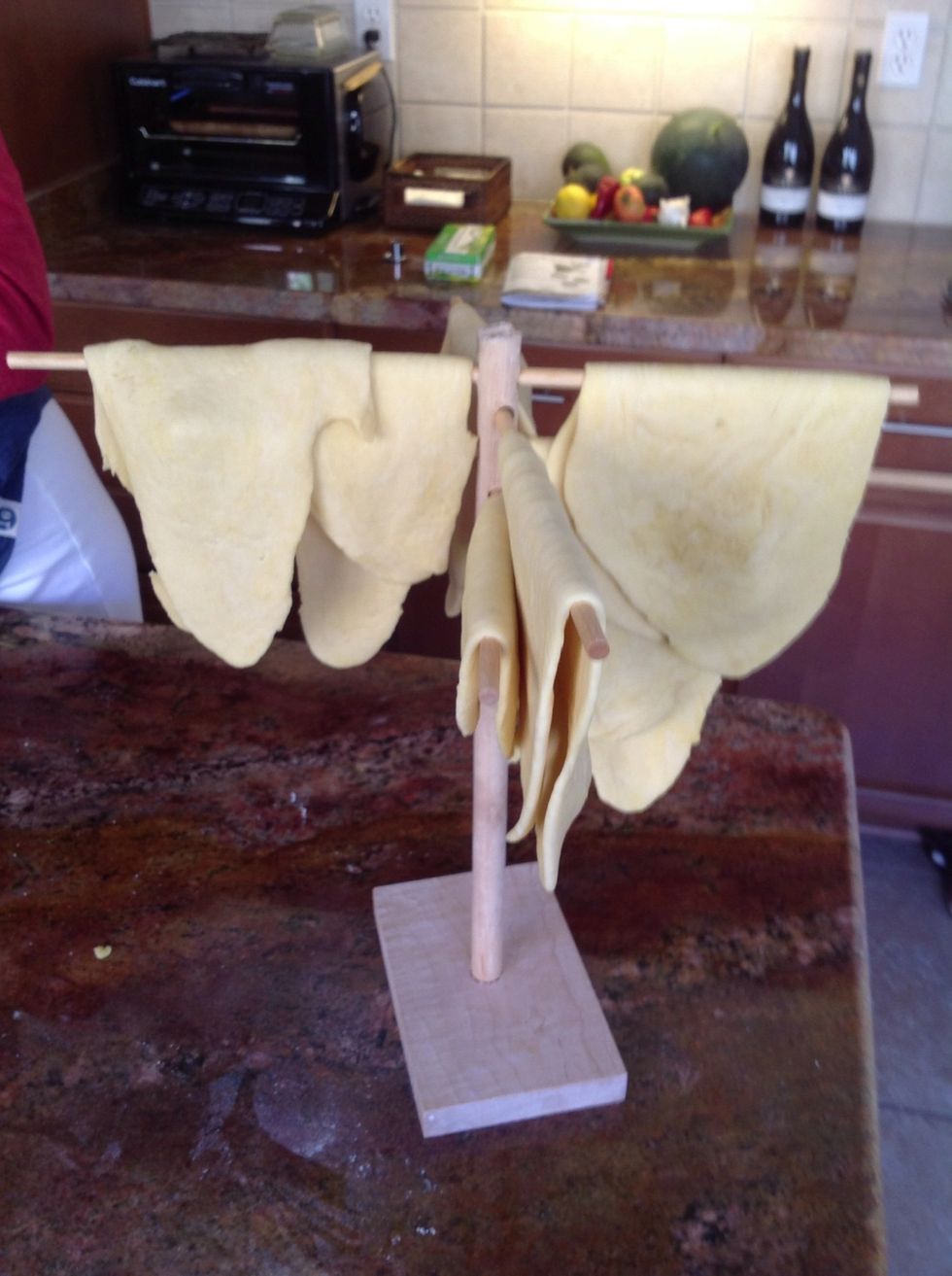 Before the seconding rolling.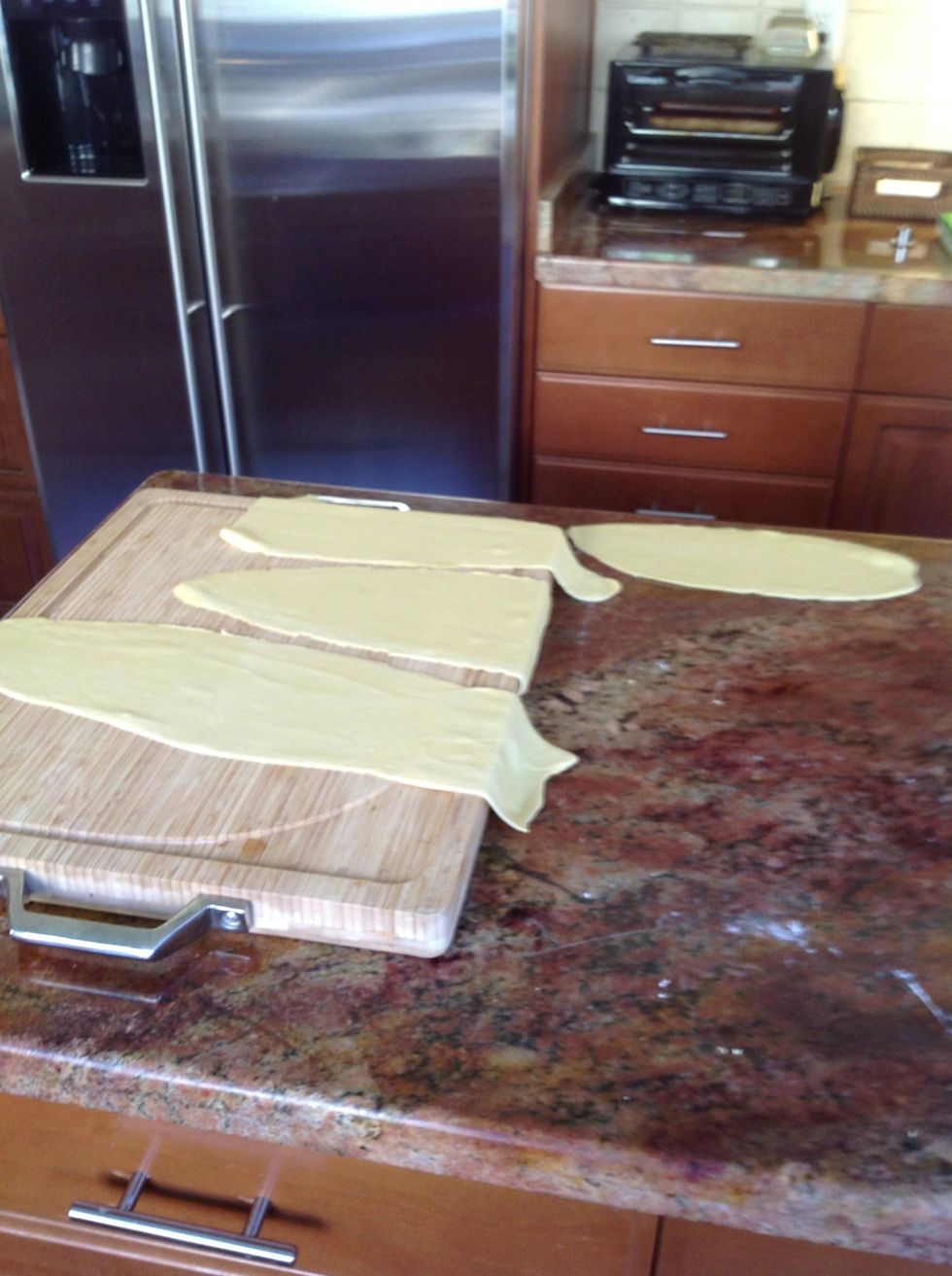 Pasta sheets.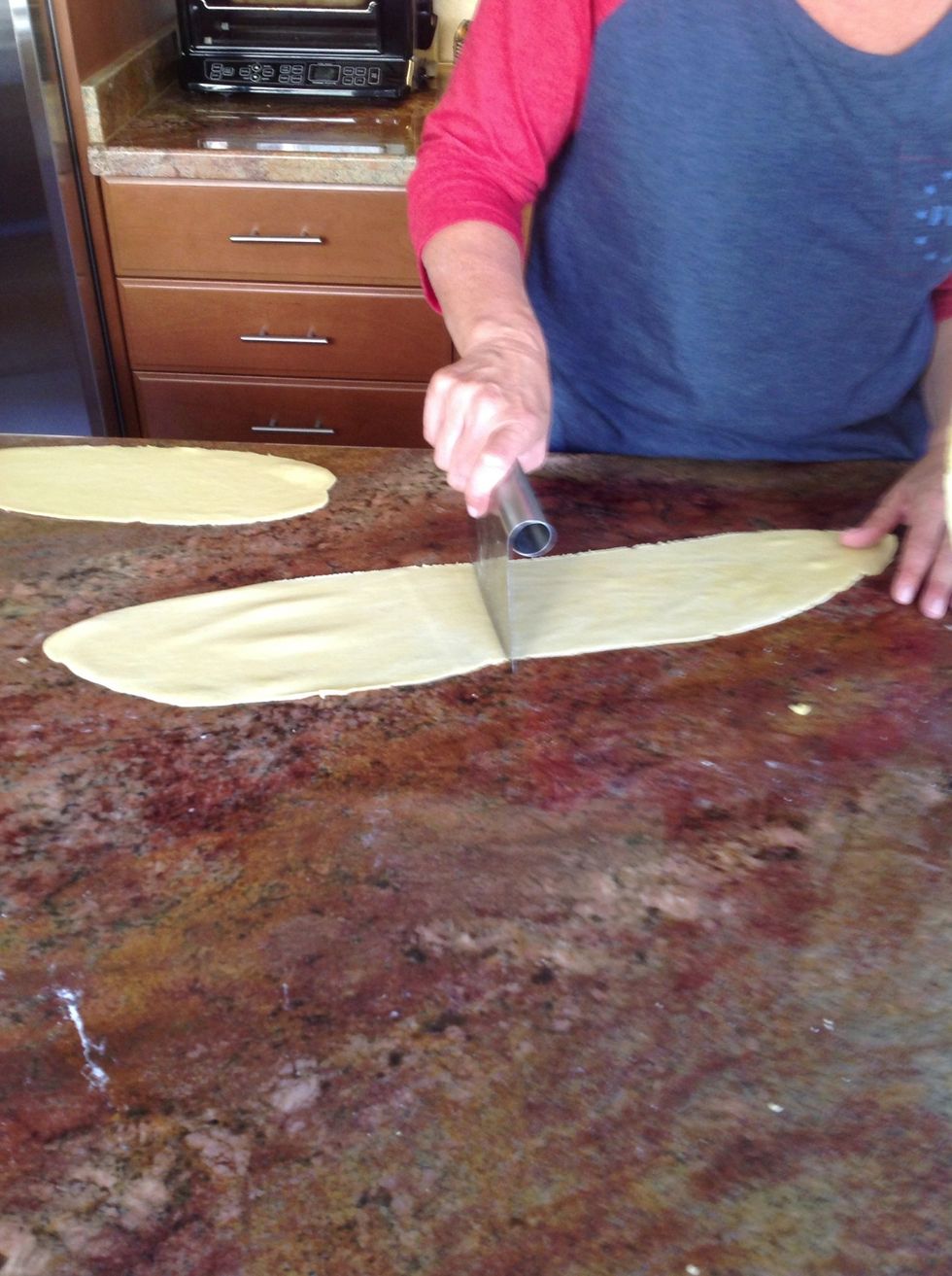 If they are to long, just cut in half.
We do four pasta sheets at a time. It takes less than 2 minutes for them to cook. Tongs work best for getting them out. Make sure to add salt to your water and Olive oil so they don't stick.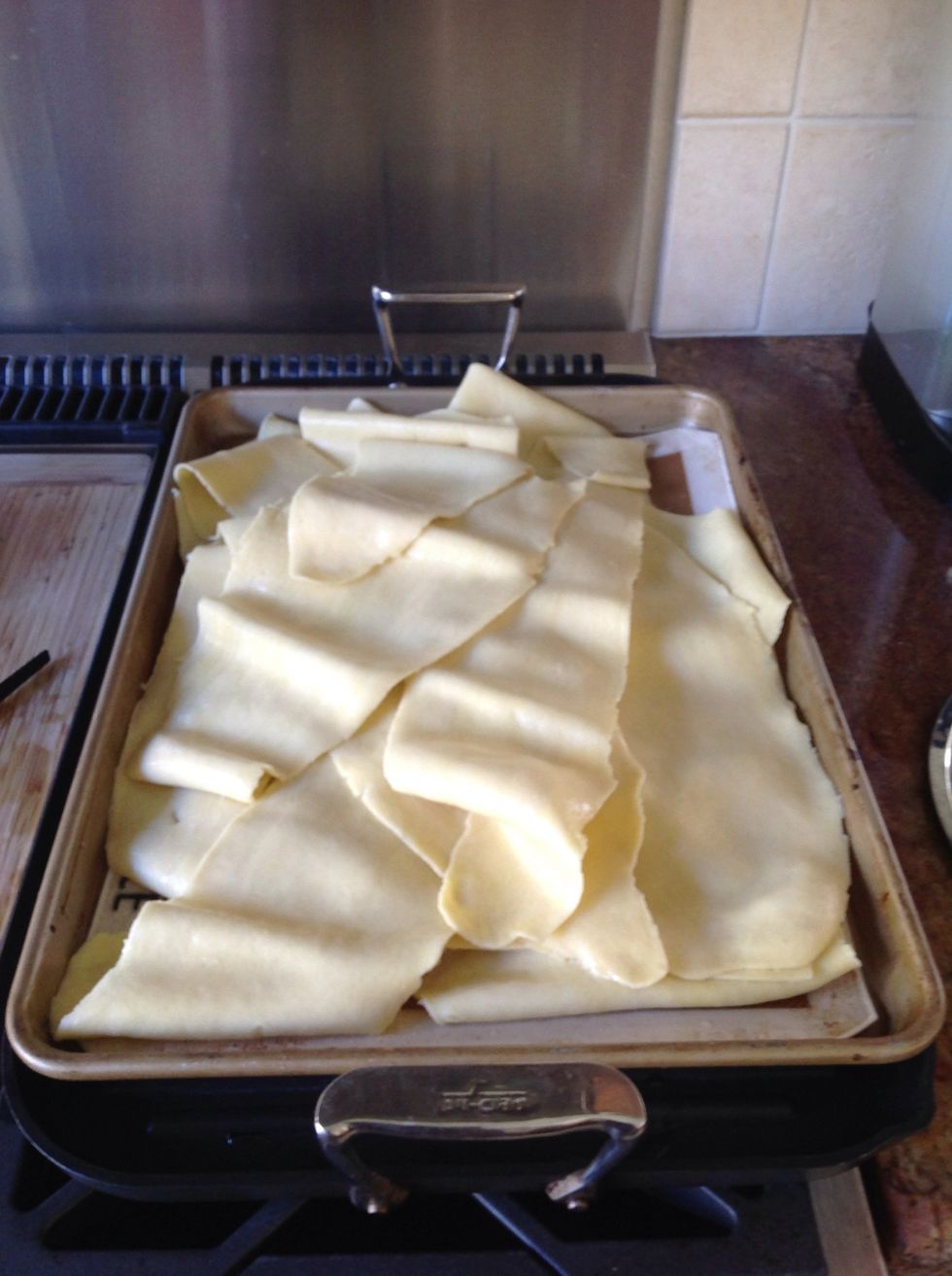 Done pasta sheets.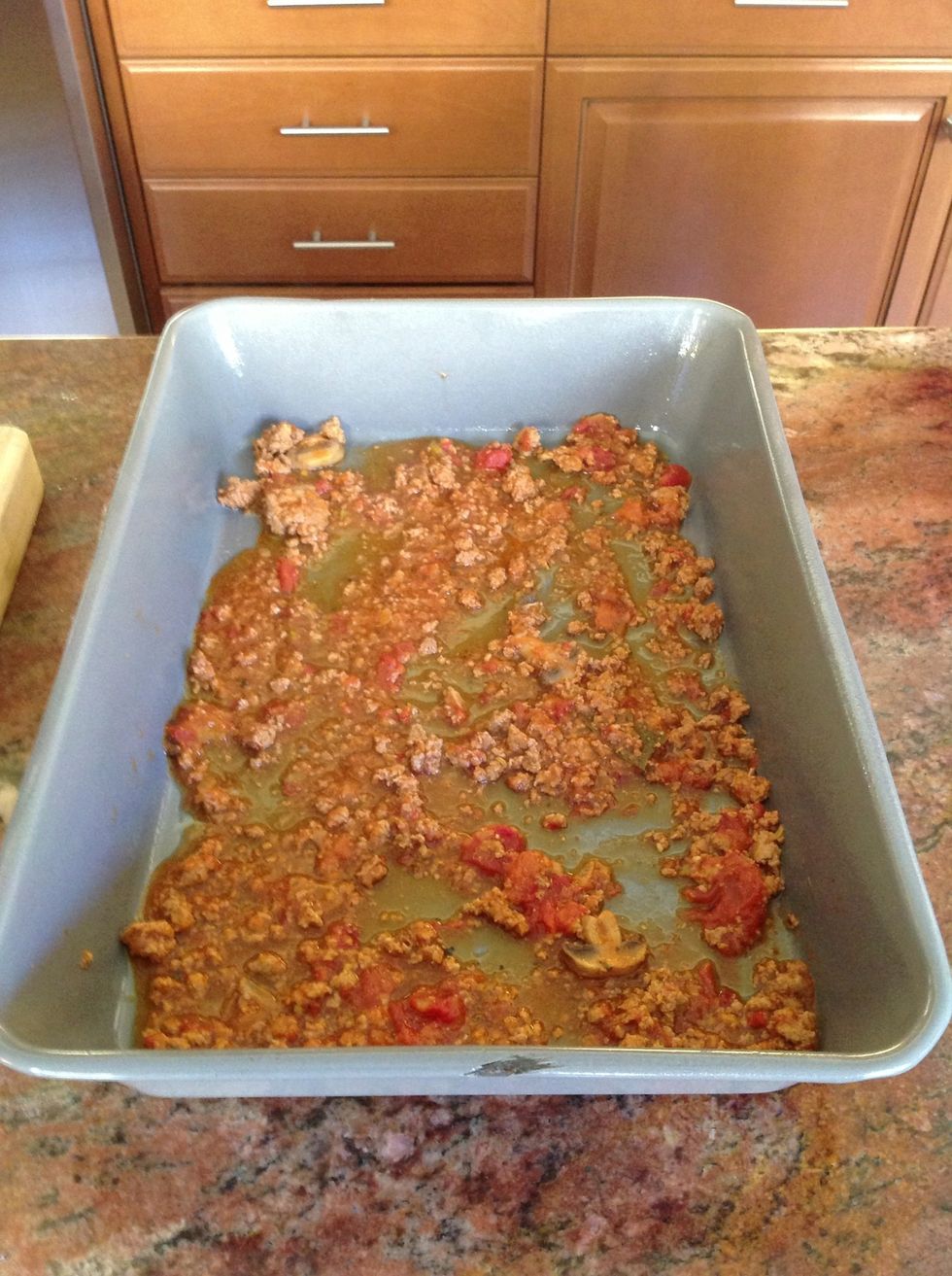 Ready to build? Pasta sauce I made a couple nights before and lightly cover the bottom. We go lighter on the first level, so we have more for the other levels. I'm sure you will notice.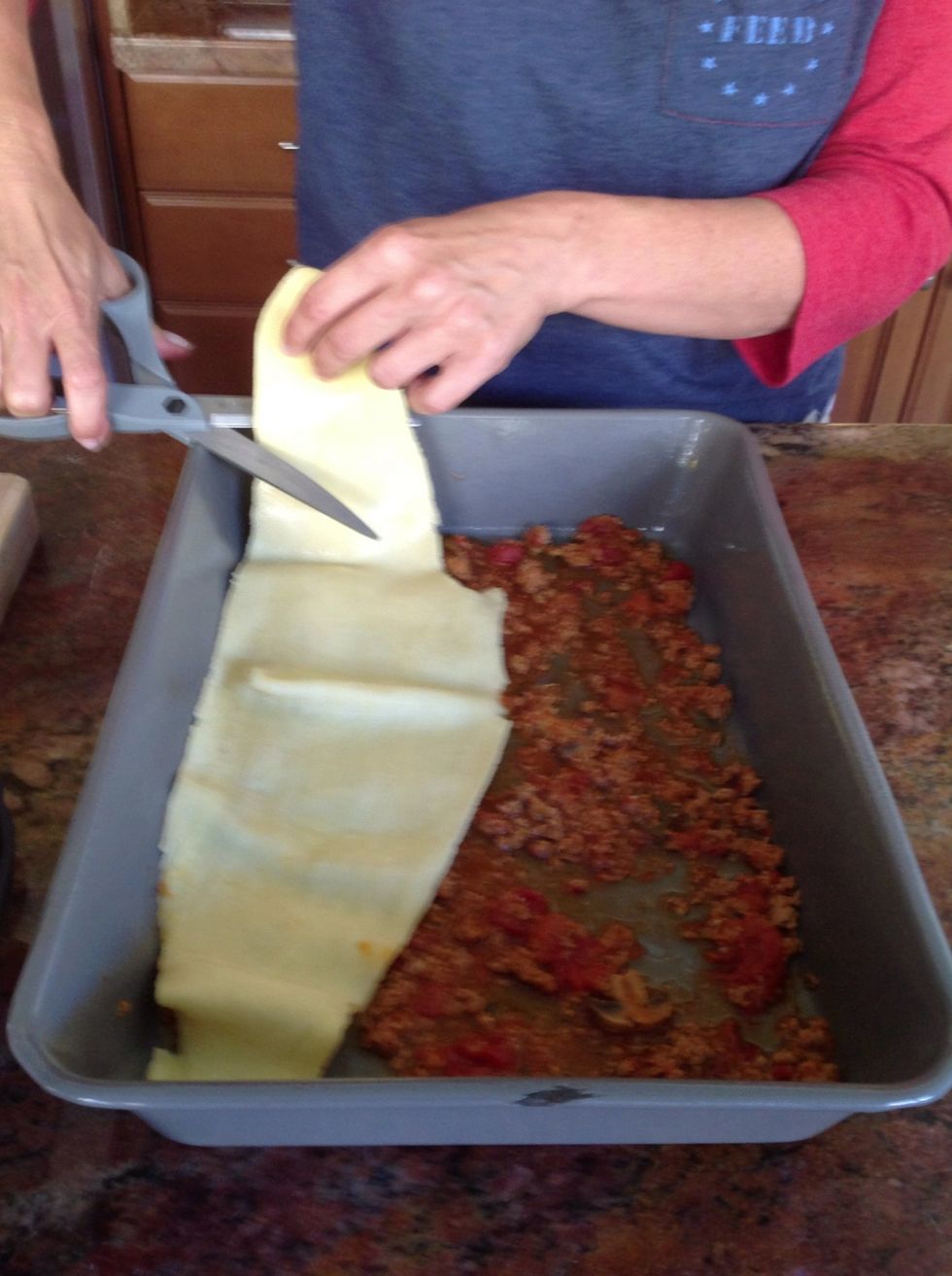 If sheets are to long, just cut the excess off. You can use it to fill holes.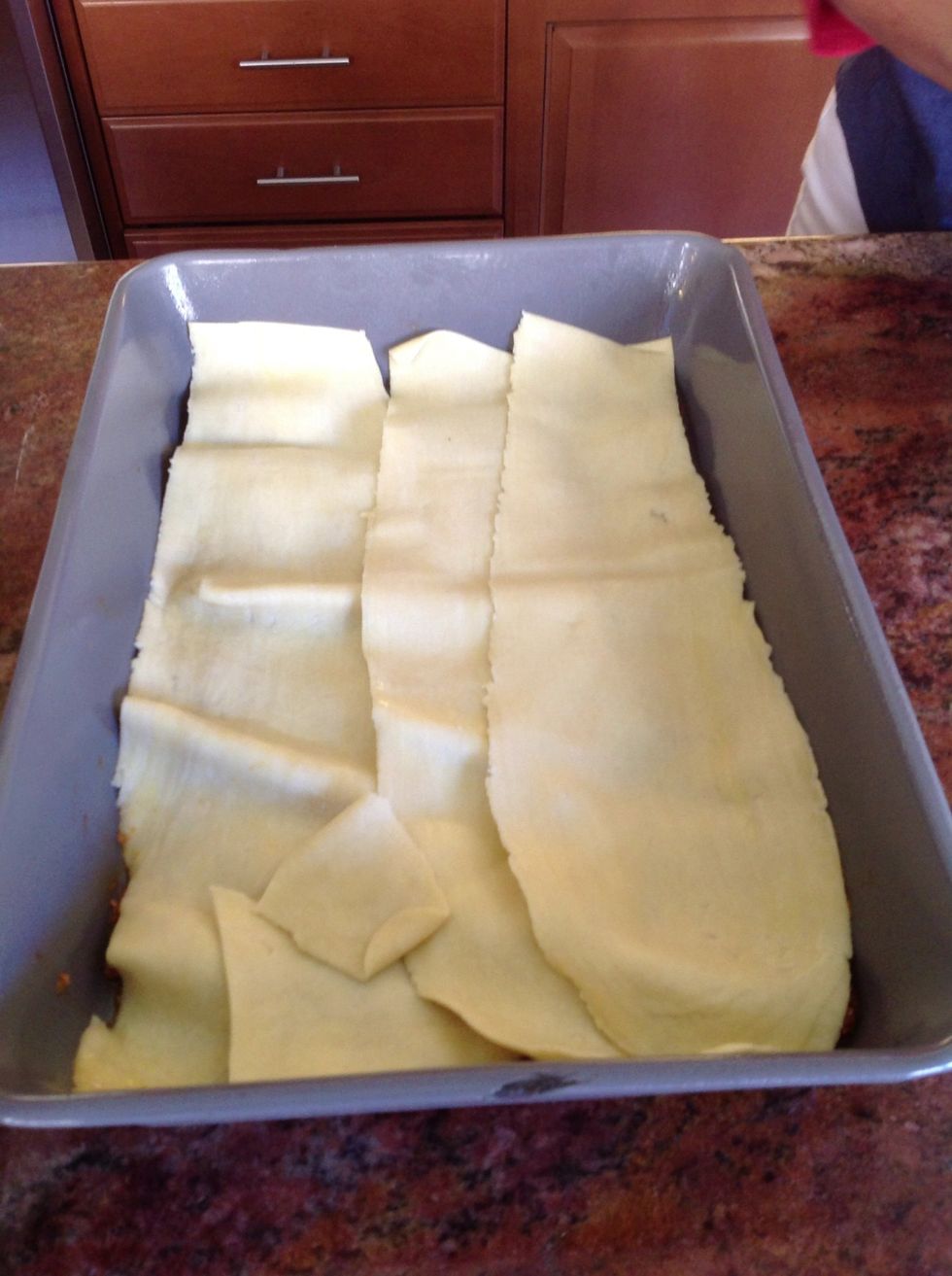 Pasta layer # 1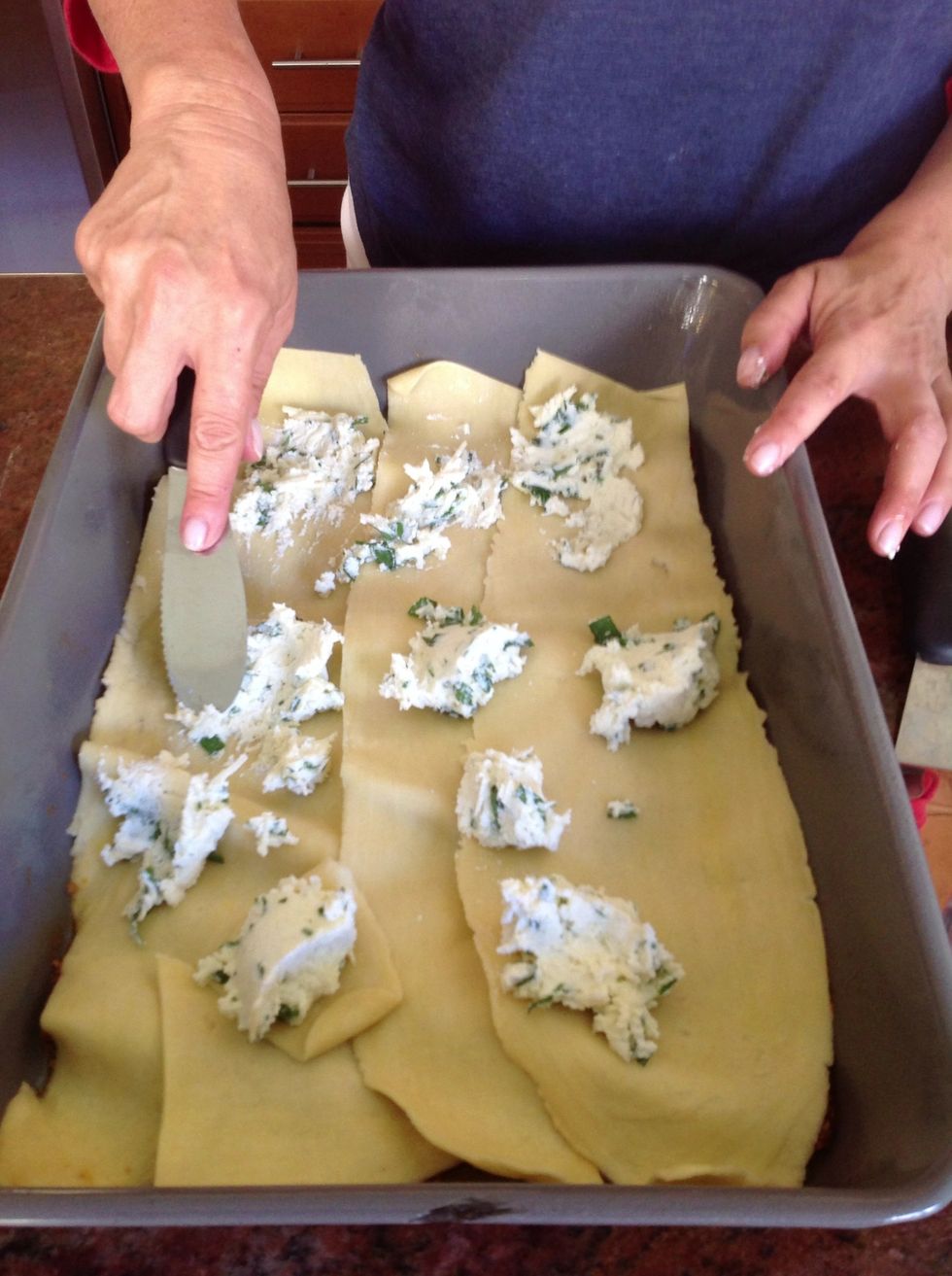 Add ricotta cheese to the first layer and spread out.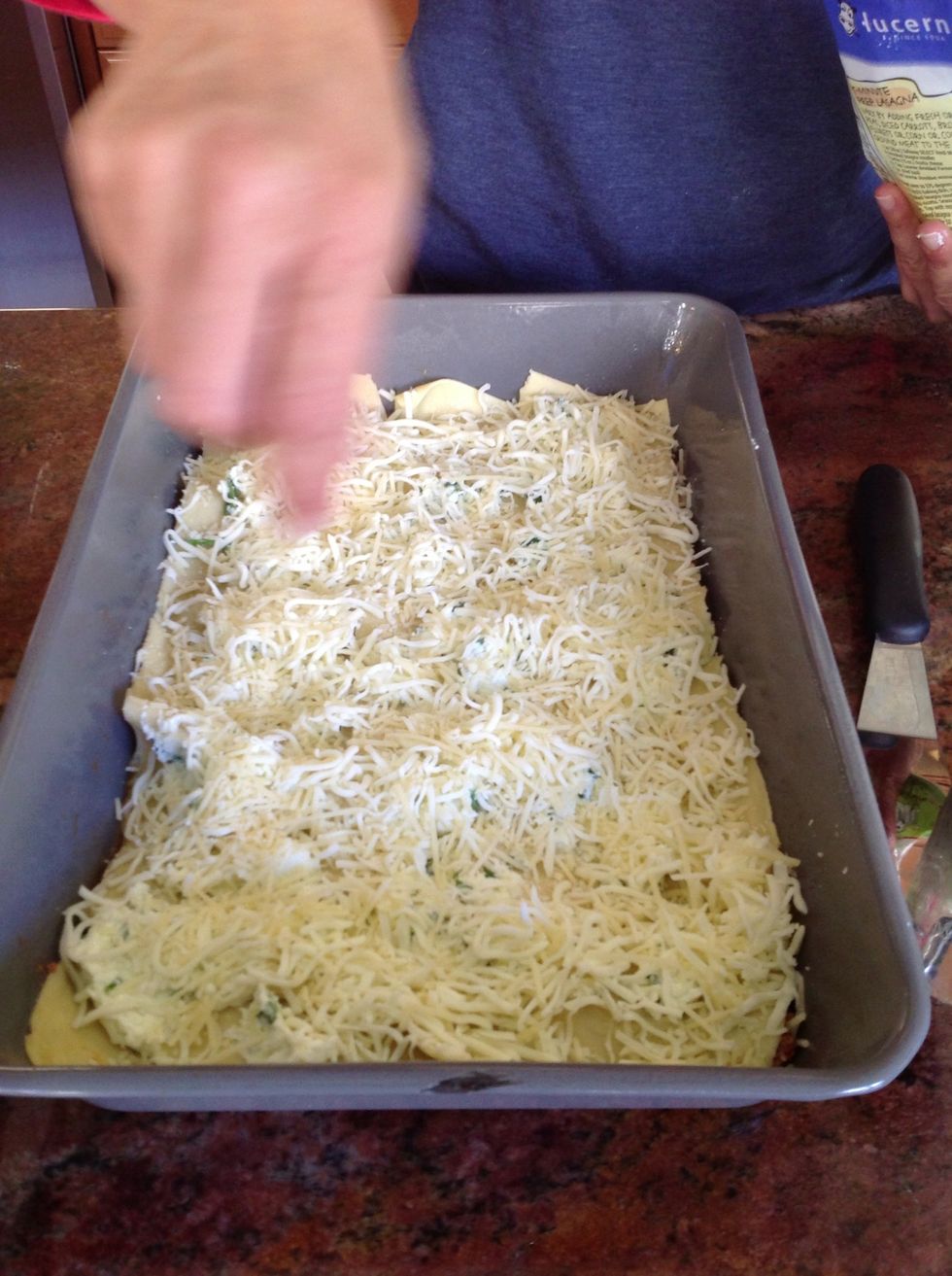 Again, use as much cheese as you want. We are adding mozzarella and Parmesan. You can never have enough cheese.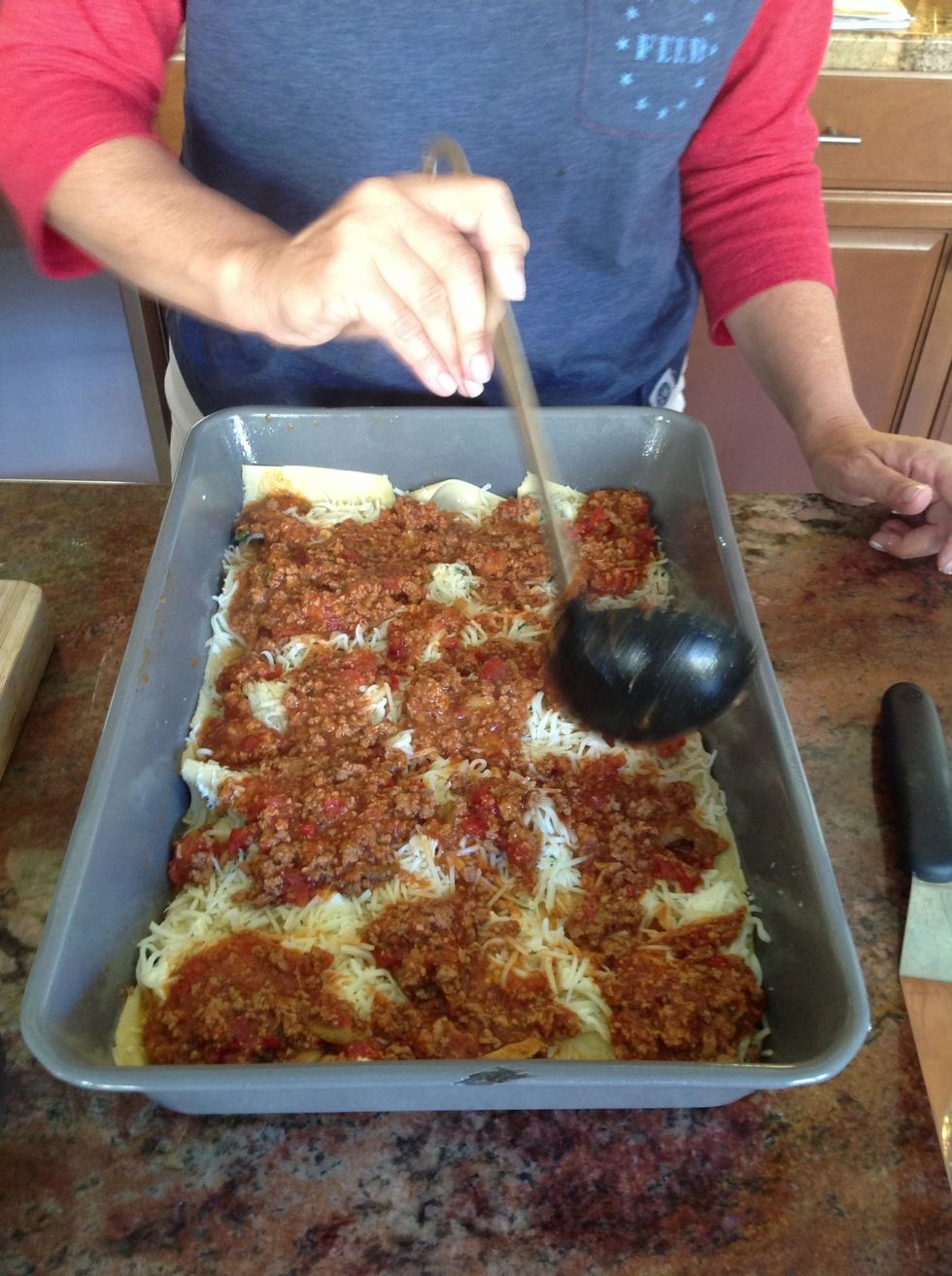 Add pasta sauce.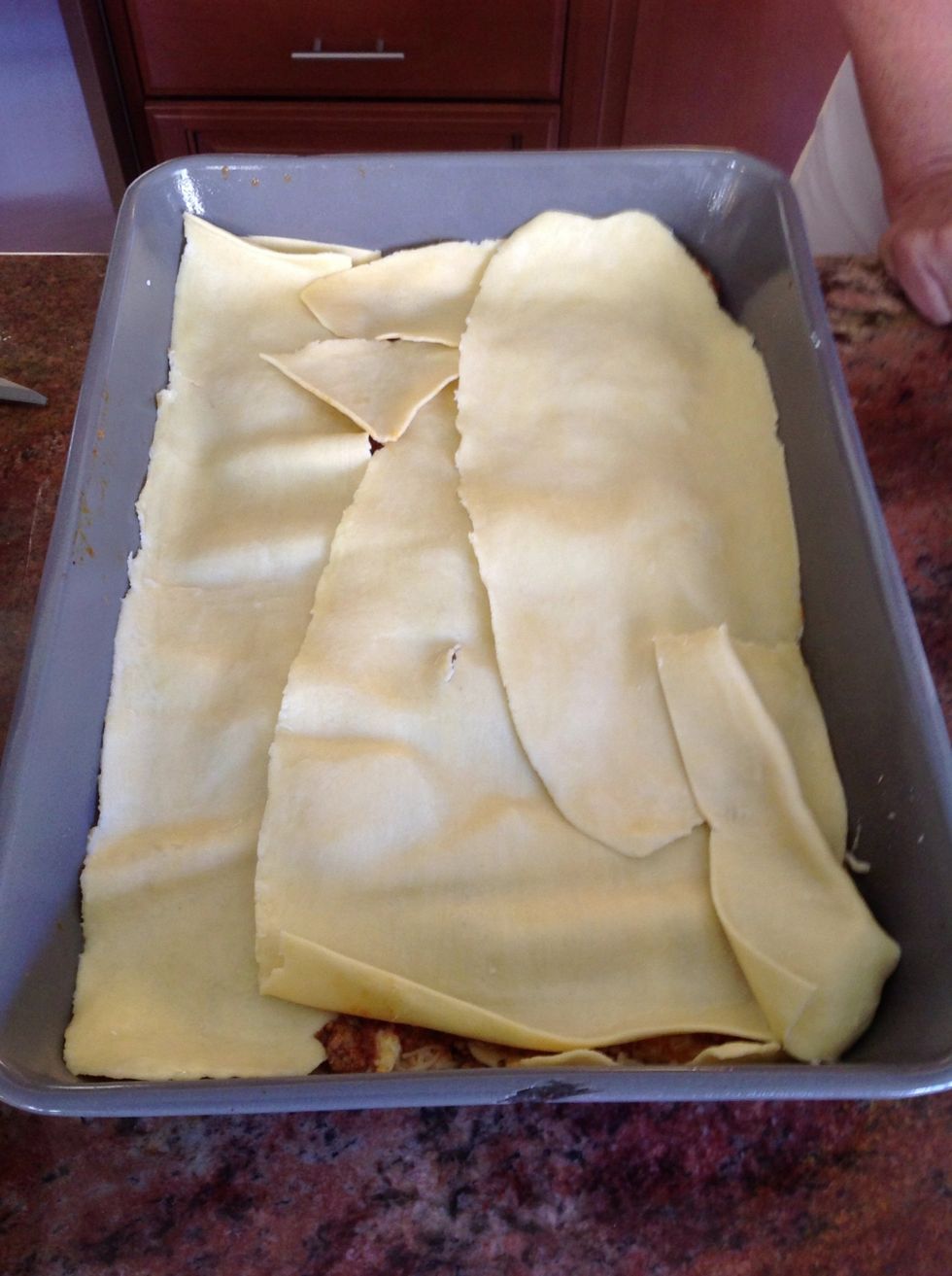 Pasta layer # 2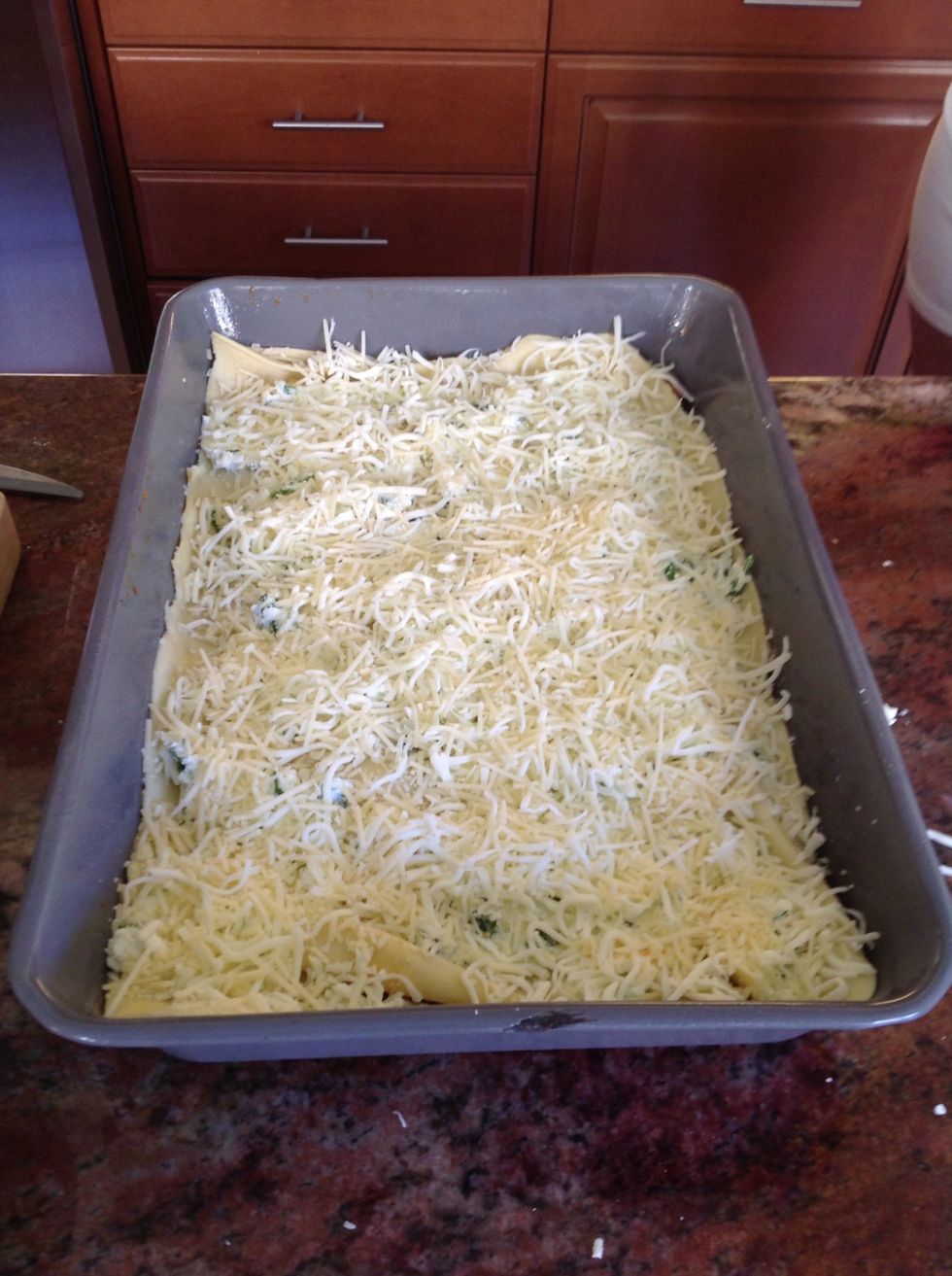 Add Ricotta, Mozzarella and Parmesan layer.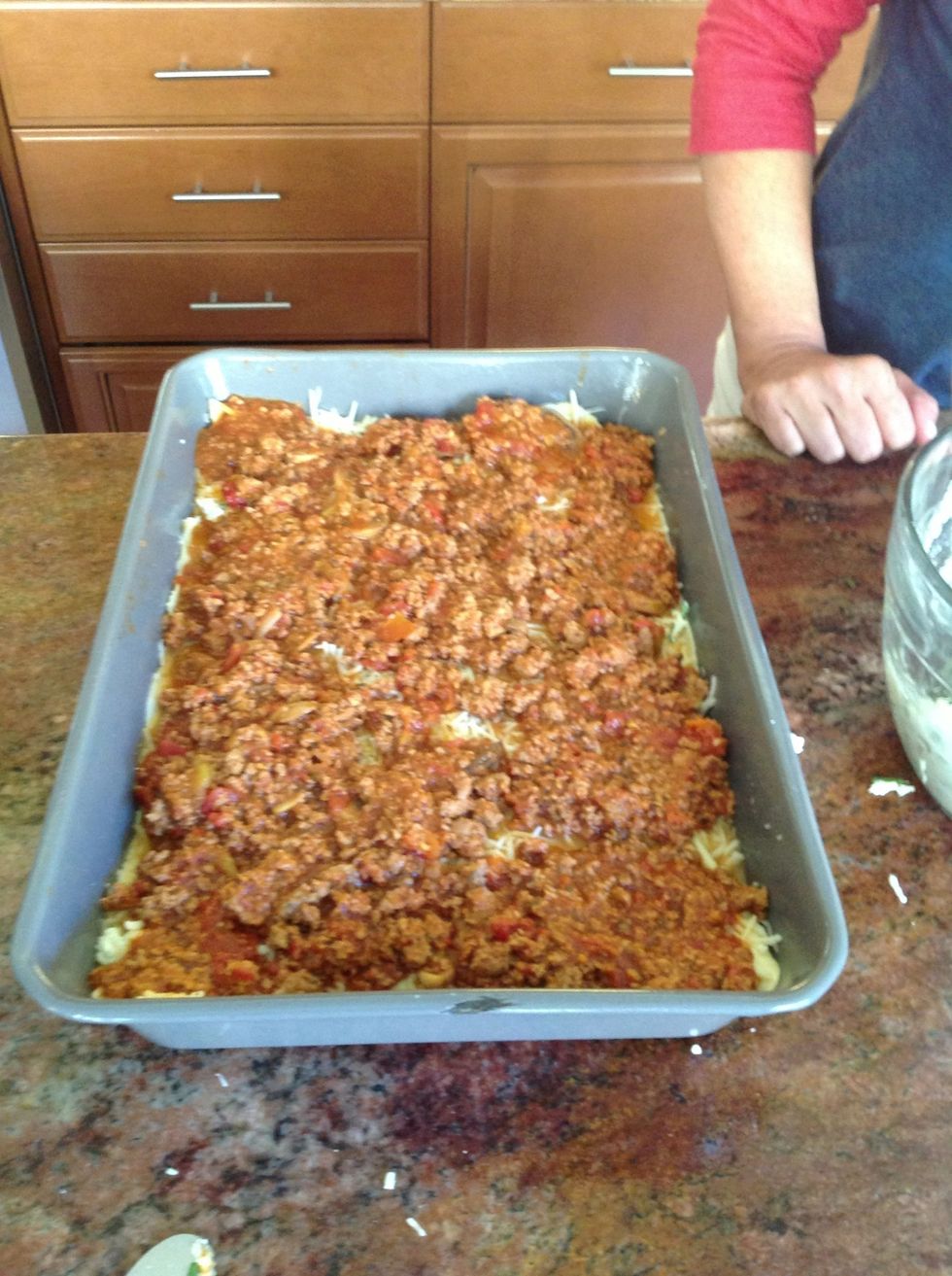 Add Pasta Sauce on top of cheeses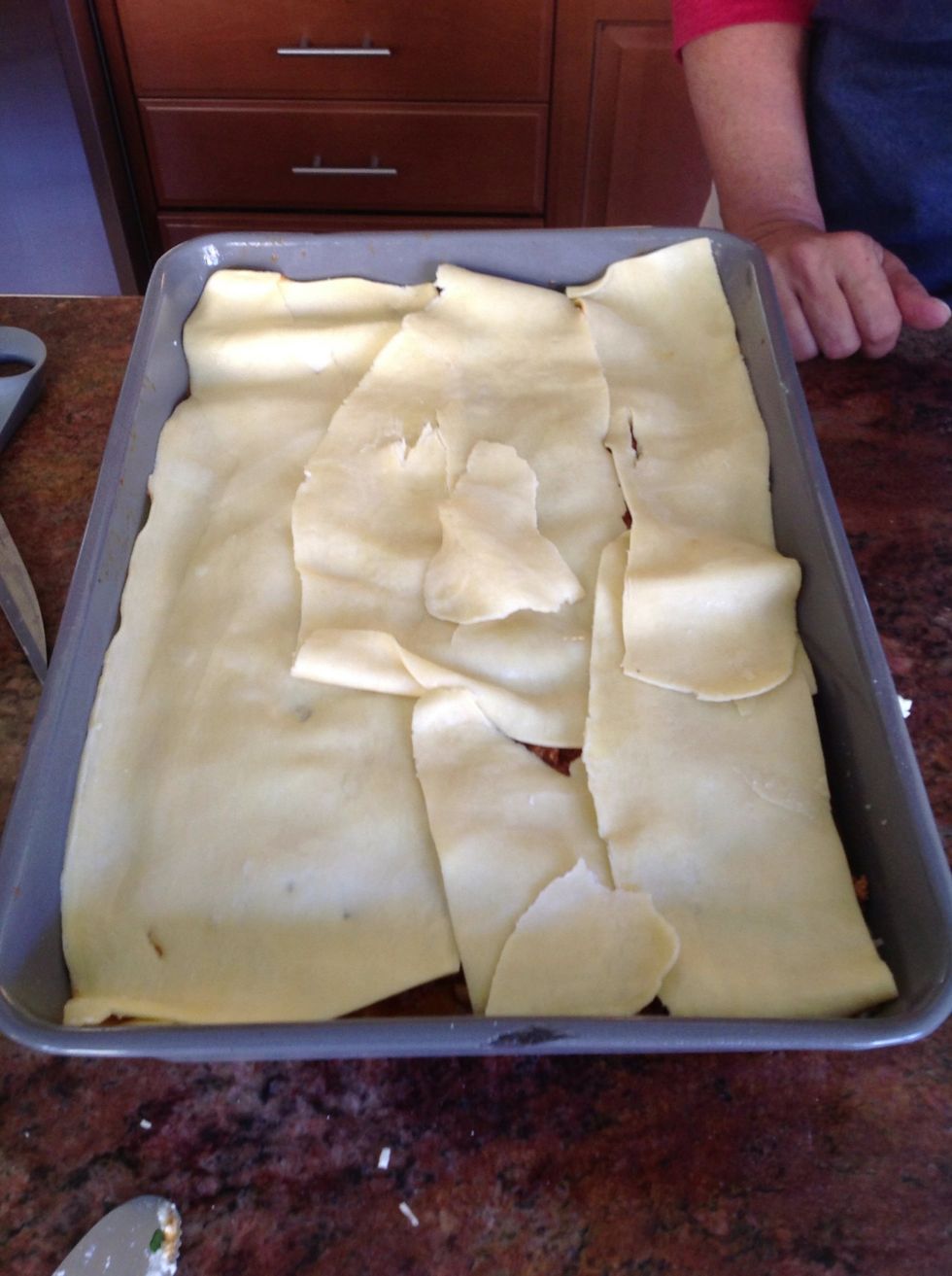 Pasta layer # 3. See how we cover the holes. It's our secret......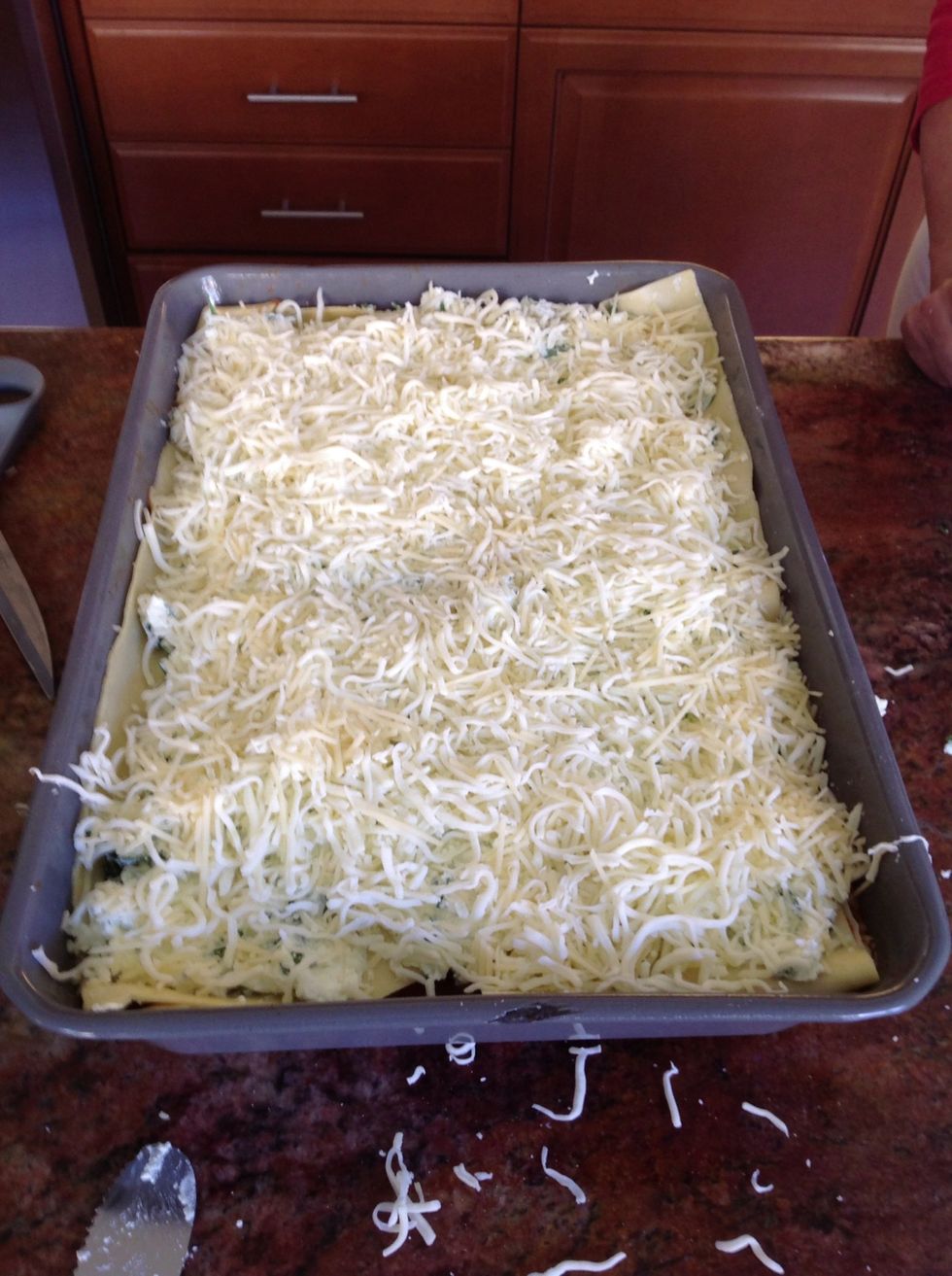 More Ricotta, mozzarella and Parmesan layer.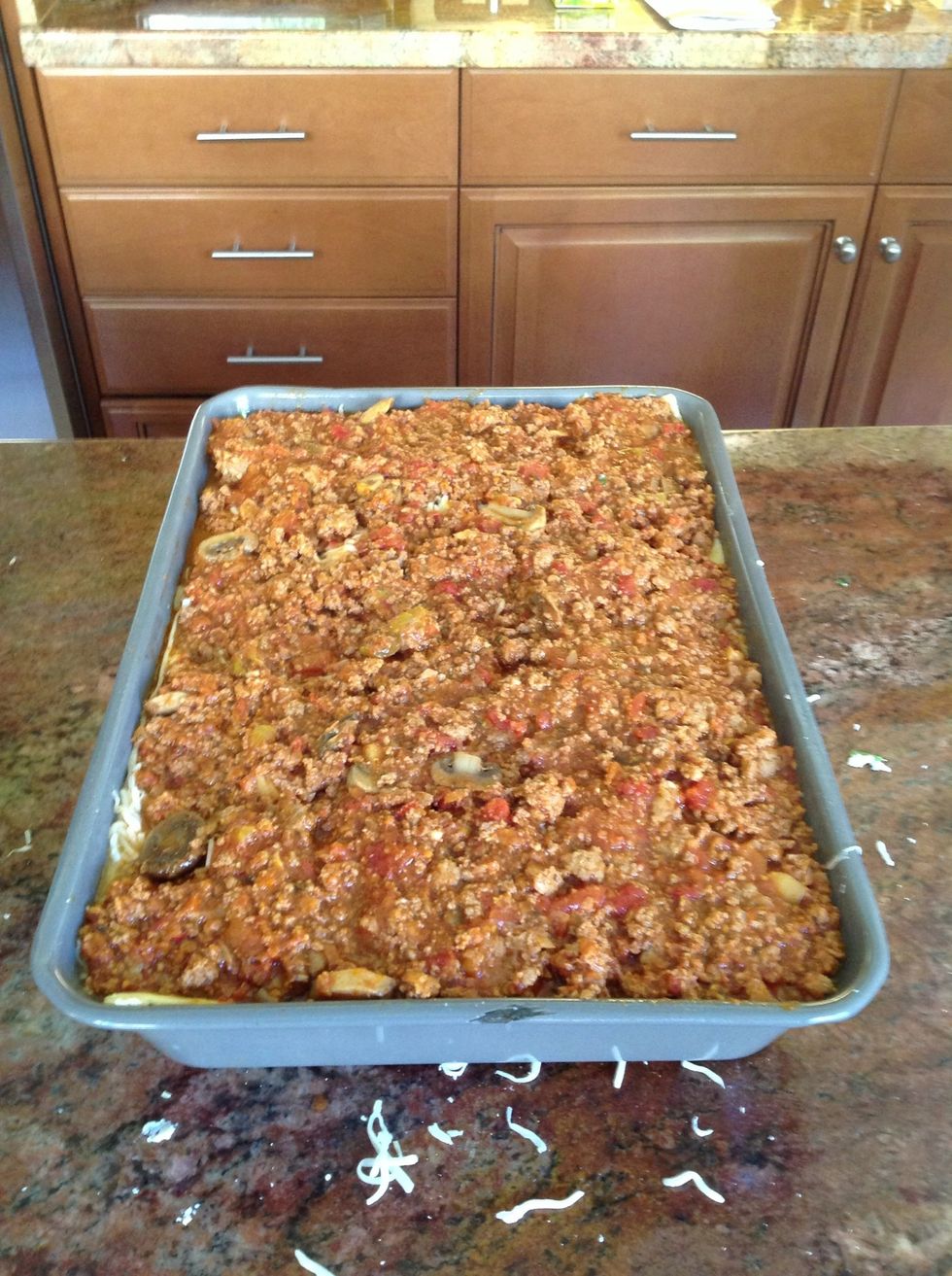 More Pasta sauce. Get the corners good.
Final pasta layer.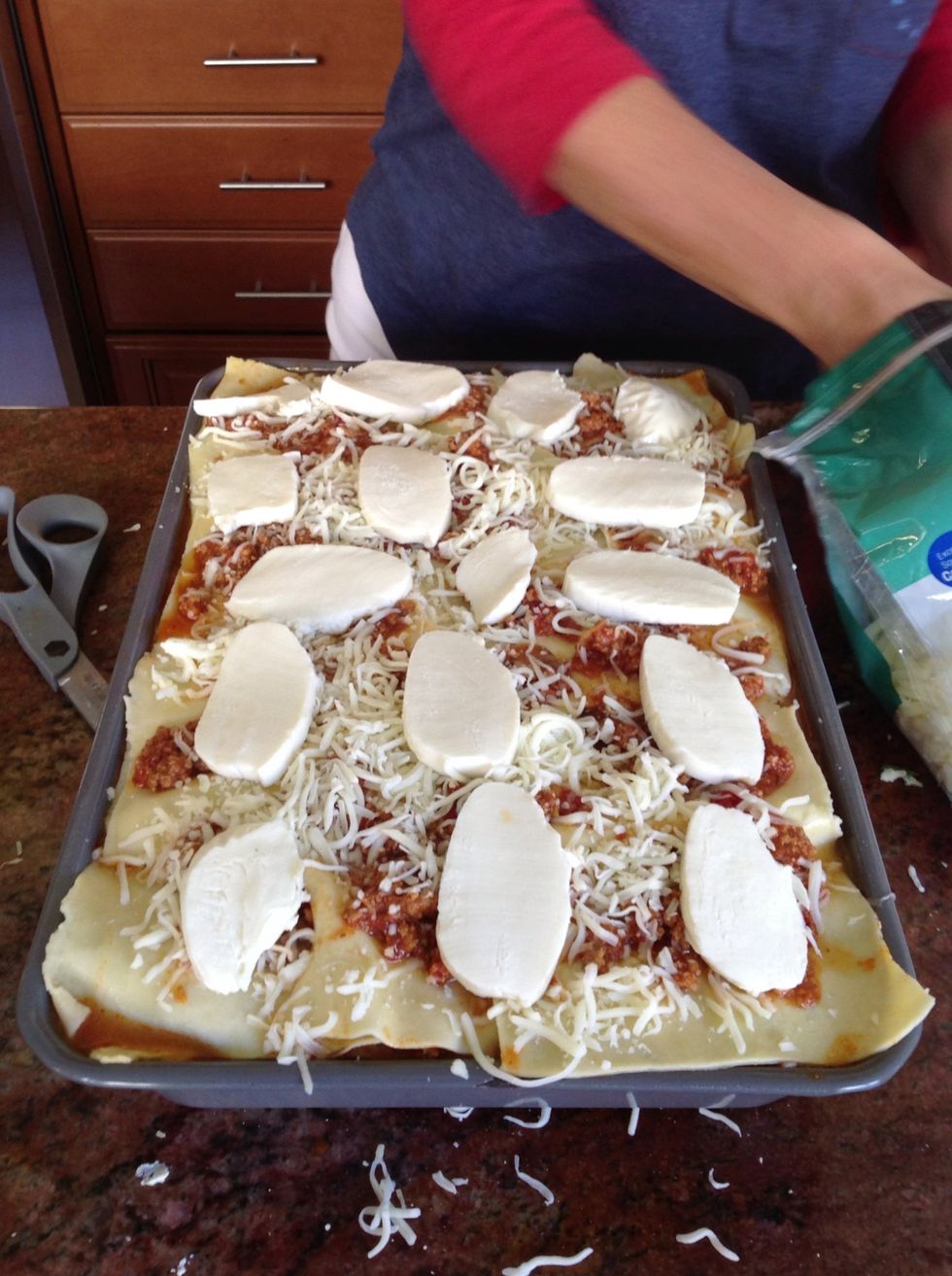 Add Light pasta sauce, mozzarella, Parmesan and fresh mozzarella to top it off!!!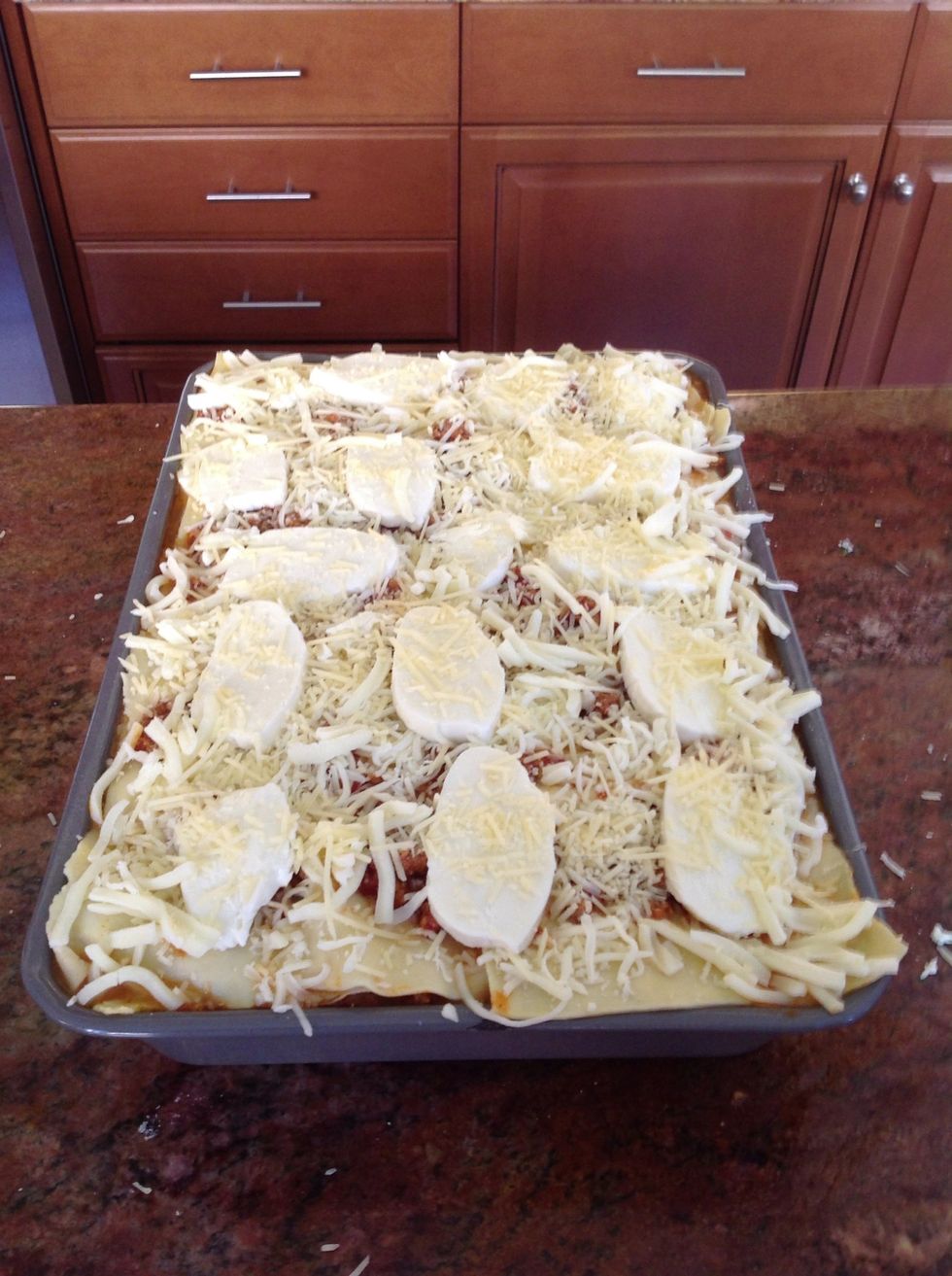 Our masterpiece is complete.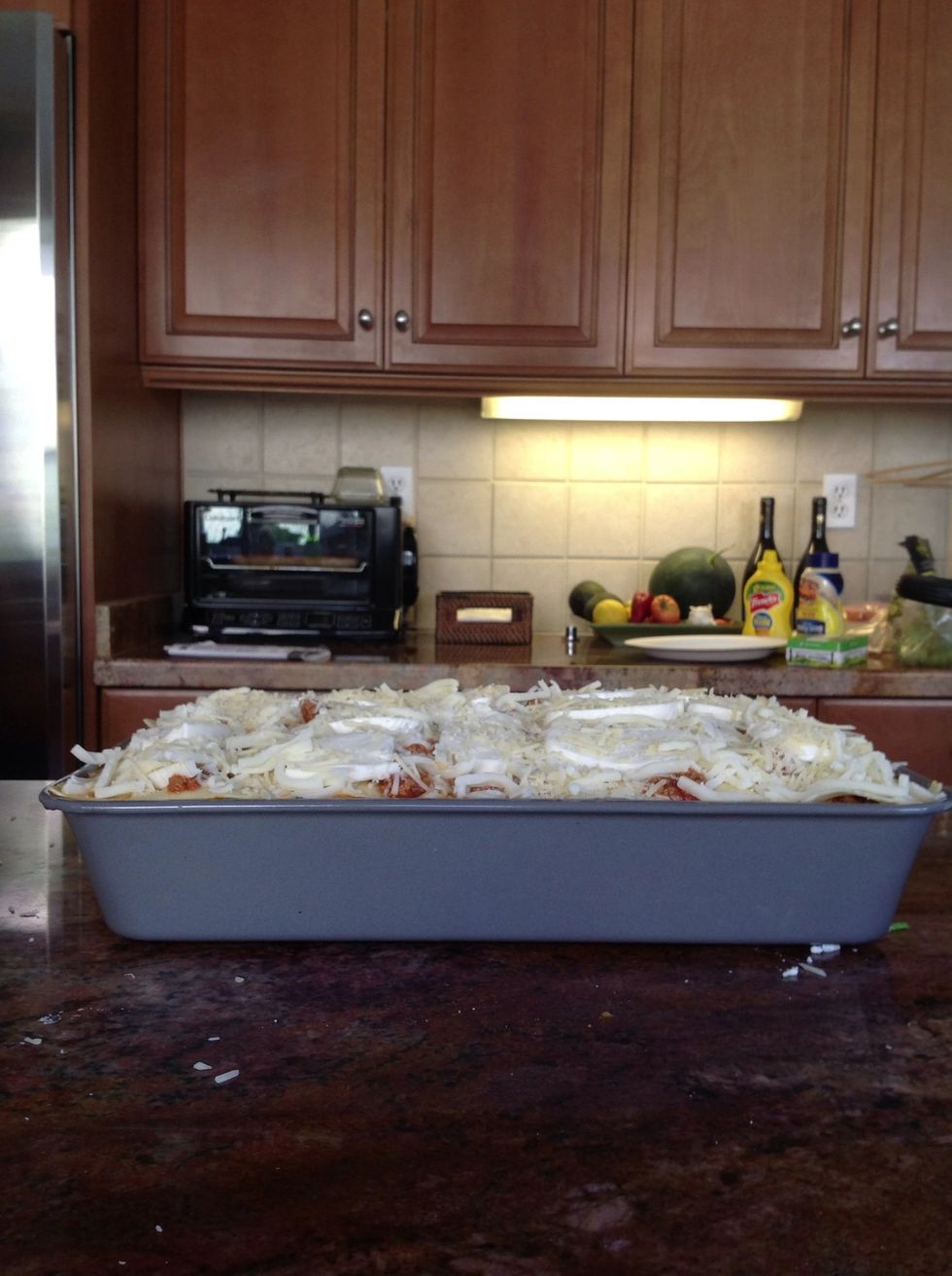 Side view. This Lasagna will weigh about 20 pounds. The weight will amaze you.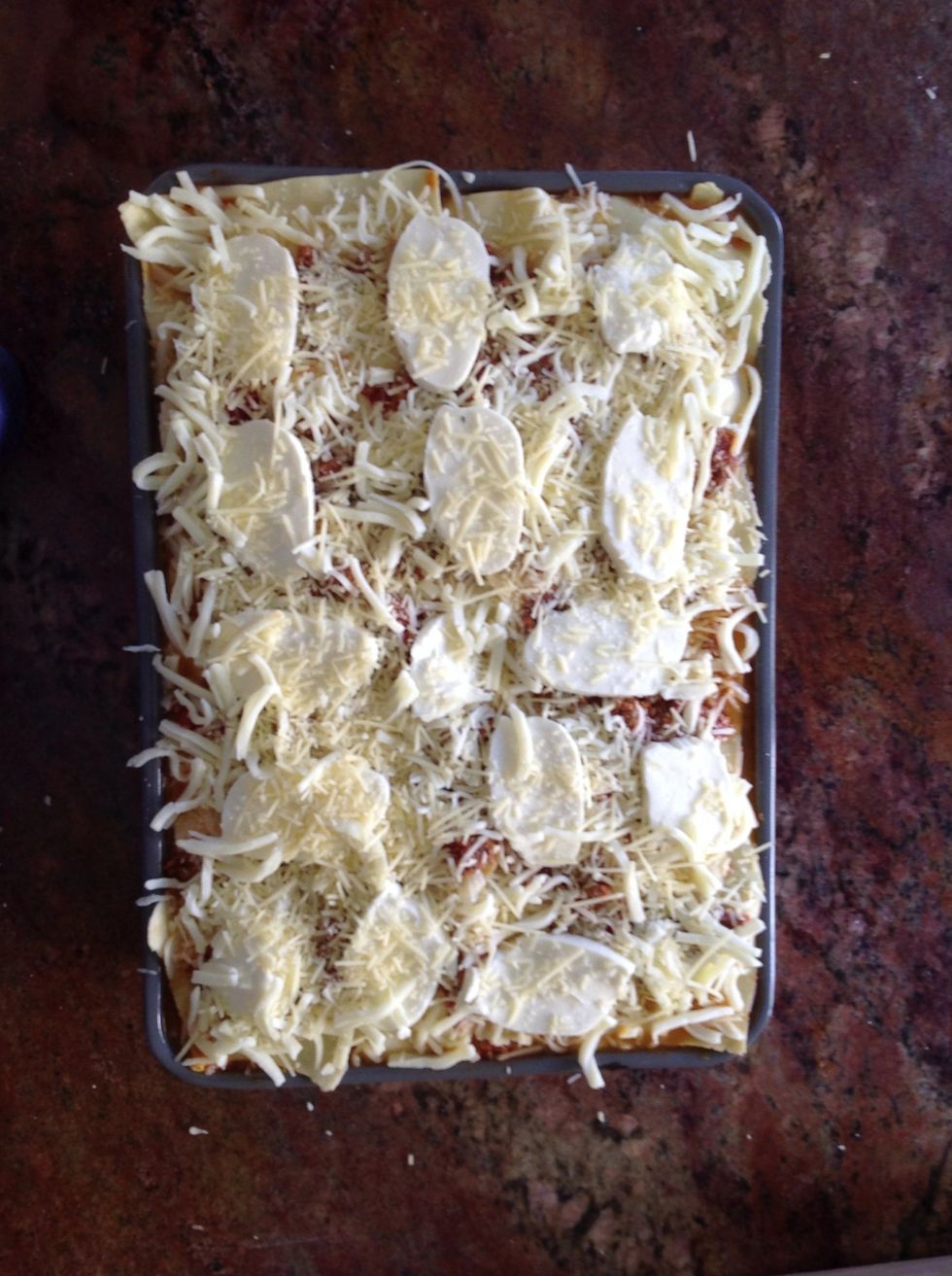 Top view.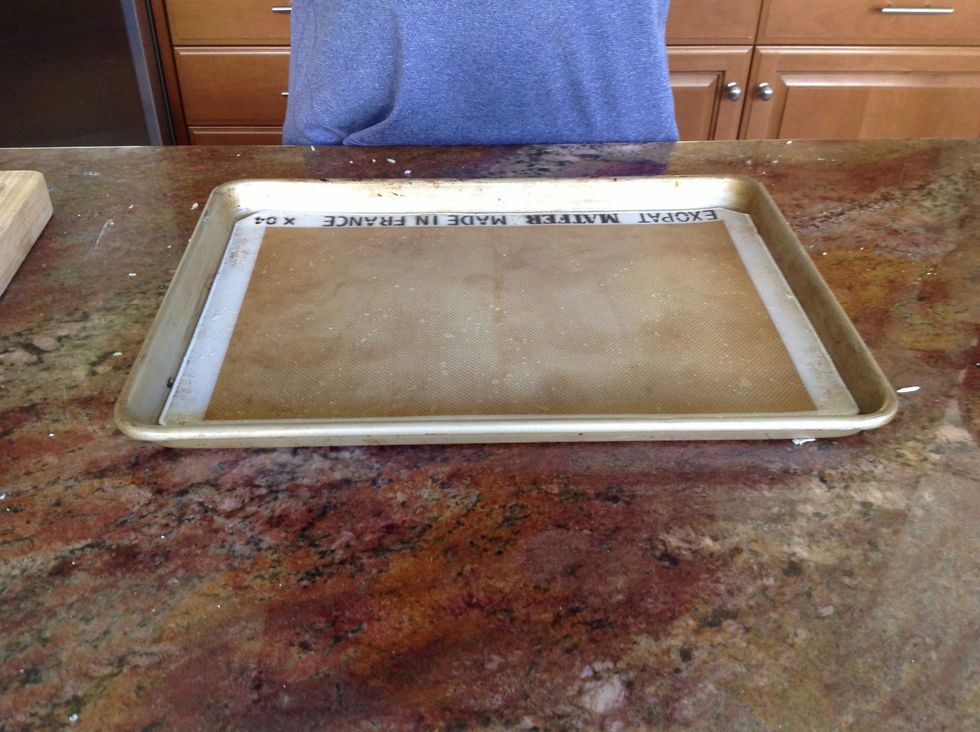 Place on a cookie sheet. Use your silicon sheet or spray with Pam for easier cleans up.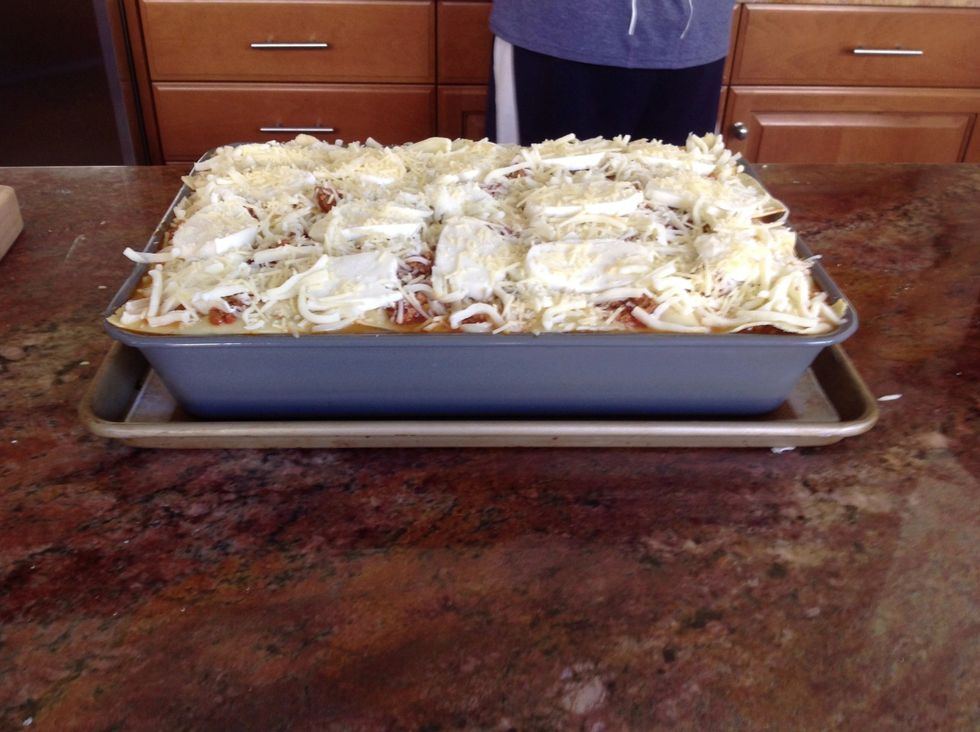 Place on cookie sheet for cooking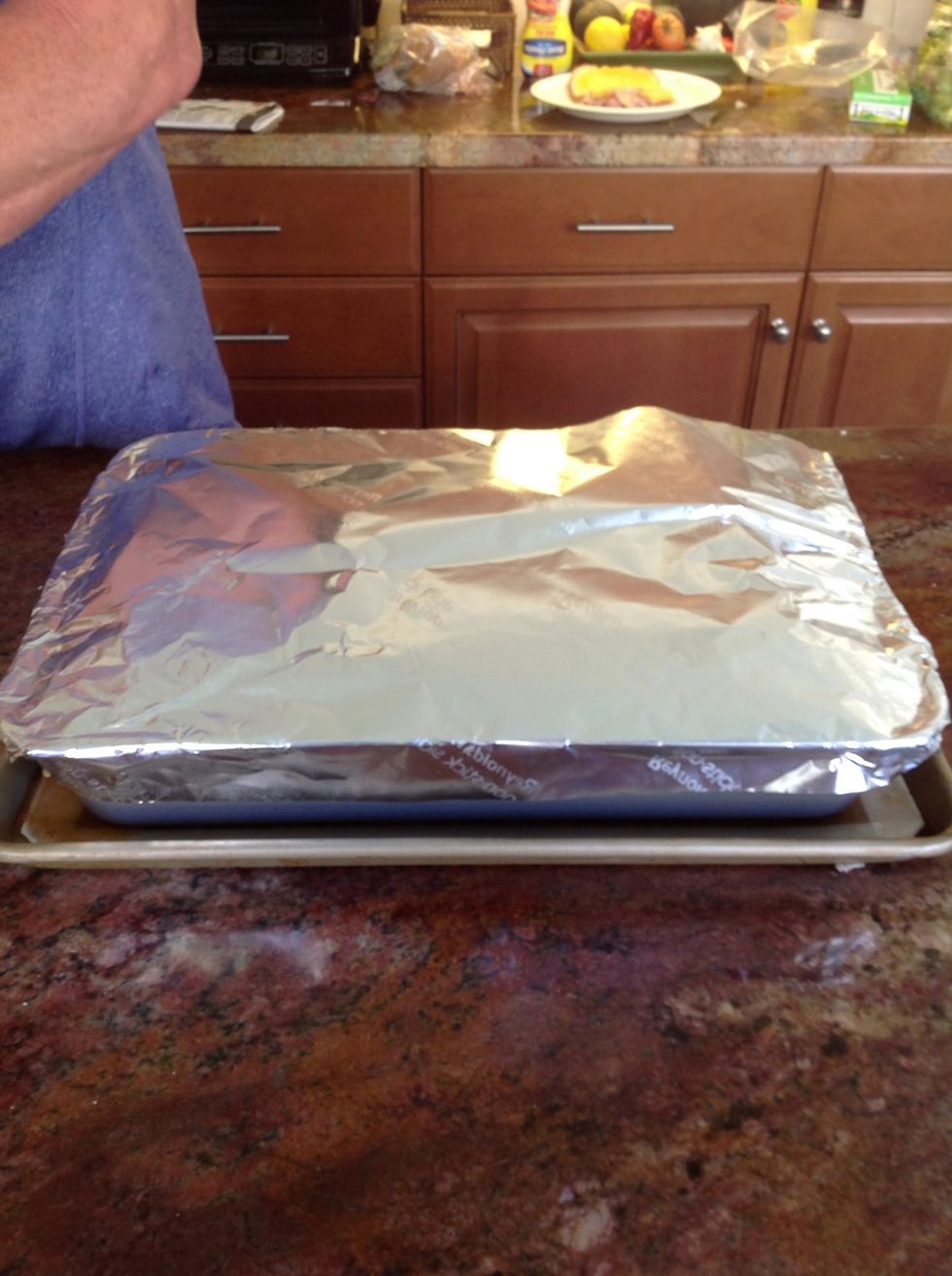 Use a non stick foil or spray Pam on your foil and have a very strong man put the Lasagna in the oven.
Cook covered for one hour at 350 degrees.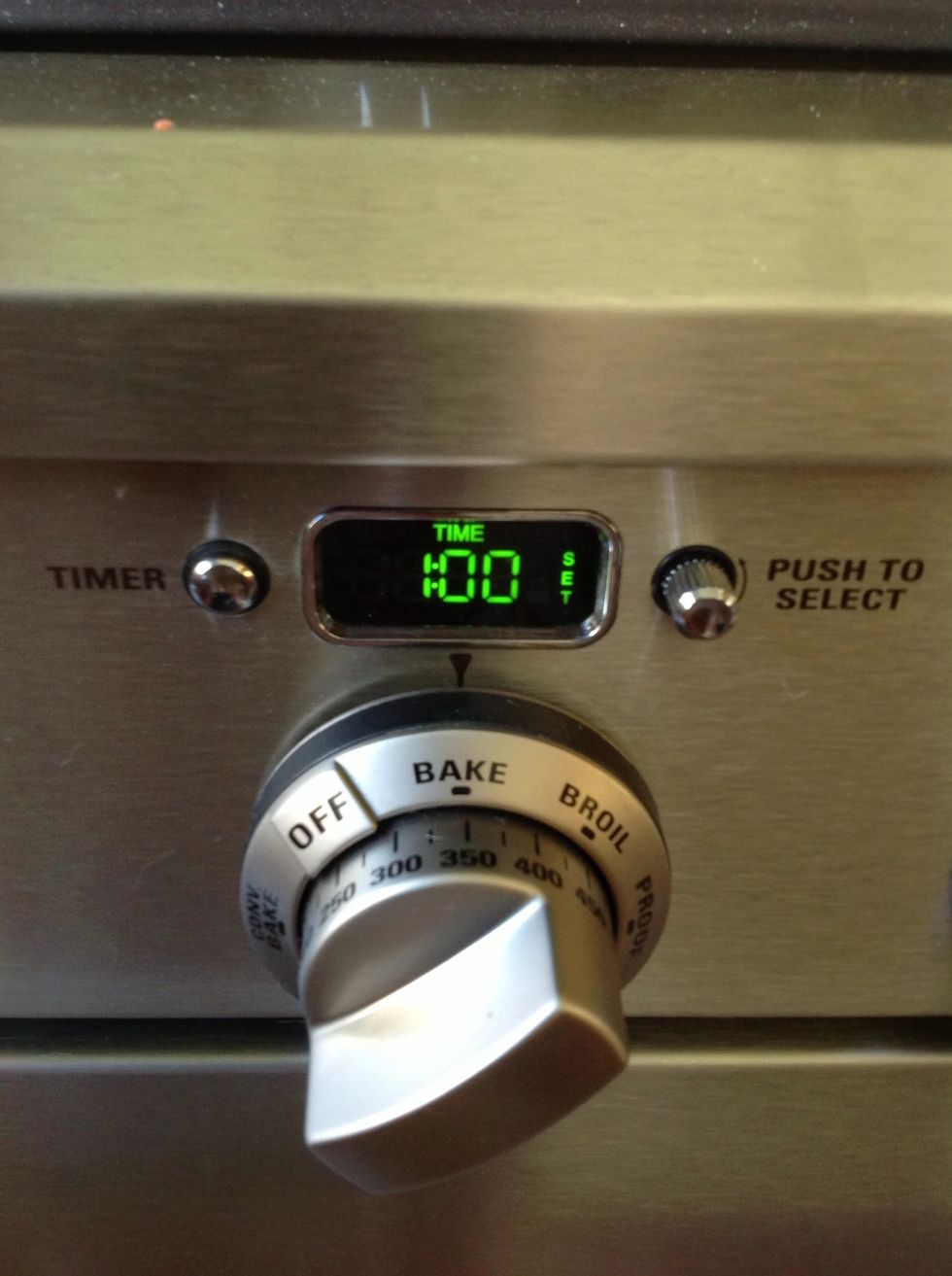 1 hour at 350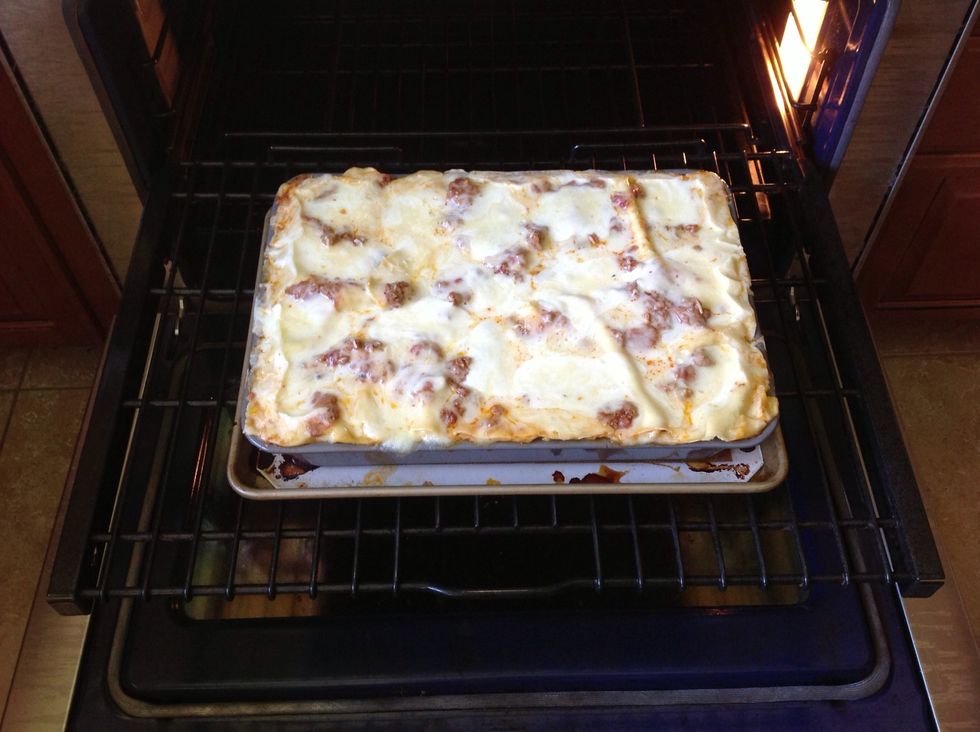 Take the foil off and return to the oven for an hour more.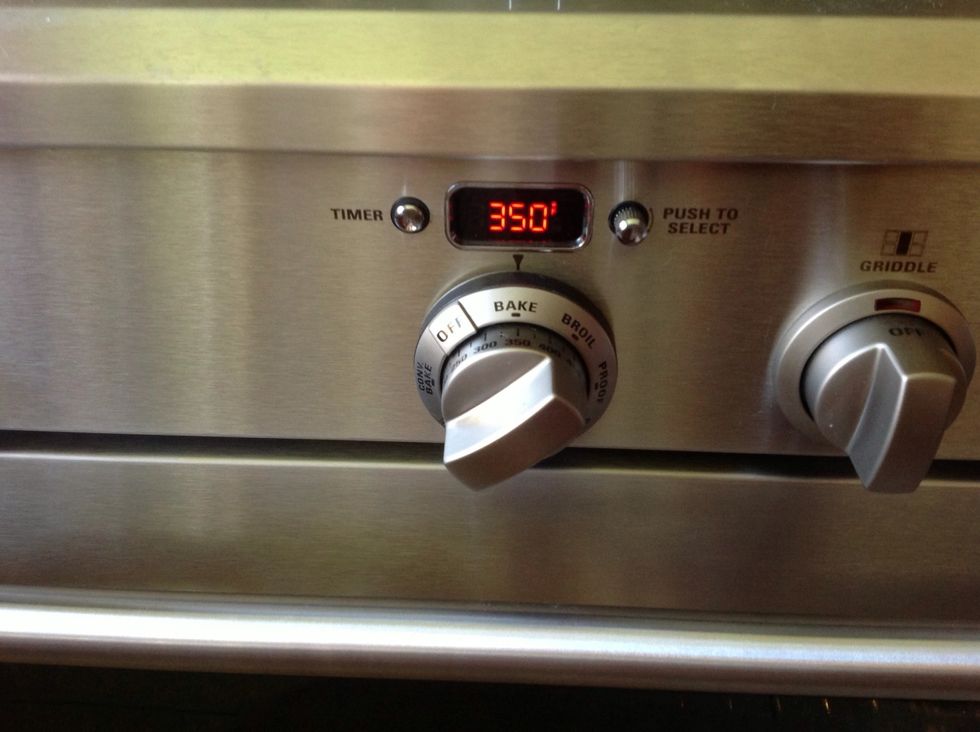 Same temp as before.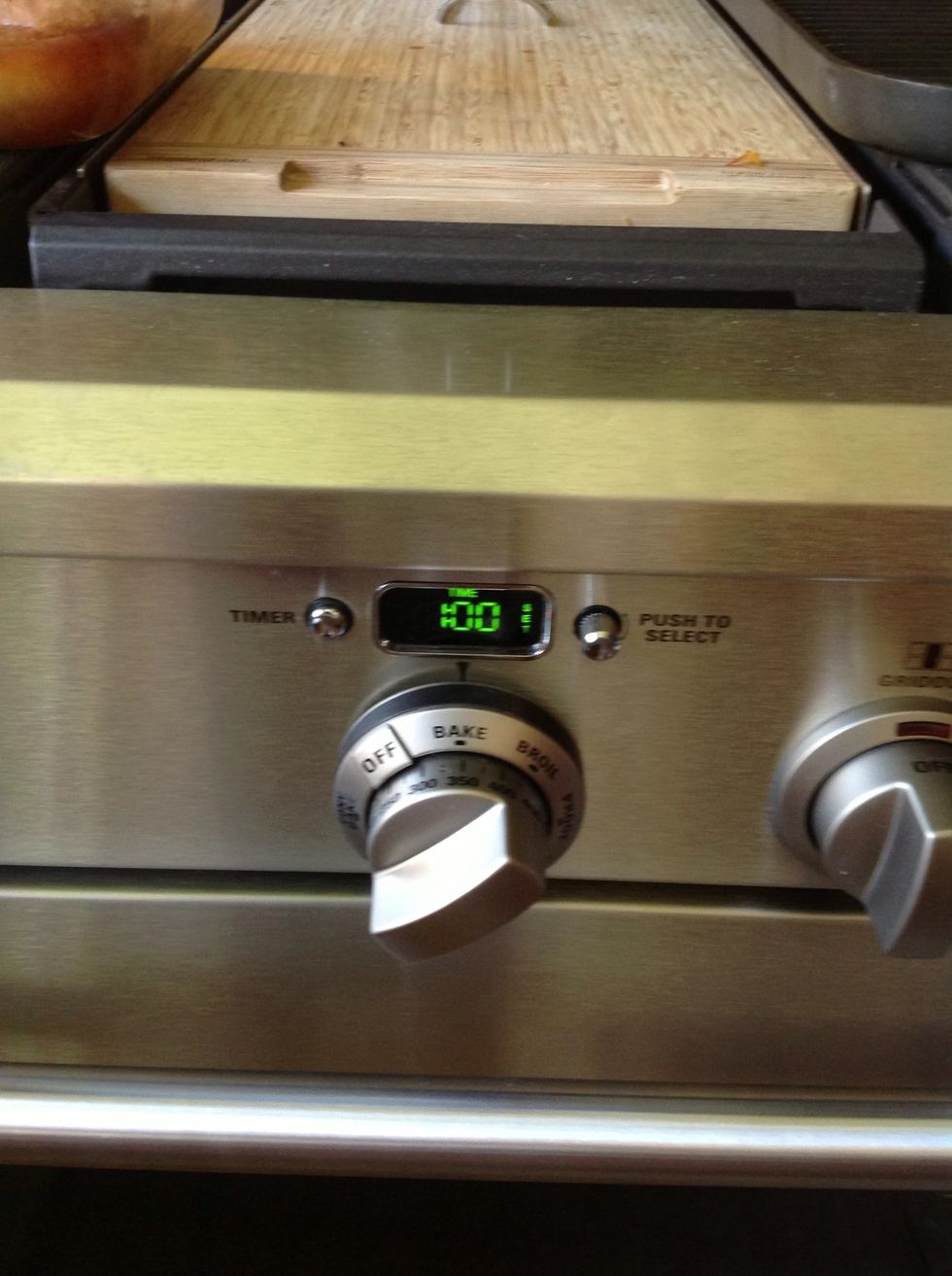 Same amount of time.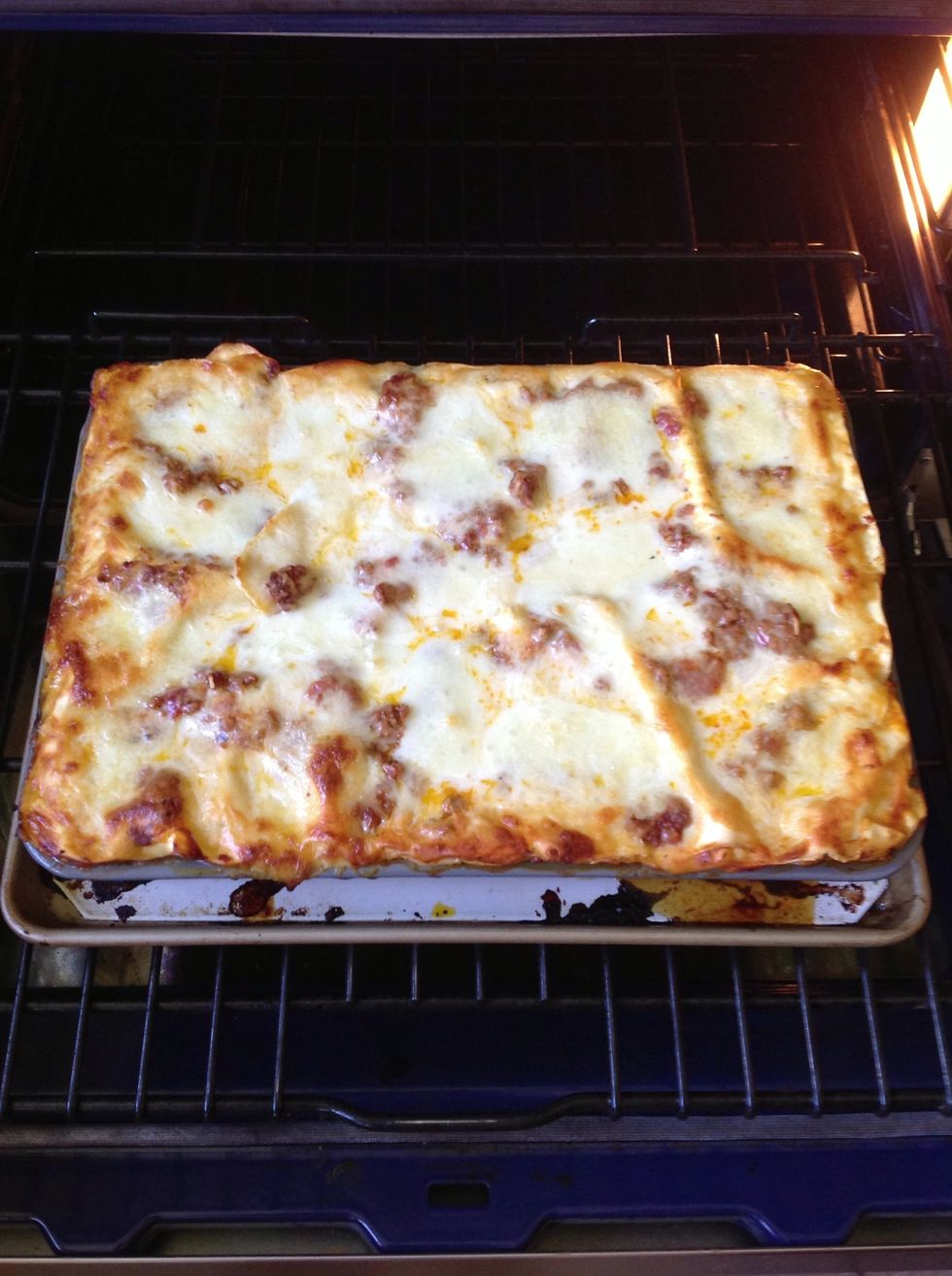 Starting to crisp up and brown on the edges.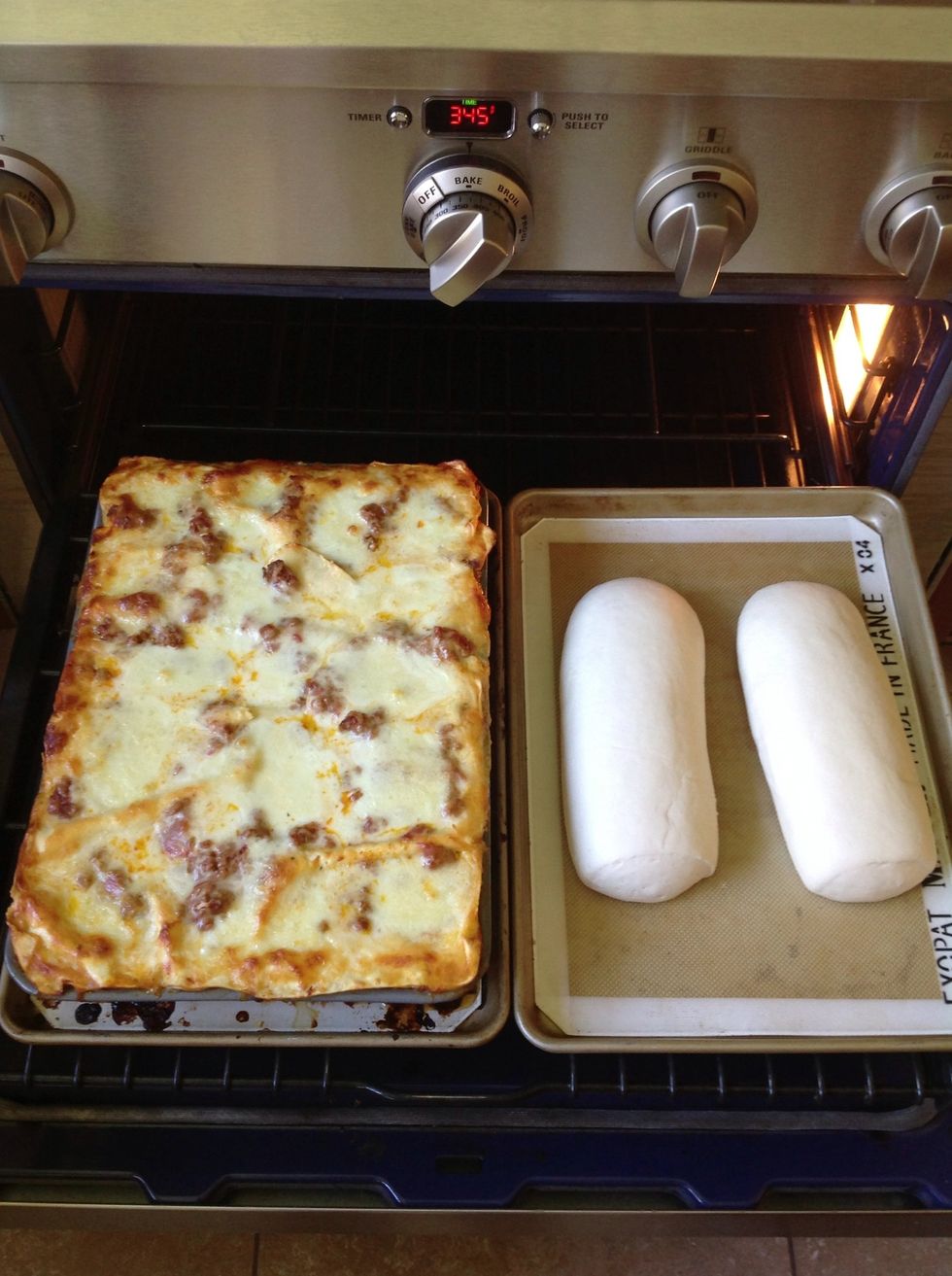 Why not have some bread......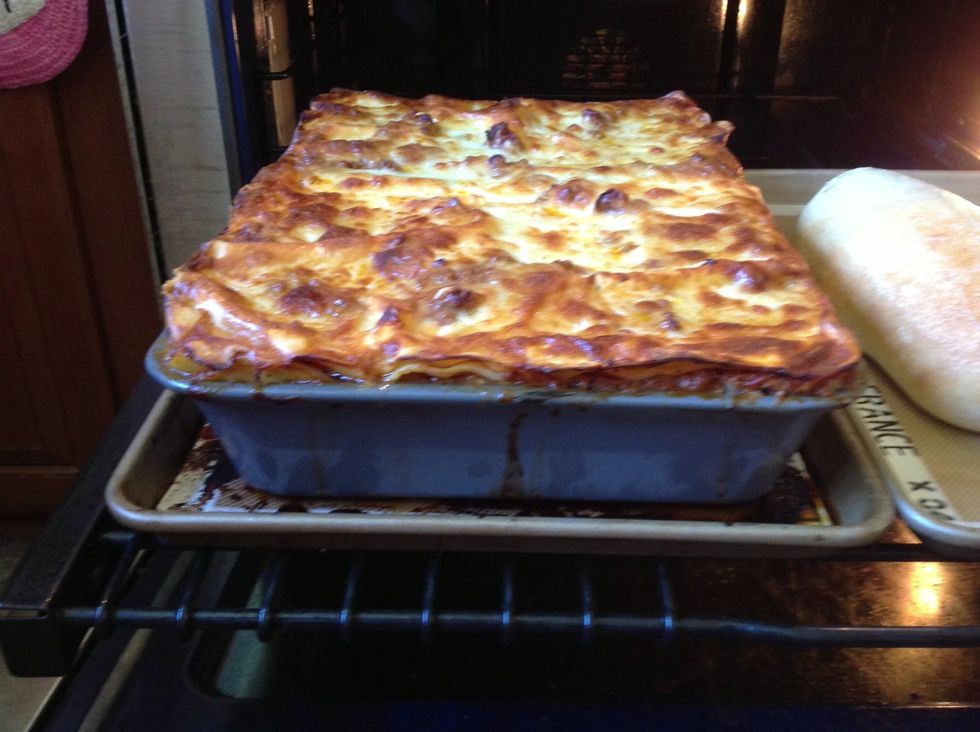 How amazing does this look! Delicious!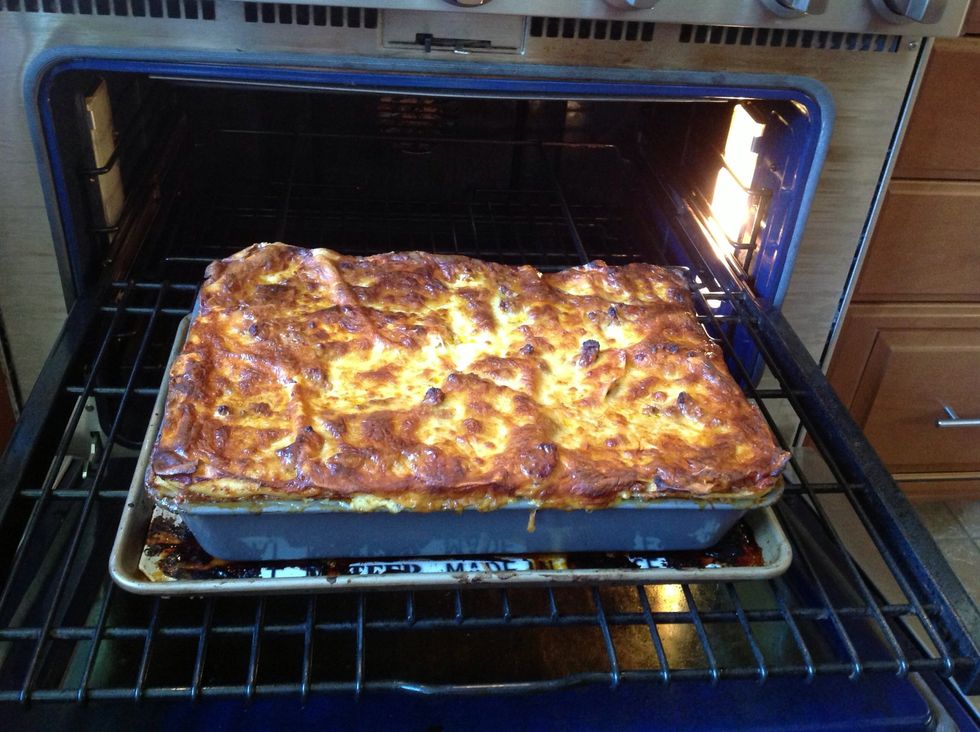 I wish you could smell this.......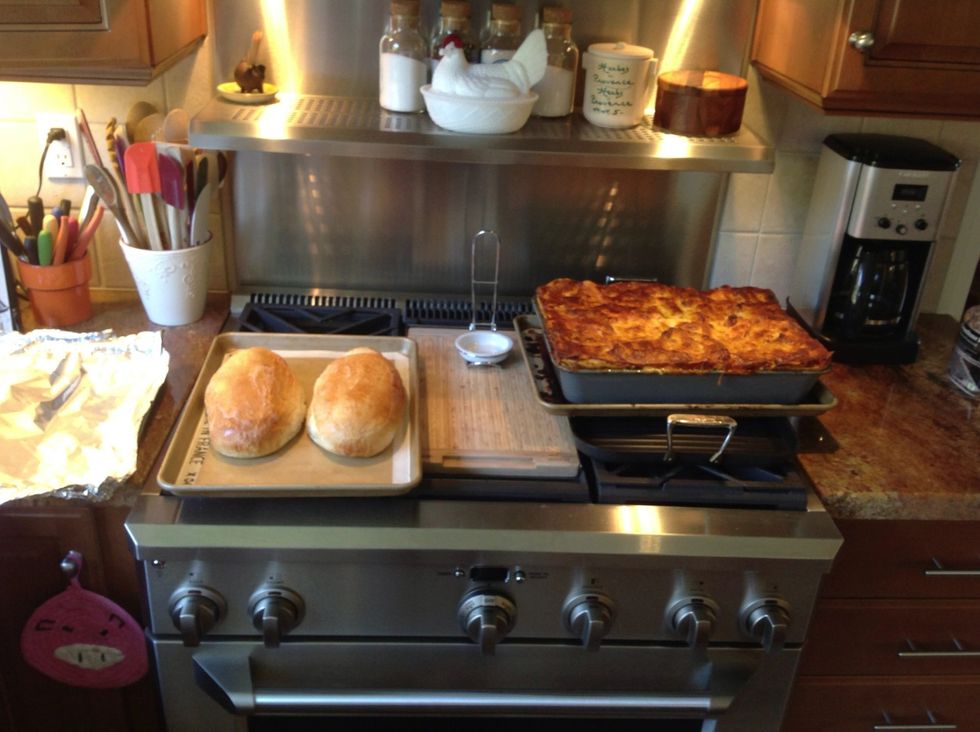 Resting.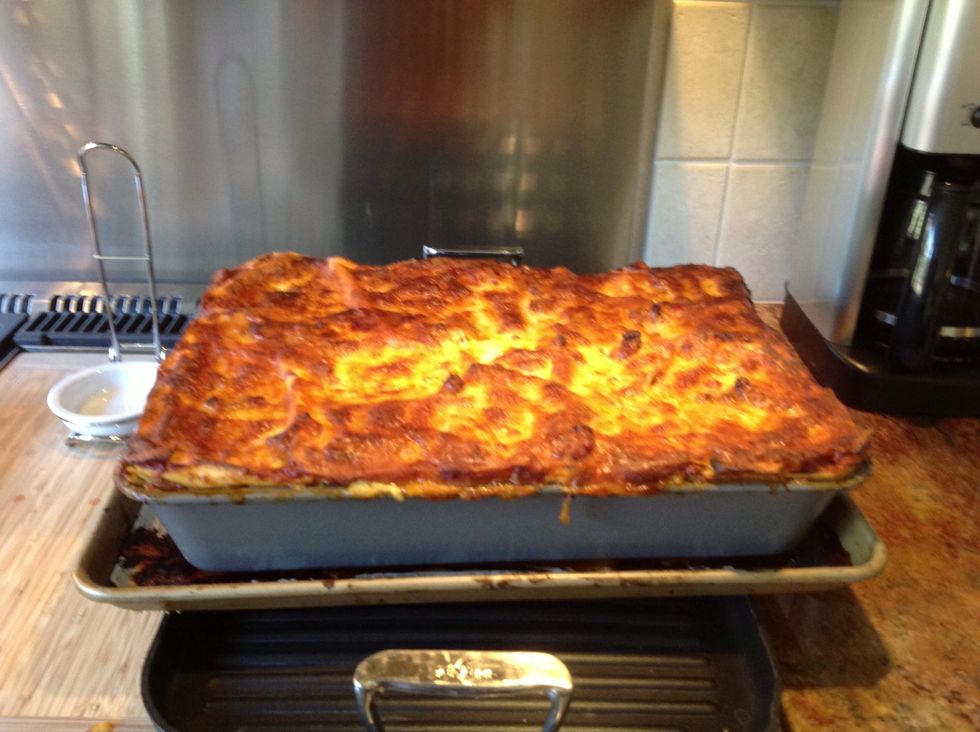 Finished Lasagna.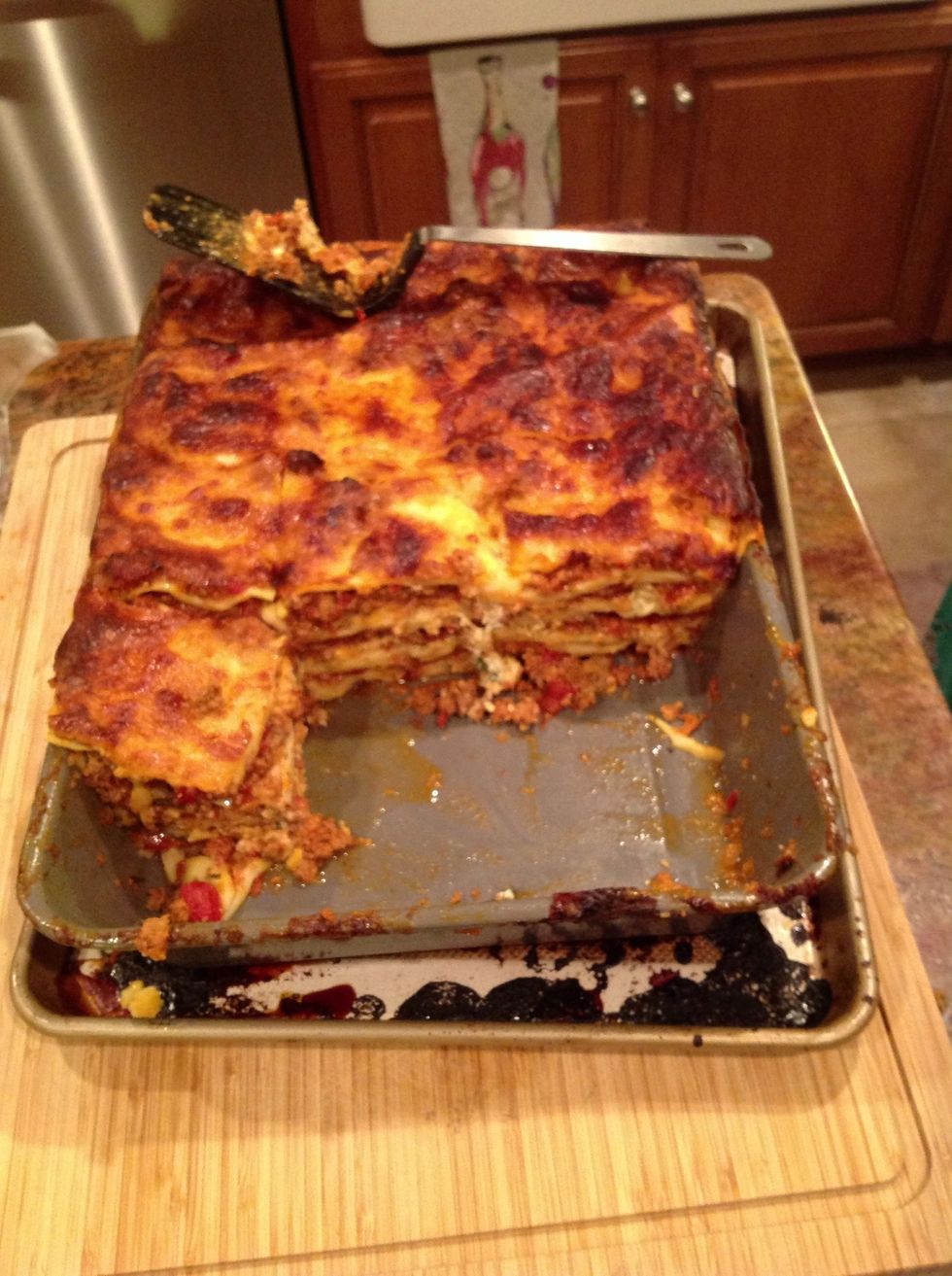 Showing the layers. We cut in 1/3's. a lot of food.
Only a few mushrooms left. Thumbs up!
Lasagna pan
1/2c Flour
6.0 Eggs and water to equal 1 1/2 cups
Kitchen aid with pasta attachments
Large Ricotta cheese
Parsley
2.0c Mozzarella cheese
2.0c Parmesan
1.0 Egg
Mozzarella cheese for layers, as much as you like
Parmesan cheese, for layers, as much as you like
Fresh mozzarella for final topping
Pan for boiling noodles