How to make tea infused lotion bars
Tea infused lotion bars keep your skin nourished and smooth. This recipe is completely adjustable and easy to follow. This guide makes 2 of these amazing tea infused lotion bars.
280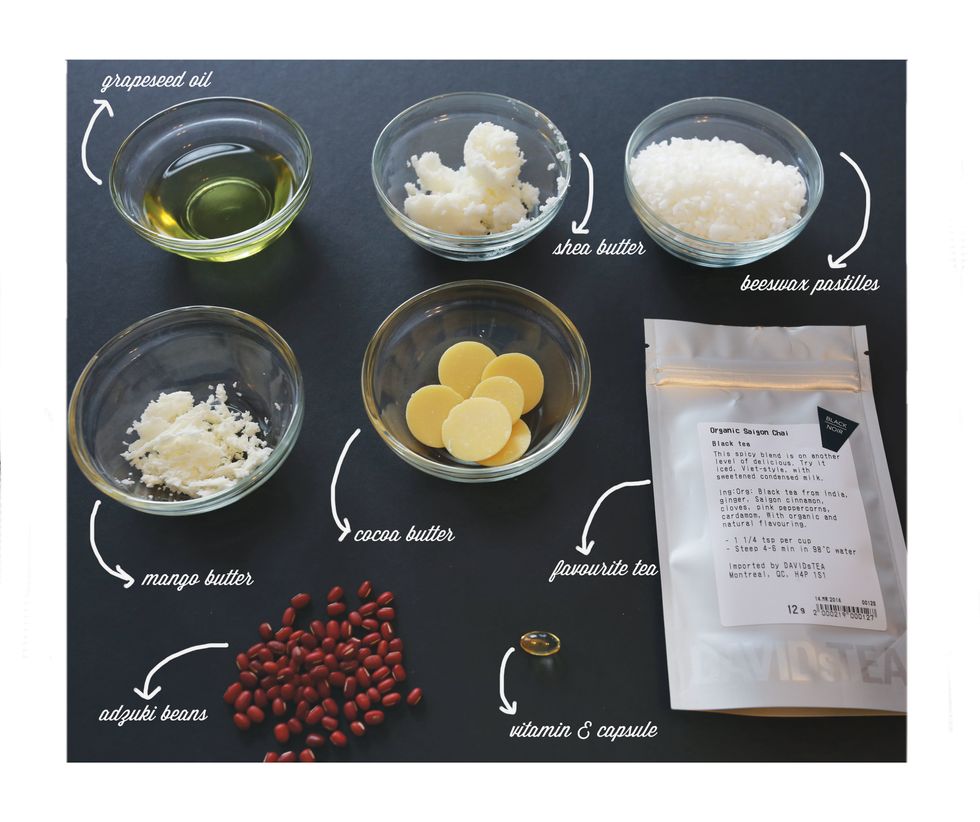 Collect all of your supplies. This recipe is completely adjustable and editable. For harder bars use more wax, and for softer/ creamier bars use more butter/ oil.
In addition to the list of supplies, you will need the following: Measuring Spoons, Measuring Cups, Double Boiler, Chocolate or Soap Mold, Stirring Stick or Spoon, Large Empty Teabag and a Toothpick.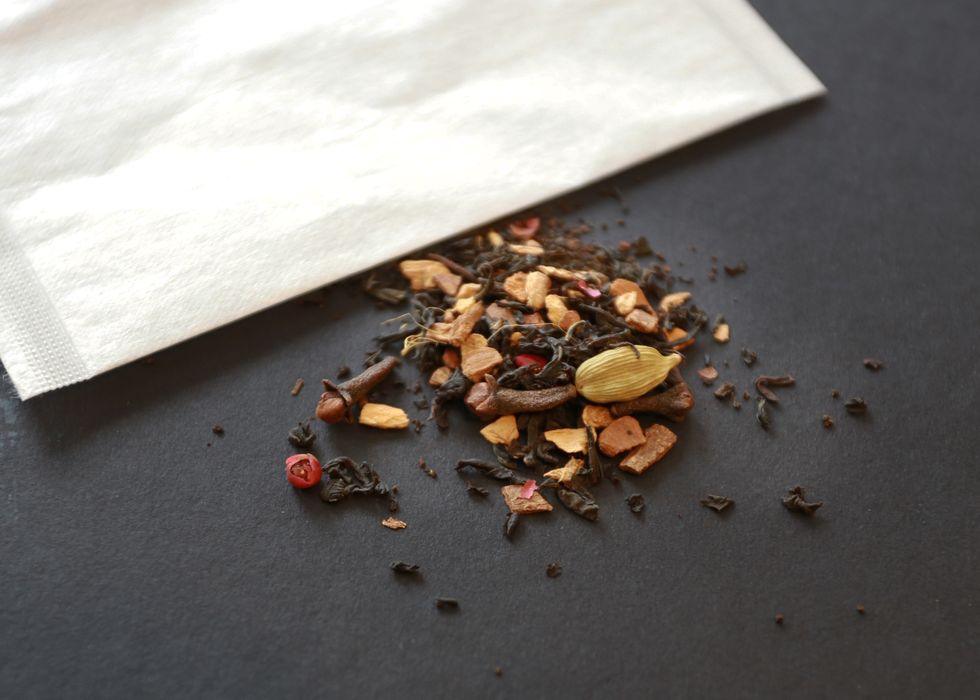 Choose your tea. I chose to infuse my oil with Organic Saigon Chai from Davids Tea. Cinnamon and pepper protect skin. Cardamom reduces toxins and gives skin natural glow. Add 2 tbls to Empty Tea Bag.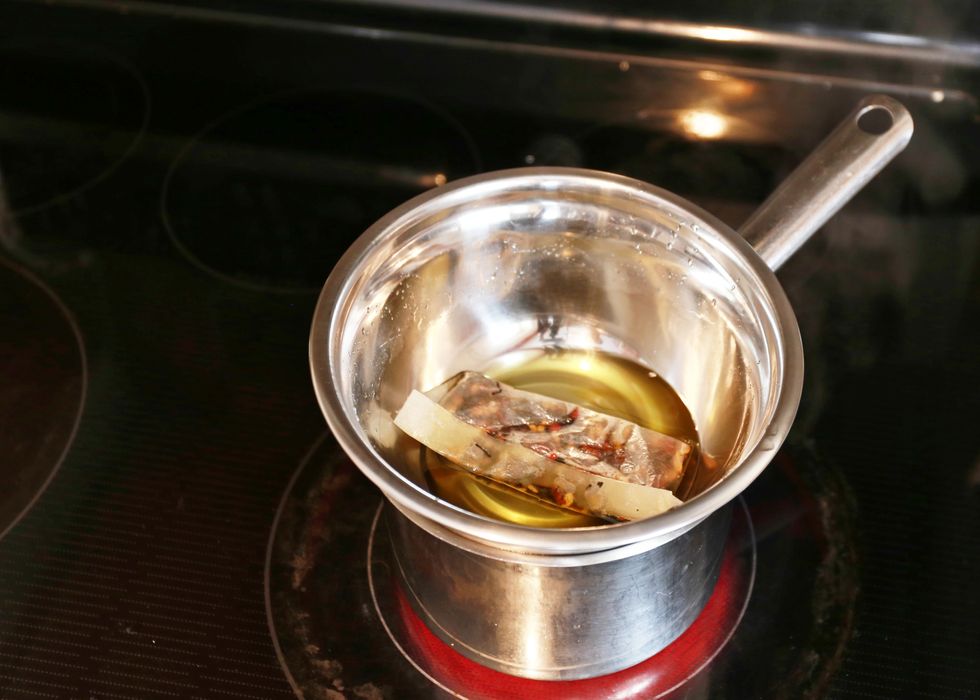 In a small double boiler (or heat-proof bowl over a pot of water) bring 1-2 inches of water to a boil . Add the oil into the bowl with the teabag. reduce heat to Medium.
Infuse the Oil for 10 - 15 minutes or until you are satisfied with the strength of the scent. Stir every couple of minutes. Once satisfied discard the teabag and pour oil into a bowl off to the side.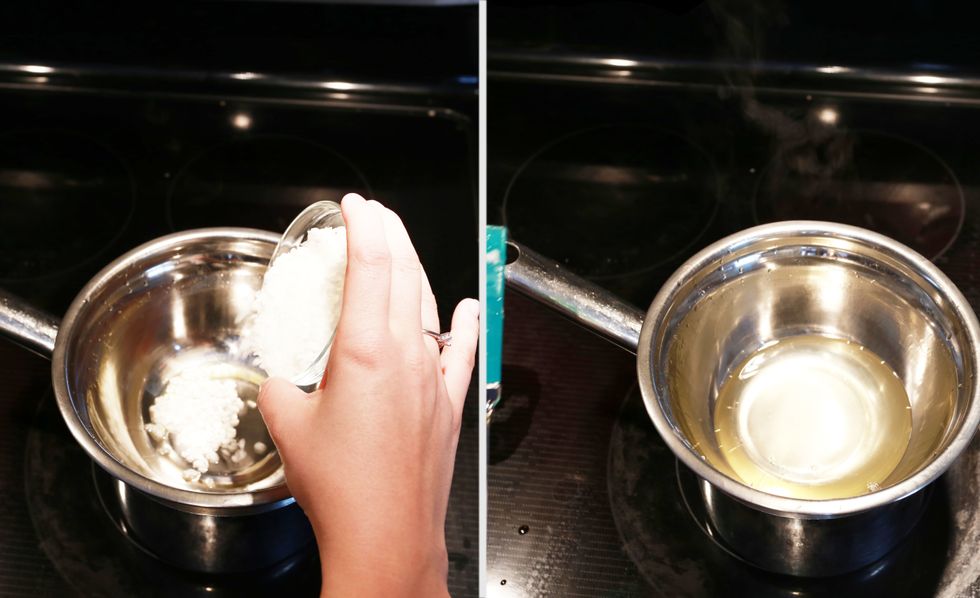 In a double boiler (Medium Heat), pour beeswax pastilles (1/3 cup) and stir until all pastilles are melted. For OPTIONAL vegan recipe substitute beeswax for 1/3 cup of Candelilla Wax.
Beeswax is used to solidify the lotion bar. Substitution: solid piece of beeswax will work as well. Just grate with a cheese grater until you have enough to fill 1/3 cup.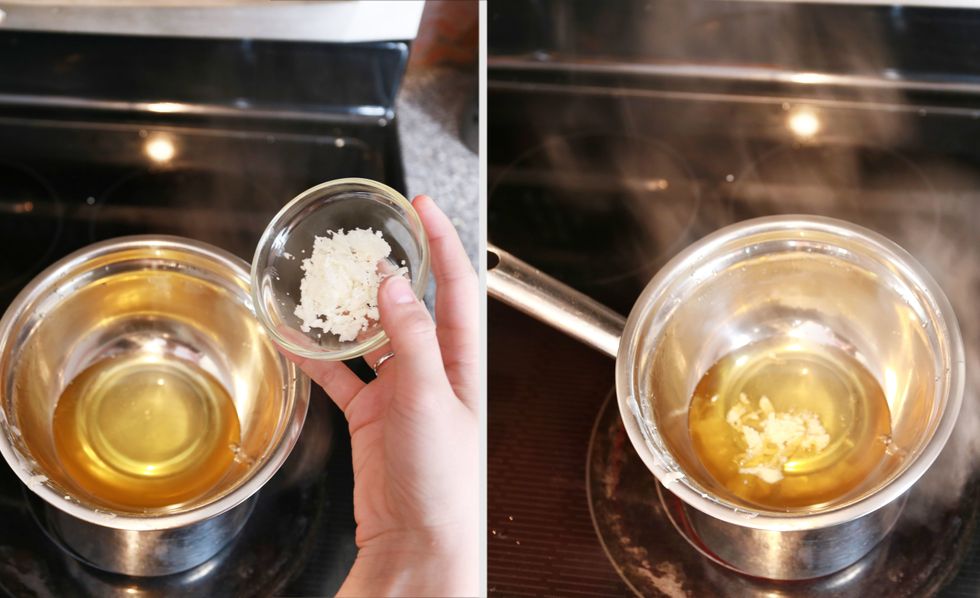 Next, pour Mango Butter (1 tbls) into the melted Beeswax. Stir until Mango Butter is completely melted and incorporated into the Beeswax. Benefits: moisturizes, reduces eczema, protects from UV.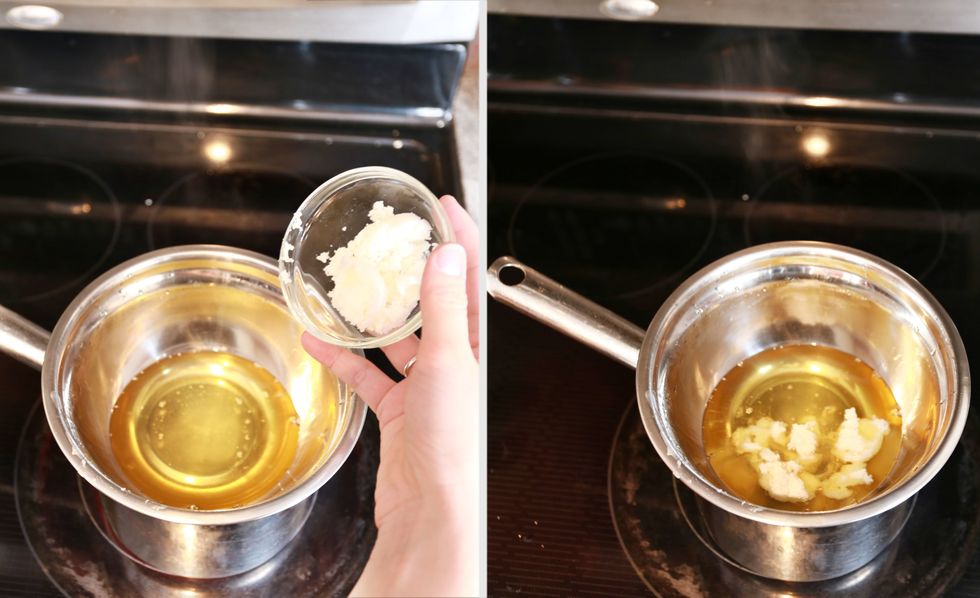 Next pour Shea butter (2 tbls) into mixture. Stir until completely melted and incorporated. Benefits: Deep moisturizing and skin protecting.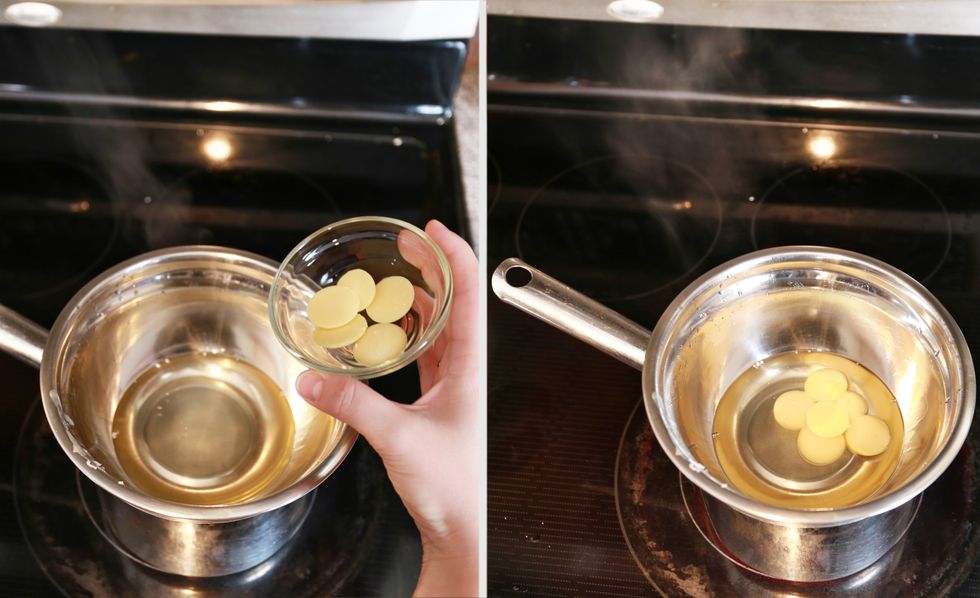 Next pour in cocoa butter (1 tbls or 6 waffers) in mixture. Stir cocoa butter until completely melted and incorporated. Benefits: reduces stretch marks and hydrates skin.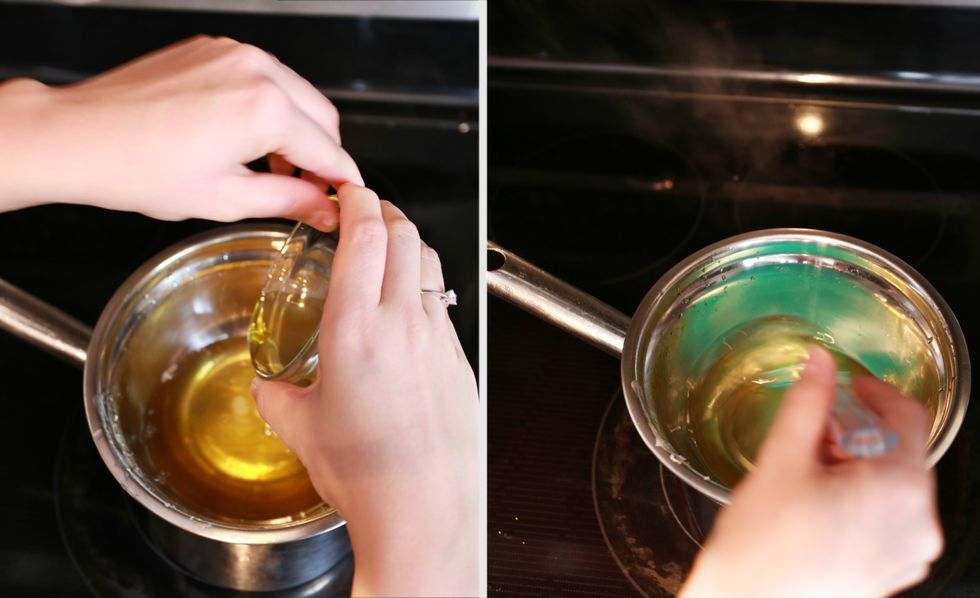 Next pour your tea infused Oil into the mixture. Give a quick stir, turn off heat and remove from stovetop.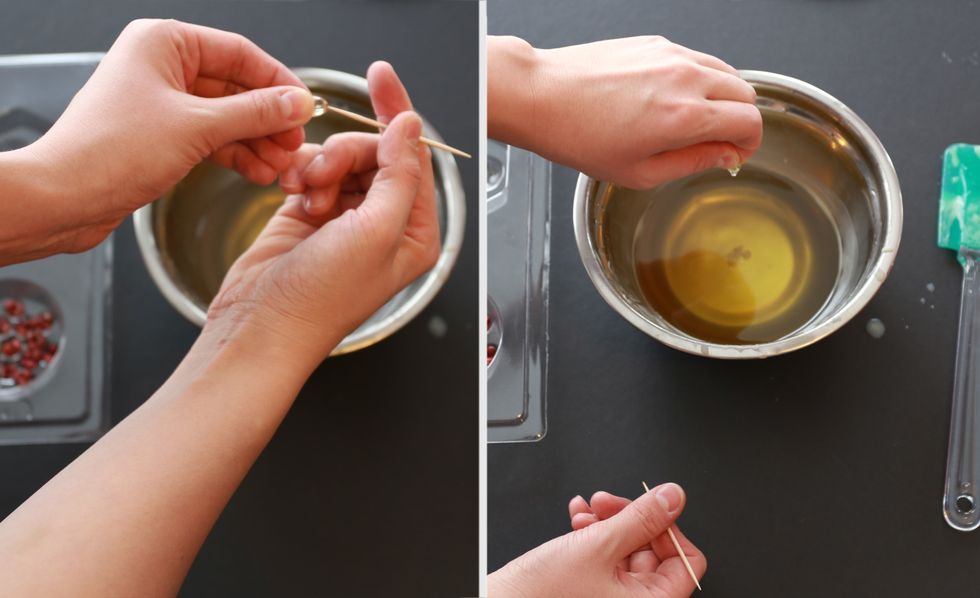 While mixture is still hot, puncture Vitamin E capsule with toothpick and squeeze into mixture. Give a quick stir. Vitamin E is used to help preserve the lotion bars for longer.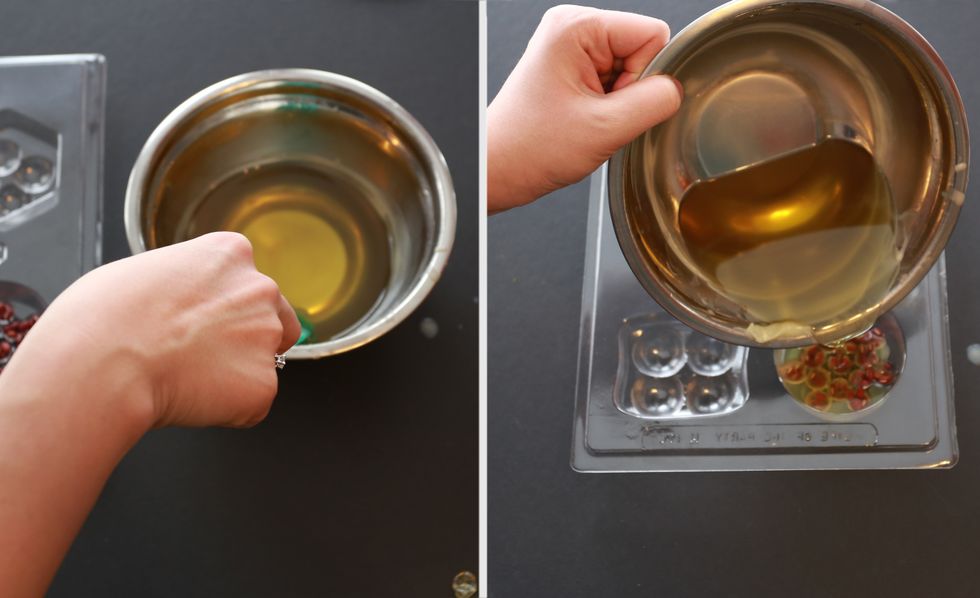 Now you'll need your mold. Pour your mixture into the mold. Optional: I added a 1 tsp of Adzuki Beans to the bottom of the mold. These are used to massage the skin.
You can purchase soap molds from www.canwax.com . I used the Massage soap mold for this recipe. Chocolate or candy molds will work as well.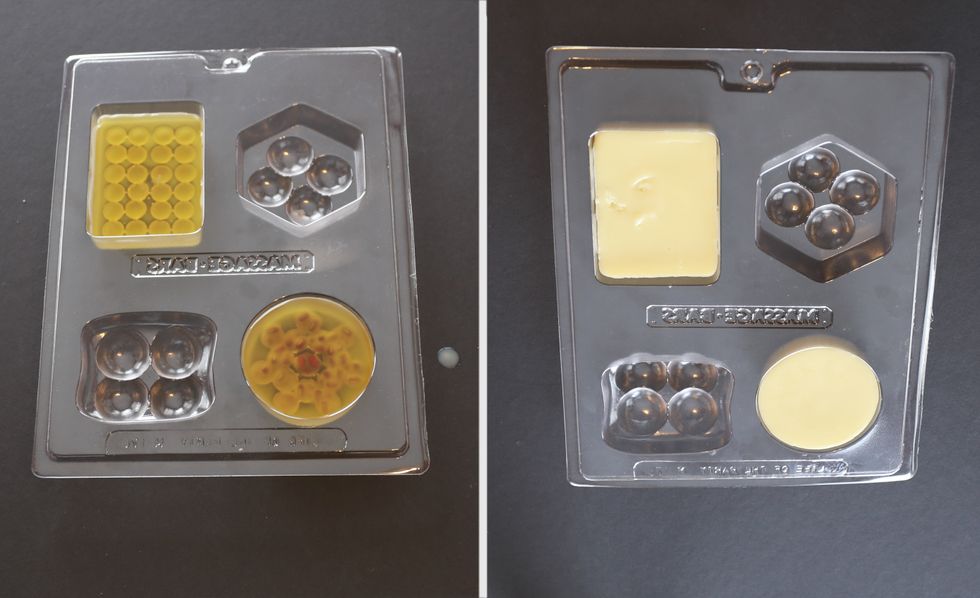 WAITING (Worst step). Once you have poured your mixture wait 15-20 mins for your lotion bars to harden. The bars will begin to pull away from the sides of the mold. Place in the fridge to speed it up.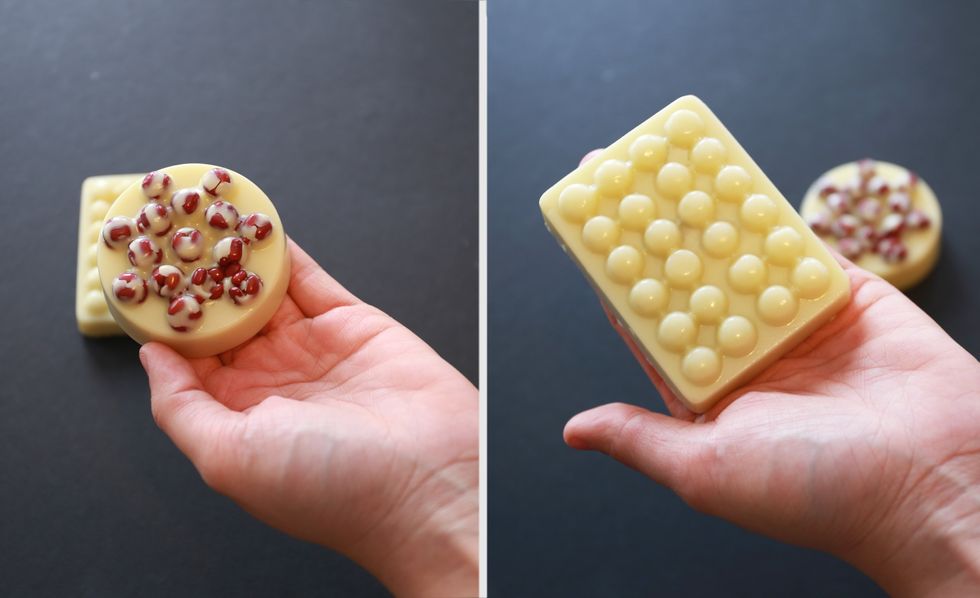 FINAL PRODUCT. Pop your lotion bars out of the mold to reveal. I made one bar with Adzuki beans and one without. To activate the lotion rub on skin or hold in hand to warm bar. Now enjoy!
Note: Lotion bars with Vitamin E have a life-span of 6-12 months. If stored in a sealed container or large tea bag, lotion bars will last longer.
Supplies: all of my lotion bar ingredients were purchased from Online retailers; www.voyageursoapandcandle.com and www.canwax.com . Tea is from DavidsTea. Adzuki beans are from Bulk barn.
1/4c Grapeseed Oil
2.0Tbsp Shea Butter
1/3c Beeswax Pastilles
1.0Tbsp Mango Butter
1.0Tbsp Cocoa Butter
1.0tsp Adzuki Beans
2.0Tbsp Of your favourite tea
1.0 Vitamin E capsule (Purchased from drug store)
1.0 Chocolate or Soap Mold (see step 14 for details)
1.0 Large Empty Tea Bag