This snack is perfect for literally anytime. It's so addictive and yummy! We're using butter & sugar here, and oh well.. it's a guilty pleasure but it's Finger lickin' good!
22
So you have leftover "2-days" bread in the table? Still kinda soft inside but not fresh enough for breakfast? Hmm, what to do.. what to do?
..Well, don't you dare throwing them into trash or giving them away to birds, coz we can make the simplest, finger lickin' snack out of breads! 😍
This is one of the easiest yet yummiest snack recipes I've ever made. It's so easy, in 1 2 3 you'll be like, "What did you just do??"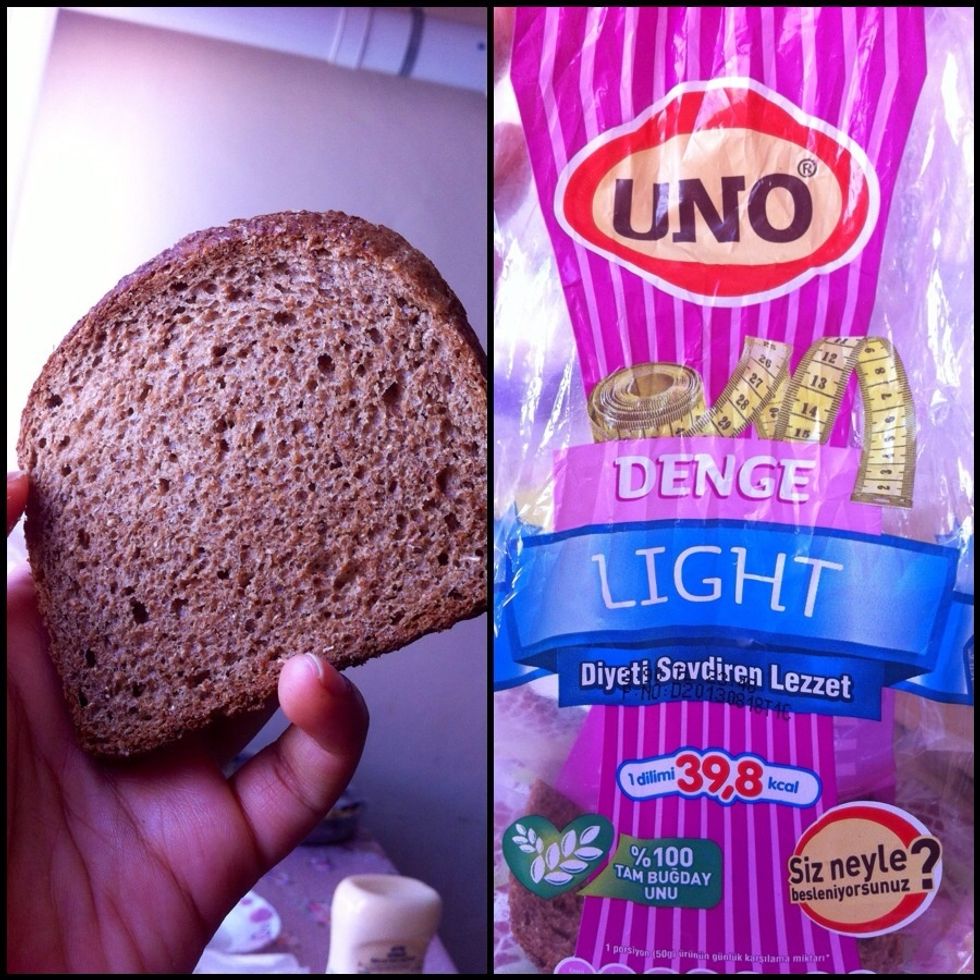 I found some breads hangin around the table in my kitchen & I thought, "Well hello there boring breads, let's do a makeover". I'm using a diet/light bread for this recipe.. but any type will do.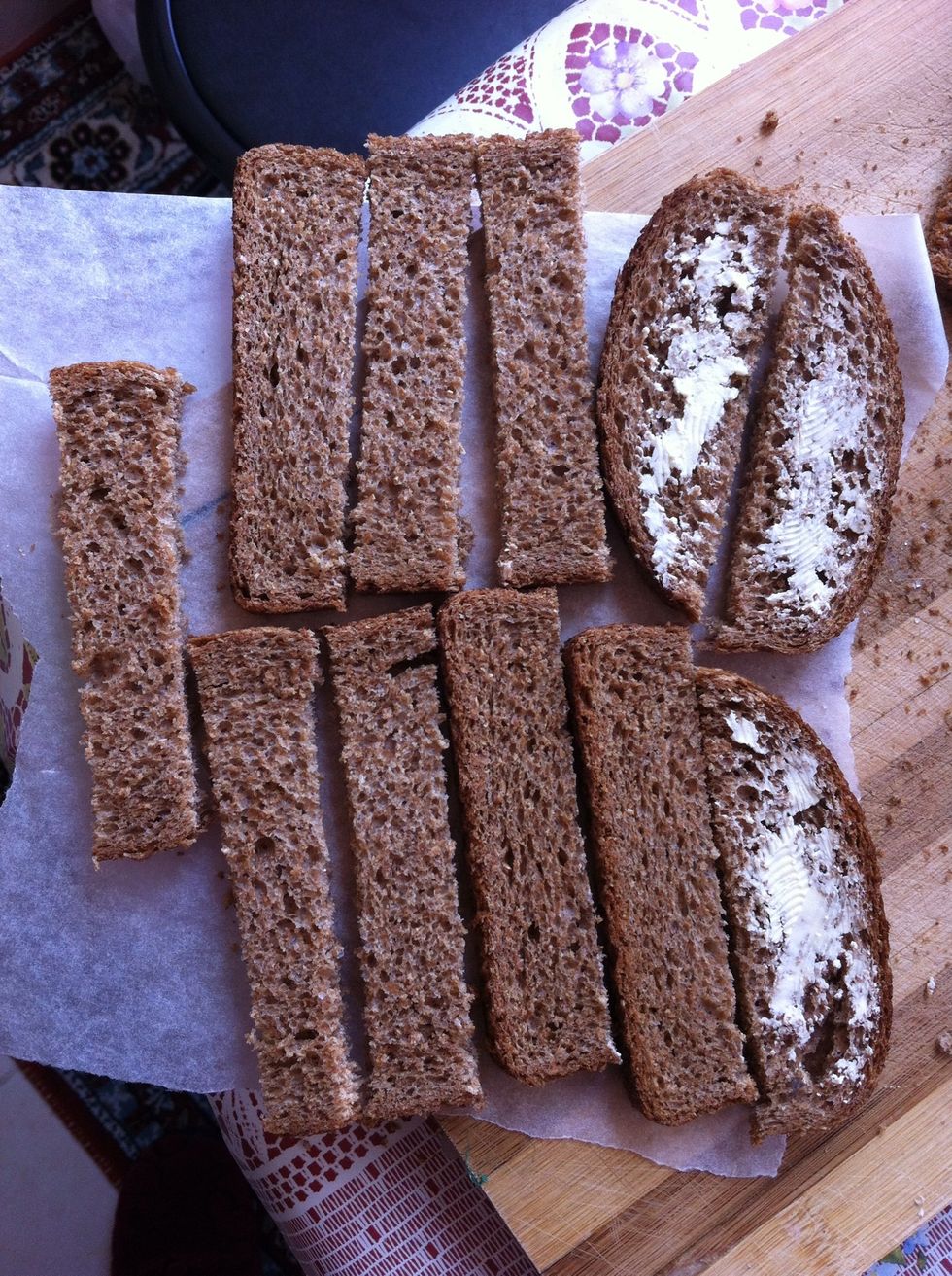 Cut the breads into long pieces like shown (I recommend you NOT TO butter the breads before putting them up in the oven. They will crack easily & you'll have too much grease later on. True story)
Set the oven to 100-120C (212-248F), put parchment paper/baking sheet in the oven tray. Set the bread pieces in rows, neatly, or else momma will yell at ya!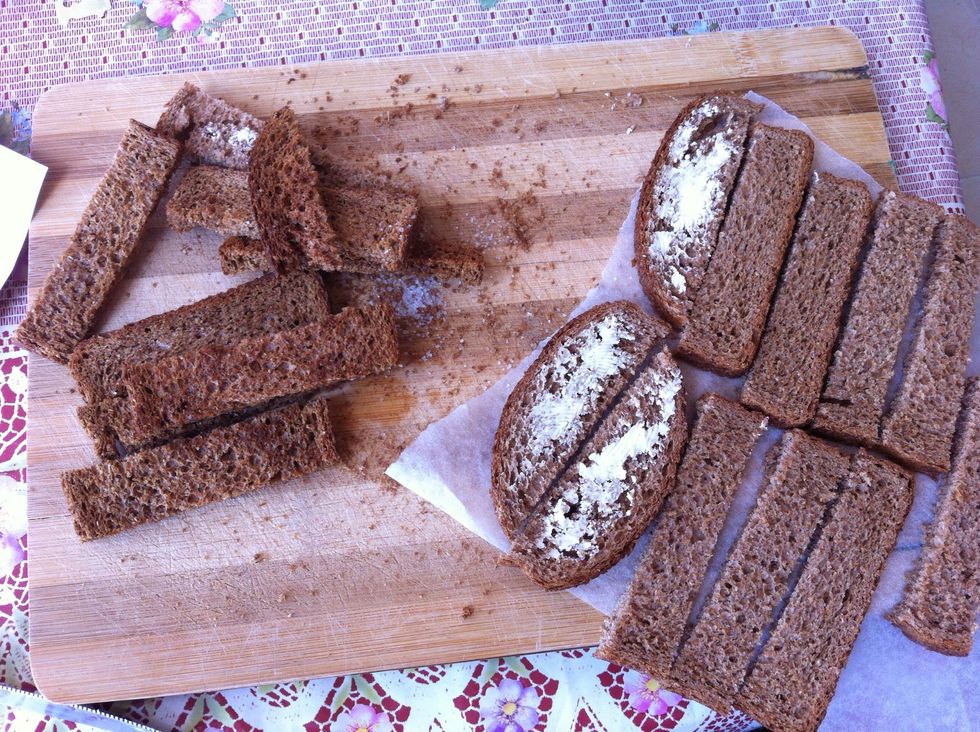 Bake for a good 15-20mins till fingers turn Golden Brown (like shown). See the color difference? Left is all done and Right; ready to bake!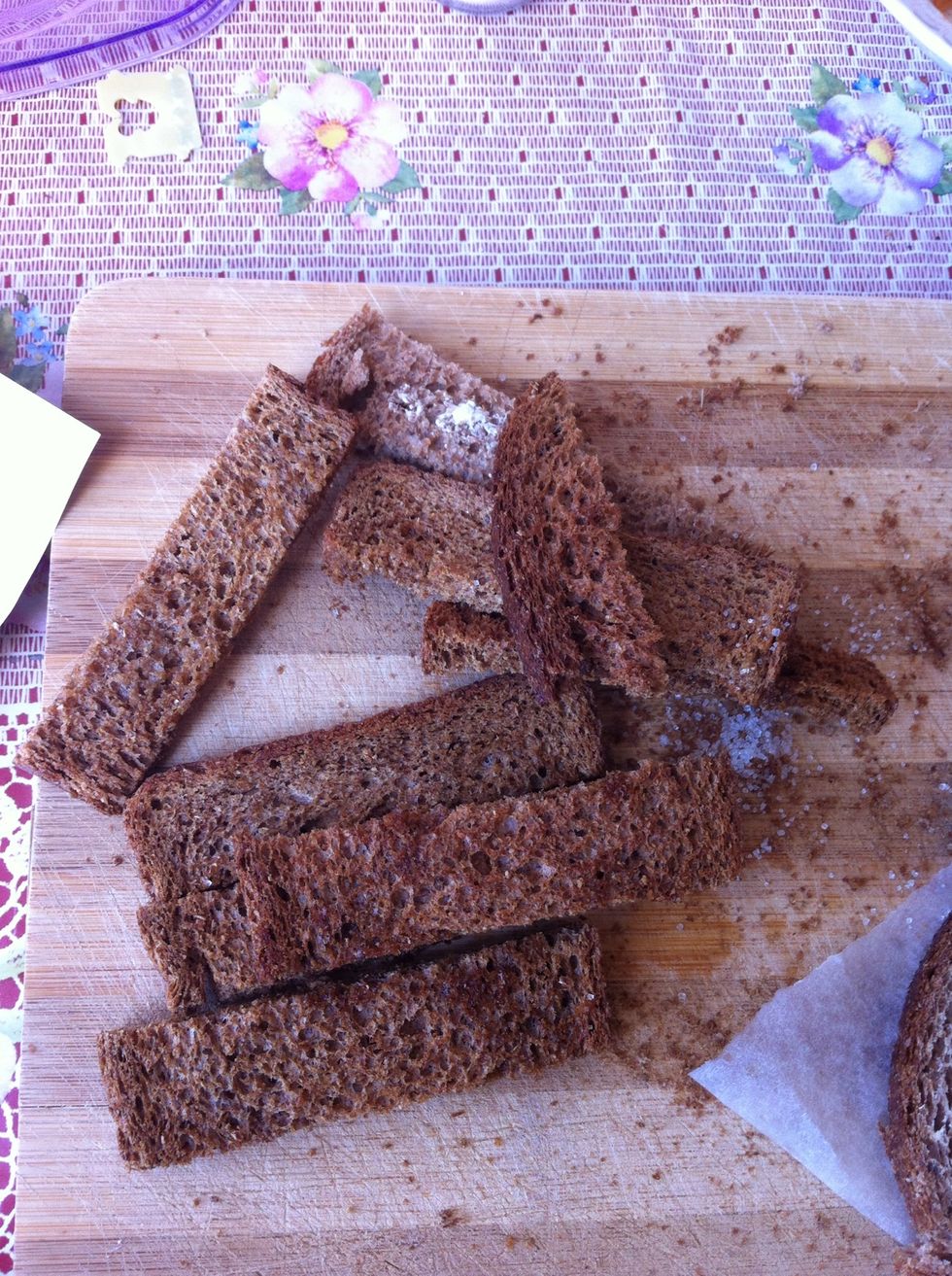 Let our crispy golden brown fingers cool down. WAIT for a good 5-10 minutes. You might wanna make sure that when you spread the butter, it won't melt down.
Spread some butter on top of our crunchy bread fingers! Yummeehh!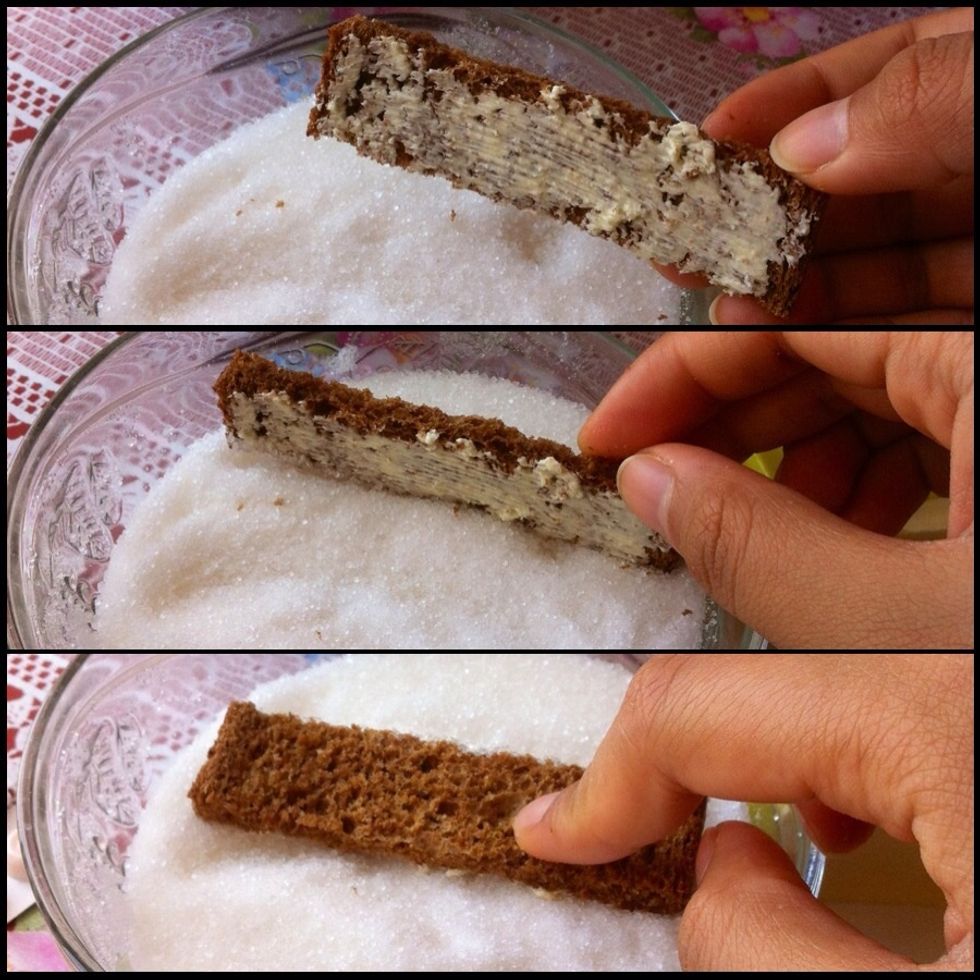 Hmm.. this is the fun part! "Dip" our buttered fingers into a bowl of sugar. Ha! Piece of cake!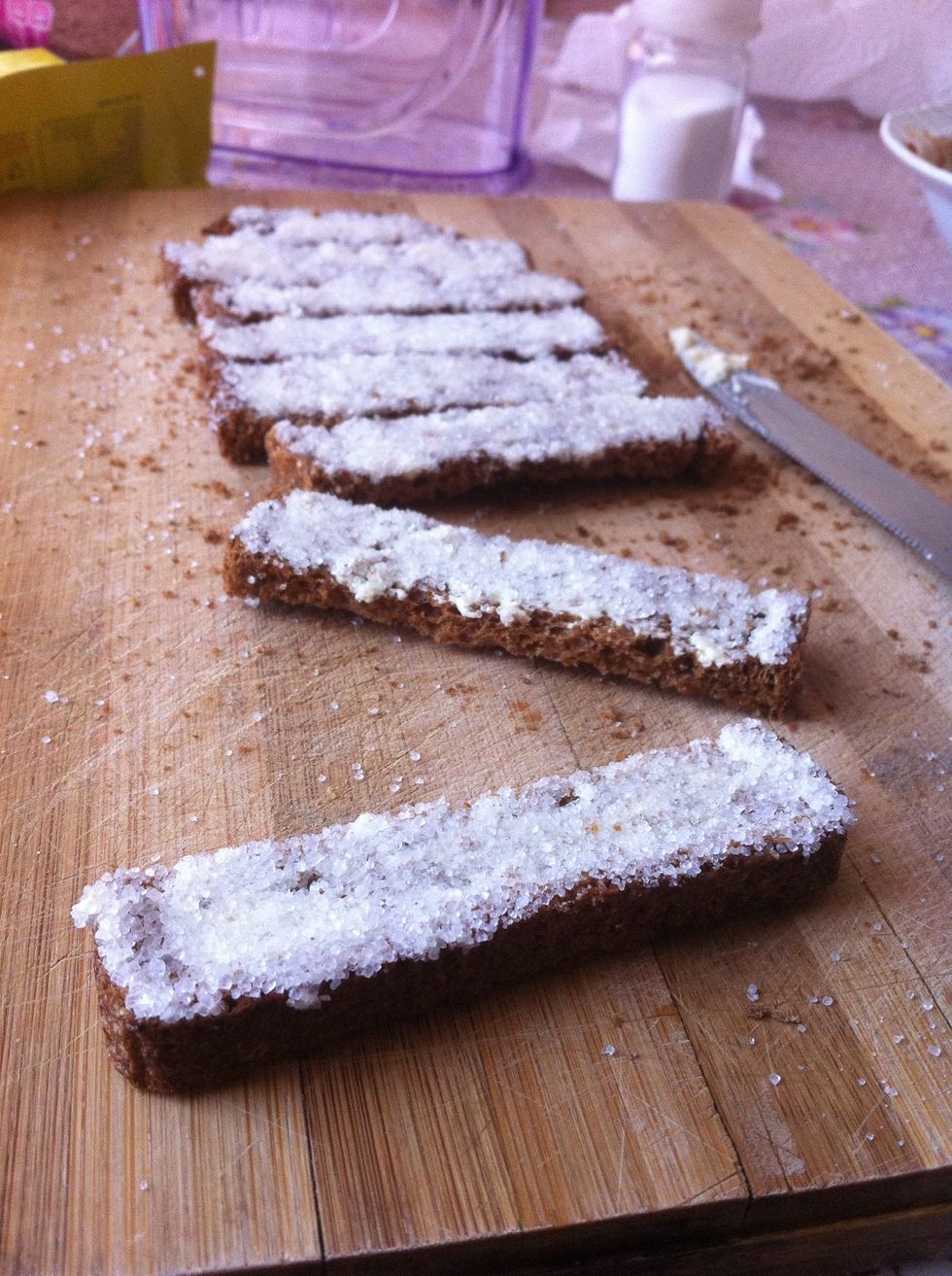 TADAA~ And here is the final result! As easy as 1 2 3! As simple as do re mi! Hope you enjoy your Finger Breads snack!
(My favorite) Optional spreads or toppings: Coconut sprinkles, baked Sesame Seeds, Cream Cheese, melted Mozzarella, dried Mint Leaves, minced Pepperoni, etc. Get creative with your own selection! ;-)
This kinda snack is actually pretty good to accompany your movie nights or even small house parties. Even though it's very simple, but there's just unexplainable flavor & happiness while eating them!
Let me know about your feedback, and I may post another guides about beauty, home remedy, and health-related stuff in the future. Good luck amigos!