First, you need to cook the sushi rice.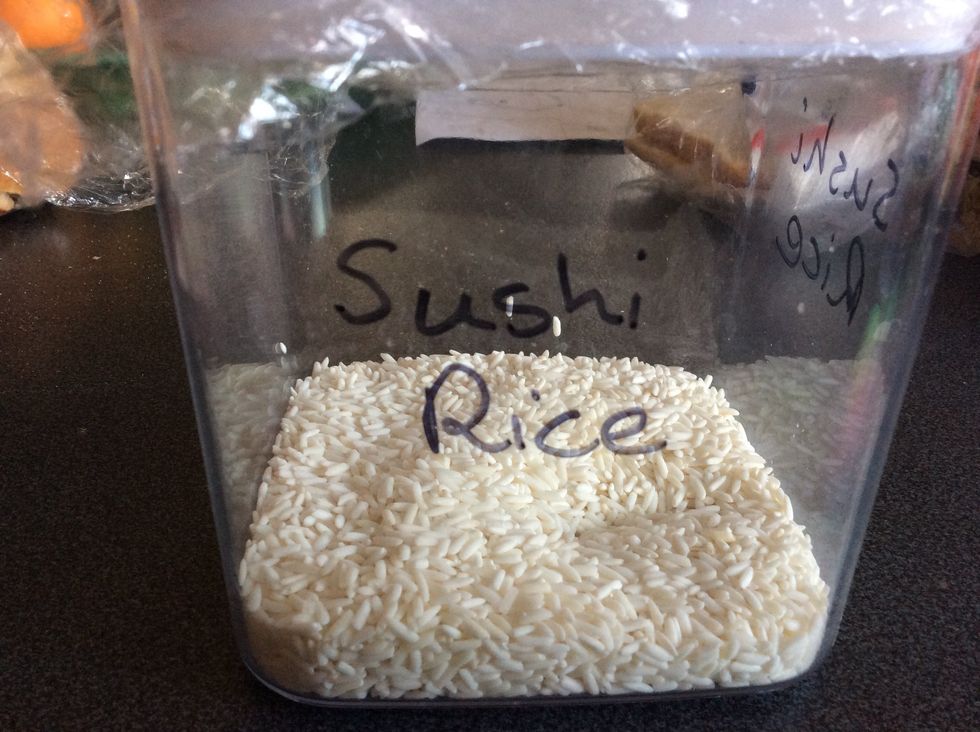 While the rice is cooking, put the rice wine vinegar and sugar into a small deep saucepan. Have it on medium heat until the sugar has dissolved.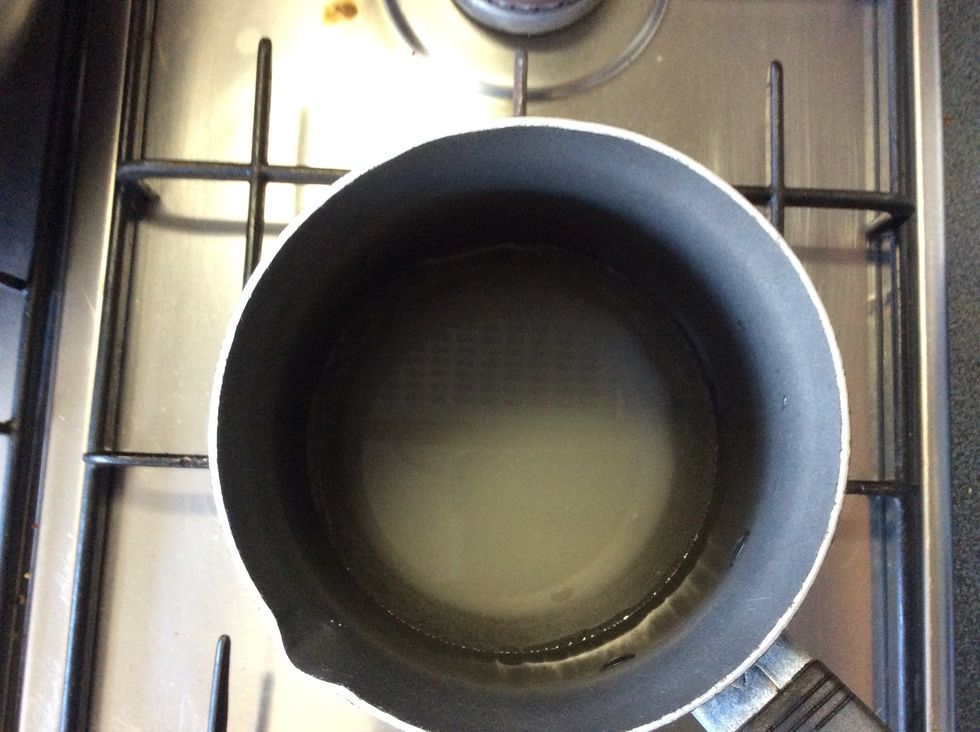 Once the rice is cooked, you need to spread out all the rice onto a large flat tray.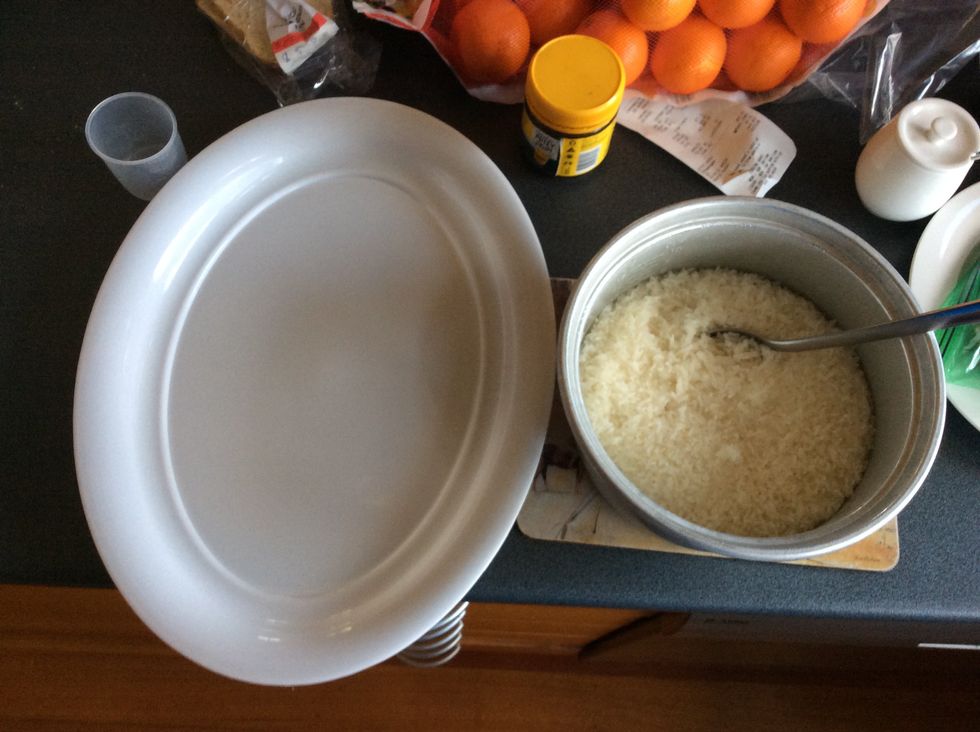 Like this. Next, you need to pour the RWV and sugar over the rice evenly. * RWV = Rice Wine Vinegar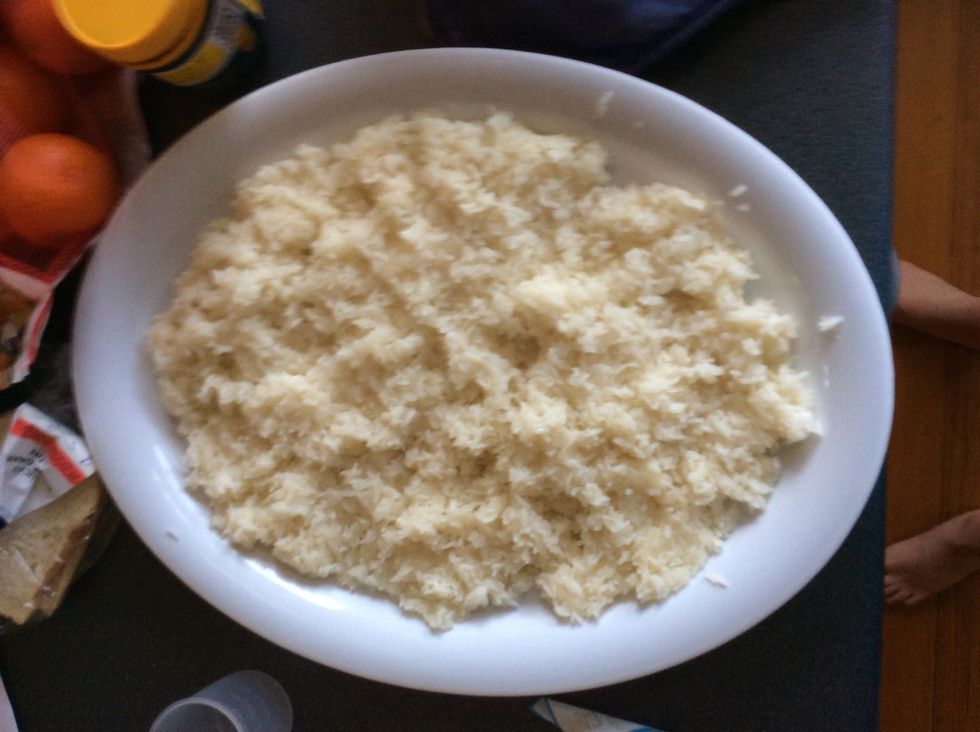 Then you have to turn over the rice to make sure it mixes through.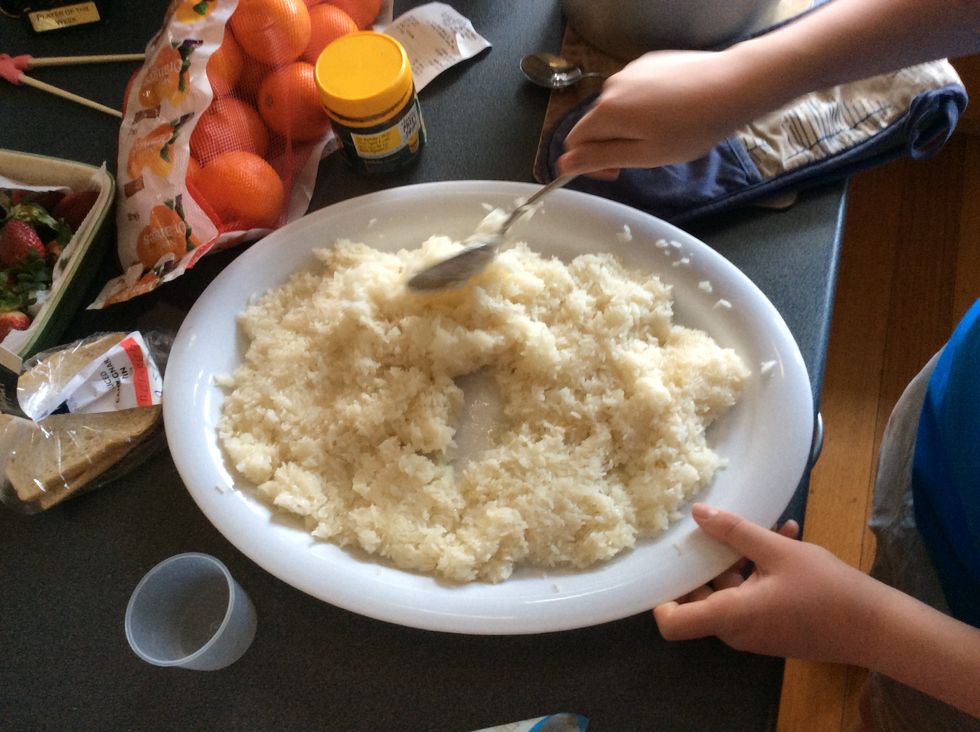 Now just put a damp tea towel over the top to keep the rice from drying out and cool it down.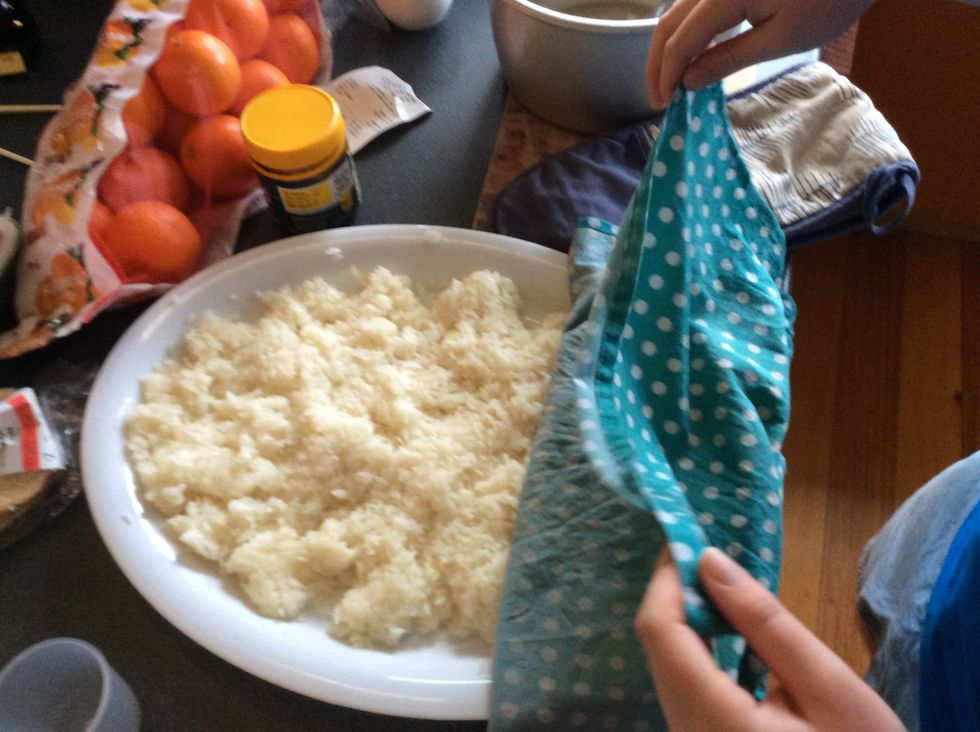 Now for the tuna. Empty it into a bowl.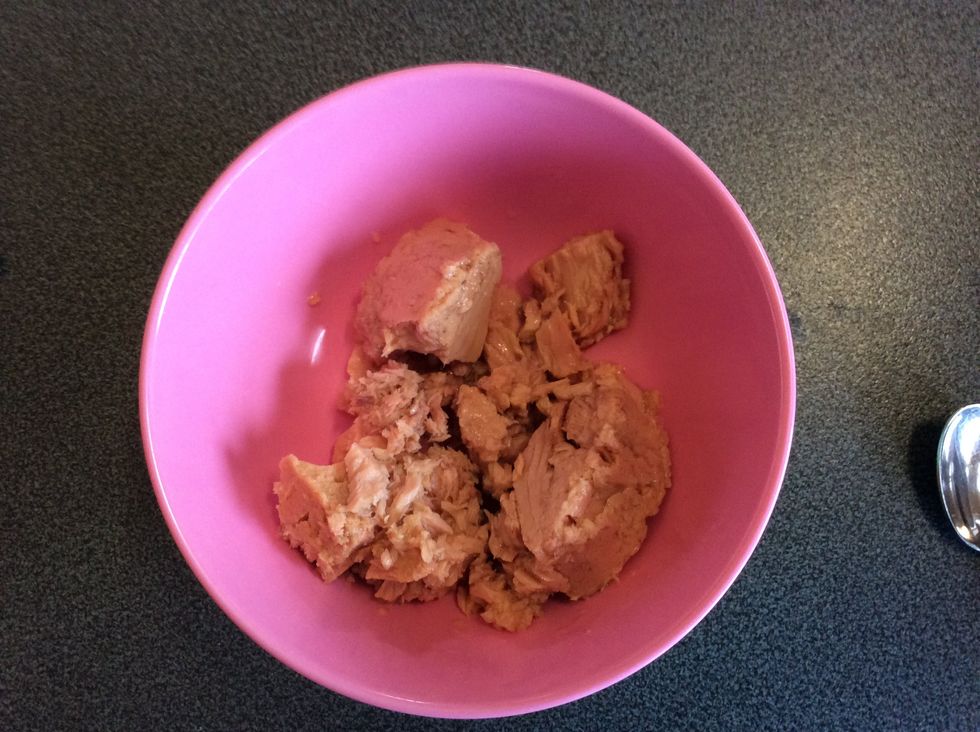 Then add a dollop of yoghurt.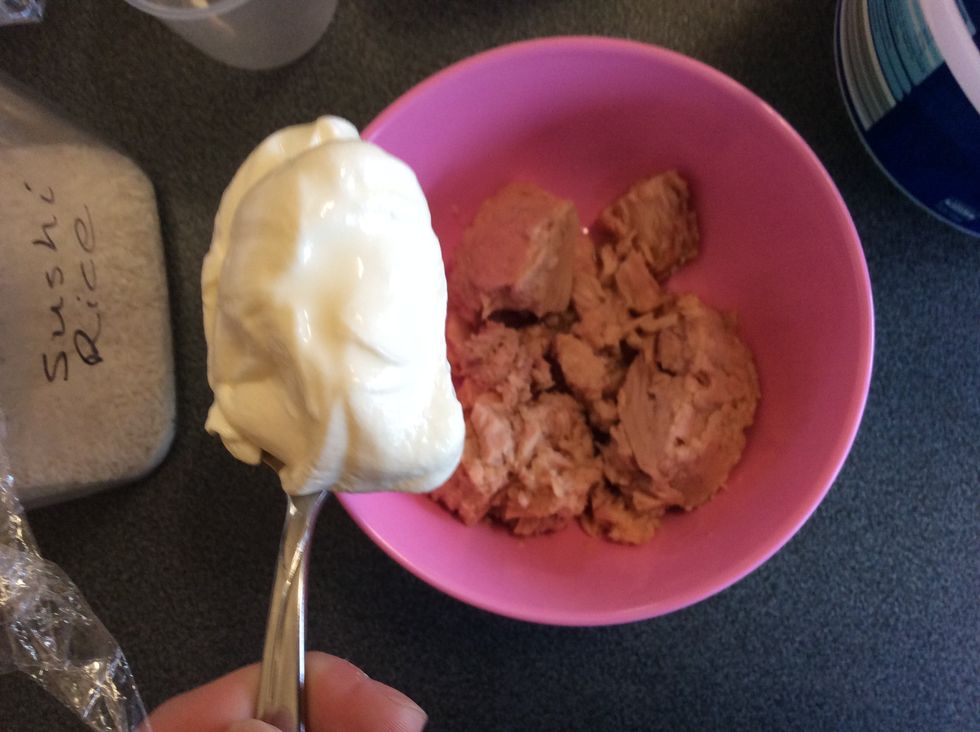 And mix and break down with a fork. Now put it aside for the assembly a bit later.
Now for the cucumber. Cut some of it in half lengthways, then again.
For the avocado, cut it in half, make slices through one-half, and spoon them out.
Now for the assembly. Get out your bamboo rolling mat and put it on top​ of a chopping board. Then put your Yaki Nori sheet on top of the mat, shiny side down.
Now wet your hands in the bowl of water and RWV, and spread the rice out evenly on about 2/3 of the Yaki Nori sheet.
Once you've done that, get a wooden utensil and wet the handle. Then press down firmly and slide it across the rice, making a ridge like this.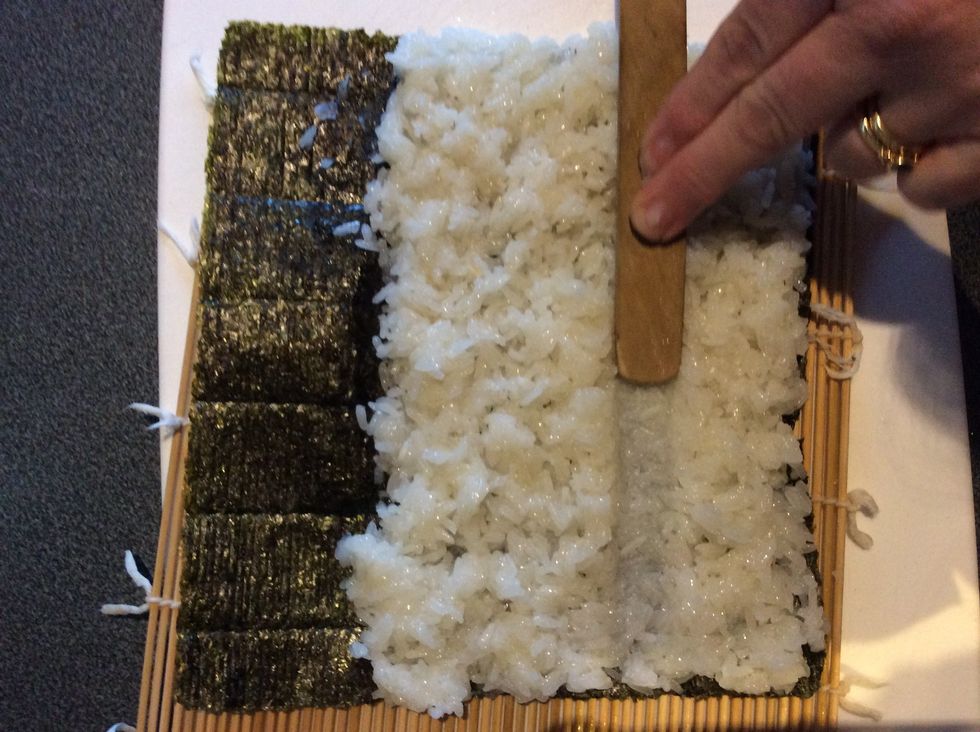 Then add the tuna into the ridge.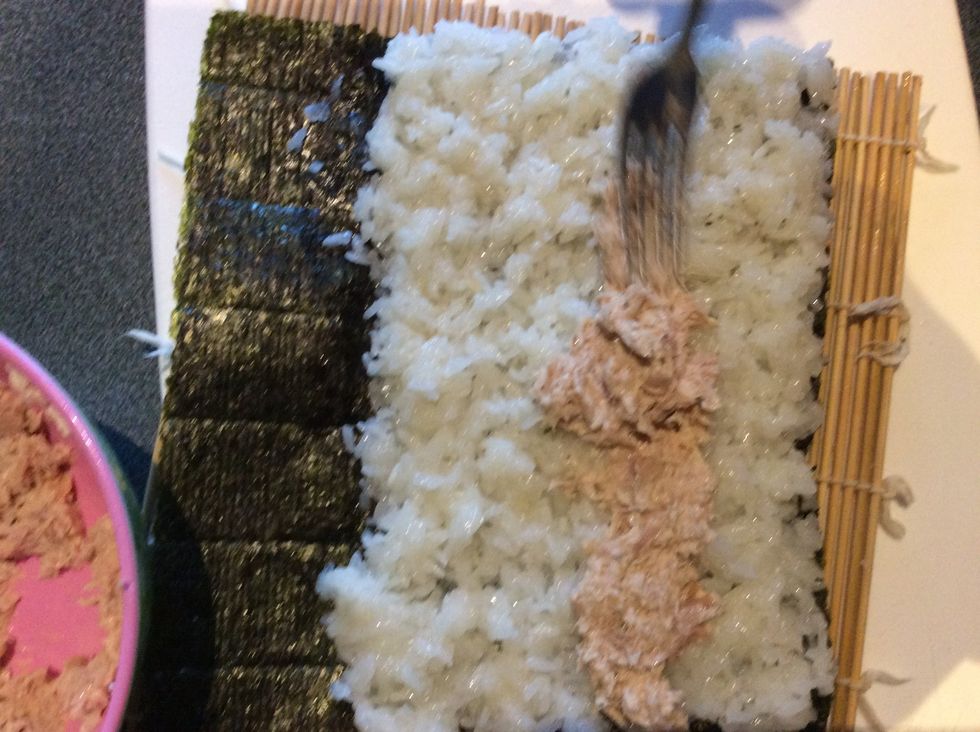 And the cucumber on top.
Now for rolling. Make sure you keep the bamboo mat tight with the sushi itself.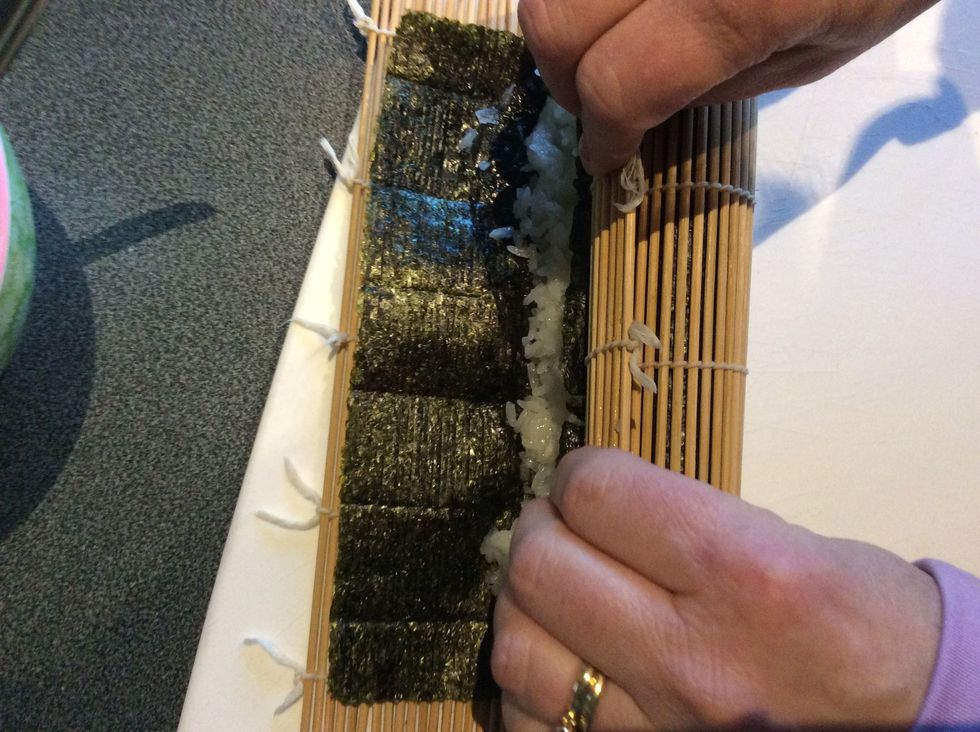 When you get to this point, wet your fingers again with the RWV water and spread it all over where the rice isn't.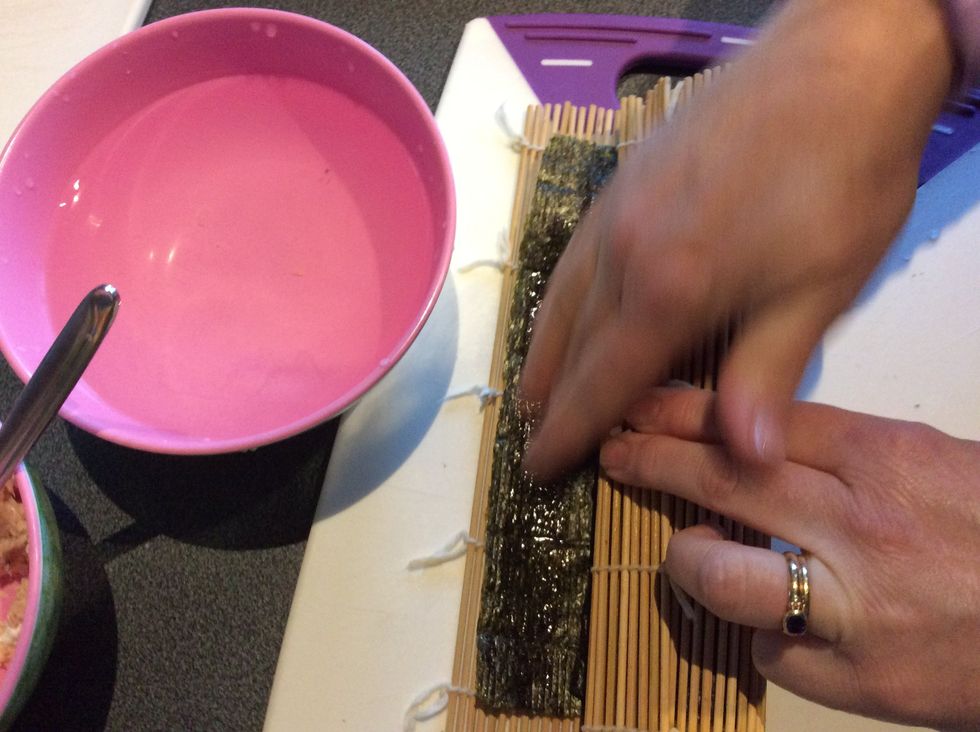 Then finish rolling the sushi.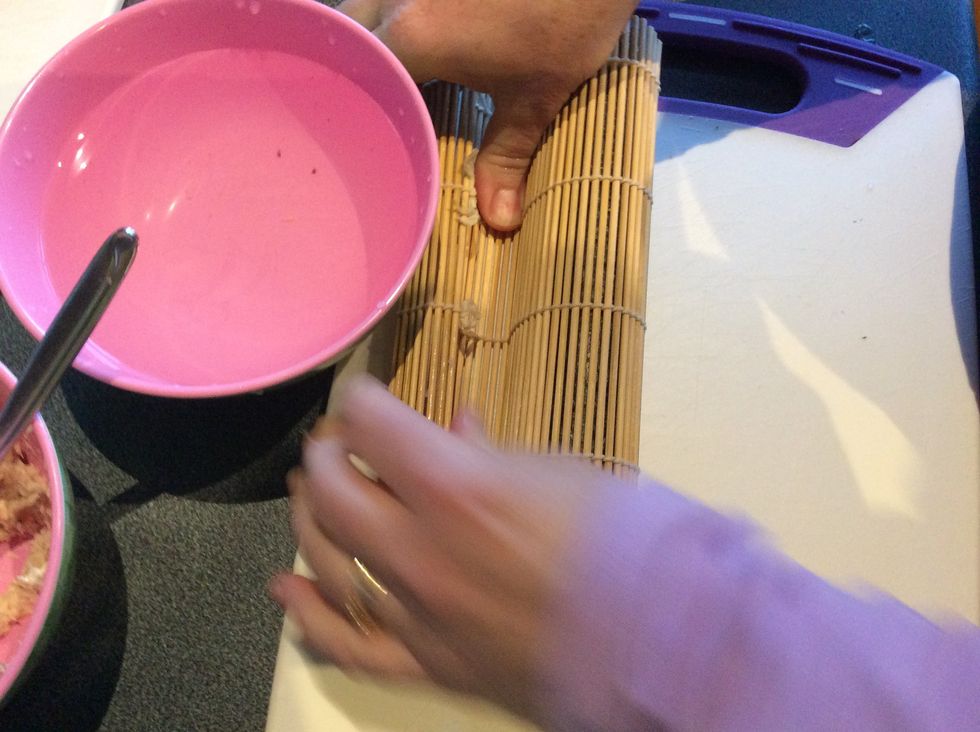 It should look something like this: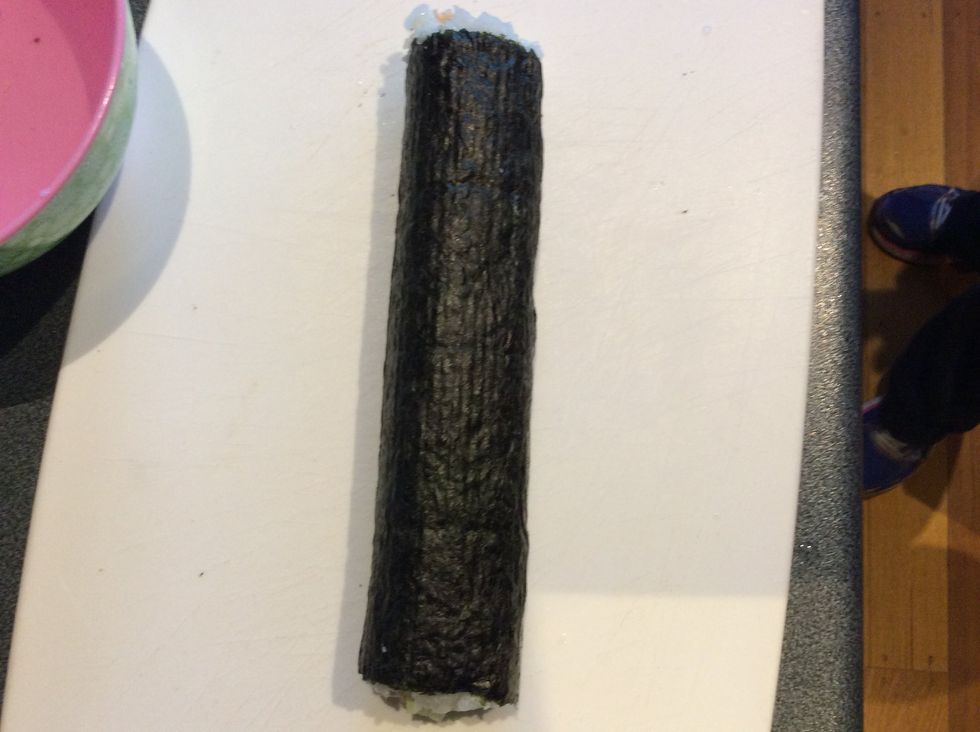 Now do the same with the avocado.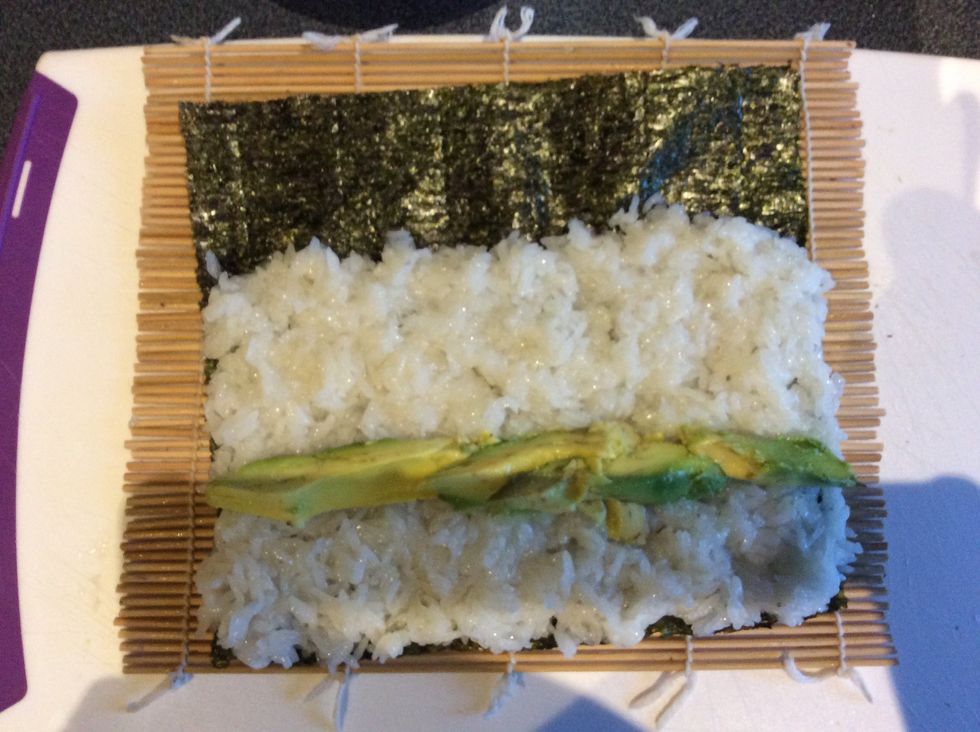 Now serve and enjoy!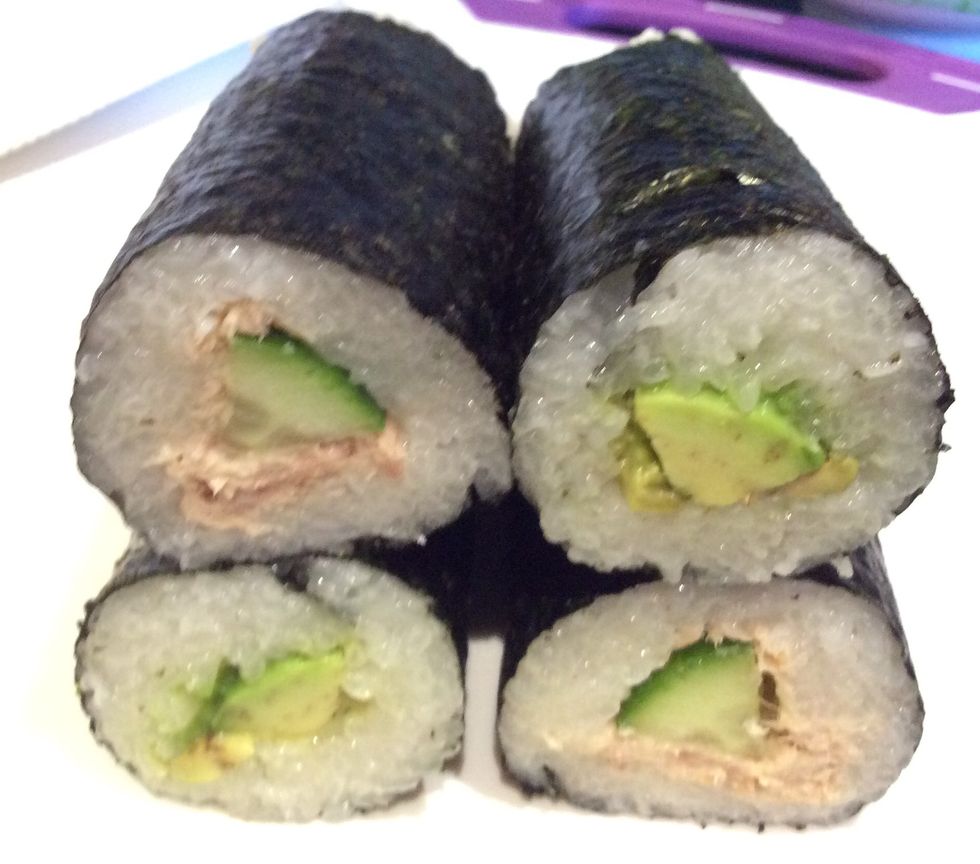 You can add Soy Sauce and Wasabi if desired.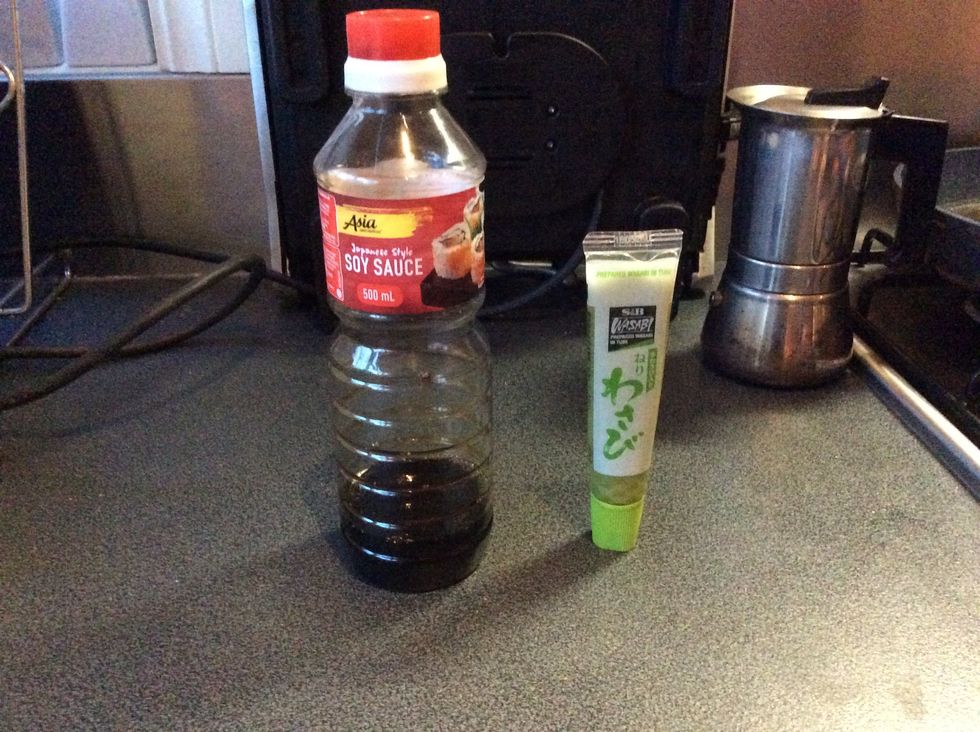 Ingredients:
2.0 Yaki Nori (Seaweed Sushi Sheets)
2.0c Glutinous Rice
2.0Tbsp Rice Wine Vinegar
1.0Tbsp White Sugar
1.0 Cucumber
0.5 Avocado
95.0g Canned Tuna
1.0 Dollop of Yoghurt
1.0 Bowl of Water w/ dash of RWV
Soy Sauce (if desired)
Wasabi (if desired)
Utensils:
1.0 Small Deep Saucepan
1.0 Large Flat Tray
1.0 Large Spoon
1.0 Damp Tea Towel
1.0 Bowl
2.0 Spoons
1.0 Fork
1.0 Knife
1.0 Chopping Board
1.0 Bamboo Rolling Mat