Make Stuff Peppers W/ Turkey and Black Beans
These peppers were fantastic! Really easy to make and not much time at all. Preheat your oven to 350 degrees, grab your cutting board, a saute pan and a few simple ingredients!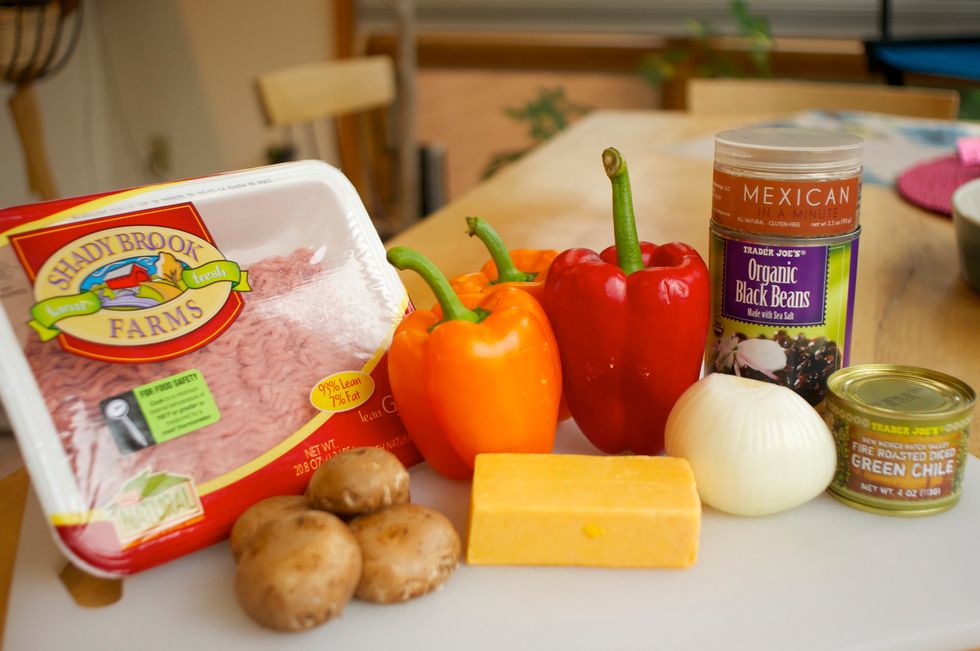 You can make this recipe with turkey, beef, pork - whatever meat you want. But we wanted to be a little on the lean side so we used whole ground turkey - not just ground turkey breast.
Here in America you can buy ground turkey breast or whole-ground turkey. Turkey breast is leaner with no other turkey parts. I prefer whole-ground turkey since it has a bit more fat and flavor.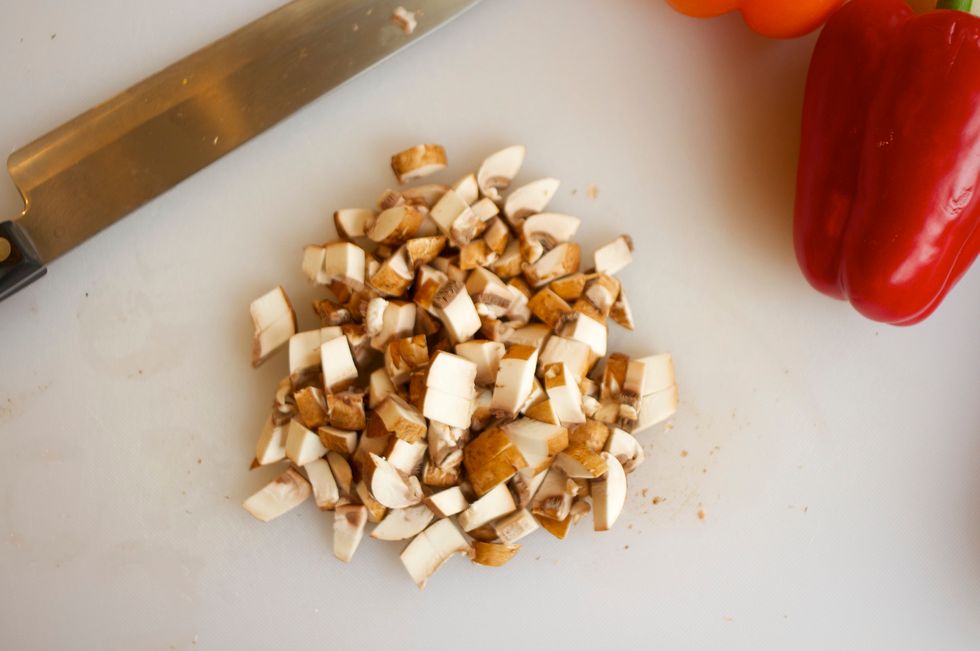 Make sure you wash your mushrooms well. I have yet to buy mushrooms that don't have a little residue of dirt on them. Chop them into about 1/4" sizes.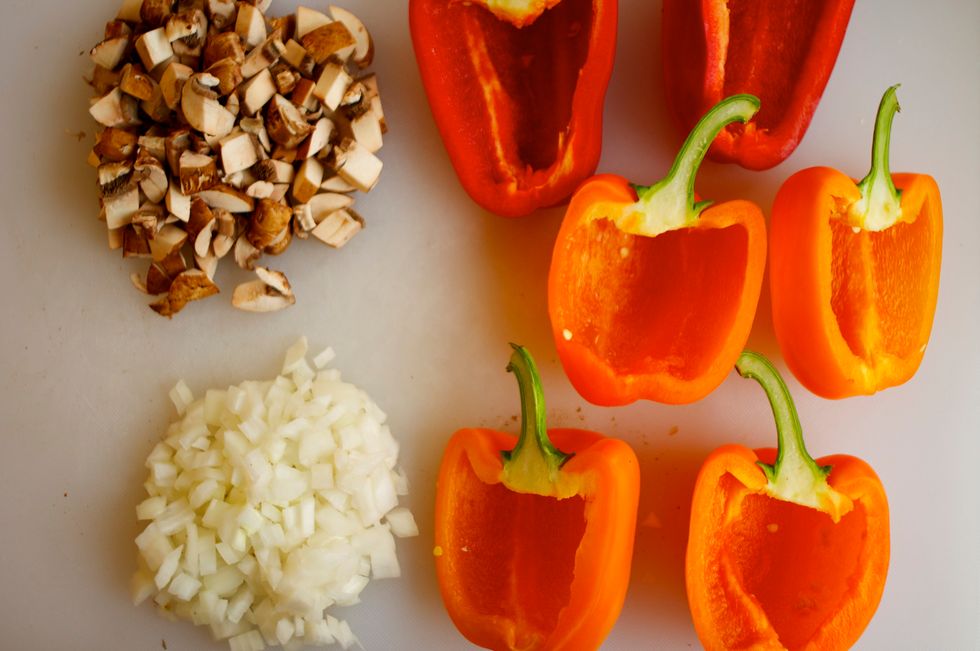 Dice the onion about the same size as the mushrooms, 1/4" dice. Cut the peppers in half, lengthwise, and remove the seeds. You can cut the tops off if you prefer to stuff the "whole" pepper, not 1/2.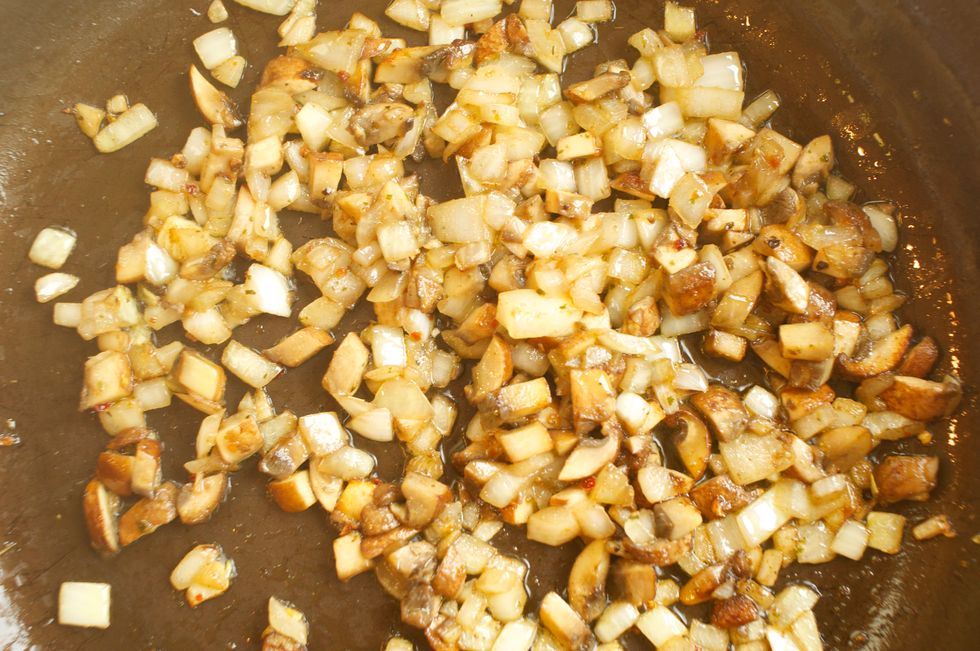 Add 4 tablespoons olive oil to your pan over medium-high heat. Once it's nice and heated, add the onions and the mushrooms, as well s 1 teaspoon of Mexican in a Minute. Saute for about 7-8 minutes.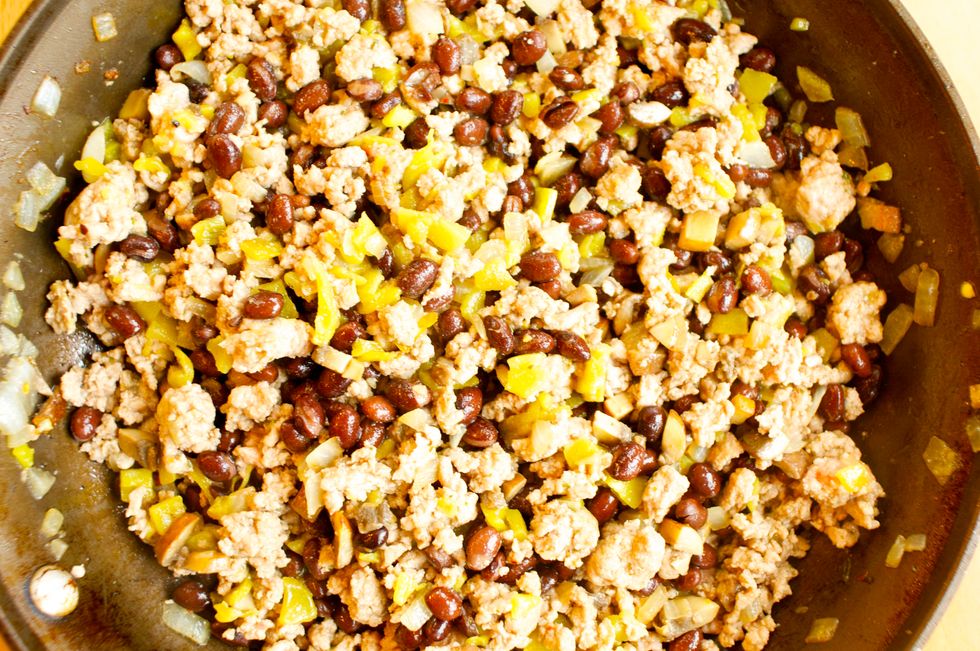 Add the turkey and last 2 tsp. of Mexican in a Minute and cook it about 50%. Add the beans and green chili and mix well. Remove from heat. Don't over cook it now. It will finish cooking in the oven.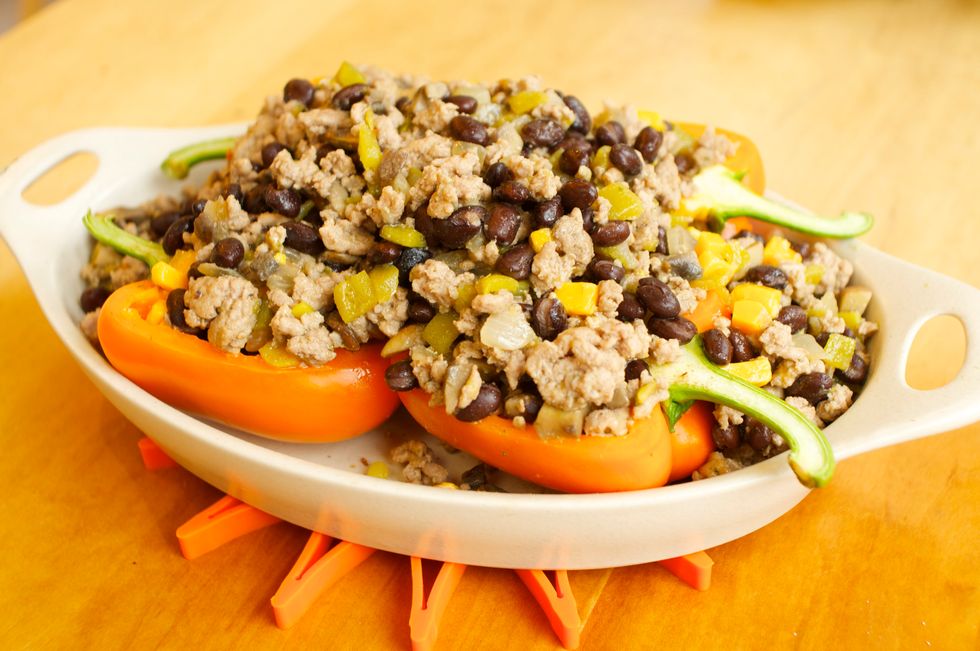 Add the 1/2 cup cheese with the turkey mixture, then grab a baking dish large enough to hold your peppers. Place the pepper in the dish and fill them as full as you can. It's okay to over stuff them.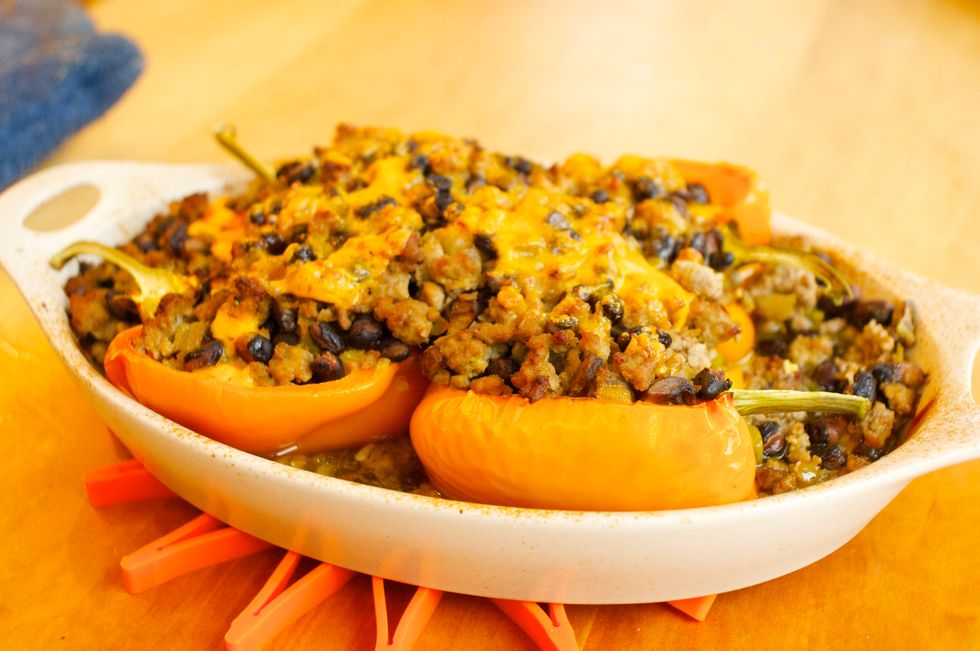 Place in oven and bake for 30 minutes, then top the peppers with the last 1/2 cup of cheese and cook for 10 minutes more or until the cheese is melted and browned just a bit.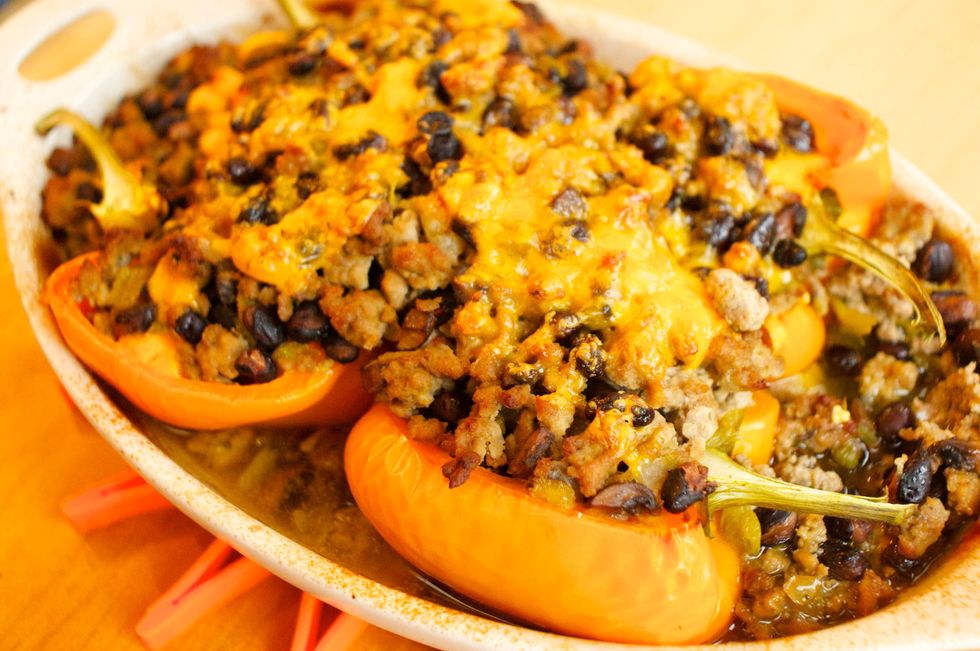 *tip* Ground turkey is very lean so there will not be a lot of juice released from the meat. If you have any kind of chicken or beef stock available, pour a 1/4 to 1/2 cup in the pan before baking.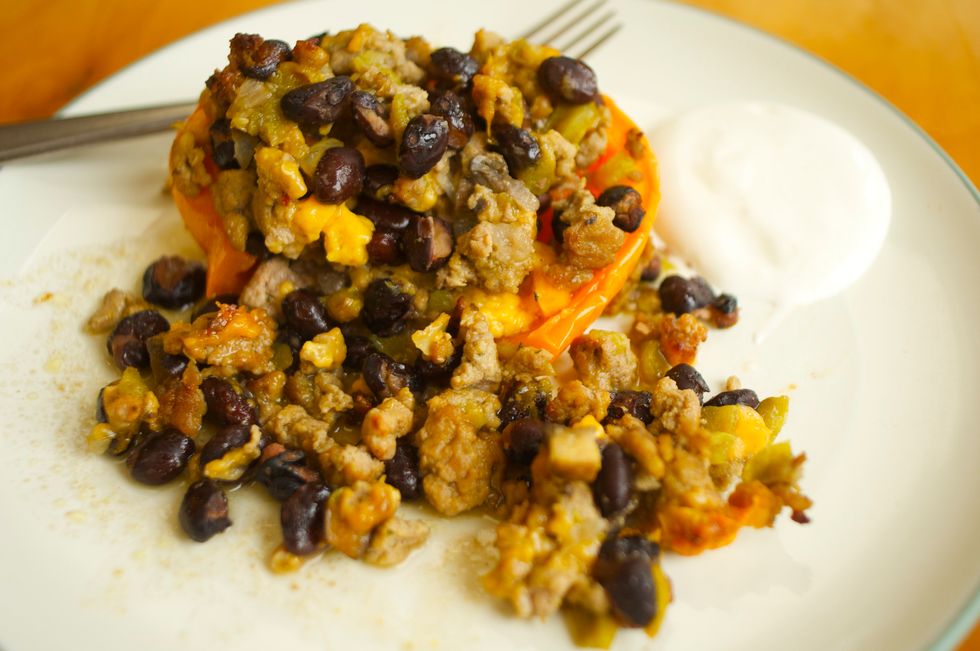 Take a little Greek yogurt and mix a little of our Mexican seasoning blend in it to use it as a sauce to add to the peppers. You can get this fantastic seasoning at www.worldseasonings.com. Enjoy!
If you'd like to try out any of our 9 all-natural, gluten-free seasoning blends - visit our website at www.worldseasonings.com. Use the code "snapguide" to save 20% on your purchase. As of now...
..we only ship in America but we are working on teaming up with Amazon so we can sell our seasonings anywhere in the world. Check back soon if you live abroad - we'll be able to ship them to you soon.
2.5tsp Mexican in a Minute
1.0lb Whole ground turkey
4.0 Bell Pepper, halved and deseeded
5.0 Brown mushrooms, 1/4" dice
0.0 Yellow onion, 1/4" dice
4.0Tbsp Olive Oil
1.0 15 oz can Black Beans, drained and rinsed
1.0 4 oz can green chili
1.0c Sharp cheddar cheese, cubed or grated
0.0c chicken stock
World Seasonings
World Seasonings offers 9 amazing gluten free, kosher and all-natural seasoning blends that will make breakfast, lunch and dinner extraordinary.
San Diego, CA - everywhere