Make Steamed, Fried or Baked Dumplings. Jiaozi
62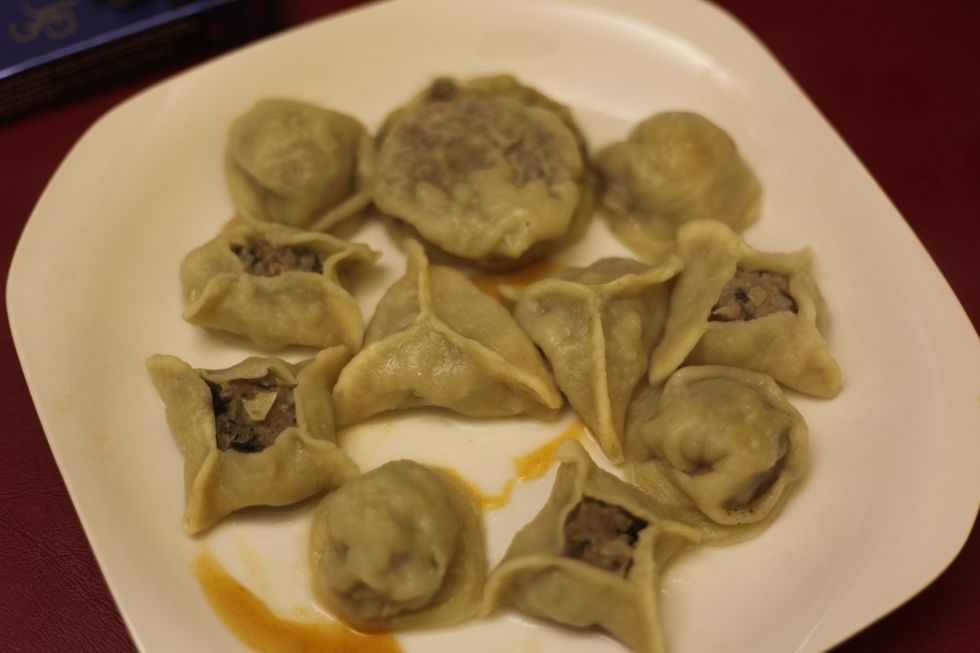 Today we'll experiment with a dish that has the world in a craze. It's a recipe that brings families together. Direct from the town of Humen Province, my thanks goes to miss chem for this recipe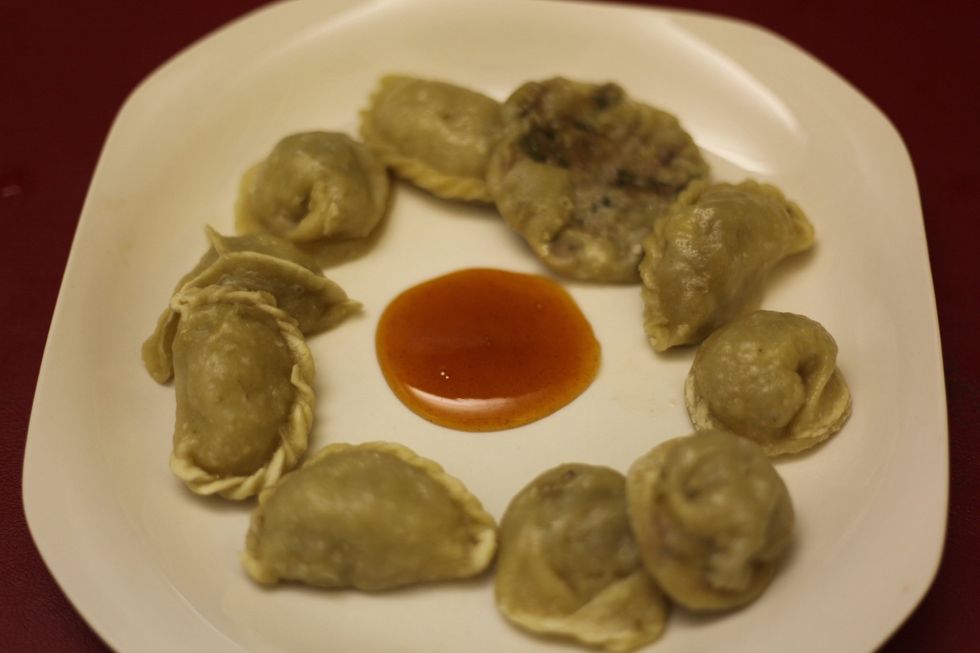 They should be a little gooey and sticky when you pick then up. The discolouration was from the overdose of mushroom.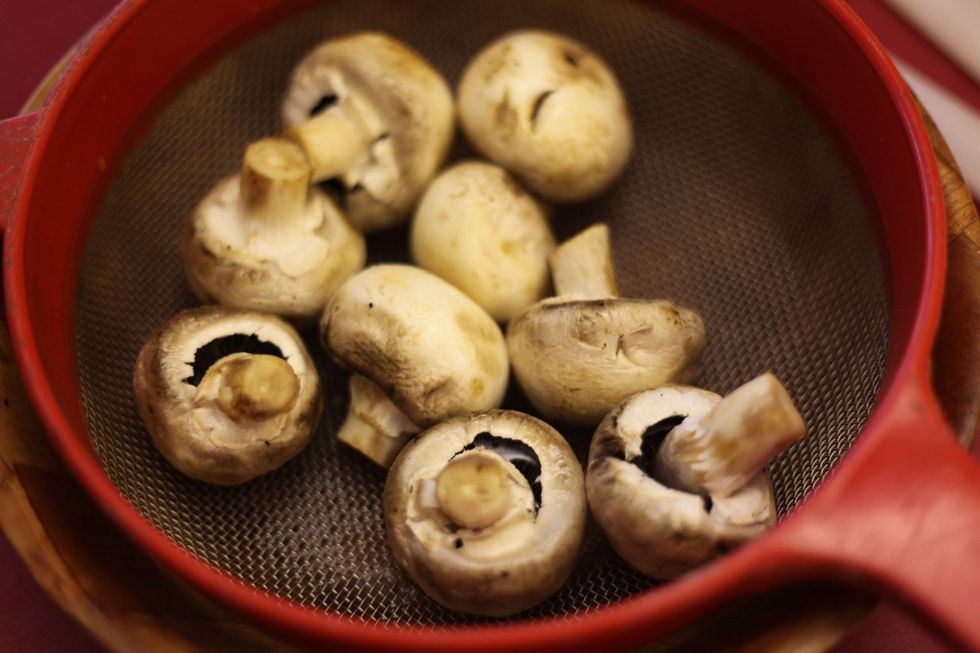 First start with the mushrooms to remove the water from inside. Chop the mushrooms fine and lay them out on some paper towels. 5 mushrooms are enough.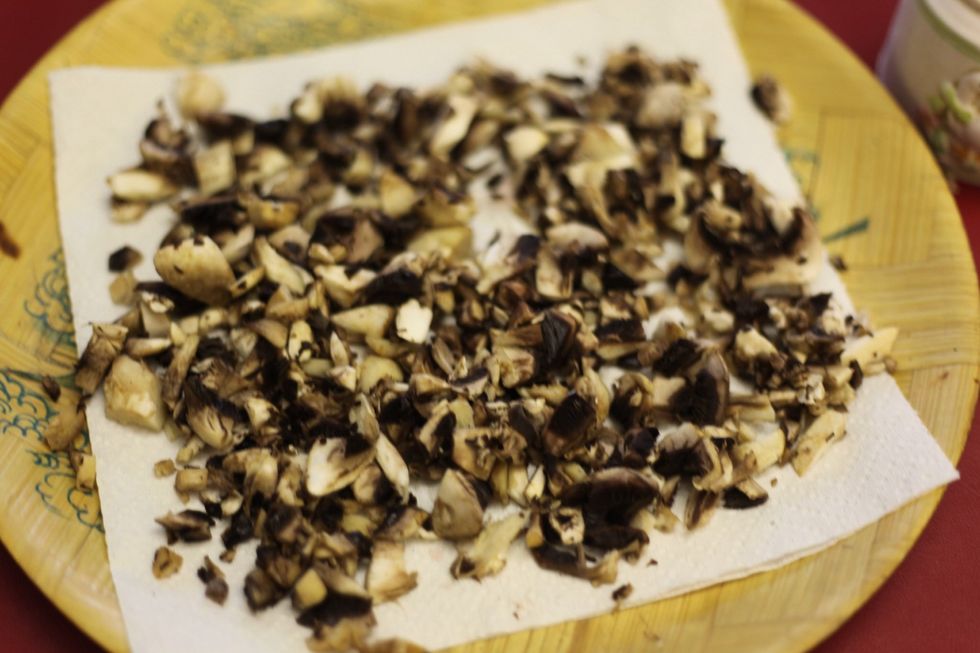 Chop as small as you can so it's easier to draw the water out.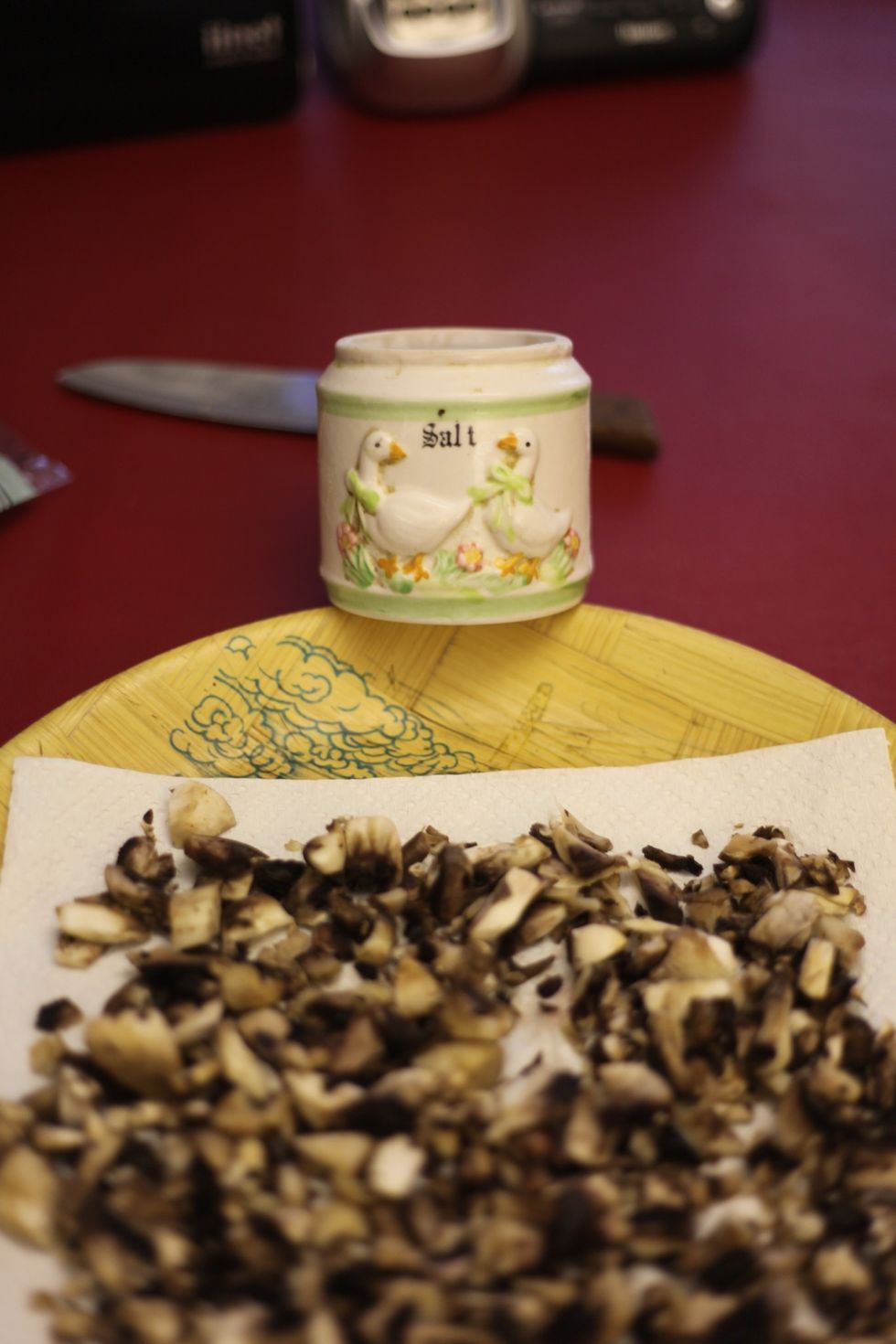 Sprinkle salt all around the mushrooms and set aside, covered with another paper towel.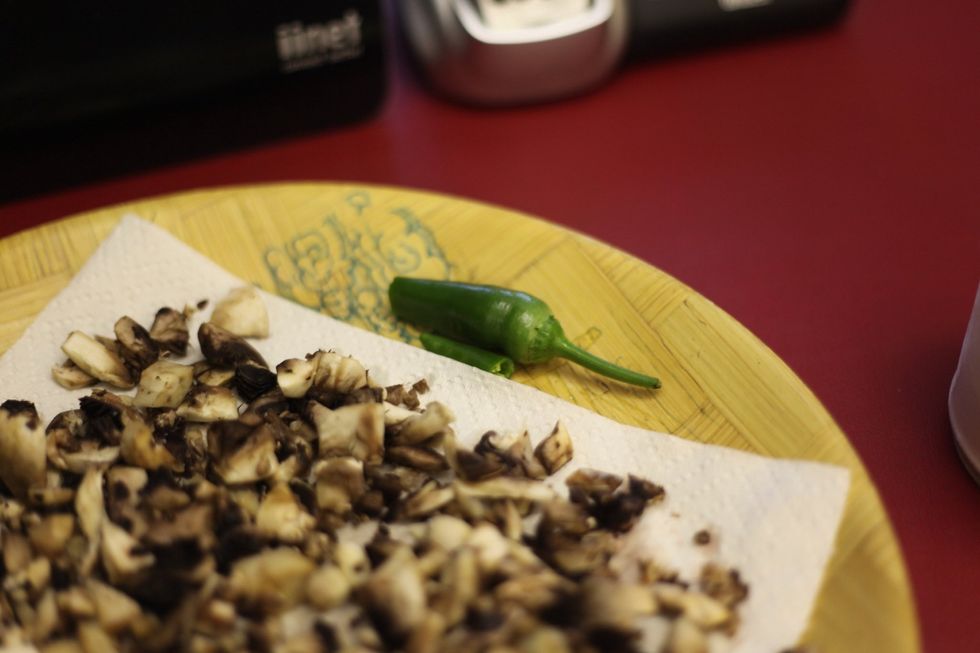 If you want them spicy, add a deadly greenie!!!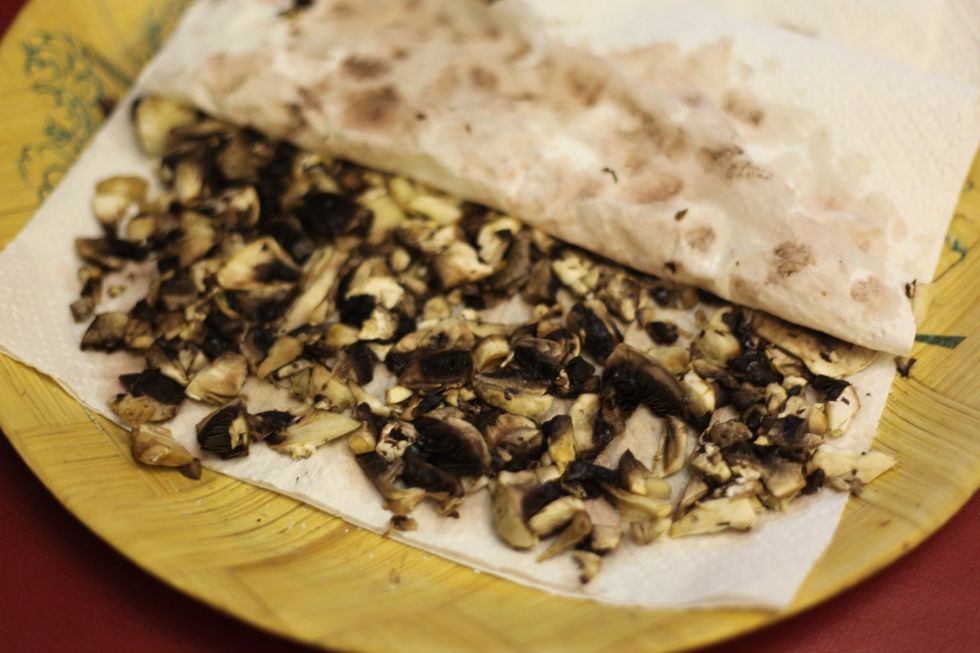 Press the top towel to remove extra water. Rinse the mushrooms under cold water to remove the salt. My first batch was a salt factory. It won't add water back into the mushrooms. Or just use shiitake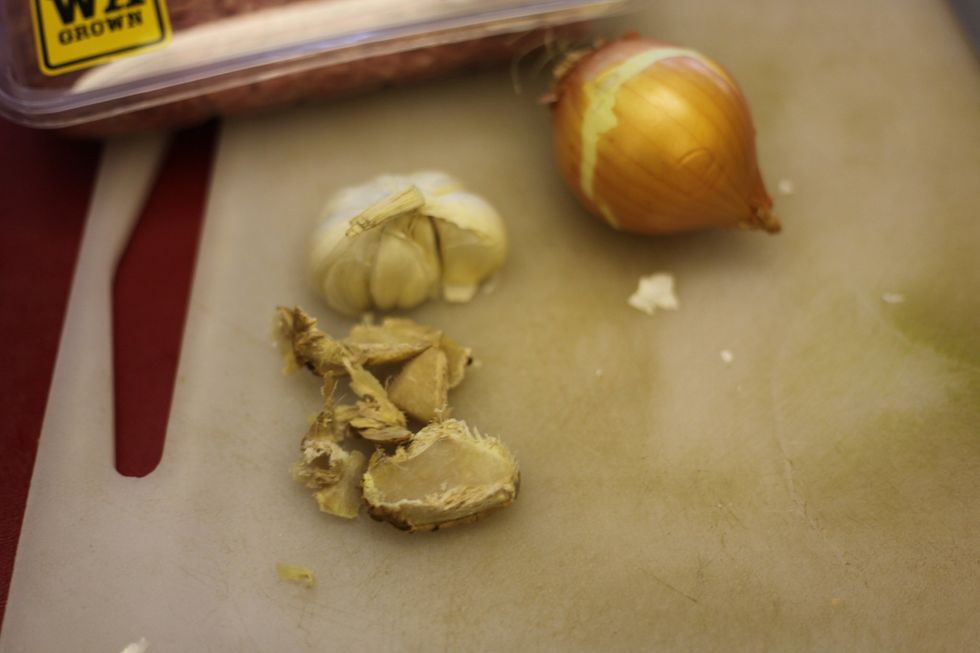 Ginger is quite strong so just use a small part. Chop finely or mince it if you have the machines.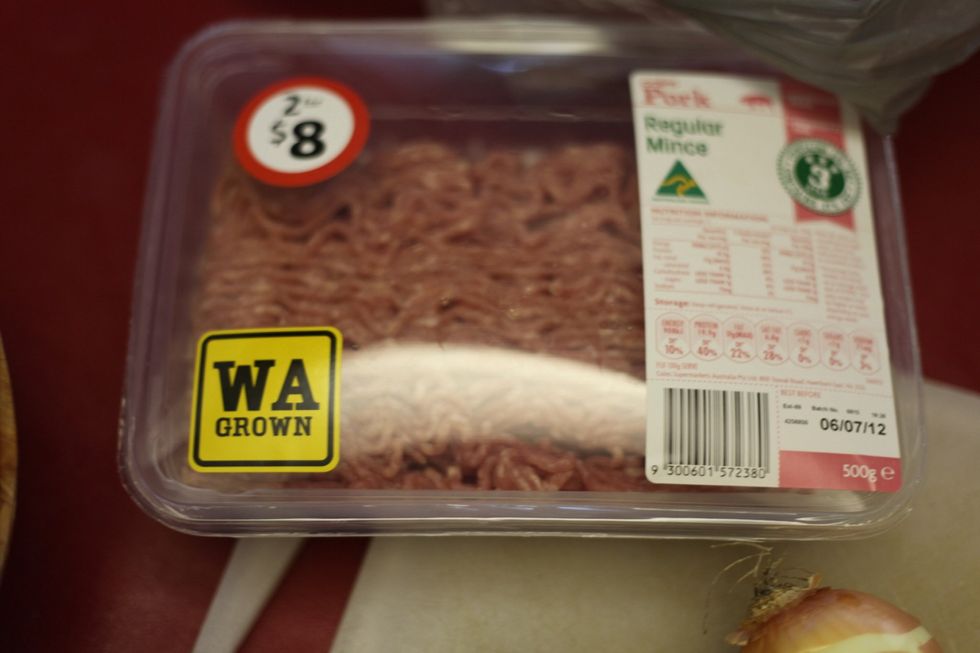 500 GM of pork mince. You can mix chicken and pork mince. Cross contamination, well please consult a contamination expert. Cook the food properly and you won't get poisoned. Lol. I used just pork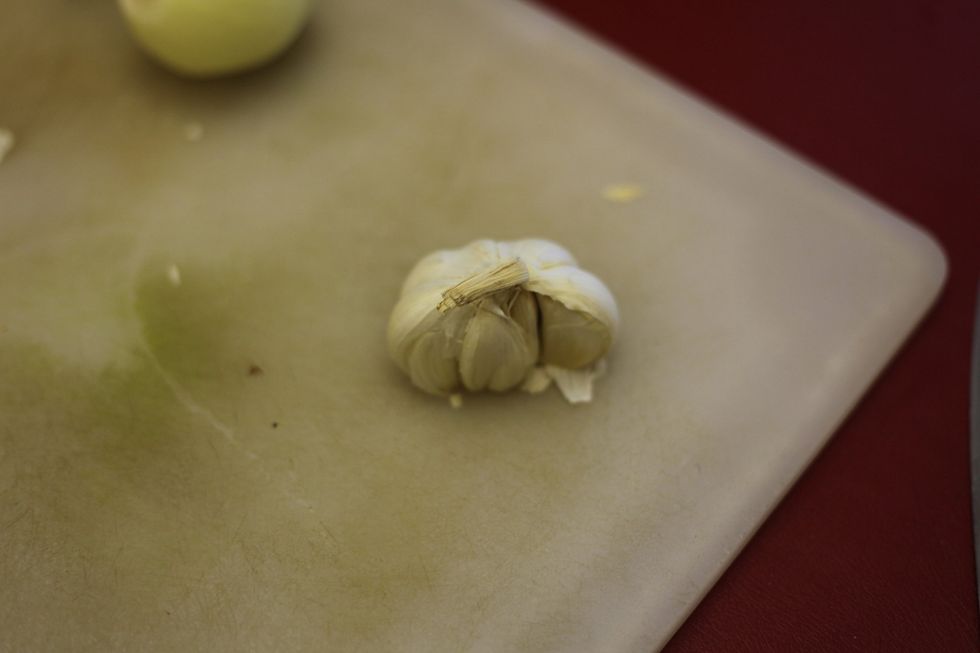 The blood pressure helper. Use as much garlic as you want if you want a strong taste. In this case half is enough for 500 GM.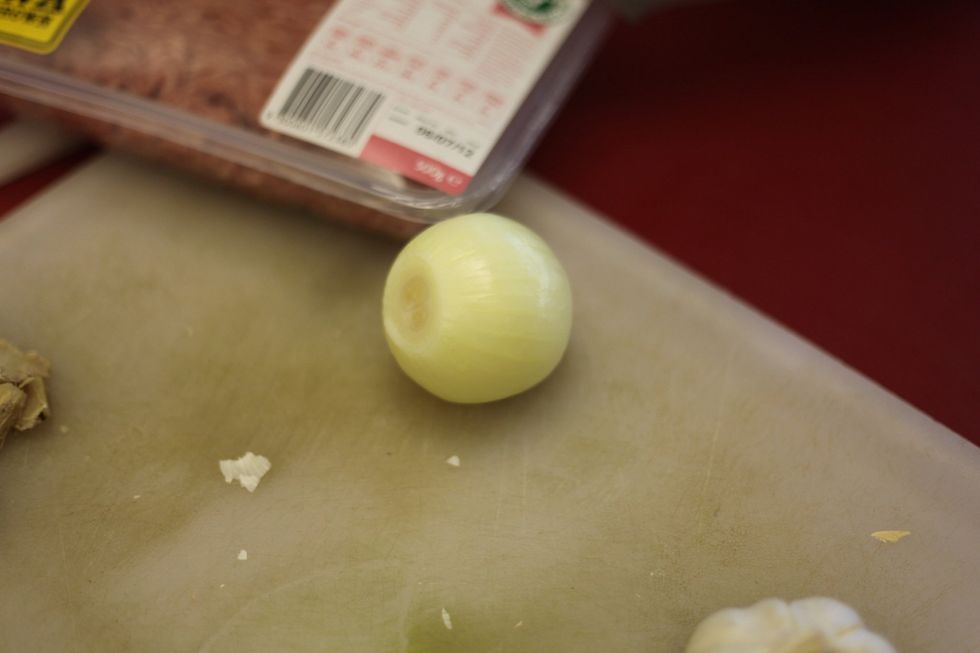 Undress the onion! Imagine your happiest moments and cry your eyes out.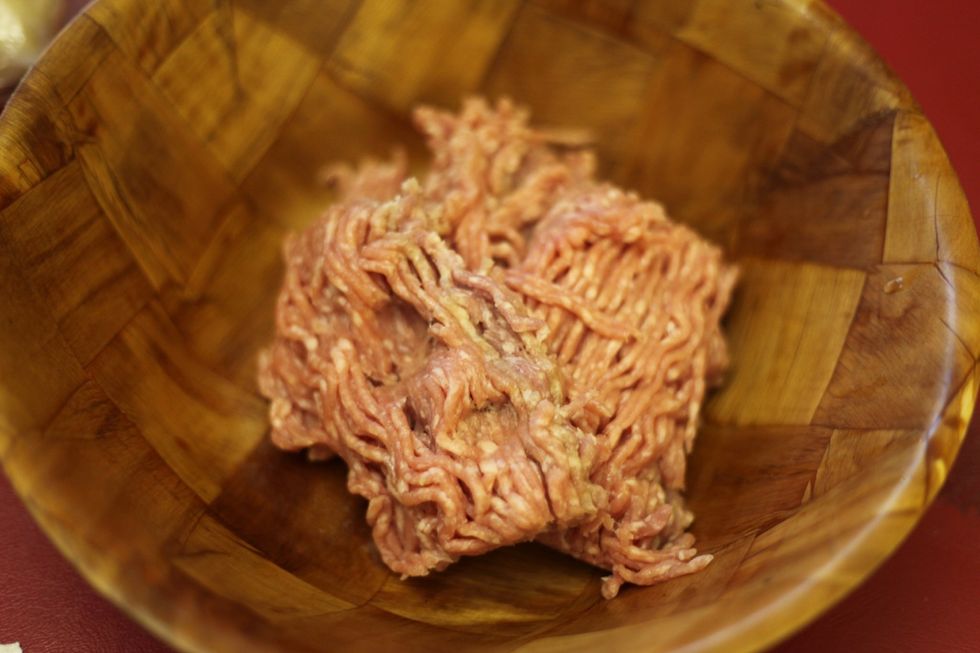 Put your mince meat in a bowl for mixing.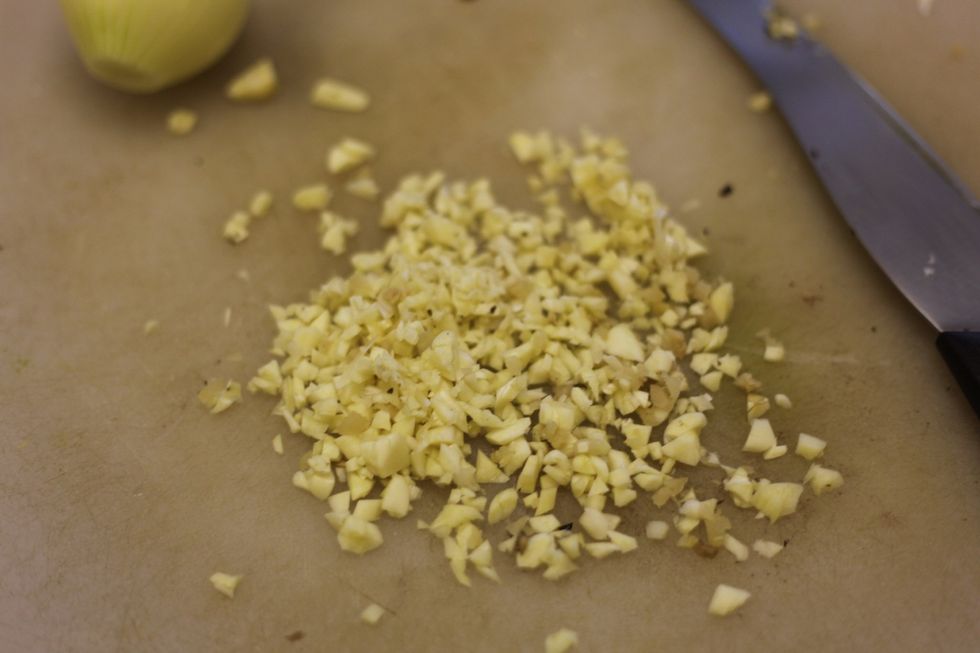 Chop chop chop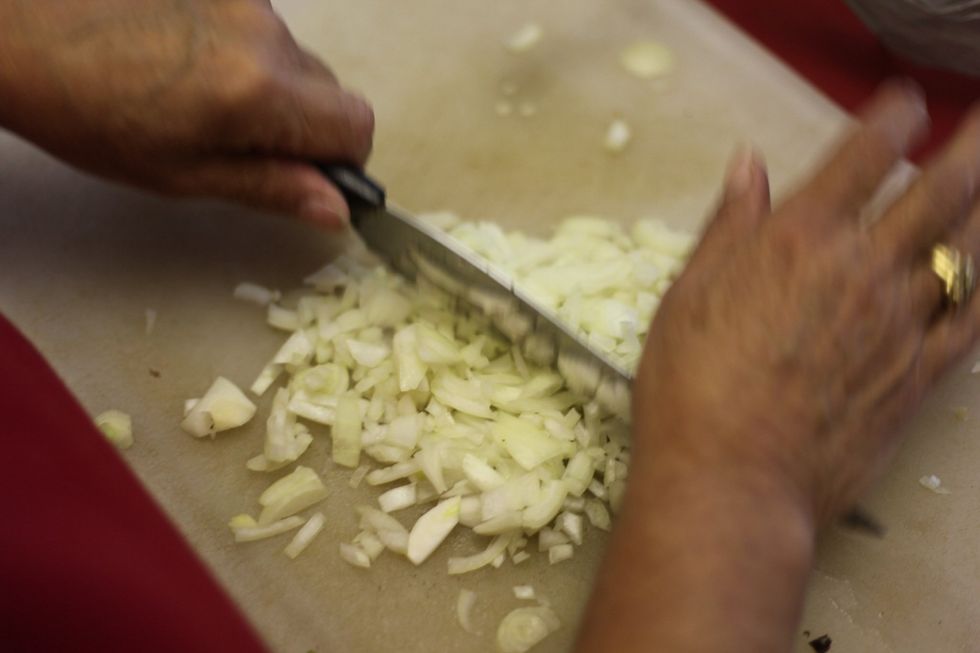 Get your Mum to chop chop chop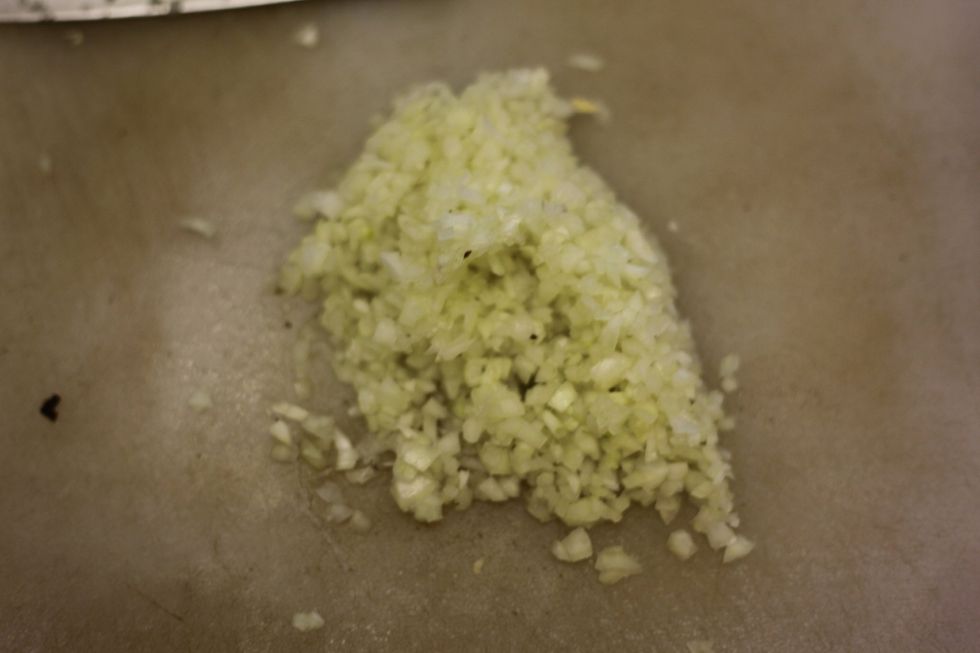 Chop some more ....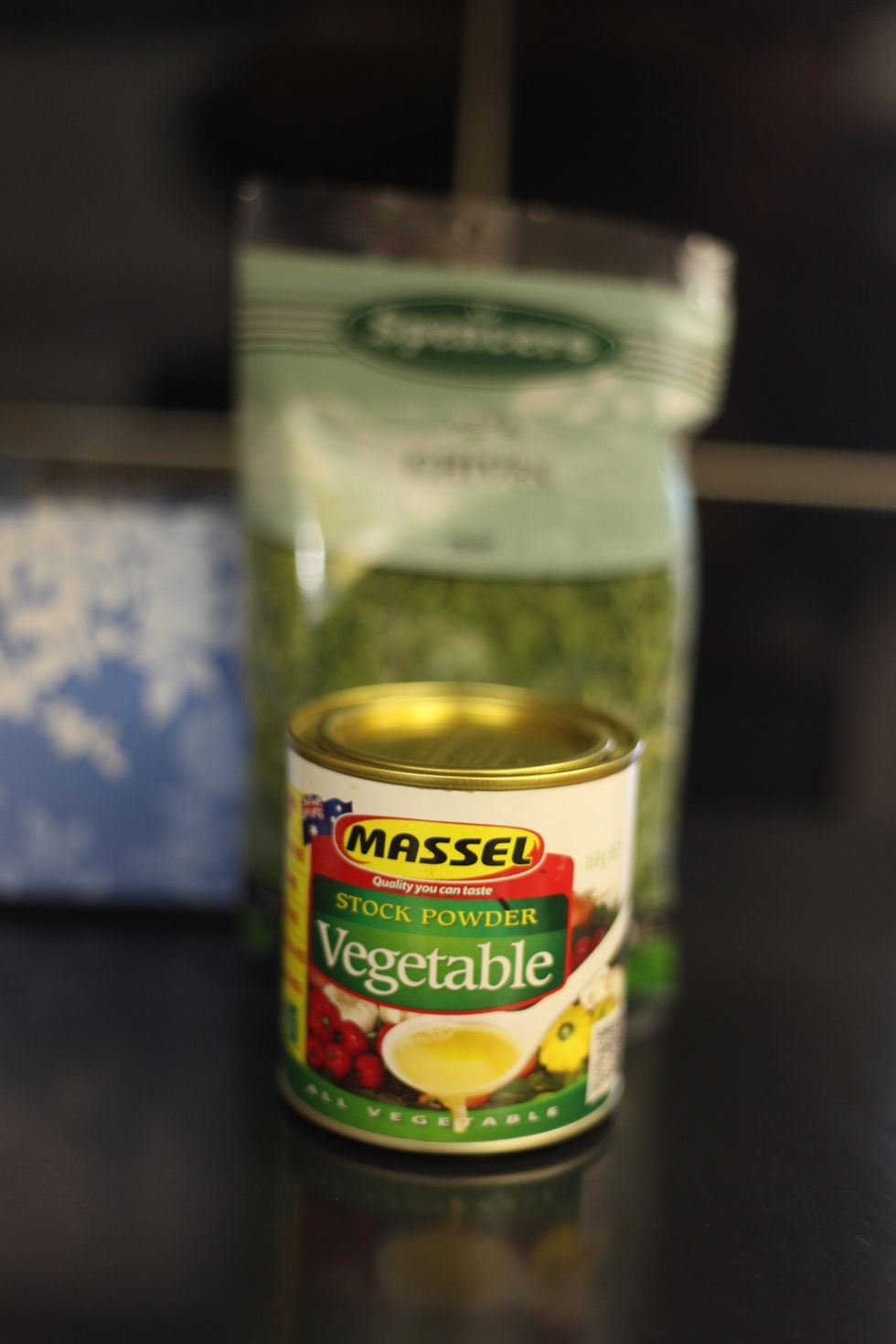 Add one tablespoon of stock. I like this as its everything free. No gluten, no preservatives, no taste. Lol. Just kidding it's great!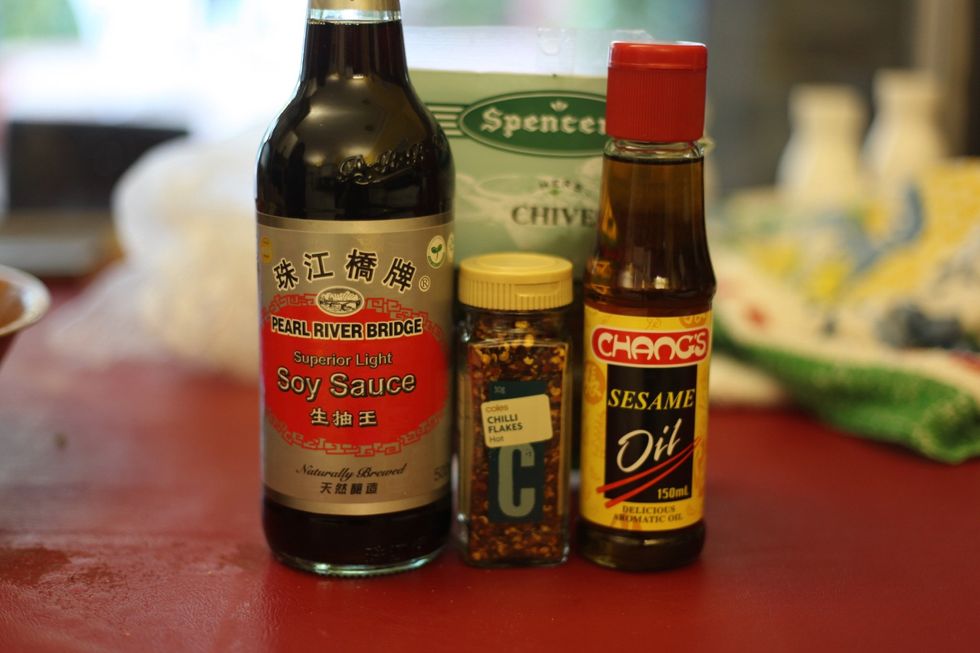 Your best friends in the dumpling world. Vary the recipe as much as you like but keep these in!!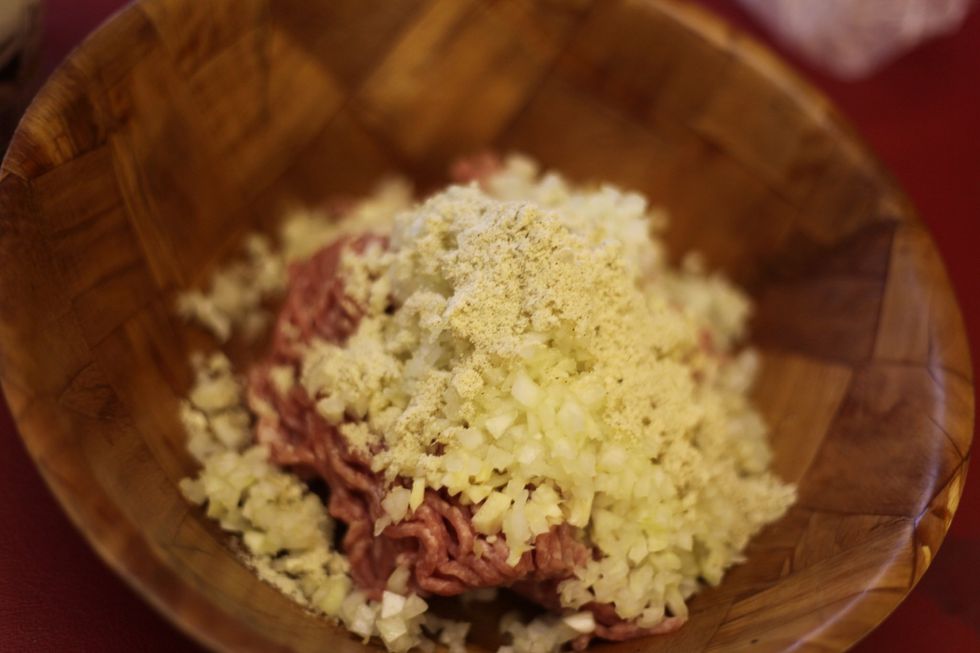 Mix all the chopped onion, garlic, ginger and add some white pepper.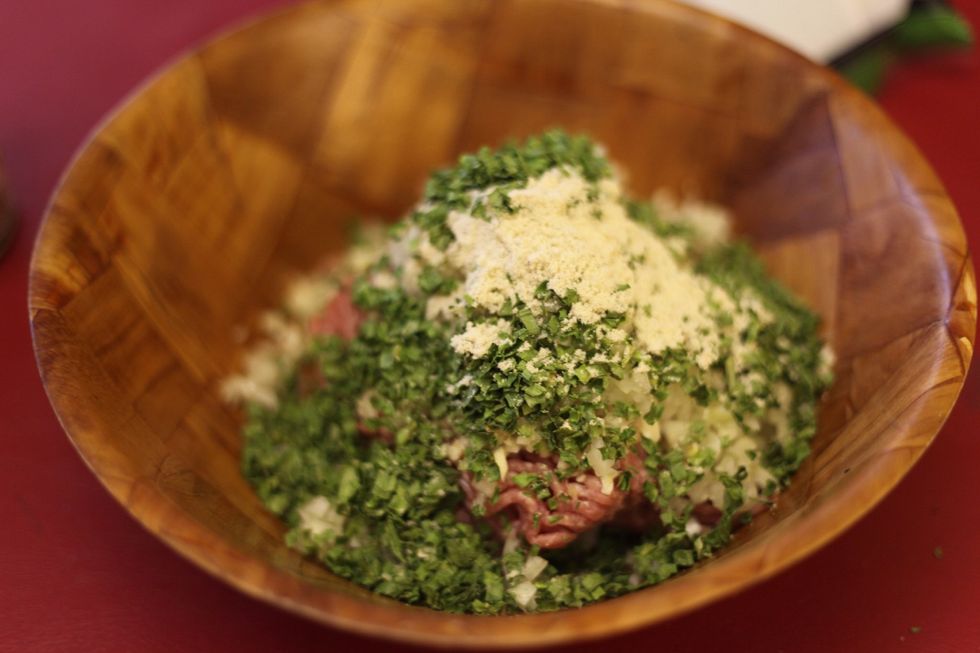 Throw your top secret ingredients in. Yes it's the chives!!! It's better to use the fresh but for budget's sake use half a bag of chives.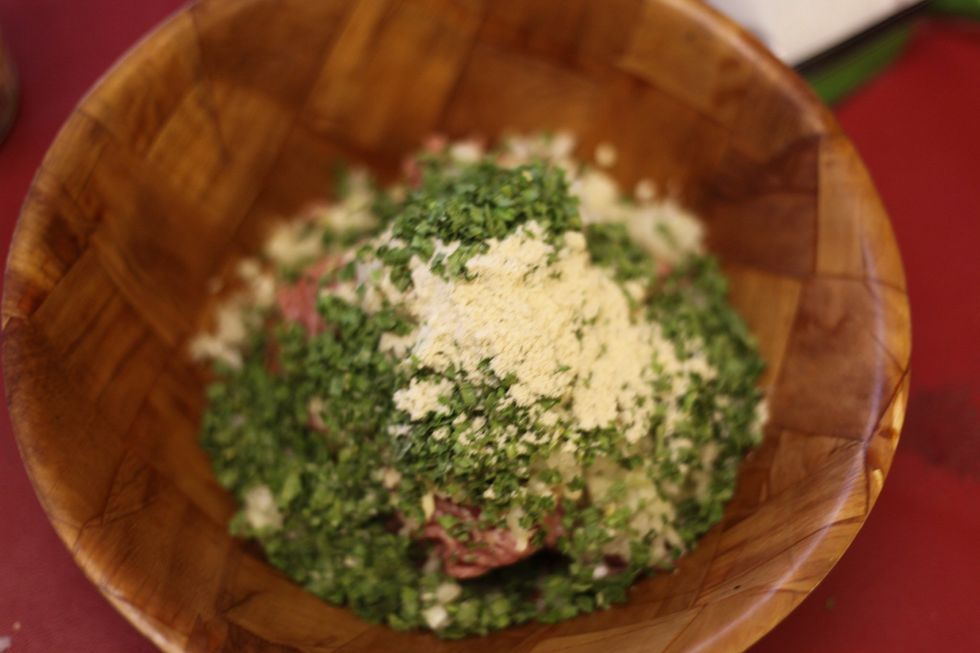 Wash your hands please!!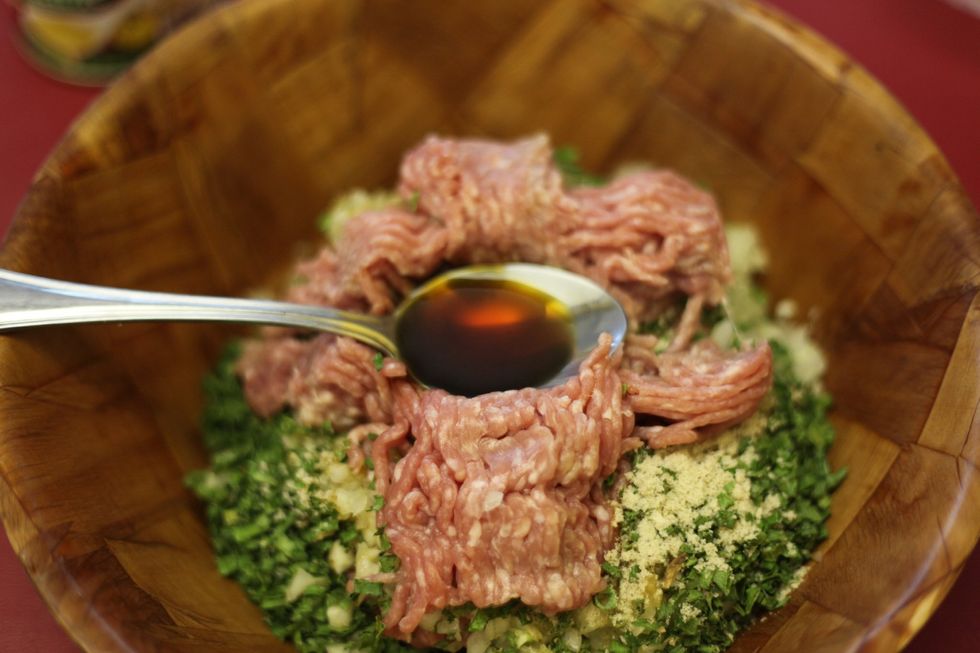 Add the light soy sauce. Two tablespoons should do it.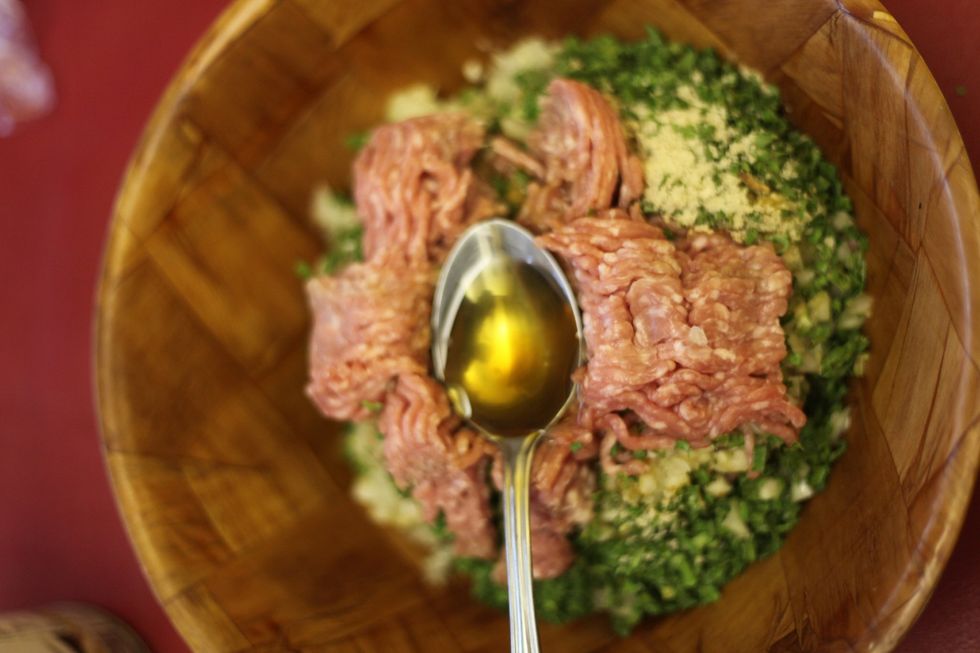 The other other secret ingredient. Sesame Oil. There's no secret to sesame oil. It's used widely in Asian cuisine. Add 2 - 3 table spoons.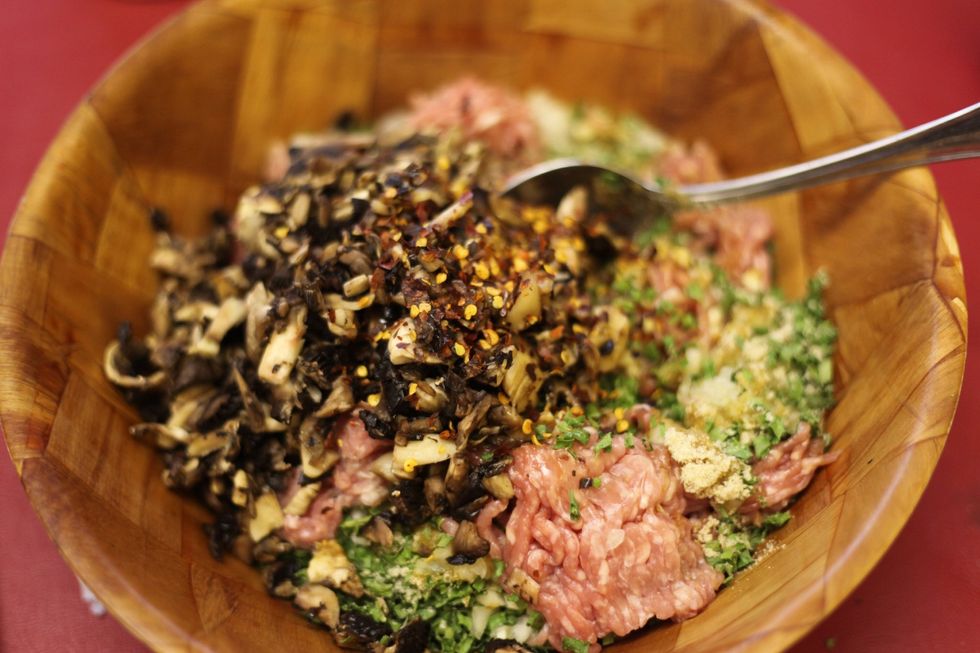 Add the strained mushrooms and chilli flakes. It's up to you how much chilli you wish to add. A small sprinkle will do.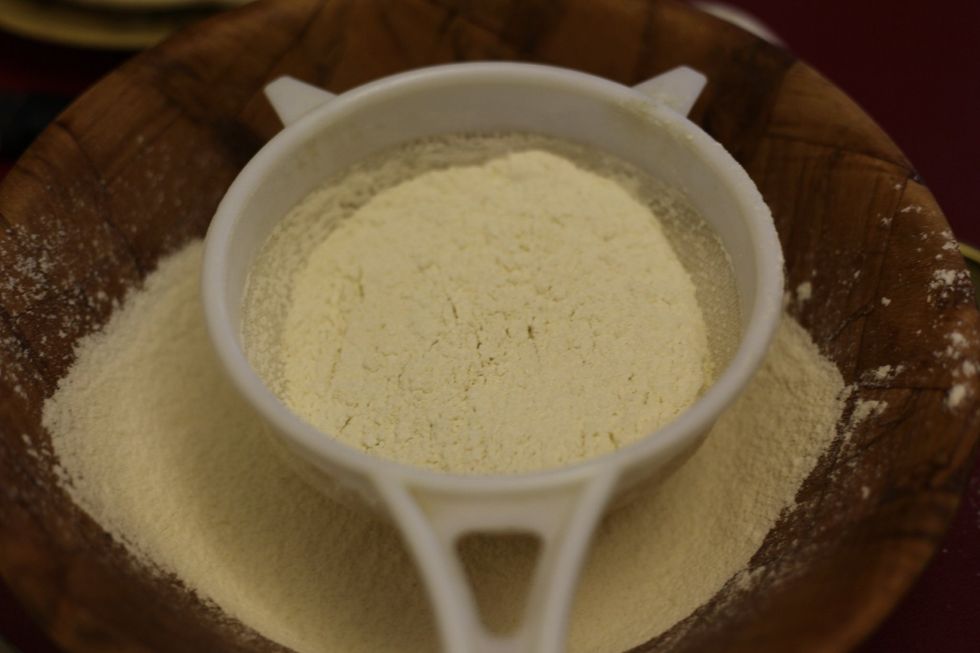 Did you wash your hands??? Get ready to play dough!! Sift the flour into your mixing bowl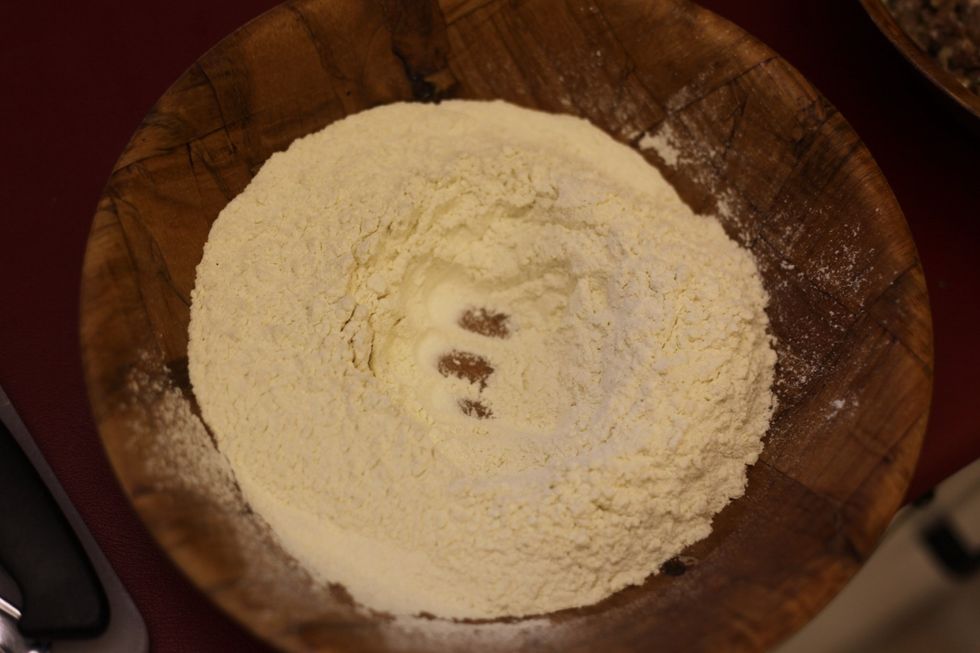 Put your fingers in the centre and separate it outwards to make a well in the centre.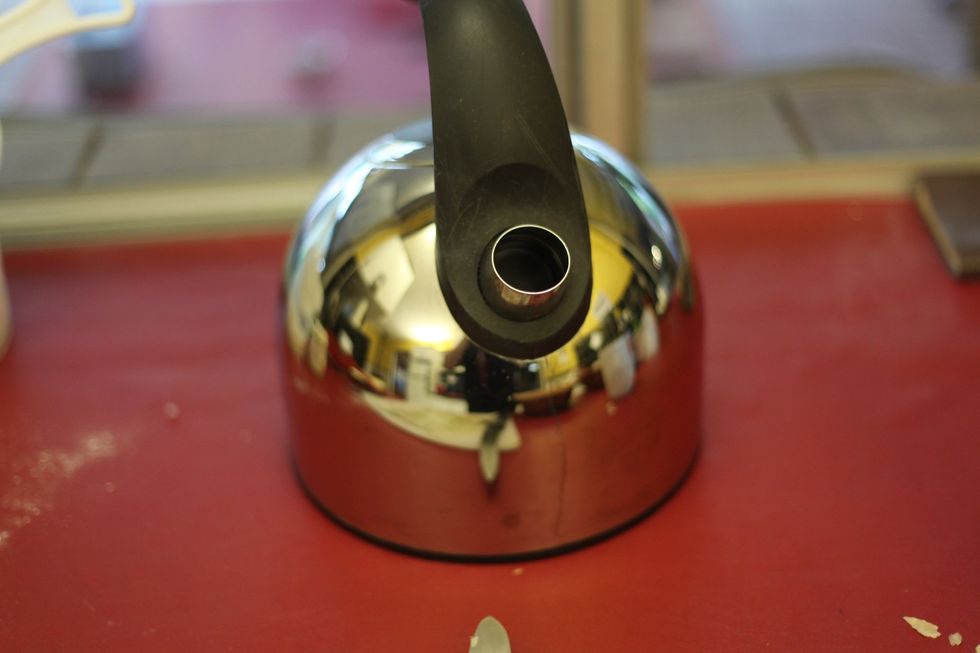 Take a picture of your kettle to pass the time. Boil hot water in that kettle. Here comes the safety tip. Don't burn yourself when pouring into the flour. Use a spoon to begin with ok.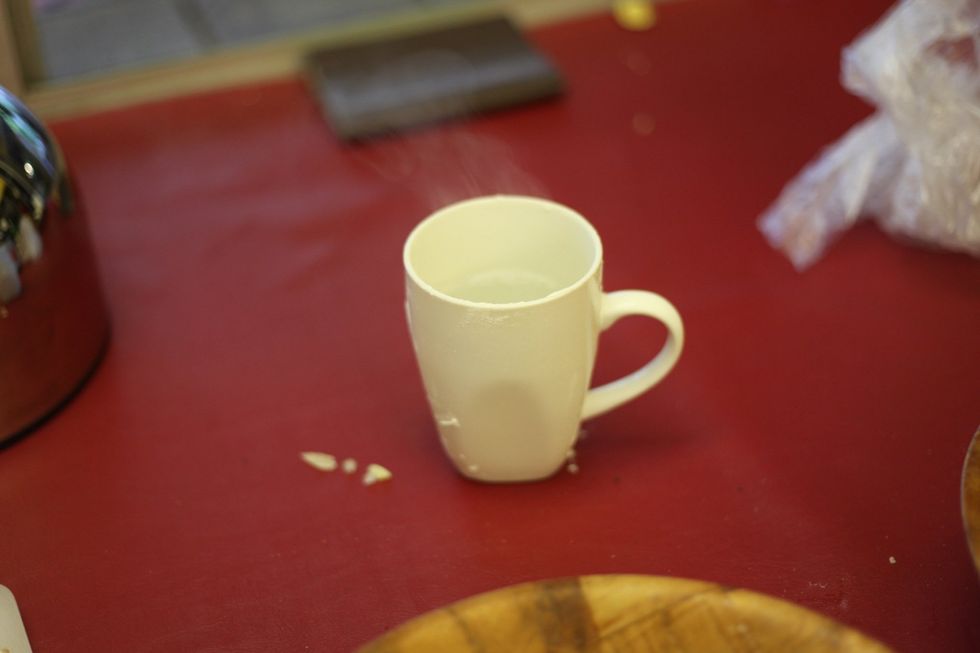 About one and half cup of hot water. Be careful please!!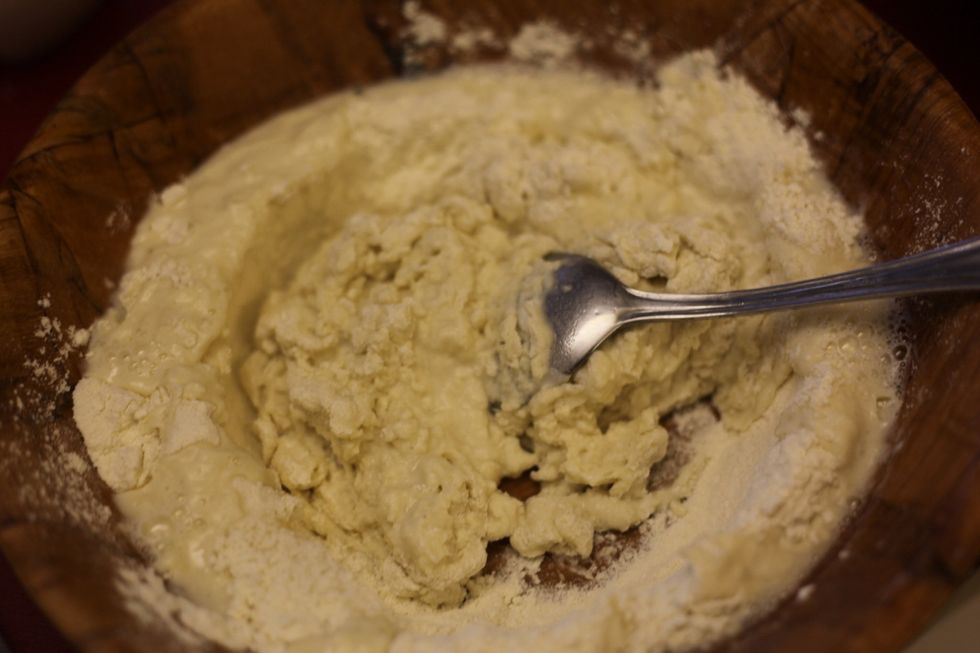 Mix the hot water and flour from the inside and work your way outside until there's no more flour stuck to the bowl and the hot water should have cooled down a bit ready for your clean hands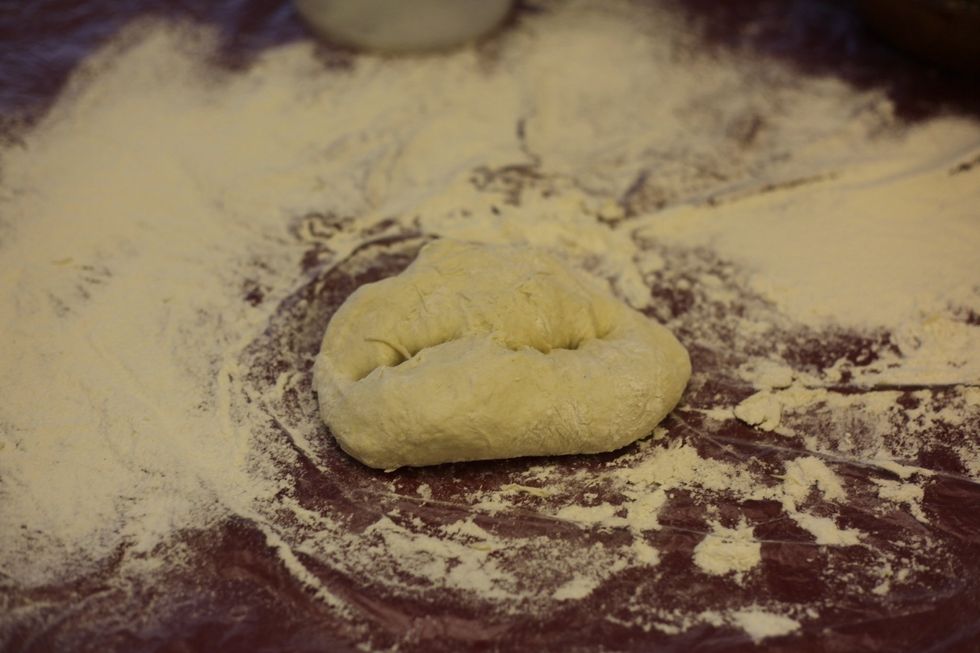 Take the dough and play!! Roll it around and around....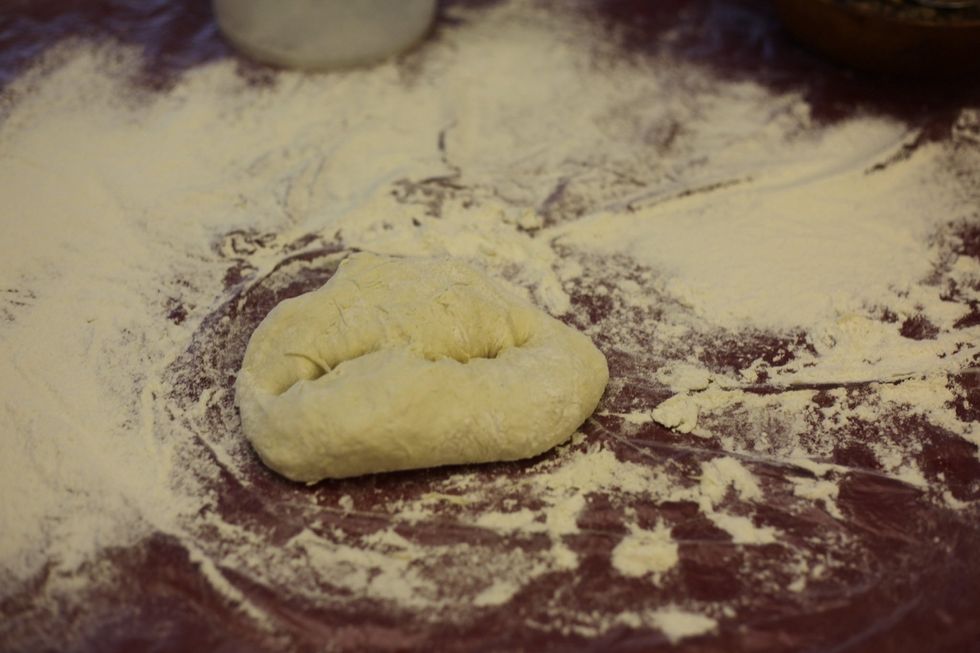 And around....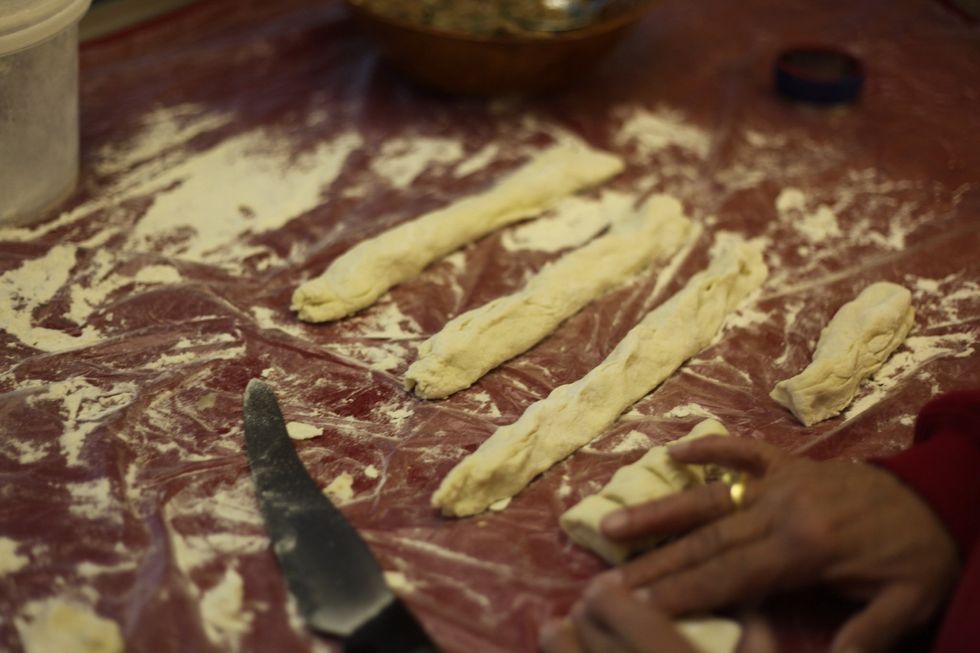 You will find that when your rolling the dough it will feel wet and a touch sticky. Well done!! Perfect dough do far. Use a plastic bag and flour to keep the flour from sticking. Roll into small logs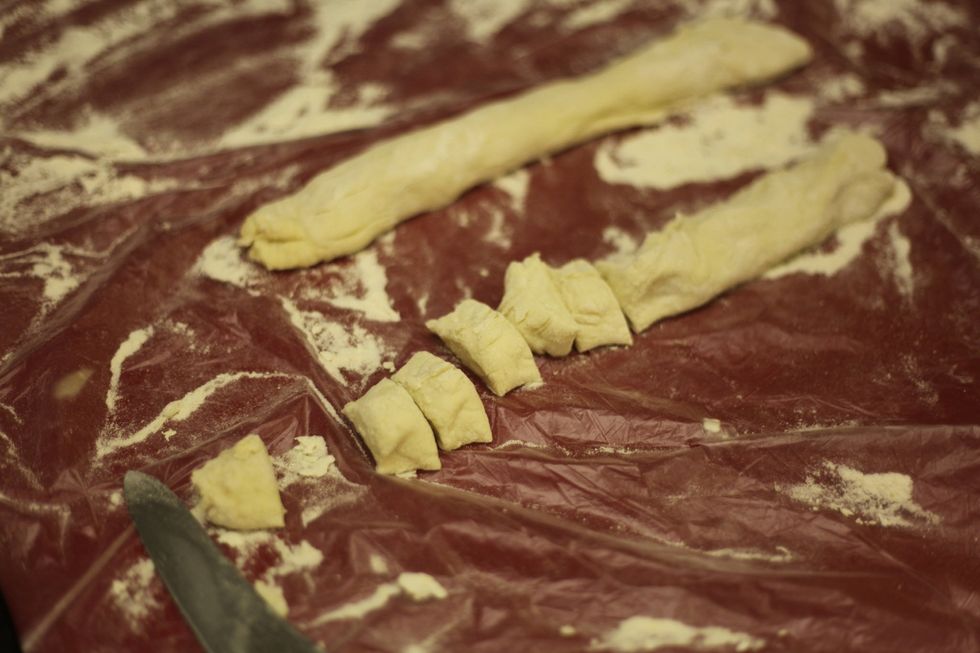 Like so ....
Depending on the size of the dumplings cut about 3-4 cm pieces from the logs. I heard that you use a rolling pin inwards to get a perfect circle. That's no fun!! Roll, stretch, pull and shape your way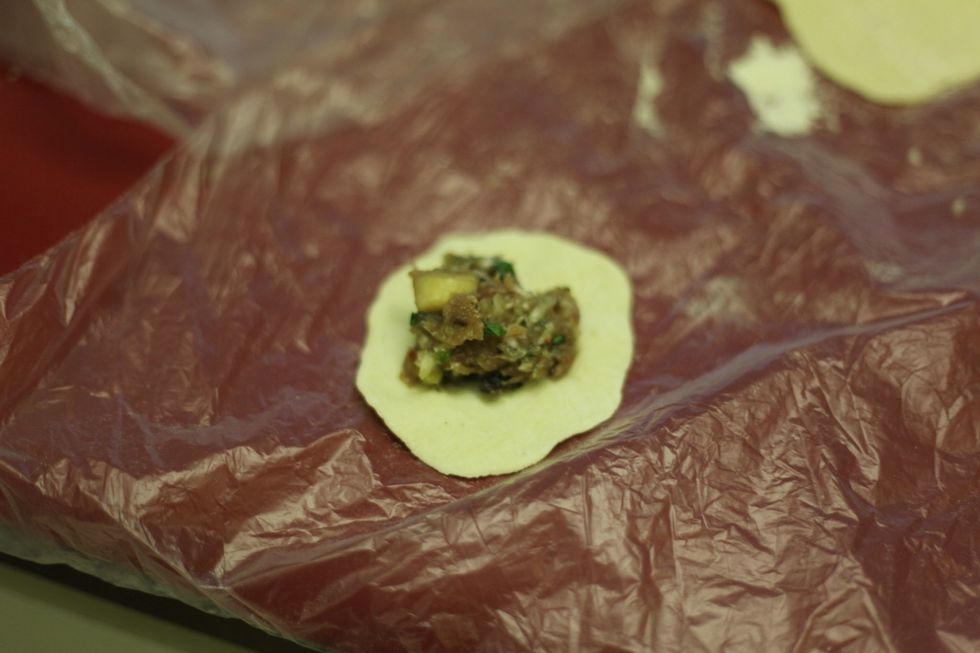 Place an even filling on to your thin thin dough you just made and show everyone what you expect. Get your whole family to help you. You must work fast with the dough.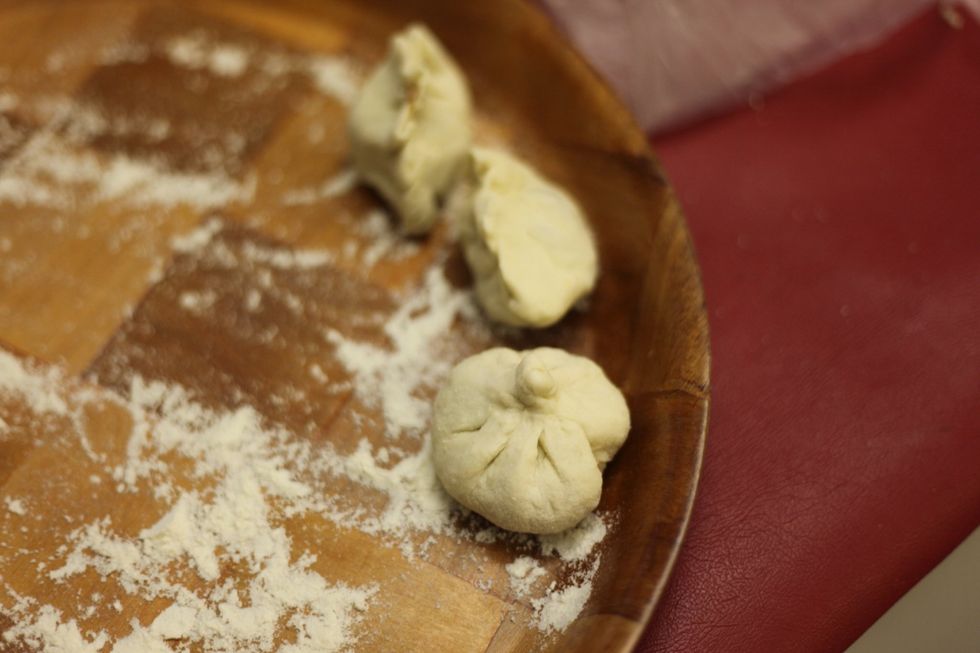 See!! No need to be all standard dumpling shapes.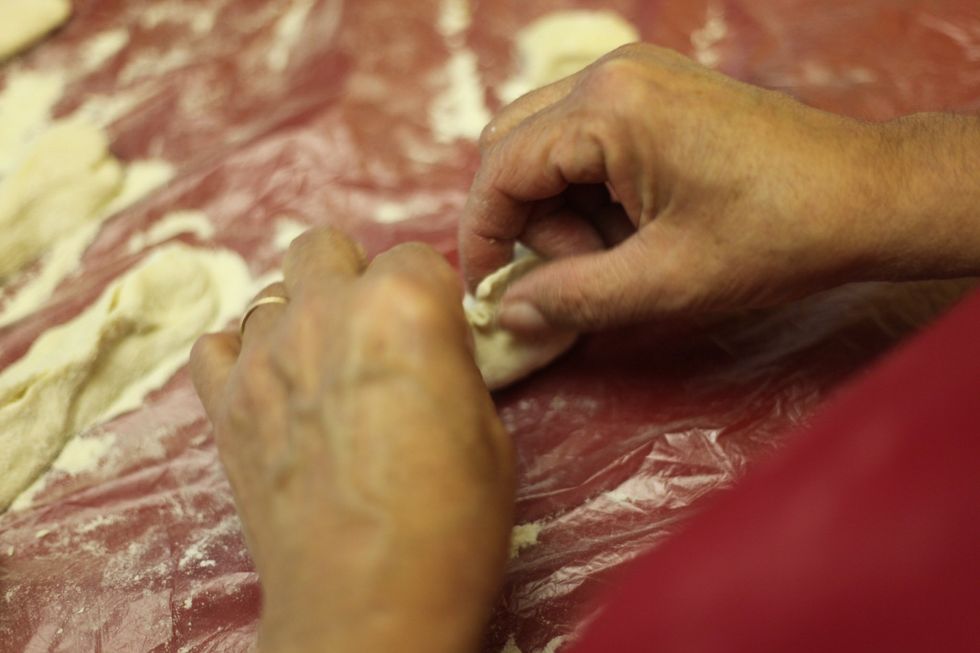 Hand the pastry filling to your expert mother and sit back and wait. If you don't have an expert mother, you can borrow mine. But give her back ok! Lol.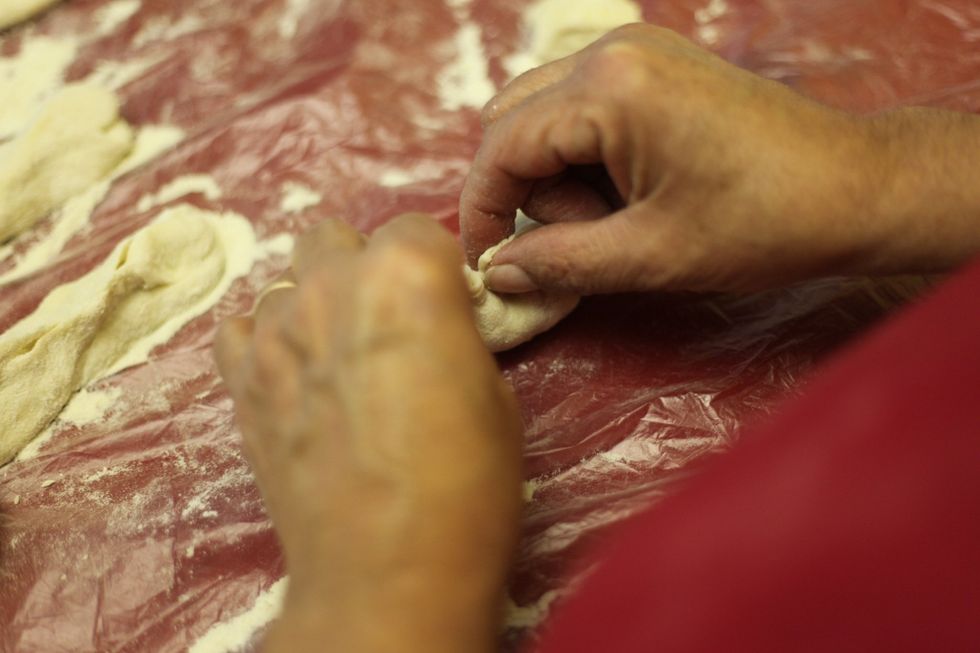 Step by step bunch the pastry, pinch it, squeeze it with love.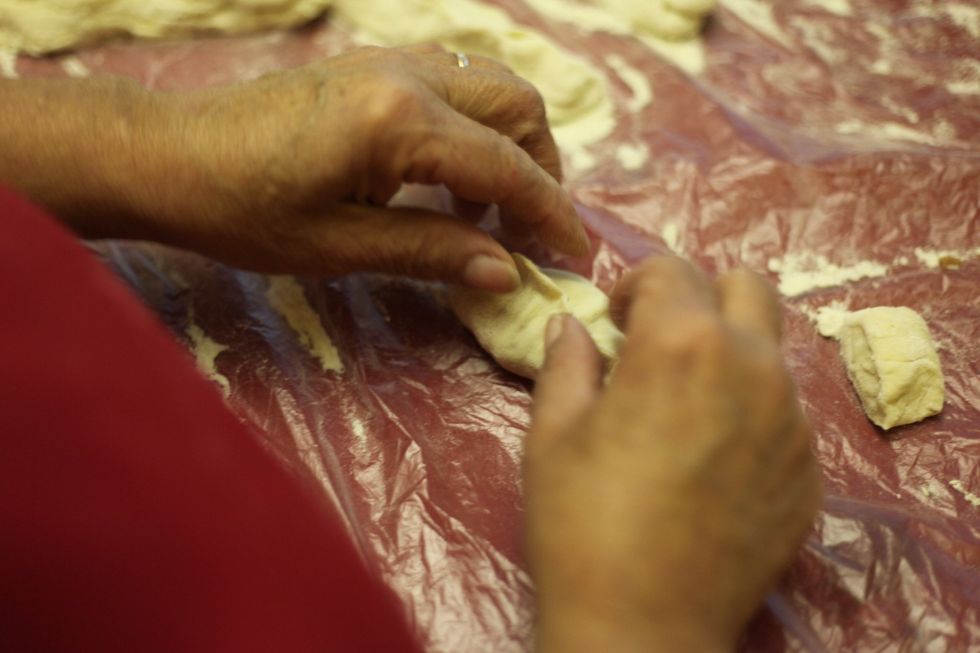 Moon shape?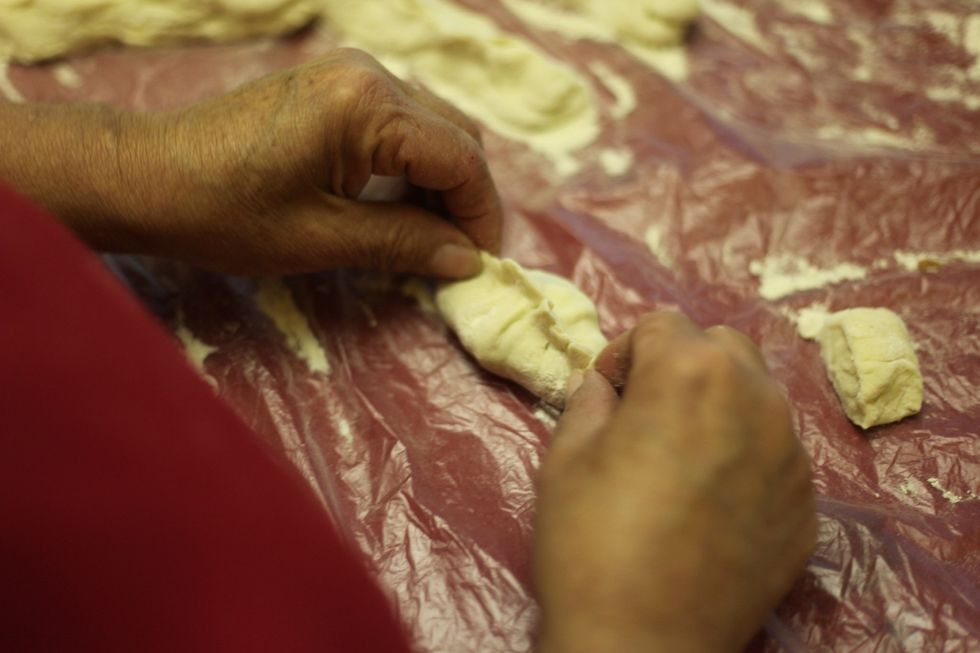 Tips for making shapes: Press the tops together so they are fully closed. The rest you can stretch and mould how you wish. Be gentle though.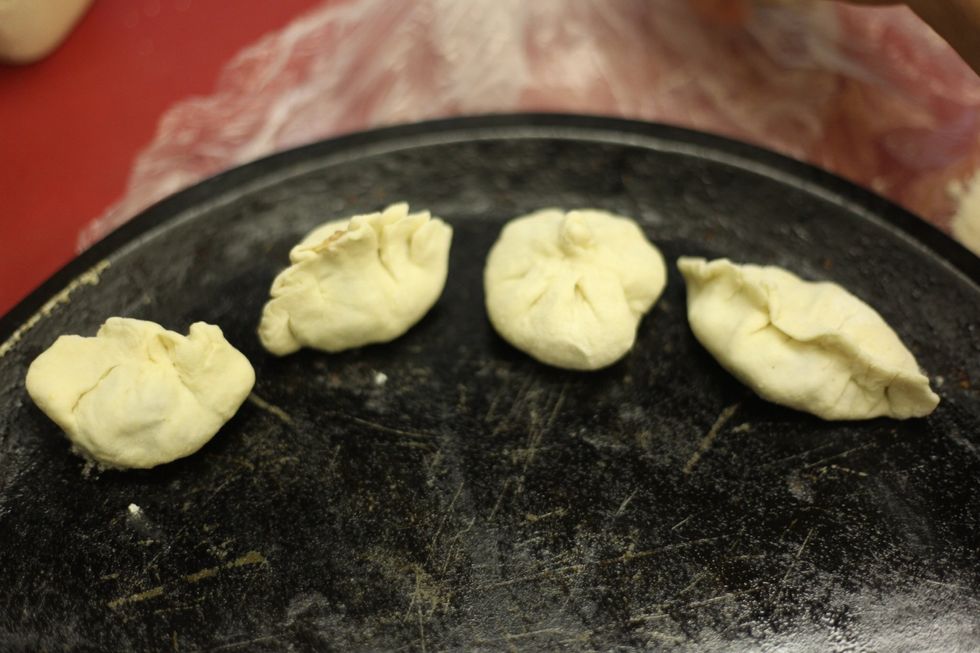 As the excitement builds, oil a baking tray with a tissue or spray with vegetable oil.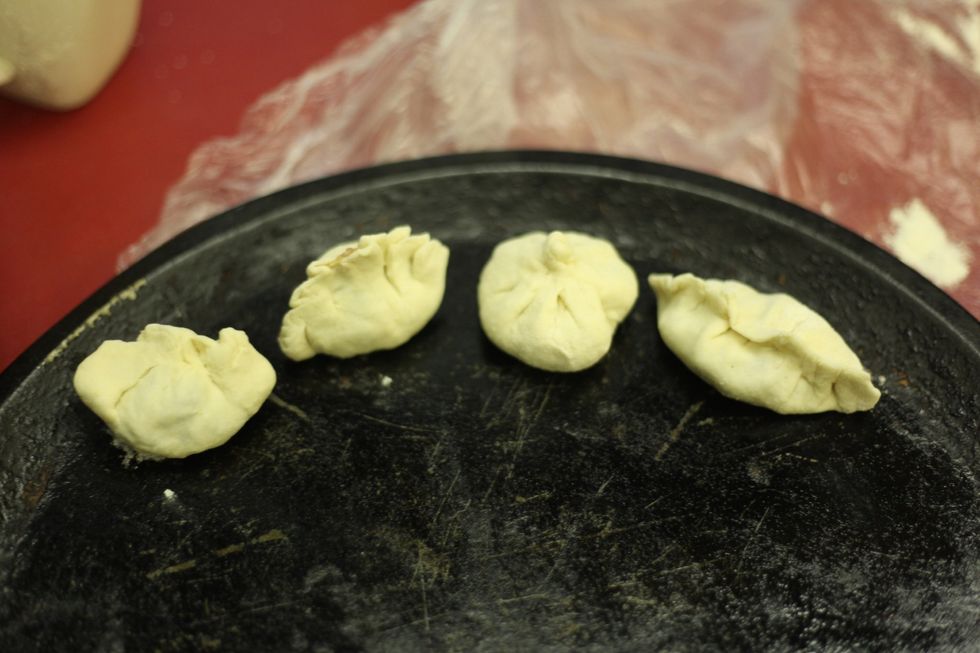 Can you see a mistake my perfect mother made??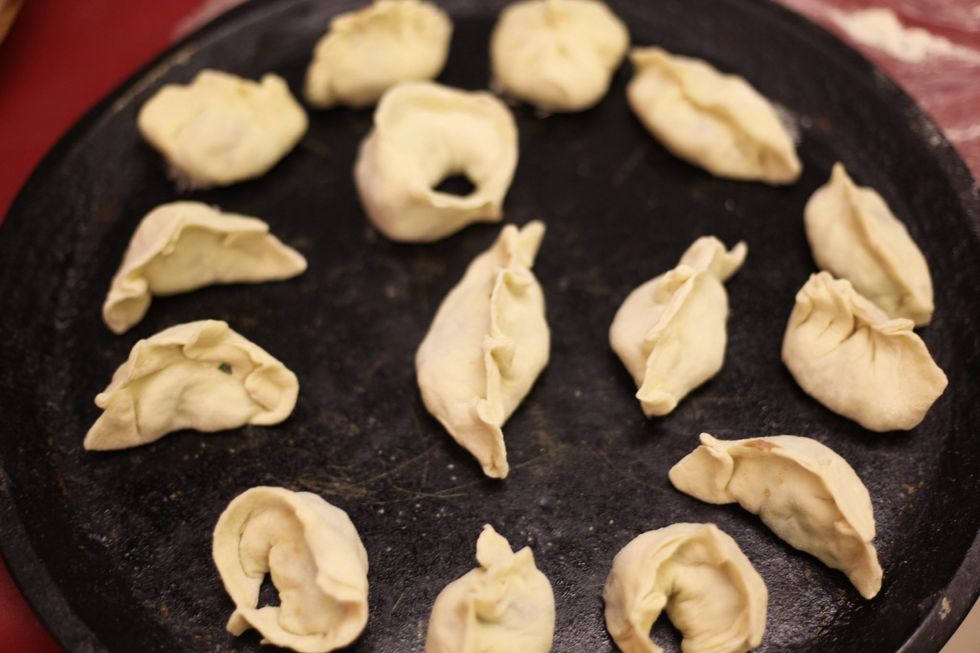 Tadaaa!!!! All done. It was hard work watching the pastry getting filled.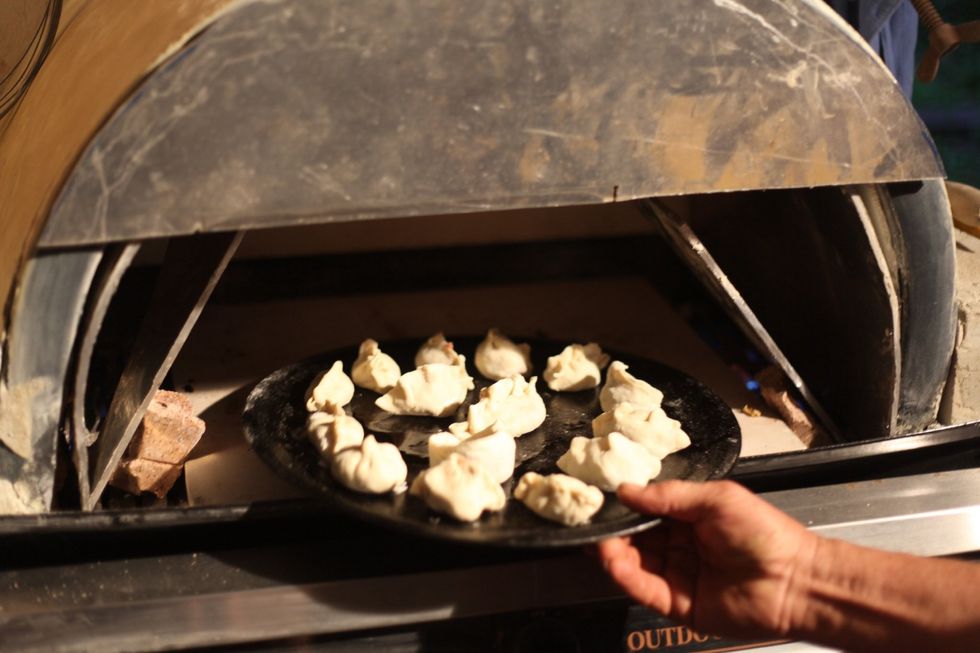 Get your oven ready to about 180 degrees. In this case my father built his own gas BBQ / wood fired oven... Go figure!!! So we thought we'd give it a try.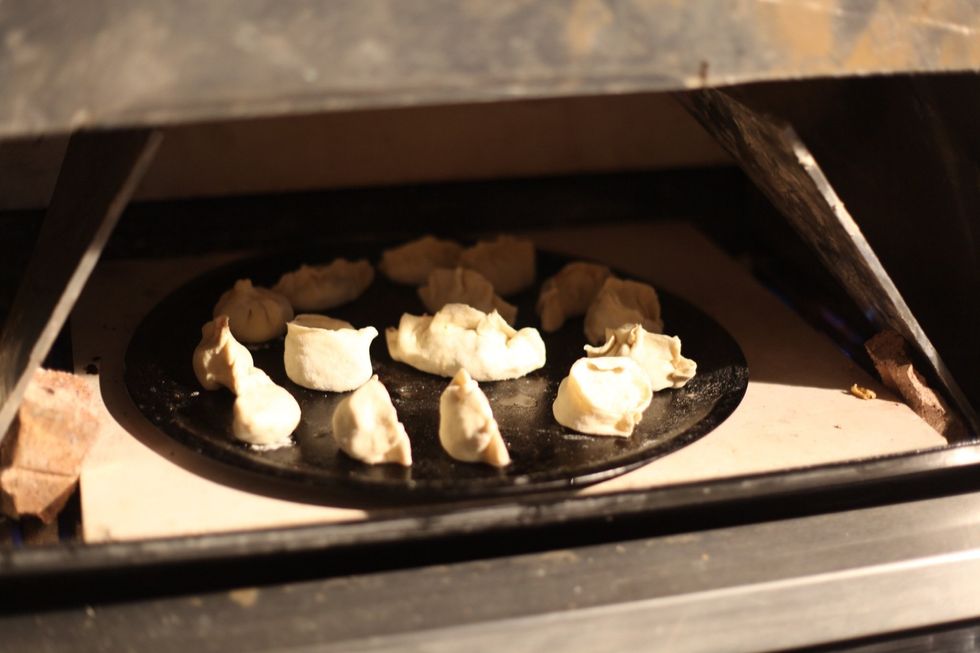 Bye bye dumplings ....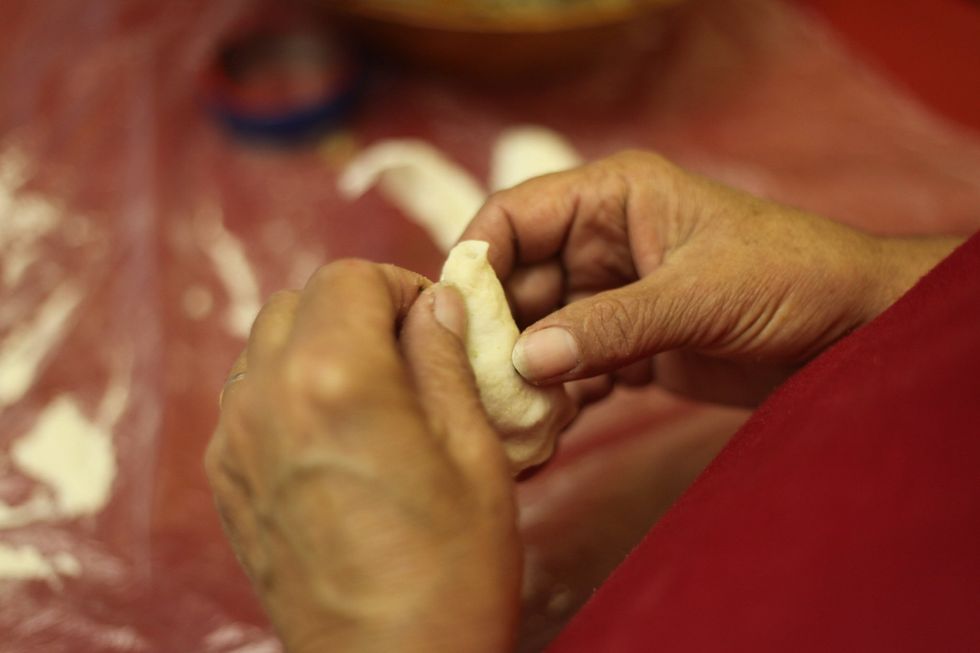 Oh look at that second batch.. Look closely at the craftsmanship of these delicate 70 year old hands.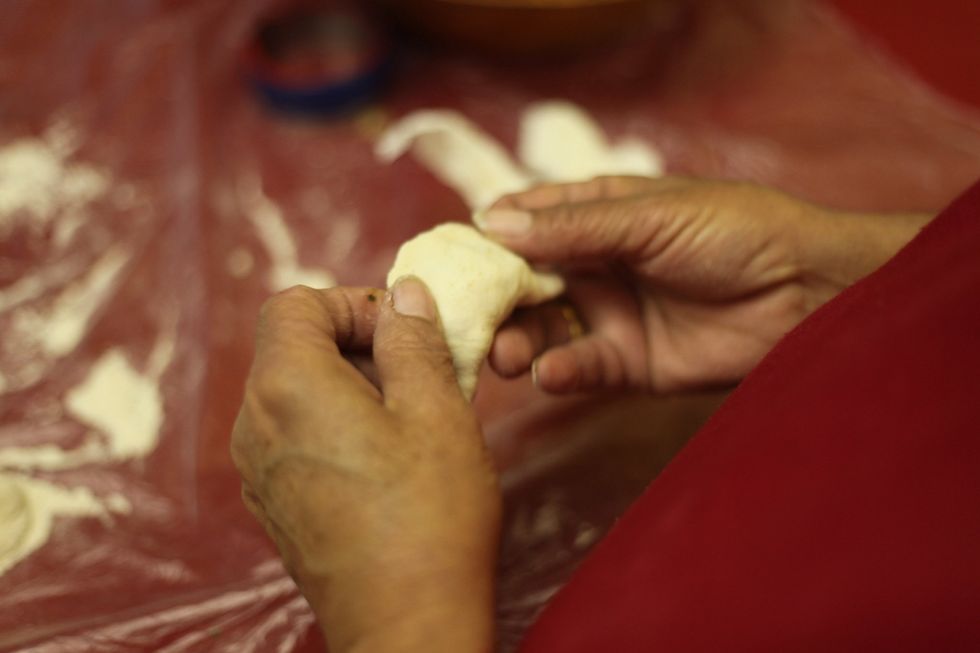 Hold it, look at it, day dream a bit more...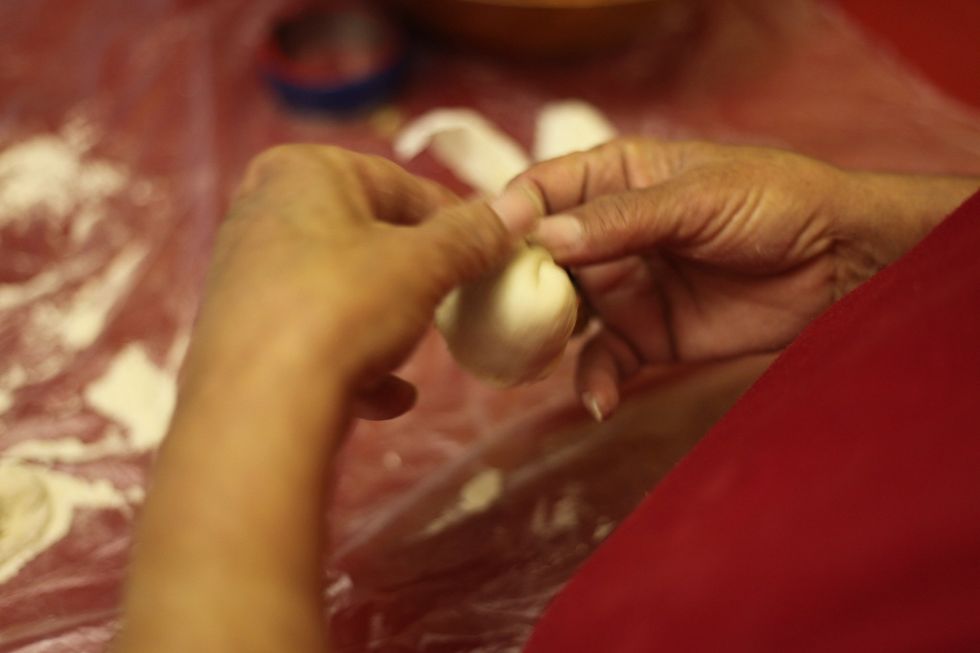 And fold, pressing the ends together to make the shape of a hat.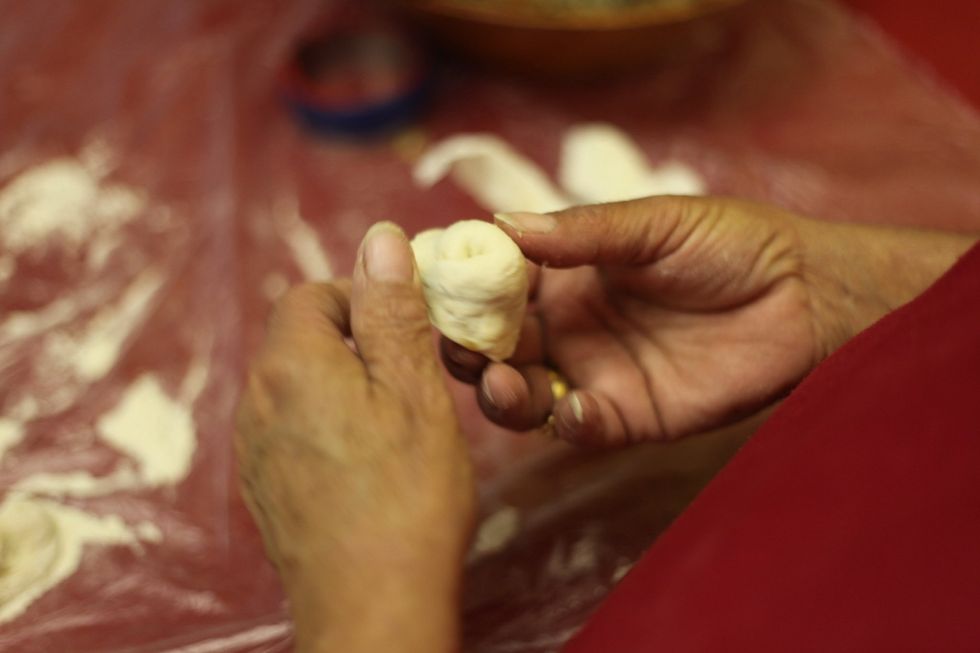 It should look a little like this. If not don't worry be creative. I'll still try your dumplings lol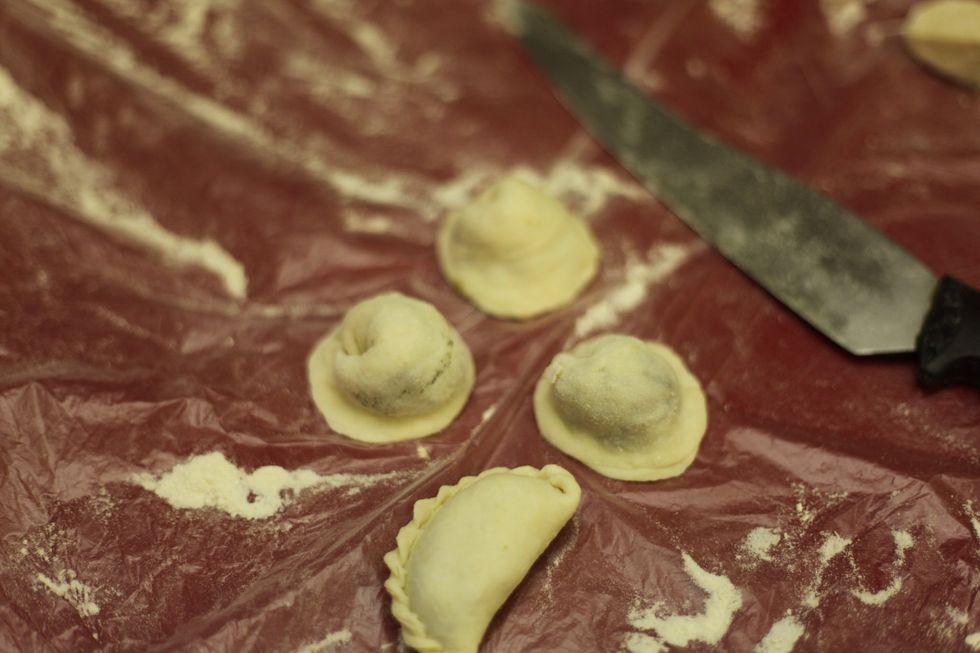 Aren't they the cutest things you've seen? My Nikki is cuter. You see for yourself....
Nikki stop that's not a dumpling!!! Cutest girl in the world.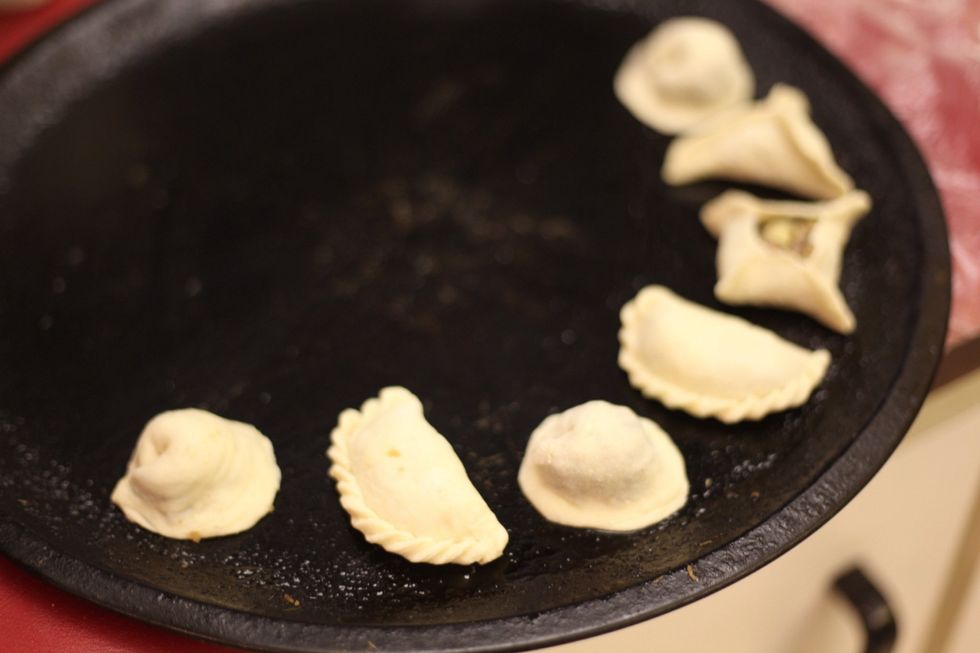 While you're filling your dough with goodness. I've added the step by step guide to making beautiful moon crusts. Mum's way!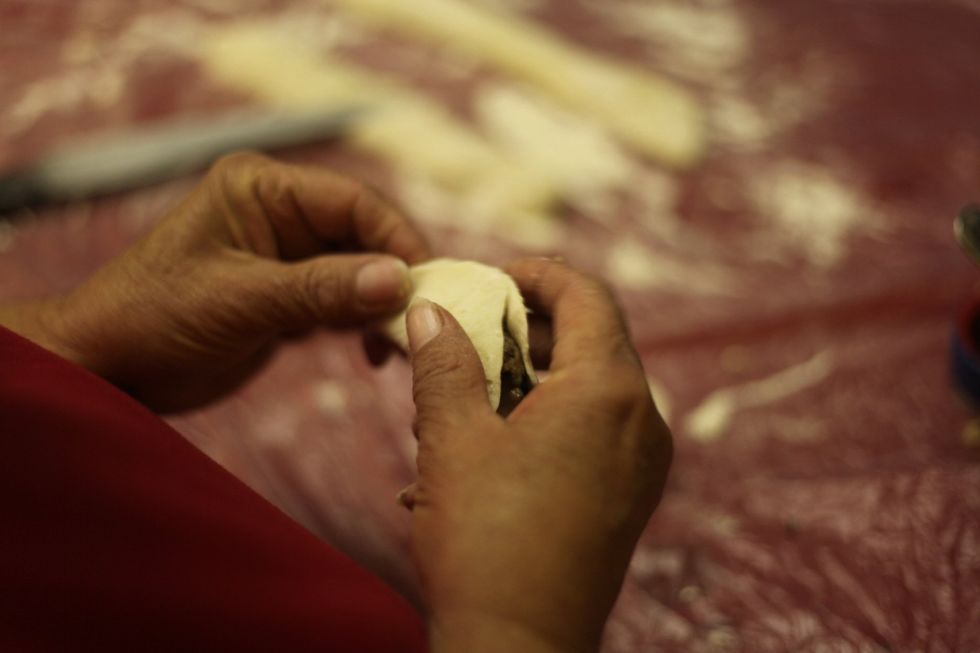 Fold in half and press the top together so it sticks together. You don't need to use water to glue the dough together.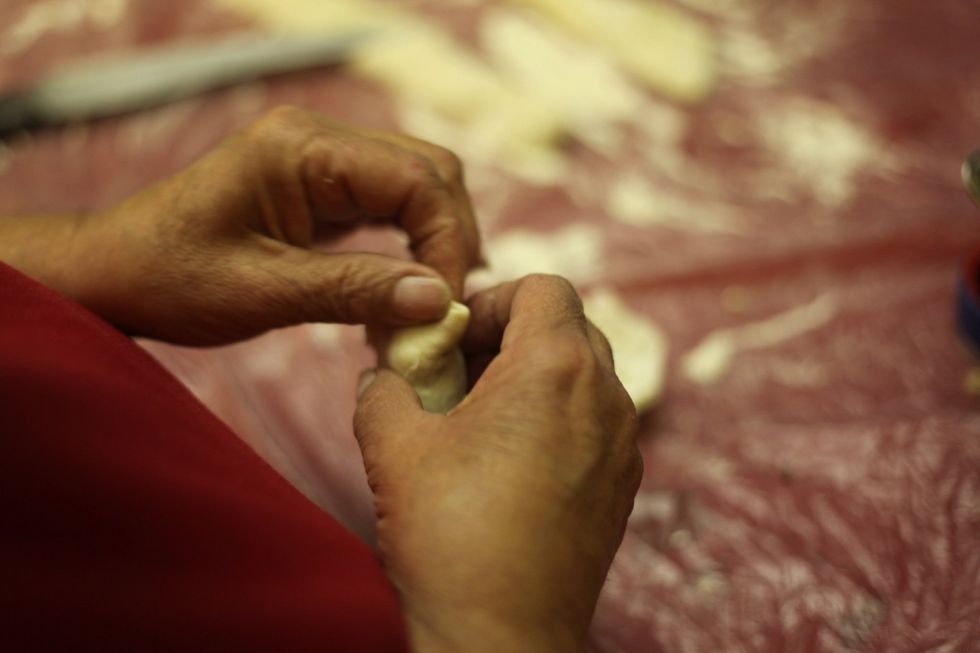 Nice job. Closed all the way.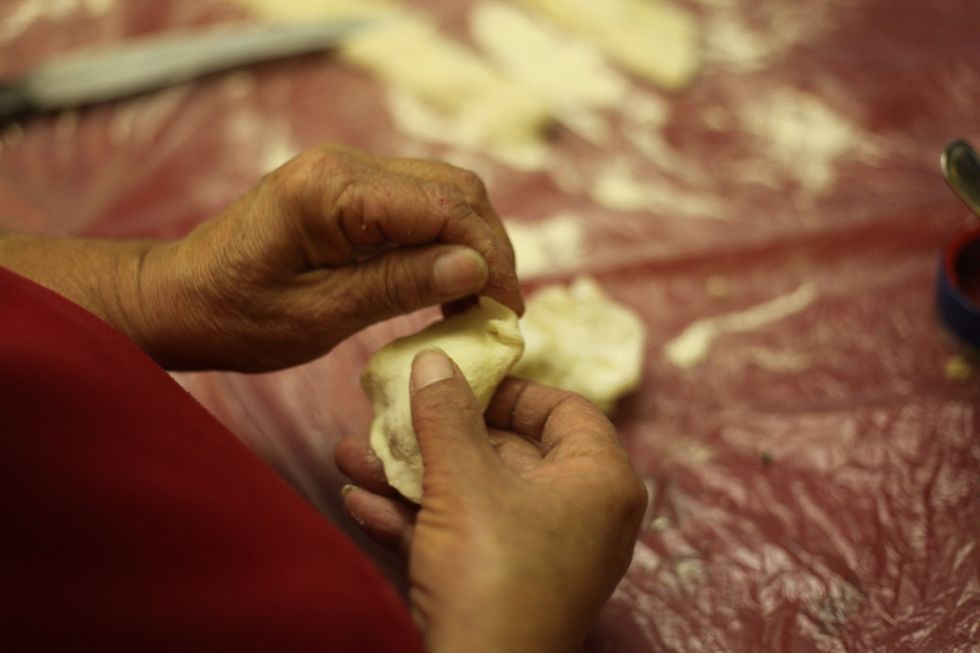 Starting on the right fold a tiny part, and work your way to the left and it's like crimping but not. Haha.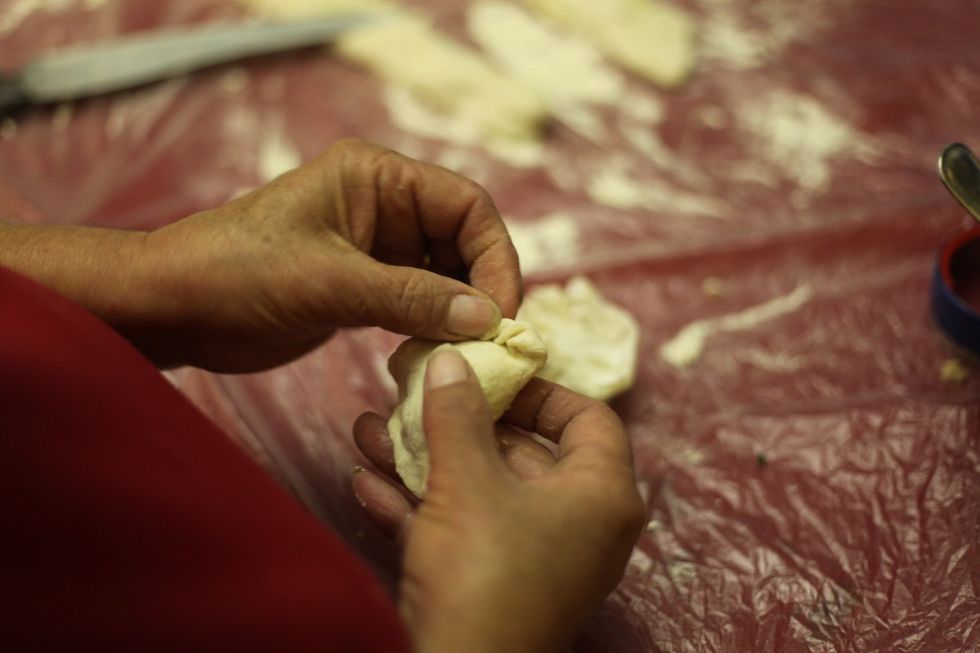 And crimp and twist and bend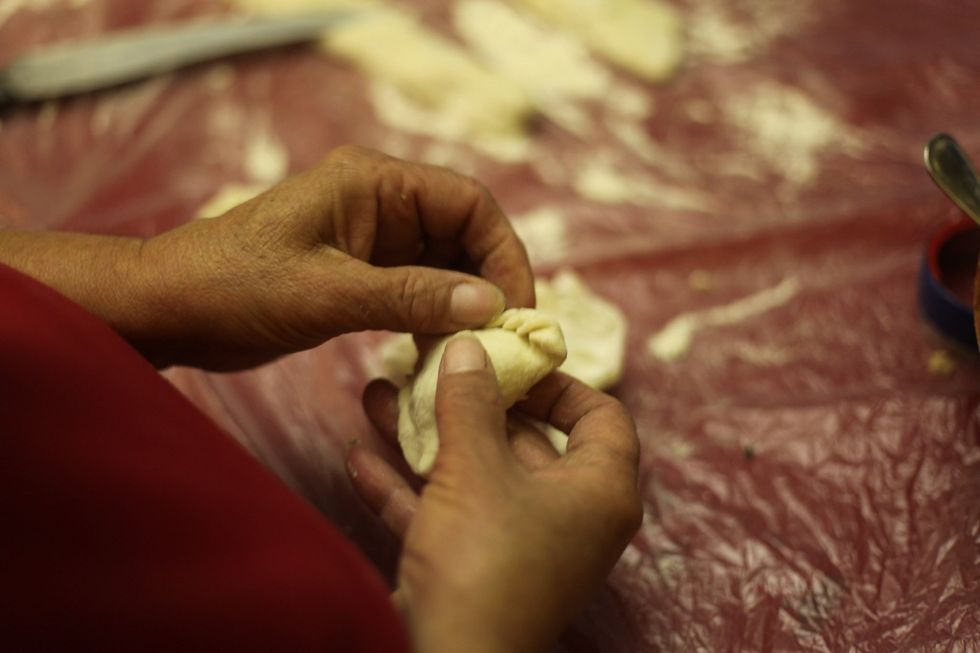 And crimp and twist and bend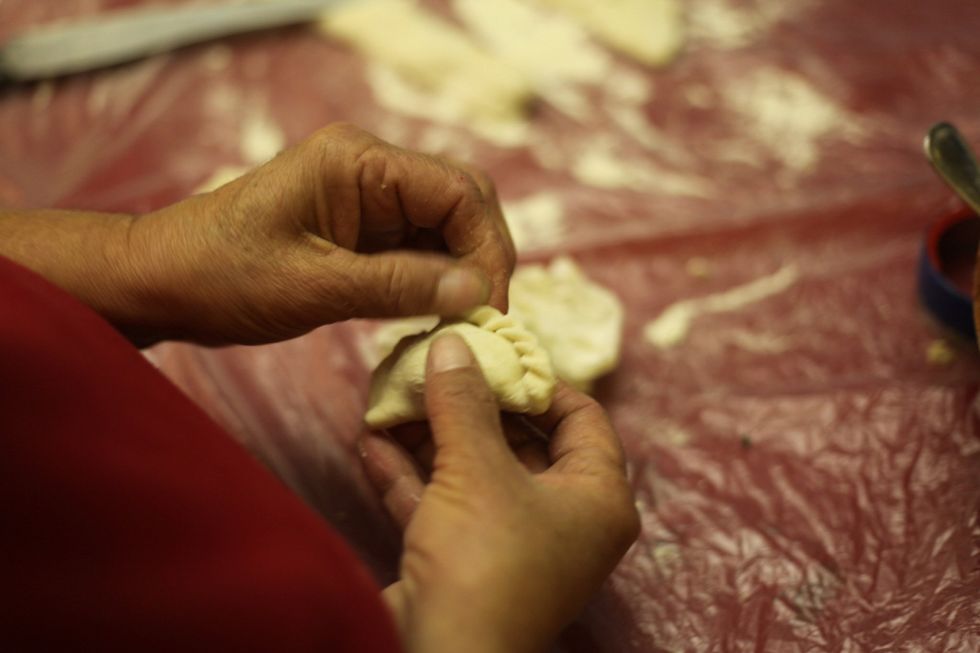 And again. Twist and crimp and bend.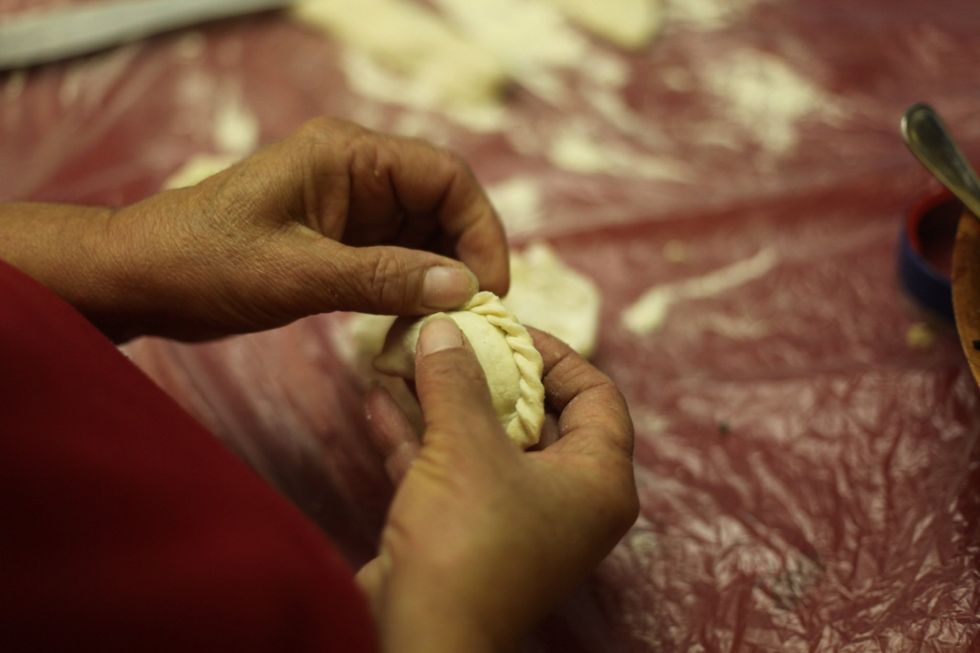 Few more times ...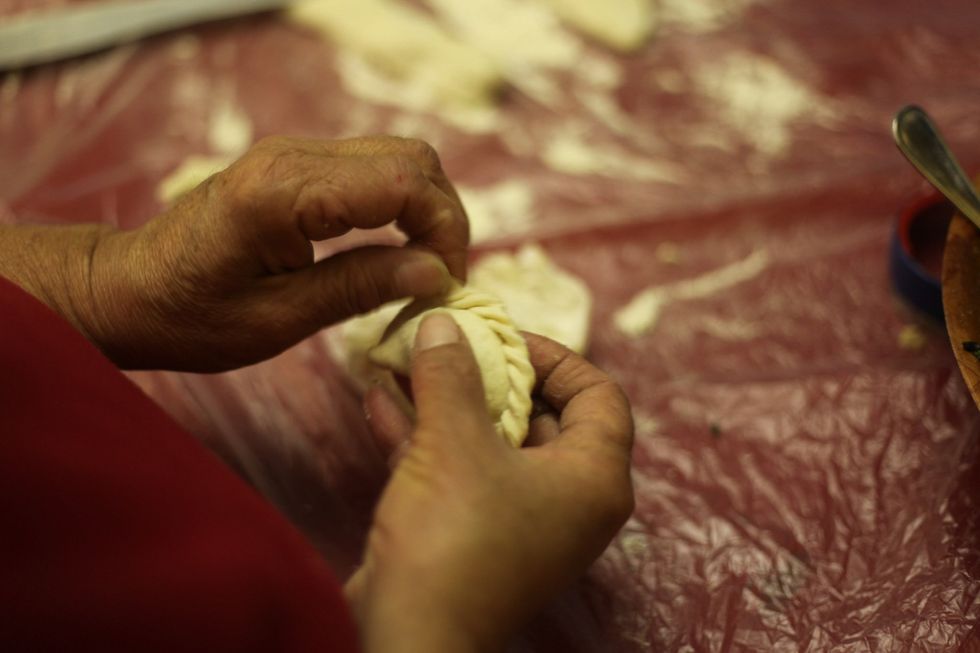 Again... Almost there.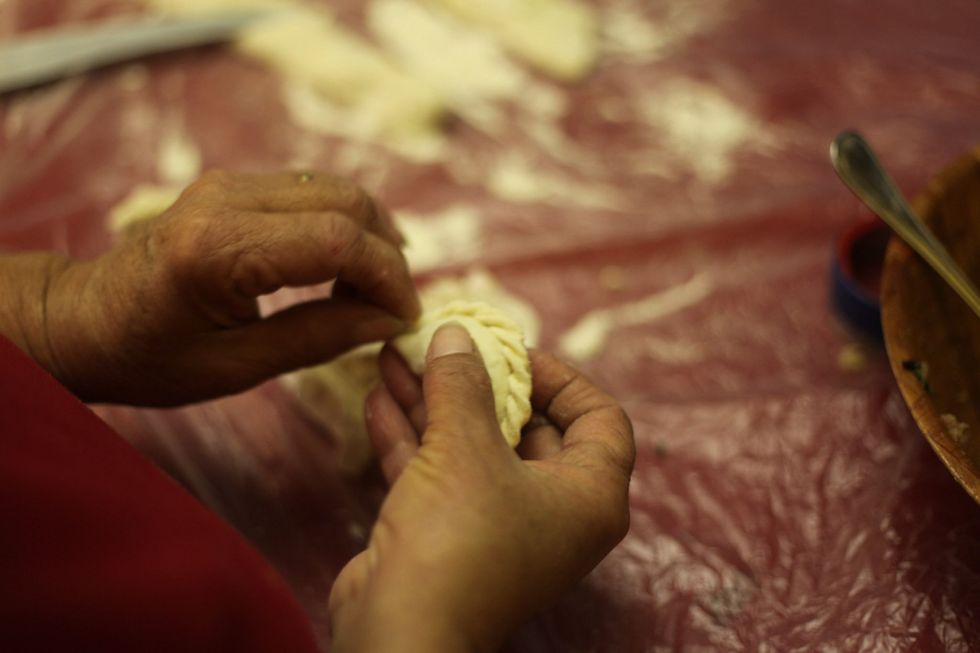 Oops one more time until you get...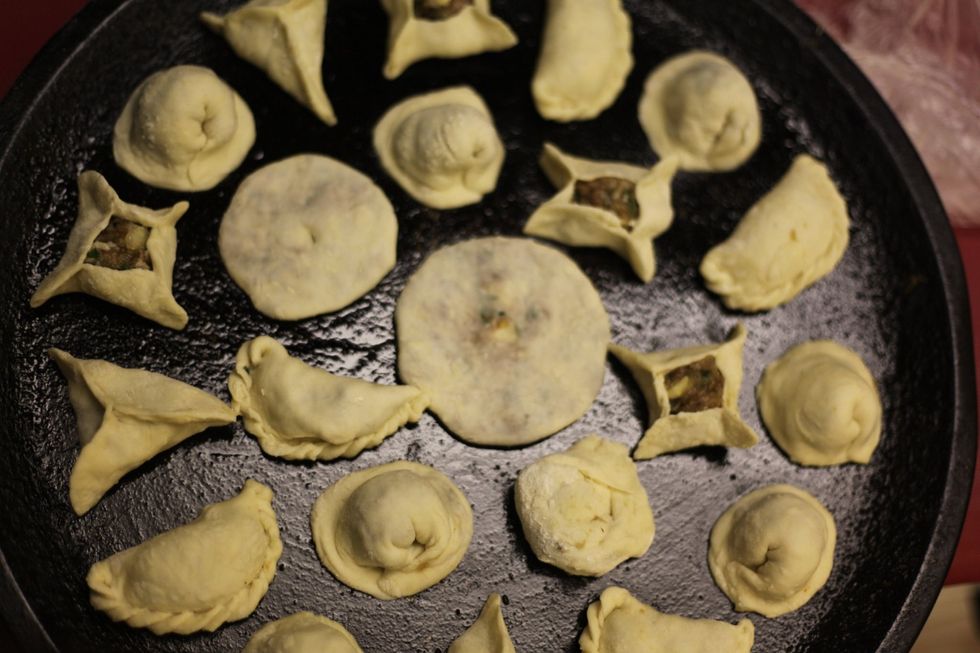 Geez I'm exhausted!!! And I didn't even do the pastry filling.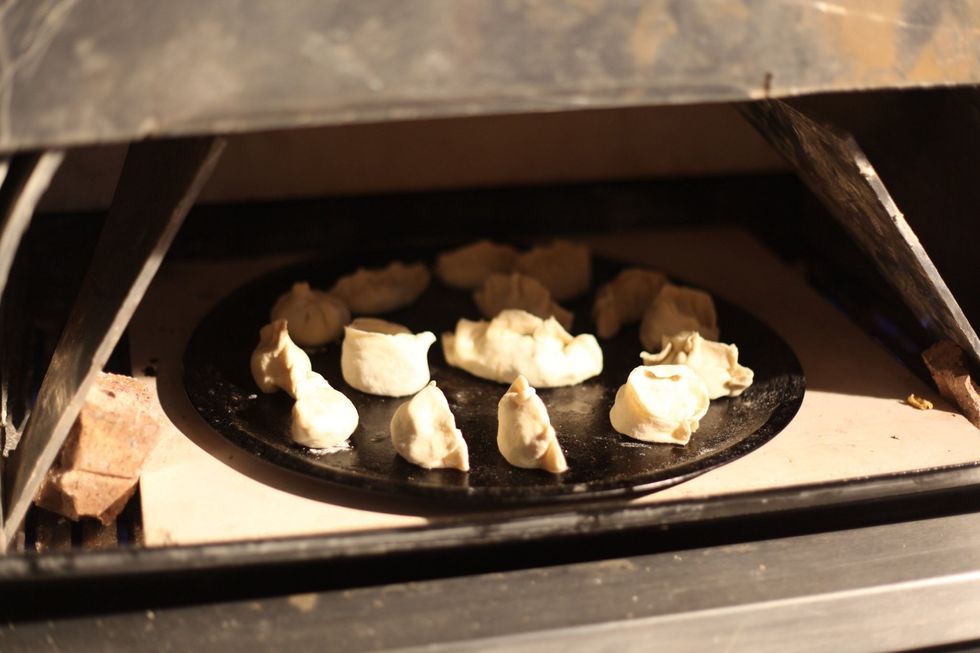 Now let's get back to the oven and check if Dad has burnt my dumplings. Lol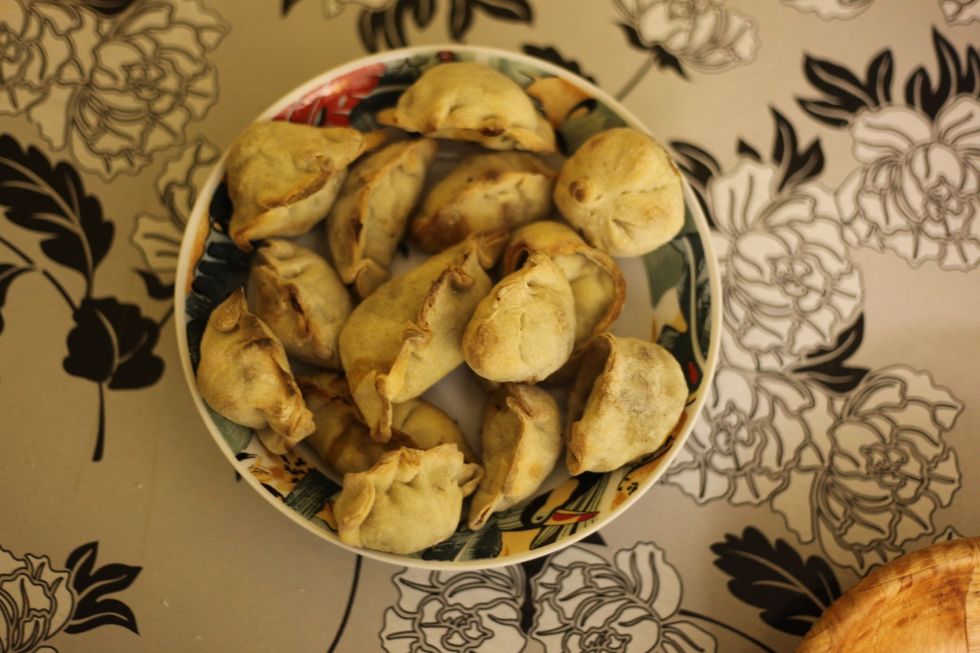 Looks good right. Not exactly as I'd planned. Overcooked a touch, made the pastry a little tough. But the filling was perfectilicous!!!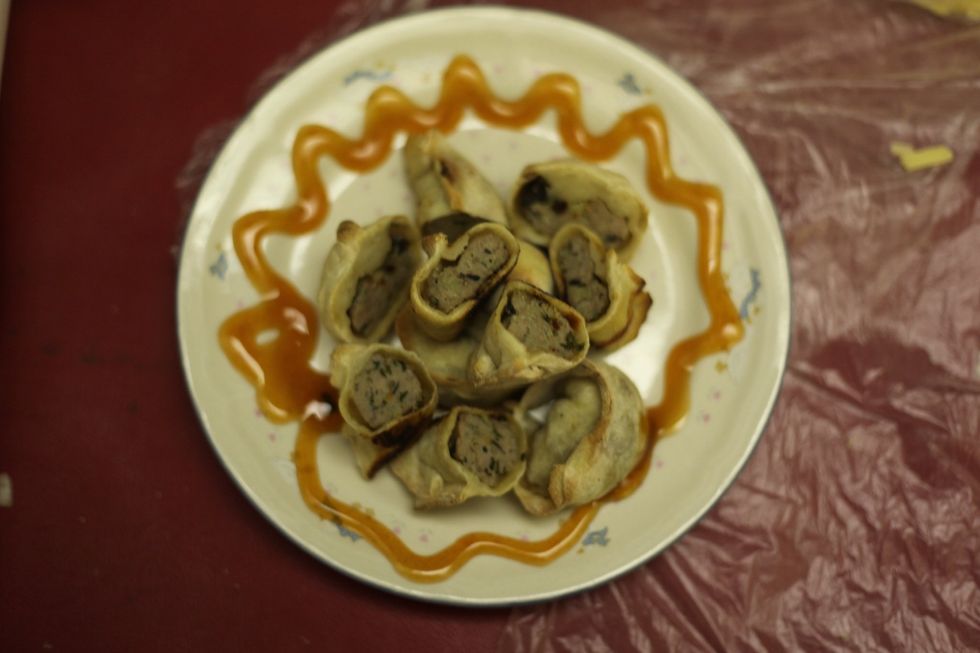 Full of flavor and amazing texture inside. The best way to actually cook dumplings in steaming or shallow fry.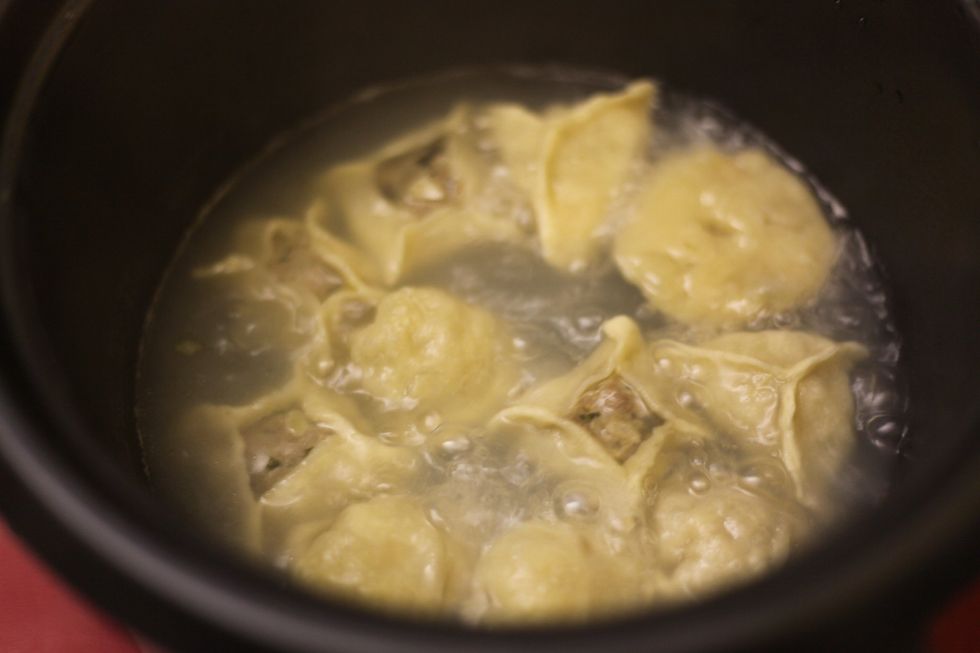 This is what they should be like and this recipe is brought to you with love from Micho's amateur kitchen.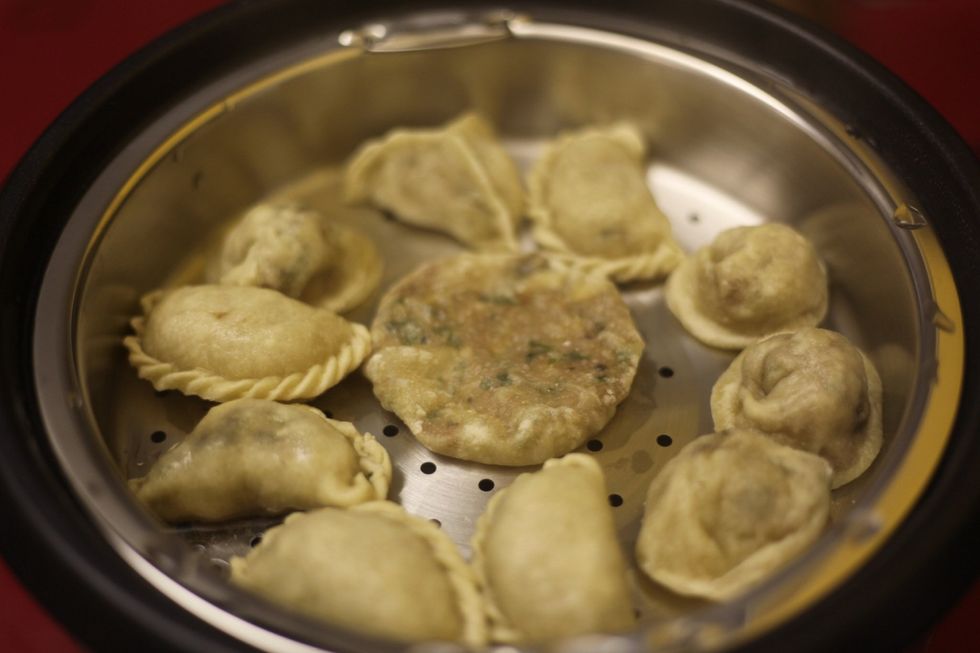 In the previous picture, the dumplings are added to clear soup (hot water, chicken stock, white pepper and chives). This is the steamed version in a rice cooker... Hope you enjoy.
1/2c Plain flour
1/2c Hot water
1/2kg Pork, chicken or beef mince
5.0 Large mushrooms
5.0pch Salt
1.0c Chives dry or fresh
1/2c Spring onion
1.0 Ginger (size according to taste)
3.0Tbsp Light soy sauce
2.0Tbsp Sesame oil
2.0pch Chilli flakes
1/2bnch Garlic finely chopped
2.0Tbsp Favourite stock powder
Michel Daher
Micho here. Amateur experimental chef and lover of food. Thanks for all your support. Join my Food Journey www.naturallygoodfood.com