Bring a pot of water to boil. *This is not a traditional Ramen. But a modified homemade version. If you're lucky, some noodle packages comes with the sauce mix. **Try not to use dry noodles.
Rehydrate seaweed flakes in a bowl with a cup of boiled water until completely open and flat. Do not over soak or cook. Drain and marinate in ponzu sauce.
Cook corn and sliced mushroom separately in a wire sift. Remove and set aside.
Cook ramen noodles in boiling water for 3 minutes. Drain and place in bowl.
Arrange ingredients over the noodles. Cut boiled egg in half and place over noodles.
Pour soy sauce, ponzu, sugar, and Hontashi into boiling water and mix well for 2 minutes. Pour into bowl. Sprinkle with chpped green onion.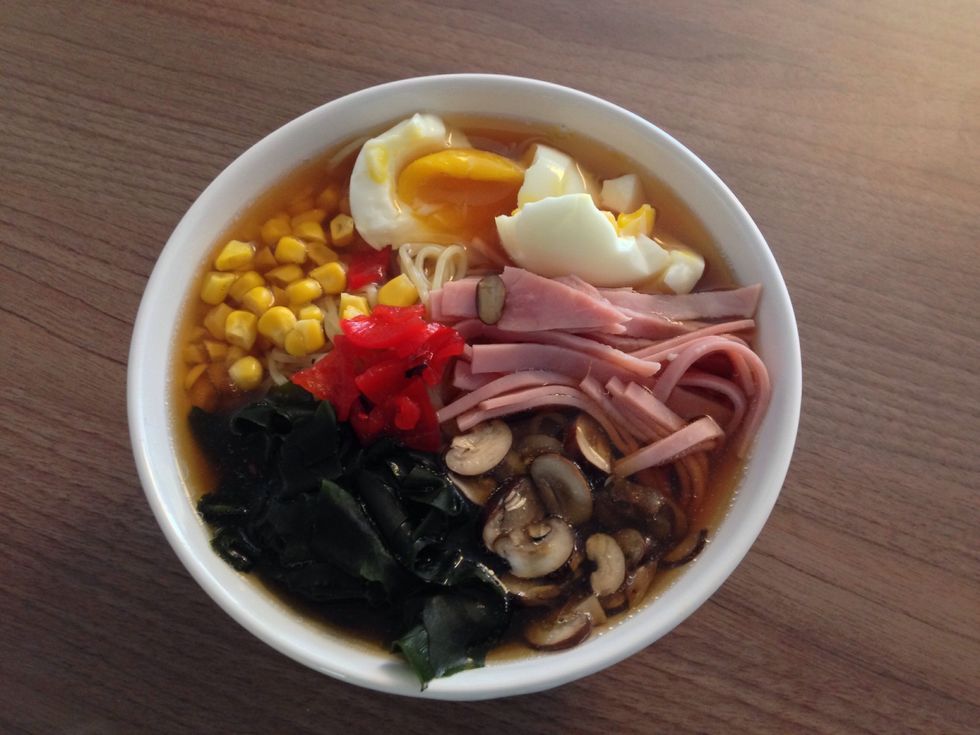 Enjoy ! Itatakimasu!!
Optional Ingredients : If you have access to an Asian market, you can get some pickled radish and top the noodles with a couple tiny slices. (The pinkish red stuff in the photo.)
1.0 Fresh Packaged Ramen Noodles
1.0 Boiled Egg
2.0 Sliced Shitake/Champiogn Mushroom
1.0 Sliced Ham
1/8c Fresh Corn
2.0Tbsp Chopped Green Onion
4.0Tbsp Dried Seaweed (thin)
3.0Tbsp Ponzu Sauce/Citrus Soy Sauce
1.0Tbsp Sesame Oil
2.0Tbsp Japanese Soy Sauce (give or take)
1/4tsp Hontashi
1/2tsp Sugar
Lumi Aria
Professional Nomad, Photographer, DJ, and Cookaholic.\nLoves finding delicious recipes & spices from around the world and having a thoughtfully mixed drink.