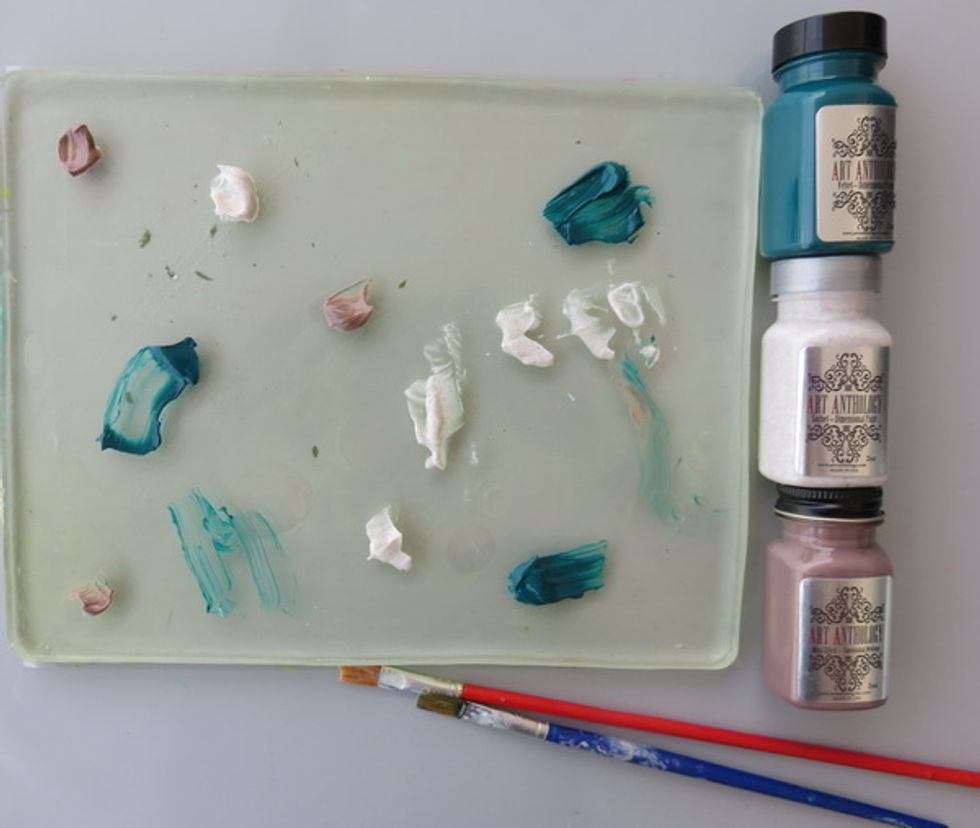 Add a few drops of Velvet Lagoon, Potobello and Sorbet Dazzle Dimensional paints over Gel printing plate.
Spread the paints over the Gel plate with roller.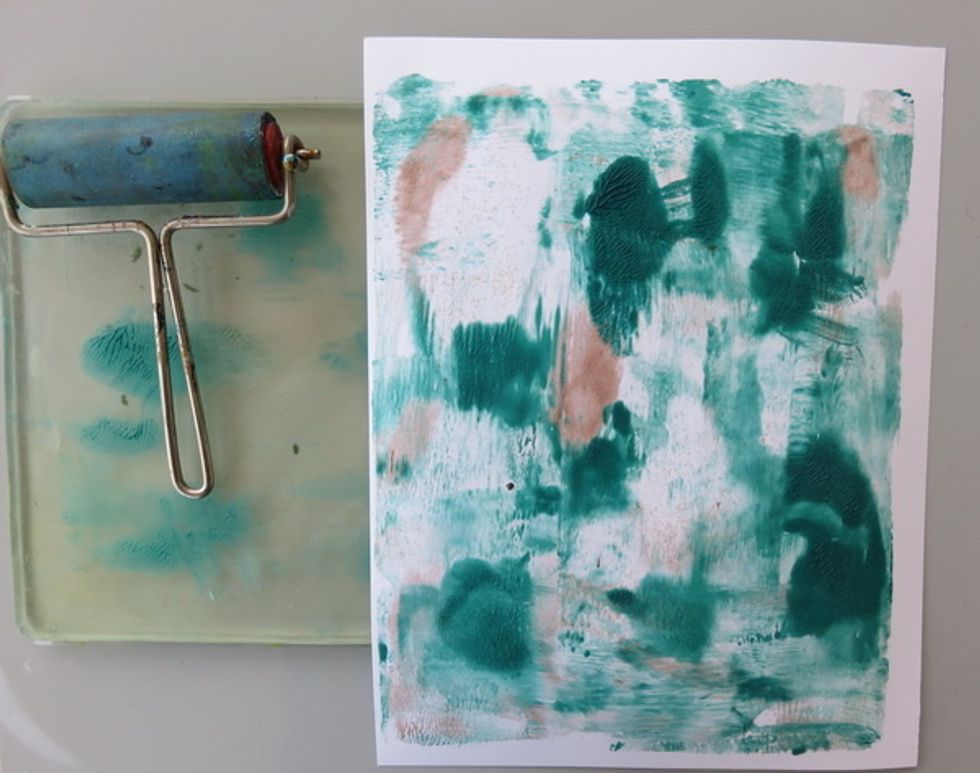 Make the first monoprint using a very thick white Mixed Media cardstock.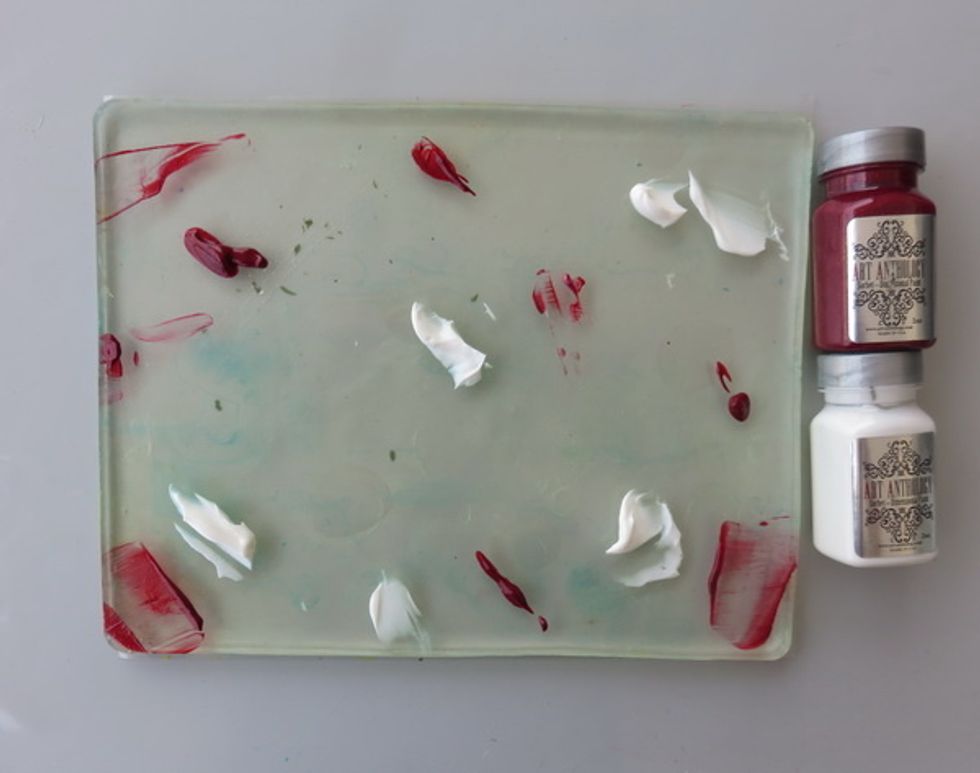 Repeat step 1 with two more colors: Frost Sorbet and Red Velvet Sorbet by adding some drops of the paints over the Gel Plate.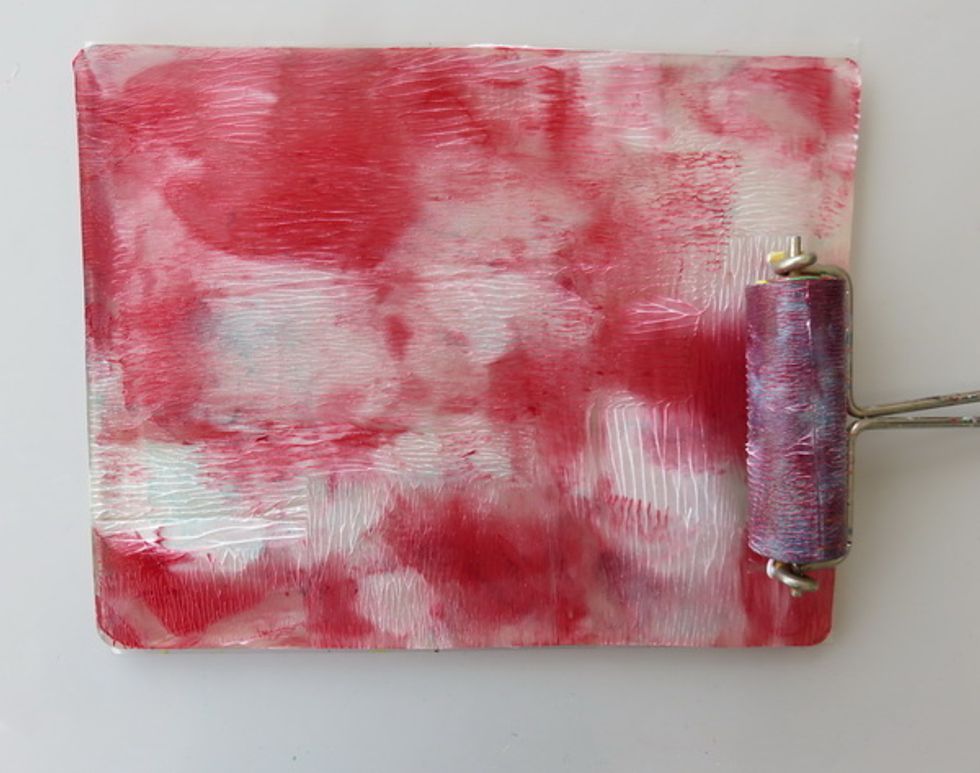 Spread two colors with a roller.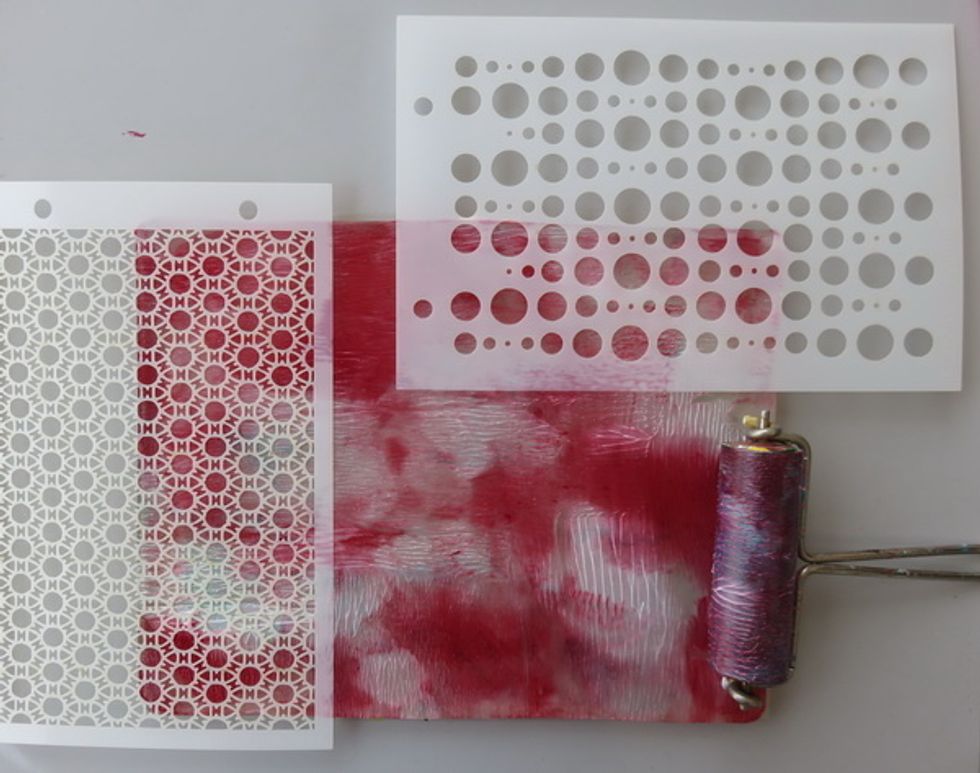 Cover the Gel plate with two Art Anthology Bubbles and Retro stencils as shown. Not much or close to zero will be seen after all on the finished project, but it adds a bit of texture.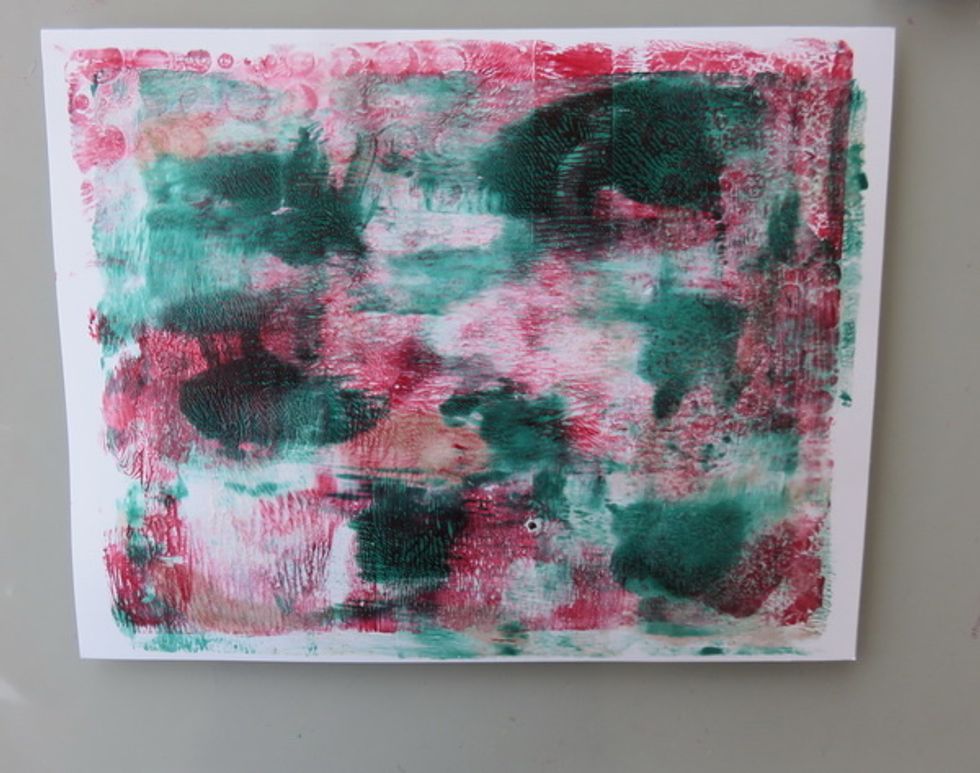 Take the monoprint of red and white with stencils over the same print from the previous step.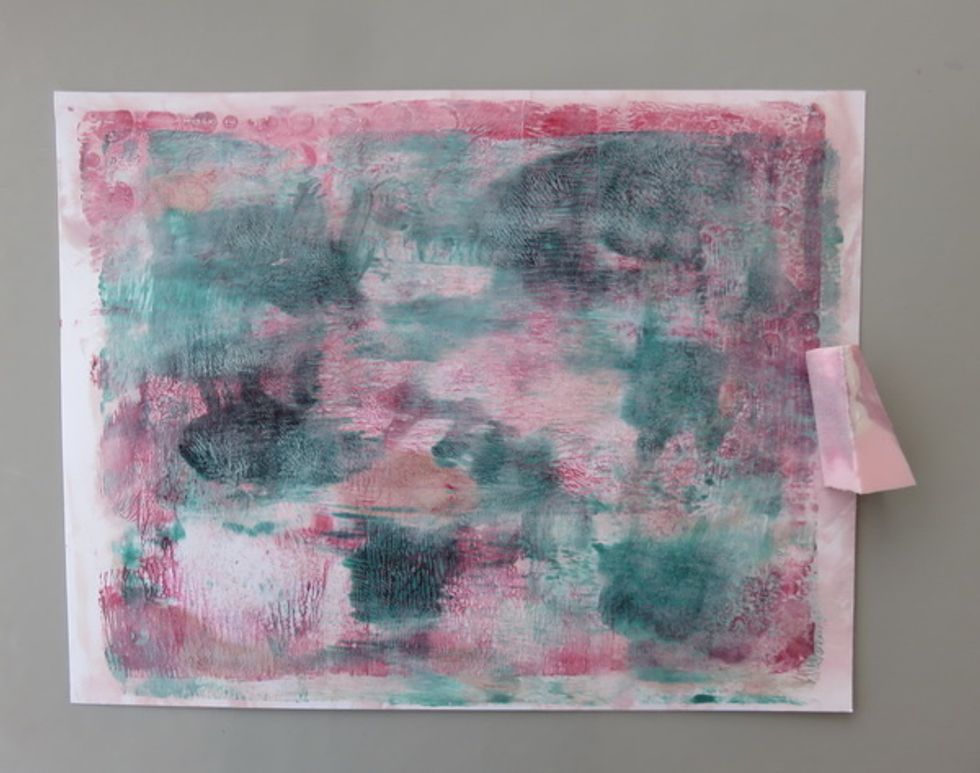 Mute the color brightness with a bit of liquid white gesso.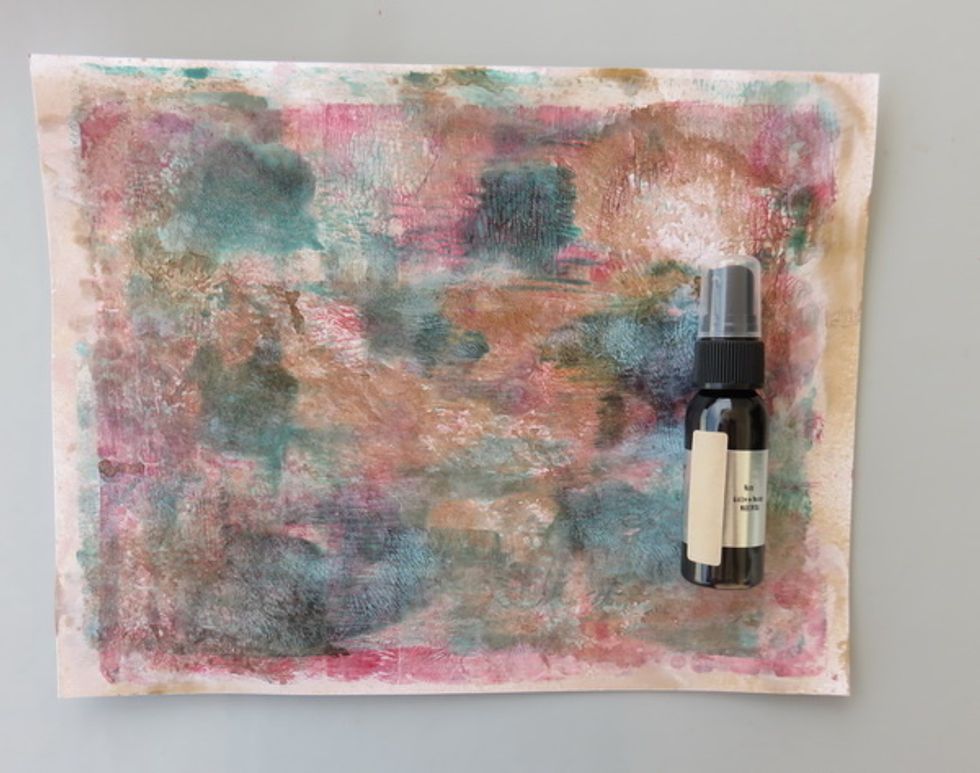 Mist the whole piece with Art Anthology Warm Colorations Spray and let it dry.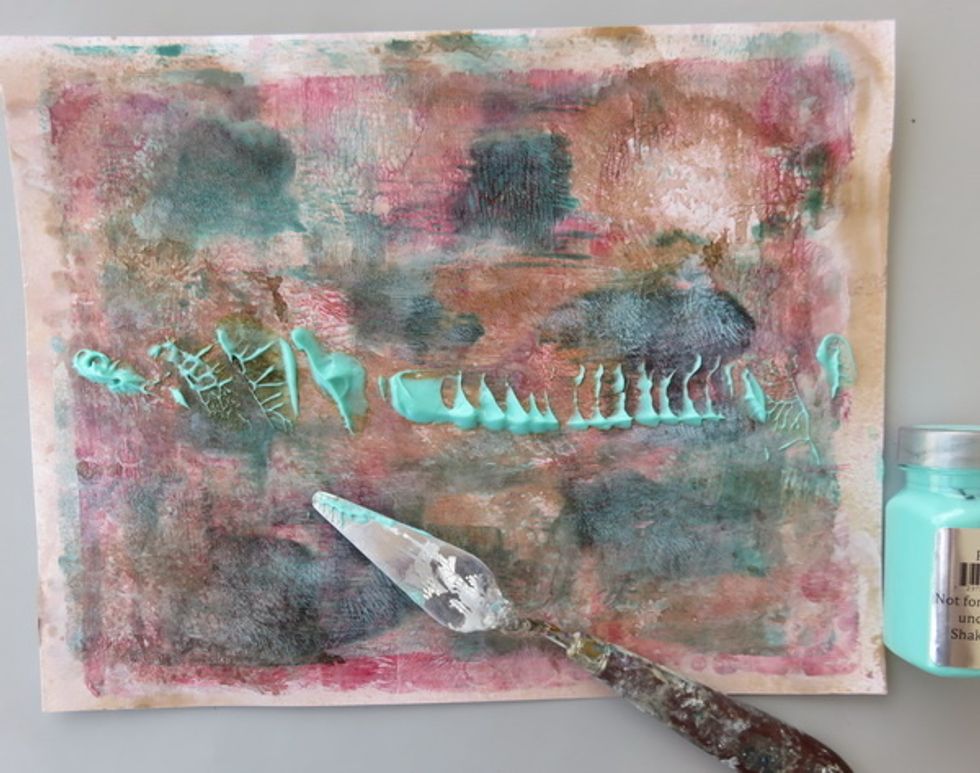 Spread a thick layer of Pixie Sorbet Dimensional paint with your palette knife in the middle of the page.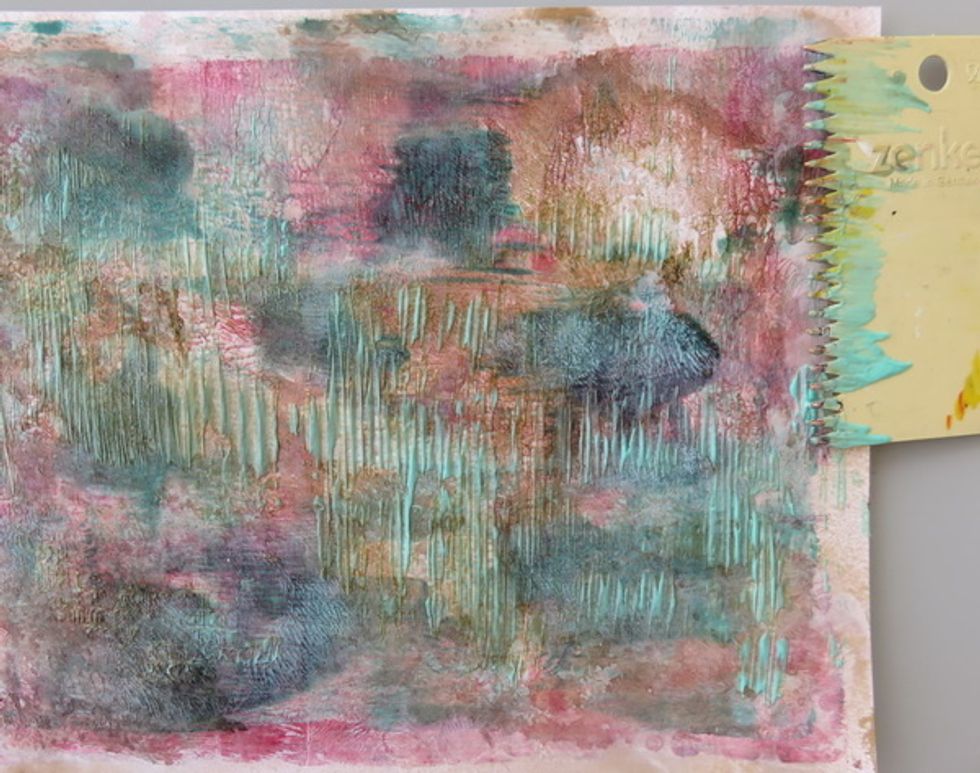 Use a simple plastic paint comb to spread the paint as shown over the page.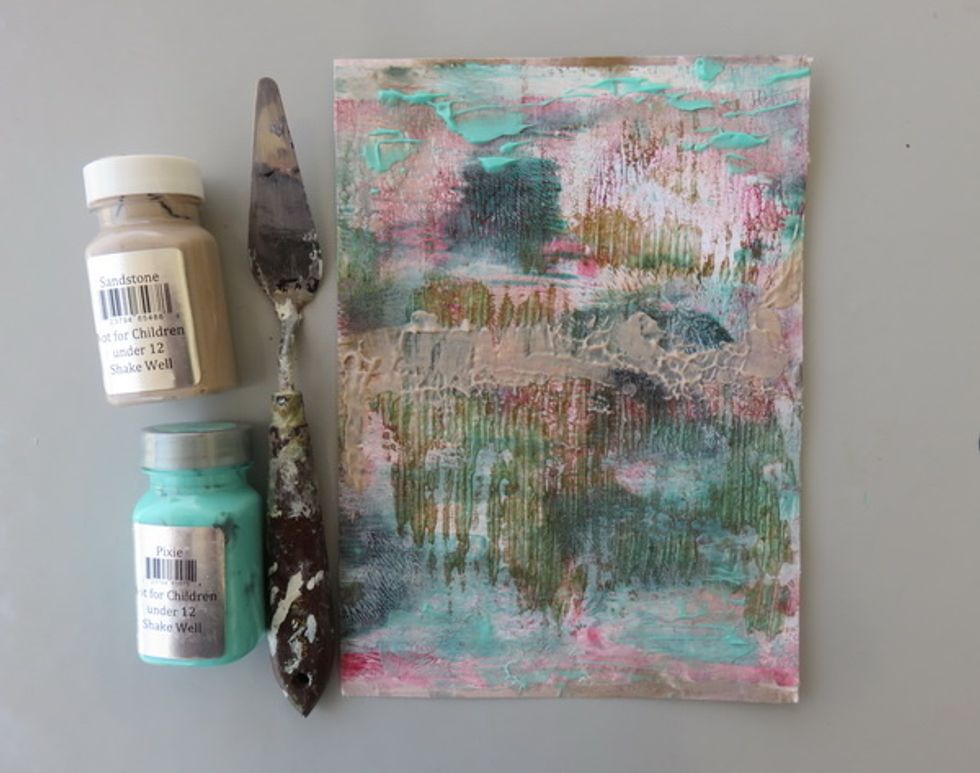 Add more of Pixie paint to make the sky like texture. Add Portobello paint in the middle to look like mountains. Dry with your heat gun to get the bubbles and the texture.
This is how it looks after the heat gun " treatment"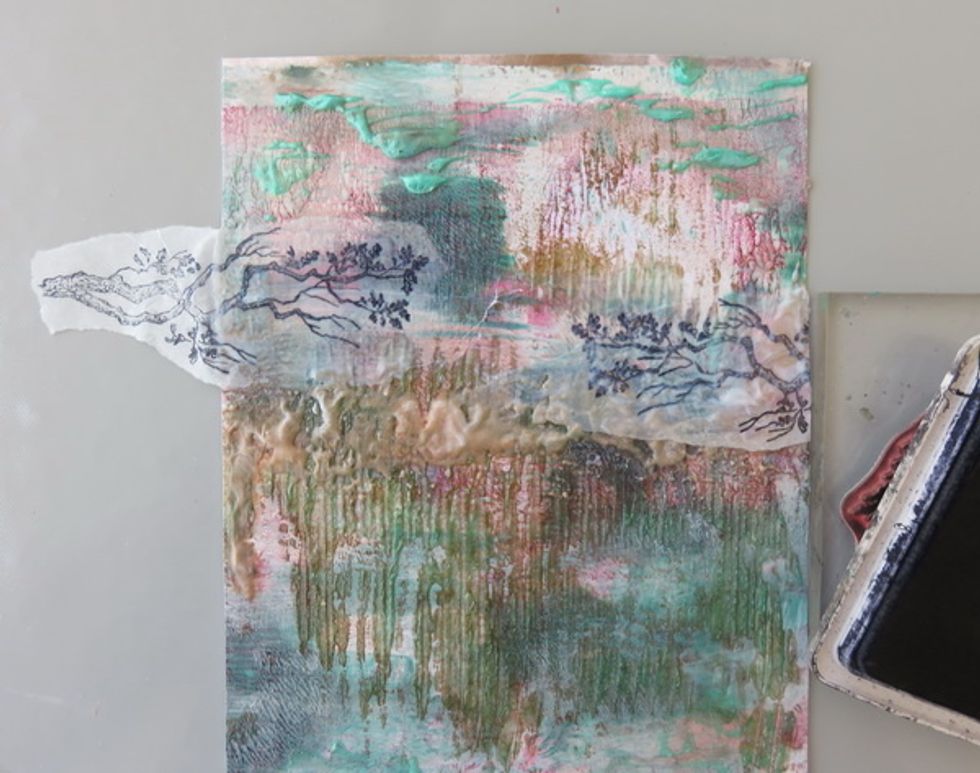 Stamp leaves, trees, fence and whatever you feel and have over white tissue with black pemanent ink and glue it to the page with gel medium under and over the image. Build a scene with your stamps.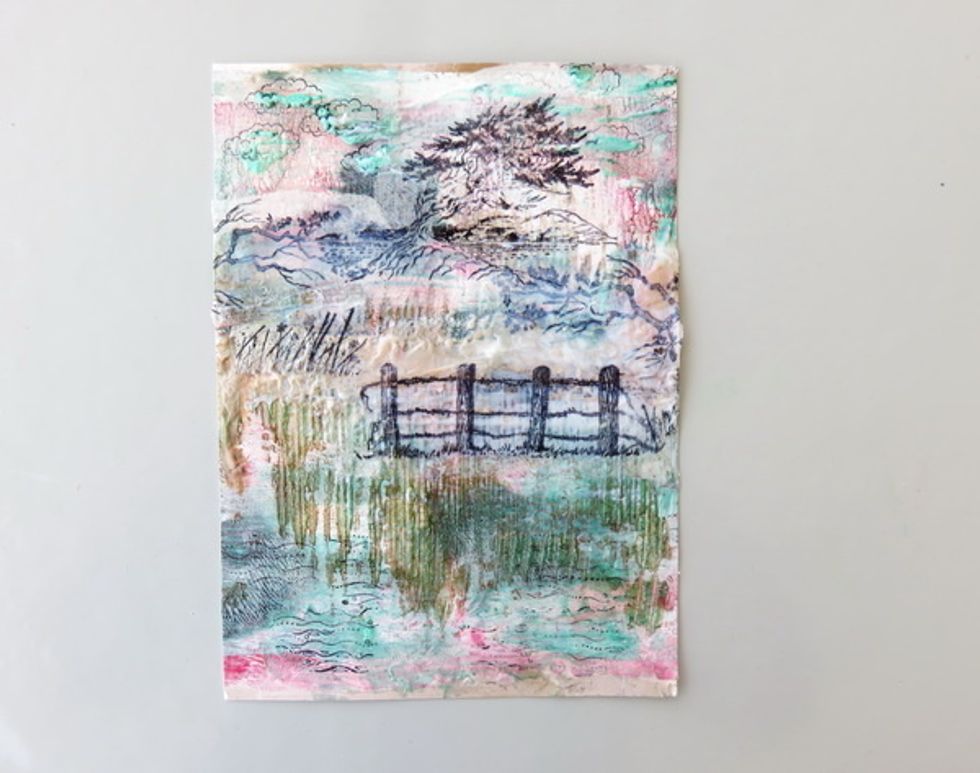 This is how it looks after more stamped over tissue images were added to the page. Stamp clouds over the textured paint on the top and waves on the bottom directly over the page.
Add colors with Art Anthology Colorations Sprays in Glorious, Avocado and Grass colors. Let the page be dry before you add color unless you want it to be a mess!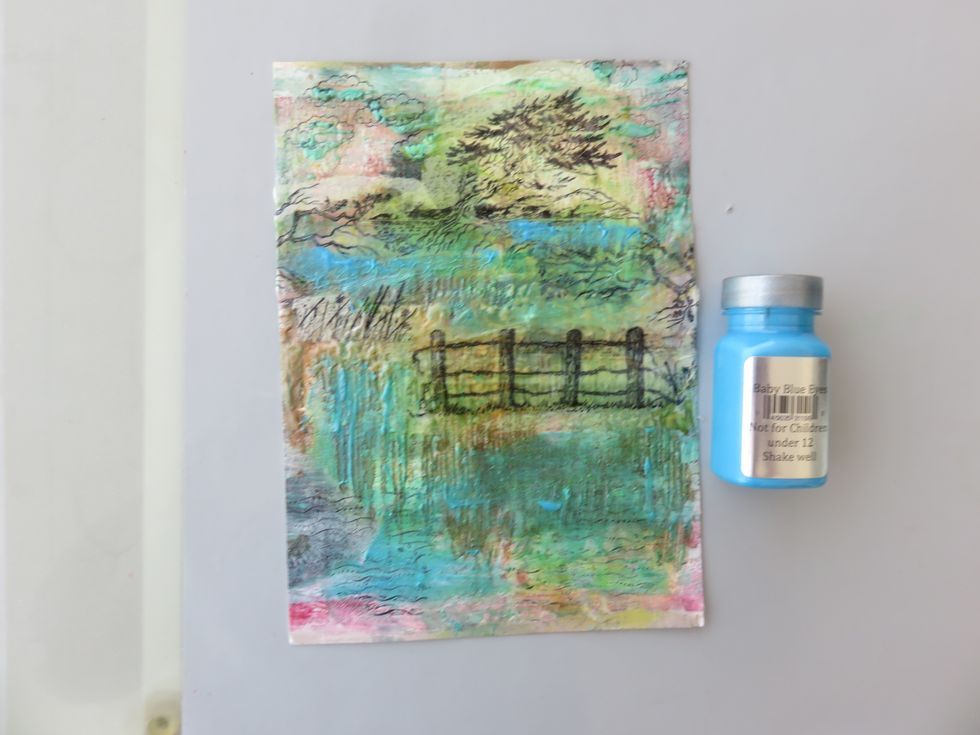 Add a bit of Baby Blue Eyes Sorbet paint as shown to make some " watery" spots over the page.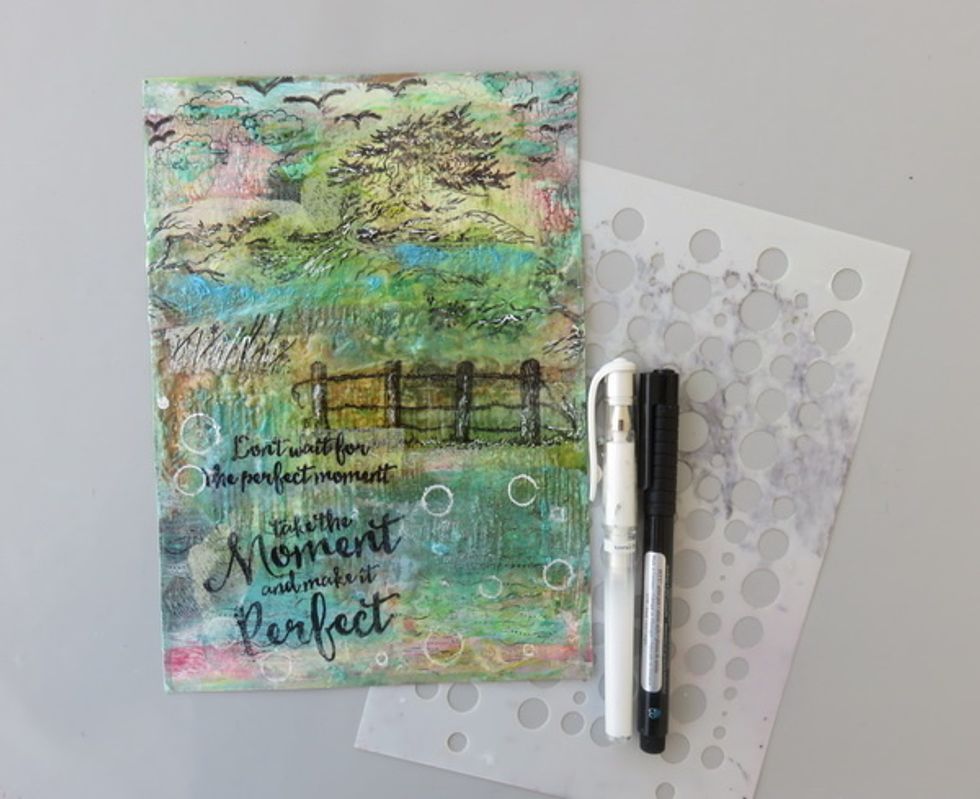 Stamps the sentiment in the same way as images and glue them as shown. Draw a few birds with black pen and make some white pen highlights.Draw some white pen circles with AA Bubbles stencil.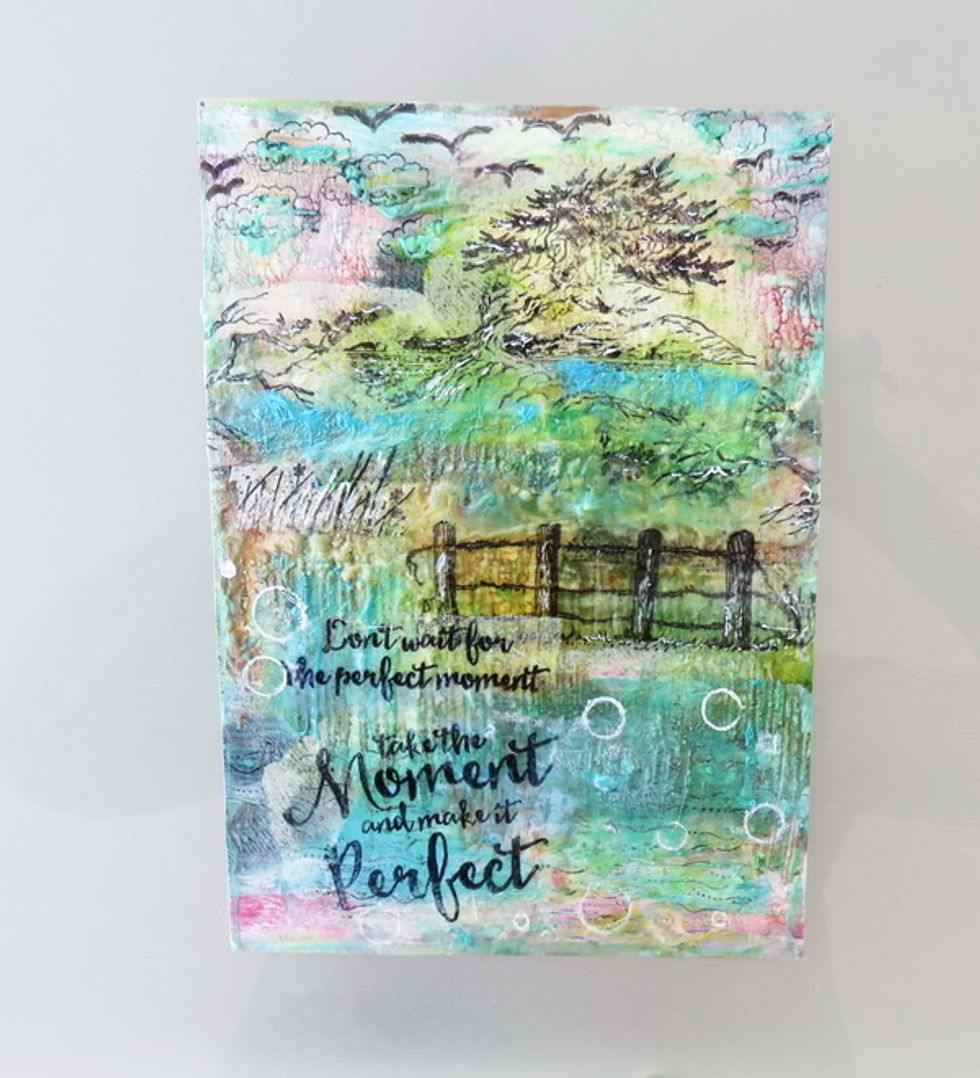 This is your finished art page! Enjoy!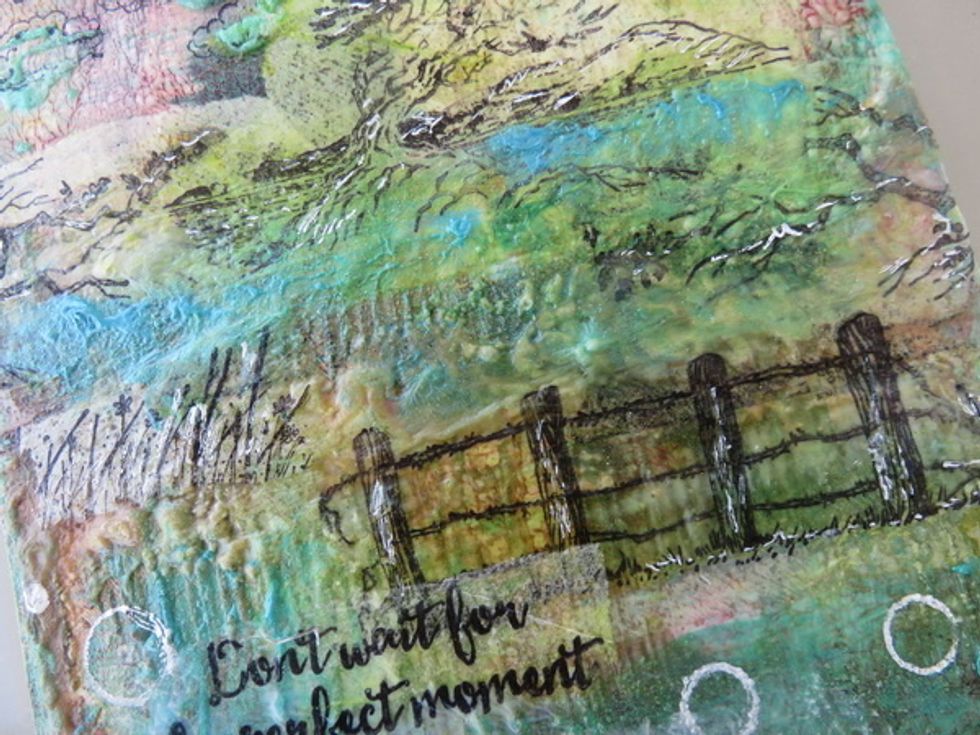 Take another look at the texture!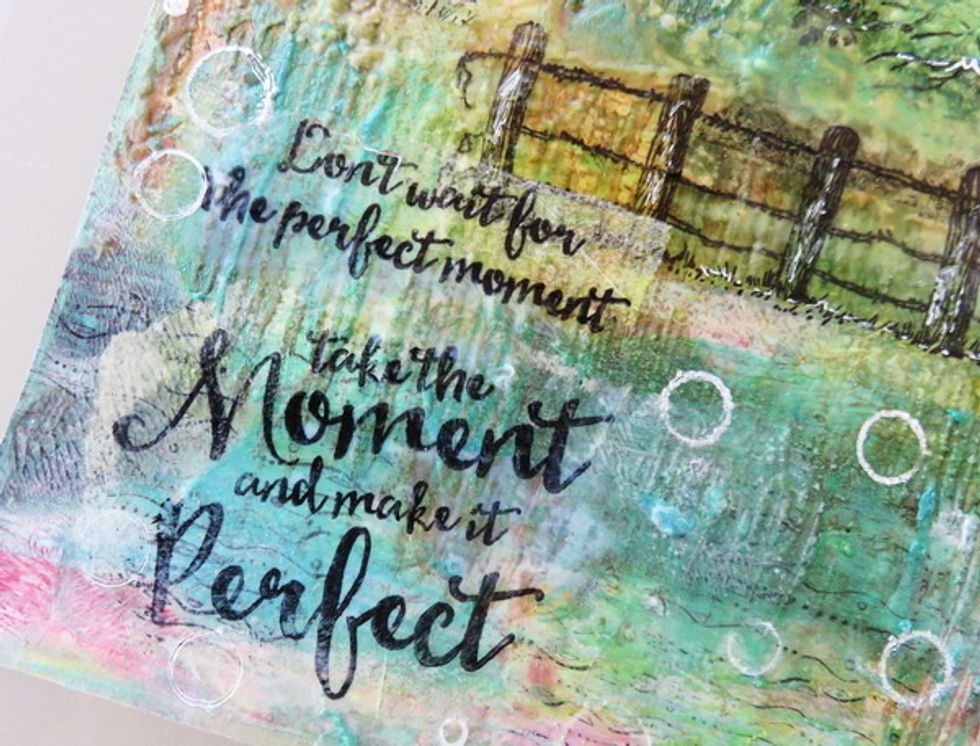 Dont' wait for the perfect moment! Take the moment and make it PERFECT!
Lagoon Sorbet Dimensional paint AA
Portobello Velvet Dimensional Paint AA
Dazzle Sorbet Dimensional paint AA
Frost Sorbet Dimentional paint AA
Red Velvet Sorbet Dimensional paint AA
Warm Colorations Spray AA
Pixie Sorbet Dimensional paint AA
Avocado Colorations Spray AA
Grass Colorations Spray AA
Glorious Colorations Spray AA
Bubbles Stencil AA
Retro stencil AA
Gelly Plate
Stamps from Visible Image and Rubber Cafe
Black Archival ink Ranger
Gel medium
Art Anthology
Art Anthology is a manufacturer of dimensional mediums.\n\nCome chat with us in our Facebook Group: Art Anthology Adventures in Art