Popcorn + chocolate = eating air + chocolate = reduced calories. Ahem. What's left to say except wed me already. Ready, steady.
343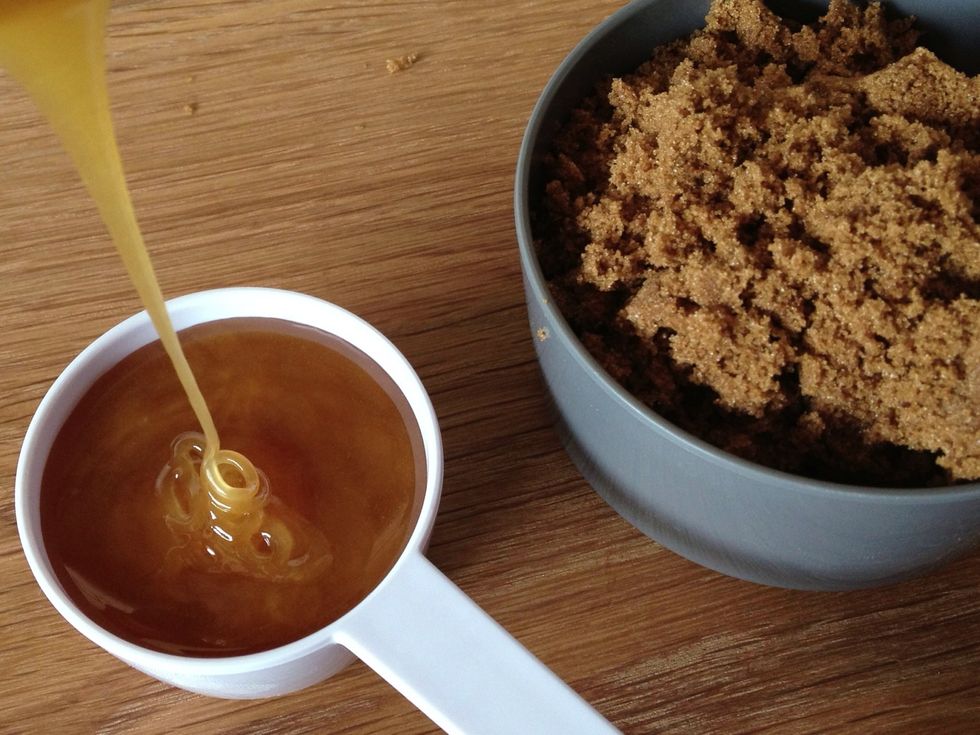 I'm taking time out from sunning myself to share this recipe. Is it 'cos I love y'all so much or 'cos I want you to make it and come feed me? You'll find me at the Lake. Greetings from sunny Malawi!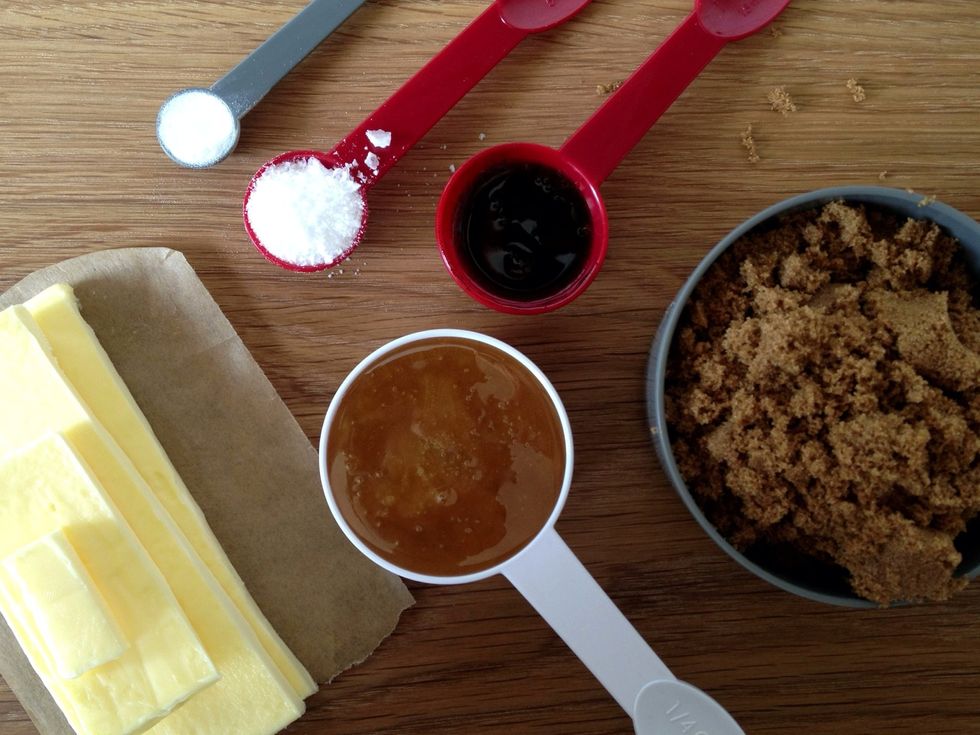 Gather all the supplies as everything comes together quickly. You'll also need a large pan, two large bowls, a full size lined oven tray and, to mould the chocolate, a smaller lined / silicone tray.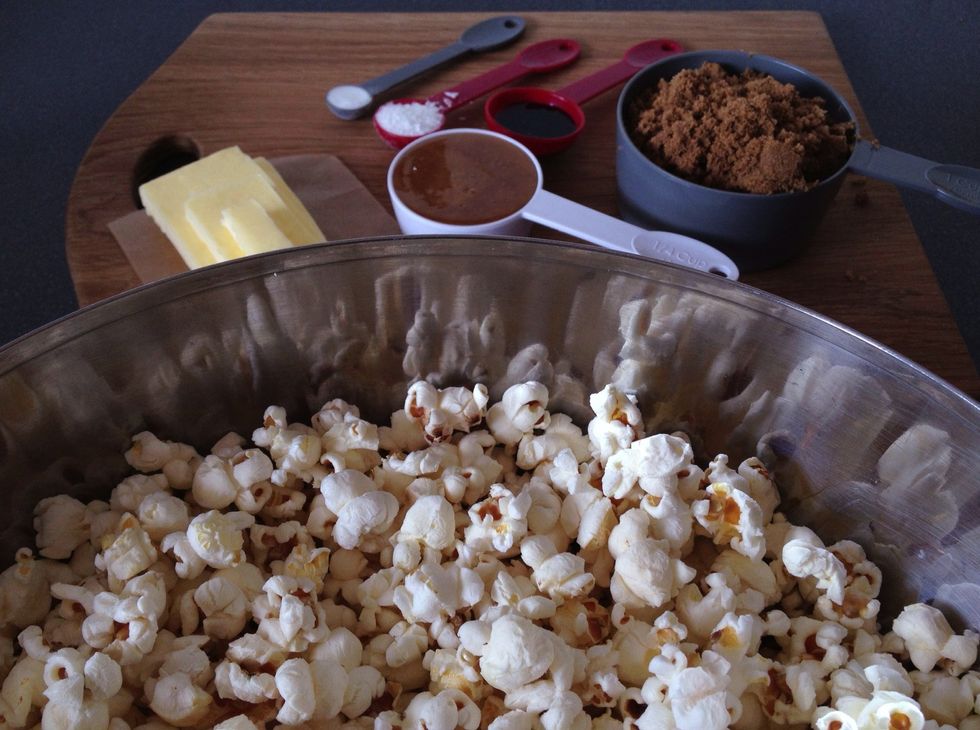 Oh, and don't forget the popcorn! Air popped is better. Pan or microwave popped works diddly do too. Just make sure it's plain. Thank you muchly moo. Divide popcorn between two bowls and set aside.
If you'd rather not work for your calories, I'll let you cheat! Buy your favourite caramel popcorn and skip to step 14 to make the chocolate bars! Otherwise, preheat oven to 120C / 250F and proceed.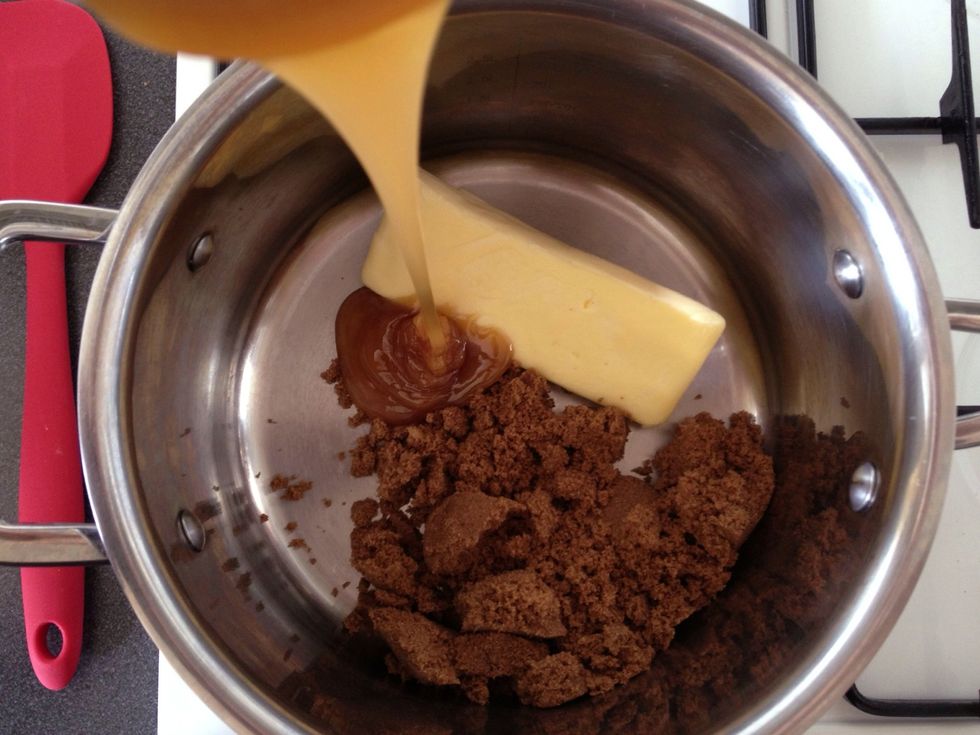 Add the butter, honey and sugar to a heavy based pan and turn the heat to medium. Work quickly on the next few steps.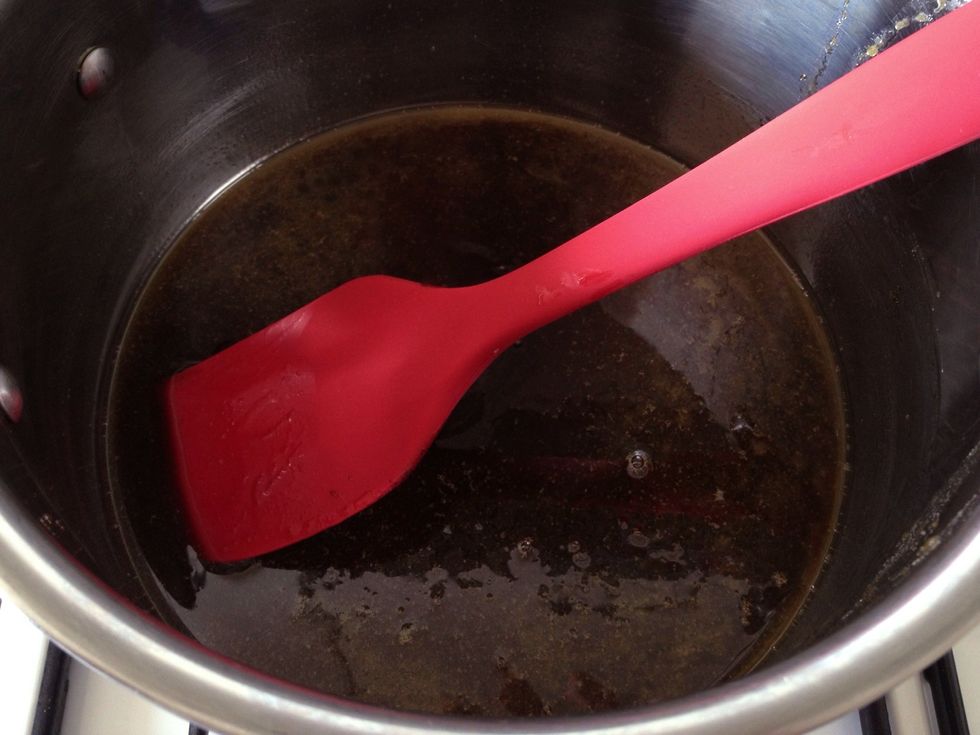 Stir until melted and combined. Then turn up the heat and boil vigorously for 2 - 2 1/2 minutes until the caramel turns golden / amber (max. 3 for slightly burnt taste). Do not stir when boiling.
Caramel can burn in seconds so keep a close eye on the colour. Lucky for you, slightly burnt caramel is quite addictive once you've acquired the taste and it pairs very well with sweet milk chocolate.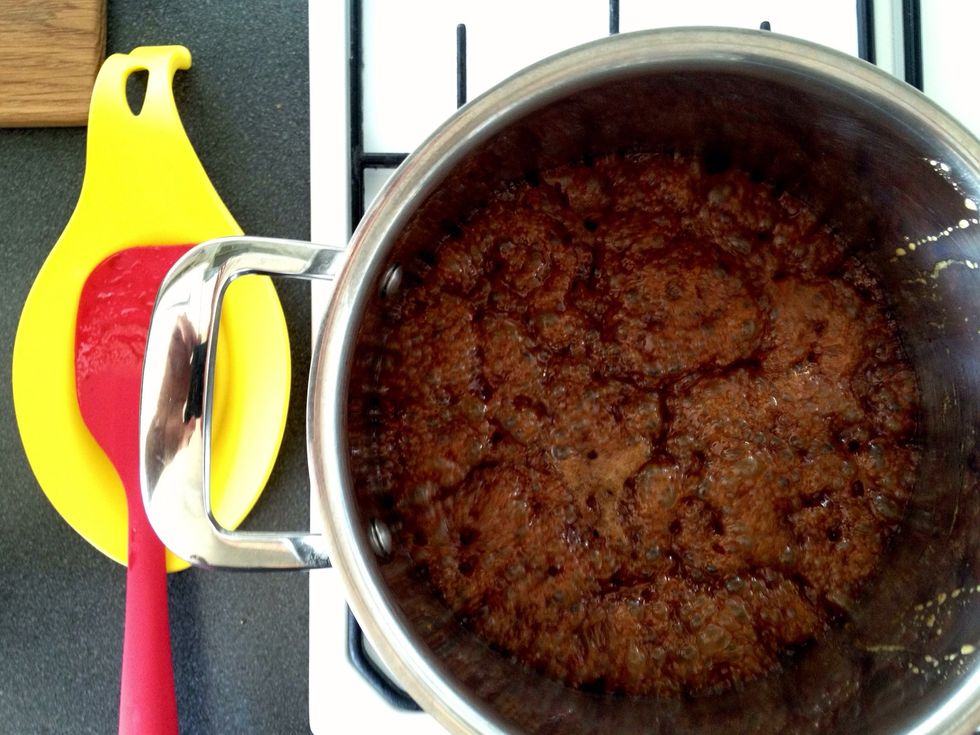 After 2 - 3 min boil, remove caramel from heat and immediately add salt, vanilla then and soda and stir quickly until silky and smooth. CAREFUL it will bubble and rise!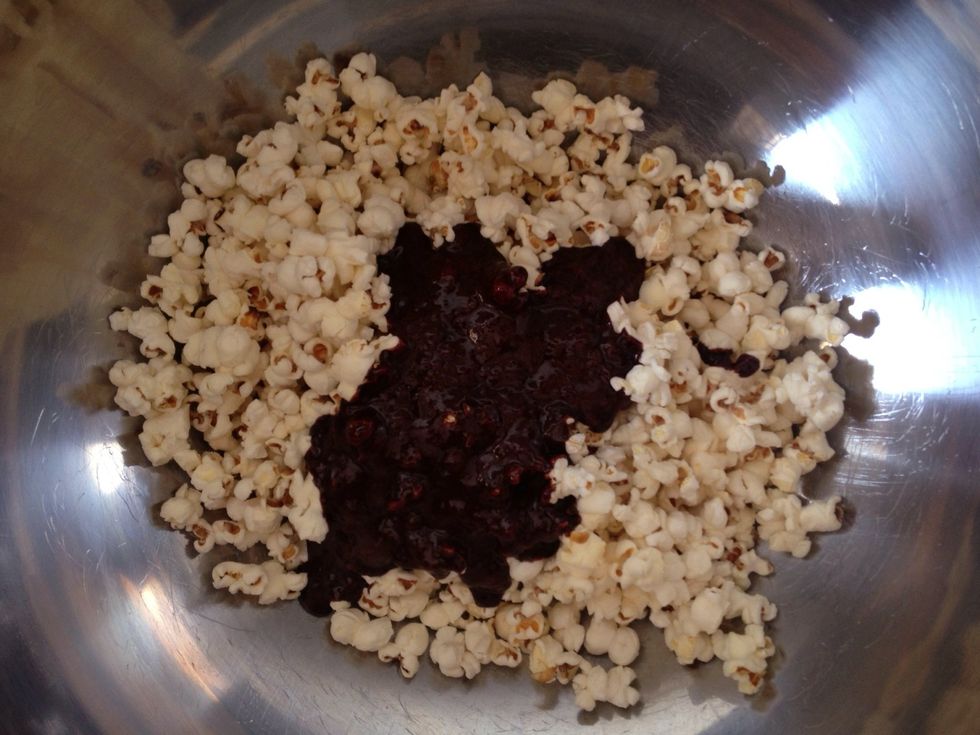 Working quickly, chuck half the caramel onto half the popcorn that you set aside earlier. Stir to combine.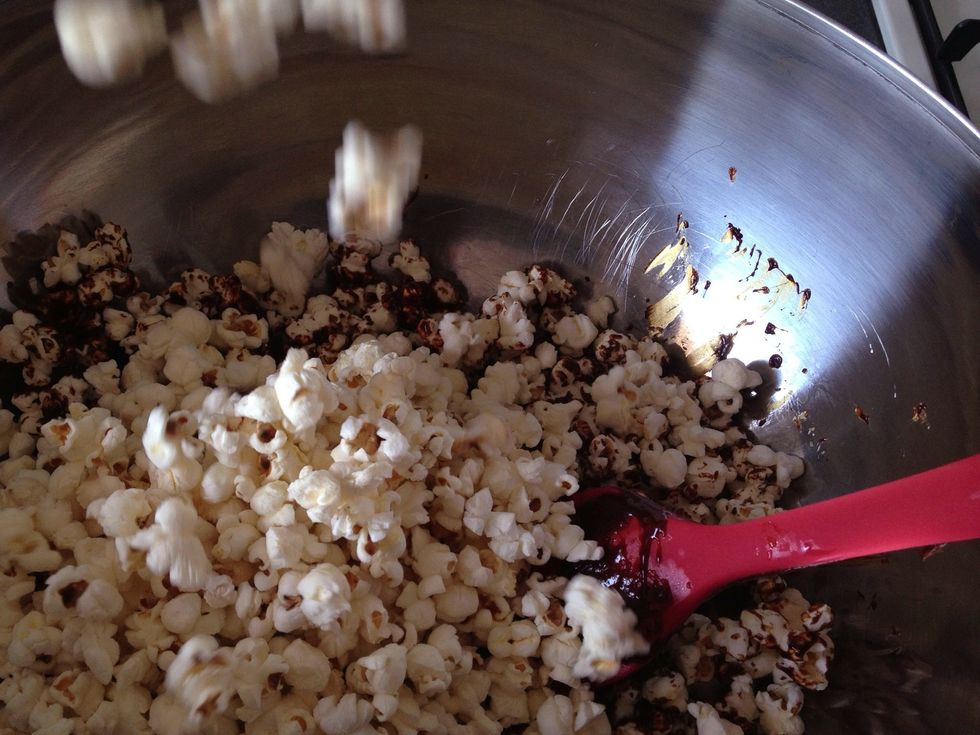 Chuck remaining popcorn from the other bowl into your working bowl then pour the remaining caramel and stir some more. Don't worry if all the popcorn isn't perfectly coated. Transfer to large tray.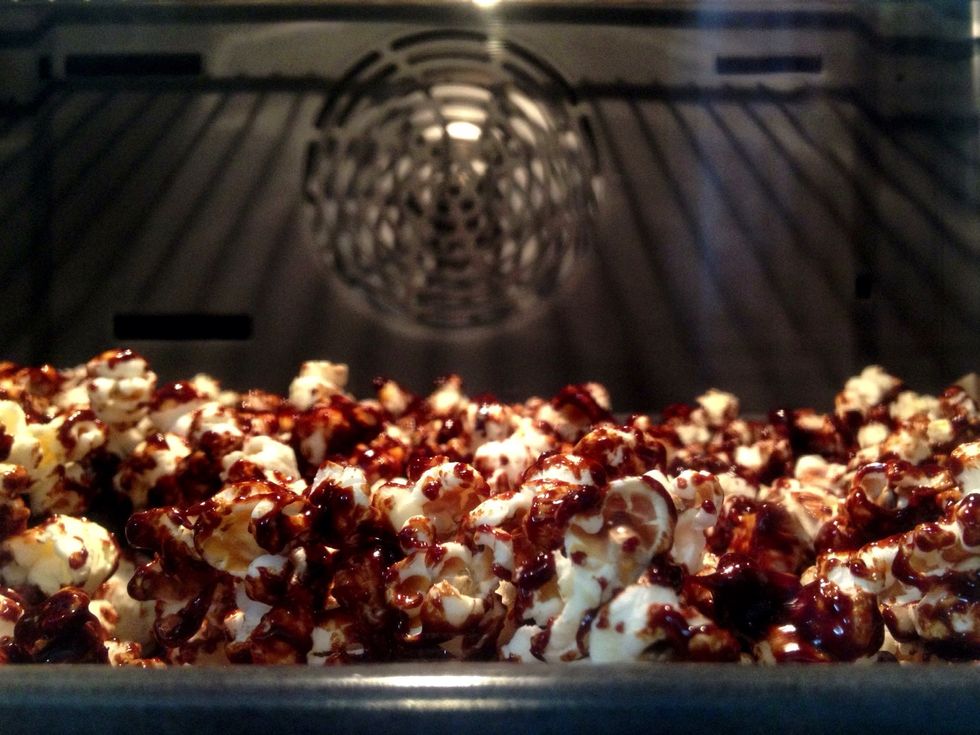 Place the tray in the oven and cook for a total time of 60 mins. Take the tray out every 15 mins and stir the popcorn taking care to coat the pieces without caramel.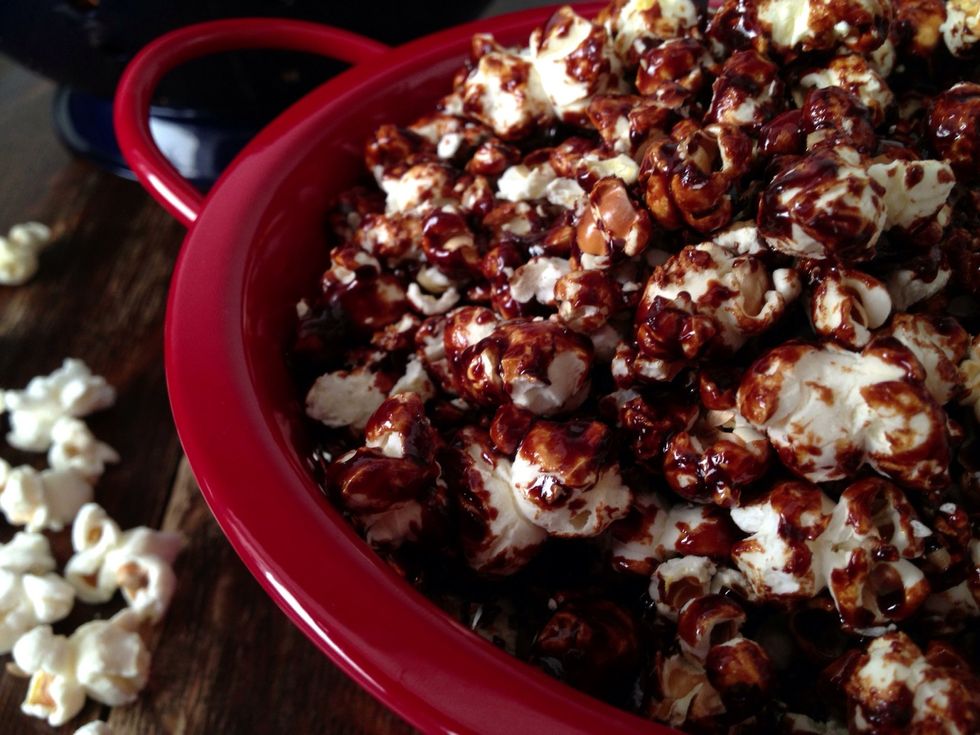 Remove from the oven and leave to cool in tray. Whilst cooling the caramel will harden and stick together so break into individual pieces frequently throughout the process.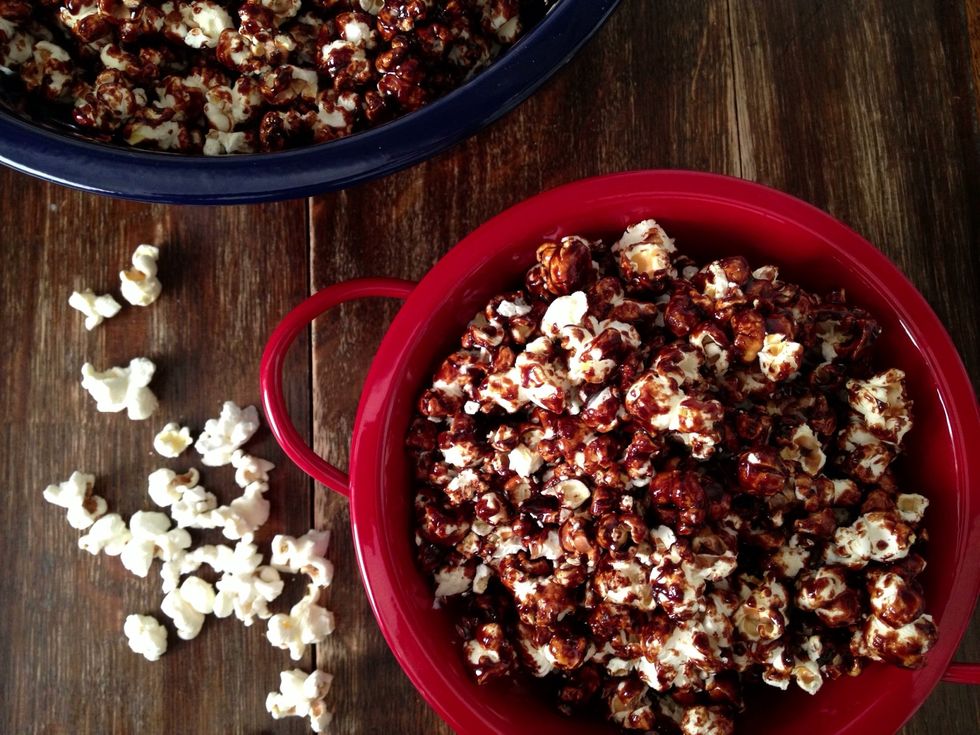 Don't put hot caramel popcorn in your mouth! Wait until cool to get piggy. Try not to gobble it all up though - you're about to take these gems to another level! P.S. you'll have popcorn leftover.
The amount of chocolate stated in supplies will vary depending on size of the tray / mould you're using. Start with stated amount for a 10' - 7' tray and temper more to fill your tray if necessary.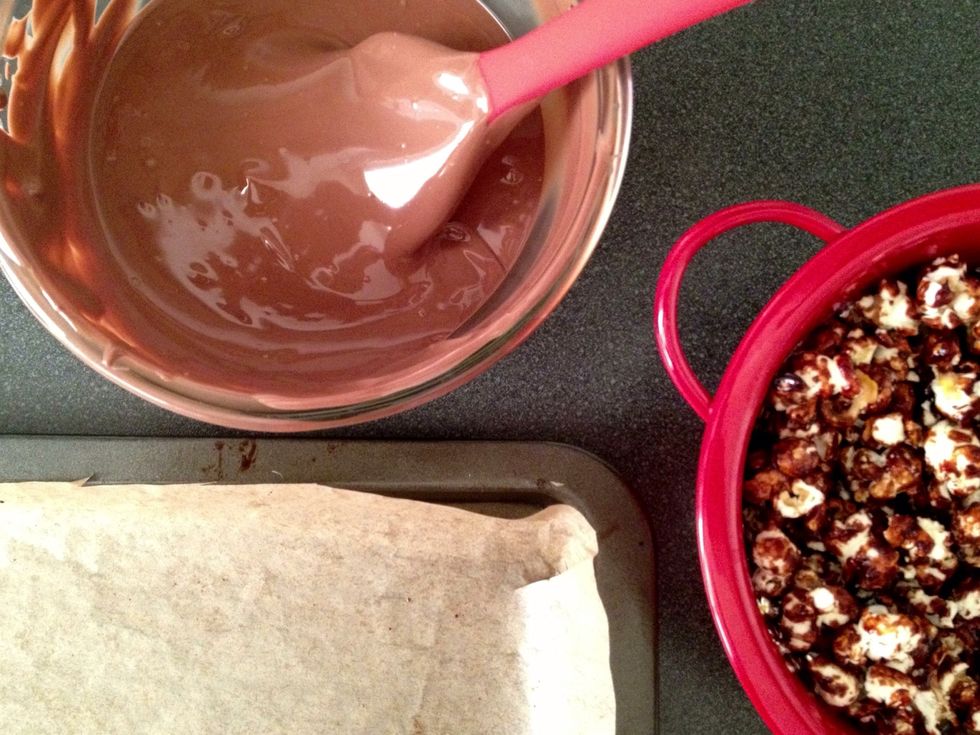 Temper your chocolate in a double boiler or microwave until just before melted then stir until completely melted. (If using bought caramel popcorn, add salt to chocolate at this stage if you wish).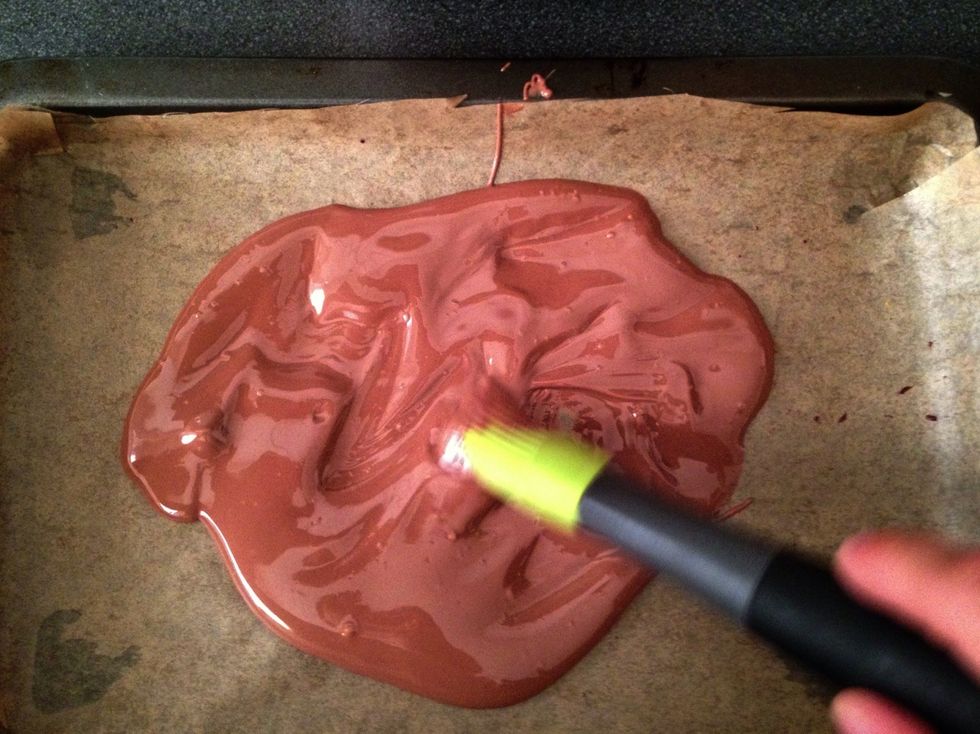 Pour a 1/3 of the chocolate into the smaller lined tray / silicone mould and paint an even thin layer using a pastry brush. Add more chocolate if necessary.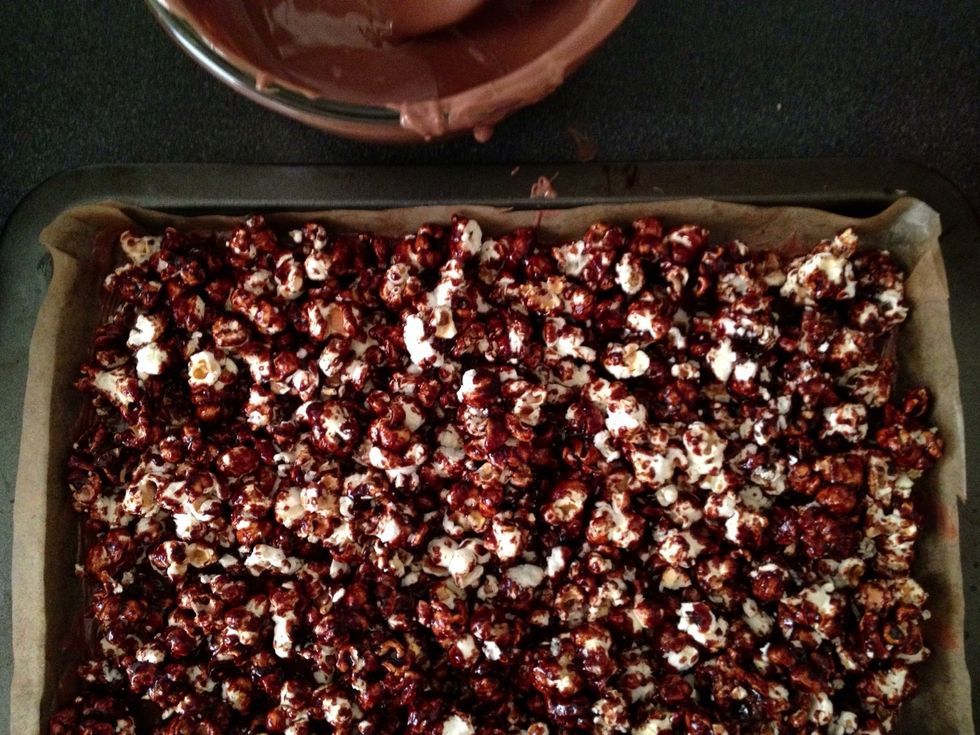 Scatter popcorn evenly across the chocolate in the tray. Break large pieces if necessary and ensure popcorn is as separate as possible. Very, very gently pat the popcorn into the chocolate.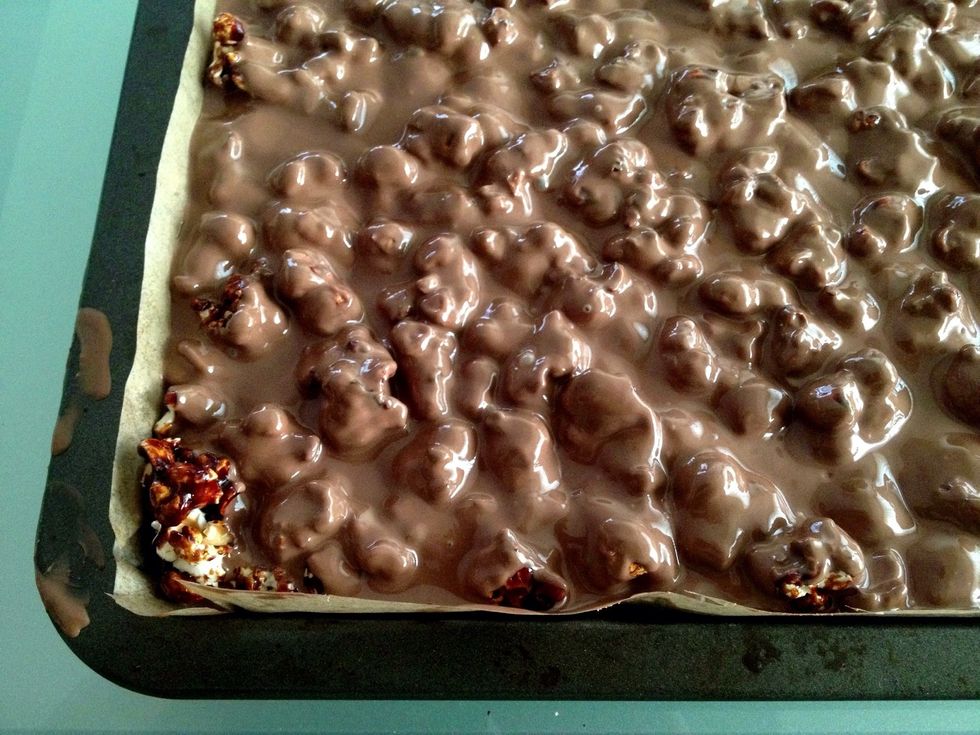 Pour the remaining chocolate making sure it gets into all the nooks and crannies. Grannies. Can you guess the next rhyming word that came to my mind? Clue: It starts with 'F' *gutter mind*!!!
Leave to cool completely. To get a super smooth finish, once the chocolate is hard, remove from tray; repeat step 16, flip the the block and press the popcorn side back into tray.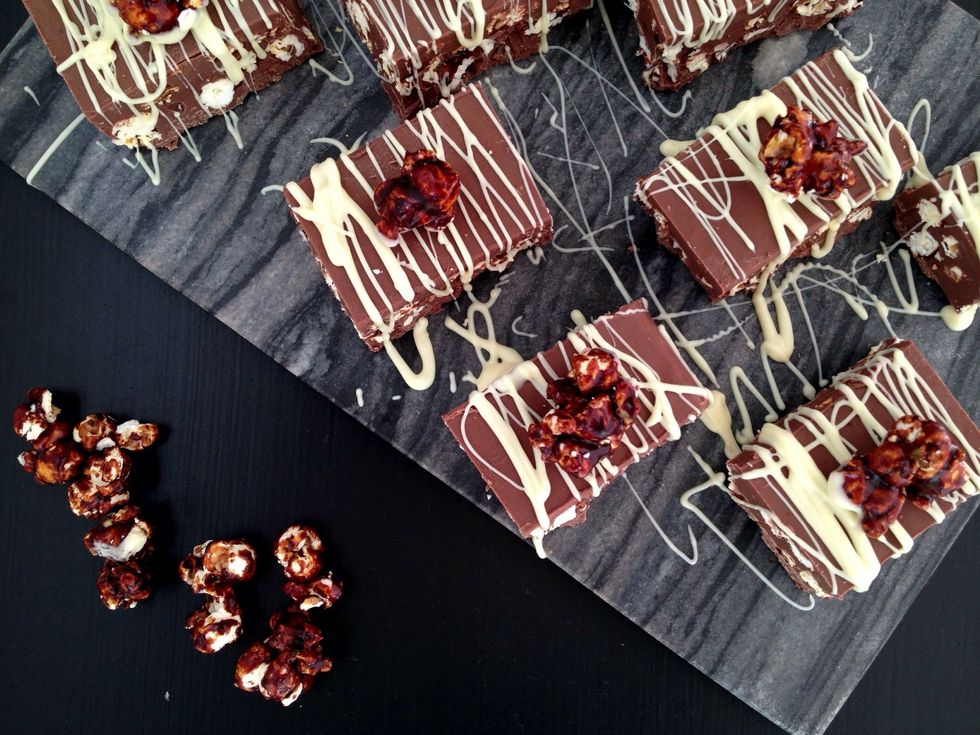 Before cutting, leave to cool completely overnight. To cut, bring chocolate to room temperature and use a heated knife if possible. Drizzle with white chocolate and decorate with popcorn pieces.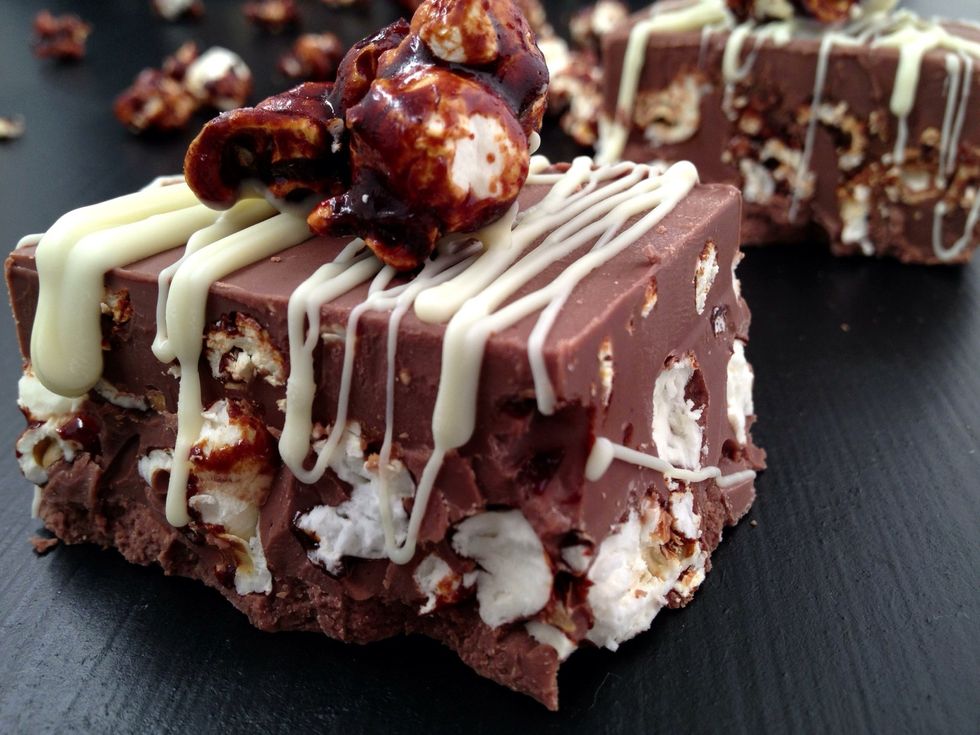 The most delicious thing in the history of deliciousness and Ruler of the Kingdom of Delicio!!! Bow to his Holy Sweet Treatness. Then gobble, gobble, gobble him all up. Burp.
225.0 grams brown (or dark brown) sugar (1 cup)
85.0 grams honey (1/4 cup)
115.0 grams butter (1/2 cup)
2.0 tsp vanilla extract or paste
1/4 tsp slightly heaped baking soda
1.0 tsp sea salt flakes
3.0 quarts plain popped popcorn (12 cups)
500.0 grams milk chocolate
50.0 grams white chocolate