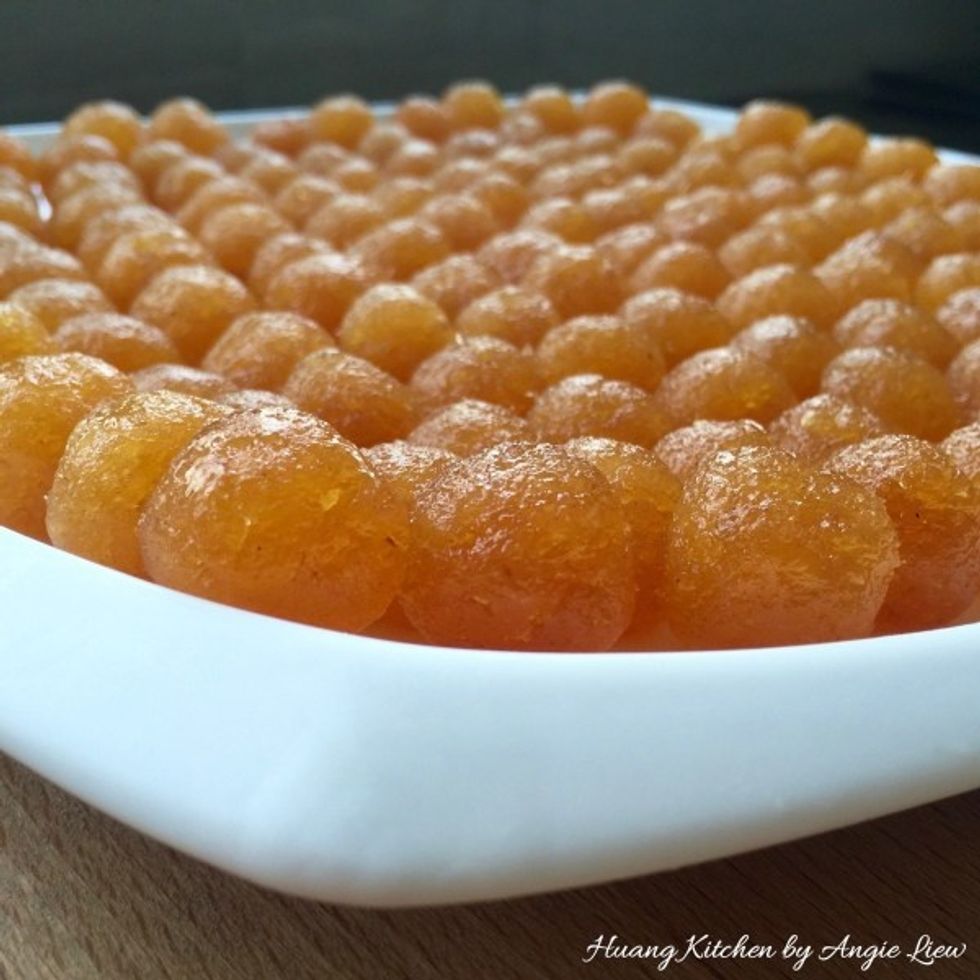 To make pineapple tarts, first roll pineapple jam into balls 5g each. This can be done ahead of time.
Cut cold butter straight from the refrigerator into cubes and leave to chill in the refrigerator until ready to be used.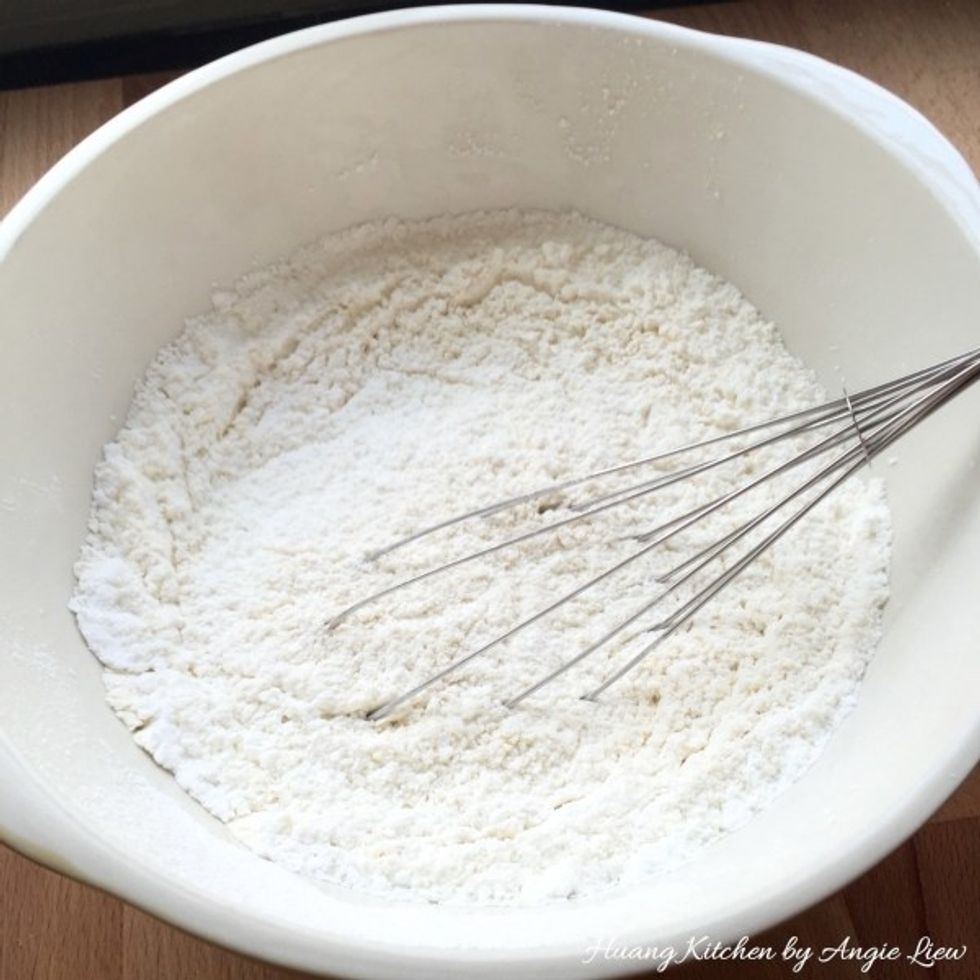 Add sifted all-purpose flour, cornflour,icing sugar and salt into a large mixing bowl. Mix well to combine.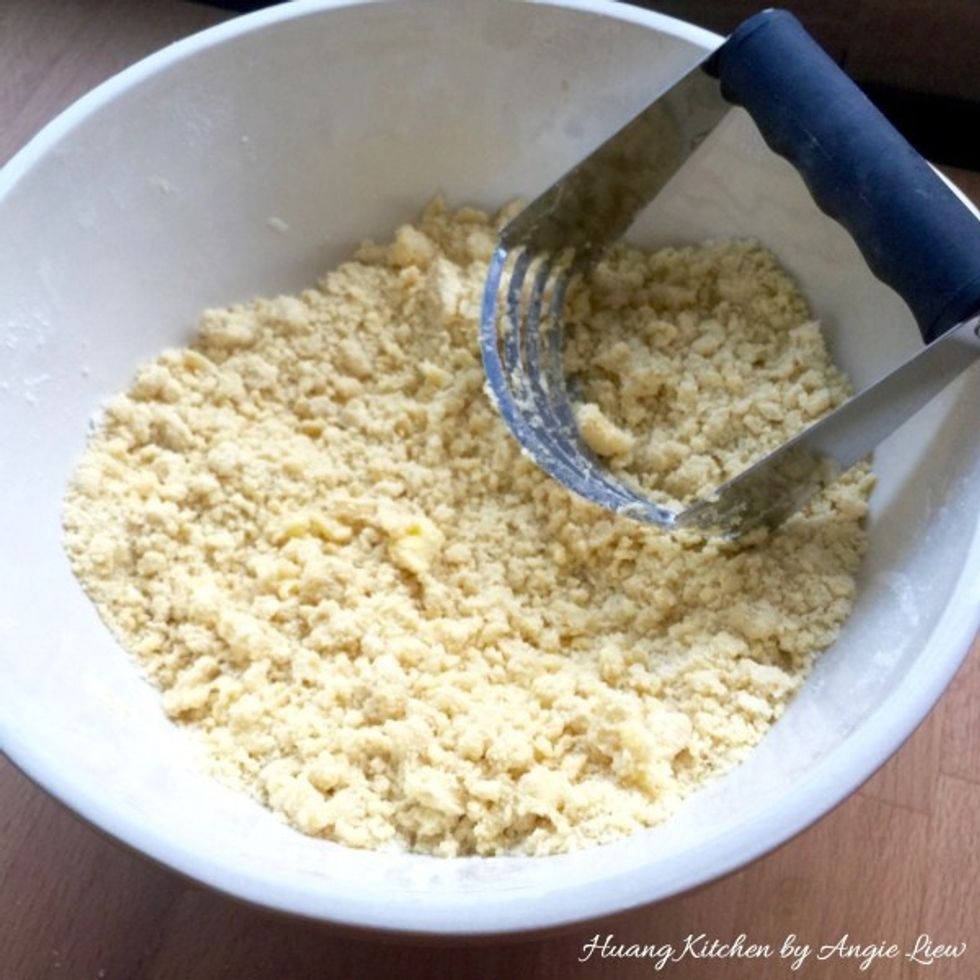 Then add in chilled butter cubes. Cut the butter into flour mixture with a pastry cutter till it resembles fine bread crumbs. You essentially want to coat the butter crumbs in the flour mixture.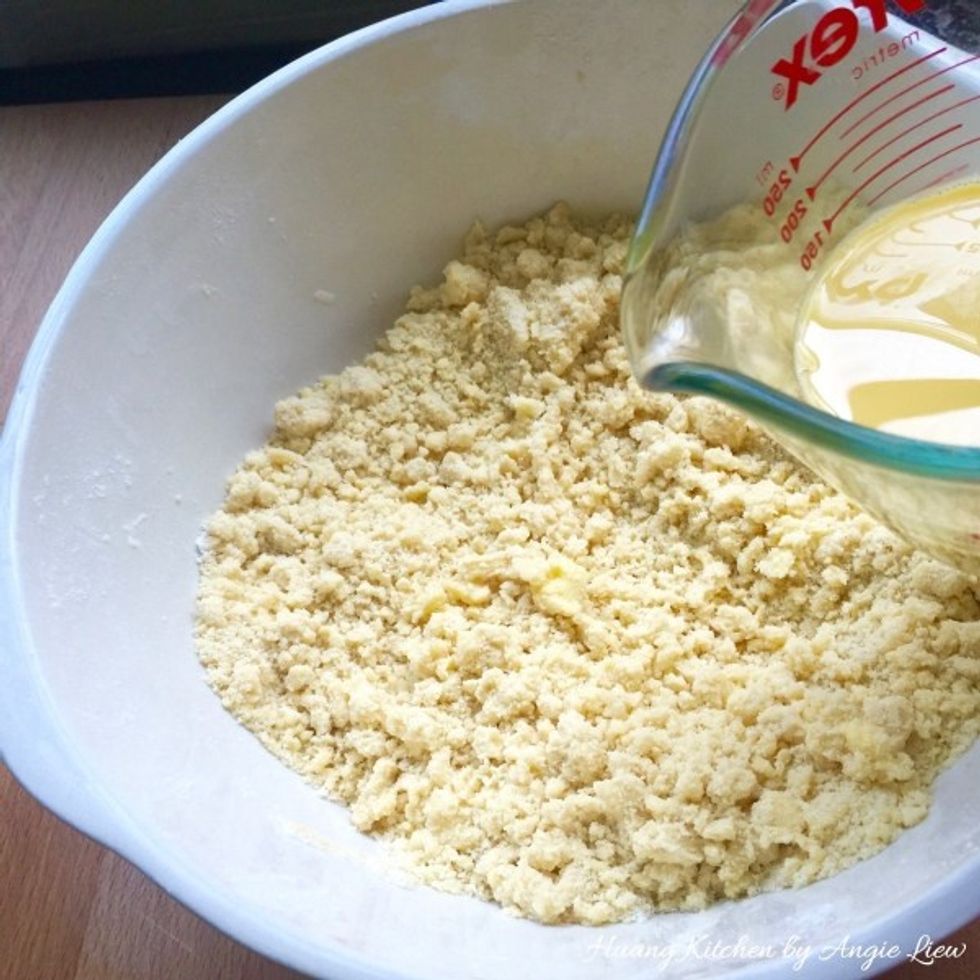 Beat together the egg yolks, cold water and vanilla extract. Then add the wet egg mixture into the butter flour mixture.
Using your fingertips or tips of a fork, gently gather the crumbs into a dough ball. DO NOT knead dough so that it remains crumbly. Cover with cling wrap & chill in the refrigerator for 30 minutes.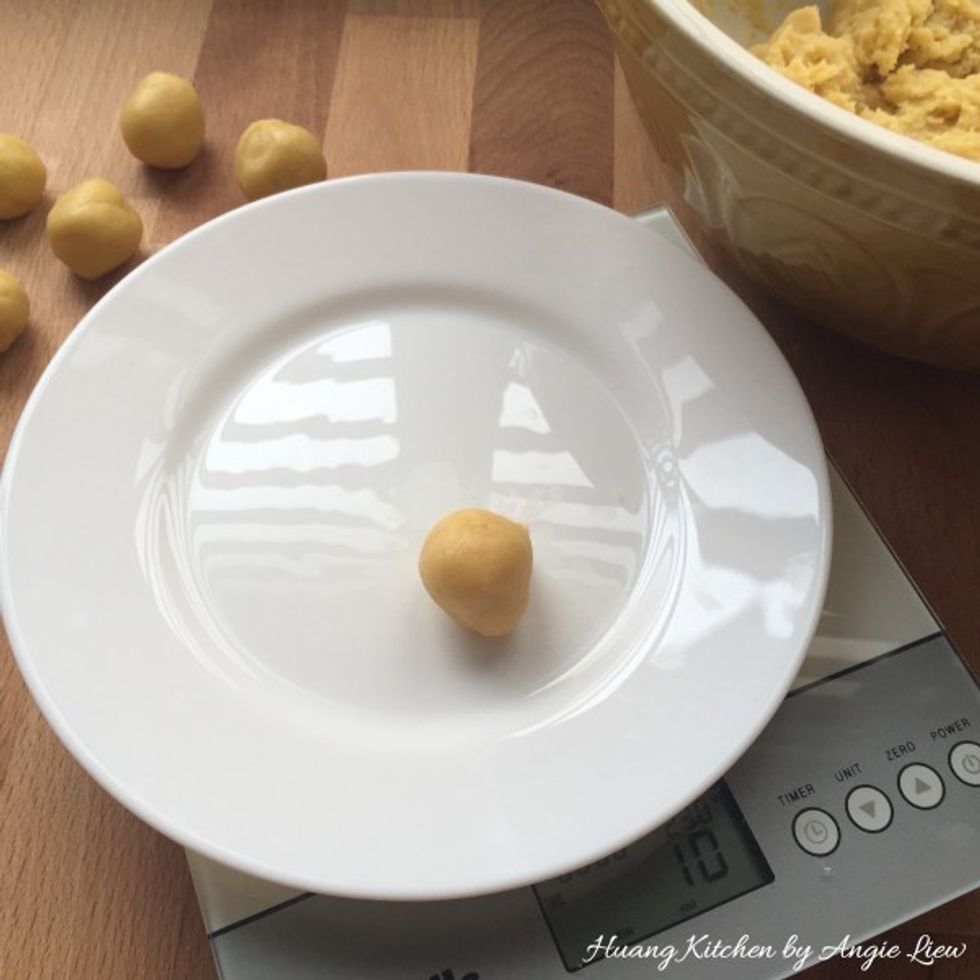 When chilled, roll the dough into balls, about 10 gram for each dough ball.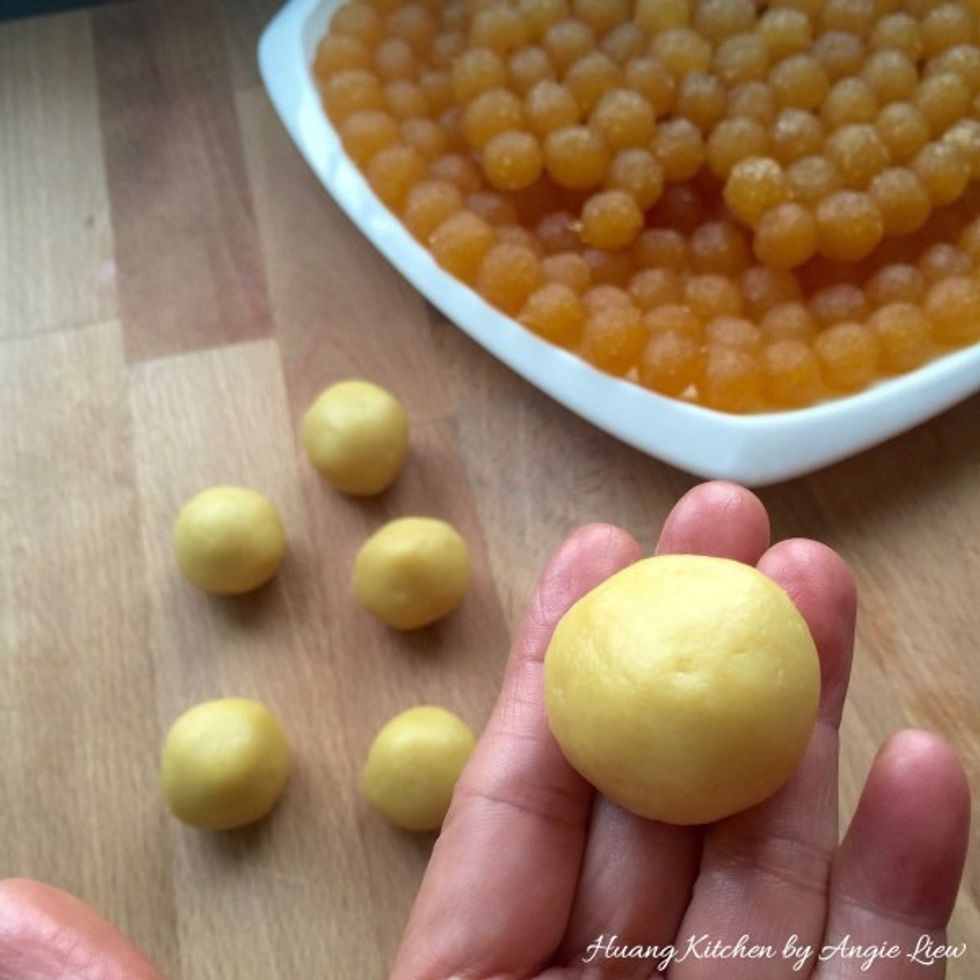 To make these tarts, first flatten the rolled dough ball. Place a piece of the rolled jam in the middle. Bring edges of dough together. press to seal. Next, roll it between your palms to form a ball.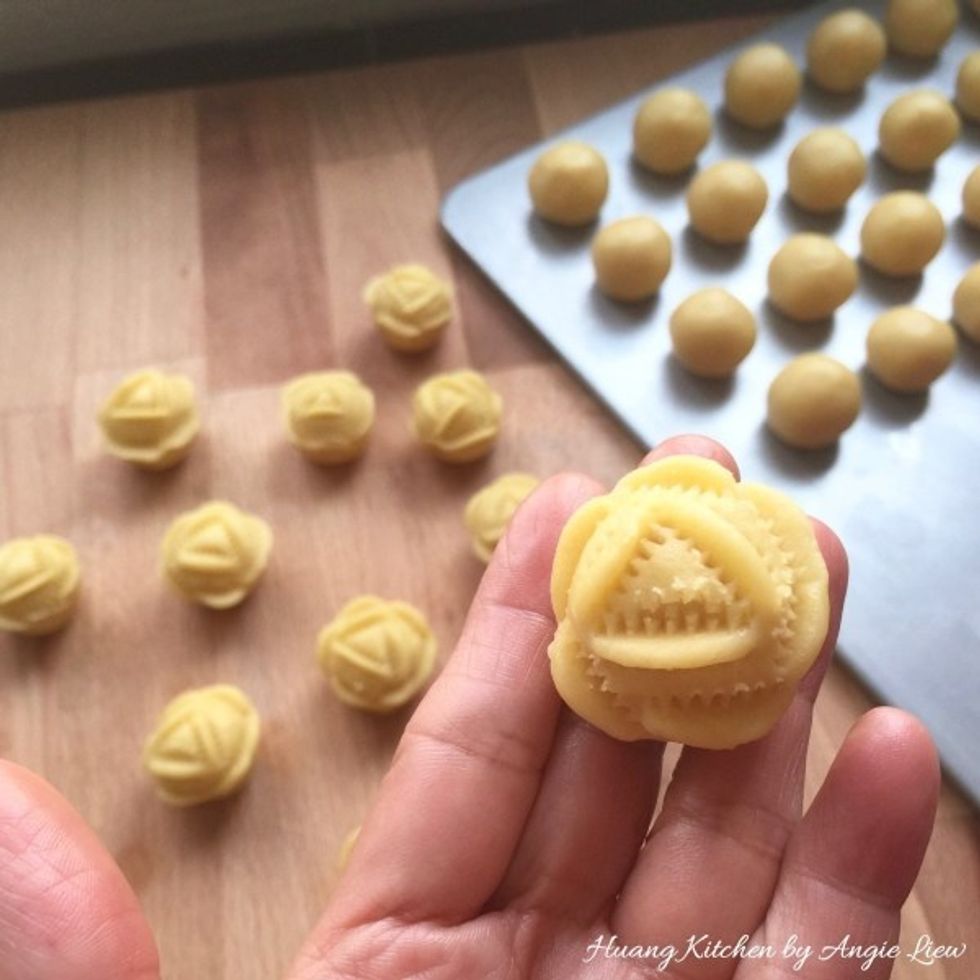 Using a plastic crimper, crimp the rolled pineapple tart into a rose shape. (Watch my video on how to crimp the tarts at https://www.youtube.com/watch?v=QPcEiqYOsTI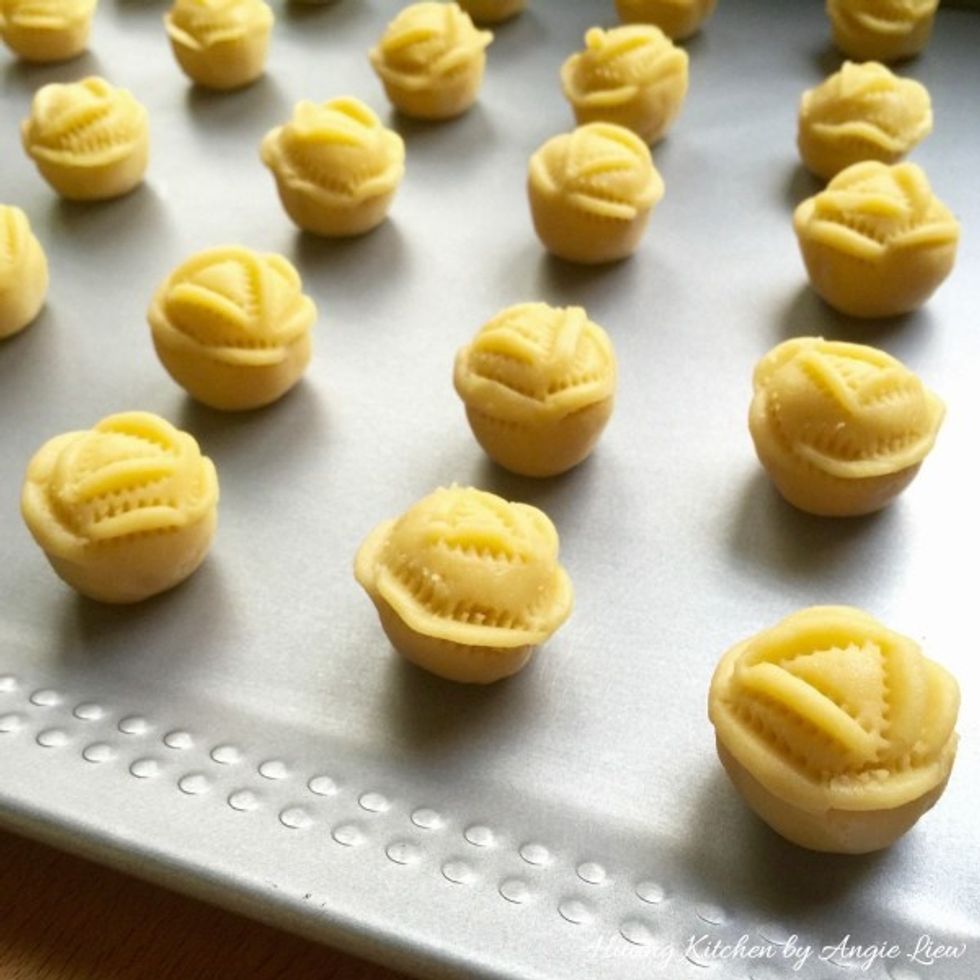 Continue to roll and crimp for the rest of the pineapple rolled dough balls. Then arrange the rose shape pineapple tarts on a baking tray.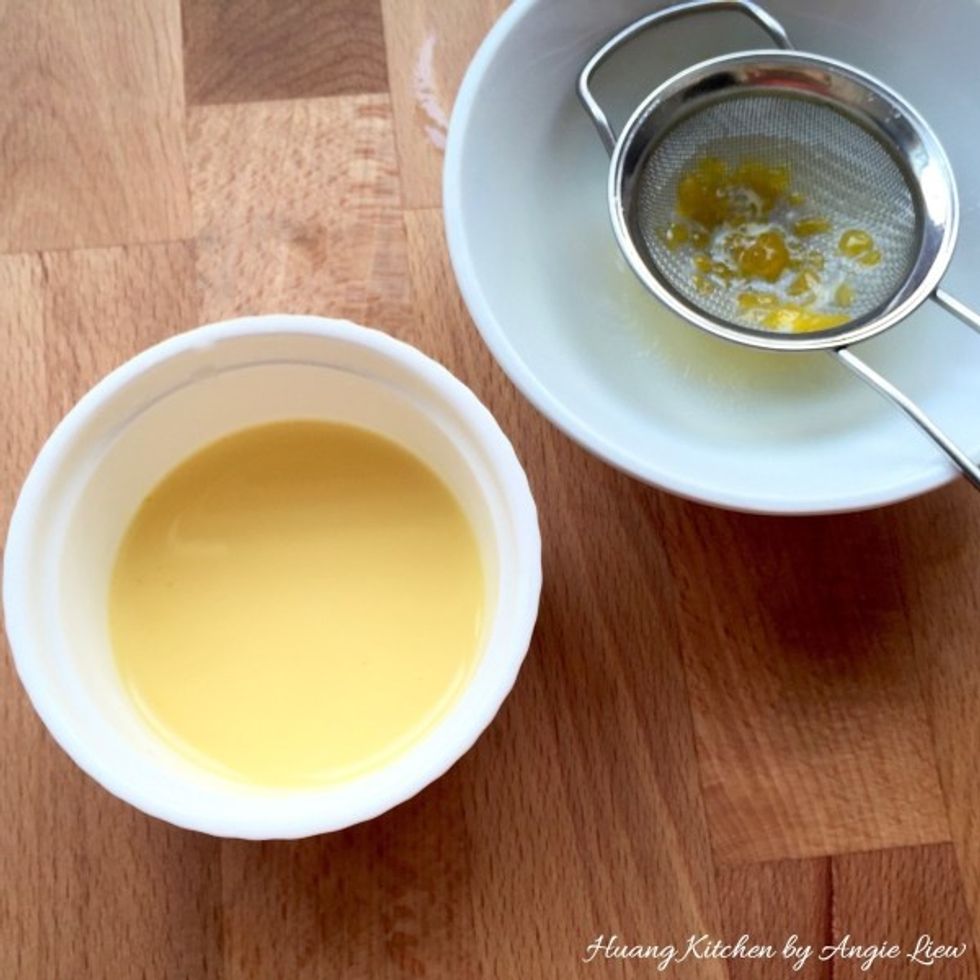 Meanwhile, in a small bowl, mix the egg yolk and water together for the glaze. Be sure to strain the egg wash through a sifter to remove any parts of the egg that didn't incorporate.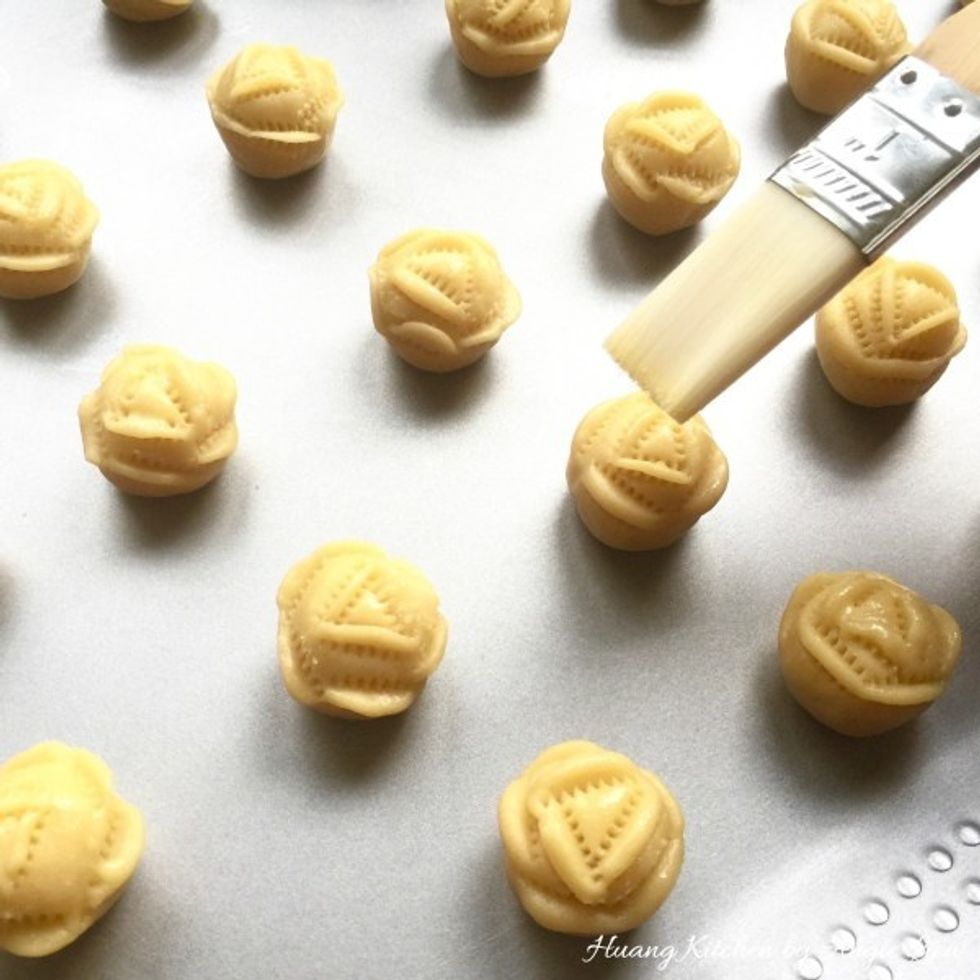 Egg wash the pineapple tarts.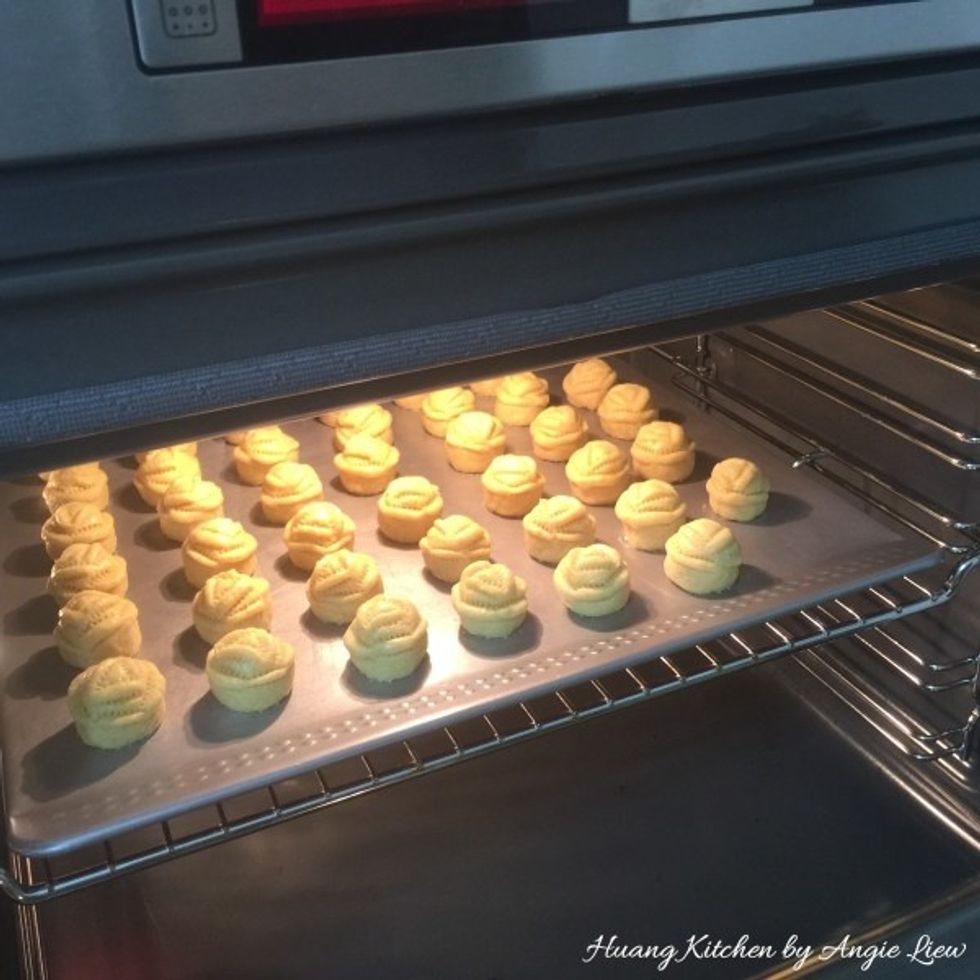 Bake in a preheated oven of 180 degree C (350 degree F) for 20 to 25 minutes or until the pineapple tarts turn golden brown in colour.
Once baked, remove the baking sheet to cool on wire rack for about 10 minutes. The pineapple tarts are very soft when hot so let it cool down before transferring them.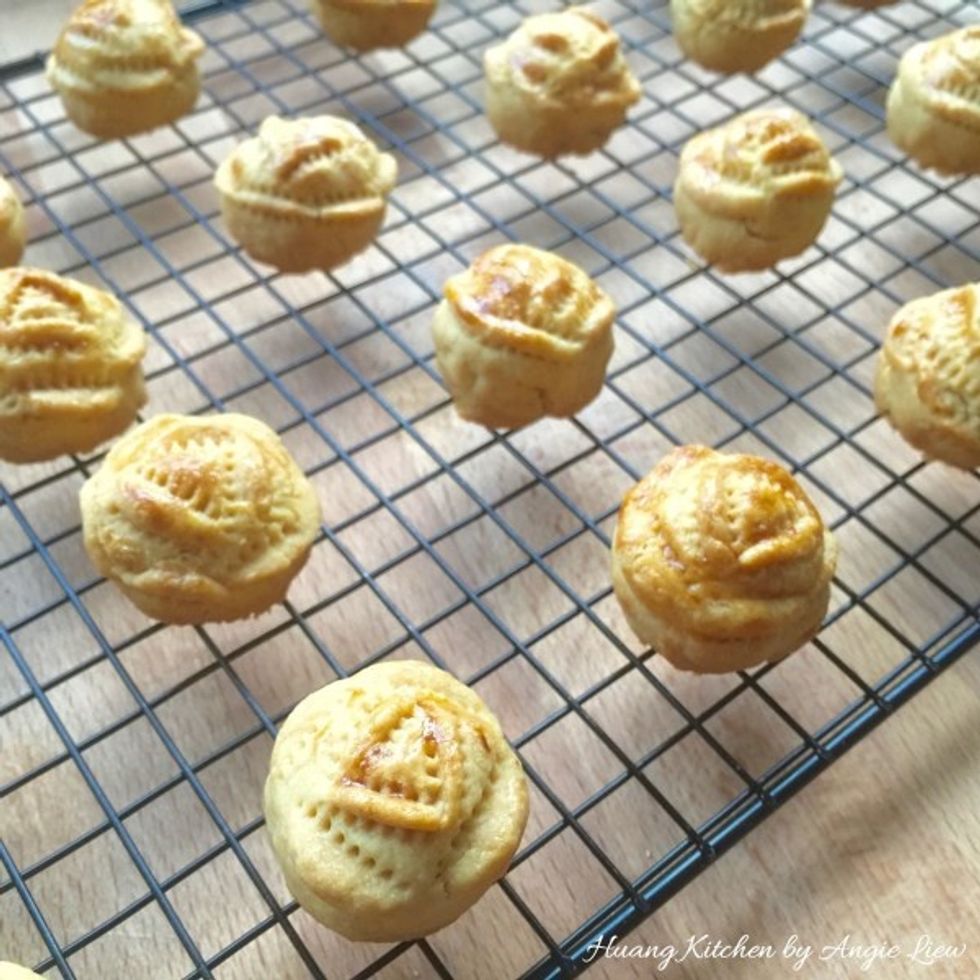 Then transfer the baked light golden brown pineapple tarts to cool completely on wire rack before storing in airtight containers.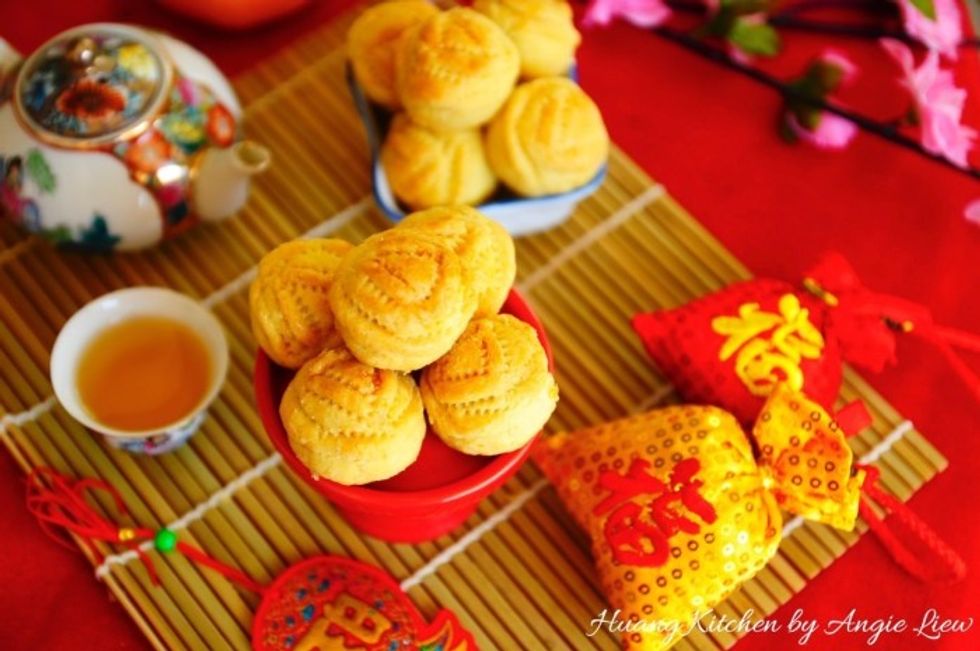 These pineapple tarts are a hit especially during the Lunar New Year. No Chinese New Year is complete without these pineapple tarts. So Enjoy! For more, like us on www.Facebook.com/huangskitchen
400.0g all-purpose flour. sifted
50.0g cornflour, sifted
45.0g icing sugar, sifted
1/4tsp salt
280.0g butter, cold and cut into cubes
3.0 egg yolk, lightly beaten
3.0Tbsp water, ice cold
1/2tsp vanilla extract
400.0g pineapple jam, homemade or store bought
1.0 egg yolk (Egg Wash)
1.0Tbsp water (Egg Wash)
Huang Kitchen
For more step-by-step recipes and cooking tips, visit my website at \nhttp://www.huangkitchen.com