How to make roasted tomato and vegetable pasta sauce
Make Roasted Tomato and Vegetable Pasta Sauce
18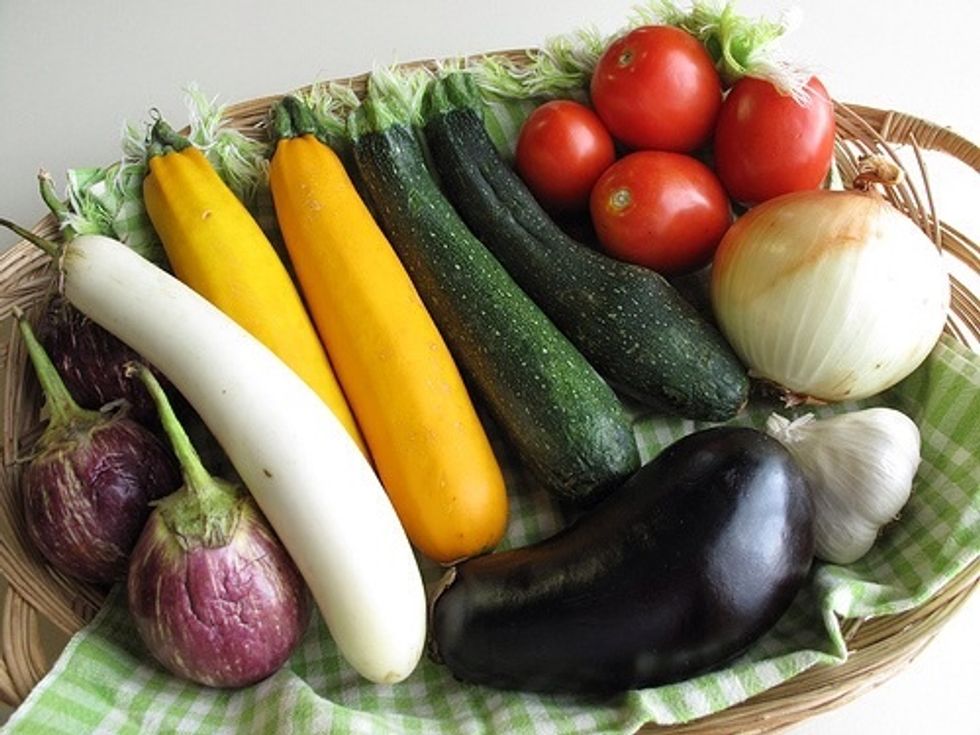 Wash the veggies before you roast them. Then slice, place on a foil-lined cookie sheet, drizzle with some olive oil and put in a pre-heated oven at 375°F for about 30-45 minutes.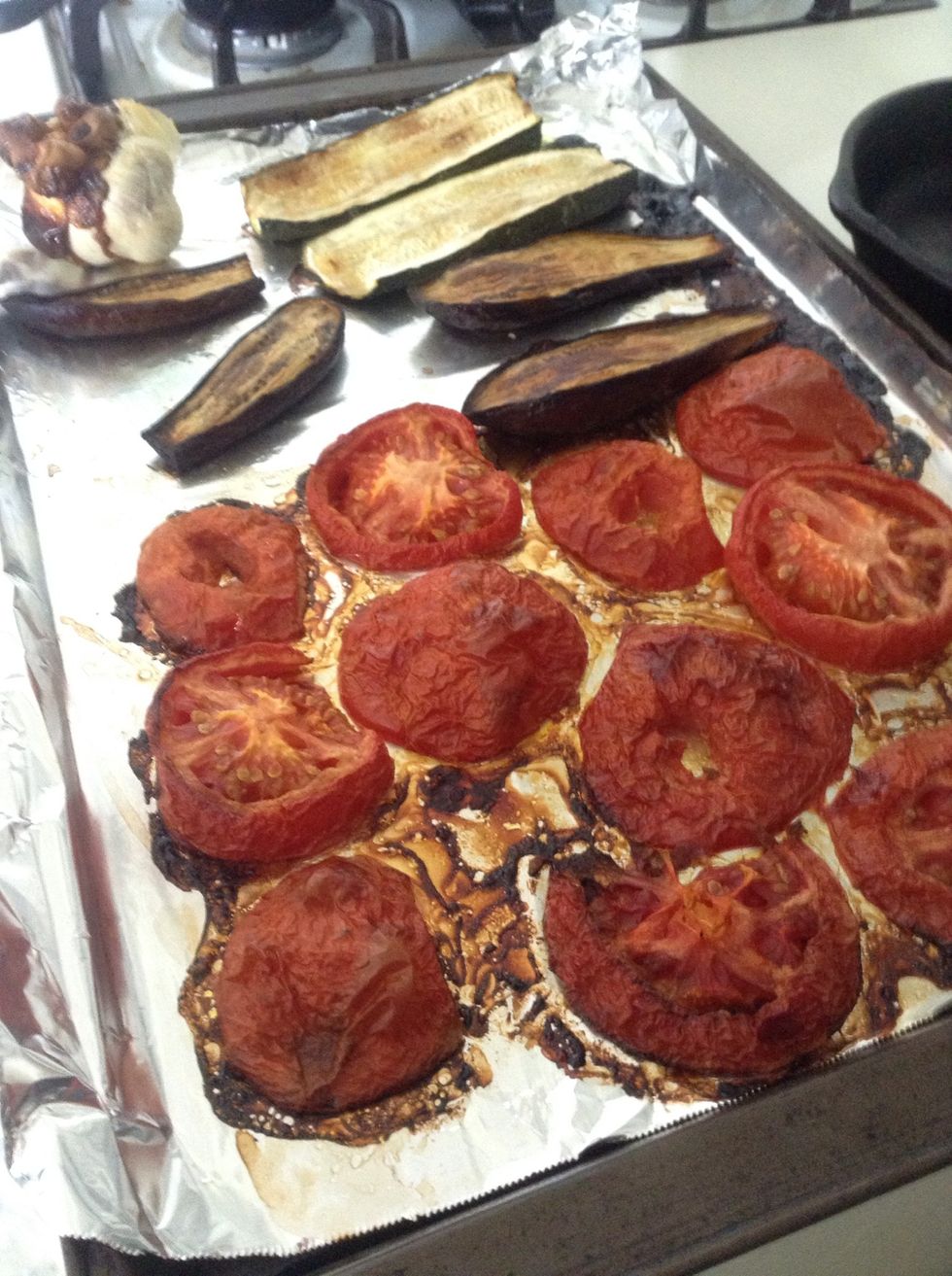 I also took a whole head of garlic, sliced off the top, drizzled on some olive oil & put it in the oven with the other veggies. Here they are done! For this recipe, I'm using vegetables I had around.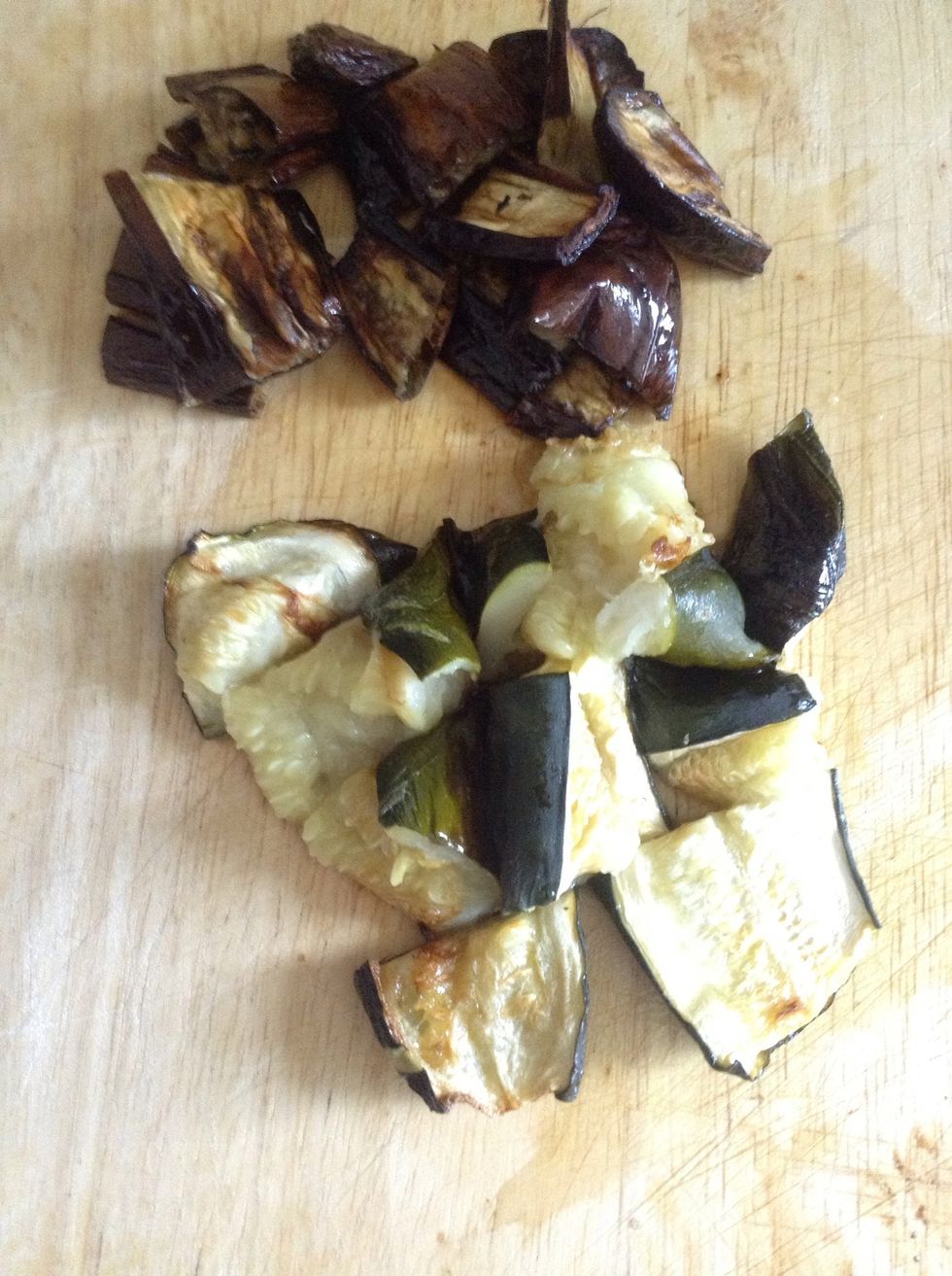 You can use whatever veggies you want in this recipe too. Be creative! Next I remove the eggplant and the zucchini from the cookie sheet and cut into bite-size pieces.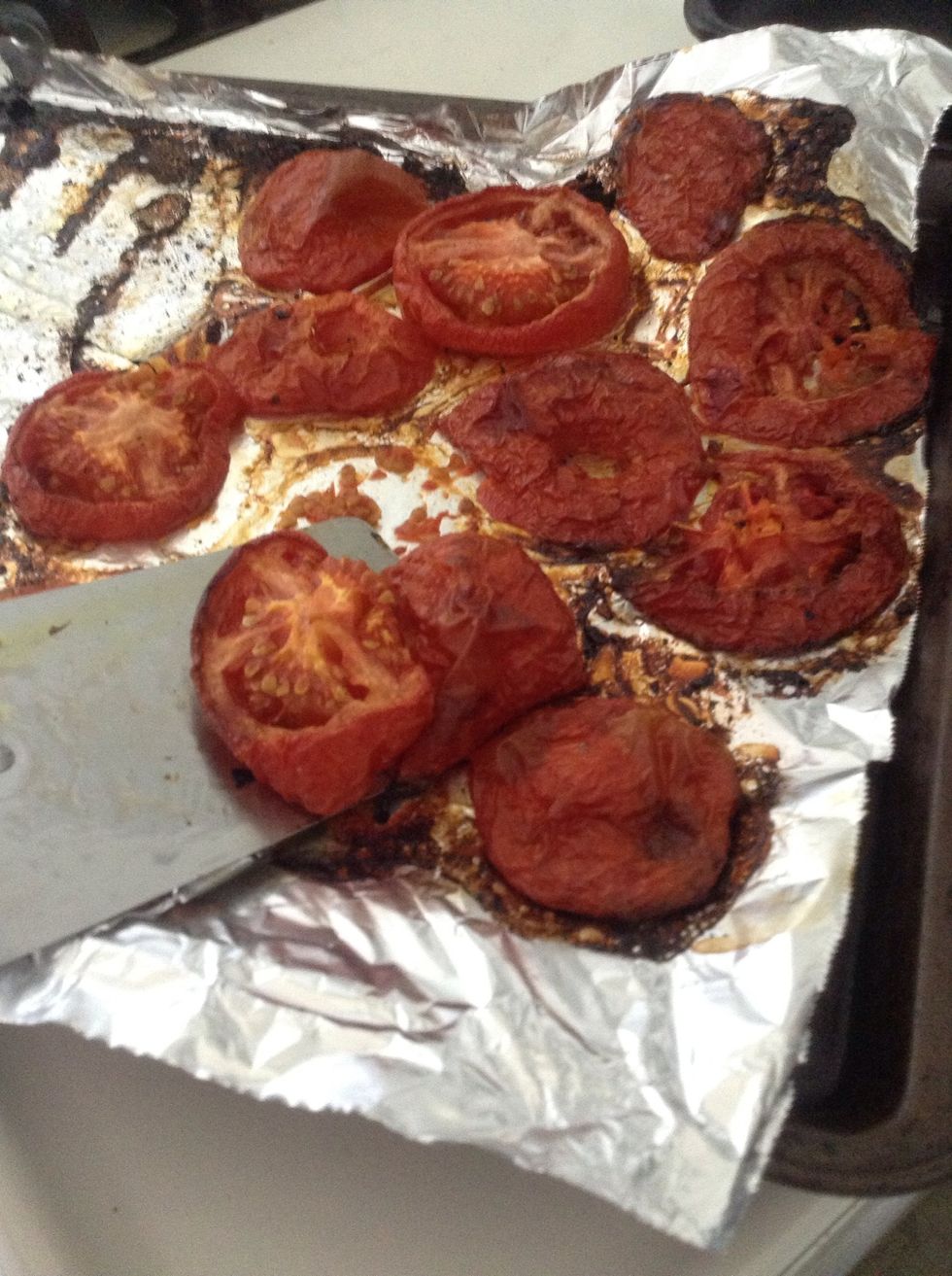 Remove the tomato slices . . .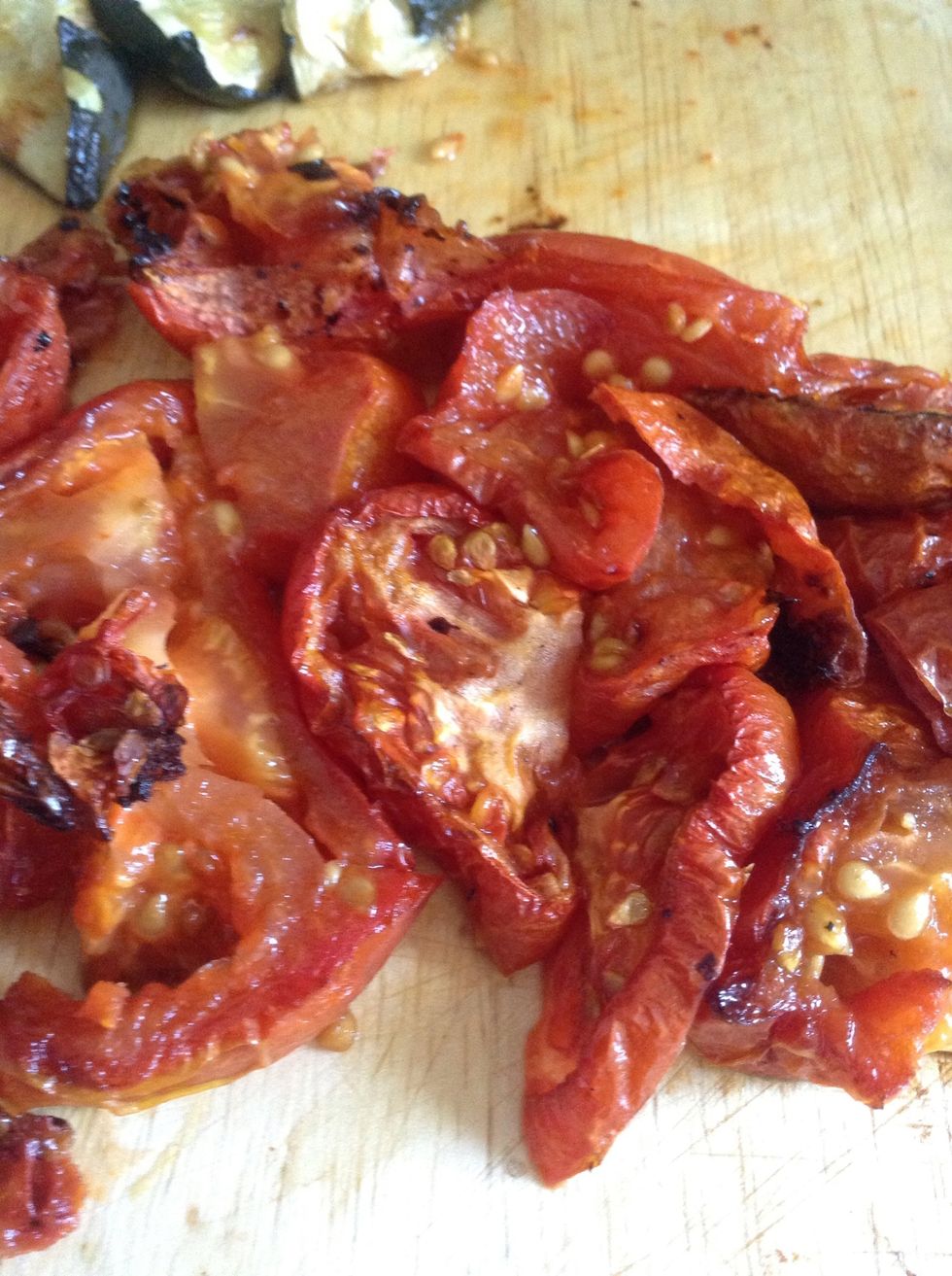 . . .and cut those up as well into bite-size pieces too.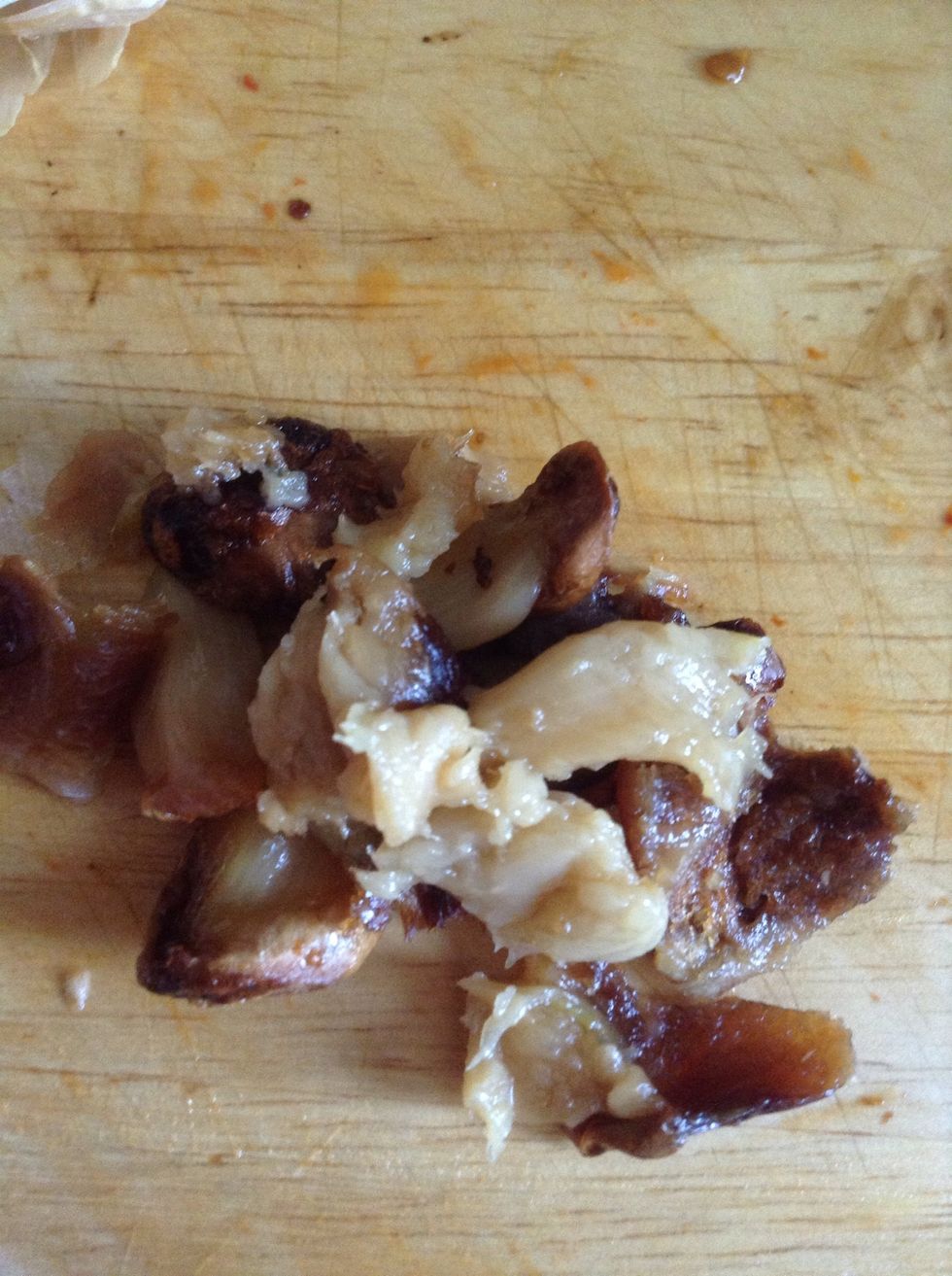 Remove the skin from each of the now roasted garlic cloves. You can even squeeze some of them out.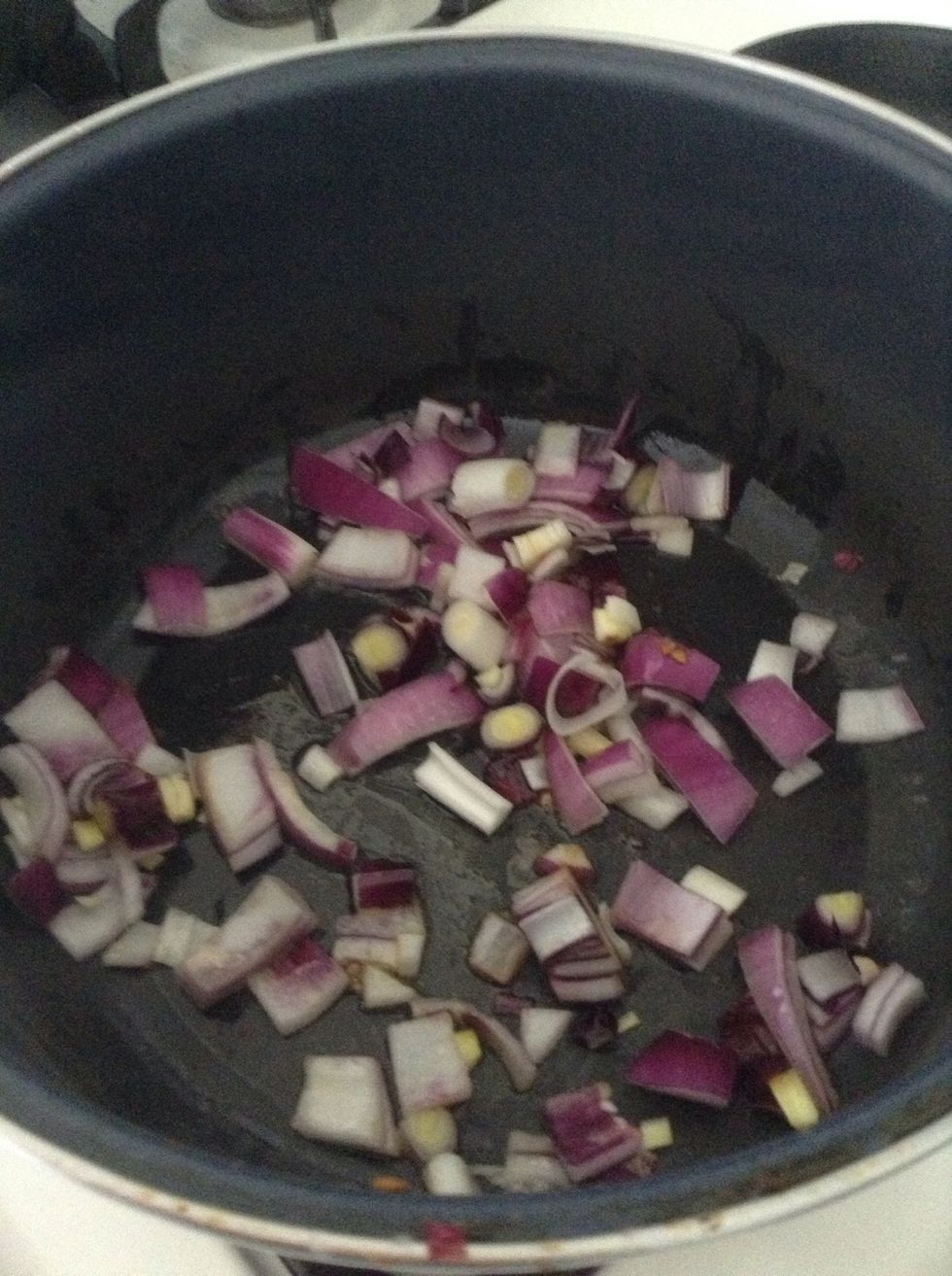 In a large saucepan or pot sauté the onion in olive oil. I'm using purple onion for a bit more flavor and kick.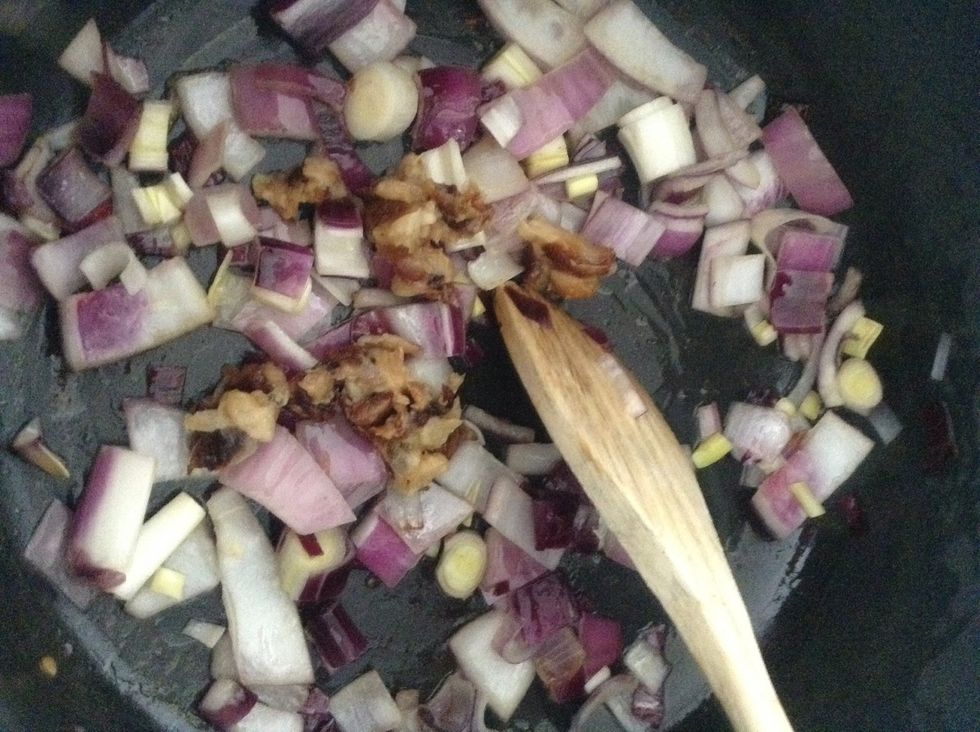 As the onion turns translucent, mix in the roasted garlic.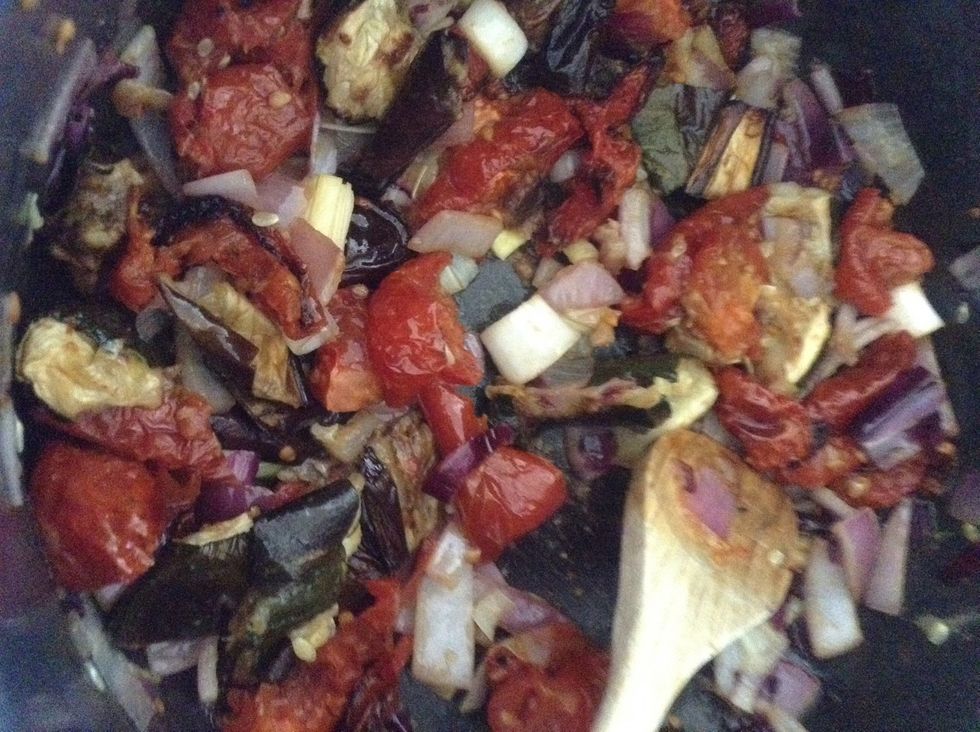 Then add the chunks of tomato, eggplant and zucchini. Stir.
Add some red wine (optional). Bring the mixture to a boil, stirring occasionally.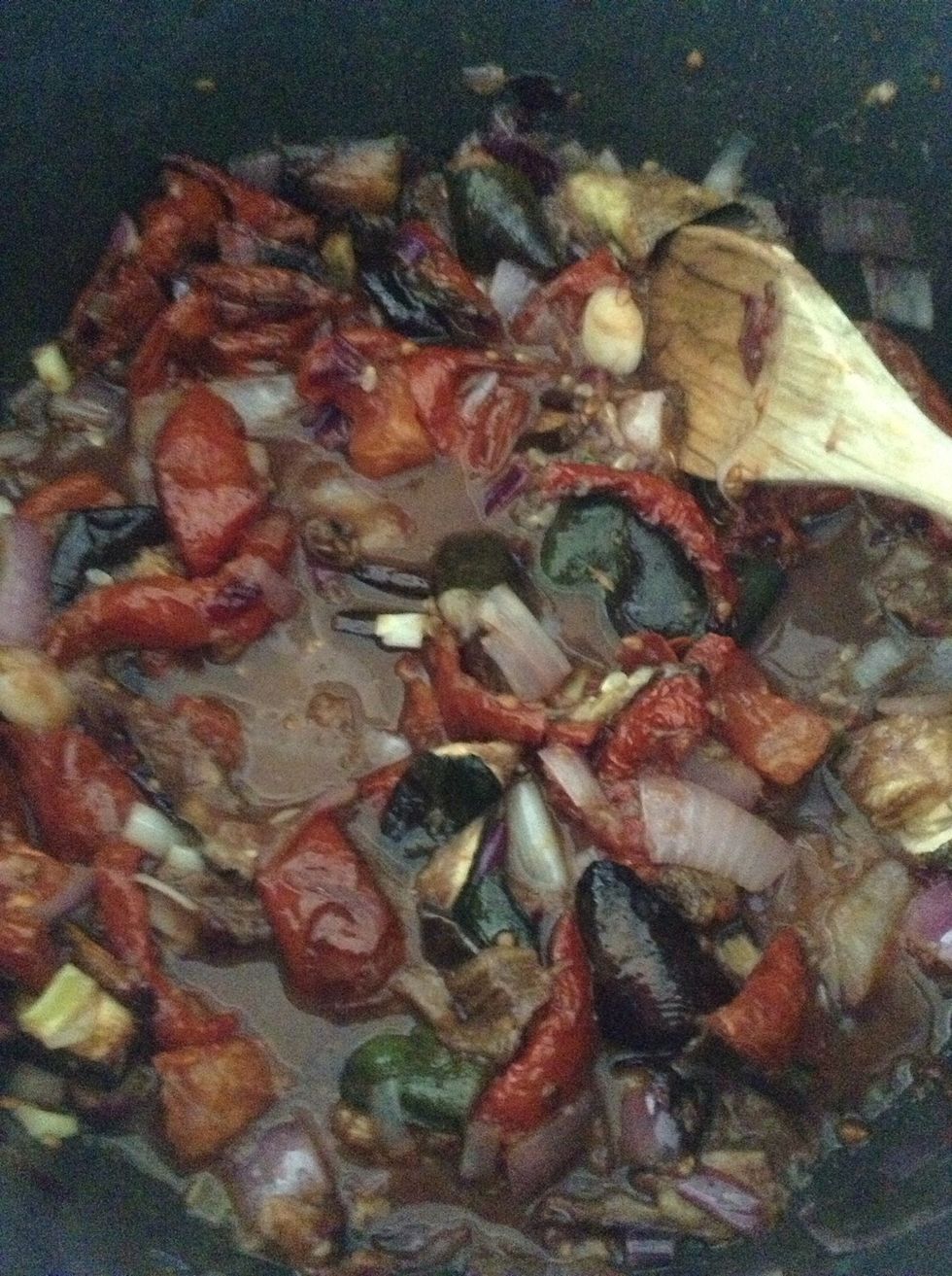 It looks like this.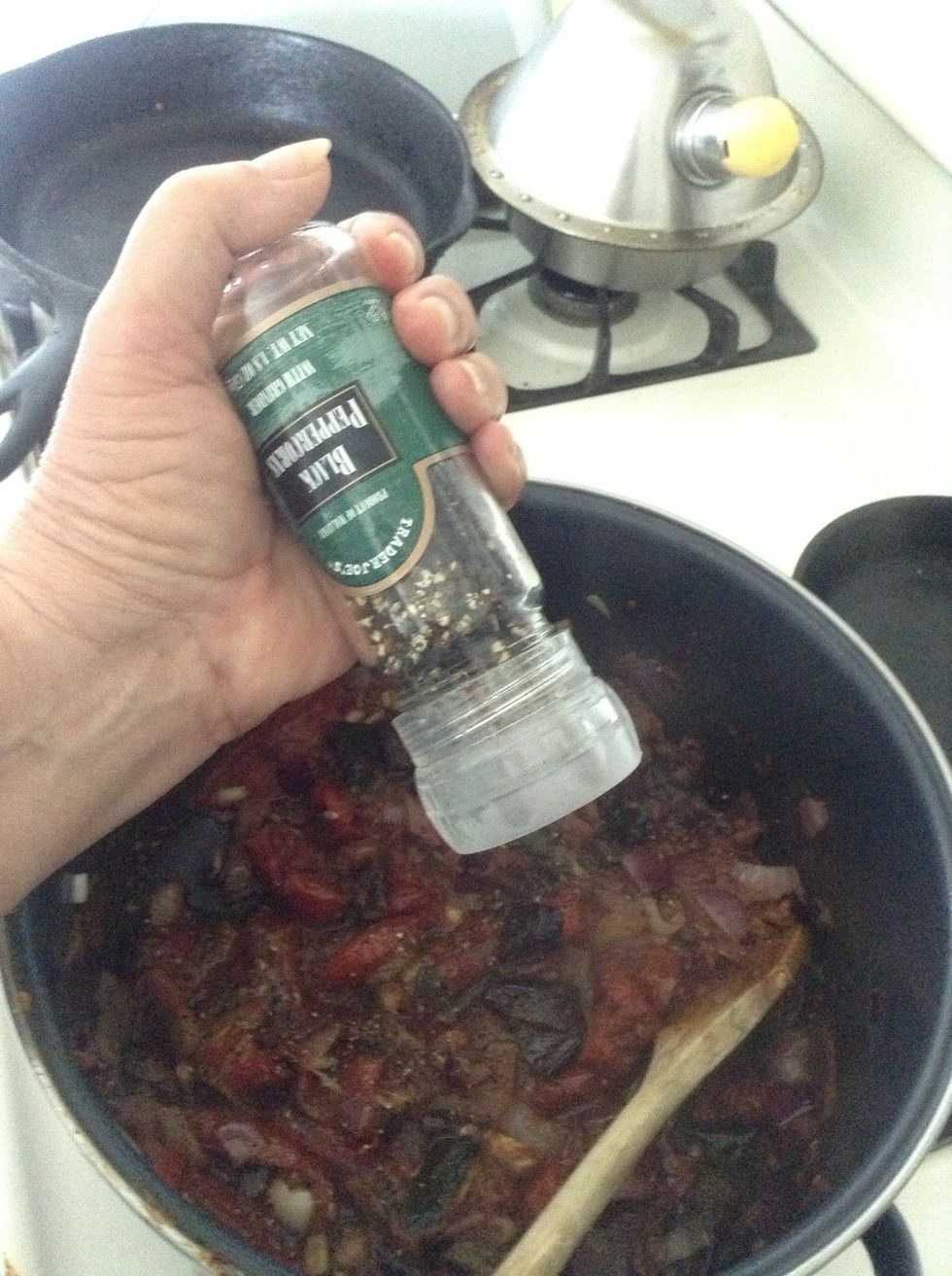 Add pepper...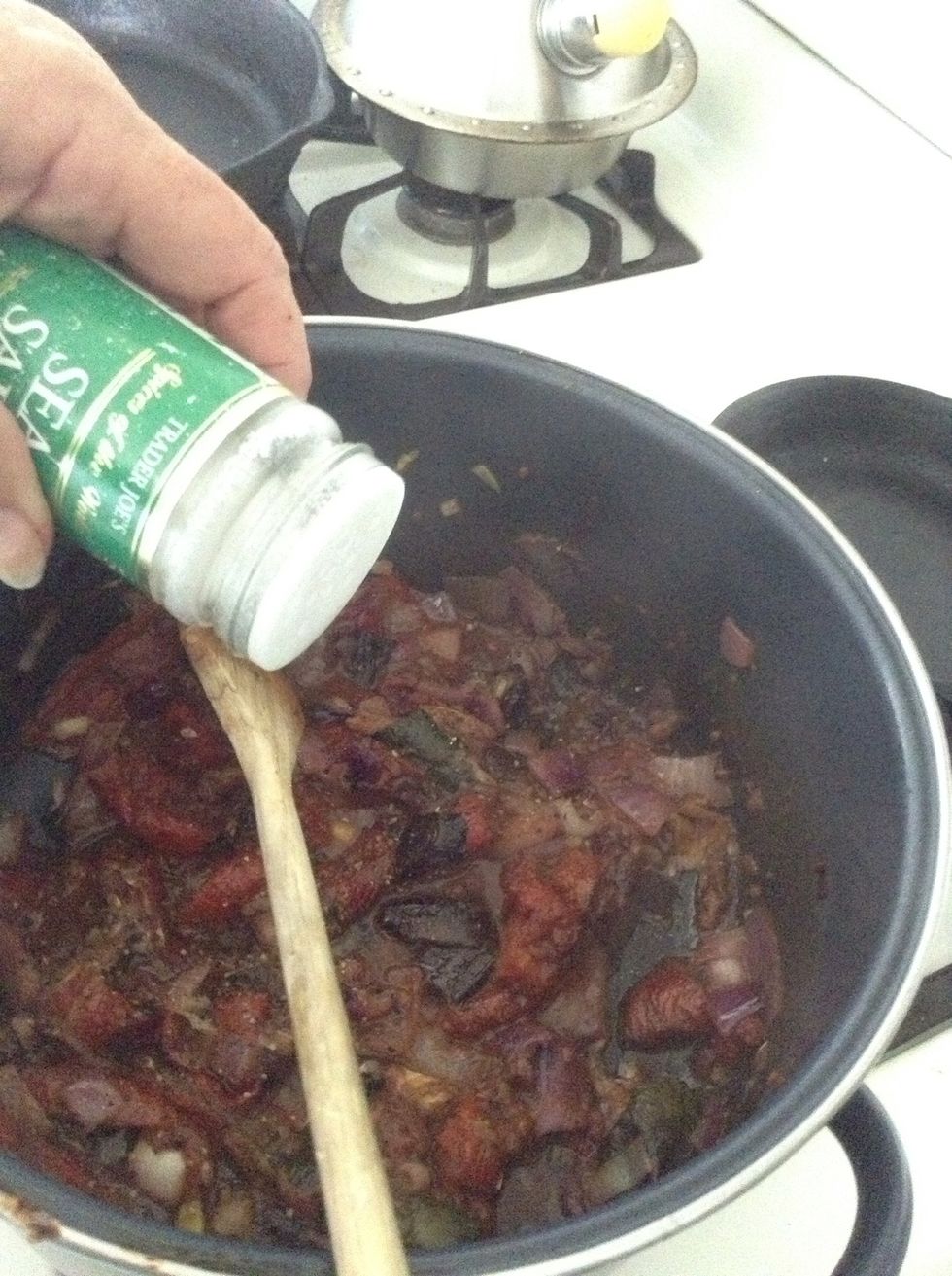 ...and salt...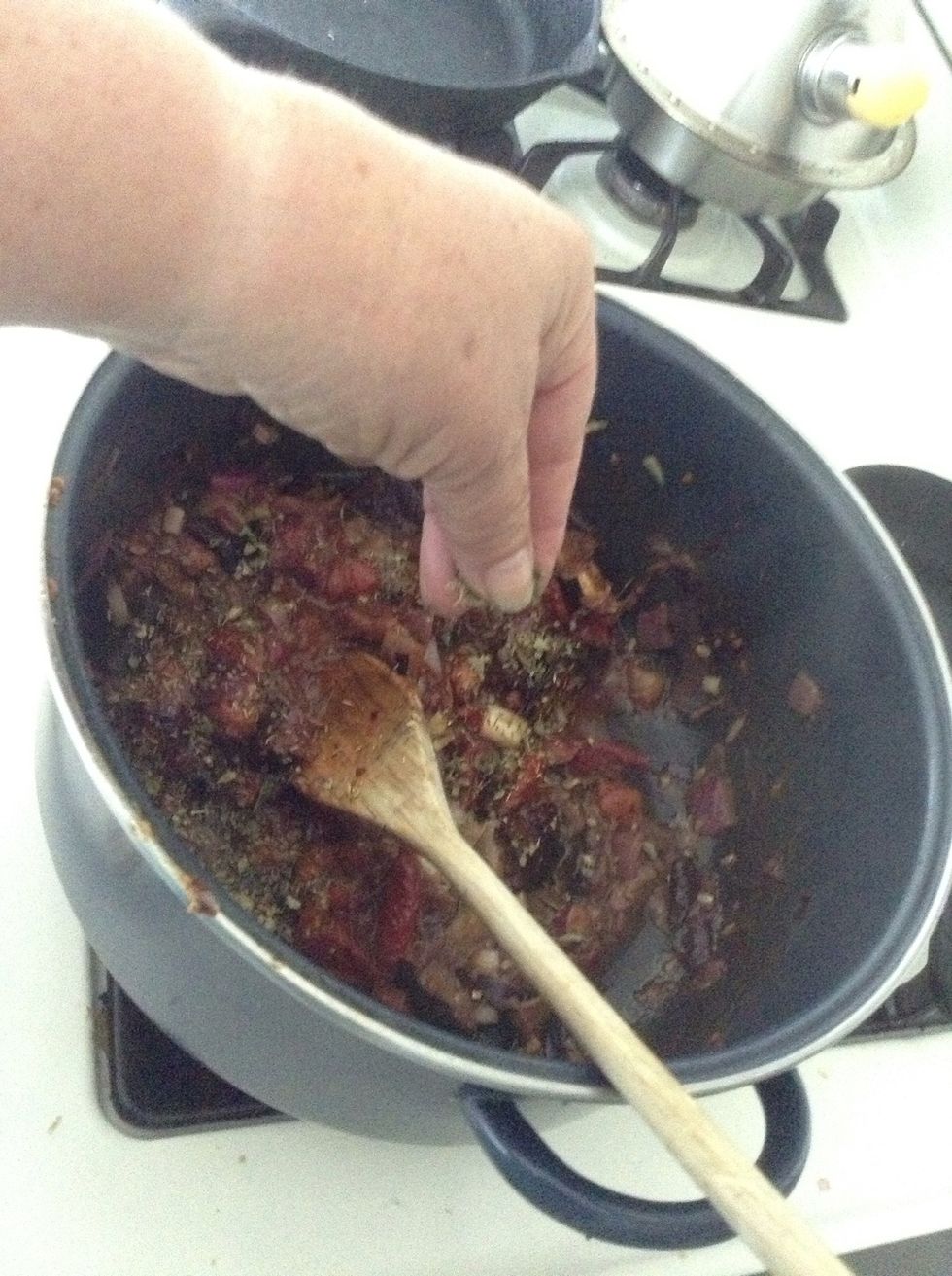 ...and dry oregano.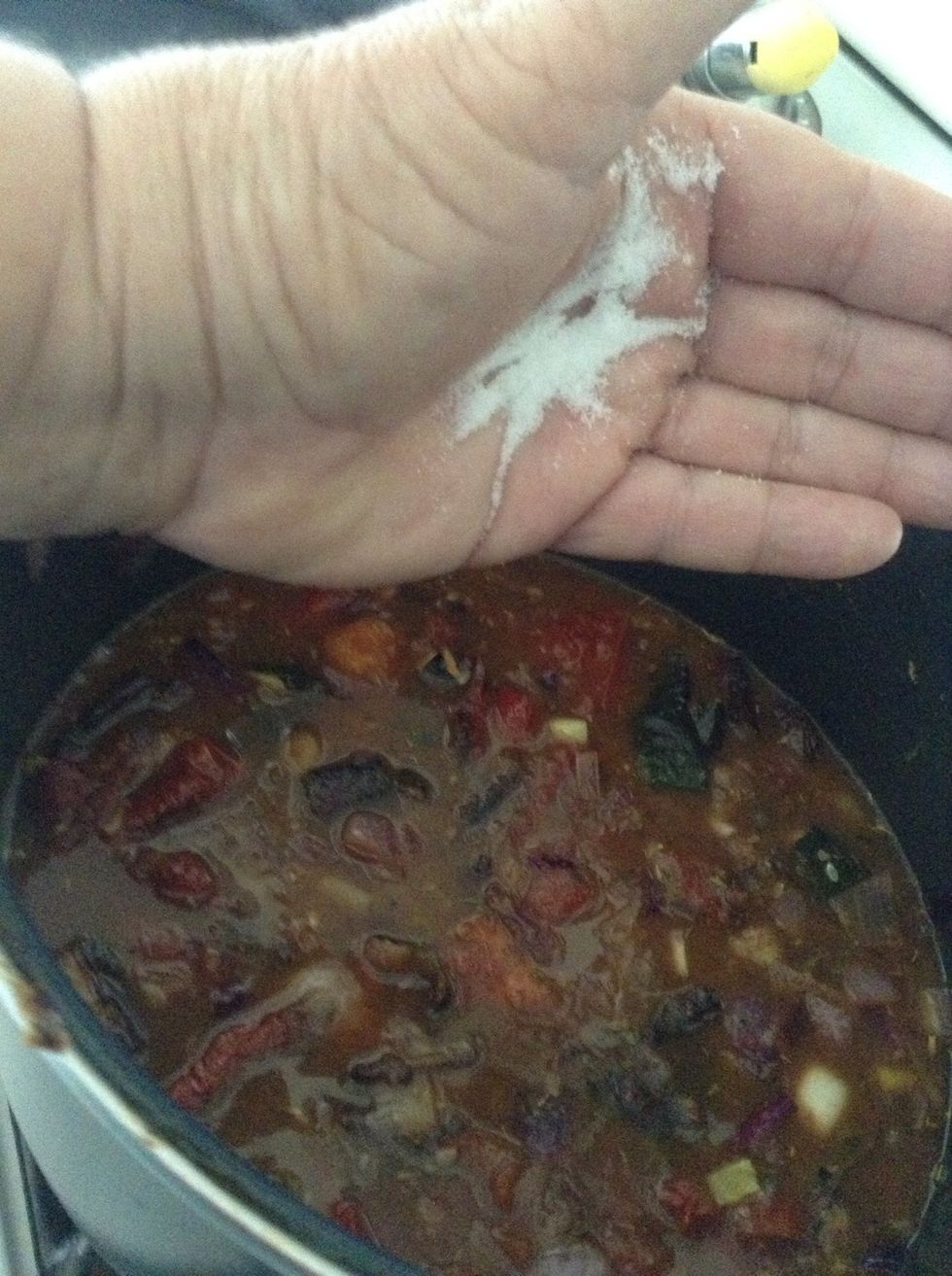 Sugar is a secret ingredient in many sauces, added to balance out the acidity of the tomatoes,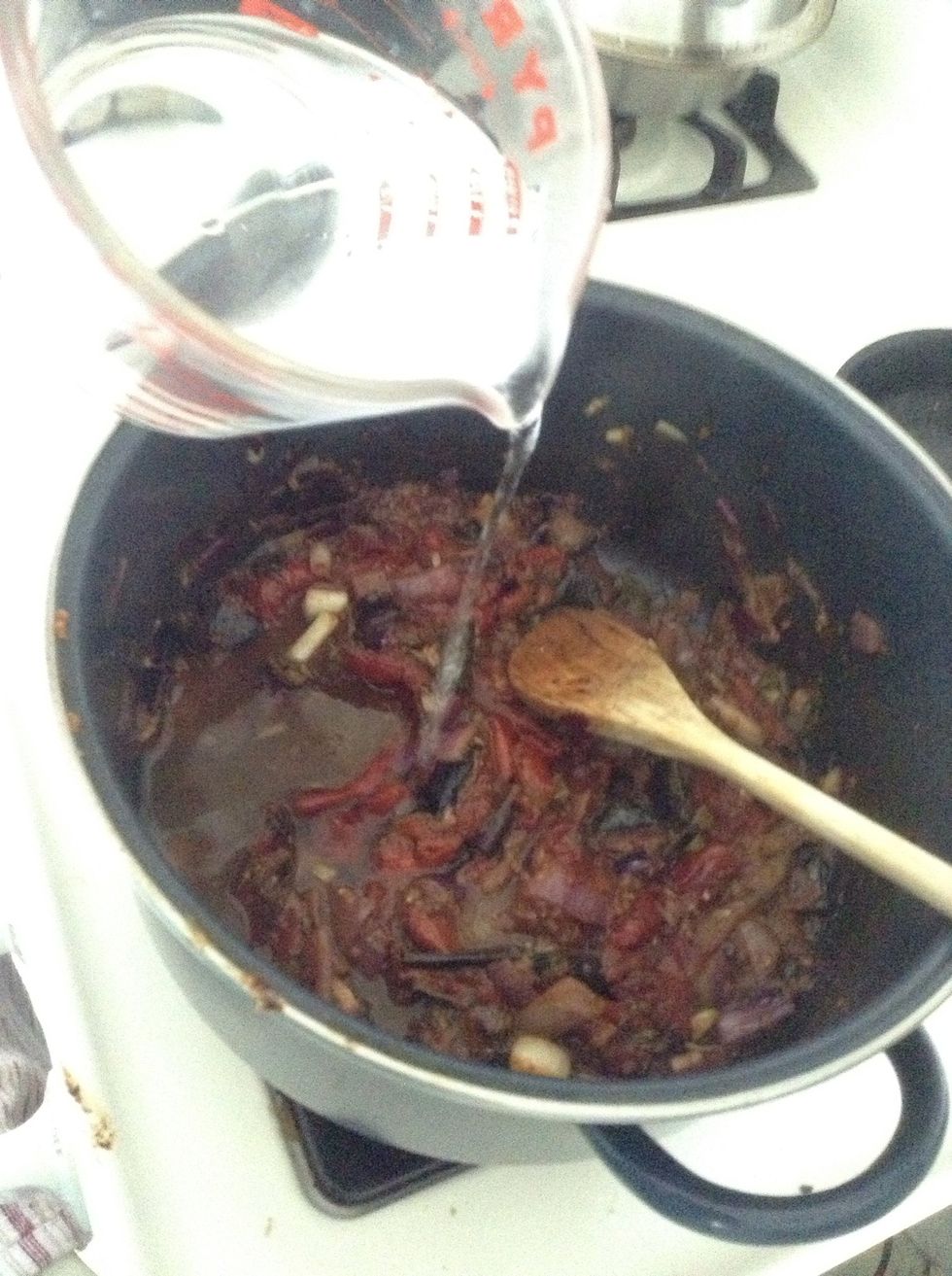 As the sauce boils down, you might need to add some water.
Put the heat on low and simmer for about 15-30 minutes.
While the sauce is simmering, chop and sauté some mushrooms.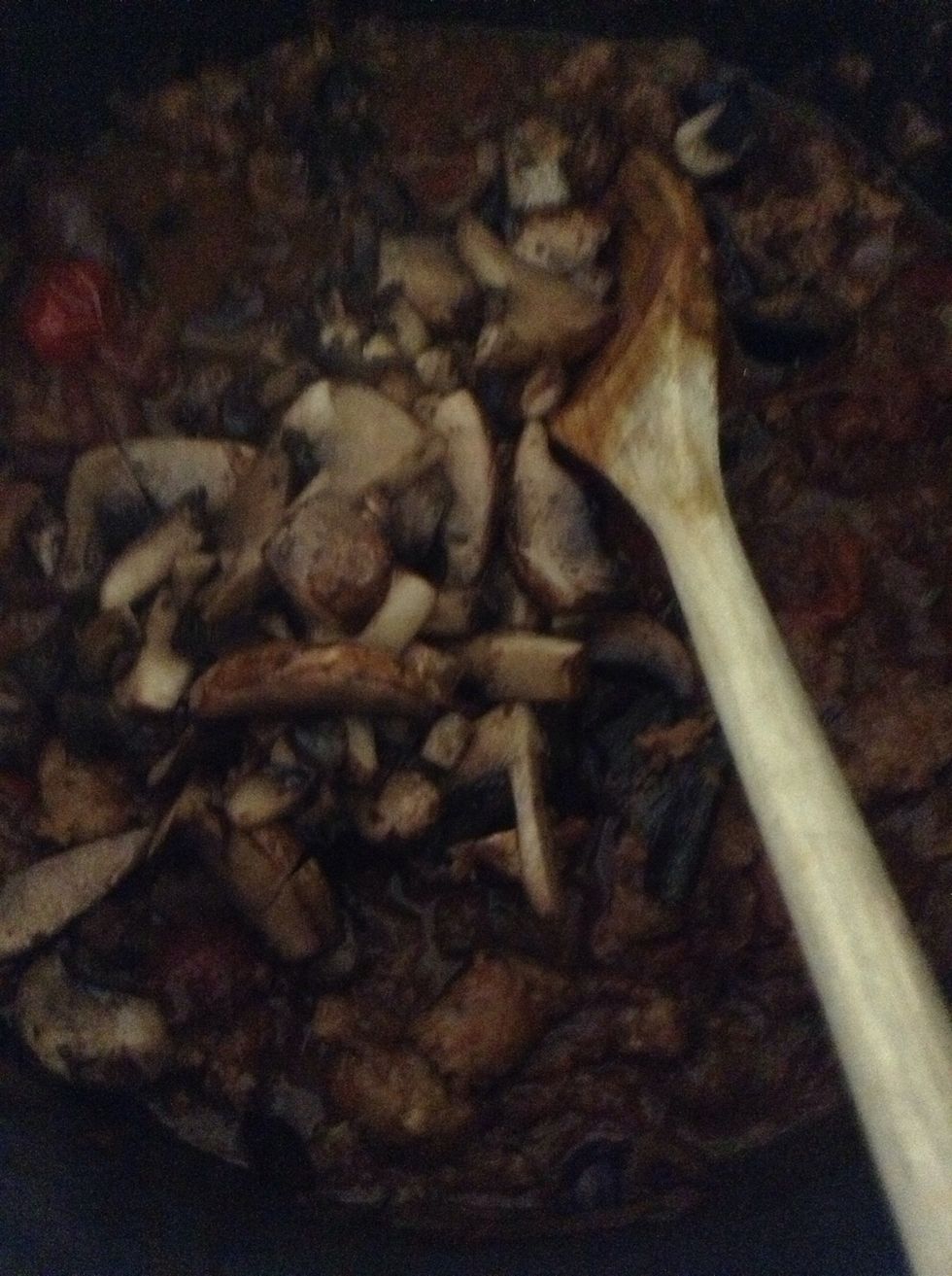 Stir those into your simmering sauce.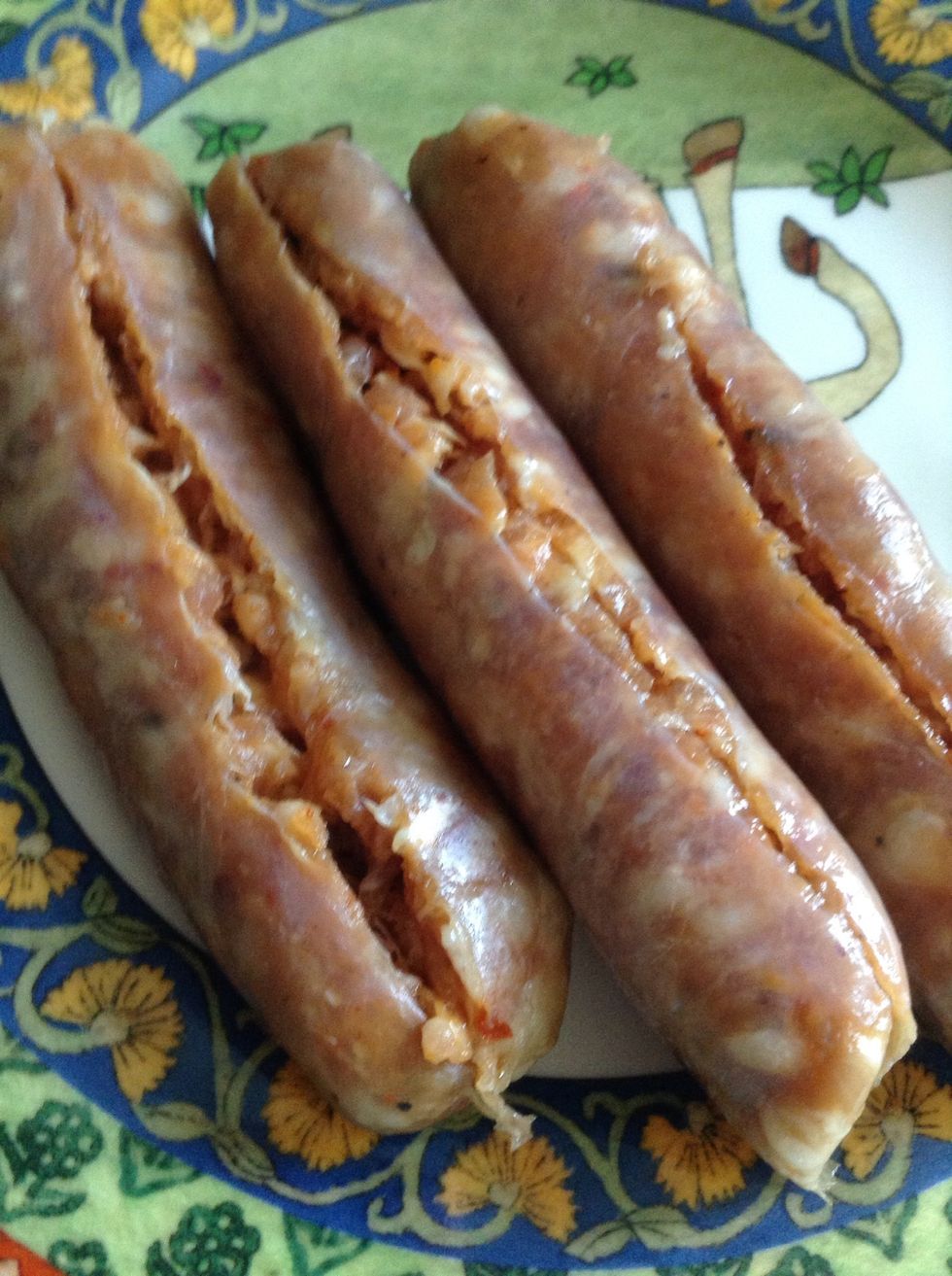 You can keep this sauce vegetarian or you can remove the casings from some Italian sausage...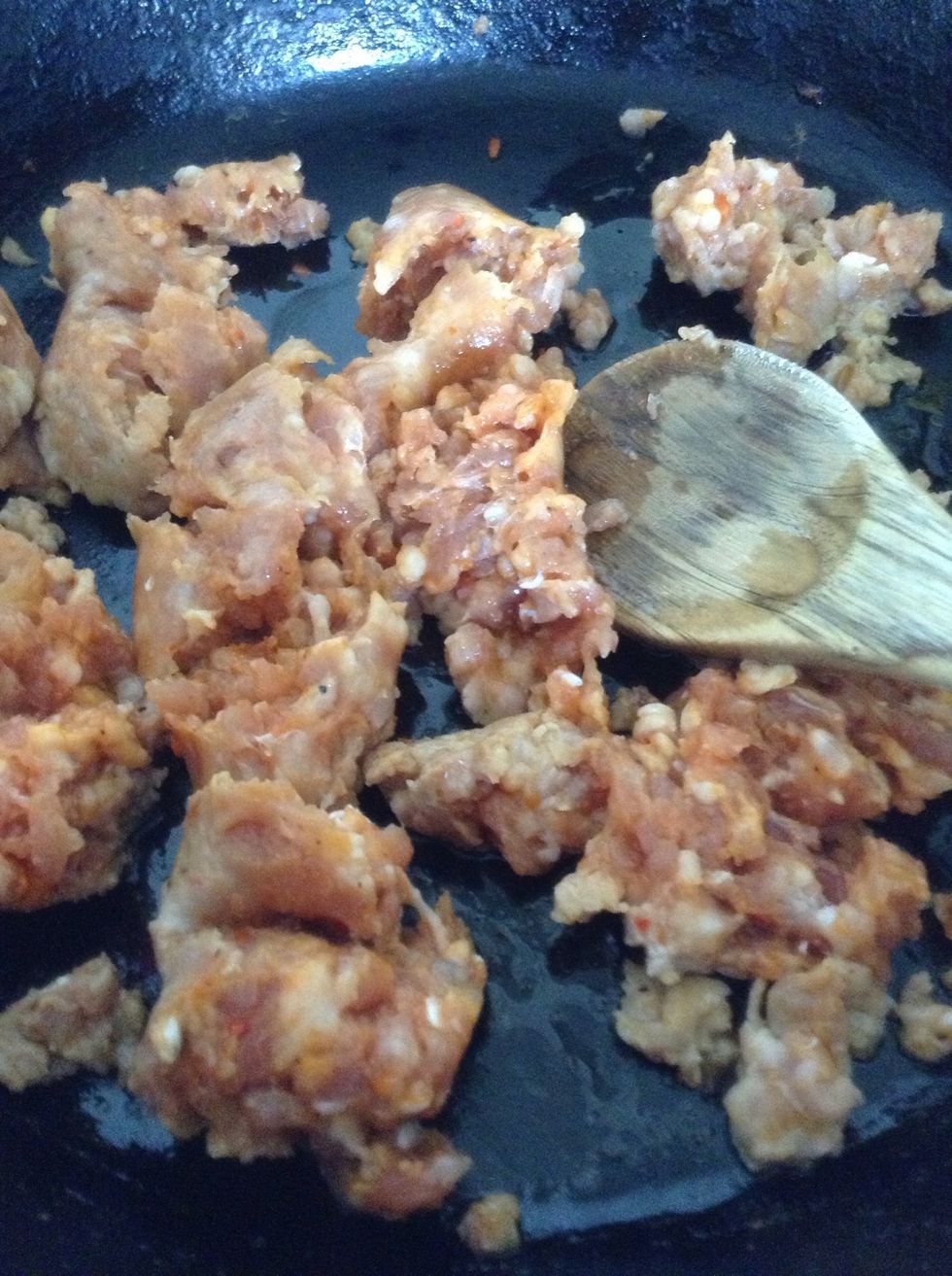 ...Sauté in olive oil...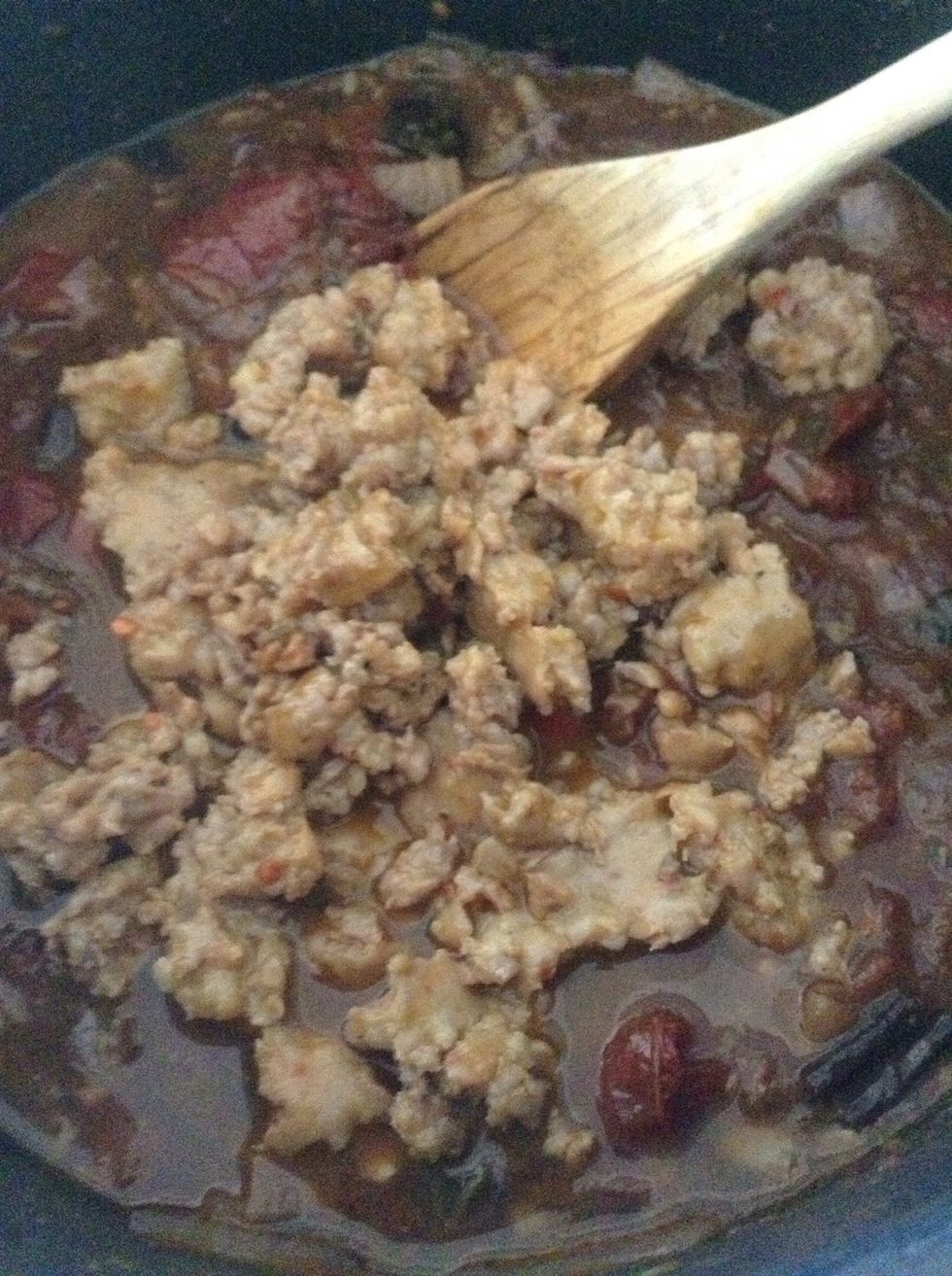 ...and add to the simmering sauce too.
Chop up some kalamata olives and toss those into the sauce.
Stir, stir, stir. Can you smell that? The blend of so much deliciousness just washes over you!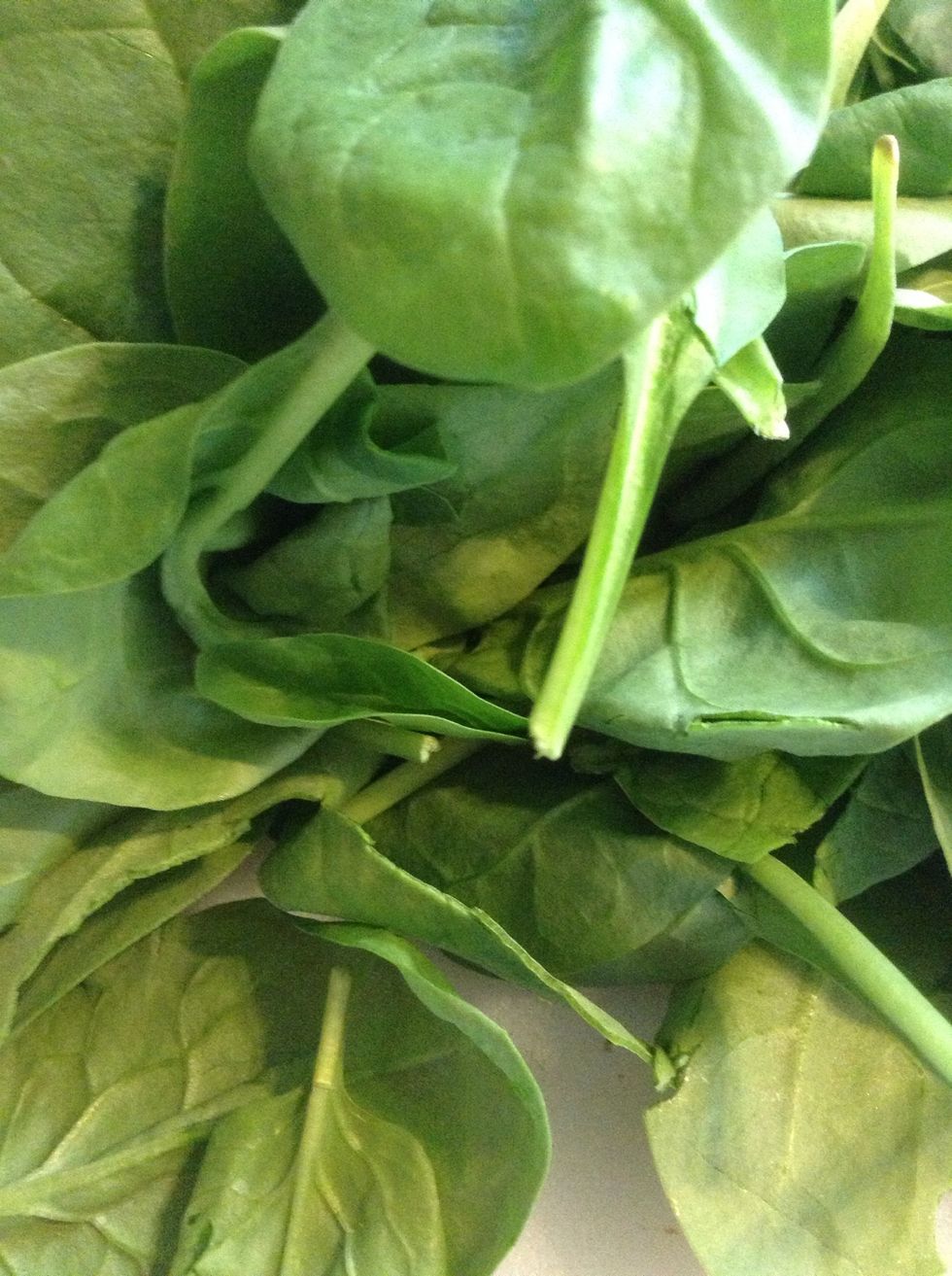 Look what I found! Some spinach! Into the pot it goes too!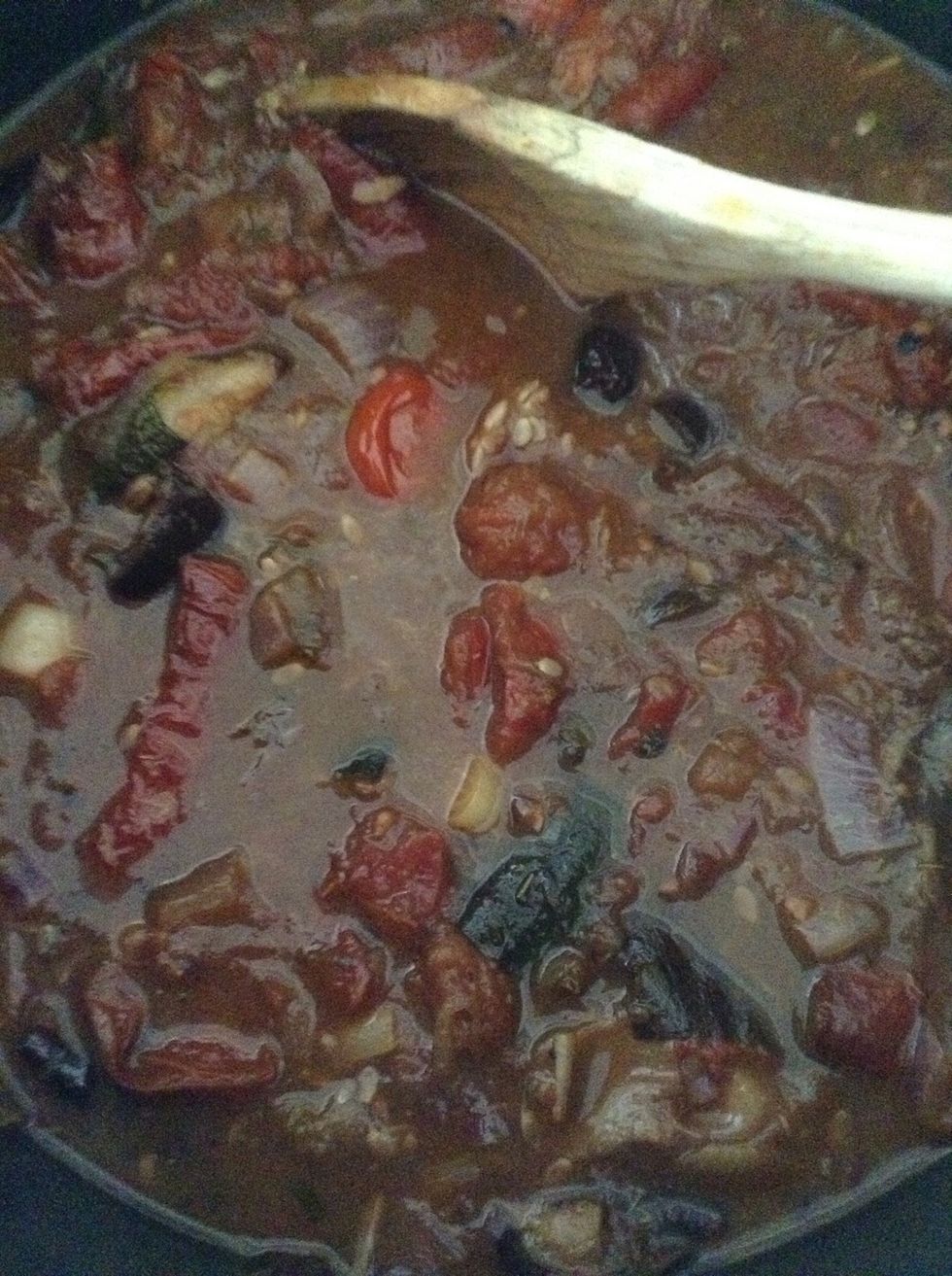 Turn up the heat so we can thicken the sauce.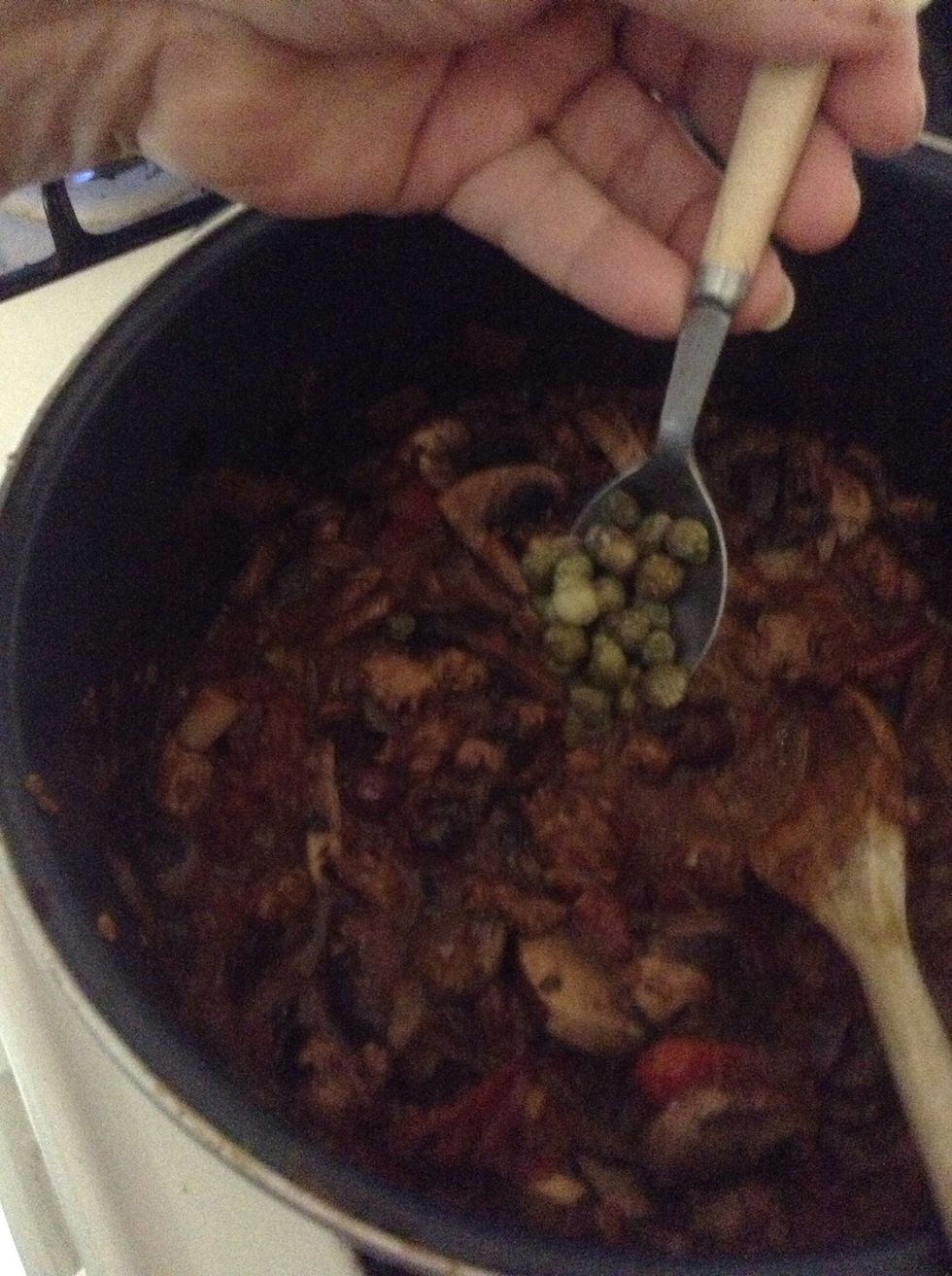 Last but not least, I'm tossing in some capers.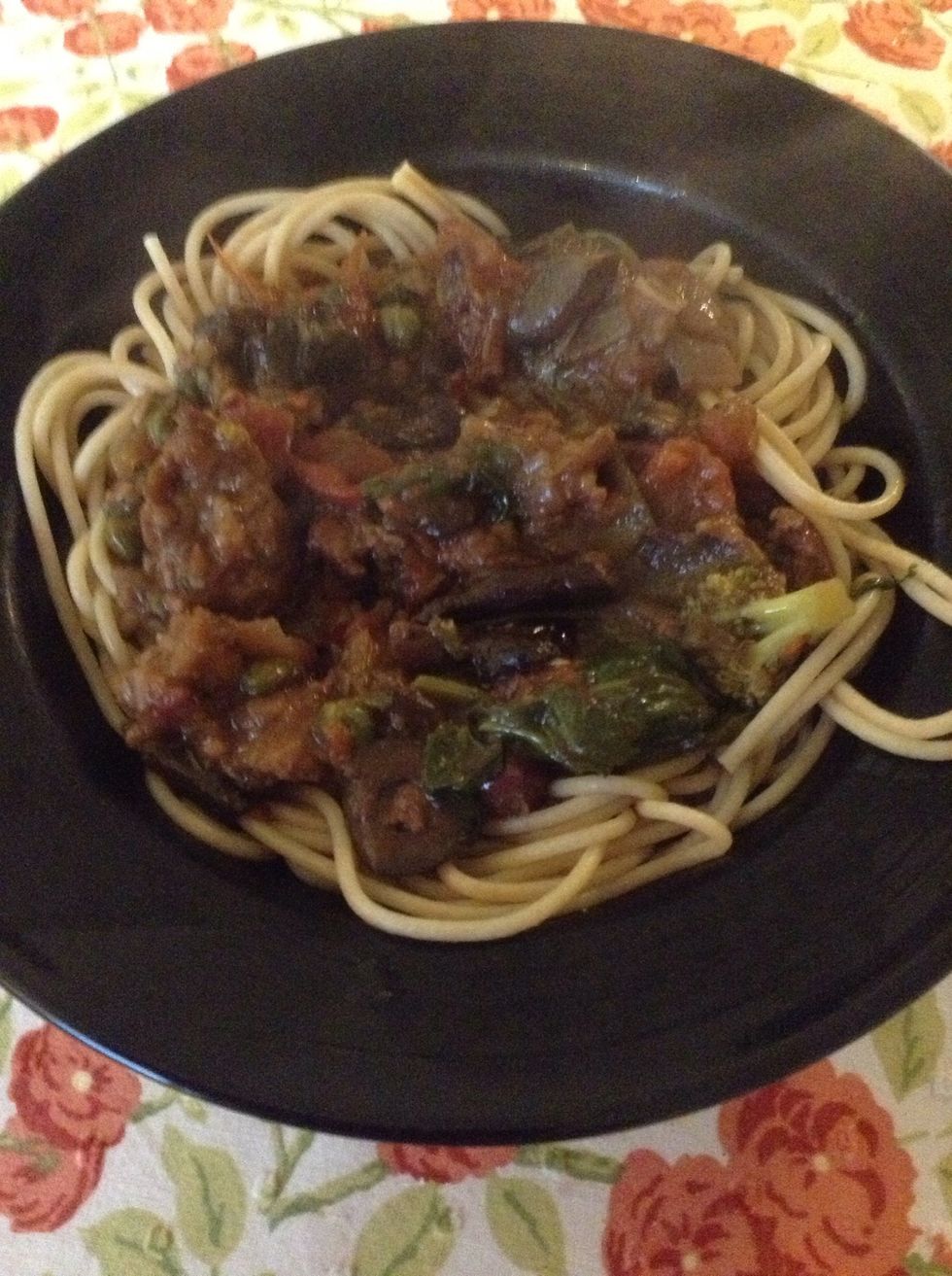 Cook your pasta and serve with this hearty, healthy, delicious sauce!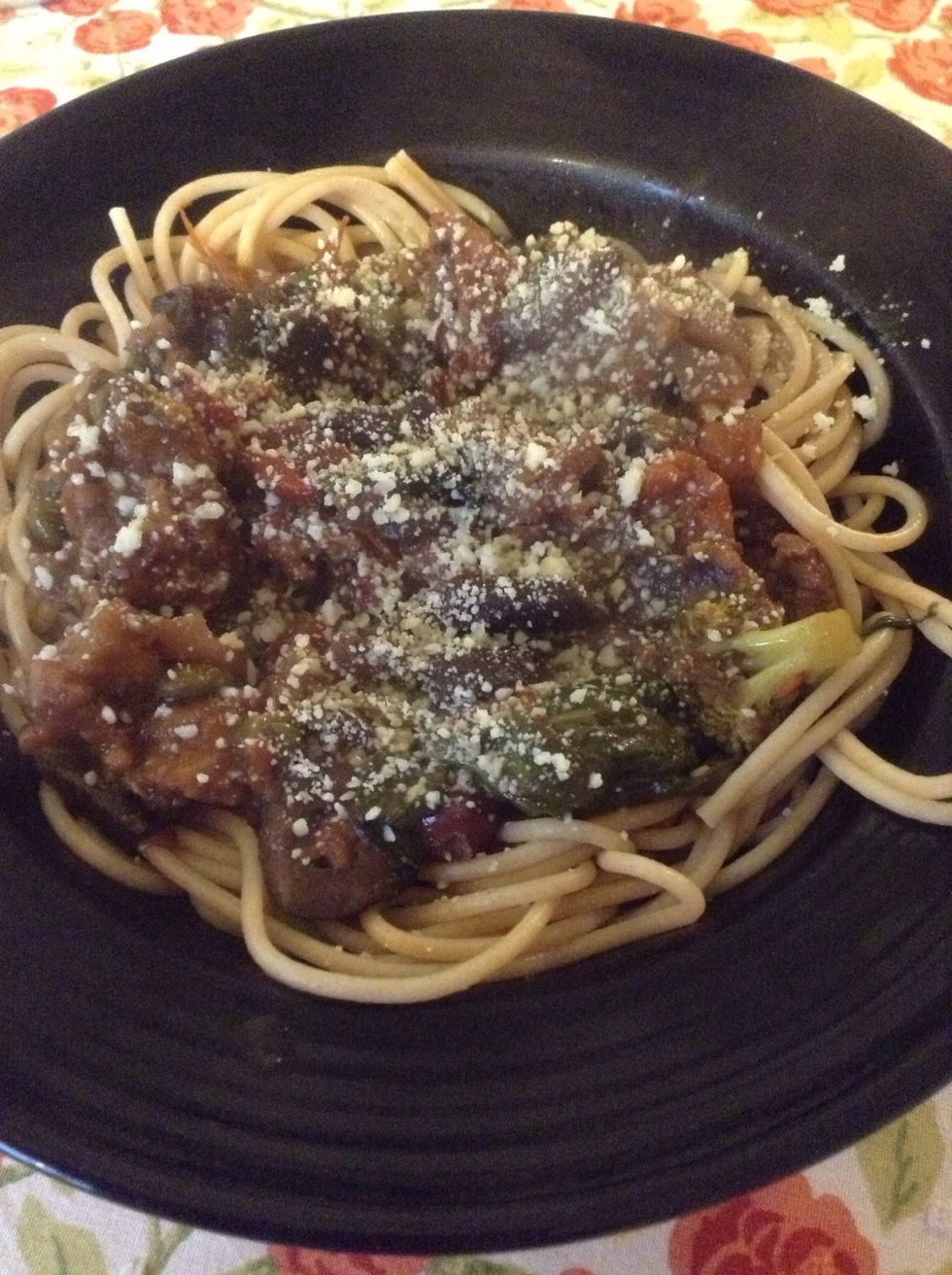 Don't forget to top with grated parmesan cheese! Enjoy! And please follow me for more great Snapguides to come!
3.0 Tomatoes
1.0 Zucchini
2.0 Small Japanese Eggplant (or any kind)
1.0 Full bulb of Garlic
Olive oil
1/2 Onion (chopped)
1/3c Red wine
2.0tsp Salt (add more to taste)
1/2tsp Pepper (add more to taste)
3.0tsp Oregano
2.0tsp Sugar
1.0c Mushrooms (chopped)
Kalamata olives to taste
3.0 Italian sausage (optional)
Spinach (any amount - it shrinks!)
Capers (you decide!)
Any vegetable you want!
Felicia Gustin
I love to create! All kinds of things. Food, crafts, jewelry, art, photos, theater, events, history, social justice. My proudest creation is my daughter!