Guide to make indian sweet dish called Ras malai in quick nice steps.
295
Firstly gather all the supplies. And remember to wash your hands before proceeding. 👏
Firstly we will make the chenna. For that boil the whole milk and keep stirring it while boiling.
When the milk looks boiled. Turn the heat off and wait for 5-6 minutes it to cool a little bit and then add 5-6 tbsp vinegar to it. Keep adding more till the milk starts to look separated.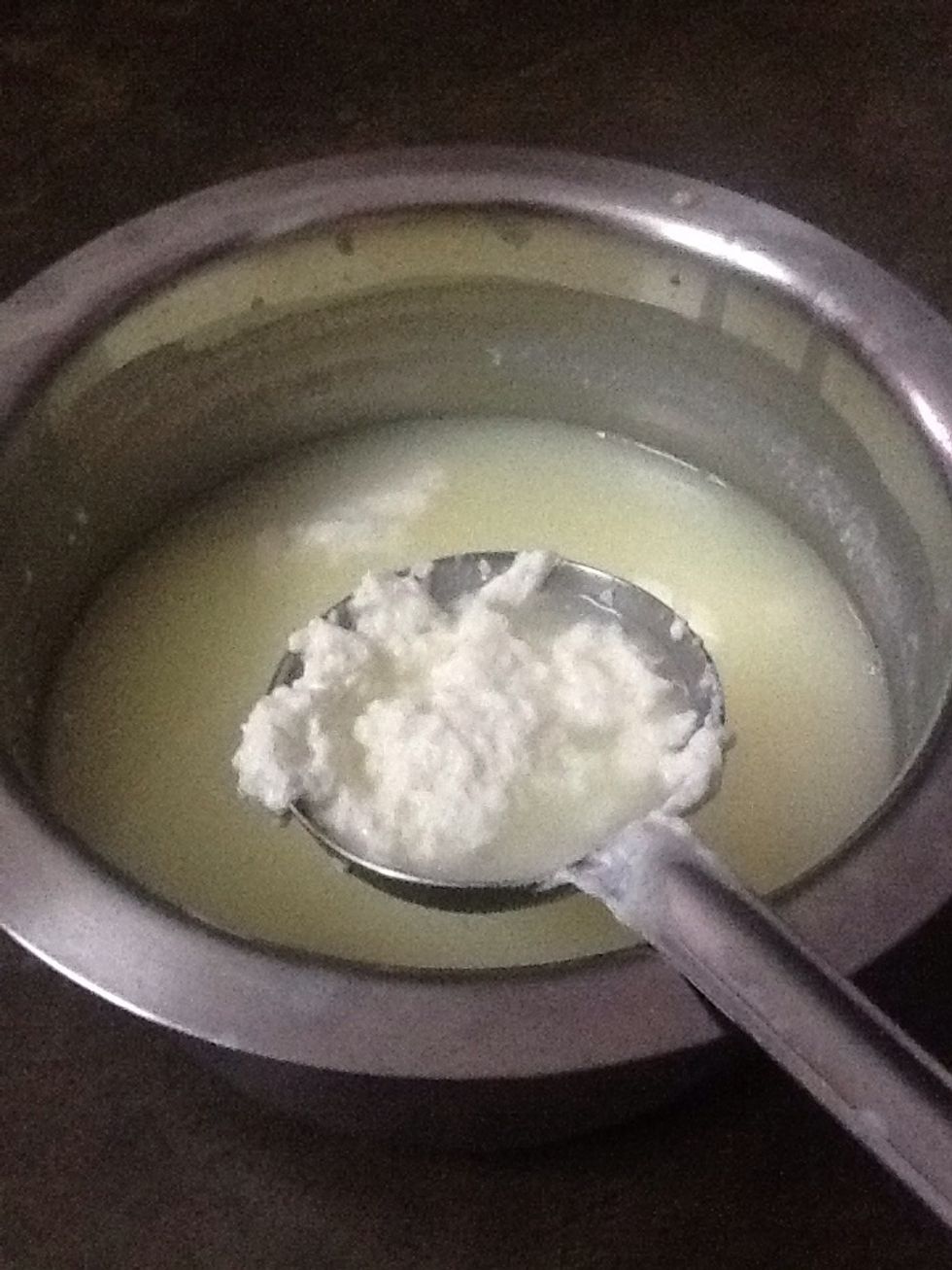 As you can see the milk will look like this. Try to separate chenna (cheese) from the solution.
Take the chenna on a clean muslin or kitchen cloth.
Strain the chhenna through a piece of muslin and squeeze to remove all the water. ( I used a strainer too. But you don't need to. So don't worry. )
wash the chenna to remove the vinegar flavor from it. When doing it hold it under running water with your hands running through the paneer). Drain using the cloth with as much strength.
Now put the chenna in a blender and blend it nicely for 2 minutes. Take it out and make it like a dough
Form smooth balls of chenna and press them a little like I did. You can make larger but remember the size will double after cooking.
Now in a pressure cooker take a cup of water and heat it with a cup of sugar. To that add 1/2 tbsp cardamom powder.
Keep the heat high. Then put the small balls you made earlier of chenna and close the cooker lid. Now keep the cooker on medium heat. After 5 minutes whistle will blow.
Check if the balls are fluffy, soft and spongy. If they are not. Cook them again on flame only no need to pressure cook again then.
After cooking press them slightly to release water absorbed. And set aside to cool. Till then start making the rabri (syrup) for it.
Take your full cream milk and reduce it to half of it. It will become very smooth and creamy then. To it simply add pistachios, saffron, cardamom powder, fennel seeds powder and sugar. Cook 5 min.
Let the rabri (syrup) cool now. Then take you chenna balls and pour the syrup over it. And garnish it with almond slivers or saffron. ☺
Tada!! Finally hard work paid off. Enjoy this marvellous sweet dish after your lunch or dinner. Enjoy!!
Please comment and share you love. Thank you for watching.
1/2gal Whole Milk
Vinegar or lime juice
2.0c Sugar
1.0pch Saffron
2.0Tbsp Cardamom powder
Pistachio
1.0tsp Fennel seeds powder
Almond slivers ( for garnish )
Full cream milk