Another fun recipe that is great to make with your whole family. Get your claws out, we're going to do some digging. A 4 layer indestructible flavour of vanilla and choc. Walaoeh!!!! Mum loves you :D
9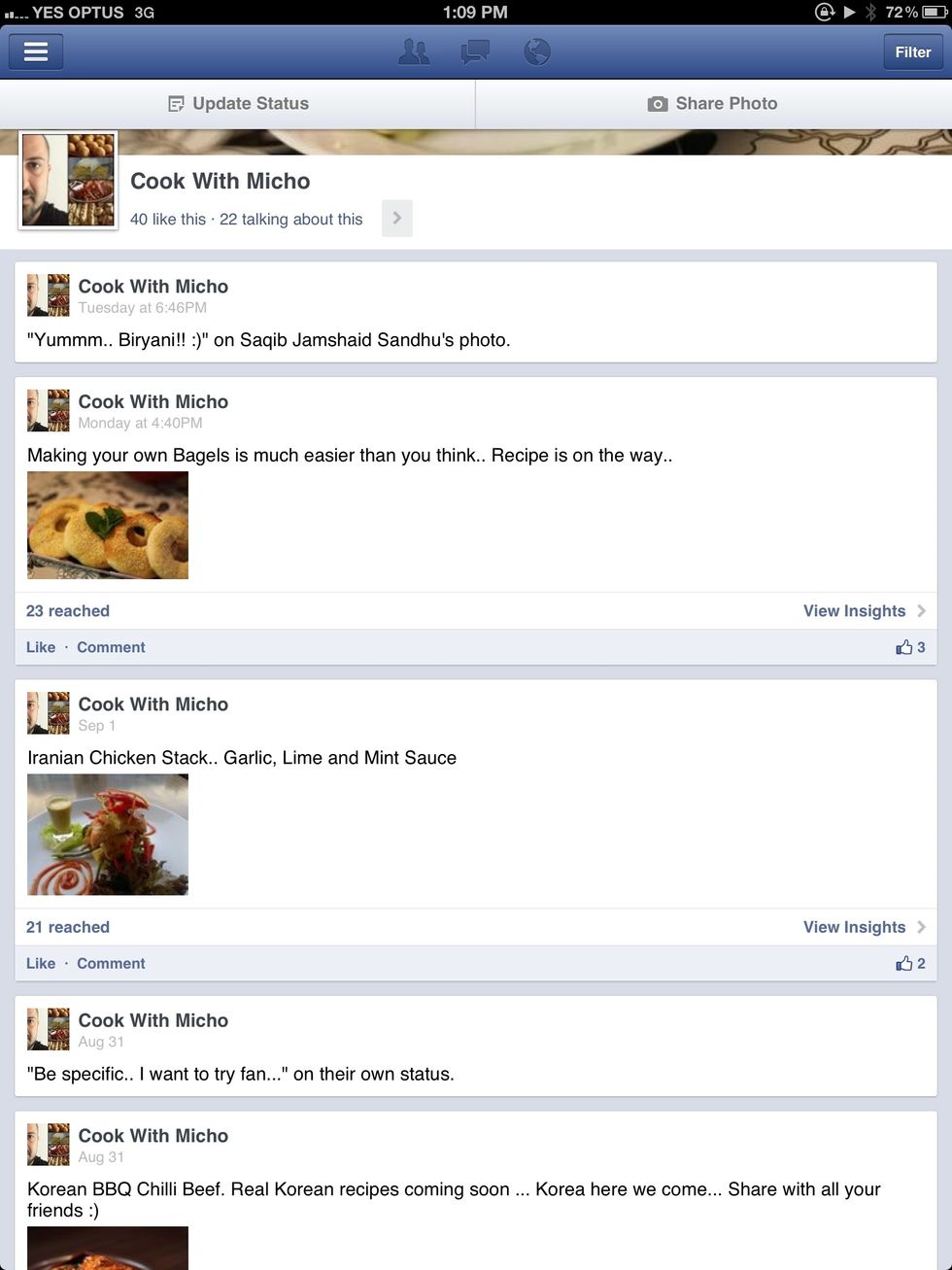 Like our cookwithmicho page on Facebook and feel free to add me as your friend. Follow us for the latest insight to our upcoming recipes. We're still working many of your requests. ;)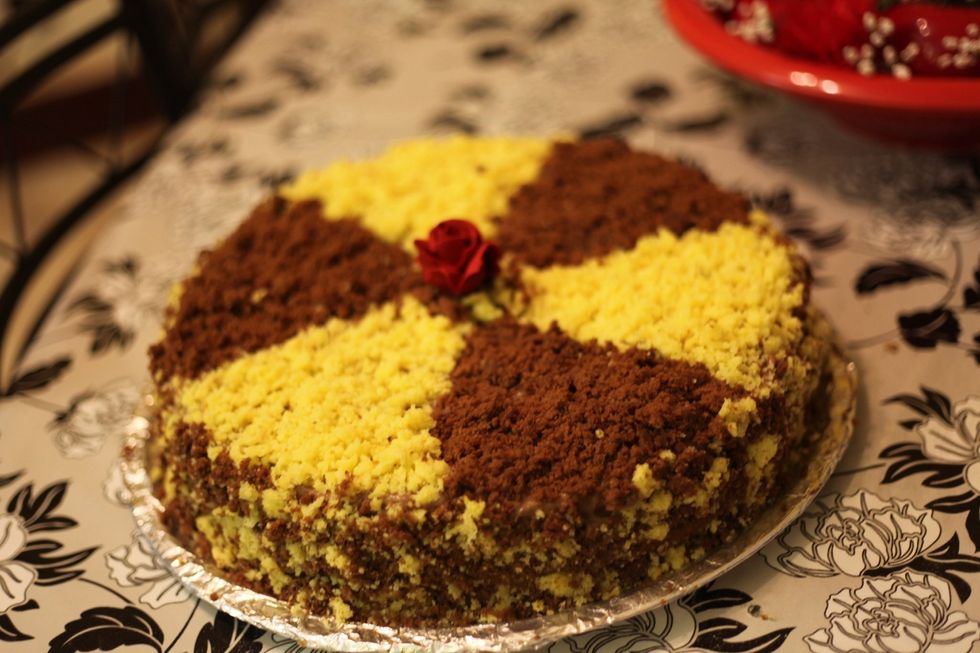 So this is what we're making.Despite it's politically incorrect name which might have North Korea knocking at my door for the recipe. We make no apology for its deliciousness. Let's do it!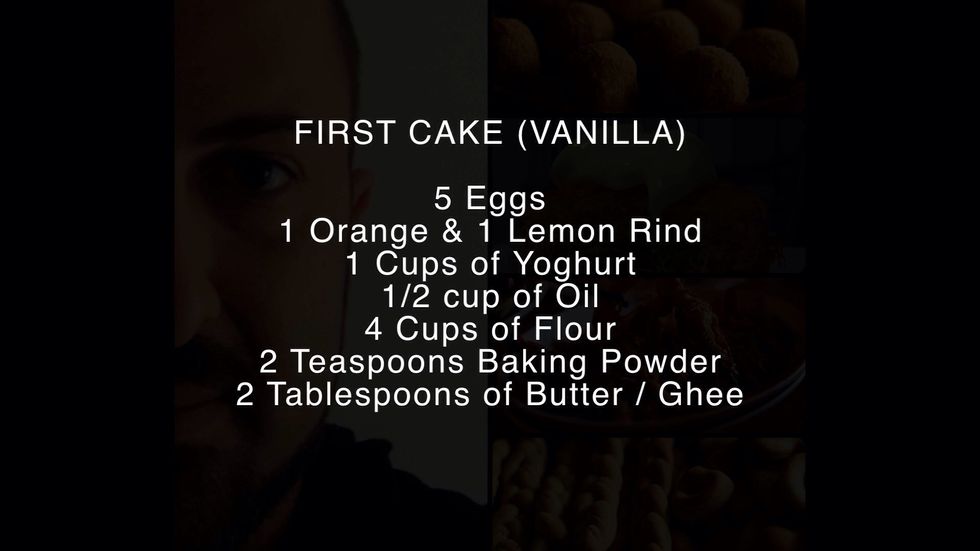 I've separated the 2 cake ingredients for you so you can prepare your 2 cake mixes separately. So let's start with the vanilla cake first. If you have an auto mixer, it's best mixed in this.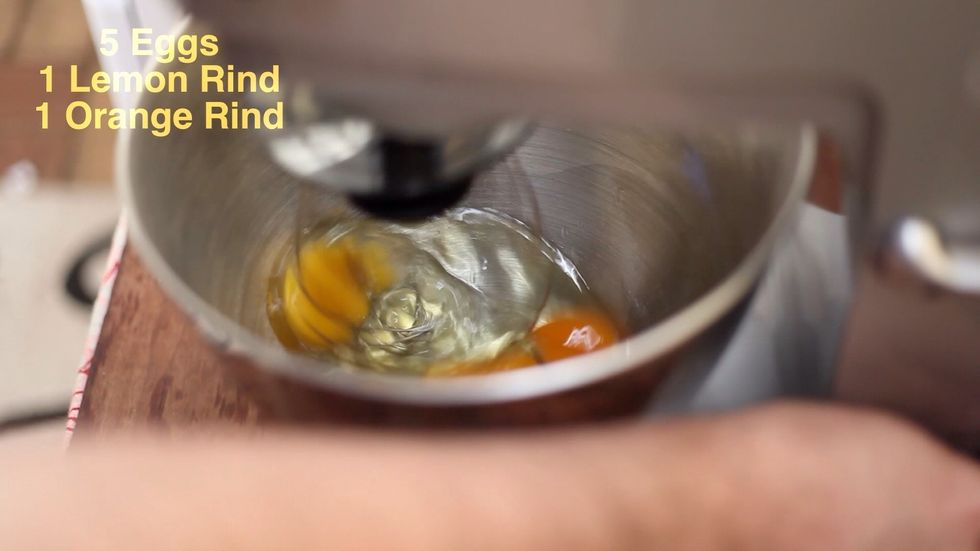 5 eggs first on a medium spin setting.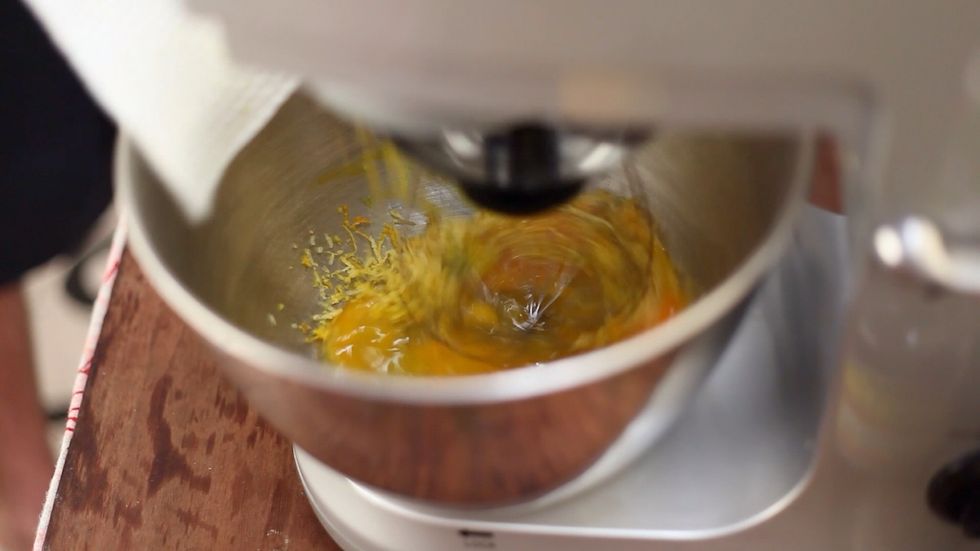 Add your lemon and orange rind.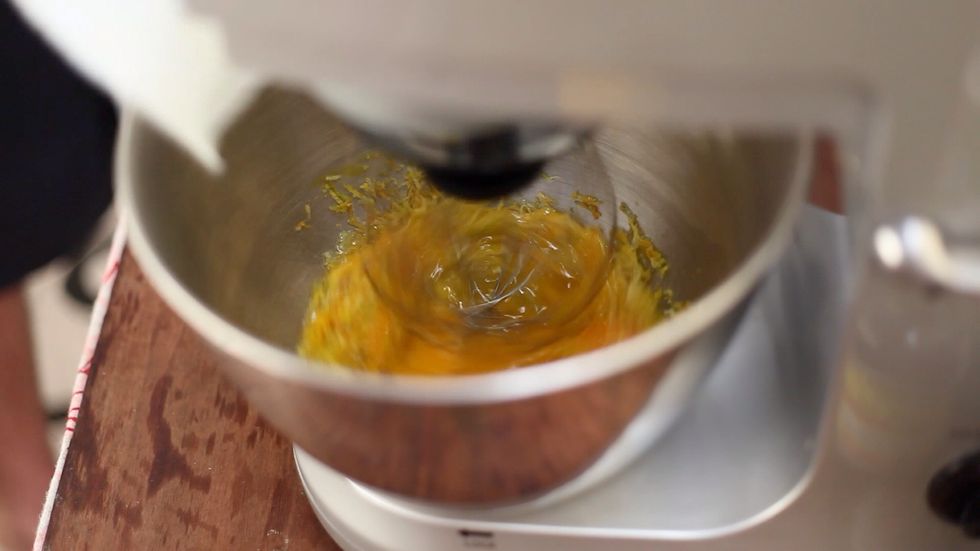 Turn up the speed when your eggs are separated.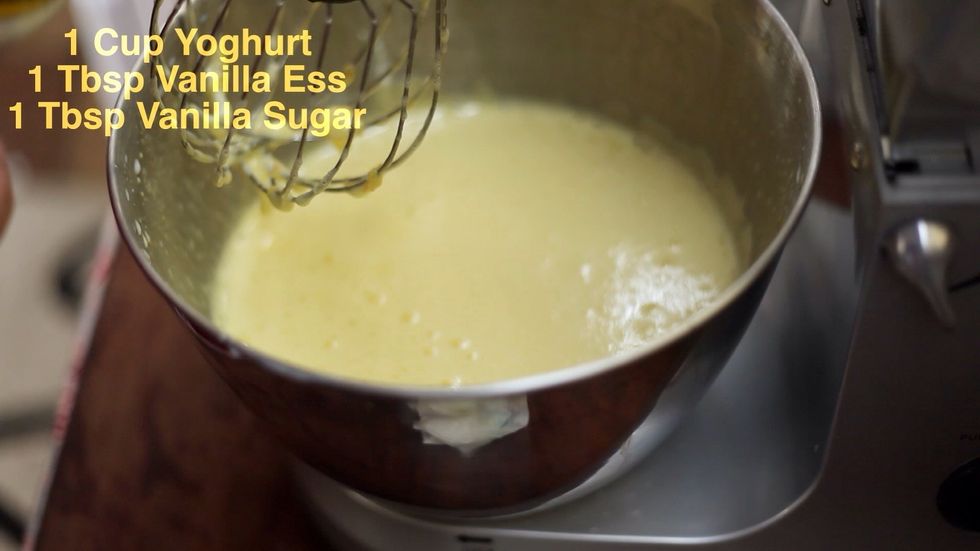 Add your vanilla sugar or vanilla essence. Or both. Also add 1 cup of yoghurt at this point and keep the machine spinning on a fairly high spin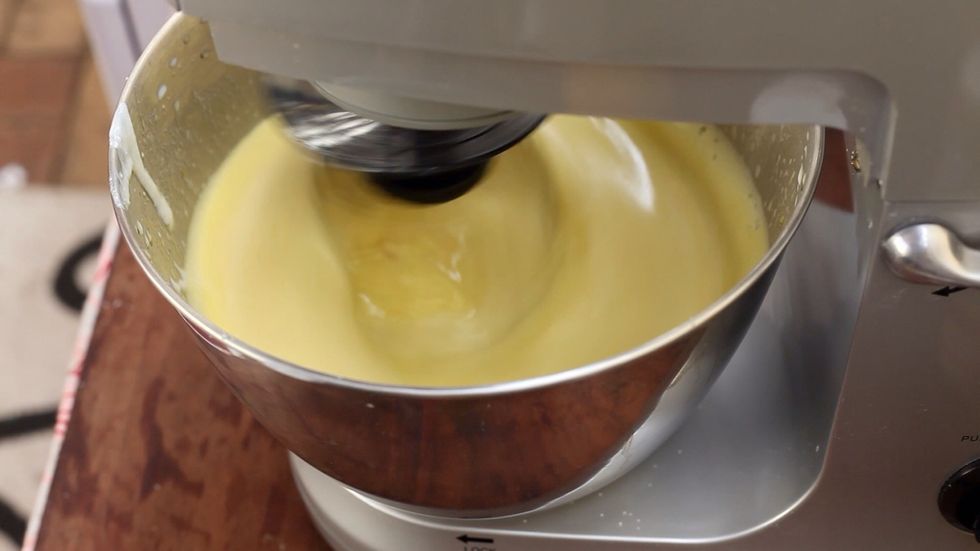 Can you see how fast ours is going. Move over Ferrari.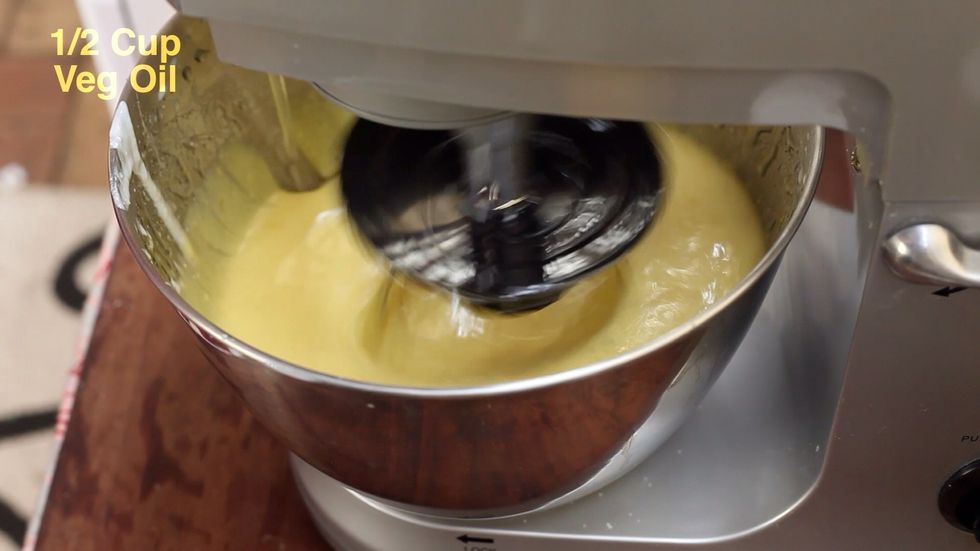 Without making a big mess, put your half cup of oil by pouring it along the side of the bowl while it's spinning.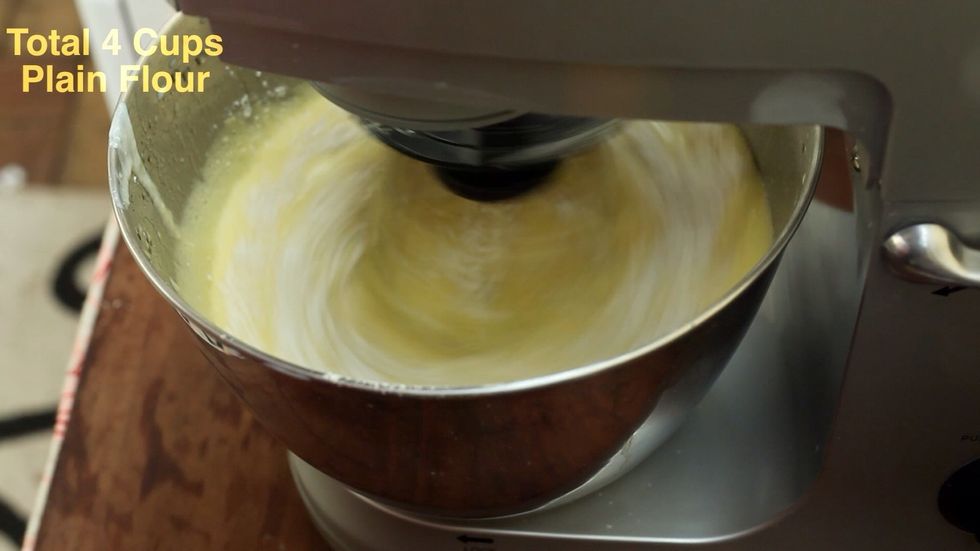 Add your 2 teaspoons of baking powder. If you want to use sugar, add 1/2 a cup. This cake dough has no sugar. It's all in the custard filling.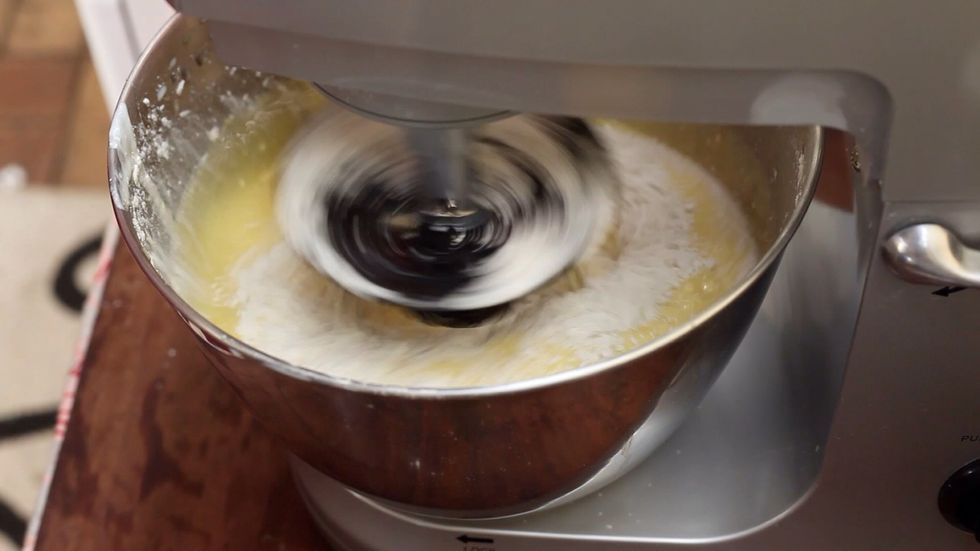 Add your 4 cups of flour one cup at a time. Unless you want to wear a coating of flour all over your face. Alright we are done once your mix is done. Now repeat all steps 1-10 for second cake.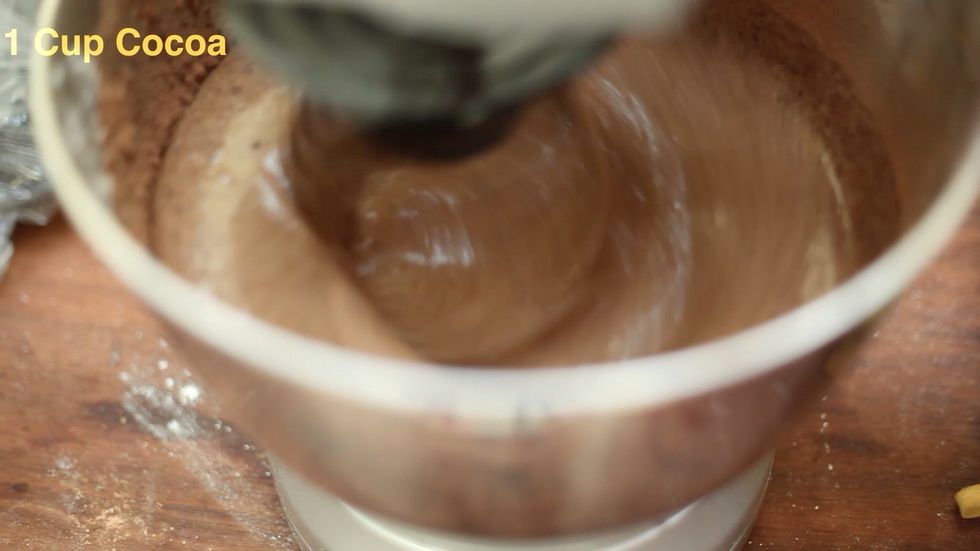 Second cake is exactly the same as the vanilla (step 1-10) and just add 1 cup of unsweetened cocoa. I hope I've not confused you. You can watch the video on YouTube if you want the explanations.
Using butter or ghee, line your 2 baking trays and pour the vanilla cake dough in one and chocolate in another.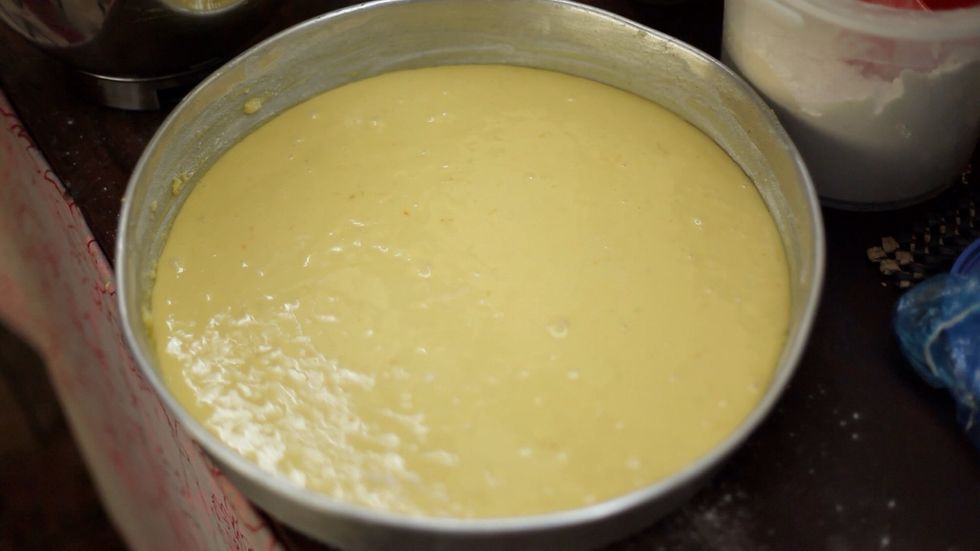 One like this.... Dip your finger and taste if you like. Everyone does it. Don't deny it!!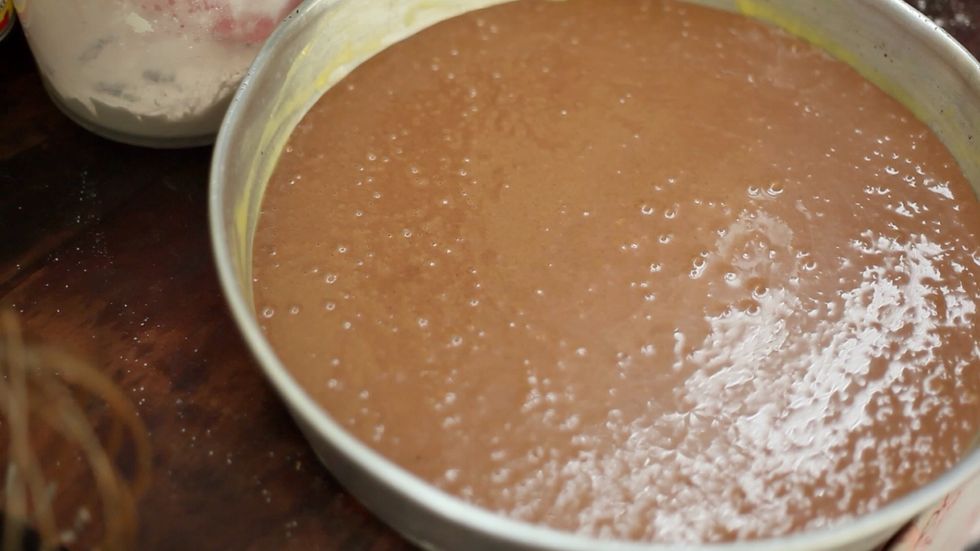 And one like this.... Chocolate chocolate chocolate. Bake bake bake. 45 mins on 180-200 degrees depending on your oven.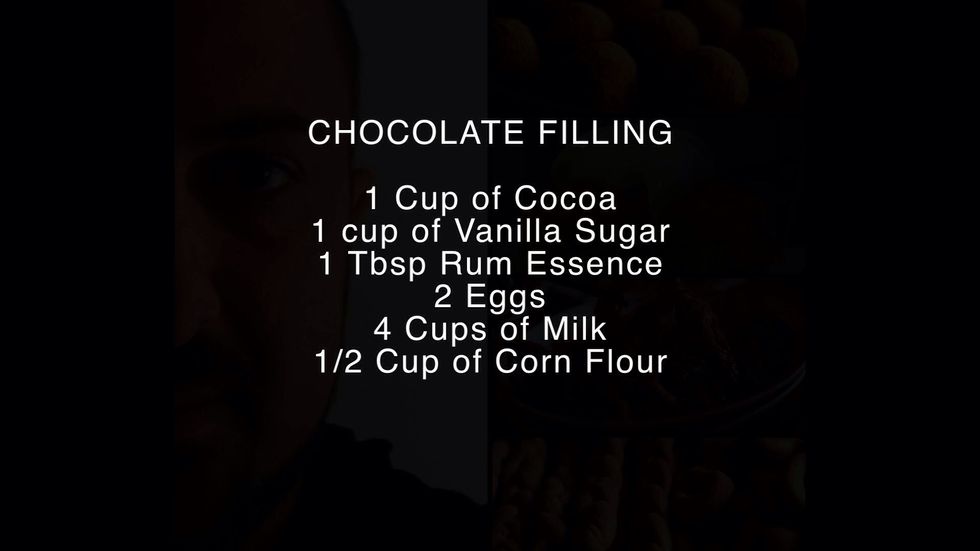 Bake the cakes for 45 minutes on 180 degrees celcius. Check your cakes with a skewer after 40 minutes. Now while the cakes are baking grab these ingredients. Gotta talk to you about this funny gadget!
1 liter of milk (same as 4 cups) and add your cornflour while the milk is boiling.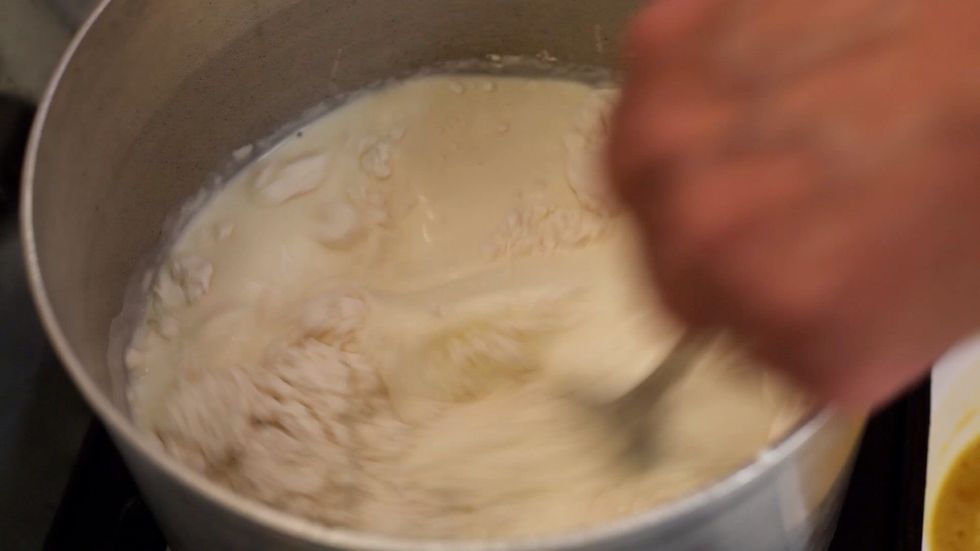 Using a whisk stir in your cornflour and all your ingredients while the milk is gently boiling on a medium heat. We used a terrible contraption which I'd never recommend. I'll show you in a sec.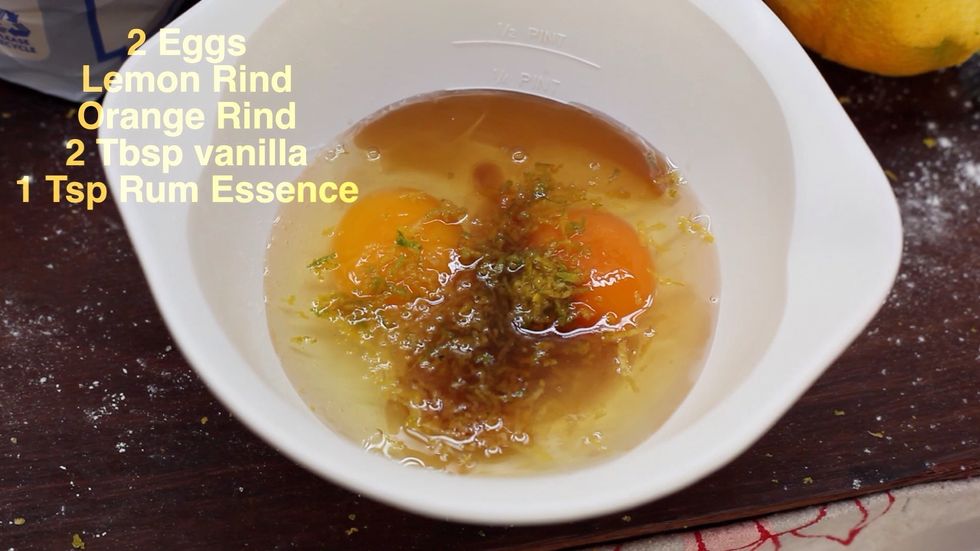 While you're stirring your milk add these ingredients in. This will help thicken up your filling without having that cornfloury taste.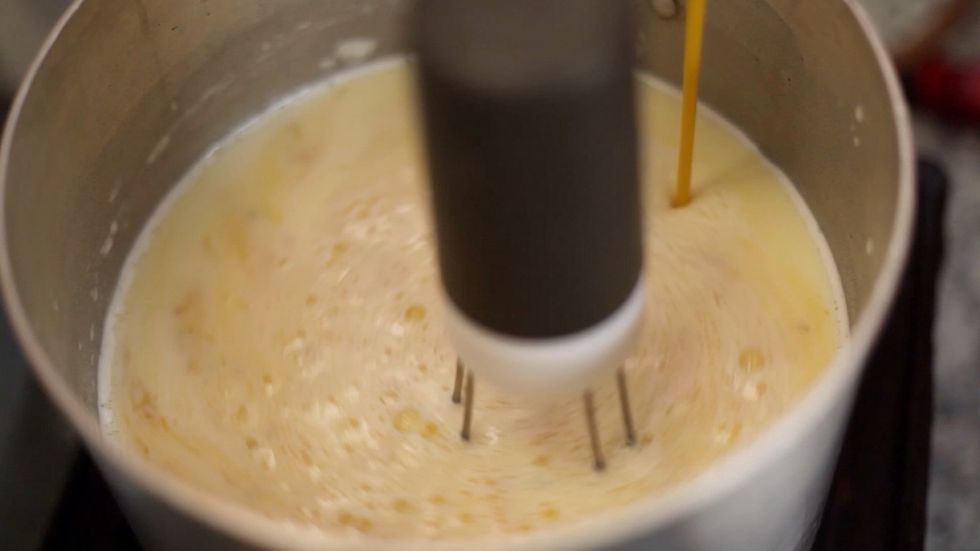 Here is an auto stirrer which failed epically. It vibrates while spinning around. No a well thought out invention. Watch the YouTube video for what goes wrong. Don't bother buying one.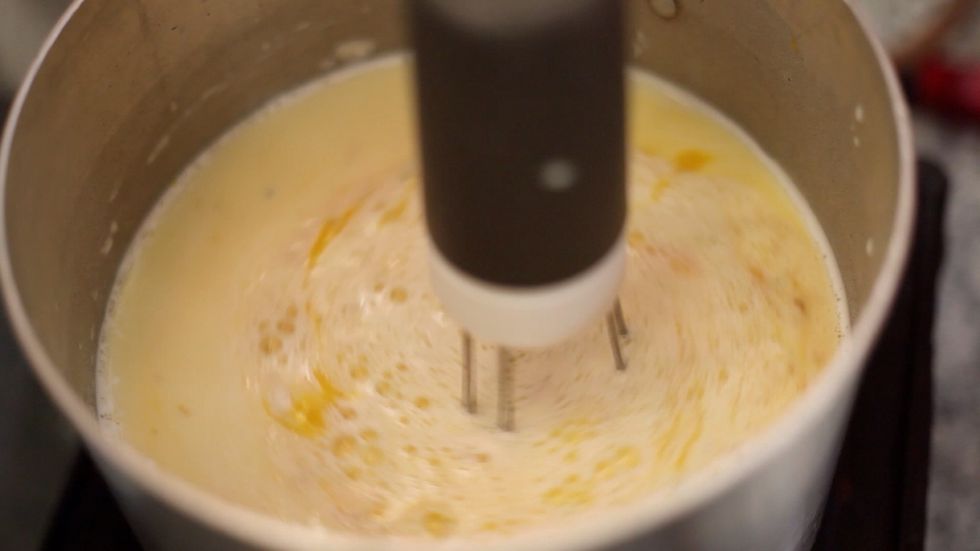 It just didn't stir all around the pot. It did a ballet pirouette in the centre burning the milk to the bottom of the pot. Bad bad bad!!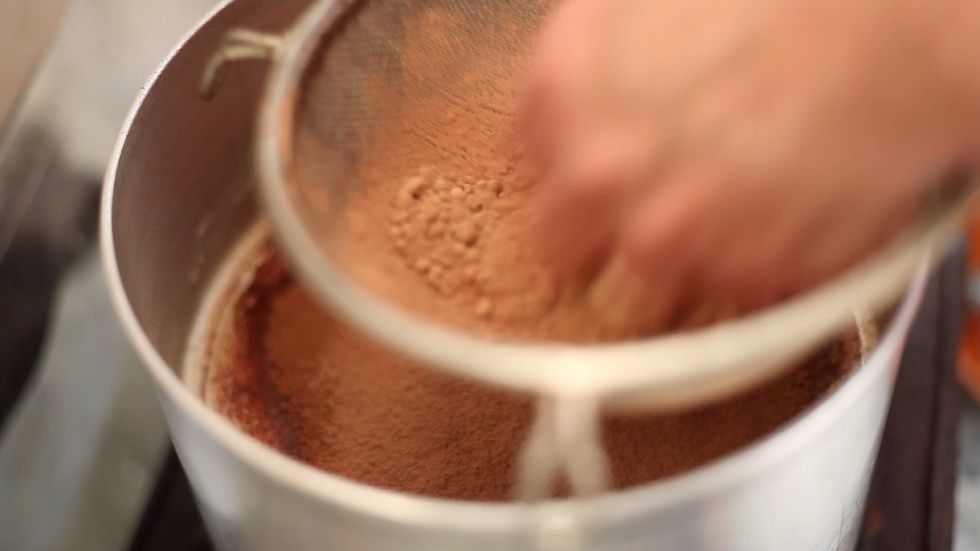 Add your sifted cocoa powder and 1 cup of sugar and keep stirring with the whisk.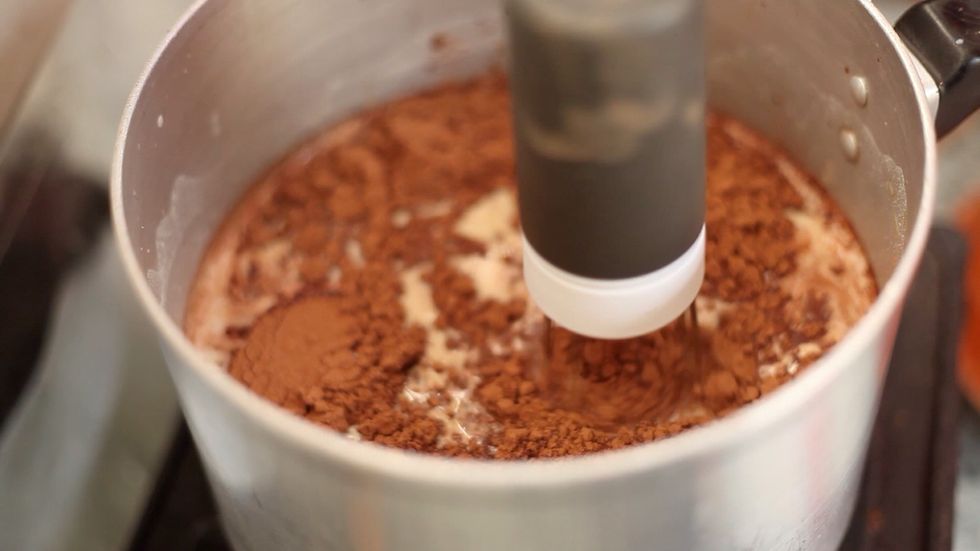 Please with a whisk!! We beg you ahhaha. Or you'll end up with the same clumpy mess we ended up with.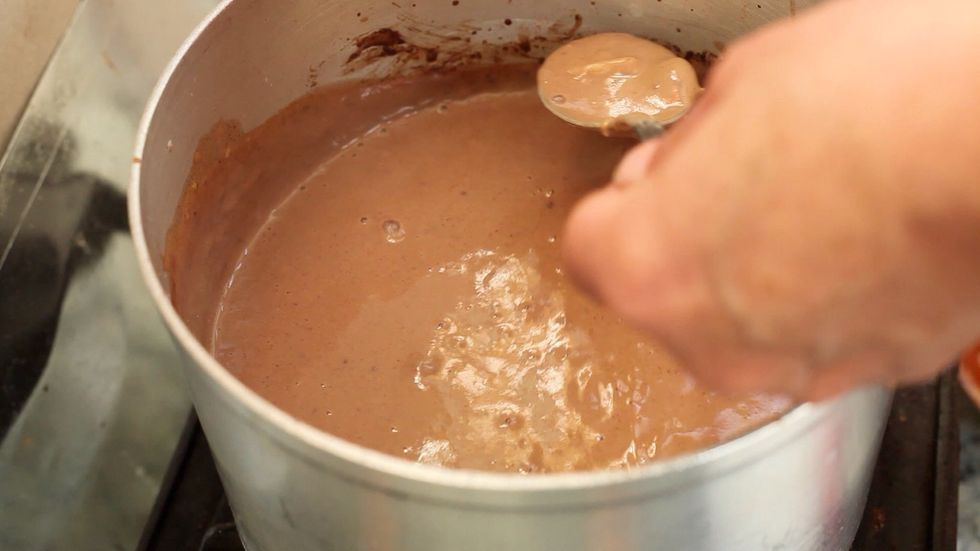 See the clumps. Anyway leave this to cool down but don't put it in the fridge. We don't want it to set so fast. Your recipe should all come into place at the same time. ;)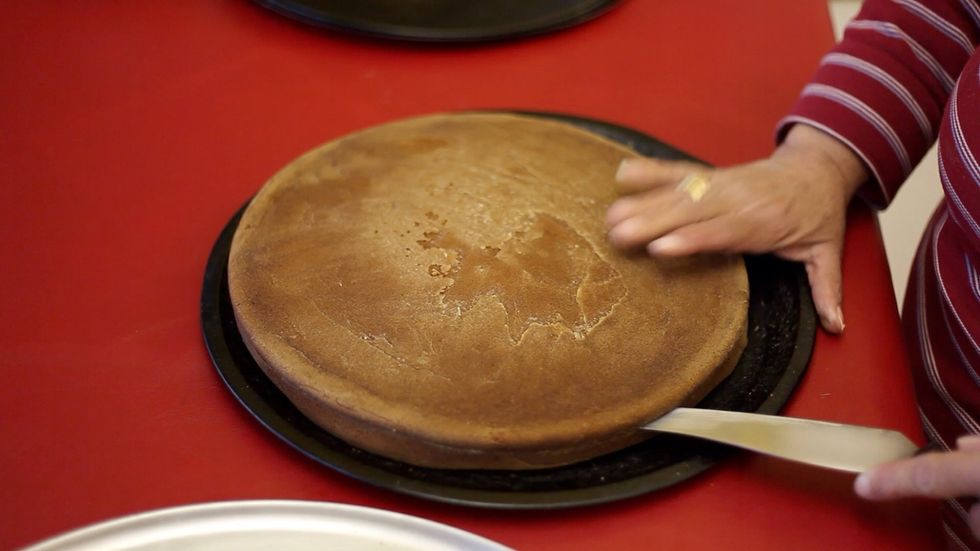 Make sure your cakes have cooled down and had a rest. After this recipe I'm sure you're going to need a rest too. ;)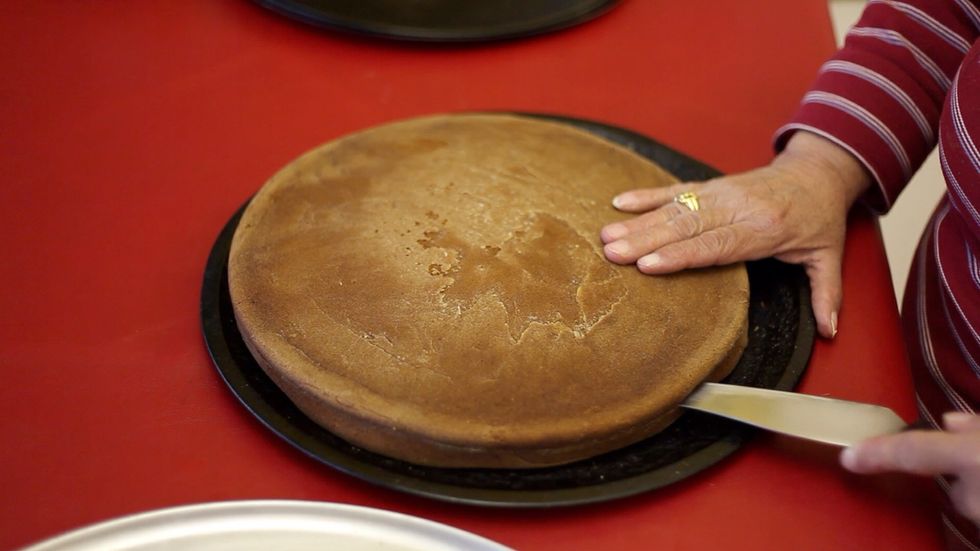 So once you're cakes are both ready, you need to cut them both in the centre and separate them. Best way is to cut a guide around the cake with a knife and then use a cotton string to divide the cakes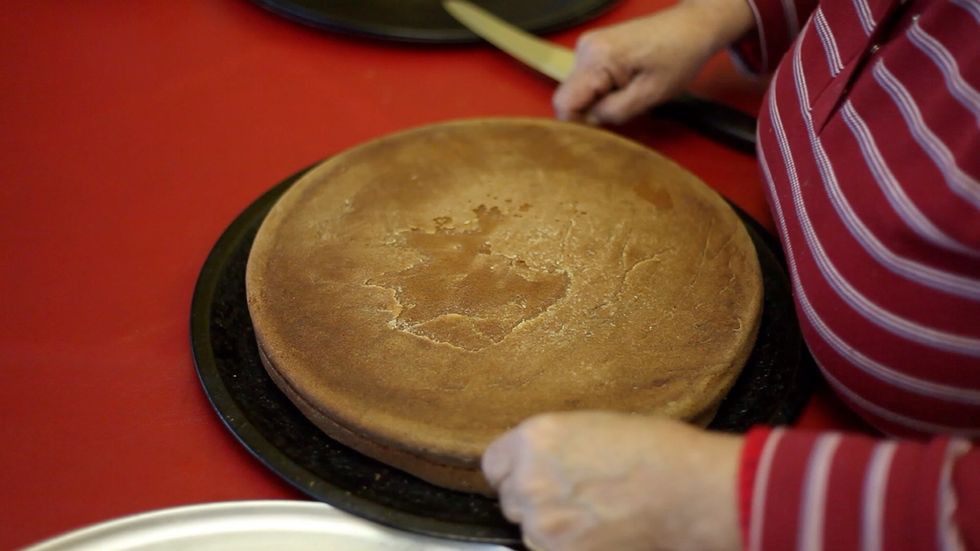 Magic string to help you separate the cake. Gently now. Get one of the kids (even the big kids) to hold down the cake and you wriggle the string through the cake.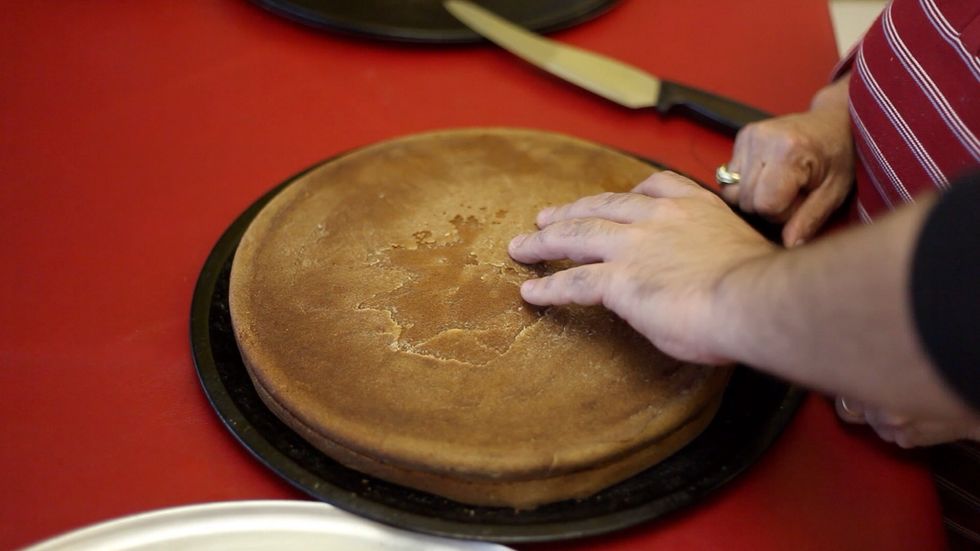 See even the camera man can help you. Lol.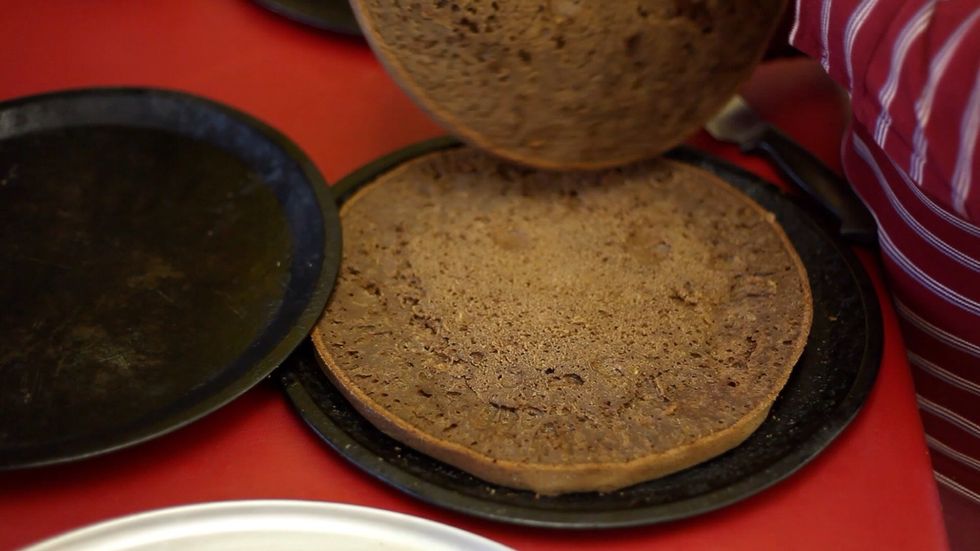 And this is what we end up with. Get your claws out. Literally!! Did you wash your hands? We're diggin in!!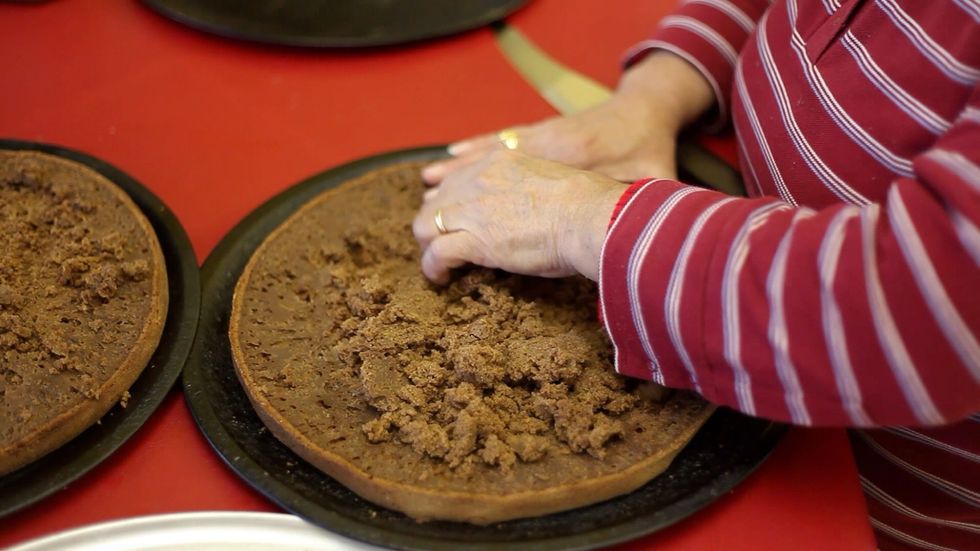 Yes literally digging in. Carefully remove as much crumbs out of the centre of the cake as you can without reaching the bottom. Crumbs from one cake layer should be enough.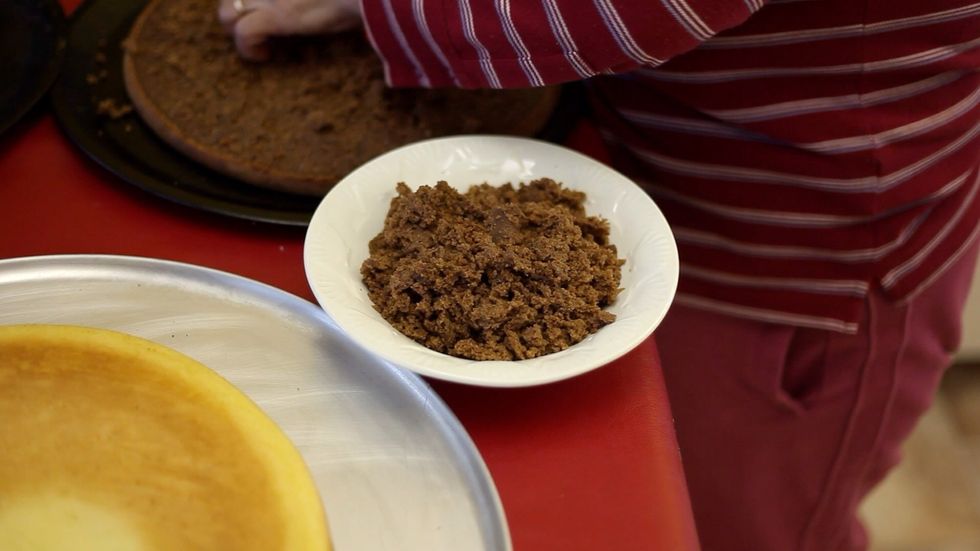 You should be able to fill up a dinner bowl of both choc and vanilla crumbs.
Do the same with the vanilla cake. Cut a guide and use a string to separate the cake into 2 parts.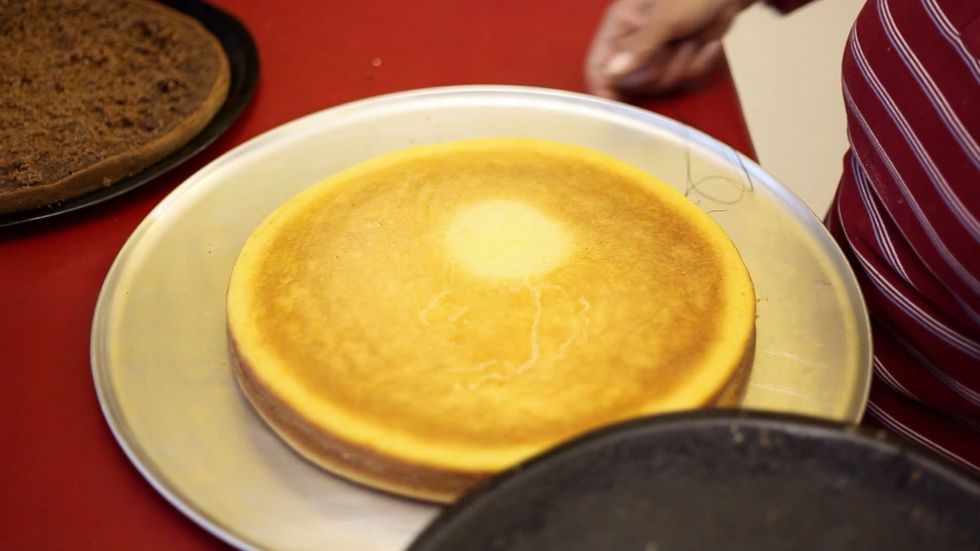 See the string. It broke a few times and that's why we needed so much. If you have fishing line that'd be much better, but I'm not much of a fisherman myself.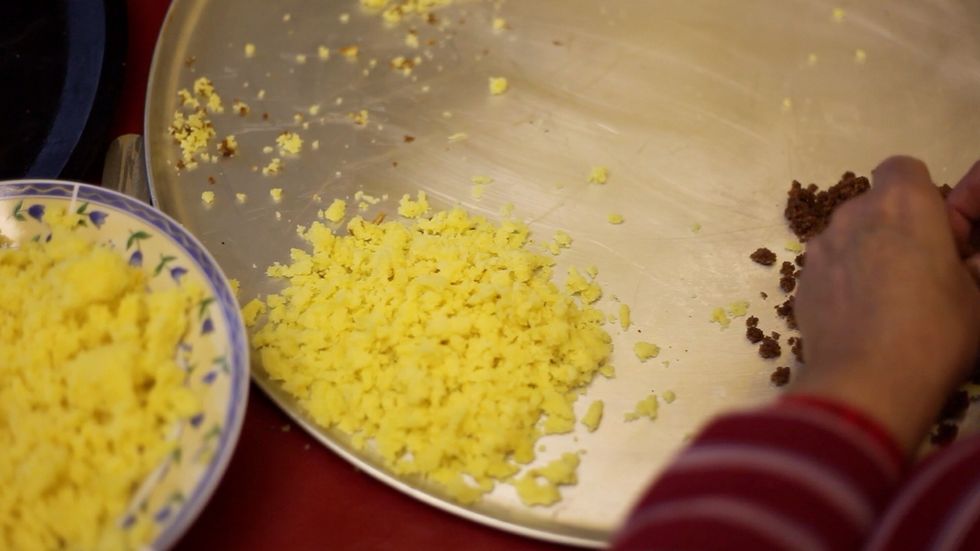 Claw out enough white crumbs from the vanilla cake also.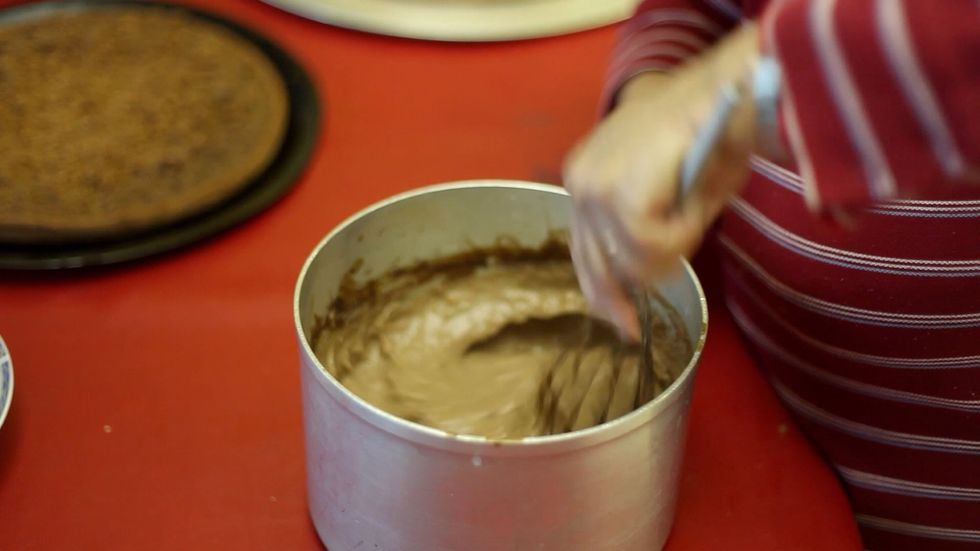 After your custard cream has cooled down, give it one last stir to make it easier to work with. It should be almost set but not hard. If its hard throw it in the bin. Tough love here. Lol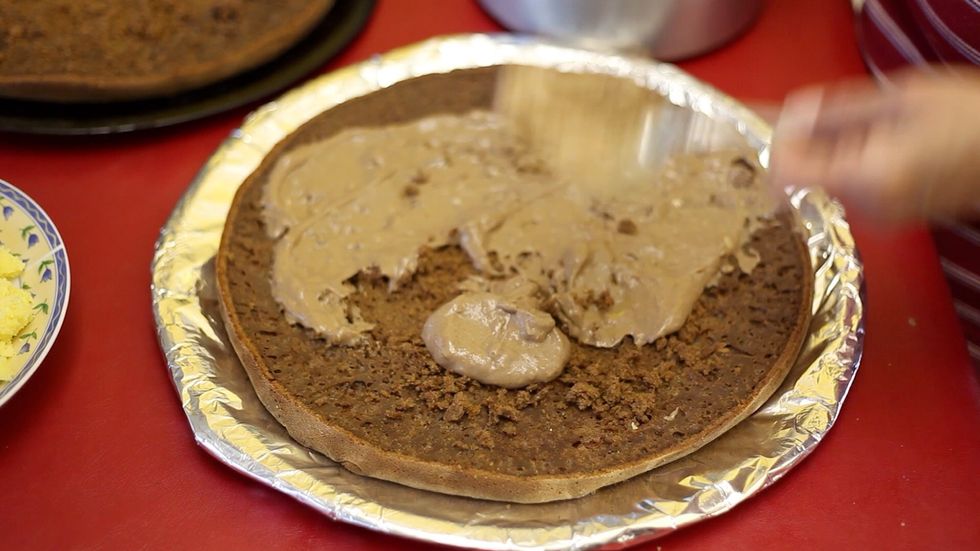 Remember our day and night cake (see the guide), well similar concept here but more radioactive look and it is literally looks inside out. Cover your first layer with your choc cream custard.
All the way around. Don't over do it or you'll run out of cream like we did. A nice thin layer will do the trick.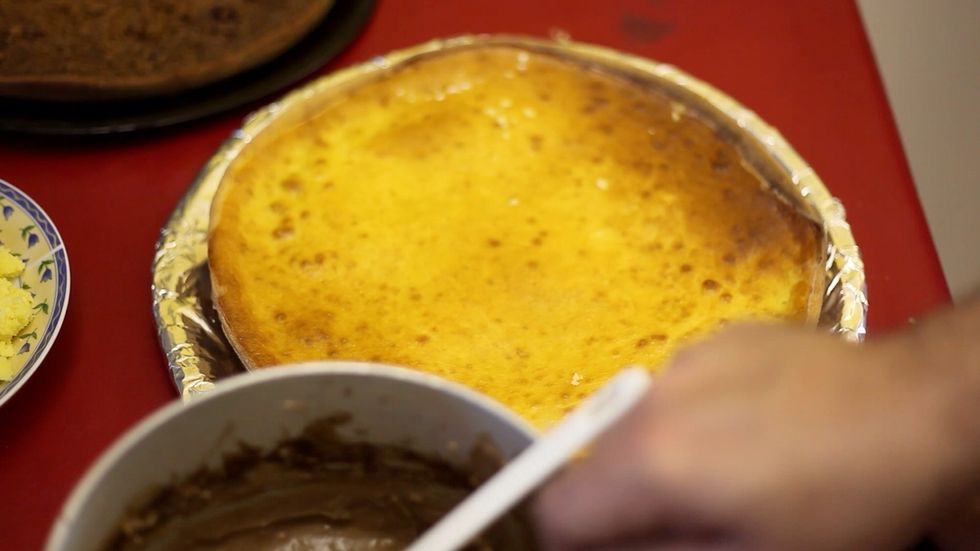 Now cover it with a vanilla cake layer.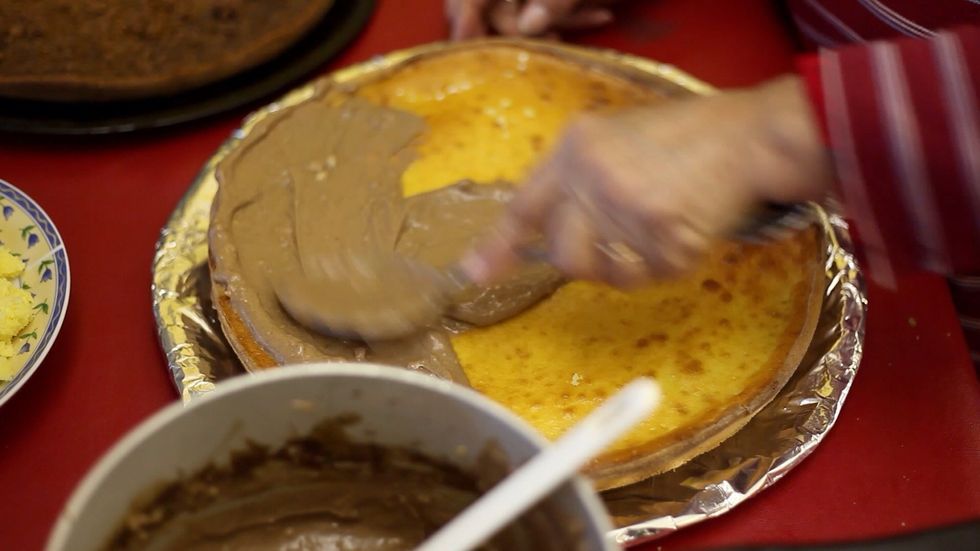 Cover with a thin layer of custard cream.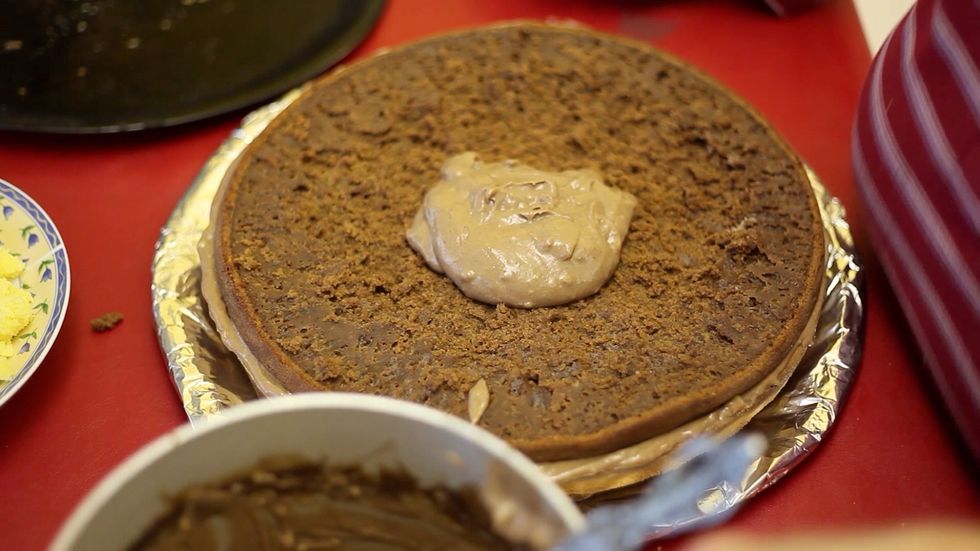 And another layer of chocolate cake and more custard cream. Loving this? Wait until you're eating it!!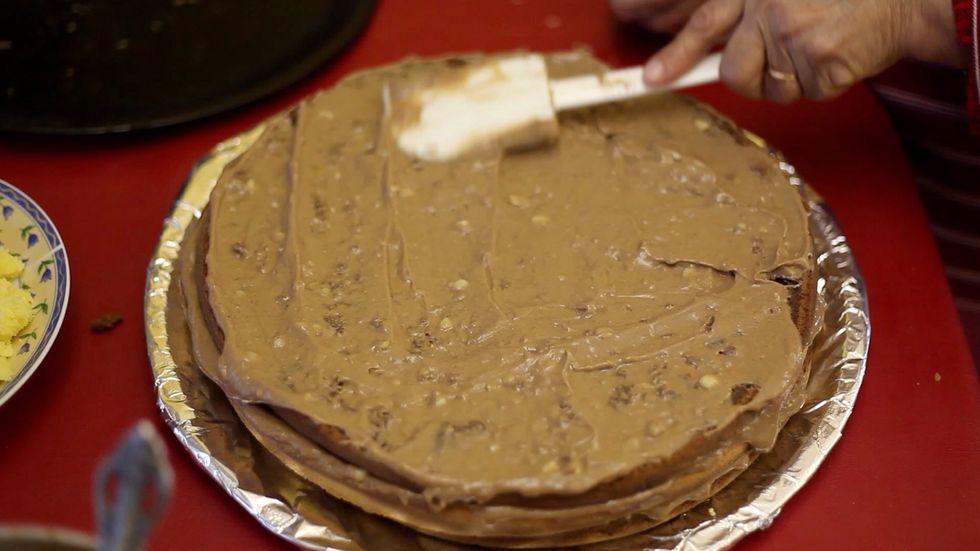 Cover again with another choc cake layer and your choc cream. You get the idea right? Choc, vanilla, choc, vanilla with chocolate cream in between.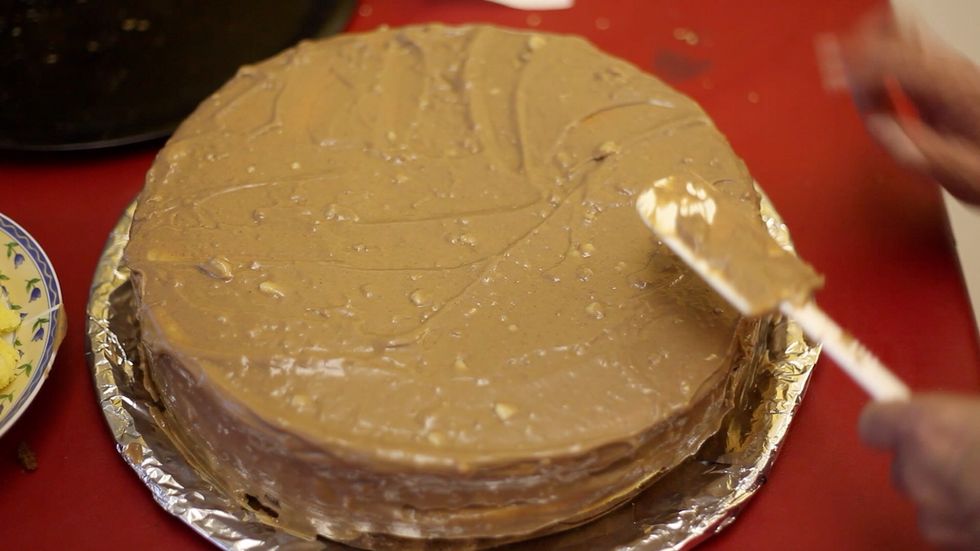 With the balance of cream cover the entire cake. Now if you do run out of cream it's ok. Squeeze the cake down and cream will ooze out the sides. We are genius right? Hahaha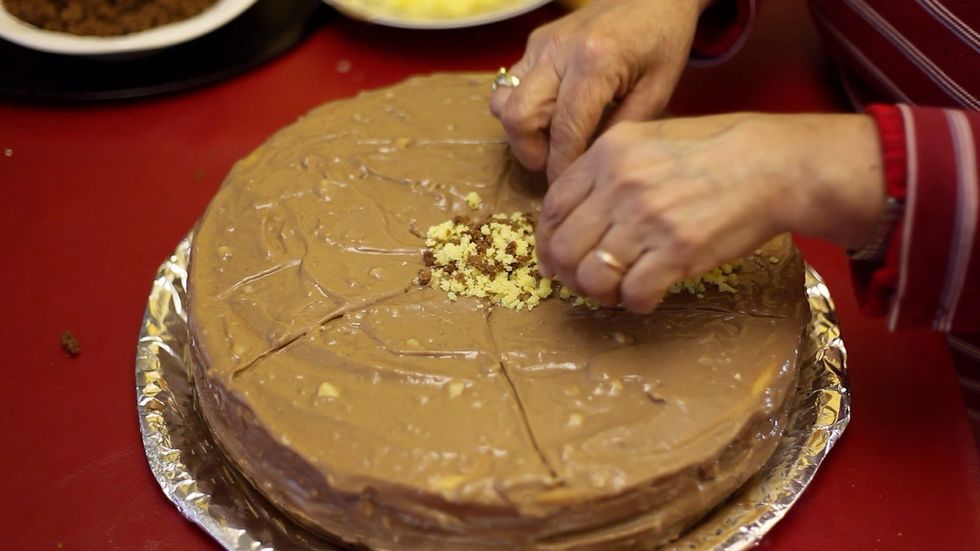 Using a knife to guide your decoration as you like. Ours is a radioactive flower lol. Coz that's just what it looks like. This cake will need a hazard sign.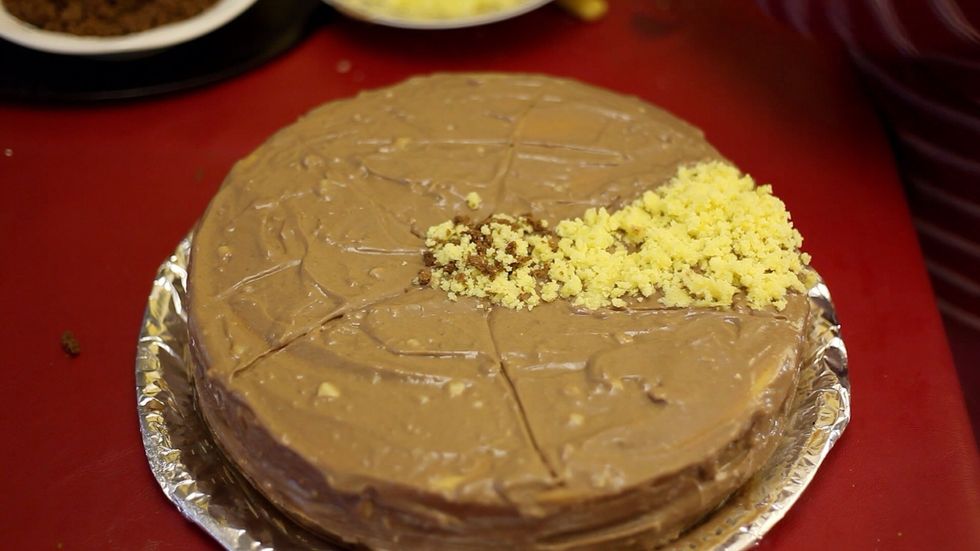 So without really going into the decoration part of the cake too much. It's really up to you how you colour the outside of your cake. Ours is simple vanilla and choc alternates.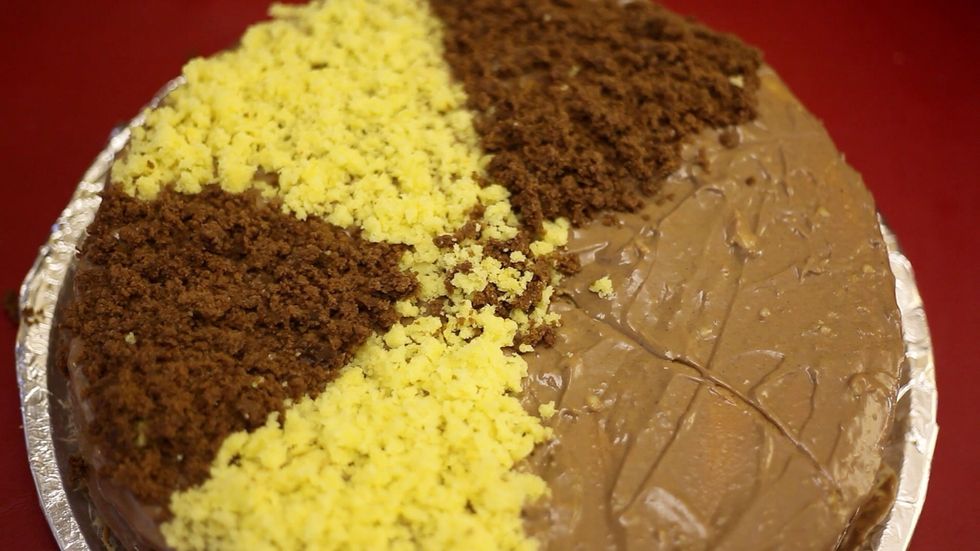 Like this....
Also, please don't use up all your crumbs at once. We still need some for the sides.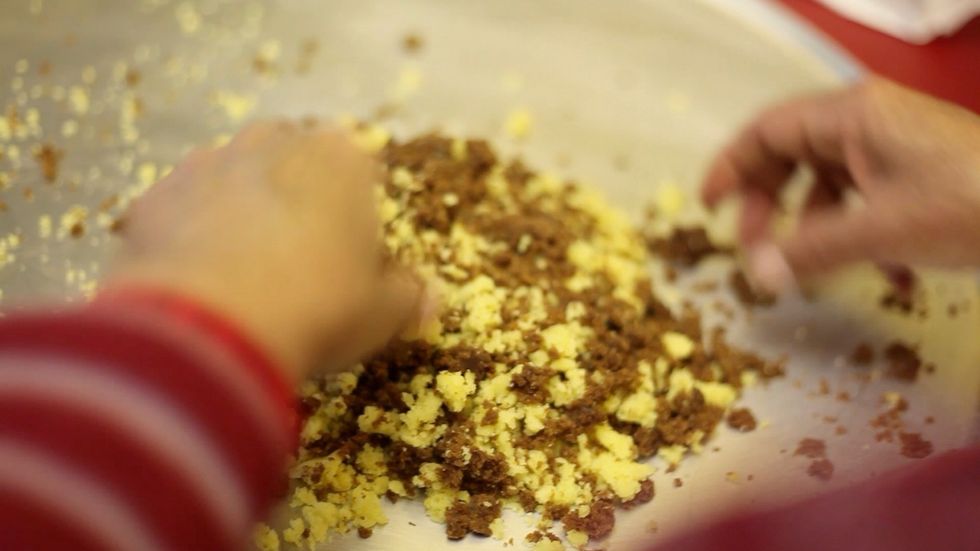 With the even balance of vanilla and choc, mix it together and crumble it more finely into an equal blend.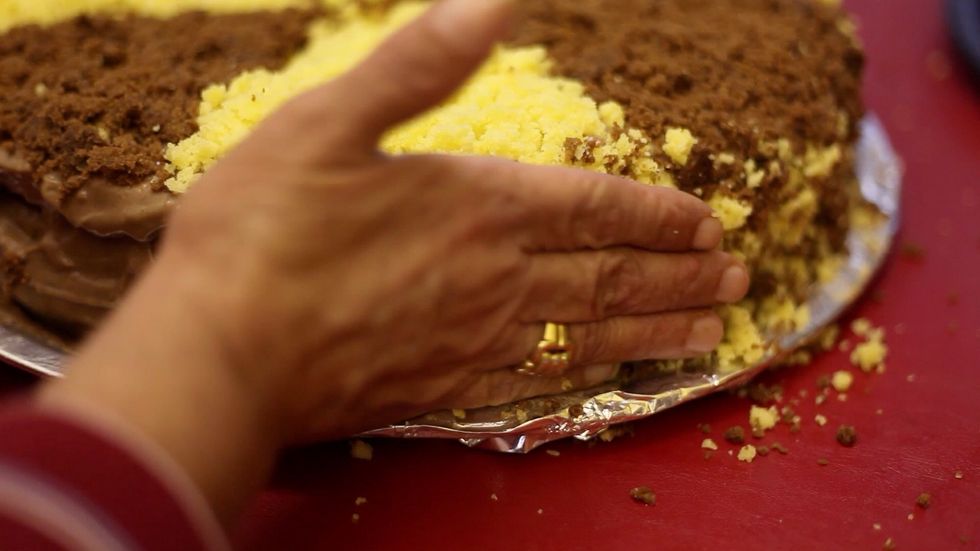 Press the colored mix of crumbs around the outside of the cake.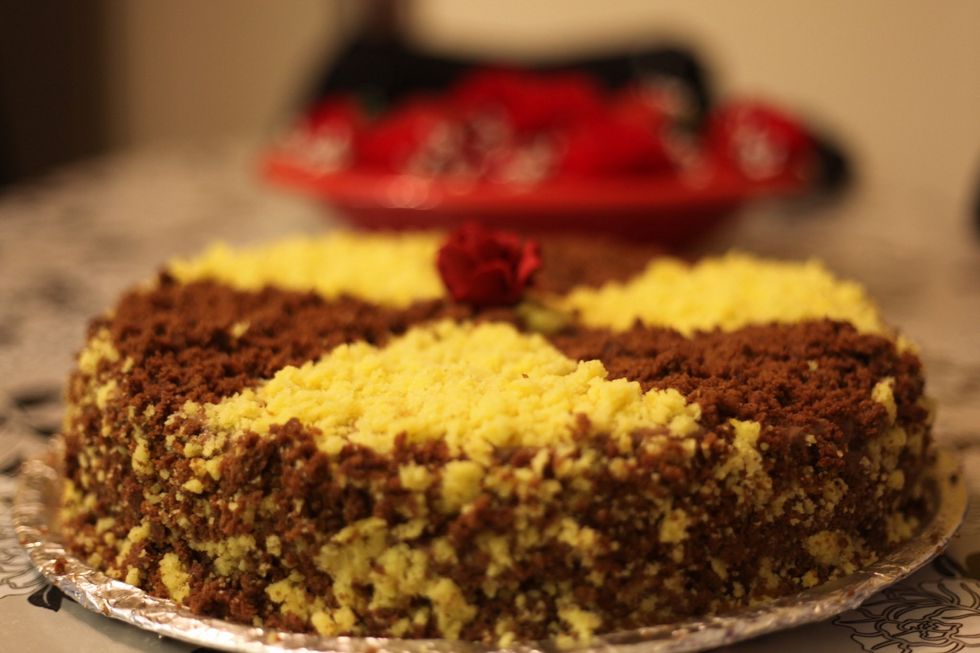 Kabooommmm!!! Your cake is inside out. Put it in the fridge for a few hours and cut it. You will be pleasantly surprised with the amazing result.
Our sincere thanks go to all our friends here on snapguide. Thanks for all the messages and support. Love from our amateur kitchen, in the hills of Perth. Remember, Mum loves Ya!
10.0 Eggs
2.0 Orange rind
2.0 Lemon rind
1.0 Cup oil
8.0 Cups Flour
4.0tsp Heaped Baking Powder
2.0Tbsp Heaped of Ghee or Butter
2.0 Cake Tins
1.0c Cocoa Powder
1/4m Sewing cotton String
2.0 Extra Eggs
1.0Tbsp Vanilla Essence
1/2l Milk
1/2c Cornflour
1.0c Sifted cocoa powder
1.0tsp Rum essence (optional)
2.0 Orange or Lemon Rind
Michel Daher
Micho here. Amateur experimental chef and lover of food. Thanks for all your support. Join my Food Journey www.naturallygoodfood.com