How to make quinoa salad with mediterranean magic
Quinoa is quite trendy these days. It's also very good for us. This is great by itself or as a side dish for lunch or dinner. Awesome for picnics and BBQs too!
34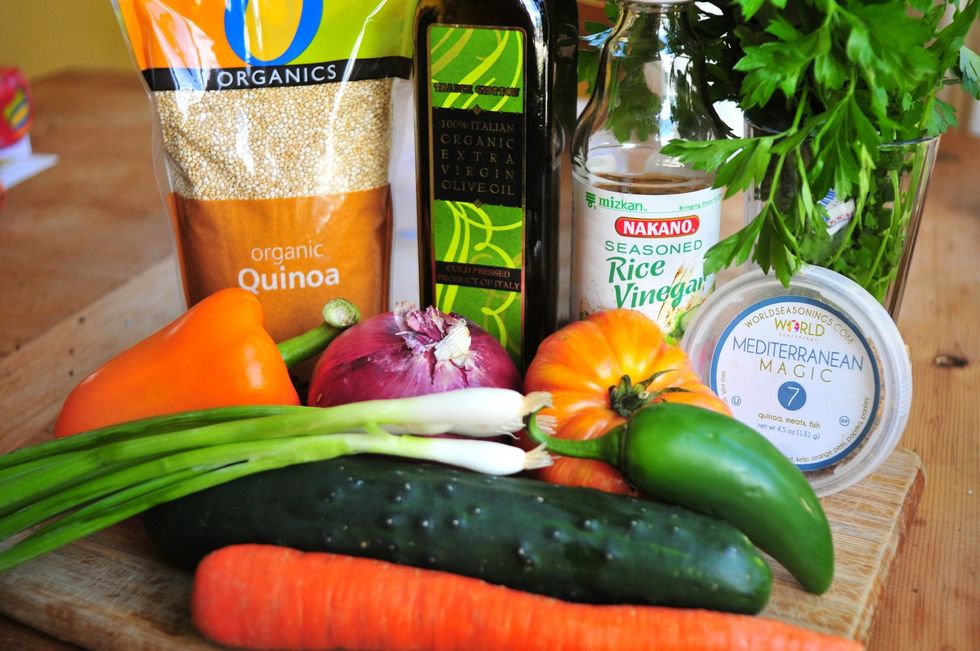 This dish is great because you can use any combination of veggies with it. Have fun and try different combinations. Just make sure everything is organic and perfectly ripe.
I think quinoa is 100x's better if the water is seasoned while it cooks. Add 1 cup quinoa and 1 teaspoon of seasoning to 1 3/4 cups water.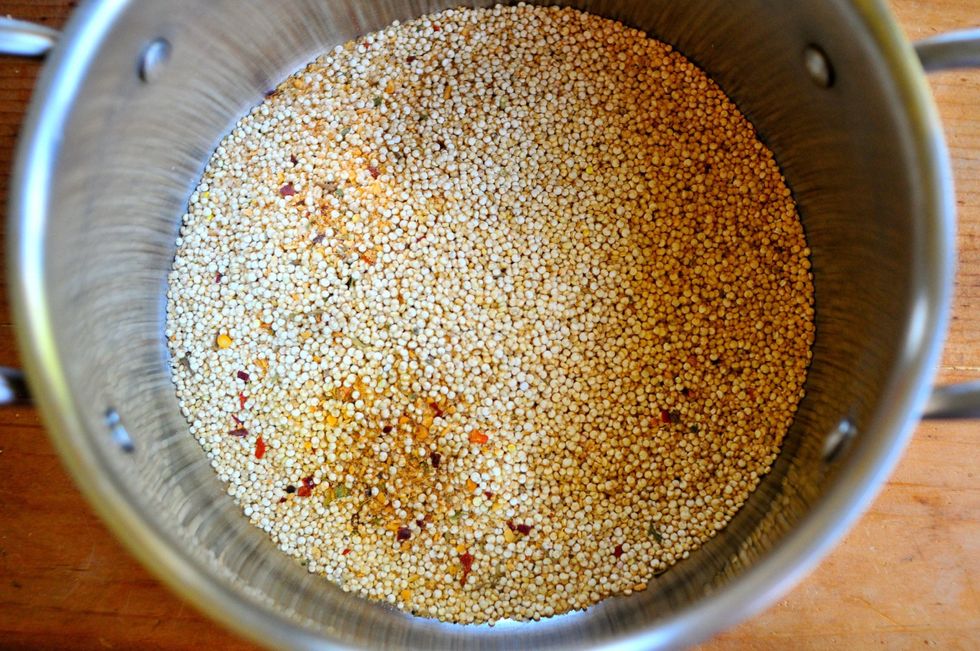 I like to toast the quinoa with 1 tsp of the seasoning. Mix quinoa and seasoning in a pan over low to medium heat. Toast for about 3-4 minutes allowing the oils to release from the seasonings.
I usually add about 1 3/4 cups water to the pot. Directions call for 2 cups but the quinoa cooks perfectly with just a tad less. Bring quinoa and water to a boil then reduce heat to low and cover.
After about 14 minutes of cooking, all the excess water should be gone. Remove from heat but keep it covered for another 10 minutes. The quinoa will fluff up nicely, leaving the texture perfect.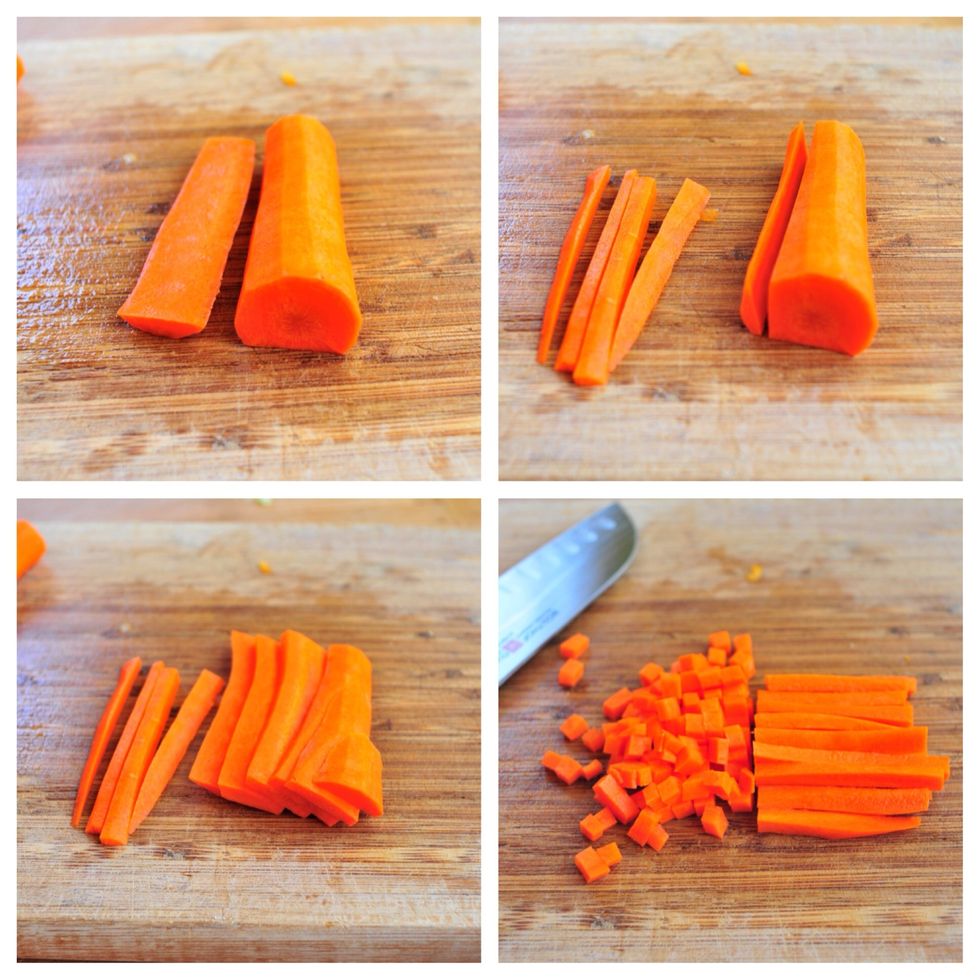 While the quinoa is cooking, start preparing the other ingredients. I like to cut all the veggies small so they don't take away from the quinoa.
Take a spoon and scrape out the seeds from the jalapeño. If you like a lot of heat you can always leave in the seeds.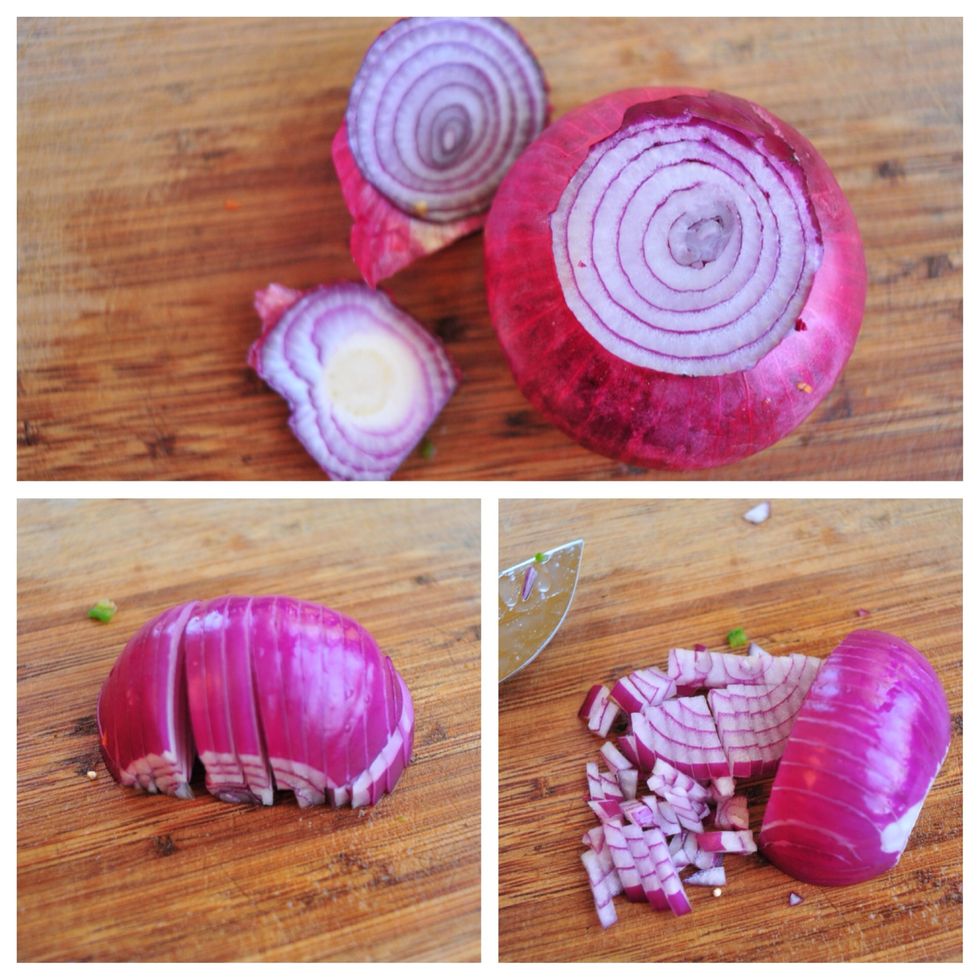 Cut the tips off the onion, then cut in half down the middle of the onion, lengthwise. Feel for the "ribs" down the side of the onion. Slice down the middle of each rib, then turn and dice the onion.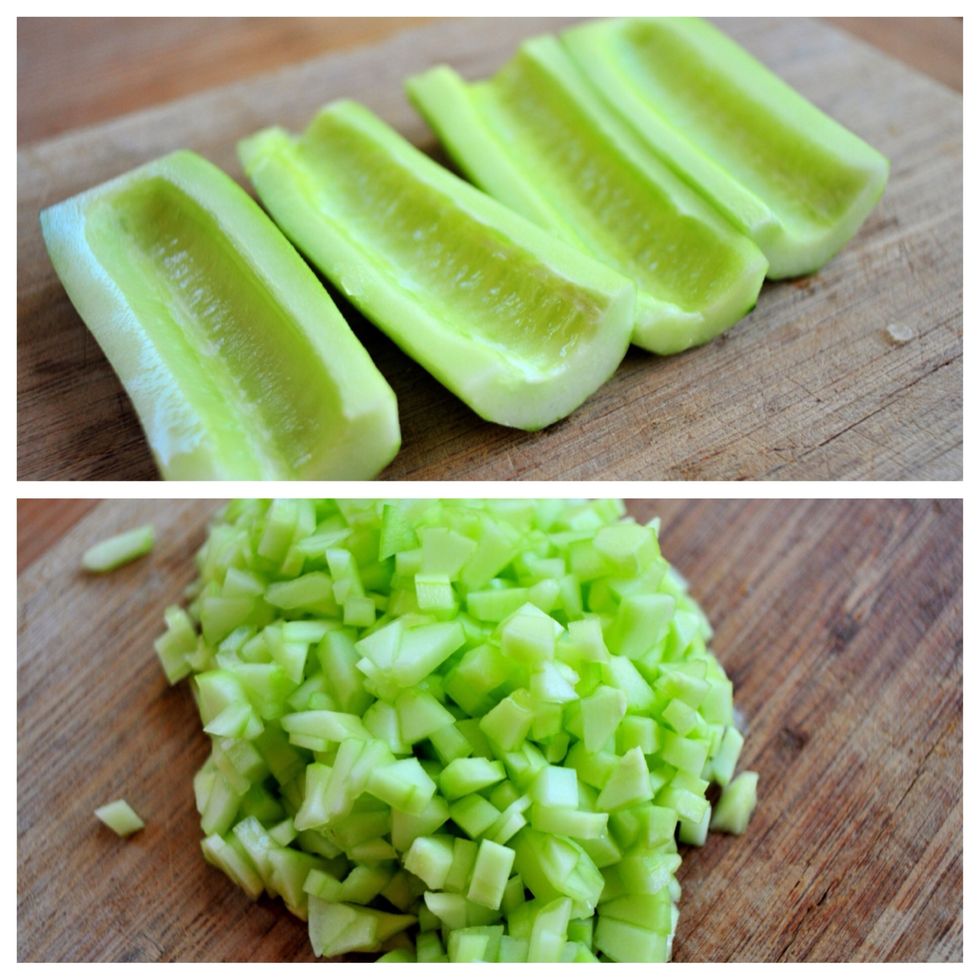 Scrape the seeds out of the cucumber then cut it lengthwise into about 8 small sticks. Dice the cucumber small like pictured.
Cut the white part of the onion from the green stems. Save them for another use. Dice the green part of the onion then add to bowl.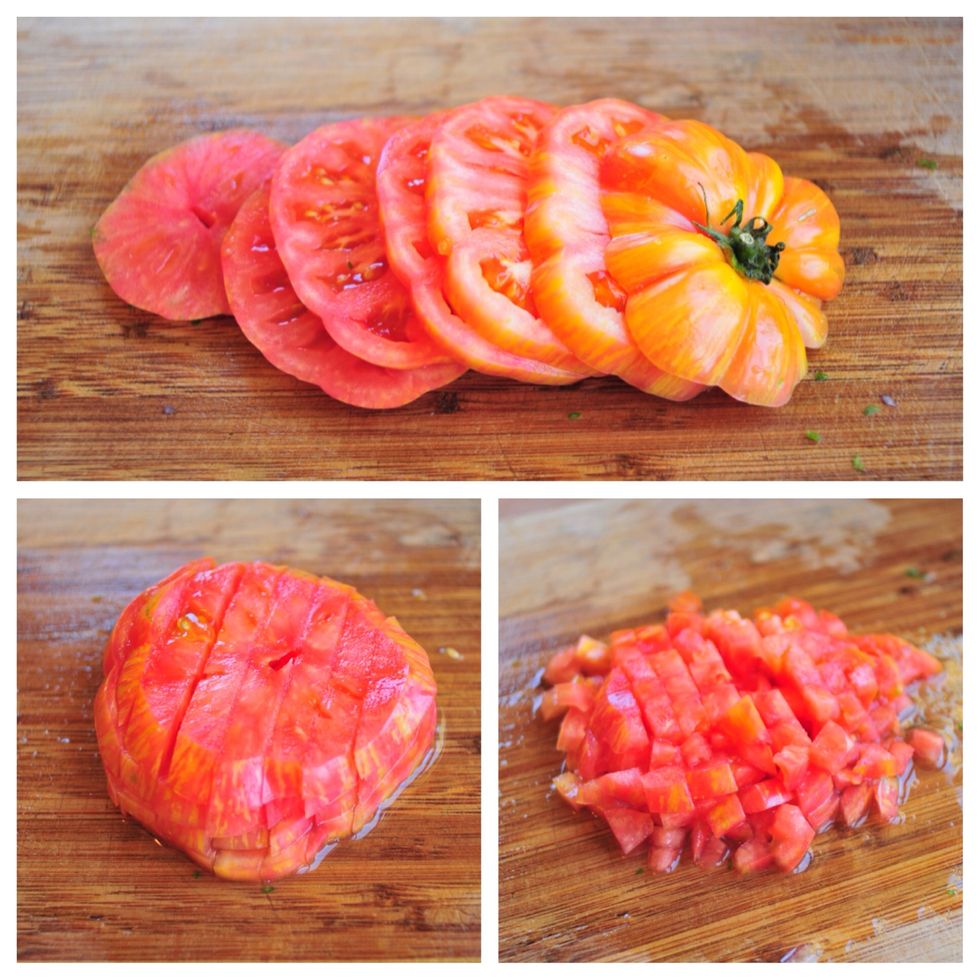 I like slightly firmer tomatoes. Slice into 1/4" rounds then slice each round into rows. Turn 90 degrees then dice the tomato as shown above. Add to bowl.
Remove the seeds from the bell pepper then cut int thin strips. Then dice each strip. Add to bowl.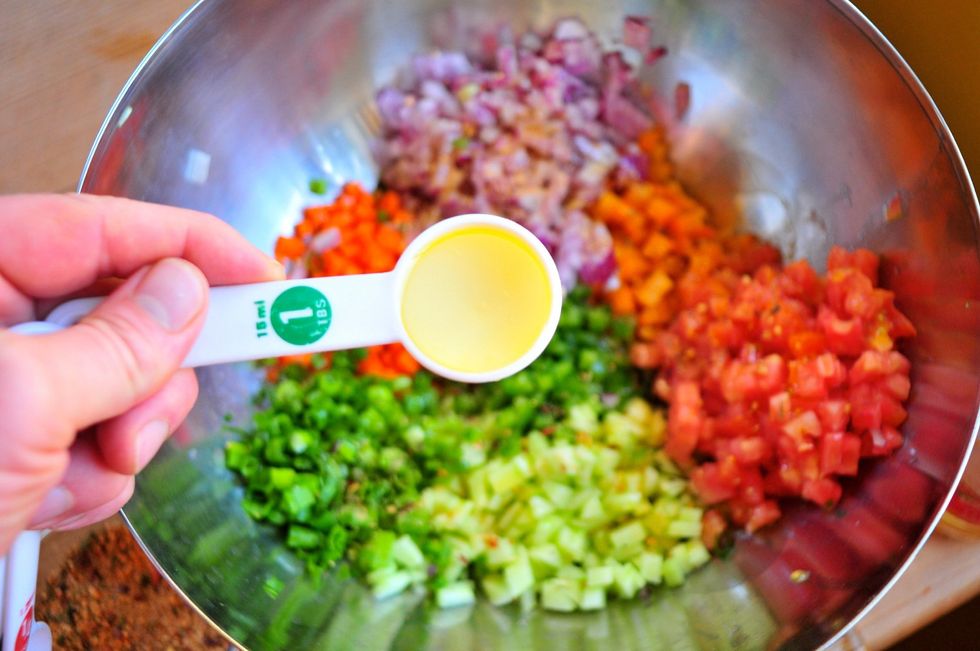 Add 4 tbsp of olive oil, 2 tbsp of rice wine vinegar and 1 teaspoon #7 Mediterranean Magic. You can buy the seasoning blend at www.worldseasonings.com. Use the code "snapguide" for a 20% discount.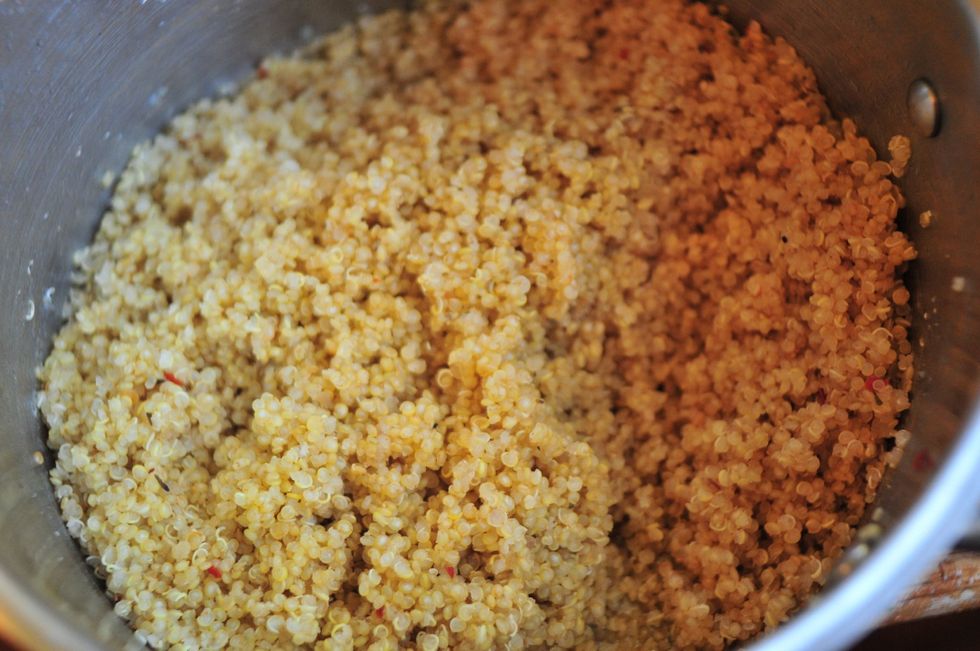 This is how the quinoa should look after it has cooked and been left covered for 10 minutes. It should be nice and fluffy with no extra water in the bottom of the pan.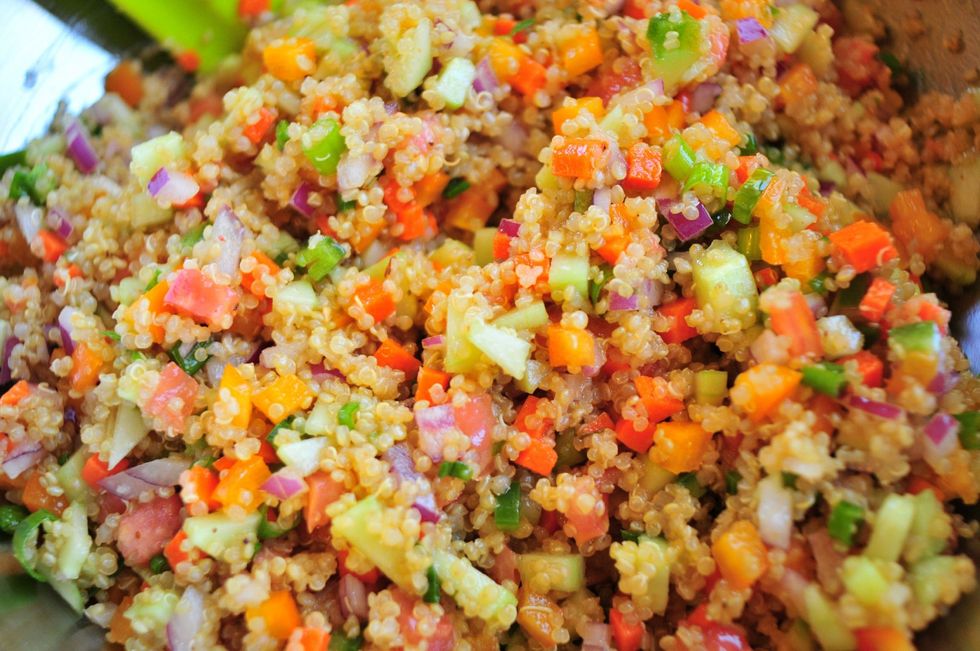 Mix everything together in a large bowl. The quinoa should be a bit warm still. That okay, it helps release all the flavors from the veggies. Cover and let cool for an hour before serving.
This is an awesome dish that is filled with all kinds of goodness for our body. Fast, fresh and healthy food is what we are trying to help people learn how to cook, using our blends. Enjoy!
Thanks for reading my guide. If you love to cook, are learning to cook, or already know how to cook, you will love my seasoning blends. They are only available online at www.worldseasonings.com. Thx
2.0tsp #7 Mediterranean Magic
1.0c Quinoa, uncooked
4.0Tbsp Olive oil
2.0tsp Rice wine vinegar
1.0 Large Carrot, peeled and diced
1.0 Cucumber, peeled and diced
1/2 Red onion, diced
1.0 Bell pepper, diced
3.0 Green onions, green part only
1.0 Heirloom tomato, diced
1.0 Jalapeno pepper, diced
World Seasonings
World Seasonings offers 9 amazing gluten free, kosher and all-natural seasoning blends that will make breakfast, lunch and dinner extraordinary.
San Diego, CA - everywhere