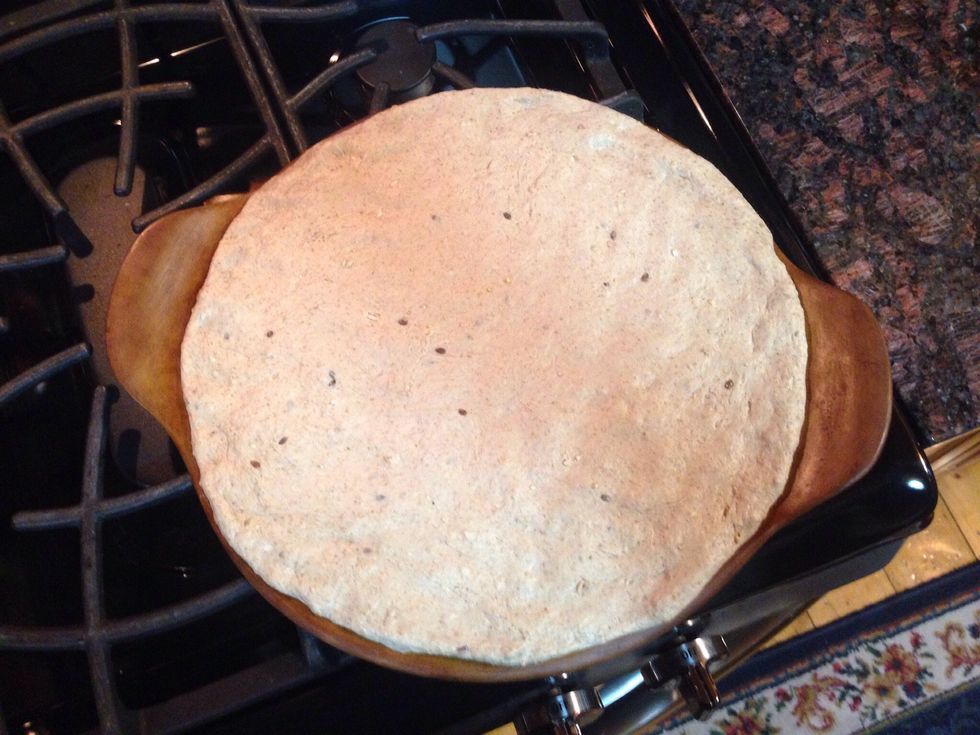 Spread whole grain pizza crust evenly onto your baking stone. (Stoneware is ideal for baking... pizzas or anything else!). This is a 13" diameter stone (from The Pampered Chef).
Pizza Sauce = 8 oz tom. sauce + 1-2 cloves pressed garlic + 1 TB each of basil & oregano. Combine and microwave, loosely covered, for 2 minutes. Stir sauce, then spread evenly over crust.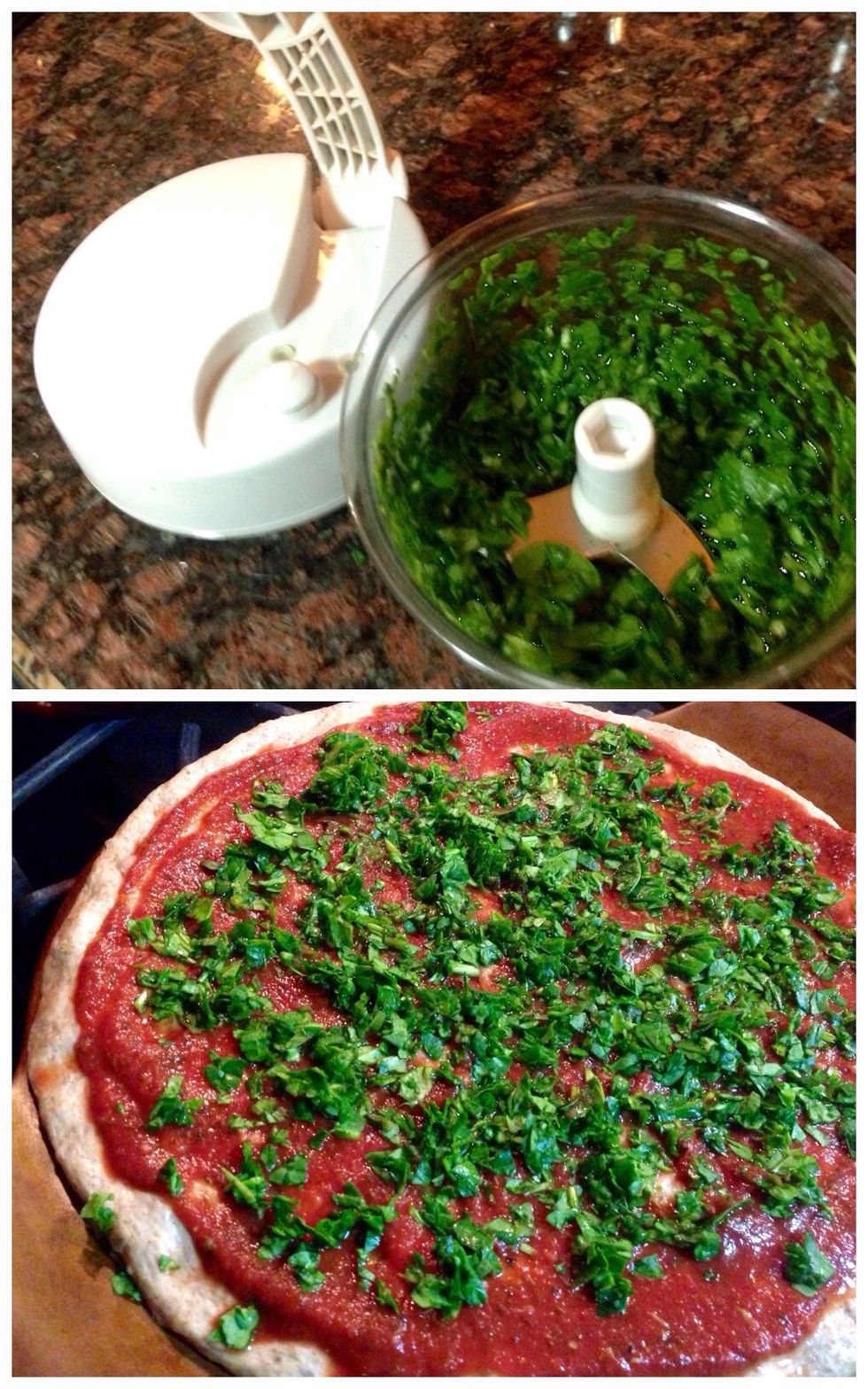 Finely dice baby spinach and sprinkle evenly over sauce. (I use Pampered Chef's Manual Food Processor for dicing.)
Add whatever fresh veggies and seasonings you prefer. These are my favorites.
I dice the zuke, mushroom, and onion first; spread over spinach layer... then layer sliced tomato, then diced red pepper. The order doesn't matter, I just like how the pizza looks this way.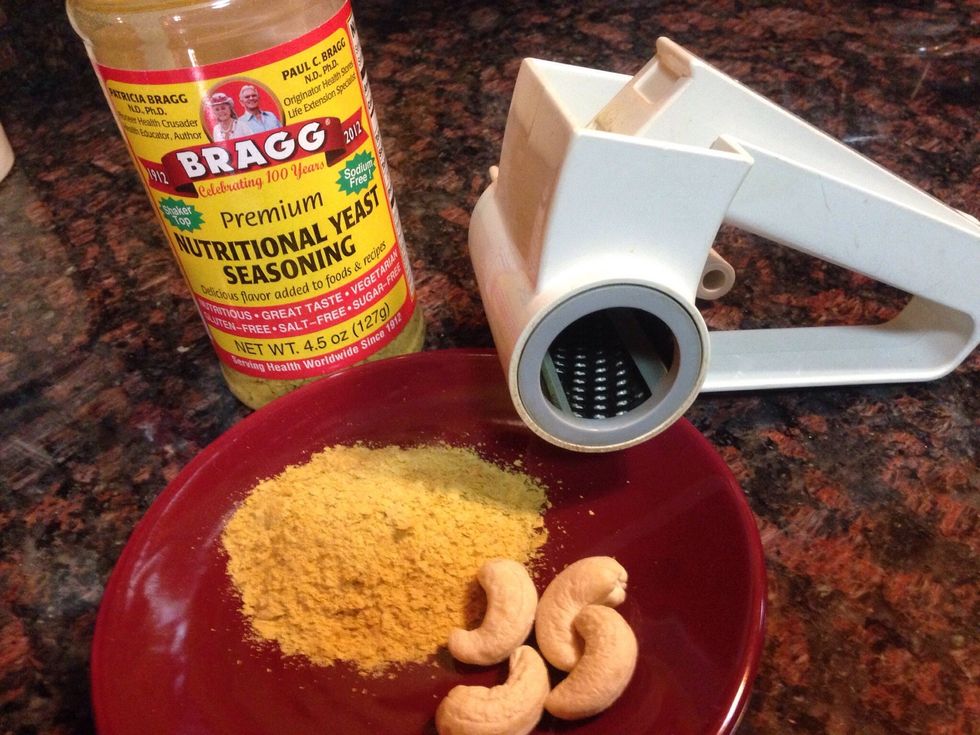 Since cheese is a disaster (health wise & environmentally), use nutritional yeast instead. Optionally, grate a FEW raw cashews, too.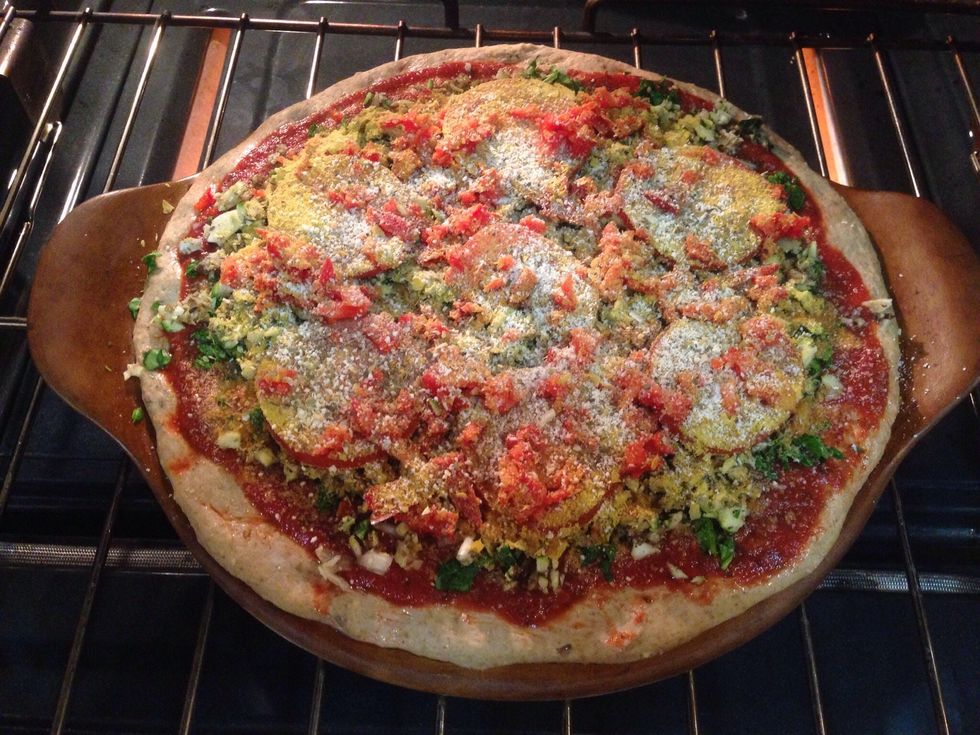 Sprinkle nutritional yeast over top of your veggies, then grate raw cashews last. (I used FOUR cashews; a little goes a long way; these are high fat, so go easy.) Bake at 400 degrees for 18-22 min.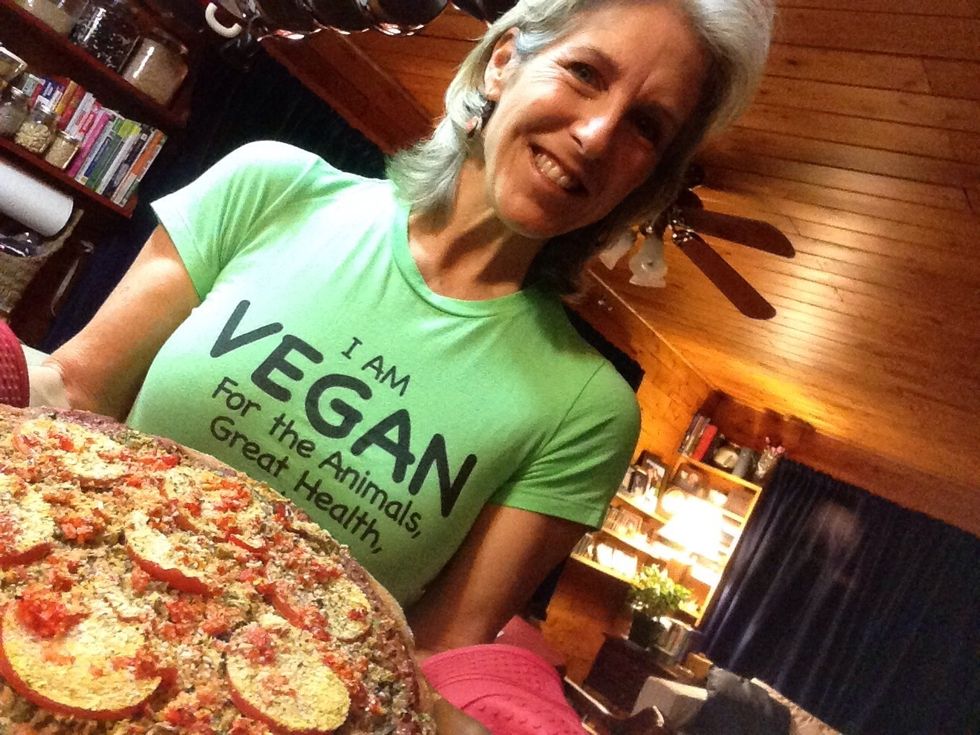 Done!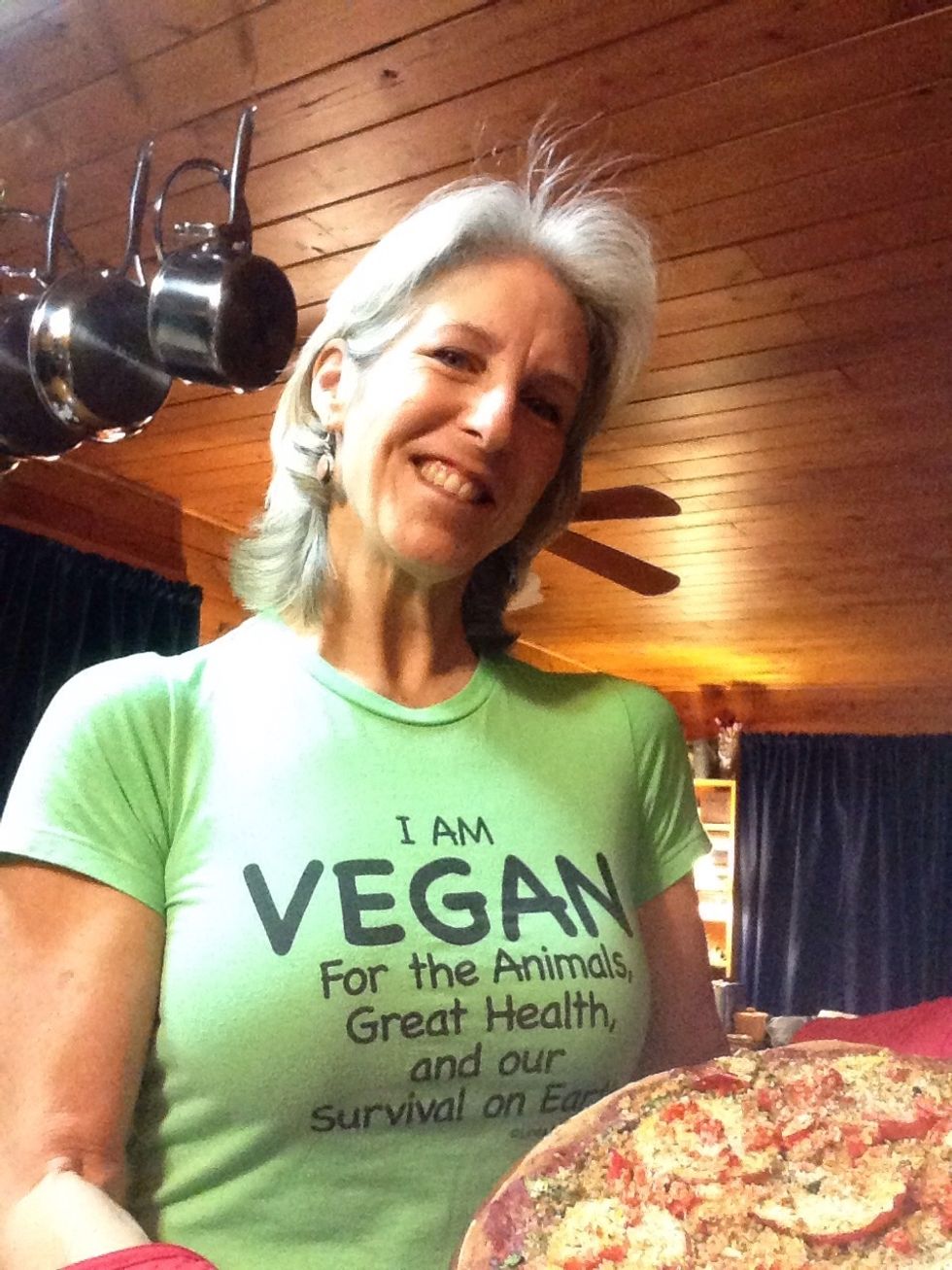 Serve with additional pizza sauce for dipping the crusts, if desired. Vary your veggies, or use basil pesto sauce (oil and dairy-free) for a whole different saucy flavor.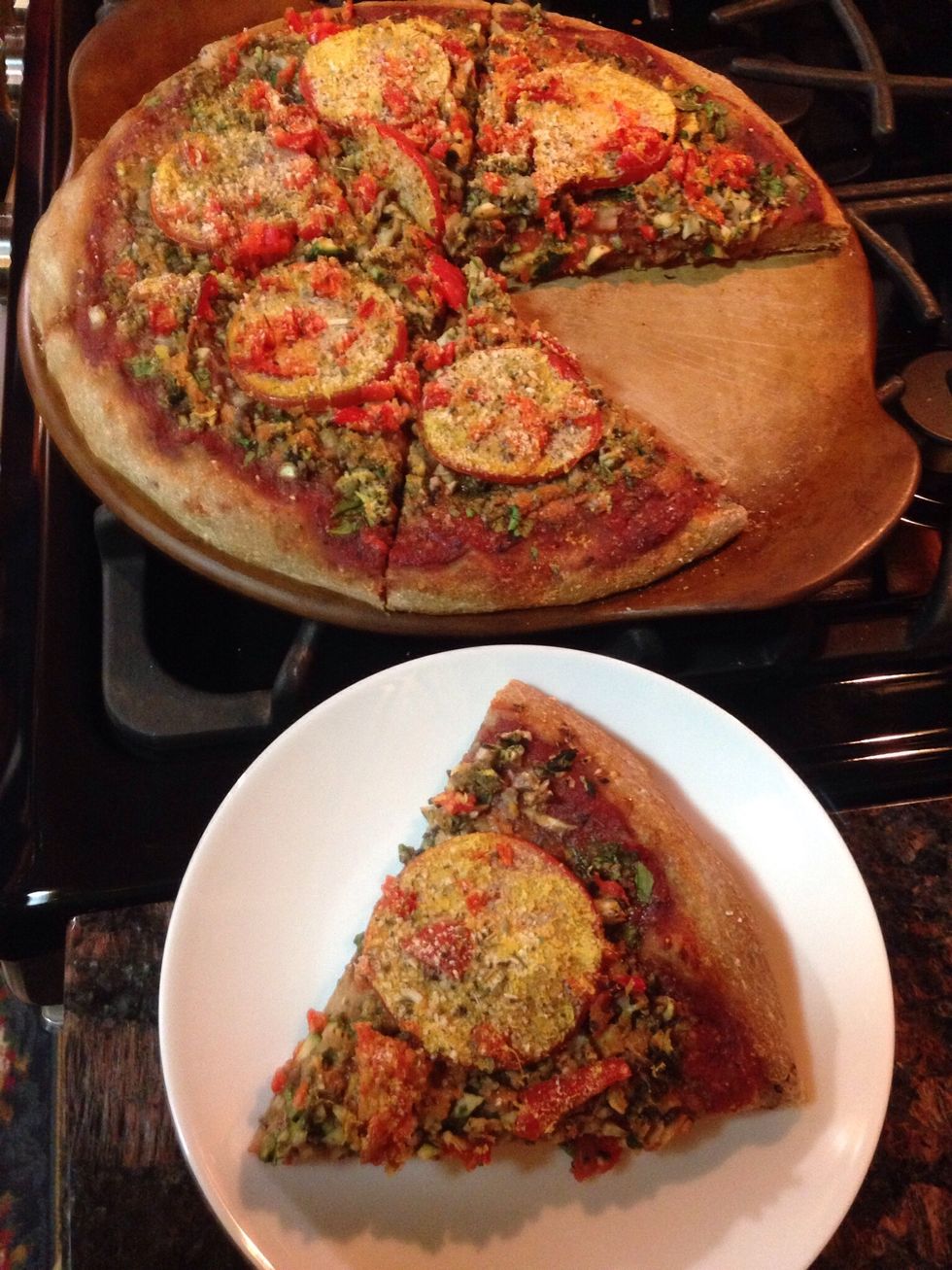 Share with someone you love. Eat plant-based for great health, to end animal cruelty, and for the future of life on Earth. Thanks for viewing! www.PositivelyPlants.com
1.0 Whole grain pizza crust
8.0oz organic (no salt added preferably) tomato sauce
2.0 cloves fresh garlic
1.0 small zucchini
1.0 portabella mushroom cap
1/2 yellow or white onion
1/3 red bell pepper
1.0 handful fresh baby spinach
1/8Tbsp oregano
1.0Tbsp dried basil (or several leaves fresh; diced)
1.0 med. organic tomato; sliced
1/4c nutritional yeast
optional: a few raw cashews
Beth Perera
Certified Food For Life plant-based nutrition & cooking instructor; Tools are mostly from The Pampered Chef.